Kyoto Travel: Enjoy Food, Discover Art in a Traditional Japanese Building & More
The colours of autumn are now hitting Kyoto, Japan's ancient city steeped in history, culture and tradition and one visited by countless tourists―both Japanese and foreign―every year.
The staff at MOSHI MOSHI NIPPON took a trip to Kyoto to gather information. The theme of the research is "Discover own your Kyoto," where we introduce little-known places to you in Japan's former Imperial capital that are not yet known by many people.
This is the second article in the series where we consider a trip to Tokyo for adults. We have a list of recommended spots where adults can go to enjoy a quiet and peaceful time while strolling through traditional places.
1: "Oyamazaki Villa Museum of Art" – Appreciate Claude Monet in a traditional western-style building
The Oyamazaki Villa Museum of Art is a western-style house that was built around the Taisho and early Showa periods and was turned into a museum. It was formerly used as a villa.
On either side of the museum sits the Underground Jewelry Box―an underground building built to turn the villa into a museum, and the Dream Box―a gallery, both built by Japanese architect Tadao Ando. Both buildings house permanent art exhibitions as well as periodic exhibitions. The second floor of the museum also has a café. We received special permission to tour the site but it is normally off-limits.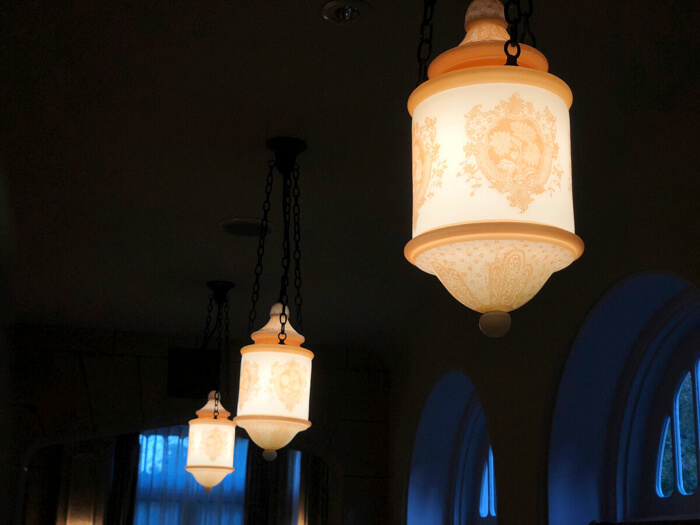 The inside of the building has a retro style to it. The doors, lamps and stained glass windows create an otherworldly atmosphere. The stained glass window pictured above has been there since the building was first built.
Inside the Underground Jewelry Box, paintings such as those from Claude Monet's lauded Water Lilies series line the undressed concrete walls. These are housed here permanently but the pieces may be switched for certain events.
When we visited there was an event happening titled "Viewing the Kimono in Junichiro TANIZAKI's Literary Works." The exhibition looks at how Japanese author Junichiro Tanizaki depicted women and their fashion and examines the way they dress. On display are kimono recreated from his works. The exhibition is ongoing until December 2, 2018.
The designs revive those used in the time. Dot patterns are used as is lace. The outfits are also finished with baskets and boots too. Every kimono there will have you thinking just how stylish the women of that time were. You can really get a sense of the fashion back then.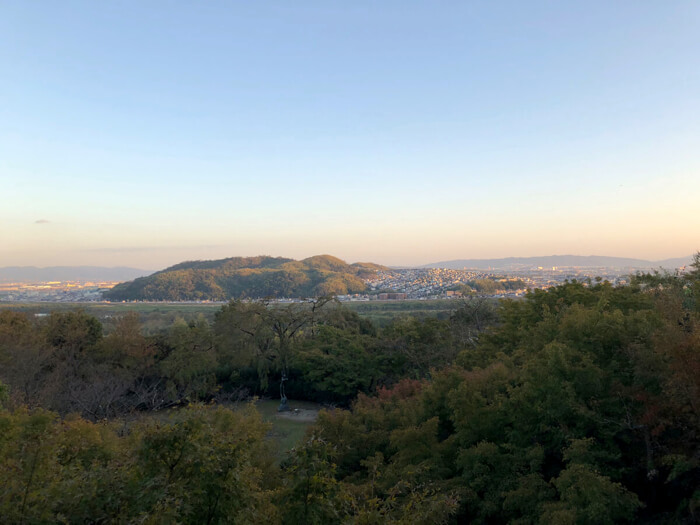 The second floor café has a terrace where you can enjoy an unbroken view of the cityscape. When you've had your fill of art, head up and indulge in some tea and cake while enjoying the scenery.
■Information
Asahi Beer Oyamazaki Villa Museum of Art
Address: Zenihara-5-3 Oyamazaki, Otokuni District, Kyoto Prefecture
Opening Hours: 10:00-17:00 (Last Entries 16:30)
Closed: Mondays (or Tuesdays if it is a national holiday. Also closed on November 19, 26 and New Year's)
Entry Price: Adults ¥900 / University & High School Students ¥500 / Middle School Students and under – Free
TEL: 075-957-3123
Access: 10-minutes on foot from Yamazaki Station via the JR Kyoto Line or from Ōyamazaki Station via the Hankyu Kyoto Main Line
Website: https://www.asahibeer-oyamazaki.com/english/
2: "Yanagimachi" – A restaurant renovated from a townhouse
Next on the list is Yanagimachi, a restaurant located in Fukuchiyama. The surrounding area of the city is rich in agricultural produce and livelihood is still surrounded by the grace of the forest today.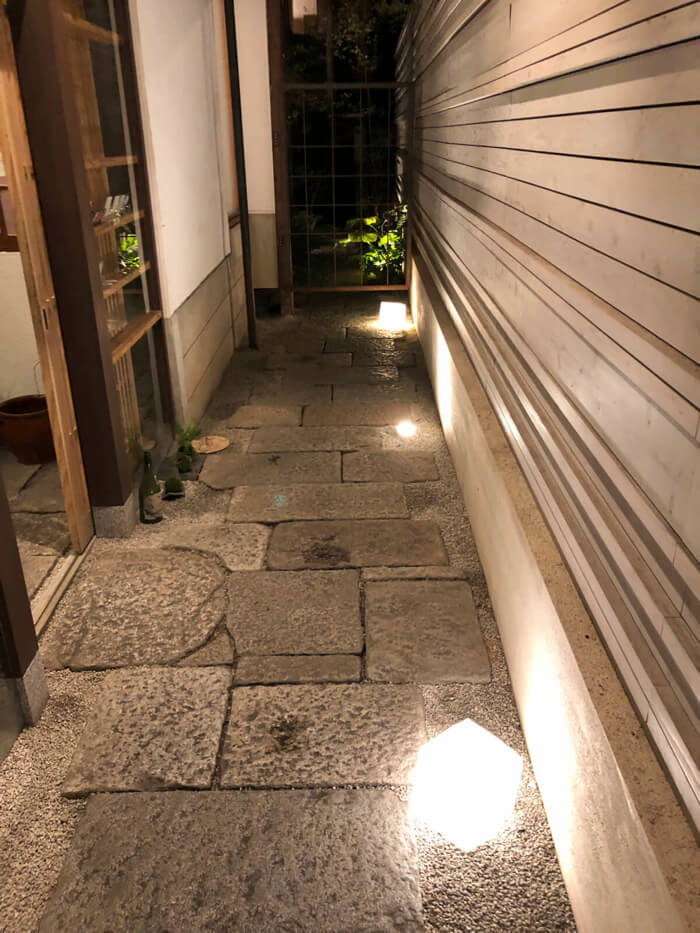 Situated within this "Forest of Kyoto" is Yanagimachi, a restaurant that was renovated from a traditional townhouse built in the Meiji period. Despite being in the middle of Fukuchiyama it's located in a place that still has that old fashioned Japanese castle town atmosphere. The entrance can be found on the side as you walk across the stone paving.
When you walk in, it doesn't feel like a building from the Meiji period at all – it's so modern!
We ate food made using vegetables harvested locally, amazing chicken and fish. The sashimi included pickled mackerel, greater amberjack, porgy and young Pacific bluefin tuna. Their huge portions of karaage fried food are also one of their specialties.
This photo above is another one of the restaurant's famous foods: kamosuki. The fat of the duck is smooth and melts in your mouth. The locally harvested Kujo green onions are sweet and went perfectly with the duck.
Discover the taste of Kyoto by trying this food yourself – food you can't find anywhere else, served in a restaurant hidden and tucked away from the world.
■Information
Yanagimachi
Address: Shimoyanagimachi Shimoyanagi, Fukuchiyama, Kyoto Prefecture
Restaurant Opening Hours: 11:30-14:30 (Last Orders 14:00) / 18:00-23:00 (Last Orders 22:00)
*On Sundays and national holidays, restaurant hours at 18:00-22:00 (Last Orders 21:00)日祝は18:00〜22:00(L.O21:00)
Café Bar Opening Hours: 11:00-01:00 (Last Orders 00:30)
Closed: December 31, 2018 – January 4, 2019
TEL: 0773-22-1809
Access: 15-minutes on foot from Fukuchiyama Station via the JR Line and Kitakinki Tango Railway
Website: http://yanagimachi.kyoto.jp/
Did you enjoy this "adult" trip to Kyoto? Kyoto is home many hidden gem locations. Try finding your own "Discover own your Kyoto" too and discover new things to enjoy in the city.
■Writer 
Sayuri Mizuno / MOSHI MOSHI NIPPON Chief Editor
Instagram: @sayuri.mizuno
■Translator
Joshua Kitosi-Isanga
Twitter: @anokomorebi
RECOMMENDED ENTRIES
3 Little-Known Places to Experience Tea Culture in Kyoto

The colours of autumn are now hitting Kyoto, Japan's ancient city steeped in history, culture and tradition and one visited by countless tourists―both Japanese and foreign―every year.

The staff at MOSHI MOSHI NIPPON took a trip to Kyoto to gather information. The theme of the research is "Discover your own Kyoto." We will introduce you to 3 little-known places in Japan's former Imperial capital that are not yet known by many people.

This is the first article in a series where we look at the tea of Kyoto. Here are our recommendations if you want to experience Kyoto Infused with Tea culture.

1: "How to Properly Pour Tea" –  Learning the proper methods at Fukujuen

The first place we want to recommend is Fukujuen Uji Tea Workshop. The closest station to it is Uji Station which you can get to in one stop from Kyoto Station via the JR Line.

Fukujuen Uji Tea Workshop was established after seeing the amount of people sitting comfortably at home pouring tea from a teapot on the decrease in favour of bottled tea. In response to this, they decided to set up a facility for people to relearn the culture of the traditional Japanese kyūsu teapot and the history of tea. They currently hold over 20 courses for people to get involved with.

Learning to Pour Tea Course (Gyokuro Tea): ¥1,188 (Tax Included)

We took the tea-pouring course which uses gyokuro green tea. Gyokuro has a sweeter taste to it compared to sencha. It's also different from sencha in that it is grown under the shade, outside of sunlight. This means it has more theanine in it, giving the tea a more delicious taste.

The necessary tools and confection needed to pour the tea are laid out for you when you sit down. You must then follow the directions of the staff while pouring the tea.

This was the first gyokuro tea we poured. The first cup has gyokuro extract in it which tastes rich. The tea tastes sweet and smooth. We could really feel its full, ambrosial taste.

The first 1-2 cups you drink are to fully appreciate the taste of the tea. From the third cup you can start eating the houjicha sweet bean jelly confection provided. The sweet taste of the jelly goes perfectly with the tea. The tea leaves used in this course last for 6 cups so relax, take your time and enjoy.

The tea-pouring course has instructions in both English and Chinese, so foreign visitors can enjoy themselves without worry.

Other courses include tea leaf picking in the tea gardens which is available during certain seasons only. There's also a reference library to learn all about the history of tea.

If you love tea and want to learn all there is to know about tea culture in Japan, then head to Fukujuen Uji Tea Workshop to enjoy the tea of Kyoto to your heart's content.

■Information

Fukujuen Uji Tea Workshop

Address: Yamada-10 Uji, Uji-shi, Kyoto Prefecture

Opening Hours: 10:00-17:00 (Last orders at Fukuju Saryo – 16:00)

Closed: Mondays (or Tuesdays if the Monday falls on a national holiday)

Access: 8-minutes on foot from Uji Station via Keihan Line / 15-minutes on foot from Uji Station via JR Nara Line

TEL: 0774-20-1100

Website: http://www.ujikoubou.com/

2: "Eating Tea" – A matcha-filled meal at Tatsumiya

After learning all about tea, we headed to Tatsumiya to eat food dotted with all kinds of tea. To get there, head across the bridge opposite Fukujuen Uji Tea Workshop and walk for about 10 minutes. See the sign and entrance above.

We ordered the matcha course (抹茶料理) which cost ¥4,500 (tax included, service charge separate). Lots of different matcha-incorporated food came out the kitchen one by one.

Everything on the trays used matcha. The tempura is eaten with matcha salt, there was matcha rice porridge – the list goes on.

Of course the final dessert had matcha in it too♡

We recommend trying this matcha course for yourself, it's something you don't really see. Plus, you can enjoy a gorgeous view of the Uji River.

■Information

Tatsumiya

Address: Tōgawa-3-7 Uji, Uji-shi, Kyoto Prefecture

Opening Hours: 11:00-15:30 (Last Orders 14:30 / 16:30-22:00 (Last Orders 19:30)

No Fixed Holidays.

TEL: 0774-21-3131

3: "Ikkyuji Temple"  – Where Ikkyū spent his last years

The final place we'd like to recommend is Shuonan Ikkyujin Temple where the famous witty Buddhist monk Ikkyū spent his final years. The temple grounds are home to maple trees which are best seen from mid-November to late November.

The red and yellow leaves had already begun blooming when we arrived. The temple is one famous for its autumn colours, but its real highlight is that it's the place where Ikkyū spent his time.

Zenzai (with Ikkyuji Temple Natto): ¥700 (Tax Included)

Zenzai is a red bean soup made with adzuki beans eaten during wintertime in Japan. Did you know that it was Ikkyū himself who named this dish? Apparently it was his favourite thing to eat. At the temple you can enjoy zenzai, Ikkyuji Temple natto and tea altogether.

"Ikkyū's wit looks at things from both sides," explained Tanabe, the temple's chief priest.

Are we thankful to ourselves and those around us, or do we envy others? The choice is ours, but Tanabe kindly taught me the former. You may enjoy having a relaxing conversation with yourself too while looking out at Shuonan's Japanese-style gardens.

■Information

Shuonan (Ikkyujin Temple)

Address: 102 Takigisatonouchi, Kyōtanabe-shi, Kyoto Prefecture

Opening Hours: 9:00-17:00 (Sanctuary 9:30-16:30)

Price: General ¥500 (13+ years) / 12 years and below ¥250

Access: 5-minutes by taxi from Shin-Tanabe Station via Kintetsu Line / 5-minutes by taxi from Kyōtanabe Station via JR Line

Did you enjoy our 3 picks for Kyoto Infused with Tea? These aren't the only places either – Kyoto is home to lots of hidden gem locations."Discover your own Kyoto" too, one that only you know about.

■Writer 

Sayuri Mizuno / MOSHI MOSHI NIPPON Chief Editor

Instagram: @sayuri.mizuno

■Translator

Joshua Kitosi-Isanga

Twitter: @anokomorebi

【Kyoto Stroll】A Day Trip Bike Ride Around Tourist Spots Near Kyoto Station

Kyoto's streets tell the story of Japan's history, tradition and culture. The depths of Kyoto are something you will fall in love with when visiting this long-standing city. In this feature, models Una and Mei took strolled those same streets while calmly and wholly taking in the scenery before laid them. Please relish at your own leisure the trip of these two Kyoto girls, one that you can enjoy fully too if you have a free day.

A trip with fellow company means riding bikes!

It takes two hours and twenty minutes to arrive from Tokyo via the Tokaido Shinkansen. The first thing the two of them did upon arriving was drop by "Kyoto Eco Trip," a bicycle rental shop just a short walk from Kyoto Station. What made them decide to kick their trip off with a bike ride was because you can get a feel the wonderful sights interwoven with historical architecture and nature against your skin even though you're on the move. Kyoto has a lot of narrow alleyways, but if you're going by bicycle you can come and go between them smoothly and unhinderedly. Plus, you have the advantage of being able to maneuver your way through open areas with speed too. Travelling by bicycle means you can discuss a route for your sightseeing as well, making it a reassuring option even for first-timers in Kyoto. There are 8 varieties of bikes to choose from at the shop, and since they're equipped with an automatic assist function, you can ride around effortlessly.

It's time to go. What kind of adventure is about to begin…?

Tō-ji Temple – home to Japan's number one 5-storey pagoda

In 1994, UNESCO designated Tō-ji as part of the "Historic Monuments of Ancient Kyoto" World Heritage Sites. It's just a 5-minute bike ride from Kyoto Eco Trip.

The location is the last existing remnant of Heian-kyō, a former name for the city of Kyoto that translates to "Capital of Peace and Tranquility." It was built as a national temple along with the relocation of the capital city (Heian-kyō) almost 1,200 years ago.

Tō-ji repeatedly experienced ruin and restoration due to war, and received its full-scale reconstruction under Toyotomi Hideyori in 1603.

Tō-ji has many worthy highlights, but its five-storey pagoda, which is an appointed national treasure, is symbolic of Kyoto.

The pagoda was completed in 883. It was burnt down several times due to thunder but was ordered to be rebuilt to what it is today in 1644 by Tokugawa Iemitsu, the third Tokugawa Shogun. At 54.8 meters (180 feet) high, it stands as the tallest wooden five-storey pagoda in Japan.

In spring, Tō-ji is also a famous location for cherry blossoms. Because it has so many varieties of the flower, you can enjoy them over a long period of time. The spectacular view of cherry blossoms surrounding sights around the temple, such as the pagoda and Mieido House, will move your heart. The cherry blossom season is almost upon us. I wanted to see it myself as a Japanese person while sipping some hot umekobucha (plum and kelp tea).

If it's souvenirs you want, Otabe Honkan has it all!

The travelling duo wanted something sweet during their cycling trip, so they stopped by "Otabe Honkan." If you're looking to buy popular souvenirs from Kyoto, then this is the place to go. You can find the most perfect confectioneries as, whether as a treat for yourself or as a gift to family and friends, including a range of famous products such as "Otabe," "Yatsuhashi" and "Kyo Baum."

Here they are taste-testing while looking for their favourite picks. "Otabe" is the store's specialty and an absolute must-buy. It's made using koshihikari rice flour and red bean paste that's cooked delicately with adzuki beans from the district of Tokachi in Hokkaido.

On the second floor of the shop you can see otabe being made in the factory through a glass window. You can even try tasting freshly made otabe. It's soft, and you can enjoy the texture of the mouth-melting outside and the red bean paste. You'll find yourself smiling without even realising.

Una and Mei purchased souvenirs as well as some sweets since they became hungry on their trip.

Tōfuku-ji Temple has the oldest hojo architecture in Japan

The next destination on the list is Tōfuku-ji, a Buddhist temple with priceless architecture where you can glimpse into the life of a Zen priest of the Muromachi Period. It traces back to 1255. The temple was founded by Kujō Michiie who prayed for a temple to be built with Buddha enshrined in it as a family temple for his grandfather, Fujiwara no Kanezane. It took 19 years before completion.

The chief priest garden (houjou) that underwent ruin was built anew in 1939 has continued to survive, transcending time and space. It is called "Tofuku-ji Temple Honbo Garden." A houjou is where a priest resides. This garden is one of the four gardens that surrounds the chief priest's houjou, each of which faces in each direction: North, East, South and West. It was created by Mirei Shigemori, a Japanese modern landscape architect.

The South garden uses the classic Japanese rock garden (karesansui) landscape. Una and Mei never grew tired no matter how many times they gazed at it, with its powerful large rocks and fine, detailed sand design.

In the North was a more novel design garden that designed with a checkered pattern. It reuses paving stones that you wouldn't find in an everyday garden.

From the Tsuten Bridge you can see a valley known as 'Sengyokukan' where a small stream runs. This is the place people that makes people think of Tōfuku-ji's red autumntime leaves. The bright red maple leaves that bury this location is truly a sight to behold. The winter branches that are gradually becoming dyed red had a real elegance to them.

The travel snacks bought at Otabe Honkan came in cute packaging that went perfect with the aesthetic of Tōfuku-ji, so the two of them took a photo to commemorate. They then moved onto the next location.

Wrapping up the trip gazing at the serene flow of Kamo River

The final place Una and Mei cycled to was Kamo River, a place steeped in Kyoto's history just like the city itself. The river breeze is refreshing is you cycle along the riverbank.

The two of them parked their bikes up and had a fun girl's chat while being revitalised by the flow of the beautiful river.

When summer rolls in, the tea shops and restaurants that run along Kamo River from Kiyamachi Nijou to Kiyamachi Gojou set up noryoyuka, balconies that look over the river, specially for the summer season. You will see the place bustling at the start of summer in the evenings – the only time it gets this busy.

Spring, Summer, Autumn and Winter. Kyoto's charm lies in its ever-changing face throughout the seasons, something you'll entirely stuck on. It's a place you will want to revisit time and time again.

Try renting a bicycle on your Kyoto trip and enjoy the city and all its sights in a light different from usual.

Model:Una& Mei Nagasawa

Writer:Ai Watanabe

Photographer:Takuya Ikawa

【Kyoto Stroll】 Two travellers, one day of tourist spots, gourmet food and activities in Kyoto!

Welcome back to MOSHI MOSHI NIPPON's "Tokyo Stroll" series that recommends you travel destinations! Today, Hikari Shibata and Yuri Suganuma are leaving Tokyo and heading to the old capital Kyoto.

Together, Hikari and Yuri took the 07:00AM shinkansen train to Kyoto, arriving at 10:00AM. The first thing on their list was to fill up on some Kyoto gourmet! Sifting through Instagram and other SNS sites for the most popular spots, they decided to try some rare Kyoto confectionary at "Otabe Honkan".

 

Having set their hearts on eating before sightseeing, they visited "Otabe Honkan", a place they researched prior to their trip. After taking the subway to Jujo Station then walking for about nine minutes, they arrived.

They ordered according to what was popular online – "Kuchidoke Aisu" ( melt-in-the-mouth ice cream, ¥500 including tax), and the "Soufflé Sandwich" (¥162), which is new on the menu.

The melt-in-the-mouth "Kuchidoke Aisu" is an adzuki bean and milk shaved ice dessert which is topped with fluffy fresh cream and matcha. The Japanese word "ookini" (meaning "thank you" Kansai dialect) was written in matcha on the dessert – how cute! ♡

Hikari: The fresh cream wasn't too sweet. Yummy!! Every now and then, I got a mouthful of adzuki beans. I really liked the variety of flavours ◎.

The new soufflé sandwich was made by adding velvety cream cheese to the bread dough.

Yuri: The soufflé was soooo fluffy! The cream cheese flavour and the sandwich is a match made in heaven!

Otabe Honkan works with a factory as a joint establishment. The factory produces a variety of popular brand confectionaries from different parts of Kyoto. Fresh Yatsuhashi is one of the famous products made by Otabe.

The factory also holds handmade sweet-making classes and allows visitors to the view the factory, so if you're interested, check the link to the website below.

■Information

Otabe Honkan

Adress:35,2, Nishikujo Takahatacho, Minami Ward, Kyoto,

Opening hours: 09:00 〜 18:00

Off to Kyoto Tower – the symbol of Kyoto!

Stomachs full, the girls return to Kyoto Station and make their way to Kyoto Tower, which is the tallest building in Kyoto. The observation room is elevated 100 metres above the ground, and offers a stunning view of the streets. The many souvenir shops make it all the more popular with tourists.

On the 3rd floor of Kyoto Tower, there is a Makizushi sample-making event! (Makizushi: sushi rolled in seaweed with a filling). There are many classes running here that allow visitors to experience Japan to the full. Yuri and Hikari decided to try out something very unique to Kyoto. They headed to the Otabe dojo to learn how to make fresh Yatsuhashi sweets by hand.

Before preparation, they got changed into specialist clothing and then took a commemorative photo…but what is this photo really for?

To make these fresh Yatsuhashi by hand, the girls made a steamed flour dough, stuffed it with anko red bean paste et voila! The thick and chewy texture of the mochi made the kneading process hard work! Yuri and Hikari were silently working all the way through, kneading and kneading and kneading until their work was approved by their sensei.

Here's a picture of their highly praised Yatsuhashi. Our confectionary chefs made plain Yatsuhashi, matcha Yatsuhashi and Murasaki Imo (purple sweet potato) Yatsuhashi! Now it's time to enjoy the snacks with a tea ceremony!

Yuri: We made these ourselves and to no surprise, they're delicious!

Hikari: The dough is chewy and has a gentle flavour!

At the end, the girls received a souvenir gift and a certificate, and with that, class had ended. Inside the souvenir package, there was the photo taken at the start of the class! This put a smile on their faces.

■Information

Kyoto Tower Sando Otabe Taiken Dojo (京都タワーサンド おたべ体験道場)

Address:Kyoto Tower Building floor 2, 721-1, Higashishiokojicho, Shimogyo Ward, Kyoto

Reservations: https://otabe-ktt.dt-r.com/

*Reservation possible for up to the previous day at 15:00

 

>>next page Go to Kiyomizu-dera
RELATED ENTRIES
THE MACHIYA SHINSEN-EN: Kyoto's New Traditional & Modern Fused Hotel

THE MACHIYA SHINSEN-EN is a new hotel that just opened on Tuesday (October 15) located just a five-minute walk from Kyoto's world heritage site Nijō Castle. Renovated from an old Kyoto-esque townhouse, this 21-room hotel fuses traditional Japanese architecture with the modern, complete with a lounge on the first floor decked with an open space where guests can enjoy a gorgeous breakfast if they choose the option. The friendly staff will be waiting to welcome guests to the hotel like friends.

The hotel's name derives from Shinsenen, a Japanese Buddhist temple and Kyoto sightseeing  spot located just a one-minute walk from the site. The temple is home to Japan's only "ehomaki shrine" where Toshitokujin, the goddess of auspicious directions for the current year, is enshrined. The temple is also home to an enormous and beautiful lake, and is said to provide good luck with marriage ties, something which is known to everyone in Kyoto. The "machiya" part of the hotel's name means "townhouse" in Japanese.

The hotel combines the traditional with the modern effortlessly, with four types of suite rooms available including the spacious corner suite rooms, as well as suite rooms that focus more on traditional Japanese architecture, namely that of the old-fashioned townhouse. All suite rooms have a kitchen, washer/dryer, and other convenient amenities for those looking for a longer stay, as well as for families and larger groups.

THE SHINSEN-EN Deluxe Suite

Located on the top floor, this corner suite room offers a spacious environment and enjoys plenty of natural lighting for the window which takes up an entire wall. There are both beds as well as a tatami area with futons so you can pick how you want to sleep. There's also a roomy washroom as well as a dining space with a fully-equipped kitchen and washer dryer. The room also has a sofa, TV, refrigerator, free WiFi, and more for your convenience.

THE MACHIYA Deluxe Suite (Dragon)

This suite room has a Japanese aesthetic with its paper sliding doors and hanging scrolls. Natural light seeps in from the ceiling window fitted to the high ceiling. As well as the Japanese-style bedroom, it also has a western-style bedroom and living room, as well as both beds and futons, so you can pick if you want a Japanese sleep or a western sleep. There is a fully-equipped kitchen and washer dryer. The room also has a sofa, TV, refrigerator, free WiFi, and more for your convenience.

THE SHINSEN-EN Suite

The entrance to this suite room has lattice doors and stone paving, welcoming you with that traditional Japanese aesthetic. The spacious room basks in natural lighting from the enormous windows. There is a fully-equipped kitchen and washer dryer. The room also has a sofa, TV, refrigerator, free WiFi, and more for your convenience.

In addition to suite rooms there are four other types including Deluxe Twin, Superior Hollywood Twin, Hollywood Twin, and Classic Hollywood Twin. The rooms enjoy indigo blue and orange colouring for a relaxed and modern feel. Each have their own washrooms, toilets, sofas and desks. Additionally, all first floor rooms can be connected, so you can turn them into full 2-3 or 4-5 people spaces.

Guests can use the first floor lounge space freely and at their own leisure. And if they choose so they can also enjoy breakfast there.

The front desk staff can speak both English and Japanese so can support foreign travelers. The hotel is situated in a great place for sightseeing, so be sure to consider booking at the all-new THE MACHIYA SHINSEN-EN if travelling to Tokyo.

Information

THE MACHIYA SHINSEN-EN

Opened: October 15, 2019

Address: 17-1 17 Shinsenencho, Nakagyo Ward, Kyoto

Access: 5-minutes on foot from Nijōjō-mae Station

Rooms: 21 (approx. 22-45㎡)

Capacity: 2-5 people

Breakfast: Served in first floor lounge for an additional fee

Official Website: https://shinsen-en.com/

Suiran Ranks as Japan's Best Hotel in Condé Nast Traveler For Second Year in a Row

"Suiran, a Luxury Collection Hotel, Kyoto" has ranked as the number one hotel in Japan for the second year in a row in the Japan's Top Hotels category of Readers' Choice Awards 2019 in Condé Nast Traveler.

The Condé Nast Traveler Readers' Choice Awards lists the world's best travel experiences as ranked by international travellers. Over 600,000 people voted Suiran as Japan's best hotel for the second time.

Suiran is located in Arashiyama, Kyoto and first opened in March 2015 under a brand of luxury hotels known as The Luxury Collection®. The hotel's concept is to make full use of Arashiyama's appeal, lauded for its deep culture and history, while paving the way to the future. It houses guests from around the world who can enjoy a view of Arashiyama's lush natural landscape which changes beautifully with the seasons, and who can experience a fusion of the traditional and the modern while being served classic Kyoto hospitality.

Speaking about the award, the hotel's general manager Hiroyuki Hatori said the following: "I am greatly honoured that we have been given the number one spot two years in a row in this internationally-recognised poll. To all the people in the region who continue to support Suiran, and to all our guests who use the hotel, I thank you from the bottom of my heart. These results are an incentive to further work hard with our associates to ensure this is a hotel that people will love even more."

If you are travelling to Kyoto and looking for a place to stay, why not consider the city's best: Suiran, a hotel which continues to pass down tradition while embracing the modern?

Information

Suiran, a Luxury Collection Hotel, Kyoto

Address: 12 Sagatenryūji Susukinobabachō, Ukyo Ward, Kyoto

Access: 15-minutes on foot from Saga-Arashiyama Station / 6-minutes on foot from Arashiyama Station via Keifuku Electric Railroad / 15-minutes on foot from Arashiyama Station via the Hankyu Arashiyama Line

Official Website: https://www.marriott.com/hotels/travel/ukylc-suiran-a-luxury-collection-hotel-kyoto/

Kyoto Station's Beautiful Cafe Saryo Fukucha Releases New Herb Tea and Dessert Sets & Autumn Menu

Saryo Fukucha has unveiled new Japanese herb tea and dessert pairing sets as well as a batch of seasonal autumntime menu items.

Kyoto is a city where history and tradition come together, and where every single day, people from all around the world come and go, each encountering new experiences. Saryo Fukucha opened inside Kyoto Station back in April this year. It is managed by long-running tea company Fukujuen.

▼Japanese Herb Tea & Dessert Pairing Menu

Herb Tea & Dessert Sets: ¥900 Each (Before Tax) *Herb teas by themselves are ¥500 each
Running: From October 10, 2019 (Available all year round)

Hibiscus Blend Houjicha x Crème Brûlée Chocolate Berry Confiture

The tea is a luxurious and fragrant blend of light-roasted houjicha, hibiscus and rose hip. It's perfectly paired with a rich chocolate crème brûlée and refreshing berry confiture.

Cinnamon Blend Kukicha x Mascarpone Cream & Apple Tatin

This kukicha, or twig tea, has a distinct refreshing flavour to it. It has been blended beautifully with cinnamon and chamomile. The kukicha is paired with a caramelised apple tatin which is topped with a dollop of rich mascarpone.

Peppermint Blend Kukicha x Seasonal Fruit Tart

Peppermint and chamomile are the blending ingredients for this kukicha tea. It comes with a tart with a full-bodied almond taste topped with seasonal fruits like strawberries and raspberries.

Ginger Blend Genmaicha x Tart Ricotta with Orange

Genmaicha is combined with roasted brown rice, giving it its characteristic sweet-smelling quality. Blended with ginger and dandelion leaves, it's been matched with a fromage blanc cream-topped ricotta cheese tart with a side of orange.

▼Autumn Menu

Running: October 10, 2019 – Late February 2020 (subject to change)

Sasamaki Okowa (Matsutake Mushroom & Daggertooth Pike Conger/Minced Chicken & Yama no Sachi) Houjicha Set – ¥1,200 (Before Tax)

This set was created by Hisato Nakahigashi from Miyamasou, a highly-rated inn in Kyoto. Enjoy the combination of the houjicha tea with the bamboo leaf-wrapped okowa steamed rice.

Chestnut Houjicha Wafer Cake – ¥350 (Before Tax)

Not only does this wafer cake look cute, it's packed full of autumnal ingredients too, including astringent chestnut and coarse sweet red bean paste.

FUKUCHA Specially Made Matcha Koji Sweet Sake Red Bean Soup – ¥700 (Before Tax)

The koji sweet sake used in this dessert has a gentle flavour and a strong aroma. Added to it is matcha, chestnuts, sweet potato, and rice flour dumplings, all set into a mizu manju sweet water jelly.

Japanese confections are always best paired with Japanese tea, so be sure to stop by Saryo Fukucha when travelling around Kyoto.

Information

Saryo FUKUCHA

Address: Kyoto Station Central Exit Floor 2F (901 Higashishiokoujicho, Shiokouji Sagaru, Karasuma-dori, Shimogyo Ward, Kyoto)

Opening Hours: 8:30-21:00 (Last Orders 20:30)

No Fixed Holidays
TEL: 075-744-0552
Official Website: https://fukucha-fukujuen.com/

isetan Urban Market KYOTO: Big Name Brands to Gather Inside a Traditional Kyoto Townhouse

isetan Urban Market is a popular fashion store located inside LUCUA 1100, an apparel building directly connected to the JR side of Osaka Station. The shop is set to depart Osaka and head northeast to a traditional townhouse in Kyoto where it will open a new store named isetan Urban Market KYOTO which will open on October 12 for a limited time.

"Have Fun, Be Happy" is the concept of this shop, where a diverse range of items from some of Japan's popular brands will be sold including clothing, accessories, food lingerie, cosmetics, and more.

More than half of these brands are setting up shop in Kyoto for the first time

little $uzie

A long list of brand names will make an appearance at the pop-up shop, such as little $uzie and ch!iii which are huge at isetan Urban Market, as well as other talked-about brands like MALION vintage, Paso, Celvoke, and many more.

BELPER

The shop will also see the likes of BELPER, an up-and-coming brand established by Yuichi Ozaki who won the top prize at the Bilbao International Competition. A confectionery store from Shizuoka will also make an appearance which is so popular it has people lining up outside it two hours before opening.

ASOKO

ASOKO is selling the above-pictured line "TODAY AND." made exclusively for Kyoto.

FARMAN KITCHEN MARKET

As well as designers, Osaka's fruit and vegetable store FARMAN KITCHEN MARKET will also be in attendance selling produce from contracted farmers from around Japan. There will also be a fruit and vegetable market on October 13 and 27 where sandwiches and other delicious foods will be sold.

Tradition and contemporary come together at the townhouse

Visitors will be able to relax and enjoy a mix of traditional and contemporary design at the townhouse, including with its garden and courtyard. The design was carried out by NOTA&design which is managed by NOTA_SHOP, a select shop in Shigaraki, Nagano.

Enjoy a fun and relaxing time this autumn at isetan Urban Market KYOTO.

Information

isetan Urban Market KYOTO

Location: 355 Rokkakuchō, Nakagyo Ward, Kyoto

Access: Roughly 5-minutes on foot from Shijō Station, Karasuma Oike Station, and Karasuma Station

*No car parking or bicycle space. Please arrive using public transport including bus or train

Date: October 12, 2019 – November 4, 201

*Closed Mondays, holidays, October 15, October 21, and October 2019

Time: 12:00-19:00

Official Instagram: https://www.instagram.com/isetanurbanmarketkyoto/

Two Snoopy Chocolate Shops to Open in Kyoto on October 9

Two chocolate shops themed on American cartoonist Charles M. Schulz's Peanuts character Snoopy are set to open simultaneously in Arashiyama and Kiyomizu-zaka in Kyoto on October 9, 2019.

Tablet Chocolat – From ¥1,200

Named SNOOPY Chocolat, the shops have many delicious treats lined up for fans of Snoopy, including these tablet-shaped chocolates. There are 8 in total, each telling a story of love, friendship and family that serve to give you courage.

Tablet Chocolat Japan – From ¥500

These cute heart-shaped tablet chocolates are made with Japanese ingredients like wasabi, yuzu, shiso, sesame, matcha, adzuki, shichimi, houjicha and more.

BonBon Chocolat – From ¥800

Made with rich, fragrant cocoa and Japanese flavours like yuzu, wasabi, roasted soy flour, matcha, houjicha and Japanese sake, these luxurious chocolates are like little pieces of art featuring Snoopy in his many different looks.

Both shops will feature an interior design reminiscent of Japanese-style houses. The Kiyomizu-zaka branch will have a luxury white chocolate colour tone while the Arashiyama branch will have a brown-coloured milk chocolate tone.

Tablet Chocolat (Arashiyama Exclusive)

Tablet Chocolat (Kiyomizu-zaka Exclusive)

Both shops will also have their own individual exclusive items too like the ones above, all original to SNOOPY Chocolat.

There will of course be plenty of original merchandise to get your paws on too, like plush toys, takeout cups, mugs, tote bags, freezer bags, and more, all perfect for use at home or as gifts to a friend.

Information

SNOOPY Chocolat (Kiyomizu-zaka Branch)

Address: 2-252 Kiyomizu, Higashiyama Ward, Kyoto, Kyoto Prefecture

Business Hours: 9:30-18:30 (Open from 10:00 on October 9 only)

No Fixed Holidays

Access: 20-minutes on foot from Kiyomizu-Gojō Station via Keihan Electric Railway

SNOOPY Chocolat (Arashiyama Branch)

Address: 22 Sagatenryūji Susukinobabachō, Ukyo Ward, Kyoto, Kyoto Prefecture

Business Hours: 10:00-18:00

No Fixed Holidays

Access: 5-minutes on foot from Arashiyama Station via Keihan Electric Railway / 15-minutes on foot from Saga-Arashiyama Station via JR Line / 20-minutes on foot from Arashiyama Station via Hankyu

SNOOPY Chocolat Official Website:  http://www.snoopy-chocolat.jp

Pretty, Palatable and Pleasant: A Purin Expert's Top 6 Purin Picks in Kyoto

Here at MOSHI MOSHI NIPPON, we have never failed to provide you with the essentials: updates on the best bubble teas around Kyoto. However, today we have a special sweet treat for you. After consulting expert Instagrammer kyoto cafe life tiara, we have compiled a list of Kyoto's top purin that will fill you with satisfaction and as well as nostalgia. Purin is a type of Japanese custard pudding loved by the Japanese for generations. When it comes to searching for the best desserts in the Kansai region, kyoto cafe life tiara leaves no stone unturned . 

Cafe Yamamoto, Higashiyama

Pudding (Set): ¥750

The bitter and fragrant caramel sauce of this purin is to die for. This purin has a rich eggy flavour and is stiffer than a traditional purin. Enjoy your purin served in a silver plate which will fill you with the nostalgia of the retro Showa Era.

▼Cafe Yamamoto (やまもと喫茶)

Address:307―2 Ishibashicho, Kyoto

Opening Hours: 7:00-17:00 (L.O.16:30)

Closed: Tuesdays

Kissa Zou, Imadegawa

The purin here is rich in flavour and garnished with a scrumptious biscuit. It is too cute to eat.

▼Kissa Zou (喫茶ゾウ)

Address: 440-3 Santeicho, Kamigyo Ward, Kyoto

Opening Hours: 9:00-18:00 (Last Orders: 17:00)

No regular holidays

BAR Tantei, Mototanaka

This fancy pudding is topped with seasonal fruit, ice cream or even cake. The retro atmosphere of the bar is the perfect place to enjoy a fancy moment to yourself.

▼BAR Tantei (喫茶探偵)

Address:

26 Tanaka Satonouchicho, Sakyo Ward, Kyoto

Opening Hours: 12:00-17:00,  19:00-02:00

Closed: Sundays, additional irregular holidays.

Takagi Coffee Takashiji Honten, Shijo Street

Homemade Purin Set: ¥ 800

Takagi Coffee is known for the unique shape of their purin, which looks very similar to a slice of cake. This purin is slightly stiffer than your usual purin and has a lovely accent of rum which adults love. This is best enjoyed with a cup of coffee.

▼Takagi Coffee Takashiji Honten, Shijo Street (高木珈琲店 高辻本店)

Address: 175 Honeyacho, Shimogyo Ward, Kyoto

Opening Hours: 7:00-19:00 (Closes at 18:00 on Sundays)

Closed: January 1-3

Salon de thé François, Gion Shijo

This purin is bigger than you expect it to be. Although the flavour is simple, it will send you on a trip to old traditional Kyoto. This purin is stiffer than usual and sweet with a gentle touch of bitter caramel sauce. This is topped with ice cream and garnished with tangy yet sweet strawberries. This purin is on a slightly more luxurious level which makes it perfect for adults.

▼Salon de thé François (フランソワ喫茶室)

Address: 184 Nishikiyamachi-dori-Shijo-kudaru; Shimogyo-ku, Kyoto.

Opening Hours: 11:00-22:30(L.O 22:0)

No regular holidays

NOTTA CAFE, Saiin

This deceiving purin may appear to look like a cake and avoid jiggling like a true purin would, however, once you take a bite, the rich custard flavour will flood your mouth. The flavour is perfect for those of you who cannot handle very sweet flavours and are looking for something more refined. To fully enjoy your experience, order this purin with the oiri sweets cream soda.

▼NOTTA CAFE (ノッタカフェ)

Address: 37 Saiinkitayakakecho, Ukyo Ward, Kyoto
Opening Hours:

Tuesdays-Sundays: 11:30-20:00

Wednesdays: 11:30-21:00
Closed: Mondays

So, how about it? For those of you who are in desperate need of a sweet fix in the Kansai region, Kyoto café life tiara's Instagram will swoop in to rescue you.

Research for article contents and photos provided by: @happy_pinkrose_tiara

Taiwanese Bookstore Chain Eslite Opens New Outlet in Nihonbashi, Tokyo

Eslite Bookstore is one of the prominent bookstore chains in Taiwan that opened an all-new outlet in Nihonbashi, Tokyo on September 27, 2019 that promotes reading, culture and lifestyle.

This will be the first Eslite Spectrum shopping mall to open outside Greater China. Its concept is "a cultural wonderland for reading and living" under wh ich Eslite has curated Nihonbashi's rich history and culture to promote to the people of Tokyo.

Eslite Spectrum is always in the front row when it comes to the latest in Taiwanese trends, and it's a place I never fail to visit when I travel to Taiwan. When I heard they would be expanding to Tokyo, I couldn't wait for the day of the grand opening to arrive. I made my merry way there, excited and eager to see what kind of place it would be, and what kind of items they would stock.

The outlet is split into 4 different zones: the bookshop zone, the stationery zone, the miscellaneous item and workshop zone, and the restaurant zone. The bookshop features a line-up of carefully selected reading material and book recommendations.

One hundred brands from around the world make up the miscellaneous and eating areas. Half of the brands are Taiwanese, meaning you can get your hands on authentic goods from Taiwan itself.

The building was designed by leading Taiwanese architect Kris Yao, whose concept for the design was "interweaving the old and new." It's a stylish, welcoming building with elements of the traditional Japanese aesthetic in there. The store front has indigo blue noren entry curtains, which is both stylish and quintessentially Japanese.

This new branch of Eslite Spectrum is home to stores setting up shop in Japan for the very first time. There are also many shops here selling items exclusive to Nihonbashi. I'm going to showcase four of the places I was particularly interested in.

Kuo Yuan Ye

Kuo Yuan Ye is a confectionery shop based in Shinlin, Taipei. Since opening, they have continued to use traditional confectionery-making methods, serving sweets with deep, rich flavours.

As well as having maintained tradition, they have also released products in collaboration with rising designers. I encourage you to try their beautiful line-up yourself to taste their long, delicious history.

Sarutahiko Coffee

We have covered Sarutahiko Coffee on MOSHI MOSHI NIPPON in the past when we visited the branch in Ebisu.

The first thing that struck me upon visiting this new branch is how different the interior design is to other places. The design and its concept of "coffee and words" were created by book director Yoshitaka Haba. Quotes pulled from the books can be found written all around the cafe. There is also a space underneath the chairs for storing books. No matter where you look in the cafe, it's nothing less than stylish.

The cafe has their own special hot cakes and original coffee blends exclusive to Nihonbashi. The hot cakes are topped lavishly with mont blanc, giving it an extremely rich taste and one reminiscent of autumn-time. Both the hot cakes and this original coffee blend are limited-time menu options available until November 14, so you'll want to get in there quick.

Wonder Chuan

For the first time ever, long-standing Taiwanese tea store Wonder Chuan arrives on the shore of Japan. The shop takes great care in the growing and brewing of its tea leaves, pouring their heart and soul into every cup.

The Taiwanese oolong tea drank was a similar colour to matcha. It had a sweet flavour and a much smoother taste compared to Japanese oolong. The shop also serves a selection of cocktails made with oolong tea as well as perform traditional tea-making methods for customers. They even have plans to host their very own Taiwanese tea workshops in the future.

Fujin Tree

The last place I want to introduce is Fujin Tree, also a first in Japan. This is another one of my favourites, so I was thrilled when this one was coming to Tokyo too!

It's uncommon to be able to drink wine in restaurants in Taiwan, but the popular Fujin Tree serves Taiwanese cuisine and champagne in style.

Their dishes are packed full of fresh vegetables and fruit. One of their popular picks is their springstar and century egg with spicy minced pork. It's a tasty dish with full, rich flavours that goes well with sake. It's also great with rice. There are many amazing options on the menu, but if you're spoilt for choice then I recommend this one.

Eslite is the bridge between Japanese and Taiwanese that aims to become a hub for Asian culture. Centred around reading, there are countless experiences to look enjoy here. Discover a new side of Nihonbashi by paying a visit.

Writer: Sayuri Mizuno (MOSHI MOSHI NIPPON)

Translator: Joshua Kitosi-Isanga

Information

Eslite Spectrum Nihonbashi

Address: COREDO Muromachi Terrace 2F, 3-2-1 Nihonbashimuromachi, Chuo Ward, Tokyo

Opening Hours: 10:00-21:00 (Fuji Tree is open 11:00-23:00)

No Fixed Holidays

Official Website: http://www.eslitespectrum.jp

ONSEN GUEST HOUSE TSUTAYA to Open in Hakone This November

ONSEN GUEST HOUSE TSUTAYA is a new hot spring and guest house facility set to open in the town of Sokokura in Hakone on November 26. The building is being renovated from an old guest house that has enjoyed a long history of hot springs since the Edo period.

Sokura Onsen is about a 90 minute car drive from the city centre and is considered one of Hakone's "7 Hot Springs," a list that has been around since the Edo period. The place is said to have been used and loved by many military commanders back in the day for the high water yield gifted by the water source.

When the building was first constructed it was known as "Tsutaya Ryokan" and became a famous guest house with not only locals but travellers who would arrive all the way from Tokyo. ONSEN GUEST HOUSE TSUTAYA combines history of both Sokura Onsen and Tsutaya Ryokan.

The renovated building was built 29 years ago. Though it has been revamped, it still maintains a nostalgic air to it in the style of a traditional guest house. It's home to 6 spacious ryokan-type rooms and 46 compact rooms.

There is a space where one can gaze at the river after taking a dip in the hot springs, as well as a lounge with tables which encourages you to socialise with people you have just met. There are male and female open-air baths and indoor baths as well as a cooking space and laundry service for those looking to stay longer.

 The facility offers a retro environment in which each guest can relax and enjoy their own time as they please. Throughout the guest house is original old-fashioned furniture that has been upcycled, including kotatsu tables and shelves, to give that sense of traditional Japanese culture. This has been combined with contemporary art to create a fusion of the old and new.

It is a harmonious combination of a traditional Japanese hot spring ryokan, or inn, and a guest house, which means travellers from abroad will be able to enjoy the beauty of the country's traditional culture.

Escape the noisy city and enjoy peace and tranquillity surrounded in the colours of autumn at ONSEN GUEST HOUSE TSUTAYA

Information

ONSEN GUEST HOUSE TSUTAYA (Sokokura no Yu Tsutaya Ryokan)
Address: 240-1 SokokuraHakone, Ashigarashimo-gun, Kanagawa 250-0403
Arrival: 10-minutes on foot from Miyanoshita Station or 12-minutes on foot from Kowakidani Station, both via the Hakone Tozan Line 
Grand Opening: November 26, 2019 (Bookings begin in late October)

Official Website: https://hakone-tsutaya.com/

Kyoto's Capsule Hotel Anshin-Oyado Now Offering Plan to Take Guests to Sacred Sword Locations

Capsule hotel Anshin-Oyado Premiere Kyoto Shijo Karasuma introduced a new plan on September 6 which gives guests the chance to go and see sacred places across Kyoto associated with Japanese swords.

October 4th is known as "Japanese Sword Day" in Japan. In Kyoto alone, the number of people visiting from distant places to see sacred sword places, as well as collect goshuin stamps from shrines and temples, is on the increase-as is the number of people staying at Anshin-Oyado Premiere Kyoto Shijo Karasuma. That's where this new guest plan comes into play.

The plan will take guests around different parts of Kyoto, so the hotel as prepared three options to cater to all guests' needs: one that offers a rental bicycle, a ticket to use the subway or bus, or the normal plan. You will receive a map which shows you the most efficient way to get around all the locations. There is also a QR code on the map which not only shows where you can park your bicycle if you go for that option, but also where to collect goshuin stamps.

Moreover, to really slash home those sword memories, guests will be lent a free selfie-stick which also acts as a tripod. There is also a separate powder room for guests wanting to dress up in full sword cosplay gear too which can be used until checkout.

Guests can also rent a portable power bank for their phone so they don't have to worry about their battery running out when snapping photos amongst other amenities, and have free use of the massage chairs, foot baths, open-air baths, and more to rest up after their long pilgrimage around Kyoto seeing the different swords.

Information

Sacred Sword Site Plan

Running: September 6, 2019 – Late December 2019 (subject to change)

Target: Guests staying at Anshin-Oyado Premiere Kyoto Shijo Karasuma

Information (Japanese): http://ur0.work/UmQa

 

Anshin-Oyado Premiere Kyoto Shijo Karasuma

Six Scrumptious and Satisfying Sodas in Kyoto You Have To Try

At MOSHI MOSHI NIPPON, we have introduced a lot of kawaii bubble tea drinks you can in enjoy in Kyoto. However, we have much more to offer you than just bubble tea news! Today we have summarised the top soda drinks you can enjoy in Kyoto which both look and taste amazing. With the help of kyoto cafe life tiara 's phenomenal photos, we will be introducing you our top six picks.

SHIN-SETSU /Nakagyō-ku

Blood Orange (left)  Blue Curaçao (right): ¥690

With a variety of 24 colourful cream sodas on the menu, this café offers a rainbow of flavours to enjoy. Your aesthetic soda is best enjoyed within the the picturesque American-style interior of the café, which is filled with antiques and cute pink decorations.

▼SHIN-SETSU

Address: 277 Enpukujimaecho, Nakagyo Ward, Kyoto

Opening Hours:

Weekdays: 12:00-19:00(L.O)

Saturdays 13:00-19:00(L.O)

Sundays 12:00-19:00(L.O)

No fixed holidays

Official Instagram: @shinsetsu.kyoto

Rhône(ローヌ)

On top of the refreshing blue ocean of soda floats a scoop of ice cream ー what a nostalgic image. The bright red cherry accents the flavour. Rhône serves not only delicious sodas but also homemade pudding and many other delicious desserts which are sure to leave your stomach satisfied. 

 

▼Rhône

Address: 645-1, Sanjoinokumacho, 

Nakagyo Ward, Kyoto

Opening Hours: 12:00-22:00

Closed: Wednesdays and Thursdays

Kissa Zou (喫茶ゾウ)

After becoming a big hit in Nagoya, Kissa Zou opened a new branch in Kyoto earlier this year in April. An adorable elephant (zou) can be seen riding the very top of your scrumptious soda. It is just too cute to eat!

▼ Kizza Zou 

Address:440-3 Santeicho, Kamigyo Ward, Kyoto,

Opening Hours: 9:00-18:00(L.O 17:00)

No fixed holidays

NOTTA CAFE

Cream Soda with Oiri Sweets (left) :  ¥600 Custard Pudding (right): ¥500

NOTTA CAFE's cream sodas have decorated the front pages of magazines before. A large crowd of oiri (Japanese-style round sweets) of a variety of colours can be seen huddled together riding the ice cream float on top of this cream soda. This ice cream soda is one of a kind and full of a variety of textures and flavours so you must try it.

▼NOTTA CAFE

Address: 37 Saiinkitayakakecho, Ukyo Ward, Kyoto

Opening Hours: 11:30-20:00 (Wednesdays: 11:30-21:00)

Closed: Mondays (additional irregular holidays)

Kissa Soirée (喫茶ソワレ)

Blue Sky Cream Soda (left) Strawberry Cream Soda (right): ¥700 each

This soda is topped with vanilla ice cream and a sakuranbo cherry. When the ice cream mixes with the soda, it becomes creamy. The interesting interior of this café is the perfect place to enjoy your luxurious sparkly cream soda.

▼Kissa Soirée

Address: 95, Nishikiyamachidori Shijo Agaru Shincho, Shimogyo-ku, Kyoto

Opening Hours

1st floor: 13:00-19:00 (L.O.18:00)

2nd floor: 14:00-19:30 (L.O.18:45)

Closed:Mondays

Maeda Coffee (前田珈琲)

This butterfly pea herb tea has minty aroma and a refreshing taste.  When you mix it, it gradually turns pink so you can enjoy the flavour as well as the changing appearance of your drink.

▼Maeda Coffee

Address:  236 Takoyakushi Dori Karasuma Nishi Iru Hashibenkeicho, Nakagyo- ku, Kyoto

Opening Hours: 7:00-19:00

Open all year round.

If you are ever in Kyoto, make sure to check out these cafés. If you are looking for more inspiration, look no further than kyoto cafe life tiara's Instagram, which is full of delicious desserts in the Kansai region.

Text and photos: @happy_pinkrose_tiara

5 Temples in Kyoto Announce Exclusive Viewings For Their Secret Cultural Assets

The history of Yamashina dates back over 1,400 years when Kyoto, then known as "Heian-kyō," was the official capital of Japan. Located in the southeastern part of Kyoto, Yamashina is rich in history, abound with nature, and has maintained a traditional industry that has gone unbroken since ancient times.

This year, with the arrival of Japan's new emperor and the opening of a brand new era, five of Yamashina's great temples are set to unveil several cultural assets, which until now have never been shown to the public.

They are as follows.

Anshoji Temple's Wooden Jūichimen Kannon Statue (Important National Treasure)

Kajū-ji Temple's Sliding Door Panel Artwork  – "Eight Views of Ōmi" & "Tatsuta River Autumn Leaves" (Important National Treasures)

Zuishinin Temple's Gold Lacquered Fan Inkstone Case & 4-Panel Folding Screen

Bishamon-do Temple's Imperial Prince Flag & Tortoise Shell Doors

Honkokuji Temple's Kyōzō (Important National Treasure)

Get away from the hustle and bustle of central Kyoto and steep yourself in its history with this very special once-in-a-lifetime opportunity.

Information

Special Viewings

Running: November 16, 2019 – December 1, 2019

Viewing Times:

Anshoji Temple, Kajū-ji Temple & Honkokuji Temple: 9:00-16:30 (Last Entries 16:30)

Zuishinin Temple: 9:00-17:00 (Last Entries 16:30)

Bishamon-do Temple: [Until November 31] 8:30-17:00 (Last Entries 16:30) / [From December 1] 8:30-16:30 (Last Entries 16:00)

Price

Anshoji Temple: ¥500 / Kajū-ji Temple: ¥400 / Bishamon-do Temple: ¥500

Zuishinin Temple: ¥500 (¥700 during illuminations at 6pm-8:30pm)

Honkokuji Temple: ¥500 (+¥500 to view the Kyōzō)

More details can be found over on Totteoki Kyoto Travel: https://totteoki.kyoto.travel/ (Japanese)

Cute & Shiny Doraemon Cookies & Dango Tin Are Kyoto Souvenirs You Can't Leave Without

If you're looking for must-buy souvenirs while in Kyoto then look no further. Heso Production are set to begin releasing Doraemon cookies and a cookie tin early this month at that are exclusive to souvenir shops and variety stores in Kyoto.

The cute printed cookies feature not only familiar faces from the Doraemon series, including the adorable cat robot himself, but illustrations of sights that are quintessential to traditional Kyoto culture including the five-story pagoda and the Daimonji bonfire.

Another must-grab is this shiny Doraemon tin. Also exclusive to Kyoto, the tin features a way-too-cute shiny design of Doraemon who is holding some dango.

The tin is filled with lemon flavoured ramune candy, a perfect nibble to have while travelling.

©Fujiko Pro・Shogakukan・TV Asahi・Shinei・ADK

Information

Dokodemo Doraemon Kyoto Exclusive Printed Cookies

Contains: 20

Price: ¥800 (Before Tax)

Release Date: Early September 2019 (Date may differ from store to store)

Location: Souvenir shops and variety stores in the Kansai region

Dokodemo Doraemon Kyoto Exclusive Shiny Tin

Contains: 2 bags (8g each) of lemon flavoured ramune candy

Price: ¥600 (Before Tax)

Release Date: Early September 2019 (Date may differ from store to store)

Location: Souvenir shops and variety stores in the Kansai region

Heso Production Official Website: https://www.heso-pro.com/