Hotel 1899 Tokyo: Tea Themed Hotel Opens for Business in Shimbashi
Ryumeikan, a hotel and restaurant business that first established in 1899, opened its new tea-themed boutique hotel in the Toranomon area of Shimbashi on December 1, 2018.
The hotel boasts a favourable location being close to a string of popular tourist hot spots including Ginza, Roppongi and Marunouchi. It's also very accessible being only 20 minutes from Haneda Airport by taxi and within walking distance from four stations that run JR and Tokyo Metro lines.
There are four types of unique designer rooms to choose from that are made in the image of a Japanese tea house. Room types include a double room for two people and twin rooms only.
The 35 rooms are all fitted with bench sofas that likens to an engawa, a porch-like area found around the outside of old-style Japanese houses.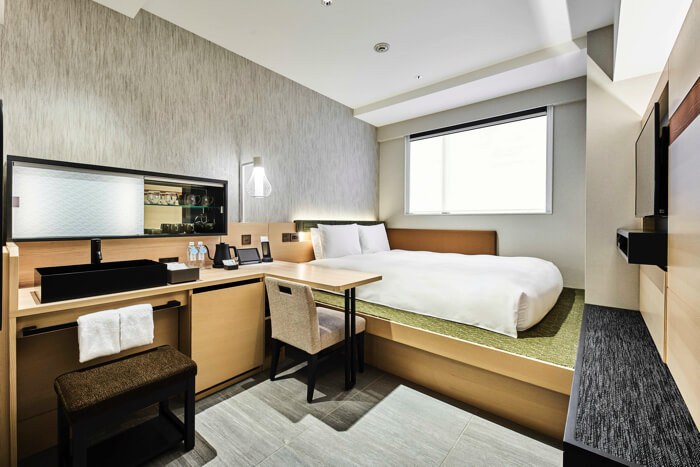 In seven of the rooms the inner half of the flooring next to the bed is raised which also evokes that engawa essence. There's also a sink next to the bed which blends with the interior design.
The front desk is also inspired by Japanese tea houses. The hotel's tea experts can pour Japanese tea for you and will even make it how you like it if you give the word.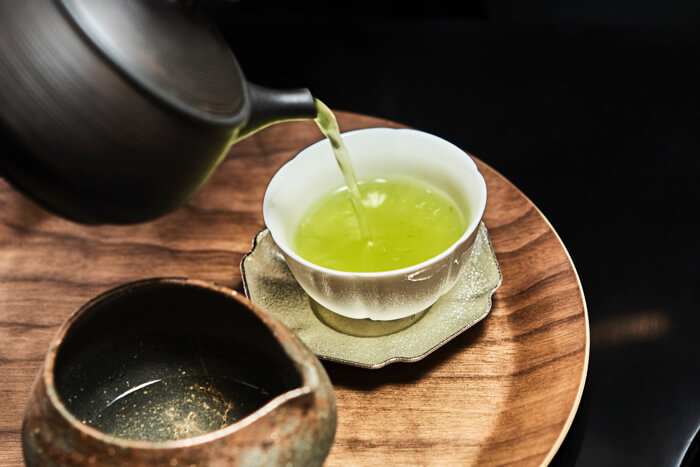 Amenities in the hotel are of course also tea-themed. The shampoo and body soap are hotel originals and have green tea in them. Teapots and teacups are also prepared for guests with which they are given a selection of four different tea types: sencha, gyokuro, wakoucha and bancha. Of these four types there are ten varieties that are changed daily, and all of them are of the 1899 brand.
All the bed mattresses in the rooms are from the Japanese bedding company Air Weave. Next to the beds are lamps that are made to look like a chasen, a type of whisk used for making tea. They come with a button so you can set the lighting to how you want it.
The hotel is decked out with all the latest facilities including free Wi-Fi, free use of Handy with which you can make free calls inside and outside Japan, and more. Guest rooms even have tablets in them.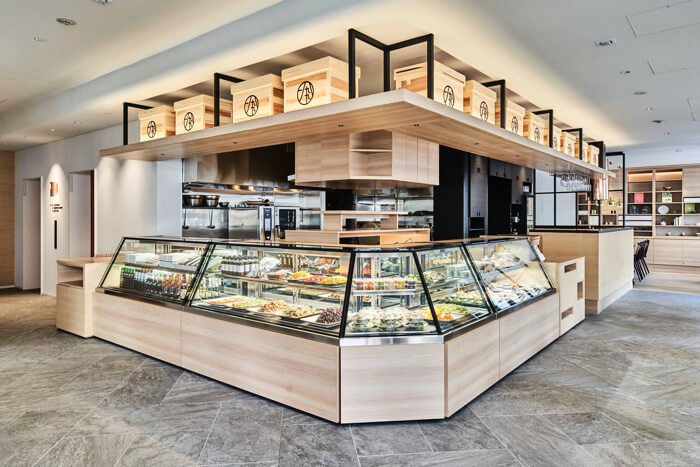 On the first floor you'll find DELI&BAR 1889 Tokyo, a restaurant and delicatessen serving tea, tea flavoured meals and tea flavoured sweets.
The restaurant is initially open for guests only where they can enjoy a free buffet style breakfast.
The restaurant's grand opening for the general public will be on January 16, 2019. The menu includes a range of healthy soups, side dishes made using Japanese green teas like matcha and houjicha, otsumami at nighttime and more. Side dishes start at an affordable price of ¥120 each. Items on the deli menu can also be ordered for takeout.
If you're looking to enjoy the quaint beauty of Japanese tea while staying in Japan then look no further than Hotel 1899 Tokyo.
Information
Hotel 1899 Tokyo
Address: 6-4-1 Shimbashi, Minato Ward, Tokyo
Opening Day: December 1, 2018
*The grand opening of the hotel's restaurant to the general public will be held on January 16, 2019
Access: 6-minutes on foot from Onarimon Station, 9-minutes from Shimbashi Station, 10-minutes from Daimon Station, 13-minutes from Hamamatsucho Station
TEL: 03-3432-1899
Official Website: http://1899.jp/hotels/tokyo/en/
RECOMMENDED ENTRIES
5 Tokyo Hotels a Little Different From the Rest

Do you ever first yourself stuck for choice when it comes to choosing a hotel to stay at during your trip? Since you're making the effort to travel, you want your hotel destination to be an enjoyable experience too, right?

We've compiled a list of hotels in Tokyo that are a little different from the rest and opened, or are set to open in 2018.

At OMO, they focus on tourism, offering not simply rooms, but a travel experience. They focus on elevating the excitement of travel for its guests by giving them the chance to fully enjoy towns and cities and the tourist spots connected to them. The hotel offers a service that helps guests discover the entertaining opportunities available to them all within walking distance of the hotel, allowing a deepening of knowledge of the city.

Full Details: https://www.moshimoshi-nippon.jp/107128

Capsule Hotel「MAYU TOKYO WOMAN」

Compared to existing capsule hotels, MAYU TOKYO HOTEL has simplified the administration process, reduced the noise level, and is committed to efficient operation. It has considered the current image of capsule hotels and changed the design process in order to increase the private atmosphere. To ensure that guests can enjoy peace of mind, their design changes started from the stairs. MAYU TOKYO HOTEL only employs female staff, which is a large change from the conventional style, and being a female-exclusive hotel,  also makes is a great option for women looking to stay somewhere.

Full Details: https://www.moshimoshi-nippon.jp/105495

Henn-na Hotel in Ginza incorporates robots and the latest cutting-edge equipment around. Two humanoid robots are installed at the front desk. A bar is also situated on the first floor that serve 300 types of alcohol including the rum produced at Bar Lamp in Ginza. During the daytime, the bar transforms into a lounge where guests can chat casually. The hotel is very comfortable to stay in, offering equipment such as the iRemocon, ChromeCast and mobile devices, and the rooms are even cleaned by an auto cleaning machine. Why not experience the latest in technology with robots while in Tokyo?

Full Details: https://www.moshimoshi-nippon.jp/91425

This hotel fuses retro tastes with modern elements. The reception area features an old 1926 Victrola Credenza gramophone by JVC USA, giving the room a nostalgic and retro feel. Rooms come with big bathrooms, high quality mattresses co-manufactured with Simmons that promise a peaceful sleep, beauty products, massage chairs and more. Consider this hotel―with its nostalgic atmosphere―if you're looking for some real relaxation.

Full Details: https://www.moshimoshi-nippon.jp/89240

This hotel is truly Japanese, with 'tea' as its core theme. Opening later this year, there will be four types of rooms to choose from, each of which are inspired by Japanese tea shops. The first floor will be home to a restaurant/delicatessen offering dishes and desserts made using tea. The second floor is where the reception will be, and the third floor upwards will be the guest rooms. At the front will be a counter where you can taste test teas, and there'l even be a shop selling tea-related products. The hotel is about a 20-minute taxi ride from Haneda Airport which is super convenient for when you land in Japan.

Full Details: https://www.moshimoshi-nippon.jp/79790

We hope this list proves useful when considering your accommodation opens when travelling to Tokyo. Be sure to enjoy your Tokyo trip to the absolute fullest.

The New MUJI Hotel Ginza Will Open its Doors on April 4, 2019

Japanese retailer of household and consumer goods MUJI will open its first hotel in Japan, MUJI Hotel Ginza, together with the MUJI Diner on April 4, 2019. Additionally, the Yurakucho branch of MUJI which opened in 2001 will close on December 2, 2018.

MUJI describes its hotels as having an "anti-gorgeous, anti-cheap" concept. These values are reflected in that you can get a good sleep for a good price in an environment fit for travellers. This will be the company's third hotel following on from the branches in Shenzhen and Beijing in China and will be the flagship location. The hotel reception will be located on the 6th floor and its 79 rooms will be spread across floors 7 to 10.

The 6th floor where the hotel front is will also be home to ATELIER MUJI GINZA, a multi-purpose facility of design and culture that includes two Galleries exhibiting a range of themes related to design and craftsmanship as well as the Salon where you can chat and enjoy tasty coffee, sake and other beverages, the Library which is decked out with books on art and design, and the Lounge where talks and workshops will be held. MUJI's ideas for the future will be promoted at each of these places.

MUJI aims to get its customers thinking about the people who produce food and the production areas by expanding its food products and food services at its new global flagship store in Ginza. For example, on the first floor, they will sell fruits and vegetables as well as juice and desserts made with fresh fruits that have been shipped directly from farms in the outskirts of Tokyo. They will also sell a variety of tea leaves (green tea, rooibos, etc.), spices and fruits by weight.

The MUJI Diner will open on floor B1F and will focus on simple food. Single guests, families and groups can enjoy a range of food at the salad counter as well as seafood, meat and more.

A pop-up store will also open on December 12 for three months on the first floor of Marronnier Gate Ginza 2 which is located between MUJI's current global flagship store in Yurakucho and their upcoming new global flagship store in Ginza. They will be selling around 7,000 lifestyle items and promoting the new services at MUJI Ginza.

Details on the items they will sell will be available on the MUJI homepage and via the MUJI Passport app.

Tokyo's TRUNK Hotel Appears in Celebrated Living Magazine's The Platinum List Awards

Boutique hotel TRUNK (HOTEL) in Tokyo was selected in the September 2018 issue of Celebrated Living for The Best Boutique Hotels in the magazine's "Platinum List Awards."

TRUNK first opened in 2017 in the district of Jingumae, Shibuya. It has an open environment that takes in all kinds of people, decked out with guest rooms, a restaurant, shop and lounge. They focus on five categories – Environment, Local First, Diversity, Health and Culture while promoting socialisation.

Nominees for the The Platinum List Awards are chosen by a panel of judges who look at a diverse range of elements including travel, fashion, media, sports and art. Hotels which stand out from the rest are voted for by readers of Celebrated Living.

The newest list released in September saw readers choose the 77 best facilities from 19 countries out of 215 hotels, resorts, restaurants, spas and so on across the world. TRUNK was the only place from Japan to appear in the ranking. It was praised for the originality of its rooms and uniqueness of activities prepared for guests amongst other things.

If you're looking for a hotel experience that's a little different then consider staying at TRUNK in Tokyo.
RELATED ENTRIES
THE MACHIYA SHINSEN-EN: Kyoto's New Traditional & Modern Fused Hotel

THE MACHIYA SHINSEN-EN is a new hotel that just opened on Tuesday (October 15) located just a five-minute walk from Kyoto's world heritage site Nijō Castle. Renovated from an old Kyoto-esque townhouse, this 21-room hotel fuses traditional Japanese architecture with the modern, complete with a lounge on the first floor decked with an open space where guests can enjoy a gorgeous breakfast if they choose the option. The friendly staff will be waiting to welcome guests to the hotel like friends.

The hotel's name derives from Shinsenen, a Japanese Buddhist temple and Kyoto sightseeing  spot located just a one-minute walk from the site. The temple is home to Japan's only "ehomaki shrine" where Toshitokujin, the goddess of auspicious directions for the current year, is enshrined. The temple is also home to an enormous and beautiful lake, and is said to provide good luck with marriage ties, something which is known to everyone in Kyoto. The "machiya" part of the hotel's name means "townhouse" in Japanese.

The hotel combines the traditional with the modern effortlessly, with four types of suite rooms available including the spacious corner suite rooms, as well as suite rooms that focus more on traditional Japanese architecture, namely that of the old-fashioned townhouse. All suite rooms have a kitchen, washer/dryer, and other convenient amenities for those looking for a longer stay, as well as for families and larger groups.

THE SHINSEN-EN Deluxe Suite

Located on the top floor, this corner suite room offers a spacious environment and enjoys plenty of natural lighting for the window which takes up an entire wall. There are both beds as well as a tatami area with futons so you can pick how you want to sleep. There's also a roomy washroom as well as a dining space with a fully-equipped kitchen and washer dryer. The room also has a sofa, TV, refrigerator, free WiFi, and more for your convenience.

THE MACHIYA Deluxe Suite (Dragon)

This suite room has a Japanese aesthetic with its paper sliding doors and hanging scrolls. Natural light seeps in from the ceiling window fitted to the high ceiling. As well as the Japanese-style bedroom, it also has a western-style bedroom and living room, as well as both beds and futons, so you can pick if you want a Japanese sleep or a western sleep. There is a fully-equipped kitchen and washer dryer. The room also has a sofa, TV, refrigerator, free WiFi, and more for your convenience.

THE SHINSEN-EN Suite

The entrance to this suite room has lattice doors and stone paving, welcoming you with that traditional Japanese aesthetic. The spacious room basks in natural lighting from the enormous windows. There is a fully-equipped kitchen and washer dryer. The room also has a sofa, TV, refrigerator, free WiFi, and more for your convenience.

In addition to suite rooms there are four other types including Deluxe Twin, Superior Hollywood Twin, Hollywood Twin, and Classic Hollywood Twin. The rooms enjoy indigo blue and orange colouring for a relaxed and modern feel. Each have their own washrooms, toilets, sofas and desks. Additionally, all first floor rooms can be connected, so you can turn them into full 2-3 or 4-5 people spaces.

Guests can use the first floor lounge space freely and at their own leisure. And if they choose so they can also enjoy breakfast there.

The front desk staff can speak both English and Japanese so can support foreign travelers. The hotel is situated in a great place for sightseeing, so be sure to consider booking at the all-new THE MACHIYA SHINSEN-EN if travelling to Tokyo.

Information

THE MACHIYA SHINSEN-EN

Opened: October 15, 2019

Address: 17-1 17 Shinsenencho, Nakagyo Ward, Kyoto

Access: 5-minutes on foot from Nijōjō-mae Station

Rooms: 21 (approx. 22-45㎡)

Capacity: 2-5 people

Breakfast: Served in first floor lounge for an additional fee

Official Website: https://shinsen-en.com/

Experience Art and the Japanese Tea Ceremony Come Together at hotel koe tokyo's Private Lounge

"hotel koe tokyo" isn't your everyday normal hotel. Developed and produced by "koe," the hotel brings together fashion, music, cuisine, and a luxury accommodation experience. In line with DESIGNART TOKYO 2019, the hotel has announced it will hold a reservation-only event entitled "DESIGNART TOKYO 2019: Tea ceremony by artless+asahiyaki" at its third-floor private lounge on October 19 and 20.

Asahi ware is a type of Japanese pottery originating in Uji, Kyoto almost 400 years ago. Hosai Matsubayashi is the 16th generation master of this long-running workshop, known as Asahiyaki, and he's set to collaborate with Shun Kawakami, an artist and art director of global branding agency artless Inc. The collaboration is being held to promote Japanese culture not only to the people of Japan but those overseas too, and "hotel koe tokyo" is the perfect place to do it due to the huge number of foreign visitors that stay at the hotel.

The two of them have taken the traditional Japanese tearoom and have put a modern spin on it. Normally, this private lounge of the hotel is only usable by guests staying there, but this reservation-only event will grant exclusive access to all. It brings together Japanese tea and art in the form of a special tea-making course. Attendees will follow Hosai Matsubayashi's instructions and prepare their own tea. During the session, both Matsubayashi and Kawakami will give talks on their work while you enjoy your tea.

Take advantage of this special occasion to learn about the beauty of Japanese tea.

Information

Tea ceremony by artless + asahiyaki
Dates: Saturday October 19, 2019 / Sunday October 20, 2019
Time: 4 Slots – ①12:00 / ②13:30 / ③15:00 / ④16:30 (60 minutes each)
Capacity: 10 per slot
Location: hotel koe tokyo ("koe lounge" on Floor 3F)
Content: Tea Making + Tea Art
Price: ¥3,000 (Before Tax)
Reservations:  https://www.tablecheck.com/ja/shops/hotelkoe-tokyo-privatelounge/reserve
*This event is reservation-only

Suiran Ranks as Japan's Best Hotel in Condé Nast Traveler For Second Year in a Row

"Suiran, a Luxury Collection Hotel, Kyoto" has ranked as the number one hotel in Japan for the second year in a row in the Japan's Top Hotels category of Readers' Choice Awards 2019 in Condé Nast Traveler.

The Condé Nast Traveler Readers' Choice Awards lists the world's best travel experiences as ranked by international travellers. Over 600,000 people voted Suiran as Japan's best hotel for the second time.

Suiran is located in Arashiyama, Kyoto and first opened in March 2015 under a brand of luxury hotels known as The Luxury Collection®. The hotel's concept is to make full use of Arashiyama's appeal, lauded for its deep culture and history, while paving the way to the future. It houses guests from around the world who can enjoy a view of Arashiyama's lush natural landscape which changes beautifully with the seasons, and who can experience a fusion of the traditional and the modern while being served classic Kyoto hospitality.

Speaking about the award, the hotel's general manager Hiroyuki Hatori said the following: "I am greatly honoured that we have been given the number one spot two years in a row in this internationally-recognised poll. To all the people in the region who continue to support Suiran, and to all our guests who use the hotel, I thank you from the bottom of my heart. These results are an incentive to further work hard with our associates to ensure this is a hotel that people will love even more."

If you are travelling to Kyoto and looking for a place to stay, why not consider the city's best: Suiran, a hotel which continues to pass down tradition while embracing the modern?

Information

Suiran, a Luxury Collection Hotel, Kyoto

Address: 12 Sagatenryūji Susukinobabachō, Ukyo Ward, Kyoto

Access: 15-minutes on foot from Saga-Arashiyama Station / 6-minutes on foot from Arashiyama Station via Keifuku Electric Railroad / 15-minutes on foot from Arashiyama Station via the Hankyu Arashiyama Line

Official Website: https://www.marriott.com/hotels/travel/ukylc-suiran-a-luxury-collection-hotel-kyoto/

Izu Shaboten Zoo Opens New Hotel Izushaboten Village

Izu Shaboten Zoo in Ito, Shizuoka has opened its very own hotel Izushaboten Village Petit Hotel which is less than a minutes' walk from the zoo itself, making it an ideal location for those looking to see the animals so they can take their time at their own leisure.

The hotel offers various different rooms, from modern and chic to the Izu Shaboten Zoo Room, Pirate Room and more. Each room has its own unique touch you won't find anywhere else. The hotel also offers an accommodation plan that comes with entry tickets to the zoo.

For food, guests can enjoy dining at La Chic, a new restaurant that opened in spring this year that makes use of homegrown vegetables and produce sourced from contracted farmers. Food is served in a semi-buffet style in mornings and evenings so you can make up your own dish. Non-guests can eat here too if they make a reservation*.

*Reservations for non-guests are dependent on free tables and other conditions. The menu style and ingredients and subject to change without notice.

If you're looking to visit Izu Shaboten Zoo, consider booking a room at their official hotel.

Royal Park Hotel Tokyo Transforms For Halloween 2019

Royal Park Hotel Tokyo in Nihonbashi has begun its Halloween festivities for 2019, including a bone-chilling black and orange food and dessert menu, spooky decorations, a photo spot in the first floor main lobby, and more.

Check out their mouth-watering sweets assortment! Their Halloween Afternoon Tea set is packed full of autumntime flavours, from the glass desserts, to the apple chiboust, chocolate pocket watches with bats on them, adorable monster burgers, and more.

The hotel is also offering a Halloween Dinner Buffet on weekends and holidays decorated in Halloween colours. Pile your tray with figs and blackcurrants, chestnut mousse, pumpkin tarts, and plenty of other tasty treats, all prepared fresh in the kitchen.

This is just a peek into the hair-raising fun happening right now at Royal Park Hotel Tokyo. There's also the Halloween Cocktail Fair, Halloween Sweets & Bread event, and much more.

Spend your Halloween here, or even use it as an opportunity to try wearing your Halloween costume out so you're ready for October 31!

Information

Halloween Afternoon Tea

Running: October 1, 2019 – October 31, 2019

Location: Fontaine (Floor 1F Lobby Lounge)

Price: ¥4,840 Per Person (Tax Included)

Halloween Dinner Buffet (Weekends & Holidays Only)

Running: October 5, 2019 – October 27, 2019

Location: Symphony (Floor 1F Lobby Lounge)

Price: ¥7,260 Per Person (Tax Included) / Seniors ¥6,050 Per Person (Tax Included)

*¥4,235 Per Person (Tax Included) for those aged 4-12 years and 65+

Halloween Cocktail Fair

Running: October 1, 2019 – October 31, 2019

Location: Fontaine (Floor 1F Lobby Lounge) / Royal Scots (Floor B1F Main Bar)

Price: ¥1,936 Per Person (Tax Included)

Halloween Sweets & Bread

Running: October 1, 2019 – October 31, 2019

Location IKI (Floor 1F Sweets & Bakery)

Royal Park Hotel Tokyo

Address: 2-1-1 Nihonbashikakigarachō, Chuo Ward, Tokyo

Official Website: https://www.rph.co.jp/

10 Things You Can Do at the MOSHI MOSHI ROOMS Hotel in Harajuku | Girls' Night In Edition

MOSHI MOSHI ROOMS is a hotel accommodation service run by MOSHI MOSHI NIPPON located in Harajuku and bookable via Airbnb. Our hotel isn't just popular for sleep, however: it has become a hot spot with stylish girls who get together and use it as a party space.

This is our Top 10 list of things you can do in SAKURAーone of the hotel roomsーso you can discover the best way to enjoy your stay in Harajuku.

①Take advantage of the room decor and decorations to snap all the photos you can!

MOSHI MOSHI ROOMS opened its first room SAKURA in December last year, and more recently ORIGAMI in August. From the walls to the furnishing, SAKURA is cherry blossom pink throughout, decked out with countless gorgeous Instagram-worthy spots popular with our female guests.

You can always get a beautiful photo together with the cherry blossom flower monument in the background, located behind the bed and bloomed right up to the ceiling.

The enormous and comfy pink bed is piled full of lots of fluffy cushions. You can take some pretty romantic pictures too when snuggled on top or in the bed.

Photographer: Kayo Sekiguchi

Don't forget about the neon sign either, a symbol of the room and the Japanese kanji character for cherry blossom (桜 sakura). Sit on the sofa in front of it and make use of the sign's lighting to get a more dreamy and fantastical shot.

②Popular Harajuku takeout food perfect for a night at MOSHI MOSHI ROOMS SAKURA

MOSHI MOSHI ROOMS is located in Tokyo's fashion and culture hub of Harajuku, and that means it's within walking distance of some quintessential kawaii and Instagrammable food shops. We've picked out three we think are perfect for ordering takeout to enjoy back in your room at SAKURA.

GOOD TOWN DOUGHNUTS

Smile Mango ¥420 / Raspberry Pistachio ¥400 / Sea Salt Caramel ¥390 (All Tax Inclusive)

GOOD TOWN DOUGHNUTS is a really popular doughnut shop in Harajuku. Their big size doughnuts not only look cute, they're the real deal taste-wise, and are also made with natural yeast, wheat flour from Hokkaido, sea salt sourced in Okinawa, sugar from Tanegashima, and organic oils. They are high-quality doughnuts full of flavour and plenty filling.

GOOD TOWN DOUGHNUTS

Address: J-cube B1F, 6-12-6 Jingumae, Shibuya, Tokyo)

TEL: 03-5485-8827

Opening Hours: 10:00-20:00

No Fixed Holidays

Official Website: http://good-town.com/

AND THE FRIET

Box (2 Friet Types) w/ Dip – From ¥800 (Before Tax)

This French fry shop makes their fries from a variety of carefully selected in-season potatoes, including potatoes from Belgium. They are crunchy on the outside and fluffy in the centre. They're also delicious even when eaten cold, making them a great takeout option. You can pick two types from six varieties for one box, plus a dip of your choice. A perfect party accompaniment.

AND THE FRIET Laforet Harajuku

Address: Laforet Harajuku 2F, 1-11-6 Jingumae, Shibuya, Tokyo
TEL: 03-6434-7568

Opening Hours: 11:00-21:00

No Fixed Holidays (Except when Laforet Harajuku is closed)

Official Website: http://andthefriet.com/

TOAST LUCK

<Macarons> From Left: Soybean Flour / Crunky / Cheese – ¥371 Each (Before Tax)

At TOAST LUCK, you can enjoy a whole range of different South Korean foods, including toast which is their main menu item. They also sell these marble-coloured macarons which are a little bigger than Japanese macarons. There's lots of flavours to choose from, all of which give you a different take on your regular macaron!

TOAST LUCK

Address: 3-27-15 Jingumae, Shibuya, Tokyo

TEL: 03-6812-9499

Opening Hours: 11:00-20:00

No Fixed Holidays

Official Website: https://www.toast-luck.com/

③Line up all your food in your hotel room for a girls' night in

Gather all of your takeout goodies from around Harajuku for a girls' night in at MOSHI MOSHI ROOMS SAKURA! The room has its own kitchen equipped with utensils, a microwave and refrigerator, so you can even prep your own food too.

The living room is nice and spacious so you can really let your hair down and relax. There's a limited number of beds but there's no limit to the amount of people that can stay over, so invite all of your friends along!

④Watch movies on the projector

The room is equipped with an Android TV mobile projector which has Netflix, Hulu, YouTube and other services on it as well as games. There's endless amounts of fun to be had, so grab your snacks and put on a movie or compete together in a game. The screen projects onto the white walls, so you can pick the best spot for viewing.

Projecting it on the wall beside the bed means you can relax while watching films or music videos together.

The cherry blossom pink MOSHI MOSHI ROOMS SAKURA offers a memorable accommodation experience like no other. We will continue the Top 10 list in the next article entitled Birthday Edition.

Remember, if you're looking to stay in Harajuku, be sure to book with MOSHI MOSHI ROOMS.

Models: Aiko / Ringo
Photographer: Haruka Yamamoto
Writer: Sayoko Ishii

Translator: Joshua Kitosi-Isanga

Disney Ambassador®️ Hotel Now Serving Adorable Cake & Drink For Halloween

Disney Halloween 2019 is in full force at both Tokyo Disneyland and Tokyo DisneySea where "ghosts" are this year's theme. The spooky festivities are set to continue until October 31.

Disney Ambassador®️ Hotel is also getting in on the Halloween action, with a bone-chilling food and drinks line-up at the Hyperion Lounge.

Disney Halloween Cake Set – ¥1,700 (Available until October 31, 2019)

The eye-catching blueberry mont blanc is served with either tea or coffee. The sweet and sourness of the blueberry combined with the cream cheese is spot on.

It's also filled with blueberry jam for even more of a blueberry kick. Mix together with the powdered mango for extra flavour.

This cake set is serve from 12:00-22:00, but there is a limited number of servings per day so be sure to get in there quick!

Disney Halloween Special Drink – ¥1,300 (Available until October 31, 2019)

The Instagram-worthy drink is serving autumn vibes with its chestnut syrup and orange colour. It's also topped with whipped cream and a cute chocolate bat. The drink has a refreshing mix of range juice and grape juice which balance deliciously with the purple sweet potato whipped cream and sweet syrup. There's also grape jelly hidden underneath the cream.

This is also served from 12:00-22:00, and gets you an original coaster. These are limited in availability.

©️Disney

Miyako Hotel Hakata Opens With Instagram-Worthy Pool, Michelin-Led Restaurant Menu & More

Miyako Hotel Hakata will have its grand opening on September 22, 2019. To help spread word of the luxurious secrets behind its doors, an official report was released detailing everything there is for guests to look forward to.

Its metropolitan exterior is inspired by the spectacular natural landscapes of Kyushu

Miyako Hotel Hakata can be found by taking the Tsukushi Exit of Hakata Station where it stands directly in front, towering above the surrounding buildings. The basement floor of the hotel is directly connected to the station for ease of access. This floor is also home to a convenience store, restaurants and more and can be used by non-guests too.

The building is a gorgeous eye-catching glass cube which offers an abundance of natural light during the day. At night, the hotel exterior is illuminated with 168 LED lights, giving it an metropolitan appearance. The building rooftop has a running 'waterfall' which is inspired by the majestic rural environments of Kyushu. Its iconic design makes it instantly-recognisable, with hopes in mind that this will make it a new landmark of Hakata.

The lobby houses a gorgeous cafe lounge serving food and drink

Up on the 3rd floor is the clean, bright and spacious front lobby where staff are waiting to greet guests warmly. In addition to the reception desk, there is CAFÉ EMPATHY, a cafe and lounge which can be used by both guests and non-guests. The cafe is produced by Transit General Offiice which is known for having produced the The Rail Kitchen Chikugo―a restaurant train―amongst a host of shared offices, hotels and more.

The spectacular menu line-up includes an array of delicious drinks from herbal teas to flavoured lattes, as well as an assortment of light meals made using ingredients from around Kyushu. They also serve an original afternoon tea that's served from 14:30. Everything on the menu is nothing short of Instagrammable and perfect for those who love to wine and dine on drinks and food that is both cute and fancy.

The colourful flavoured lattes come in four flavours and can also be ordered for takeout. One of them is the Beets Latte which is a pink colour which comes from the beetroot used to make it. It has a subtle sweetness and smooth flavour.

The stocked teas include those made by Paris-based tea company KUSMI TEA, such as the Anastasia which is a mix of standard black tea and citrus, as well as an array of decaffeinated fruit teas.

Spend your time in luxury in your room

Floors 5 through 12 are all lined with guest rooms. There are four types of rooms, all large, including Twin and Double. Each and every room has been given the same level of care and attention to create the most comfortable experience for guests.

The Deluxe room is the perfect package if you're looking to indulge in a little extravagance, whether as a treat to yourself or together with that special someone. The room design is stylish and simple, allowing for optimal relaxation. The bed is roomy and is ideal for watching the television or chatting.

All guest rooms are also equipped with tablets from which you can control the air con, lights and so on. The TV can even tell you whether the restaurant is full or not which is a super convenient feature.

A restaurant and bar menu created by a Michelin-starred chef & dreamy terrace pool

On floor 13―the top floor―you will find Miyako Hotel Hakata's must-see feature: the SOMEWHERE RESTAURANT & BAR. This all-dining restaurant's concept is "A Beautiful Place Somewhere." Its dinner menu was conceived by Michihoro Haruta, the chef at Crony, a Michelin 1-starred restaurant in Nishi-Azabu, Tokyo. The innovative menu is made with local ingredients from Fukuoka and across Kyushu. The wine menu was created by Kazutaka Ozawa, a sommelier at Crony. The restaurant enjoys a laid-back atmosphere that isn't overly formal or strict, with a glass exterior including the roof, allowing diners to enjoy the romantic evening atmosphere.

Breakfast is served to both guests and non-guests and is served as a western-style buffet packed full of assorted foods such as freshly-baked bread, omelette, Eggs Benedict, and more. They serve an original Japanese-style breakfast too for those who fancy Japanese food. The tall windows allow natural light to pour into the restaurant.

Right next to the restaurant is the hotel's very own spa, offering a natural hot spring pool, jet bath, footbath and more. As part of the hotel's grand opening, the spa is free for all guest until March 31, 2020. The hotel offers rental swimsuits too so you can freely and easily enjoy a nighttime dip. And when night truly sets in, you can gaze an unbroken view of Hakata from the roof, and the 'waterfall' next to the pool will also be lit up.

There's even a special poolside menu so you can order cocktails and light food from the terrace. With everything illuminate in beautiful lighting, your cocktail in hand, you can certainly snap some Instagram-worthy shots. And if you're looking for a warm bath, there is a large public bath and even a sauna indoors.

Winter is Coming But Hotel Chinzanso Tokyo's Yuzu Lemon Afternoon Tea Will Warm You Up

Hotel Chinzanso Tokyo will begin serving its new citrus fruit-packed Yuzu Lemon Afternoon Tea on November 1 at the Le Jardin, the hotel's lobby lounge which offers a view of the beautiful garden.

You'll see yuzu and lemons throughout the year, but it is said that winter is the best season to enjoy them. Both lemons and yuzu are said to have a relaxation effect, and so Hotel Chinzanso Tokyo will beckon guests through its cosy doors with the afternoon tea set's refreshing citrus fragrance, inviting them to an early wonderful winter at the beginning of November.

The set includes an assortment of sweets including a yuzu and lemon flavoured savarin, a lemon cheesecake that squeezes out all the juicy nectar of the citrus fruit, and more. The lemons and yuzu are the citrus kingpins of this afternoon tea.

The seasonal scones are a mix of yuzu and vanilla scones and silky white chocolate scones to relieve some of the sourness. Enjoy together with a mix of dips including salted clotted cream for even more flavour.

On the savoury side of things there is a tempting mix of bites and nibbles, including the use of spicy ginger to warm up your cold body.

Welcome the winter early this year and do it in style with Hotel Chinzanso Tokyo's new afternoon tea set.

Information

Yuzu Lemon Afternoon Tea

Running: November 1, 2019 – November 30, 2019 (*Reservations available only on weekdays)

Time: 12:00-18:00
Location: Le Jardin, Hotel Chinzanso Tokyo

Price: Yuzu Lemon Afternoon Tea ¥4,000 / With Welcome Drink ¥4,500 (Tax and service charge not included in price)

Le Jardin Webpage: https://www.hotel-chinzanso-tokyo.com/dining/le-jardin/

Hotel Chinzanso Tokyo

Address: 2-10-8 Sekiguchi, Bunkyo Ward, Tokyo

Official Website: https://www.hotel-chinzanso-tokyo.com/

Kyoto's Capsule Hotel Anshin-Oyado Now Offering Plan to Take Guests to Sacred Sword Locations

Capsule hotel Anshin-Oyado Premiere Kyoto Shijo Karasuma introduced a new plan on September 6 which gives guests the chance to go and see sacred places across Kyoto associated with Japanese swords.

October 4th is known as "Japanese Sword Day" in Japan. In Kyoto alone, the number of people visiting from distant places to see sacred sword places, as well as collect goshuin stamps from shrines and temples, is on the increase-as is the number of people staying at Anshin-Oyado Premiere Kyoto Shijo Karasuma. That's where this new guest plan comes into play.

The plan will take guests around different parts of Kyoto, so the hotel as prepared three options to cater to all guests' needs: one that offers a rental bicycle, a ticket to use the subway or bus, or the normal plan. You will receive a map which shows you the most efficient way to get around all the locations. There is also a QR code on the map which not only shows where you can park your bicycle if you go for that option, but also where to collect goshuin stamps.

Moreover, to really slash home those sword memories, guests will be lent a free selfie-stick which also acts as a tripod. There is also a separate powder room for guests wanting to dress up in full sword cosplay gear too which can be used until checkout.

Guests can also rent a portable power bank for their phone so they don't have to worry about their battery running out when snapping photos amongst other amenities, and have free use of the massage chairs, foot baths, open-air baths, and more to rest up after their long pilgrimage around Kyoto seeing the different swords.

Information

Sacred Sword Site Plan

Running: September 6, 2019 – Late December 2019 (subject to change)

Target: Guests staying at Anshin-Oyado Premiere Kyoto Shijo Karasuma

Information (Japanese): http://ur0.work/UmQa

 

Anshin-Oyado Premiere Kyoto Shijo Karasuma

The Fanciest Egg and Rice Dish You've Ever Seen Will Be Sold at Grand Hyatt Tokyo

Towering over the bustling city of Tokyo is the capital's luxury hotel Grand Hyatt Tokyo. Starting from October 1, the hotel's restaurant Shunbou, which serves Japanse-style cuisine, is introducing an all-new exquisite serving of TKG, or tamago kake gohan ("egg on rice").

The dish will be made with shinmai, or "new rice," which refers to the new rice harvested for the current year. It's topped with rich egg―a simple combination but incredibly delicious and loved by people in Japan. Normally TKG stops there, but Grand Hyatt Tokyo is taking it to the next level with a topping of caviar to create the most exquisite egg on rice you have ever seen.

Rice: The best of the best

The rice served at the hotel is harvested in the city of Nanyō in Yamagata Prefecture. It's a special kind of rice known as Tsuyahime, and the hotel makes strict selections of the harvested rice, ensuring they serve the best possible rice to guests. This rice is served only at Grand Hyatt Tokyo making it even more special.

Nanyō is blessed with rich soil. The farms have been using organic fertiliser for well over 10 years, meaning their beautiful harvests are reduced in agricultural chemicals and chemical fertilisers unlike many other farms. The rice's taste quality value has also been listed as over 80, much higher than your average rice.

Sturgeon Caviar

The caviar used in this dish is from the Sturgeon fish from Kagawa prefecture. Everything from the food to the temperature of the water for the fish is considered from when they are a young age, allowing for the best possible caviar. They are seasoned with the perfect salt quantity and are additive free, allowing for a creamy and velvety taste and texture that just melts in your mouth the moment it hits your tongue.

Rich Egg Yolk

The eggs served on the rice are from what is known as one of the country's best egg specialist shops in Kyoto. To ensure the perfect egg, the shop takes great care in the fodder and water given to the chickens from the time they are chicks. This takes away the unpleasant raw smell characteristic of eggs, and is also a healthier lifestyle for the chickens themselves. The eggs are also packed with nutrients that are said to be lacking in the people of today including vitamins, DHA, niacin, and so on.

To top it all off, the hotel has created their own original blend of dashi soy sauce just for this dish.

Information

Shunbou's Special New Rice Tamago Kake Gohan

・Freshly boiled new rice

・2 eggs

・Caviar (15 grams)

・Specially-made dashi soy sauce

*From December onward the dish will be served with Shunbou Original Caviar

Restaurant: Shunbou, Grand Hyatt Tokyo

Available: From October 1, 2019

Serving Times: Lunch 11:30-14:00 (Until 15:00 On Weekends & Holidays) / Dinner 18:00-21:30

Price: ¥20,000 (before tax and service charge)

Official Website: https://www.tokyo.grand.hyatt.co.jp/en/restaurants/shunbou-restaurant/

Tokyo's Revolutionary Buena Àrte Hostel to Open in Ryōgoku Area On September 14

Buena Àrte Hostel is a revolutionary new hostel set to open in the Ryōgoku area of Tokyo on September 14, 2019.

In response to the increase in the number of foreigners staying in Tokyo, and especially in anticipation of the Tokyo 2020 Olympics and Paralympics-when numbers are expected to skyrocket-Japan's capital is well underway in developing more accessible accommodation options for foreign travellers, from hotels to hostels.

Hostels in particular are a huge focus for the city, and so more and more of them are opening. Catered to younger people and travellers, hostels are a much cheaper accommodation option when compared to hotels, and thus are likely to increase the number of days in which people will stay.

However, what is considered much more valuable for foreign travellers is the level of comfort, cleanliness, and safety. Buena Àrte Hostel is all of these and more, meaning even somebody travelling on their own can feel safe and secure. With over 200 pieces of art adorning its walls, it is the world's first art-centred capsule hotel, focusing on "fun, comfort, and encounters."

The hostel has collaborated with globally-active artists and up-and-coming illustrators to bring their art to the walls of the communal spaces, restaurant, and even bedrooms. A lot of the pieces you can buy too.

Found in over 160 of the bedrooms are illustrations drawn by artists who want to convey the fun and excitement of travel. These illustrations are exclusive as they were drawn for the hostel and so there is only one of each in the world. There are around 60 rooms without illustrations yet, so the hostel is asking for submissions. If your illustration is picked, the hostel will offer you a free night with breakfast and dinner as thanks. You can find more details on the official website.

Buena Àrte Hostel has its own cafe and restaurant on the first floor, the Buena Cafe & Dining Bar, where guests including foreign tourists can enjoy authentic Japanese cuisine. The "Washoku Plate" is a meal set aimed at those arriving from overseas so they can enjoy a filling portion of Japanese-style cuisine. It includes everything from sukiyaki to tempura, kushikutsu, and more. It also includes Japanese sake. The bar sells other drinks too including wine, whisky and highball.

The closest station to Buena Àrte Hostel is Ryōgoku Station. Ryōgoku is a district of Tokyo filled with Japanese tradition. It is home to Ryōgoku Kokugikan, which is considered the holy ground of sumo wrestling, as well as the Sumida Hokusai Museum which houses works by the famous ukiyo-e painter Hokusai, the Japanese Sword Museum, the traditional Japanese garden Former Yasuda Garden, the Edo-Tokyo Museum-the list goes on. And all of these places and more are within 10-minutes' walking distance from Buena Àrte Hostel.

©2003-2019 valuepress CO,LTD. ALL RIGHT RESERVED.

Information

Buena Àrte Hostel

Address: 2-9-11 Yokoami, Sumida, Tokyo

Grand Opening: Buena Arte Hostel – September 14, 2019 / Buena Cafe & Dining Bar – September 20, 2019

Opening Hours: Breakfast 7:00-10:00 / Lunch 11:00-15:00 / Afternoon Tea 15:00-17:00 / Dinner 17:00-23:00

Access: 6-minutes on foot from Ryōgoku Station's JR Line Building West Exit / 5-minutes on foot from Ryōgoku Station's Toei Ōedo Line Building A1 Exit

TEL: 03-6658-8489

Official Website: http://buenaarte.com/

*No car park

*Children aged 6 years and under not permitted; those aged 6+ must share a room with parents or guardians and are charged the same price as adults