Matcha Sweets Factory Nanaya Improves its Rich Matcha Gelato Recipe
As matcha continues to grow in popularity around the world, the Sanjo branch of Nanaya in Kyoto has announced that it will release a super-rich matcha gelato to bring out an even more delicious flavour from its already tasty premium matcha gelato.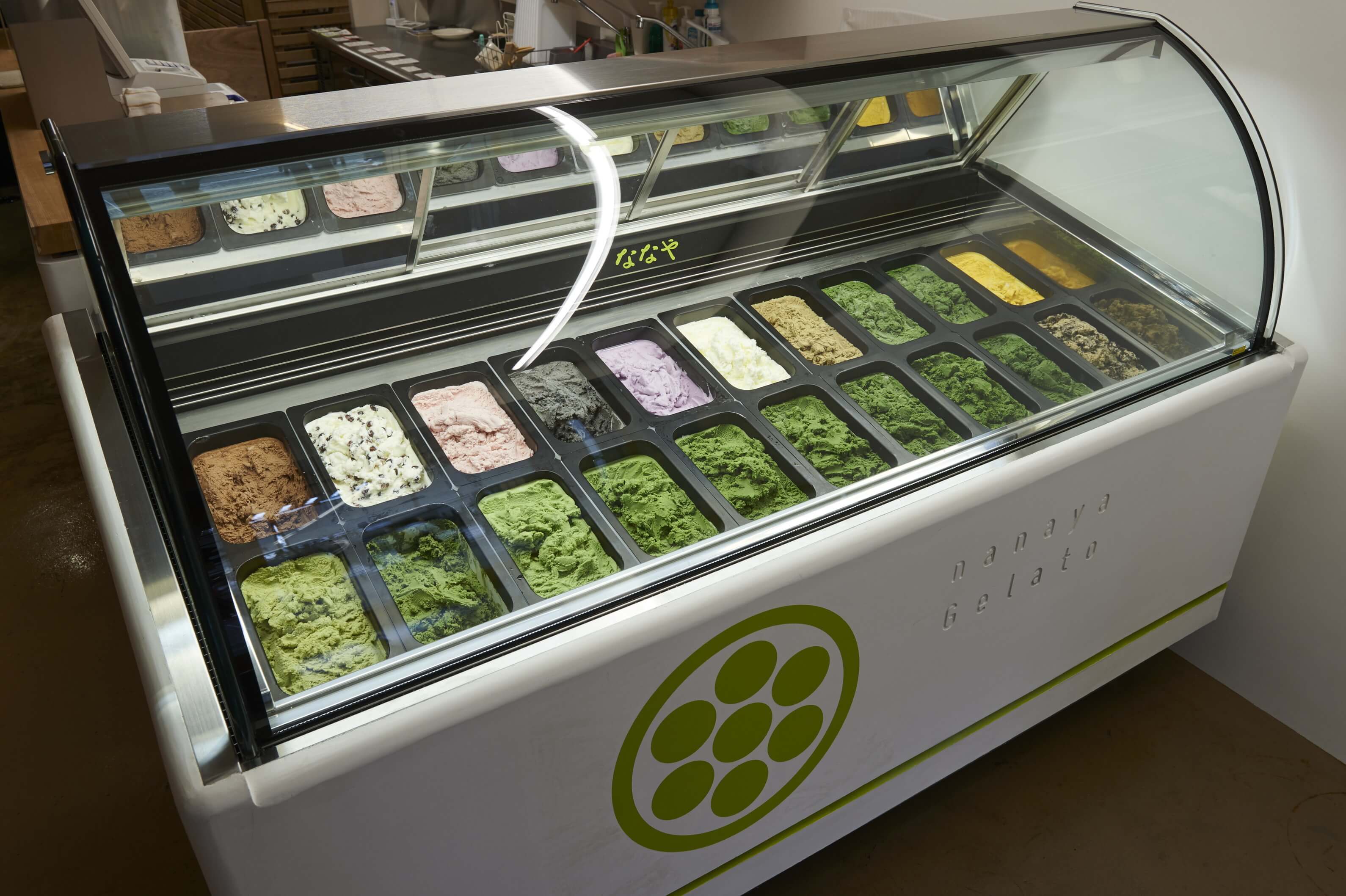 The store's classic matcha gelato is crafted from matcha sourced in Kyoto. They make at their in-store factory to ensure a freshly-made taste. The new super-rich gelato uses Nanaya's premium No.7 matcha, which is said to be the world's most intense matcha flavour, and ups the quality even more. It uses single origin tea leaves made by Yuuichi Kikuoka, a maker of matcha in Kyoto who is often covered on news media.
Single origin tea is tea that has been grown and produced in a specific region. This high quality tea is then harvested from the tea garden and carefully selected before heading to the factory to be added to the gelato.
The new gelato uses tea leaves from May 20 only. Although the tea is single origin the quality can change drastically depending on the day it is harvested. This date was selected fot its perfect climate. Although it was sunny it suddenly became cooler, resulting in an optimal temperature for the most delicious flavour.
Experience a richly flavoured matcha gelato like no other and get a taste for Kyoto's terroir which produces amazing flavour.
RECOMMENDED ENTRIES
【Tokyo Cafe】Nanaya in Aoyama has the World's Most Intense Matcha Flavoured Ice Cream

In today's installment of Tokyo Café, we head to Nanaya in Aoyama, a popular café that sells sweet and refreshing matcha gelato, perfect for the summertime.

Marushichi Seicha is a tea producer that estalished in 1988 in Shizuoka, Japan's number one tea-growing district. They were the first in Japan to sell freeze dried matcha, which has since come to prove very popular and enjoyed throughout homes in Japan due to its ease of preparation. Marushichi Seicha set out to open "Nanaya" to take advantage of the flavour of matcha, something loved by people of all ages in Japan.

The shop's special menu features a list of gelato, or ice cream, using this same delactable matcha. It offers seven varying levels of matcha intensity – level 1 begins with a more moderately sweeter flavour, but as you progress up the scale to level 7 the flavour of the matcha becomes richer and deeper. The menu also includes a range gelato using other teas too, such as houjicha (roasted green tea) and genmaicha (brown rice green tea).

The most popular item on the menu is the no. 7 level matcha gelato (¥560, tax incl.), which claims to be the most matcha-intense ice cream in the world. It uses matcha that received an award from the Minister of Agriculture, Forestry and Fisheries. There's a reason it has become so renowned, with its deeply rich and bitter matcha flavour inside which lies the right hint of refreshing sweetness.

As well as matcha flavours, Nanaya serves up other gelato too, such as the Genmaicha Gelato (pictured above on left / ¥370), a fragrant brown rice green tea that is popular among guys that visit the shop. You can customize your ice cream cups too and get double scoops (pictured above on right / ¥470) and even triple scoops (¥500), meaning you can order a variety of different flavours to try at once.

If you you're thinking of ordering another gelato flavour to go with matcha, then you should try getting it with houjicha, which has a subtle fragrance of tea in its sweetness!

>>next page

"Nanaya"known for its rich matcha sweets will open a store in Kyoto

The first Kansai area company store of "Nanaya"will be opened on February 3rd (Sat.). Here, they will sell not only their most popular very rich premium matcha gelato, but also their excellent matcha chocolate which is made using their unique production methods.

They are offering a great variety of matcha gelato types. They offers seven varying levels of matcha intensity – level 1 begins with a more moderately sweeter flavour, but as you progress up the scale to level 7 the flavour of the matcha becomes richer and deeper. The premium No. 7 matcha gelato uses high-grade matcha and this sweets item was put on sale from 2010. It has an unbelievably rich matcha flavor.

So as to let customers experience the high-quality of the matcha, matcha powered has been added to the gelato to the highest level possible. In fact, it could be said that this is not a gelato but rather a "compressed matcha."Furthermore, in the gelato contest sponsored by the Japan Gelato Council this sweets item received the highest scores.

Following the success of this matcha gelato, Nanaya is now experimenting with making an original white chocolate matcha flavor, with the aim of producing the most delicious and richest matcha chocolate in the world.

They do not just melt the white chocolate and add matcha to it, like most other chocolate matchas, but rather they use additive-free and natural ingredients to make a chocolate matcha that has texture and where the aftertaste is awesome. This is a chocolate matcha experience you will never forget.

In addition to the gelato and chocolate items there will be a limited- time-and-quantity-offer pound cake which makes good use of Kyoto's famous "Kyo yasai" (Kyoto vegetables).

Why not enjoy a maccha chocolate made by a professional green tea shop.

■Information

Nanaya Kyoto Sanjyo Shop

Opening: 2018, January 22nd (Mon.)10:00~"Neighborhood Open"

* the shop will be opened to neighbors and local residents

January 28th (Sun.) 10:00~ pre-opening event

February 3rd (Sat.) 10:00~ grand opening

Address: 92-1 Jyoru Aburaya-cho, Yanagibaba Sanjyo, Nakagyo-ku, Kyoto

Hours: 10:00~18:00

Holidyas Every first Tuesday of the month (excluding national holidays)

TEL:075-251-7780

Matcha Sweets Shop "Nanaya" Release Matcha Beer in Aoyama, Asakusa & Chicago!

Marushichi Seicha, a company that manages Nanaya – a producer of sweets made using matcha sourced in Shizuoka – is teaming up with Suzukien Asakusa by Tokyo Tocha Oroshiuri Ltd. and Yoshimura-Packaging Co., Ltd to release matcha beer at Nanaya Aoyama, the Nanaya and Suzukien Asakusa collaborative shop, and in Chicago. The beer is associated with the green beer drank on St. Patrick's Day in Ireland.

St. Patrick's Day is held annually on March 17th and observes the death of St. Patrick, the patron saint of Ireland. In the US, the colour green becomes the way to dress, and there is a custom to drink beer coloured green. There is a big parade held every year in places like New York and Chicago where everybody dons green. A parade is also held on the streets of Omotesando in Tokyo (this year it will fall on March 18th at 13:00-15:00). To uphold the custom, beer and soda made with green matcha will be sold.

The matcha beer will use the finest quality matcha sourced from Fujieda in Shizuoka Prefecture. When shaken and poured is creates a beautifully vibrant green colour. The bubbles give off a sweet smell of matcha, and the combination of the mild-tasting sweet matcha and bitter hops unleashes a gorgeously luxurious harmony like that of fresh grass the likes of which you have never tasted.

Japan is the only place you can enjoy matcha beer – so don't miss out!

■Information

Nanaya Aoyama Pop-Up Shop

Address: Asahi Bldg., 2-8-3 Shibuya, Tokyo

Opening Hours: 11:00-18:00 (Except New Year's Holidays) (Open until 19:00 from March 20th)

No Fixed Holidays.

TEL: 03-6427-9008

Available: March 17th to March 25th

Suzukien Asakusa & Nanaya Collaborative Shop

Address: 3-4-3 Asakusa, Taito, Tokyo

Opening Hours: 10:00-17:00

Closed: 3rd Wednesday of every month

: 03-3873-0311

Available: March 17th to March 18th

MIKERPHONE BREWERY AND PUB

Address: 121 Garlisch Drive, Elk Grove Village, Illinois

Available: March 17th

Website: http://nanaya-matcha.com/?mode=cate&cbid=1652482&csid=0
RELATED ENTRIES
Andy Warhol Exhibition in Kyoto: Select Major Artworks Revealed

An exhibition centred around Andy Warhol, the American artist who was at the forefront of the pop art movement, is set to roll up to the Kyocera Museum of Art in Kyoto from September 19, 2020. Around 200 pieces of art will be showcasedーover 100 of which have never been displayed in Japan beforeーas well as 15 video art pieces.

Three Marilyns (1962), Andy Warhol. The Andy Warhol Museum. *First showcasing in Japan

All of the pieces to be shown at the exhibition are the property of The Andy Warhol Museum, which is located in Pittsburgh, Pennsylvania in the US, where Warhol was born.

The Last Supper (1986), Andy Warhol. *First showcasing in Japan

Tunafish Disaster (1963), Andy Warhol. *First showcasing in Japan

Peacock (1957), Andy Warhol. *First showcasing in Japan

The line-up displays Warhol's diverse works, including his highly treasured Three Marilyns, as well as Tunafish Disaster from his Death and Disaster series, the enormous The Last Supper piece, Peacock which makes use of the Japanese style of gold leaf art, and more.

Kyoto (Kiyomizu-dera) (1956), Andy Warhol.

The exhibition will also turn its attention to Warhol's connections to Kyoto which haven't been discussed before. It will feature Warhol's sketch of Kiyomizu-dera in Kyoto which he drew during his trip around the world.

*All pieces are property of The Andy Warhol Museum

© The Andy Warhol Foundation for the Visual Arts, Inc. / Artists Rights Society (ARS), New York

The Perfect Souvenir: Kyoto's Famous OTABE Confections in Velvety Matcha Chocolate

If you're in Kyoto looking for a delicious elegant souvenir for your people back home then BijuuCo.,ltd. is your port of call. Their irresistible desserts vary from their well known sweet bean paste-filled Yatsuhashi to their Kyo-Baum. They will be releasing the mouthwatering Matcha Chocolate OTABE from November 20, 2019.

The rich aroma of the matcha chocolate will be the first thing to entice you. The matcha Yatsuhashi is made from specially selected water and Koshihikari rice, which is famed as Japan's best rice. The soft and chewy texture of the Yatsuhashi dough gently embraces a velvety, melt-in-the-mouth matcha chocolate ganache filling. These OTABE confections are bursting with the flavours of Kyoto and are only available to purchase for a limited period.

OTABE combined with Kyoto's famous matcha chocolate is matcha match made in heaven. If you're ever in Kyoto, you must try it.

Information

Matcha Chocolate OTABE

Selling: November 20, 2019 to the start of May, 2020

Price: Box of 10 (2 packs of 5): ¥660 Before Tax

Eat within 11 days of production.

Purchasable from souvenir shops in Kyoto and Kyoto Station. 

Official Website: http://www.otabe.kyoto.jp/

Make Your Own Matcha Drink and Try Black Bean Butter Toast in Nakameguro, Tokyo

If you're looking for a cool café experience in Tokyo then head to Nakameguro for a goldmine of craft beer taprooms, coffee roasters and restaurants. One café to consider adding to your list of must-go places is music café and wine bar epulor. The café has added a number of exquisite and unique items to its menu this November including a matcha drink, black bean paste and butter toast and craft cola.

Take a seat and admire the walls of old records which create a soothing artistic atmosphere while sipping your cup of the café's specialty hand drip coffee or sommelier-selected wine as the music of old records fills the air. When you have finished, feel free to take a gander at the gallery corner to appreciate the cafés art. 

The November menu introduces a high-quality matcha by UK brand Matchæologist®, providing the opportunity to make and enjoy your own matcha drink. From the high-quality rich flavour to the contemporary design of the tea vessel, Matchæologist® lives up to its reputation as artisanal matcha green tea specialists.

Fans of epulor's popular Red Bean Paste and Butter Toast are in for a treat as the café is now serving up the Black Bean Paste and Butter Toast. The bread is a charcoal bread from the bakery Lotus baguette, which uses only natural yeast, Japan-produced wheat and no additives. The binchotan charcoal used to prepare the bread is a traditional charcoal which has been used since the Edo period. The appearance is just as striking as its taste. 

The café has also started to sell Japan's craft cola TOMO COLA. The cola is spiced with flavours from around the world including kola nut, nutmeg, Japanese herbs and Japanese citrus fruits. This natural cola contains no additives so you can indulge in the taste of nature and enjoy a unique flavourful experience of Japan. 

epulor is the perfect spot to enjoy a luxurious moment of relaxation during your busy day while immersing yourself in an artistic and cultural experience. 

Information

epulor

Address: ESCENARIO AOBADAI Floor 1, 1-19-10,Aobadai, Meguro, Tokyo

Opening Hours: 11:00 – 24:00

Closed: Mondays

Website: http://www.epulor.jp/

Butter Sandwich Shop PRESS BUTTER SAND Releases Uji Matcha Flavour at Tokyo Station

The butter sandwich specialists over at PRESS BUTTER SAND are bringing their famous Uji matcha flavour butter sandwiches to their Tokyo Station branch on November 13.

Known as the Uji Matcha Butter Sand, this tasty snack was developed to celebrate the grand opening of the Kyoto Station branch of PRESS BUTTER SAND. Due to high demand, they've decided to take the product to Tokyo for a limited time.

The exterior is made with butter cream and carefully selected Uji matcha. You get the full rich flavour of the matcha and delicious taste of the butter at once. The sandwich itself is filled with bitter matcha butter cream and sweet caramel butter for a sumptuously smooth combination that marries temptingly with the crunchy cookie exterior.

The sandwich biscuits come in packaging that features navy Kyoto-esque artwork inspired by the characteristic cultivation method for Uji matcha which blocks out sunlight. The sandwiches themselves are individually packaged in matcha green packets to contrast with the box.

Don't miss out on a chance to enjoy the flavours of Kyoto while in Tokyo. Available at Tokyo Station only.

Information

Uji Matcha Butter Sand

Price: Box of 5 – ¥1,150 (Tax Included) / Box of 9 – ¥2,070 (Tax Included)

Shop: PRESS BUTTER SAND Tokyo Station

Available: November 13, 2019 – November 30, 2019

Official Website: https://buttersand.com

Chat and Eat Japanese Sweets With a Real Maiko at Hoshinoya Kyoto

Hoshinoya Kyotoーa Japanese inn in Arashiyama where all rooms offer a river viewーhas announced a new event titled "Maiko Salon" which will run next year from February 4 to March 4 which offers female guests the chance to chat with a maiko (an apprentice geisha).

Maiko Salon is a women-only get-together that offers female guests to chat casually with a real maiko. The clothes that a maiko wears, including the kanzashi ornate hairpin, kimono, obi sash, obidome sash clip, okobo footwearーeverything, from head to toeーis carefully crafted by an expert artisan. This is why maiko have been called "walking pieces of traditional craftsmanship." At the Maiko Salon, you have the opportunity to wear such craft made in Kyoto and enjoy a sophisticated womanly party.

For example, the table runners are made with Nishijin-ori, a type of fabric made in Kyoto's district of Nishijin that has a history spanning over 1,000 years. The walls will also be decorated with obi cloth art panels with Maiko motifs.

Learn all about the Hanamachi geisha district through womanly conversation

Being entertained by geisha, known in Japanese as Ozashiki Asobi, is associated with maiko and geisha serving and entertaining men, and as being very private and inaccessible without being introduced by someone else. But since 2018, Hoshinoya Kyoto has been holding this women-only occasion for women to learn more about the culture in a casual environment. It's a chance to learn more about maiko and their lifestyle through womanly topics like skincare, makeup and so on. There will also be a dance performance, after which attendees can ask about the practises of a maiko, what they think of their work, and so on.

Edible Kanzashi Ornate Hairpins

An original Japanese confection made to look like kanzashi ornate hairpins has been whipped up in 5 flavours by Kameya Yoshinaga, a long-standing Japanese confectionery maker which first opened almost 200 years ago. Enjoy together with sparkling wine during your time with the maiko.

Information

Maiko Salon

Running: February 4, 2020 – March 4, 2020 (Not running on select days)

Price: Free

Bookings: Not required

Location: Salon & Bar Kura (Hoshinoya Kyoto)

Time: 16:00-17:00 (Maiko dance held twice daily)

Includes: Conversation with maiko, maiko performance, Japanese confection, sparkling wine

For: Guests at Hoshinoya Kyoto only (Men can also participate)

Notes: Times and days subject to change on certain days. The confections are also subject to change.

Hoshinoya Kyoto Official Website: https://hoshinoya.com/en/

Starbucks to Release Two Anniversary Drinks in Kyoto and Hyogo for Only 10 Days

Starbucks Coffee Japan is commemorating 20-years since opening their Kyoto and Hyogo Prefecture branches with a 10-day-limited anniversary project which will run from November 12 to November 21. The barristers of both prefectures rose to the challenge to come up with three anniversary drinks and a vote took place to decide on a winning drink for each prefecture. The winners were announced as the Kyoto Erai Matcha Matcha Frappuccino® and the Hyogo Bari Choco Haittou Frappuccino®.  

*  Update: Starbucks Coffee Japan has just announced that the 20-year commemoration drink sales period has been postponed. The new drink launch date and limited period is yet to be announced. For more information, please follow this link (Japanese only) : https://www.starbucks.co.jp/press_release/pr2020-3224.php 

One sip of the Kyoto anniversary drink will send your taste buds on a journey to Kyoto. The ideas for the drink originated from the Kyoto Porta West branch. The barristers of Kyoto took it in their hands to interpret the culture of Kyoto in the form of a Starbucks drink by infusing the essence of Kyoto's historical temples and elegant flavours. The taste of Starbucks' popular Matcha Cream Frappuccino® can be tasted in the drink. Just seeing the green colour is enough to trigger memories of the Zen Buddhist temple Saiho-ji, which is famous for its moss garden to the extent that it is even called "Koke-dera", meaning "moss temple".

The whipped cream creates a contrast with the green matcha which will definitely spark memories of Ryoan-ji Zen temple in some keen Kyoto travellers. The drink is dusted with matcha and dark mocha powder, creating the image of green and brown leaves. The milk base fully enhances the matcha flavour. A creamy cloud of whipped cream and dusting of bitter matcha are layered to create a wonderful flavour adventure which is bound to take your taste buds on a journey off the beaten track.

Stretching from the north to the south of the Japan, Hyogo Prefecture is the largest prefecture in the Kinki region and is home to many towns which are bursting with originality. Hyogo's barristers created their drink based on the concept of increasing love for Hyogo Prefecture's unique towns. The idea for the Hyogo Bari Choco Haittou Frappuccino® came from the barristers of the Himeji Minami branch. 

The Port of Kobe opened in 1868 and has since flourished as the gateway to the world. Foreign culture including western confectionary has since spread across Japan with Kobe as its starting point. Considering Kobe's history with western culture and the cold winter days that lie ahead, chocolate was chosen as the main flavour. Chocolate chips, chocolate sauce and chocolate whipped cream decorate the drink in diversity. The drink is even topped with chocolate sauce and dark mocha powder, making the perfect luxury Frappuccino® to tempt all chocoholics. After just one sip, you will immediately fall in love with the top-class chocolatey flavour. 

If you're in Kyoto or Hyogo, make sure to stop by a Starbucks to get your fill of cultural flavours.

Information

Kyoto Erai Matcha Matcha Frappuccino®

Price:¥590 (Tall, Before Tax)

Available at 33 Starbucks Cafes across Kyoto Prefecture 

*Sales will end once stock has been fully depleted.

Hyogo Bari Choco Haittou Frappuccino®

Price:¥590 (Tall, Before Tax)

Available at 54 Starbucks Cafes across Hyogo Prefecture

*Please be aware that not all Starbucks Cafes sell the Hyogo Bari Choco Haittou Frappuccino®. Sales will end once stock has been fully depleted.

Release: Please follow this link for updates on the new sales period and start date (Japanese only):https://www.starbucks.co.jp/press_release/pr2020-3224.php

Starbucks Japan Official Website: https://www.starbucks.co.jp/en/

Kyoto Sightseeing | 4 Spots to Visit Before Autumn 2019 Ends

Autumn is a popular season in Japan, especially amongst tourists and travellers. While in spring you have the bright pink cherry blossoms, when autumntime rolls around, the trees turn into enchanting reds and yellows. People from around the world flock to see this incredible sight, with Kyoto being a very popular location.

Of course, viewing the beautiful colours of the trees and their leaves is a must during the daytime, but seeing them in the evening has become popular in recent years too. It offers you an entirely different experience and atmosphere. So if you're in the ancient capital for autumn this year, why not experience the season in an entirely new lightーat night?

Jitokuin Temple

Jitokuin Temple is located in the town of Yosano in Yosa District. Maple trees were planted almost 11 years ago with the help of locals and the chief priest to create local ties. Every autumn, the trees behind the mountain bloom in vivid hues, leading the temple to be nicknamed "Koyo-ji," or "Temple of Autumn." The locals work hard in the surrounding gardens day by day, so the sights change a little bit every year.

The maple trees are planted in a way that it looks like they take an entire side of the mountain. They are a sight to be hold during the day, but for one week in November there will be illuminations in the evenings, creating a magical scene under the night sky.

▼Jitokuin Temple

Light-Up Period: November 9, 2019 – November 16, 2019

Light-Up Time: 17:00-20:00 (Temple is open 09:00-20:00)

Autumn Foliage Peak Period: Early-Mid November

Address: 2250 Akeshi, Yosano, Yoza-gun, Kyoto

Support Fund: ¥300

Official Website: http://jitokuin.com

Nariaiji Temple

Nariaiji Temple, located in Kyoto Prefecture's city of Miyazu, is an ancient temple betwixt mountains overlooking Amanohashidate, one of Japan's "Three Scenic Views." It's home to a grand 5-storey pagoda which is surrounded by hundreds of maple trees, offering an incredible, quintessentially Japanese view during autumn.

During the day, you can snap some gorgeous photos with the Sea of Japan and Amanohashidate in the back. For two nights only, on Saturday November 9 and Sunday November 10, the entire area will be beautifully lit up with warm illuminations.

▼Nariaiji Temple

Light-Up Period: November 9, 2019 – November 10, 2019

Light-Up Time: Sunset – 21:00 (Temple is open 08:00-16:30)

Autumn Foliage Peak Period: Early-Late November

Address: 339 Nariaiji, Miyazu, Kyoto

Price: ¥500

Official Website: http://www.nariaiji.jp/

Kasagiyama Prefectural Natural Park

Kasagiyama Prefectural Natural Park: is located atop Mt. Kasagi and is also home to Kasagi-dera, a temple with a 1,300-year history. During autumn, one entire side of the park is dyed in autumnal colours.

This November, the area will be lit up for a limited period, offering a gorgeous view from the mountain peak of the trees below as well as the flowing Kizugawa river.

▼Kasagiyama Prefectural Natural Park

Light-Up Period: November 1, 2019 – November 30, 2019

Light-Up Time: 17:00-21:00 (Temple is open 09:00-16:00)

Autumn Foliage Peak Period: Early-Mid November

Address: Mt. Kasagi, Kasagi, Soraku District, Kyoto

Price: Illuminations – Free / Temple – Adults ¥300, Children ¥100

Official Website: https://www.kasagidera.or.jp

Yokokuji Temple

Normally, the Joshoin at Yokokuji Templeーalso known as Yanagidani Kannonーonly opens on the 17th of every month. But for a special autumn event, it is now open every day up until December 1. The beauty of its autumn colours have come to be enjoyed by VIPs, dating back to the pre-war period when it was designated as a place of scenic beauty. For more details on this event, click here.

▼Yanagidani Kannon Autumn Colours Week

Running: November 2, 2019 – December 1, 2019

Time: 9:00-16:00 (Joshoin open 10:00-15:00)

Location: Yanagidani Kannon, Yokokuji Temple (Dōnotani-2 Jōdodani, Nagaokakyo, Kyoto)

Entry Price: ¥300

Full Ticket: ¥1,100→¥1,100 (Includes entry to multiple areas)

Official Website: http://yanagidani.jp/

Take the time to enjoy an autumnal Kyoto this year at one of the city's seasonal events.

Kyoto Sightseeing | Yokokuji Temple's Autumn Event Schedule Announced

Yanagidani Kannon, also known as Yokokuji Temple, is located in Kyoto Prefecture's city of Nagaokakyo and has been used as a place of prayer for many people with eye disease since the Heian Period. It is believed that praying at the temple will cure eye disease.

For autumn-time this year, the temple is set to hold an event titled "Yanagidani Kannon Autumn Colours Week" from November 2 to December 1. With a seasonal schedule that includes illuminations in the gardens to a flower display at the temple water basin, if you're looking for the must-visit locations in Kyoto this autumn, then you'll want to add Yokokuji Temple to your list.

Jodoen Garden Illuminations

Last year's popular light-up event is making a return for 2019, with gorgeous illuminations developed by light designer Yuuki Kogawa which will brighten the area with an enchanting and mystifying aura different from a usual visit to the garden.

Dates: November 8th, 15th, 22nd-23rd

Time: 17:30-18:30  (Reception open from 17:00)

Price: ¥2,500 (Includes limited edition goshuin stamp)

No. of People: 20 (Bookings Only)

Bookings: https://yanagidani.jp/contact/

Special Opening of the Joshoin

Normally, the Joshoin only opens on the 17th of every month, but for this autumn week event, it will be open every day. It's an area normally limited to officials and those in the imperial family. The beauty of its autumn colours have come to be enjoyed by VIPs, dating back to the pre-war period when it was designated as a place of scenic beauty.

Hanachomizu Flower Water Basin

At every temple and shrine in Japan there is a water basin which you are to use to cleanse yourself before entering. The Hanachomizu has become hugely popular on social media since the name first appeared 3 years ago, where leaves and flowers are placed into the basin. It has become adopted at temples across the country, with the one at Yokokuji Temple starting the trend. When it was first posted onto social media, it received reactions from over 80,000 people both in Japan and overseas. The flowers used change with the seasons, from hydrangeas to maple leaves.

Limited Edition Goshuin Stamp Book Designs – Garasha Matsuri & More

Visitors will be able to pick up limited-edition goshuin stamp books which never fail to sell out whenever they are released. Goshuin are collectable stamps/seals at temples around Japan. They are ¥500 each and limited in stock.

This is just a small peek into what's to come during Yanagidani Kannon Autumn Colours Week. If you're in Kyoto, make sure you pay a visit to Yokokuji Temple.

Information

Yanagidani Kannon Autumn Colours Week

Running: November 2, 2019 – December 1, 2019

Time: 9:00-16:00 (Joshoin open 10:00-15:00)

Location: Yanagidani Kannon, Yokokuji Temple (Dōnotani-2 Jōdodani, Nagaokakyo, Kyoto)

Entry Price: ¥300

Full Ticket: ¥1,100→¥1,100 (Includes entry to multiple areas)

Official Website: http://yanagidani.jp/

3 Must-Visit Locations to See Kyoto's Autumn Colours at Night in 2019

Kyoto is known as the ancient capital of Japan. It is said to be the place where quintessential Japanese culture started, and has charmed the world over with its incredibly rich 1,200-year history.

Autumn is a popular season in Japan, especially amongst tourists and travellers. While in spring you have the bright pink cherry blossoms, when autumntime rolls around, the trees turn into enchanting reds and yellows. People from around the world flock to see this incredible sight, with Kyoto being a very popular location.

KYOTO SIDE, a regional information website run by Kyoto Prefecture, has listed a number of must-visit places around the city for seeing the autumn foliage, which is known as koyo in Japanese. Of course, viewing the beautiful colours of the trees and their leaves is a must during the daytime, but seeing them in the evening has become popular in recent years too. It offers you an entirely different experience and atmosphere. Here's three places you should jot down for your Kyoto trip this autumn.

Jitokuin Temple: A place of rest created by the chief priest and locals

Jitokuin Temple is located in the town of Yosano in Yosa District. Maple trees were planted almost 11 years ago with the help of locals and the chief priest to create local ties. Every autumn, the trees behind the mountain bloom in vivid hues, leading the temple to be nicknamed "Koyo-ji," or "Temple of Autumn." The locals work hard in the surrounding gardens day by day, so the sights change a little bit every year.

The maple trees are planted in a way that it looks like they take an entire side of the mountain. They are a sight to be hold during the day, but for one week in November there will be illuminations in the evenings, creating a magical scene under the night sky.

Light-Up Period: November 9, 2019 – November 16, 2019

Light-Up Time: 17:00-20:00 (Temple is open 09:00-20:00)

Autumn Foliage Peak Period: Early-Mid November

Address: 2250 Akeshi, Yosano, Yoza-gun, Kyoto

Support Fund: ¥300

Official Website: http://jitokuin.com

Nariaiji Temple: The 5-storey pagoda comes together with the autumn colours

Nariaiji Temple, located in Kyoto Prefecture's city of Miyazu, is an ancient temple betwixt mountains overlooking Amanohashidate, one of Japan's "Three Scenic Views." It's home to a grand 5-storey pagoda which is surrounded by hundreds of maple trees, offering an incredible, quintessentially Japanese view during autumn.

During the day, you can snap some gorgeous photos with the Sea of Japan and Amanohashidate in the back. For two nights only, on Saturday November 9 and Sunday November 10, the entire area will be beautifully lit up with warm illuminations.

Light-Up Period: November 9, 2019 – November 10, 2019

Light-Up Time: Sunset – 21:00 (Temple is open 08:00-16:30)

Autumn Foliage Peak Period: Early-Late November

Address: 339 Nariaiji, Miyazu, Kyoto

Price: ¥500

Official Website: http://www.nariaiji.jp/

Kasagiyama Prefectural Natural Park: A bright-red landscape from the mountain peak

Kasagiyama Prefectural Natural Park: is located atop Mt. Kasagi and is also home to Kasagi-dera, a temple with a 1,300-year history. During autumn, one entire side of the park is dyed in autumnal colours.

This November, the area will be lit up for a limited period, offering a gorgeous view from the mountain peak of the trees below as well as the flowing Kizugawa river.

Light-Up Period: November 1, 2019 – November 30, 2019

Light-Up Time: 17:00-21:00 (Temple is open 09:00-16:00)

Autumn Foliage Peak Period: Early-Mid November

Address: Mt. Kasagi, Kasagi, Soraku District, Kyoto

Price: Illuminations – Free / Temple – Adults ¥300, Children ¥100

Official Website: https://www.kasagidera.or.jp

See Japan's autumn colours in an entirely new way this year at one of Kyoto's many autumn-time illumination events.

THE MACHIYA SHINSEN-EN: Kyoto's New Traditional & Modern Fused Hotel

THE MACHIYA SHINSEN-EN is a new hotel that just opened on Tuesday (October 15) located just a five-minute walk from Kyoto's world heritage site Nijō Castle. Renovated from an old Kyoto-esque townhouse, this 21-room hotel fuses traditional Japanese architecture with the modern, complete with a lounge on the first floor decked with an open space where guests can enjoy a gorgeous breakfast if they choose the option. The friendly staff will be waiting to welcome guests to the hotel like friends.

The hotel's name derives from Shinsenen, a Japanese Buddhist temple and Kyoto sightseeing  spot located just a one-minute walk from the site. The temple is home to Japan's only "ehomaki shrine" where Toshitokujin, the goddess of auspicious directions for the current year, is enshrined. The temple is also home to an enormous and beautiful lake, and is said to provide good luck with marriage ties, something which is known to everyone in Kyoto. The "machiya" part of the hotel's name means "townhouse" in Japanese.

The hotel combines the traditional with the modern effortlessly, with four types of suite rooms available including the spacious corner suite rooms, as well as suite rooms that focus more on traditional Japanese architecture, namely that of the old-fashioned townhouse. All suite rooms have a kitchen, washer/dryer, and other convenient amenities for those looking for a longer stay, as well as for families and larger groups.

THE SHINSEN-EN Deluxe Suite

Located on the top floor, this corner suite room offers a spacious environment and enjoys plenty of natural lighting for the window which takes up an entire wall. There are both beds as well as a tatami area with futons so you can pick how you want to sleep. There's also a roomy washroom as well as a dining space with a fully-equipped kitchen and washer dryer. The room also has a sofa, TV, refrigerator, free WiFi, and more for your convenience.

THE MACHIYA Deluxe Suite (Dragon)

This suite room has a Japanese aesthetic with its paper sliding doors and hanging scrolls. Natural light seeps in from the ceiling window fitted to the high ceiling. As well as the Japanese-style bedroom, it also has a western-style bedroom and living room, as well as both beds and futons, so you can pick if you want a Japanese sleep or a western sleep. There is a fully-equipped kitchen and washer dryer. The room also has a sofa, TV, refrigerator, free WiFi, and more for your convenience.

THE SHINSEN-EN Suite

The entrance to this suite room has lattice doors and stone paving, welcoming you with that traditional Japanese aesthetic. The spacious room basks in natural lighting from the enormous windows. There is a fully-equipped kitchen and washer dryer. The room also has a sofa, TV, refrigerator, free WiFi, and more for your convenience.

In addition to suite rooms there are four other types including Deluxe Twin, Superior Hollywood Twin, Hollywood Twin, and Classic Hollywood Twin. The rooms enjoy indigo blue and orange colouring for a relaxed and modern feel. Each have their own washrooms, toilets, sofas and desks. Additionally, all first floor rooms can be connected, so you can turn them into full 2-3 or 4-5 people spaces.

Guests can use the first floor lounge space freely and at their own leisure. And if they choose so they can also enjoy breakfast there.

The front desk staff can speak both English and Japanese so can support foreign travelers. The hotel is situated in a great place for sightseeing, so be sure to consider booking at the all-new THE MACHIYA SHINSEN-EN if travelling to Tokyo.

Information

THE MACHIYA SHINSEN-EN

Opened: October 15, 2019

Address: 17-1 17 Shinsenencho, Nakagyo Ward, Kyoto

Access: 5-minutes on foot from Nijōjō-mae Station

Rooms: 21 (approx. 22-45㎡)

Capacity: 2-5 people

Breakfast: Served in first floor lounge for an additional fee

Official Website: https://shinsen-en.com/

Suiran Ranks as Japan's Best Hotel in Condé Nast Traveler For Second Year in a Row

"Suiran, a Luxury Collection Hotel, Kyoto" has ranked as the number one hotel in Japan for the second year in a row in the Japan's Top Hotels category of Readers' Choice Awards 2019 in Condé Nast Traveler.

The Condé Nast Traveler Readers' Choice Awards lists the world's best travel experiences as ranked by international travellers. Over 600,000 people voted Suiran as Japan's best hotel for the second time.

Suiran is located in Arashiyama, Kyoto and first opened in March 2015 under a brand of luxury hotels known as The Luxury Collection®. The hotel's concept is to make full use of Arashiyama's appeal, lauded for its deep culture and history, while paving the way to the future. It houses guests from around the world who can enjoy a view of Arashiyama's lush natural landscape which changes beautifully with the seasons, and who can experience a fusion of the traditional and the modern while being served classic Kyoto hospitality.

Speaking about the award, the hotel's general manager Hiroyuki Hatori said the following: "I am greatly honoured that we have been given the number one spot two years in a row in this internationally-recognised poll. To all the people in the region who continue to support Suiran, and to all our guests who use the hotel, I thank you from the bottom of my heart. These results are an incentive to further work hard with our associates to ensure this is a hotel that people will love even more."

If you are travelling to Kyoto and looking for a place to stay, why not consider the city's best: Suiran, a hotel which continues to pass down tradition while embracing the modern?

Information

Suiran, a Luxury Collection Hotel, Kyoto

Address: 12 Sagatenryūji Susukinobabachō, Ukyo Ward, Kyoto

Access: 15-minutes on foot from Saga-Arashiyama Station / 6-minutes on foot from Arashiyama Station via Keifuku Electric Railroad / 15-minutes on foot from Arashiyama Station via the Hankyu Arashiyama Line

Official Website: https://www.marriott.com/hotels/travel/ukylc-suiran-a-luxury-collection-hotel-kyoto/

Kyoto Station's Beautiful Cafe Saryo Fukucha Releases New Herb Tea and Dessert Sets & Autumn Menu

Saryo Fukucha has unveiled new Japanese herb tea and dessert pairing sets as well as a batch of seasonal autumntime menu items.

Kyoto is a city where history and tradition come together, and where every single day, people from all around the world come and go, each encountering new experiences. Saryo Fukucha opened inside Kyoto Station back in April this year. It is managed by long-running tea company Fukujuen.

▼Japanese Herb Tea & Dessert Pairing Menu

Herb Tea & Dessert Sets: ¥900 Each (Before Tax) *Herb teas by themselves are ¥500 each
Running: From October 10, 2019 (Available all year round)

Hibiscus Blend Houjicha x Crème Brûlée Chocolate Berry Confiture

The tea is a luxurious and fragrant blend of light-roasted houjicha, hibiscus and rose hip. It's perfectly paired with a rich chocolate crème brûlée and refreshing berry confiture.

Cinnamon Blend Kukicha x Mascarpone Cream & Apple Tatin

This kukicha, or twig tea, has a distinct refreshing flavour to it. It has been blended beautifully with cinnamon and chamomile. The kukicha is paired with a caramelised apple tatin which is topped with a dollop of rich mascarpone.

Peppermint Blend Kukicha x Seasonal Fruit Tart

Peppermint and chamomile are the blending ingredients for this kukicha tea. It comes with a tart with a full-bodied almond taste topped with seasonal fruits like strawberries and raspberries.

Ginger Blend Genmaicha x Tart Ricotta with Orange

Genmaicha is combined with roasted brown rice, giving it its characteristic sweet-smelling quality. Blended with ginger and dandelion leaves, it's been matched with a fromage blanc cream-topped ricotta cheese tart with a side of orange.

▼Autumn Menu

Running: October 10, 2019 – Late February 2020 (subject to change)

Sasamaki Okowa (Matsutake Mushroom & Daggertooth Pike Conger/Minced Chicken & Yama no Sachi) Houjicha Set – ¥1,200 (Before Tax)

This set was created by Hisato Nakahigashi from Miyamasou, a highly-rated inn in Kyoto. Enjoy the combination of the houjicha tea with the bamboo leaf-wrapped okowa steamed rice.

Chestnut Houjicha Wafer Cake – ¥350 (Before Tax)

Not only does this wafer cake look cute, it's packed full of autumnal ingredients too, including astringent chestnut and coarse sweet red bean paste.

FUKUCHA Specially Made Matcha Koji Sweet Sake Red Bean Soup – ¥700 (Before Tax)

The koji sweet sake used in this dessert has a gentle flavour and a strong aroma. Added to it is matcha, chestnuts, sweet potato, and rice flour dumplings, all set into a mizu manju sweet water jelly.

Japanese confections are always best paired with Japanese tea, so be sure to stop by Saryo Fukucha when travelling around Kyoto.

Information

Saryo FUKUCHA

Address: Kyoto Station Central Exit Floor 2F (901 Higashishiokoujicho, Shiokouji Sagaru, Karasuma-dori, Shimogyo Ward, Kyoto)

Opening Hours: 8:30-21:00 (Last Orders 20:30)

No Fixed Holidays
TEL: 075-744-0552
Official Website: https://fukucha-fukujuen.com/