Mr. Osomatsu Anime Film Adaptation Cast Photo & Post-Recording Comment Released
An official post-recording statement along with a photo of the cast for the upcoming anime film adaptation of Mr. Osomatsu has been released. Additionally, in line with the DVD/Blu-ray box set release of season one of the original series, a "Mr. Osomatsu Election" is being held to celebrate the upcoming film.
The film is an adaptation of Fujio Akatsuka's famous comedy manga of the same name. The story follows the sextuplets as they go to a high school reunion.
The post-recording statement that follows details the cast on set recording their lines and features insight into their nerves on recording as well as hilarious moments that ensued. Takahiro Sakurai who voices Osomatsu Matsuno added to the growing excitement of the movie with his comment, "The story was overwhelming, so much so that it would be fine to say, 'Hey, Japan. This is Osomatsu.'"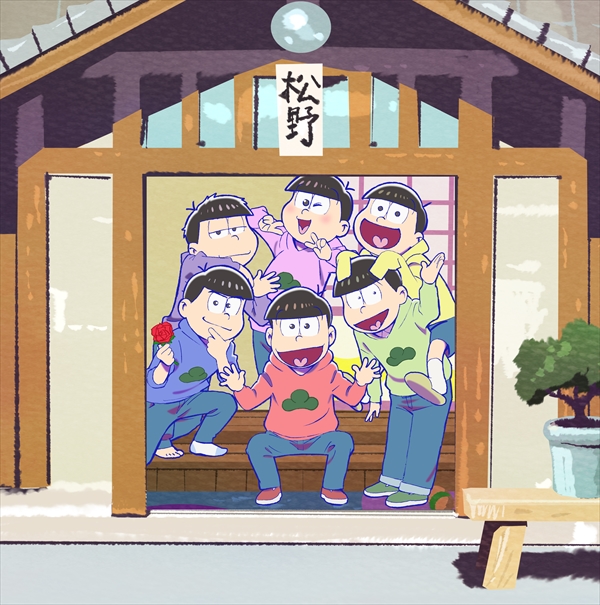 The "Mr. Osomatsu Election" asks fans to vote for their favourite episodes, secondary characters and quotes from the series. Votes are being accepted until December 31 at the official website and pop-up shops at Animate branches in Japan.
Fans who vote will be sent an original smartphone wallpaper. Select voters will also have the chance to win a signed posted from the cast of the six siblings as well as a special set normally only available to journalists and those in the media.
A special site has also opened featuring photos and videos from season one of Mr. Osomatsu. It also includes recommended episodes chosen by the cast.
Post-Recording Report
After recording tests for each part we moved onto the real recording without any fuss. Takahiro Sakurai (who voices Osomatsu Matsuno) sat down on the bench where the mark was [on the floor]. He felt fully in character as the eldest brother! During a break for the scene with an animal, there was discussion about how Sakurai is hated by animals. That really lightened the air on set. Before the main recording he even went to call the other cast members who weren't present. He took the initiative, brought them all together and said 'Let's do this.' He was even speaking to the sound director. He demonstrated an older brother attitude even on set.
Yuichi Nakamura (who voices Karamatsu) responding to the other characters' jokes was really impressive. Like when he played a nihilistic role with Yōji Ueda (who voices Dekapan), or when Aya Endo (who voices Totoko) was explaining why she's cute, he laughed came back with "What the hell's with this character?" The other cast members had fun with his words too. It brought a great atmosphere to the set. Another thing he said which brought bitter smiles to faces was during a singing scene. He said, "You're really not very good." But during the recording he was swinging his shoulders and singing! I felt Nakamura's deep affection for Mr. Osomatsu!
And Hiroshi Kamiya (who voices Choromatsu) gave it his all in the singing scene too! Before the main recording, he warmed the air by breaking out into song inside the booth where the other cast came back one by one. He hit a home run with his performance of the high schooler Choromatsu. He made the studio control room bust into laughter. And whenever a cast member had doubts with their voice recording he'd say, "No, no. You did great!" He had overwhelming consideration for those around him.
It was Jun Fukuyama (who voices Ichimatsu) who said "Leeet's do this!" when the main recording started. He fired everyone up with a lively voice, something which Ichimatsu doesn't have. He was a real mood-maker, even the audio director said, "Looks like you're all ready now!" He spoke kindly to his junior voice actors. He gazed intently at Nobuo Tobita (who voices Dayon) who effortlessly delivered a line for several minutes and who felt respect as an actor for how Fukuyama treats other people.
Daisuke Ono (who voices Jūshimatsu) is the complete opposite of his character Jūshimatsu! He didn't break concentration once in the lead up to the recording! But once it started, he changed completely, it was amazing! Even though until then he was reading the script with a serious look on his face, he became Jūshimatsu in an instant as he stood before the mic and made the other cast members burst out laughing with his lines. He showed his soft side too when offering his mic to Momoko Saitō (who voices Hatabō) who was in a pickle because her mic wasn't picking her up.
Miyu Irino (who voices Todomatsu) was grinning at Jūshimatsu too as always. He gave everyone motivation, saying "That was excellent!" to the cast when they were saying lines for the comical parts of the story. Irino's angered performance of Todomatsu who will all of a sudden reach boiling point was spectacular. People were looking at him enviously! Not only that, he backed up Kenichi Suzumura (who voices Iyami) too and set off fireworks with Sachi Kokuryu (who voices Chibita) when asking "Which of these mics should I speak into?" I felt his heartfelt consideration as an actor seeing him communicating with everyone for the dubbing.
That's how the recording went – politely and smoothly. It was a long recording session as one would expect from a movie, but nobody broke concentration, and we got it done. Please see the story unfold for yourself in the complete film which the cast gave their complete devotion to!
The film will be released in Japanese theaters on March 15, 2019
Information
Mr. Osomatsu Election
Running: Until December 31, 2018
Vote for your favourite episode, secondary character and quotes from season one. One vote per person.
You can also vote at Animate stores across Japan at the pop-store to receive a special smartphone wallpaper.
Website: https://osomatsusan.com/sousenkyo1st/
Matsu Matome
Look back over season one and see episodes recommended by the cast.
Website: https://osomatsusan.com/matome/
Mr. Osomatsu Season One DVD & Blu-ray "SPECIAL NEET BOX" Box Set
On Sale: January 18, 2019
Blu-ray: ¥30,000 (Pre-Tax)
DVD: ¥29,000 (Pre-Tax)
Mr. Osomatsu Season One DVD & Blu-ray Box Set
Blu-ray: ¥12,000 (Pre-Tax)
DVD: ¥11,000 (Pre-Tax)
Mr. Osomatsu: The Movie
Release Date: March 15, 2019
Official Movie Website: https://osomatsusan-movie.com 
Movie Trailer: https://youtu.be/4QpnuKvo6Fo
©Fujio Akatsuka/Mr. Osomatsu: The Movie Production Committee 2019
RECOMMENDED ENTRIES
Mr. Osomatsu Anime Film Adaptation Trailer and Visuals Released

It has been announced that the Mr. Osomatsu movie will hit Japanese theatres on March 15, 2019. A new trailer has been released as have two new visuals that feature the 6 brothers in their school uniforms and grown up respectively.

The film is an adaptation of Fujio Akatsuka's famous comedy manga of the same name. The story follows the sextuplets as they go to a high school reunion.

In the newly-released trailer we see the brothers at the class reunion with their old high school classmates who have matured into real adults. Seeing this, the brothers start to feel down and go home to drink until they fall asleep, but when they wake up they are met with a certain scene. The video features narration by Toshio Furukawa whose voice will be familiar to fans of Mr. Osomatsu.

The two teaser visuals feature artwork by character designer Naoyuki Asano: one of the brothers today sat in the twilight of a classroom and another of them walking along the beach as high school students. Both illustrations have a melancholic tone to them with the evening light and tagline that reads, "When will we become adults?"

Advance tickets will be available at Japanese theatres featuring illustrations of the siblings in their school uniforms. Those who buy an advance ticket will receive one of the above six pin badges.

Stay tuned for any more news on the movie in the coming months as we learn more and more about the story.

Information

Mr. Osomatsu: The Movie

Release Date: March 15, 2019

Official Website: https://osomatsusan-movie.com 

©Fujio Akatsuka/Mr. Osomatsu: The Movie Production Committee 2019

MOSHI MOSHI BOX Tourist Information Center chosen to be Osomatsusan's Goshuin Distribution Site

In commemoration of the start-up of the popular animation, "Osomatsu-kun's"second stage of broadcasting, "Osomatsu-kun," will initiate a campaign to arbitrarily cheer on Japan's 47 prefectural and city governments.

For the first stage of this campaign, original "local" stickers will be distributed.

The content of the stickers is a "goshuin"(a scarlet seal) created as a Chinese character pun between "御朱印" and "御松印."In addition, a "draft conference" similar to a pro baseball draft conference was held to decide which of the six Osomatsu-kun brothers will cheer on which prefecture/city.

"Osomatsusan"draft conference to decide which of the 6 brothers will cheer on which of the 47 prefectual and city governments.

The fouth son, "Ichimatsu"will take charge of cheering on Tokyo and MOSHI MOSHI BOX will be the distribution site for this campaign sticker. Tokyo-original stickers will be handed out during the designated period.

The campaign period will be between 2017 December 25th and 2018 March 31st. The stickers will be handed out, one sticker per person, on a first-come-first-served basis.

So, make a fast track to MOSHI MOSHI BOX!

Osomatsu "Adult Lunch Plate" features all 6 Matsuno siblings in bed

Adult fans of the hugely popular TV anime series "Mr. Osomatsu," listen up. This one's not for the kids. The "Adult Lunch Plate" is now available to order. This rare item recreates a scene of all 6 of the Matsuno siblings sleeping together in their futon.

This plate can be used for just about anything – not just for lunch. Store your little trinkets inside, set it up as decoration, or gift it to someone!

 

The dark and gloomy eyed lone wolf. He finds it difficult to express himself. What's he looking at? (Ichimatsu, the 4th brother)

A ladies man, unable to contain his romantic passion, but also noble. He has gallant eyes and much self-confidence. His expression says it all! (Karamatsu, the 2nd brother)

Cute and innocent on the surface, cold and manipulative on the other side. Look at those eyes. Two-faced Totty! (Todomatsu, the youngest brother)

The immature, self-proclaimed leader of the brothers. He gets on his siblings' nerves a lot. (Osomatsu, the eldest brother)

The clever coward. Look at that kind and fixed smile! What's he thinking about? (Choromatsu, the 3rd brother)

He's not bothered that his foot is the only one out of the bed. An unstoppable smile and a big heart. (Jyushimatsu, the 5th brother)

 

It comes with 2 different plates so it's easy to use and easy to wash. You could put curry in the flat plate or create a children's style lunch for yourself with the sectioned plate. Whatever you decide to do, it'll look great on Instagram! It's a fun little plate with all of the siblings gathered together with their distinct personalities all distinguished.

 

If you're an adults and a fan of the Matsuno siblings, then display your love to the world with your own special plate!

■Information

Osomatsu Adult's Lunch Plate (Japanese: 大人様ランチプレート)

Currently accepting pre-orders.

*Pre-orders will end on January 15, 2018 at 13:00.

*The product will be shipped from the middle of May 2018. This date is subject to change.

Sold via 'eye up' – http://www.eyeup.co.jp/

Price: ¥4,980 (tax excl.)

Size:

Whole Product – approx. 31cm x 21cm x 3.5cm

Flat Plate – approx. 21cm x 13cm x 18cm

Sectioned Plate – approx. 21cm x 13cm x 15cm

Online Shop – RUN'A TOWN: http://www.runatown.com/shopdetail/000000007044/
RELATED ENTRIES
Mr. Osomatsu Merch Lottery Draw Opens in Japan

D-techno released its 10th online lottery draw on May 24 to win a range of Mr. Osomatsu merchandise.

¥690 per turn of the lottery

The Mr. Osomatsu Web Kuji Lottery series has been running since September 2017. This will mark its 10th run, which began on May 24, the same date as the Matsuno sibling's birthdays. The line-up features a range of items with illustrations that have been popular in previous instalments. The merch also comes in a special box featuring a design of a sibling of your choice.

The Line-Up

This run includes tapestries, pins, acrylic stands, and more.

©赤塚不二夫/おそ松さん製作委員会

©D-techno

Mr. Osomatsu Themed Hotel Rooms Open Across Japan

KADOKAWA has announced that it's taking the Mr. Osomatsu themed hotel room from EJ Anime Hotel at Tokorozawa Sakura Town in Saitama, which ran from December 3, 2020 to March 31, 2021, to six hotels in Sapporo, Nagoya, Osaka, and Hakata starting on April 28.

Mr. Osomatsu anime freebies for guests

Design of the free mask case

Free coaster

The 'EJ' of EJ Anime Hotel stands for 'Entertainment Japan.' The hotel aims to have guests living inside the stories they love from a wide range of Japanese media from anime to manga, movies, tokusatsu SFX movies, idol culture, and more. As well as room decorations and the exclusive merch that will be on sale, the hotel is also offering a new kind of accommodation experience by incorporating videos, sounds, lighting, and more. Its restaurant will also offer a selection of food and drink in collaboration with various series including all-out full course dinners.

Due to its popularity with guests, the Mr. Osomatsu themed anime room is heading to six locations across Japan which are listed below.

©赤塚不二夫/おそ松さん製作委員会

This Mr. Osomatsu Merchandise is Created From the Perspective of a Cat

Japanese video game developer and product manufacturing company D-techno released a new collection of Mr. Osomatsu merchandise on Friday with designs imagined from the perspective of a cat. The items are available as part of a lottery draw running until May 7 where fans can win the items.

A-Prize: Giant Cloths (6 Designs)

B-Prize: Acrylic Diorama Stands (6 Designs)

C-Prize: Hand Towels (6 Designs)

D-Prize: Acrylic Key Rings (6 Designs)

E-Prize: Mini Acrylic Stands (6 Designs)

F-Prize: Pins (6 Designs)

Bonus Prize: Coaster (6 Designs) | Available for every 5 items bought in one transaction

The Full Line-Up

There are six designs for each piece of merchandise, each for a different one of the Matsuno siblings. The prizes range from an enormous cloth to pins. The fun collection is a must for fans of the series.

Who is your favourite of the sextuplets?

©赤塚不二夫/おそ松さん製作委員会
©D-techno

Information

Mr. Osomatsu Cat Collection

Japanese Product Name: おそ松さんのWEBくじ「おいでぼくらの子ネコちゃん」

Order Window: March 25, 2021 – May 7, 2021 (Last orders at 18:59 on the final day)

Buy Here (Japan): https://web-kuji.jp/lotteries/osomatsusan_9

Mr. Osomatsu Anime Themed Interior Products Release to Deck Your Home Out With

Japanese interior shop UselessUse laboratory have teamed up with the popular manga series Mr. Osomatsu to release a collection of interior goods inspired by the six Matsuno brothers. Orders are available until April 19 at UselessUse laboratory's online shop.

Plate Set (6 Included) | ¥9,900 (Tax Included)

Blankets (6 Designs) | ¥8,800 Each (Tax Included)

Table Clocks (6 Designs) | ¥6,600 Each (Tax Included)

The line-up includes a collection of table clocks, blankets, and plates, each in a different colour to represent the six siblings from Mr. Osomatsu. Perfect for anime fans to deck their houses out with. And for every item bought, fans will receive an  illustration of the six brothers enjoying some relaxing at-home time.

(C)赤塚不二夫/おそ松さん製作委員会

Information

UselessUse laboratory Mr. Osomatsu Merchandise

Order Window: March 24, 2021 – April 19, 2021

Shipping: Late August 2021

Online Shop: https://www.uselessuse-lab.com/

Mr. Osomatsu Releases Merchandise Collection in Collaboration With Ani-Art

Japanese anime merchandise website AMNIBUS recently released its third collection of Mr. Osomatsu items in collaboration with Ani-Art.

<12 Designs> Acrylic Stands ¥800 Each / Full Set ¥9,600 (Before Tax)

The box containing the full set of acrylic stands

<12 Designs> Acrylic Key Rings ¥680 Each / Full Set ¥8,160 (Before Tax)

The box containing the full set of acrylic key rings

<12 Designs> Pins ¥430 Each / Full Set ¥5,160 (Before Tax)

The box containing the full set of pins

The collection features designs of all 12 of the Matsuno siblings. Who is your favourite?

©赤塚不二夫/おそ松さん製作委員会

Mr. Osomatsu x Rascal the Raccoon Collaboration Launching

Nippon Animation has released a collaborated collection between The TV anime series Rascal the Raccoon and the TV anime series Mr. Osomatsu. The collection is called "Mr. Ras-Matsu" and it's available for purchase in the form of a lottery draw from March 25 on Rakuten Collection.

The Line-Up

S-Tier Prize: Die-cut Collection (6 Designs)

A-Tier Prize: Acrylic Calendar (2 Designs)

A-Tier Prize: Mr. Osomatsu Fan club member exclusive Acrylic Calendar (15 Designs)

B-Tier Prize: Pouch (6 Designs)

C-Tier Prize: Acrylic Key Ring (6 Designs)

D-Tire Prize: Acrylic Stand Figure (6 Designs)

E-Tire Prize: Pins (6 Designs)

Bonus Prize: Buy 10 sets of lotteries and get 1 mini pin of your choice.

The S-Prize is a die-cut collection, the A-Prize is an acrylic calendar, the B-Prize is a pouch, the C-Prize is an acrylic key ring, the D-Prize is an acrylic figure stand and the E-Prize is a pin. Also, you will receive the Bonus-Prize, a mini pin of your choice from 6 designs, when you buy 10 sets of lotteries at once. The illustrations were drawn exclusively for this lottery collection. Everyone is a winner on this lottery draw, you will always receive a prize.

As a project linked to the Mr. Osomatsu fan club, an exclusive prize is prepared only for the club members. When you purchase a lottery on a member exclusive page and win the A-Prize, you can get an acrylic calendar with your favorite character combination from 15 designs. At the time of purchase, authentication on the fan club is required. Additionally, if you follow the official Twitter account of Rakuten Collection and retweet a prize campaign tweet during a limited period, 3 lucky people will be given the RT-Prize of all 6 designs of the E-Prize.

Don't miss out the exclusive collection of Mr. Ras-Matsu full of cuteness.

Mr. Osomatsu Charm Collection Released in Collaboration With Anahita Stones

Japanese accessory shop Anahina Stones has released a collection of traditional Japanese charms in collaboration with the TV anime series Mr. Osomatsu.

Mr. Osomatsu Charm Pouches | ¥1,980 (Tax Included)

The pastel-coloured collection features embroidered designs of each of the Matsuno brothers. They can be tied to your bag or strung up as decorations in your room. Each charm pouch contains a tiny crystal bearing the iconic Matsuno mark as featured on their hoodies.

 

The Designs

Now fans can be protected by their favourite Matsuno brother at all times with these cute charms.

©赤塚不二夫/おそ松さん製作委員会

Mr. Osomatsu Escape Game Releases Original Merchandise Collection

Japanese escape game developer company SCRAP released a new collection of original and exclusive merchandise based on one of its Mr. Osomatsu themed escape games. The escape game was created in collaboration with the anime's third season.

The merch at a glance

Bonus items for those who book advance tickets

The escape game, which is called "Escape From the Black Market Empire," features an original voiced story that has players using their smartphones to communicate with the six Matsuno siblings. They must work with them to help repay their debt.

The merchandise collection includes plenty of must-grabs for fans like folders, stickers, tote bags, and more. And there's some bonus items for those who buy an advance tickets.

©赤塚不二夫/おそ松さん製作委員会 ©SCRAP

ROLL ICE CREAM FACTORY x Mr. Osomatsu Collaborate On Themed Ice Creams in Japan

Japananese ice cream chain ROLL ICE CREAM FACTORY is collaborating with the TV anime series Mr. Osomatsu at seven of its branches from February 10 to March 14. It will include a selection of ice creams, hot drinks, and merchandise based on the characters from the popular comedy series.

ROLL ICE CREAM FACTORY x Mr. Osomatsu Collab Visual

Ice Cream Menu

Drinks Menu

Novelty Coasters (7 Designs)

Merchandise line-up

Campaign for 5 people to win prize

Coupon to receive novelties earlier

So what exactly is 'roll ice cream'? Just as the name suggests, liquid ice cream is poured onto a freezing cold plate which is then rolled with a spatula to create cylindrical shapes. As expected, roll ice cream continues to make its way onto Instagram for its cute visual impact and unique design. Roll ice cream began in Thailand before becoming a boom over in New York. It's now popular worldwide having spread across Europe and the rest of Asia too. The first branch opened in Harajuku, Tokyo, back in 2017.

Fans of Mr. Osomatsu can look forward to a special selection of berry, vanilla, chocolate mint, and other tasty ice cream scoops based on the Matsuno siblings. Each cup also comes with a toothpick featuring an illustration of the character. There are also three hot takeout beverages perfect for the cold inwter season.

Customers can get their hands on a novelty coaster at participating branches for every item they order from the Mr. Osomatsu menu. There are seven designs which includes a secret, unknown design.

ROLL ICE CREAM FACTORY is also hosting a campaign on their official Twitter and Instagram accounts for 5 lucky fans to win a free poster. Details below.

Information

ROLL ICE CREAM FACTORY x Mr. Osomatsu Collab Cafe
Running: February 10, 2012 – March 14, 2021
Participating Branches: ROLL ICE CREAM FACTORY (Harajuku/Omotesando/Marui Family Mizunokuchi/Osaka/Dotonbori/AEON Mall Tokushima/Nagasaki/Huis Ten Bosch, Hiroshima, Hatchobori/Kumamoto/Shimotori)
Collab Details: https://edith-online.com/lp/osomatsusan-rollice

Twitter & Instagram Campaign
Running: February 10, 2012 – March 14, 2021
How to Participate: Follow ROLL ICE CREAM FACTORY on Instagram or Twitter and post with hashtag #おそ松ロールアイス
Twitter Account: @ROLLICErCREAM_F
Instagram Account:  @rollicecreamfactory
*Winners will be contacted directly on Twitter/Instagram

ROLL ICE CREAM FACTORY Official Website: https://rollicecreamfactory.com/

Mr. Osomatsu Themed Escape Game Begins Across Japan

Japanese escape game developer company SCRAP, who has welcomed more than 7.4 million players worldwide to its iconic escape games, is now holding a game themed on the popular TV anime series Mr. Osomatsu.

The game is titled "Escape From the Black Market Empire" and features an original voiced story that has players using their smartphones to communicate with the six Matsuno siblings. They must work with them to help repay their debt. It is taking place at SCRAP branches across Japan including in Kichijoji, Nagoya, and Osaka, each of which has been decorated with posters signed by seven members of the anime's voice cast.

The escape game's official website also posted a commercial that's worth checking out featuring newly-recorded lines from the iconic sextuplets.

Bonus Merch

Bonus merch for participating in the game includes:
・Champagne glass
・Coaster
・Business card
・Business card case

Original Merchandise (Prices Include Tax)

Hand Towel Set ¥2,000 / Sticker Stick ¥300 / Folder ¥1,000 / Pins ¥500 / Key Rings ¥800

©赤塚不二夫/おそ松さん製作委員会
©SCRAP

Mr. Osomatsu Anime Gets Sweet Fruit Sake Release

Japanese online sake store KURAND is set to stock a new collection of fruity sake in collaboration with the TV anime series Mr. Osomatsu. Limited-time orders will open on February 10, 2021 at 17:00 (JST).

Mr. Horomatsu's Fruit Sake – Strawberry Osomatsu Matsuno

Mr. Horomatsu's Fruit Sake – Blueberry Karamatsu Matsuno

Mr. Horomatsu's Fruit Sake – Kiwi Choromatsu Matsuno

Mr. Horomatsu's Fruit Sake – Grape Ichimatsu Matsuno

Mr. Horomatsu's Fruit Sake – Lemon Jushimatsu Matsuno

Mr. Horomatsu's Fruit Sake – Peach Todomatsu Matsuno

Free Coasters With Every Purchase

There are six beverages for each of the six Matsuno siblings, all in different flavours. Which of these fruity sake drinks do you want to try the most?

©赤塚不二夫/おそ松さん製作委員会

Mr. Osomatsu x Tower Records Promote Anime's 3rd Season With Collaboration

Tower Records is set to begin promoting the third season of the TV anime series Mr. Osomatsu from January 28 at 18 Tower Records stores, 3 Tower Records Cafes, and the Tower Records official website. Additionally, the Tower Records Cafe branches in Omotesando, Nagoya Sakae SKYLE, and Umeda NU Chayamachi will be serving up a themed menu made specially for the collaboration.

Mr. Osomatsu x Tower Records Collab Main Visual

Mr. Osomatsu x Tower Records Collab Merch

Acrylic Key Ring (6 Designs) | ¥880 Each (Tax Included)

Pins (6 Designs) | ¥660 Each (Tax Included)

Die Cut Stickers (6 Designs) | ¥330 (Tax Included)

A4 Folder | ¥660 (Tax Included)

Acrylic Stands (6 Designs) | ¥1,650 Each (Tax Included)

Eco Bag | ¥1,100 (Tax Included)

Mug | ¥1,650 (Tax Included)

Black T-Shirt | Sizes: S, M, L, XL | ¥3,980 Each (Tax Included)

Mr. Osomatsu x Tower Records Collab Cafe

There are two different menu line-ups that will be sold at different periods, but the following items will be available for both.

Available in both menus

Compliance Sure Sure Sweets Plate | ¥1,290 (Before Tax)

Osomatsu Tomato Orange Soda / Karamatsu Butterfly Milk / Ichimatsu Grape Soda / Choromatsu Kiwi Lemon / Todomatsu Dragon Fruit Yoghurt / Jyushimatsu Mango Milk | ¥850 Each (Before Tax)

Takeout Bottles (6 Designs) | ¥900 Each (Before Tax)

Menu ①

Osomatsu's Hot Berry Chocolate | ¥1,290 (Before Tax)

Karamatsu's Blue Glass Parfait | ¥1,290 (Before Tax)

Choromatsu's Matsu Matcha Pancake | ¥1,290 (Before Tax)

Ichimatsu's Purple Cabbage Peperoncino | ¥1,490 (Before Tax)

Jyushimatsu's Pumpkin Gratin | ¥1,490 (Before Tax)

Totty's Roast Beef Tortilla Bouquet | ¥1,490 (Before Tax)

Cafe Bonus Items

This marks Tower Record's third collaboration with Mr. Osomatsu, the last two being held in 2016 and 2017. The stores will also sell a special selection of collaborative merch, and seven major Tower Records stores will also have Mr. Osomatsu promos and displays on show. Fans can get their hands on a range of bonus items by dining at the cafe too, where you can order to eat-in or take out.

©赤塚不二夫/おそ松さん製作委員会