GINZA SIX New Year Sale: Free Performances, Lucky-Dip Bags, Food & More
Ginza's largest shopping complex GINZA SIX has announced a huge sale for the new year which will begin on January 2. It take place at around 100 stores where they boast the latest global trends.
A host of free performances will also take place on January 2 and 3 at the Kanze Noh Theater on floor B3F. Look forward to a brass band jazz show and much more. Year-end fukubukuro lucky dip bags will also be sold by world class quality brands and there will be plenty of delicious gourmet food to enjoy.
Premium Fukubukuro Lucky-Dip Bags
'Fukubukuro' are a type of lucky-dip bag sold in Japan at the end of the year. You pay a certain amount of money that is lower than the actual cost of the items in the bag and you never know what you're going to get. For the GINZA SIX sale you can expect a whole range of premium products from fashion to lifestyle goods, beauty, food and so on. Maison de NADIA on the second floor has a Pear Diamond up for grabs at ¥2,000,000 (the original price of which is ¥4,000,000). BEAUTY TERRACE GINZA ~DRESS CIRCLE~ on floor B1F has a whole range of goodies up for grabs that could even include a trip to Hawaii. They are selling lucky bags by weight: 3kg for ¥100,000, 5kg for ¥150,000, 8kg for ¥200,000 and 15kg for ¥450,000.
Running: January 2, 2019 until bags are sold out at each individual store
*Running dates differ at select stores.
2019 at GINZA SIX: Gourmet Food for the New Year
GINZA SIX will welcome the new year with fantastic food at both their B2F food floor and restaurants throughout where they will serve everything from classic Japanese 'osechi' celebratory meals to food you can take home as gifts.
Premium New Year Strawberry Afternoon Tea Set (THE GRAND GINZA): ¥6,500 (Pre-Tax)
Auxamis's Specially Made Osechi Meal (Bistro Auxamis): ¥29,630 (Pre-Tax)
This afternoon tea set comes with an authentic Japanese tea experience in a tea room which is served with traditionally prepared new year food.
Kagami Mochi (Nakagawa Masashichi): ¥4,000-¥20,000 (Pre-Tax)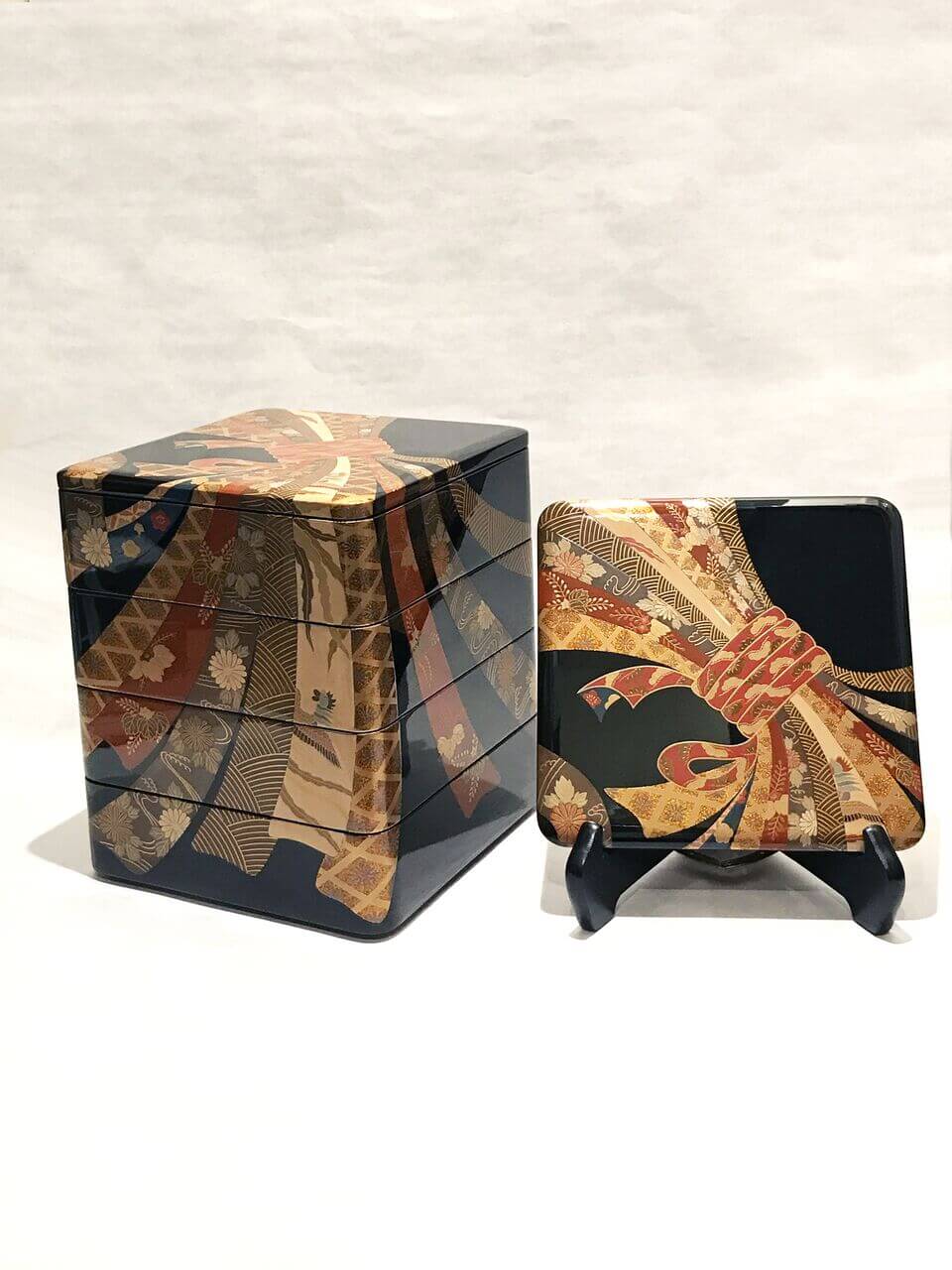 4 Drawer Noshi Makie (Yamada Heiando): ¥2,500,000 (Pre-Tax)
Products from lifestyle brands will also be sold including 'kagami mochi' mirror rice cakes which are a traditional new year decoration, as well as items themed on the 2019 Year of the Pig, cutlery crafted by traditional artisans and more.
Free Noh Performances
Enjoy a free and authentic Noh performance at the Kanze Noh Theater on floor B3F of GINZA SIX.
Date: January 2, 2019 – January 3, 2019
*Two performances a day
Morning Performance: 11:00-12:30 (Opens at 10:30)
Afternoon Performance: 15:00-16:00 (Opens at 14:00)
*Free to watch. Those under the age of 3 not permitted entry.
*Entry is first-come, first-served. The reception will open one hour before each performance.
*For enquiries, please contact GINZA SIX Information at 03-6891-3390 (10:30-20:30)
Edo New Year's Pine Decoration
A large Edo-style new year's pine decoration will sit at the entrance of GINZA SIX. It's made from three trees and bound together with straw. Its traditional shape has been passed down since Ginza Matsuya opened in 1925, allowing you to witness a tradition that has gone unchanged since the Edo period.
Location: GINZA SIX front entrance
Running: December 26, 2018 – January 7, 2019
There's plenty of other things to look forward to at the GINZA SIX sale too, from pop-up shops to events and more. If you're in Japan for the new year then why not check out GINZA SIX?
Information
2019 GINZA SIX SALE
Running: January 2, 2019 – January 20, 2019
*Dates may differ for certain shops.
*Select stores not participating in the sale.
GINZA SIX
Address: 6-10-1 Ginza, Chuo Ward, Tokyo
Opening Hours: Shops/Cafes (B2F-5F) 10:30-20:30 / Restaurants (6F, 13F) 11:00-23:00
*Business hours differ from shop to shop.
No Fixed Holidays.
Access: Directly connected to Ginza Station via the Tokyo Metro Ginza Line, Marunouchi Line and Hibiya Line.
TEL: 03-6891-3390
Website: http://ginza6.tokyo/
RECOMMENDED ENTRIES
GINZA SIX's 4 Main Valentine's Day Treats for 2019

Tokyo's luxurious Ginza district is home to countless famous chocolateirs. Four Valentine's Day gifts have been predicted to be the trend at GINZA SIX next year, the biggest shopping complex in the Ginza area.

The complex will boast a range of premium chocolates available only at GINZA SIX as well as plenty of top quality Valentine's gifts produced by top creators from both in and out of Japan. Pop-up shops will also line the establishment. This includes a chocolate brand run by young chocolatiers that has won many awards in Paris and is coming to Japan for the first time, food shops where you can enjoy Japan's food culture, workshops run by jewellery brands and more.

Sweet-looking chocolate made using "Ruby Chocolate"

Ruby chocolate is a variety of chocolate that was in development for over 10 years and introduced in 2017. It is to be considered as the fourth category of chocolate alongside, dark, milk and white. GINZA SIX will showcase an assortment of products made using ruby chocolate.

Ruby no Tamago (THE GRAND GINZA): ¥1,200 (Available at GINZA SIX only)

Ruby chocolate comes from the ruby cocoa bean and has a fruity flavour. The refreshing Ruby no Tamago is filled with light fromage blanc and sour cranberries and raspberries.

Elegant eat-in "Galentine" chocolate

The Galentine offers a new way to enjoy Valentine's. A portmanteau of "girl" and "valentine," it's a tea set packed full of Valentine's season-only specially made sweets and is aimed at girls who want to have a girl's-only get-together.

Stawberry & Chocolate Afternoon Tea Set (THE GRAND GINZA): ¥3,800 (Available at GINZA SIX only)

A specially-crafted tea set made by chefs and patissiers, it emphasises sweet and juicy strawberries and chocolate including sweets, foie gras, a strawberry, avocado and seafood cocktail and more.

"Wasozai" chocolate

GINZA SIX is home to numerous famous shops and restaurants from all across Japan, so there will be no shortage of a variety of different chocolates made by patissiers who are masters at using Japanese ingredients (wasozai). It is also recognised for this by those from overseas, solidifying GINZA SIX as a promoter of Japanese culture from Ginza to the world.

Tsujiri Collection (Tsujiri): Set of 6 – ¥1,770 / Set of 12 – ¥3,540

The tea experts over in Tsujiri have carefully selected the best Uji matcha to fuse with chocolate. Each bite-sized piece brings out the full flavour of matcha, Tsujiri's forte. There are six flavours to enjoy: rich tea, yuzu citrus, praline and sesame seeds, Japanese sansho pepper, sakura strawberry, and the new brown cane sugar.

"Health-conscious" chocolate

In a time where more and more people are becoming conscious of eating healthy, GINZA SIX will also sell a variety of Valentine's chocolates made using ingredients that are good for the body such as kurozu black vinegar, soy milk, yuzu citrus and more. When you offer these chocolates to that special someone, you are saying you both care for them in a loving way and also for their well-being.

Kurozu Raw Chocolate (Shoubunsu Vinegar Brewery): ¥1,500

These chocolates are a combination of white and dark chocolate, which are made with soy milk, and kurozu vinegar. They taste like cheesecake.

Valentine Chocolate (Patisserie Pavlov): ¥602

There are plenty of other high quality chocolates by brands to enjoy too, so if you're in Japan around the Valentine's season make sure to take a trip to GINZA SIX!

Information

GINZA SIX

Address: 6-10-1 Ginza, Chuo Ward, Tokyo

Opening Hours: Shops/Cafes (B2F-5F) 10:30-20:30 / Restaurants (6F, 13F) 11:00-23:00

*Business hours differ from shop to shop.

No Fixed Holidays.

Access: Directly connected to Ginza Station via the Tokyo Metro Ginza Line, Marunouchi Line and Hibiya Line.

TEL: 03-6891-3390
Website: http://ginza6.tokyo/

*Business hours differ from store to store.

French Artist Nicolas Buffe's Art to Appear at GINZA SIX Christmas Event

Christmastime is coming to Ginza's biggest shopping complex GINZA SIX this year with an event that translates to GINZA SIX CHRISTMAS 2018 "Fantastic Gift": The Tale of the Kingdom of Winter and the Kingdom of Summer. It will run from November 12 to December 25.

Photo by Imagen Subliminal (Miguel de Guzman + Rocio Romero)

Christmas art by French artist Nicolas Buffe will be used for the event, with a huge piece being displayed in GINZA SIX's symbolic open space that runs down the center of the building as well as at the front entrance facing Ginza Chuo-dori Street, the show window on floor B2F and elsewhere. There will also be an immersive piece that makes use of the latest cutting-edge AR technology.

A "tale" is always at the core of Buffe's work, the charming visuals of which pull both kids and adults alike into their unique worlds.

The theme of this year's tale is "gift." The Kingdom of Summer and the Kingdom of Winter are both at their wits' end trying to solve problems caused by both of their children. To resolve the quandary the two countries, they both send gifts to each child. To open up the cold heart of the princess of the Kingdom of Winter, she is sent the Kingdom of Summer's elephant of light. To calm the hot-tempered prince of the Kingdom of Summer, he is sent some refreshing ice cream. Both countries are met with peace as a result.

The radiating elephant that appears in the story will also appear in the middle of GINZA SIX as a huge 4 meter plus art piece. Drones will be used to create a flying scene.

At various locations including the front entrance an app can be downloaded and used which when put up to different art pieces will make use of AR tech.

A range of items made in collaboration with Buffe will also be sold including tote bags featuring characters from the tale, four different ice candies based on the countries and more. There will be plenty of things perfect to pick as a present for someone.

・Ginza Tsutaya Books (Floor 6F): From December 1, 2018 – TBA

・SIXIÈME GINZA (Floor 2F): From November 28, 2018 – February 28, 2019

・PALETAS (Floor B2F): From November 12, 2018 – February 24, 2019

・PHILIPPE CONTICINI (Floor B2F): Date TBA

Spend a fantastical Christmas at GINZA SIX where the season for giving will be played out in the form of Nicolas Buffe's newest creation.

Information

GINZA SIX CHRISTMAS 2018 "Fantastic Gift": The Tale of the Kingdom of Winter and the Kingdom of Summer

Running: November 12, 2018 – December 25, 2018

*Art installation in the middle of GINZA SIX scheduled to stay until late February 2019.

Bonuses

①Those who spend ¥3,000 or more including tax can receive a free cube ice cream from PALETAS on floor B2F of GINZA SIX. Available on a first-come, first-served basis. One per person.

②Those who arrive at GINZA SIZ will receive a balloon of the radiating elephant. Available on a first-come, first-served basis.

Running: December 15, 16, 22, 23 and 24 from 12:00-17:00

GINZA SIX

Address: 6-10-1 Ginza, Chuo Ward, Tokyo

Opening Hours: Shops/Cafes (B2F-5F) 10:30-20:30 / Restaurants (6F, 13F) 11:00-23:00

*Business hours differ from shop to shop.

No Fixed Holidays.

Access: Directly connected to Ginza Station via the Tokyo Metro Ginza Line, Marunouchi Line and Hibiya Line.

TEL: 03-6891-3390
Website: http://ginza6.tokyo/
RELATED ENTRIES
Tokyo's GINZA SIX Reveals Colourful Spring Dessert Line-Up

GINZA SIXーthe largest shopping complex in Ginzaーhas unveiled some of the incredible desserts arriving for this spring only.

Ginza is famous for its host of restaurants which serve up gorgeously gourmet food throughout the four seasons, and so you can expect GINZA SIX's line-up to be something special. Let's take a look.

Strawberry Sweet Afternoon Tea – ¥4,200 (Before Tax) @ THE GRAND GINZA

"Shun'un" pecial Make Maruto Parfait – ¥2,300 (Before Tax) @ Nakamura Tokichi Honten Ginza

Strawberry Mix Candy – ¥593 (Before Tax) @ Candy Art Museum by PAPABUBBLE

The line-up of delectable treats at GINZA SIX won't just satisfy your sweet tooth, but your eyes too due to their delightful appearanceーlike the strawberry and roses littered afternoon tea, or the strawberry candy which is made using only the best available strawberries. The shops and restaurants at GINZA SIX have ensured to prepare sweets that will bring spring to mind Japanese springtime and the pink cherry blossoms.

Matcha Ganache – ¥1,800 (Before Tax) @ Tsujiri

Matcha & Tamba Azuki Bean Cake – ¥2,600 (Before Tax) @ Marlowe

Kurozu Vinegar Raw Chocolate – ¥1,500 (Before Tax) @ Shoubunsu Vinegar Brewery

Other tantalising treats include more Japanese-tasting selections, like cookies injected with a rich matcha ganache, raw chocolate doused with kurozu vinegar, gluten-free pound cake made with freshly-made Uji matcha, and more.

Of course, since this is a spring line-up, there are flowery fusions to find too, like candy topped with edible flowers and rose flavoured frozen fruit bars.

Rose & Raspberry – ¥520 (Before Tax) @ PALETAS

Spring Edible Flower Lollipops – ¥555 (Before Tax) @ Candy Art Museum by PAPABUBBLE

Aya Farm Saku Mango Selection – ¥3,800 (Before Tax) @ Aya Farm

If you're in Tokyo for spring, the cherry blossoms and hanami, then be sure to stop by GINZA SIX to indulge yourself this season.

Information

GINZA SIX

Address: 6-10-1 Ginza, Chuo Ward, Tokyo

Opening Hours: Shops/Cafes (B2F-5F) 10:30-20:30 / Restaurants (6F, 13F) 11:00-23:00

*Business hours differ from shop to shop.

No Fixed Holidays (But shops and restaurants will be closed on January 1, 2020)

Access: Directly connected to Ginza Station via the Tokyo Metro Ginza Line, Marunouchi Line and Hibiya Line.

TEL: 03-6891-3390

Official Website: http://ginza6.tokyo/

GINZA SIX Announces New Stairwell Art Installation by Tokujin Yoshioka

A new piece of installation art is coming to GINZA SIX, the largest shopping centre in Tokyo's Ginza fistrict, next month. From February 27, Japanese artist Tokujin Yoshioka's "Prismatic Cloud" will adorn the stairwell until the end of October.

Tokujin Yoshioka is a Japanese artist whose grand and poetic nature-themed work has received international praise. His skills include art, design, and architecture, which are being put to use to give GINZA SIX a new face for 2020, the year of the Tokyo Olympics and therefore year in which many people from around the world are sure to flock to Tokyo's upmarket and luxurious district.

Prismatic Cloud is an enormous light sculpture inspired by clouds and the fundamentals of nature. It was originally showcased at the Allen Center in Houston, US, and has been arranged once more for it's Japan debut. It stretches an incredible 10 meters long and is made from 10,000 prism rods which are layered together, making light penetrate through them to look infinite. Its appearance changes depending where you view it from, both your position and your line of sight in relation to it.

GINZA SIX's stairwell is a symbol of the shopping centre, and it has become an art program filled with creativity and energy, with many international artists having displayed their works there, including Yayoi Kusama, Daniel Buren, Nicolas Buffe, Chiharu Shiota, and Klaus Haapaniemi. Prismatic Cloud is being overseen by Mori Art Museum, who also supervised Kusama, Buren, and Shiota's work. While these installations are set up for a limited time, GINZA SIX also houses some permanent artwork around the complex by artists from around the world.

Information

GINZA SIX

Address: 6-10-1 Ginza, Chuo Ward, Tokyo

Opening Hours: Shops/Cafes (B2F-5F) 10:30-20:30 / Restaurants (6F, 13F) 11:00-23:00

*Business hours differ from shop to shop.

No Fixed Holidays (But shops and restaurants will be closed on January 1, 2020)

Access: Directly connected to Ginza Station via the Tokyo Metro Ginza Line, Marunouchi Line and Hibiya Line.

TEL: 03-6891-3390

Official Website: http://ginza6.tokyo/

Warm Food and Succulent Seasonal Strawberries Served at Ginza Six For Winter

GINZA SIX—officially the biggest shopping complex in Tokyo's high-end Ginza district—is home to a host of restaurants now serving some seriously luxurious and gourmet winter food.

For the winter season only, the shopping centre's cafes and restaurants have cooked up menus of food to warm both the heart and body. The extravagant line-up is made up of carefully-selected seasonal ingredients that's sure to warm you to the core. Let's take a select look at some of the things on offer.

JASMINE Specially-Made Hotpot Plan – ¥7,800 (Before Tax) @ JASMINE Washinkansai

This hot pot is made with a broth of chicken bones and collagen boiled in water and a broth of mala sauce. Both broths have a deep and nourishing taste and are filled with carefully-chosen ingredients as well as nine condiments for complex flavours. As well as that seen in the photo above, it is served as a set with an appetiser, fried gyoza, Chinese-style noodles, and almond tofu.

Matsusaka Beef Sukiyaki Gozen Hotpot – ¥3,400 @ Sukiyaki Gyu-shabu Matsuju

Warm yourself up with this hot pot which is made sukiyaki-style and contains high-quality Matsusaka beef picked out by Asahiya, a shop specialising in Matsusaka beef. The beef is soft, tender, and has a rich sweet taste and fragrance. It's served with a red miso soup seasoned with Japanese pepper which complements the salty-sweetness of the sukiyaki.

Homemade Sausage and Potato Raclette Cheese Melt – ¥2,400 (Before Tax) @ Bistro AUX AMIS

Raclette cheese is a staple food in France during the winter. This delicious dish is served with juicy homemade sausages made from yoshidabuta pig from Saitama, bacon, potato, and warm veg, all covered in a hot melted cheese. It's sure to warm you up and goes even better with a glass of wine.

Once you've had a fill of lunch or dinner, you should go and check out the in-season strawberry takeout treats and desserts that are being sold on the booth floor where the latest in culinary trends gather.

Strawberry Chocolate Sandwich – ¥300 (Before Tax) @ Patisserie Sembikiya Ginza Six

Coated in white chocolate, this biscuit sandwich is made with a strawberry ganache that squeezes every last delicious drop out of the fresh strawberries. Combined with he raspberry sablé cookies and chocolate, it's a strawberry match made in heaven.

Real Strawberry Gummies – ¥1,050 for 3 @ Candy Art Museum by PAPABUBBLE

These gummy candies are made as big as real large strawberries. They are coated in chocolate and made with lots of real strawberry juice, and when bitten into, taste fresh and juicy.

Strawberry Matcha Daifuku – ¥400 Each @ Kurogi Chacha

Kurogi Chacha's Strawberry Matcha Daifuku are filled with a whole fresh strawberry and coated in a matcha-laced white bean paste and gyūhi, a form of Japanese confection. The rich taste of the matcha comes together with the sweet and sour strawberry to create a delicious combination. They are hand-wrapped fresh as soon as your order is put in to retain their freshness.

Enjoy the full course winter has to offer at GINZA SIX, from soul-warming hotpot dishes to strawberry delights and more.

Information

GINZA SIX

Address: 6-10-1 Ginza, Chuo Ward, Tokyo

Opening Hours: Shops/Cafes (B2F-5F) 10:30-20:30 / Restaurants (6F, 13F) 11:00-23:00

*Business hours differ from shop to shop.

No Fixed Holidays (But shops and restaurants will be closed on January 1, 2020)

Access: Directly connected to Ginza Station via the Tokyo Metro Ginza Line, Marunouchi Line and Hibiya Line.

TEL: 03-6891-3390

Business hours will be shortened on December 31, 2019 and January 2, 2020 as shown below.

December 31st

Shops/Cafes (B2F-5F) 10:30-18:00

Restaurants (6F, 13F) 11:00-21:00

January 2nd

Shops/Cafes (B2F-5F) 10:30-20:00

Restaurants (6F, 13F) 11:00-22:30

Official Website: http://ginza6.tokyo/

Roppongi Hills Kicks of New Year's Celebrations with Luxurious Food, Fukubukuro, Traditional Games and More

Roppongi Hills will be kicking off the New Year's celebrations from January 1 to 3, 2020 with New Year's good fortune around every corner. 

January 1 will be filled with exciting lion dances and Japanese drum performances. January 2 and 3 will see traditional and nostalgic games that are free to play, providing fun for the whole family. 

Restaurants and cafés will be serving New Year's food themed around good fortune, happiness, good omens and new beginnings. Indulge on Spiny Lobster, fatty tuna, sea bream and many other luxurious "good fortune" foods.

Spiny Lobster and Sea Bream Acqua Pazza (Limit of 15 sold per day): ¥3,278

Mohri Salvatore Cuomo

Colourful Chirashizushi Pintokona (Limit of 10 sold per day): ¥2,020

Angus Beef Steak Burger (Limit of 15 sold per day): ¥2,800
AS Classics Diner

Crêpe 2020 (Limit of 10 sold per day): ¥980
Cafe Crepe

There are also New Year's "Fukubukuro" to look out for. This is a Japanese New Year's custom where "lucky bags" are filled with unknown contents and sold at a substantial discount. There are even January sales with items up to 70% off. Travel agency H.I.S. Co., Ltd. is bringing back their yearly dream holiday package which includes a top-quality resort lodge in the Savanna and safari experience for just ¥4 million.

Have a wonderful New Year's celebration at Roppongi Hills.

Information

Event Information

January 1: 12:00-15:00

Free Entry

Japanese Drum Performance Start Times: 12:30, 13:30, 14:30

Lion Dance Start Times: 13:00, 14:00

Sake Offering: 13:00 (First-come-first-served, limit of 200 people, entry from 12:00. Obtain a ticket from the Seiriken Haifusho (整理券配布所)

 

January 2, 3: 11:00-16:00

Entry fee applies to certain areas

Japanese Drum Performance Start Times: 11:00, 13:50, 15:30

Lion Dance Start Times: 11:10, 12:30, 15:00

Koto Performance Start Times: 11:30, 12:30, 14:30

*The Koto experience corner will be closed between the following times: 11:30-11:50, 12:30-12:50, 14:30-14:50

Spinning Top Championships: January 2 from 13:00

*First-come-first-served, 12 places, please obtain a ticket from the Seiriken Haifusho (整理券配布所). Tickets will be available from 11:00.

Kendama Championships: January 3 from 13:00

*First-come-first-served, 20 places, please obtain a ticket from the Seiriken Haifusho (整理券配布所). Tickets will be available from 11:00.

Old traditional games available: Koma-mawashi (Spinning tops), kendama, beigoma, otedama and much more

Roppongi Hills

Address:  6-10-1 Roppongi, Minato City, Tokyo 106-6108, Japan

Official Website: https://www.roppongihills.com/en/

Valentine's Day 2020: Japanese Chocolates, Golden Desserts & More at GINZA SIX

Winter may be cold, but that's no excuse to stay indoors all day when there's so many seasonal events and festivals to be enjoyedーespecially in Japan. With Christmas and New Year's just on the horizon, it'll soon be time to begin preparations for Valentine's Day.

GINZA SIX is the biggest shopping centre in Ginza, a district itself which prides itself as the high end part of Tokyo. Seeing as Ginza is home to many internationally-known chocolatiers, you can bet that GINZA SIX is sure to deliver when it comes to high-quality Valentine's chocolates and sweets. And you'd be right in thinking that, because the shopping complex is ready to showcase some of the delectable delights set to pose in all of their delicious glory during the season of love. Whether it's a treat to some premium chocolate to your special someone, or a bit of self-indulgence, GINZA SIX has you covered this coming Valentine's Day.

But that's not all, because a string of pop-up shops are going to open too. Let's take a peek into what's to come.

Premium sweets made with the "4th type of chocolate"

We all know dark, milk, and white chocolate, but many people are still unaware of ruby chocolate. Made from ruby cocoa beans, the chocolate was officially unveiled in 2017, and is marketed as the "4th category" of chocolate. It will come as no surprise then that GINZA SIX will be making use of this still rare chocolate, as well as "blonde" chocolateーyet another unfamiliar type.

Valrhona Blonde Chocolate Plate With Jasmine Scent – ¥1,200 @ THE GRAND GINZA

Blonde chocolate's characteristic quality lies in its combination of caramel and biscuit. The chocolate artisans over at Valrhona, a Japanese chocolate company savoured by some of the world's top patissiers, have forged a blonde chocolate dome dessert injected with a raspberry puree and sweet vanilla mousse. The dessert is sat on a bed of crunchy crumble and surrounded with a pool of jasmine-scented blonde chocolate cream. This one's for the adults to enjoy.

Ruby Saku Langue de Chat (12 Pack) – ¥1,200 @ ISHIYA GINZA

For a limited time only, ISHIYA GINZA's langue de chat, also known as cat tongue biscuits, arrive in a ruby chocolate flavour. They took their delicious cat tongues and sandwiched smooth and sour ruby chocolate between them.

Japanese-style chocolates

These next chocolates are made with the Japanese spirit and palate in mind.

Tsujiri Collection (8 Pack) – ¥2,360 @ Tsujiri

The tea experts at Tsujiri have paired chocolate with matcha and houjicha, two types of tea that go perfect with chocolate. Bringing out the flavour of tea in their products is Tsujiri's speciality. Houjicha comes as the newest flavour to this product alongside koicha, yuzu, sesame praline, Japanese pepper, sakura strawberry, and brown sugar.

Kurosu Vinegar Raw Chocolate – ¥1,500 @ Shoubunsu Vinegar Brewery

Kurosu vinegar is smooth and doesn't have a strong flavour or smell. It goes well with these chocolates from the Shoubunsu Vinegar Brewery, including their slightly bitter milk chocolate and white chocolate with soy milk. Each bite offers a sweet, refreshing flavour.

Textural chocolates

If you're here for the texture, then you've come to the right place. From a dessert that combines light pound cake with rich mousse to a melt-in-the-mouth chocolate terrine, GINZA SIX has no shortage of sweets with tempting textures.

Rouge – ¥2,315 @ Patisserie Pavlov

This dessert is made with pound cake and rich mousse and is lavish with ganache. It's covered with a strawberry chocolate coating and finished with an artisanal chocolate decoration.

Chocolate Terrine – ¥6,000 @ FRANCK MULLER GENEVE

Luxurious is the word to describe this chocolate terrine, a heavenly mix of Swiss dark chocolate and tasty cultured butter, resulting in a complex flavour profile of richness and melt-in-the-mouth sweetness.

Dine-in Valentine's menu

Another way to enjoy your time at GINZA SIX for Valentine's 2020 is to sit down at one of the cafes or restaurants to enjoy one of their exclusive Valentine's Day menu items, such as an afternoon tea. It's a great way to spend your time with your loved one or as a get-together for all the singles out there!

La Saint-Valentin Afternoon Tea Sets – ¥4,200 (Serves 1) @ THE GRAND GINZA

"Noir & Blanc" (Black/White) is the theme of these afternoon tea sets, which come in two different colours and are towered with strawberry-packed sweets and savoury snacks. Will you go for the stylish noir, or the sophisticated blanc?

Coppa Valentine – ¥1,819 @ Café Cova Milano

Served in a wine glass, this strawberry dessert is a layered combination of sweet and sour strawberry sorbet, chocolate ice cream, and strawberry sauce. It's topped with heart-shaped chocolate and a rose bell.

Limited-time pop-up shops

CAFÉ COVA (GINZA SIX Floor B2F) 

CAFÉ COVA has lots of incredible surprises for the Valentine's season next year, including a chocolate box wrapped in beautiful packaging, as well as the above-pictured heart and rose panettone (which, by the way, they'll only be selling a select few of!)

Paul Smith POP UP SHOP (GINZA SIX Floor 4F) / Open November 27, 2019 – January 14, 2020

IDEAS FROM LONDON is a pop-up shop by Paul Smith that's set to bring ideas from the UK to Japan. See their new fashion collection, special collaborative items, and more.

This is just a select look at what's to come when the season of love hits GINZA SIX. Make sure you don't miss out.

Information

GINZA SIX

Address: 6-10-1 Ginza, Chuo Ward, Tokyo

Opening Hours: Shops/Cafes (B2F-5F) 10:30-20:30 / Restaurants (6F, 13F) 11:00-23:00

*Business hours differ from shop to shop.

No Fixed Holidays (But shops and restaurants will be closed on January 1, 2020)

Access: Directly connected to Ginza Station via the Tokyo Metro Ginza Line, Marunouchi Line and Hibiya Line.

TEL: 03-6891-3390
Website: http://ginza6.tokyo/

BABYMETAL Collaborates On Fashion Designer Yohji Yamamoto's Ground Y Collection

2019 is the year of BABYMETAL, with their latest album METAL GALAXY having dropped in October and making them the highest Japanese group/artist to place on the Billboard Top 200 in the US in 56 years. As they continue knee-deep in their ongoing world tour, you might be wondering what else they have in the pipeline.

Well, we can confirm that for you right here and now: they have teamed up with internationally-lauded Japanese fashion designer Yohji Yamamoto on his revolutionary Ground Y collection which boasts a genderless and ageless style.

Pre-sales of the collection will take place at the new Shibuya PARCO which is set to open on November 22. This will be followed by sales at GINZA SIX, Laforet Harajuku, and the online store THE SHOP YOHJI YAMAMOTO.

The collection will bring together the unique world of BABYMETALーa band which has won love the world over and has featured as guest acts on many tours of international artistsーand Yohji Yamamoto, a rebel and innovator in the fashion industry whose DNA is woven into the Ground Y line. The inspiration for this jet black collaborative collection is "galaxy," an homage to BABYMETAL's latest record METAL GALAXY.

There are numerous items in the collection, including a jumbo cut and sewn embroidered with both the BMD FOX APPAREL logoーBABYMETAL's official apparel brandーand the Ground Y logo. There's also a big hoodie featuring a 360° print and BABYMETAL's logo, a draped silk satin long shirt, and more.

MASATOSHI YAMASHIRO snapped the photos in this photoshoot, a Tokyo-based photographer who started his career in LA and New York and works with fashion magazines, advertisements, and more.

Information

Ground Y feat.BABYMETAL "GALAXY" Collection

Items: Long Shirt / Shirt Dress / Jumbo Cut & Sewn / Big Cut & Sewn / Big Hoodie / Big Sweater

Prices: Cut & Sewn ¥25,000-¥28,000 / Hoodie ¥35,000 / Sweater ¥38,000 / Shirt Dress ¥110,000-¥120,000 (All prices tax-excluded)

Release Date: November 28, 2019 (Pre-sales bein at Ground T Shibuya PARCO on November 22, 2019)

▼SHOP INFO:

Ground Y GINZA SIX (Floor 4F, 6-10-1 Ginza, Chuo Ward, Tokyo)
Ground Y LAFORET HARAJUKU (Floor 1F, 1-11-6 Jingumae, Shibuya, Tokyo
Ground Y FaSoLa STARS (Narita International Airport 1, Passenger Terminal Central Building Floor 3F, Narita, Chiba)
Ground Y SHIBUYA PARCO (Floor 2F, 15-1 Udagawacho, Tokyo) *Opens November 22, 2019
THE SHOP YOHJI YAMAMOTO: http://theshopyohjiyamamoto.jp/JP/shop/c/c20

GINZA SIX's Kurogi Chacha to Serve High-Quality Green Tea Caviar Ochazuke

Kurogi Chacha, a restaurant in GINZA SIX, is serving up an all-new ochazuke (green tea poured over rice) dish made with gyokuro, a high-quality green tea, and caviar. It will be served for a limited time for the whole month of November.

Gyokuro Caviar Chazuke – ¥20,000 (Before Tax)

Kurogi Chacha is a restaurant made in collaboration with Kyoto's long-standing tea company Fukujuen and Kurogi which has been called the hardest restaurant in Japan to reserve a table at due to the sheer number of reservations.

The new Gyokuro Caviar Chazuke is made with rich caviar and fine quality gyokuro tea which adds a refreshing taste to the dish. One bowl is served with an entire 30g can of caviar so you can enjoy its full flavour.

If you find yourself in the Tokyo's high-end district of Ginza then don't pass up this opportunity to wine and dine at Kurogi Chacha.

Information

Kurogi Chacha – Gyokuro Caviar Chazuke

Price: ¥20,000 (Before Tax)

Running: November 1, 2019 – November 30, 2019 (*Kurogi Chacha is reservation-only)

Address: GINZA SIX Floor oB2F, 6-10-1 Ginza, Chuo Ward, Tokyo

Opening Hours: 10:30-20:30

TEL: 03-6264-5754

GINZA SIX Christmas 2019: Christmas Cake, New Art by Klaus Haapaniemi & More

Ginza's biggest shopping complex GINZA SIX is celebrating Christmas this year with an upcoming event entitled "Celebration of Life: Hoshi no Umi no Shukusai" (A Festival Under a Sea of Stars) which will take place from November 5, 2019 to December 25, 2019.

Celebration of Life: Hoshi no Umi no Shukusai

The visuals for "Celebration of Life: Hoshi no Umi no Shukusai" were created by Finnish artist Klaus Haapaniemi. The work is titled "Astral Sea" and Haapaniemi arranged the art specifically for the event. It features animals and living beings floating through space amongst the stars, each moving to the rhythm of the stars' revolution. With this grand work, Haapaniemi has created a new myth that makes one think of space and how it connections to the lives of humans.

The space and time-transcending "Lightning Whales" which appear in the Astral Sea will be suspended from the shopping centre's atrium, and tapestries of Haapaniemi will also be draped down the centre, turning GINZA SIX itself into its own Astral Sea. The 10-meter long Lightning Whales floats have been designed in such a way that it looks like they are flying through space. Additional artwork can also be found in the front entrance, show window on floor B2F, and elsewhere.

Klaus Haapaniemi x GINZA SIX Christmas Collaboration Items

Several stores inside GINZA SIX are also releasing items in collaboration with Haapaniemi.

Mimuro Sugi Junmai Daiginjo Imadeya Ginza Limited Edition Model – ¥3,000 @ Imadeya Ginza

This Junmai Daiginjo is part of the Mimuro Sugi Roman Series developed by a sake brewery in Nara. This transparent drink retains the delicate flavour of the rice and leaves a beautiful lingering aftertaste. It's best enjoyed with some tasty food.

Available: November 5, 2019 – February 29, 2020 (While supplies last)

Lightning Whales Frozen Fruit Bar – ¥600 @ PALETAS

These new frozen fruit bars from PALETAS are inspired by Haapaniemi's Lightning Whales. The bar's fantastic colouring is taken from the Astral Sea, while its flavour is blueberry gelato with salt. It's decorated with gold leaf and silver leaf.

Available: November 5, 2019 – January 31, 2020

Gloves – Whale Embroidery ¥9,000 / Swan Embroidery ¥10,000 @ Ginza Tsutaya Book Store

Gloves are a must-have during winter, and these ones come with whale and swan embroidery. You're sure to grab people's attention with these gorgeous fits.

Available: November 8, 2019 – December 25, 2019

*Listed prices don't include tax. Items subject to change without notice.

Christmas Cake & Party Food

Ginza is known for its long list of gourmet restaurants, serving food from around the world. This holiday season, GINZA SIX has plenty of Christmas delights lined up.

Noel Neige – ¥4,630 @ Pavlov Pâtisserie

This gorgeous, light cake uses cream for its snowy landscape, topped with bright-red strawberries.

Panettone Babbo Natale – ¥7,407 @ Café Cova Milano

Cova's panettone is made with a secret recipe that has been handed down since the beginning of the 19th century.

Assorted Mini Sandwiches – ¥3,704

This assortment of mini sandwiches are the perfect choice for Christmas parties, filled with a variety of delicious ingredients like smoked salmon, caviar, pastrami, and more.

*Listed prices don't include tax.

This is just a small look at what GINZA SIX has in store for this Christmas. If you're spending the holiday season in Tokyo, be sure to stop by.

Information

GINZA SIX

Address: 6-10-1 Ginza, Chuo Ward, Tokyo

Opening Hours: Shops/Cafes (B2F-5F) 10:30-20:30 / Restaurants (6F, 13F) 11:00-23:00

*Business hours differ from shop to shop.

No Fixed Holidays (But shops and restaurants will be closed on August 26, 2019)

Access: Directly connected to Ginza Station via the Tokyo Metro Ginza Line, Marunouchi Line and Hibiya Line.

TEL: 03-6891-3390
Website: http://ginza6.tokyo/

Roof Star Gardens Illumination Event to Take Place On GINZA SIX's Rooftop Garden

Ginza's biggest shopping centre GINZA SIX has announced that it's set to light up its rooftop garden with an enchanting illumination event titled Rooftop Star Garden which will begin on November 26 and run until February 24 next year.

Standing at 56 meters high, the rooftop garden is the "closest place to the stars" in Ginza. This will be GINZA SIX's first ever illumination event and it will shine a bright spotlight against the nightscape of Ginza's streets.

Rooftop Star Garden will take place in two areas in the garden: the Water Fountain Area and the Forest Area, both of which will welcome star-themed light shows.

The theme of the Water Fountain Area is "Shooting Star," whose LED lights will elicit a sense of profoundness in its observers. 147 LED lights will form the main monument of this area, with bright, sparkling illuminations that will remind one of shooting and twinkling stars.

The Forest Area is made up of two separate areas between the Water Fountain Area. Lasers will shoot through crystals, creating an ocean of countless specks of light that look like little stars that make it feel like you're in space.

This limited-time event is the perfect way to spend this year's Christmas, so don't miss out.

*Photos are for illustrative purposes only

Information

Rooftop Star Garden

Location: GINZA SIX Garden (Building Rooftop)

Address: 6-10-1 Ginza, Chuo Ward, Tokyo

Running: November 26, 2019 – February 24, 2019

*Will close during bad weather or during invitation-only events

Time: Sunset to 23:00

Entry: Free

GINZA SIX Official Website: https://ginza6.tokyo/

Halloween Treats, Wagashi, Drinkable Potato Desserts & More at GINZA SIX This Autumn

This autumn, Ginza's biggest shopping complex GINZA SIX is serving up a sumptuous selection of seasonal sweets and desserts. Their main components this year are apples and potatoes. Expect to enjoy potato in an entirely new way, and get ready for the spooky season with a line-up of Halloween treats that everyone can enjoy.

Let's take a look at just some of the gourmet delights arriving for the autumn season, some of which are already on sale.

Potato Desserts

Drinkable Potatoes (Purple Sweet Potato/Ripe Potato/Potato Leaf) – ¥600 Each @ Minamikaze Noukasha Dessert House (Available: October 1 – October 31)

We're at a point in time now where not only can we eat potatoes―we can drink them too! These potato dessert drinks come in three flavours: fruity Purple Sweet Potato, rich Ripe Potato, and Potato Leaf. The potatoes used to make all of the drinks were farmed from Minamikaze Noukasha's 160 potato farms.

Set of 5 Native Potato Pies (Oiran Potato/Genji Potato/White Potato/Hayato Potato/Tanegashima Purple Sweet Potato) – ¥2,500 @ Minamikaze Noukasha Dessert House (Available: October 1 until all sold)

Methods to make potato cultivation even easier were introduced almost 400 years ago in Japan. Cultivating original varieties of potatoes is difficult―it's mostly not done today. These pies are proudly made with those rare native potato varieties.

Potato Parfait – ¥2,000 @ JOTARO SAITO (Quantity: Only 10 served per day)

This gorgeous parfait is made with a purple sweet potato and sweet potato cream and is layered with agar-agar, rice flour dumplings, and ice cream. Inspired by the form of an affogato, it's topped with potato ice cream drizzled in a warm rice sauce.

Halloween Goodies For Grown-Ups

Halloween Party Pumpkin Purin – ¥4,800 @ Marlowe (Available: October 1 – October 31) *Must order within 3 days

This party-sized Halloween-exclusive rich pumpkin custard pudding contains cinnamon and nutmeg. It's even topped up with a jack-o-lantern face.

Glowing Lollipop Candy – ¥833-¥1,111 @ Candy Art Museum by PAPABUBBLE (Available: September 21 – October 31)

These lollipops come on sticks with LED lights that make the candy glow a ghoulish light, making them a great Halloween treat.

Halloween Afternoon Tea Set – ¥4,200 @ THE GRAND GINZA (Available September 1 – October 31)

Feast on an exquisite Halloween afternoon tea set made up of an exquisite selection of drinks and desserts.

Apple Desserts

Apple Gummy – ¥2,777 / Apple Gummy Candy – ¥1,666 @ Candy Art Museum by PAPABUBBLE (Available: August 27 – November 4)

The apple gummy is about the size of a Jonathan apple. If you're wondering what flavour it is, you'll have to wait until you bite into it to find out! The apple gummy candy set takes on flavours of different apple varieties.

Pom Caramel – ¥800 Each @ PHILIPPE CONTICINI (Available: August 27 – November 4)

These cute and round vanilla flavoured apple mousses are filled with an apple compote, which has a hint of star anise, and cream caramel. They're packed full of apple-y goodness and maintain PHILIPPE CONTICINI's refined flavours.

This Year's Must-Try Autumn Treats

Bessei Maruto Parfait "Shubo" – ¥2,300 @ Nakamura Tokichi Honten (Available: October 1 – November 30)

Exclusive to the Ginza branch of Nakamura Tokichi is this specially made parfait, layered with autumn-time ingredients including Japanese chestnut matcha cream, fig, chestnut sherbet, and bean paste. You can really taste the rich matcha notes in this beautiful dessert.

Kyoto Koicha Terrine Inori no Kajitsu – ¥2,000 @ Tsujiru (Available from September 1)

A great little gift is this terrine chocolat, made with chestnut, black soybeans, fig, and cranberries.

Did you enjoy this list? All of these items are autumn-exclusives and some are very limited in stock. Be sure to enjoy all the flavours of autumn this year in Japan.

*All listed prices include tax

Information

GINZA SIX

Address: 6-10-1 Ginza, Chuo Ward, Tokyo

Opening Hours: Shops/Cafes (B2F-5F) 10:30-20:30 / Restaurants (6F, 13F) 11:00-23:00

*Business hours differ from shop to shop.

No Fixed Holidays (But shops and restaurants will be closed on August 26, 2019)

Access: Directly connected to Ginza Station via the Tokyo Metro Ginza Line, Marunouchi Line and Hibiya Line.

TEL: 03-6891-3390
Website: http://ginza6.tokyo/

Japanese Souvenirs to Take Home With You This Summer at GINZA SIX

GINZA SIX hails as the largest shopping facility in Tokyo's upmarket district Ginza. This summer, the centre has a prepared a lineup of must-buy souvenirs and gifts, particularly in the food department, that will delight the family back home. Many of these items are available at GINZA SIX only giving you even more incentive to pay a visit while in the capital.

Listed by price range, we have selected some of these summer treats that we know you'll absolutely want to get your hands on.。

¥999 and under summer gifts made for showing a little thanks

Namacha Tea Jelly @ Nakamura Tokichi Honten – ¥417 (GINZA SIX only)

Tokichi is serving up a special GINZA SIX-only flavour of its matcha namacha jelly with added matcha bean paste. This bean paste is specially prepared matcha wrapped in white bean paste. It has a smooth texture and slight sweetness that marry together deliciously and heighten the richness of the flavour of the matcha.

Summer Limited Kohaku Tani Goldfish Yukata Ver. @ GINZA KYOUKASUIGETSU – ¥550 (GINZA SIX only)

These snacks comes in summery yukata design packaging with goldfish on them. Perfect for reminding one of Japanese summer.

¥1,000-¥2,999 summer gifts for adults

KOHAKU Fruit Bar @ PALETA – ¥1,482

This traditional wagashi (Japanese confection) is made from melted agar agar, sugar and starch syrup which is hardened to create a lollipop-like treat. Each one is handmade and crated with love and care by the confection artisans at PALETA who make them transparent like refreshing Japanese ice candy.

Basket of 5 Mio @ KASHISHOU SUEHIROAN – ¥1,759

This set comes with 5 different seasonal flavours which makes for the ultimate taste-testing gift.

¥3,000-¥4,999 delicious summers gift to share

Semi-Dried Fruits Box @ AYAfarm – ¥3,519

The perfect sharing gift to pick up, this box contains 9 different semi-dried fruits sourced from high quality fruits in Japan. The circular shape of the box make it great as a gift, and since each fruit is packaged individually, they can be enjoyed over time.

¥5,000+ premium Ginza-quality summer gifts for someone special

Parfum du Miel Series @ ハL'ABEILLE – ¥6,000 (GINZA SIX only)

Treat yourself or someone special to this premium lineup of original honeys which include bergamot, cognac and rose flavours. A sweet and tasty accompaniment to tea or ice cream.

This is just a small selection of the items on offer over at GINZA SIX right now this summer. To see more, be sure to plan a shopping trip there while in Tokyo.

Information

GINZA SIX

Address: 6-10-1 Ginza, Chuo Ward, Tokyo

Opening Hours: Shops/Cafes (B2F-5F) 10:30-20:30 / Restaurants (6F, 13F) 11:00-23:00

*Business hours differ from shop to shop.

No Fixed Holidays (But shops and restaurants will be closed on August 26, 2019)

Access: Directly connected to Ginza Station via the Tokyo Metro Ginza Line, Marunouchi Line and Hibiya Line.

TEL: 03-6891-3390
Website: http://ginza6.tokyo/

The Entire World Is Curious About PAPABUBBLE's Candy Art Museum To Open In Ginza

Described as the "most interesting sweets shop in the world", PAPABUBBLE sells a range of cute and fun confections. On July 1, PAPABUBBLE will open a Candy Art Museum on basement floor 2 of GINZA SIX.

PAPABUBBLE has set up shop in over 30 cities worldwide. The main shop will contain art pieces made from candy. Considering all the candy shops that are currently out there in the world, nobody has ever seen anything quite like this before. 

The museum contains around 20 different ornaments that are edible sweets. Visitors who wish to purchase the ornaments can do so. Besides the standard sweets, the display items and range of sweets for sale will be changed every day. 

When the museum opens in July, visitors will be able to enjoy the wonderful texture and flavour of candy lampshades, enjoy the artistic and charming glow of candy mushrooms, and gaze in bewilderment at an antique vase baumkuchen cake. 

To commemorate its grand opening, customers who spend more than ¥5,000 (after tax) on display items or on the sweets shop range will receive either a soft gummy brain or soft gummy dentures. This campaign will be running throughout July. 

Along with the grand opening of the art museum, there will also be Ginza-limited products on sale that are completely unique to the Ginza branch. The lineup includes sweets made from ingredients that are rarely seen in Japan. This includes colourful and fruity chocolate such as rocky roads and soft candy sweets made from snow sugar. PAPABUBBLE will also sell souvenirs that represent Ginza such as Kirihako boxes which are beautiful boxes made from wood. 

If you are in Tokyo, you just cannot miss this museum that is overflowing with originality.

Information

Candy Art Museum by PAPABUBBLE (Gallery of Sweets Art by PAPABUBBLE)

Address: B2F, 6-10-1, Ginza, Chuo Ward, Tokyo 

Opens: July 1, 2019 

Opening Hours: Mondays ー Sundays (10:30 ー 20:30)

TEL: 03-6228-5535

PAPABUBBLE JAPAN Official Website: http://www.papabubble.jp