Keio Plaza Hotel, Tokyo opens My Melody and Kiki & Lala-themed guest rooms!
On Saturday 15th June 2019, Keio Plaza Hotel will set up two new permanent guest rooms that are themed around "My Melody" and "Little Twin Stars (Kiki & Lala)". Four Hello Kitty Rooms have already been set up since November 2014. There will be a total of eight Sanrio Character Rooms available at the hotel. Bookings for the "My Melody Room" and "Little Twin Stars Room" will be accepted from Monday 15th April.
The "My Melody Room" depicts a forest where My Melody has wonderful memories playing hide-and-seek with her younger brother. One wall includes a 3D wall feature of My Melody playing on the swing in the forest made by her dad. To balance out the green forest, My Melody can be seen wearing the red hood made by her grandma. This room is sure to warm your heart. ♡ 
This room will make you feel as if you are playing with My Melody and friends in the forest!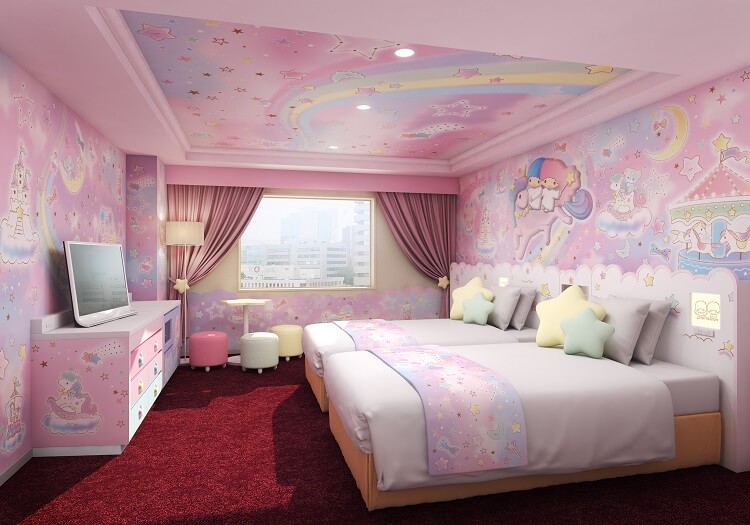 The "Little Twin Stars Room" depicts an amusement park above the clouds where twins Kiki and Lala can be seen playing. The curious and slightly hasty Kiki and the timid and sensitive Lala arrive at the amusement park by magic unicorn. Lay your head on the star-shaped pillows on the bed and enjoy the pink room theme that creates a wonderful fantasy world.
Come enjoy the feeling of playing with Kiki and Lala in an amusement park above the clouds!
Information
Keio Plaza Hotel Tama
Address 1 Chome-43 Ochiai, Tama, Tokyo, 206-0033
Tel: 042 374 0111 (directory)
Website: www.keioplaza.co.jp/tama/
RELATED ENTRIES
MINISTOP Ice Cream Specialty Store 'MINI SOF' to Launch My Melody Collaboration

MINI SOF, a shop specializing in soft-serve ice cream since 1980, is now offering products in collaboration with the popular Sanrio character My Melody! A limited number of sweets and goodies will be available until January 31, 2022, with New Year grab bags containing special coupons for sale until January 9, 2022.

W Rich Soft-Serve Ice Cream

My Melody Collaboration Campaign

2022 Lucky Bag

Blanket

Desktop Calendar

Tote Bag

Soft-Serve Vanilla Ice Cream (with Strawberries and Chocolate) with Original Glass

Pink

Purple

Double Rich Strawberry Waffle Cone Soft-Serve with My Melody Collaboration Sleeve

Sleeve Design 1

Sleeve Design 2

Sleeve Design 3

Double Rich Strawberry Shortcake

My Melody Original Pouch

Design 1

Design 2

My Melody Original Keychain

Acrylic Keychain Design 1

Acrylic Keychain Design 2

Participating Characters

My Melody

Kuromi

My Sweet Piano

Information

My Melody Collaboration Campaign

Running: December 30, 2021 – January 31, 2022
*MINI SOF limited-edition pouches and acrylic keychains will also be available.

2022 Lucky Bag

*Limited to two bags per person.

Available: December 30, 2021 – January 9, 2022

Coupon Expiration Date: January 31, 2022

Official Site: https://www.ministop.co.jp/minisof/

'It's My Color! ~Rouge Red Room~' Concept Room Allows Guests to Surround Themselves with Red

Strings Hotel Nagoya will open a new concept room from January 15 until April 14, 2022. Those who love the color red won't want to miss it!

'It's My Color' is a room completely dedicated to a person's favorite shade. Imagine dressing up in red and spending time taking photographs in this completely red room. It's perfect for Valentine's Day!

While the room may be red for now, the color may change in the future. Guests can also enjoy a special strawberry afternoon tea set in their room during this event period.

Oriental Hotel Universal City, the Official Hotel of Universal Studios Japan, Holds Grand Opening

After a soft opening in July 2021, the Oriental Hotel Universal City has spent the last six months remodeling its entrance, lobby, restaurant, and guest rooms. The property has now officially held its grand opening and will be welcoming guests in 2022. 

Hotel Exterior

Guest Room

Restaurant Interior

Restaurant Interior

Huge Hamburgers

Croffle Eggs Benedict

Guest rooms feature earthy color tones and are spacious and functional, with beds provided by popular brand Simmons, promising a good night's sleep. A variety of room types are available, including double rooms, twin rooms, triple rooms, and connecting rooms, allowing for a flexible stay depending on the number of guests. Until March 31, 2022, the hotel is offering the 'New Room Stay Plan,' a long-stay luxury holiday plan that allows guests to stay up to 23 hours on departure day to enjoy shopping and other leisure activities.

The hotel's restaurant has been reimagined with a buffet concept and welcomes guests with high ceilings and large windows for a refreshing morning experience. The interior is accented with a green wall to conjure images of nature, and the breakfast menu is based on the concept of 'Charge from Nature,' offering a wide variety of dishes to help visitors recharge both body and mind.  

オリエンタルホテル ユニバーサル・シティはユニバーサル・スタジオ・ジャパンのオフィシャルホテルです
Universal elements and all related indicia TM & © 2021 Universal Studios. All rights reserved.
CR21-2553
 

My Melody and Kuromi Interior Gaming Goods Now on Sale

Don Quixote is now selling a new collection of interior goods perfect for gamer girls! The My Melody and Kuromi collaboration is a part of 'Don Quixote x Sanrio Characters,' and these goods can be found nationwide.

The number of girls playing video games is on the rise thanks to more interest in e-sports and more free time at home. Girls with computers love to decorate their PC space, and this new collection is perfect for those wanting some sassy Sanrio flare. Merch includes a gaming chair, neck pillows for comfort, and fuzzy rugs to liven up any space.

*Product images are examples only. The final products may differ. 

Boutique Hotel TRUNK to Hold Winter Market with Outdoor Comfort Concept

From December 20 until December 26, 2021, TRUNK, a boutique hotel in Jingumae, Shibuya, will hold the TRUNK Winter Market 2021. The theme of the event will be 'outdoor comfort,' and carrying on last year's tradition, the hotel will deliver content aiming to warm the body and soul during the cold winter season. The public terrace will be decorated with fire pits and lanterns, creating a space where visitors can fully enjoy the cozy atmosphere. The limited-time event will offer workshops, food, and drinks to be enjoyed with family and friends.

The food menu includes 'Chicken and Mushroom Pan Stew,' served in a bread bowl and made with fresh ingredients. Guests can also enjoy a 'Cheddar Cheese Crepe with Homemade Roast Ham,' along with plenty of scrumptious desserts. Perfect for the Christmas season, warm eggnog and mulled wine will be served, and kids will love the organic hot chocolate!

Four different workshops will be set up at tents in the public terrace. Kids Gabbeh Painting will teach kids how to design their own Gabbeh, a traditional small fabric woven by nomads in southwestern Iran. After drawing their design, artisans will weave the Gabbeh, and will send it to your home. The 'Socializing Flower Swag' workshop allows visitors to make swag using dried flowers that were upcycled from fresh flowers that would otherwise be thrown away. These will be silk-screened and wrapped for a great souvenir. Outdoor Candle is a workshop where visitors can create original leather candle holders. 




At Campfire Roast Coffee, guests can roast coffee over an open fire pit. Imagine how good it smells! Afterwards, you can take home your spoils.

There will also be a TRUNK Vintage Store on-site, where hotel staff will sell decorations and furniture no longer needed in the hotel, as well as clothes and other goods. 

Nagoya Tokyu Hotel's Newly Upgraded Sylvanian Families Room is Now Available

Nagoya Tokyu Hotel has launched its second plan in collaboration with the Sylvanian Families.

This plan allows you to enjoy the world of the Sylvanian Families, a series of dollhouse toys that have been loved by many fans since their launch in 1985. Following on from the first plan, which was very popular, the new plan allows guests to enjoy the hotel's original fruit sandwiches with Sylvanian Families characters imprinted on them at breakfast, as well as the opportunity to dress the dolls in a custom dress that can be freely decorated with lace and accessories to create your own Sylvanian Families.


In this plan, the space with sofas and tables in the room has been converted into a kids' space with play mats so that even small children can play safely. The kids' space is filled with houses and buildings from the "Sylvanian Families" series that kids can actually touch and play with, such as the "Big House with a Red Roof (Classic Color)," the "Doki Doki Tree House in the Forest", and the "Dreamy Amusement Park in the Castle", as well as the chocolate-covered rabbit girl "Flare" and many other friends. There will also be a red and white polka-dot dress (size 110 only) that kids can try on to match with "Flare".


The number of adult fans who enjoy taking pictures of cute Sylvanian Families scenes and posting them on social media is also increasing very quickly. Let's enjoy the world of "Sylvanian Families" to the fullest!

© EPOCH

Information

Family Plan with Kids Space to Play with Sylvanian Families

Runnning: Until February 28, 2022.
Room: Superior Twin Room

Reservation/Contact: 052-251-5922

Hoshinoya Karuizawa Unveils Special Anniversary Plan on the Ice

Each Hoshinoya location has its own unique theme, and all offer an extraordinary experience. Hoshinoya Karuizawa, a resort in Nagano Prefecture, has opened reservations for the Starry Winter Anniversary Plan, allowing couples to celebrate their love away from the hustle and bustle of the city beneath the dazzling winter sky. The staff at the resort will assist couples in celebrating the special day at various locations around the resort, and a custom-made photo tour will also be included!

Surrounded by rich nature at the foot of Mt. Asama, Karuizawa reaches low temperatures in winter, creating beautiful scenery dotted with icy trees and snow glistening in the sunlight. This plan is perfect for those who want to escape the stresses of the current pandemic. 

A Special Seat on the Ice

The Karuizawa Wild Bird Sanctuary is located directly beside Hoshinoya Karuizawa and houses the Kera Pond at the entrance. Used as an outdoor skating rink during the winter months, a large two-person seating area is erected on the ice which can only be reserved for couples. Lovebirds can enjoy champagne, dried fruits, and cheese as they gaze up at the starry sky. 

Guest Rooms Decorated for the Celebration

With rooms offering spectacular nature views, couples can enjoy herbal tea, sweets, and flower arrangements only included in this special plan. The flowers may be taken home, and the sweets include florentines made with miso, a specialty of the Shinshu area. They are said to be 'sweets that bring happiness,' and may be the key to many more happy years together!

Custom-Made Photo Tour

The landscape around the resort pays homage to traditional Japanese landscaping and includes terraced rice paddies, rivers, and unique vegetation. The custom-made photo tour is a private tour limited to one group, in which couples stroll around the grounds with a photographer to take photos at these spectacular locations. These will be made into an album with the Hoshinoya Karuizawa logo. 

Hotel MIMARU Offering Christmas Room in Collaboration with Awesome Store

Lifestyle shop Awesome Store is collaborating with the MIMARU hotel chain to create a secluded and supremely cozy Christmas Room. The special room will only be available from December 1 until December 25, 2021. Each spacious room features a kitchen and is decorated with plenty of holiday goodness, making it the best place to spend the Christmas season with family and friends. 

Original tableware from Awesome Store will be left in each room, so guests can easily throw a Christmas party by having food delivered or grabbing takeout. There's no need to decorate, as the space will be completely overrun by ornaments and garlands. How would you like to spend Christmas here? 

Information

Awesome Store Christmas Room

Available: December 1 – December 25, 2021

Participating Hotels:
MIMARU Tokyo Akasaka

MIMARU Tokyo Nihombashi Suitengumae

MIMARU Tokyo Ueno Okachimachi

MIMARU Tokyo Ueno Inaricho

Reservations/Official Site: https://mimaruhotels.com/

OMO7 Asahikawa Resort in Hokkaido Offers Polar Bear Valentine's Day Girls' Party Package

Not a fan of Valentine's Day? Want to get away from all the in-your-face romance and just have a good time with your gal pals? OMO7 Asahikawa by Hoshino Resort in Hokkaido is offering a limited-time polar bear-themed Valentine's Day Girls' Party package for all of February 2022. The single polar bear room, opened in November 2020, will be transformed into its Valentine's Day version. 

Valentine's Day has been popular in Japan for many years and is a day when women give gifts to men to express their feelings. However, in recent years, it has also become a less romantic event for some–people are buying chocolate for themselves, or giving candies to friends. The polar bear room is perfect for girlfriends who just want to relax and have a good time. Why a polar bear? The Asahikawa Zoo is nearby and is an incredibly popular attraction.

The Polar Bear Valentine Room, Only Available for One Party per Day

Decorated from top to bottom in cute bears, guests can also wear matching polar bear loungewear, perfect for those Instagram shots. This will be a girls' gathering you'll never forget!

Polar Bear-inspired Snacks for the Perfect Girls' Night

When girls get together, they just love to chat. But talking so much can make you hungry, so plenty of snacks will be waiting in the guest room! If you're not in the snacking mood, they also make wonderful souvenirs. 

Polar Bear Desserts, A Must-Have in Asahikawa

The area around OMO7 Asahikawa is lined with stylish cafes where you can take a break from your daily life. After enjoying the Valentine's Room, head out into the nearby neighborhood to Fukuyoshi Cafe for some polar bear sweets. The treats are included with the price of the room, so there's no reason to miss it!

Hoshinoya Tokyo Offers New Safe & Mask-Free Dining Experience Using 'Lantern Partitions'

Hoshinoya hotels each offer a unique experience with their own theme. The Otemachi-based Yoshinoya Tokyo has announced the new "Tokyo Lantern Dinner," which has been proposed to suit the 'New Normal' of the Covid-19 generation. The new dining option was opened to customers from October 13 2021 and blends the new rules of restaurant partitions and mask wearing with Japanese culture, using lantern partitions to allow customers to enjoy their food with peace of mind. Customers can remove their mask as they sit under the lantern partition, which lights up your face and meal with a soft glow, meaning you can safely enjoy conversation and see your partner's face as you talk and eat. Conveniently, the lantern also prevents splashing, making eating out in the Covid-19 era even easier! 

The Lantern Partition was Developed with a Long-Established Lantern Company

Nippon Cuisine ~Fermented~

The partition lanterns were created by Kojima Shoten, a long-established lantern shop based in Kyoto which was founded in the Kansei-Edo period. The original lantern-shape was crafted by the professionals, from the structure all the way to the painting. The unique shape of this elastic lantern allows customers to enter and exit freely, and part of the lantern has been made using a 0.15mm transparent vinyl meaning that face-to-face conversations can be held with ease. In addition, the lantern is equipped with a light that gently illuminates the face and food of the person seated beneath it.

 

 

Yoshinoya Tokyo usually only accepts dining reservations from those staying at the hotel, but customers can now invite non-guests specifically to enjoy the main meal together.  They have prepared a variety of options for meetings and events that previously couldn't meet up due to the Covid situation, such as meetings between families before marriage, anniversaries, birthdays, business dinners, and more. 

 

 

Hoshinoya Tokyo is a Japanese Inn that respectfully combines the comforts of the modern day with traditional Japanese culture. The dining room, located on the first basement floor, offers 'Nippon Cuisine' made using a combination of Japan's historical fermentation culture and French cooking techniques.  The menu includes a wide variety of ever-popular fermented foods and seasonings, such as soy sauce and miso, along with preserved foods such as pickles and salted fish. The lactic acidosis bacteria found in these foods is referred to as a "Good Bacteria," known for its positive effects on the body and its ability to regulate gut bacteria. 

The taste and nutritional value of each meal has increased due to fermentation and aging, using seasonal ingredients from around Japan and French cooking techniques to bring out the flavor, resulting in a new and original taste. 

 

Why not check out Hoshinoya Tokyo and experience this new-era Japanese dining experience for yourself?

Information

Tokyo Lantern Dinner

Available From: October 10 2022 

Reservations: https://hoshinoya.com/tokyo (Must be made at least five days in advance)

Capacity: One group per day

'Kyoto Yura Hotel M Gallery' New Halloween Menu Features Adorable Monster Motifs

The '1F Lounge & Bar 1867' at the Kyoto Yura Hotel M Gallery will be hosting a Halloween themed afternoon tea from October 1 2021, with tea sets and cocktails available. The premium hotel is owned by Accor, a Paris, France based group that owns over 5,000 hotels and resorts in 110 countries.

The Halloween-themed afternoon tea has been made by Jennie Chiu, a pastry chef who grew up in America, the home of Halloween. The afternoon tea features cute and playful monster motifs, including a witch-hat Mont Blanc, a Cassis and Chestnut Cake topped with a small ghost, and a spider-web topped Raspberry and Chocolate Mousse. For savory treats, Chef Nishimura Niki has prepared Foie Gras soaked in Salted Koji, plus two luxurious lobster dishes.

The creative Halloween cocktails were brainstormed by Yamazaki Sousei, who ranked in the Japan Top 10 category of bartending competition 'WORLD CLASS 2021.' The Halloween and apple pie inspired lineup was inspired by Scotland and the Celtic people, looking back to when Halloween was first celebrated. 

Enjoy some adult-only time in this retro-modern "family mansion" themed space. 

Information

Halloween Afternoon Tea Set

Availability: October 1 ~ October 31 2021

Location: Lounge & Bar 1867 

Serving Hours: 12:00 and 15:00 *Please reserve your table by 17:00 on the day prior to your arrival

Halloween Cocktails

Availability: October 1 ~ October 31 2021 

Price: ¥1,900
Location: Lounge & Bar 1867

Serving Hours/Opening Hours: 11:30 ~ 21:00 (L.O. 20:30) 

Official Site:  https://kyotoyurahotel-mgallery.com/ja

New 'Uramichi Oniisan' Collab Hotel Room Designed Using 'URA' and 'OMOTE' Motifs

Sunshine City Prince Hotel has revealed a new "Uramichi Oniisan" themed plan, available to reserve for a limited time between October 2 and December 31.

Hotel Staff Costume Illustration

 Pajama Costume Chibi Illustration


©Kuze Gaku・Ichijinsha / Uramichi Oniisan Production Comittee

Star Can Badge / Hotel Keychain / Mask Case (URA & OMOTE ) / Original Notepad / Hotel Key Card 

Cafe & Dining 'Chef's Palette' Original Drink with Bonus Coaster

'URA-Room' with Chibi Character Illustration

 

The 'Uramichi Oniisan' anime became a hit in Summer 2021, known for its cast of famous voice actors.

The new artwork produced for the hotel features the characters in hotel staff uniforms and pajamas, perfect for the hotel-themed collaboration. The 'OMOTE ROOM' is designed using the new illustrations, while the 'URA ROOM' uses the chibi characters. Each room features a sound clip from Uramichi Omoteda (CV: Kamiya Hiroshi). Original merchandise and drinks are available to guests, plus the famous "Bird Finding Game" is available to play in each room, making it a must-see for fans!

Dive into the 'Uramichi Oniisan' world with this new collaboration hotel room!