Naomi Watanabe Produces Second Cosmetic Collection With Shu Uemura
The second cosmetic collection produced by Naomi Watanabe for the Tokyo-based makeup brand Shu Uemura―called the "naomi for shu uemura collection"―will be released in limited supplies from July 20.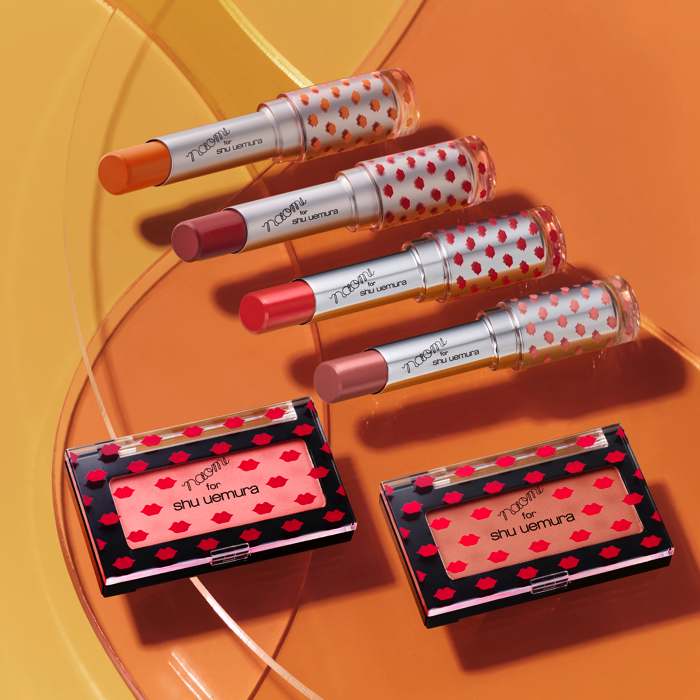 The collection includes two colours each of Shu Uemura's hugely popular satin lipsticks Rouge Unlimited and their velvety Rouge Unlimited Matte. It also includes two colours from their Glow On F which gently blends with the skin and change one's look in an instant. The blush is served in a limited edition custom case.
From a sublime colour that draws out the charm of a person tenfold to another trend colour that elevates the face to its peak, Watanabe produced each of these original colours from nothing and Shu Uemura manufactured them. This is also the first blush Watanabe has ever produced.
The collection comes as the long-awaited sequel to Uemura's first collaboration with Shu Uemura when she was appointed an ambassador of the brand. The line-up exhibits Watanabe's drive to keep on evolving and is an expression of herself today.
What Watanabe was focused on with this collection was ensuring each item easy to use and incorporate into looks while also making a range of exquisite colours you cannot get anywhere else. For example, the deep killer red colour "no.1" is laced with gold glitter to give a shimmering finish to those lips.
"unfollower" balances red and yellow with the saturation altered to create a unique orange that makes your lips the standout feature of your makeup. This colour is perfect when combined with summery eye makeup.
The blush serves to bring out your peak adult beauty in a super easy fashion. It's for those people who are able to create gorgeous eye makeup but aren't quite skilled at their cheeks yet. "amber sophistication" doesn't highlight your cheeks too much but gives just enough to leave you looking sophisticated and urban. "bellini innocence" gives your cheeks a pure look with its coral colour that blends into your skin with its slightly more sweeter-looking appearance.
Naomi Watanabe published a comment regarding her collection: "Hello, everyone! I'm Naomi Watanabe! This summer, I am collaborating with Shu Uemura again to release a section collection! I am super happy to say that we have been able to deliver you all a product that we have confidence in. I hope that through this collaboration with Shu Uemura we can help all those people who treasure each day have the confidence to live life their way. I also hope this lends a little support to your makeup potential. Let's all be happy and radiate this summer!!"
Information
naomi for shu uemura collection
Product Line-Up
"Rouge Unlimited" (2 Colours) – ¥3,200 Each (Before Tax)
"Rouge Unlimited Matte" (2 Colours) – ¥3,200 Each (Before Tax)
"Glow On F" (2 Colours) – ¥2,500 Each (Before Tax) *Can be refilled
"Custom Case II" – ¥700 (Before Tax)
*All products are limited edition colours and come in limited edition packaging
Exclusive Pre-Order: July 3, 2019
Pre-Sale: July 10, 2019
General Pre-Order: July 13, 2019
General Release Date: July 20, 2019
Bonus Item
"now me" Pouch
*Obtained by purchasing two or more items from the "naomi for shu uemura collection" priced at over ¥8,000.
*Limited availability
Full Details (Japanese): https://bit.ly/2Lqc3WC
Full Details Mobile Site (Japanese): https://bit.ly/2YlF7lH
RELATED ENTRIES
SHIRO Unveils 'Holiday Favourite Coffret' Christmas Cosmetic Items

Japanese cosmetic brand SHIRO will release a new set of limited-edition cosmetic items, including the "Holiday Favourite Coffret" and "Flaxseed Nail Polish," this Christmas. Pre-orders open on October 29 with the collection set to drop on November 12.


Holiday Favourite Coffret | ¥13,500 (Before Tax)

Holiday Favourite Coffret is a collection of popular SHIRO cosmetics boxed in limited-edition fragrances which are available this Christmas only. The collection was created with the idea in mind that your heart will light up and a smile will form on your face the moment you open the box.

The "Calendula Eyeshadow Liquid" arrives in two colours. It's made with pot marigold which has high moisturising properties. Both colours add to the excitement of the holiday season with a lustrous glow around the eyes. Since it's a liquid-type eye shadow, it makes it easier to moisturise around your eyes during the dry winter season.

The "Essential Lip Oil," imbued with a relaxing yuzu, gives you nice, moisturised lips. It comes with two limited-edition different scents: "Holy Fig Eau de Parfum" and "Aroma Wood." The former has a warm fragrance inspired by Christmas trees and wreaths with notes of sweet fig, green, wood, and flowers. The latter combines fig and Japanese cypress. Cypress wood from the district of Tosa in Kochi is used.

Flaxseed Nail Polish (4 Colours) | ¥2,400 Each (Before Tax)

SHIRO are also releasing four limited-edition flaxseed nail polishes which can be used both on their own, providing beautiful colour, or layered. Each colour takes inspiration from the holiday season, like snow-covered fir trees or warm Christmas lights. The gold logo and white caps are also limited-edition.

Items in this collection will be sold in a limited-edition gift box too decorated in Christmas colours like green, gold, and white.

Information

SHIRO HOLIDAY COLLECTION 2020
Pre-Orders: October 29, 2020 via SHIRO's online store

Release Date: November 12, 2020
Official Website: https://shiro-shiro.jp/

Haruka Ayase, Chloë Grace Moretz & Leah Dou Feature in SK-II Holiday Season Commercial

Global skincare brand SK-II launched three 'Street Art Limited Edition' versions of their Facial Treatment Essence on October 21, 2020 and released a commercial to promote them.

SK-II is a Japanese cosmetics brand which launched 40 years ago. Since its establishment, it has been enjoyed by women the world over for its range of high quality skin care products, including Pitera™, the brand's award-winning facial treatment essence. This same essence is being released once again in three limited-edition versions featuring street art packaging.

The promotional video for the item stars Japanese actress Haruka Ayase, American actress Chloë Grace Moretz, and Chinese singer-songwriter Leah Dou. The video was directed by Grammy-nominated director Andrew Thomas Huang who has directed music video for such talent as Bjork and Thomas Yorke. The three stars in the video each sing Fantasy by Mariah Carey in their respective languages: Japanese, English, and Chinese.

Facial Treatment Essence Street Art Limited Edition (Red/Yellow/White) | ¥22,000 Each (Before Tax)

The packaging designs for the limited-edition product feature a combination of the Japanese furoshiki wrapping cloth style and street art.

Turn Into a Magical Girl With Ojamajo Doremi's Apprentice Witch Tap Blusher Balls

CreerBeaute, a cosmetic brand managed by Bandai, launched pre-orders for their new Ojamajo Doremi themed Pirika Pirilala Apprentice Tap blusher balls via the online store Premium Bandai on Wednesday.

Pirika Pirilala Apprentice Tap Colour Ball Cheek | ¥4,620 (Tax Included)

The blusher ball set is based on the Apprentice Tap used in the Ojamajo Doremi anime series which the characters use to transform into a witch. It comes after the success of the Pirika Pirilala Magical Ball Face Powder sold in 2016 which was also inspired by the same Apprentice Witch item.

The blusher balls come in three different shades of pink to add a natural blush to your cheeks, leaving a cute and healthy impression. The balls also contain squalene, a natural organic compound that moisturises.

The case design features the same colours as well as the music note seen on the Apprentice Witch Taps, so you too can look and feel like a magical girl.

©Toei Animation

Information

Pirika Pirilala Apprentice Tap Colour Ball Cheek
Pre-Orders: October 7, 2020

Shipping: March 2021

Sanrio Releases 2020 Autumn and Winter Cosmetic Series

Sanrio has released a colourful new line-up of heart-focused cosmetic items—lip cream, hand cream, and lip tint—for the autumn and winter season. The packaging features everyone's favourite Sanrio characters such as Hello Kitty, My Melody, Little Twin Stars, and many more. Additionally, they have released cute heart marks for people to put on their face.

Heart Marks (3 Designs) | ¥1,430 Each (Tax Included)

Use the heart-shaped sponge to dip into the cheek cream and stamp a cute heart on your face.

Hand Cream (10 Designs) | ¥605 Each (Tax Included)

Keep your hands moist during the colder seasons. There are five different scents to choose from.

Lipstick (9 Designs) | |715 Each (Tax Included)

Heart-shaped scented lipstick, each capped off with an adorable character from Sanrio's roster.

Lip Tint (6 Designs) | ¥770 (Tax Included)

Tint your lips and keep them moisturised at the same time. Pick from red, coral pink, or pink.

Other items in the line-up include hand cream and mini towel sets, lip cream and hand cream sets, and more. Autumn and winter's chilly months can be beaten with a little self-care, so be sure to check this collection out.

©'76, '85, '89, '93, '96, '01, '05, '20 SANRIO
©'15,'20 SANRIO S/F・G

Information

Available: Sanrio stores in Japan and select department stores stocking Sanrio Products

Sanrio Online Shop: https://shop.sanrio.co.jp/

One Piece x Shu Uemura Collaborate On Colourful New Makeup Collection

Japanese makeup artist brand Shu Uemura's highly-anticipated holiday collection is here. The "Shu Uemura x One Piece Collection" will launch in two parts: the first on November 1 and the second on November 15.

The special collection is inspired by the brave and heroic Luffy and the Straw Hat Pirates from One Piece, one of Japan's biggest manga and anime franchises.

The first part of the collection launching on November 1 welcomes Shu Uemura's popular vivid eyeshadows and iconic lipsticks from the Rouge Unlimited collection while the second part is made up of a variety of face colours, accessories, and more, made specially for the holiday season. Pre-orders for both parts will launch via Shu Uemura's website and select online stores in Japan on October 15, 2020.

Shu Uemura x One Piece Collection

Bright colours and textures inspired by the marine blue ocean, the beaming sun, and treasure—all elements that scream the adventures of One Piece. Shu Uemura invites people to join Luffy on that adventure with this new collection.

Part One

Wanted Treasure Box Eye Palette Grand Line / Wanted Treasure Box Eye Palette Thousand Sunny | ¥8,500 Each (Before Tax)

The Wanted Treasure Box Eye Palette Grand Line comes in a treasure chest-like eye palette case and boasts ten gorgeous colours, which includes numerous new colours and textures like Crushed Stone, Deep Matte, Antique Metal, and Warm Pearl. Inspired by the Grand Line ocean current in One Piece.

Rouge Unlimited Amplified / Rouge Unlimited Amplified Matte / Rouge Unlimited Matte / Rouge Unlimited Amplified Lacquer Shine | ¥3,300 Each (Before Tax) *Includes 9 colours

Each colour is based on one of the special moves performed by characters in One Piece. The colour arrangement is diverse, ranging from colours to make a statement to more casual ones. Wield the power of the Straw Hats wherever you go.

Part Two

Fearless Crew High Rider Gold First / Fearless Crew High Rider Romance Dawn | ¥5,000 (Before Tax)

Smooth, silky highlight powder to accentuate the face. Colours include shining gold which glistens like pearls and sun-basked peach.

Fearless Crew Premium Brush Set | ¥6,500 (Before Tax)

The high quality mini brush set includes a face brush, cheek brush, eyeshadow brush, and eyebrow brush.

©Eiichiro Oda/Shueisha, Toei Animation

Kiko Mizuhara and Takumi Kitamura Model For Rouge Dior Lipstick

American-Japanese model, actress, and designer Kiko Mizuhara and Japanese actor and model Takumi Kitamura have featured in a new promotion for the internationally-iconic Rouge Dior lipstick in three different looks inspired by the streets of Paris such as Champs-Élysées and Saint-Germain-des-Prés.

Saint-Germain-des-Prés Look

Inspired by the art-led administrative quarter of Saint-Germain-des-Prés, this look fuses trends and tradition.

Kiko is donning the Rouge Dior 665 Rêvée which has a classic pink-beige accent. And to emphasise the natural gloss and beauty of her lips, she's wearing the Dior Addict Lip Glow Oil 001 Pink.


Takumi has also contoured with the Dior Addict Lip Glow Oil 001 Pink tinted lip balm which brings out his natural complexion and imbues his lips with a natural beauty.

Champs-Élysées Look

Champs-Élysées is where the best fashionistas gather, and this look serves that cool Parisienne vibe. Kiko is using the Dior Addict Lip Glow Oil 001 Pink as a base which she has layered with the iconic Rouge Dior 999.

Avenue Montaigne Look

Feminine looks overflowing with natural beauty inspired by Avenue Montaigne where Monsieur Dior opened his first boutique.

Kiko is wearing the Dior Addict Lip Maximizer 001 Pink and has added the lovely Rouge Dior 458 Paris. She's ready to hit the town.

Takumi is also donning the Dior Addict Lip Maximizer 001 Pink, Dior's number one lip care primer, to care for his lips, elicit their natural beauty, and heighten their gloss and volume.

SUQQU's New Liquid Lipstick Collection to Enhance Lips This Autumn

"Comfortable, yet also dramatic" is the vibe SUQQU is bringing to their new Liquid Lipstick Collection which will be released on September 4, 2020.


The lipsticks will be available in two different finishes: COMFORT LIP FLUID FOG and COMFORT LIP FLUID GLOW, both of which provide fresh colours for the lips while enhancing their look.

Amazingly light and locks in colours

The lipsticks have an impossibly light spread thanks to the oils that SUQQU use in their formula, which has a mousse-like texture that helps at to the lightness and allows the shade to spread effortlessly and evenly across the lips. You also don't have to worry about any stickiness when wearing your chosen shade.

Long-lasting, guaranteed adhesion

The formula of the new SUQQU Liquid Lipsticks actually contains the same film material used in mascara. This means that the colour is guaranteed to stay on your lips over a long period of time.

COMFORT LIP FLUID FOG – 7 New Shades

Made with a higher ratio of film than the GLOW line for additional creasing prevention.

Colour Variations

The Shades (From the Left)

01. AZUKIAME: Dull red that nods towards autumn and winter and works with all skin tones.

02. MAIBENI: A light and refreshing fruity red with a perfect balance of blue and red.

03. WATAICHIGO: Chic rose whose dullness has a grown-up vibe to it.

04. HANASHIMO: Sophisticated pink beige that can be worn both formally and casually.

05. OUJYUKUKA: An adult orange amber that contrasts against the skin like a ripe fruit.

06 KINUZOME: Snow beige with a hint of white.

07 HOUJIIRO: Warm brown that has warmth and depth that blends well with the skin.

COMFORT LIP FLUID GLOW – 7 New Shades

Contains more oil than the FOG finish, for a more moisturized, glowing look.

Colour Variations

The Shades (From the Left)

01. AKATSUMUGI: A bewitching primary red with just a single coat.

02. MUSUBISHU: Soft and warm fig red reminiscent of figs.

03. HANAIKADA: Sweet and gentle pure coral that leaves a pure impression.

04. IROGURE: Chic ochre brown that makes anyone look smart and sophisticated.

05. YUUHI: Refreshing and glossy dewy orange.

06. FUJISHIZUKU: Purple aquatic berry that enhances your adult luster.

07. HANAGUMORI: Greyish purple with a dull mode.

Information

COMFORT LIP FLUID GLOW FOG

Release Date: September 4, 2020

Colours: 7 new colours

Price: ¥5,000 (Before Tax)

COMFORT LIP FLUID GLOW

Release Date: September 4, 2020

Colours: 7 new colours

Price: ¥5,000 (Before Tax)

Product Page: https://www.suqqu.com/en/product/comfort-lip-fluid/

Naomi Watanabe Appointed Shu Uemura Ambassador For Launch of 'Rouge Amplified Unlimited' Lipstick

Japanese makeup artist brand Shu Uemura has invited Naomi Watanabe on board as the global ambassador for the launch of the new colour and packaging for their "Rouge Unlimited Amplified" lipstick which will hit shelves on September 16, 2020.

Rouge Unlimited Amplified looks to amplify the user's lip experience with its bold colours. The collection will see a range of updated colours and packaging, including the brown "BR 784 Naomi's redwood."

In the promotion for the lipstick, Naomi Watanabe has donned the "Rouge Unlimited Amplified Matte AM BR 784."

Naomi Watanabe | Comment

"This is a really beautiful colour and gives you a personalised look that you don't see with other lipsticks. You can use it pretty much anywhere, whether at the office or at a party. As long as you wield this lipstick, you can go anywhere, and do anything."

Naomi Watanabe is a fashion icon in Japan, promoting positivity and letting people know they can wear whatever makeup and clothing they like. Her message ties in with Shu Uemura's core concept of individual beauty.

Rouge Unlimited Amplified Matte AM BR 784

The "BR 784 Naomi's redwood" was specially developed to bring out the tones in the skin of those in Asia. It's a tailor-made brown inspired by reddish-brown, a popular colour trend. Adding a reddish tinge makes it contrast well against the skin and makes it possible to wear it on any occasion. The brown hue adds a sense of sophistication and balances out the red, so you can wear it both casually and formally. Four different textures of the "BR 784" are available to purchase.

SHIRO Makeup Collection 2020 Autumn/Winter Launches September 10

Japanese cosmetic brand has revealed that the SHIRO MAKEUP COLLECTION AW 2020 will launch in Japan on September 10, featuring delicate colour tones and using ingredients that SHIRO is known for like ginger and pot marigold which are kind to the skin.

Pot Marigold Liquid Eyeshadow

Pot Marigold Liquid Eyeshadow – 4 Colours

The liquid eyeshadow keeps the skin around your eyes moisturised while adding a delicate sheen to them, creating a beautiful contrast and natural beauty. In times when everyone needs to be wearing face masks, a coat of this eyeliner is sure to leave an impression.

Gagome Kelp Mascara

Gagome Kelp Mascara – 3 New Colours (Includes 1 Limited Edition)

Gagome kelp is known for its moisturising power. Add yuzu to that for a fresh citrus scent, and you've got a mascara that cares for your eyelashes while making you look beautiful. These three new colours also contain pearl powder.

Ginger Lipstick Glow

Ginger Lipstick Glow – 3 New Colours

Incorporating ginger ensures your lips stay moist, and the three new colours introduced add a glossy shine to plump them out.

Ginger Lipstick Colour Primer

Ginger Lipstick Colour Primer

The new Ginger Lipstick Colour Primer cares for your lips and is acts as a foundation for your lipstick.

GU Announces Launch Of New Cosmetic Brand #4me by GU

Japanese clothing retailer GU has announced that its new cosmetic brand #4me by GU which launch on September 4, 2020 at all major GU stores and their online website in Japan.

#4me by GU is an entirely new cosmetic brand that hearkens to the voices of the ordinary person and combines latent needs with the latest styles. By listening to consumers' worries and wishes, the brand is able to develop cosmetics that people want and can really use. Their products pride themselves on being made in Japan, ensuring high quality while staying at a reasonable price and making the user feel good each day.

#4me by GU's product lineup focuses on eye and lip products, and this will include lipsticks, cream eyeshadows, lip gloss, and multi-palettes. The items will be simple for anyone to apply and incorporate into their looks. GU has also developed their own colours and textures so that their lineup fit naturally with the colours and fashion of the season. From eyeshadow that isn't overly-sparkly to specially selected natural colours from palettes, #4me by GU promises easy of use for every person.

The Lipsticks

8 Colours: #11 PINK, #13 L.RED, #14 ORANGE RED, #15 RED SHEER, #17 RED MATTE,#24 APRICOT, #26 ORANGE SHEER, #77 PURPLE | ¥590 Each (Before Tax)

The lipstick collection features natural colouring. Each lipstick benefits from just needing one coat over the lips while also moisturising them. Thanks to the oil blend*, the lipstick feels great on the lips and has the right amount of shine. It also has a lip cream feel to it so can be used on your lips when wearing a face mask.

Cream Eyeshadow

4 Colours: #01 WHITE, #11 PINK, #36 BROWN, #81 GOLD | ¥590 Each (Before Tax)

#4me by GU's cream eyeshadow has 53% water content and comes in a tube. The oil blend lets the eyeshadow spread out smoothly and requires just a single coat around your eyes. The eye shadows also contain a moderate amount of glitter, bringing a fresh look to your eyes. It makes your eyes stand out without taking over the rest of your makeup.

Lip Gloss

3 Colours: #11 PINK, #13 L.RED, #16 RED | ¥790 Each (Before Tax)

The colouring developed for the lip gloss was made to not be too strong so that even if you overcoat with another colour your lips will look natural. The oil blend* used enhances the product staying on your lips and makes them look plump and moist.

Multi-Palettes

 3 Colours: #11 PINK, #26 ORANGE, #72 PURPLE | ¥1,490 (Tax Included)

Soft powder is used for the multi-palettes which ensures a consistent and balanced spread. Colour trends are used and can be used both on your cheeks and around your eyes.

#4me by GU is made in Japan using high quality Japanese ingredients. Where possible, the ingredients used are ones that do not cause irritation to the skin, and all items are made with natural moisturising ingredients including the following essences: tea leaf, East Asian Cherry, camellia, saxifraga stolonifera, and ashitaba.

SHISEIDO Opens First Global Flagship Store in Tokyo's Ginza District

SHISEIDO opened its first-ever global flagship store in Ginza, Tokyo on July 31, 2020.

Since its founding in Ginza, the SHISEIDO brand has been fusing art and science, representing Japanese Beauty. Today, it offers a wide range of products in 88 countries and regions around the globe. SHISEIDO skincare and makeup aims to reveal and express people's beauty on the outside, empowering them with confidence and vitality. For SHISEIDO, it is that outer beauty that brings to light your inner beauty, a notion that's centred around the brand's concept of feeling "ALIVE with Beauty," something they say is achieved when beauty blooms from both the outside and inside.


SHISEIDO GLOBAL FLAGSHIP STORE follows this mantra of "ALIVE with Beauty" which it will promote to those visiting Ginza, be they Japanese or foreign. The store's design concept is "Japanese Digital Garden" which encapsulates the image of a Japanese-style garden—something which symbolises the Japanese sense of beauty as well as nature. It will be inspired by Japanese paper, trees, and Nishijin silk fabrics, and will incorporate flowing music and lighting.

Digiskin Tester (Makeup)

SHISEIDO GLOBAL FLAGSHIP STORE is a beauty experience that combines human touch with the latest technology. The shop caters to a multitude of beauty needs and lifestyles. Simply by taking a photo of yourself, the Digiskin Tester will find the perfect shade of SHISEIDO foundation for your skin from 30 colours. This instant tester can be combined with one-on-one counselling with the staff so you can find the right products for you.

SHISEIDO Ultimune™

SHISEIDO Ultimune Power Infusing Concentrate N – Ginza Flagship Store Limited Edition (75ml) | ¥16,000 (Before Tax) *Available in-store only

The building consists of three floors serving all things SHISEIDO, from their full line-up of makeup and skincare products to items exclusive to the flagship store.

They are taking all the necessary precautions against the spread of COVID-19 so that customers can continue to enjoy the beauty experience. This includes practicing social distancing, providing alcohol gel, disinfecting tester products, having staff and customers wear masks, and so on.

Ultimune Essence Auto-Tester

Customers can use special dispensers set up in-store which lets them try out products without having to come into physical contact with other people.

SHISEIDO has also launched a "virtual store" on its official website so that customers can still enjoy SHISEIDO GLOBAL FLAGSHIP STORE from the comfort of their own home. Customers use VR to walk around the shop and watch help and advice videos on makeup.

Discover your inner and outer beauty at SHISEIDO GLOBAL FLAGSHIP STORE in Ginza.

Information

SHISEIDO GLOBAL FLAGSHIP STORE
Address: Hankyu Hanshin Ginza Bldg., 3-3-13 Ginza, Chuo Ward, Tokyo
Grand Opening: July 31, 2020

Official Website: www.shiseido.co.jp/ginza

Naomi Watanabe Posts Parody Music Video of 'Rain on Me' by Lady Gaga and Ariana Grande

Japanese comedian Naomi Watanabe uploaded a music video parody of Lady Gaga and Ariana Grande's song Rain on Me. The original song was released on May 22, 2020 and features on Gaga's latest studio album Chromatica. It went on to reach No. 1 on weekly charts across the globe, and its music video has over 160 million views on YouTube (as of July 2020).

Lady Gaga "Rain On Me with Ariana Grande" Official Parody

Naomi Watanabe explained that she felt incredible power from Lady Gaga and Ariana Grande when Rain on Me dropped back in May. She described the "motherly presence [of Gaga] that greatly envelops me." In the parody music video, Watanabe plays the part of Lady Gaga while comedian Yuriyan Retriever takes up the role of Ariana Grande.

The music video was shot after the state of emergency was lifted in Japan. It was directed by Daisuke Ninomiya, who has worked on many music videos for many big artists in Japan such as Daichi Miura and Sandaime J Soul Brothers. It was shot in collaboration with makeup artists, stylists, and manicurists who are close with Watanabe. The music video plays up Watanabe's iconic comedy while still managing to be as thrilling as the original music video.

Speaking about the music video, Naomi Watanabe said: "I thought it would be amusing to shoot this video as close as possible to the original, and because I like parodies, so we really went all-out with the little details."

The music video parody received praise from Lady Gaga's production team for its quality. It currently has 2.5 million views on YouTube (as of July 2020). Check it out and be sure to compare it with the original.