Official Captain Tsubasa Online Store TSUBASA.SHOP Launches
An official online store for Yōichi Takahashi's popular soccer manga series Captain Tsubasa launched on July 28, the birthday of the story's protagonist Tsubasa Oozora.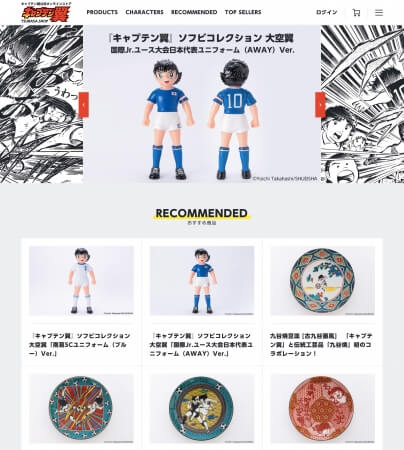 The store list includes everything from authentic and traditional made-in-Japan items such as soft vinyl toys, Kutani porcelain ware and hand towels, as well as high quality clothing and more. And to celebrate, the website will choose five lucky customers to receive a card signed by Yōichi Takahashi.
The website has plans to greatly expand its stock with new items, so if you're a Captain Tsubasa fan, be sure to check it out.
©Yōichi Takahashi / Shueisha / 2018 Captain Tsubasa Production Committee
RELATED ENTRIES
AEON Releases Limited Edition Collection Inspired by Captain Tsubasa

On November 18, AEON's fashion brand Doublefocus launched six pieces of apparel inspired by the soccer series Captain Tsubasa! These items will be available at 260 AEON and AEON Style locations nationwide as well as AEON Style Online. 

Captain Tsubasa Sweatshirt

Captain Tsubasa Hoodies

Track Jacket

T-Shirts

Soccer is becoming more popular in Japan, and this is becoming apparent through its inclusion in various anime and manga series. If you're a fan, be sure to grab one of these Captain Tsubasa shirts, sweatshirts, or hoodies!

(c) 高橋陽一/集英社・2018キャプテン翼製作委員会

Information

Captain Tsubasa Collection

Release Date: November 18, 2022
Where to Buy: AEON and AEON Style locations nationwide
Web Shop:https://aeonretail.com/list/f-doublefocus-anime-02/
Sizes: S – XL
*S sizes for men are only available at select stores and AEON Style Online. 


Miyavi's New Song 'Fearless' Chosen as Theme Song for WOWOW European Soccer

WOWOW will be broadcasting an incredible amount of European soccer matches during the 2022-23 season, including the Spanish LaLiga starting August 13. The UEFA Champions League and UEFA Europa League competitions will decide who is the best on the continent, and many are ready to tune in. 

The WOWOW European Soccer Theme Song for this season will be Fearless by the globally popular performer Miyavi, known to many as the samurai guitarist.

Fearless was written by Miyavi himself. The artist formerly played soccer for Cerezo Osaka and channeled his memories of the competition and supporters into his music and lyrics. The song will begin airing during matches starting with the UEFA Super Cup 2022: Real Madrid vs. Frankfurt match on August 11. This season will be even more exciting than usual, with the World Cup scheduled to take place this November and December in Qatar.


Comment from Miyavi

"As a child, I wanted to become a professional soccer player and I practiced kicking a ball around every day. As a soccer fan, I imagined a song that would be played in a stadium and that everyone in the audience could sing along with.

I created the music and melody to inspire listeners to feel a sense of unity and to soothe the soul.

When I'm about to perform live or participate in a photo shoot, I always feel that sense of nervousness before a fight–that fear of failure before a challenge. I think that's something everyone has felt at some point. All we need to do is put in the energy and work to overcome it. I hope you'll sing along with the song, even at home in front of your TV."

Demon Slayer and J-League Team ALBIREX Collaboration Goods Now Available

A new collaboration is bringing sports and demon-slaying together! For the SPORTS2021 x Demon Slayer event, the popular series is partnering with three sports leagues: the NPB, J-League, and B.League. Goods are now available for the long-awaited collaboration between Niigata's ALBIREX soccer team and Demon Slayer, so sports and anime fans should snag some merchandise before it's all gone!

Items are available to pre-order online now until 2:00 on September 27, 2021. 

ALBIREX x Demon Slayer T-Shirt: ¥3,600 (Tax Included)

ALBIREX x Demon Slayer Face Towel: ¥2,100 (Tax Included)

ALBIREX x Demon Slayer Mini Towel: ¥600 (Tax Included)

ALBIREX x Demon Slayer Ribbon Magnet: ¥1,980 (Tax Included) 

ALBIREX x Demon Slayer Mug: ¥1,800 (Tax Included) 

Don't miss out on these one-of-a-time items!

WE League's New Uniform to be Designed by X-girl

The Women's Empowerment League, or WE League, will be the first professional women's football league in Japan. Set to begin this year on September 12, BEAMS International's women's streetwear brand X-girl is designing the uniform for seven of the 11 participating clubs including Mynavi Sendai, Omiya Ardija Ventus, Chifure AS Elfen Saitama, JEF United Chiba, Nojima Stella Kanagawa Sagamihara, AC Nagano Parceiro, and Albirex Niigata.

'Wear the Hope' is the design concept behind the uniforms. Hoping to offer women courage, the uniforms embody the potential of women, with each club and its members' personalities expressed through colour and distinct design. It's a combination of soccer and street styles that screams 'this is definitely by X-girl.'


JEF United Chiba

Using a nanohana yellow as its base, the JEF United Chiba Uniform incorporates a classic camouflage design in the shape of Chiba that elicits a feeling of walking through the prefecture where the team are from.

Albirex Niigata

Albirex Niigata's uniform colour is derived from Albireo, the double star in the head of the constellation of Cygnus which the team's name originates from. It's a combination of orange and blue, which makes one think of the gorgeous setting sun of Niigata above the Sea of Japan, and white, which is a reference to the swans returning home as well as the snow during winter.

Nojima Stella Kanagawa Sagamihara

The corporate colours of Nojima blue and Nojima red are used for this uniform as a nod to Nojima, the electronics stores and parent body of the club located in the centre of Sagamihara. It has a futuristic design inspired by the digital world and electronics.

AC Nagano Parceiro

'Parceiro' is Portuguese for 'partner' and refers to the partnership between the club and the region. The uniform uses triangles as its design base to represent three entities: the club, its sponsors, and its supporters. It also takes inspiration from Nagano's gorgeous mountains while the stripes represent oneness and speed.

Mynavi Sendai Ladies

The city of Sendai where Mynavi Sendai Ladies hails from is famous for the Sendai Tanabata Festival. The club's antecedents, Vegalta Sendai, gets its name from Vega and Altair from the Tanabata story. Together with Deneb, Vega and Altair make up what's known as the Summer Triangle, an astronomical asterism. Mynavi Sendai Ladies' uniform is blue and features Deneb on the clubs' emblem for both the field players and goalkeeper.

Chifure AS Elfen Saitama

Chifure AS Elfen Saitama formed in 1985 with a focus on women in soccer. Their new uniform, too, was made with women wearing it in mind in terms of both the design and colours. The blue is different from the club's iconic elfen blue colour and instead uses a special indigo dyeing technique. It pays respect to both the potential of female athletes while weaving in traditional Japanese design.

Omiya Ardija Ventus

Omiya Ardija Ventus' uniform uses the same design as Omiya Ardija for their 2021 season. It incorporates bonsai motifs as a nod to the bonsai industry in Saitama.

SHISEIDO MEN Skincare Collaborates With FC Barcelona and Captain Tsubasa

SHISEIDO MEN has teamed up with FC Barcelona and the popular soccer manga series Captain Tsubasa to launch the BARÇA x SHISEIDO FC Manga Player Generator App to promote men's skincare. This app shows men how to properly care for their skin with a quick virtual skin checkup. Users can also BARÇA x SHISEIDO FC, a virtual football team led by SHISEIDO MEN ambassador Sergi Roberto as well as Tsubasa Ozora, the main character of Captain Tsubasa.

BARÇA x SHISEIDO FC Manga Player Generator

Available for a limited time now until June 29, users can take a quick skincare check-up. The collaboration aims to encourage men to learn about their own skincare concerns as well as promote the importance of skincare amongst men in a more fun and engaging way.

Captain Tsubasa: Rise Of New Champions Releases Free Demo On PlayStation®4 and Nintendo Switch™

The official Twitter account for the association football game Captain Tsubasa: Rise Of New Champions announced the release of a free demo which hit PlayStation®4, PlayStation®5 and Nintendo Switch™ on Thursday (January 14). The demo offers a chance for players to experience the Tutorial and Versus modes.

Tutorial Mode

Versus Mode

The game is based on the popular sports anime and manga series Captain Tsubasa and features anime-style graphics. It features familiar faces and high-speed action from the series. It also comes as the series' first ever action soccer game.

Tutorial Mode teaches players the basics of the game while Versus Mode allows them to play a match with one of the four teams including a 4-player online mode. This is a great opportunity for football lovers who have yet to play the game to try it out.

©高橋陽一/集英社·2018キャプテン翼製作委員会
©BANDAI NAMCO Entertainment Inc.

Captain Tsubasa Mobile Game Launches Worldwide October 30

The real-world mobile game TSUBASA+ will be available in 37 countries and territories worldwide on October 30, 2020. The game was released in seven European countries on September 30, and thanks to demand from users across the globe in other countries, the game is dropping in even more tomorrow. Check out the full list below.

Asia

Japan, Hong Kong, Taiwan, Macao, Singapore, Indonesia, Malaysia, Philippines, Thailand, Australia

North America

USA, Canada, Mexico

South America

Brazil, Argentina, Chile, Columbia

Europe

Portugal, Austria, Denmark, Switzerland, Greece, Iceland, Sweden, Norway, Czech Republic, Slovakia, Poland, Romania, Russia, Bosnia and Herzegovina, Croatia, Serbia, Ukraine, Turkey

Africa

Morocco, Ghana

Pre-registration campaign brings in 400,000 players

TSUBASA+ launched a pre-registration campaign on September 25 which invites people around the world to sign up for the game. Depending on the number of players that register when the campaign ends, they will receive different in-game items. The campaign recently hit the 400k mark and will run until November 30, 2020.

©Yoichi Takahashi/SHUEISHA
©"The use of images and names of the football players in this game is under license from FIFPro Commercial Enterprises BV. FIFPro is a registered trademark of FIFPro Commercial Enterprises BV"
©LICENSED BY JAPAN PROFESSIONAL FOOTBALL LEAGUE
©miraire Inc.

Information

TSUBASA+

Platform: Mobile (iOS/Android)

Release Date: Rolling out worldwide from September 30, 2020

Available: App Store / Google Play

Official Website: https://tsubasa.plus/en/

Captain Tsubasa Mobile Game TSUBASA+ Will Release in Europe

The real-world mobile game TSUBASA+ was released in even European regions on Wednesday including United Kingdom, France, Germany, Italy, Spain, Belgium, and the Netherlands.

Developed by MIRAIRE and based on the popular football manga series Captain Tsubasa, TSUBASA+ is a collaboration between football players throughout the world and Captain Tsubasa's players, bringing them together in real world locations using GPS and Google Maps Platform.

Players walk around real world locations and battle with Captain Tsubasa characters and real-life FIFPro football players at stadiums found around the game. They can also create their own unique teams and play 1-on-1 with 3 players around the world.

Players pick a stadium in-game which will be registered as their home stadium where they can level up by playing with others. As your stadium levels up, it becomes easier to recruit more famous and high level football players.

Andres Iniesta: The first official supporter of TSUBASA+

Andrés Iniesta, a player for Japanese club Vissel Kobe and a former member of the Spain National Football Team, has been appointed as the first official supporter of TSUBASA+.

Andrés Iniesta | Comment (Excerpt from full interview)

Being appointed as the first official supporter fills me with excitement. I'm personally very excited to be appointed as an official supporter. I have loved Captain Tsubasa for a long time now, and now I've been able to come to Japan. Like the original series, TSUBASA+ is about more than just football. It's a bigger project about the spirit of all sport. This not only helps us to understand the game, but also creates a sense of companionship. I feel that this game brings surprising innovation into the world. This game is a place that mixes the real world with the characters from Captain Tsubasa. I myself would love to play against Ozora Tsubasa, Kojiro Hyaga, and Jun Misugi. I'm really happy to be part of this project and I wish for its success."

Pre-Registration Campaign

TSUBASA+ launched a pre-registration campaign on September 25 which invites people around the world, including countries where the release date has yet to be announced, to sign up for the game. Depending on the number of players that register when the campaign ends, they will receive different in-game items.

TSUBASA+ will be released in Japan, Taiwan, Hong Kong, Singapore, Indonesia, Malaysia, Philippines, Thailand, Australia, Portugal, and Switzerland on October 15, 2020. Release dates for other countries will be announced at a later date.

©Yoichi Takahashi/SHUEISHA
©"The use of images and names of the football players in this game is under license from FIFPro Commercial Enterprises BV. FIFPro is a registered trademark of FIFPro Commercial Enterprises BV"
©LICENSED BY JAPAN PROFESSIONAL FOOTBALL LEAGUE
©miraire Inc.

Information

TSUBASA+
Release Date: Rolling out worldwide from September 30, 2020
Official Website: https://tsubasa.plus/en/

Captain Tsubasa Mobile Game TSUBASA+ Releasing Worldwide This Autumn

TSUBASA+, a 'real world' mobile game developed by MIRAIRE that's based on the popular football manga series Captain Tsubasa, is set to begin rolling out worldwide this autumn.

TSUBASA+ is a collaboration between football players throughout the world and Captain Tsubasa's players, bringing them together in real world locations using GPS and Google Maps Platform. Development of the game was supervised by video game designer Yoshiki Okamoto (Monster Strike; Street Fighter II; Red Dead Revolver).

TSUBASA+ in-game image

Players walk around real world locations and battle with Captain Tsubasa characters and real-life FIFPro football players at stadiums found around the game.

Stadium check-in

Example of a team formation

Players can create their own unique teams and play 1-on-1 with 3 players around the world.

Playing a match

Match Results screen

Players must pick a stadium in-game which will be registered as their home stadium where they can level up by playing with others. As your stadium levels up, it becomes easier to recruit more famous and high level football players. Players can also receive a variety of items at their stadium.

The map

The game can be played indoors too using the map system, so you don't have to worry about having to go outdoors to play during the pandemic. Players can also warp to other users they follow too.

The soundtrack for TSUBASA+, including the background music and sound effects, is composed and produced by Taku Takahashi.

☆Taku Takahashi (m-flo) | Comment

"I'm really proud to have had the opportunity to be involved for this game which is based on a series popular worldwide. I have become a football lover, supporter, and rival supporter through this game. I was conscious when making the music for it to be a way for people who love football to quickly connect to one another. I'm really looking forward to playing too."

©Yoichi Takahashi/SHUEISHA
©"The use of images and names of the football players in this game is under license from FIFPro Commercial Enterprises BV. FIFPro is a registered trademark of FIFPro Commercial Enterprises BV"
©LICENSED BY JAPAN PROFESSIONAL FOOTBALL LEAGUE
©miraire Inc.

Information

TSUBASA+

Release Date: Autumn 2020 (Worldwide)

Platform: iOS/AndroidTM

Market: App Store / Google Play

Genre: Real World Game

Official Website: https://tsubasa.plus/en/

Captain Tsubasa: Rise of New Champions Trailer Reveals August Release on PS4 & Switch

A trailer was released for the upcoming video game Captain Tsubasa: Rise of New Champions which is set for release worldwide on PlayStation®4 and Nintendo Switch™ on August 28, 2020.

What is Captain Tsubasa: Rise of New Champions?

Captain Tsubasa: Rise of New Champions is the first console game based on the internationally beloved manga masterpiece Captain Tsubasa in 10 years. It will be fast-paced an arcade-style football game featuring familiar faces from the series in anime graphics.

New Trailer showcases high-speed gameplay

Check out the epic trailer release for the game on the official PlayStation YouTube channel below.

Captain Tsubasa: Rise of New Champions – Street Date Announcement Trailer | PS4


Pre-Order Bonuses

Pre-Order Bonuses
1. Shutetsu Uniform
2. Meiwa FC Uniform
3. Tsubasa's Challenge Ball to Wakabayashi

・Download Purchase Bonus
If you pre-order the game by September 23, 2020, you can receive the BANDAI NAMCO Entertainment uniform.

©Yōichi Takahashi / Shueisha・2018 Captain Tsubasa Production Committee
©BANDAI NAMCO Entertainment Inc.

Information

Captain Tsubasa: Rise of New Champions

Release Date: August 27, 2020

Platforms: PlayStation®4 / Nintendo Switch™
Players 1-4 (Online/Offline)
Genre: Soccer Actionジャンル:サッカーアクション
CERO Rating: A

Official Website: https://en.bandainamcoent.eu/captain-tsubasa/captain-tsubasa-rise-of-new-champions

*PlayStation and PS4 are registered trademarks of Sony Interactive Entertainment.
*The Nintendo Switch logo and Nintendo Switch are registered trademarks of Nintendo. ©2017 Nintendo
*YouTube is a trademark of Google LLC.
*The photos shown are of a product still in development.
*The information in this article are correct at the time of publishing. The product is subject to change without notice in the run up to and after its release.

Zavas Milk Protein collaborates with Captain Tsubasa for web commercial!

Zavas MILK PROTEIN zero fat drinks were launched on Tuesday 2nd April 2019 countrywide in two flavours; yoghurt and banana. The protein drink brand has recently collaborated with manga Captain Tsubasa to create two commercials. The "Tsubasa Oozora overhead shoot" and  "Kojiro Hyuga Raiju Shoot" editions of the commercial have been released. 

Zavas MILK PROTEIN zero fat yoghurt-flavoured  ¥155 (+tax)

Zavas MILK PROTEIN zero fat banana-flavoured ¥142 (+tax)

Tsubasa Oozora overhead shoot web commercial:

Kojiro Hyuga Raiju Shoot web commercial:

In each of the commercials, you can see both Tsubasa Oozora performing Overhead Shoot and Kojiro Hyuga performing Raiju Shoot. These are their special moves that they use to score goals.

At some stores, you can receive Captain Tsubasa-themed plasters if you purchase something from the Zavas MILK PROTEIN series! The designs include Tsubasa Oozora, Kojiro Hyuga and many more characters! This is a must-have novelty present for fans!

※ There is only a limited number of these plasters in stock.

Thee Zavas series also comes in a large (Zavas MILK PROTEIN zero fat) and there is also a cocoa flavour so don't forget to check these out too!

adidas & BEAMS Release Collaborative World Cup Uniforms

adidas Japan is Japan's official supplier for football uniforms. To promote the fashion culture of football wear, the company have teamed up with BEAMS to start the adidas Football for BEAMS project. Together, they will sell limited edition products, open pop-up shops and host events.

The collaborative uniforms will be sold at select BEAMS stores in white and black. For the design, the name 'beams' is written on the back, and on the left breast is an original crest.

Over at the BEAMS Harajuku pop-up shop they will also offer two limited edition colours―blue and orange―making a total of four colours for sale.

Additionally, from June 14 to 28, another pop-up shop will open at BEAMS Harajuku which takes inspiration from football locker rooms.

This pop-up shop combines football wear with street fashion. In addition to the BEAMS special uniform limited edition colours, they will also sell other uniforms representing Japanese soccer, as well as replica uniforms of each country. Look forward to the latest street footwear from adidas Football too.

To commemorate this project, a one-night-only football event will take place at the BEAMS Harajuku pop-up shop to bring excitement to football in Japan. Full details will be officially announced at a later date.

Get involved with the adidas and BEAMS collaborative project for this year's World Cup!

■Information

BEAMS Harajuku Pop-Up Shop

Address: 1F & 2F, 3-24-7 Jingumae, Shibuya, Tokyo

Open: June 14, 2018-June 28, 2018

BEAMS Harajuku Football Event

Address: 1F & 2F, 3-24-7 Jingumae, Shibuya, Tokyo

Date: June 19, 2018

BEAMS Official Homepage

Select BEAMS Casual Stores

adds GameShtSP

Price: ¥7,800 (Pre-Tax)
Colours: White / Black

BEAMS Harajuku-only
addsGameShtSP

Price: ¥7,800 (Pre-Tax)

Colours: Blue / Orange

Representing Japanese Soccer
Home Replica Uniform
Price: ¥8,990 (Pre-Tax)
Sizes: XS~4XO
Colours: Night Blue F13 / White

Representing Japanese Soccer
Home Replica Uniform
Price: ¥8,990 (Pre-Tax)
Sizes: XS~4XO
Colours: Clear Grey / White