Official Captain Tsubasa Online Store TSUBASA.SHOP Launches
An official online store for Yōichi Takahashi's popular soccer manga series Captain Tsubasa launched on July 28, the birthday of the story's protagonist Tsubasa Oozora.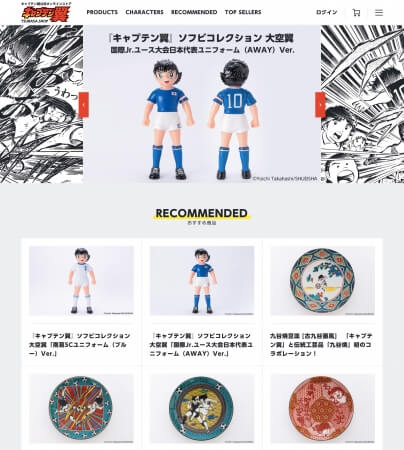 The store list includes everything from authentic and traditional made-in-Japan items such as soft vinyl toys, Kutani porcelain ware and hand towels, as well as high quality clothing and more. And to celebrate, the website will choose five lucky customers to receive a card signed by Yōichi Takahashi.
The website has plans to greatly expand its stock with new items, so if you're a Captain Tsubasa fan, be sure to check it out.
©Yōichi Takahashi / Shueisha / 2018 Captain Tsubasa Production Committee
RELATED ENTRIES
Zavas Milk Protein collaborates with Captain Tsubasa for web commercial!

Zavas MILK PROTEIN zero fat drinks were launched on Tuesday 2nd April 2019 countrywide in two flavours; yoghurt and banana. The protein drink brand has recently collaborated with manga Captain Tsubasa to create two commercials. The "Tsubasa Oozora overhead shoot" and  "Kojiro Hyuga Raiju Shoot" editions of the commercial have been released. 

Zavas MILK PROTEIN zero fat yoghurt-flavoured  ¥155 (+tax)

Zavas MILK PROTEIN zero fat banana-flavoured ¥142 (+tax)

Tsubasa Oozora overhead shoot web commercial:

Kojiro Hyuga Raiju Shoot web commercial:

In each of the commercials, you can see both Tsubasa Oozora performing Overhead Shoot and Kojiro Hyuga performing Raiju Shoot. These are their special moves that they use to score goals.

At some stores, you can receive Captain Tsubasa-themed plasters if you purchase something from the Zavas MILK PROTEIN series! The designs include Tsubasa Oozora, Kojiro Hyuga and many more characters! This is a must-have novelty present for fans!

※ There is only a limited number of these plasters in stock.

Thee Zavas series also comes in a large (Zavas MILK PROTEIN zero fat) and there is also a cocoa flavour so don't forget to check these out too!

adidas & BEAMS Release Collaborative World Cup Uniforms

adidas Japan is Japan's official supplier for football uniforms. To promote the fashion culture of football wear, the company have teamed up with BEAMS to start the adidas Football for BEAMS project. Together, they will sell limited edition products, open pop-up shops and host events.

The collaborative uniforms will be sold at select BEAMS stores in white and black. For the design, the name 'beams' is written on the back, and on the left breast is an original crest.

Over at the BEAMS Harajuku pop-up shop they will also offer two limited edition colours―blue and orange―making a total of four colours for sale.

Additionally, from June 14 to 28, another pop-up shop will open at BEAMS Harajuku which takes inspiration from football locker rooms.

This pop-up shop combines football wear with street fashion. In addition to the BEAMS special uniform limited edition colours, they will also sell other uniforms representing Japanese soccer, as well as replica uniforms of each country. Look forward to the latest street footwear from adidas Football too.

To commemorate this project, a one-night-only football event will take place at the BEAMS Harajuku pop-up shop to bring excitement to football in Japan. Full details will be officially announced at a later date.

Get involved with the adidas and BEAMS collaborative project for this year's World Cup!

■Information

BEAMS Harajuku Pop-Up Shop

Address: 1F & 2F, 3-24-7 Jingumae, Shibuya, Tokyo

Open: June 14, 2018-June 28, 2018

BEAMS Harajuku Football Event

Address: 1F & 2F, 3-24-7 Jingumae, Shibuya, Tokyo

Date: June 19, 2018

BEAMS Official Homepage

Select BEAMS Casual Stores

adds GameShtSP

Price: ¥7,800 (Pre-Tax)
Colours: White / Black

BEAMS Harajuku-only
addsGameShtSP

Price: ¥7,800 (Pre-Tax)

Colours: Blue / Orange

Representing Japanese Soccer
Home Replica Uniform
Price: ¥8,990 (Pre-Tax)
Sizes: XS~4XO
Colours: Night Blue F13 / White

Representing Japanese Soccer
Home Replica Uniform
Price: ¥8,990 (Pre-Tax)
Sizes: XS~4XO
Colours: Clear Grey / White

Japanese Professional Footballer Shinji Kagawa Officially Appointed as Ambassador to Promote Japan Overseas

Japanese professional footballer Shinji Kagawa has been appointed an official ambassador of "Relux," a hotel booking site that offers a carefully selected line-up of the best hotels and ryokans around Japan. As an ambassador, Kagawa's job will be to actively promote travel to Japan and the appeal of regions around Japan to the rest of the world.

In line with the news of his appointment, a video was officially released of Kagawa to promote Japanese ryokan, which is a traditional Japanese style inn.

Relux enables its members to pick the very best of Japan's hotels and ryokan. The website showcases the uniqueness of each and every one of its listed hotels by detailing the culture, history and famous products surrounding their locations. They explain the establishment of each accommodation as well as the appeals of the regions they are situated in.

The reason behind Shinji Kagawa's appointment lies in his extensive knowledge of Japan's appeal and tourist attractions, as well as his experience living overseas for many years. As a footballer, Kagawa's main focus has been his sport, but he expressed a deep desire to promote Japanese culture such as its fashion, food and lifestyle during his off season periods. It was therefore decided that he would become an official Relux ambassador.

The video released in line with his appointment shows him off season. He is located at the hot spring ryokan "Hakone Suishoen" which is a place listed on the Relux website. The video itself is a must-watch as we get to see Kagawa dressed in a yukata looking very relaxed while expressing his enthusiasm for Japanese ryokan, including hot springs and the tea ceremony.

Moreover, in conjunction with Kagawa being made an ambassador, Relux are hiring supporters to further promote their regions, meaning people in Japan can help spread the charm of Japan's regions together with Shinji Kagawa, a man at the forefront of football worldwide!

■Information

"Relux" – Membership Booking Website for First Rate Hotels and Ryokan

Official Website: https://rlx.jp

Relux Supporters – Entry Deadline: September 10, 2017
Supporter Sign-up Page: https://rlx.jp/ambassador

Related Article:Ryohin Keikaku to Hold "My Found MUJI East Asia" Exhibition

Related Article:5 Yukata Rental Shops in Tokyo—Enjoy the Japanese Summer Fireworks and Festivals Even More

The "Captain Tsubasa" oden can is now available at Harajuku "MOSHI MOSHI BOX."

 "Captain Tsubasa Collaborative Oden Can" which is a collaborative product with "Captain Tsubasa" is being sold at Harajuku Nippon Shouten located inside MOSHI MOSHI BOX's Harajuku Tourist Information Center since the 9th of June, 2017.

 "Kotengu Oden" has been gathering much attention since sales started in the automatic vending machine in Akihabara. Captain Tsubasa Oden Kan is a product on which an illustration of "Captain Tsubasa" is depicted on the "Kotengu Oden"can label.

The ingredients are soup, beef, konjac, deep fried balls of fish paste and quail's eggs.

There are two versions of this product, one on which the main character of "Captain Tsubasa,""Tsubasa Ozora"is depicted and the other on which"Kojiro Hyuga" is depicted.

■Information

 "Captain Tsubasa Oden Can"

Price: 600 yen (tax is not included)

Content: 280g

Best-before date: Three years from manufacture date

■Place available

【Harajuku Nippon Shouten】

Address: 1F, 3-23-5, Jingumae, Shibuyaku, Tokyo "MOSHI MOSHI BOX (inside MOSHI MOSHI BOX's Harajuku Tourist Information Center)

【e-Kandumeya Kotengu】http://www.rakuten.co.jp/tengu/ ※It will be available from late June.

Related article:Cute "raccoon dog" porcelain figures are gathering in Harajuku. A traditional product from Shigaraki, Kohka City in Shiga Prefecture

Related article:Dying for a dose of kawaii matcha sweets and a Japanese cultural adventure? Pop into "Harajuku Nippon Shōten" located in MOSHI MOSHI BOX! Now open for business!