A recipe for photogenic food #7 「SUSHI CAKE」
This feature is made possible by Arisa Shirai, a cooking specialist who posts regular photos of her gorgeous food via her social media. She makes every day recipes look photogenic with her small twists.
This time, Arisa will change SUSHI into a stylish looking cake with her idea♪
■Ingredients
4 slice of roast beef
Osasimi(raw sliced fish) that you like(This time, she choiced tuna, shrimp, greater amberjack, salmon roe, crab and salmon.)
1/4Avocado(thinly sliced)
Broccoli sprouts 3g
A piece of rolled egg
Sushi vinegar 50cc
Rice 300g
Cupcake mold
■How to make
1)Mix rice with sushi vinegar.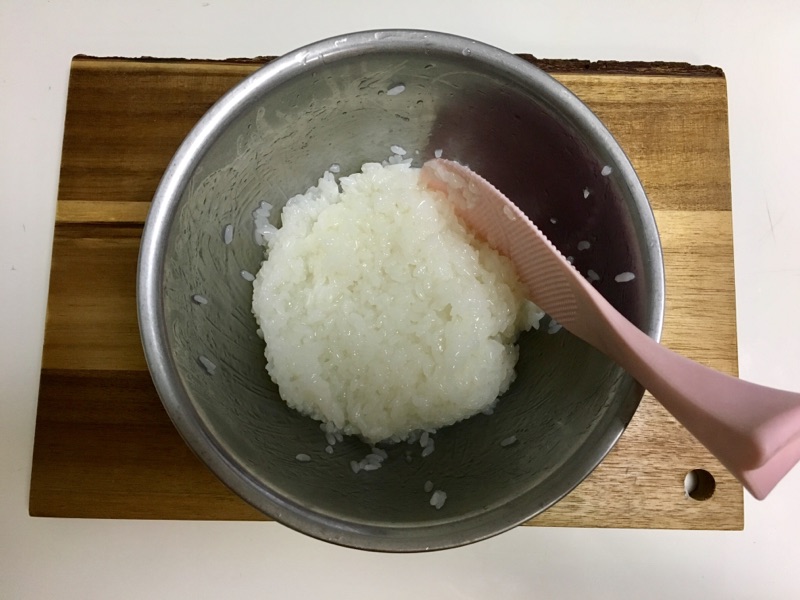 2)Put osashimi that you like, roast beef and rolled egg in the cupcake mold.
3)Put rice thinly on it.
4)Repeat this 2 times and make the layer, and push from the top with shamoji(push the salmon roe sushi with the strength that salmon roe will not be broken).
5)Turn over and take out sushi from cupcake mold, and put the broccoli sprouts on the roast beef.
6) Decorate them on the plate and it's all done.
This recipe is recommended when you want to make SUSHI for guests.
Let's prepare sashimi that you like and make colorful SUSHI cake♪
■Arisa Shirai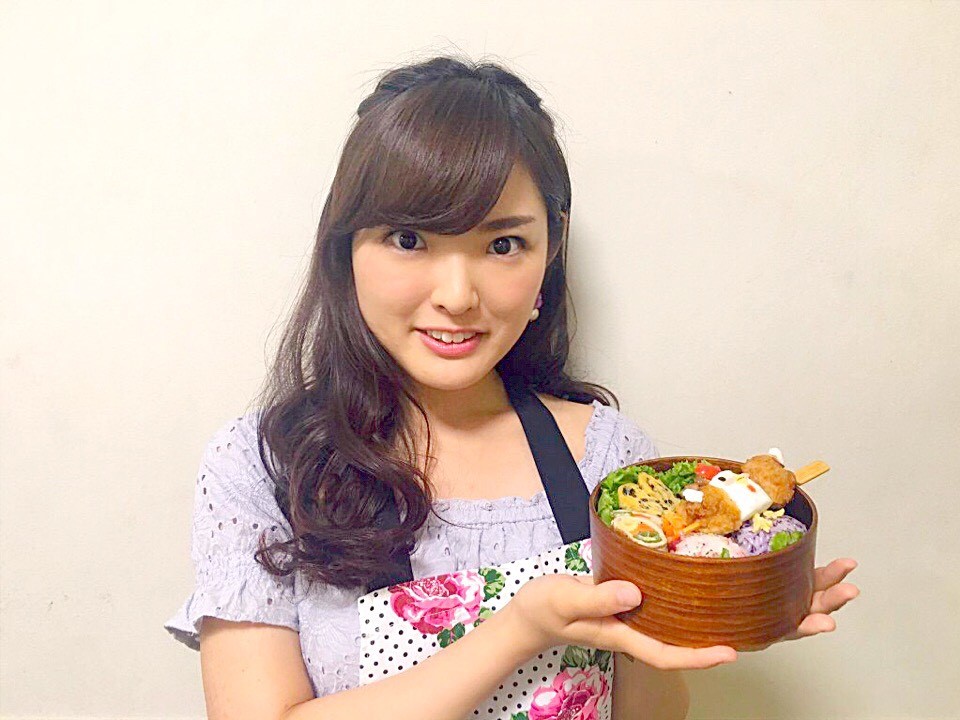 Visual food creator & charaben researcher.
Arisa Shirai shows how fun it is to make and eat your own homemade food.
Instagram: arigohan
Blog:: http://ameblo.jp/arinko0917/ 
—
■Related Article: A recipe for photogenic food #1 "lollipop" sandwiches
■Related Article: A recipe for photogenic food #2 Bruschetta for Christmas
■Related Article: A recipe for photogenic food#3 "Japanese Style Onigiri Pinchos"
■Related article:A recipe for photogenic food #4 "Cheese Fondue & Veggie Boquet"
■Related article:A recipe for photogenic food #5 "Snowman Fromage"
■Related article:A recipe for photogenic food #6 "Potato salads parfait"
RELATED ENTRIES
Chawanmushi Recipe: Savoury Dessert Made With Carrots, Cream Cheese & Mirin

Together with soy sauce and miso, mirin is a fundamental condiment in the Japanese kitchen and for many recipes for Japanese food. It's a sweet rice wine that has lower alcohol content and higher sugar content when compared to sake, adding a sweet flavour to dishes.

Today, we're taking a look at a recipe that uses "Mikawa Mirin," a brand of mirin made from high quality rice, to make carrot and cream cheese chawanmushi. Chawanmushi is a savoury egg custard dessert eaten in Japan.

Carrot & Cream Cheese Chawanmushi

Chawanmushi is made using mirin and has a smooth texture to it as well as a subtly sweet flavour. It's the perfect accompaniment to a hot summer's day.

Ingredients (Serves 1)


●Chawanmushi
60g carrots
240ml dashi
20ml soy sauce
120ml Mikawa Mirin
8g sugar
18g cream cheese
1 egg

●Okra-an
Okra
30ml dashi
0.5g salt
3ml Mikawa Mirin

Method

We will start by making the chawanmushi.

1. Slice the carrots and boil them until they become soft.

2. Add the soy sauce, sugar, and lots of mirin and cook through the dashi.

3. Cook for approximately 20 minutes on a medium heat, then cool with ice. Add the cooled carrots, cream cheese, and 20ml of the dashi into a blender and bend.

4. Add the egg to the mix and steam the mix for 12 minutes on a medium heat.

While the chawanmushi is cooling, we'll make the okra-an.

5. Mix together the okra-an dashi, mirin, and salt together. Add watered potato starch and thinly sliced okra. Leave to cool in the refrigerator.

6. Add the okra-an to the cooled chawanmushi and tuck into your cute two-layered dessert.

Carrot & Cream Cheese Chawanmushi

The dessert is an enjoyable mix of the sticky texture from the okra-an and smooth chawanmushi. It's great to have not only at lunch or dinner, but at home parties with friends too.

–How's the taste?


Misa Kimura: "It works really well with the mirin. The chawanmushi is like a sweet treat. It's super easy to make too, so I think I'll be making it at home!"

Mirin is indispensable to any Japanese cupboard and can be used in many ways, whether it be a classic Japanese dish or a dessert like this one.

Mikawa Mirin 700ml: ¥1,122 (Tax Included)

This authentic brand of mirin is made using a traditional method of Japanese brewing which blends in the delicious taste of rice. It's so delicious that you just want to drink the whole bottle. A high quality mirin, it has a distinct sweetness, colour, and texture. It has a rich flavour, and the taste of the rice elevates the flavours of its ingredients.

Mikawa Mirin Official Website: http://www.mikawamirin.jp/
Official Online Store: http://mikawamirin.jp/product/product_step1.php?m=n
Official Facebook: https://www.facebook.com/mikawamirin

Recipe


This recipe was conceived by ITEMAE, a famous restaurant serving Japanese cuisine that is listed in the Michelin Guide.

Model: Misa Kimura
Photographer: Haruka Yamamoto

Information

ITEMAE
Address: 10-14 Kamiyamachō, Shibuya, Tokyo
Opening Hours: Lunch 11:30-15:00 (Weekdays Only) / Dinner 18:00-23:30
Closed: Sundays / New Year's Holiday
TEL: 050-5595-4795

Inari Sushi Restaurant Tsurigitsune to Open in Osaka International Airport's North Terminal

Japanese food and confectionery company Bijuu is opening a new restaurant called Tsurigitsune inside Osaka International Airport's North Terminal on August 5, 2020. The restaurant will specialise in inari sushi, a type of sushi packed into pouches of deep-fried tofu.

Bijuu is known for producing and selling such products as Kyoto's famous coarse sweet red bean paste-filled yatsuhashi otabe crackers.

Tsurigitsune will serve "Kyo Dashi Oinari," a type of inari sushi made with fried tofu Saga Tofu Morioka—a long-standing tofu shop in Sagano, Kyoto—soaked in lots of sumptuous Kyoto-style dashi. The restaurant will also serve a special type of sweet otabe cracker which cannot be eaten anywhere else.


Kyo Dashi Oinari (Includes 15) | ¥3,240 (Tax Included)

The dashi that the Kyo Dashi Oinari are soaked in take up all the delicious flavour of kombu, sababushi smoked mackerel, iwashibushi pilchard, and katsuobushi dried bonito, all of which serve to add that authentic Kyoto flavour.


Tanto Otabeyasu | ¥930 (Tax Included) *Served 6:30-10:00

As well as Kyo Dashi Oinari, Tsurigitsune's menu includes a line-up of dishes that celebrate the flavour of dashi, including soba, dashimaki tamago omelette, and more.

If you're travelling to Osaka, why not get an authentic Kyoto experience too by dining at Tsurigitsune?

Information

Tsurigitsune
Grand Opening: August 5, 2020
Address: Osaka International Airport North Terminal 2F Boarding Area, 3-555 Hotarugaike NishimachiToyonaka, Osaka
Opening Hours: 6:30-20:20 (Last Orders 19:50)
TEL: 06-6836-9217

Official Website: http://www.bijuu.co.jp/tsurigitsune/

Japan's New Eel Burger is Made in Collaboration With the Theatrical Entertainment Sushi Bar Teruzushi

Matsuya Foods, Gastroduce Japan, and Teruzushi have all joined hands to cook up the new "Eel Burger" which will be sold exclusively in Japan via Matsuya Food Court on Rakuten and Matsuya PayPay Mall starting from 8:00pm (JST) on July 4, 2020.

Like all countries around the world, Japan's food industry is suffering at the hands of the COVID-19 pandemic, with less customers dining in restaurants and eateries. That's where Matsuya Foods comes in, which has launched an effort to collaborate with fellow restaurants to release exquisite dishes online. That begins with the "Eel Burger," the first of many foods to come.

Teruzushi is a sushi bar famous for its "theatrical entertainment" style of sushi serving which has earned it the spotlight in the news and on social media in Japan. They serve high-grade sushi which can have the average person easily spending over ¥30,000 during their visit.

The restaurant, located in Fukuoka, is also famous for its "Unagi Burger," which uses 220g of eel that is prepared in the kabayaki-style and wrapped around sushi rice. That itself is then wrapped in high quality domestic seaweed, resulting in a unique burger-style of sushi. The Eel Burger is an amalgamation of flavours and textures, with the crunchy seaweed complementing the soft eel.

Kaori's Easy Recipe: Learn to Make Pompompurin Cheese Tarts

With just a small bit of ingenuity, turn everyday food into something cute using Kaori's Easy Recipe! With a few simple ideas, an ordinary recipe magically transforms into a cute dish.

In today's recipe, I'll be showing you how I made a batch of Pompompurin cheese tarts made using store-bought tart cups.

Ingredients (Makes 9-10)

9-10 store bought tart cups
200g cream cheese (brought to room temperature)
20-30g sugar
1 egg yolk
50ml fresh cream
8g potato starch (katakuriko)
Vanilla beans to taste (can be substituted for vanilla extract)
1 tbsp lemon juice

Step 1


Pour the following ingredients into a bowl in this order: cream cheese→sugar→egg yolk→vanilla beans→fresh cream→potato starch. Mix well. Make sure when you put the potato starch in last that you sprinkle it thinly.

Step 2
Bake the tart cups in an oven at 180℃ for 15-20 minutes. If you don't have store-bought cups, you can use small cocotte dishes.

Step 3

Leave to cool. Now you can start drawing the face.

For the hat I used sliced chocolate, for the ears sliced cheese, and for the facial features a chocolate pen.

Once you've drawn the face, it's time to tuck in!

Kaori invites you into her world of character-themed food dishes in her recipe series. Be sure to check out her Instagram where she has uploaded many pictures of her character dishes!

Kaori Kubota (@kaopan27)

I live in Hokkaido and I love to make character themed foods, desserts and pastries♡
I want to see my family smile, so I enjoy putting in a bit of effort to make character foods and changing food into something cute♡
You can see more of my character foods and character bento boxes on my Instagram page → @kaopan72

Kaori's Easy Recipe: Learn to Make a Gudetama Parfait

With just a small bit of ingenuity, turn everyday food into something cute using Kaori's easy recipe! With a few simple ideas, an ordinary recipe magically transforms into a cute dish.

Today, I'll be showing you how to make a Gudetama parfait made with a yogurt mousse and topped with orange and peach jelly.

Ingredients
Yogurt Mousse Ingredients:
100g sugar free yogurt
50ml fresh cream
20g sugar
3g gelatin
*With the gelatin, mix well with 1 tbsp water

Mikan & Yellow Peach Jelly Ingredients:
100ml mikan juice (or any orange juice)
150g tinned peaches (with syrup)
5g gelatin
*With the gelatin, mix well with 1 tbsp water

1


①Mix the sugar into the yogurt well. Add in 7/10 of the fresh cream and mix well again.

②Microwave the gelatin for 10-20 seconds at 500w. Add into the mixture from ① and mix well.

2

Once the mixture has set in about ⅓ of a glass, add sliced chocolate on the inside for the eyes and mouth. I cut mine into shape using a toothpick.


Make sure the chocolate is properly fixed to the glass at this point.

3


Put your yellow peach and mikan orange into a blender (but not the gelatin part). The syrup of the peaches is already sweet so there's no need to add sugar.

②Microwave the gelatin for 10-20 seconds at 500w. Add into the blended mixture and mix well.

Pour on top of the mix inside the glass. If there are any peach pieces left, cut them up and use them as toppings.


Top with fresh cream and chopped fruit, and you're done! I stuck Gudetama's face on well and good so it looks like his chocolate face is on the outside. Be sure to try doing the same.

Kaori invites you into her world of character-themed food dishes in her recipe series. Be sure to check out her Instagram where she has uploaded many pictures of her character dishes!

Kaori Kubota (@kaopan27)

I live in Hokkaido and I love to make character themed foods, desserts and pastries♡
I want to see my family smile, so I enjoy putting in a bit of effort to make character foods and changing food into something cute♡
You can see more of my character foods and character bento boxes on my Instagram page → @kaopan72

Top 10 Instagrammable Drinks and Desserts to Try Making While You #StayHome

Japan's biggest social media photo aggregator Snaplace has curated a Top 10 menu list of the most popular drinks and desserts people have been posting on Instagram Japan with the hashtag #おうちカフェ ("Cafe at Home") with which people are making their own tasty treats to bring the cafe experience indoors during the lockdown.

The line-up features coffee, ice cream, cream soda and lots of other delights which have ranked due to how little preparation is needed and how easy the recipes are to follow. Let's take a look.

1sr Place: Dalgona Coffee

Dalgona coffee has taken the internet by storm for its beautiful two-layered appearance. Popular in South Korea, the drink has also garnered much attention in Japan. And you can substitute the coffee part to create a completely different beverage like a matcha, strawberry latte, chocolate, and so on.

How to make Dalgona Coffee: https://www.moshimoshi-nippon.jp/312230

2nd Place: Candy Strawberries

Candy strawberries have taken over candy apples in terms of popularity this year. And you can have fun trying it out with other fruits too while at home during the lockdown like grapes, fruitsーwhichever fruit is your favouriteーand skewer them.

3rd Place: Toast Arrangements

Top your toast with ingredients like fresh cream, Greek yoghurt, cream cheese, sliced cheese, fruits, vegetables, and so on to change up your morning breakfast. There are so many different recipe inspirations for toast arrangements to find on social media.

Related Article: Stay Home: 6 Toast Arrangements to Bring the Cafe Experience to Your Home During the Lockdown

Related Article: Stay Home: 6 More Toast Arrangements to Bring the Cafe Experience to Your Home During the Lockdown

4th Place: Marshmallow Cookies
5th Place: Fruit Sandwiches (Check out recipes here)
6th Place: Cream Soda
7th Place: Eggs Benedict
8th Place: Snoopy Gyoza
9th Place: Candy Marshmallows
10th Place: Deko ("Giant") Ice Cream

Try making your own Instagram-worthy menu at home.

Stay Home: 6 More Toast Arrangements to Bring the Cafe Experience to Your Home During the Lockdown

Here at MOSHI MOSHI NIPPON, we post news and information about Japan in six languages. Our aim is to deliver a variety of content related to Japan for those who love and enjoy Japanese culture.

Right now, people across the globe are in self-isolation as a result of the coronavirus pandemic. The same goes for Japan too, so we've taken this opportunity to create a new series on the website to show how we're spending time at home here in Japan. The future is yet uncertain, and we hope for normality to return for all of us soon. We created a new articles series called Stay Home with which we hope to take your mind off the situation, even for just a little bit, to help you feel calmer. It might give you some tips on what you can do while spending time at home.

In this edition of Stay Home, we're taking a look at six more cute, easy-to-make toast recipes that were featured with the trending Japanese hashtag #おうちカフェ ("Cafe at Home"). Try making them yourself at home for breakfast, lunch, or as a snack.

Related Article: Stay Home: 6 Toast Arrangements to Bring the Cafe Experience to Your Home During the Lockdown

 

Candy Rose's recipe shows us how to make orange toast. Orange and chocolate is a tried and tested combination. The fresh cream adds a dessert-like quality to the toast.

Ingredients
・Bread  ・Navel Orange & Chocolate Jam  ・Orange Jam ・Fresh cream ・Orange

Method
1: Simmer the orange in white wine and granulated sugar.
2: Toast bread and smear with the jam.
3: Add a dollop of fresh cream on top.
4: Top with sliced orange and tuck in!

2: Mini Strawberry & Red Bean Paste Butter Toast | @__yk._

yk.'s toast recipe is a combination of Japanese and western flavours with red bean paste and buttered brioche which looks cute when it's cut thick and small like in the picture♡

Ingredients
・Brioche toast ・Strawberries ・Red bean paste ・Butter ・Fresh cream

Method
1: Toast the bread and add the red bean paste.
2: Top with a strawberry and fresh cream.
3: Finish with a knob of butter and enjoy!

KAORUKO's toast recipe is a great dessert idea too. It's a super simple recipe made with microwaved apple compote.

Ingredients
・Bread ・Apple ・Lemon juice ・Sugar ・Fruit granola

Method
1: Slice apple with the skin on.
2: Add 1 tbsp of lemon juice and 30g sugar to the apple and microwave for 3 minutes.
3: Slice a thin slice of bread and toast. Add the apple compote to the toast and finish with a sprinkle of fruity granola.

4: Marshmallow Toast | @woo.rrei

Rei has added marshmallows to their toast to create a fluffy, dessert-like, and cafe-worthy recipe.

Ingredients
・Bread ・Marshmallows ・Chocolate Sauce

Method
1: Slice a thin piece of bread and toast. Top with marshmallows.
2: Toast once again under a grill until the marshmallows take on colour.
3: Drizzle with chocolate syrup and you're done!

5: Open Avocado Sandwich | @keijunrin

Keiko's recipe makes a fresh open-style sandwich with lots of avocado. The egg yolk adds a melt-in-the-mouth texture. The texture of the whole thing is nice and smooth.

Ingredients
・Bread ・Avocado ・Pink pepper ・Egg yolk ・Mayonnaise

Method
1: Add the avocado to a slice of bread and grind on some rose pepper.
2: Drop on an egg yolk and lightly toast under a grill.
3: Drizzle with mayonnaise and enjoy!

izumi's recipe is a combination of bread and "naporitan" which is a Japanese pasta dish. It's a hearty serving that makes for a great lunch.

Ingredients
・Bread ・Naporitan pasta ・White Sauce ・Cheese

Method
1: Make naporitan and white sauce in advance. Cut the naporitan into small pieces.
2: Slice 1 thin and 1 thick slice of bread.
3: Cut out the inside of the thick slice. Place this hollowed-out thick piece on top of the thin slice of bread. This thin slice forms the bottom of your bread.
4: Add the naporitan inside. Drizzle in white sauce so it's like a lid over the pasta.
5: Sprinkle on cheese, toast, and you're done!

Bring the cafe experience into your own home by making your own fun toast arrangements.

Stay Home: 5 Simple and Kawaii Drinks to Try Making During the Lockdown

Here at MOSHI MOSHI NIPPON, we post news and information about Japan in six languages. Our aim is to deliver a variety of content related to Japan for those who love and enjoy Japanese culture.

Right now, people across the globe are in self-isolation as a result of the coronavirus pandemic. The same goes for Japan too, so we've taken this opportunity to create a new series on the website to show how we're spending time at home here in Japan. The future is yet uncertain, and we hope for normality to return for all of us soon. We created a new articles series called Stay Home with which we hope to take your mind off the situation, even for just a little bit, to help you feel calmer. It might give you some tips on what you can do while spending time at home.

In this edition of Stay Home, we're taking a look at five simple and kawaii drinks that were featured with the trending Japanese hashtag #おうちカフェ ("Cafe at Home"). Try making one of these drinks yourself to bring the cafe experience into your home.

Related Article: Stay Home: 5 Simple and Delicious Drinks to Try Making During the Lockdown

This is a strawberry version of the dalgona coffee which is hugely popular right now. It's a super simple recipe that you can make in just 3 minutes, so give it a go yourself.

Ingredients
・3 packs of Milmake powder (strawberry flavoured) ・4-5 tbsp fresh cream ・Milk

*If you can't get your hands on Milmake, use another strawberry flavoured powder as a substitute 

Method
1: Add the Milkmake and fresh cream to a bottle.
2: Shake the bottle until the mix becomes thick.
3: Pour the mix over milk, top with a strawberry, and enjoy!

2: Colourful Cream Soda @miki__718

Miki's made a serving of several colour and cute cream soda drinks. This is another easy recipe where she added coloured syrup to soda poured into cute glasses.

Ingredients

・Soda ・MONIN syrup ・Ice cream ・1 strawberry

Method

1: I recommend using MONIN syrup to make your colourful soda.

2: Mix together the soda and MONIN syrup, then add a dollop of ice cream and finish with a strawberry!

3: Strawberry Cream Cider @onew_tc72

Chihiro's beverage is a cream soda with fresh fruit inside. If you're looking for a fruity drink then this one's for you.

Ingredients

・Strawberries ・Vanilla Ice Cream ・Soda ・Thyme (for decorating)

Method

1: Slice the strawberries into small pieces.

2: Add the cut strawberries into the soda and spoon in a large dollop of ice cream.

3: Adorn with the thyme and a whole strawberry and enjoy!

chii's mango soda is made using a homemade jam. The orange drink looks super stylish with the giant ice cube inside. A cool and refreshing pick for those hot days.

Ingredients
・100g mango ・15 sugar ・A squirt of lemon juice ・1 tsp rum

Method
1: Boil all of the ingredients together.
2: Mix in soda and jam.
3: Top with rosemary and drink up.

HITOMI's choice is the popular mikan latte! You can use sliced orange for the topping too if you can't get your hands on mikan.

Ingredients
・200ml milk ・Sugar to taste ・Yoghurt ti taste ・1 mikan ・Sliced mikan (for topping)

Method
1: Blend all of the ingredients together in a blender.
2. Once smooth, add to a cup a finish with a slice of mikan or orange.

Stay Home: 5 Simple and Kawaii Fruit Sandwiches to Try Making During the Lockdown

Here at MOSHI MOSHI NIPPON, we post news and information about Japan in six languages. Our aim is to deliver a variety of content related to Japan for those who love and enjoy Japanese culture.

Right now, people across the globe are in self-isolation as a result of the coronavirus pandemic. The same goes for Japan too, so we've taken this opportunity to create a new series on the website to show how we're spending time at home here in Japan. The future is yet uncertain, and we hope for normality to return for all of us soon. We created a new articles series called Stay Home with which we hope to take your mind off the situation, even for just a little bit, to help you feel calmer. It might give you some tips on what you can do while spending time at home.

In this edition of Stay Home, we're taking a look at five simple and kawaii fruit sandwiches that have been featured with the trending Japanese hashtag #おうちカフェ ("Cafe at Home"). Stuck for ideas for breakfast, lunch, or snacks? Then try making one of these super simple yet mouth-watering recipes.

1: Fruit Sandwich @tgm___n

naho's fruit sandwich is layered in a specific way to make the fruit look like flowers. You can add an artistic touch to your sandwiches with just a bit of prep.

Ingredients
・Bread ・Yogurt ・Strawberries ・Grapes

Method
1: Add Greek yogurt to the sandwich.
2: Cut the strawberries and grapes in a cross-section and stuff into the bread.
3: Wrap and leave in the refrigerator for one hour. Slice down the middle and you're done!

Mari's has served their fruit sandwich open-style and with plenty of fruit. The fresh cream and cream cheese adds a richness to the sandwich.

Ingredients
・Bread ・Fresh cream ・Cream cheese ・Fruits of your choice

Method
1: Layer cream cheese over the bread slices and then the fresh cream.
2: Top with your assorted fruit.
3: Cut into bite-size slices and tuck in!

3: Strawberry Cake Style Fruit Sandwich @_ll_rire_ll_

riE.'s fruit sandwich is just like a cake! By arranging it correctly, she has transformed her sandwich into a strawberry dessert.

Ingredients
・Bread ・Strawberries ・Fresh Cream ・Honey ・Cinnamon

Method
1: Slice a thick cut of bread in half and fill with fresh cream and strawberries.
2: Spread fresh cream on the outside and top with strawberries
3: Drizzle with honey, sprinkle with a little lemon, and enjoy!

4: Cocoa Bagel Fruit Sandwich @chiezzz8

chie's fruit sandwich is made using homemade cocoa bagels and ponkan orange, creating a sweet and sour flavour combination.

Ingredients
・Cocoa bagels ・Ponkan orange ・Greek yogurt ・Cream cheese

Method
1: Mix Greek yogurt and cream cheese to a ratio of 1:1.
2: Cut the bagels in half and add your yogurt and cream cheese mix.
3: Add the ponkan orange and enjoy!

5: Hot Banana & Oreo Crispy Tiramisu Sandwich @ks.daidokoro

Kancho makes lots of different hot sandwich recipes. This is a simple one you can make using a frying pan.

Ingredients
・2 slices of bread ・5 Oreo Crispy Tiramisu ・Greek yogurt to taste ・1 banana ・30g shredded cheese ・Cinnamon powder to taste ・Honey to taste

Method

1: Top one slice of bread with Greek yogurt and add half the shredded cheese.
2: Add the Oreos (and fill the empty spaces with smashed Oreos).
3: Top with sliced banana, the cinnamon powder, and honey.
4: Add Greek yogurt and the rest of the shredded cheese to your other slice of bread.
5: Toast in a frying pan and press. Fry until both sides are a light brown and enjoy!

Bring the cafe experience into your own home with one of these 5 simple recipes.

Stay Home: Simple Onigiri Rice Ball Recipes Using Cheap Ingredients From Lawson Store 100

Lawson Store 100 is a branch of Lawson convenience stores where most of the items are priced at ¥100, including fresh fruit and vegetables, bread, eggs, frozen foods, snacks, drinks, and more. Today, we're looking at simple onigiri recipes made using ¥100 ingredients from Lawson Store 100.

Super Simple Recipe: Dried Bonito x Mayonnaise

This takes the classic "okaka" onigiri and adds a whole new depth of flavour to it by using mayonnaise which adds a richness that matches perfectly with the taste of the dried bonito. Every bite is delicious, and is a perfect way to change up a simple okaka onigiri.

Ingredients
・Satsuma Katsuobushi Pack ・Mayonnaise ・Marudaizu Soy Sauce

Method
1: Sprinkle salt over hot sushi rice and mix
2: Pour one pack (2g) of the katsuobushi dried bonito onto a small plate. Add soy sauce and mayonnaise to taste and mix. Add to rice and roll.

Okonomiyaki Onigiri

The perfect springtime rice ball made with okonomiyaki ingredients that make it seriously eye-catching. The scent of the seaweed invites notes of the seaside. Each bite treats your taste buds to sweetness and sourness from the red ginger, delicious shrimp, and rich mayonnaise. The tenkasu deep-fried dough adds a satisfying crunch.

Ingredients
・Mayonnaise ・Tenkasu ・Aosa Powdered Seaweed ・Red Ginger ・Shrimp

Method
1: Add the tenkasu, aosa, red ginger, and shrimp to hot rice.
2: Squirt on mayonnaise to taste and roll.

South Korean Style Packs a Punch

This bright-red onigiri is made using a spicy kimchi from Lawson Store 100. The spiciness of the kimchi seeps into the rice and marries gorgeously with the melted cheese. After giving you a kick from the spice, your mouth is treated to the cheese in all its smoothness. It's a flavour combination of South Korean cuisine and pickled daikon radishes which give great texture to the rice ball.

Ingredients
・Ru San's Kimchi ・Mozzarella Mix Cheese ・Korean Seaweed ・Ume Katsuo Pickled Daikon Radish

Method
1: Chop the kimchi and daikon radishes to an edible size.
2: Add the chopped kimchi, radishes, and your cheese to hot rice and mix until everything melts together.
3: Roll into a shape of your liking and finish by wrapping with the seaweed.
*It's recommended to use only a little or no kimchi if making for kids

The Devil's Onigiri

While naughty, mixing together butter and tenkasu makes for a seriously delicious combination. It's effectively the devil's onigiri at this point, with the mouth-watering flavour of the butter, the crunchy tenkasu, and to finishーsalted kombu for the perfect balance.

Ingredients
・Salted KombuVL ・Tenkasu ・Butter

Method
1: Add your desired serving of salted kombu and tenkasu to hot rice, then melt in butter and mix.
2: Roll into the shape of your choice.

Get creative with your onigiri and enjoy.

Stylish Textile Face Masks Made in Japan to be Released by Q-pot.

Q-pot. released a new collection of textile style face masks from its "Made in Japan" apparel line Q-pot.Dress via its online shop on April 22, 2020.

The masks arrive in response to the serious shortage of masks in Japan for those who need them the most. The masks can also be washed repeatedly, and feature the same textile design seen in Q-pot.Dress's attire collections. The inside is made from cotton double gauze which feels comfortable on the skin.

Cloth Face Mask – ¥2,200 (Before Tax)

There are four designs in total: "Strawberry Field" with its nostalgic aesthetic, "Chocolate College" which features sweet and tempting chocolate across the whole front, "Honey Lemon" which gives sunshine vibes of early bring, and the green and girly "Patisserie Q-pot. Morning."

These masks can of course be used as a preventative measure against coronavirus, as well as for hay fever and for fashion too.

Information

Q-pot.Dress Cloth Masks

Order Window: Available from April 22, 2020 until stock sells out

Purchase:

Q-pot ONLINE SHOP (Available from 12:00pm, JST)

Q-pot. INTERNATIONAL ONLINE SHOP

お届け日:2020年5月中旬頃予定

*各デザイン、お一人様1点までとさせていただきます。

*生産の都合上、お届け時期は変更になる場合がございます。

*マスクは科学的に感染の予防効果は認められてはおりません。「感染(侵入)を完全に予防するものではない」という点を十分にご理解いただいた上で購入をご検討下さいますよう、宜しくお願いいたします。

Bring the Cafe Experience Into Your Home During the Lockdown With BOTANIST Tokyo's Smoothe Recipe

With the lockdown in place as a result of the coronavirus and businesses closed, BOTANIST's flagship cafe in Tokyo has released two recipes for people to enjoy the BOTANIST cafe experience from their very own home.

The two beverages in question are the delicious-looking "Smoothie Bon Bon Pineapple & Kiwi" and the healthy vegan-friendly "Spring Smoothie." Both are super simple to make, so check out the recipes below.

Smoothie Bon Bon Pineapple & Kiwi

The ingredients used in this tropical drink give it a marble effect, combining pineapple with shiikuwasha syrup and apricot whipped cream. At the very bottom is a sweet kiwi sauce to stir into the drink with your straw for a further depth of flavour.

Ingredients (Serves 1)

▼Smoothie
100g pineapple / 10ml juice of shiikuwasha citrus / 60ml milk / 5g granulated sugar

▼Amaretto Whipped Cream

20ml whipped cream / 1ml amaretto syrup / 30ml kiwi sauce

▼Toppings
10-13 pineapple slices cut like diamonds / 25g granola / 5g crunchy chocolate pieces / 1 mint leaf

Shiikuwasha can be replaced with lemon or lime juice. Taste as you go and adjust to your palate as necessary. Adding amaretto syrup to the whipped cream gives it an apricot taste, but the amaretto is optionalーplain whipped cream works great too. If you can't get your hands on kiwi sauce, substitute with fresh kiwis. Slice and crush to make it into a puree so it's small enough to be sucked through your straw.

Method

①Measure out your ingredients. Cut your pineapple into diamond slices (see below).
②Put the kiwi sauce into your cup or glass.
③Mix the whipped cream and amaretto syrup. Use a spoon to spoon the whipped cream around the inside of the cup to create a marble effect.
④Blend together your smoothie ingredients and pour into the cup.
⑤Top with the granola.
⑥Spread your pineapple slices around the outside of the cup. Finish with your chocolate crunch pieces and mint leaf.

Slicing the Pineapple

①Slice off the top and bottom of your pineapple.
②Slice through the length of the pineapple to divide into four sections.
③Chop off the inner white part of the pineapple.
④-⑥Following the picture below, slice your pineapple into diamond chunks and throw away the skin.
⑥Slice the chunks into thin diamonds.
⑦Spread the slices to create a sunflower pattern. Adjust according to your cup size. Make sure your granola is lower than the lip of your cup so you can properly balance the shape of your pineapple flower.

Spring Smoothie

This refreshing smoothie is packed full of spring berries. It's the perfect spring accompaniment with the sweet and sour kick of the strawberries and raspberries and the subtle sweetness of the sugar beet and soy milk.

Ingredients (Serves 1)

50g strawberries / 30g raspberries / 30g sugar beet* / 230ml soy milk
*The sugar beet can be replaced with gomme syrup to make the beverage vegan-friendly. If you're using caster sugar or granulated sugar, make sure it is fully dissolve into the soy milk first before making the drink.

Method

①Measure out your ingredients. A scale like the one above is super useful in this situation since it saves on washing too!
②Put in all the ingredients and mix until smooth.
③Pour into a large glass.

BOTANIST Tokyo is currently temporarily closed as a result of the ongoing COVID-19 pandemic. Bring the cafe experience home by making one of their tasty smoothies!

Information

BOTANIST Tokyo
Address: 6-29-2 Jingumae, Shibuya, Tokyo (Shop – Floor 1F / Cafe – Floor 2F)
Telephone: 03-5766-3777 (Floor 1F) / 03-5766-3778 (Floor 2F)
Official Website: https://botanistofficial.com/shop/