Duffy and Friends' Delightful Autumn Woods Event Takes Place Alongside Disney Halloween at Tokyo DisneySea
Tokyo Disney Resort has finally begun its 2019 Halloween festivities, but there's one more event happening this autumn which is just as worthy your time: Delightful Autumn Woods, themed entirely on Duffy and Friends.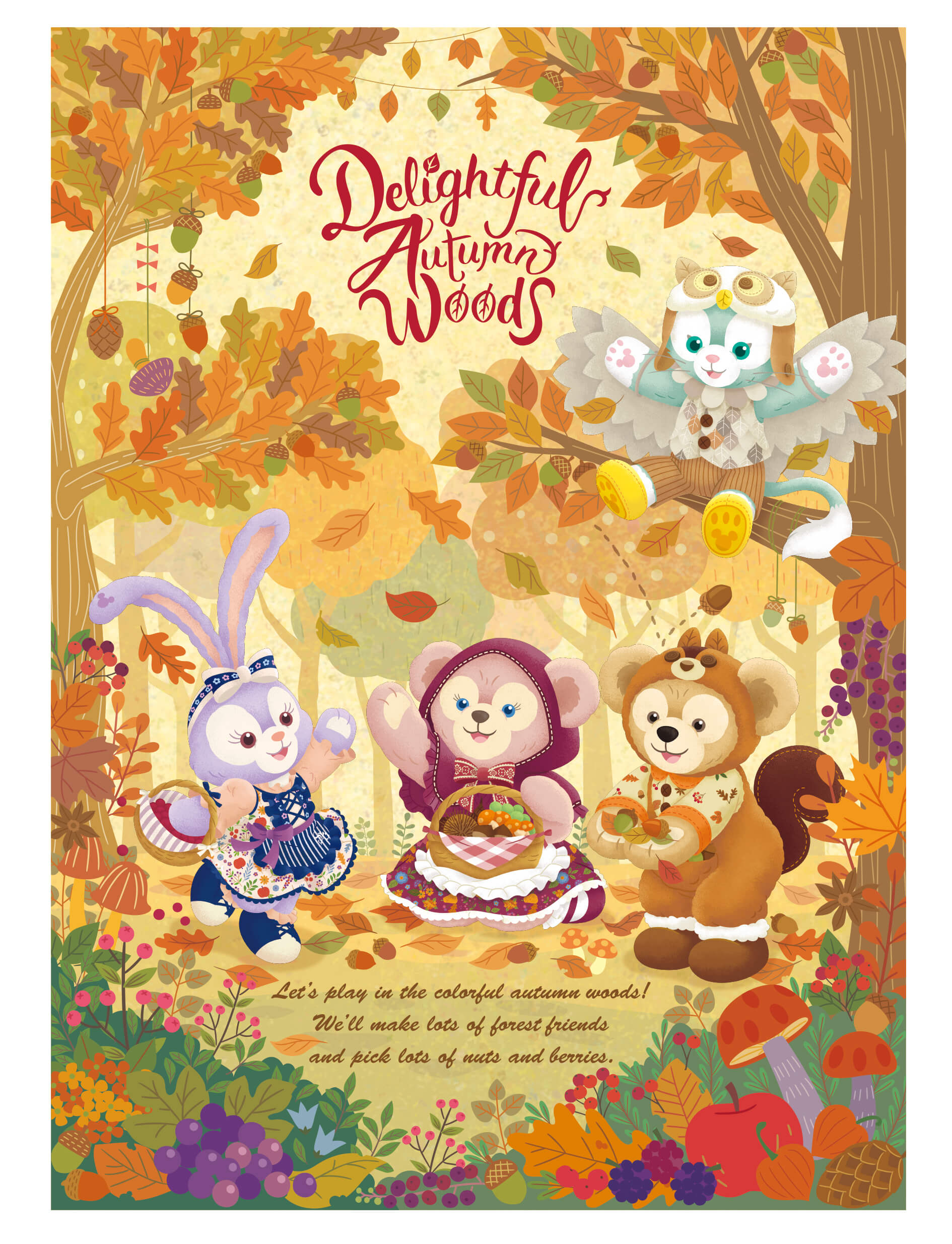 The Cape Code area of the park has already welcomed the harvest season, with Duffy and Friends motifs being spotted throughout, as well as a line-up of exclusive merchandise, themed menu items, and more. We've picked out some of our favourites from the food and merch line-up to show you♡
Must-Buy Special Merchandise
Plush Toy Badges – ¥2,000 Each
Duffy and his pals have dressed up in various cute outfits for these plush toys, from a squirrel costume to an owl cape and more. These characters are adorable already but are even more so dressed in fall clothes!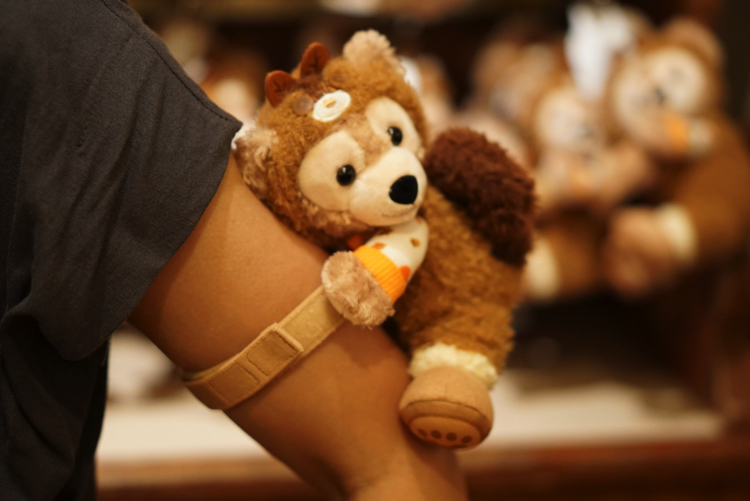 Plush Toy – ¥2,900
These plush toys can be worn around your arm or used for wrapping up curtains. The straps are velcro and so can fit on both kids and adults arms.
Postcards – ¥450
Send someone important to you a postcard this autumn with one of these cute postcards featuring Duffy and Friends enjoying their time in the red and yellow-leaved woods.
Special Autumn Menu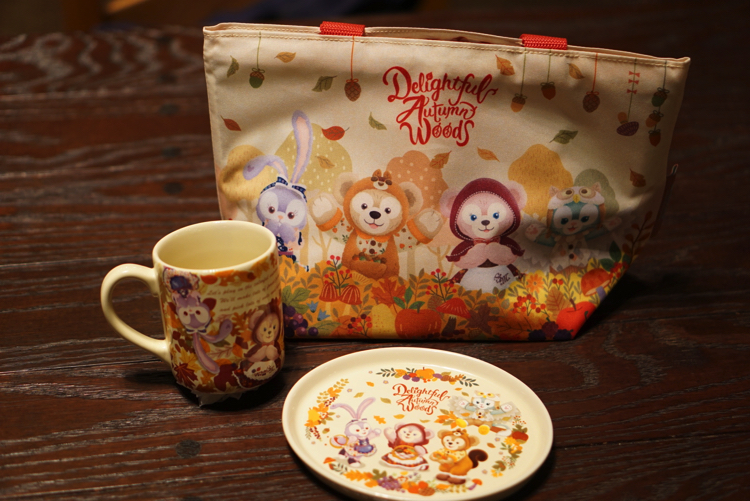 At Cape Cod Cook-Off, a counter-service restaurant at Tokyo DisneySea, you can get your hands on a special menu line-up for the duration of the event which also comes with souvenirs. Your delicious desserts are served on and in crockery you can take home.
Milk Chocolate & Milk Purin w/ Souvenir Cup – ¥900 @ Cape Cod Cook-Off
This double-layered chocolate mousse and milk pudding is topped with raspberry sauce which gives a sweet punch to the soft pudding. It comes together with a cute Delightful Autumn Woods mug which you can take home as a souvenir.
Purple Sweet Potato Mont Blanc w/ Souvenir Plate @ Cape Cod Cook-Off
Thick with purple sweet potato cream, this mont blanc comes with a cute Duffy and Friends plate. Sweet potato is an autumn flavour so this one's a must-try.
Souvenir Lunch Case – ¥1,200 @ Cape Cod Cook-Off
You can also order a lunch set which comes with its own lunch bag that you can take home. The hamburger is seasoned with burger sauce and topped with cheese. It comes with fries and a drink too.
If you're visiting Tokyo Disney Resort for Disney Halloween 2019, be sure to pop over to Tokyo DisneySea to catch Duffy and Friends too!
RECOMMENDED ENTRIES
Tokyo DisneySea's New Halloween Show is a Thrilling Must-See

Disney Halloween 2019 has finally begun, and this year, Tokyo DisneySea is serving guests a dark and mysterious Halloween experience to keep them on edge. The festivities will run all the way up to October 31.

We visited the park to see Festival of Mystique, an all-new colourful and flamboyant show introduced this year. Here's our report.

The show began with music chiming in at Porto Paradiso in Mediterranean Harbor upon which trickled out lines of costumed friends of the sea. The beautifully dressed ladies at the front then spoke of a Halloween festival that was once held at the port, and their intention to resurrect it.

Out came a merrymaking Mickey mouse and Disney cast aboard a ship, clad in cute outfits the likes of which have never been seen before at the park.

Donald Duck, Goofy, Chip and Dale all got off the boat and headed towards the ladies, almost as if charmed by the allure of their beautiful and bewitching singing voices. This was followed by a sudden whimper by Pluto as he looked on towards Mickey. "Pluto, you've got to be a good boy! We've put a lot of effort into this Halloween," Mickey said to him. When he said this he began to think that something strange was going on with the festival―like something was going to happen…

The singing and dancing ladies went on to teach the onlooking guests a few dance moves to get involved with the show. Everybody danced together with Mickey as the leader.

It wasn't long however before the mood and tone of the music took an uncomfortable turn…

Before we realised it, Mickey had been locked inside a cage! But he was dancing and having fun literally just seconds before―what happened?!

Luckily, Minnie Mouse comes to the rescue to save Mickey and bring the fun Halloween festivity back. She takes the lead and dances with the guests this time.

So what happened to the Disney characters, and what was their fate? We don't want to spoil the ending, so you'll have to see it for yourself this fall!

©️Disney

Tokyo DisneySea's Dark Halloween Festivities For 2019 Begin

Disney Halloween 2019 has finally begun! The Tokyo DisneySea fun is set to run until October 31 where it will provide guests with a dark and mysterious Halloween experience that will keep you on edge… like something's about to happen, but you're not sure what.

Tokyo DisneySea's decor takes on a more grown-up bewitching look compared to Tokyo Disneyland's cute decorations.

Hung throughout the park you will find decorative banners featuring illustrations of Disney characters dressed in their spooky garments. This year, Mickey, Minnie and the rest of the cast invite guests into a truly bewitching wonderland.


If you pop over to American Waterfront you'll find some great photo opportunities, like the Minnie Mouse and Daisy Duck statues waiting to welcome you at the entrance, clad in hauntingly beautiful attire and stood next to night-black pumpkins and dried flowers.


You'll find the rest of the costumed characters further in too. Be sure to get photos with everyone!

Chicken & Vegetable Steamed Bun – ¥600 @ Nautilus Galley / Teriyaki Chicken Rubber Ring Steamed Bun – ¥600 @ Seaside Snacks

Nothing has been left out from the Halloween spell this year, even the food menu and drinks which arrive in festive colours like black and purple like this bandage-wrapped mummy steamed bun and rubber ring steamed bun.

Inside the mummy is a delicious concoction of chicken, cabbage, and other veg.

The rubber ring steamed bun is the perfect snack to munch on as you walk around the park. It's filled with rich teriyaki chicken wrapped in a striking purple dough.

All of the food is packaged in cute packaging too―don't throw it away straight away and check out which illustration you got!

Assorted Sweets – ¥430 @ Gondolier Snacks and elsewhere

Check out these bite-sized confections, from a mini baumkuchen cake on a lollipop stick to strawberry cheesecake and purple sweet potato cream mochi. The chewy mochi Mickey can only be described as kawaii♡

Grape Tapioca Tea – ¥500 @ Mamma Biscotti's Bakery

Sparkling Black Tea Tapioca Drink – ¥450 @ Hudson River Harvest

Tokyo Disneyland's tapioca drinks are really popular in summer, and for Halloween they've arrived with all-new flavours, exclusive to the Disney Halloween event.

There's lots to see and experience at this year's Disney Halloween. Be sure to look everywhere, even in shop windows. And if you're eager to see more of the food and drinks available at both parks then click here.

Universal Studios Japan Scales Up Halloween Events For 2019

The ever-popular Universal Surprise Halloween event is set to return again this year to Universal Studios Japan and will run from September 6 to November 4.

The event is set to be bigger than ever this year, with more attractions than ever before, as well as the event's three main elements―Zekkyo Halloween, Otana Halloween, and Kowa Kawa Halloween―making use of the entire park. Look forward to a unique and spooky Halloween experience the very second you enter the park.

Zekkyo Halloween

Three main events run every year during Universal Surprise Halloween. The first of these we are taking a look at is Zekkyo ("Screaming") Halloween, which plunges guests into terrifying experiences, the kind of scream-inducing encounters you conjure up in your imagination at Halloween.

As part of Zekkyo Halloween, just some of the exciting and hair-raising attractions include the brand new horror maze which will see you running for your life through its twists and turns, the return of the extremely popular zombie dance show, a survival horror maze based off the Resident Evil game series, and much, much more.

Otona Halloween

Otona ("Adult") Halloween is a more sophisticated kind of Halloween experience aimed at adults, clad with glamour and fashion, but certainly not free of scares.

Halloween 2019 sees the return of the interactive theatre event Hotel Albert in a brand-new sequel, Hotel Albert 2: Requiem. We covered last year's here, but in summary, it's an immersive theatre experience in which guests act as participants in the play. Guests walked around the attraction as characters in the story and experienced a beautifully haunting tale unfold before them. What secrets does the sequel hold? You'll have to attend to find out!

A new horror restaurant, named Park Side Grill ~Cursed Banquet Of Roses~, will serve up magnificent meals while imbuing a sense of uncanny in its diners.

Kowa Kawa Halloween

Of course, it's not all doom and gloom at Universal Surprise Halloween. Children will get to enjoy Kowa Kawa ("Creepy-Cute") Halloween again this year in all its Halloween trickery. Minions and the Sesame Street cast will be present and dressed in mischievous costumes. The incredible Festa de Parade will run the street, and kids will be able to catch falling candy at Happy Trick Or Treat where it will rain down like a waterfall.

USJ is a spearhead in Japan's Halloween culture, so if you're there for the spooky season, make sure you don't miss out.

©CAPCOM CO., LTD. ALL RIGHTS RESERVED.© 2019 Universal Studios. All Rights Reserved. ©2012 "Sadako 3D" Production Committee
HARRY POTTER characters, names and related indicia are © & ™ Warner Bros. Entertainment Inc. Harry Potter Publishing Rights © JKR. (s19)
Despicable Me, Minion Made and all related marks and characters are trademarks and copyrights of Universal Studios. Licensed by Universal Studios Licensing LLC. All Rights Reserved.™ & © 2019 Sesame Workshop© 2019 Peanuts Worldwide LLC© 1976, 2019 SANRIO CO., LTD. APPROVAL NO. EJ9071103
RELATED ENTRIES
Tokyo Disneyland and Tokyo DisneySea Release Their Own Spotify Music Playlist

Tokyo Disneyland and Tokyo DisneySea launched their first ever music playlists on all major streaming websites on Friday, including on Spotify and Apple Music.

Music from Tokyo Disneyland features everything from famous ballads and show music from the park to Tokyo Disneyland's nostalgic anniversary theme song, a "Ride Through Mix" that has you feeling like you're on the park's attractions, and more. It's a magic-filled Tokyo Disneyland musical fantasy.

Music from Tokyo DisneySea follows the same course as the Tokyo Disneyland playlist, except it also has the theme songs of the park's seven ports. It's packed full of imagination the likes of which you can only experience at Tokyo DisneySea.

New songs are set to be added from both parks each season, so you can feel like you're at Tokyo Disneyland and Tokyo DisneySea from your own home all year round!

Japan Coronavirus: Tokyo Disneyland® and DisneySea® To Close Temporarily Until March 15

Tokyo Disneyland and DisneySea will be temporarily closed until March 15 to reduce the spread of the new coronavirus. Japan's Coronavirus Countermeasures Taskforce has advised that there is a high risk of spreading the infection at large-scale sports and culture events and facilities where large numbers of people travel from across the country and congregate in one area. As many facilities and events in Tokyo are being restricted, postponed and even cancelled over the next two weeks, Tokyo Disneyland and DisneySea announced that both parks will close temporarily from February 29 – March 15, 2020.

The parks plan to reopen on March 16, 2020, however this will be decided following consultation with concerned administrative agencies and will be announced on their official website. If you have already purchased tickets which are valid during the parks' closing dates, please refer to the links below.

Tokyo Disneyland® Celebrates Opening Of New Park Area With Special Menu Line-Up

Tokyo Disneyland's new biggest area is set to open on April 15, 2020, which will house four new exciting facilities: the new Beauty and the Beast attraction, the Fantasyland Forest Theatre, the Baymax's Happy Ride attraction, and the Minnie's Style Studio.

To celebrate the new area's opening, several restaurants and eateries in Tokyo Disneyland will serve up some special menu items. Participating restaurants are calling this special menu line-up "New Dreams, More Fun!" Let's take a look.

Sparkling Drink (Mixed Fruits) – ¥450 @ Boiler Room Bites and elsewhere

Boiler Room Bites and other eateries in the park are serving these colourful sparkling drinks packed full of fresh fruit pieces. The cups have special designs of Disney characters like Mickey mouse, Minnie  Mouse, and Baymax.

Special Set – ¥990 @ Refreshment Corner

The special set being served at Refreshment Corner is inspired by Beauty and the Beast. It includes an apple cinnamon hot dog (contains nuts), a unique combination of juicy sausage, cinnamon, caramel, and nuts.

Blue Bayou Course – ¥5,200 @ Blue Bayou Restaurant

Another Beauty and the Beast-inspired dish is this special full course served at the Blue Bayou Restaurant. Buffet-style eatery Crystal Palace Restaurant will also serve up new dishes themed on each of the four new facilities of the new area starting on June 1, with a new one being introduced with each season.

©Disney

Disney Easter 2020: Usapiyo Returns to Tokyo DisneySea® With Cute Food & Drink Line-Up

Tokyo DisneySea's special springtime "Disney Easter" event will begin on March 27, and this year will once again see the arrival of the adorable yellow chick with rabbit ears Usapiyo to deliver a cute and fun Easter to guests in 2020. 

Lots of newborn Usapiyo will stumble their way out of eggs again this year. Since they have just been born, they follow people, copy them, and try their hardest. These cute bunny-chicks will show just how charming they are in the "Tip-Top Easter" entertainment show, where they will captivate the Disney cast.

In line with the arrival of the newborn Usapiyo chicks, a line-up of 19 menu items will be served from March 20, 2020, all of which are Easter themed with motifs like Usapiyo and eggs.

Special Set – ¥1,980 @ Horizon Bay Restaurant

Sparkling Orange Jelly Drink w/Souvenir Cup – ¥950 @ Sebastian's Calypso Kitchen

Head to Horizon Bay Restaurant at Tokyo DisneySea to order the special hamburger set, which has an Usapiyo cheese topping. Feeling thirsty? Then pay a visit to Sebastian's Calypso Kitchen for a refreshing orange jelly drinkーyou even get to keep the cup! The Usapiyo food and beverages available this Disney Easter are almost too cute to eat or drink.

Special Set – ¥1,070 @ Mamma Biscotti's Bakery

Strawberry Mont Blanc w/Souvenir Plate – ¥800 @ Mamma Biscotti's Bakery

If you're wanting something lighter, then order the egg, cheese and roast pork sandwich at Mamma Biscotti's Bakery. You get to take the plate home too.

There's lots of other Usapiyo and Easter treats to discover at this year's Disney Easter at Tokyo DisneySea.

*Please note that this menu line-up is subject to change without notice, and stock is available while supplies last for certain orders

©Disney

Tokyo Disney Resort® Celebrates Toy Story's Hamm With Pig Pink Merchandise

Tokyo Disney Resort is set to show some love to Hamm, everybody's favourite piggy bank from the Disney/Pixar animated film series Toy Story, from February 28 with the arrival of some exclusive Hamm merchandise. This includes fashion items with pink woven into it amongst other accessories and miscellaneous pig picks.

*All Hamm merchandise will be sold from March 2 with the exception of sling bags, which will be sold from March 23.

Dress up with Hamm

Short Sleeve T-Shirt: ¥3,900

T-Shirt: ¥3,900

The unisex t-shirts include one design with a print of Hamm's adorable face, and another more stylish t-shirt with a retro design.

Cap: ¥2,900

Body Bag: ¥2,900

Coins aren't the only thing Hamm can carry for you – with the new body bag, you can entrust your personal belongings to him, like your phone, card, coins, and so on, all while looking stylishly pink.

Pass Case: ¥1,900

Headband: ¥1,700

Other items include a pass case of Hamm's face, as well as a cute pig ear headband. There are lots of other items in the collection too.

Pink life dining

Tumbler: ¥1,100

Plate: ¥1,100

Fill the piggy bank that is your belly with food together with the pink tumbler and plate featuring designs that are actually used at restaurants throughout Tokyo Disneyland and Tokyo DisneySea.

Mini Towel: ¥680

Hand Cream & Lip Balm: ¥2,200

The mini towel, hand cream and lip balm set, and other items are all pocket-size, so you can take them anywhere with you.

This is just a small look at the pink range that's set to beckon spring early. Don't miss out on these exclusive items.

*Product designs and designs are subject to change without notice

*Available while supplies last

*Photos are for illustrative purposes only

©Disney©Disney/Pixar 

Tokyo Disneyland's Very Very Minnie! Event is a Must-Experience For Minnie Mouse Fans

Fans of Minnie Mouse won't want to miss her special "Very Very Minnie!" event that she is hosting at Tokyo Disneyland right now until March 19. Expect to see plenty of cute decorations, experience eating cute food, and getting your hands on some cute merchandise♡

Hand washing area

You're sure to have never experienced hand washing like this before. Keep your hands clean at the park with this special soap which when dispensed is shaped like Minnie Mouse wearing her iconic ribbon. This is available for the duration of the event only, so head to Tomorrowland or Critter Country to try it out.

Exclusive Minnie merchandise

Around 80 pieces of limited edition Very Very Minnie! merchandise are being sold for the event.

Parkers – Medium ¥4,900, Large ¥5,200 / Cap – ¥3,000 / Scarf Towel – ¥1,500

Dress up like Minnie Mouse with one of the two parkers, one featuring white and black polka dots of different sizes, and the other with red and white ones. There's also a cute cap, and scarf towel, so you can enjoy the event even more.

Cushion – ¥2,300

Hand Cream Set – ¥1,600

Wall Pocket – ¥2,900 (*Items in pockets sold separately)

There's also  a cushion which you can put your hands in to keep warm this winter, a set of hand creams, a useful wall pocket which you can store various items inーand many more items, up to 80 of them!

Themed menu

When looking for something to eat, make sure you try out one of the many Minnie-themed food and drink items.

Cranberry Vanilla Mouse Cake with Souvenir Plate – ¥800 / Yoghurt & Raspberry Mouse with Souvenir Cup – ¥800 / Served at: Sweetheart Cafe

At the Sweetheart Cafe, you can get your hands on one of two of these desserts which come with their own free souvenirs which you can take to use at home. You won't be able to resist the addictive sweet and sour flavour of the berries.

Special Set – ¥1,980 / Served at: The Plaza Inn

The Plaza Inn has a very special set prepared: a hearty meal featuring two hamburgers, ice cream for dessert with a white chocolate mousse adorned with Minnie's ribbon, and more.

Popcorn with Buckets – ¥2,300

You'll find this bucket sold at the popcorn wagon next to The Gazebo. It features a design of Minnie looking good in various outfits. If you're wanting popcorn at Very Very Minnie! then look no further.

Minnie Mouse's influence can be felt all over Tokyo Disneyland right now, so make sure you see everything when visiting for Very Very Minnie!

©️Disney

Tokyo DisneySea's Pixar Playtime Event Now in Full Swing and Loved by Pixar Movie Fans

You say there's a snake in your boot? That's because Tokyo DisneySea's long-awaited Pixar Playtime is finally here, partner! Running from January 10 to March 19, this special event is a celebrating of all-things Pixar, with appearances from fans' favourite films from Toy Story to Finding Nemo and beyond.

Today, we're taking a small peek into what Pixar fanatics can look forward to. From shows to food and merchandise, this is an event you won't want to miss!

Pixar Playtime

Pixar Playtime is an annual event that plunges guests into the wonderful worlds of Pixar's filmography, giving them a chance to meet and celebrate with some of the most iconic characters in animation history. For Pixar Playtime 2020, Tokyo DisneySea has been decorated like a colourful board game with squares which guests can move along and challenge themselves to the many different objectives written on them. There are many programmes prepared for this year, including the one below.

The "Pixar Playtime Pals" Show

Taking place at Piazza Topolino in Mediterranean Harbor, the Pixar Playtime Pals show invites guests into playing various fun games inspired by the Toy Story, The Incredibles, and Finding Nemo films.

As the games progress, more and more characters begin to appear to raise levels of excitement including those from Ratatouille, Up, Brave, and Inside Out.

It's an exciting time for Pixar fans to interact with lots of their favourite characters.

Decorations Aplenty

Tokyo DisneySea is littered with decorations referencing Pixar's films for the event including the iconic Pixar Ball.

Other things guests will spot is the colourful roulette featuring numerous characters, a game booth based on the Toy Story film series, a plethora of photo spots including the one above of Jack-Jack from The Incrediblesーthe list goes on. There's plenty to be enjoyed at every turn, so be sure to take it all in.

Themed Menu

Special Set – ¥1,980 @ Horizon Bay Restaurant

This special set is inspired by Finding Nemo. The pink mashed potato spread on the hamburger is made to look like coral.

There are also other little motifs, like this fish-shaped carrot which is orange like the titular clownfish himself.

The captivating colours of the lemon roll cake bring to mind Dory swimming through the ocean, while the accompanying pumpkin cream soup is sure to warm you up.

Sparkling Drink (Orange & Strawberry) – ¥450 @ Horizon Bay Restaurant

This orange and strawberry flavoured sparkling drink is inspired by Hank the octopus. It's topped with strawberry flavoured pearls which look like octopus suckers and add a delicious chewy texture to your sipping experience.

Orange & White Chocolate Mousse w/ Souvenir Mug – ¥800 @ Mamma Biscotti's Bakery

This two-layered cup dessert is made from orange and white chocolate mousse. You're sure you recall the famous claw scene from Toy Story as your fork descends onto the custard-flavoured Little Green Man. The dessert comes with a free Toy Story and star design mug.

Blueberry Cheesecake w/ Souvenir Plate – ¥800 @ Mamma Biscotti's Bakery

The fresh smell of blueberry will hit your nose as you munch into this moist cheesecake, topped with strawberry chocolate-coated wheat bran. It also comes with a plate featuring the Pixar Playtime board game design.

Special Merchandise

Mug – ¥'2,300

It wouldn't be a Pixar event without some love for Luxo Jr., the famous lamp that is a symbol of Pixar. The "Playtime" text written on the mug depicts various movies from the animation studio.

Pouch Set – ¥2,100

You're sure to be spoiled for choice when picking which of these pouches to use, but luckily they come as a set, so you get all three. They feature cute designs of the Pixar character cast.

Osenbei – ¥1,100

This set of osenbei rice crackers make for a perfect souvenir. There are five flavours in the set including persimmon seed, sweet & salty, curry, salted, and cheese.

Jump into the wonderful world of Pixar at Tokyo DisneySea's Pixar Playtime Event.

©️Disney

Tokyo DisneySea To Hatch 'Disney Easter' Foods, Events and More This Spring

DisneySea will hold its 78-day fun-filled Disney Easter event from March 27, to June 12, 2020.

Make sure to visit the Mediterranean Harbor for the Tip Top Easter performance where Mickey Mouse and friends will put on an exciting show to celebrate the coming of spring. Look out for the usapiyo – the half bunny half chicks that are born from Easter eggs. 

From March 27 to May 31, 2020, there will be a special programme called CookieAnn's Greeting Drive where Duffy's friend CookieAnn and Mickey Mouse will be seen driving around American Waterfront on the Big City Vehicle.

There will be lots of photo spots with interactive features around Mediterranean Harbor and American Waterfront where you can interact with the adorable uchipiyo – your Easter is bound to be filled with magic. 

There will be 80 new merchandise items featuring Disney friends and usapiyo designs.

Hand Puppet: ¥2,800

Toy Badge: ¥1,900 Each


Cream Sandwich Cake: ¥1,500/ Chocolate Crunch ¥1,700

From usapiyo puppets that cry like a real usapiyo and soft toy badges of hatched usapiyo chicks to a cream sandwich cake decorated with the face of an usapiyo, there are plenty of spring souvenirs that you won't be able to resist.

Tokyo DisneySea will also be celebrating the Easter tradition of Easter egg hunting with the Egg Hunt Tasting menu which includes 15 varieties of Easter-themed foods and drinks. 

Horizon Bay Restaurant Special Set: ¥1,980

Horizon Bay Restaurant will be serving up a special hamburger decorated with an usapiyo-themed cheese slice for mains. The set will include an usapiyo dessert made from colourful marshmallows and raspberry cream that is arranged to look like a bird's nest. 

Horizon Bay Restaurant Special Drink (Orange and Cream): ¥450

Enjoy the gradation of colours in this refreshing orange soft drink. It is topped with chocolate usapiyo ears to add that special spring feeling.

New York Deli Special Set: ¥1,260

At New York Deli, enjoy a fried chicken sandwich drizzled with teriyaki sauce and topped with egg salad. The fried chicken is hugged between two pink buns to represent spring. This special set will provide you with enough energy to carry on your DisneySea adventure. 

Enjoy the vibrant spring scene at Tokyo DisneySea this year.

*All images are representations
©Disney

Tokyo DisneySea Holds Duffy and Friends Heartwarming Days Programme

As Japan braces itself for the cold winter, Tokyo DisneySea launched its heart-warming programme Duffy and Friends Heartwarming Days to run from January 10 to March 19, 2020. The event includes photo spots, cute food, merchandise and a new appearance from Duffy's friend CookieAnn. We headed over to check out the programme and here's our list of recommendations on what to look out for: 

Duffy and Friends Heartwarming Days

CookieAnn loves to cook. Duffy and Friends have gathered at Cape Cod to make a fresh batch of waffles filled with love, especially for all the visitors. This is the perfect spot to take a photo with your friends.

Decorations

Cape Cod is dressed in beautiful Duffy and Friends decorations that are sure to put a smile on your face. You just can't miss this adorable photo spot where Duffy and Friends are making a tower of waffles together. 

There are other photo spots where Duffy and Friends are seen getting ready to hand out waffles to everyone. At Cape Cod Cook-Off, some decorations illustrate the bench full of ingredients. 

From the doors to the greenery surrounding the buildings, Duffy and Friends can be seen frolicking together all over Cape Cod. If you have a spare moment in your busy schedule, make sure to check it out. 

Don't forget to take a picture of Duffy and Friends sat on the bench!

Special Menu

Cape Cod Cook-Off First Prize Set (Comes with souvenir lunch bag): ¥2,280
+Souvenir Tumbler Soft Drink Set: + ¥1,600


There is also a Duffy and Friends Heartwarming Days-limited food menu. The special set includes a hamburger, chips a drink and includes a souvenir lunch bag. Just carrying the adorable pink lunch bag around with you will make you happy. 

Vanilla and Peach Mousse with Souvenir Cup: ¥900


There are two new desserts on the menu. This three-layer dessert consists of vanilla and peach mousse with a final chocolate topping to finish. This refreshing dessert is moderately sweet and will fill you with happiness after the first bite. 

Waffle with Souvenir Plate: ¥900

The waffle is topped with a cloud of whipped cream and garnished with raspberry-flavoured chocolate and a tangy sauce. The sweet sauce and soft waffle is a perfect match.

Special Merchandise

Waffle Maker: ¥4,200

Waking up every morning to the smell of a fresh Duffy pancake might be just what you need to get out of bed every day.

Stuffed Toy: ¥2,100 (Each)

The special merchandise includes Duffy and Friends in special themed costumes, themed souvenir snacks and much more. 

Plain Waffle: ¥2,000

There are so many edible souvenirs. As expected, you can take home a Duffy waffle for your friends back home. The heart shape is just irresistible.

Strawberry Fromage Latte: ¥1,900

 The latte is also very cute. After you finish drinking it, you can use it to store small items too.

Even the Disney Resort Line has transformed into a Duffy and Friends-themed monorail. Each carriage enjoys unique decorations so if you are a fan of Duffy and Friends, you just can't miss having a ride in one. We rode the second carriage which was ShellieMay-themed. From the grab handles to the seats, everything was pink, fluffy and adorable.

Duffy and Friends will keep you warm this winter with their heartwarming merchandise, foods and drinks. Tokyo DisneySea should definitely be on your bucket list if you haven't been already. 

Tokyo DisneySea Announces 'Pixar Playtime' Event For 2020

Tokyo DisneySea has revealed details for its upcoming special event "Pixar Playtime" which is set to plunge guests into the wonderful worlds of Disney/Pixar films from January 10, 2020. Meet your favourite characters at one of the many programs or greeting events set to take place at one of the park's first big events of the New Year.

There are plenty of ways to enjoy yourself at Pixar Playtime, from snapping photos of the colourful Pixar decorations to wearing Pixar character merchandise, tucking into food and drink inspired by the characters of Pixar, and more. Let's take a look.

Decorations

For Pixar Playtime 2020, Tokyo DisneySea will be decorated like a colourful board game, making for plenty of great photo opportunities with friends and family. The floor will be lined with squares like moves on a board game, so why not challenge yourself to the various objectives written on them and try and reach the goal at Water Front Park? There's also a photo service where guests can have photos taken of them from high up as pictured above so it looks like they are pieces in the game.

The park will of course also be littered with decorations referencing Pixar's film catalogue, from Toy Story 4's Forky to the iconic Pixar Ball. Some returning features from last year's event will also make an appearance including interactive photo spots, game booths, and lots more. There's countless ways to enjoy yourself at Pixar Playtime.

Special Merchandise

Feel even more part of the festive fun by picking up some official colourful Pixar Playtime merch.

Available at Emporio: Unisex Jumper – M Size ¥3,900, L Size ¥4,200 / Cap ¥2,900 / Headband ¥1,700 / Smartphone Case ¥2,100 / Lighting Pendant ¥1,900 / Cushion ¥1,900

Red, yellow and blue define the Pixar Playtime goods line-up just like the Pixar Ball. We recommend picking up any of these items like the jumper, headband or smartphone case and snapping some photos in front of one of the many Pixar Balls scattered around the park, or while on the board game squares. Buying your own Pixar Ball cushion is sure to make for a great photos too. Dress up with friends and family and become part of the fun!

Available at Emporio: Sun Visor ¥2,900 / Earmuffs ¥2,400 / Flag ¥600 / Plush Toy ¥2,700 / Jacket ¥5,900 / Shoulder Bag ¥2,500

There's also a new collection of Cars merchandise like a jacket and earmuffs, as well as a sun visor that has Lightning McQueen's eyes on its front. We recommend taking these items to the "Lightning McQueen Victory Lap" entertainment program at American Waterfront and taking some photos while cheering on McQueen!

Special Menu Line-ups

Lots-o'-Huggin' Bear's Cookie Sandwich w/ Souvenir Pouch – ¥1,300 @ Gondolier Snacks

Restaurants around the park will be serving food, drinks and desserts inspired by the Pixar cast, like this cookie sandwich centred on Lots-o'-Huggin' Bear from Toy Story 3. The pink cookies are filled with chewy marshmallows and sweet-smelling strawberry flavoured cream. It even comes with a pouch that looks like the cookie treat itself, so much so you might find yourself wanting to bite into it after trying the real thing.

Sparkling Drink (Mango & Orange) – ¥450 @ Cafe Portofino

Sparkling Drink (Orange & Strawberry) – ¥450 @ Horizon Bay Restaurant

These drinks are also Pixar-inspired. The mango and orange version is based on the colours of Ducky and Bunny from Toy Story 4, while the orange and strawberry beverage is made in the image of the octopus from Finding Nemo.

Pixar Playtime officially begins on January 10, 2020, so make sure you get the chance to visit Tokyo DisneySea next year.

*The special merchandise and menu line-ups will go on sale early from January 9, 2020, one day before the event begins. The products and food are subject to change without notice. Please note that items are subject to selling out.

©Disney ©Disney/Pixar

Tokyo Disneyland's Very Very Minnie! 2020 Event: Merchandise & Food Releasing Early

The all-new Minnie's Style Studio is set to open in Tokyo Disneyland on April 15, 2020 as a character greeting location where you can meet the Disney cast. In the run up to its opening, Minnie Mouse is hosting a 70-day kawaii-packed event entitled "Very Very Minnie!" which will run at the park from January 10 to March 19 next year.

A special selection of merchandise and food themed on Minnie Mouse, from her polka dots to her ribbon, will be made available from January 9ーthe day before the event starts. Let's take a look at what we can expect for the opening of the New Year!

Special Merchandise (Available: From January 9, 2020)

 

Parkers – Medium ¥4,900, Large ¥5,200 / Cap – ¥3,000 / Scarf Towel – ¥1,500

Wide Bath Towel – ¥3,400

Dress up like Minnie Mouse with one of the two parkers, one featuring white and black polka dots of different sizes, and the other with red and white ones. There's also a cute cap, a scarf towel, and more.

Cushion – ¥2,300

Hand Cream Set – ¥1,600

Wall Pocket – ¥2,900 (*Items in pockets sold separately)

There's also the wide bath towel featuring the Disney characters dressed in their new costumes which you'll see them wearing for the Very Very Minnie! entertainment shows, a cushion which you can put your hands in to keep warm this winter, a useful wall pocket which you can store various items inーand many more items, up to 70 of them!

Special Merchandise Split Across 3 Months

Get one of 8 possible costumes for your Minnie Mouse posy plushy, as well as three different postcard sets. All of these items will roll out across a three month period: on January 9, February 3, and March 2 respectively.

Posy Plushie Costumes – ¥2,200 Each / Postcard Set – ¥1,300 (*Posy Plushies sold separately)

For the first month, January 9 will bring three costumes, including Minnie's new Very Very Minnie! outfit, as well as one called "Super Dancing Mania" and another called "Resident of Mishika." The first postcard set will also come with 7 designs all themed around Minnie.

And on March 2, 2020, which is known as "Minnie's Day" at Tokyo Disney Resort®, guests can get their hands on a plush toy wearing Minnie's "Hippity Hoppity Springtime" outfit at Grand Emporium which was voted as her No. 1 outfit based on a user poll held on the Tokyo Disney Resort® website.

Special Menu Items (Available: From January 9, 2020)

Of course, there'll be plenty of delicious treats to munch on too, all so cute they seem a waste to eat.

Special Dessert Plate (Waffle & Doughnuts) – ¥1,500 / Served at: Center Street Coffeehouse

At Center Street Coffeehouse, this special dessert plate will be served from 1pm-6pm, which will include a set of cream-filled doughnuts and waffles drizzled in a sweet and sour strawberry sauce.

Strawberry Cheese Brownie Crepe – ¥700 / Sold at: Cafe Orleans

Cafe Orleans will serve a crepe topped with a strawberry cheese brownie and drizzled in raspberry sauce and a strawberry compote.

Cranberry Vanilla Mouse Cake with Souvenir Plate – ¥800 / Yoghurt & Raspberry Mouse with Souvenir Cup – ¥800 / Served at: Sweetheart Cafe

Also at the Sweetheart Cafe, you can get your hands on one of two of these desserts which come with souvenir merchandise you can take home with you. Both items feature Minnie in her cute new outfit.

Special Set – ¥1,980 / Served at: The Plaza Inn

The Plaza Inn has a very special set prepared: a hearty meal featuring two hamburgers, ice cream for dessert with a white chocolate mousse adorned with Minnie's ribbon, and more.

Don't miss this Minnie-exclusive event when it begins in the New Year!

*All photos are for illustrative purposes only

©Disney

The Fairy Godmother Waves her Wand to Transform Tokyo Disney Resort for Christmas

Disney magic flows through the veins of Disney Resort throughout the year. However, when the clock strikes Christmas time, the entire resort transforms for Disney Christmas: the annual event where the streets sparkle the most compared to any other yearly event.

With Christmas just over the horizon, the Fairy Godmother waved her magic wand over all areas of the park ー including the hotels. This year, a whole load of delicious Christmassy afternoon tea dishes have poofed onto the menu at Disney Ambassador Hotel's Hyperion Lounge. Today, we'll be looking at a few.

Disney Christmas Cake Set: ¥1,800

The Hyperion Lounge's Disney Christmas Cake Set is shaped like a wreath and is garnished with your favourite Disney characters. 

The wreath, which is sat on a bed of chocolate mousse, is woven from pistachio dough that is full of flavour and soft mousse. The sweet tanginess of the raspberry and cherries mixes with the sweet chocolate for a refreshing flavour that will fill your mouth. It is just too cute to eat. 

Disney Christmas Special Drink: ¥1,300 *with Drink Coaster

The Christmas Special Drink is an iced tea coloured with a raspberry and strawberry syrup. Above the syrup is a mixture of milk tea and peach juice which will send a fruity scent floating to your nose. Mix the syrup with the milk tea thoroughly for a magical flavour adventure. Mixing the drink will turn it a cute light pink colour, too.

Two yellow chocolate stars shine in the middle of the drink. Can you spot them?

This drink was created to look just like Santa Claus and the two stars represent the buttons on his clothes.

This drink comes with a free original coaster, however, the coasters are in limited supply. Many restaurants around the resort are serving up special drinks which come with a free Disney Christmas coaster. The design available at Hyperion Lounge is Mini Mouse. Try collecting them for an extra special Disney Christmas. 

Collect all the drink coasters and put them together for a Disney Christmas masterpiece!

Whether inside the park or not, Tokyo Disney Resort never fails to make our hearts race with excitement. If you're staying at the resort, don't miss out on the restaurant's irresistible Christmas drinks and desserts.

Original Text Author: Sayuri Mizuno (MOSHI MOSHI NIPPON)