This Week's Lunch: Peach & Yoghurt at dotcom space Tokyo in Harajuku
One thing I do at least once a week without fail is treat myself out to some delicious food or dessert. It's very important time well spent in order to live a happy life.
Today, I went and got my lunch early ahead of my morning work. I visited dotcom space Tokyo, a café in Harajuku where you can indulge in a laid-back experience.
©️photo Takumi Ota
The café is just a 4-minute walk from the Takeshita Street exit of Harajuku Station. Its atmosphere is so peaceful and related that you wouldn't believe it's right next to noisy and busy Takeshita Street. It's a spacious place with simple and stylish furniture and furnishings. I fancied something sweet this time, so I went and ordered the Peach & Yoghurt bread.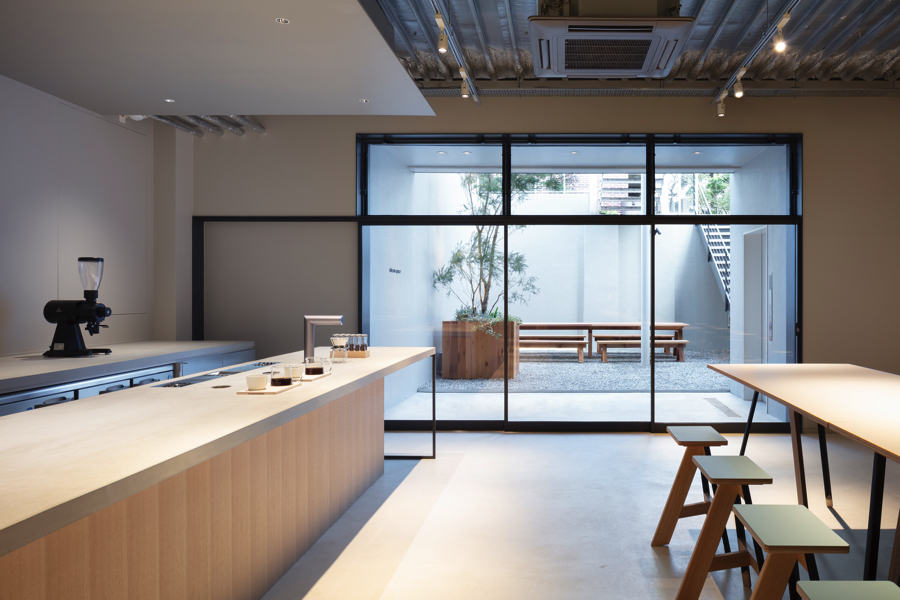 ©️photo Takumi Ota
©️photo Takumi Ota
The interior decorating scheme is based on wood; you can feel how particular they were about the furniture. It's easy to wind down at this café due to its spacious interior. It's common to see workers scattered throughout too. It's a nice place to leave your desk for a little bit for lunch for a change of pace.
Peach & Yoghurt ¥680 / Iced Café Latte ¥550
The bread is piled with a generous serving of yoghurt cream and shiny peach which the light shines on.
I feel happy just looking at this delicious treat. Just spellbinding!
I sliced my first piece and popped it into my mouth. The bread is deliciously chewy, and the refreshing yogurt cream and sweet peach filled my mouth. The bread itself is a thick-cut slice and made by Pelican, a bakery in Asakusa. It has a chewy and moist texture you can't find anywhere else.
The yogurt cream isn't overly sweet, instead having a more refreshing flavour to it. When eaten together with the sweet ripened peach, the gorgeous mix blends together around your taste buds and melts in your mouth. Depending on the season, you can pick fruits other than peach too. They always have seasonal choices. I'm looking forward to their autumn and winter line-up.
The iced latte has a slight acidity to it, my favourite kind of flavour. It went really well with the Peach & Yogurt bread. The café is also particular about its coffee bean selection; one of its baristas is noted to be a past "Japan champion" when it comes to coffee. I've got to try the hot coffee the next time I visit.
A set meal, burger or the likes would have been good too, but I had my eyes set on a sweet dessert lunch. Getting a moment to chill out and enjoy something sweet made me happy today. I recommend enjoying some autumn fruit-topped bread too as the seasons change.
Today's Presents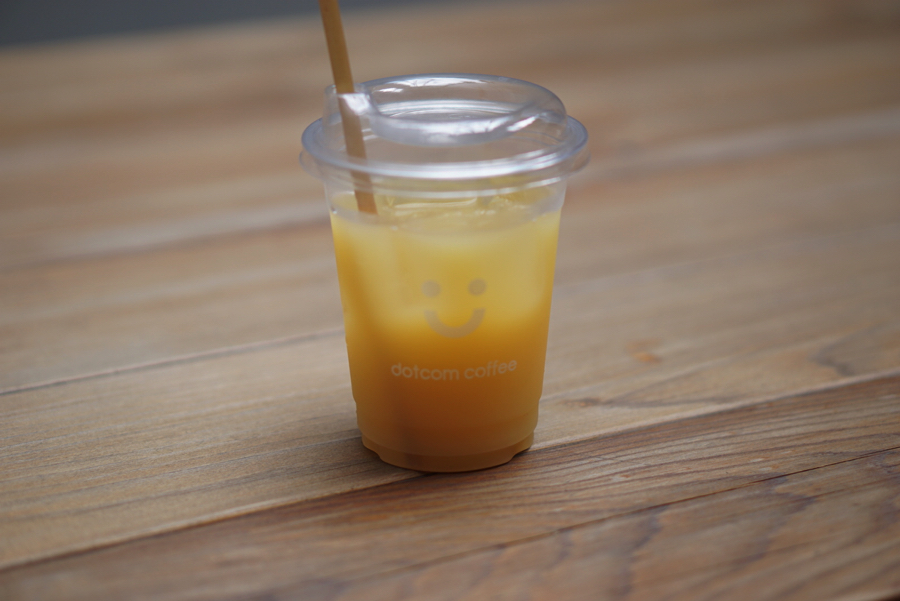 Apple Juice ¥450
I's important to share the happiness between family and colleagues on when you get the chance to enjoy something tasty. I bought them some apple juice, which is poured into a cup with a smiling face on the side. It's made from 100% apples from Nagano. The straw is made from environmentally-friendly sugarcane.
Writer:Sayuri Mizuno(MOSHI MOSHI NIPPON)
RECOMMENDED ENTRIES
This Week's Breakfast: French Toast at Bread, Espresso & in Omotesando

One thing I do at least once a week without fail is treat myself out to some delicious food or dessert. It's very important time well spend in order to live a happy life.

Today, I went out for breakfast. I got up a little earlier than usual and headed to my favourite cafe, Bread, Espresso & which is located in Omotesando.

It's really easy to get to: it's just a 5-minute walk from the A2 exit of Omotesando Station. Mornings are quiet in Omotesando, you don't see many people walking around, so it feels like a completely different place compared to its busy streets during the day.

When you enter the cafe, the smell of freshly-baked bread is the first thing to hit your senses. I sat down on one of the comfy sofa-seats and ordered myself the French toast breakfast set.

There's plenty of space between tables, so it's an environment that's easy to kick back and relax in.

Inside and outside the cafe are cute signs with that day's recommended menu items written on them. Next time I visit I think I'll try one of the lunchtime desserts. That's what I daydreamed about while waiting for my French toast to arrive.

French Toast Set w/Drink – ¥800

The French toast has a subtly sweet scent. It's made with one of the cafe's popular foods: the butter-loaded bread known as "Muu."

The toast's crusts were nice and crunchy while the middle part was fluffy. The soft bread just melts in your mouth when taking a bite, and your taste buds are treated to the sweet flavour of the egg.

The toast is delicious as it is, and you can totally leave it at that and enjoy your morning breakfast. But if you want to take it to the next level then you can drizzle the accompanying honey over the toast, giving the sweetness an even richer flavour.

I'm usually not good with the characteristic sweet taste that honey has, or the bitterness layered into the overall flavour, but this honey was on the milder side so I really enjoyed it.

After my food, I enjoyed the cappuccino the barista beautifully made for me which comes as part of the set.

My 1-hour morning was spent even more relaxed than usual here. It's much different from lunchtime which is a much busier and hurried time, so I could sink in my chair and really enjoy my drink too.

Waking up early and enjoying a relaxing breakfast. That's all I did, but it helped ease my busy mind and soul. I'm a simple person, and I think I'll be able to face my week and work hard at it after this.

Today's Presents

Futsu Furu Fig Sandwich – ¥420

Futsu Uni Fruits – ¥400

I wanted to share the happiness between friends and family on this fine day where I got to eat a delicious breakfast. These sandwiches are packed full of fruits―seasonal fruits which are best enjoyed right now. If you're wondering what other sandwiches they sell then be sure to visit.

Writer: Sayuri Mizuno (MOSHI MOSHI NIPPON)

Translator: Joshua Kitosi-Isanga

Information

Bread, Espresso &

Address: 3-4-9 Jingumae, Shibuya, Tokyo

Business Hours: 8:00-20:00

No Fixed Holidays

Food Review: Shibuya's Stylish Sandwich Shop BUY ME STAND

Hello, readers of MMN! I'm Banako of the MOSHI MOSHI FRIENDS program.

Today, I'm here to show you a unique and stylish sandwich shop I visited in Shibuya called BUY ME STAND. Shibuya is home to countless restaurants and cafes, but if it's sandwiches you're looking for, this place is the one people are going to recommend. That's how famous it is!

You can reach it in just a brisk 5-minute stroll from the New South Exit of Shibuya Station's JR Line building. You'll know it by the big windows and green and white stripes.

The store is managed by apparel brand SON OF THE CHEESE. The entire interior is coloured in mint green, and it has a vintage American vibe to it. Both the outside and inside are nothing short of stylish-looking. It has a second floor too which has table seats.

I ordered the shop's most popular menu item: "Apple Cheeks." The sandwiches are cooked to order in an open kitchen in full view of the customers.

BUY ME STAND typically serves hot sandwiches. Most of them are filled with cheese which is grilled until melted and oozing.

This is the Apple Cheeks, which costs ¥1,200. Take a look inside, what do you see?

That's right. Just as the name of the sandwich suggests, is stuffed with apple slices. As well as apple, it also contains pork belly, onions, and Camembert cheese.

Apples and sandwiches are seemingly an unlikely combination, but by my first bite into the crunchy toast I was already hooked. The melted cheese coils itself delicious around the pork belly and onions while the apple adds a favourable sweetness to the combination of flavours. It was like happiness in my mouth.

It's quite a hearty sandwich, but it comes with a crunchy coleslaw salad which is a great palate cleanser and changes up the flavour party on your tongue, so you can get through it all no problem

Since there's a lot of ingredients packed inside their sandwiches, they are also served with a burger bag like when you eat a hamburger, so you can wrap it up to ensure nothing falls out.

Sandwiches are generally seen as a quick and light meal, but BUY ME STAND has redefined their image by making their sandwiches fat and filling.

BUY ME STAND is open from 8am, and breakfast is sold until 11am where they serve a range of food options in addition to sandwiches. I wanted to try everything.

The menus differ slightly for breakfast, lunch and dinner.

BUY ME STAND is in fact a chain sandwich shop and has branches not only in Shibuya, but Yokohama, Fukuoka, and even Okinawa too, and all of them are just as fancy as one another.

Pay a visit to BUY ME STAND yourself and find your sandwich of choice!

STRAWBERRY MANIA: Harajuku's Cutest & Tastiest Strawberry Ice Cream | Food Review

Hey, readers. It's Midori again, from MMN's editorial team.

Summertime in Harajuku means the cafes and ice cream shops start serving up some seriously kawaii and tasty ice creams. It's always nice to grab a cone to enjoy while walking around shopping, but relaxing in a cafe to enjoy it is fun too♡

If the latter sounds like your kind of thing, then I've got a new recommendation for you. I visited STRAWBERRY MANIA recently, cafe located along Takeshita Street in Harajuku that specialises in strawberry desserts.

You'll find it right above the 7-Eleven on Takeshita Street. Look for the strawberries!

There's also a sign outside showing a few of the desserts. Go up the staircase right next to it and you'll come to the cafe entrance.

No matter where you turn while you're here, your eyes will be met with strawberries. It looks so cute♡

The shopfront showcase is shelved with lots of succulent strawberry treats. The chef whips up other desserts to order besides these too. Everything's almost too cute to eat!

For the strawberry soft serve ice cream you can pick between three flavours: milk, strawberry or mixed. I couldn't pick between them so I went for mixed.

The combination of the bright red strawberry ice cream and pure white milk ice cream makes for a beautiful colour contrast.

It's also topped with a huge fresh strawberry.

I took no time at all in taking a spoonful. The strawberry ice cream has a really rich flavour. It's sweet but has that sour kick too, like you're eating a real strawberry. The milk ice cream has a milder sweetness and a real milky taste, the kind you'd imagine if it was sold at a farm with cows.

Everything is packed snug into the cone right down to the bottom, making it a filling treat. It can be ordered for takeout if you like, and if you do that you can get your ice cream straight away so you don't have to wait for seats.

They serve other things besides soft serve too, like shaved ice and parfaits. There's so much to choose from, I think you'll be spoiled for choice! Be sure to visit if you're in Harajuku.
RELATED ENTRIES
Japanese Sweets Brand Minamoto Kitchoan to Open Cafe Restaurant K. MINAMOTO in Ginza

Japanese confectionery brand Minamoto Kitchoan will open a new cafe and restaurant called "K. MINAMOTO" on October 19.

K. MINAMOTO will be located on floors 2-5 at THE HOUSE, Minamoto Kitchoan's new company building which it just moved to on October 3. The cafe-restaurant's menu concept is dubbed "Ginza Sunny Fruits." It takes into consideration how daily fruit consumption has greatly decreased today by serving up a luxurious fresh fruit-packed line-up.

Minamoto Kitchoan is a company that has made full use of fruits since its establishment, including the suikanshuku, a Japanese wagashi confection made of whole dried domestic persimmons. We can trust then that K. MINAMOTO will provide us with our 5-a-day.

Roast Beef Sandwich w/ Fruit Soup – ¥2,420 (Tax Included)

Seafood Lemon Cream Fedelini w/ Fruit Soup – ¥1,650 (Tax Included)

Each and every dish on the menu has fruit, all grown in Japan to ensure the a high level of quality. Since the dishes have fruity flavours, prepping them is simple, and they enjoy the colours and textures of each fruit.

Drinks haven't been left out either. They are made with fruit purees and syrup, or are tossed in as they are, allowing for maximum fruity goodness.

Smoked Salmon, Fruit Salad & Potato Galette w/ Fruit Soup – ¥1,980 (Tax Included)

Autumn Fruit Almond Pudding – ¥1,760 (Tax Included)

All the staff at K. MINAMOTO have a wealth of knowledge about the menu and the fruits used in each dish. Their service creates a comfortable atmosphere, and though they are polite they are incredibly friendly, so you can call out to them without worry.

Get your fill of fruit from the all-new K. MINAMOTO, opening October 19.

Information

K. MINAMOTO

Grand Opening: October 19, 2019
Address: Minamoto Kitchoan Shinhonsha Bldg. "THE HOUSE" (Floors 2F-5F), 6-9-8 Ginza, Chuo Ward, Tokyo

Opening Hours: [Mon-Sat] 11:30-20:30 / [Sun & Holidays] 11:30-19:00

No Fixed Closures

Minamoto Kitchoan official website: https://www.kitchoan.co.jp

This Week's Dessert: Savouring Autumntime Matcha Sweets at ATELIER de GODIVA in Ikebukuro

One thing I do at least once a week without fail is treat myself out to some delicious food or dessert. It's very important time well spent to ensure happiness.

I've been working relatively hard as of late. I had some spare time before a business meeting, so I took advantage of the occasion to treat myself to some desserts. My destination: ATELIER de GODIVA located inside Seibu Ikebukuro.

GODIVA has numerous stores throughout Tokyo, but Ikebukuro's concept store branch has an eat-in space that's perfect for that tea or coffee break.

ATELIER de GODIVA boasts that same level of quality when it comes to their desserts, some of which are exclusive to this branch. There are only three branches: this one in Seibu Ikebukuro (Tokyo), another in Daimaru Kyoto (Kyoto), and the last in Hakata Hankyu (Fukuoka). The cake I am showing you today is a special dessert sold only in these three branches (and is takeout only at Hakata Hankyu).

The first delight I ordered was the Mousse Matcha Cherry.

Mousse Matcha Cherry: Eat in ¥980 / Takeout ¥780 (*Matcha Ice Cream is eat-in only)

Available: Until November 26, 2019 while supplies last

The shiny cake is served on a round white plate with a dollop of matcha ice cream. The pink berry sauce is drizzled around the plate to make the plating even cuter.

Time to tuck in. This extravagant cake is supported by a fluffy matcha mousse topped with a crunchy chocolate sable. On top of that still are juicy cherries, adding a hint of freshness to the cake. The matcha glaze on the mousse has just the right amount of bitterness, which when coupled with the subtly sweet matcha mousse makes for a heavenly balance of flavours. Lined around the base of the mousse are sweet and sour dried raspberries which elevated the matcha-ness of the matcha mousse.

The matcha ice cream which it comes with when you order to eat in is rich and creamy.

I was full up after my dessert, but since I'd taken the time to come here I wanted to order a drink too… so I got a takeout Chocolixir Uji Matcha Kiwami from a shop adjoining ATELIER de GODIVA.

Chocolixir Uji Matcha Kiwami – ¥602 (*Takeout only at the GODIVA Seibu Ikebukuro branch)

This new drink is part of GODIVA's chocolate and tea pairing series. The chefs at GODIVA have carefully selected the best varieties of tea to combine with chocolate. This one is an iced drink made with white chocolate and matcha.

It's a mix of GODIVA's popular smooth and sweet white chocolate and rich Uji matcha. It's crowned with a sprinkling of bitter Uji matcha powder. All of the flavours are highlighted in this sweet drink. The crunchy white chocolate pieces you sip up as you drink are delicious. It's the kind of drink where you're sure to find something new each time you take a drink.

My 30-minute tea break is my little self-indulgence for the day. Spare minutes in my daily schedule affords me the chance to go and enjoy some delicious desserts. You should treat yourself to some special autumntime sweets too.

Today's Presents

Matcha Adzuki ATELIER Tablet – ¥800

I's important to share the happiness between family and colleagues on when you get the chance to enjoy something tasty. The present I bought today was a tablet chocolate handmade in the shop. The matcha white chocolate has almonds in it as well as Japanese-style chocolate mixed with adzuki. It has a strong matcha flavour and isn't overly-sweet. You can also request for a ribbon to be tied around it for gift-giving. It's a chocolate that's sure to bring anyone joy.

Writer:Sayuri Mizuno(MOSHI MOSHI NIPPON)

Translator: Joshua Kitosi-Isanga

Information

ATELIER de GODIVA Seibu Ikebukuro

Address: Seibu Ikebukuro B1F, 1-28-1 Minami-Ikebukuro, Toshima Ward, Tokyo

Opening Hours: [Mon-Sat] 10:00-21:00 / [Sun & Holidays] 10:00-20:00

ATELIER de GODIVA Daimaru Kyoto

Address: Daimaru Kyoto B1F, 79 Tachiuri Nishimachi, Shimogyo Ward, Kyoto, Kyoto Prefecture

Opening Hours: [Mon-Sun] 10:00-20:00

ATELIER de GODIVA Hakata Hankyu

Address: Hakata Hankyu B1F, 1-1 Hakataekichūōgai, Hakata Ward, Fukuoka, Fukuoka Prefecture

Opening Hours: [Sun-Thurs] 10:00-20:00 / [Fri-Sat] 10:00-21:00

Chocolixir Uji Matcha Kiwami

Running: October 1, 2019 – November 30, 2019

Available: GODIVA

https://www.godiva.co.jp/boutique/?view=map&store_list_id=50

GODIVA Official Website: https://www.godiva.co.jp/

Full Moon Salted Caramel & Paradigm Shift Pudding Cooked Up By firando

Mirai Image and firand have teamed up to create a new dessert brand named "firando." Their website launched just recently, and their first products, "MANGETSU" and "PURIORI," were shown for the first time at the 9th Tsuhan Expo which took place on September 26-27. Sales of these two confections went live on their official website on Tuesday (October 15).

During the Edo portion of Sakoku, when Japan closed its doors to most foreign trade and foreign nationals, Hirado was called "firando" and thrived as a port for international trade. During this time, caramel, then a western-style confection, found its way to Hirado, and has since resurfaced in Hirado, Nagasaki.

"MANGETSU" is the Japanese term for full moon. This salted caramel treat is made with a very special salt: it's taken from the sea of the beautiful Hirado Island only when the tide is high during an evening full moon. It's also made with freshly-squeezed raw milk shipped directly from the only dairy farmer in Hirado that has been passed down the generations. The dessert is completely additive-free, using no preservatives or artificial colouring. It uses the highest quality unrefined sugar from Kagoshima Prefecture that is easy on the body, with each and every grain being accounted for in the 10-second cooking progress. The milk has a rich flavour, and the full moon salt adds a pleasant accent, resulting in a refreshing aftertaste.

The "PURIORI" is a Japanese-style pudding whose concept is "going back in time." The concept asks, "What if you went back in time to the end of the Edo period and presented nanbangashi* to the Matsuura feudal lord?" The pudding piles together the layers of Japan's confection culture. It's made with rare eggs from Nagasaki Prefecture that you can't get on the marketplace.

*Nanbangashi are a variety of Japanese sweets derived from Portugal and Spain

firanodo has whipped up some seriously special and luxurious desserts here. If you find yourself in Nagano, be sure to visit their store, and don't forget to check out their website below.

Information

firando

Address: 310-2 Tsuyoshichō, Hirado, Nagasaki
Products: MANGETSU / PURIORI」
Official Website:  https://firando-caramel.com/

Royal Park Hotel Tokyo Transforms For Halloween 2019

Royal Park Hotel Tokyo in Nihonbashi has begun its Halloween festivities for 2019, including a bone-chilling black and orange food and dessert menu, spooky decorations, a photo spot in the first floor main lobby, and more.

Check out their mouth-watering sweets assortment! Their Halloween Afternoon Tea set is packed full of autumntime flavours, from the glass desserts, to the apple chiboust, chocolate pocket watches with bats on them, adorable monster burgers, and more.

The hotel is also offering a Halloween Dinner Buffet on weekends and holidays decorated in Halloween colours. Pile your tray with figs and blackcurrants, chestnut mousse, pumpkin tarts, and plenty of other tasty treats, all prepared fresh in the kitchen.

This is just a peek into the hair-raising fun happening right now at Royal Park Hotel Tokyo. There's also the Halloween Cocktail Fair, Halloween Sweets & Bread event, and much more.

Spend your Halloween here, or even use it as an opportunity to try wearing your Halloween costume out so you're ready for October 31!

Information

Halloween Afternoon Tea

Running: October 1, 2019 – October 31, 2019

Location: Fontaine (Floor 1F Lobby Lounge)

Price: ¥4,840 Per Person (Tax Included)

Halloween Dinner Buffet (Weekends & Holidays Only)

Running: October 5, 2019 – October 27, 2019

Location: Symphony (Floor 1F Lobby Lounge)

Price: ¥7,260 Per Person (Tax Included) / Seniors ¥6,050 Per Person (Tax Included)

*¥4,235 Per Person (Tax Included) for those aged 4-12 years and 65+

Halloween Cocktail Fair

Running: October 1, 2019 – October 31, 2019

Location: Fontaine (Floor 1F Lobby Lounge) / Royal Scots (Floor B1F Main Bar)

Price: ¥1,936 Per Person (Tax Included)

Halloween Sweets & Bread

Running: October 1, 2019 – October 31, 2019

Location IKI (Floor 1F Sweets & Bakery)

Royal Park Hotel Tokyo

Address: 2-1-1 Nihonbashikakigarachō, Chuo Ward, Tokyo

Official Website: https://www.rph.co.jp/

10 Things You Can Do at the MOSHI MOSHI ROOMS Hotel in Harajuku | Girls' Night In Edition

MOSHI MOSHI ROOMS is a hotel accommodation service run by MOSHI MOSHI NIPPON located in Harajuku and bookable via Airbnb. Our hotel isn't just popular for sleep, however: it has become a hot spot with stylish girls who get together and use it as a party space.

This is our Top 10 list of things you can do in SAKURAーone of the hotel roomsーso you can discover the best way to enjoy your stay in Harajuku.

①Take advantage of the room decor and decorations to snap all the photos you can!

MOSHI MOSHI ROOMS opened its first room SAKURA in December last year, and more recently ORIGAMI in August. From the walls to the furnishing, SAKURA is cherry blossom pink throughout, decked out with countless gorgeous Instagram-worthy spots popular with our female guests.

You can always get a beautiful photo together with the cherry blossom flower monument in the background, located behind the bed and bloomed right up to the ceiling.

The enormous and comfy pink bed is piled full of lots of fluffy cushions. You can take some pretty romantic pictures too when snuggled on top or in the bed.

Photographer: Kayo Sekiguchi

Don't forget about the neon sign either, a symbol of the room and the Japanese kanji character for cherry blossom (桜 sakura). Sit on the sofa in front of it and make use of the sign's lighting to get a more dreamy and fantastical shot.

②Popular Harajuku takeout food perfect for a night at MOSHI MOSHI ROOMS SAKURA

MOSHI MOSHI ROOMS is located in Tokyo's fashion and culture hub of Harajuku, and that means it's within walking distance of some quintessential kawaii and Instagrammable food shops. We've picked out three we think are perfect for ordering takeout to enjoy back in your room at SAKURA.

GOOD TOWN DOUGHNUTS

Smile Mango ¥420 / Raspberry Pistachio ¥400 / Sea Salt Caramel ¥390 (All Tax Inclusive)

GOOD TOWN DOUGHNUTS is a really popular doughnut shop in Harajuku. Their big size doughnuts not only look cute, they're the real deal taste-wise, and are also made with natural yeast, wheat flour from Hokkaido, sea salt sourced in Okinawa, sugar from Tanegashima, and organic oils. They are high-quality doughnuts full of flavour and plenty filling.

GOOD TOWN DOUGHNUTS

Address: J-cube B1F, 6-12-6 Jingumae, Shibuya, Tokyo)

TEL: 03-5485-8827

Opening Hours: 10:00-20:00

No Fixed Holidays

Official Website: http://good-town.com/

AND THE FRIET

Box (2 Friet Types) w/ Dip – From ¥800 (Before Tax)

This French fry shop makes their fries from a variety of carefully selected in-season potatoes, including potatoes from Belgium. They are crunchy on the outside and fluffy in the centre. They're also delicious even when eaten cold, making them a great takeout option. You can pick two types from six varieties for one box, plus a dip of your choice. A perfect party accompaniment.

AND THE FRIET Laforet Harajuku

Address: Laforet Harajuku 2F, 1-11-6 Jingumae, Shibuya, Tokyo
TEL: 03-6434-7568

Opening Hours: 11:00-21:00

No Fixed Holidays (Except when Laforet Harajuku is closed)

Official Website: http://andthefriet.com/

TOAST LUCK

<Macarons> From Left: Soybean Flour / Crunky / Cheese – ¥371 Each (Before Tax)

At TOAST LUCK, you can enjoy a whole range of different South Korean foods, including toast which is their main menu item. They also sell these marble-coloured macarons which are a little bigger than Japanese macarons. There's lots of flavours to choose from, all of which give you a different take on your regular macaron!

TOAST LUCK

Address: 3-27-15 Jingumae, Shibuya, Tokyo

TEL: 03-6812-9499

Opening Hours: 11:00-20:00

No Fixed Holidays

Official Website: https://www.toast-luck.com/

③Line up all your food in your hotel room for a girls' night in

Gather all of your takeout goodies from around Harajuku for a girls' night in at MOSHI MOSHI ROOMS SAKURA! The room has its own kitchen equipped with utensils, a microwave and refrigerator, so you can even prep your own food too.

The living room is nice and spacious so you can really let your hair down and relax. There's a limited number of beds but there's no limit to the amount of people that can stay over, so invite all of your friends along!

④Watch movies on the projector

The room is equipped with an Android TV mobile projector which has Netflix, Hulu, YouTube and other services on it as well as games. There's endless amounts of fun to be had, so grab your snacks and put on a movie or compete together in a game. The screen projects onto the white walls, so you can pick the best spot for viewing.

Projecting it on the wall beside the bed means you can relax while watching films or music videos together.

The cherry blossom pink MOSHI MOSHI ROOMS SAKURA offers a memorable accommodation experience like no other. We will continue the Top 10 list in the next article entitled Birthday Edition.

Remember, if you're looking to stay in Harajuku, be sure to book with MOSHI MOSHI ROOMS.

Models: Aiko / Ringo
Photographer: Haruka Yamamoto
Writer: Sayoko Ishii

Translator: Joshua Kitosi-Isanga

Visiting the Weathering With You Cafe Now Open in Tokyo and Osaka

LEGS COMPANY opened two cafes themed on the hit anime film Weathering with You in Tokyo and Osaka on October 8 and October 10 respectively. The cafes will run for a limited time only.

We paid a visit to the Tokyo branch which opened inside OMOTESANDO BOX CAFE & SPACE which is only a 7-minute walk from Omotesando Station.

The new blockbuster hit from internationally-acclaimed animator and film director Makoto Shinkai Weathering with You dropped back on July 19 and has since amassed over 13 billion yen (approximately US$131 million) in the box office. It was seen by 7.5 million people in the first 34 days of its release, and over 10 million after 75 days. Its huge success has cemented itself in the Japanese animated film industry as another monumental masterpieces from Shinkai. The film has also been nominated for Best International Feature Film for the upcoming 92nd Academy Awards set to take place on February 9, 2020.

While sat in the cafe you can watch scenes from the film on the giant screens while the main songs performed by RADWIMPS play.

The cafe menu features a line-up of drinks, dishes and desserts inspired by the characters and moments in the series, including the chahan set prepared by Hina for Hodaka, the Hodaka Welcome Party Set, and more.

Teru Teru Omurice – ¥1,490

This is the dish I ordered to eat. I couldn't resist how cute it was. It's inspired by the teru teru bōzu that Nagi makes, a traditional Japanese doll used to prevent rain and bring good weather. The doll's head is made of mashed potato. He's sat on a bed of ketchup rice filled with vegetables and bathed in a delicious sauce. This one's too cute it almost seems a waste to eat♡

Nagi's Teru Teru Bōzu À La Mode – ¥1,490

For dessert I ordered another teru teru bōzu treat. This one is made from gyūhi, a type of Japanese confection made from rice flour. Its head is filled with vanilla ice cream, and if you turn it over, you'll find Japanese pudding underneath, and under that granola. It's finished with a lining of bright blue lychee jelly around the outside for a hint of freshness.

The cafe offers plenty of other dishes that will leave any Weathering with You fans spoiled for choice.

Hina's Handmade Sesame Oil Infused Pea Sprout Potato Chahan Set – ¥1,490

A chahan set lovingly prepared by Hina for Hodaka. Chop up the spring onions that come on the side and add them to the soup just like Hina does in the film! This is a hearty set sure to fill you up.

Hodaka's Welcome Party Set – ¥1,590

This one-person set was made lovingly by Natsume when Hodaka comes to work at the same company as her, K&A. If you're looking for a healthy green meal packed with veggies then you'll love this one.

Clearing Up Weather Tiramisu – ¥1,490

This refreshing matcha tiramisu is inspired by the scene when Hina and Hodaka reunite, with the sauce representing the sunlight and the cotton candy the rainy clouds. Pour the sauce over the cotton candy and watch the clouds clear up.

Acai Bowl of the World's Secrets – ¥1,390

Enjoy the main key visual of the film right on top of your plate. The mild flavour of the yogurt coupled with the refreshing kiwi is a mouth-watering combination. The colours are really beautiful, too.

Swirling Snow Whipped Latte – ¥990

Inspired by the immense snow that spirals around Tokyo in the film, a cup of this whipped cream latte is perfect as a post-meal wind-down.

Left: The Fine Weather That Day (Grapefruit) – ¥1,690 / Right: The Sunset That Day (Cranberry) – ¥1,690

These two drinks are for takeout, and are based on iconic scenes in the film, specifically when the turns fine and the sunset. They are served in exclusive cafe-original bottles. Both flavours are sweet, sour and refreshing. Plus, you can reuse the bottles.

If you order one of the many drinks from the menu you'll receive one of six possible coasters chosen randomly.

The cafe has plenty of exclusive merchandise on their shelves too.

Sparkly Rain Smartphone Case (7/8 Ver. & X Ver.) – ¥3,900 Each

When you shake these iPhone cases, it looks like the rain is falling.

Raindrop Stickers (10 Designs) – ¥400

Don't you just want to collect all of these cute raindrop stickers?

If you book a seat in advance (¥650 before tax per person) you will receive one of six possible bromide pictures chosen randomly, so don't forget to reserve in advance.

Plunge yourself into the world of Weathering with You at either one of these cafes, now running until November 17.

*Photos are for illustrative purposes only. All listed prices are pre-tax prices.

©️2019 "Weathering with You" Production Committee

Information

Weathering with You Cafes

Locations/Dates:
①OMOTESANDO BOX CAFE&SPACE (Pine Under Flat B1F, 5-13-2 Jingumae, Shibuya, Tokyo) @ October 8, 2019 – November 17, 2019

②Osaka Shinsaibashi contact (1-6-24 Kitahorie, Nishi Ward, Osaka, Osaka Prefecture) @ October 10, 2019 – November 17, 2019

Table Reservations:

Price: ¥650 (Before Tax) *Includes bonus item

*Advance table reservations opened on September 24, 2019

Weathering with You Cafe Website: https://tenkinoko-cafe.jp/

Hiroo's Cafe CANVAS TOKYO Turns Into a Pure White Canvas in New Monochrome Theme

CANVAS TOKYO is a cafe and open concept store based in Hiroo, Tokyo produced and managed by BLANCA ASSOCIATION. The cafe has announced that it is taking on a new monochrome theme on October 10 where the entire cafe will be decked out in white like a blank canvas. They will also sell new products as part of the transformation.

The idea behind this concept is to make the overall look simple while putting great care and attention into the little details. Everything from the cafe exterior to its interior, cups, cutlery and so on have been dyed black and white to give a plain yet sophisticated appearance.

The cafe will also stock a new range of merchandise under the same concept, like coats and bags, allowing the cafe's stylish look to extend into the outside world too. As well as this, the cafe is introducing some new menu items, including a tea latte, bao, and more.

Black & White Sweaters – ¥12,000 (Before Tax)  *One size

Made into a loosely tailored size with wide ribbed sleeves, these sweaters have a design that makes them easy to coordinate, meaning you can pair them with countless outfits.

London Fog – ¥500 (Before Tax)

CANVAS TOKYO's original London Fog beverage is an Earl grey tea mixed with natural maple syrup from Canada, warm milk and fluffy foamed milk, effectively creating a tea latte.

Left: Fresh Salsa & BBQ Pork – ¥430 (Before Tax) / Right: Coriander & TERIYAKI Pork – ¥430 (Before Tax)

These Chinese-style steamed meat buns, known as "bao," are a popular snack item with people around the world. New York and London are known for having several stores specialising in bao.

This is just a small peek into the monochrome heaven of CANVAS TOKYO. To see it in all it's black and white glory, head to the trendy district of Hiroo in Tokyo.

Information

CANVAS TOKYO

Address: 5-19-6 Hiroo, Shibuya, Tokyo
Opening Hours:

[Weekdays] 08:45-18:00 (Last Orders 17:30) *2nd floor until 17:00

[Weekends & Holidays] 10:45-19:00 (Last Orders 18:30) *2nd floor until 18:00

No Fixed Holidays

Official Website: www.canvas-tokyo.com

Top 6 Desserts Made With Luxurious Pink Ruby Chocolate

Ruby chocolate is a variety of chocolate that was introduced in 2017 as the 4th main type of chocolate alongside milk, white and dark. It didn't hit Japan until October 2018, but since then, the luxury pink delight has been getting much love with the release of many new products. The ruby colour of the cocoa beans is completely natural.

I attended a product conference held by Barry Callebaut, the Belgian-Swiss chocolate company which introduced ruby chocolate to the world. I got to try out various confections made using this chocolate.

When talking about ruby chocolate, you're inclined to highlight its striking pink colour. But the looks are just part of the story. Compared to dark, white and milk chocolate, ruby chocolate is said to have the strongest cacao fruit flavour. Though it's chocolate, it has a sour, fruity kind of taste.

Until last year, I was more about the eye-catching pink colour of the chocolate, so I ended up overlooking that ruby chocolate is often paired with berry-type fruits when it comes to confections. I get it nowーso it has a sour taste? Well then, this year I really want to go all out and appreciate the unique flavour of this ruby chocolate.

Today, I'm going to showcase six new products made with Callebaut® Ruby Chocolate. I've tried them all, so I can properly break down the flavours and how delicious they are for you!

Ruby Chocolate Otabe – ¥660 (Before Tax)

This Japanese confection is a combination of ruby chocolate and "Otabe," which is a confection known as "yatsuhashi," a popular souvenir sweet from Kyoto. Much time is put into making the ganache to ensure the fruitiness of the ruby chocolate remains intact. The ganache is wrapped in chewy yatsuhashi which is made with domestic koshihikari, which is a type of rice, and carefully selected water. There's no way this could be anything short of delicious!

At the taste-testing session, I got to see the ruby chocolate Otabe being made right in front of me. It was done by a kimono-clad Nara who normally makes confections in the factory.

The rich and sour ganache combined with the chewy yatsuhashi is a match made in heaven! The pink colour really is cute after all, isn't it? By wrapping the fruity chocolate in mochi, it creates even deeper flavours in your mouth.

This product will be sold at Kyoto Station and various tourist sites around Kyoto, so if you ever visit the city, make sure you're on the lookout.

Ruby Chocolate Otabe

Running: October 11, 2019 – Early May 2020

Available: At Kyoto Station and tourist spots around Kyoto

Official Website: http://www.otabe.kyoto.jp/

 

 

Ruby Mille-feuille – ¥600 (Before Tax)

From Juchheim comes these ruby chocolate-coated mille-feuille fingers, laced with butter from Hokkaido and strawberry and raspberry mixed cream layered into a crunchy sandwich.

The puff pastry is of course tasty, and the sour flavour of the ruby chocolate mixed with the sourness of the berry cream packs a seriously fruity punch. It's an overall crunchy and rich dessert, but it also has a refreshing taste to it, so one person is sure to be tempted by more than one.

Ruby Mille-feuille

Released: October 1, 2019 (Online orders from October 8, 2019 )

Available: At all 272 branches of Juchheim in Japan / Juchheim Premium Online Shop

Online Shop: https://e-shop.juchheim.co.jp/

Pretzel Cookie – ¥480 Each (Before Tax)

Food company Rosenheim have taken their crunchy butter pretzel cookies and coated them in various chocolate flavours, including ruby, sweet, milk, and white.

The ruby pretzels have that distinct vivid pink colour and of course taste fruity. There's six in a pack, so you can share them with friends.

Pretzel Cookie

Released: September 20, 2019

Available: At mass retailers across Japan

Christmas Wreath Ruby Framboise – ¥5,000 (Before Tax)

Callebaut's new ruby chocolate iced cake will be released from Maison Givrée. It's topped with a ruby chocolate and raspberry ice cream and is adorned with cool and refreshing lychee sorbet.

The best way to eat this cake is when the ice cream has melted a little bit. You can enjoy the sweet fragrance of the ruby chocolate and the marriage between its sour flavour and the raspberry. Try savouring the melted sorbet and ruby chocolate ice cream by leaving it in your mouth.

Christmas Wreath Ruby Framboise

Running: October 11, 2019 – December 13, 2019

Delivery Window: December 20, 2019 – December 25, 2019 (subject to change)

Stock: 50

Available: At Maison Givrée and its online store

Official Website: https://givreetokyo.shop-pro.jp/

Ruby Chocolate Corn Puffs – One Box ¥1,450 (Tax Included)

You can pick up a box of these ruby chocolate corn puffs at Pierre Gagnaire Pains et Gateaux on the 2nd floor of InterContinental ANA Hotel Tokyo. They have a shiny pink pearl-like appearance. The crunchy corn puffs are thick-cut which goes well with that fruity ruby chocolate taste.

Ruby Chocolate Pear Tart – ¥650 (Tax Included)

These cocoa-laced and ruby chocolate powdered baked tarts are also sold at Pierre Gagnaire Pains et Gateaux. They're topped with almond cream and a pear compote. They're also topped with a ganache made from ruby chocolate and a redcurrant puree. Their design is made so that it looks like a flower, crowned with extra redcurrants.

Ruby Chocolate Corn Puffs

Running: All year round

Ruby Chocolate Pear Tart

Running: October 1, 2019 – January 14, 2020

Available: Pierre Gagnaire Pains et Gateaux (InterContinental ANA Hotel Tokyo – Floor 2F)

Hotel Official Website: https://anaintercontinental-tokyo.jp/en/

I'm all about ruby chocolate's deep flavour now. If you've yet to try it then you've got to get your hands on some, to enjoy both its striking pink appearance and that sour cacao fruit flavour.

Writer: Sayuri Mizuno (MOSHI MOSHI NIPPON)

Translator: Joshua Kitosi-Isanga

Munch On These Crispy Freshly-Baked Custard Apple Pies Made With Sweet Potato at RINGO

RINGO, a shop which specialised in freshly-baked custard apple pies, has announced that it will release its new Yakitate Custard Oimo Apple Pie on October 17.

RINGO opened its first branch in Ikebukuro, Tokyo back in 2016. Since then, it has expanded and opened 12 branches across Japan, including Osaka and Fukuoka, and 3 stores overseas. They sell over 6 million custard apple pies every year. Since their products are baked fresh in-house, you can watch and see how they are made.

The new Yakitate Custard Oimo Apple Pie is a crunchy 144-layer pie packed full of custard cream and an autumntime sweet potato paste for an added subtle sweetness.

The sweet and sour apple filling is made with a range of domestic apples, including the hatorazu ringo apple from Aomori Prefecture. The pastry is also laced with cocoa powder and topped with roasted white sesame seeds. A deliciously fitting dessert for the autumn season!

Information

Yakitate Custard Oimo Apple Pie

Running: October 17, 2019 – November 10, 2019

Price: ¥465 (Tax Included)

Available: At RINGO branches across Japan (except ekie Hiroshima and Sendai Station)

*There are is a limited number served per day 

Official Website: http://ringo-applepie.com

Pink Ribbon Raises Breast Cancer Awareness with Pink Drinks and Pink Ribbon Smile Walk

Pink Ribbon aims to spread knowledge about breast cancer and conveys the importance of breast cancer screening. In order to reach out to more people, Pink Ribbon has released special drinks for the month of October that are dyed completely pink. This limited edition series debuted at Cafe & Dining Zelkova which is located on the first floor of THE STRINGS in Omotesando.

The White Chocolate Strawberry Cappuccino consists of hot milk blended with white chocolate and strawberry syrup. The beautiful blend creates a pure pink-coloured cappuccino. The Pink Lemonade is a cocktail which consists mainly of refreshing grapefruit juice. Both these beautiful drinks are Instagram-worthy.

Those who order a drink will receive a free book which is full of essential information about breast cancer. There are also donation boxes for the Japanese Foundation For Cancer Research which provides customers with the opportunity to contribute towards research that saves lives.

On October 5, there will be the Pink Ribbon Smile Walk Tokyo event where part of the terrace area will be lit up with pink illumination in order to raise awareness for Pink Ribbon's breast cancer campaigns. Make sure to get involved.

Information

White Chocolate Strawberry Cappuccino

Pink Lemonade

Available: October 1 ー 31, 2019

Available at Cafe & Dining Zelkova (THE STRINGS, Omotesando Floor 1)

Opening Hours: Weekdays: 11:30 – 22:00, Weekends and national holidays: 11:00 – 22:00

Prices:

White Chocolate Strawberry Cappuccino: ¥970

Pink Lemonade (with/without alcohol): ¥780

* The prices stated above do not include tax or service charge.

Enquiries: 03-5778-4566 (Cafe & Dining Zelkova)

Website: https://www.strings-hotel.jp/omotesando/restaurant/zelkova/info/zelkova-drink-special.html

Top 5 Halloween Treats to Pick Up at Japanese Convenience Stores This Year

October is here, meaning Halloween is right around the corner. If you're not up for dressing up in a costume or going out this year, then you can still get in the Halloween spirit by picking up one of the many Halloween exclusive goodies now being sold at Japanese convenience stores. We've picked out our top 5 favourite for you.

Starbucks® Sweet Caramel Pudding Latte

Starbucks Japan is now stocking its sweet caramel pudding latte across most convenience stores in Japan. The golden-capped cup features a spooky Halloween design, decorated with ghosts, pumpkins and bats. Enjoy Halloween in a cup with the beverage's rich and sweet caramel pudding flavour.

▼Starbucks® Sweet Caramel Pudding Latte

Price: ¥200
Available: Most convenience stores across Japan. Select branches not stocking.

Calbee Jagabee Black Consomme

These crunchy potato sticks are a popular savour snack in Japan. This Halloween, Calbee has coloured their sumptuous sticks black, and made them taste like delicious consomme. This is a 7-Eleven and Ai Group-exclusive. Its cute pot design will have you grabbing one off the shelf without even thinking.

▼Calbee Jagabee Black Consomme

Price: ¥138 (Before Tax)
Available: 7-Eleven and Ai Group

KOIKE-YA Karamucho Hot Chili Flavour

The classic thick-cut Karamucho potato chips have been sprinkled with extra spiciness for that heated kick. The packet features all the familiar faces of Halloween, from a witch to a pumpkin, bats, a graveyard and more. If you're a spice-seeker then this one's for you. Also a 7-Eleven and Ai Group exclusive product.

▼KOIKE-YA Karamucho Hot Chili Flavour

Price: ¥128 (Before Tax)
Available: 7-Eleven and Ai Group

7-Eleven Marshmallow Chocolate Ganache Daifuku

7-Eleven is also releasing a range of its own original Halloween treats, including this sweet white daifuku which looks like a marshmallow and is filled with rich chocolate ganache. A Japanese and Western-combined confection you can enjoy with one hand.

▼7-Eleven Marshmallow Raw Chocolate Daifuku

Price: ¥118 (Before Tax)
Available: 7-Eleven (Except in Okinawa)

7-Eleven Black Cat Sachertorte

Black cats are a popular symbol of Halloween, particularly in Japan. This cake is made with chocolate cream and vanilla cream and is coated in a crunchy chocolate coating for even more tasty texture. This is a seriously cute choice you're sure to love!

▼7-Eleven Black Cat Sachertorte

Price: ¥308 (Before Tax)
Release Date: October 15, 2019
Available: 7-Eleven

Did you enjoy our picks? There are plenty of Halloween-themed foods, confections and sweets to look forward to this year at convenience stores in Japan. Head to your closest one and see what they have in stock.

The Luxurious KitKat Chocolatory is Revamping Its Chocolate Line-Up

Nestlé has announced that it is revamping its 16 products* at the KitKat Chocolatory which will be released on October 11, 2019.

*One of these products will be released in late November

The KitKat Chocolatory is a direct-to-consumer chain, serving premium, handcrafted KitKats made with top quality ingredients and production methods under full direction by Takagi Yasumasa―the owner and chef of LE PATISSIER TAKAGI. Its luxurious line is endless, with products ranging from the elusive ruby chocolate, whose cocoa beans give the finish product its pink colour, to volcanic chocolate made from rare cocoa beans sourced from volcanic islands, and beyond.

The Chocolatory takes regular KitKats and the brand to a whole new level while still having that sense of familiarity, making their products great gifts and personal treats.

The new line-up of 16 products is considered by four categories: 1) the chocolate type, 2) where the cocoa beans are produced, 3) the production process from bean to bar, and 4) the combination between chocolate and other ingredients. Each and every bar has been given equal attention to create chocolates with different flavours, enabling consumers to discover not only which tickle their taste buds, but the story behind each unique bar.

There is a rapidly growing interest amongst consumers who want to know where their food comes from and how it's made. When it comes to specialist chocolate products, a lot of information isn't widely known. That's the reason behind KitKat Chocolatory's revamp, as well as to create chocolate that nobody has experience before.

Let's take a look at four of the new KitKats you can get your fingers on.

Enjoy the Chocolate Varieties

KitKat Chocolatory Sublime Bitter – ¥300 Each (Before Tax)

A hallmark product since KitKat Chocolatory opened, the Sublime Bitter is couverture chocolate made with 66% cocoa. The bar is a blend of three different cocoa beans from Ghana, Madagascar, and the Dominican Republic. This addictive delight reserves the original bitterness of the cocoa while having a fruity tinge to it.

Enjoy the Difference Between Cocoa Production Areas

KitKat Chocolatory Sublime Volcanic Malakula Island – ¥400 Each (Before Tax)

This mysterious 'volcanic chocolate' is made from extremely rare cocoa beans sourced from the volcanic Malakula Island which was voted one of the happiest places on earth. It has a distinct bitterness and very fragrant scent reminiscent of the ground.

Enjoy the Chocolate Making Process

KitKat Chocolatory Sublime Raw – ¥300 Each (Before Tax)

The cocoa beans of this "raw" chocolate are cooked at a lower temperature than usual to draw out a more natural flavour of the original bean, like it's been plucked right out of a cocoa bean farm and placed into your hands.

Enjoy the Combination Of Ingredients

KitKat Chocolatory Moleson – ¥500 Each (Before Tax)

Finally, here is the world's first ingredient-topped KitKat. It uses the smooth, melt-in-the-mouth KitKat Chocolatory Sublime Milk bar as the base, and is topped with sweet and sour dried cranberries and fragrant crushed almonds, creating a flavourful and textural ensemble.

Discover a whole new world of KitKat and chocolate when the new products drop at KitKat Chocolatory on October 11.