Dine On Fancy Authentic Japanese Food Casually at SHARI in Ginza
SHARI is a restaurant located on the second floor of Mitsui Garden Hotel Ginza-gochome, a new hotel that opened on September 26 located within walking distance from Ginza Station and Higashi-Ginza Station. This restaurant serves authentic and fancy Japanese-style food as well as luxurious Kobe beef, gozen set meals, and much more.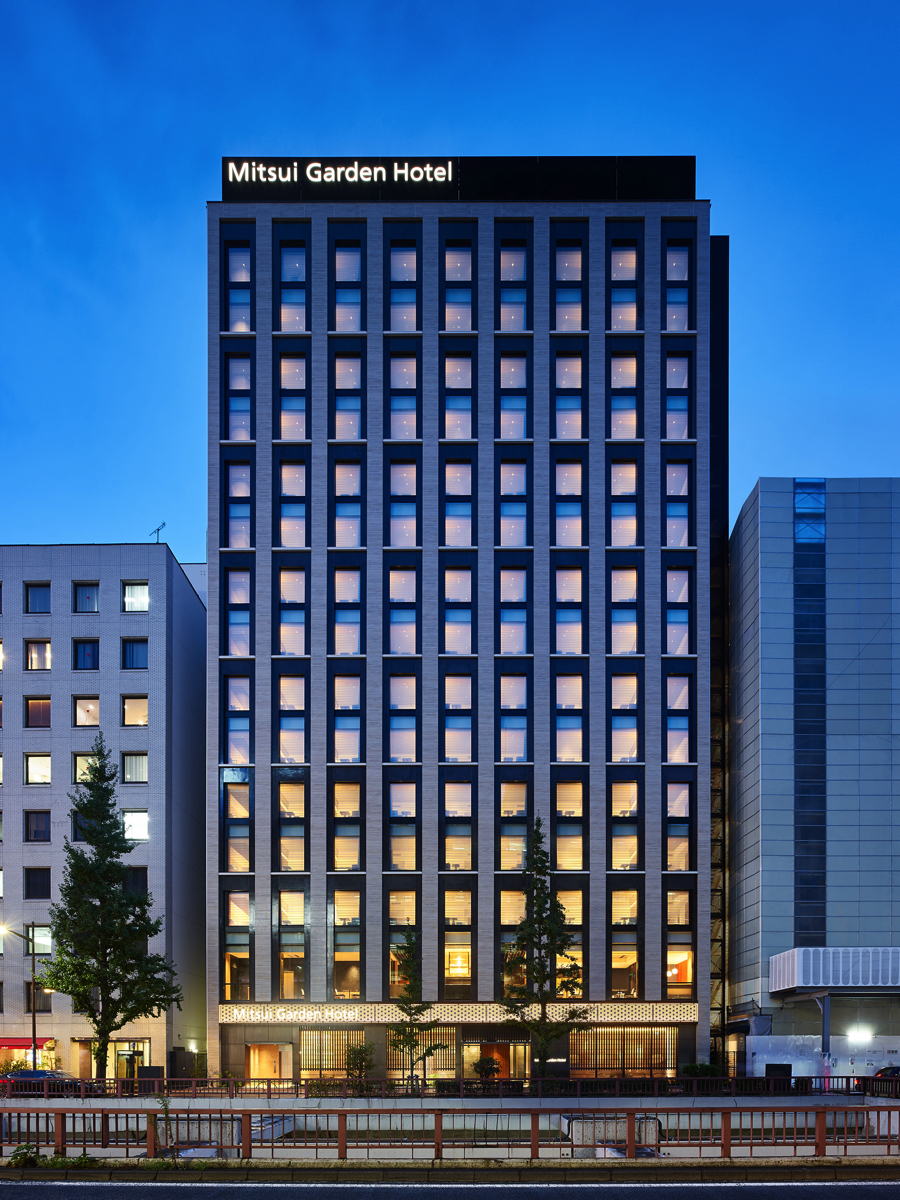 Ginza is known as the expensive, upmarket part of Tokyo, and when talking about small local restaurants there the pricing threshold tends to be rather high, but at SHARI customers can enjoy proper Japanese cuisine in a more casual manner and at a much more affordable price, with the typical set lunches starting at just ¥1,200.
Sophisticated is the word that springs to mind upon entering this restaurant, as your eyes meet the gorgeous mix of wood on black. As well as table seats, they also have counter seats too, allowing for you to enjoy a little luxury on your own if you so wish.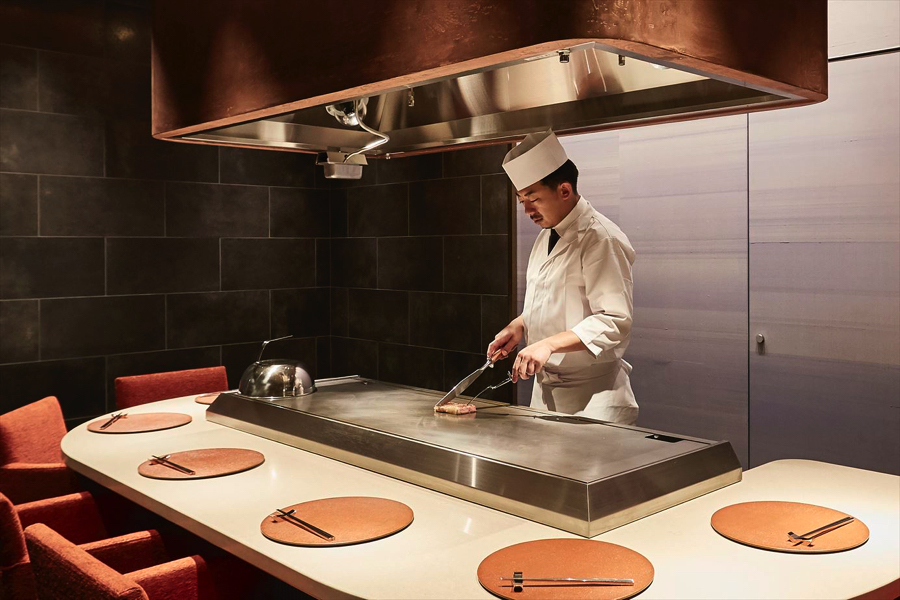 There is an additional restaurant inside the main restaurant itself that goes by the name Teppanyaki Mitaki, a tiny six-seater restaurant that serves Kobe beef, a type of wagyu beef and one of the top three beefs in Japan.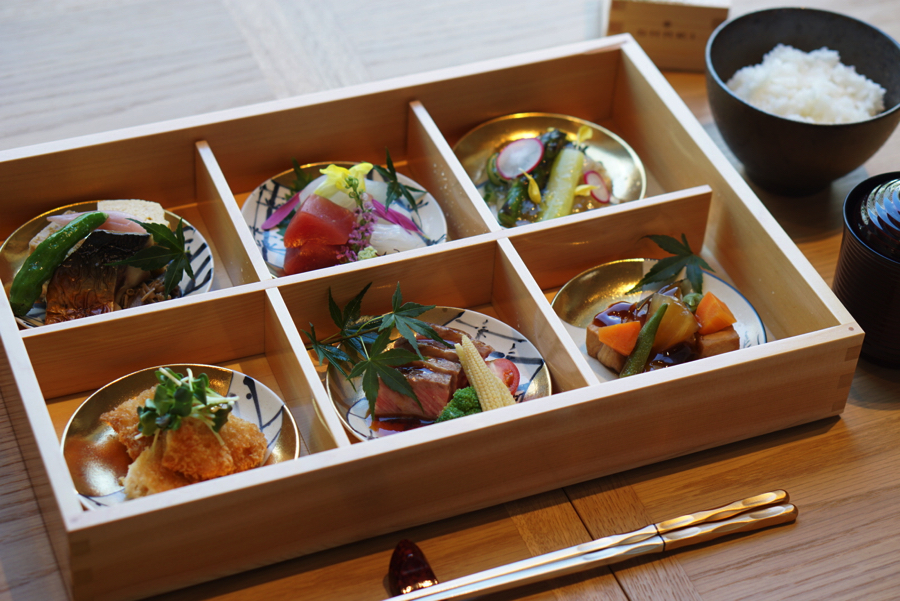 SHARI Gozen – ¥3,000 (Before Tax)
I ordered the SHARI Gozen which is served during lunchtime. This set comes with six small bowls, each filled with different colourful foods. It's a cute-looking set♡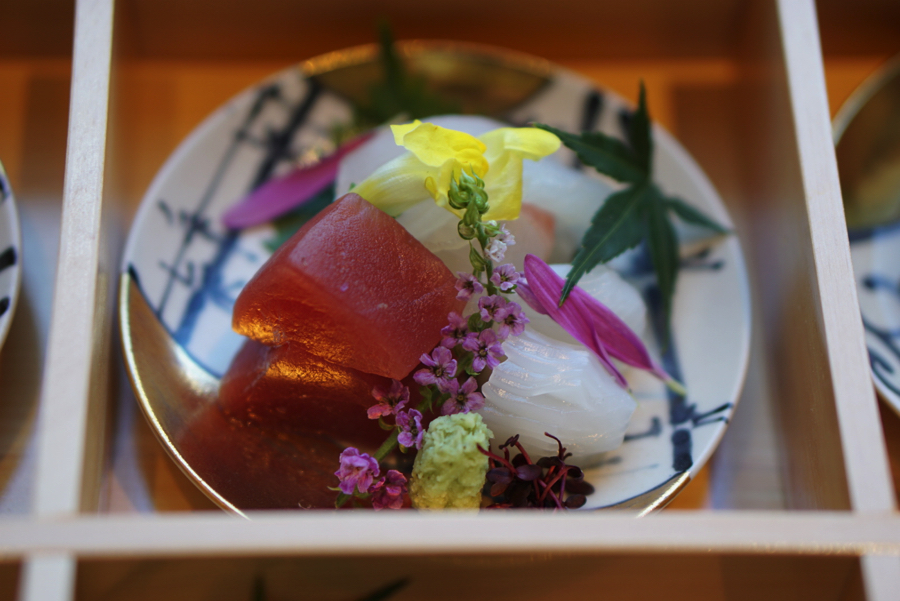 There's lots of meat and fish included in the set. For meat, they have steak made with domestic beef. It's succulent and drizzled in a rich sauce that fills your mouth deliciously with a single bite. With the sashimi, the restaurant makes sure to serve fish that's in reason. There were 3 types of fish so it was a very satisfying meal.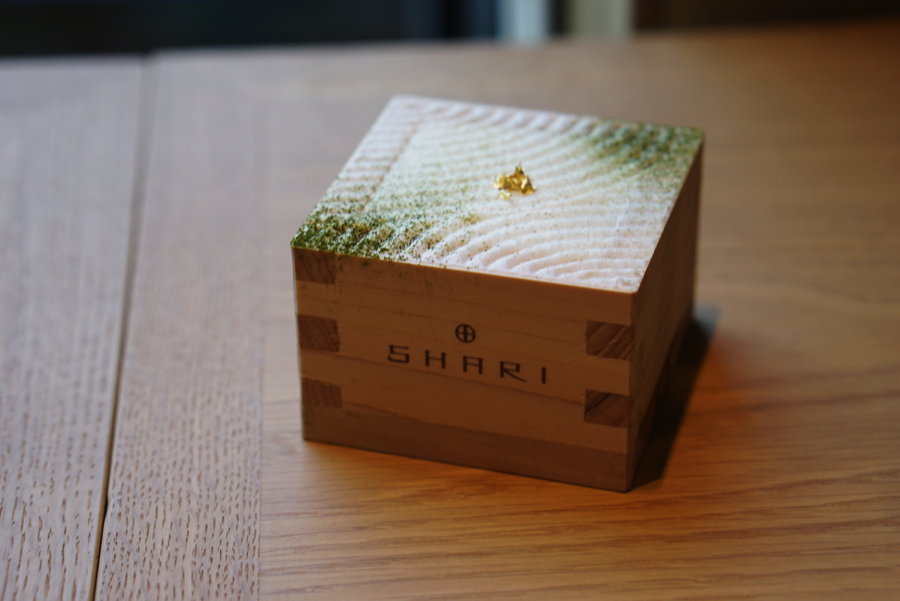 The set can also be served with a variety of deep-fried foods, stewed foods, and cold fishes, as well as rice, miso soup, desserts and more. No matter what you order you can rest assured you'll be full afterwards.
SHARI is a chic and stylish restaurant with great food, plus it's located in Ginza. And you can enjoy all of this at a super low price!
Lady's Gozen – ¥2,600 (Before Tax)
I have to recommend the Lady's Gozen if you're looking to enjoy fish and vegetables. It comes with two varieties of sashimi and one fried fish, all in season, as well as an assortment of fried food, savoury egg custard, and four side dishes.
It also comes with rice and sushi rolls as well as a dessert like the SHARI Gozen.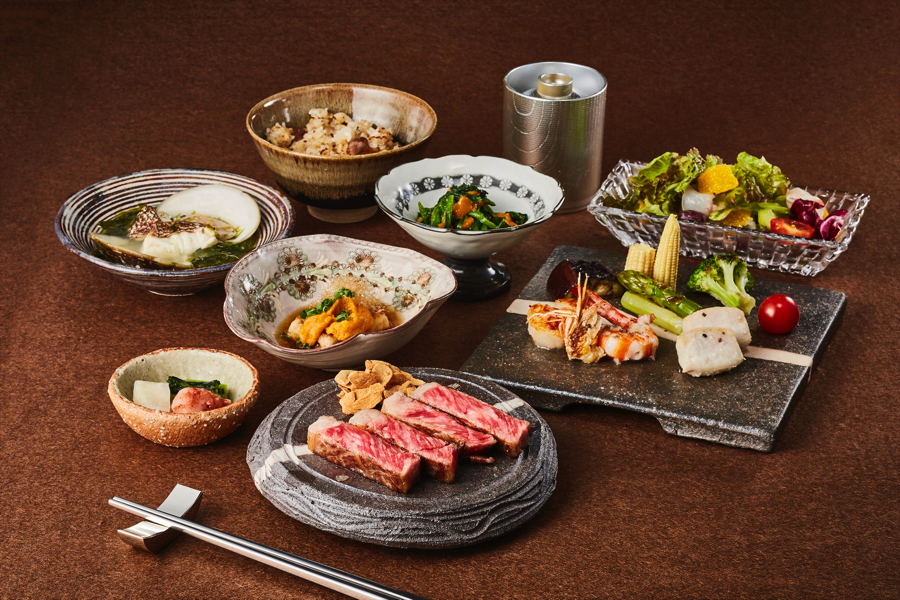 The whole dinner menu is lined with Japanese food, including sashimi, tempura, fried food and more. There's also various courses, including the Teppanyaki Mitaki course which is priced from ¥12,000. It comes with Kobe beef of course in addition to various other high quality ingredients.
Shu – ¥1,000 (Before Tax)
I also recommend this Japanese-style cocktail for those thinking of staying late. It's inspired by the colours used in kabuki theatre―a Bloody Mary combining shichimi, nihonshu, and tomato juice. The rim of the glass is lined with more shichmi for a spicy and refreshing kick when you sip.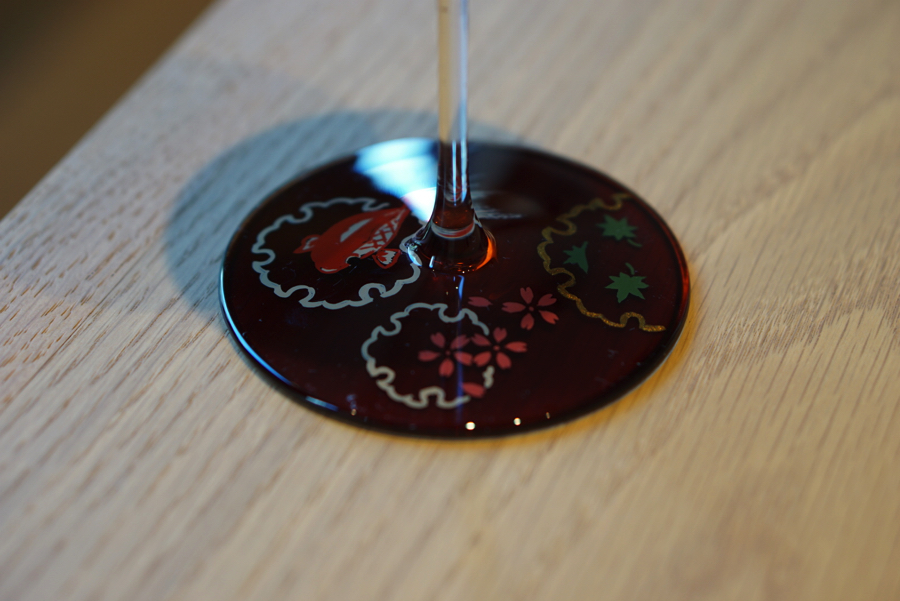 Check out the cute glass it comes in too.
From affordable lunches to dinner courses made with top quality ingredients, SHARI can be enjoyed throughout the entire day with its diverse menu line-up. Be sure to pay a visit to tuck into authentic Japanese cuisine in the luxury district of Ginza.
Writer: Sayuri Mizuno (MOSHI MOSHI NIPPON)
Translator: Joshua Kitosi-Isanga
Information
SHARI
Address: Mitsui Garden Hotel Ginza-gochome (Floor 2F), 5-13-15 Ginza, Chuo Ward, Tokyo
Opening Hours: Morning 6:30-10:30 (Last Entries 10:00) / Lunch 11:30-15:00 (Last Orders 14:00) / Evening 17:30-23:00 (Last Orders 22:00)
Closures: Morning – None / Lunch & Evening – Mondays (If Monday falls on a Public Holiday, closed the following day)
Access: 4-minutes on foot from Ginza Station's A5 Exit / 1-minute on foot from Higashi-Ginza's A1 and 4 Exits
*¥500 service charge during dinnertime. 10% service charge instead for Teppanyaki Mitaki. Smart-casual dress code. Preschoolers not permitted entry.
Official Website: http://shari-the-tokyo.jp/shari/
RECOMMENDED ENTRIES
Sai Sai Jaran Jaran #7: SILENT SIREN's Yukarun Has Her First Afternoon Tea at Ginza's 'THE GRAND LOUNGE'

Sai Sai Jaran Jaran is a featured series here on MOSHI MOSHI NIPPON from the members of the all-female band SILEN SIREN (aka Sai Sai) who visit various hot spots in Japan and experience different things, the Sai Sai way.

Band keyboardist Yukarun has always wanted to try having afternoon tea. To make her dream come true, she took a visit to THE GRAND LOUNGE in Ginza.

THE GRAND LOUNGE is a multipurpose lounge for adults located on the 13th floor of THE GRAND GINZA in GINZA SIX.

Normally in restaurants afternoon tea is often reserved just for the afternoon but at THE GRAND LOUNGE you can enjoy it any time.

*The afternoon tea set shown above is for 2 people.

The afternoon tea set here costs ¥4,200 (before tax and service charge). It comes with 7 hors d'oeuvres, 7 sweets, strawberry mille-feuille, and a teapot with free black tea refills. Strawberries are the running theme until June, so the desserts and hors d'oeuvres are made using plenty of Japanese "tochiotome" strawberries. It's a big tea set so can be enjoyed by couples or big eaters.

Yukarun is very pleased with the afternoon tea set so much so that she must take a photo beforehand! There are so many strawberries sweets. "I feel happy just looking at this assortment♡" she says.

The drinks in the set are made by San Francisco-based high tea brand Mighty Leaf. There are 11 types to choose from―9 hot and 2 iced―all of which Mighty Leaf have ensured are organic with only the best herbs chosen.

You choose your favourite by smelling the fragrant aromas of each bottle. The one most popular with Yukarun was the "White Orchard." White tea and green tea are used as the base in this drink which are blended with melon and peach fragrance. The fact you get free refills makes it a favourable service.

Time to tuck in!

The tasty line-up will have you wondering where to even begin eating from.

It's not just the sweets that are piled with strawberries but the light appetisers too. These appetisers include foie gras, salmon and more―all extravagant delectables.

"Delicious!" says a satisfied Yukarun as she takes her first bite from the bottom row appetisers.

The variety of sweets is diverse, from jelly to tarts, mousse and beyond. "The sweets come in cute mini sizes! And they're all super delicious!" comments Yukarun.

"The tea I chose is really tasty too! I don't think I've ever had tea this good before!"

Then it was time for the crowning jewel of the afternoon tea set: the strawberry mille-feuille. It is a recreation of the legendary mille-feuille sold at Maxim's de Paris, a much-loved French restaurant in Ginza that closed in 2015. This sandwich-like dessert takes crunchy pie and stuffs fat strawberries and custard cream between them. It's a popular dessert ordered by itself too. The version of it that comes with the afternoon tea is half-sized.

"So good! This is true happiness♡" says Yukarun who is clearly enjoying herself. The mille-feuille can also be ordered for takeout.

How was your first ever afternoon tea experience, Yukarun?

"It felt elegant and sophisticated being in a place like this. There are lots of bite-sized appetisers and sweets so it's fun to try them one by one. It's fun thinking about where to eat from too, and I was really glad you get to choose your own tea. I definitely want to come here again in my own time! I want to dress up and come with my girlfriends."

The items that come with the afternoon teas at THE GRAND LOUNGE change with each season, and right now it's all about strawberries. Head to THE GRAND LOUNGE yourself and treat yourself and others to a luxurious afternoon tea―at any time of the day.

Model: Yukako Kurosaka(SILENT SIREN)

Photographer: Haruka Yamamoto

Writer: Sayoko Ishii

Translator: Joshua Kitosi-Isanga

■PROFILE

SILENT SIREN is a four-member all-female band consisting of vocalist & guitarist Sumire "Suu" Yoshida, drummer Hinako "Hinanchu" Umemura, bassist Aina "Ainyan" Yamauchi, keyboardist Yukako "Yukarun" Kurosaka. The band were founded in 2010 by Umemura and Yoshida who are former models. In 2015, they performed their first solo concert at Nippon Budokan, making them the fastest Japanese all-female band in history to perform there after their major debut. Their new album 31313 is now on sale. The band are currently on their "31313" tour in support of the album. An additional date was added to the tour which will take place on June 10 at Zepp DiverCity in Tokyo.

Check their official website for the latest details: http://silent-siren.com/

Information

THE GRAND LOUNGE (THE GRAND GINZA)

Address: GINZA SIX Floor 13F, 6-10-1 Ginza, Chuo Ward, Tokyo

Business Hours: 11:00-23:00 (Last Orders 22:00)

No Fixed Holidays (Except when GINZA SIX is closed)

TEL: 03-6280-6129 (Lounge/Restaurant)
Website: https://www.grandginza.com/lounge/

The Premium Bread of Ginza Nishikawa Arrives in Japan's Tohoku Region

Ginza Nishikawa is a popular bread shop that opened its doors in Ginza last autumn. The store has announced that on June 27, it will open its 10th branch in Hirosaki, Aomori―the first to open in the Tohoku region.

The shop sells one product: a high-quality premium loaf whose water content Ginza Nishikawa are very particular about. The bread's chewy and slightly sweet taste is best enjoyed as it is―and on the first day. If left after the first day, you can enjoy a completely different tasting experience. This is because the water content decreases after day one. If toasted from the second day onward, the bread has a deliciously particular aroma which you don't get when the bread is soft.

This bread goes extremely well with Japanese ingredients and condiments, such as kinpira gobo (braised burdock root), nasu miso, narazuke pickles, pollock roe, shuto (pickled bonito entrails mixed with honey, mirin and sake), and so on.

Ginza Nishikawa also recommends eating the bread with alcohol, such as a light and slightly sour red or rosé, or a strong white. It also goes well with sparkling wine, especially brands from Japan. With cocktails, they recommend drinking fruity ones like peach, loquat, or yuzu. Bread is normally seen as a breakfast food, but this bread is also one to be enjoyed in the evening too.

Ginza Nishikawa's bread is handcrafted into delicious loafs that anyone can enjoy at anytime by their skilled bakers. The staff check the temperature of the weather and level of humidity to carefully calculate the rate of water absorption and fermentation time to ensure high quality results every time. And to make sure that the flavour and texture of the bread is exactly the same at every branch, the company created their own evaluation system.

The water in the bread is made with an alkaline ionizer which is what makes it so unique, giving it a smooth texture like silk.

The stores also sell four different cloths that wrap around a single loaf (¥1,296 tax included).

Be sure to stop by Ginza Nishikawa if you're passing through Aomori Prefecture.

Information

Ginza Nishikashi (Hirosaki Branch)

Grand Opening: June 27, 2019

Address: 1-2-9 Miyakawa, Hirosaki, Aomori Prefecture

Opening Hours: 11:00-18:00

*Reservations can be made from June 17, 2019 at 12:00 (JST) onward

Official Website: https://ginza-nishikawa.co.jp/

Irresistible Midsummer Parfait Fair Tantalises at Shiseido Parlour in Ginza

Get ready to dine on desserts in style as Shiseido Parlour announces its second-ever Midsummer Parfait Fair at its Salon de Cafe in Ginza which will be held from August 1 to 25.

Four incredible summery parfaits make the fair's lineup, each centred around local and seasonal fruits. This year sees the return of the popular mango, fig and strawberry flavours, and for the first time ever, a melon flavour made with melons from the city of Furano in Hokkaido.

Hokkaido Prefecture Furano Melon Parfait – ¥1,980 (Tax Included)

Made with sweet and fragrant Furano melons grown in Hokkaido's city of Furano, this angelic delight of a parfait is made with classic silky vanilla ice cream, refreshing hibiscus jelly, and for added accent, a squeeze of cranberry sauce. The fresh melon piece toppings are packed full of mouth-watering melon juice. The melon is served in several different ways for textural enjoyment including skinless slices, a slice with the skin on, and melon balls.

Wakayama Prefecture Kinokawa Fig Parfait – ¥2,160 (Tax Included)

The seasonal figs in this parfait have been grown and nurtured laboriously. The figs are plucked in Wakayama prefecture and are served fresh on your dessert. Tucked under the hearty serving of figs is a red wine-laced compote, sauce and sherbet while placed gracefully on top is a baked tuile. There is also a fig and apple jelly for that cheek-sucking sweet kick.

Okinawa Prefecture Apple Mango Parfait – ¥2,580 (Tax Included)

If you love mangoes, then you're in for a treat with this parfait which is prepared with mangoes from Okinawa which have been cut up into different shapes and sizes. The dessert contains a midsummer medley of ingredients including a tropical homemade mango sherbet, an exotic sauce, milk flavoured ice cream, and cranberry sauce. Savour the succulent taste, smooth texture and sweet aroma of the elusive Keats mango, the richest and most delicious of all mangoes, and one which has only a limited production in Okinawa from mid-August onward.

Nagano Prefecture Hatake Kobo Koihime Strawberry Parfait – ¥1,890 (Tax Included)

Finally, this tempting parfait is made with strawberries from Hatake Kobo in Nagano. Because of the regional climate of Nagano, these gorgeous strawberries are delicious from summer through fall. They are served with classic vanilla ice cream for the absolute perfect pairing.

Which of these do you want to try the most?♡

Information

Salon de Cafe – Shiseido Parlour

Address: Tokyo Ginza Shiseido Building 3F, 8-8-3 Ginza, Chuo, Tokyo
Opening Hours: [Tuesday-Saturday] 11:30-21:00 (Last Orders 20:30) / [Sunday & Holidays] 11:30-20:00 (Last Orders 19:30)

Closed: Mondays (Unless it falls on a national holiday)

*Closed August 26, 2019 – October 31, 2019 for renovations

Official Website: https://parlour.shiseido.co.jp/?rt_pr=pl274
RELATED ENTRIES
Tokyo's New Starbucks Branch in Ginza is a Cafe Dream Come True For Workers and Business People

Starbucks Coffee Japan opened a new branch at CIRCLES Ginza on July 30, 2020 that will serve as a dream location for business people.

The dream coffee shop, split into two floors, offers a unique environment and service created in collaboration with Think Lab. Rather than your regular, more public Starbucks, this branch also lets customers reserve booths and meeting spaces. This includes the SMART LOUNGE™ aimed at business users, as well as solo working spaces by Think Lab.

Starbucks Coffee CIRCLES Ginza caters to both solo workers and co-workers, giving them a space to think and concentrate alone, or come together in groups to exchange ideas. Booths offer a place to host online meetings, the SMART LOUNGE lets groups arrange chairs and tables however they like, and the Think Lab—which you pay an extra fee to use—is the perfect spot for some quiet contemplation.

1st Floor: Quick TOGO experience

The first floor is for people who aren't looking to stay at the cafe long. They are looking for a quicker experience where they can order their Starbucks drink and food and head on out. The cafe offers cashless payments, which is notable as Japan is still very much a cash-based country, as well as the Starbucks mobile order and pay service where you pick what you want on your phone and then go and pick it up.

2nd Floor: A place where you can focus

Reserve a booth for video calls and more


There are four individual half-booths which can be reserved, each of which have a screen for video calls and online meetings. These can be used for 40 minutes and can be booked in advance. The booking system was co-developed by Starbucks and Vacan.

Tables for in-person group meetings

The window tables offer a place for meetings, discussions, and business negotiations for 2-12 people. It's a relaxing area where workers and clients can chat freely.

解放される"ひとり"のためのパーソナル空間

For those who want to work along, Starbucks has created a spacious area with individual booths where you don't have to meet eyes or be bothered by other people.

If you're working in Tokyo, and need a business-oriented location where you can enjoy a coffee, then look no further than Starbucks Coffee CIRCLES Ginza.

Information

Starbucks Coffee CIRCLES Ginza

Grand Opening: July 30, 2020

Address: CIRCLES Ginza, 3-7-6 Ginza, Chuo-ku, Tokyo
Opening Hours: 7:00-22:30
TEL: 03-6228-6715

Starbucks Japan Official Website: https://www.starbucks.co.jp/

Chawanmushi Recipe: Savoury Dessert Made With Carrots, Cream Cheese & Mirin

Together with soy sauce and miso, mirin is a fundamental condiment in the Japanese kitchen and for many recipes for Japanese food. It's a sweet rice wine that has lower alcohol content and higher sugar content when compared to sake, adding a sweet flavour to dishes.

Today, we're taking a look at a recipe that uses "Mikawa Mirin," a brand of mirin made from high quality rice, to make carrot and cream cheese chawanmushi. Chawanmushi is a savoury egg custard dessert eaten in Japan.

Carrot & Cream Cheese Chawanmushi

Chawanmushi is made using mirin and has a smooth texture to it as well as a subtly sweet flavour. It's the perfect accompaniment to a hot summer's day.

Ingredients (Serves 1)


●Chawanmushi
60g carrots
240ml dashi
20ml soy sauce
120ml Mikawa Mirin
8g sugar
18g cream cheese
1 egg

●Okra-an
Okra
30ml dashi
0.5g salt
3ml Mikawa Mirin

Method

We will start by making the chawanmushi.

1. Slice the carrots and boil them until they become soft.

2. Add the soy sauce, sugar, and lots of mirin and cook through the dashi.

3. Cook for approximately 20 minutes on a medium heat, then cool with ice. Add the cooled carrots, cream cheese, and 20ml of the dashi into a blender and bend.

4. Add the egg to the mix and steam the mix for 12 minutes on a medium heat.

While the chawanmushi is cooling, we'll make the okra-an.

5. Mix together the okra-an dashi, mirin, and salt together. Add watered potato starch and thinly sliced okra. Leave to cool in the refrigerator.

6. Add the okra-an to the cooled chawanmushi and tuck into your cute two-layered dessert.

Carrot & Cream Cheese Chawanmushi

The dessert is an enjoyable mix of the sticky texture from the okra-an and smooth chawanmushi. It's great to have not only at lunch or dinner, but at home parties with friends too.

–How's the taste?


Misa Kimura: "It works really well with the mirin. The chawanmushi is like a sweet treat. It's super easy to make too, so I think I'll be making it at home!"

Mirin is indispensable to any Japanese cupboard and can be used in many ways, whether it be a classic Japanese dish or a dessert like this one.

Mikawa Mirin 700ml: ¥1,122 (Tax Included)

This authentic brand of mirin is made using a traditional method of Japanese brewing which blends in the delicious taste of rice. It's so delicious that you just want to drink the whole bottle. A high quality mirin, it has a distinct sweetness, colour, and texture. It has a rich flavour, and the taste of the rice elevates the flavours of its ingredients.

Mikawa Mirin Official Website: http://www.mikawamirin.jp/
Official Online Store: http://mikawamirin.jp/product/product_step1.php?m=n
Official Facebook: https://www.facebook.com/mikawamirin

Recipe


This recipe was conceived by ITEMAE, a famous restaurant serving Japanese cuisine that is listed in the Michelin Guide.

Model: Misa Kimura
Photographer: Haruka Yamamoto

Information

ITEMAE
Address: 10-14 Kamiyamachō, Shibuya, Tokyo
Opening Hours: Lunch 11:30-15:00 (Weekdays Only) / Dinner 18:00-23:30
Closed: Sundays / New Year's Holiday
TEL: 050-5595-4795

Inari Sushi Restaurant Tsurigitsune to Open in Osaka International Airport's North Terminal

Japanese food and confectionery company Bijuu is opening a new restaurant called Tsurigitsune inside Osaka International Airport's North Terminal on August 5, 2020. The restaurant will specialise in inari sushi, a type of sushi packed into pouches of deep-fried tofu.

Bijuu is known for producing and selling such products as Kyoto's famous coarse sweet red bean paste-filled yatsuhashi otabe crackers.

Tsurigitsune will serve "Kyo Dashi Oinari," a type of inari sushi made with fried tofu Saga Tofu Morioka—a long-standing tofu shop in Sagano, Kyoto—soaked in lots of sumptuous Kyoto-style dashi. The restaurant will also serve a special type of sweet otabe cracker which cannot be eaten anywhere else.


Kyo Dashi Oinari (Includes 15) | ¥3,240 (Tax Included)

The dashi that the Kyo Dashi Oinari are soaked in take up all the delicious flavour of kombu, sababushi smoked mackerel, iwashibushi pilchard, and katsuobushi dried bonito, all of which serve to add that authentic Kyoto flavour.


Tanto Otabeyasu | ¥930 (Tax Included) *Served 6:30-10:00

As well as Kyo Dashi Oinari, Tsurigitsune's menu includes a line-up of dishes that celebrate the flavour of dashi, including soba, dashimaki tamago omelette, and more.

If you're travelling to Osaka, why not get an authentic Kyoto experience too by dining at Tsurigitsune?

Information

Tsurigitsune
Grand Opening: August 5, 2020
Address: Osaka International Airport North Terminal 2F Boarding Area, 3-555 Hotarugaike NishimachiToyonaka, Osaka
Opening Hours: 6:30-20:20 (Last Orders 19:50)
TEL: 06-6836-9217

Official Website: http://www.bijuu.co.jp/tsurigitsune/

Tokyo Neko Neko: Cat Shaped Desserts and Pastries Served at Ginza's New Bakery

ALL HEARTS COMPANY, a Japanese company that develops bakeries and patisseries across Japan, opened its new bakery and confectionery shop Tokyo Neko Neko in Ginza, Tokyo on July 22, 2020. The shop has replaced Heart Bread ANTIQUE, another bakery also run by ALL HEARTS COMPANY, which was previously at this location.

At Tokyo Neko Neko, they are serving cat-shaped pastries and desserts including Tokyo-exclusive products from their Neko Neko Bread brand and Neko Neko Cheesecake shop. This is the second branch to open following the opening of Kyoto Neko Neko last month.

A stylish bakery


Tokyo Neko Neko's pastries and interior design takes on a completely different look from Kyoto Neko Neko, with the walls acting as a canvas to display their food like an art museum. The bakery's line-up centres on seeing as well as eating, adding an extra level of deliciousness to the products. If you've visiting Tokyo, you don't want to pass up on the opportunity to visit Tokyo Neko Neko.

Tokyo Neko Neko Bread

Tokyo Neko Neko's cat-shaped bread is palm-sized and so is a perfect gift and takeaway snack. The outside is crunchy while the middle is kept nice and moist. The secret behind the bread's tastiness is the use of fermented butter which they get from France. The use of lots of almond cream adds a tasty kick too.

Tokyo Neko Neko Bread – Plain: ¥1,000 (Before Tax)

Made using croissant pastry and loaded with fermented butter.

Tokyo Neko Neko Bread – Caramel Almond: ¥1,200 (Before Tax)

Caramel almonds and almond slices are added to this version, also made with lots of fermented butter.

Tokyo Neko Neko Bread – Praline Rose: ¥1,200 (Before Tax)

This flvour is filled with praline rose, a traditional French confection of caramelised sugar-coated almonds.

Tokyo Neko Neko has lots of other tasty foods to offer too, like their Neko Neko Cheesecake, Neko Neko Butter Sandwiches, and more.

Information

Tokyo Neko Neko Ginza

Address: OPTICA 1F, 3-4-17 Ginza, Chuo-ku, Tokyo

TEL: 03-6228-6806

Opening Hours: 10:00-20:00

No Fixed Holidays (Except New Year)

Official Website: https://nekoshoku.jp

Snoopy and the Peanuts Gang Are Heading to Ginza in Tokyo This Autumn

Tokyo's annual "Snoopy in Ginza" summer event is set to return once again to the delight of fans at Ginza Mitsukoshi. It will be held in Autumn for 2020, running from October 14 through November 3.

This year marks the 22nd run of Snoopy in Ginza, which is celebrating 70 years of the Peanuts comics and the 90th anniversary of Ginza Mitsukoshi.

Morocco


USA

13 original art pieces have been created for the event featuring Snoopy and the Peanuts gang travelling to different countries. These designs will be used on original merchandise sold at the event.

Ginza Mitsukoshi opened 90 years ago on April 10, 1930. This year also marks the 70th anniversary of Peanuts, so to celebrate both anniversaries, an original illustration of Peanuts and Ginza Mitsukoshi illustration in the 1950's was created for the event.

© 2020 Peanuts Worldwide LLC

Ginza's Luxury New Hotel Aloft Tokyo Ginza's Opening Date Announced

Information

Aloft Tokyo Ginza
Address: 6-14-3 Ginza, Chuo-ku, Tokyo
TEL: 03-6278-8122

Access

4-minutes on foot from Ginza Station via the Tokyo Metro Marunouchi Line

2-minutes on foot from Higashi-Ginza Station via the Tokyo Metro Hibiya Line

Details: https://www.marriott.co.jp/tyoal

Summer 2020 Parfait Fair Begins at Shiseido Parlour in Tokyo

Shiseido Parlour began its annual "Midsummer Parfait Fair" at its Ginza, Tokyo branch on Wednesday which will run until August 30 and be divided into two different slots serving different parfaits. The cafe is serving up a selection of parfaits made from ice cream and local seasonal fruits under the trust that the chefs and farmers have built over the years.

2020 Midsummer Parfait Fair: Slot ① July 1, 2020 – July 31, 2020


Furano, Hokkaido – Furano Melon Parfait: ¥2,100 (Tax Included)

This parfait is made using Furamon melon which is grown in Hokkaido's city of Furano between the mountains where there is a major temperature difference. The melon is ripened after being harvested and so make it nice and soft, giving a sweet and juicy flavour and fragrance.

Sakai Nouen, Wakayama – Arakawa Peach Parfait: ¥2,300 (Tax Included)

The "Arakawa" peach is a brand of peach grown in Wakayama Precture. The peaches are grown until their nearly completely ripe while in the tree, giving them a soft texture. Inside the sweet flavour is a sour kick, both of which explode with the juiciness of the peach in the parfait.

Yaeyama Islands, Okinawa – Apple Mango Parfait: ¥2,700 (Tax Included)

The "apple mango" is a type of mango grown in the hot climate of Okinawa. The mango has a super soft, melt-in-the-mouth texture and a sour tinge which elevates its rich sweetness.

Hatake Kobo, Nagano Prefecture – Koihime Strawberry Parfait: ¥2,000 (Tax Included)

The "koihime" is a type of summer strawberry grown in-house by Shiseido Parlour. The strawberries get plenty of water, air, and sunlight so they grow into red jewels packed full of sweetness.

The second slot of the 2020 Midsummer Parfait Fair will run from August 1 to August 30.

Information

Shiseido Parlour Ginza

Address: Tokyo Ginza Shiseido Bldg. (Floor 3F), 8-8-3 Ginza, Chuo Ward, Tokyo

TEL: 03-5537-6231 (No reservations required)

Opening Hours:

[Tue-Sat] 11:00-21:00 (Last Orders 20:30)

[Sun & Hols] 11:00-20:00 (Last Orders 19:30

Closed: Mondays, New Year Holidays

Official Website: https://parlour.shiseido.co.jp/

SKY FIGHT CAFE Ginza: Tokyo's New Cafe Where Drones Fly Around

SKY FIGHT CAFE Ginza is a cafe with quite the unique experience. It opened in Tokyo's Marronnier Gate Ginza on June 5, 2020, and offers the usual cafe experience but throws drones into the mix. As well as drinks and meals, SKY FIGHT CAFE Ginza has a drone school where customers can learn how to operate drones, as well as its own store you can get your hands on drones and merchandise.

The cafe comes as the first of its kind where drone races are also held. Anyone and everyone is invited to join, whether they be a complete beginner of a professional drone pilot.

In addition to coffee and soft drinks, SKY FIGHT CAFE Ginza also serves alcoholic beverages like beer too. For every drink or food item purchased, you get one entry into a drone race.

Enjoy sipping on your drink and flying drones at SKY FIGHT CAFE Ginza.

Information

SKY FIGHT CAFE Ginza
Opened: June 5, 2020

Address: Marronnier Gate Ginza 3 (Floor 4F), 3-2-1 Ginza, Chuo Ward, Tokyo
Opening Hours: 11:00-21:00
Closed: New Year's Day
Enquiries: 03-5579-9066
Notes: No reservations necessary

Official Website: https://drone-skyfight.com/cafe/

UNIQLO is set to open its new global flagship store named UNIQLO TOKYO at MARRONNIER GATE GINZA 2 on June 19, 2020.

 

The new branch comes as the third to open this year, following UNIQLO PARK Yokohama Bayside in April and UNIQLO Harajuku last week on June 5.

 

© Herzog & de Meuron

UNIQLO TOKYO will be the embodiment of UNIQLO's "LifeWear," clothing that the company has created to "improve everyone's life." The company prides itself on weaving high-quality and high-function clothing for all people at an affordable price. Their products a multifarious, and the brand continues to evolve. To bring LifeWear to life at UNIQLO TOKYO, the brand has brought creative art director Kashiwa Sato on board, as well as award-winning Swiss architecture firm Herzog and de Meuron.

The central part of the 1st floor is called LifeWear Square, an area that fully captures UNIQLO's "LifeWear" concept for customers. The first floor will be a collection of everything from trending products to collaborative products and more. There will even be an area where you can buy flowers near the entrance which is located along MARRONNIER.

The 2nd floor is a full line-up of women's clothes. From trending attire to basic UNIQLO threads, women will be able to pick from a diverse line-up of items, including clothes that will go on pre-sale at UNIQLO TOKYO, and even homewear and office wear.

Up on the 3rd floor is the men's section which is stocked with everything from casual clothes to high quality outfits. They can even make made-to-order suits and jackets where you can choose the lengths of sleeves, the body, and so on.

The 4th floor is the children's and baby section, and it even has a library for kids to play in, so kids can have fun while you shop. The 4th floor is also home to a UT archive space which showcases all the different t-shirts that have been released as part of the UT graphic T-shirt series.

The rooftop and outside of the building will don digital signs made by interactive designer and engineer Yugo Nakamura.

UNIQLO TOKYO is set to offer a completely new UNIQLO experience to people from both inside and outside Japan when it opens on June 19, 2020.

Beauty Connection Ginza's Fruits Salon Reveals Mango Menu Line-Up

Beauty Connection Ginza and its second floor fruit course cafe Fruits Salon have been closed since April 8, 2020 as a result of the novel coronavirus (COVID-19) outbreak. But that hasn't stopped Fruits Corner wanting to deliver its tasty treats to customers as it reveals its new mango themed menu which is set to run for the whole month of June. It will be taking online orders.

Following the pear, citrus fruits, and strawberry line-ups, the new mango course is made up of four different vitamin-packed and refreshing accompaniments, all made with fresh mangoes from Miyazaki Prefecture.


Mango Full Course: ¥4,400 (Tax Included)


1st. plate "Terrine"


2nd. plate "Airy Tart"

Each of the four plates, packed full of rich and sweet mangoes, offers refreshing taste to give you that early summertime vibe.


3rd. plate "Parfait"


4th. plate "Dried Fruits/Mignardises/After-Meal Drink)

The third plate is a gorgeous, eye-catching parfait centred on mango gelato and made up of delicious ingredients that all come together harmoniously. Mix everything together to create new flavours. The full course is 90 minutes, and beckons you to use all five of your senses to enjoy it.

Doraemon 50th Anniversary Online Fair Launched at TSUTAYA Ginza

Since the launch of the manga back in 1970, Doraemon has brought smiles on people's faces in the form of books, anime, live-action films, collaborations with artists, and more, for the past 50 years.

To celebrate the franchise's 50th anniversary, TSUTAYA Ginza has opened an online fair on its website. TSUTAYA Ginza is a place where people of all ages and nationalities come from around the world, and the number one book the store can recommend as part of Japan's culture continues to be the first volume of Doraemon. For the entirety of 2019—that's January to December—the first volume of Doraemon was the number one best selling book at TSUTAYA Ginza.

Doraemon 50th Anniversary Fair

Doraemon Volume 1 (Tentoumushi Comics)

Doraemon has come to be a symbol of Japan and has been passed down generations, but there probably a lot of people who don't know how the story started. To find out, pick up a copy of volume one at TSUTAYA Ginza.

Doraemon Volume 0 (Tentoumushi Comics)

As part of the anniversary celebrations, a special volume 0 has been published. This full-colour book features 6 versions of the first Doraemon story as well as comments  by the author and more.

Doraemon Mizuhiki Accessories (Pins, Earrings, Piercings)

Mizuhiki are decorative Japanese cords which are used for important ceremonial occasions such as weddings, births, and funerals. These special Doraemon mizuhiki have been turned into beautiful accessories featuring Doraemon and Dorami's iconic blue and yellow colours respectively. They can be used for decorating clothes with and more.

This is just a peek at some of the celebratory merchandise on offer for the online fair. For the full list, check out the website below.

Stock Your Kitchen With Japanese Kitchenware Tools by SALON adam et rope'

SALON adam et rope' has launched its new "Nihon no Daidokoro Dougu" (Japanese Kitchen Tools) collection which features a curated selection of Made In Japan kitchenware and cookware items from high quality Japanese brands.

Kasane

Top: ¥12,000 / Middle: ¥12,000 / Bottom: ¥9,000 (Before Tax)

Traditionally, Japanese knives were made by men with men in mind, but these Kasane knives are made by women to fit with the modern age. They are made in such a way to feel comfortable in smaller hands. The handles are made from rare natural wood from the cerasus jamasakura trees of Gifu Prefecture which give them a texture that changes as you continue to use the knives. The blades themselves are made from high-carbon stainless steel which gives them superior sharpness and durability. The blade edge is the result of a new technology developed by Sumikama called "Zero Edge" which makes them thin and sharp.

Kaji Donya

 
Left: ¥1,300 / Middle: ¥2,000 / Right: ¥2,800 (Before Tax)

Left: ¥1,000 / Middle: ¥1,200 / Right: ¥2,000 (Before Tax)

These handy stackable containers are made by Kaji Donya, a company based in Tsubame, Niigata. The height of each one is the same which makes them super convenient when stacking inside fridges.

Ceramic Grill: ¥1,400 (Before Tax)

The ceramic grill is a longtime seller at SALON. If you're grilling bread on it, it leaves the outside crispy and the inside nice and soft. It uses far-infrared rays which means the water content of the ingredients grilled on it is not lost, allowing for the full tasty flavour to stay locked in and the food plump and juicy.