Dine On Fancy Authentic Japanese Food Casually at SHARI in Ginza
SHARI is a restaurant located on the second floor of Mitsui Garden Hotel Ginza-gochome, a new hotel that opened on September 26 located within walking distance from Ginza Station and Higashi-Ginza Station. This restaurant serves authentic and fancy Japanese-style food as well as luxurious Kobe beef, gozen set meals, and much more.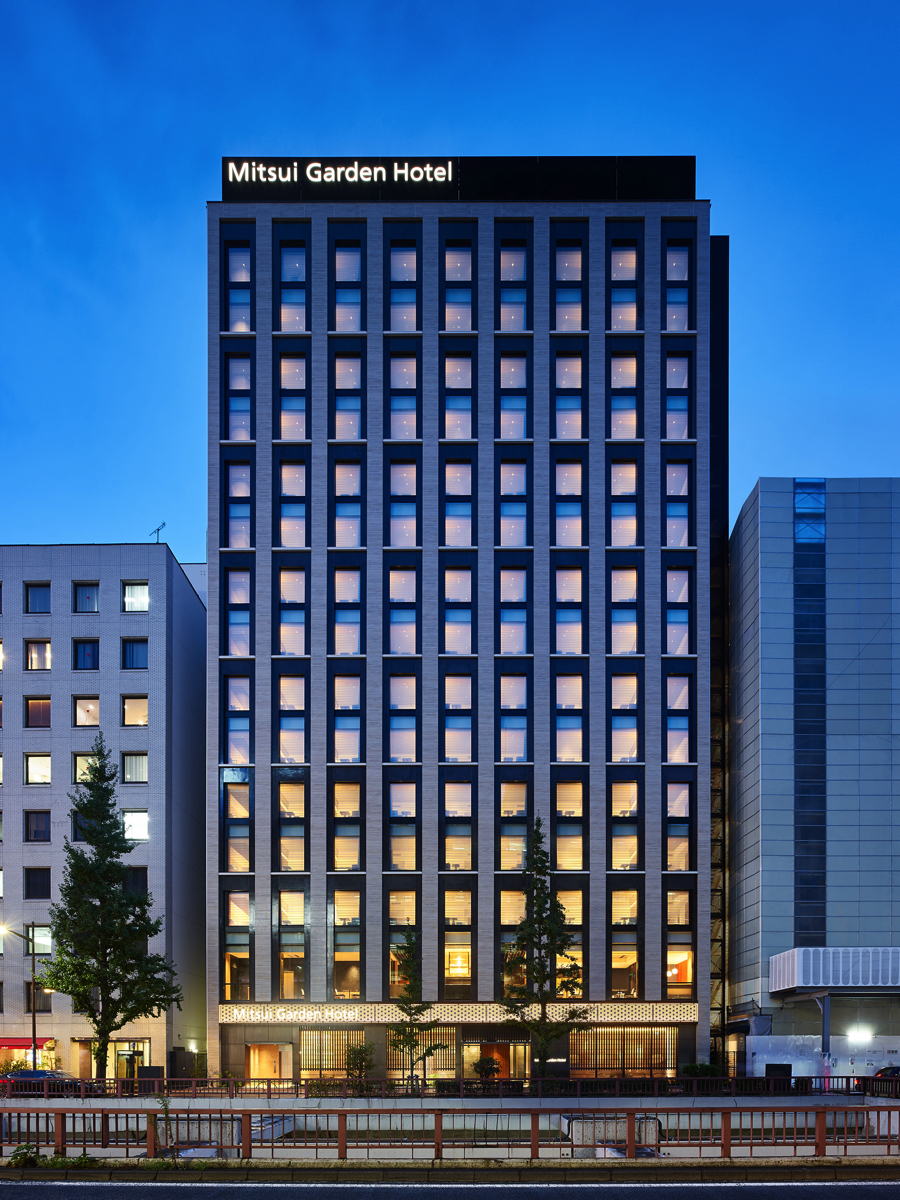 Ginza is known as the expensive, upmarket part of Tokyo, and when talking about small local restaurants there the pricing threshold tends to be rather high, but at SHARI customers can enjoy proper Japanese cuisine in a more casual manner and at a much more affordable price, with the typical set lunches starting at just ¥1,200.
Sophisticated is the word that springs to mind upon entering this restaurant, as your eyes meet the gorgeous mix of wood on black. As well as table seats, they also have counter seats too, allowing for you to enjoy a little luxury on your own if you so wish.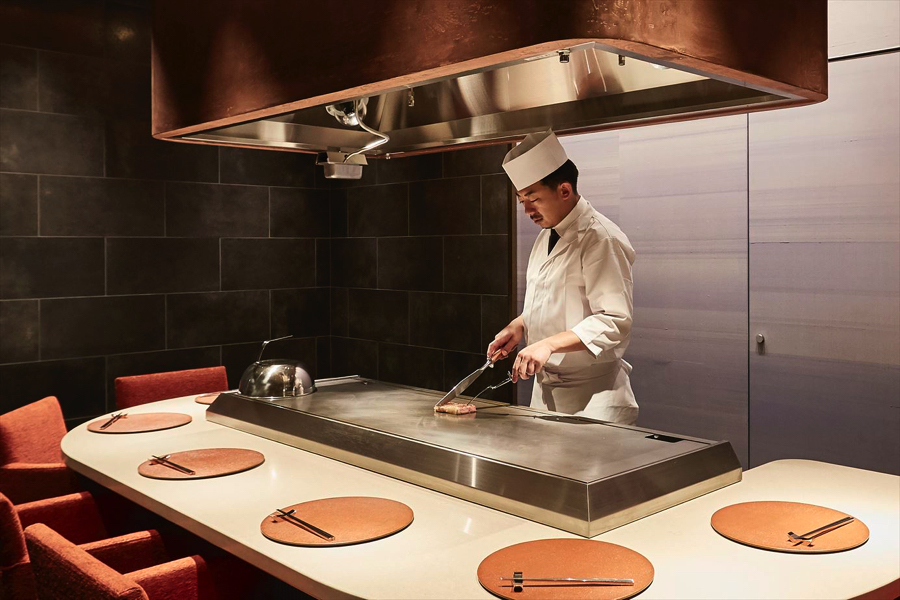 There is an additional restaurant inside the main restaurant itself that goes by the name Teppanyaki Mitaki, a tiny six-seater restaurant that serves Kobe beef, a type of wagyu beef and one of the top three beefs in Japan.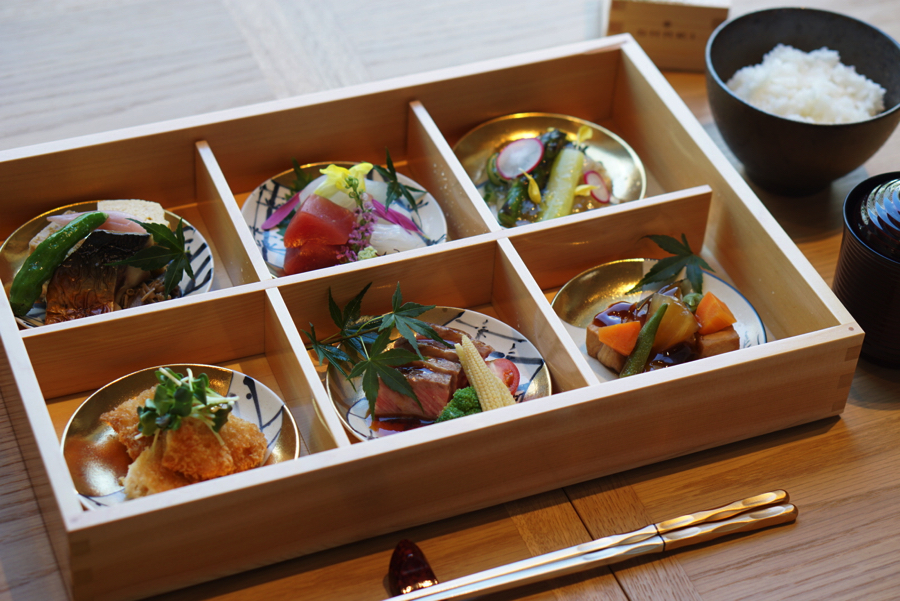 SHARI Gozen – ¥3,000 (Before Tax)
I ordered the SHARI Gozen which is served during lunchtime. This set comes with six small bowls, each filled with different colourful foods. It's a cute-looking set♡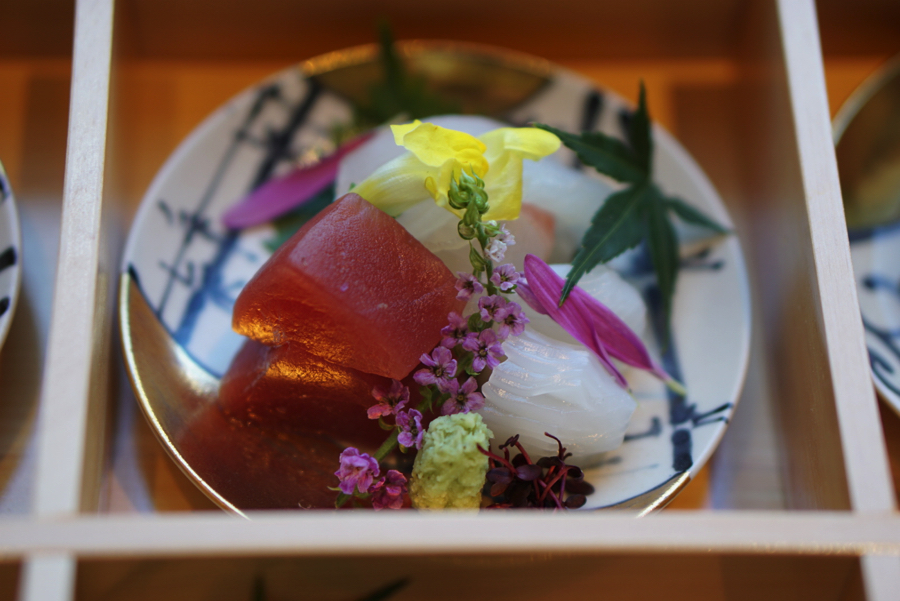 There's lots of meat and fish included in the set. For meat, they have steak made with domestic beef. It's succulent and drizzled in a rich sauce that fills your mouth deliciously with a single bite. With the sashimi, the restaurant makes sure to serve fish that's in reason. There were 3 types of fish so it was a very satisfying meal.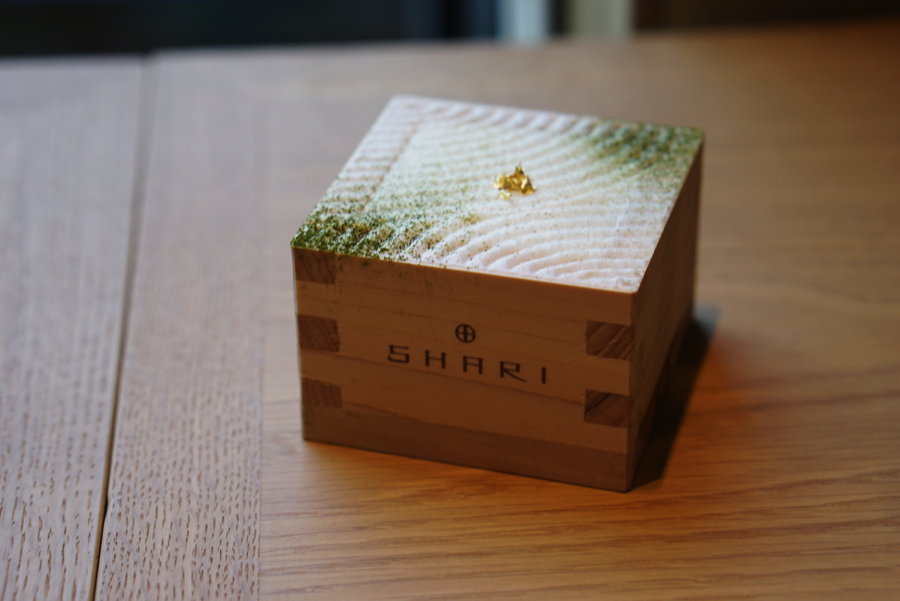 The set can also be served with a variety of deep-fried foods, stewed foods, and cold fishes, as well as rice, miso soup, desserts and more. No matter what you order you can rest assured you'll be full afterwards.
SHARI is a chic and stylish restaurant with great food, plus it's located in Ginza. And you can enjoy all of this at a super low price!
Lady's Gozen – ¥2,600 (Before Tax)
I have to recommend the Lady's Gozen if you're looking to enjoy fish and vegetables. It comes with two varieties of sashimi and one fried fish, all in season, as well as an assortment of fried food, savoury egg custard, and four side dishes.
It also comes with rice and sushi rolls as well as a dessert like the SHARI Gozen.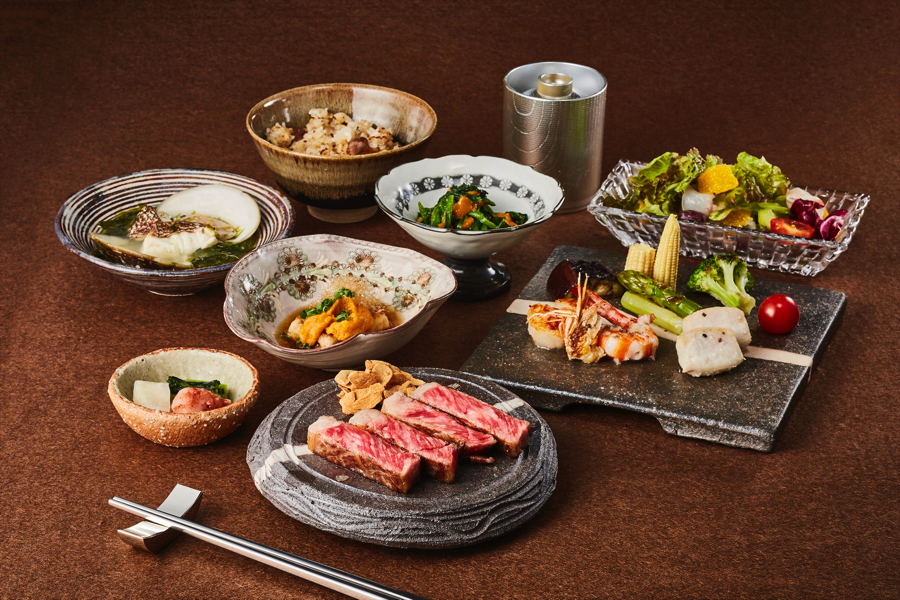 The whole dinner menu is lined with Japanese food, including sashimi, tempura, fried food and more. There's also various courses, including the Teppanyaki Mitaki course which is priced from ¥12,000. It comes with Kobe beef of course in addition to various other high quality ingredients.
Shu – ¥1,000 (Before Tax)
I also recommend this Japanese-style cocktail for those thinking of staying late. It's inspired by the colours used in kabuki theatre―a Bloody Mary combining shichimi, nihonshu, and tomato juice. The rim of the glass is lined with more shichmi for a spicy and refreshing kick when you sip.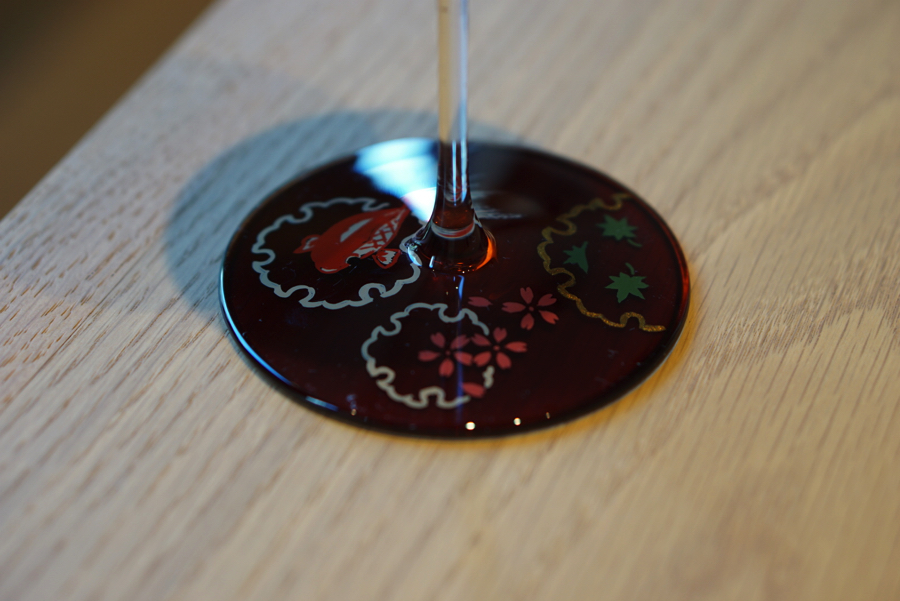 Check out the cute glass it comes in too.
From affordable lunches to dinner courses made with top quality ingredients, SHARI can be enjoyed throughout the entire day with its diverse menu line-up. Be sure to pay a visit to tuck into authentic Japanese cuisine in the luxury district of Ginza.
Writer: Sayuri Mizuno (MOSHI MOSHI NIPPON)
Translator: Joshua Kitosi-Isanga
Information
SHARI
Address: Mitsui Garden Hotel Ginza-gochome (Floor 2F), 5-13-15 Ginza, Chuo Ward, Tokyo
Opening Hours: Morning 6:30-10:30 (Last Entries 10:00) / Lunch 11:30-15:00 (Last Orders 14:00) / Evening 17:30-23:00 (Last Orders 22:00)
Closures: Morning – None / Lunch & Evening – Mondays (If Monday falls on a Public Holiday, closed the following day)
Access: 4-minutes on foot from Ginza Station's A5 Exit / 1-minute on foot from Higashi-Ginza's A1 and 4 Exits
*¥500 service charge during dinnertime. 10% service charge instead for Teppanyaki Mitaki. Smart-casual dress code. Preschoolers not permitted entry.
Official Website: http://shari-the-tokyo.jp/shari/
RECOMMENDED ENTRIES
Sai Sai Jaran Jaran #7: SILENT SIREN's Yukarun Has Her First Afternoon Tea at Ginza's 'THE GRAND LOUNGE'

Sai Sai Jaran Jaran is a featured series here on MOSHI MOSHI NIPPON from the members of the all-female band SILEN SIREN (aka Sai Sai) who visit various hot spots in Japan and experience different things, the Sai Sai way.

Band keyboardist Yukarun has always wanted to try having afternoon tea. To make her dream come true, she took a visit to THE GRAND LOUNGE in Ginza.

THE GRAND LOUNGE is a multipurpose lounge for adults located on the 13th floor of THE GRAND GINZA in GINZA SIX.

Normally in restaurants afternoon tea is often reserved just for the afternoon but at THE GRAND LOUNGE you can enjoy it any time.

*The afternoon tea set shown above is for 2 people.

The afternoon tea set here costs ¥4,200 (before tax and service charge). It comes with 7 hors d'oeuvres, 7 sweets, strawberry mille-feuille, and a teapot with free black tea refills. Strawberries are the running theme until June, so the desserts and hors d'oeuvres are made using plenty of Japanese "tochiotome" strawberries. It's a big tea set so can be enjoyed by couples or big eaters.

Yukarun is very pleased with the afternoon tea set so much so that she must take a photo beforehand! There are so many strawberries sweets. "I feel happy just looking at this assortment♡" she says.

The drinks in the set are made by San Francisco-based high tea brand Mighty Leaf. There are 11 types to choose from―9 hot and 2 iced―all of which Mighty Leaf have ensured are organic with only the best herbs chosen.

You choose your favourite by smelling the fragrant aromas of each bottle. The one most popular with Yukarun was the "White Orchard." White tea and green tea are used as the base in this drink which are blended with melon and peach fragrance. The fact you get free refills makes it a favourable service.

Time to tuck in!

The tasty line-up will have you wondering where to even begin eating from.

It's not just the sweets that are piled with strawberries but the light appetisers too. These appetisers include foie gras, salmon and more―all extravagant delectables.

"Delicious!" says a satisfied Yukarun as she takes her first bite from the bottom row appetisers.

The variety of sweets is diverse, from jelly to tarts, mousse and beyond. "The sweets come in cute mini sizes! And they're all super delicious!" comments Yukarun.

"The tea I chose is really tasty too! I don't think I've ever had tea this good before!"

Then it was time for the crowning jewel of the afternoon tea set: the strawberry mille-feuille. It is a recreation of the legendary mille-feuille sold at Maxim's de Paris, a much-loved French restaurant in Ginza that closed in 2015. This sandwich-like dessert takes crunchy pie and stuffs fat strawberries and custard cream between them. It's a popular dessert ordered by itself too. The version of it that comes with the afternoon tea is half-sized.

"So good! This is true happiness♡" says Yukarun who is clearly enjoying herself. The mille-feuille can also be ordered for takeout.

How was your first ever afternoon tea experience, Yukarun?

"It felt elegant and sophisticated being in a place like this. There are lots of bite-sized appetisers and sweets so it's fun to try them one by one. It's fun thinking about where to eat from too, and I was really glad you get to choose your own tea. I definitely want to come here again in my own time! I want to dress up and come with my girlfriends."

The items that come with the afternoon teas at THE GRAND LOUNGE change with each season, and right now it's all about strawberries. Head to THE GRAND LOUNGE yourself and treat yourself and others to a luxurious afternoon tea―at any time of the day.

Model: Yukako Kurosaka(SILENT SIREN)

Photographer: Haruka Yamamoto

Writer: Sayoko Ishii

Translator: Joshua Kitosi-Isanga

■PROFILE

SILENT SIREN is a four-member all-female band consisting of vocalist & guitarist Sumire "Suu" Yoshida, drummer Hinako "Hinanchu" Umemura, bassist Aina "Ainyan" Yamauchi, keyboardist Yukako "Yukarun" Kurosaka. The band were founded in 2010 by Umemura and Yoshida who are former models. In 2015, they performed their first solo concert at Nippon Budokan, making them the fastest Japanese all-female band in history to perform there after their major debut. Their new album 31313 is now on sale. The band are currently on their "31313" tour in support of the album. An additional date was added to the tour which will take place on June 10 at Zepp DiverCity in Tokyo.

Check their official website for the latest details: http://silent-siren.com/

Information

THE GRAND LOUNGE (THE GRAND GINZA)

Address: GINZA SIX Floor 13F, 6-10-1 Ginza, Chuo Ward, Tokyo

Business Hours: 11:00-23:00 (Last Orders 22:00)

No Fixed Holidays (Except when GINZA SIX is closed)

TEL: 03-6280-6129 (Lounge/Restaurant)
Website: https://www.grandginza.com/lounge/

The Premium Bread of Ginza Nishikawa Arrives in Japan's Tohoku Region

Ginza Nishikawa is a popular bread shop that opened its doors in Ginza last autumn. The store has announced that on June 27, it will open its 10th branch in Hirosaki, Aomori―the first to open in the Tohoku region.

The shop sells one product: a high-quality premium loaf whose water content Ginza Nishikawa are very particular about. The bread's chewy and slightly sweet taste is best enjoyed as it is―and on the first day. If left after the first day, you can enjoy a completely different tasting experience. This is because the water content decreases after day one. If toasted from the second day onward, the bread has a deliciously particular aroma which you don't get when the bread is soft.

This bread goes extremely well with Japanese ingredients and condiments, such as kinpira gobo (braised burdock root), nasu miso, narazuke pickles, pollock roe, shuto (pickled bonito entrails mixed with honey, mirin and sake), and so on.

Ginza Nishikawa also recommends eating the bread with alcohol, such as a light and slightly sour red or rosé, or a strong white. It also goes well with sparkling wine, especially brands from Japan. With cocktails, they recommend drinking fruity ones like peach, loquat, or yuzu. Bread is normally seen as a breakfast food, but this bread is also one to be enjoyed in the evening too.

Ginza Nishikawa's bread is handcrafted into delicious loafs that anyone can enjoy at anytime by their skilled bakers. The staff check the temperature of the weather and level of humidity to carefully calculate the rate of water absorption and fermentation time to ensure high quality results every time. And to make sure that the flavour and texture of the bread is exactly the same at every branch, the company created their own evaluation system.

The water in the bread is made with an alkaline ionizer which is what makes it so unique, giving it a smooth texture like silk.

The stores also sell four different cloths that wrap around a single loaf (¥1,296 tax included).

Be sure to stop by Ginza Nishikawa if you're passing through Aomori Prefecture.

Information

Ginza Nishikashi (Hirosaki Branch)

Grand Opening: June 27, 2019

Address: 1-2-9 Miyakawa, Hirosaki, Aomori Prefecture

Opening Hours: 11:00-18:00

*Reservations can be made from June 17, 2019 at 12:00 (JST) onward

Official Website: https://ginza-nishikawa.co.jp/

Irresistible Midsummer Parfait Fair Tantalises at Shiseido Parlour in Ginza

Get ready to dine on desserts in style as Shiseido Parlour announces its second-ever Midsummer Parfait Fair at its Salon de Cafe in Ginza which will be held from August 1 to 25.

Four incredible summery parfaits make the fair's lineup, each centred around local and seasonal fruits. This year sees the return of the popular mango, fig and strawberry flavours, and for the first time ever, a melon flavour made with melons from the city of Furano in Hokkaido.

Hokkaido Prefecture Furano Melon Parfait – ¥1,980 (Tax Included)

Made with sweet and fragrant Furano melons grown in Hokkaido's city of Furano, this angelic delight of a parfait is made with classic silky vanilla ice cream, refreshing hibiscus jelly, and for added accent, a squeeze of cranberry sauce. The fresh melon piece toppings are packed full of mouth-watering melon juice. The melon is served in several different ways for textural enjoyment including skinless slices, a slice with the skin on, and melon balls.

Wakayama Prefecture Kinokawa Fig Parfait – ¥2,160 (Tax Included)

The seasonal figs in this parfait have been grown and nurtured laboriously. The figs are plucked in Wakayama prefecture and are served fresh on your dessert. Tucked under the hearty serving of figs is a red wine-laced compote, sauce and sherbet while placed gracefully on top is a baked tuile. There is also a fig and apple jelly for that cheek-sucking sweet kick.

Okinawa Prefecture Apple Mango Parfait – ¥2,580 (Tax Included)

If you love mangoes, then you're in for a treat with this parfait which is prepared with mangoes from Okinawa which have been cut up into different shapes and sizes. The dessert contains a midsummer medley of ingredients including a tropical homemade mango sherbet, an exotic sauce, milk flavoured ice cream, and cranberry sauce. Savour the succulent taste, smooth texture and sweet aroma of the elusive Keats mango, the richest and most delicious of all mangoes, and one which has only a limited production in Okinawa from mid-August onward.

Nagano Prefecture Hatake Kobo Koihime Strawberry Parfait – ¥1,890 (Tax Included)

Finally, this tempting parfait is made with strawberries from Hatake Kobo in Nagano. Because of the regional climate of Nagano, these gorgeous strawberries are delicious from summer through fall. They are served with classic vanilla ice cream for the absolute perfect pairing.

Which of these do you want to try the most?♡

Information

Salon de Cafe – Shiseido Parlour

Address: Tokyo Ginza Shiseido Building 3F, 8-8-3 Ginza, Chuo, Tokyo
Opening Hours: [Tuesday-Saturday] 11:30-21:00 (Last Orders 20:30) / [Sunday & Holidays] 11:30-20:00 (Last Orders 19:30)

Closed: Mondays (Unless it falls on a national holiday)

*Closed August 26, 2019 – October 31, 2019 for renovations

Official Website: https://parlour.shiseido.co.jp/?rt_pr=pl274
RELATED ENTRIES
Doraemon Future Department Store to Open Pop-Up Shop in Ginza Mitsukoshi

Benelic Co., Ltd. has announced the opening of a pop-up shop version of Doraemon Future Department Store, the world's first official Doraemon shop, at Ginza Mitsukoshi in Tokyo from March 17.

Doraemon Future Department Store first opened back in December 2019 in Odaiba, Tokyo. Dedicated to the beloved manga and anime character Doraemon, the store has opened various pop-up shops across Japan including Fukuoka, Osaka, and Nagoya. The new pop-up shop will be the first to open in Tokyo and will be stocked with the usual fan must-grabs, items exclusive to the Odaiba shop, Ginza exclusives, pre-sales, and more.

 

Ginza Mitsukoshi Exclusives & Pre-Sales

1. The Exclusives

The Ginza Mitsukoshi pop-up shop will sell four exclusive items including a T-shirt, handy tote bag, and more.

The merchandise will feature an illustration based on the designs of the shopping bags given at Doraemon Future Department Store. Take a look below.

Ginza Mitsukoshi Exclusive T-Shirt (5 Colours) | ¥3,520 (Tax Included)

Sizes: S・M・L

Ginza Mitsukoshi Exclusive 2-Way Tote Bag | ¥2,860 (Tax Included)

2. The Presales

Fans can get their hands on pre-sales of 7 items in the "Flying to Department Store" series of kitchen, cookware, and other items, as well as 12 accessories that both kids and adults alike can enjoy.

 

Flying to Department Store Series – Kitchen Apron | ¥4,400 (Tax Included)

 

Flying to Department Store Series – 21cm Plate | ¥3,850 (Tax Included)

 

Doraemon & Dorami Back Earrings | ¥2,200 (Tax Included)

Customisation Service

The pop-up shop will offer a customisation service which lets customers have different embroideries put into the T-shirts, tote bags, and key rings. The work is done on the spot by hand so you can see the result of what will be a very special item of which only one exists in the world. Perfect for Doraemon fans and gifts to friends and family.

Freshly-Made Dorayaki

The Ginza Mitsukoshi pop-up shop will also serve freshly-baked dorayaki stamped with Doraemon's cute face. They will be made in limited quantities each day.

 

Dorayaki | ¥290 (Tax Included)

Bonus Items For Spending

1. Every purchase at the Doraemon Future Department Store pop-up will earn customers a free sticker. These are available in limited quantities.

2. The first 300 people at the pop-up shop to take their receipts to the main Doraemon Future Department Store in Odaiba between March 17 and 29 will receive a different limited-edition free sticker.

 

Ginza Mitsukoshi Original Doraemon Sticker

 

Odaiba Doraemon Future Department Store Sticker

Information

Doraemon Future Department Store in Ginza Mitsukoshi 2021

Running: March 17, 2021 – March 29, 2021

Where: Ginza Mitsukoshi Shinkan Floor 7F

Address: 4-7-16 Ginza, Chuo-ku, Tokyo

Opening Hours 10:00-20:00 (Until 18:00 on March 29)

Doraemon Future Department Store Official Website: https://mirai.dora-world.com/

Marc Jacobs Tote Bag Pop-Up Shop to Open in Ginza in March

Marc Jacobs is set to open a tote bag pop-up shop in Ginza Mitsukoshi from March 3 to March 16.

THE MESH SMALL TRAVELER TOTE BAG: ¥33,000 (Before Tax) / THE MESH TRAVELER TOTE BAG ¥36,000 (Before Tax)

The pop-up shop will include pre-sales of the brand's newly-updated mesh tote bags made from lightweight material. Each bag on show will feature playful designs in many variations such as shoulder bags, purses, and more.

Information

THE TOTE BAG Pop-Up Shop

Running: March 3, 2021 – March 16, 202

Where: Ginza Mitsukoshi

Address: The Stage at Ginza Mitsukoshi Floor 1F, 4-6-16 Ginza, Chuo-ku, Tokyo

Marc Jacobs Japan Official Website: https://www.marcjacobs.jp

GREEN SPOON Releases New Limited-Edition Superfood Potages

GREEN SPOON is a Japanese company whose mission is to promote a fun and healthy eating lifestyle and culture to people in the form of fruits and vegetables that are delivered to consumers every month. This year, the food brand is releasing a new series of three soups for the spring season which will be served on March 1, March 29, and April 26 respectively.

These limited-time soup recipes are the latest to join GREEN SPOON's menu of 15 soups which was first released in November 2020. The line-up features three potages packed full of superfoods and nutrients.

"Like the Sun" is a nutty, butternut squash potage that will release on March 1. This will be followed by the beetroot and red onion sour potage "Toriko" on March 29. Finally, "See the sea" is an avocado potage made with olives and will arrive on April 26. Each can be ordered to any address in Japan via GREEN SPOON's official website. A maxium of two can be ordered each month per person.

The Line-Up

"Like the Sun" Butternut Squash Nutty Potage

The butternut squash in "Like the Sun" brings a smooth sweetness to the potage. This is layered with various spices as well as almonds and hazelnuts for a nutty fragrance.

The result is a rich potage with a distinct moist texture and melon-like flavour. The squash is as velvety as butter and combines deliciously with the nut assortment.

"Toriko" Beetroot & Red Onion Sour Potage

"Toriko" is a sour potage that mixes together beets, mini tomatoes, red onions, and apple cider vinegar for a refreshing, tangy kick. The combination of ingredients also makes for a colourful presentation and healthy pack of nutrients.

"See the sea" Olive Avacado Potage

"See the sea" is a creamy Mediterranean-style potage packed full of umami flavour made with avacado, anchovies, green olives, and dried tomato. Avocado is a superfood containing rich vitamins and minerals. It's also rich in oleic acid, a healthy fat.

Price Plan (Before Tax)

8 Monthly Plan: ¥7,200 in Total (¥900 per delivery)

12 Monthly Plan: ¥10,500 in Total (¥875 per delivery)

20 Monthly Plan: ¥16,800 in Total (¥840 per delivery)

Stay warm this winter with one of GREEN SPOON's special soups.

Information

GREEN SPOON Spring Limited Soups

Release Dates: March 1, 2021 / March 29, 2021 / April 26, 2021

GREEN SPOON Official Website: https://greenspoon.co.jp/

Tokyo's Fancy New Pink Afternoon Tea at THE GRAND GINZA is Topped With Chocolate and Strawberries

THE GRAND GINZA in Tokyo is getting ready for Valentine's Day and White Day with the revealing of its new afternoon tea menu which will be served from February 1 to March 31.

The "Pink Afternoon Tea" is a combination of succulent strawberries and fruity ruby chocolate, which is the fourth type of chocolate alongside milk, dark, and white. It includes a ruby hot chocolate for staying warm during these cold winter months, strawberry macarons, strawberries to dip in ruby chocolate, strawberry quiche curry, and other unique items for a mix of sweet and savoury. There's also a strawberry mille-fuille made with a recipe by Ginza's famous French restaurant Maxim's de Paris.

There are also 18 drinks to choose from including 13 types of teas from TWG. It's a must-visit for Valentine's Day.

FANCL Ginza Square Opens Onsen Hot Spring That You Can Walk Into Wearing Your Clothes

FANCL has brought the hot spring experience to its flagship site FANCL Ginza Square for a limited time with a variety of content that makes visitors feel like they've come to a Japanese onsen. The experience, named Tabi Suru Square Yu, is running until February 11, 2021.

Café au Lait / Fruit au Lait / Soy Milk Aojiru – ¥300 Each

Reiwa Honzen (FANCL Ginza Square Floor 9F)

Lunch Sana Winter Seafood Bento | ¥3,500

Winter Dinner Seafood Course | From ¥9,000

FANCL BROWN RICE MEALS (FANCL Ginza Square Floor B1F)

Hiroshima Oyster & Spinach Risotto Parmesan Cheese Galette Lunch Set | ¥1,850

Tomato Cream Pasta Lunch Set ¥1,850

Original Hand Towel

FANCL Ginza Square Onsen Essentials Set | ¥3,668

Breathing exercises at SUU-HAKU

At Tabi Suru Square Yu, visitors can enter a room that fully recreates the experience of being in a hot spring. The room is set at the same temperature, is filled with the same aromas, and is decorated in the same way. Visitors sit on one of the relaxation sheets to soak up the experience – effectively getting into a hot spring without having to change their clothes.

A variety of classic drinks and dishes sold at hot springs in Japan will also be sold, and visitors can get involved in the breathing exercises on offer.

discord Yohji Yamamoto x HUNTER Pet Accessories Drop in Tokyo

discord Yohji Yamamoto, a luxury accessory brand spearheaded by Yohji Yamamoto, has launched a collaboration with German pet brand HUNTER to release a collection of dog collars, leads, and other accessories like bags and wallets.

HUNTER was established in 1980 and has gone on to mark its territory across the world as a provider of high quality pet goods, praised for for the design, functionality, and safety of its products.


Black Dog Collar & Lead

The dog collars are fitted with studs as part of the collaboration. Both the collar and lead feature the same colouring as discord Yohji Yamamoto's products, arriving in the brand's signature black as well as beige, the latter of which is often used for its bags and small leather products. They are also clipped with a signature charm which has a design symbolising the collaboration.

Beige Dog Collar & Lead

The accessories are made from elk leather which is soft and made extra durable with double layering. Having the collar and lead the same colours also adds a sophistication to the design when fitted on a dog.

The collection will be released at discord Yohji Yamamoto stores in GINZA SIX, Shibuya PARCO, and Isetain Shinjuku, as well online. More details can be found on the official website here.

discord Yohji Yamamoto Black / Beige Selection


Y BACKPACK Nylon Studs | ¥148,000


ORIGAMI Tote | ¥98,000


Triple Clutch | ¥58,000


Diagonal Bag | ¥45,000

Y SERIES Studs


Y BODYBAG Studs | ¥138,000


Y BACKPACK Studs | ¥158,000

Small Leather Goods

Card Mini Wallet | ¥17,000

Key Wallet | ¥20,000

Tuck Into a Strawberry and Herb Full Fruit Course at Fruits Salon in Ginza

Fruits Salon, a cafe inside Beauty Connection Ginza that serves full courses of fruit, has introduced a new strawberry and herb course to its menu which is being served until February 1, 2021.

Fruits Salon opened in November last year and garnered much attention for its full course fruit dishes. In August, the cafe served up the "Peach Full Course" which proved super popular. Last month, they offered a menu centred on juicy and sweet grapes. For December and January, the course features four items that combine the taste of seasonal strawberries and fragrant herbs.


Strawberry & Herb Full Course | ¥4,400 (Tax Included)

1st Plate: Shortcake

The first plate is a strawberry herb shortcake which contrasts beautiful red strawberries with white cream. It contains a jam made with milk sauce and gin, resulting in a harmonious balance between sweet and sour.

2nd Plate: Soup

The second plate is a hot strawberry and elderflower soup, combined with a mix of creamy yogurt, pistachio salt, and red wine reduction.

3rd Plate: Parfait

The third plate is the main: a milk gelato parfait with sorbet and chamomile. It also contains granita and champagne. The glass is completely stuffed to the brim and overflowing with sweet treat delights.

This extravagant full course is booking-only and lasts 90 minutes. That's 90 minutes of pure indulgence.

Information

Beauty Connection Ginza Fruits Salon
Address: GINZA gCUBE 2F, 7-9-15 Ginza, Chuo-ku, Tokyo
Opening Hours: 11:00-20:00
Closed: Tuesdays
TEL: 03-6263-8392

Official Website:  https://www.beauty-connection.jp/fruits/

Ginza's Italian Restaurant FARO Earns Michelin Star

FARO, an innovative Italian restaurant in Ginza, Tokyo, has earned itself a Michelin Star in Michelin Guide Tokyo 2021 which went on sale on December 10, 2020.

Located on the 10th floor of the Tokyo Ginza Shiseido Building, the restaurant offers a taste of contemporary Italy, fusing tradition and innovation with a menu that incorporates Japanese ingredients and culture for an original dining experience.

Chef's Special: Potato spaghetti

The individual credited with the creation of a new food culture is FARO's executive chef Kotaro Noda who is the only Japanese person to own two Michelin-starred restaurants in Italy. He has been at the forefront of the Italian cooking world for the past 20 years.

Vegan Menu: Daikon Mochi [Winter Season Item]


Flower Tart

FARO puts a lot of work into its array of colourful vegan courses. These courses aren't only aimed at vegans either – they are available to anyone wanting to eat delicious and healthy food.

The restaurant is also a display of Japanese craftsmanship, with all cutlery, crockery, table accessories, and more made using traditional Japanese methods, like the lattice work on the doors from Niigata Prefecture, the Tajimi and Arita ware, fabrics from Imabari, Edo kiriko cut glasses, and more.

The decor of FARO is an elegant and stylish fusion of both Japanese and western tastes, with a colour gradation representing the earth, sea, and sky. This colouring offers a completely different dining in both the daytime or during evening hours.

Information

FARO
Address: 8-8-3 Ginza, Chuo-ku, Tokyo

Opening Hours: [Lunch] 12:00-13:30 / [Dinner] 18:00-20:30

Closed: Sundays/Mondays/Mid August/New Year Holidays
TEL: 0120-862-150 / 03-3572-3911
Official Website: https://faro.shiseido.co.jp/ 

Luxurious Christmas Desserts Whipped Up at Ginza's SHISEIDO PARLOUR SALON DE CAFE

SHISEIDO PARLOUR SALON DE CAFE in Ginza, Tokyo, is serving up Christmas cheer this year in the form of a delightful selection of desserts from December 1 to 29.

Christmas Angel Parfait | ¥2,300 (Tax Included)

Made with super sweet Le Lectier pears and combined with assorted berries, this parfait is like a gift from the heavens.

Present From The Heavens w/ Drink | ¥2,500 (Tax Included)

A super cute Christmas assortment with a Christmas present made from white chocolate and berry yam, a snowman made from yuzu citrus-laced milk ice cream, and more.

Shiseido Parlour Story w/ Drink | ¥2,600 (Tax Included) *Served weekdays only

Ensemble Chocolate w/ Drink | ¥2,200 (tax Included)

A brownie made from a combination of Belgian, French, and Swiss chocolate surrounded by ganache, ice cream, and more, served with a spread of berry sauce.

Strawberry Parfait | ¥2,000 (Tax Included)

A simple but deliciously sweet parfait made with koiminori strawberries from Nagasaki. It's served with ice cream and sauce but only contains 10g sugar content.

Information

SHISEIDO PARLOUR SALON DE CAFÉ
Address: Tokyo Ginza Shiseido Building 3F, 8-8-3 Ginza, Chuo-ku, Tokyo

TEL: 03-5537-6231 (Reservations Not Required)

Opening Hours:

[Mon-Sat] 11:00-21:00 (Last Orders 20:30)

[Sun & Public Holidays] 11:00-20:00 (Last Orders 19:30)

Closed: Mondays (Except Public Holidays) / New Year Holidays

Official Website: https://parlour.shiseido.co.jp/

UNIQLO TOKYO Begins Knitwear Focused Exhibition

UNIQLO TOKYO, the global flagship store of UNIQLO, is now holding an exhibition themed on its knitwear at its first floor LifeWear Square area until October 11, 2020. It's a consolidation of everything that goes into wearing the symbolic style of their LifeWear lineup, covering the art, science, and craftsmanship behind the items.

About UNIQLO TOKYO

UNIQLO TOKYO opened back in June this year in Ginza, Tokyo, as the country's biggest store and global flagship store. UNIQLO TOKYO is the embodiment of UNIQLO's "LifeWear," clothing that the company has created to "improve everyone's life."

SCIENCE: 3D knit installations by Rhizomatiks Architecture

Rhizomatiks Architecture have created a range of installations including mannequins centred on knitwear. Customers will be able to see knitwear being made by the machines right before their eyes.

CRAFTSMANSHIP: Tools used in the manufacturing process

See the strict standards and measures taken to carefully craft each and every UNIQLO cashmere sweater, from the processes carried out to the materials and tools used in the manufacturing process, samples, and more.

ART: Styling

See the headpieces created by Shiseido's top hair and makeup artist Tadashi Harada for displaying the knitwear. Each and every one was made with care and attention for the 20 mannequins.

Tokyo's Fruits Salon Serving Up a Full Gourmet Fruit Course

Fruits Salon, a fruit shop located on the second floor of Beauty Connection Ginza in Tokyo, introduced a new lineup of menu items on September 4 which will be available until mid October, all using seasonal grapes grown in Japan.

Fruits Salon opened in November last year and garnered much attention for its full course fruit dishes. Last month, the cafe served up the "Peach Full Course" which proved super popular. Now, they are offering a menu centred on juicy and sweet grapes.

Grape Full Course | ¥4,400 (Tax Included)

1st Plate: Apricot Tofu

2nd Plate: Dégustation

The grape course features three plates and a drink. It begins with a refreshing mix of Shine Muscat grapes, Delaware grapes, apricot tofu, and sake lees ice cream. The second plate is a tasting of four varieties of grape, while the third is a colourful and eye-catching parfait.

3rd Plate: Parfait

After-meal Drink

The parfait is served in a wine glass so you can see each layering of tasty ingredients.

The 90-minute course is reservation-only and invites you to both appreciate the appearance of as well as the taste of each dish.

Melon Parfait Alcohol Set | ¥2,178 (Tax Included)

The cafe is also serving its melon parfait alcohol set once more too for a limited time. It's made to really elevate the flavour of the melon.

If you're a fruit fanatic, then you won't want to miss out on Fruits Salon's new full course.

Information

Beauty Connection Ginza Fruits Salon
Address: GINZA gCUBE 2F, 7-9-15 Ginza, Chuo-ku, Tokyo
Opening Hours: 11:00-20:00
Closed: Tuesdays
TEL: 03-6263-8392

Official Website:  https://www.beauty-connection.jp/fruits/

Autumn Grape Desserts Whipped Up at Shiseido Parlour Ginza in Tokyo This September

Shiseido Parlour Salon de Cafe in Tokyo has revealed a lineup of seasonal centred on Japan's famous 'shine muscat' grape which will be served this autumn from September 1 to 30.

Nagano Shine Muscat & Three Grape Parfait | ¥2,200 (Tax Included)

Made using specially selected shine muscat grapes farmed from Iizukakaju Orchards in Ueda, Nagano, together with three other varieties of grape for a super refreshing flavour.

Grape Fruit Sandwich | ¥1,700 (Tax Included)

Toasted raisin bread stuffed with seven different fruits, including seasonal and specially selected varieties, and fresh cream. It's served with bittersweet 'Karasuzanjo'  honey from Chiba Prefecture and a compote of seasonal fruits.

Nagano Grape Mousse | ¥2,100 (Tax Included) *Comes with drink

This mousse is also made from grapes grown in Iizukakaju Orchards, and is drizzled with honey and cream. The grapes add a fresh kick to the dessert.

Shiseido Parlour Story | ¥2,600 (Tax Included) *Comes with drink, served weekdays only

An assortment of desserts including a mini strawberry parfait, mini chocolate parfait, mini custard pudding, seasonal fruits, grape jelly, kaki persimmon mousse, and chestnut pie.

Information

SHISEIDO PARLOUR SALON DE CAFÉ
Address: Tokyo Ginza Shiseido Building 3F, 8-8-3 Ginza, Chuo-ku, Tokyo

TEL: 03-5537-6231 (Reservations Not Required)

Opening Hours:

[Mon-Sat] 11:00-21:00 (Last Orders 20:30)

[Sun & Public Holidays] 11:00-20:00 (Last Orders 19:30)

Closed: Mondays (Except Public Holidays) / New Year Holidays

Official Website: https://parlour.shiseido.co.jp/