Memai Siren's 'pet' Anime Ending Theme Produced by TK from Ling Tosite Sigure Releases Next Year
It has been announced that Memai Siren's new song image _____, which is produced and arranged by TK (Ling Tosite Sigure), will be released on January 22 next year.
The song will be used as the ending theme for the upcoming TV anime series pet. The opening theme is entitled Chō no Tobu Suisō (The Water Tank the Butterfly Flies in) and sees TK from Ling Tosite Sigure taking the helm to perform the song.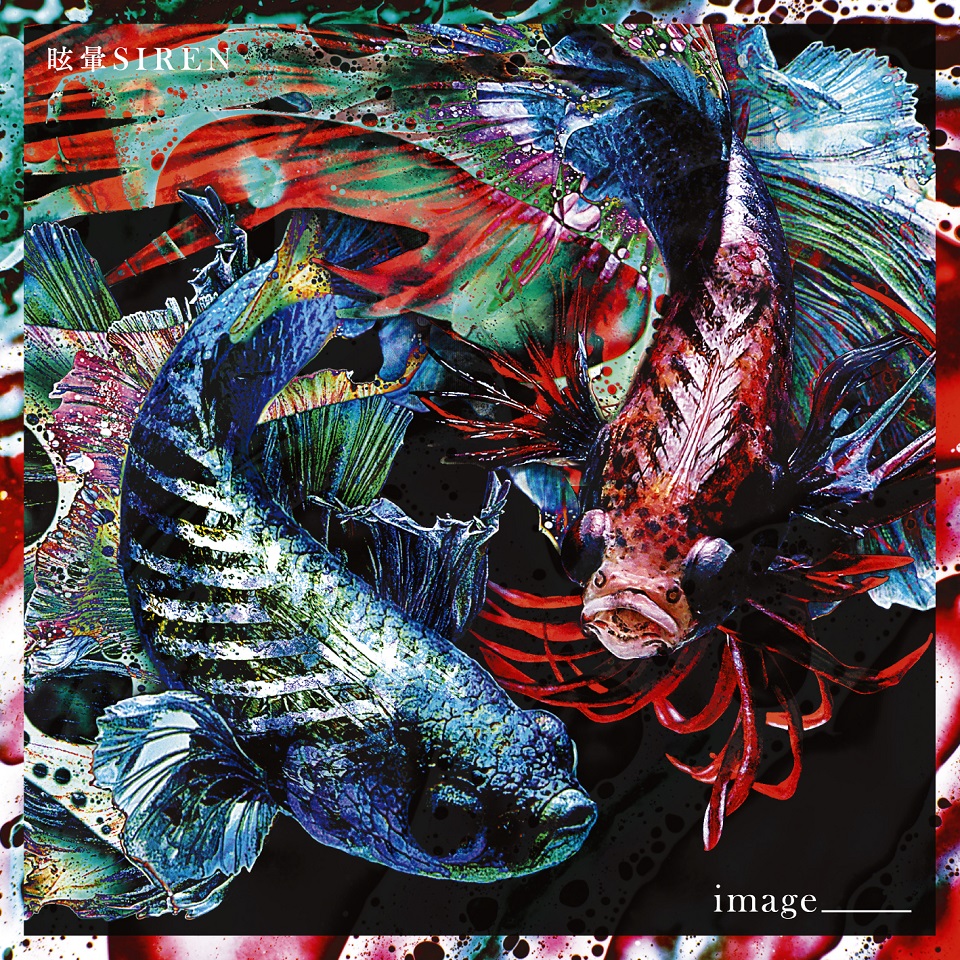 Both the anime edit version and full version of image _____ will be made available for digital download on January 6.
Memai Siren said: "There's a lot of things in pet we can relate to. It looks at the mountains and valleys of people's hearts, and questions if what we're looking at really is reality. We set out to create a song from the perspective of the storyーone that can support people. And with TK kindly on board to produce for us, we believe we have been able to elevate our expressive power like we never have. However, the reality in which I am writing this right now: is it just a memory? Or am I just rewriting something? Does this song even exist in the first place? I entrust the answers [to these questions] to you, the listeners."
Information
Memai Siren – "image _____"
Release Date: January 22, 2020
Limited Pressing Edition (CD+DVD): ¥2,200 (Tax Included) [SRCL-11401~02]
Regular Edition (CD): ¥1,320 (Tax Included) [SRCL-11400]
*CD cover illustrated by Ranjo Miyake and more details TBA
Memai Siren Official Website: http://www.memaisiren.com/
"Pet" Anime
Initial Broadcast: January 6, 2020
Official Website: http://pet-anime.com
RELATED ENTRIES
TK from Ling Tosite Sigure Writes Song For Argonavis Anime's Band εpsilonΦ

It has been announced that TK from Ling Tosite Sigure has written a song for the fictional alternative rock band εpsilonΦ who appear in the upcoming anime series Argonavis from BanG Dream! which is set to begin airing tomorrow on May 2, 2020.

Argonavis from BanG Dream! is a boy band multi-media project that is part of the BanG Dream! music media franchise.

The title of the song is Hikari no Akuma (Light of the Devil). TK wrote, composed, and arranged the check entirely himself. A short music video was released for the track which you can watch below.

Argonavis from BanG Dream! | εpsilonΦ – "Hikari no Akuma" Music Video

The song was announced as a surprise on the second day of ARGONAVIS 3rd LIVE CROSSING Sound Only Live which was a 'live' performance from the characters with just their voices that took place on April 28 and 29. The two-day concert took place as a result of the postponement of ARGONAVIS 3rd LIVE and featured the same scheduled playlist. The concert received much attention and trended high on Twitter Japan.

To promote the upcoming anime series, the first four episodes of Argonavis from BanG Dream! will be streamed for free on YouTube.

©ARGONAVIS project. ©DeNA Co., Ltd. All rights reserved. ©bushiroad All Rights Reserved.

Kyary Pamyu Pamyu, ONE OK ROCK & Other Japanese Artists to Watch Live On YouTube During the Lockdown

With the world on lockdown as a result of the COVID-19 pandemic outbreak, everybody is cooped up indoors and spending time at home. If you're looking for something new to watch or listen to, then we've got you covered. MOSHI MOSHI NIPPON has compiled a list of 11 Japanese artists who have or are planning to post live footage of their full concerts and performances on YouTube.

The future looks uncertain as it is right now, so in the meantime let's find time to do the things we enjoy and stay positive as we get through this together.

ONE OK ROCK

ONE OK ROCK are set to premiere 6 of their past concerts on YouTube from 2014-2018. They will be the full performances with no cuts and will not be archived, so mark your calendars and be sure to tune in when they drop.

Full Details: https://www.moshimoshi-nippon.jp/313887

ONE OK ROCK's YouTube Channel: https://www.youtube.com/user/ONEOKROCKchannel

ARASHI

ARASHI has posted a full concert taken from his "untitled" tour which ran from November 2017 to January 2018. "Untitled" is the theme of the tour which looked towards ARASHI of the future. The stage set up and incredible performance are absolute must-sees.

ARASHI's Youtube Channel: https://www.youtube.com/channel/UCP7Gw_YZAuh4Yg2fcdcuumQ/

Kyary Pamyu Pamyu

Kyary Pamyu Pamyu is in the middle of posting 100 videos of her live performances which will be available to watch for a limited time between April 14 to May 17 this year. The videos are being released as a part of the at-home entertainment #ouchiasobi ("Play At Home") project launched by ASOBISYSTEM, the agency that Kyary is signed to. Now you can have fun too with Kyary by bringing her concerts into your home.

Full Details: https://www.moshimoshi-nippon.jp/313974

Kyary Pamyu Pamyu's Youtube Channel: https://www.youtube.com/kyarypamyupamyutv

AAA

AAA's performance at Saitama Super Arena was a highlight of their 2013 tourーa tour which took them to see 150,000 fans across Japan. The full show is now available to watch on YouTube until April 30, 2020 at 23:59 (JST), so be sure to check it out.

avex's Youtube Channel: https://www.youtube.com/user/avexnetwork/

RADWIMPS

RADWIMPS have posted some content from their recently-released live DVD and Blu-ray ANTI ANTI GENERATION TOUR 2019 onto their YouTube channel. Feel part of the crowd with the following thrilling performance.

Full Details: https://www.moshimoshi-nippon.jp/290378

RADWIMPS's Youtube Channel: https://www.youtube.com/user/radwimpsstaff/

Taichi Mukai

Taichi Mukai recently posted a video of his performance of his popular song Reset. The song was written as the first ending theme for the anime series Run with the Wind.

Taichi Mukai's Youtube Channel: https://www.youtube.com/user/0313taichi/

Official HIGE DANdism

Official HIGE DANdism's performance of I LOVE… at Pacifico Yokohama, which was held on February 10, 2020 as part of their "Travelers" tour, is available to listen to on Apple Music. This is another one that makes you feel part of the experience.

Apple Music "I LOVE…" Pacifico Yokohama (2020.02.10)

TK from Ling Tosite Sigure

TK posted a video on his YouTube channel of footage taken from his live performance at Landmark Studio in Yokohama. His live band line-up includes the familiar faces BOBO (Drums) and Sato Honoka (Violin) as well as Yoshida Ichiro Untouchable World (Bass) who was a support member for TK last year, Hiroko Sebu (Piano) who provided her piano playing on TK's single katharsis from last year, and Masao Watanabe (Cello).

Full Details: https://www.moshimoshi-nippon.jp/178674

Ling Tosite Sigure's YouTube Channel: https://www.youtube.com/user/sigureSMEJ/

amazarashi

amazarashi dropped a trailer last year for his live DVD and Blu-ray release Mirai ni Narenakatta Subete no Yoru ni. His self-cover of Long Hope Philiaーthe theme song of the anime film My Hero Academia: Two Heroes and fifth ending theme of the My Hero Academia anime seriesーis a must-see!

Full Details: https://www.moshimoshi-nippon.jp/270910

amazarashi's Youtube Channel: https://www.youtube.com/user/amazarashiSMEJ/

Suchmos

A live performance of Suchmos's hugely popular Mint. It features footage backstage from the band's tours across three years.

Full Details: https://www.moshimoshi-nippon.jp/207422

Suchmos's Youtube Channel: https://www.youtube.com/channel/UCQ3U5YJLWUr3VmQsO48jcQg/

Superfly

Here's a live music video of Superfly's song Kakusei, the theme for the anime movie Promare. The video uses live footage taken from Superfly's arena tour which incorporates gorgeous CG imagery.

Full Details: https://www.moshimoshi-nippon.jp/288707

Superfly's YouTube Channel:  https://www.youtube.com/user/superfly/

TK from Ling Tosite Sigure Announces New Album 'Sainou' – MOSHI MOSHI NIPPON

TK from Ling Tosite Sigure announced last year the release of a new album. More information has now been released with regards to the albumーhis fourth album in total and the first in three years.

TK's new album is entitled Sainou, and it's releasing on April 15, 2020. It will include such hit tracks as katharsis, which was the opening theme to the popular anime series Tokyo:re; P.S. RED I which was used as the main theme for the Japanese release of Spiderman: Into the Spider-Verse; the opening theme Chou no Tobu Suisou forthe ongoing anime series pet; and his digital single melt which featured suis of rock duo Yorushika on guest vocals. First Press Edition copies of the album include a bonus CD featuring the audio taken from TK's acoustic live show Bi-Phase Brain "R side" which was held at Bunkamura Orchard Hall in Tokyo in December 2019.

Fans who purchase the new album together with TK's single Chou no Tobu Suisou, which was released on January 22, 2020, have the chance to be invited to rehearsals for the singer's upcoming tour which will promote the new record. Full details can be found on his website.

 

The 11-date tour is entitled "TK from Ling Tosite Sigure Sainou TOUR 2020" and will kick off at Ebisu LIQUIDROOM in Tokyo on April 22, 2020.

Supporting TK on tour is BOBO on drums, who has supported TK since his early days, Honoka Sato on violin, and Ichiro Yoshida on bass. MARI (Gesu no Kiwami Otome) and Kie Katagi (jizue) will also join as support members.

Information

Sainou

Release Date: April 15, 2020

First Press Limited Edition (2 Discs): ¥4,545 (Before Tax) [AICL-3886~7]

Regular Edition (1 Disc): ¥3,000 (Before Tax) [AICL-3888]

Official Website: http://tkofficial.jp/

TK from Ling Tosite Sigure Releases Music Video For 'pet' Anime Opening Theme

The anime adaptation of Ranjou Miyake's sci-fi human drama series pet began airing on January 6. TK from Ling Tosite Sigure's newest single Chō no Tobu Suisō is the opening theme for the series, and his music video for it just dropped on YouTube.

TK from Ling Tosite Sigure – "Chō no Tobu Suisō" Music Video / TV Anime "pet" Opening Theme

The video was created by maxilla who also worked on TK's music video for katharsis. He took an artistic approach for this video, which was shot in the snow. We see a man and woman performing contemporary dance across the snowy landscape and on the icy shallow waters.

TK from Ling Tosite Sigure will promote his new album with a tour starting in April. The second wave of pre-sale tickets went on sale today, you can find the link below.

TK's longest tour to date, it will kick off at Ebisu LIQUIDROOM in Tokyo. He will be supported by a live band made up of BOBO on drums, who has supported TK and his beautiful, aggressive sound since his early days; Honoka Sato on violin; Ichiro Yoshida on bass, who first joined TK on tour last year; and on piano, MARI from Gesu no Kiwami Otome and Kie Katagi from jizue.

©Ranjou Miyake・KADOKAWA/Twin Engine Inc.

Information

Information

4th Album (Name to be announced)

To be released in Spring 2020 (Subject to change)

TK from Ling Tosite Sigure – "Chō no Tobu Suisō"

Release Date: January 22, 2020

Limited Pressing Edition A (CD): ¥1,500 (Before Tax) [AICL-3800]

Limited Pressing Edition B (CD+DVD): ¥2,200 (Before Tax) [AICL 3801-3802]

TK from Ling Tosite Sigure 2020 Album Release Tour 

April 22: LIQUIDROOM, Tokyo

April 25: DRUM LOGOS, Fukuoka

April 26: CLUB QUATTRO, Hiroshima

April 26 (National Holiday): KT Zepp Yokohama, Kanagawa

May 9: EIGHT HALL, Kanazawa, Ishikawa

May 17: PENNY LANE24, Sapporo, Hokkaido

May 23: Namba Hatch, Osaka

May 24: Takamatsu MONSTER, Kagawa

May 29: Nagoya DIAMOND HALL, Aichi

May 31: Sendai Rensa, Miyagi

June 4: Nakano Sun Plaza Hall, Tokyo

Tickets

Standing – ¥5,200 (Tax Included/Separate Mandatory Drink Fee Charged Upon Entry)

2nd Floor Reserved Seating – ¥6,000 (Tax Included/Separate Mandatory Drink Fee Charged Upon Entry)

*Venues with 2nd floor reserved seating include KT Zepp Yokohama and Namba Hatch. Nakano Sunplaza also has reserved seating.

General Sale: February 29, 2020 at 10:00 (JST)

Standing/Reserved Seating Pre-Sales: January 22, 2020 at 00:00 (JST) – January 29, 2020 at 23:00 (JST) – Buy Here

2nd Floor Reserved Seating Pre-Sales: January 28, 2020 at 15:00 (JST) – January 31, 2020 at 23:00 (JST) – Buy Here

*Up to 4 tickets per person for pre-sales

TK from Ling Tosite Sigure Official Website: http://tkofficial.jp/

"Pet" Anime

Initial Broadcast: January 6, 2020

Official Website: http://pet-anime.com

TK from Ling Tosite Sigure Announces 4th Album and Unveils New Visuals

TK from Ling Tosite Sigure is set to release his new single Chō no Tobu Suisō (The Water Tank the Butterfly Flies in). The single serves as the opening for the upcoming anime adaptation of the Remaster Edition of Ranjō Miyake's Pet manga seriesー a Sci-Fi drama which is set to premiere in January 2020.

TK from Ling Tosite Sigure also announced that he will release a new album next spring. The album will be the fourth full album to be released in the last 3.5 years of his project. The new album's visuals were simultaneously unveiled, revealing a design that is completely different from his usual style, adding to the excitement and anticipation. 

To celebrate the album release, TK will be embarking on a Japan tour of 11 performances which will kick off at Ebisu Liquid Room on April 22, 2020. TK will be accompanied by drummer BOBO, who has been performing with TK since the early days of his solo project, violinist Honoka Sato, bassist Ichiro Yoshida who has been working with TK for a year, Gesu no Kiwami Otome's keyboardist Chan Mari on piano, and Kie Katagi (jizue). Each new support member will contribute with an exciting new sound that fans can't wait to hear.

Advanced orders are currently being accepted so don't miss out if you're interested. 

Information

4th Album (Name to be announced)

To be released in Spring 2020 (Subject to change)

 

TK from Ling Tosite Sigure – "Chō no Tobu Suisō"

Release Date: January 22, 2020

Limited Pressing Edition A (CD): ¥1,500 (Before Tax) [AICL-3800]

Limited Pressing Edition B (CD+DVD): ¥2,200 (Before Tax) [AICL 3801-3802]

TK from Ling Tosite Sigure 2020 Album Release Tour 

April 22: LIQUIDROOM, Tokyo

April 25: DRUM LOGOS, Fukuoka

April 26: CLUB QUATTRO, Hiroshima

April 26 (National Holiday): KT Zepp Yokohama, Kanagawa

May 9: EIGHT HALL, Kanazawa, Ishikawa

May 17: PENNY LANE24, Sapporo, Hokkaido

May 23: Namba Hatch, Osaka

May 24: Takamatsu MONSTER, Kagawa 

May 29: Nagoya DIAMOND HALL, Aichi

May 31: Sendai Rensa, Miyagi

June 4: Nakano Sun Plaza Hall, Tokyo

Tickets and additional information can be found on TK from Ling Tosite Sigure's Official Website: http://tkofficial.jp/

'Pet' Anime Opening Theme to be Performed by TK from Ling Tosite Sigure

It has been announced that TK from Ling Tosite Sigure will perform the opening theme song for the upcoming anime adaptation of the Remaster Edition of Ranjō Miyake's Pet manga series. The song is titled Chō no Tobu Suisō (The Water Tank the Butterfly Flies in).

A new promotional video for the anime was also released which features the song.


Pet will premiere on TOKYO MX on January 6, 2020. Amazon will exclusively stream the series on Amazon Prime Video in Japan and overseas, with the first two episodes hitting the service on January 5, 2020 at 24:00 (January 6, 2020 at 12:00am).

Speaking about being involved with the series, TK commented: "I have read [the manga] countless times. The story takes me somewhere else. It makes me feel like I'm in a dream. If you asked me how this song came about, it seems like my memory of it has been plucked from me."

©Ranjō Miyake・KADOKAWA/ Twin Engine Inc.

Information

TK from Ling Tosite Sigure – "Chō no Tobu Suisō"

Release Date: January 22, 2020

Limited Pressing Edition A (CD): ¥1,500 (Before Tax) [AICL-3800]

Limited Pressing Edition B (CD+DVD): ¥2,200 (Before Tax) [AICL 3801-3802]

*Includes illustration by Ranjō Miyake and tall-size packaging

TK from Ling Tosite Sigure Official Website: http://tkofficial.jp/

"Pet" Anime

Initial Broadcast: January 6, 2020

Official Website: http://pet-anime.com

Concert Review: TK from Ling Tosite Sigure Performs New Song 'melt' in Tokyo

TK from Ling Tosite Sigure has embarked on a new tour entitled Bi-Phase Brain "L side". His first show took place at Shinkiba STUDIO COAST in Tokyo. He was joined by guest act österreich who, like TK, has performed music for the Tokyo Ghoul anime series. österreich is the solo project by Japanese musician Kunimitsu Takahashi and this marked his first live performance since his band "the cabs" broke up in 2013.

österreich was supported on stage by Mizuki Iida (cinema staff) and Ai Kamano on vocals, Katsuaki Sato (Gecko&Tokage Parade) on piano, Sohei Mishima (cinema staff/peelingwards) on bass, GOTO (DALLJUB STEP CLUBのGOTO) on drums, and Anzu Suhara on violin.

All the members stepped onto stage, with Takahashi at the front who began the set on guitar with Zeitaku no Hone. The members displayed their instrumental mastery to flurries of applause. Takahashi himself was most into it of all, and his moved his whole body to song.  They followed this up with Munou, the opening theme for season two of the anime series Tokyo Ghoul by österreich. At the end of every song, Takahashi expressed his gratitude to fans with a heartfelt, "Thank you."

Iida joined the fray once more in the second half of the performance, announcing the debut of a new song. He sang it together with Kamano. It was an upbeat, complex track, with the latter half of the song having a more straightforward rhythm and rising melody. It was different from anything we've heard from Takahashi in recent years.

Takahashi said: "Thank you to TK for inviting us here today. And thank you to Ishida, who has given us all of these opportunities." The Ishida he refers to is Sui Ishida, the author of the Tokyo Ghoul manga. It was only fitting, then, that he perform Rakuen no Kimi, the ending theme to the last series of the Tokyo Ghoul anime. Thus marked the conclusion of österreich's first ever live performance.

It was then time for TK from Ling Tosite Sigure's set. He opened with kalei de scope, with a powerful ensemble beside him formed of BOBO on drums, Ichiro Yoshida on bass, Oko Haruna on piano, and Honoka Sato on violin. This was followed by an acoustic performance of haze, the ballad memento, Fantastic Magic which garnered huge cries and applause when they started playing it, the chaotic Shandy with its incredible piano loop, and more.

"This is my first time performing this one. I can't do it alone, so I'm going to borrow some help," TK announced, and was joined by Ai Kamano who also performed with österreich earlier that night. Kamano performed the vocal section which is normally sung by salyu. She accelerated the high tones of the chorus which was laced with TK's iconic trance-like musical performance.

Kamano also joined him for his new song melt, which was released digitally last Tuesday, taking the place of suis from Yorushika who is the original singer on this track. The music was hard-hitting apart from the beautiful lull of the guitar. It was a dramatic performance, coupled with the CG and live-action-combined music video.

The last song of the set was a complete turnaround from melt. TK performed his early progressive hit film a moment.

TK expressed his thanks to the crowd, and performed unravel for the encore, the iconic season one opening theme for Tokyo Ghoul, sending the crowd into the stratosphere. This was followed by P.S. RED I, another climactic hit with the crowd and a fitting end to the night.

TK has two more shows left on this tour: DIAMOND HALL in Nagoya tomorrow, and Namba Hatch in Osaka the following day. Cö shu Nie will join him as the guest act.

Photography Credits:

TK from Ling Tosite Sigure→ Takayuki Okada

österreich→ Kana Tarumi

Information

TK from Ling Tosite Sigure – Digital Single "melt (with suis from Yorushika)"

Released: October 2, 2019

Download/Stream: https://smar.lnk.to/M3b-aWN

TK from Ling Tosite Sigure Bi-Phase Brain "L side"

Tour Details: http://tkofficial.jp/

Watch TK from Ling Tosite Sigure's Music Video For 'melt' Featuring suis From Yorushika

TK from Ling Tosite Sigure is about to head on tour from October 3 where he will  hit up Tokyo, Osaka and Nagoya.

Before he hits the road, TK just dropped his new single melt (with suis from Yorushika) digitally on October 2. Check out the music video below.

The video is directed by Kentaro Saisho and features gorgeous live-action visuals with lyrics woven together with CG. The song has the kind of distinct and unique melody that TK is known for, while suis adds a new layer to the track.

TK from Ling Tosite Sigure Teases New Song 'melt' Featuring Guest Vocalist suis

04.September.2019 | MUSIC

TK from Ling Tosite Sigure is readying himself for his tour to Tokyo, Osaka and Nagoya this October. But before he hits the road, he has just announced that his new single melt (with suis from Yorushika) will be released digitally on October 2, right before the tour begins.

As the title reveals, the track features suis from Japanese music group Yorushika, who was invited on board with a direct offer from TK. The song will be released in just under a month, but TK has given fans a tease over on his official Instagram and his band his band Ling Tosite Sigure's Twitter page. The song draws a silhouette of ephemeral forbidden love, woven together with the unmatched beauty of TK's melodies and suis's vocals.

Speaking about working on the song with TK, suis commented: "I am deeply honoured to have been invited on board a song so sensational I have no idea why I was chosen. I'm the type of person whose soul is touched when it comes to songs, so my chest felt tight the entire time when recording began. Every time I listened to the track it felt like I was doing something wrong. I felt really troubled. I hope the people who listen to the song feel the same way."

TK also commented: "I wrote this song on the fly. Every element of it came to me at once: the visuals of the music video, the words, the melody. In that time I wanted something that wasn't me, something that sounded different from my usual image. I called it melt, and suis's vocals elevated that transience that much more, like it's close to you and melts and then heads off far away. I'm looking forward to the people who usually listen to Yorushika getting to hear suis in a different light. And the video is wonderful, it's something completely new. I hope it reaches faraway [people]."

Information

TK from Ling Tosite Sigure – Digital Single "melt (with suis from Yorushika"

Release Date: October 2, 2019

TK Official Website: http://tkofficial.jp/

Yorushika Official Website: http://yorushika.com/

Aimer Releases Music Video For 'Stand By You' Written by TK

Aimer finally dropped her highly-anticipated two new albums Sun Dance and Penny Rain simultaneously on April 10.

On April 8 it was announced that the singer would release three music videos from the new records on her official YouTube channel three days in a row. The final video to be released is for Stand By You from the album Penny Rain.

The song was written and produced by TK from Ling Tosite Sigure. This is TK's third collaboration with Aimer following us and Kowairo in 2016. The video was directed by Japanese film director Kyotaro Hayashi. The powerful visuals perfectly match the emotional music written by TK.

Be sure to check out the new video alongside the already-released We Two and Monochrome Syndrome.

Information

Sun Dance / Penny Rain

Release Date: April 10, 2019

Regular Edition (CD): ¥2,000 Each (Before Tax)

First Press Limited Edition A (Both Albums+Blu-ray): ¥4,800 (Before Tax)

First Press Limited Edition B (Both Albums+DVD): ¥4,400 (Before Tax)

*Limited Edition Blu-ray and DVD feature 10 music videos

Limited Pressing Edition (Both Albums+2 Blu-rays): ¥9,000 (Before Tax)

*Limited pressing edition Blu-rays feature 10 music videos and live footage from Aimer's 2018-2019 tour. Comes in a special box and Sun Dance jigsaw puzzle.

Aimer Official Website: http://www.aimer-web.jp/

Aimer's New Album to Feature Song Produced by TK from Ling Tosite Sigure

Aimer will release two new albums simultaneously on April 10: Sun Dance and Penny Rain. These will be the newest albums from the artist since daydream which dropped back in September 2019. The full-track list had already been unveiled except for one song, but details on that song have now been released.

It is titled Stand By You and was written and produced by TK from Ling Tosite Sigure. This is his third song written for Aimer following us and Kowairo from 2016.

A video was posted on Aimer's official YouTube channel which plays a track-by-track preview of each song on both albums including Stand By You.

Information

Sun Dance / Penny Rain

Release Date: April 10, 2019

Regular Edition (CD): ¥2,000 Each (Before Tax)

First Press Limited Edition A (Both Albums+Blu-ray): ¥4,800 (Before Tax)

First Press Limited Edition B (Both Albums+DVD): ¥4,400 (Before Tax)

*Limited Edition Blu-ray and DVD feature 10 music videos

Limited Pressing Edition (Both Albums+2 Blu-rays): ¥9,000 (Before Tax)

*Limited pressing edition blu-rays feature 10 music videos and live footage from Aimer's 2018-2019 tour. Comes in a special box and Sun Dance jigsaw puzzle.

Aimer Official Website: http://www.aimer-web.jp/

Japanese Music Artists Performing Overseas in 2019: Part 2

With March almost at an end, the number of Japanese artists announcing performances overseas continues to rise. This is a list of 7 Japanese artists performing outside Japan in the first half of 2019.

・TK from Ling Tosite Sigure

TK from Ling Tosite Sigure has received huge international attention for his collaborations with Tokyo Ghoul which have been enjoyed by countless non-Japanese fans on music streaming services. This includes unravel which was used as Tokyo Ghoul's first opening theme, and katharsis, the second opening theme for season two of Tokyo Ghoul:re. The singer is set to take his 'katharsis Tour' to Asia this April.

More Details: https://www.moshimoshi-nippon.jp/183546

◼︎Information

Tour 2019 in Asia

2019/4/5 @ CLAPPER STUDIO, Taipei

2019/4/7 @ Music Zone@E-Max, Hong Kong

2019/4/9 @ Modern Sky Lab, Shanghai

Enquiries: info@free-planet.net (Japanese/Chinese/English)

TK from Ling Tosite Sigure Official Website: http://tkofficial.jp/

・Kana Hanazawa

Kana Hanazawa is lauded for her immense work in voice acting. She is also hugely successful as an artist and singer.

Hanazawa is set to become the first Japanese female solo artist to perform at the Mercedes-Benz Arena in Shanghai on April 14, 2019. She boasts overwhelming popularity in China for her work in anime as well as her hit songs. Her Chinese fans' dreams are about to be realised as she performs for them a long-awaited show.

◼︎Information

KANA HANAZAWA Concert 2019 in SHANGHAI

Date: April 14, 2019

Venue: Mercedes-Benz Arena, Shanghai

Kana Hanazawa Official Website: http://www.hanazawakana-music.net/

・Radwimps

RADWIMPS dropped their recent album ANTI ANTI GENERATION in December last year and recently announced a live tour which includes their first ever solo stadium show. The band are also set to perform two dates at the 2019 Strawberry Music Festival in China.

◼︎Information

2019 Strawberry Music Festival

Radwimps Performance Dates:

2019/4/26 @ INTERNATIONAL INTANGIBLE CULTURAL HERITAGE PARK, Chengdu

2019/4/28 @ SHANGHAI COMMUNITY SPORTS CLUB, Shangai

RADWIMPS Official Website: https://radwimps.jp

・ONE OK ROCK

ONE OK ROCK has become one of the most popular Japanese rock bands overseas. They recently released their first album in nearly two years Eye of the Storm on February 13, 2019 and have announced a 10-date UK & European tour set to take place throughout May.

More Details: https://www.moshimoshi-nippon.jp/171983

◼︎Information

EYE OF THE STORM UK & EUROPEAN TOUR 2019

5/8 – Manchester, UK – O2 Ritz Manchester

5/10 – London, UK – The Roundhouse

5/12 – Tilburg, NL – 013 Poppodium

5/13 – Cologne, Germany – Carlswerk Victoria

5/14 – Berlin, Germany – Huxleys Neue Welt

5/15 – Warsaw, Poland – Hala Kolo

5/17 – Vienna, Austria – Gasometer

5/19 – Budapest, Hungary – Dürer Kert

5/20 – Prague, Czech Republic – Lucerna Velky Sal

5/22 – Munich, Germany – Tonhalle

5/23 – Milan, Italhy – Fabrique

5/24 – Zurich, Switzerland – X-TRA

5/26 – Boulogne-Billancourt, France – La Seine Musicale

ONE OK ROCK Official Website:http://www.oneokrock.com

・Aimer

Aimer recently announced that she will head to Asia in June on a 5-date tour entitled Aimer "soleil et pluie" Asia Tour. She previously performed in Asia last year alongside amazarashi, but this marks her first ever solo tour thhere. The theme of the tour is "sun and rain" which ties in with the concepts behind her forthcoming albums Sun Dance and Penny Rain.

 

More Details: https://www.moshimoshi-nippon.jp/185602

◼︎Information

Aimer "soleil et pluie" Asia Tour in Taipei

Date: June 8, 2019 (18:30 OPEN / 19:30 START)

Venue: Taipei International Convention Center (TICC)

Price: 3400 / 2800 / 2200 / 1800 TWD

*The date on which tickets will be released has yet to be announced.

Aimer "soleil et pluie" Asia Tour in Hong Kong

Date: June 14, 2019

Venue: MacPherson Stadium

Price: 980 / 780 HKD

*The date on which tickets will be released has yet to be announced.

Aimer "soleil et pluie" Asia Tour in Guangzhou

Date: June 16, 2019

Venue: Guangzhou Beilei Theatre

*The date on which tickets will be released has yet to be announced.

Aimer "soleil et pluie" Asia Tour in Shanghai

Date: June 22, 2019

Venue: National Convention & Exhibition Center (Shanghai)

*The date on which tickets will be released has yet to be announced.

Aimer "soleil et pluie" Asia Tour in Tokyo

Date: June 29, 2019 (17:00 OPEN / 18:00 START)

Venue: TOYKO DOME CITY HALL

Organisers: agehaspring, aspr

Support: Sony Music Labels Inc.

Price: ¥7,500 (Tax Included) + ¥500 drink fee

Ticket Release Date: May 25, 2019 (*2 tickets max per order)

Enquiries: DISK GARAGE (050-5533-0888)

Fan Club Pre-Sale Tickets for Tokyo Concert

Ticket Window: April 17, 2019 at 12:00 – April 24, 2019 at 23:59

Payment Window: April 26, 2019 at 18:00 – May 7, 2019 at 23:00

Tour Details (Japanese): http://www.aimer-web.jp/news/archive/?504960

・suchmos

Suchmos will release their 3rd studio album THE ANYMAL on March 27, 2019. The rock group are currently knee deep in their 2019 arena tour and are set to perform alongside HYUKOH in Seoul, South Korea in June. Tickets go on sale on April 2 at 12:00 (South Korea time).

 

・Wednesday Campanella

It has been announced that Wednesday Campanella will perform at the Second Sky Music Festival at Middle Harbor Shoreline Park in Oakland, California on June 15. This marks Wednesday Campanella's second time performing at a festival in the US following her appearance at Camp Flog Gnaw in October 2017.

More Details: https://www.moshimoshi-nippon.jp/184064