A recipe for photogenic food #15 「Strawberry Cup Parfait.」
This feature is made possible by Arisa Shirai, a cooking specialist who posts regular photos of her gorgeous food via her social media. She makes every day recipes look photogenic with her small twists.
This recipe shows you how to make a "Strawberry Cup Parfait."
■Ingredients (serves 2)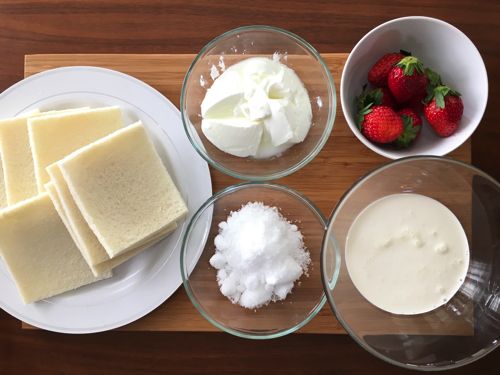 ・4 slices sandwich bread
・200g fresh cream
・25g sugar
・120g yoghurt
・8 strawberries
■How to Make
①Use a cup to cut circles out of the bread.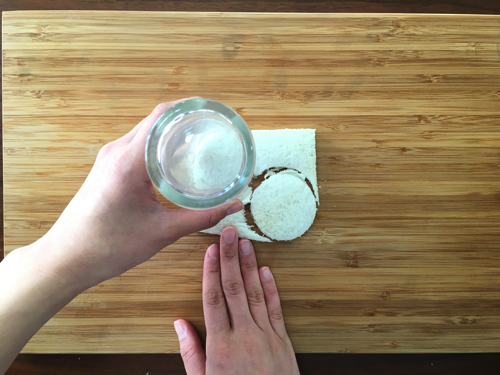 ②Mix the fresh cream and sugar until they become frothy, then add the yoghurt and mix again
③Thinly slice the strawberries
④Add a piece of the bread you cut out and the remains, then the strawberry slices, and finally the cream you made in step ②. Repeat this until you reach the top, then finish it off by adding some more strawberries to decorate.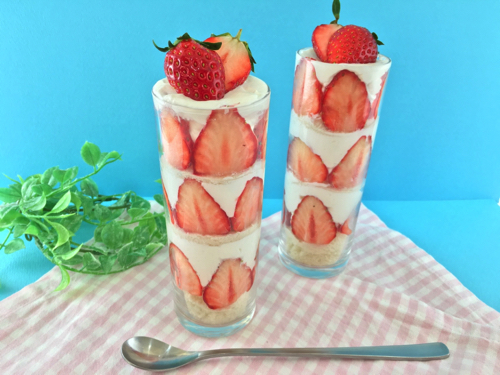 Doesn't it look cute! The yoghurt and cream go perfect together so you can just scoop and lick everything out. It's worthy of posting a photo of too. Be sure to try making it yourself.
■Arisa Shirai
Visual food creator & charaben researcher.
Arisa Shirai shows how fun it is to make and eat your own homemade food.
Instagram: arigohan
Blog: http://ameblo.jp/arinko0917/ 
—
■Related article:A recipe for photogenic food #13 "Marshmallow Pops."
RELATED ENTRIES
Try These Mouth-Watering Cherry Daifuku Sweets Made With Seasonal Cherries ♡

Kofukudo has been selling delicious and elegant Japanese sweets for over 140 years. From June 14, they will release a new season-limited flavour of their popular *daifuku. The season-limited sweet will be called Sakuranbo Daifuku. (Cherry Daifuku).

*Daifuku is a type of round, sweet mochi dough that is traditionally filled with a sweet filling such as red bean paste.

Cherry Daifuku: ¥270 each (after tax)

These daifuku are made using the seasonal Sato Nishiki cherries which are at their peak harvest time in June. This means that this is the only season where you can truly enjoy the beautiful flavour of this cherry. After extensive trial and error, a wonderfully balanced daifuku was created. The white bean jam has a mild sweet scent of cherry. Paying the slightest attention to detail, the sweet was carefully crafted in order to fully extract the fresh and juicy flavour of the cherries whilst preserving their high quality sweetness. A cherry casually sits on top of the white mochi of the daifuku. You just won't be able to resist taking pictures of this cute treat. 

This is perfect to set out on the dining table at a party. These seasonal sweet treats would also make the perfect gift when visiting a friend.

Take a light bite of luxurious daifuku to experience the best of traditional Japanese sweets.

Information

Sakuranbo Cherry Daifuku

Price: ¥270 each (after tax)

※ This product may not be available at all Kofukudo shops. The limited sales period, the contents of the product and the price may vary from shop to shop.

Kofukudo Official Website: https://www.kakiyasuhonten.co.jp/cate/brand/?c=001006001

Kaori's Easy Recipe – Learn How to Make Pompompurin Pumpkin Tarts

With just a small bit of ingenuity, turn everyday food into something cute using Kaori's recipe series! With a few simple ideas, an ordinary recipe magically transforms into a cute dish.

For this recipe, you'll learn how make mini Pompompurin pumpkin tarts! This is a simple recipe you can make with just a blender.

1: Ingredients

12 Tart shells

150g Pumpkin (deseeded, skin taken off and made soft)

50ml Fresh cream (In this recipe I used soy milk)

20-30g Sugar (Depending on the sweetness of the pumpkin)

1 Egg yolk (small egg)

Sliced Chocolate

Tinned yellow peach

 

2: Steam and make the pumpkin soft in the microwave. Place the softened pumpkin, sugar, fresh cream (or soy milk) and egg yolk into a blender.

3: Blitz until it's mixed like in the photo above.

 

4: Pour the mixture from Step 3 into the tart shells and place into a 180℃ preheated oven. Lower the temperature to 140-150℃ and cook for 10-15 minutes. (You don't want to brown anything, so we cook it on a low heat.)

If it looks like it's about to start browning, cover with aluminium foil as this will prevent it from burning.

 

5: Once your cooked tarts have fully cooled down, use a round cutter to make a hat out of chocolate and a tear-drop cutter to make ears out of the yellow peach. The round ball on top of the hat can be made by breaking off some sliced chocolate and rolling it with your fingers.

Finally, drawn on the eyes, nose and mouth with a warmed chocolate pen!

 

The crunchy tart shells and moist pumpkin paste go pair together wonderfully! And the sourness from the yellow peach is perfect, making is really tasty♡

Kaori invites you into her world of character-themed food dishes in her recipe series!

Please check out her Instagram where she has uploaded many pictures of her character dishes!

■Profile
Kaori Kubota (@kaopan27)
I live in Hokkaido and I love to make character-shaped meals, desserts and breads.
I enjoy making character foods because I want to see my family smiling.
My character foods and character bento boxes are introduced on my Instagram page→@kaopan27

"FRANK MULLER / Kuromame no Pound Cake," a Haneda Airport- limited sweets is now on sale at GINZA SIX

"Kuromame (black bean) no Pound Cake" sold at a shop in Haneda Airport produced by FRANK MULLER called "FRANCK MULLER 365 Port of VANGUARD" is now on sale at GINZA SIX "FRANK MULLER GENEVE"(limited time offer).

"Kuromame no Pound Cake" is a sweets item using fermented butter, fresh Benibanaran (a variety of egg) and black beans made of famous Tanba seeds. The item has a gentle flavor of strictly selected salt and slightly sweet black beans.

It can be said that it is a high-quality pound cake which has the rich aroma and delicate sweetness of black beans.

The elegant-looking, matte-black box's package design will be changed into a spring-like fabulous design.

Why not try FRANK MULLER's special pound cake!

Japan's delicious "Happy Turn" rice cracker snack gets a new rich yuzukoshō flavour

Happy Turn is getting a new limited edition flavour. "Happy Turn Otona no Yuzukoshō Aji" will be available from January 22nd to the end of March at convenience stores around Japan.

"Happy Turn" is a hugely popular, light rice cracker snack in Japan that has been loved for over 40 years since its first release back in 1976. Yuzukoshō is another popular condiment in Japan like wasabi. It's made from chili peppers, yuzu and salt.

Together with added sweet and salty powder, yuzu and a spicy tang, this makes for a flavour aimed more at adults.

They were very particular about the flavour of the yuzu, using yuzu peel from the village of Umaji in Kochi Prefecture. You can enjoy the sharp taste of the yuzu and its bittersweet aftertaste.

The new flavour is sprinkled with is 1.5x more specially made yuzukoshō powder than the regular powder to give the snack a deeper flavour. It's a perfect snack for unwinding.

Take this opportunity to enjoy yourself a new 'n' tasty flavour aimed at adults.

◼︎Information

Happy Town Otona no Yuzukoshō Aji

On Sale: January 22, 2018

Price: Suggested retail price ¥100 (tax excl.)

Available: At all convenience stores around Japan and elsewhere

6 Tastiest New Year's Confectioneries at Tokyo Daimaru for 2018 Year of the Dog

Daimaru is one of Japan's most well-known department chain stores that sells everything from clothing, accessories, food and more. The Tokyo branch can be found at Tokyo Station. Every year you see lots of people scrambling to seek out a Tokyo gift on the ground floor and first floor of the shop where they sell both traditional Japanese and western confectioneries.

2018 is the Year of the Dog on the Chinese zodiac, which is good news because a whopping 50 dog-themed gifts have been announced at Daimaru to welcome the New Year. Whether you're looking for a New Year's gift or something for your loved one, we're going to show you the best 6 items on the list and the stores selling them, so you know where you need to go in Tokyo Daimaru.

Mozoroff: New Year's Welcome Denmark Cream Cheese Cake (Dog) – ¥1,080

Mozoroff's popular cheesecake has had a little makeover to make it appropriate for 2018: a dog version!

Minamoto Kitchoan: Ema Fukushourai – ¥1,296

This set comes with doggy design black soy beans stuffed in sweet bean jelly and melt-in-the-mouth New Year's dog sweets (for you, not your dog!) Fukushourai means they will bring you good fortune, and they come with an ema which is a Japanese wooden plaque.

Kanou Shojuan: Kanou Shojuan Shichifukujin – ¥2,700

The shichifukujin are the seven gods of luck and good fortune. This little set contains seven different New Year's good-luck confectioneries such as porgies, lotus root, and chestnut natto. Best of all, they come boxed in the takarabune, the treasure ship that bears the seven lucky gods.

Ryoguchiya Korekiyo: New Year's Sweet Bean Jelly Gyodaika (2 incl.) – ¥1,836

Contains a set of 2 'saogashi,' a rectangular shaped Japanese sweet, to welcome the New Year.

Funabashiya: New Year's Saichuu (Dog) – ¥1,850

Comes with a set of 4 dog-shaped and 2 round snacks, all filled with large-grained adzuki bean paste from Hokkaido.

Toraya: New Year's Sweet Bean Jelly – ¥3,240

Packaged in small limited edition packaging, the heart and skill of Toraya breathes through these sweet bean jelly treats.

We hope you get your hands on some year of the dog goodies for the New Year!

A sweets item depicting Mickey will be added to the popular wagashi series, "Tabemasu"

"Tabemasu" is a wagashi (Japanese dessert series) using the motifs of many characters.

From the 30th of December 2017, "Tabemasu Disney New Year ver." which uses the motifs of the world-famous Disney characters "Micky Mouse," "Pluto," "Donald Duck" and "Daisy Duck" will be sold at 7-Eleven throughout Japan.

This time, they will sell two versions which are "Tabemasu Disney New Year ver. Mickey & Pluto" and "Tabemasu Disney New Year ver. Donald and & Daisy." As the concept of the series is "eatable mascots," all the products are made of wagashi.

Characters other than Mickey Mouse are making their first appearance in the Tabemasu series and all the items are made in a precise manner.

The flavors of the bean jam stuffed inside the items is black syrup (Mickey Mouse), custard (Donald Duck) and strawberry (Daisy Duck) which are suitable to be eaten during the New Year's holidays and they are recommended for small children.

The smooth texture and delicate flavor of the series is superb.

The sweets item using the motif of Pluto which matches with the zodiac sign animal of 2018, the dog, is recommended to be eaten during the New Year's holidays.

Let's buy "Tabemasu Disney New Year ver. Mickey & Pluto" which will be a great decoration on your dinner table.

■Information

Tabemasu Disney New Year ver. Mickey & Pluto

(Mickey Mouse: black syrup flavor, Pluto: yuzu (Japanese citrus) flavor

Tabemasu Disney New Year ver. Donald & Daisy

(Donald Duck: custard flavor, Daisy Duck: strawberry flavor)

Price: 360 yen (tax not included)

URL:http://www.bandai.co.jp/candy/tabemas/d-newyear/

(C)Disney

※The photos noted above are images.

※The photos might be different from the actual products.

※The available dates might differ depending on the store.

※Please note that some stores will not sell these items.

※The latest information can be seen on Bandai Candy's website.

※"Tabemasu" is a registration trademark of Bandai.

Beer, maccha (green tea) and Japanese desserts! Five recommended spots where you can eat or drink for free.

There are many spots in Tokyo where you can enjoy without spending any money.

In this article, I will introduce to you some spots where you can eat or drink for free.

Beer-lovers should visit this place! "SUNTORY Beer Factory" (Musashino)

You can observe the operations of this factory which was built in 1963. To everyone's surprise, three cups of Premium Malt's will be served per person! (snacks will also be offered).

It will for sure be an exciting tour for beer-lovers. You can also learn about the best way of poring beer into a cup.

Let's drink teas and eat desserts/snacks on an open terrace. "Komyo Temple Open Terrace" (Kamiyacho)

You can enjoy a cup of tea and desserts/snacks on the open terrace of the temple.

There are about ten kinds of desserts such as warabimochi (bracken-starch rice cake) and you must make a reservation before visiting the temple since the plan is very popular. This terrace is can be used because the monk of the temple wanted everybody to enjoy the atmosphere of the temple.

Let's eat a giant gyoza (dumpling) (2.5kg) for free!  Kagurazaka Hanten (Kagurazaka)

"Jumbo Gyoza" is a menu item with about 100 pieces-worth of dumplings stuffed inside one gyoza skin. The menu itme is so big that they cannot make usual dumplings while making this giant gyoza.

You don't have to pay for this gyoza if you can eat it within an hour and they will give you a bottle of Chinese alcohol as a present!

Lean how to make delicious cheese "Morinaga Nyugyu Tokyo Tama Factory" (Tama)

An observation tour of Morinaga Nyugyu where products such as milk and fruit juices are processed. You can observe the process of operation from the observation path while listening to an explanation. An experience course (option) where you can make cheese is also available. Please make a reservation 5 days before than the date that you want to visit the factory.

You can enjoy many kinds of food from different areas. "Yoyogi Park" (Harajuku)

Many different kinds of events are held every weekend and many people gather at food events which can be entered for free. Please refer to their websites RE detailed information.

How did you like our introduction to places where you can enjoy yourself without spending any money? Isn't it amazing that there are so many spots like this?

Kaori's easy recipe – learn how to make a "Kitty's strawberry daifuku"!

With just a small bit of ingenuity, turn everyday food into something cute using Kaori's recipe series! With a few simple ideas, an ordinary recipe magically transforms into a cute dish. Today we'll look at a recipe that uses a lot of fruit. Let us introduce to you, "Kitty's strawberry daifuku".

■1:Ingredients(to make 6 pieces)

・Strawberries 6

・Rice flour for dumplings 120g

・Sugar(white sugar or granulated sugar)20〜25g

(Use white colored sugar to make daifuku white)

・White bean paste 180g

(Use white bean paste to make daifuku white)

・Water 150ml

・Chocolate pens (black・yellow)

・Kitty's ribbon pic(can be bought at a 100 yen shop)

2:Remove strawberries' calyx. Wash strawberries and wipe with kitchen paper. Divide the bean paste into 30g each and roll it up. Place the bean paste on a sheet of cellophane wrap flatly. Then put on strawberries and roll it up.

※Cut the tip of strawberries so that it can't come up from bean paste.

3:Mix sugar and rice flour for dumplings with water litter by little. Mix it until it becomes smooth.

4:When it becomes smooth like picture No.3, heat it for 2minutes and 10 seconds at 500w with a sheet of cellophane wrap. After that, mix it again and heat it for 1 more minutes.

5:After heating, mix it until it becomes smoothly like a picture above.

6:Place a dough on cornstarch. *Be careful to be burned

Divide it into 7 pieces. (6 for daifuku and 1 for Kitt7S ears)

Make each dough flat and wrap it up on bean paste. When dough stick together, make a round with your hands and put the cut sections down.

7:When you all roll up, make ears. Cut into triangle, make sure don't put cornstarch on cut section)

8:Put the cut sections down and place it on the heads.

(If the dough dry up, put a little water)

When you fixing the ears, put a pic ribbon, and write a nose, eyes, and mustache with chocolate pens.

Finished♡

Kaori also invites you into her world of character-themed rice dishes in her recipe series! Please check out her Instagram where she has uploaded many pictures of her character dishes!

■Profile

Kaori Kubota(@kaopan27)

Kaori lives in Hokkaido and enjoys making dinners, sweet treats and character food using bread ♡

Kaori also loves to experiment with small tricks to crate easy character-themed sweets @kaopan27

A recipe for photogenic food #16 「Cotton Candy Cocktail」

With just a small touch, you can turn everyday food into a gorgeous dish worthy to be part of your SNS thread. This is the continuation of Arisa Shirai's recipe series! With just a few ideas, an ordinary recipe can be shaped up to produce a photogenic masterpiece! Today we will be looking at a recipe that has an intense aesthetic impact — the "Cotton Candy Cocktail".

■Ingredients (Fills 2 champagne glasses )

・40g Frozen mixed berries

・Soda — appropriate amount

・ 6g — syrup

・Mint leaves — small amount

・ Cotton candy — to your liking

・ 1g sprinkles/sugar toppings

■ How to make

① Add the frozen mixed berries, mint, syrup and soda into a champagne glass

②Use your hands to shred the cotton candy to size and place on top of the glass as a "lid" to the champagne glass.

③ Add toppings to the candy floss to your liking.

Pour soda into the champagne glass through the cotton candy barrier and watch it melt! It's easy to make and very photogenic too so try it for yourself!

■Arisa Shirai

Visual food creator and researcher of colourful bentos. Arisa Shirai shows how fun it is to make and eat your own homemade food.

Instagram:arigohan

Blog:http://ameblo.jp/arinko0917/

−−−

■Related article:A recipe for photogenic food #15 「Strawberry Cup Parfait.」

■Related article:A recipe for photogenic food #13 "Marshmallow Pops."

A recipe for photogenic food #14 「Prosciutto ribbon sushi」

With just a small touch, you can turn everyday food into a gorgeous dish worthy to be part of your SNS thread. This is the continuation of Arisa Shirai's recipe series! With just a few ideas, an ordinary recipe can be shaped up to produce a photogenic masterpiece! Today we'll be looking at a recipe for cute, round sushiー "Prosciutto ribbon sushi".

■ Ingredients (Serves 4)

・ 4 Dry-cured ham slices

・ 1/5p Radish sprouts or salad cress (Kaiware)

・ 200g Japanese sushi rice

・25cc Sushi rice vinegar

■ How to make:

① Mix the vinegar with the rice.

②Roll and press the rice into a sushi shape.

③ Cut the ham into rectangular pieces

④ Make pleats in the centre of the rectangle and then use a remaining strip of ham to tie the middle to create a ribbon out of the ham.

⑤Add the Kaiware sprouts/salad cress to the top of the rice and wrap a remaining strip of ham around the rice. Finally, place the ham ribbon on top.

The sweetness of the rice and the saltiness of the ham are an exquisite match.

Although this sushi may look small and cute, it holds a lot of volume and is surprisingly filling!

■ Arisa Shirai

Visual food creator & Kyaraben researcher Arisa Shirai shows how fun it is to make and eat your own homemade food.

Instagram: arigohan

Blog:http://ameblo.jp/arinko0917/

−−−

■Related article:A recipe for photogenic food #7 「SUSHI CAKE」

■Related Article: A recipe for photogenic food#3 "Japanese Style Onigiri Pinchos"

A recipe for photogenic food #13 "Marshmallow Pops."

This feature is made possible by Arisa Shirai, a cooking specialist who posts regular photos of her gorgeous food via her social media. She makes every day recipes look photogenic with her small twists.

For this recipe, we will take a look at how to make "Marshmallow Pops." They might be simple, but they look gorgeous, and are a perfect Valentine's Day gift!

■Ingredients (serves 6)

・6 straws

・6 marshmallows

・50g chocolate

・Your favourite chocolate pens and toppings

■How to Make

①Pierce the marshmallows with your straws

②Dip the marshmallows into the melted chocolate

③Decorate with chocolate pens and toppings to make different designs

If you use giant marshmallows, then one will be enough to fill you up. And all the different ways to decorate them are limitless! You can even finish them off by tying the straw with a ribbon.

■Arisa Shirai

Visual food creator & charaben researcher.

Arisa Shirai shows how fun it is to make and eat your own homemade food.

Instagram: arigohan

A recipe for photogenic food #12「Japanese-style Avocado Gratin」

With just a small touch, you can turn everyday food into a gorgeous dish worthy to be part of your SNS thread. This is the continuation of Arisa Shirai's recipe series! With just a few ideas, an ordinary recipe can be shaped up to produce a photogenic masterpiece! Today we'll be looking at a recipe for "Japanese-style Avocado Gratin". This recipe is as simple as putting the ingredients together and grilling!

■ Ingredients (Serves 2 people)

・ 1 Avocado

・ 1 Egg

Powdered cheese — to your taste
20g Cheese
20g Bacon

・ 1/3 teaspoon olive oil

・ Soy sauce — to your taste

・ Salt — to your taste

・ Pepper — to your taste

■ How to make:

① Cut the avocado into two equal halves then scoop out the insides of each avocado half using a small, round measuring spoon. Make sure that you scoop out round balls of avocado and save these for later. Do not throw away the skin of the avocado.

② Pour the egg, soy sauce, salt and pepper into the avocado skin and mix.

③ Add the cheese, bacon, round balls of avocado (from step ①), powdered cheese, salt, pepper and olive oil to the avocado skin.

➃ Grill in a toaster oven for 7 minutes (Wrap in aluminium foil when the top turns golden brown).

And you're done!

The bacon and cheese combination is perfection. Enjoy your hot and creamy avocado dish!

■ Arisa Shirai

Visual food creator & researcher of colourful bentos. Arisa Shirai shows how fun it is to make and eat your own homemade food.
Instagram: arigohan

Instagram:arigohan

Blog:http://ameblo.jp/arinko0917/

—

■Related article:A recipe for photogenic food #7 「SUSHI CAKE」

■Related article:A recipe for photogenic food #6 "Potato salads parfait"