FUFU NIKKO: The New Hot Spring Hotel in Nikko, Tochigi Prefecture
Kato Pleasure Group is set to open its 4th branch of FUFU NIKKO hotels in Nikko, Tochigi on October 2, 2020 following their Atami, Lake Kawaguchi, and Nara branches.
A resort steeped in Japanese history and culture
The site in which the hotel is located has a sacred air to it. It dates back to the Meiji Period and has continued into modern times. Upon entering the hotel, your ears are treated to the sound of classical music. Overhead you will spot high ceilings made from wood which give it a warm and welcoming atmosphere.The shadows of the outside walls, the warmth of the inviting lights, and the metallic decorations which catch the light present a calm and quiet mood.
Classy and sophisticated cuisine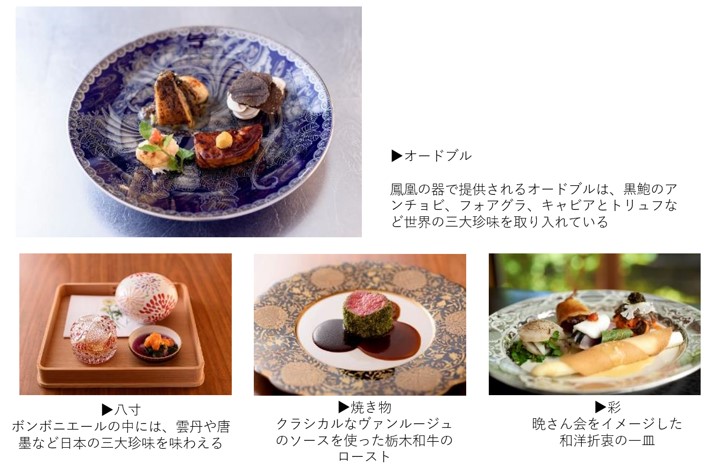 Both the food and plates it is served on capture the essence and beauty of the Japanese way. Meals are prepared using seasonal ingredients from Tochigi as well as high quality foods like foie gras, truffles, and caviar. Each dish expresses elegance and refinement and combines both Japanese and Western flavours.
Hot spring water sourced from Tamozawa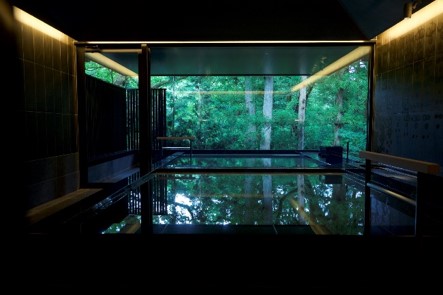 All rooms at the hotel are fitted with hot springs or large baths which natural light from the outdoors shining through. In the open-air baths, guests get to experience the surrounding sights of nature coupled with the sound of the flowing stream and chirping birds.
Information
FUFU NIKKO JAPAN
Grand Opening: October 2, 2020
Address: 1573-8 Honcho, Nikko, Tochigi Prefecture
Official Website: https://www.kpg.gr.jp/
RELATED ENTRIES
Kyary Pamyu Pamyu Announces 'LOCAL POWER JAPAN Project' to Support Rural Areas

Celebrating the 10th anniversary of her major label debut, Kyary Pamyu Pamyu is back in the news. The artist will perform at this year's Coachella, one of the largest music festivals in the United States, and recently released her first full-length album in three years 'Candy Racer' in October 2021.  On January 16, Kyary embarked on the largest tour of her career, 'Kyary Pamyu Pamyu 10th ANNIVERSARY JAPAN TOUR 2022 CANDY WAVE,' which will see the singer performing 30 shows across Japan.

In conjunction with the nationwide tour, the "LOCAL POWER JAPAN Project" was launched to energize Japan through the appeal of regional towns and cities.  The 30 stops on the new tour include many that Kyary has not visited before, and were chosen based on the singer's desire to perform for fans who may not typically be able to attend one of her shows. 

This initiative aims to bring attention and support to local industries and to inspire more tourism to rural areas.

This project is a new attempt to enliven local communities by collaborating with companies that have roots in the rural locations where these concerts will be held. These company's logos have been reimagined, paying homage to the artwork associated with Kyary's previous song releases. T-shirts designed with each of these collaborative logos will be on sale for a limited time, and a portion of the proceeds will be donated to the local community for development and social contributions.

For the encore of the first live show, Kyary wore a collaboration logo T-shirt inspired by Suzuhiro Kamaboko, a company in Kanagawa Prefecture. The artist also introduced the project and its aim to the excited audience. More collaborations will be announced through July 2021.

Check out the 'LOCAL POWER JAPAN Project' website for more details!

Comment from Kyary Pamyu Pamyu

"This tour is to commemorate my tenth anniversary, and as I travel all over Japan to express my gratitude to those who have supported me over the past decade, I also want to do something for everyone else. I'm happy to support these local companies and I'd like to work with them to revitalize the entire country. We'll be engaging in all sorts of collaborations around Japan, so look forward to it!"


 

January 16, Kanagawa Performance: Suzuhiro Kamaboko

Suzuhiro Kamaboko, a long-established fish paste store in Odawara that has been in business for 156 years, has agreed to take part in the project. Their normally navy blue brand logo has received a major makeover in colorful pink, green, and purple hues. 

The T-shirts featuring the new collaboration logo on the front and the Kyary Pamyu Pamyu 10th anniversary logo and 'LOCAL POWER JAPAN Project' logo on the back are now available for purchase!

*Otono Kuni (From 4th Album 'Japamyu,' 2018)
Streaming Links: https://lnk.to/otonokuni

January 29, Gunma Performance: Oginoya Kamameshi


Oginoya, the largest Ekiben shop in Japan, was established 136 years ago in Yokokawa, Gunma Prefecture. 

Their main dish, Touge no Kamameshi,' has been sold for over 60 years and often makes appearances at events all over Japan. The company's logo has been reborn through the lens of Kyary's popular song Tsukematsukeru. A special kamameshi dish will also be prepared for the project, and will be sold in limited quantities at the Gunma concert venue on January 29, Kyary's birthday!

*Tsukematsukeru (1st Single, 2012)
Streaming Links: https://lnk.to/tsukematsukeru

May 20, Fukushima Performance: Kourakuen

Kyary will appear in commercials for Kourakuen as part of the project. The company started as a small diner in Aizuwakamatsu and is now is a national chain of ramen restaurants serving over 54 million people a year! The new logo and collaboration details will be revealed at a later date, so keep an eye out!

Hotel Made Entirely of Ice Opens in Tomamu, Hokkaido

Hoshino Resort Tomamu, one of the largest stay-and-go snow resorts in Hokkaido, will open a hotel made entirely of ice from January 20 until February 28, 2022. The ceiling, walls, and furniture will all be made of ice, and guests can also enjoy an outdoor ice bath! In addition, a new Ice Dinner will be on offer, where visitors can enjoy a beautiful table surrounded by ice overlooking a forest of white birches while staring up at the starry winter sky.

The seamless dome-shaped ice structure is about 8.5 meters in diameter and 3.5 meters high. Sleeping bags will be provided to guests to keep them warm and comfortable until morning.

Visitors can enjoy a hot spring in the open winter air in Shimukappu Village's Scan Portopia Yunosawa Onsen. 

The aforementioned Ice Dinner features three ice-themed dishes and welcomes guests to sit at a table made entirely of ice surrounded by majestic nature.

The appetizer includes iced vegetables like tomatoes, bell peppers, and cauliflower. Each is dipped in a warm garlic sauce, balancing the sweetness of the veggies, which become more sugary when cold. 

The main course, Iceberg Bouillabaisse, is covered with ice. This begins to melt as the soup pot is slowly heated in front of the guests, revealing gorgeous seafood like cod and shrimp. It's a feast for the eyes as well as the tastebuds!

The frozen fruit dessert mixes strawberries and kiwis with hot wine and a touch of cinnamon. Sweet and sour flavors come together to end the night on a high note.

Information

Ice Hotel

Running: January 20 – February 28, 2022
Price: ¥28,000 per person, per night (Includes tax, service charge)
Check-in: 21:40-22:00 / Check-out: 8:00
Capacity: 1 group per day (Minimum 1 guest, maximum 2 guests)
Eligibility: Must be elementary school age or older and staying at Tomamu The Tower or Hoshino Resort RISONARE Tomamu
Reservations: https://www.snowtomamu.jp/summer/
*Must be made at least 1 week in advance.
Official Site:https://www.snowtomamu.jp

'It's My Color! ~Rouge Red Room~' Concept Room Allows Guests to Surround Themselves with Red

Strings Hotel Nagoya will open a new concept room from January 15 until April 14, 2022. Those who love the color red won't want to miss it!

'It's My Color' is a room completely dedicated to a person's favorite shade. Imagine dressing up in red and spending time taking photographs in this completely red room. It's perfect for Valentine's Day!

While the room may be red for now, the color may change in the future. Guests can also enjoy a special strawberry afternoon tea set in their room during this event period.

Oriental Hotel Universal City, the Official Hotel of Universal Studios Japan, Holds Grand Opening

After a soft opening in July 2021, the Oriental Hotel Universal City has spent the last six months remodeling its entrance, lobby, restaurant, and guest rooms. The property has now officially held its grand opening and will be welcoming guests in 2022. 

Hotel Exterior

Guest Room

Restaurant Interior

Restaurant Interior

Huge Hamburgers

Croffle Eggs Benedict

Guest rooms feature earthy color tones and are spacious and functional, with beds provided by popular brand Simmons, promising a good night's sleep. A variety of room types are available, including double rooms, twin rooms, triple rooms, and connecting rooms, allowing for a flexible stay depending on the number of guests. Until March 31, 2022, the hotel is offering the 'New Room Stay Plan,' a long-stay luxury holiday plan that allows guests to stay up to 23 hours on departure day to enjoy shopping and other leisure activities.

The hotel's restaurant has been reimagined with a buffet concept and welcomes guests with high ceilings and large windows for a refreshing morning experience. The interior is accented with a green wall to conjure images of nature, and the breakfast menu is based on the concept of 'Charge from Nature,' offering a wide variety of dishes to help visitors recharge both body and mind.  

オリエンタルホテル ユニバーサル・シティはユニバーサル・スタジオ・ジャパンのオフィシャルホテルです
Universal elements and all related indicia TM & © 2021 Universal Studios. All rights reserved.
CR21-2553
 

Wakura Onsen in Ishikawa Prefecture to Hold Special Illumination, Luxurious Tea Time

The Wakura Onsen Tourist Association is sponsoring a new project to illuminate Seirinji Temple, a nationally registered cultural property. Along with this light show, guests can enjoy a luxurious tea time starting on January 8, 2022. This year, the pavilion and garden will be lit up again, and the entrance will be decorated with traditional local paper lanterns. 

The historic property was built in 1909 as a resting place for Emperor Taisho. Only two such buildings exist in Japan: one in Hamada City, Shimane Prefecture, and the other at Wakura Onsen. Both were registered as Tangible Cultural Properties of Japan in 2017. 

 

Last year, the area was photographed for posters and pamphlets as part of the 'Japanese Beauty Hokuriku' campaign organized by JR East, JR West, and the Central JR Railway.

Each Saturday evening through February 26, guests will be invited to enjoy a different kind of atmosphere while enjoying a very fancy tea time. The program has been very well received by visitors, so it shouldn't be missed!


The light-up of the temple and garden, with its slowly changing colors, will transport guests to another world. The entrance to Seirinji Temple will be redecorated and lit up, and a pathway of lights will be created from the gate to the entrance of the pavilion using paper lanterns.

Information

Seirinji Temple Illuminations & Luxury Tea Time

Running: Saturdays from January 8 – February 26, 2022 

First Seating: 17:00  

Second Seating: 18:00

Address: Seirinji Temple, Wakura Onsen (61 Wakuramachi, Nanao, Ishikawa)

*Available for guests of Wakura Onsen

Official Site: https://www.wakura.or.jp

Kyary Pamyu Pamyu Explores Tomakomai, Hokkaido in New Tour Video

Kyary Pamyu Pamyu is introducing potential travelers to the charms of Tomakomai, Hokkaido in a new two-part tourism video on her YouTube channel. 

In the new videos, fans can see Kyary in a new light very unlike her onstage persona. Along with her tour guides, she travels for two days around this gorgeous city on Japan's northernmost island.
The first video begins with her visit to a Red Eagles Hokkaido hockey game, quickly followed by tons of outdoor activities like canoeing and horseback riding. The singer enjoys plenty of local dishes and captures some spectacular views of Lake Utonai. 


Who is the one who invited Kyary to Tomakomai anyway? Fans will have to watch to find out. Whether living in Japan or dreaming about visiting someday, these videos are sure to inspire a future trip.

Boutique Hotel TRUNK to Hold Winter Market with Outdoor Comfort Concept

From December 20 until December 26, 2021, TRUNK, a boutique hotel in Jingumae, Shibuya, will hold the TRUNK Winter Market 2021. The theme of the event will be 'outdoor comfort,' and carrying on last year's tradition, the hotel will deliver content aiming to warm the body and soul during the cold winter season. The public terrace will be decorated with fire pits and lanterns, creating a space where visitors can fully enjoy the cozy atmosphere. The limited-time event will offer workshops, food, and drinks to be enjoyed with family and friends.

The food menu includes 'Chicken and Mushroom Pan Stew,' served in a bread bowl and made with fresh ingredients. Guests can also enjoy a 'Cheddar Cheese Crepe with Homemade Roast Ham,' along with plenty of scrumptious desserts. Perfect for the Christmas season, warm eggnog and mulled wine will be served, and kids will love the organic hot chocolate!

Four different workshops will be set up at tents in the public terrace. Kids Gabbeh Painting will teach kids how to design their own Gabbeh, a traditional small fabric woven by nomads in southwestern Iran. After drawing their design, artisans will weave the Gabbeh, and will send it to your home. The 'Socializing Flower Swag' workshop allows visitors to make swag using dried flowers that were upcycled from fresh flowers that would otherwise be thrown away. These will be silk-screened and wrapped for a great souvenir. Outdoor Candle is a workshop where visitors can create original leather candle holders. 




At Campfire Roast Coffee, guests can roast coffee over an open fire pit. Imagine how good it smells! Afterwards, you can take home your spoils.

There will also be a TRUNK Vintage Store on-site, where hotel staff will sell decorations and furniture no longer needed in the hotel, as well as clothes and other goods. 

Nagoya Tokyu Hotel's Newly Upgraded Sylvanian Families Room is Now Available

Nagoya Tokyu Hotel has launched its second plan in collaboration with the Sylvanian Families.

This plan allows you to enjoy the world of the Sylvanian Families, a series of dollhouse toys that have been loved by many fans since their launch in 1985. Following on from the first plan, which was very popular, the new plan allows guests to enjoy the hotel's original fruit sandwiches with Sylvanian Families characters imprinted on them at breakfast, as well as the opportunity to dress the dolls in a custom dress that can be freely decorated with lace and accessories to create your own Sylvanian Families.


In this plan, the space with sofas and tables in the room has been converted into a kids' space with play mats so that even small children can play safely. The kids' space is filled with houses and buildings from the "Sylvanian Families" series that kids can actually touch and play with, such as the "Big House with a Red Roof (Classic Color)," the "Doki Doki Tree House in the Forest", and the "Dreamy Amusement Park in the Castle", as well as the chocolate-covered rabbit girl "Flare" and many other friends. There will also be a red and white polka-dot dress (size 110 only) that kids can try on to match with "Flare".


The number of adult fans who enjoy taking pictures of cute Sylvanian Families scenes and posting them on social media is also increasing very quickly. Let's enjoy the world of "Sylvanian Families" to the fullest!

© EPOCH

Information

Family Plan with Kids Space to Play with Sylvanian Families

Runnning: Until February 28, 2022.
Room: Superior Twin Room

Reservation/Contact: 052-251-5922

Hoshinoya Karuizawa Unveils Special Anniversary Plan on the Ice

Each Hoshinoya location has its own unique theme, and all offer an extraordinary experience. Hoshinoya Karuizawa, a resort in Nagano Prefecture, has opened reservations for the Starry Winter Anniversary Plan, allowing couples to celebrate their love away from the hustle and bustle of the city beneath the dazzling winter sky. The staff at the resort will assist couples in celebrating the special day at various locations around the resort, and a custom-made photo tour will also be included!

Surrounded by rich nature at the foot of Mt. Asama, Karuizawa reaches low temperatures in winter, creating beautiful scenery dotted with icy trees and snow glistening in the sunlight. This plan is perfect for those who want to escape the stresses of the current pandemic. 

A Special Seat on the Ice

The Karuizawa Wild Bird Sanctuary is located directly beside Hoshinoya Karuizawa and houses the Kera Pond at the entrance. Used as an outdoor skating rink during the winter months, a large two-person seating area is erected on the ice which can only be reserved for couples. Lovebirds can enjoy champagne, dried fruits, and cheese as they gaze up at the starry sky. 

Guest Rooms Decorated for the Celebration

With rooms offering spectacular nature views, couples can enjoy herbal tea, sweets, and flower arrangements only included in this special plan. The flowers may be taken home, and the sweets include florentines made with miso, a specialty of the Shinshu area. They are said to be 'sweets that bring happiness,' and may be the key to many more happy years together!

Custom-Made Photo Tour

The landscape around the resort pays homage to traditional Japanese landscaping and includes terraced rice paddies, rivers, and unique vegetation. The custom-made photo tour is a private tour limited to one group, in which couples stroll around the grounds with a photographer to take photos at these spectacular locations. These will be made into an album with the Hoshinoya Karuizawa logo. 

Hotel MIMARU Offering Christmas Room in Collaboration with Awesome Store

Lifestyle shop Awesome Store is collaborating with the MIMARU hotel chain to create a secluded and supremely cozy Christmas Room. The special room will only be available from December 1 until December 25, 2021. Each spacious room features a kitchen and is decorated with plenty of holiday goodness, making it the best place to spend the Christmas season with family and friends. 

Original tableware from Awesome Store will be left in each room, so guests can easily throw a Christmas party by having food delivered or grabbing takeout. There's no need to decorate, as the space will be completely overrun by ornaments and garlands. How would you like to spend Christmas here? 

Information

Awesome Store Christmas Room

Available: December 1 – December 25, 2021

Participating Hotels:
MIMARU Tokyo Akasaka

MIMARU Tokyo Nihombashi Suitengumae

MIMARU Tokyo Ueno Okachimachi

MIMARU Tokyo Ueno Inaricho

Reservations/Official Site: https://mimaruhotels.com/

Model Shibata Saki's Trip to Mie Prefecture to Air on BS12 for 2 Consecutive Weeks

On November 18 and November 25, national free broadcasting service BS12 will air 'NEXT TRIP: A Luxury Resort Trip to Ise and Shima.' The host for the excursion will be popular model Shibata Saki (nicknamed Shibasaki), who is a well-known figure to women of all ages.

NEXT TRIP is a new travel program that helps travelers figure out where to go next. The theme of the series is "Where should I go once the world settles down?" From visiting popular city spots to faraway resorts in Japan and abroad, the show aims to introduce people to locations they haven't discovered yet, showcasing what the world has to offer. Those watching should keep a lookout for spectacular scenery, gourmet local food, outdoor activities, and so much more. 

[Part 1] November 18, 2021, 9:00 – 'NEXT TRIP: A Journey to Ise'

In this episode, Saki Shibata travels to Ise, Mie Prefecture, first visiting Ise Shrine to pay her respects. The shrine is one of the holiest and important sites in the Shinto faith and was said to be established in the year 4 BCE. After visiting the Inner Shrine on a bright and sunny morning, Shibata travels to the ancient Okage Yokocho street to find some souvenirs and enjoy a local cafe to enjoy Ise's famous rice cakes and traditional Japanese sweets. For lunch, she visits a very retro western-style building. At the nearby Ise Ninja Kingdom, guests can wear ninja costumes, and Shibata does just that! As the day comes to an end, Shibata opts to stay at a luxurious ryokan, Ikyuu, and highlights the incredible dinner and other services the lodging offers.

Air Date: November 18, 2021 / 9:00-10:00

[Part 2] November 25, 2021, 9:00 – 'NEXT TRIP: A Luxury Resort Trip to Ise and Shima' 

The second part of the trip begins with cycling. Visiting the famous Married Couple Rocks on the coast of Futami, Shibata sets out for Shima. After enjoying the breathtaking view from the 'Mailbox in the Sky' on the Ise-Shima Skyline, she stays at a resort overlooking the Shima coast. Guests are welcome to take a leisurely stroll around the grounds and enjoy a luxury cruise or dinner. The sunset is something Saki Shibata will surely never forget.

 

Air Date: November 25, 2021 / 9:00-10:00

Where do you want to travel in Japan once the world settles down?

OMO7 Asahikawa Resort in Hokkaido Offers Polar Bear Valentine's Day Girls' Party Package

Not a fan of Valentine's Day? Want to get away from all the in-your-face romance and just have a good time with your gal pals? OMO7 Asahikawa by Hoshino Resort in Hokkaido is offering a limited-time polar bear-themed Valentine's Day Girls' Party package for all of February 2022. The single polar bear room, opened in November 2020, will be transformed into its Valentine's Day version. 

Valentine's Day has been popular in Japan for many years and is a day when women give gifts to men to express their feelings. However, in recent years, it has also become a less romantic event for some–people are buying chocolate for themselves, or giving candies to friends. The polar bear room is perfect for girlfriends who just want to relax and have a good time. Why a polar bear? The Asahikawa Zoo is nearby and is an incredibly popular attraction.

The Polar Bear Valentine Room, Only Available for One Party per Day

Decorated from top to bottom in cute bears, guests can also wear matching polar bear loungewear, perfect for those Instagram shots. This will be a girls' gathering you'll never forget!

Polar Bear-inspired Snacks for the Perfect Girls' Night

When girls get together, they just love to chat. But talking so much can make you hungry, so plenty of snacks will be waiting in the guest room! If you're not in the snacking mood, they also make wonderful souvenirs. 

Polar Bear Desserts, A Must-Have in Asahikawa

The area around OMO7 Asahikawa is lined with stylish cafes where you can take a break from your daily life. After enjoying the Valentine's Room, head out into the nearby neighborhood to Fukuyoshi Cafe for some polar bear sweets. The treats are included with the price of the room, so there's no reason to miss it!