Kaori's Easy Recipe: Learn to Make Jack Skellington Stained Glass Cookies
With just a small bit of ingenuity, turn everyday food into something cute using Kaori's Easy Recipe! With a few simple ideas, an ordinary recipe magically transforms into a cute dish.
I have the perfect Halloween recipe for you this time. If we're talking Halloween, then who else but Jack Skellington is the man for the job? Here's my recipe to make Jack Skellington Stained Glass Cookies.
Ingredients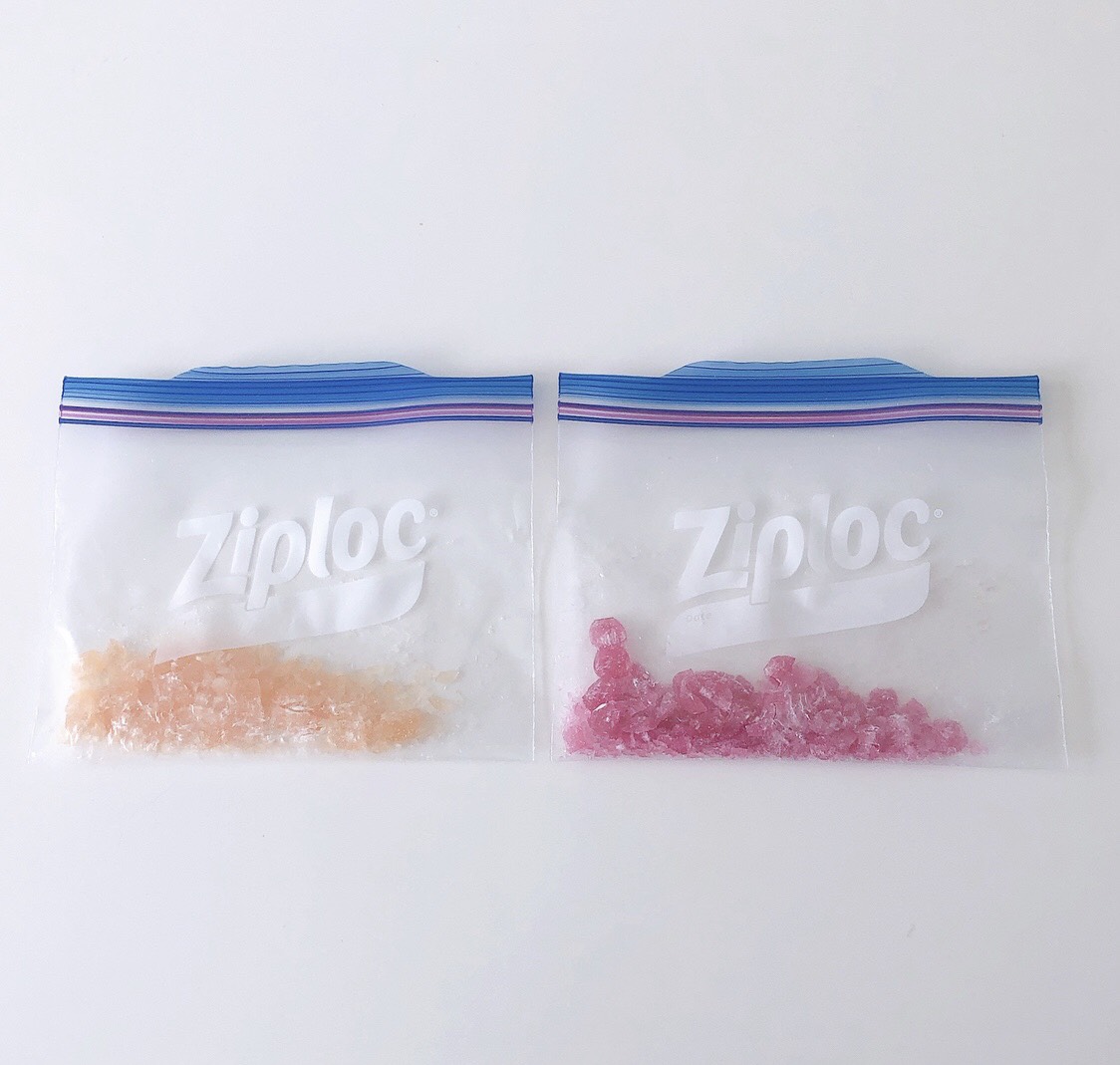 70g unsalted butter
50g icing sugar (or high quality white sugar if you don't have)
A pinch of salt
30g egg
110g weak flour
10g black cocoa
1 white chocolate pen
Hard candy of your choice crushed into small pieces
*To crush the candy, you can put into a zip lock bag and use a rolling pin
1

Place all ingredients except the egg into a food processor and blitz. After, place the egg into the blitzed mix and blitz once again. Once combined, wrap with cling film and place into the refrigerator for 1+ hours until set.
2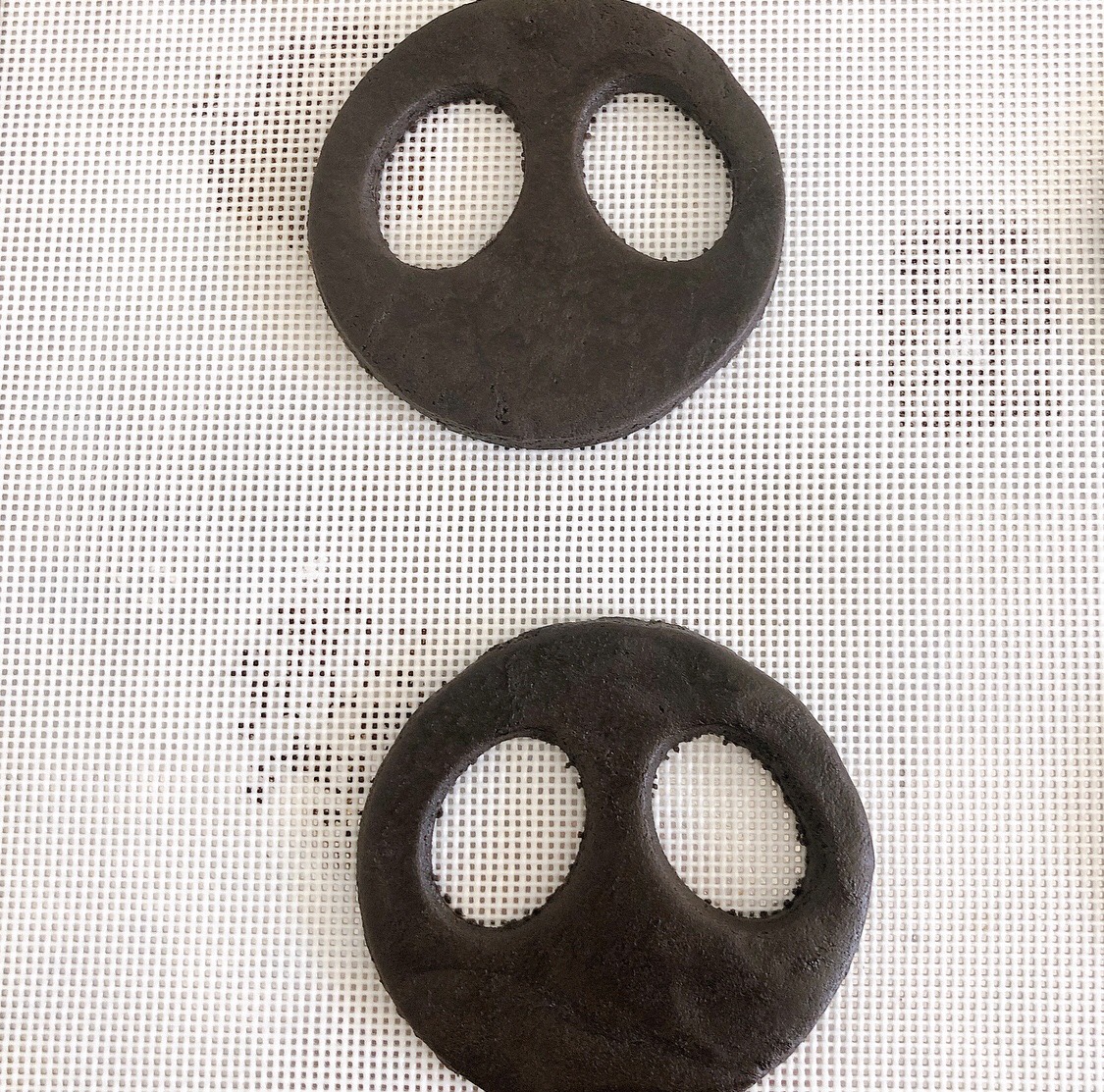 Use a rolling pin to roll out circles of equal thickness for Jack's head. Use a cutter to cut out the eyes, and place into the refrigerator one more to set.
3
Bake in the oven at 180°C for 10 minutes and take out again.
4

Place your crushed candy into the eye holes and bake for a further 5 minutes.
*The candy will melt into place and even out, so feel free to pile on the pieces
*Be careful not to overcook the candy as it will turn brown
5

Allow to cool. Be very careful handling and placing down the cookies as the eyes will be delicate. Decorate Jack's nose and mouth with the chocolate pen and he's ready for your Halloween party!
Kaori invites you into her world of character-themed food dishes in her recipe series. Be sure to check out her Instagram where she has uploaded many pictures of her character dishes!
Kaori Kubota (@kaopan27)
I live in Hokkaido and I love to make character themed foods, desserts and pastries♡
I want to see my family smile, so I enjoy putting in a bit of effort to make character foods and changing food into something cute♡
You can see more of my character foods and character bento boxes on my Instagram page → @kaopan72
RECOMMENDED ENTRIES
Kaori's Easy Recipe: Learn to Transform a Standard Roll Cake into a Kawaii Hello Kitty Cake

With just a small bit of ingenuity, turn everyday food into something cute using Kaori's easy recipe! With a few simple ideas, an ordinary recipe magically transforms into a cute dish.

In this recipe, you'll learn how to transform a store-bought roll cake into a kawaii Hello Kitty cake which contains gyūhi – a form of traditional Japanese sweet which is a variety of mochi.

Ingredients

50g refined rice flour
100ml water
70g sugar
potato starch
strawberries and whipped cream to your liking
sliced chocolate (for Hello Kitty's face)

1

First, make the gyūhi by mixing 50g of refined rice flour with 100ml of water. Mix well to avoid lumps.


Once this has been mixed, add 70g of sugar and mix again.

2


Cover the bowl with plastic wrap and microwave at 600W for 2 minutes.

3

Stir the mixture with a rubber spatula and microwave again for one more minute at 600W.

4


Use a rubber spatula to stir the mixture until it clumps together in one piece. Put a large portion of potato starch onto a tray and place your gyūhi on top.

5


Once the gyūhi has cooled, cut it to the size of the palm of your hand and use a rolling pin to stretch it out into a flat shape.

6

Leave your gyūhi to cool. In the meantime, bring out your store-bought roll cake piece and fill the inside with strawberries. When done, top your roll cake piece with whipped cream.

*If your forget to add the whipped cream, the strawberries underneath will be visible through the gyūhi layer!

7


Place the gyūhi layer on top of the roll cake and press the dough together at the bottom of the cake to seal it.

8

Shape two pieces of remaining gyūhi dough into triangles and affix them to the top of the cake to create Hello Kitty's ears. Use the sliced chocolate to create whiskers, eyes and a nose for Hello Kitty's face and cut up a strawberry to make her bow.

Once you have finished putting all the decorations in place, you're done!

Kaori invites you into her world of character-themed food dishes in her recipe series. Be sure to check out her Instagram where she has uploaded many pictures of her character dishes!

Kaori Kubota (@kaopan27)

I live in Hokkaido and I love to make character themed foods, desserts and pastries♡
I want to see my family smile, so I enjoy putting in a bit of effort to make character foods and changing food into something cute♡
You can see more of my character foods and character bento boxes on my Instagram page → @kaopan72

Kaori's Easy Recipe: Learn to Make Korilakkuma Tofu Pudding

With just a small bit of ingenuity, turn everyday food into something cute using Kaori's Easy Recipe! With a few simple ideas, an ordinary recipe magically transforms into a cute dish.

Today, I'll be showing you a dreamy recipe on how to make the healthy Taiwanese snack douhua topped with Yukimi Daifuku mochi ice cream.

Ingredients


400ml soy milk
2-g Lakanto (Zero-calorie natural sweetener)
Pinch of salt
8g gelatin (dissolved in 1 tbsp water)

Pre-preparations


Stick bear-shaped sliced chocolate around the side of a glass and leave to set in the refrigerator.

1.


Warm soy milk and Lakanto in a saucepan until the Lakanto is completely dissolved.

2.


Add the gelatin and mix until fully dissolved.

3.


Leave the mix to cool. Once cooled, remove the glass from the refrigerator and pour the mix into the glass. Place back into the fridge until it sets.

4.


Add sliced almonds and use a chocolate pen on Yukimi Daifuku to create Korilakkuma's face, or a face of your choice.

5.

Remove the glass from the fridge and add the Yukimi Daifuku. Choose your choice of toppings, like soy flour and brown sugar syrup, then enjoy!

Kaori invites you into her world of character-themed food dishes in her recipe series. Be sure to check out her Instagram where she has uploaded many pictures of her character dishes!

Kaori Kubota (@kaopan27)

I live in Hokkaido and I love to make character themed foods, desserts and pastries♡
I want to see my family smile, so I enjoy putting in a bit of effort to make character foods and changing food into something cute♡
You can see more of my character foods and character bento boxes on my Instagram page → @kaopan72
RELATED ENTRIES
Masquerade-Inspired Halloween Sweets Buffet Opens in Omotesando

The Strings Omotesando will hold the Violet Masquerade sweets buffet at GRAMERCY HOUSE, a banquet venue on the second floor, on select dates from September 7 until October 27, 2022.

Guests can enjoy a selection of desserts featuring chestnuts, grapes, and other autumn treats in calming violet space. Why not come enjoy the feel of a masquerade while eating your fill of sugary delights?

The event will feature jewel-like tarts lavishly decorated with figs and grapes, strawberry cheesecake inspired by a courtly flower garden, and lemon mousse shaped like a fanciful headdress. The buffet itself will be decorated with masks and glittering ornaments.

The buffet will also include lunch with a lineup of savory dishes such as spiced grilled chicken, black curry made with charcoal, and purple sweet potato potage.

Visitors showing up to the buffet wearing violet will receive an original purple mocktail called Fancy Violet. Why not come for a girls' night out or a family dinner this Halloween season?

Information

Violet Masquerade Sweets Buffet

Running: September 7 – October 27, 2022
*On select dates only. These dates will be announced on the website.
*Weekdays only.
Venue: GRAMERCY HOUSE / The Strings Omotesando 2F
Hours: 12:00-14:00 *120-minute seatings

Details / Reservations: https://www.strings-hotel.jp/omotesando/event/sweetsbuffet/#next

Creepy-Cute Halloween Sweets Available for a Limited Time at Hyatt Centric Kanazawa

Halloween is on the way, and the Hyatt Centric Kanazawa hotel is prepping some spooky sweets to celebrate! From October 1 until October 31, a Monster Halloween Cake Set will be available at the hotel's restaurant FIVE – Grill and Lounge. Guests can also enjoy a Halloween lunch and dinner menu featuring a chic menu filled with black, red, and purple dishes. Visitors who come in costume will gain access to some special offers as well!

Halloween Lunch / Dinner Course

Poached Eggs with Black Chaudfroid Sauce

Grilled Beef Tenderloin with Beet Variation

 

The courses were inspired by an adult Halloween party and will be available for four days only. Each dish contains colors perfect for the season, like haunting black and bloody red punctuated with a purple-tinted memory of moonlight. While the dishes may look strange, they are made with the finest ingredients. 

Monster Halloween Cake Set

Witch's Mont Blanc Pudding

Mummy Macaron

Denture Parfait

Jack-o'-Lantern Cream Puff

Frankenstein Brownie

Gyuhi Ghost

Spider Web Mousse

GO FOR KOGEI 2022 Collaboration 5×5 Cake Set

A special cake set featuring everything from Frankenstein to spider webs will get you in the Halloween mood. The lineup includes Witch's Mont Blanc Pudding topped with purple sweet potato cream, and the adorable Jack-o'-Lantern cream puff filled with–you guessed it–pumpkin cream. Come enjoy some other playful treats like the Mummy Macaron filled with apricot and the Denture Parfait with berries and marshmallows. On weekdays from October 3 until October 21, the cakes will be served on a special Kutani ware in collaboration with GO FOR KOGEI 2022. This 5×5 set will be limited to five servings per day. Kutani ware is a style of traditional Japanese porcelain found in Ishikawa Prefecture.

Halloween Cocktail


This year's Halloween cocktail is the rock-themed Back in Black. With a tequila base, you're sure to have some extra fun after downing this classy beverage. 

Come enjoy some spooky and cute Halloween sweets while you can!

Information

Monster Halloween 

Hyatt Centric Kanazawa
FIVE – Grill & Lounge
Address: Hyatt Centric Kanazawa 3F (1-5-2 Hirooka, Kanazawa, Ishikawa)
Official Site: http://fivegrillandlounge.jp

Lunch / Dinner Menu

Available: October 28 – October 31, 2022
Hours:
Lunch: 11:30-14:30 (Last Order at 14:00)
Dinner: 17:30-21:00 (Last Order at 20:30)
Details/Reservations: https://bit.ly/FIVEHalloween 

Monster Halloween Cake Set
Available: October 1 – October 31, 2022
*On weekdays from October 3 to October 21, the 5×5 cake set, made in collaboration with GO FOR KOGEI 2022, will only be offered in a limited number of 5 per day. (Advance reservations required.)
Hours: 12:00-17:00 (Last Order at 16:30)
Details/Reservations: https://bit.ly/FIVEHalloween 

Halloween Cocktail
Available: October 24 – October 31, 2022
Hours: 17:00-24:00 (Last Order at 23:30)

*Menu subject to change depending on availability.

Sanrio Characters Autumn Sweets Buffet to be Held at Hilton Nagoya

From August 18 until November 3, visitors to the Hilton in Nagoya will be able to enjoy a special autumn buffet featuring the popular Sanrio characters Kuromi, Cinnamoroll, and Hello Kitty. 

These three characters are some of Sanrio's most loved. Kuromi is the self-proclaimed rival of My Melody, while the fluffy Cinnamoroll won first place in this year's Sanrio Character Awards. Hello Kitty has been beloved by audiences worldwide for decades, and her iconic ribbon really shines in this buffet collaboration. Themed around an autumn harvest festival in a dark forest, the event includes 27 varieties of sweets and seven savory items. From sweet potatoes and pumpkins to chestnuts and apples, guests will be able to taste the fall season!

Kuromi's Dark Forest Cake

Autumn Cinnamoroll Cake

Hello Kitty's Ribbon Cake

Crazy Mushrooms / Praline and Gianduja Truffles / Tonka Bean & Chocolate Caneles

 

Kuromi's Dark Forest Cake is a traditional German black forest cake featuring decorations inspired by the character's black hood and a pink skull. The Autumn Cinnamoroll Cake is made with rice flour and is inspired by the adorable puppy's fluffy appearance. Hello Kitty's Ribbon Cake is topped with apple compote simmered with strawberries and red wine. 

At the popular Live Station, guests can also enjoy an artistic performance by the chef himself. Visitors can also find and harvest their own Crazy Mushrooms and Truffles. 

Kuromi's Autumn Soup

Pumpkin Mont Blanc

Hello Kitty's Apple

Pastry Chef Mamoru Watanabe's specialty autumn sweets and Sanrio Characters-inspired goodies will invite you into a cute and dark forest world. Kuromi's Autumn Soup is made with Japanese chestnuts and chicken consomme poured over panna cotta made with purple sweet potatoes. The Pumpkin Mont Blanc includes four layers of milk chocolate cream, chocolate crumble, pistachio cream, and pumpkin Mont Blanc cream.

Praline Paris-Brest

Hojicha Basque Cheesecake

Green Tea Tiramisu

Come enjoy the taste of autumn with your favorite Sanrio characters!

© '22 SANRIO CO., LTD. APPR. NO. L632215

Fruit-Filled Afternoon Tea Inspired by Japanese Folktale Momotaro Announced

Kawagoe Prince Hotel, located in an Edo-period castle town in northwest Tokyo, will begin offering a special afternoon tea set starting July 1, 2022. Inspired by the Japanese folktale Momotaro, the summer fruit-filled tower of treats will be available until August 31, 2022.

Top Plate

Middle Plate

Bottom Plate

Savory

 

The top plate of the three-tiered set features tasty peach and cheese mousse, peach meringue, macadamia nut chocolate, and Kibi Dango put together to resemble the hero of the story, Momotaro. On the middle tier, visitors will find sweets inspired by the many animals found in the story, from the monkey and dog to the pheasants. Guests can enjoy many summer fruits including mango and kiwi. 

Those who come to the store in a yukata (summer kimono) and follow the official Kawagoe Prince Hotel Instagram will receive a special fruit platter.

Come enjoy the world of Momotaro as you wander around this historical Japanese town!

Kyary Pamyu Pamyu Collaborates with Famous Poeme Sweets in Ehime Prefecture

Kyary Pamyu Pamyu made waves with music lovers around the world last month when she performed at Coachella, one of the largest and most famous music festivals on Earth. On May 28, Kyary will perform in Ehime, and the artist has released details about another collaboration as part of the LOCAL POWER JAPAN Project, launched to energize Japan through the appeal of regional towns and cities.

In Ehime Prefecture, Kyary is teaming up with Poeme, a famous sweets shop in Setouchi close to the Seto Inland Sea. The shop itself opened in 1950 with a different name and quickly became popular for its Butter Manju. The buns, baked in a buttery biscuit dough with red bean paste, were an extravagant confectionary at the time. In the late 1950s, a friend of the founder Okada Kazutarou tasted the Butter Manju and said "This is a poem," hence the current name of the location. After 76 years, the name of the shop still reflects Poeme's mission that has been present since the company's founding just after WWII. 

The collaboration logo for the project was inspired by Kyary's 2018 album Japamyu, which was released after four successful overseas tours. The album cemented the artist as one of Japan's top talents, and the logo combines Poeme with Japamyu to make Poemyu.

A collaborative T-shirt is also on sale featuring the new logo and the singer's 10th-anniversary logo. The shirt is only available until June 8 on the official LOCAL POWER JAPAN Project website.

Information

Ehime's Poeme x LOCAL POWER JAPAN Project

Collaboration T-shirt
Price: ¥3,300 (Tax Included)

Where to Buy:
LOCAL POWER JAPAN Project Online Shop

Available until June 8 at 23:59
https://store-localpowerjapan.com/

Official Site: https://localpowerjapan.com


*Please allow two weeks to one month from order completion to product shipment.

*A portion of T-shirt sales will be donated to local projects and social programs.

Kyoto Sweets Shop Otabe Rereleases Demon Slayer: Kimetsu no Yaiba Snacks with New Designs

Otabe, one of the most popular sweets souvenir shops in Kyoto, Otabe, is known for its delicious matcha and mini-desserts. Starting May 12, the company has released nine uniquely packaged sweets inspired by Demon Slayer: Kimetsu no Yaiba. The limited-edition packaging will feature popular characters from the series. Previously, the company released matcha cakes for the crossover–this time, fans can enjoy choco-an flavor!

Demon Slayer: Kimetsu no Yaiba Choco-an

Demon Slayer: Kimetsu no Yaiba Matcha

Demon Slayer: Kimetsu no Yaiba Otabe (with Original Sticker)

Original Sticker: 15 varieties, 1 given at random

Focusing on the hashira from the series, fans will want to be on the lookout for their favorite character. These sweets can be bought at select stations in the Kyoto and Osaka area, major Kyoto tourist attractions, and online. In addition, matcha flavored treats will also be on sale featuring Tanjiro Kamado, Nezuko Kamado, Zenitsu Agatsuma, Hashibira Inosuke, Kagaya Ubuyashiki, and Muzan Kibutsuji.



©吾峠呼世晴/集英社・アニプレックス・ufotable

Information

Demon Slayer: Kimetsu no Yaiba Choco-an
Release Date: May 12, 2022
Price: ¥432 (Tax Included)
Where to Buy: Train station in Kyoto & Osaka area, Major Kyoto tourist attractions, online.
Details: http://www.otabe.kyoto.jp/kimetsunoyaiba/

Fruit Cakes from Patisserie Giraud Available at Gotanda Station for a Limited Time

Those passing through Gotanda Station in Tokyo might want to keep an eye out for some tasty treats on sale for a limited time. Patisserie Giraud has opened a limited-time pop-up location inside the aptly-named shop Have You Eaten This Before? The pop-up will be open until May 31, 2022.



Have You Eaten This Before? features a rotating selection of products perfect as gifts, souvenirs, or as a treat for yourself. Along with six cakes made to look just like fruits, a selection of other baked goods will also be available.

Lineup

Strawberry

Orange

Lemon

Red Apple

Green Apple

Melon

While it might be difficult to eat these beautiful cakes, you'll never forget the way the juice-filled mousse and crispy pastry fill your mouth. Which one would you like to bring home?

Information

Patisserie Giraud Limited-Time Shop
Open: May 16 – May 31, 2022
Hours: Weekdays 10:00-22:00 / Weekends & Holidays 10:00-21:00
Location: JR East Gotanda Station

Official Site: https://www.giraud.co.jp

Hilton Osaka to Hold Cinnamoroll and Sanrio Character Sweets Buffet

Folk Kitchen, a restaurant on the second floor of Hilton Osaka, will hold the Sanrio Characters Sweets Buffet ~Joyful Summer Festival~ from May 20 until September 11, 2022. The event is being held to celebrate Cinnamoroll, Pompompurin, and Pochakko coming in first, second, and third in the Sanrio Character Awards. A lineup of 25 different sweets will be available, including those filled with summer fruits like mango, peach, and watermelon! In addition, a "Zero Leftovers Campaign" will be implemented–so be sure to clear your plate!

Happy Festival Heart Mousse

Joyful Pink Cake / Lime & Raspberry

Fluffy and Crunchy Mango Pavlova

Decorated with chocolate and adorable character designs, the Happy Festival Heart Mousse is a scrumptious dish blending the flavor of banana, caramel, and rum. The Joyful Pink Cake will be a smash-hit with Sanrio lovers, featuring the soft taste of white mousse and raspberry compote with a fresh lime flavor. Tons of other original sweets will be available, including everything from gingerbread to orange tarts.

 

Visitors can also find plenty of vegan sweets. Summer Blue Sky Jello features contrasting colors of pineapple pulp and soymilk cream that look like clouds floating against a summer sky. Be sure to try the Almond & Watermelon Jello and Grapefruit and Lychee Jello too!

Tapioca and Crepe Store 'Pearl Lady' Collaborates with Sanrio Character Cogimyun

Pearl Lady, a tapioca and crepe specialty shop, will begin selling a special crepe inspired by the Sanrio character Cogimyun starting April 8, 2022! These gorgeous treats will be available at participating Pearl Lady locations while supplies last.

Cogimyun's Sparkling Strawberry Crepe

Cogimyun's Sparkling Strawberry Crepe, topped with a Cogimyun cookie, includes sweet and sour strawberry cream. 

The dough, made with tapioca flour, offers a slightly chewy texture with a rich milk and butter flavor. Customers will also receive a special sticker as a purchase bonus. Be sure to enjoy the new Cinnamoroll drink available at Pearl Lady's sister shop CHABAR!

CHABAR x Cinnamoroll Collaboration Drink

Kyo Hayashiya and Hayashiya Shinbei Offering Special Parfaits Perfect for Spring

Hibiya Hayashiya Shinbei in Tokyo Midtown Hibiya is now offering a scrumptious Strawberry Matcha Parfait until April 24, 2022! If that's not up your alley, four Kyo Hayashiya locations in Shinjuku, Omiya, Yokohama, and Ikebukuro will begin offering a Matcha and Berry Mascarpone Parfait from April 1 until May 8, 2022. 

Strawberry Matcha Parfait


The Strawberry Matcha Parfait is an eye-catching mix of green and pink, reminiscent of cherry blossoms and bright green grass. Green tea blends with rose jelly and lychee sorbet, offering a refreshing taste with a hint of bitterness. The sweet accent of crunchy chocolate feuillantine gives each bite a little kick.

Matcha and Berry Mascarpone Parfait


The Matcha and Berry Mascarpone Parfait mixes the deep, bitter taste of Uji matcha, the sweet and sour taste of berries, and the gentle sweetness of mascarpone cream. The berry sauce is blended with crunchy chocolate feuillantine, a layer of whipped cream, green tea jelly, green tea ice cream, and milk panna cotta. To finish, it's garnished with refreshing raspberry sorbet, bittersweet matcha ice cream, and fresh strawberries.

Information

Strawberry Matcha Parfait

Price: ¥1,650 (Tax Included) / with Tea: ¥2,090 (Tax Included)

Available: March 18 – April 24, 2022

Available at Hibiya Hayashiya Shinbei (Tokyo Midtown Hibiya 2F)

Matcha and Berry Mascarpone Parfait

Price: ¥1,430 (Tax Included) / with Tea: ¥1,870 (Tax Included)

Available: April 1 – May 8, 2022

*Available until April 30 at the SOGO Yokohama location.

Available at the following 4 Kyo Hayashiya locations. 

・Takashimaya Times Square (Shinjuku Takashimaya Times Square Main Building 2F)

・Seibu Ikebukuro (Seibu Ikebukuro Main Building 8F)

・SOGO Omiya (SOGO Omiya Main Building 9F) 

・SOGO Yokohama (SOGO Yokohama 10F)

McDonald's 'McCafe by Barista' to Offer Uji Matcha Sweets for Spring

McDonald's Japan locations with 'McCafe by Barista' areas will begin selling special spring treats for a limited time starting April 6, 2022. Customers will be able to grab the 'Strawberry Uji Matcha Frappe' and the 'Uji Matcha Mont Blanc Tart.'

McCafe by Barista invites guests to enjoy high-quality frappes and smoothies. The Uji Matcha Frappe was added to the regular product lineup in June 2021, and features a mellow matcha flavor. The Strawberry variant is coming back for the first time in three years. The Mont Blanc Tart is a new addition, and is a perfect treat to enjoy with this popular frappe! 

Strawberry Uji Matcha Frappe: ¥490

The Strawberry Matcha Frappe mixes together the full-bodied flavor of matcha together with sweet and sour strawberries. It includes both a strawberry paste made from whole strawberries and a strawberry whipped cream at the bottom. The drink is topped with more strawberry whipped cream and a sprinkling of matcha powder. The refreshing taste of the strawberry sauce coupled with the whipped cream serves to elevate the great flavor of the Uji Matcha even more.

Uji Matcha Mont Blanc Tart: ¥390


The Uji Matcha Mont Blanc Tart is made with Uji Matcha batter, Uji Matcha whipped cream, white bean paste, and green tea cream. The refined sweetness is complemented by the mellow aroma and slight bitterness of Uji Matcha.

How would you like to enjoy these treats beneath the cherry trees?

Information

Strawberry Uji Matcha Frappe

Uji Matcha Mont Blanc Tart

Available: April 6 – Mid-May, 2022

Available at Participating McDonald's Japan Locations with 'McCafe by Barista'

Official Site: https://www.mcdonalds.co.jp/

Sweets Shop Patisserie Pinede Offering Cat-Shaped Strawberry Mille-feuille

The sweets shop Patisserie Pinede will be offering the Yummy Kitty Cat Mille-feuille from March 18 until March 22, 2022!

The store holds a special 'Meow Meow' event on the 22nd of each month. In Japanese, the word for two, ni, sounds similar to nyan, the Japanese word for meow.


The event means tons of cat-themed sweets and decorations, including a tasty strawberry mille-feuille. This includes layers of puff pastry, cream, icing, and plenty of fruit. 

While it's hard to cut into something so cute, the sweet and sour taste is the perfect way to enjoy this meow-gical holiday!

Information

Yummy Kitty Cat Mille-feuille
Available: March 18 – March 22, 2022

Location: Patisserie Pinede

Official Site:  https://pinede.co.jp