Tokyo Nightlife Beckons With Tokyo Tower's NAKED SAUNA & SPA
It's time to strip down and relax as Japanese company NAKED announces that its 'NAKED NIGHT SAUNA' event, which is being held as part of its 'NAKED SAUNA & SPA' project, will take place atop Tokyo Tower from March 12 to 14. Visitors will also receive a relaxation drink called 'CHILL OUT' in collaboration with Endian.
NAKED SAUNA & SPA is a sauna project launched by NAKED in November 2020 to promote equilibrium of the senses. The first event was held in the village of Achi in Nagano Prefecture which is known for being Japan's best location for enjoying the starry night sky. The second event was themed around the concept 'Art of Meditation.' It was held in Ariake and had visitors becoming one with nature as they sat under the expanse of Tokyo's night sky to enjoy every gleaming speck that twinkled above them. It was an opportunity for busy city workers to reset and recalibrate.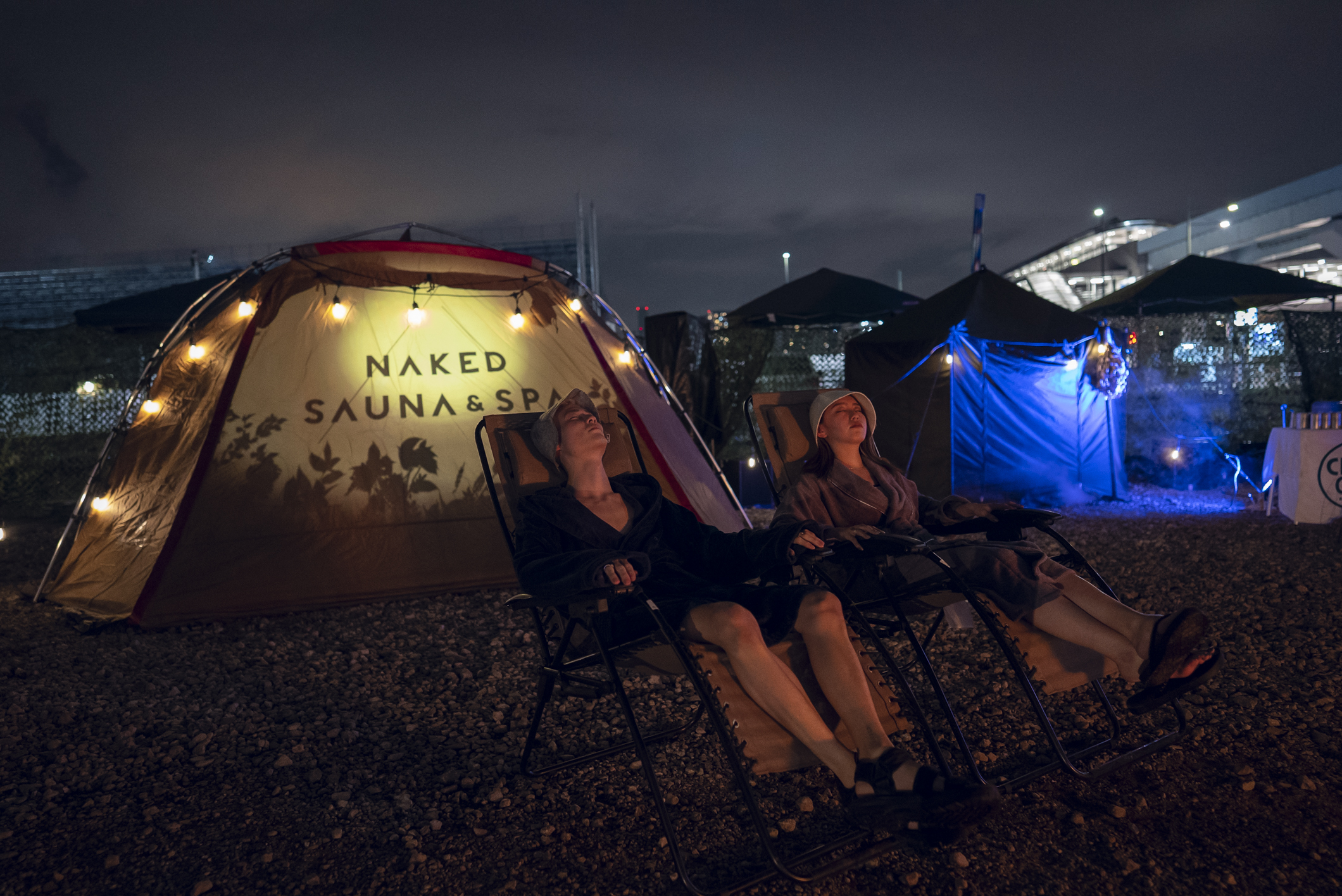 Now, the project is set to host its third event in collaboration with Tokyo Tower. Visitors can enjoy towering above the capital's city streets as they enjoy a sauna experience inside exclusive tents. It will be a fusion of analogue and technology as people enjoy sitting by the fire, smoking shisha, and gazing at mist that will be pumped and illuminations that will be lit to create atmosphere. Of course, this entire event will be held in accordance with government guidelines to prevent the spread of COVID-19. Social distancing will be enforced which will include a drive-through system so you don't come into contact with people, and all visitors will have their own tents (groups of 4 max), and all tent saunas will be separated with partitions.
The tent saunas that will be used are MORZH SKY, a type of tent with a transparent roof made by the Russian tent company MORZH. They are provided by Sauna Camp.Inc. The tents are fitted with a stove and chimney so visitors can adjust the temperature to their liking.
To attend the event, you must register to the Facebook online community NAKED SAUNA CLUB and fill out the form that will be made available there on March 1 and 2. A select number of visitors will be chosen at random on March 3 and winners will be contacted directly on March 4 with further instructions.
If you're in Tokyo this March, then don't miss out on a chance to kick back and unwind up Tokyo Tower with a sauna treat.
Information
NAKED NIGHT SAUNA at Tokyo Tower
Running: March 12, 2021 – March 14, 2021
Location: Tokyo Tower
Address: 4-2-8 Shibakoen, Minato-ku, Tokyo
Opening Hours: 17:00-20:00
Price: ¥20,000 (tax included) for 1-day tent rental (max 4 people)
Tickets: Will be posted on NAKED SAUNA CLUB Facebook Group
NAKED Official Website: https://naked.co.jp
RELATED ENTRIES
Benzaiten Daifuku Opens New Fruit Confectionery Store Inside GINZA SIX

Benzaiten opened its first store in 2019 and since then has opened over 50 branches up and down Japan. The confectionery brand, which specialises in fruit-filled daifuki, has now opened a new store inside Tokyo's luxury shopping centre GINZA SIX.

Yellow Papaya | ¥950 (Tax Included)

Tayo no Tamago Red Mango | ¥1,500 (Tax Included)


Fig | ¥1,000 (Tax Included)


Kiwi | ¥650 (Tax Included)

Benzaiten has over 10 types of fresh seasonal fruits ordered in from the market every day to make their daifuku with, most of which use the entire fruit. They are very particular about the mochi used to make the daifuku to ensure the original delicious flavour of the fruit is maintained and maximises. They use two layers of high quality white bean paste and habutai to hand-prepare the daifuku every day.

Information

Benzaiten GINZA SIX
Address: GINZA SIX (Floor B2F), 6-10-1 Ginza, Chuo-ku, Tokyo
TEL: 03-6804-3382
Opening Hours: 11:00-19:00

Official Website: https://benzaiten-daifuku.jp/

Butter no Itoko x Samantha Thavasa Open Second Store Together at Tokyo Skytree

Butter no Itoko and Samantha Thavasa opened their second collaborative store branch in the desserts area of Tokyo Skytree Solamachi last Tuesday.

Butter no Itoko is a Nasa-based confectionery company co-developed by Chus and Shinrinno Bokujo, a company specialising in milk from Jersey cattle. It opened a store in collaboration with Samantha Thavasa last year at Haneda Airport Terminal 2.

Samantha Thavasa Exclusive Butter no Itoko Salted Caramel

Banana Smoothie

Solamachi Exclusive Samantha Thavasa x Butter no Itoko Eco Bag

The new store will sell a whole range of tasty treats including the salted caramel Butter no Itoko which was first released at the Haneda Airport branch, Shinrinno Bokujo's soft service ice cream, updated 90 Banana Smoothies, and more. There's also a limited-edition complete box of milk, chocolate, red bean paste butter, and salted caramel Butter no Itoko youc na get your hands on which were first released in April.

If you spend over ¥3,000 on desserts at the new store, you can also get your hands on the exclusive eco bag. These are available on a first-come, first-served purchase.

Information

Butter no Itoko x Samantha Thavasa Tokyo Skytree Town Solamachi

Grand Opening: 10:00-22:00 (currently operating on reduced hours at 10:00-20:00)
Address: Tokyo Skytree Town Solamachi Floor 1F East Yard 9, 1-1-2 Oshiage, Sumida, Tokyo, 131-0045, Japan
Samantha Global: https://samantha-global.com/

Butter no Itoko Official Website: https://butternoitoko.com/

Hard Rock Cafe Releases Limited-Edition Pins of Ueno Zoo's Panda Xiang Xiang

Hard Rock Cafe Ueno is celebrating the 4th birthday of Ueno Zoo's giant panda Xiang Xiang with a collection of birthday pins. The limited-edition line-up was released on Thursday.

4th Birthday Pin | 300 Available | ¥2,200

4th Birthday Pin 2 | 500 Available | ¥2,200

The two pin designs are limited in stock, the first featuring Xiang Xiang with her mother and father has 300 available, and the second one has the cute giant panda on an aeroplane branded with her birthday date with 500 available.

Both pins capture Xiang Xiang's energetic personality and are cute souvenirs to take home after meeting her at Ueno Zoo.

Information

Hard Rock Cafe x Ueno Zoo Pims
Released: June 10, 2021 at Hard Rock Cafe Ueno Station Tokyo

Address: Atre Ueno Floor 1F, 7-1-1 Ueno, Taito-ku, Tokyo

TEL: 03-5826-5821
Also available online: https://hrcjapan.official.ec/

Hard Rock Japan Official Website: http://hardrockjapan.com/

Mr. Fullswing Manga Celebrates 20th Anniversary With Themed Cafe in Ikebukuro

In celebration of Mr. Fullswing's 20th anniversary, Animate are collaborating with the manga series to serve up a themed menu at their own Animate Cafe in Ikebukuro from June 23 to July 26. The entire menu including the meals, drinks, and desserts are all inspired by the series, and fans can get their hands on some exclusive merchandise too.

Mr. Fullswing is a baseball manga series written and illustrated by Shinya Suzuki which was serialised in Weekly Shonen Jump from 2001 to 2006. This year marks 20 years since it was first released.

Menu item names have been translated from Japanese.

A peek at the manga-themed menu

Is That Rice? No, It's Curry | ¥1,000

Rations From Shiba | ¥1,000

Gou's Secret Batting Form ~Hachiku~ | ¥800

Sei's Secret Batting Form ~Utsusemi~ | ¥800

Terrible Tatsuragawa's Glasses | ¥600

A peek at the merch

CoLotta Acrylic Plate Key Rings | 15 Designs | ¥800 Each 

Acrylic Character Key Rings | 14 Designs | ¥800 Each

Acrylic Uniform Key Rings | 14 Designs | ¥650 Each

Campaign to win a free photo card

24 photo cards based on the manga volume front covers

Win a birthday bromide photo

For every ¥2,000 spent at the cafe on menu items or merchandise, customers will receive one free photo card. There is also a birthday campaign being held from July 19 where you can win a free birthday bromide for every ¥2,000 spent.

(C)鈴木信也/集英社

BEAMS Showcase Their Historical Fashion Archive at The National Art Center in Tokyo

BEAMS is celebrating its 45th anniversary this year. At such an important milestone, it's important to take a look back at where the brand has come from, and so BEAMS is taking part in the Fashion in Japan 1945-2020 exhibition that opened at The National Art Center, Tokyo, last Wednesday. Followers of the Japanese fashion are able to see their early products when they first opened in the late 1970's to their Shibuya Casual style, known as Shibu-Kaji, from the late 80's. It's an historical, nostalgic throwback across their archive. Exclusive merchandise is also being sold featuring the 'American Life Shop BEAMS' logo which they branded upon establishing the brand.

A look at just some of the exhibits on display

BEAMS shopping bag from 1977

Shibu-Kaji outfit from late 1980's

Exhibition-exclusive souvenir merch inspired by vintage BEAMS

This exhibition follows the unique trajectory of Japanese clothing, especially in post-World War Ⅱ Japan, as seen from both sides: that of designers who transmit culture by creating clothes and ideas, and that of users who receive it by wearing the clothes and at times create era-defining grassroots fashion movements. It offers a comprehensive overview that references the predominant media of each era, such as newspapers, magazines, and advertisements.

In the mid to late 1970's, BEAMS was at the forefront of spreading casual wear to people, stocking some of the country's most notable brands and designers. BEAMS opened its first store in Harajuku in 1976 where it sold shirts, shoes, and other items. In 1977 they introduced their own shopping bag, and the following year opened up their first BEAMS F selling traditional men's style clothing. It was around this time that beams released their POPEYE magazine too. All of this and more is explore at the exhibition along with commentary.

A talk event titled "Lifestyle Tips: POPEYE & BEAMS" will also take place on July 3 at the museum.

Information

Fashion in Japan 1945-2020
Running: June 9, 2021 – September 6, 2021

Venue: The National Art Center, Tokyo

Address: 7-22-2 Roppongi, Minato-ku, Tokyo
TEL: 03-5777-8600
Opening Hours: 10:00-18:00 (Until 20:00 on Fridays and Saturdays)

*Last entries 30 minutes before closure

*Exhibition content subject to change
Official Website: https://www.nact.jp/english/exhibitions/2020/fij2020/


Talk Event
Title: Lifestyle Tips: POPEYE & BEAMS
Date: July 3, 2021

Time: 14:00-15:30
Venue: The National Art Center, Tokyo

Experience Early Morning Japanese Sword Training On Tokyo Skyscraper

HOSHINOYA Tokyo, a ryokan in Tokyo, introduced a new experience for guests last Tuesday which invites them for some early morning kenjutsu sword training atop a 160-meter tall building to refresh the mind and body. This Japanese swordsmanship practice teaches not only the large movements, but the breathing techniques used too. It requires the full use of the entire body coupled with lung-stimulating controlled breathing. Since the practice takes place on a towering site, your vision is unobscured, allowing you to see afar while bathing in the morning rays. You can also spot many famous Tokyo buildings too including Tokyo Skytree and Tokyo Tower.

The area surrounding Otemachi where HOSHINOYA Tokyo is located is mostly made up of office buildings and business skyscrapers in the modern day, but it was formerly home to the daimyo's main Tokyo mansion where samurais resided during the Edo Period. During the Bakumatsu at the end of the Edo Period, there was an establishment called Edo Sandai Dojo where swordsmen went to train. The town flourished as a site for honing your skills with a sword. HOSHINOYA Tokyo's sword training experience is a nod back to that time and a chance for people to get their bodies moving in a safe environment during sedentary COVID-19 times.

Early Morning Practice in the Sky

1. An original practice created by HOSHINOYA Tokyo that combines swordsmanship and deep breathing

Participants will be taught by a master of Hokushin Ittō-ryū, a form of ko-ryū old-school sword fighting. They will begin by learning how to hold and operate a bokutō wooden sword as well as foot movements before the proper practice begins. They will learn about being conscious of the tanden, the point below the navel that's a focus point for internal medatitive techniques, as well as sword techniques such as makkōgiri which is a large slice with the sword from top to bottom, dōgiri which is cutting horizontally, kesagiri which is a diagonal slash, and more. All of this is not only to teach sword fighting, but take relieve tension and stress too by utilising the whole body.

2. Soak up the sights of the cityscape basked in the morning light

The practice takes place on a helicopter landing pad atop an enormous skyscraper. From the building, you can see Akihabra, Shinjuku, Ikebukuro, and many other areas and districts of modern day Tokyo which serves as an interesting combination while practicing a traditional Japanese art.

Information

Early Morning Practice in the Sky

Plan Title in Japanese: 天空朝稽古

Running: From June 1, 2021 all year
Times: 6:45-7:45
Price: Free

Booking: Please book the day before at HOSHINO Tokyo's reception by 21:00
Capacity: 6
Requirements: Must be a guest staying at HOSHINOYA Tokyo

Official Website: https://hoshinoya.com/


*Please note the activity schedule is subject to alteration or cancellation depending on weather conditions

SSSS.DYNAZENON and SSSS.GRIDMAN Pop-Up Shops Open in Akihabara and Osaka

Two pop-up shops, the SSSS.DYNAZENON @ Dash Store and SSSS.GRIDMAN @ Dash Store, are now open at Animate Akihabara and Animate Osaka Nipponbashi until June 24. The stores are themed on Tsuburaya Productions and Studio Triggers' anime series SSSS.DYNAZENON, which began airing in April, and SSSS.GRIDMAN.

SSSS.DYNAZENON @ Dash Store

SSSS.GRIDMAN @ Dash Store

Fans of the series can get their hands on a range of pre-sale and exclusive merchandise. For every ¥2,000 spent, they can get their hands on one of five possible bromide illustrations, and if they spend over ¥3,000, they'll enter for a chance to win a special poster.

Bromides (5 Designs)

Special Poster

The Line-Up

Dash Store Exclusive T-Shirts | 5 Designs | ¥7,150 Each (Tax Included)

Dash Store Exclusive Bottles | 2 Designs | ¥2,200 Each (Tax Included) (All come with one of 3 possible illustrated cards)

Dash Store Exclusive Metal Sticker Sets | 2 Designs | DYNAZENON ¥1,320 – GRIDMAN ¥880 (Tax Included)

Dash Store Exclusive T-Shirt | ¥2,750 (Tax Included)

Dash Store Exclusive Stainless Thermo Tumbler | ¥2,750 (Tax Included)

Pre-Sale Acrylic Stands | 5 Designs | ¥1,980 Each (Tax Included)

Pre-Sale Tapestries | 5 Designs | ¥3,850 Each (Tax Included)

Pre-Sale Pin Set | DYNAZENON ¥1,320 – GRIDMAN ¥880 (Tax Included)

©円谷プロ ©2021 TRIGGER・雨宮哲/「DYNAZENON」製作委員会
©円谷プロ ©2018 TRIGGER・雨宮哲/「GRIDMAN」製作委員会

Disney's Pride Collection Arrives in Tokyo For Shibuya Pride Month

SHIBUYA109 Entertainment is set to release The Walt Disney Company's Pride Collection at SHIBUYA109 and MAGNET by SHIBUYA109 as part of Shibuya Pride Month. The collection will be available from June 18 to July 1.

The Walt Disney Company's Pride Collection

The Walt Disney Company's Pride Collection/SHIBUYA109

Free multipurpose case for buyers

SHIBUYA109's ethos is about making today's dreamers shine. Their collaboration with Shibuya Pride Month is to spread the positive message of creating a society where people can live however they want to live.

The Walt Disney Company's Pride Collection is a unisex line-up of original items by five popular brands at SHIBUYA109 and MAGNET by SHIBUYA109 with Disney, Pixar, Marvel, and Star Wars logos and character designs featuring rainbow colours.

A digital catalogue by creative director Wataru LINDA Igarashi was released showcasing each item in the collection. Special online events by SHIBUYA109 will also take place as part of the Pride celebration. Igarashi also created a collection of bucket hats, hoodies, sweaters, bandanas, stickers, and more as part of The Walt Disney Company's Pride Collection.

Information

SHIBUYA PRIDE MONTH
Running: June 18, 2021 – July 1, 2021

Locations: Shibuya109 (2-29-1 Dogenzaka, Shibuya, Tokyo) / MAGNET by SHIBUYA109 (1-23-10 Jinnan, Shibuya, Tokyo)
Official Page: https://www.shibuya109.jp/blog/?pi3=257211

The Walt Disney Company's Pride Collection

Release Date: June 18, 2021 (Available while supplies last)

Participating Brands:

<Shibuya109> GYDA (Floor 5F) / SPIRALGIRL (Floor 5F) / dazzlin (Floor 6F)

<MAGNET by SHIBUYA109> PONEYCOMB (Floor 2F) / A'GEM/9 (Floor 4F)

SHIBUYA109 Online Store: https://www.shibuya109.jp/onlinestore/

The Quintessential Quintuplets ∬ School Rock Themed Merchandise Releases in Ikebukuro

The The Quintessential Quintuplets ∬ anime series teamed up with THE CHARA SHOP for a special event inside Ikebukuro Marui in Tokyo which is set to run until June 17.

Merch Line-Up

Pins | 6 Designs (Chosen Randomly) | ¥440 Each (Tax Included)

Micro Fibre Clothes | 5 Designs | ¥660 Each (Tax Included)

Key Rings | 5 Designs | ¥880 Each (Tax Included)

Mug | ¥1,650 (Tax Included)

Large Acrylic Stand | 5 Designs | ¥1,980 Each (Tax Included)



Mini Acrylic Art | 5 Designs | ¥2,200 Each (Tax Included)

B2 Tapestry | 5 Designs | ¥3,300 (Tax Included)

Fans of the anime series can get their hands on presales of a collection of 'school rock' themed merchandise. And for every ¥3,000 spent on items, you can enter for the chance to win extra free he Quintessential Quintuplets ∬  goodies too.

Information

The Quintessential Quintuplets ∬ x THE CHARA SHOP

Running: June 2, 2021 – June 15, 2021

Location: Ikebukuro Marui (Floor 7F)

Address: 3-28-13 Nishi-Ikebukuro, Toshima-ku, Toyo, 171-0021, Japan
Opening Hours: 11:00-20:00 (Until 18:00 on June 15)

Marc Jacobs The Snapshot Bag Collection Receives Exclusive Colours Release in Tokyo

Marc Jacobs' iconic The Snapshot Bag has released in two exclusive colours at Shibuya PARCO in Tokyo as well as their Japanese online store, serving early summertime vibes.

The Snapshot | Shibuya PARCO & Marc Jacobs Japan Online Exclusive

Left Photo: Exclusive Models – Both ¥47,300 | Right Photo: 3D Painted Flowers – ¥71,500, Crystals – ¥62,700 (Tax Included)


Arriving first on the 2016 Spring/Summer runway, the Marc Jacobs Snapshot is a collection of cute and compact bag purses made to wear across the body. Each model is kitted out with audacious colours with oversized double-J hardware. All come with a detachable strap.


The new and exclusive duo of blue coloured bags come with webbed straps showcasing the detail that goes into the brand's craftsmanship. Both models add a sense of freshness to a look. Additionally, the Marc Jacobs Shibuya PARCO store branch also offering their Customization Capsule collection, allowing customers to freely customise their bags.

Ueno's Real-Life Panda Idol Xiang Xiang's 4th Birthday Celebrated With Merchandise Release

Ueno Information Center is celebrating the 4th birthday of Xiang Xiang, the giant panda who was born at Ueno Zoo back in 2017, with the release of a merchandise collection. The line-up arrived on Wednesday and is available both at the information center and via their online store.

Although strict measures are in place at the center to reduce the risk of COVID-19 spreading, celebrations for Xiang Xiang aren't completely cancelled, as fans of the adorable panda, who has become something of an idol in Ueno, can get their hands on some fun goodies.

Ueno Panda Family Memorial Pins 2021 | ¥2,530 (Tax Included)

Ueno Panda Family Clear Pouch YE | ¥2,200 (Tax Included)

Ueno Panda Family Cooling Lunch Tote Bag | ¥1,650 (Tax Included)

The collection features motifs of Xiang Xiang, her mother Shin Shin, and her father Ri Ri. The pin collection, which comes in a gold leaf-laced box, includes Shin Shin in a tree peony, Xiang Xiang amongst the cherry blossoms, and Ri Ri with lotus flowers.

The pouch sees Xiang Xiang happy and energetic with her parents. It comes in a summery yellow and is made from semi-transparent matted vinyl. Perfect for storing away makeup, stationery, and any other bits and bobs.

The cooling bag is made from aluminium on the inside for keeping your food fresh. It's big enough for fitting a bento and 500ml bottle, making it handy for taking your lunch out with you.

Happy 4th Birthday, Xiang Xiang!

Information

Ueno Information Center Xiang Xiang's 4th Birthday Collection

Released: June 9, 2021

Where: Ueno Information Center

Ueno Information Center Official Website: https://uenoinfo.jp/

Ueno Information Center Online Shop: https://edotokyo1.com

Gintama Pop-Up Event Opens at Narita Anime Deck

Narita Anime Deck opened its Gintama pop-up event last Tuesday which is set to run until July 15.

The Narita Anime Deck opened inside Narita International Airport Terminal 2 in November 2019. It's an entertainment facility where travellers from around the world can experience and enjoy Japanese anime culture in various forms such as with character merchandise, food, events, and a variety of photo spots.

The event sees anime series characters Gintoki Sakata, Toshiro Hijikata, and Okita Sougo dressed as pilots and Shinsuke Takasugi as a traveller. These designs are featured on a range of merchandise, decorations, and the food menu.

One must-grab item is the face mask case which arrives in four designs – one for each character.





The food line-up includes the Uji Gintoki Don & Katsudon Hijikata Special Set. This meal and dessert comes with an Uji matcha syrup-covered anko bowl which is based off the food that Gintoki gives to a cat. You can also order a latte featuring latte art of your favourite character. For every item ordered on the menu, you get a free coaster. These come in two design collections: one is available now and will be replaced by the other on June 19.

And if you spend over ¥3,000 on Gintama merchandise at the event, you'll receive a free card. Fans can also get a free lunch mat if they spend over ¥4,000 and the shop or eat-in restaurant and show their receipts.

Information

Gintama Pop-Up Event
Running: June 1, 2021 – July 15, 2021

Location: Narita Anime Deck

Official Website: https://www.animedeck.jp/