Wearing a costume is necessary if you want to enter the restaurant! "Roppongi Halloween Yokocho wo Hashigozake"
Hashigozake Ronnpongi Halloween Yokocho Planning Committee will hold the third "Zenkoku Hashigozake's" official event "Roppongi Halloween Yokocho wo Hashigozake" where visitors wearing costumes can enjoy eating and drinking at Roppongi Yokocho from the 29th of October 2017 (Sun.).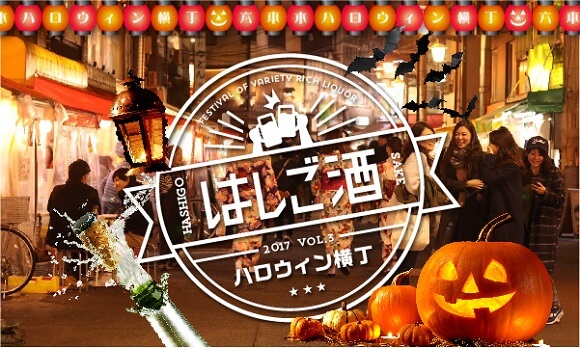 "Zenkoku Hashigozake" is an event where you can visit several restaurants/izakaya (Japanese bar)/bars from each area of Japan. The first event "Shibuya Niku Yokocho (meat district) de Hashigozake" was held in May of 2017 and the second event was held in August of 2017 in Osaka / Nagoya. The third event will be held this year and the event will be held at several different areas in Japan subsequently.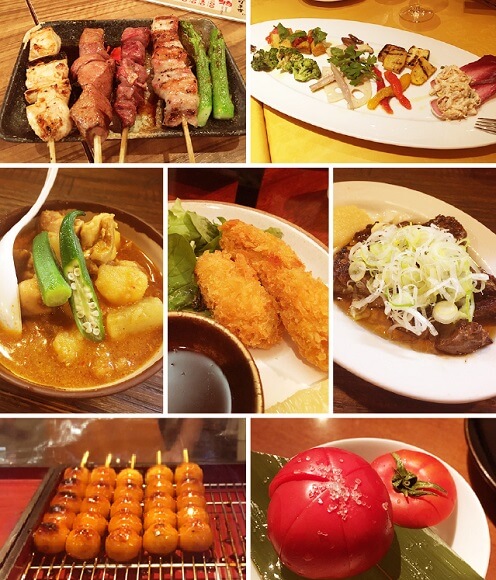 Roppongi Yokocho is one of the largest yokocho (commercial districts) where delicious foods from all over Japan gathers. "Hashigozake" (visiting several restaurants to drink alcohol) which will be held during this year's Halloween is the first event in Japan where customers of restaurants must wear a costume if they want to order a drink. Visitors can enjoy delicious side dishes and alcoholic drinks offered by the restaurants throughout Japan in the "Halloween Yokocho" (one day limited).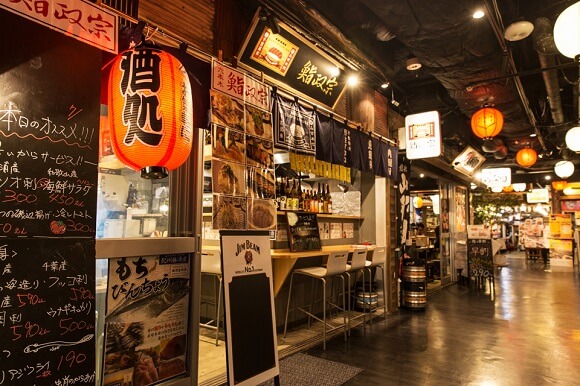 In addition to enjoying eating and drinking, you can enjoy looking at everybody's costume. Some restaurants will offer "standing style" but you can sit and relax in most of the restaurants. It is a good opportunity to chat with the owners of the restaurants.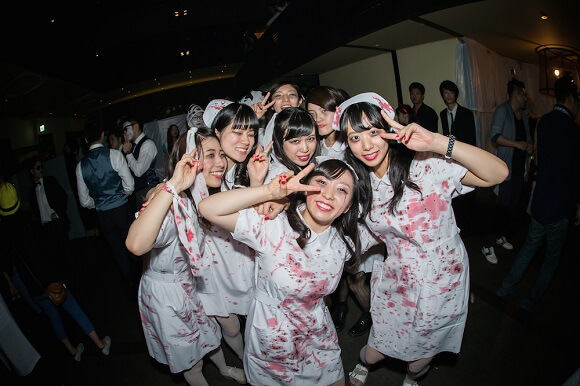 Let's spend a special night at this one-day limited Halloween Yokocho!
■Information
Name: Roppongi Halloween Yokocho wo Hashigozake
Date: 2017,10,29 (Sun.)
Time: 16:00 to 19:00
Venue: Roppongi Yokocho (Loa Roppongi 1F, 5-5-1, Roppongi, Minatoku, Tokyo)
Fee: 3,500 yen (tax included)
Ticket page: https://goo.gl/YfkVQh
URL: http://hashigozake.jp/roppongi/
Menu: All-you-can-drink, more than four kinds of buffets including meat dishes at all restaurants.
Check the official Twitter RE: latest information of "Zenkoku Hashigozake": https://twitter.com/hashigozake2017 (@hashigozake2017)
RELATED ENTRIES
Tokyo's Pokémon Cafe Unveils Halloween Themed Menu Line-Up

The Pokémon Cafe in Nihonbashi, Tokyo has revealed its Halloween food and drink line-up for the spooky season which will arrive early on September 7 be served until October 31.

The cafe is known for always having a cute selection of meals and beverages inspired by each season. So, what do they have in store for Halloween 2019?

Pikachu's Greedy Halloween Plate 2019 – ¥1,706 (w/ Plate ¥2,894)

This year's Halloween plate features Pikachu wearing a witch's hat. This filling plate features a pumpkin salad, spaghetti and more. Plenty to keep you going until the late-night candy snacking!

Discovering Celebi!? Oak Forest Pesto Pasta – ¥1,706

This adorable and healthy, vegetable-packed Celebi dish includes basil flavoured short pasta and a cute.

Zorua's Halloween Roast Beef Burger – ¥1,706

This hearty burger is packed with a generous serving of roast beef. You'd best not leave a crumb or Zorua might play a trick on you!

When ordering a drink at the cafe you'll receive one of six possible coasters. One of the designs is being kept a secret!

And for the duration of the Halloween event, there's also a limited-edition lunch mat and clear coaster to get your hands on. These are limited in stock so you'll want to catch 'em all quickly! And don't forget, you have to book a table in advance to dine at the Pokémon Cafe.

© 2019 Pokémon.©1995-2019 Nintendo/Creatures Inc./GAME FREAK inc.

Pokémon, ポケットモンスター and ポケモン are registered trademarks of Nintendo, Creatures Inc. and GAME FREAK inc.

Information

Pokémon Cafe
Address: 2-1-2 Nihombashi | Nihombashi Takashimaya SC East Bldg. 5F, Chuo 103-0027, Tokyo Prefecture
Business Hours: 10:30-22:00

Access: 5-minutes on foot from Tokyo Station's Yaesu North Exit via JR Line / 5-minutes on foot from Nihonbashi Station's B2 Exit via Tokyo Metro Ginza Line and Tozai Line / 4-minutes on foot from Nihonbashi Station via Toei Asakusa Line

TEL: 03-6262-3439

Reservations: https://reserve.pokemon-cafe.jp/

Official Website: https://www.pokemoncenter-online.com/cafe/

Disney Christmas 2019 at Tokyo DisneySea: Spend This Year's Holiday Season With That Special Someone♡

Tokyo Disney Resort has announced this year's Disney Christmas which will take place at Tokyo Disneyland® and Tokyo DisneySea® from November 8 to December 25. This is the Tokyo DisneySea® event line-up. For the Tokyo Disneyland® schedule, click here.

'Tis the season to be jolly this year at Tokyo DisneySea, where the Christmas spirit is set to fall and settle like December snow across the park with a fantastic line-up of festive entertainment programs, magical decorations and more. Guests are invited to join the Disney cast in welcoming a very merry Christmas at this year for Disney Christmas 2019.

It's Christmas Time!


The "It's Christmas Time!" show returns again this year to Mediterranean Harbor to wrap guests in the Christmas spirit, featuring Mickey Mouse and friends along with singers and dancers who will perform to classic Christmas tunes.

Colour Of Christmas


This magical performance takes place at nighttime on the water at Mediterranean Harbor, featuring a huge 15-meter tall shimmering Christmas tree. Held annually, this will mark the show's eighth and final run. Disney characters including Mickey will also be present for the performance.

The whole of Mediterranean Harbor will be wrapped in the Christmas spirit, with the huge tree in the centre and little trees all around, and onlookers all with their own wishes for the holiday season. Snow will also fall during the performance to create a romantic atmosphere.

Special Christmas Merchandise

Pouch – ¥2,000 (Tax Included)

Around 65 very special pieces of merchandise will be available for guests to pick up, many themed on the It's Christmas Time! show. The pouch features the cute scene of Mickey and Minnie line dancing which you will see in the show. The available plush toys also have a Christmas-y gold bell on them. All of these items will be available from November 1.

There will also be adorable Duffy and Friends merchandise to pick up. Some of these items are themed on Cape Cod Village in winter, an area in the park which serves as a greeting spot for Duffy and his friends. These Christmas items will be available from November 6.

Christmas Food & Drink

A festive feast of 15 drinks and dishes will be served for Disney Christmas, from seafood pasta to roast beef sandwiches and more. There will also be a reindeer-inspired dessert as well as alcoholic cocktails and much, much more.

Enjoy a very merry Christmas this year at Tokyo DisneySea.♡

Cute Halloween Sweets Spook Their Way Into Tokyo's The Capitol Hotel Tokyu

For this year's Halloween season, The Capitol Hotel Tokyu in Tokyo has announced that it will serve up its Halloween Sweets Selection again this year at the hotel's pastry boutique ORIGAMI located on floor B2F. The confectionery chefs have spun some spooky fun into this collection of 10 cute treats.

Frankenstein – ¥1,760 / Phantom – ¥1,760 / Cyclops – ¥1,760

The Phantom is a popular confection every year at the hotel, but this year he's had two new freaky friends carved out for him: Frankenstein's monster and a Cyclops. These white chocolate monsters are filled with chocolate-covered almonds, macadamia nuts and other hidden delights.

Witch Hat – ¥715

Dressed in a milk chocolate mousse is ganache and a rich and bitter crème brûlée made with bitter orange. It also contains a mandarin orange liqueur for deeper flavours. The mix of orange notes is refreshing on the palate.

Cross – ¥715

The orange and black Cross is a mousse cake made from pumpkin puree beneath which lies a cinnamon flavoured crème brûlée and coffee flavoured ganache. The bitter coffee elevates the exquisite sweetness of the pumpkin for a delicious combination.

Evil Eye – ¥715

Enter at your own risk with the grotesque-looking (but delicious tasting) Evil Eye mousse cake. It's made with fragrant biscuit and caramel as well as blonde chocolate from France and inside is a smooth pear jelly.

There are lots of other Halloween treats besides these coming to the hotel too, so if you're in Tokyo this October then be sure to stop by for a Happy Halloween.

*All listed prices include tax

Scorch your Senses at the Spicy as Hell and Tasty as Well 2019 Food Festival Round 2 in Shinjuku

Spicy as Hell and Tasty as Well 2019 will be holding round 2 on August 16, 2019 at Okubo Park, Kabukicho in Shinjuku. This will be the event's biggest gekikara gourmet saiten (super spicy festival) Japan has ever seen. 

Food services that represent the spicy foods of the world have all joined forces at Kabukicho in Shinjuku; Asia's largest entertainment district to tinge it with a luminescent spicy red colour. So far, around 0.7 million people with a burning passion for spice have made their way to the spice central to test their tolerance to the range of gourmet spicy dishes. From beginner to mania, the event caters to all levels of spice-lovers. From a tiny touch of spice to spicy as hell, there is a wide range of spice levels to choose from. The dishes served and participating shops are changed each week, so you can enjoy a new spicy experience each week. 

At the 1st Round, spice fans had their fill of Ciao em Cafe's Bún bò Huế. This café, which originates from the outskirts of Tokyo in Hana-Koganei, took part in the event for the first time. One of their signature dishes is the Vietnamese soup, which captured the hearts of many women for its perfectly balanced sweet yet spicy flavour.  Despite being Menya Mazeharu's first time serving at the event, their queues stretched out into the sunset from morning to evening each day .

Round 2 will see Cheese to Gibier Curry Naru Ichizoku and Tokyo spice curry Aka to Kuro spicing up the event for the first time. This is the perfect opportunity to experience Awajishima Curry made with the world's most sense-scorching spices including ghost pepper, trinidad scorpion pepper, and the carolina reaper. Tokyo spice curry serves up red curry dishes made with ingredients traditionally used in natural Chinese food therapy. Their black curries are Kashmiri curries that will leave you feeling satisfied. 

These are just a selection of the vast number of noteworthy spicy dishes. You are bound to find the perfect curry to spice up your life at this event, so please check it out.

Information

Spicy as Hell and Tasty as Well 2019 (激辛グルメ祭り2019)

Venue: Okubo Park, Kabukicho, Shinjuku 

Address: 2-43, Kabukicho, Shinjuku, Tokyo

Access: 3-min walk from Seibu-Shinjuku Station or an 8-min walk from Shinjuku station (JR/ Odakyu/ Keio lines)

Entry: Free to enter, pay for your food and drinks. 

Schedule:

2nd round: Aug 16 ー 21

3rd round:  Aug 23 ー 28

4th round: Aug 30 ー Sept 4 

5th round: Sept 6 ー 11

6th round: Sept 13 ー 18 

* Closed on Aug 15, 22, 29 and Sept 5, 12 to change the shops.

* Open on rainy days (closed during stormy weather).

* Spicy as Hell and Tasty as Well is open for a total of 38 days this year, the longest it has ever run in history.  

Website: https://www.gekikara-gourmet.com/

A Date With Yutaro: Soaking Up the Japanese Summer Sun & Visiting the Art Aquarium | Tokyo Stroll

It's been a while since our last date with Yutaro. He's been very busy with film shoots. He had some spare time today so we paid a visit to Nihonbashi for our next date. "ECO EDO Nihonbashi: Enjoy Cool Edo With All Five Senses" is an event held every year in the Nihonbashi area which takes the Edo period cultural idea of "coolness"―an in, to enjoy being cool during the summer-and puts a modern spin on it. There are many exciting things to look forward to, including the art aquarium which proves massively popular every year.

We gave ourselves more time to arrive at the meeting place to be in the safe side, but it seems Yutaro-kun was already there waiting for us!

Nihonbashi Information Center | IPPIN CAFÉ "Sparkling Herb Tea" – ¥518 (Tax Included)

"Here, you must be boiling." Yutaro-kun kindly offers a cup of IPPIN CAFE's limited-edition sparkling herb tea. It's a delicious mix of fizzy soda and lemon, a perfect refreshment for the summer. Since he ordered takeout the drink came with a goldfish straw. Goldfish are a staple sight during Japanese summer festivals so it's very fitting for the occasion! 

With our drinks in hand, it's time to head to Nihonbashi for our Edo summer date!

Wind-Chime Forest Path

Lining the path between Fukutoku Shrine and Fukutoku Garden is the Wind-Chime Forest Path where around 200 Edo-style wind chimes dangled. This year, during the evenings, the path is illuminated with beautiful lighting. 

When the breeze rolls past the wind chimes ring one by one-a cool and refreshing sound.

"I hear each one of these Edo wind chimes are individually handmade by craftsmen."

When you hear the sound of the wind chimes it makes you feel cool like a gentle breeze of the wind.

After strolling along the Wind-Chime Forest Path we make our way towards this year's ECO EDO Art Aquarium event.

The moment we step instead Yutaro is already dazzled by all the goldfish: "Wow! I knew about this place from what I'd seen online, but this my first time here! This art aquarium really is something!"

The full title of the event is "ECO EDO Nihonbashi ART AQUARIUM 2019 ~Edo, Coolness of Kingyo~ & Night Aquarium."  Goldfish were a huge part of the common culture in Nihonbashi during the Edo period. This event recreates that and brings that "coolness" aspect while combining it with contemporary art by having people observe the fish in lots of different artistic environments.

Super Oiran

"This is the biggest fish tank, apparently it has 3,000 fish swimming inside!"

"Seeing the light reflect on the water from the illuminations lets you see the fish in a different light, doesn't it?"

Looks like Yutaro-kun is having a lot of fun taking photos.

He's equally interested in just about every fish tank!

These other fish tanks have a different aesthetic to them. Their Japanese-style designs make for great photos.

Kaleidorium 3D

"This one's beautiful, it's like a kaleidoscope."

It really does look like one. When you take a peek instead you can glimpse all kinds of colourful fish gently swimming around.

Ceiling Kingyo

"There're goldfish swimming on the ceiling too. So cool! This aquarium is incredible. It brings together the great culture of Edo and contemporary art."

The Art Aquarium bustles every single year with visitors, but this year will mark its last run. It's being held at Nihonbashi Mitsui Hall, so if you have the chance to go then please do.

We of course checked out some local Nihonbashi treats too! We stopped by morozoff for some cheesecake after the aquarium.

morozoff Kamadashi Cheesecake (Goldfish) – ¥270 Each (Tax Included)

These cute cheesecakes with their goldfish designs are available for a limited time only. They're filled with sweet red bean paste. They perfect with iced tea.

"Got some! Let's eat them while we head back."

Goldfish Lantern Walkway

Our first date in Nihonbashi was so much fun. While on the date Yutaro-kun spoke about the new live-action film he's in, Kaguya-sama: Love Is War.

"It's a romance film with mind games to try and make the other person confess their love. I play the character Tsubasa. His number one highlight scene is the kabedon scene. That was my first day shooting, so I was super nervous, but I got along well with the other actors, and the atmosphere on set was harmonious, so I was able to relax for the shoots. Tsubasa is a genuine guy who will believe things that have been said to him in earnest. You've definitely gotta check out all his scenes throughout the film!"

"A lot of the cast are the same age as me, so we were all energetic together in the waiting room. There's a scene at the end where all the cast get together. It took 3 days to shoot so we ended up getting along really well."

"This film has made me realise that love comes in many shapes, and that mind games happen in a variety of ways between guys and girls. There's cute scenes that express that small bit of pride that teenagers have, the embarassment they feel, when they get butterflies, scenes that will warm your heart. The film has various elements to it so I thoroughly enjoyed watching it myself. I hope that couples in love in their teens and twenties watch it, and I also hope that married couples watch it and crack up laughing too."

"In the film it's summer break, and they go and see fireworks and stuff. It's definitely one to watch durnig the summer. You're gonna come watch it too, right? Shall we go?"

An offer we cannot refuse! We'll definitely go and see it with you, Yutaro-kun! 

Model: Yutaro

Writer: Yuki Yokoo

Photographer: Kayo Sekiguchi

Information

ECO EDO Nihonbashi 2019 ~Enjoy Cool Edo With All Five Senses~

Running: July 5, 2019 – September 23, 2019

Location: Nihonbashi Area

TEL: 03-3242-0010 (Nihonbashi Information Center)

Event Page: https://www.nihonbashi-tokyo.jp/en/ecoedo2019/

ECO EDO Nihonbashi ART AQUARIUM 2019 ~Edo, Coolness of Kingyo~ & Night Aquarium

Running: July 5, 2019 – September 23, 2019

Location: Nihonbashi Mitsui Hall Floor 5F (Entrance at 4F),  COREDO Muromachi 1, 2-2-1 Nihonbashimuromachi, Chuo Ward, Tokyo

Opening Hours: Art Aquarium 11:00-19:00 / Night Aquarium From 19:00

[Sun-Fri] 11:00-22:00 (Last Entries 22:00) [Sat & days prior to public hoiday] 11:00-23:30 (Last Entries 23:00)

Access: Directly connected to Exit A6 of Mitsukoshimae Station, accessible on the Tokyo Metro Ginza Line and Hanzomon Line / Directly connected to Shin-Nihombashi Station / 8-minutes on foot from East Exit of Kanda Station JR 8-minutes on foot from Nihonbashi Exit of Tokyo Station

TEL: 03-3270-2590

Event Page: https://www.nihonbashi-tokyo.jp/en/ecoedo2019/contents/005.html

Kaguya-sama: Love Is War Film

Release Date: September 6, 2019

Adapted from the manga of the same name by Aka Akasaka (Shueisha/Weekly Young Jump)

Cast: Sho Hirano (King & Prince), Kanna Hashimoto, Hayato Sano, Natsumi Ikema, Nana Asakawa, Mayu Hotta, YUTARO, Takashima Masahiro, Jiro Sato

Official Website: https://kaguyasama-movie.com/

TALENT PROFILE

Yutaro

Yutaro was born in Hiroshima on June 3rd 1998. His modeling career has earned him lots of attention as a fashion icon of the new generation. The famous model also works as a "charisma" shop assistant. Yutaro has gained his reputation as a "mysterious and handsome guy" from his appearance on Japanese variety shows. His debut was made on the show "Gyoretsu no Dekiru Horitsu Sodanjo" and has since then appeared on numerous different TV shows. He challenged himself to appear on stage for the very first time in March this year and is gaining popularity by the day for his diverse work.

Harajuku Summer Festival 2019 to Take Place at Togo Shrine

GLOBAL PRODUCE, a Japanese event organiser, is set to sponsor Harajuku Summer Festival 2019 which will be held at Togo Shrine in Harajuku, Tokyo on August 23. Bringing together professional event producers, the festival will combine elements of traditional Japanese culture with the latest trends.

Food trucks and stalls will open in the dozens, including appearances from the shaved ice shop Kooriya bebe which makes its fluffy shaved ice from the natural spring waters of Mount Fuji―perfect for the hot weather―as well as Ichika, a cafe known for its tapioca Japanese tea lattes made with high quality tea leaves from Kagoshima. Current popular restaurants will also serve up delicious summertime food. There will even be the Harajuku Bon Odori 2019 dance event, and the marchers for the Tokyo 2020 Olympics will also be present.

Tokyo Bijin Project will make their first ever live appearance, a group of shining Japanese women with "wisdom, dignity and compassion" who are set to speak out for other strong women. They will talk leadership, interpretation, attending to people, the spread of Japanese culture, and more.

If you are in Japan for the summer then make sure you attend all of the different summer festivals you can.

Information

GLOBAL PRODUCE presents Harajuku Summer Festival 2019 at Togo Shrine

Date: August 23, 2019

Time: 19:00-21:00 (Reception open from 18:30)

Location: Togo Shrine (1-5-3 Jingumae, Shibuya, Tokyo)

Togo Shrine Official Website: http://www.togojinja.jp/

Disney Christmas 2019 at Tokyo Disneyland: Spend This Year's Holiday Season With That Special Someone♡

Tokyo Disney Resort has announced this year's Disney Christmas which will take place at Tokyo Disneyland® and Tokyo DisneySea® from November 8 to December 25. This is the Tokyo Disneyland® event line-up. For the Tokyo DisneySea® schedule, click here.

Disney Christmas Stories

Disney Christmas Stories celebrates the holiday season with a magical parade which will bring together the Disney cast members with their loved ones. The characters will dress in festive outfits and deliver to guests their own Christmas stories. Seven joyous Christmas stories will unfold before guests' eyes, from a merry family outing with Donald Duck, his beloved Daisy Duck and his three nephews Huey, Dewey, and Louie, to the star couple Mickey and Minnie Mouse.

The parade will seemingly stop all of a sudden which will be followed by ringing bells, signalling the start of a Christmas party. Snow will fall along the parade route, and the cast members will invite guests to join them in celebrating a heart-warming Christmas.

Christmas Decorations

An enormous 15-meter tall Christmas tree will tower over World Bazaar and illuminate the streets with its brilliant lights together with dazzling projections, combining with the festive music to create a romantic atmosphere.

The plaza in front of Cinderella's Castle will glimmer with Christmas adornments as well as Christmas presents, Winnie the Pooh decorations, and more. Each themed land across the park will also be embellished in Christmas colours, bringing a merry little Christmas to the park.

Special Christmas Merchandise

Glass Set – ¥2,200 (Tax Included)

Around 65 special Disney Christmas themed items are set to go on sale from November 1, from glasses to cushions and more, all of which can be used for Christmastime at home. Featuring designs of the Disney characters, each item is sure to bring an air of that nostalgia we all feel at Christmas.

Christmas Food & Drink


Also available from November 1 is a very special Christmas menu made up of 15 dishes and drinks. There's the seafood cream bread packed with melted cheese, a hot dog dressed in the colours of Christmas with its eye-catching red bun and white cheese, and more. There's also a dish inspired by the Disney film Beauty and the Beast who are set to appear in the parade.

Enjoy a very merry Christmas this year at Tokyo Disneyland.

Ice Cream Lovers' Paradise: Over 100 of Japan's Best Ice Creams Unite at Ice Cream Fair in Hokkaido

For six days only, The most mouthwatering ice cream flavours from all over Japan are heading to Sapporo Kita 3-jo Plaza AKAPLA for the regional ice cream fair Aipaku Hokkaido in Sapporo 2019. The ice cream fair will start on August 15 and end on August 20, 2019. 

The concept of Aipaku® is to make everyone's childhood dream into a reality; a paradise park where visitors are surrounded by the most delicious ice cream flavours that are found countrywide.  The Japan Ice Mania Association carefully selected heart-melting ice cream flavours from all over Japan to sell at this event. The event has been running since 2015 and has so far welcomed approximately 2 million satisfied ice cream lovers, making it the largest ice cream event in Japan. Visitors can tuck in to their ice creams straight away or buy cooler bags and dry ice at the venue to take it back home as a souvenir.

This time, Aipaku Hokkaido in Sapporo 2019 is completely changing its lineup. Compared to when it was last run in 2017, this year will see many ice creams and ice cream brands that are new to Hokkaido making their debut. If you are an ice cream lover, this is a paradise world you just cannot miss out on. 

Kikyou Shingen Soft/KIKYOUYA (¥500)

Since being launched in 2015, this ice cream has become the star of the show at Aipaku. This ice cream is otherwise only available in Yamanashi prefecture. The beautiful scent of the soft serve ice cream's kinako roasted soy bean will be the first thing to reach your nose. This ice cream is made with the original, rich-flavored brown sugar syrup of Yamanashi prefecture. 

Manhattan Roll Ice Cream/ Manhattan Roll ¥850

Roll Ice Cream is currently a big hit in Japan, so naturally it has infiltrated into this ice cream fair. This ice cream is not made using eggs like conventional ice creams. It is made with a unique combination ratio of milk, fresh cream and syrup. The result is a smooth ice cream which is rich but not overpoweringly sweet. 

Double Ruby Fantasy/ MAISON GIVRÉE/¥600

This is an Aipaku-limited ice cream. Its rise to fame occurred as a result of the World Championship of Pastry Ice Cream and Chocolate which took place in Milan in 2015. This Aipaku-limited soft serve ice cream was created by Team Japan's captain and world champion pâtissier Hiroyuki Emori. It is covered in sugar-coated ruby chocolate and decorated luxuriously with almonds, hazelnuts and pistachios. The pink colour is enough to melt your heart. 

Aipaku Original Häagen-Dazs Sundae/ Aipaku Official ¥800

This is an original sundae flavour that can only be obtained from Aipaku. The ice cream is made using Häagen-Dazs vanilla ice cream with a generous layer of luxurious whipped cream. This is drizzled with a rich caramel sauce. Crispy feuillantine, which is made by smashing baked crêpe batter, accents the flavour and adds texture. Chunky slices of banana and salty vanilla-roasted peanuts are placed on top. This is a special sundae that ice cream-lovers will not be able to resist. 

These are just a few of the vast range of ice creams you could be trying. There are just so many that you will be frozen for choice. The venue is also easy to access from Sapporo station. This is a wonderful way to leave the house and enjoy a Japanese summer whilst staying refreshed. 

*Prices after tax stated above

* The ice creams at the event may differ to the images above.

Information

Ice Cream Fair Aipaku Hokkaido in Sapporo 2019

Running: August 15 ー 20, 2019

Opening Times: 11:00 ー 20:00

Venue: AKPLA, (Sapporo Kita 3-jo Plaza)

Kita 2 Jonishi, 4/ Kita 3 Jonishi 4, Chuo Ward, Sapporo, Hokkaido

Free entry. 

Takeaway: If you wish to purchase ice creams to take away, please consider purchasing a cooler bag and dry ice (保冷バッグ+ドライアイス) at the venue.

Aipaku Official Website: http://www.i-89.jp

Pikachu Outbreak 2019: Day One Report Of This Year's Event – MOSHI MOSHI NIPPON

The Pikachu army has returned again this year for Pikachu Outbreak 2019 which is running from August 6 to 12 in Minato Mirai, Yokohama. This year, the event also features an evening show which takes advantage of Minato Mirai's gorgeous nightscape and couples it with exciting lighting technology.

We visited the first day of the event with Chinese talent Etsuna and 7-year-old Yuugo-kun. Here's our report!

Upon arrival at Minato Mirai Station we were immediately met by lots of Pikachu decorations and event advertisements. And when you go through the ticket gate it plays Pikachu's cry! If you're visiting the event this year then be sure to listen out.

There are lots of Pikachu to spot after leaving the ticket gates, so be sure to try finding them all.

We alighted at Minato Mirai Station and headed straight to Rinko Park.

When we hit the park we were greeted by a huge balloon Pikachu!

There's lots of other Pokémon to catch too, such as Lapras, Psyduck, and many other popular names.

This tiny Pikachu was so cute.

There are food trucks set up by the Pokémon Cafe for the event at Rinko Park so you can get your hands on some food, drinks, and ice pops.

The Pikachu designs on the trucks are super kawaii♡

Pikachu Pineapple Ice Bar – ¥500 (Tax Included)

The ice pops they sell comes with one of four possible Pikachu facial expressions. They're given randomly.

They're so cute they seem a waste to eat!

Pikachu Orange Lemonade Soda – ¥500 (Tax Included)

The drink cups have Pikachu designs too, even the lids.

Wherever you look there's a Pikachu, so you can take pictures literally everywhere.

After we had strolled around Rinko Park, we headed to Nippon Maru Memorial Park. Usually when you visit this park they have huge boats on display but for Pikachu Outbreak, the Pikachu have swarmed the area.

There are lots of walls with various Pokémon illustrations on them around Nippon Maru Memorial Park, such as Ho-Oh's wings and a Pikachu balloon. They are scattered here and there, so make sure to find all of these too!

Below is where you can watch the Pikachu march wearing illuminating LED costumes.

Even the Ferris wheel at Yokohama Cosmo World was lit up with Pokémon motifs―the Pikachu and Poké Ball ones in particular were beautiful.

After a little while, several Pikachu arrived on a boat to greet everyone. And then…

…out came the LED Pikachu! Their synchronised pattering walk was beyond adorable. They even danced.

But the fun doesn't stop there. If you head to Queen's Square Yokohama right next to Nippon Maru Memorial Park then you'll catch the Eevee march too. Their cute pattering walks too are enough to heal your soul♡

What we've shown you is just a snippet of the fun happening this year―there are many other exciting events happening for Pikachu Outbreak 2019.

Photos: CHIHIRO (@chiicd5)

These last photos were taken at the show in Grand Mall Park at Yokohama Art Museum which makes stunning use of projection mapping. The Pikachu don their LED costumes and perform an incredible light show for the crowd.

For more details on each event check out the official website. Pikachu Outbreak is a fun day out for kids and adults alike, so enjoy this year's event and be careful not to catch heatstroke.

Information

Pikachu Outbreak 2019
Running: August 6, 2019 – August 12, 2019
Location: Minato Mirai area

Event Page: https://www.pokemon.co.jp/ex/pika_event/

Drink & Ice Shop by Pokémon Cafe

Running: August 6, 2019 – August 12, 2019

Locations:

①Yokohama Red Break Warehouse (Open 12:00-20:00)

②Rinko Park (Open 12:00-20:00)

③Yamashita Park (Open 10:00-17:00)

Experience the Attack on Titan VR Game at the MORI Tower Sky Deck in Roppongi Hills

As part of the ongoing Attack on Titan Exhibition FINAL event that is taking place at MORI Arts Center Gallery until September 8, a new addition has been added to the event that will take place from August 6 to September 8.

Titled "Sky Deck ~The Colossal Titan's Invasion~," the event will take place on the open-top roof of Roppongi Hills MORI Tower that will make use of the surrounding environment and utilise AR technology to project the Colossal Titan before your very eyes, up 270 meters high.

What happens when the Colossal Titan himself appears before you in real life? This virtual experience will give you a peek into the cruel and terrifying world of Attack on Titan.

Information

Attack on Titan Exhibition FINAL x Sky Deck ~The Colossal Titan's Invasion~

Location: Roppongi Hills Tokyo City View Sky Deck (Roppongi Hills MORI Tower Rooftop)

Running: August 6, 2019 – September 8, 2019

Time: 11:00-18:00

*Sky Deck opening hours extended to 22:00 (last entries 21:30) on August 25

*Sky Deck opening hours reduced to 17:00 on August 10 due to the firework festival (August 11 if postponed)

*Last entries are 30 minutes before each respective closing time

Price: Sky Deck fee only (AR is free to experience): General ¥500 / Aged 4-12 Years ¥300

*Separate fees are charged for entry to the exhibition, sky deck, and Mori Art Museum

*The recommended age for the AR experience is 7+ years

Full Details (Japanese): http://tcv.roppongihills.com/jp/news/2019/08/3400/index.html

Attack on Titan Exhibition FINAL (English): https://www.kyojinten.jp/en/

Sanrio Puroland's All-Night Halloween Party to Feature Guest Performances by Scha Dara Parr, m-flo & chelmico

Sanrio Puroland, Tokyo's theme park home to Hello Kitty and her friends, has teamed up with music company Melody fair to create a very special one-night-only Halloween party called SPOOKY PUMPKIN 2019 〜PURO ALL NIGHT HALLOWEEN PARTY〜 which will take place on October 26.

This marks the 6th year of Puroland's all-night event which never fails to sell out every ticket every single time. This year, there will be 4 live stages instead of the usual 3 allowing for even more exciting entertainment. There will be alcohol, performances from some big names in Japanese music, appearances from the Sanrio character cast, special openings of select park attractions and restaurants, and more for a truly unique club night experience you won't find anywhere else.

The park will be decorated in all things Halloween, and guests must dress according to the dress code which is titled "Orange or Pumpkin."

m-flo

chelmico

There is a huge list of artists are lined up with 40 expected to perform. The first batch have been announced already and includes Scha Dara Parr, m-flo, chelmico, Mom, BILLIE IDLE®, xiangyu, 4s4ki, DJ To-i (from DISH//), 掌幻と昴、LEGEND Of Densetsu a.k.a. Cypress Ueno, OTOTOY FRIDAY, Makita Sports、Poseidon Ishikawa, Shaka bose, JUN INAGAWA, Kubotakai, DJ DEVILMINTKIRYU, DJ yksb, and DJ Hello Kitty. The rest are to be announced at a later date.

There will also be a special pre-celebration for Hello Kitty's birthday which is officially on November 1.

This fun all-night Halloween festival welcomes everybody include those who have never been to a music festival or club before.

Links to where you can buy tickets are listed below. If you buy them from Reco Ticket you'll get the above-pictured exclusive Hello Kitty ticket.

Enjoy a Halloween party like no other this year at Sanrio Puroland.

©2019 SANRIO CO., LTD.

Information

SPOOKY PUMPKIN 2019 〜PURO ALL NIGHT HALLOWEEN PARTY〜

Date: October 26, 2019

Time: Open 22:00 / Finish 05:00 (subject to change)

Location: Sanrio Puroland (1-31 Ochiai, Tama, Tokyo)

Lineup: Scha Dara Parr, m-flo, chelmico, Mom, BILLIE IDLE®, xiangyu, 4s4ki, DJ To-i (from DISH//), 掌幻と昴、LEGEND Of Densetsu a.k.a. Cypress Ueno, OTOTOY FRIDAY, Makita Sports、Poseidon Ishikawa, Shaka bose, JUN INAGAWA, Kubotakai, DJ DEVILMINTKIRYU, DJ yksb, DJ Hello Kitty … & more TBA

Tickets: Advance ¥5,000 (Tax Included) *Available from August 3 at 10am (JST) / Same-Day ¥6,000 (Tax Included)

Reco Tickets: https://reco-ti.jp/l?dn=73001

Lawson Tickets:  https://l-tike.com/spooky-pumpkim2019

e+:  https://eplus.jp/spookypumpkin2019/

Ticket Pia: https://w.pia.jp/t/spooky-pumpkin/ (P-Code: 159-441)

Event Page: https://www.puroland.jp/spookypumpkin2019/

See Traditional and Modern Japanese Culture Collide With Yukata, DJs & More at Tokyo's Hamarikyu Gardens

The three-day Hamarikyu Oedo Cultural Festival will take place at the beautiful Hamarikyu Gardens in Tokyo from August 23 to 25. It will be produced by international fashion designer and stylist Junko Koshino.

The boisterous festival is a coming together of Japan's traditional Edo period and modern times which will be celebrated with a myriad of exciting experiences.

The centrepieces of this year's event are the DJ performances and Yukata Fest which will take place around the two 6-meter tall pillars in the garden's plaza. DJ KOO will appear as a special guest on Friday August 23rd while Japanese models Arina Urahama, Sayaka Shimizu and YORI will take the spotlight on Saturday 24th wearing Edo-style outfits with a contemporary pop spin all made by Junko Koshino.

During the Yukata Fest, there will be taiko drumming along to the DJ performance. Three people from the Eitetsu Fu'un no Kai―a group supervised by famous Japanese musician Eitetsu Hayashi―will be the drummers. The Fest will mash together traditional Japanese music with modern DJing.

Expect to be thrilled with an up-close performance of kendo swordsmanship, iai―the art of drawing one's sword―and a showcasing of naginata, a type of long pole weapon. There will also be a play area where you can play karuta with the Hyakunin Isshu one-hundred poems which was popular during the Edo period, blow bubbles, and more.

And of course, there'll be plenty of Japanese food to tuck into as well served at one of the many booths. This includes namie yakisoba, a local speciality soba noodle dish adored by the people of Fukuoka which will be served as part of maintaining the culture, a Fukushima no Sake standing bar which has won the top award in the Shinshu Kanpyokai 7 years in a row, and so on.

Specially prepared traditional Japanese wagashi confections produced by Junko Koshino will also be sold as part of a collaboration project with Ito En who are sponsoring the event and holding a special tea party. They are limited in availability, and those lucky few who do get a spot will be able to enjoy tea and sweets while enjoying a view of the spectacular Japanese-style gardens at the Nakajima No Ochaya cafe.

Visitors will also be able to pick from a wardrobe of bright and colourful yukata, including some designed by Junko Koshino, at one of the booths at the festival and have them fitted on from them. Those who arrive already dressed in a yukata will receive free entry to the festival!

You'll completely forget you're in the boisterous city of Tokyo while at this traditional x modern fusion of a festival. If you're in Japan this summer, then don't miss out. More details of the festival and its content can be found on the official website below.

Information

Hamarikyu Oedo Cultural Festival 2019

Date/Time:

August 23 @ 17:00-21:00
August 24 @ 11:00-21:00
August 25 @ 11:00-17:00

*Hamarikyu Gardens are open from 9am as usual while the festival is running

Location: Hamarikyu Gardens (1-1 Hamarikyuteien, Chuo Ward Tokyo)

Price: General ¥300 / 65+years ¥150 (Free for elementary school children and younger, residents of Tokyo, and middle school student residents and younger)

*Free entry for those wearing a yukata

Official Website: https://hamarikyu-event2019.jp/