The strawberry season is not over yet! 6 recommended strawberry food items and drinks
Sweets, foods and drinks using the motif of "strawberry" have been released since January, so in this article I will introduce to you some recommended strawberry items.
"Ichigo (strawberry) no Tarabagani (king crab) Burger" Tokyo Intercontinental Hotel
 "The Dining Room," the restaurant & bar inside Strings Hotel Tokyo Inter Continental, is now selling "Ichigo no Tarabagani Burger" as their third burger of their "high class burger" series. The buns were originally developed to look and taste like strawberries in line with their "15th"anniversary. Strawberry powder and strawberries were used to make the buns along with the best quality flour produced in Canada. Let's enjoy this seasonal burger using strawberries and king crab.
Detailed information:https://www.moshimoshi-nippon.jp/89723
"Ichigo Sweets" Patisserie Kihachi
"Patisserie Kihachi" shops, excluding some, are now selling cherry-blossom desserts and strawberry desserts such as strawberry roll cake/tiramisu for a limited time offer. Ichigo no Blanc Roll uses sweet/sour strawberry and raspberry jam, one whole strawberry and thick fresh cream including mascarpone are all wrapped in a soft chiffon cake. The dough of the chiffon cake is made with special eggs where the egg yolk turns white when heated so as to highlight the strawberries' vivid red color.
Detailed information:https://www.moshimoshi-nippon.jp/90609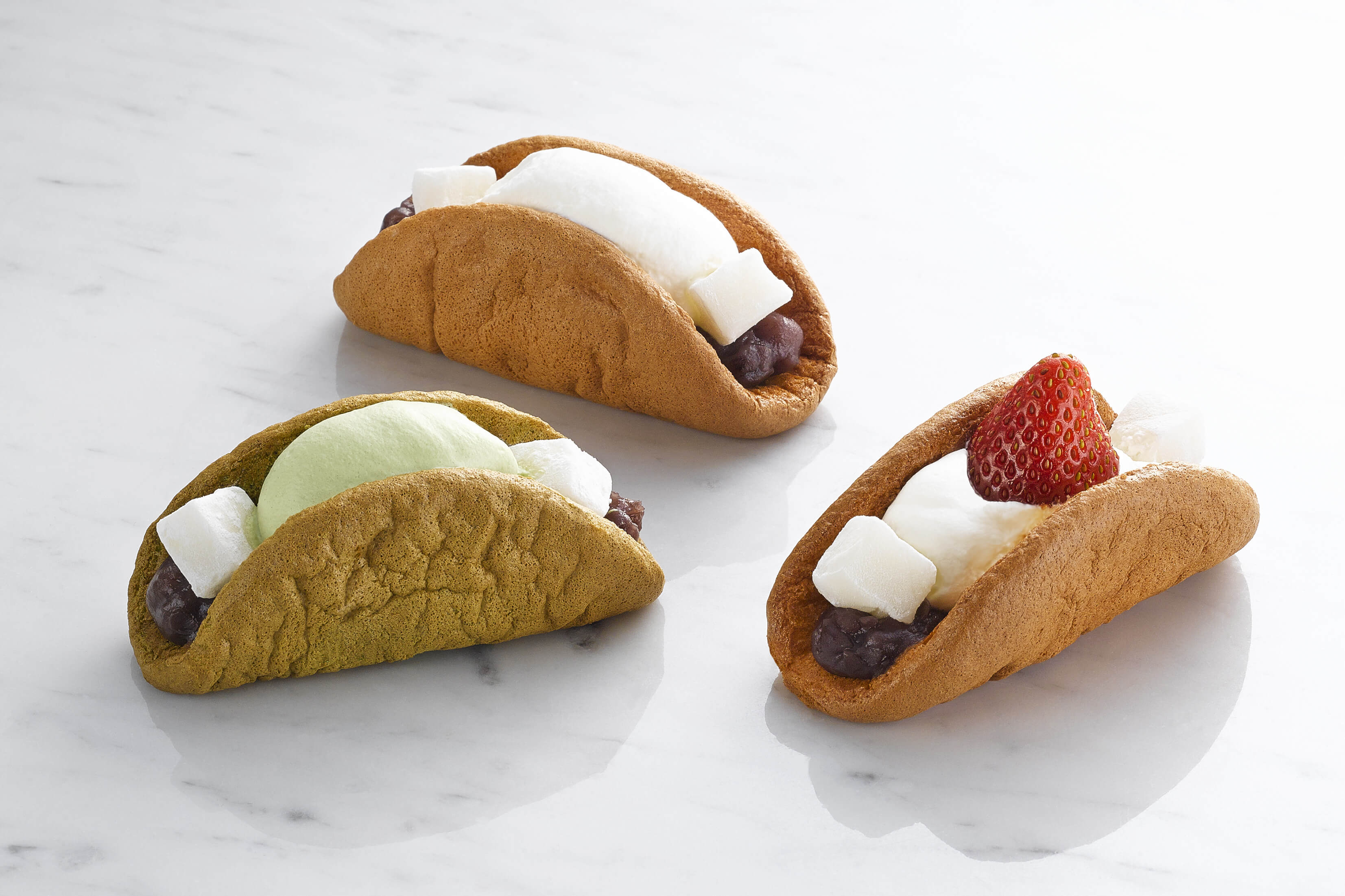 The "dorayaki" specialized store, "DOU"
Dorayaki is a Japanese dessert where red bean-jam is sandwiched between two "castella" sponge cakes. It is loved by many Japanese people as a snack/dessert. "DOU" is a dorayaki-specialized store that offers new types of dorayakis. The new flavored item "Nama Dorayaki Ichigo" uses the strawberry variety, Tochiotome produced in Tochigi Prefecture.
Detailed information:https://www.moshimoshi-nippon.jp/90250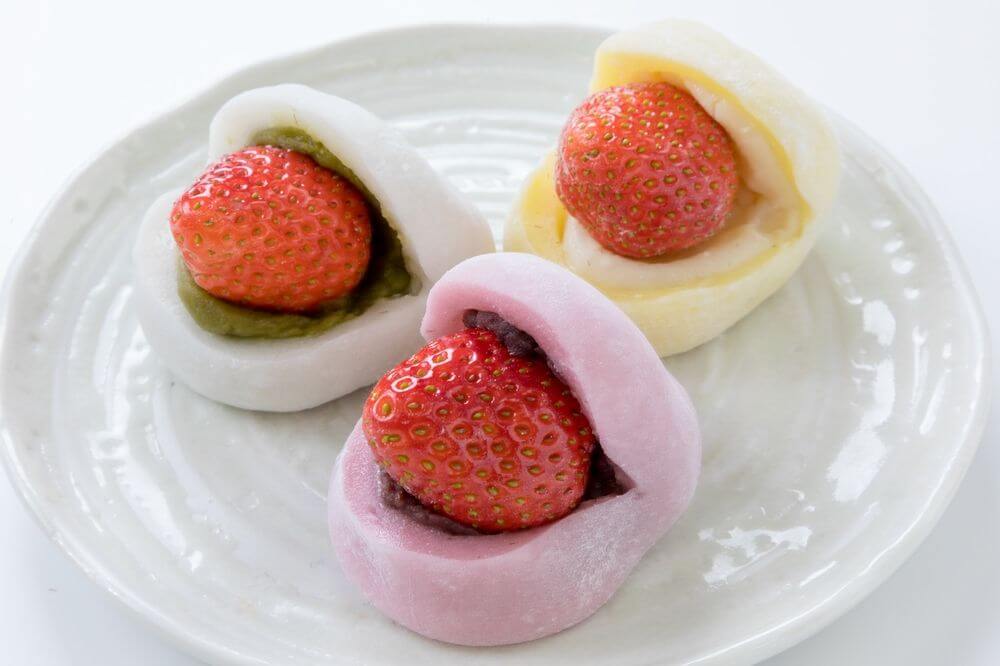 "Ichigo-daifuku" (strawberry-rice cake) specialized store, "Ichigo An"
The "ichigo-daifuku" (strawberry-rice cake) specialized store, "Ichigo An" was opened in Akihabara on the 1st of March. Roots Co., Ltd. opened an "ichigo"(strawberry) "daifuku" (a soft round rice cake stuffed with sweet bean-jam) specialized shop which will sell this sweets item produced in collaboration with their affiliated farms throughout Japan and the strawberries they use are directly sent from various production areas. The harmony of the straberries' sourness, bean-jam's sweetness and the chewy rice cake, is excellent!
Detailed information:https://www.moshimoshi-nippon.jp/93946
"Ichigo Daifuku making experience" Ibaraki Prefecture Yukueshi
Namegata Farmers Village is an experience-based agricultural theme park located in the city of Namegata in Ibaraki Prefecture. The site is currently holding a strawberry picking event where you can try picking Japan's best strawberries. You can also have a go at making your own strawberry daifuku, a popular Japanese confection, until April 8th. You have a choice of 2 anko pastes to fill your daifuku with: the classic red bean 'tsubuan' and the sweet potato 'imoan'. Pick your favourite to make a daifuku that you love.
Detailed information:https://www.moshimoshi-nippon.jp/95189
"Koji/Kiichigo" amazake specialty store / Furumachi Koji Seijojo
The amazake (sweet fermented-rice drink) specialty store "Furumachi Koji Seijojo (factory)" is now selling spring-limited amazake using koji (rice malt) "Koji/Kiichigo." This product is made with rice produced in Niigata Prefecture, the amazake of the koji created in a storehouse in Niigata Prefecture and to this strawberries/raspberries are added. The product is sweet and sour at the same time and goes well with yogurt. It is recommended to mix it with yogurt using a mixing machine to make a yogurt drink.
Let's enjoy the spring season with food items using the motif of "Strawberry!"
RECOMMENDED ENTRIES
7 Springtime Strawberry Sweet Buffets in Japan

Spring draws close, and in Japan, that means all the delicious strawberry sweets and confectioneries make an appearance.

 

Droves of delectable and dreamy sweet products using Japanese-grown strawberries are currently being announced. Let's take a peek!

 

Hilton Tokyo Bay

Did you know that Hilton Tokyo Bay is an official Tokyo Disney Resort® Hotel? Well, from January 13th to July 1st this year, a dessert buffet lusciously listed as "Strawberry Field" will make an appearance at the hotel's "lounge O."

Scrumptious strawberry desserts will be lined up ready for savouring in a dreamily cute space that will look like it has been taken straight out of a fairy-tale. 35 gorgeous items will grace the menu, including regular desserts and light food, all of which will have you grabbing your phone to take a snapshot without even realizing to share before relishing in the moment. Look forward to enjoying your time as the heroine of a fairy-tale story in curious surroundings.

 Full Details: https://www.moshimoshi-nippon.jp/84449

◼︎Information

Dessert Buffet "Strawberry Field"

Location: Hilton TOKYO BAY "lounge O" (Lobby Floor)

Date: Weekends & Holidays – Two buffets (13:30-15:30 / 16:00-18:00)

Price: Adult – ¥2,800 / Child (4 to 12 years old) – ¥1,600

*Drink bar included

*Above mentioned prices do not include service fee or tax.

Reservations: 047-355-5000

Website: http://www.hilton.com/

 

Quil Fait Bon

The fruit tart specialist shop Quil Fait Bon will hold their immensely popular annual event "Strawberry Week!" again this year from January 25th to January 31st.

A tantalising total of 10 treats will be available this year. Decorated with delicious strawberries, loved by kids and adults alike, this one-week showcase of full-bodied strawberry goodness will feature goodies only available at this event and more.

Full Details:https://www.moshimoshi-nippon.jp/85001

 

Hyatt Regency Osaka

A city resort hotel in Osaka located near the bay, Hyatt Regency Osaka is bringing back their strawberry dessert buffet "Strawberry Mania ~kiss to berry~" which has been gaining popularity every year. They will serve up cute and sophisticated desserts containing bountiful strawberries, raspberries and blueberries.

 Full Details: https://www.moshimoshi-nippon.jp/80612

 

Sunshine City Prince Hotel

Sunshine City Prince Hotel will hold their "Strawberry Sweets Fair" again this year, an event that never fails to be well-received. Expect to sink your teeth into one of their 15 strawberry sweets that change with each season, as well as freshly made waffles and pancakes.

Every 3 weeks, five event-only sweets will be available, as well as dinner menus containing a line-up of meals made with quality obtainable only at Sunshine City Prince Hotel.

  ■Information

Strawberry Sweets Fair

Location: Chef's Palette, Cafe & Dining 1F

Running:

Season 1 – January 13, 2018 to February 28, 2018

Season 2 – March 1, 2018 to April 15, 2018

Season 3 – April 16, 2018 to May 31, 2018

Sweets Buffet

Time: Weekdays 3pm-5pm / Saturdays & Holidays 12pm-2pm & 3pm-5pm

Price: Adults (middle school and above) ¥3,000 / Children (3rd year elementary school and below) ¥1,500 / Children (1st & 2nd year elementary school) ¥900

Sweets & Dinner Buffet

Time: All week 6pm-9pm (last orders 8:30pm)

Price: Adults (middle school and above) ¥3,700 / Children (3rd year elementary school and below) ¥1,400 / Children (1st & 2nd year elementary school) ¥900

*Prices include consumption tax.

*Please note that you may be refused entry during busy periods. Please make a reservation beforehand.

*Photos are concepts only.

*Ingredients and items on the menu are subject to change depending on stock conditions.

*Please let staff know if you are allergic to anything (including ebi, crab, wheat, soba, eggs, milk, peanuts and so on).

Hotel La Suite Kobe Harborland

This hotel is offering up an afternoon tea set on their second floor lounge & bar. Titled "Strawberry Afternoon Tea ~La Sweet de Ichigo Kari~," the set is loaded with strawberries from Hyōgo Prefecture.

From welcome drinks to sweets, scones, savoury snacks and more, the menu is so lavish with strawberries you'll almost think you're in a strawberry field yourself. If you're in need to feel the springtime early, then look no further.

◼︎Information

Strawberry Afternoon Tea ~La Sweet de Ichigo Kari~

Location: Hotel La Suite Kobe Harborland, 2F Lounge & Bar

Available: January 1, 2018 – March 31, 2018

Serving: 13:00-16:00

Contact: 078-371-1188

 

Afternoon Tea Set – ¥3,800

w/ Sparkling Wine (50ml) – ¥4,300

w/ Champagne (50ml) – ¥4,700

*Separate consumption tax and an additional 10% service fee will be charged.

 

 

Ginza Cozy Corner

For a limited time only, Ginza Cozy Corner are introducing 8 brand-new sweets bountiful with fresh seasonal strawberries.

So that the strawberries can be enjoyed even tastier, the store will combine their strawberries products with cream again this year.

 

Powdered Snow Rich Strawberry Chocolate

Bourbon have released a velvety, winter-only delight. This product is dusted with strawberry powder and fresh cream – an exquisite chocolate indulged with strawberry sensation.

Because of the ganache, it proves mouth-watering, which can be enjoyed together with the rich flavour of the strawberries. With its snow-dusted surface, it has a subtle, almost fleeting image to it, fitting for a limited edition snack.

 ■Information

Powdered Snow Rich Strawberry Chocolate (Japanese: 粉雪ショコラ濃苺)

Released in Japan on January 9, 2018

Price: ¥220 (tax excl.)

Did you enjoy the list? Is your mouth watering yet? It may still be cold, but that's all the more reason to warm up your spirit with Japanese sweets infused with scrumptious strawberries, available this season only!

Kaori's easy recipe -Learn how to make "HELLO KITTY Strawberries Mousse"

With just a small bit of ingenuity, turn everyday food into something cute using Kaori's recipe series! With a few simple ideas, an ordinary recipe magically transforms into a cute dish.

1:

Ingredients

Strawberries (wash and hull the strawberries) – 250g

Fresh cream – 100g

Sugar – 30g

Lemon juice – one teaspoon

Powder gelatin – 5g

Water – 3 tablespoons

HELL KITTY 's silicon cut out

Chocolate (white, yellow, black)

Decorations:

Strawberries

Fresh cream

Your favorite fruit

2:  add water (3 tablespoons) to the gelatin (5g) and heat it in a microwave oven(15 to 20 seconds).

3:

①Put strawberries, sugar and lemon juice into a mixer and mix them well. Part of the sauce (80g) will be used as a topping sauce. Set this aside.

➁Put fresh cream and the gelatin/water into ① and mix them well.

4:

①Put the contents of 3 into a container and cool it in the refrigerator.

➁Decorate the topping sauce (3:①) on top of ①.

③Put sliced strawberries on top of ➁.

5:

Make HELLO KITTY's chocolate.

Pour red chocolate into the cut out (ribbon) and yellow chocolate in to the same cut out (nose).

6:

After the chocolate hardens, pour white chocolate (bottom) and then regular chocolate (top) on top.

After all the chocolate get hard, draw the facial parts including eyes and whiskers using chocolate.

☆It is recommended that you make the chocolate a day earlier.

Place fresh cream, the fruit of your choice and KITTY Chan's chocolate on the top of your sweets item.

By using strawberries, you can enjoy the fresh sweet/sour flavor!

Kaori also invites you into her world of character-themed rice dishes in her recipe series! Please check out her Instagram where she has uploaded many pictures of her character dishes!

■Profile

Kaori Kubota (@kaopan27)

I live in Hokkaido and I love to make character-shaped meals, desserts and breads.

I enjoy making character foods because I want to see my family smiling,

My character foods and character bento boxes are introduced in my Instagram page→@kaopan27

"Easter Day" is a festival that commemorates the resurrection of Jesus Christ. This year's Easter Day will be held on the 1st of April (Sun.). The custom of celebrating Easter is slowly becoming establishing in Japan.

In this article, I will introduce to you some colorful sweets items related to Easter Day.

"Lindt Gold Bunny" Lindt

The spring-like sweets item, "Lindt Gold Bunny" is a symbol of Easter Day produced by Lindt. This gold-colored bunny uses high quality milk chocolate and the history of this sweets item dates back to 1952. 6 sizes (1kg, 500g, 200g, 100g, 50g and 10g) are available and two flavors; "dark chocolate with a brown ribbon" and "white chocolate with a white ribbon" are available.

"HAPPY COLORFUL EASTER" Odakyu Hyakkaten Shinjuku Store

Odakyu Hyakkaten will hold the event titled, "HAPPY COLORFUL EASTER" from the 5th of April (Wed.) to the 16th (Sun.) in shopping areas inside their Shinjuku store. In addition to popular sweets items using the motif of rabbit, many food items which are suitable to be eaten at parties like meat loaf with "Torowaguro" boiled eggs and "Tonkatsu Maisen " fillet cutlet using eggs will be sold.

"Easter Campaign" Café Kaila

"Café Kaila" is now holding the event titled, "Easter Campign" at both their Omotesando Store and Maihama Store (until the 16th of April, 2017). They will sell limited-time-offer items using lots of eggs. One Easter-limited item will be discounted (50%) if you say, "Happy Easter" when making an order.

"The Capitol Easter 2018" at The Capitol Hotel Tokyu

The Capitol Hotel Tokyu will sell two kinds of original sweets items under the event name of "The Capitol Easter" at the pastry boutique, "ORIGAMI" from the 15th of March 2018. The "Easter Egg Chocolate" series has 10 varieties of animal-patterns. Caramel-coated nuts can be found inside the egg-shaped white chocolate. "Easter Egg Cookie" uses powdered vanilla beans and fermented butter.

"Easter Egg Hunt Sundae" PEANUTS Café

This is a sundae using the motif of "SNOOPY offering Easter eggs to his friends." Marshmallows and edible flowers are place on top of whipped cream. The ingredients of this sweets item are banana, kiwi, "Tochiotome strawberries" (strawberry variety) ice cream, strawberry whip and strawberry ice cream. A truly delicious sundae!

 "Easter Cup" Ginza Cozy Corner

Ginza Cozy Corner will sell four kinds of "Easter" sweet items designed by Masuda Sebastian. These items will be sold at Ginza Cozy Corner from the 4th of March 2018 to the 1st of April. "Easter Cup" is a cupcake which uses rich-flavored cream and custard-flavored sponge cake. Four varieties (strawberry, banana, melon, blueberry) are available. The cupcakes with a unique-looking Easter pattern is cute and delicious at the same time!

"Easter Egg" Joel Robuchon

"Le Boutique du Joel Robuchon" and "Le Pain de Joel Robuchon" will sell 2 kinds of Easter eggs (quantity limited – 70). The two Easter eggs are made of white chocolate colored red and green and it has a white spring flower as a decoration. Crunchy colorful chocolate with various textures are placed inside the sweet items and white chocolate is used as the foundation. The white flower is made with sugar.

Let's have wonderful Easter Day with these cute sweet items!

Cherry Blossom Inspired Food & Drink in Japan: Spring 2018 – Part Two

Spring can already be seen on our calendars, but it's sure still chilly, isn't it?

Today, we're taking another look at cute spring-inspired sweets which can't wait for the Hanami season.


Patisserie Kihachi
Patisserie Kihachi will sell all kinds of cherry blossom sweets at select branches in Japan starting February 28th for a limited period. Look forward to tucking into some kawaii springtime delights such as their "Mont Blanct Sakura" that has a faint smell of cherry blossoms, and the cherry blossom leaf inspired "Verrine Sakura."

Full Details: https://www.moshimoshi-nippon.jp/90609

Pie Face
Pie Face is a pie shop that originates from Australia. Stores in Japan are set to release two new items: the "Mochi Mochi Warabi Mochi" and "Funwari Sakura Latte." The former comes in the shop's signature pie face pie with a cherry blossom flavour, while the latte is topped with cherry blossom flakes, evoking the call of spring.

Full Details: https://www.moshimoshi-nippon.jp/88796

Starbucks Coffee
Starbucks chains in Japan are currently selling cherry blossom flavoured coffee and beverages as well their 'sakura season' tumblers and mugs that are popular every year. There are 3 drinks to look forward to sipping, all inspired by cherry blossoms: a latte, frappuchino and tea! The secret ingredient added to the drinks are sake lees, making them very elegant drinks indeed.

Full Details: https://www.moshimoshi-nippon.jp/90669

YOKU MOKU Aoyhama Honten BLUE BRICK LOUNGE
Yoku Moku's line-up features crème brûlée, a cake and a tea set that include cherry blossom and strawberry toppings to excite the mood of spring. These sweets are sure to tickle the fancy of girls.

Afternoon Tea
The theme of the new spring menu coming to Afternoon Tea is "Once Upon A Spring Day." Available from March 6th, the menu includes a range of sweets, drinks and merchandise, such as a cherry blossom parfait filled with rice flour dumplings and syrup-covered anko, and a Hanami inspired tea set."

Gin no Budo
Located in Ginza, Tokyo, Gin no Budo has a long history. Their longtime spring seller "Ooki na Sakura no Hanabira no Pai" will be available this year too. They are crunchy pies shaped like big cherry blossom leaves. They smell buttery and are coated with shiny pink sugar and sprinkled with shredded cherry blossom leaves. Enjoy their crunchy, fried texture.

Did you like this list? Get a taste of spring early with these cherry blossom inspired foods and drinks!

The Korean shaved ice shop,"SULBING HARAJUKU" –a report by MOSHI MOSHI BOX, staff person, Midori

Hello, everyone. My name is Midori Blackmore and I am a staff person of MOSHI MOSHI BOX Harajuku Tourist Information Center.

Do you like strawberries? I love strawberries so, I feel happy during this spring season because many desserts using strawberries are released every year.

This time, I visited the very popular shaved ice specialized shop, "SULBING HARAJUKU" from Korea.

The shop is always crowded in summer, but you don't have to wait to get into the shop during the winter season.

It might sound weird to eat ice cream during winter, but I think it is nice to eat something cold inside a warm room, for some reason.

Eating a shaved ice inside a warm shop is the same!


The shop is located on the 2nd floor of the building where the sports store, SKECHERS is located, near the Takeshita Exit of Harajuku Station (make a right turn after getting out of the exit). The sign of the shop is small so be careful not to miss it.

The inside of the shop is spacious and warm. Many of the customers are women but I saw some groups of men as well. A wide generation of people visit the shop.

Secure a table first before making an order at the counter. The product I ordered was a winter-limited, "Nama Ichigo SULBIN"(fresh strawberry shaved ice)!

After ordering, take a buzzer and wait at your seat.

When the buzzer rings, go to the counter and receive your shaved ice.

"Nama Ichigo SULBIN"(fresh strawberry shaved ice) 1,400 yen (tax included)

Boom!

The product was bigger than I thought. Look at the size of it!

You will realize that it is not a normal shaved ice as soon as you put it into your mouth.

The ice is very fine and has a soft texture. Even when it is cold out, the ice will not result in a "rush to the head"and you will be able enjoy the fresh ice texture.

Also, the shaved ice of this shop has the flavor of milk! The combination of the milk-flavored shaved ice and lots of strawberries goes very well.

Red bean jam paste is inside the shaved ice so you will never get tired of eating this sweets item.

SULBIN HARAJUKU sells many kinds of menu items.

One popular menu item is"Mango Cheese SULBIN" 1,500 yen (tax included)


A popular item that is not a sweets is  (food menu)"Mozzarella Toppogi Toast" 1,100 (tax included)

For those of you who do not have "a sweet tooth,"I recommend that you share an ice shaving dish with your friends or with your boyfriend.


"Nama Ichigo SULBIN" will be sold until February for sure but it might not be sold in March. Let's go to the shop as soon as possible!!

◼︎Information

SULBING HARAJUKU

Address: 2F, Green Oak Harajuku, 1-14-34, Jingumae, Shibuyaku, Tokyo

Business hours: 10:30 – 20:00(LAST ORDER 19:30)

Fixed holiday: undecided

Access: 58m from the Takeshita exit of JR Yamanote Line – Harajuku Station

1 minute on foot from the 2nd exit of Tokyo Metro Chiyoda Line – Meiji Jingu Station
TEL:03-6721-0404

■MOSHI MOSHI BOX Harajuku Tourist Information Center

MOSHI MOSHI BOX is a tourist information center located at the cross road of Takeshita Street, Meiji Street, and Harajuku Street. The staff there are experts on the Harajuku area. You can get the most up-to-date news of Harajuku from the site.

Services:

Service list

・free wi-fi

・free water

・free PC & charge

・baggage room

・gift shop

・currency exchange

Opening Hours: 10:00-18:00

Closed: The year-end and New Year holidays

Contact: 03-2225-6447

Twitter・Instagram @mmb_harajuku

Harajuku Lunch Guide: Cafés & Restaurants Recommended by MOSHI MOSHI BOX Staff (Part 1)

Hi, everyone. I'm Shiota, and I'm the Director at the MOSHI MOSHI BOX Harajuku Tourist Information Center. Are you ever stuck on where to eat lunch in Harajuku because everywhere's too busy? I'm always unsure.

So today, the knowledgeable staff at the MOSHI MOSHI BOX will recommend some great locations for lunch they have been to where you can enjoy a bite to eat.

Ruki's Recommendations – Spanish Staff


Natural Stance
Head down the road located between Murasaki Sports and New Balance along Meiji-dori. You'll find a clothes store called WOMB on the left. Head up the stairs next to it to find Natural Stance. It has a welcoming atmosphere and is very relaxing. You can go there just for a drink or you can fill your belly with a meal. The desserts are delicious too!


cafe STUDIO
cafe STUDIO can be found in the same building as the Adidas shop along Meiji-dori. Kick your feet up and relax on one of the sofas inside, or if you're in a rush, you can order for takeout. Best of all, they even have Free Wi-Fi!


Midori's Recommendations – Miss ID Semifinalist


Kunsei Maruho
Kunseu Maruho is an izakaya that can be found along "Tonchan-dori" behind the MOSHI MOSHI BOX. This hidden gem offers a hearty traditional Japanese lunch at a reasonable price.


Shiota's Recommendations – Director of MOSHI MOSHI BOX


bills – Omotesando Harajuku
"bills" needs no introduction – they serve the world's best breakfast. The lines to get in get particularly busy in the afternoon, but you won't have to wait long if you go in the morning. You can find it on the seventh floor of Tokkyu Plaza at Harajuku crossing. Their famous pancakes are definitely delicious, but they have a hefty selection to choose from on the food menu. And the terrace seats feel great when it's sunny!


Ellie's Recommendations – English-Speaking Staff


Bio Ojiyan Cafe
Walk down the street between Murasaki Sports and New Balance near the MOSHI MOSHI BOX and make a right at the Family Mart convenience store. There, you'll find Bio Ojiyan Cafe on your right. All the items shown the signboard look amazing, but even with the standard, set items on the menu, you'll be spoiled for choice since there's so much to choose from.

Check out Shiota and Ellie's trip to this cafe for more details: https://www.moshimoshi-nippon.jp/67375

Did you enjoy this list? If you're planning a trip to Harajuku, keep it with you so you can find great a place to eat lunch.

And if you're unsure of how to get to any of these places, just pop into the MOSHI MOSHI BOX. We'd be glad to help!
RELATED ENTRIES
Japanese Koala's March Cookies Collaborates With Pokémon On Cheesecake Moomoo Milk Flavour

Koala's March is one of the many tasty treats made by Japanese confectionery company Lotte. They are bite-sized cookies with sweet fillings. Lotte is teaming up with Pokémon to release 48 Koala's March products with Pokémon prints on them.

Koala's March With Pokémon – Cheesecake Moomoo Milk Flavour

The crunchy biscuits feature a variety of Pokémon prints on them along with the Pokémon's names' in Japanese. They are filled with sweet cheesecake-flavoured chocolate. The collaboration is inspired by Moomoo Milk, an HP-restoring medicine seen in Pokémon. Together with the original Koala's March prints, there are a total of 96 individual designs to find.

A proper tasty snack for any Pokémon Trainer out there!

©LOTTE/Koala's March Project

©Nintendo・Creatures・GAME FREAK・TV Tokyo・ShoPro・JR Kikaku ©Pokémon

Strawberry Shortcake Crepe Arrive For Christmas 2020 at gelato pique cafe

gelato pique cafe in Japan is celebrating the holiday season with a series of 'WHITE CHRISTMAS' themed crepes and soft serve ice creams until December 27.

The cafe is a branch of the loungewear brand gelato pique. It aims to create desserts for adults. This Christmas, it is serving up some holiday special crepes and ice creams.

Strawberry Shortcake Crepe | ¥880 (Before Tax)

A fat crepe stuffed with strawberries and adorned in a way that's just like a shortcake. It contains not only strawberries, but raspberries, and cream. The whole wheat biscuit adds texture to the crepe so it's delicious to the last bite.

Pique Bear Crepe | ¥1,180 (Before Tax) *Limited quantity served each day


A snowy, all-white crepe made with sweet strawberries, milk gelato, and whole wheat biscuit. It's topped with a cute white chocolate bear.

Holiday Special Soft Creams – From Left: Strawberry Custard, Rich Milk, Mix | ¥450 Each (Before Tax)

The strawberry custard ice cream is made with smooth, sweet, and rich custard cream and strawberry for a melt-in-the-mouth combination. The rich milk ice cream is a mix of refreshing milk and rich vanilla. The mix option combines both of these flavours which results in a real mouth-watering treat.

If you're in Japan this holiday season, don't miss out on these delightful desserts.

Information

WHITE CHRISTMAS
Running: November 16, 2020 – December 27, 2020
Gelato pique cafe Official site:https://pique-cafe.com/
*The Gotemba Premium Outlets branch of gelato pique cafe is only selling the Strawberry Custard Cream Soft Cream
*The Tamagawa Takashimaya S.C. branch is not selling soft creams

Make Your Own Chocolate Pokémon Pies With Lotte's Confectionery DIY Kit

Japanese confectionery company Lotte is launching a new version of its popular Choco Pie dessert in collaboration with Pokémon.

Pokémon Trainers out there with sweet tooths are given an ordinary blank Choco Pie which they can decorate with the accompanying assorted chocolates, nuts, and sweets to create their favourite Pokémon. They can create their own from their mind or follow the recipe provided.

Choco Pie Art with Pokémon will be released by Lotte in Japan on November 24, 2020.

©Nintendo・Creatures・GAME FREAK・TV Tokyo・ShoPro・JR Kikaku ©Pokémon

Luxurious Christmas Desserts Whipped Up at Ginza's SHISEIDO PARLOUR SALON DE CAFE

SHISEIDO PARLOUR SALON DE CAFE in Ginza, Tokyo, is serving up Christmas cheer this year in the form of a delightful selection of desserts from December 1 to 29.

Christmas Angel Parfait | ¥2,300 (Tax Included)

Made with super sweet Le Lectier pears and combined with assorted berries, this parfait is like a gift from the heavens.

Present From The Heavens w/ Drink | ¥2,500 (Tax Included)

A super cute Christmas assortment with a Christmas present made from white chocolate and berry yam, a snowman made from yuzu citrus-laced milk ice cream, and more.

Shiseido Parlour Story w/ Drink | ¥2,600 (Tax Included) *Served weekdays only

Ensemble Chocolate w/ Drink | ¥2,200 (tax Included)

A brownie made from a combination of Belgian, French, and Swiss chocolate surrounded by ganache, ice cream, and more, served with a spread of berry sauce.

Strawberry Parfait | ¥2,000 (Tax Included)

A simple but deliciously sweet parfait made with koiminori strawberries from Nagasaki. It's served with ice cream and sauce but only contains 10g sugar content.

Information

SHISEIDO PARLOUR SALON DE CAFÉ
Address: Tokyo Ginza Shiseido Building 3F, 8-8-3 Ginza, Chuo-ku, Tokyo

TEL: 03-5537-6231 (Reservations Not Required)

Opening Hours:

[Mon-Sat] 11:00-21:00 (Last Orders 20:30)

[Sun & Public Holidays] 11:00-20:00 (Last Orders 19:30)

Closed: Mondays (Except Public Holidays) / New Year Holidays

Official Website: https://parlour.shiseido.co.jp/

Pikachu Caramel Frappes Zap Their Way to Pikachu Sweets by Pokémon Cafe This Holiday Season

Pikachu Sweets by Pokémon Cafe in Ikebukuro, Tokyo, is adding the new "Caramel Pika Pika Frappe" to its menu this holiday season from December 5, 2020 to January 15, 2021.

Caramel Pika Pika Frappe | ¥700 (Before Tax)

The adorable beverage is based on the Japanese custard pudding known as purin. It's laced with caramel sauce, closed off with a squirt of whipped cream, and finished with a sprinkling of chocolate chips for accent.

Pikachu Sleeves

The drink also comes with one of four possible Pikachu sleeves which feature designs in promotion of the upcoming animated film Pokémon the Movie: Secrets of the Jungle (also known as Pokémon the Movie: Coco) which will be released in Japan on December 25, 2020 and in the US in 2021.

© 2020 Pokémon.©1995-2020 Nintendo/Creatures Inc./GAME FREAK inc.
Pokémon, ポケットモンスター, and ポケモン are registered trademarks of Nintendo, Creatures Inc., and GAME FREAK inc.
© Nintendo・Creatures・GAME FREAK・TV Tokyo・ShoPro・JR Kikaku
© Pokémon © 2020 Pikachu Project

McDonald's Luxurious Chocolate Frappes in Collaboration With GODIVA Are Mouth-Watering

McDonald's Japan has revealed two new beverages which will be sold at McCafé by Barista branches of McDonald's from November 25: the "GODIVA Chocolate Espresso Frappe & Macaron" and the "GODIVA Chocolate Espresso Frappe."

This is McCafé by Barista's first collaboration with the Turkish chocolate company GODIVA. The drinks were made under the supervision of Yannick Chevolleau, an executive chef and chocolatier pâtissier at GODIVA, bringing together a match made in heaven of rich chocolate and espresso.

GODIVA Chocolate Espresso Frappe – Regular Size (¥540)

The beverage contains a dark chocolate sauce which combines cacao powder and roasted cacao beans which is mixed together with fragrant espresso and milk before being topped with whipped cream drizzled in a couverture chocolate sauce made from 54% Belgian chocolate.

GODIVA Chocolate Espresso Frappe & Macaron – Regular Size (¥540)

You can also get it topped with a vanilla-flavoured macaron which adds sweetness to the rich beverage and looks even more Instagram-worthy.

Information

GODIVA Chocolate Espresso Frappe & Macaron
GODIVA Chocolate Espresso Frappe
Serving: November 25, 2020 – Mid January 2021 (subject to change)
Available: At McCafé by Barista branches of McDonald's in Japan

Mickey & Friends Disney Christmas Cupcakes to be Released at Ginza Cozy Corner

Japanese confectionery company Ginza Cozy Corner is teaming up with Disney once again to release a new Christmas collection of cupcakes on December 1.

Colourful Disney treats for the holiday season

This sweet seasonal collection is inspired by Mickey & Friends and contains nine unique cupcakes which depict the characters getting ready for their Christmas party.

Disney Christmas Collection (Contains 9) | ¥2,500 (Before Tax)

Cupcakes include a Santa-hat wearing, chocolate ganache-filled Mickey cream cheese cake, a strawberry jam-filled Minnie mousse cake, a lemon and mint cream-packed, Christmas decoration-adorned Donald tart, a banana and mint cream Pluto tart, an orange cream Goofy chocolate cake, and more.

The cakes are packed in a special Disney Christmas box which is sure to catch the attention of sweet tooths this holiday season, perfect for stay-at-home Christmas parties.

Information

Disney Christmas Collection
Running: December 1, 2020 – December 25, 2020

Ginza Cozy Corner Official Website: https://www.cozycorner.co.jp/

Starbucks Japan Reveals Matcha x Matcha White Chocolate Frappuccino®

Starbucks Coffee Japan has revealed that its second instalment of its limited-edition holiday season 2020 beverages will be the "Matcha x Matcha White Chocolate" and "Matcha x Matcha White Chocolate Frappuccino®" which customers can order from November 24. A new batch of festive Starbucks merch will also hit Japanese branches on November 30.

A harmonious fusion of matcha and sweet white chocolate

Matcha x Matcha White Chocolate Frappuccino® Tall ¥590 (Tall-size only)

Matcha x Matcha White Chocolate: Short ¥450 / Tall ¥490 / Grande ¥530 / Venti® ¥570 (Hot option only)

Matcha is one of Starbucks Japan's signature flavours and just to happens to have been in the spotlight in last year's holiday season drinks. This year sees marbling mixture of of rich matcha sauce and sweet white chocolate syrup with the Frappuccino®, finished with a squirt of whipped cream, brownie bits, and snowy powdered sugar. The hot version comes as a marriage of matcha and white mocha mixed together with steamed milk to warm the cockles of hearts during the cold months.

New holiday season merchandise

The theme of the second batch of merchandise is "Brilliant Season" which capture the bright and sparkly vibe of winter like with the snowflake-covered stainless steel bottle, a glass mug with beads in it that move around when shaken, a snow globe, and more. The perfect line-up for capturing the holiday season mood during your coffee break.

Starbucks Japan is currently serving the Berry x Berry No-Bake Cheesecake Frappuccino® and Berry x Berry White Mocha holiday season drinks for the holiday season until November 24 when they will be replaced by the Matcha x Matcha White Chocolate and Matcha x Matcha White Chocolate Frappuccino®. It is also serving the Starbucks® Christmas Blend, Gingerbread Latte, and Macadamia Toffee Latte until Christmas Day.

Information

Matcha x Matcha White Chocolate and Matcha

Matcha White Chocolate Frappuccino®

Running: November 1, 2020 – December 25, 2020

Available: Starbucks in Japan
Starbucks Japan Official Website: https://www.starbucks.co.jp/

Toy Story's Little Green Men and Lots-o' Get Turned Into Confections at Japanese Convenience Stores

Bandai's character-inspired Japanese confectionery series Tabemas has revealed that its next batch of sweet treats will be inspired by the Little Green Men and Lots-o'-Huggin' Bear from the popular Pixar movie franchise Toy Story. The confections will hit 7-Eleven convenience stores in Japan on November 21, 2020.


Tabemas Toy Story | ¥258 Each (Before Tax)

The lovable Little Green Men and Toy Story 3's main antagonist Lots-o have been fully recreated, down to the finest details, into delicious confections. The details are well crafted you can almost hear the aliens chanting "OOOOOH" in unison! The sweets are also made with a dough called "nerikiri" which is used in making traditional Japanese wagashi sweets.

The Little Green Men are matcha flavoured while Lots-o is strawberry flavoured. Both contain Japanese bean paste, and neither use artificial colourings. Their colours comes from the original ingredients. Each sweet is also only 100kcal making is a perfect quick treat.

'Tabemas' is an abbreviation of the Japanese words taberareru masukotto, meaning 'mascots that you can eat.' It is a Japanese confectionery series that combines well-known characters and Japanese sweets made from ingredients like red bean paste, sugar and rice flour.

©Disney/Pixar

Information

Tabemas Toy Story 25th Anniversary – Little Green Man & Lots-o'-Huggin' Bear
Release Date: November 21, 2020
Available: At the chilled sweets section of 7-Eleven convenience stores in Japan

*Available while supplies last

*Stock date may differ from branch to branch

*Select stores not participating

Official Website: https://www.bandai.co.jp/candy/tabemas/toystory/  

Christmas-Themed Afternoon Tea Set to Arrive at Hyatt Regency Tokyo

Hyatt Regency Tokyo's brasserie Vicky's is reopening on November 20, 2020. To celebrate Christmas, Vicky's is serving up an adorable afternoon tea set which contains Christmassy desserts and savoury snacks. The afternoon tea set will be available on weekends and national holidays from November 21 to December 27, 2020.

Christmas Afternoon Tea Set: ¥4,400 (After Tax)

Enjoy a festive afternoon tea set in Vicky's comforting brasserie. For the occasion, head dessert maker Hirokazu Satō has created a selection of delicious pastries which take the forms of adorable Christmas characters. Enjoy the creamy layers of the strawberry mousse snowman, indulge in the aromatic pistachio cream tart which looks like a Christmas tree, and sink your teeth into a strawberry and pistachio macaron which looks like Santa Claus. Tuck into the strawberry shortcake which looks just like a Christmas present to finish off your dessert plate.

Minoru Ōtaki is in charge of the savory treats of the Christmas afternoon tea. The menu includes pulled pork sandwiches, quiche lorraine, fried shrimp and more. The savoury snacks balance out the sweet desserts and add a moderately savoury touch to your experience. Customers are also invited to indulge in the wide variety of delightful drinks.

To celebrate the reopening of Vicky's, Ōtaki has created a special dinnertime tapas selection where you can indulge in the natural flavours of fresh ingredients.

This Christmas afternoon tea is a wonderful way to relax after work or even with your friends.

Information

Christmas Afternoon Tea Set
Running: November 21 ー December 27, 2020
Location: Vicky's Brasserie, Hyatt Regency Tokyo Floor 1
2 Chome-7-2 Nishishinjuku, Shinjuku City, Tokyo
Teatime: 13:00 – 17:00 (Last Orders: 16:00)
*Available on weekends and national holidays only

Phone Number: 03-3348-1234

Vicky's Brasserie Official Website: https://www.hyattregencytokyo.com/portals/0/vickys/

A Cheesecake You Can Drink Releases at CheeseTable in Shinjuku

Shinjuku and Ikebukuro's popular cheese cafes CheeseTable released added a new hot version of their drinkable cheesecake to the menu on Tuesday (November 10), the perfect way to warm up as the season gets colder.

The cheesecake-in-a-mug is a popular menu item at CheeseTable and has continued to be changed and adapted to the seasons over the years. Until now it has only been available to drink cold, but for the first time they've introduced a hot option.

Strawberry Cream Drinkable Hot Cheesecake | ¥780 (Before Tax)


Chocolate Espresso Drinkable Hot Cheesecake | ¥780 (Before Tax)

There are two flavours to pick from, both of which offer the sensation that you're eating a real cheesecake. There's the creamy strawberry jam "Strawberry Cream" which is best enjoyed after stirring and the "Chocolate Espresso" which is a rich and sweet mix.

Honey Mascarpone Drinkable Cheesecake | ¥600 (Before Tax)


Brown Sugar Syrup & Soy Flour Drinkable Cheesecake | ¥600 (Before Tax)

The signature iced Honey Mascarpone and Brown Sugar Syrup & Soy Flour flavours are also must-tries. Honey Mascarpone has been popular since it was first release for its subtly sweet taste. The Brown Sugar Syrup & Soy Flour dessert drink is topped with soy flour warabimochi and rice flour dumplings. This latter flavour is very Japanese, combining the sweetness of the syrup with cream cheese.

If you're in Tokyo this winter then stay warm with a cup of cheesecake!

Information

Drinkable Hot Cheesecake
Shop Name: CheeseTable Shinjuku
Address: Pandora Bldg. 7F, 3-23-12 Shinjuku, Shinjuku-ku, Tokyo

TEL: 03-3226-8730

Access: 3-minutes on foot from JR Shinjuku's East Exit

Opening Hours
[Weekdays] Lunch 11:45-15:30 / Dinner 17:30-23:00
[Weekends & Holidays] Lunch 11:45-16:00 / Dinner 16:00-23:30

CheeseTable Official Website: http://www.sld-inc.com/cheesetable_shinjyuku.html

Tokyo Banana Launches Pokémon Confection Series With Pikachu as First Catch

Tokyo's official souvenir sweets brand Tokyo Banana has launched its new Pokémon Tokyo Banana series of confections.

The first tasty entry to the series is the Pikachu Tokyo Banana which will begin rolling out in limited quantities at 7-ELEVEN convenience stores across Japan from November 21, 2020. It will subsequently arrive as a permanent product at the Tokyo Station branch of Tokyo Banana on December 10, 2020.

Pokémon turn into adorable Tokyo Banana confections

Pikachu Tokyo Banana | Banana Flavour (Contains 2) | ¥291 (Tax Included)

Tokyo Banana are popular cream-filled cakes and are the official souvenir sweet of Tokyo. The Pokémon series turns these fluffy treats into cute confections for you to enjoy with your favourite Pokémon during snack time.

Pikachu: The first in the delicious line

Pikachu is first up in the Pokémon Tokyo Banana series. The adorable Pokémon has been turned into a banana custard cream-filled sponge cake.


There are six Pikachu designs in total which include Pikachu making a variety of cute faces as well as its tail.

Each of the Pikachu Tokyo Banana confections are individually packaged in bags which have a Poké Ball design.

Special packaging designs

The individual treats are then packaged in one of six possible Pikachu packets.

Pikachu Tokyo Banana will first roll out at 7-ELEVEN convenience stores in the locations listed below on the respective dates before heading to Tokyo Banana at Tokyo Station on December 10.

Scheduled

November 21 Release
Tokyo / Kanagawa / Chiba / Saitama

November 28 Release
Hokkaido / Aomori / Iwate / Akita / Miyagi / Yamagata / Fukushima / Ibaraki / Tochigi / Gunma / Niigata / Toyama / Ishikawa / Fukui

December 5 Release
Yamanashi / Nagano / Shizuoka / Aichi / Gify / Mie / Okayama / Hiroshima / Tottori / Shimane / Yamaguchi / Tokushima / Kagawa / Ehime / Kochi

December 12 Release
Osaka / Kyoto / Hyogo / Shiga / Nara / Wakayama / Fukuoka / Saga / Nagasaki / Oita / Kumamoto / Miyazaki / Kagoshima

*Not available in Okinawa

*7-ELEVEN sales are available while supplies last

Tokyo Banana – JR Tokyo Station

Pikachu Tokyo Banana will arrive at the JR Tokyo Station branch of Tokyo Banana inside HANAGATAYA on December 10. The second Pokémon is scheduled to be released in January 2021.

©2020 Pokémon. ©1995-2020 Nintendo/Creatures Inc. /GAME FREAK inc.
Pokémon, ポケットモンスター, and ポケモン are registered trademarks of Nintendo, Creatures Inc., and GAME FREAK inc..

Information

Pikachu Tokyo Banana

Pre-Sales: November 21, 2020
*Available at select 7-ELEVEN branches in Japan while supplies last

Pokémon Tokyo Banana @ Tokyo Station
Release Date: December 10, 2020
Location: HANAGATAYA at JR Tokyo Station
Tokyo Banana World: https://www.tokyobanana.jp/