Magical fairy cakes from GODIVA valentine collection 2019♡
"GODIVA fairy cake collection","G-cube", and colorful baked sweets are available from the luxury Belgium chocolate brand, "GODIVA", from the 16th (Wed) of January. "Belgium favorite assortment" are available from the 9th (Wed) of January.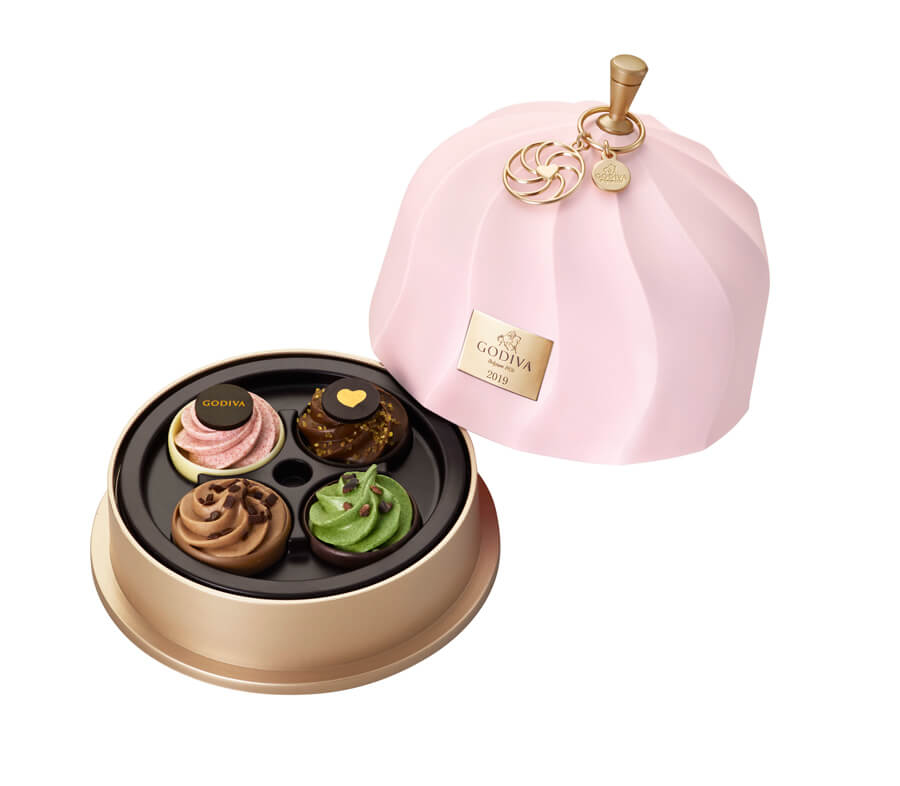 GODIVA fairy cake keepsake 4 pieces ¥3,780
Cute cakes that fairies adore to eat are called fairy cakes, and these are now available as chocolates in the "GODIVA fairy collection" . These "fairy cakes" are made with strawberry moose on a rich strawberry ganache in a lovely chocolate cup, with a taste that will take you to a dream world. The package is designed by "Tolleson", a design studio based in San Francisco, USA.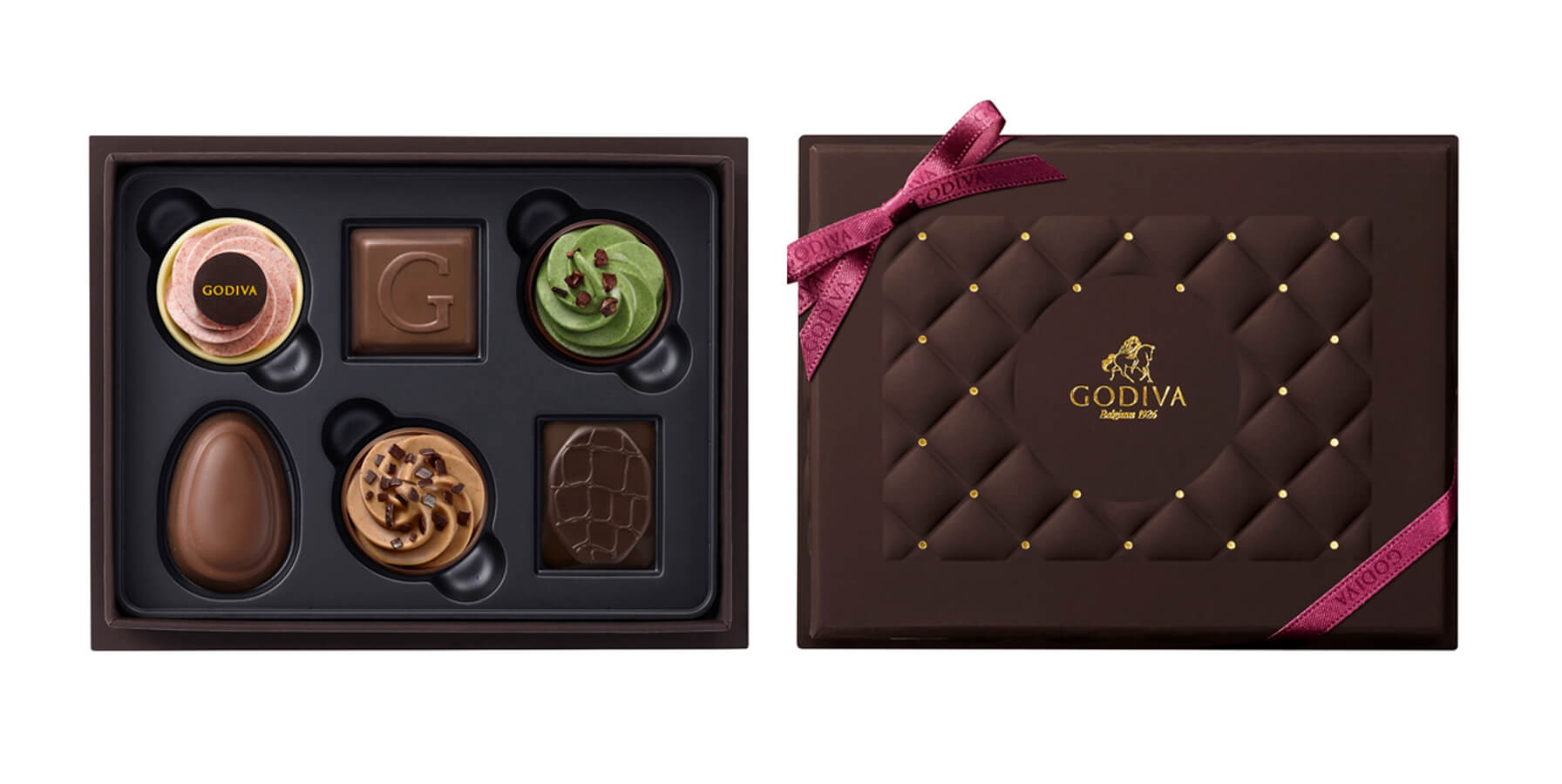 Belgium favorite assortment 2pieces ¥1,080〜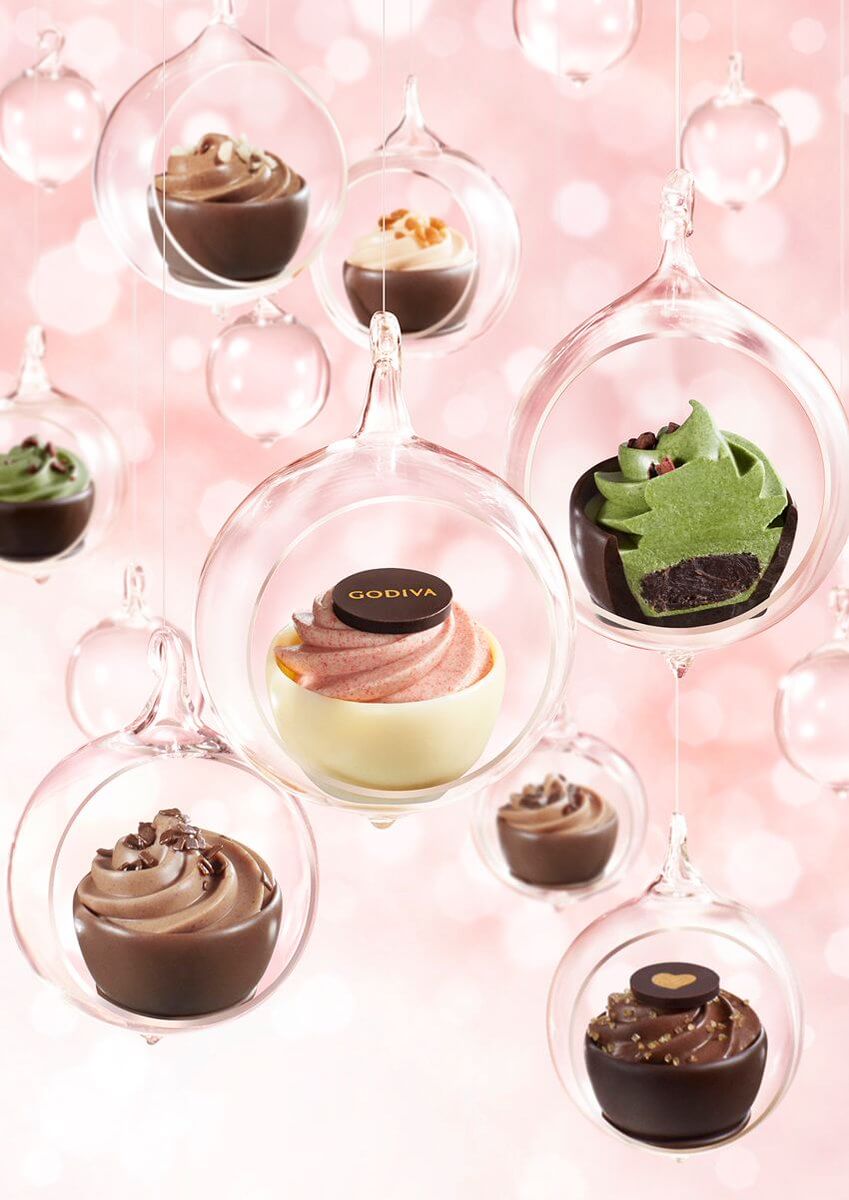 Fairy magic will make your wish come true with the GODIVA valentine collection 2019 and give you a magical Valentine's day.
Information
2019 GODIVA valentine collection
Running : from January 16th (Wed) 〜 February 15th (Fri), 2019 ※"Belgium Favorite Assortment" is available from January 9th (Wed) ※Select stores may end at a different date.
Available: GODIVA shops at all department stores across Japan and GODIVA speciality shops.
GODIVA Japan website: https://www.godiva.co.jp
RECOMMENDED ENTRIES
Valentine's Day Sweets in Japan 2019: Part 1

The Valentine's mood sets in early in Japan beginning in January where shops across the country begin selling limited time food and dessert for the season of love. It can be tough picking out the right gift for Valentine's Day, but a meal or delicious treat is always a winner. And if you're in Japan, you have plenty of options.

Here's part one of our list of seasonal sweets you and your special someone can sink your teeth into this Valentine's Day.

Krispy Kreme Doughnuts: Fondant Doughnuts

Krispy Kreme Doughnuts Japan is gearing up for Valentine's Day with a string of loving (and delicious) releases. The first of these in the run up to the season of love comes in the heart-shape of three doughnuts and two chocolate flavoured drinks now available at most branches in Japan. These fondant doughnuts are a popular product making a return for the first time in two years. The three flavours include the standard chocolate and the new strawberry and banana caramel. Their heart shape make them perfect for Valentine's Day♡

Full Details: https://www.moshimoshi-nippon.jp/154797

GINZA SIX: 4 Valentine's Day Treats

Tokyo's luxurious Ginza district is home to countless famous chocolateirs. Four Valentine's Day gifts have been predicted to be the trend at GINZA SIX this year, the biggest shopping complex in the Ginza area. The first is Ruby Chocolate, a variety of chocolate that was in development for over 10 years and introduced in 2017. It is to be considered as the fourth category of chocolate alongside, dark, milk and white. The second is Galentine, a tea set packed full of Valentine's season-only specially made sweets and is aimed at girls who want to have a girl's-only get-together.The third is Wasozai chocolate and the fourth is "Health-conscious" chocolate. Head to GINZA SIX to get your hands on chocolate you can't get anywhere else!

Full Details: https://www.moshimoshi-nippon.jp/144657

BAKE CHEESE TART x Dandelion Chocolate: "Baked Chocolate Cheese Tart"

BAKE CHEESE TART has teamed up with Dandelion Chocolate―the bean-to-bar chocolate makers from San Francisco―to release the new Baked Chocolate Cheese Tart. In one bite your taste buds are treated to an amalgamation of cheese mousse and rich caramel with an aftertaste of cocoa beans that have a fruity sourness to them.

Full Details: https://www.moshimoshi-nippon.jp/?p=158747

Croquant Chou Zakuzaku: Choco Zaku & Choco Soft

The Choco Zaku and Choco Soft are two new crunchy chocolate delights created by cream puff chain Croquant Chou Zakuzaku for the Valentine's season. The Choco Zaku has a crunchy exterior made from an almond crunch base and is filled with chocolate flavoured custard cream made with milk from Hokkaido. The entire puff is drizzled with chocolate sauce and topped with chocolate flakes. The Choco Soft is made with rich soft serve ice cream that tastes almost frozen and has been dipped in chocolate sauce. It is crowned with chocolate flakes and croquant. Don't miss out on these new limited edition products from this popular brand!

Pompompurin Cafe x Gudetama: Valentine's Day & White Day Menu

Sanrio's hugely popular characters Pompompurin and Gudetama will meet at the Yokohama and Nagoya branches of the Pompompurin Cafe for a special Valentine's Day and White Day menu special. Five items will be served, including the Cream Cheese Sandwich Lovely Pancakes, cream cheese-filled pancake sandwiches with Purin and Macaroon's faces drawn on them.

Find your favourite Valentine's Day sweets, and look forward to part two♡

Delicious Fondant Chocolate Pancakes Releasing at Eggs 'n Things Japan

Eggs 'n Things Japan has revealed its new Fondant Chocolate Pancakes which will be served for a limited time from January 16 to February 28.

Plates are piled with a stack of 6 thick chocolate pancakes which are filled with a rich raspberry ganache. They are also served with a dollop of vanilla ice cream and a huge tower of whipped cream to complement the chocolate. This is a must-eat on Valentine's Day.

Whether it's a treat to yourself, a friend or that special someone, don't miss out on this very special treat.

Information

Fondant Chocolate Pancakes
Price: ¥1,480 (Before Tax)
Running: January 16, 2019 – February 28, 2019
Available: At Eggs 'n Things branches in Japan (Except LaLaport Nagoya Minato AQULS and Takasaki OPA)
Webpage: http://www.eggsnthingsjapan.com/news/190109.html

BAKE CHEESE TART & Dandelion Chocolate Collaborate on Valentine's Chocolate Cheese Tart

BAKE CHEESE TART has teamed up with Dandelion Chocolate―the bean-to-bar chocolate makers from San Francisco―to release the new Baked Chocolate Cheese Tart. It will be available from January 11 to February 14 just in time for the Valentine's season.

The tart is made with cocoa beans farmed in Guatemala and carefully selected by Dandelion Chocolate. The cocoa beans are heated more thoroughly to the core than usual and carefully roasted to leave a strong taste on the palate like that of brandy. In one bite your taste buds are treated to an amalgamation of cheese mousse and rich caramel with an aftertaste of cocoa beans that have a fruity sourness to them. The lingering aftertaste is nuanced like red wine.

The cream cheese used in the cheese mousse is an original blend that mainly uses cream cheese made in Hokkaido which offers unique flavour and texture. It is mixed with Dandelion Chocolate's ganache. The cookie batter is laced with cookie powder for added crunch. The tart is fried once like this and again with the mousse. This double fry technique gives the tart its distinct deliciousness.

Dandelion Chocolate taste-tested this tart countless times before putting on the market. The climate during the cocoa bean farming and gathering changed the taste and fragrance of the beans. Only the best beans are used in the baking process.

BAKE CHEESE TART are holding a Valentine's promotion with the concept "From hands to hands" in line with the release of the Baked Chocolate Cheese Tart. Limited edition packaging will be available with designs inspired by the manual labour of those people around the world that made this tart possible. Small gift boxes will also be available.

Information

Baked Chocolate Cheese Tart

Price: ¥280 Each (Tax Included)

*Limited quantity available. Sales will discontinue once all have been sold.

Available: At BAKE CHEESE TART branches in Japan

Running: January 11, 2019 – February 14, 2019

Product Page: https://cheesetart.com/lp/valentine2019/
RELATED ENTRIES
GODIVA's Irresistible Chocolixir Sakura Drink Available This Spring

GODIVA Japan Inc. is releasing a new chocolate drink as part of their Chocolixir series. The new drink flavour "Chocolixir Sakura" will be sold from February 16 to April 9, 2020 at GODIVA shops only. 

Chocolixir Sakura: ¥630 (Before Tax)

Cherry blossom jelly and pink chocolate curls rest on top of a white cloud of whipped cream to create the appearance of cherry blossom petals. The drink creates the image of beautiful sakura petals as they reflect off the water's surface, creating the warm image of the rays of the spring sun. The sweet aroma and creamy melt-in-the-mouth white chocolate is divine. This chilled drink also contains small pieces of smashed white chocolate, creating a fun texture in your mouth. 

It looks just as wonderful as it tastes. One sip will fill your heart with the refreshing vibes of spring. GODIVA's velvety smooth chocolate drinks are always to die for. You just have to try it. 

Handmade Christmas Chocolate Santa and Snowman Released at ATELIER de GODIVA in Kyoto

GODIVA Japan released two new chocolate products at the Daimaru Kyoto branch of ATELIER de GODIVA, a chocolate shop which combines GODIVA's skilful craftsmanship with chocolate artistry. Named "ATELIER Christmas Showpiece Santa Claus" and "ATELIER Christmas Showpiece Snowman," the two chocolate artworks were released on Wednesday and are available until December 25.

Each and every one of these chocolate sculptures are handmade in-store by the shop's chefs. They are exclusive to ATELIER de GODIVA Daimaru Kyoto and the perfect Christmas treat to adorn any Christmas party this holiday season.

These cute Christmas-exclusives not only taste delicious, but are fun to look at. Santa is sat in a chimney ready to deliver the presents while the snowman is sat next to a Christmas tree looking warm with its scarf.

Both of these are limited in stock and won't be available ever again after they sell out, so don't miss out.

Information

ATELIER Christmas Showpieces

Running: December 11, 2019 – December 25, 2019

Price: ¥1,500 Each (Before Tax) *Takeout only

Available: ATELIER de GODIVA Daimaru Kyoto (Daimaru Kyoto B1F, 79 Tachiuri Nishimachi, Shimogyo Ward, Kyoto, Kyoto Prefecture)

Opening Hours: 10:00-20:00

GODIVA Japan Official Website: https://www.godiva.co.jp

This Week's Dessert: Savouring Autumntime Matcha Sweets at ATELIER de GODIVA in Ikebukuro

One thing I do at least once a week without fail is treat myself out to some delicious food or dessert. It's very important time well spent to ensure happiness.

I've been working relatively hard as of late. I had some spare time before a business meeting, so I took advantage of the occasion to treat myself to some desserts. My destination: ATELIER de GODIVA located inside Seibu Ikebukuro.

GODIVA has numerous stores throughout Tokyo, but Ikebukuro's concept store branch has an eat-in space that's perfect for that tea or coffee break.

ATELIER de GODIVA boasts that same level of quality when it comes to their desserts, some of which are exclusive to this branch. There are only three branches: this one in Seibu Ikebukuro (Tokyo), another in Daimaru Kyoto (Kyoto), and the last in Hakata Hankyu (Fukuoka). The cake I am showing you today is a special dessert sold only in these three branches (and is takeout only at Hakata Hankyu).

The first delight I ordered was the Mousse Matcha Cherry.

Mousse Matcha Cherry: Eat in ¥980 / Takeout ¥780 (*Matcha Ice Cream is eat-in only)

Available: Until November 26, 2019 while supplies last

The shiny cake is served on a round white plate with a dollop of matcha ice cream. The pink berry sauce is drizzled around the plate to make the plating even cuter.

Time to tuck in. This extravagant cake is supported by a fluffy matcha mousse topped with a crunchy chocolate sable. On top of that still are juicy cherries, adding a hint of freshness to the cake. The matcha glaze on the mousse has just the right amount of bitterness, which when coupled with the subtly sweet matcha mousse makes for a heavenly balance of flavours. Lined around the base of the mousse are sweet and sour dried raspberries which elevated the matcha-ness of the matcha mousse.

The matcha ice cream which it comes with when you order to eat in is rich and creamy.

I was full up after my dessert, but since I'd taken the time to come here I wanted to order a drink too… so I got a takeout Chocolixir Uji Matcha Kiwami from a shop adjoining ATELIER de GODIVA.

Chocolixir Uji Matcha Kiwami – ¥602 (*Takeout only at the GODIVA Seibu Ikebukuro branch)

This new drink is part of GODIVA's chocolate and tea pairing series. The chefs at GODIVA have carefully selected the best varieties of tea to combine with chocolate. This one is an iced drink made with white chocolate and matcha.

It's a mix of GODIVA's popular smooth and sweet white chocolate and rich Uji matcha. It's crowned with a sprinkling of bitter Uji matcha powder. All of the flavours are highlighted in this sweet drink. The crunchy white chocolate pieces you sip up as you drink are delicious. It's the kind of drink where you're sure to find something new each time you take a drink.

My 30-minute tea break is my little self-indulgence for the day. Spare minutes in my daily schedule affords me the chance to go and enjoy some delicious desserts. You should treat yourself to some special autumntime sweets too.

Today's Presents

Matcha Adzuki ATELIER Tablet – ¥800

It's important to share the happiness between family and colleagues on when you get the chance to enjoy something tasty. The present I bought today was a tablet chocolate handmade in the shop. The matcha white chocolate has almonds in it as well as Japanese-style chocolate mixed with adzuki. It has a strong matcha flavour and isn't overly-sweet. You can also request for a ribbon to be tied around it for gift-giving. It's a chocolate that's sure to bring anyone joy.

Writer:Sayuri Mizuno(MOSHI MOSHI NIPPON)

Translator: Joshua Kitosi-Isanga

Information

ATELIER de GODIVA Seibu Ikebukuro

Address: Seibu Ikebukuro B1F, 1-28-1 Minami-Ikebukuro, Toshima Ward, Tokyo

Opening Hours: [Mon-Sat] 10:00-21:00 / [Sun & Holidays] 10:00-20:00

ATELIER de GODIVA Daimaru Kyoto

Address: Daimaru Kyoto B1F, 79 Tachiuri Nishimachi, Shimogyo Ward, Kyoto, Kyoto Prefecture

Opening Hours: [Mon-Sun] 10:00-20:00

ATELIER de GODIVA Hakata Hankyu

Address: Hakata Hankyu B1F, 1-1 Hakataekichūōgai, Hakata Ward, Fukuoka, Fukuoka Prefecture

Opening Hours: [Sun-Thurs] 10:00-20:00 / [Fri-Sat] 10:00-21:00

Chocolixir Uji Matcha Kiwami

Running: October 1, 2019 – November 30, 2019

Available: GODIVA

https://www.godiva.co.jp/boutique/?view=map&store_list_id=50

GODIVA Official Website: https://www.godiva.co.jp/

GODIVA Releases New Heavenly Chocolixir Tea and Chocolate Pairing Drink

As the almighty creator of the chilled chocolate drink called the Chocolixir, GODIVA has now transcended to a whole new level with its Tea Magic Series which pairs luxurious GODIVA chocolate with a specially made tea. The fourth and final heavenly Chocolixir drink for the Tea Magic Series has now been revealed to be called the Chocolixir Uji Matcha Kiwami. This is a pairing of GODIVA white chocolate and Uji matcha. A limited number of these will be released for sale from October 1, 2019 to November 30, 2019.  

The GODIVA Tea Magic Series is made using the finest GODIVA chocolate. The chocolatier considers the most appropriate tea to enhance the flavour of the chocolate and only uses the finest tea leaves to make the drink. The result is a chilled chocolate tea which is filled with a flavour that will enlighten you. Hojicha Chocolate tea was the first tea of the series and was released on July 1st.

Chocolixir Uji Matcha Kiwami (270ml): ¥602 (before tax)

GODIVA's mildly sweet and velvety white chocolate is blended with rich uji matcha tea and then chilled to a perfectly refreshing temperature. A light cloud of whipped cream floats on the surface and is sprinkled with carefully made uji matcha powder. Matcha chocolate sticks garnishe the drink. 

From your first sip to your last, your mouth will be filled with a rich and luxurious matcha flavour. From time to time, your tongue will discover the exciting texture of small pieces of smashed white chocolate pieces.

This is the perfect opportunity to indulge in the luxurious flavour of mild white chocolate blended with rich uji matcha. 

Godiva releases limited edition chocolate drink and chocolate selection to celebrate White Day!

High quality Belgian chocolate brand Godiva is releasing a limited edition chocolate selection and drink to celebrate White Day in Japan. White Day in Japan is celebrated a month after Valentine's day and is seen as a day for boys to return the favour to the girls who gave them chocolates on Valentine's day.

Shokorikisa White Chocolate Sakura Lala ♪  ¥680

Release: Saturday 16th February 2019 to Sunday 7th April 2019 (no more sales will be made once stock is depleted.)

Starting with the chocolate drink "Shokorikisa", the  "Shokorikisa White Chocolate Sakura Lala ♪"  was born.  The new drink will be sold at limited Godiva shops from Saturday 16th February to Sunday 17th April 2019. The mild and fluffy texture along with the sweet aroma of cherry blossoms and cherries is melted together with white chocolate.  The pink frozen drink is layered with sakura jelly and whipped cream – from the way it looks and tastes to the feeling it leaves in your heart, this drink well and truly represents the coming of spring! Chocolate chips are used to give the appearance of cherry blossom flowers. This is luxuriously decorated with sakura sauce and whipped cream to add to the spring feeling. You can also enjoy the texture of broken chocolate that is contained within the drink.

Godiva Chef's Choice Selection (5 chocolates)

Release date: Saturday 16th February

The White Day limited special collection "Godiva Chef's Choice Collection" was created by 5 of Godiva's highly-praised chocolatiers, who specially selected the ingredients and used them to inspire the creation of each individual chocolate. This luxurious flavour and scent is enough to melt your heart.

The limited edition chocolate includes the almond feuilletine, which contains crispy feuilletine pastry pieces and a smooth, velvety almond praline filling wrapped in milk chocolate. The chocolate is then decorated with white lines. The collection also includes the "raspberry orange", which is a fresh raspberry and orange ganache chocolate that is covered in dark chocolate. The remaining chocolates include "salted caramel", "pistachio" and "Black honey".

What's a better way of expressing your feelings to that special someone other than through this special selection of chocolates crafted by Godiva's finest chocolatiers?

Information

Godiva's official website

Kaori's Easy Recipe: Learn to Make a Pompompurin Cookie Shot

With just a small bit of ingenuity, turn everyday food into something cute using Kaori's easy recipe! With a few simple ideas, an ordinary recipe magically transforms into a cute dish.

In this recipe you'll learn how to make a "Pompompurin Cookie Shot," perfect for Valentine's Day! It may look difficult but I have made it so it's nice and easy to make!

1: Ingredients/Equipment

2 glasses or purin cups

40g unsalted butter or margarine

75g flour

20g sugar

1 cup milk

Chocolate

 

2:

①Knead together the unsalted butter, flour and sugar.

②Add the milk in little by little while kneading. Knead until the it has a consistency moister than regular cookie dough.

③Coat one glass with a little oil or butter.

④Affix the dough from step ② around the inside of the glass as shown in the photo below.

✩It's best to make your dough a little softer than regular cookie dough to prevent cracks from forming.

✩Press the batter firmly to ensure air doesn't get into it. If you don't do this then the batter will split.

⑤Place aluminium foil into the centre of the dough to stop it from expanding when baking.

⑥Shape a cup handle and Pompompurin's ears with leftover dough from step ④.

✩Bake for approximately 10-minutes at 190° with the handle and ears. Remove the handle and ears and bake the cup for a further 5-10 minutes.

3: Melt the chocolate over a bain marie.

4: Remove the aluminium ball and once the cup has cooled remove the cookie and smear in the chocolate.

✩It's possible to remove the baked cookie smoothly by coating with butter but it will make it break easily so ensure to do it carefully.

The inside of the cookie will look a little uneven after removing the aluminium ball but you won't be able to see it after adding the chocolate.

Once completely cooled use the leftover chocolate to draw on Pompompurin's facial features and use it to attach the handle and ears. After attaching the handle and ears hold them in place for a moment for the chocolate to  harden. You can make a hat from the remaining chocolate but I made one from sliced chocolate.

All done!

Kaori invites you into her world of character-themed food dishes in her recipe series. Be sure to check out her Instagram where she has uploaded many pictures of her character dishes!

Information

■Profile
Kaori Kubota (@kaopan27)
I live in Hokkaido and I love to make character themed foods, desserts and pastries♡

I want to see my family smile, so I enjoy putting in a bit of effort to make character foods and changing food into something cute♡

You can see more of my character foods and character bento boxes on my Instagram page→@kaopan27

Chocolate Packed Honey Toast Released in Collaboration With Black Thunder & PASELA

Karaoke chain PASELA is teaming up with the Black Thunder chocolate bar from February 1, 2019 which will see select PASELA branches getting decked out with Black Thunder chocolate products.

PASELA branches to sell Black Thunder Honey Toast

Black Thunder Honey Toast: ¥1,290 (Tax Included)

PASELA's famous honey toast is topped with chocolate sauce and baked, but this version takes it to the next level by crowning it with an entire Black Thunder bar, adding a satisfying crunch to the fluffy honey bread.

Black Thunder Cafe Mocha: ¥690 (Tax Included)

Sip on a sumptuously sweet cafe mocha made with lots of Black Thunder chocolate and finished whipped cream and mint.

These chocolate treats can also be enjoyed when going to karaoke with your sweetheart for Valentine's Day or with a friend.

Select PASELA branches to open Black Thunder shop!


Special Black Thunder shops will be open at select PASELA branches from February 1 to 14 where the eye-catching chocolate bars will be sold. The bars are enough to please anyone so why not pick some up as presents to your friends?

10,000 Black Thunder chocolate bars to be handed out on Valentine's Day!


Select PASELA branches will be handing out 10,000 Black Thunder bars to customers. First-come, first-served!

Information

Black Thunder Collaborative Menu
Location: 18 PASELA branches
Running: February 1, 2019 – February 28, 2019

Black Thunder Shop
Location: 6 PASELA branches (Shinjuku, Ikebukuro, AKIBA Multi Entertainment, Shibuya, Yokohama EAS, Osaka Namba Dotombori)
Running: February 1, 2019 – February 14, 2019
Content: Black Thunder chocolate bars to be sold

Free Black Thunder Bars
Location: 18 PASELA branches
Running: February 14, 2019
*Limited stock. First-come, first-served.

*Subject to change at each branch.

Valentine's Day Sweets in Japan 2019: Part 3

The Valentine's mood has set in strong already in Japan. Shops across the country are now selling limited time food and dessert for the season of love. It can be tough picking out the right gift for Valentine's Day, but a meal or delicious treat is always a winner. And if you're in Japan, you have plenty of options.

This is part two of our list of seasonal sweets you and your special someone can enjoy this Valentine's Day. Click here for part one and here for part two.

Itohkyuemon – Matcha Meets Chocolate Fair 2019

The Matcha Meets Chocolate Fair is currently ongoing at Kyoto-based green tea store Itohkyuemonーa longstanding location which first opened its doors at the end of the Edo period. There are over 10 matcha and houjicha chocolates for you chocoholics out there to choose from. One example is the new eye-catching matcha parfait that's made with dark chocolate and cocoa meringue before being topped with raw matcha chocolate, houjicha chocolate and strawberry matcha truffles. Is your mouth watering yet? Click the link below to find out more.

Full Details: https://www.moshimoshi-nippon.jp/161227

Gion Tsujiri – Valentine Soft

Gion Tsujiri introduced its takeaway Valentine's soft serve ice cream to the Tokyo Skytree Town Solamachi branch on January 16. The main player of this dessert is Tsujiri's incredible matcha ice cream made with rich Uji matcha. Packed into the little cup with it is a houjicha tea chocolate chip cookie and heart-shaped strawberry chocolate jelly. Underneath the delicious pile is granola and marble chocolate for added crunch.

Sanrio Valentine

Sanrio has prepared a delicious line-up of character themed goodies perfect for the Valentine's season. Available at Sanrio stores and department stores stocking Sanrio products, items include a DIY cookie kit, a Hello Kitty mini chocolate bar assortment and more. Enjoy chocolate based on eight characters: Hello Kitty, My Melody, Cinnamoroll, Marumofubiyori, Mewkledreamy, Runabouts, Snoopy and Doraemon.

GODIVA's 2019 Valentine Collection
Exclusive limited time Valentine's chocolates, colourful baked treats and more are now available from GODIVA. This includes the GODIVA Fairy Cake Keepsake box of four magical fairy cakes, such as the strawberry mousse and ganache cupcake. The packaging is super cute and dreamy too!

Full Details: https://www.moshimoshi-nippon.jp/161443

Find your favourite sweets this Valentine's Day♡

Kaori's Easy Recipe : Learn How to Make "Chocolate mousse of Pompompurin"

With just a small bit of ingenuity, turn everyday food into something cute using Kaori's Easy Recipe! With a few simple ideas, an ordinary recipe magically transforms into a cute dish.

In this recipe you'll learn how to make "Pompompurin rich chocolate mousse", which is perfect for valentine's season♡

1: Ingredients

Chocolate        50g

Gelatin               5g

Fresh cream  180g

Sugar-free cocoa powder    1 table spoon

Sugar             2 table spoons

2:

Put all the ingredients into a pot and stir while cold. Heat and melt the chocolate, being careful not to boil it.  Add 1 tablespoon of water to the gelatin until it becomes soft and then add to the mixture and stir until dissolved.

☆Mix well while still cold, otherwise the powder will go lumpy.

3:

From step 2, filter the mix after the gelatin has dissolved.

4:

Pour the mixture from step 3 to a vat, let it cool down a bit and then refrigerate until firm.

5:

Slice a yellow peach to make Purin, by drawing the eyes, nose, and hat with chocolate.

☆Wipe any syrup off from the surface of the yellow peach with kitchen paper, and then draw the parts.

Ears are connected to the face when the syrup dries, however you can also use some pasta to make it stronger.

6:

Put some cereal, whip cream, yellow peach and chocolate mousse of your choice in a cup, then place Purin on the top and you are done!

Just a little bit of chocolate mousse makes the parfait simply scrumptious! The taste of yellow peach and crunchy cereal makes for a good combination♡

Kaori also invites you into her world of character-themed rice dishes in her recipe series! Please check out her Instagram where she has uploaded many pictures of her character dishes!

Information

Profile
Kaori Kubota (@kaopan27)
I live in Hokkaido and I love to make character themed foods, desserts and pastries♡

I want to see my family smile, so I enjoy putting in a bit of effort to make character foods and changing food into something cute♡

You can see more of my character foods and character bento boxes on my Instagram page→@kaopan27

Valentine's Day at the KAWAII MONSTER CAFE Promises a 'Colorful Animal Valentine'

The KAWAII MONSTER CAFE in Harajuku has announced Valentine's themed fair titled Colorful Animal Valentine and it begins on January 28.

In Japan is common for friends to give each other chocolate during Valentine's but "friend sweets" is the latest Valentine's Day trend that has people enjoying desserts together instead of trading chocolate. The KAWAII MONSTER CAFE is jumping on this bandwagon with a colourful line-up of 7 animal themed desserts.

Shocking Pink Rabbit: ¥1,100

Prepare to nibble into a cute and colourful rabbit cake made with a doughnut and topped with a fluffy cassata.

Rainbow Love Letter With French Toast: ¥1,150

Enjoy sweet and juicy rainbow French toast decorated with chocolate ribbons and envelope seals served with fruit, fresh cream and chocolate sauce.

Sexy Blue Ice Cream: ¥850

You read that right. Indulge in a pastel blue ice cream topped with pink hearts, chocolate lips, white chocolate feather, and a strawberry Pocky.

Pastel Moko Monster Churro Churros: ¥950

This churro has become an angel and swooped down onto your plate. Shaped like a heart, the cocoa churro has white chocolate wings and plenty of other eye-catching treats surrounding it.

Black Teddy Bear: ¥1,580

If you don't fancy anything sweet and want a a real meal, then try the cute black teddy bear burger filled with hot salsa sauce and rich cheese sauce.

Orange Crush Rabbit Monster: ¥1,580

If you can't pick between a meal or a dessert then try this Mexican chocolate chicken burger. Made in the image of a crazy rabbit, this rich burger contains crispy chicken layered with a dark chocolate sauce.

Heart Chicken Rice & Egg: ¥1,380

Last up on the menu is this chicken rice dish enjoyed with hashed beef and scrambled egg. It is finished with a loving pierced heart.

Enjoy some delicious desserts or a colourful meal with your friends this Valentine's season at the KAWAII MONSTER CAFE.

Information

KAWAII MONSTER CAFE Harajuku
Address: YM Square Bldg. 4F, 4-31-10 Jingumae, Shibuya, Tokyo
Access: 5-minutes on foot Harajuku Station via JR / 1-minutes on foot from Meiji-Jigumae Station via Chiyoda Line and Fukutoshin Line
TEL/FAX: 03-5413-6142/03-5413-6143

Opening Hours
Weekdays & Saturday:
[Lunch] 11:30-16:30 (last entry 15:30 / last orders 16:00 – 90 min stay max)
[Dinner] 18:00-22:30 (last orders 22:00)

Sundays & Holidays:
11:00-20:00 (last orders 19:30)

*During busy times, a max stay time of 2 hours may be implemented.

KAWAII MONSTER CAFE: http://kawaiimonster.jp

Starbucks Japan Hands Out Coffee Cups With Heart Design

In line with Starbucks Japan's customisable Valentine's drinks the coffee chain is introducing coffee cups with hearts on them.

Available now until February 14, this limited time Valentine's design replaces the previous square boxes detailing the details of your drink. The cups are already pouring their way onto Japanese social media.

They are available in limited quantities, so you'll want to order your beverage ASAP for a chance to get one!

Valentine's Day Sweets in Japan 2019: Part 2

The Valentine's mood sets in early in Japan beginning in January where shops across the country begin selling limited time food and dessert for the season of love. It can be tough picking out the right gift for Valentine's Day, but a meal or delicious treat is always a winner. And if you're in Japan, you have plenty of options.

This is part two of our list of seasonal sweets you and your special someone can enjoy this Valentine's Day. Click here for part one.

Lindt Strawberry Marshmallow Hot Chocolate Drinks

Lindt is now selling a delicious and loving line-up of two drinks for the Valentine's season. Both beverages are called Strawberry Marshmallow Hot Chocolate and they come in two types: one made with bitter dark chocolate and another with milk chocolate. They are decorated with freeze dried strawberries and topped with strawberry marshmallows. But the fruity fun doesn't finish there as the drinks are drizzled in a strawberry sauce and finished with copeaux chocolate. The eye-catching pink colour is sure to grab the attention of your Valentine lover.

Full Details: https://www.moshimoshi-nippon.jp/153456

Starbucks Valentine's Day Frappuccino

Starbucks Japan is now serving two customizable beverages: the Valentine Customania Cocoa and Valentine Customania Frappuccino®. Chocolate lovers won't be able to resist either of these beverages which both contain a blend of rich dark chocolate sauce and full bodied caramel sauce.  Customize your drink with one of three options: Coffee, Romantic or Chocolate.

Full Details: https://www.moshimoshi-nippon.jp/159110

Scara Terrace's Valentine's Dessert Buffet

Buffer restaurant Scara Terrace are currently serving up a very special Valentine's themed dessert buffet for the season of love with strawberry, heart and bear motifs. Items include DIY bear pancakes which you customize yourself, desserts packed with strawberries picked from the Tokai region of Japan and more. And on the 15th of every month that the buffet is running premium brand strawberries will make their way to the buffet.

Eggs 'n Things Fondant Chocolate Pancakes

Eggs 'n Things will sell the new Fondant Chocolate Pancakes for a limited time. Plates are piled with a stack of 6 thick chocolate pancakes which are filled with a rich raspberry ganache. They are also served with a dollop of vanilla ice cream and a huge tower of whipped cream to complement the chocolate. This is a must-eat on Valentine's Day.

Find your favourite Valentine's Day sweets, and look forward to part three♡