Sai Sai Jaran Jaran #6: SILENT SIREN's Hinanchu has her fill of Indonesian food in Tokyo
Sai Sai Jaran Jaran is a featured series here on MOSHI MOSHI NIPPON from the members of the all-female band SILEN SIREN (aka Sai Sai) who visit various hot spots in Japan and experience different things, the Sai Sai way.
For the long-awaited 6th entry we take a trip with band leader Hinanchu. She lived in Indonesia for 10 years from the age of 5 to 15. She fancied a bite of nostalgia so she hit up an Indonesian restaurant in Tokyo. Indonesian cuisine isn't a familiar taste to the people of Japan, but it seems like there are a lot of delicious options.
Hinanchu visits "cabe" in Meguro for a bite of nostalgic Indonesian food
The first place we visit is "cabe" in Meguro. The Indonesian Embassy is close by this restaurant. Over half the customers that dine there are from Indonesia. The restaurant is considerate of Islamic law and so provides authentic Indonesian cuisine that uses absolutely no pork or pig-derived ingredients. The head chef is a Javanese woman who has expert skills in creating major Indonesia dishes as well as food seldom handled in Japan.
Hinanchu begins by ordering one Sate Ayam (¥220) and Fried Tempeh (¥500). Sate is famous dish from Indonesia of skewered meat. When made with chicken it's called "sate ayam." Tempeh is made from soy and used in place of meat for various dishes, making it popular with vegetarians and those on a macrobiotic diet.
"Tempeh is a food that was always at street food stands. I used to eat it a lot as a snack when I was small! It's a nostalgic flavour! It's sort of like natto, but it doesn't have a smell. It's easy to eat."
The Soto Ayam (¥730) is a chicken soup made with vermicelli. It's like Japanese miso soup and can be found in all regions of Indonesia. It has a turmeric colour and looks like curry soup but it's chicken flavoured. It's said that Sapporo soup curry took a hint from this dish.
Mie Bakso (¥800) is an Indonesia meatball soup with noodles. cabe handmakes all of its meatballs so one of its characteristics is how large the meatballs are.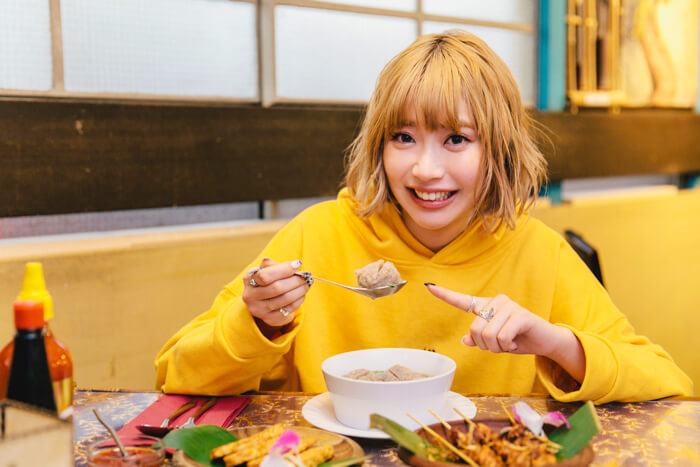 "This is what I've been wanting to eat forever! I'm moved that I'm able to eat proper Indonesian food for the first time after coming back to Japan! The other [band] members love Indonesian food too so I want to come again with everyone."
The restaurant is spacious and comfortable. They also sell Indonesian ingredients and goods there too. You can try a lot of different flavours on the menu so we recommend visiting here if you've never tried Indonesian cuisine before.
Merah Putih Cafe in Shin-Ōkubo
Hinanchu's next stop is Merah Putih Cafe in Shin-Ōkubo. It's located inside a multi-purpose building that's filled with a multicultural exotic mood that will have you wondering whether you're still in Japan.
The restaurant serves food from Padang, the capital of Indonesia's West Sumatra province. This region is famous for its food which is distinct for its spices.
The first dish Hinanchu picks is an assortment of Padang style food "Nasi Padang" (¥1,280). The assortment changes each day. On this day it came with fried omelette, fried chicken with coconut, salad and rice.
"The chicken is spicy. It was delicious. I lived in Jakarta so it was refreshing trying Padang style food!"
This restaurant has a lot of regulars including tourists from Indonesia, Malaysia, Singapore and other East Asian countries. The people of Indonesia love rice so the restaurant serves it with spicy food, fried food and other types that go well with it. We recommend this place if you're looking for an authentic taste.
Having visited two Indonesian restaurants in Tokyo, Hinanchu made the following comment: "Since coming back to Japan I've been wanting to eat Indonesian food, but there's a lot of restaurants here that serve Southeast Asian cuisine. I'm happy I was able to enjoy authentic meals today. I was sucked into the nostalgia, it was like being back over there."
Hinanchu also spoke Indonesian with the staff who were also from Indonesia and took a photo!
Indonesian cuisine isn't a familiar taste to the people of Japan, but there are many delicious things to choose from. If you're in Japan why not try it for yourself?
Information
cabe
Address: Tanaka Bldg. 2F, 3-5-4 Kamiosaki, Shinagawa Ward, Tokyo
Business Hours: 11:30-14:30 / 17:30-22:00
Closed: Sundays & National Holidays
TEL:03-6432-5748
Facebook Page: https://www.facebook.com/IndonesianRestaurantCabeMeguro
Merah Putih Cafe
Address: Shin-Ōkubo Initial House 304, 2-10-9 Hyakunincho, Shinjuku Tokyo
Business Hours: 11:00-23:00 (until 5:00am the next day on weekends and holidays)
Closed: Mondays
TEL: 03-6279-2399
Website: https://caffemerahputih.wixsite.com/merahputihcafe
■PROFILE
SILENT SIREN is a four-member all-female band consisting of vocalist & guitarist Sumire "Suu" Yoshida, drummer Hinako "Hinanchu" Umemura, bassist Aina "Ainyan" Yamauchi, keyboardist Yukako "Yukarun" Kurosaka. The band were founded in 2010 by Umemura and Yoshida who are former models. In 2015, they performed their first solo concert at Nippon Budokan, making them the fastest Japanese all-female band in history to perform there after their major debut. They will release their final album of the Heisei era and 6th album in total 31313 on March 13 ,2019 and promote it on their tour SILEN S IREN LIVE TOUR 2019 "31313" ~Sai Sai 10th Anniversary~ supported by Tenkaippin. Check the official website for the latest details: http://silent-siren.com/
RECOMMENDED ENTRIES
Sai Sai Jaran Jaran #3: SILENT SIREN's Yukarun Learns How to Perform the Japanese Tea Ceremony

Sai Sai Jaran Jaran is a featured series on MOSHI MOSHI NIPPON where the members of all-female rock band SILENT SIREN visit hot spots and experience different things in Japan and relay their episode.

In this 3rd entry, inquisitive band member and keyboard player Yukarun will be challenging herself to something 'Japanese-y' which she suggested back when this series debuted.

Let's get to it. Time to get changed and head on out!

This is a kimono rental shop "MOSHI MOSHI KIMONO SALON". Yukarun is searching for a design she likes. She has an unusually excited face.

Yukarun explained, "I've worn yukata before but this is my first experience wearing a kimono. I braced myself up to try wearing it like this!"

Since the initiation of Sai Sai Jaran Jaran, the members have talked about wanting to do something beautiful and Japanese.

There's a different enticement between the latest styles and traditional Japanese clothing. Yukarun, now donning her kimono, looks like the epitome of a Japanese woman, and has warped to a tea ceremony class "WAnokoto". That's right, today's theme is the tea ceremony!

After learning the proper way to sit in the tea room, Yukarun's exercises begin with a bow. She lowers her head slowly and deeply.

Next, she places the Japanese sweet onto her kaishi, a piece of paper that's tucked in the front of a kimono. While using the sweet cutter she eats the sweet bit by bit.

"The entire process is made up of strict movements for whatever you do, so it looks like it would take a long time to learn them all," said Yukarun.

After finishing the sweet, she drinks tea kindly prepared by the teacher. As a side note, it's proper etiquette to finish eating the sweet by the time the tea is served.

"So you're not supposed to have both the tea and sweet at the same time," said Yukarun a little surprised. Of course, you have to follow the right steps when drinking the tea too.

Yukarun takes the teacup.

She is in full concentration mode as she copies the teacher's movements. The proper way to show that you have finished drinking the tea even involves making a certain sound with your mouth.

Next, Yukarun will make tea herself. She pours matcha into the teacup, scoops up some hot water with the ladle and pours it in. She then prepares the tea using a tool called a chasen, or tea whisk.

She holds the teacup carefully and presents the tea.

The most beautiful side of the cup is the front. It's hospitable to turn the beautiful design towards the guest when presenting the tea.

To finish, Yukarun takes a photo with her sensei on the floor. The words written read ichigo ichie, meaning 'treasure every meeting, for it will never recur.' This moment, too, was one precious.

"This was my first time trying out the tea ceremony practices. It left a deep impression on me, so much so that I wanted to start commuting to the class. I think that by carefully learning each and every gesture, you can make the movements in your everyday life beautiful too. Hospitality is the basis, so you naturally come to handle things preciously, including yourself, your guest and the tools in your hands. It means you can mature as a person and it seems like an opportunity you can use in various places in your life!"

■Information

MOSHI MOSHI Kimono Salon Produced by YUMENOYA

Address: 1F, MOSHI MOSHI BOX Harajuku Sight Seeing Bureau, 3-23-5, Jinguma, Shibuya-ku, Tokyo

Business hours: 10:00 to 18:00

Fixed holiday: None

Contact: yumenoya.harajuku@gmail.com

URL:https://www.tokyo-samurai.com/blank

WAnocoto

Address: Chuo Coffee Honsha Bldg. 2F, 3-5-9 Kita-Aoyama, Minato, Tokyo

TEL: 03-3772-6663

Opening Hours: 10:30am-6:00pm

Website: http://www.wanocoto.com/lesson/sado-index.html

Beginner lessons are approximately 60-minutes and cost ¥2000 (+tax). As long as you have white socks, you can wear ordinary clothes to the lesson. Everything you need can be lent out on site. For full details, check the homepage.

■PROFILE

SILENT SIREN is a four-member all-female band consisting of vocalist & guitarist Sumire "Suu" Yoshida, drummer Hinako "Hinanchu" Umemura, bassist Aina "Ainyan" Yamauchi, keyboardist Yukako "Yukarun" Kurosaka. The band were founded in 2010 by Umemura and Yoshida who are former models. In 2015, they performed their first solo concert at Nippon Budokan, making them the fastest Japanese all-female band in history to perform there after their major debut. Their album GIRLS POWER is selling to huge success. For the latest information, head on over to their official website: http://silent-siren.com/

Sai Sai Jaran Jaran #4: SILENT SIREN's Ainyan Challenges Herself to Artistic Calligraphy

Sai Sai Jaran Jaran is a featured series here on MOSHI MOSHI NIPPON from the members of the all-female band SILEN SIREN (aka Sai Sai) who visit various hot spots in Japan and experience different things, the Sai Sai way.

This month we'll be following band bassist Ainyan, who is also responsible for having designed the band's original character Sai Sai-kun and even handling the designs of the band's official merchandise.

Ainyan loves writing with calligraphy pens. She also knows about and is interested in artistic calligraphy posted online.

Teaching her calligraphy art today is calligrapher Yuki who showcases her work at events, and her skills have also been requested for projects.

All that you need to produce calligraphy art is an ordinary Japanese calligraphy set. As well as a brush, ink, shijajiki mat and paper weight you'll need watercolour equipment and coloured autograph card.

The first step is to think of the character you want to write. If you can't think of one you can flick through a Japanese dictionary. The thing to note about calligraphy art is that you're free to write as you like! There's no strict rules like in regular Japanese calligraphy. For example, you can hold the brush in any way you like, write in whatever style you like, and go over any lines you've already put on the paper. It's important to think freely and express yourself in calligraphy art. Also, hanshi paper used for calligraphy has a glossy surface. With calligraphy art you want to let the colours run and spread, so Ainyan is using the back of the paper.

Ainyan begins by challenging herself to writing the kanji麦 (mugi) which means 'barley,' a fundamental ingredient used in beer which Ainyan loves. Don't think about the art side of things straight away. Just write it normally first.

This is Ainyan's first attempt at writing out mugi. Next is to think about how to write it in a more running style. She could write it in a patchier way, drip ink over it, have parts sticking out and so on.

Ainyan goes ahead and splotches lots of ink on. She dips plenty of ink onto her brush, so much so that it's dripping off, and begins writing in a large and thick style from the first stroke.

She continues writing like that until the end without topping up her brush with more ink. Her final stroke comes completely off the paper!

Ainyan was concerned that the top part of the kanji was too black and blotchy because of how much ink she used.

"What should I do so that the middle part doesn't become blotchy?" she asked.

"If you lift the brush up vertically, like it's floating, then you can draw thinly," the teacher replied. Ainyan learned while the teacher lent her a hand.

Her second attempt at writing mugi has fairly thick strokes. You can feel the vigour in this piece.

Taking into consideration what the teacher said, Ainyan gave it another shot. She dipped it into plenty of ink once more and began writing with strong strokes and keeping the brush upright to draw thin lines while adding variations.

Compared to the first attempt, this version of mugi is slim and confident.

"I want to hang it up in an izakaya!" said Ainyan laughing.

After having understood a bit about art penmanship, Ainyan moved onto another kanji. The one that came to mind was笑顔 (egao) meaning 'smile.' She starts out by drawing it in the way she likes.

This is her first version of egao. The first kanji 笑 meaning 'laugh' is drawn like a face, while the 顔, meaning 'face' also has a face in the 頁 section of the kanji on the right.

"If you know a kanji like this, then no matter how much you alter it you can still read it as '笑顔' so it's okay to change it as you please," the teacher said.

Next Ainyan thinks on how she can improve the piece.

"The '笑' kanji looks like a dog so I might try to make it look a bit more like a dog. The '顔' kanji has a lot of legs and looks like an octopus so I'll make it an octopus!" she said.

Ainyan begins making her kanji characters look like a dog and octopus while having the original to the side as reference.

She made the strokes of the 笑 look like ears and fit in eyes and a nose to look like a dog. She also connected the 彦 part of 顔 to the 頁 part and made the face look more like an octopus face. Truly a work of calligraphy art!

The next important step is to add colour. If you add too much water to your water colours they will fade when you add on the ink, so it's important to layer the two by not using too much water. If it becomes patchy add just a little bit of water.

Adding a border makes the white parts that are left look cute so Ainyan left part of the inside of the dog's ear white. She used orange for the dog's ear and red for the octopus's legs. To top it all off, she painted a doggy paw print in a free space.

Looks pretty good!

Finally, Ainyan drew up a new and final copy on the coloured autograph paper by fixing up any small details and adding colour.

Her first piece of calligraphy art is complete!

"I'm really satisfied I got to do something I was wanting to do!" she said with a smile – a 笑顔.

Ainyan looked over pieces the teacher had created and was especially interested in the ones with blotted ink. She decided to challenge herself to making such a piece. The kanji she decided on was 愛 (ai) meaning 'love' which is also part of Ainyan's own name.

Once again she readied plenty of ink and began with strong strokes. She drew the thin parts of the character while bringing out the details until she finished with a final strong stroke.

She made the right part stroke of the 心 part of the kanji blurry. This effect is achieved by adding some water to the brush and pressing it onto the stroke you have already drawn that you want to make blurry.

Her kanji is complete! The blurriness gives it a 3D effect. No painting tools were used and yet Ainyan was still able to create art from calligraphy.

She made a final copy of this on coloured autograph card too. To make it even more arty Ainyan turned the final stroke into a love heart which she added water to for the blur effect.

Ainyan wasn't satisfied so she sprinkled ink around the heart for additional effect. To do this, you hold the brush horizontally and hit the end of the brush to make the ink sprinkle down.

After checking the balance was right, Ainyan signed her completed piece.

What a vibrant and lively piece of calligraphy art!

But Ainyan wasn't done just yet. To commemorate this month's feature, she drew one for MOSHI MOSHI NIPPON (もしもしにっぽん)! She made the circle part of ぽ (po) a red sun which symbolizes the Japanese flag and made the ん (n) look like Mount Fuji.

We are pinning this up at the MOSHI MOSHI BOX Harajuku Tourist Information Center, so be sure to look for it if ever you stop by to see us in Harajuku.

Ainyan wrote so many! Here are her comments on what looked to be a hugely satisfying occasion.

"Today was so much fun, it was over before I knew it! It's enjoyable not having to follow a correct way. The more you write, the more you think to yourself, 'I want to do it this way,' so you never get tired of writing! It was fun being able to write freely. Even the teacher said things like 'It's good like this' rather than 'You should do it like this!' It relieved my stress and I felt refreshed!"

In the next article, we will be joined by SILENT SIREN vocalist Suu. Look forward to seeing where she goes and what she gets up to!

■Information

Yuki (Calligrapher)

Yuki works as a calligraphy instructor and is also active in producing works for art events, commissions for projects and elsewhere.

Instagram Page: https://www.instagram.com/yyyyyuki_14/?hl=ja

■PROFILE

SILENT SIREN is a four-member all-female band consisting of vocalist & guitarist Sumire "Suu" Yoshida, drummer Hinako "Hinanchu" Umemura, bassist Aina "Ainyan" Yamauchi, keyboardist Yukako "Yukarun" Kurosaka. The band were founded in 2010 by Umemura and Yoshida who are former models. In 2015, they performed their first solo concert at Nippon Budokan, making them the fastest Japanese all-female band in history to perform there after their major debut. Their latest single 19. summer note which was released on July 11, 2018 is enjoying big sales. For the latest information, head on over to their official website: http://silent-siren.com/

Writer: Sayoko Ishii

Photographer: Kayo Sekiguchi

Translation: Joshua Kitosi-Isanga

Sai Sai Jaran Jaran #5: SILENT SIREN's Suu Makes Her Own Candles at 'Candle Studio' in Daikanyama

Sai Sai Jaran Jaran is a featured series here on MOSHI MOSHI NIPPON from the members of the all-female band SILEN SIREN (aka Sai Sai) who visit various hot spots in Japan and experience different things, the Sai Sai way.

Today we follow the band's vocalist – Suu! Suu is a huge candle lover and says that she has a lot of candles in her home. She's always wanted to try candle-making, so she's taken this opportunity to challenge herself to the task!

Suu visited Candle Studio in Daikanyama and participated in a one-time candle-making lesson. You get to make one complete candle to take home.

Candle Studio is an all-out candle-making school, offering everything from one-off lessons for beginners to a JCA-recognised candle craft course, candle artist course and instructor course. The location is visited by newcomers and pros alike.

The one-time lesson Suu took cost ¥4,000. With that, you get to pick from a botanical candle and aroma wax sachet. You can either make 2 of the same type or 1 each. You get to pick different coloured and fragranced dried flowers to make your own personal candle. Suu was given special permission to make 2 of each.

After putting on her apron it was time to get creating. "I'm nervous whether I'll do it well or not but I'll try my best!" said Suu.

First up, the botanical candles. You start by picking the candle's base colour. Suu went for blue and orange candles.

After putting the candles in the silicone mould, you pick the flowers you want and fit them into the gap around the candle. They have a whole range of decorations prepared including dried flowers, preserved flowers, paper berries and so on. Choosing what to go in there is all part of the fun!

Use pin sets while cutting the flowers of your choice with scissors and place them in. Arrange them around the outside of the flower with the sides you want to show. If you use thin flowers they will look transparent when you light the candle, so keep this in mind when choosing your flowers. The secret to success however is to not think about it too much and just go all in.

Once you've placed all the flowers you want, pick a scent of your choice from the samples provided. Suu went with cranberry and rose.

Melt the wax to 65℃-70℃ and add one spoon of your chosen fragrance.

Heat the scented wax once more and pour into the silicon mould.

After releasing the air from the center of the candle, arrange any flowers that have floated to the top and set aside to harden.

Next on the list is to make the sachets. Like before, pick out a base colour from the colour samples provided. Suu chose a white base this time.

Transparent wax is mixed in with the white colourant. To make the colour a little creamier mix in just a tiny bit of vanilla colourant before adding the fragrance. Suu picked plumeria and mango.

Next is to position the dried flowers. With the sachets, you will add dried flowers on top after pouring the wax into the mould. So think about how you want them arranged first by positioning them in the mould first.

Once you know what you want, add the wax into the mould.

Once the wax has cooled slightly and skin has formed on the surface, arrange your dried flowers. Suu styled hers like a bouquet.

She then added dried flowers and fruits to the other one. Now all that's left is to wait!

While Suu was making the sachet, the first candle she started on had hardened. She removes it by pushing it up out of the silicone mould.

After curling the wick into a beautiful shape it's complete!

The sachet was ready now too so Suu removed it from the mould.

Suu adds an eyelet and chooses a ribbon of her choice to complete the sachet.

Her botanical candles and aroma wax sachets are complete!

"It was a little hard as it was my first time, but I was able to fully concentrate. It was so much fun! The time that went by making them was very therapeutic. You can make all sorts of other candles too, so I want to come back ASAP!" explained Suu as she booked her next class right there and then. The class was a big success and Suu left super satisfied.

Candle Studio Daikanyama are now holding classes to make snow dome and Ornament sachets for the Christmas season. It costs ¥5,000 to make one snow dome candle and three sachets with Christmas designs. They cater to all beginners too, so if you're interested you can feel at ease if you visit. Try it yourself.

Information

Candle Studio Daikanyama

Address: Daikanyama Sanbankan 3F, 1-30-3 Kamimeguro, Meguro Ward, Tokyo

Tel: 03-6873-7850

Opening Hours: 10:00~ / 13:00~ / 16:00~ / 19:00~ (Each Session = 2 Hours)

Website: https://candle-studio.jp/index.htm

■PROFILE

SILENT SIREN is a four-member all-female band consisting of vocalist & guitarist Sumire "Suu" Yoshida, drummer Hinako "Hinanchu" Umemura, bassist Aina "Ainyan" Yamauchi, keyboardist Yukako "Yukarun" Kurosaka. The band were founded in 2010 by Umemura and Yoshida who are former models. In 2015, they performed their first solo concert at Nippon Budokan, making them the fastest Japanese all-female band in history to perform there after their major debut. Their latest single 19. summer note which was released on July 11, 2018 is enjoying big sales. For the latest information, head on over to their official website: http://silent-siren.com/

Writer: Sayoko Ishii

Photographer: Kayo Sekiguchi
RELATED ENTRIES
Stay Home With SILENT SIREN: Think Positive and Enjoy the Here and Now During the Lockdown

Here at MOSHI MOSHI NIPPON, we post news and information about Japan in six languages. Our aim is to deliver a variety of content related to Japan for those who love and enjoy Japanese culture.

Right now, people across the globe are in self-isolation as a result of the coronavirus pandemic. The same goes for Japan too, so we've taken this opportunity to create a new series on the website to show how we're spending time at home here in Japan. The future is yet uncertain, and we hope for normality to return for all of us soon. We created a new articles series called Stay Home with which we hope to take your mind off the situation, even for just a little bit, to help you feel calmer. It might give you some tips on what you can do while spending time at home.

Today, we are joined by the members of all-girls band SILENT SIRENーwho have their own featured series here on MOSHI MOSHI NIPPONーto see how they've been spending their time indoors.

Stay Home With SUU

1: Smoothies Everyday

I love bananas, so I mix a bunch of them with some berries to drink♡ I wanna try making lots of different smoothies!

2: Chilling With My Pet Dog Komeko

I've been home a lot so Komeko is always sat with me lovingly♡

3: Reading

Since I'm at home more now, I've been doing lots of reading. I've been thinking of getting or making a new bookcase that's bigger than the one in the photo.

 

What's your secret to spending time at home?

A positive mindset! Since you're at home, find things to do that you normally wouldn't be able to otherwise♡

Please give a message to those reading this article

I've kept my spirits up by cooking at home, listening to music, watching movies, trying out different scents, and recently I've been rearranging the place. I think this unexpected time is the time to do things we weren't able to before, so I want everyone to enjoy their at-home time too!

Stay Home With Hinanchu

1: Takeout From Places I Never Go

Since I can't really go out, I'm making fun with eating, being greedy, and indulgence.

2: Changing The Mood Of My Home Entrance

Since I can't go out, moods tend to build up when I'm home, so I've aired it out a little to feel refreshed.

3: Plenty Of Playtime With My Pets

My cats are great at being home alone when I'm out, but I get to play with them lots while I'm indoors, so much so that they never seem to get tired of it.

What's your secret to spending time at home?

I'm making an environment that makes me feel refreshed, even if just a little, by rearranging my home, decluttering, and cleaning. I've used this opportunity to get into feng shui, so it could be fun for people to look up the directions in their house and enjoy some feng shui too.

Please give a message to those reading this article

Know that you are absolutely not alone if you're going through a tough or lonely time. Everyone is feeling the same. So let's all be lively and positive while we're at home and we might just discover something new about ourselves! Another good thing to do might be to make a list of all the places you want to visit when the world returns to its peaceful self! Let's all work together and get through this, okay?

Stay Home With Ainyan

1: Foam Roller Full Body Massage

It's easy for your body to become stiff as you spend more time at home, so I've decided to loosen up everyday by massaging my armpits, thighs, and back. It hurts pretty bad since you loosen up by using your whole body weight!

2: Clearing The Veranda And Making My Own Terrace Seat

Since we can't go outside, I've cleaned my room to make myself feel good and have brought the outside air indoors. I spend my time sat on the veranda relaxing and enjoying something to drink.

What's your secret to spending time at home?

I look on social media for tips on how everyone is having fun at home and try out different things!

Please give a message to those reading this article

It's important in these times to think about what you can do at home and enjoy it, so I want to keep on posting about what fun things I'm up to indoors too.

Stay Home With Yukarun

1: Rice Pot

I've always cooked rice for myself, but what I've been addicted to since last year is making rice in a pot! It's super delicious and surprisingly easy to make♡

I can't get enough of that moment of happiness when I lift the lid off the pot♡

2: Healthy Treats

Being at home so much tends to result in not getting enough exercise.

But I still want to eat a sweet treat, so I made some gluten-free scones using soy flour.

Freshly-baked scones are the flavour of happiness♡

3: Doing My Nails

Since I can't get to a nail salon, I'm enjoying enjoying some self nail care!

Whatever I go to do I can always see my fingertips, so simply making my nails look pretty is enough to lift me up.

4: Stretches

I'm making a conscious effort to move my body as much as possible at home.

Wearing leggings that I can train in all the time at home means I can stretch right away there and then, so I definitely recommend doing the same♡

What's your secret to spending time at home?

It's important to enjoy the things you can do now while at home for so long, be it doing your nails, trying new makeup, so on♡

Please give a message to those reading this article

I'm sure a lot of people are feeling down right now with how life as we knew it has changed so drastically. But it's in these times when we need to stay positive, so let's all smile and get through this together!

SILENT SIREN's 10th Anniversary Album Release Date Delayed to September

This year marks the 10th anniversary of Japanese all-female pop rock band SILENT SIREN, and to celebrate, they are releasing a 10th anniversary album entitled mix10th. The album was originally set to hit shelves on May 13, 2020, but the band revealed on their official website that the release date has been extended to September 2, 2020.

The band members and staff posted the following comment on the official SILENT SIREN website.

For the first part of the 10th anniversary celebration, SILENT SIREN released the music video for 'Kikasete wow wow o' which hit 1 million views in two weeks. The song was written by Sho Kiryuin of Golden Bomber which and is already streaming and available for download. We are all thankful for the incredible response we have received from everywhere. We have also prepared the next two things for the anniversary.

However, due to the current situation as of late, we are currently unable to make those things a reality. We have arrived at the conclusion that as of right now, we are unable to deliver 'mix10th' to the standards we desire.

After many discussions with the band members and staff, we have made the difficult decision to delay the release date. We understand how disappointing this must be for all of the band's fans who have so anxiously been awaiting the album's release, but we ask kindly for your understanding.

To make up for it, we are releasing the album's CD covers as well as details of the track list. We ask that you wait just a little bit longer for the September release. Right now, we are living in a period of patience and endurance, so let's all ensure we conquer it. Please take good care of yourselves.

ーFrom the SILENT SIREN members and all the staff

(Comment translated from Japanese by MOSHI MOSHI NIPPON)

The album is currently available for pre-order, but orders and shipping differ between shops and online stores, so be sure to check with them before purchasing.  

The album contains 13 tracks, including plenty of new songs, such as Up To You feat. Aimi from Poppin'Party which was released last year as a single.

Information

mix10th

Release Date: May 13, 2020

First Press Limited Edition (CD+DVD+Photo Book): ¥4,950 (Tax Included) [UPCH-29364]

Regular Edition (CD-Only): ¥3,300 (Tax Included) [UPCH-20550]

Fan Club Edition (CD+DVD+Sai Sai Picture Book+Bottle): ¥7,150 (Tax Included) [D2CN-1577]

SILENT SIREN 10th Anniversary Website: https://ss10th.com

SILENT SIREN  Official Website: http://silent-siren.com/

SILENT SIREN Announce Release Of 10th Anniversary Album 'mix10th'

2020 marks the 10th anniversary of Japanese all-female pop rock band SILENT SIREN, and to celebrate, they are releasing a 10th anniversary album entitled mix10th on May 13, 2020.

The 13-track album will include songs such as Shigatsu no Kaze which was released digitally last year and was used as the ending theme for the virtual YouTuber drama series Watanuki-san Chi No, HERO which was also released digitally in 2019, and OVER DRIVE.

The album will be released in three versions: First Press Limited Edition, Regular Edition, and Fan Club Edition. The First Press Limited Edition is coupled with a DVD which features live highlights taken from the band's concert "SILENT SIREN Nenmatsu Special Live 2019 HERO" which was held at Yokohama Cultural Gymnasium on December 30 last year. It also comes in a tall-size case and features a special photo book with photos of the band today, who have grown into fully-fledged adults since forming.

The Fan Club Edition also includes a DVD, but this one features a making-of the visuals for mix10th as well as an interview with the band. It also comes with the book Yakusoku written by band member Ainyan which marked her debut as and author and even took the top spot in the 1st CHICORA BOOKS Character Picture Book Publication Awards. This edition is also coupled with an original 10th anniversary clear bottle.

Pre-orders for all three editions are now open. Fan Club Edition copies are limited in stock, so make sure to order yours quick if you're part of Sai Sai's fan club.

Silent Siren – "mix10th" Teaser Trailer

The album's track Kikasete wow wow wo will be released digitally on March 20, 2020. The song was written by Sho Kiryuin of Golden Bomber.

Information

mix10th

Release Date: May 13, 2020

First Press Limited Edition (CD+DVD+Photo Book): ¥4,950 (Tax Included) [UPCH-29364]

Regular Edition (CD-Only): ¥3,300 (Tax Included) [UPCH-20550]

Fan Club Edition (CD+DVD+Sai Sai Picture Book+Bottle): ¥7,150 (Tax Included) [D2CN-1577]

SILENT SIREN 10th Anniversary Website: https://ss10th.com

SILENT SIREN  Official Website: http://silent-siren.com/

Sai Sai Jaran Jaran #8: SILENT SIREN's Ainyan Becomes a Wine Connoisseur at Fukagawa Winery Tokyo in Monzennakacho

Sai Sai Jaran Jaran is a featured series here on MOSHI MOSHI NIPPON from the members of the all-female band SILEN SIREN (aka Sai Sai) who visit various hot spots in Japan and experience different things, the Sai Sai way.

Band bassist Ainyan enjoys a beer or cocktail, but she wants to step into the world of wine, so we will join her on her journey today as she goes to learn all about wine from the very basics.

It's a clear sky today. Great weather for going for a drink during the day, am I right?

We visited Fukagawa Winery Tokyo in Monzennakacho, an area located in Shitamachi, Tokyo. We were looking forward to going there because it offers the full wine experience, allowing visitors to see wine brewing up close to learn all about it.

This experience is offered twice a day on weekends and national holidays at 14:00 and 16:00.

Fukagawa Winery Tokyo opened in Tokyo in 2016 as a winery where the ordinary person could go and see wine being made to fully understand its process. It has expanded its circulation in recent years and is now able to take in grapes from across Japan, including Tokyo, to craft many different wines.

On the day we visited we saw the staff bottling up the wine. On average, the winery ships out around 30,000 bottles a year.

The corks have illustrations of "Wine Man" on them, a character created by Fukagawa Winery Tokyo. Ainyan was fairly fond of him!

Time to see how the winery works!

When you step inside, the scent of grapes is the first thing to hit your senses.

The one in charge of Fukagawa Winery Tokyo is Kousuke Ueno, who was kind of enough to show us around. He taught us the process of wine making, as well as what types of grapes and tools they use.

"This machine separates the grapes and stalks using the propellers. This method has been used for 150 years," explained Ueno.

There are periods when visitors can observe this machine being used to separate the grapes. It takes place between mid-August to November, so follow Fukagawa Winery Tokyo's social media for announcements and details.

"Wow! It smells so good!" said Ainyan. We got to see a bucket where Cabernet Sauvignon was being made. They put in whole grapes with the skin on and add natural yeast for the fermentation process. The sweet smell of the grapes fills the air and makes you want to have a glass.

Now for what Ainyan has been waiting for: taste-testing time! She learned everything about the wine making process, so it was time to taste and compare some different wines.

The winery allows taste-testing until 17:00. You can try 3 types for ¥700. And of course, if there's one you tried that you really liked, you can buy it there and then. So sip, scrutinise, and select!

"Please try this one first. It is wine, but it's like a lemon sour," explained Ueno, recommending that Ainyan first try the Yamanashi  Delaware Sparkling.

Soak up all the notes of the drink by having a good smell first before taking a small sip. "Smells really good. This sourness really is like a lemon sour! I wonder why?" said Ainyan.

This wine uses premature grapes which gives the wine a sour taste. The sourness of this wine can play the part of lemons, so it's best paired with fried foods or meals with chicken in them.

The second drink was the Yamagata Delaware Muroka. It's an unfiltered wine made from completely ripened Yamagata Delaware grapes.

Unfiltered means that the filtration process to take out visible solids and such is not used. This gives it a slightly cloudy appearance and an exquisite taste that's somewhere between wine and juice.

Left: Unfiltered Yamagata Delaware / Right: Filtered Yamagata Delaware

For the third glass, Ainyan ordered the filtered Yamagata Delaware to test the difference between it and the unfiltered version.

"The filtered one has a good balance of flavours and is refreshing. The unfiltered one has a smooth juiciness to it. They're both delicious, but I like the unfiltered one more!" said Ainyan.

Her fourth glass was an unfiltered red wine: the East Bay Assemblage Red B.

The grapes used are a combination from Hokkaido, Nagano, and Aomori. It really is an assemblage!

"The red wine has such a different taste and colour depending on the type too! This dark red wine is close to what I usually drink!" said Ainyan with a happy smile.

At the end of the session, Ainyan had tried 10 wines and bought two bottles! She was delighted with her experience, saying: "I was surprised how different each and every one of the wines I tried at Fukagawa Winery Tokyo were. I think I'm getting hooked on the appeal of unfiltered, natural wines."

With Christmas and New Year around the corner, now is the season to indulge in wine. If you're in Tokyo this December, pay a visit to Fukagawa Winery Tokyo for a full wine experience.

Writer:Yuki Yokoo

Photographer:Kayo Sekiguchi

SILENT SIREN

SILENT SIREN is a four-member all-female band consisting of vocalist & guitarist Sumire "Suu" Yoshida, drummer Hinako "Hinanchu" Umemura, bassist Aina "Ainyan" Yamauchi, keyboardist Yukako "Yukarun" Kurosaka.

The band made their major debut in November 2012 with their single Sweet Pop! The band is known to fans by their nickname "Sai Sai." They are especially popular with middle school girls in Harajuku and have over 540,000 follows on their official LINE account.

In 2015, they performed their first solo concert at Nippon Budokan, making them the fastest Japanese all-female band in history to perform there after their major debut. In 2016, they performed a headline show at Yokohama Arena, and embarked on a world tour consisting of 6 shows in 5 countries.

At the end of 2016, they changed label to Universal Music and revamped their band logo and how they write their band name. In 2017, they wrapped up their 5th anniversary tour with their first two-day concert series at Nippon Budokan.

In 2018, they embarked on their biggest Japan tour to date "Tenkaippin presents SILENT SIREN LIVE TOUR 2018 ~"Girls will be Bears" TOUR~ consisting of 33 shows. They also performed at big music festivals and at countless events, as well as performed their annual New Year's solo concert at Yokohama Cultural Gymnasium.

In 2019, they began celebrations of 7 years since their debut and 10 years as a band. They released their final album of the Heisei era and 6th album in total 31313 on March 13 ,2019 and promoted it on their tour SILEN SIREN LIVE TOUR 2019 "31313" ~Sai Sai 10th Anniversary~ supported by Tenkaippin. They also performed at numerous summer festivals and events.

On December 30, 2019, they will performed their annual New Year's concert "SILENT SIREN Nenmatsu Special Live 2019 HERO" at Yokohama Cultural Gymnasium.

In 2020, they will celebrate 10 years since forming the band with a show at Yamanakako Communication Plaza Kirara on September 20, 2020.

SILENT SIREN Official Website: https://silent-siren.com/

Information

Fukagawa Winery Tokyo

TEL: 03-5809-8058

Address: Takahata Bldg. 1F, 1-4-10 Furuishiba, Koto Ward, Tokyo

Opening Hours: Weekdays 15:00-22:00 / Weekends & Public Holidays 12:00-22:00

Closed: Tuesdays

Winery Observations: Weekends & Public Holidays at 14:00 and 16:00 for 20 minutes each. Must book in advance.

Official Website: https://www.fukagawine.tokyo/

SILENT SIREN Release 'HERO' Music Video and Open Digital Pre-Orders

SILENT SIREN will celebrate their 10th anniversary next year, but before that they are releasing a digital EP entitled HERO which will officially drop on digital music platforms on December 20, 2019. But for fans who can't wait one more week, the band have been treated them today be releasing the title track HERO early, as well as opening iTunes pre-orders for the full EP.

The title track HERO was written for SILENT SIREN's annual special end-of-year live concert which will take place again this year Yokohama Cultural Gymnasium once again on December 30. The song is different from anything we've heard from Sai Sai in the past, taking on a more youthful punk sound.

Check out the HERO music video released today below.

The EP includes the already-mentioned HERO, as well as OVER DRIVEーwhich is the current ending theme for the AbemaTV programme Imappo TVーas well as a 2019 re-recording of their song Evening Star taken from the second album of their indie era Brazil. Those who purchase the EP on iTunes will also get a bonus track: a live version of All Right ~"Ima" o Kakeru~ taken from their concert at the Nippon Budokan on November 13, 2017. The track will be available to listen to from December 20.

Fans who purchase the EP on iTunes between December 13 and 19 will get it at a discounted price: ¥509 down from the regular price ¥917.

Information

Digital EP – "HERO"

Release Date: December 20, 2019 (Digital Release)

Price: ¥713 (4 tracks on iTunes only for ¥917)

*Title track HERO to be released early on December 13, 2019

Download/Stream: https://umj.lnk.to/hero Link available from December 13, 2019

SILENT SIREN Official Website: http://silent-siren.com/

SILENT SIREN Digital EP 'HERO' Release Date Announced, Teaser Video and Visual Released

SILENT SIREN will celebrate their 10th anniversary next year, but before that they are releasing a digital EP entitled HERO which it has just been announced will drop on digital music platforms on December 20, 2019.

The band will promote the EP with a special end-of-year live concert, an event that has become an annual celebration. It will be held at Yokohama Cultural Gymnasium once again on December 30. Tickets, however, have already sold out. The concept of the concert is "Everybody is somebody's hero." The title track of the EP, HERO, is different from anything we've heard from Sai Sai in the past, taking on a more youthful punk sound.

The title track will also be released separately on December 13 for those who want a taste of what's to come. Pre-orders for the EP will also open on iTunes. The EP includes the already-mentioned HERO, as well as OVER DRIVEーwhich is the current ending theme for the AbemaTV programme Imappo TVーas well as a 2019 re-recording of their song Evening Star taken from the second album of their indie era Brazil.

Those who purchase the EP on iTunes will also get a bonus track: a live version of All Right ~"Ima" o Kakeru~ taken from their concert at the Nippon Budokan on November 13, 2017. The track will be available to listen to from December 20. Also, fans who purchase the EP on iTunes between December 13 and 19 will get it at a discounted price: ¥509 down from the regular price ¥917.

Sai Sai also revealed the artwork and new artist photo for the upcoming digital EP.

They also posted a teaser trailer for the HERO music video.

Information

Digital EP – "HERO"

Release Date: December 20, 2019 (Digital Release)

Price: ¥713 (4 tracks on iTunes only for ¥917)

*Title track HERO to be released early on December 13, 2019

Download/Stream: https://umj.lnk.to/hero Link available from December 13, 2019

SILENT SIREN Official Website: http://silent-siren.com/

SILENT SIREN Drop Second Teaser For 31313 Tour DVD and Blu-ray

SILENT SIREN just released a new teaser for the upcoming DVD and Blu-ray release of their performance at Zepp DiverCity on June 9, 2019 which was part of their "31313 Tour." The final two shows of the tour took place at the venue on June 9 and 10 respectively. The tour was held in promotion of their latest album 31313 which was released on March 13, 2019.

The title of the album is a reference this as well as "SILENT SIREN Day" which is also on March 13 and Heisei 31 (aka the year 2018), the final year of the Heisei era in Japan.

Check out the new teaser trailer below.

The DVD and Blu-ray feature the full concert set as well as a collection of commercials featuring the members for their merchandise which played before the show started, and dance covers of their song Koi no Esper submitted by fans. It also features the band's first ever performance of NO GIRL NO CRY (SILENT SIREN ver.)―made in collaboration with Poppin'Party―which took place the following day on June 10, a show which was added due to high demand.

The release will drop in four editions, including two fan club editions and two limited editions.

The fan club editions are coupled with a CD containing the live audio from the June 9 show as well as a visual commentary from the members, a 68-page book, and one of four possible A2 posters chosen randomly.

Information

Blu-ray & DVD

SILENT SIREN LIVE TOUR 2019 "31313" ~Sai Sai Keisei 10 Nenme Datte yo~ supported by Tenkaippin @ Zepp DiverCity

Release Date: October 30, 2019

Fan Club Edition (1 Blu-ray+CD+GOODS+SPECIAL BOOK): ¥8,800 (Before Tax) [PDXN-1910]

Fan Club Edition (2 DVDs+CD+GOODS+SPECIAL BOOK): ¥7,800 (Before Tax) [PDBN-1909]

First Press Limited Edition (1 Blu-ray+GOODS): ¥5,800 (Before Tax) [UPXH-29032]

First Press Limited Edition (1 DVD+GOODS): ¥4,800 (Before Tax) [UPBH-29084]

*Orders for fan club editions are now closed.

SILENT SIREN  Official Website: http://silent-siren.com/

Concert Review: SILENT SIREN Wrap Up Their '31313' Album Tour

SILENT SIREN just wrapped up the final two shows of their Japan tour at Zepp DiverCity Tokyo on June 9 and 10 respectively. The tour was held in promotion of their latest album 31313. The title of the album is a reference to both "SILENT SIREN Day" which is on March 13 and Heisei 31 (aka the year 2018), the final year of the Heisei era in Japan.

The first night of the two-day Tokyo finales saw a giant curtain draped across the stage onto which visuals were projected. Once these visuals had finished showing, the venue was lit up in a gorgeous pink colour―a colour associated with SILENT SIREN―and out stepped the band members to a room of screaming fans. They began with a string of 4 upbeat songs: Mujuuryoku Dance, Go Way!, merry-go-round and 19 summer note..

Vocalist and guitarist Suu prefaced the band's performance of Tenkaippin's Theme with: "How are we doing, Tokyo tour finale? Let's not waste even a minute or a second and have an amazing time!"

After some MC from the members the show approached its middle section. Sai Sai performed several tracks from 31313 including Letter, REBORN and Cream Soda. For Kawakanai Namida Suu provided her gentle voice to the sound of her acoustic guitar.

"Today is the day of rock! Let's head into the final part!" announces Suu. In the latter half of the concert, the band pull out live classics such as Fujiyama Disco and Hachigatsu no Yoru. They bring the tension back up with the final track of the main set: Koi no Esper, the lead track of 31313. The crowd sing along with the chorus and join in with shouting "Stop!" at the end of the track just as the instruments stop all of a sudden too.

"We've put psychic abilities on the venue. We don't want this to end just yet so I'd like to turn back time!" As Suu said this, the band performed the first track of the night once more: Mujuuryoku Dance.

For the encore Sai Sai performed the 31313 bonus track Happy Song For You. DUring this they also surprised fans whose birthdays it was by writing their names on a whiteboard. The final track to wrap up the show was Cherry Bomb. At the end, the band announced that this show will be released on DVD and Blu-ray in the future.

For the second Tokyo show, the band performed a completely different set list from any other on the tour up to then. During Koi no Esper, the final track of the main set, Suu announced that she was going to turn everyone into animals using her psychic powers, which led to the other members and the crowd imitating gestures of different animals. She then said she was going to summon a lion, and sure enough, Japanese comedian Ōnishi Lion stepped onto stage.

For the encore of the second night Sai Sai performed NO GIRL NO CRY, the theme song written for their concert with Poppin'Party held at MetLife Dome in May, before wrapping up with Cherry Bomb. At the end of this concert the band announced that their annual special New Year's concert will be held at Yokohama Cultural Gymnasium on December 30. Full details will be announced later in the year.

Photography: Hajime Kamiiisaka

Information

31313

Released: March 13, 2019

First Press Limited Edition (CD+DVD): ¥3,900 (Tax Included) [UPCH-29322]

Regular Edition (CD): ¥3,000 (Tax Included) [UPCH-20510]

SILENT SIREN New Year's Special Live Show 2019

Date: December 30, 2019

Venue: Yokohama Cultural Gymnasium

*Full details TBA.

SILENT SIREN Official Website: http://silent-siren.com/

SILENT SIREN's Annual Music Event 'SAISAIFES' to be Held on September 14

SILENT SIREN performed alongside Poppin'Party at MetLife Dome over the weekend in a battle of the bands style concert titled NO GIRL NO CRY. Now, the band have announced that SAISAIFES 2019 will take place on at Shikiba Studio Coast on September 14.

As the four-piece Japanese pop-rock band enter their 10th anniversary this year, this will also mark the 6th run of Sai Sai Fes.

The annual music event is planned, organised and overseen by SILENT SIREN themselves. They are currently recruiting the guest acts they most want to join them this year. The first two artists announced so far are rock bands Frederic and Polkadot Stingray.

The event's official website is now up along with its key visual. It has also been announced that this year's festival will include auditions to perform on the sub stage. Everyone is free to sign up regardless of age, music genre, and whether you're a pro or amateur.

More information on the event will be announced in the future.

SILENT SIREN are currently on tour to promote their 6th album 31313. All tickets on the tour are sold out. Due to demand, an additional date was added at Zepp DiverCity in Tokyo which is scheduled for June 10.

Information

SAISAIFES 2019

Date: September 14, 2019

Time: Doors 14:00 / Start 15:00 (Subject to change)

Venue: Shinkiba Studio Coast

Line-Up: SILENT SIREN / Frederic / Polkadot Stingray *More TBA

Tickets: Standing – ¥5,400 (Tax Included)

*Those aged 3+ years must hold a valid ticket. A separate mandatory drink fee of ¥500 will be charged upon entry.

Enquiries: 050-5533-0888 (DISK GARAGE)

Event Website: http://saisaifes.com

SILENT SIREN LIVE TOUR 2019 "31313"

2019/6/9 @ Zepp DiverCity, Tokyo

2019/6/10 @ Zepp DiverCity, Tokyo (*Show added due to demand)

SILENT SIREN Official Website: http://silent-siren.com/

Concert Review: SILENT SIREN & Poppin'Party Perform Live at Seibu Dome

SILENT SIREN, who are celebrating their 10th anniversary this year, performed alongside Poppin'Party in a battle of the bands style concert titled NO GIRL NO CRY which was held at Seibu Dome in Saitama on May 18 and May 19.

An army of 30,000 fans gathered at the venue across both days for his historical show. In addition to the two main acts, Roselia and RAISE A SUILEN performed as opening acts for each day respectively.

An enormous stage was set up inside the dome which was equipped with fireworks, CO2 and other thrill-inducing devices. At one point, part of the glowing stage moved and flew around the room above the crowd's head.

Both SILENT SIREN and Poppin'Party each performed 10 songs on both days. SILENT SIREN's set list included numbers such as Fujiyama Disco, Tenkaippin's Theme, and the lead song track Koi no Esper from their latest album 31313. Poppin'Party's list featured songs such as Kizuna Music♪, Tear Drops and their newest single Dreamers Go!.

At the end of the first night the two bands went on stage together to perform Cherry Bom while on the second day they wrapped up with NO GIRL NO CRY, a song the two acts collaborated on for this event. They also announced that this co-written track will receive a CD release.

The CD will include the title song as well as each band's own version of the song. It will be coupled with a DVD featuring the title song's music video as well as a special interview with both bands.

The two-day event ended in huge success with a very happy Sai Sai Family and Band Dreamers (the names given to each bands' fan base).

SILENT SIREN are currently on tour to promote their 6th album 31313. All tickets on the tour are sold out. Due to demand, an additional date was added at Zepp DiverCity in Tokyo which is scheduled for June 10.

©BanG Dream! Project ©Craft Egg Inc. ©bushiroad All Rights Reserved. ©PLATINUM PIXEL

Information

Poppin'Party x SILENT SIREN – "NO GIRL NO CRY"

Release Date: July 31, 2019

Price: ¥2,800 (Before Tax) [BRMM-10205]

SILENT SIREN LIVE TOUR 2019 "31313"

2019/6/9 @ Zepp DiverCity, Tokyo

2019/6/10 @ Zepp DiverCity, Tokyo (*Show added due to demand)

SILENT SIREN Official Website: http://silent-siren.com/

SILENT SIREN Release Live Video Performance For 'Koi no Esper'

SILENT SIREN released their 6th and last album of the Heisei Era 31313 on May 13, 2019. The band just posted a live video for the song Koi no Esper taken from the album. The video features footage from various concerts across the band's ongoing "31313" tour.

During the performances we see vocalist and guitarist Suu calling out "Stop!" as part of the song during which the crowd is to freeze as if time has stopped. When the band starts time again, fans burst forth once more with their pent-up excitement.


All tickets on the tour are sold out. Due to demand, an additional date was added at Zepp DiverCity in Tokyo which is scheduled for June 10. Before the tour ends, SILENT SIREN are also set to go head to head against Poppin'Party to win over the crowd with a performance of NO GIRL NO CRY this week at MetLife Dome on May 18 and 19.

Sai Sai Jaran Jaran #7: SILENT SIREN's Yukarun Has Her First Afternoon Tea at Ginza's 'THE GRAND LOUNGE'

Sai Sai Jaran Jaran is a featured series here on MOSHI MOSHI NIPPON from the members of the all-female band SILEN SIREN (aka Sai Sai) who visit various hot spots in Japan and experience different things, the Sai Sai way.

Band keyboardist Yukarun has always wanted to try having afternoon tea. To make her dream come true, she took a visit to THE GRAND LOUNGE in Ginza.

THE GRAND LOUNGE is a multipurpose lounge for adults located on the 13th floor of THE GRAND GINZA in GINZA SIX.

Normally in restaurants afternoon tea is often reserved just for the afternoon but at THE GRAND LOUNGE you can enjoy it any time.

*The afternoon tea set shown above is for 2 people.

The afternoon tea set here costs ¥4,200 (before tax and service charge). It comes with 7 hors d'oeuvres, 7 sweets, strawberry mille-feuille, and a teapot with free black tea refills. Strawberries are the running theme until June, so the desserts and hors d'oeuvres are made using plenty of Japanese "tochiotome" strawberries. It's a big tea set so can be enjoyed by couples or big eaters.

Yukarun is very pleased with the afternoon tea set so much so that she must take a photo beforehand! There are so many strawberries sweets. "I feel happy just looking at this assortment♡" she says.

The drinks in the set are made by San Francisco-based high tea brand Mighty Leaf. There are 11 types to choose from―9 hot and 2 iced―all of which Mighty Leaf have ensured are organic with only the best herbs chosen.

You choose your favourite by smelling the fragrant aromas of each bottle. The one most popular with Yukarun was the "White Orchard." White tea and green tea are used as the base in this drink which are blended with melon and peach fragrance. The fact you get free refills makes it a favourable service.

Time to tuck in!

The tasty line-up will have you wondering where to even begin eating from.

It's not just the sweets that are piled with strawberries but the light appetisers too. These appetisers include foie gras, salmon and more―all extravagant delectables.

"Delicious!" says a satisfied Yukarun as she takes her first bite from the bottom row appetisers.

The variety of sweets is diverse, from jelly to tarts, mousse and beyond. "The sweets come in cute mini sizes! And they're all super delicious!" comments Yukarun.

"The tea I chose is really tasty too! I don't think I've ever had tea this good before!"

Then it was time for the crowning jewel of the afternoon tea set: the strawberry mille-feuille. It is a recreation of the legendary mille-feuille sold at Maxim's de Paris, a much-loved French restaurant in Ginza that closed in 2015. This sandwich-like dessert takes crunchy pie and stuffs fat strawberries and custard cream between them. It's a popular dessert ordered by itself too. The version of it that comes with the afternoon tea is half-sized.

"So good! This is true happiness♡" says Yukarun who is clearly enjoying herself. The mille-feuille can also be ordered for takeout.

How was your first ever afternoon tea experience, Yukarun?

"It felt elegant and sophisticated being in a place like this. There are lots of bite-sized appetisers and sweets so it's fun to try them one by one. It's fun thinking about where to eat from too, and I was really glad you get to choose your own tea. I definitely want to come here again in my own time! I want to dress up and come with my girlfriends."

The items that come with the afternoon teas at THE GRAND LOUNGE change with each season, and right now it's all about strawberries. Head to THE GRAND LOUNGE yourself and treat yourself and others to a luxurious afternoon tea―at any time of the day.

Model: Yukako Kurosaka(SILENT SIREN)

Photographer: Haruka Yamamoto

Writer: Sayoko Ishii

Translator: Joshua Kitosi-Isanga

■PROFILE

SILENT SIREN is a four-member all-female band consisting of vocalist & guitarist Sumire "Suu" Yoshida, drummer Hinako "Hinanchu" Umemura, bassist Aina "Ainyan" Yamauchi, keyboardist Yukako "Yukarun" Kurosaka. The band were founded in 2010 by Umemura and Yoshida who are former models. In 2015, they performed their first solo concert at Nippon Budokan, making them the fastest Japanese all-female band in history to perform there after their major debut. Their new album 31313 is now on sale. The band are currently on their "31313" tour in support of the album. An additional date was added to the tour which will take place on June 10 at Zepp DiverCity in Tokyo.

Check their official website for the latest details: http://silent-siren.com/

Information

THE GRAND LOUNGE (THE GRAND GINZA)

Address: GINZA SIX Floor 13F, 6-10-1 Ginza, Chuo Ward, Tokyo

Business Hours: 11:00-23:00 (Last Orders 22:00)

No Fixed Holidays (Except when GINZA SIX is closed)

TEL: 03-6280-6129 (Lounge/Restaurant)
Website: https://www.grandginza.com/lounge/