Kyary emerges from the mouth of a carnivorous plant, flies around the stage & rides a portable shrine to mark the end of her 3rd world tour at the Budokan!! Important information also revealed!
After invading 8 cities in Australia, Europe, America, Singapore and Taiwan with 9 energising performances, pop princess Kyary Pamyu Pamyu concluded her 3rd world tour, 『KPP 5iVE YEARS MONSTER WORLD TOUR 2016』, on 20th August at the Nippon Budokan!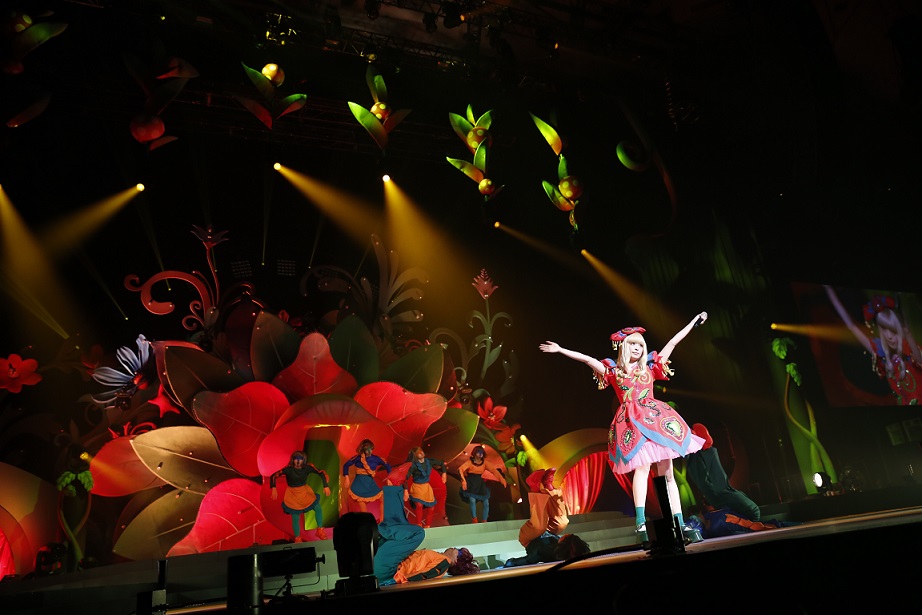 The performance kicked off with the dynamic sound of "KPP ON STAGE", which played as Kyary revealed herself on stage, followed immediately by "5iVE YEARS MONSTER". As the theme for her world tour was focused around the concept "flower monster", the stage was decorated wildly with a glorious carnivorous plant (not a real one, of course). This hungry-looking monster plant stood proud among the colourful vegetation that extended high. Kyary dressed in a flower-themed red costume, singing and dancing in front of the dangerous plant. The crowd were quickly hyped-up with energy, as Kyary performed "Kimi ni 100 percent" and "CANDY CANDY".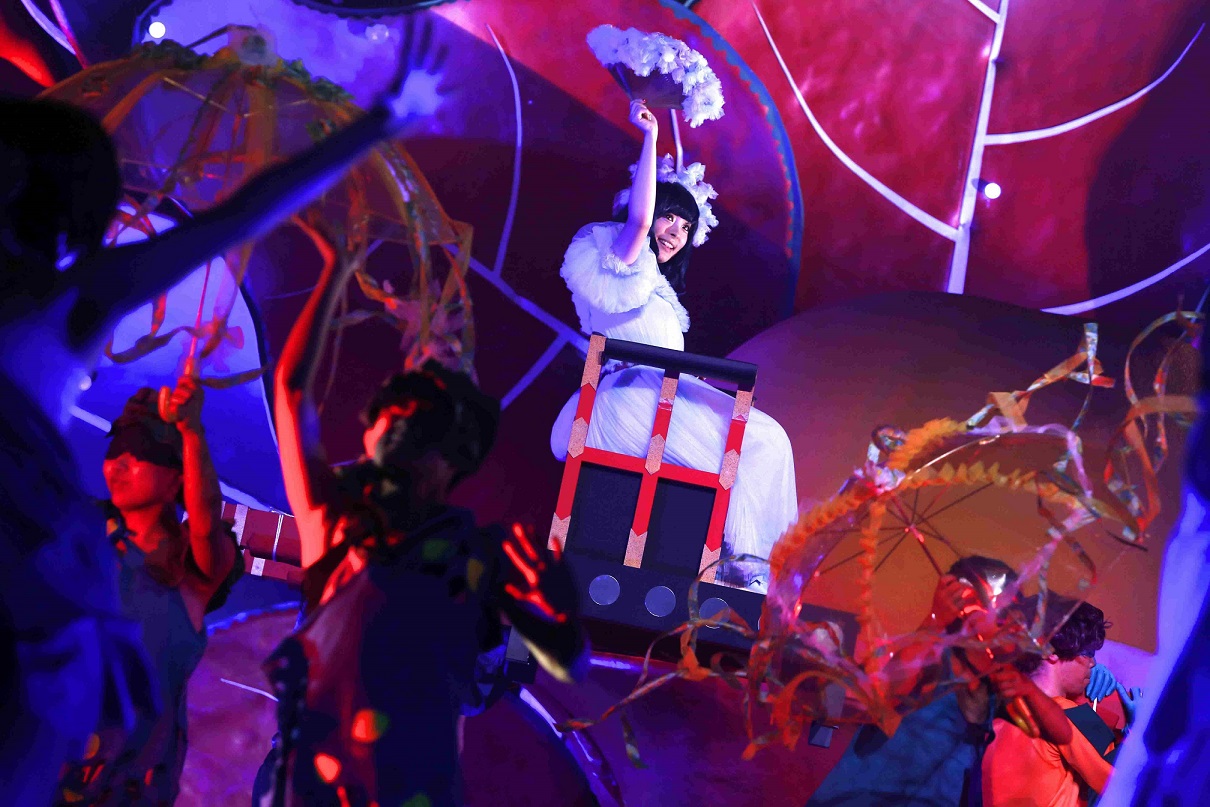 The stage was suddenly swept into a mesmerising sea-blue theme and Kyary reappeared in a chic dress, her hair suddenly jet black. She rode a grand portable shrine and waved a fan in front of her face, plunging into "Ninja Re Bang Bang" , followed by "Invader Invader" and "Furisodation" whilst moving left and right on the stage. Finally, Kyary performed "Crazy Party Night-Pumpkins Strike Back-", sharing a wonderfully cute yet strange party feeling with the audience.
After the mesmerising sea-theme melted away, the venue changed to a pink theme. With a follow up of "Cosmetic Coaster", Kyary was spotted wearing a 60's style dress, flying through the air with an umbrella as beautiful bubbles flew out from the stage and floated around the venue. Kyary engaged the audience by instructing them to wave their penlights, changing the colour of the penlight along to the beat of the song "KISEKAE" to create beautiful scenery in the venue of changing colours. Kyary and the on stage dancers then performed "Scanty Skimpy", dancing to the swinging pop rhythm with a beautiful umbrella show. The audience were surging with excitement as the evening flowed with an 80's dance pop taste when "Cherry Bon Bon" and "Family Party" were performed.
With a quick change of scene, the stage instantly fell quiet to reveal Kyary standing alone on stage in front of a wooden xylophone. Kyary was dressed in jungle-themed clothing, camouflaging well with the jungle-themed set. Kyary then proceeded to play the main melody of "Mottai-Nightland" at her own pace on the xylophone. After making a small mistake, she started again from the beginning. Having successfully completed the melody, the crowd roared with excitement at the sight of the kawaii pop princess. Penlight in hand, she picked up the song from where the xylophone melody had ended, continuing through "Mottai-Nightland" and then moving on to "Kira Kira Killer". The audience frantically waved their penlights in response.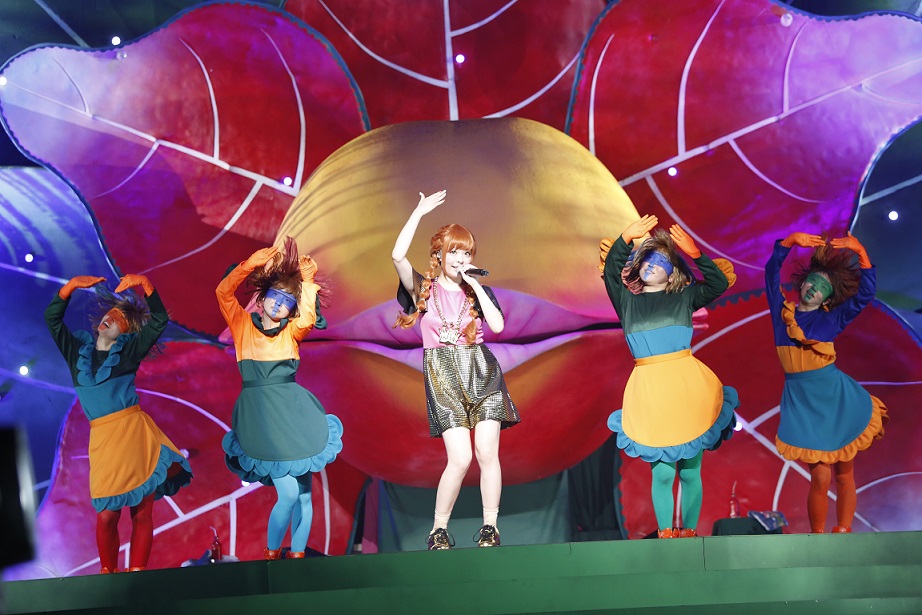 Next, pillars of fire shot up from the stage to the sound of killer tune "Fashion Monster", which was immediately followed by "Tsukematsukeru". Kyary, who was dressed in a pink and gold dress, then went on to present the powerfull song "Mondai Girl". After this, to the fans' disappointment, the main section of the live came to a close. Screams for an encore rang throughout the entire venue. Kyary finally reappeared on stage wearing a white and amber-coloured dress to match the lily theme. Kyary accepted the call of her fans, performing "Unite Unite".  Afterwards, the audience surged with excitement with the announcement of the next song — her debut that made her mark on the world and spread the news of her existence 5 years ago — "PONPONPON".
As Kyary's gaze drifted over the venue of excited fans, she began to talk to them;
"It was as if this live performance was over in just a second. Performing in the Budokan these past two days was incredibly fun, and I could feel a lot of energy from all of you."
She then announced that she will be doing a special live tour with Yasutaka Nakata (CAPSULE).
"I have never done a two-man-live tour before, so I'm really looking forward to it! My streak of live performances hasn't ended just yet — I'll be doing a live hall tour in Japan next year, so please come see me!" she added.
With this announcement, the venue screamed with excitement and joy.
Ending the live on a high, Kyary finished off with "Sai & Co", as coloured paper rained onto the stage and fluttered around the venue. The audience cheered "Sai &Co" as one with Kyary and with that, the performance had finished.
…but there's more!! During the live event, there were some important announcements. The first being that on 9th November, Kyary's 13th Single will be released after 7 months of her last release! Additionally, as part of the "5-year plan", which aims to link Japan with the rest of the world, she will be doing a collaboration with a foreign artist!
The special feature of Kyary's single is that specially selected venues have been used for recording and these recordings have been compiled together for a 360 degree virtual reality visual experience! This new experiment is certainly a great challenge!
Many questions have been sprouting on arrival of this news. Is there more to Kyary's 5-year plan? Which foreign artist will be collaborating with Kyary? What kind of virtual reality simulation will be released? This information and much more will be released in due course, so don't take your eyes off Kyary!
■Information
Yasutaka Nakata ✕ Kyary Pamyu Pamyu SPECIAL DJ ✕ LIVE  ZEPP TOUR 2016(Provisional title)
・Wednesday 10th November 2016 Zepp Nagoya(Doors open: 18:00 / Start: 19:00 )
・Friday 11th November 2016 Zepp Osaka(Doors open: 17:30 /Start: 18:30)
・Monday 14th November 2016 Zepp Diver City(Doors open: 18:00 / Start: 19:00 )
Ticket information (All standing)
・1F STANDING ¥4,860-(Tax included/Drink fee not included)
・Preschool children cannot enter.
Advanced ticket purchase homepage/August 19th(Friday)13:00 〜 21st August(Sunday)23:59
>Yasutaka Nakata official homepage advanced tickets(URL : http://capsule-official.com/ny/ )
>Kyary Pamyu Pamyu official homepage(URL:http://kyary.asobisystem.com  )
・INFORMATION:HOT STUFF PROMOTION 03-5720-9999
■Related article:Taiwan sees the face of pop princess Kyary Pamyu Pamyu after a long-awaited 2 years! Fans roar with excitement for her live performance!
■Related article:【MOSHI MOSHI AMBASSADORライブレポート】ケルシーちゃんがKPP 5iVE YEARS MONSTER WORLD TOUR 2016 inロンドンに参戦してきたよ!
RELATED ENTRIES
Kyary Pamyu Pamyu to Perform Live at FUELFEST JAPAN, America's Largest Car Festival

Last year, one of the largest car festivals in America was held in Japan for the first time. FUELFEST JAPAN was a massive success, bringing in an audience of over 33,000 people to Fuji Speedway and transforming the space into what felt like the world of Fast & Furious. The event is returning to Fuji Speedway on August 11, 2023, and Kyary Pamyu Pamyu will be taking the stage for a live performance.

 

The 2023 event will be on an even larger scale. Actor Cody Walker, the brother of the late Paul Walker, will be in attendance, along with over 2,000 show cars, including many used in the Fast & Furious films. Guests can also enjoy drifting and supercar ride-alongs, a 0-200m drag race, and many other car-centric events, as well as a merchandise and food area. It'll be difficult to see everything in a single day!

Kyary Pamyu Pamyu is slated to perform at the event. The artist, now hugely popular in the United States, performed at the world-renowned music festival Coachella in 2022, as well as the Fonda Theater in Los Angeles soon after.

Whether you're a fan of cars or just a fan of good music, FUELFEST JAPAN is sure to impress. This one-day event will be packed with content, so don't miss this blend of Hollywood supercars and Kyary's kawaii performance!

Information

FUELFEST JAPAN
Date: August 11, 2023
Title: FUELFEST JAPAN, Japan's Largest Car Festival
Venue: Fuji Speedway (694 Nakahinata, Oyama, Sunto District, Shizuoka 410-1307)
Time: Doors open at 10:00, Concert ends at 18:00

[Live Report] Kyary Pamyu Pamyu Slays the Stage at Packed Anime Central Show in Chicago

Heading towards the concert venue inside the Hyatt Regency in Chicago, it was no surprise to see the line for Kyary Pamyu Pamyu's show snaking through the halls to wrap around the building. Anime Central–the largest anime and manga convention in the midwest United States–played host to the concert, and fittingly, plenty of fans were clad in over-the-top cosplay, while many others proudly wore past Kyary concert tees, touting their steadfast devotion to Japan's most kawaii pop princess.

This would be the third stop on Kyary's first world tour in five years, following successful shows in New York and Los Angeles.

Since her debut over a decade ago, Kyary Pamyu Pamyu has steadily amassed a global following, bringing new fans into the fold with every catchy tune and feast for the eyes she releases. Her name conjures thoughts of oversized bows and danceable earworms, and just last year, the artist performed for a hyped crowd at Coachella, a music festival that needs no introduction.

In October 2022, Kyary wrapped up her lengthy 10th Anniversary Tour around Japan, performing the majority of her 105 songs at the legendary Nippon Budokan in Tokyo. During this tour, the artist made global headlines by announcing the Local Japan Project, a way to revitalize towns and cities around Japan suffering from the pandemic's aftermath through collaborative releases with small businesses. From limited-edition foods to special pink KPP-inspired train cars, the impact was palpable–if not by sheer funds, by contagious cheeriness.

Named Japan's Kawaii Harajuku Ambassador by the Mayor of Shibuya, Kyary dabbles in a little of everything, from fashion and dance to cultural endeavors. Her natural ease in front of a crowd has a way of pulling in an audience–and Chicago was no exception. She came prepared to share the deeper meaning of kawaii while challenging stereotypes, accepting individuality, and sharing thoughts of a more open and artistic future.

Prior to the start of the show, French DJ and trackmaker Moe Shop warmed up the crowd with an intense set that had the room shaking with a combination of bass and mass jumping. Although seating was provided for audience members, it was impossible to stay standing as the set began, featuring some of the electro-artist's biggest hits from Baby Pink to GHOST FOOD (feat. TOREINA). As the first few seconds of CANDY CANDY (Moe Shop Remix) began, the room seemed to burst open, with more and more pink glowsticks beginning to illuminate the crowd.

Packed with kawaii devotees from wall to wall, brief quiet fell as stagehands rushed to decorate the set with POPPP icons, cueing some guests in the front to begin chanting Kyary's name. As the venue lights dimmed, a brief film briefly introduced Kyary Pamyu Pamyu's history as if she was a character in a storybook, a hero desperate to illuminate the darkness in the world with all things pink and cute.

With her trusty dancers in tow, she finally took the stage as De.Ba.Ya.Shi. 2021, the techno-heavy first track on Kyary's newest album Candy Racer, set the stage for a night of addictive tunes and carefree fun.

A highlight of the concert's first half was Dodonpa, sending the crowd into an absolute frenzy. The experimental track's erratic energy, heavy house influence, and gibberish lyrics invite anyone to sing along, regardless of mother tongue, making it an immediate fan-favorite with international Kyary fans.

Upon its release as the fifth single from Candy Racer, Kyary encouraged anyone interested to use the song in their online videos, also opening an official contest encouraging creators to send their best interpretation. The artist navigated through the tricky lyrics with relative ease as the audience egged her on, jumping along with the chorus's hypnotic beat.

As the song concluded, fans screamed and cheered as Kyary finally began her brief English MC clad in a completely pink princess dress, complete with crown. Asking the audience their favorite color, the correct answer was obvious, and the artist nodded enthusiastically. "This is a pink show," she stressed.

Leaping into Ninja Re Bang Bang, the artist and dancers performed the legendary choreography with ease as diehard fans imitated the shinobi hand gestures in time with the track.

In 2011, Kyary leaped from the local scene in Harajuku to the outside world with the release of PONPONPON. The bizarre and colorful music video immediately made the rounds on YouTube, and despite being relatively unknown at the time, the artist instantly had a viral hit on her hands. During the Chicago show, a remixed intro of the song, originally produced by Yasutaka Nakata, struck fans with the promise of lethal nostalgia. As the track began in earnest, Kyary bid the fans to dance along–it seemed that the request wasn't necessary, as the audience was already in full swing.

KYARY ANAN pic.twitter.com/aw77siGxOL

— きゃりーぱみゅぱみゅ (@pamyurin) May 20, 2023

Cherry Bonbon and Kyary ANAN followed, the latter of which saw fans chanting the singer's name along with the lyrics. Though some present at the concert were likely unfamiliar with the music filling the hall, the energy was unrivaled, and it was nearly impossible to escape the waves of exhilaration and feverish fondness that penetrated the air.

If you weren't a Kyary Pamyu Pamyu fan when you walked in, you certainly were when you walked out, whether her sound was your typical poison or not.

Invader Invader and Fashion Monster, tracks used in popular GU ads in Japan during the early 2010s, have similar staying power in the U.S., and are both credited as some of Kyary's most popular songs. Prior to the start of Fashion Monster, a brief interlude began, in which the video monitors broadcast an impressive collection of snapshots of Kyary's fashion over the past decade. A costume change was imminent, and when the artist returned to the stage, she donned a pink mask and pink ruffled dress, both seen during her Budokan performance late last year. Holding her mic beneath the mask seemed like an annoyance, but Kyary seemed to thrive off of the challenge, not missing a beat.

In its entirety, the setlist included nearly 20 tracks, easily checking off a bucket list item for hundreds of fans in the audience. Entry to the concert was included with a pass to the popular convention, though seating wasn't guaranteed, causing dedicated fans to line up for hours prior to the show's 6:30 start time.

But there were no complaints to be heard–instead, there was immense gratitude towards Kyary, her management company, and Anime Central for bringing the singer to Chicago.

Considering Kyary's upward trajectory to date, it's impossible to imagine a future in which the singer doesn't continue catapulting towards the zenith of bubble pop legends in a global sense. The singer will now travel to Europe for the remainder of her world tour, and reports from there are sure to reflect the same general sentiment. Kyary Pamyu Pamyu is here to stay, and kawaii culture is sure to continue its spread.

Written by Carley Garcia

FRUITS ZIPPER Holds First Anniversary Concert, Announce Appearance at the 'Sayonara Nakano Sunplaza Music Festival' in June

On May 4, the 7-member idol group FRUITS ZIPPER held the first Tokyo performance of their first-anniversary concert tour at Toyosu PIT.

Tickets for both the Tokyo and Osaka shows sold out immediately after they went on sale. To celebrate the first anniversary of the group's debut, the lucky fans who were able to snag tickets came together at Toyosu PIT.

In the year since their debut, FRUITS ZIPPER has skyrocketed in popularity, performing live at several idol festivals and some of Japan's largest fashion events, and successfully touring Tokyo, Nagoya, and Osaka. Their show at LINE CUBE SHIBUYA garnered incredible attention.

For the first anniversary concert, the stage was transformed by a special set and the member appeared in new never-before-seen costumes. They performed a total of 17 songs, and each member expressed their gratitude to their fans during the MC segments.

During the performance, it was announced that the group would perform at the Sayonara Nakano Sunplaza Music Festival on June 26. The venue, which has seen countless performances over its long history, will be demolished and replaced to commemorate its 50th anniversary. Fans are excited to see their favorite artists perform on this legendary stage, and many are curious to see how it will be transformed in the future.

FRUITS ZIPPER has also released the song Cho Medetai Song ~Konnani Shiawasede Iinokana? ~ (The Super Joyful Song ~Is It Okay to Be This Happy?~) on all major streaming services. The track was co-written by Sho Yamamoto, who wrote the group's hit song Watashino Ichiban Kawaiitokoro, currently with over 700 million views on TikTok, and Gento Miyano, who has written songs for numerous popular artists. The super-happy pop tune has a sound reminiscent of idol tracks from the 2000s and has been a smash hit at live shows, stirring the fans into a frenzy.

Information

<Sayonara Nakano Sunplaza Music Festival Performance Information>
Sayonara Nakano Sunplaza Music Festival
Date: June 26, 2023
Venue: Nakano Sunplaza (Tokyo)

Ticket information and additional information will be posted on the official FRUITS ZIPPER Twitter page(@FRUITS_ZIPPER)as it becomes available.

<Release Information>
FRUITS ZIPPER New Single
Cho Medetai Song ~Konna ni Shiawase de Iinokana?~
Streaming Date: May 4, 2023
Streaming URL: https://kawaiilab.lnk.to/CSKSI
Available on all major music streaming and download sites

1. Cho Medetai Song ~Konna ni Shiawase de Iinokana?~
2. Cho Medetai Song ~Konna ni Shiawase de Iinokana?~ -Instrumental-

<FRUITS ZIPPER Tour Information>
FRUITS ZIPPER Japan Tour 2023 AUTUMN
9/3 – Zepp Namba (Osaka)
9/5 – Zepp Nagoya (Aichi)
9/8 – Zepp Fukuoka (Fukuoka)
9/10 – BLUE LIVE HIROSHIMA (Hiroshima)
9/13 – PENNY LANE24 (Hokkaido)
9/16 – KT Zepp Yokohama (Kanagawa)

Kyary Pamyu Pamyu to Release 'CANDY CANDY (Moe Shop Remix), Artist to Perform Solo Concert at Hibiya Open Air Concert Hall in July

A Moe Shop Remix of Kyary Pamyu Pamyu's legendary song CANDY CANDY, originally released in 2012, will appear on streaming services on April 21.

Moe Shop is a DJ and trackmaker whose one-of-a-kind sound is influenced by French electronica and Japanese pop music. Having amassed a global following, the creator claims to be greatly influenced by Yasutaka Nakata, Kyary Pamyu Pamyu's producer.

CANDY CANDY (Moe Shop Remix) is the second remix to be released by the Harajuku star. In 2020, Ninja Re Bang Bang (Steve Aoki Remix) was released to massive fanfare. The new pop tune has a completely different vibe than the original, and fans won't want to miss it.

Recently, it was announced that Moe Shop would be performing as the opening act for the three U.S. dates of Kyary Pamyu Pamyu's POPPP world tour starting in May. The two artists will also be collaborating on a special YouTube Live, allowing fans from around the world to participate in the festivities. The jacket illustration for the single, created by illustrator Natsumi Yoshida, has also been unveiled.

After the world tour concludes, Kyary Pamyu Pamyu will hold a special solo concert on July 15 at the Hibiya Open Air Concert Hall. 'Kyary Pamyu Pamyu Special Live 2023 ~Midnight Sun~' will be held to commemorate the 100th anniversary of the venue.

Information

CANDY CANDY (Moe Shop Remix) – Kyary Pamyu Pamyu
Release Date: April 21, 2023
Streaming URL: https://moeshop.fanlink.to/candy-candy-remix-jp

<Solo Concert Information>
Celebrating 100 Years: Kyary Pamyu Pamyu Special Live 2023 ~Midnight Sun~
Date: July 15, 2023
Venue: Hibiya Open Air Concert Hall
Time: Open at 16:30 / Show starts at 17:30
*No admission for preschool-aged children

■Tickets
KPP Club Member Pre-sale: April 17, 18:00 ~ April 24, 23:59
URL: https://kyary.net
Front Block Reserved Seats: ¥9,900 (Tax Included) *Only available to KPP Club members, bonus merchandise included
General Reserved Seats: ¥5,500 (Tax Included)

Sponsor: Hibiya Open Air Concert Hall 100th Anniversary Executive Committee
Planning/Production: ASOBISYSTEM Co., Ltd.

Contact:
HOT STUFF PROMOTION
050-5211-6077
https://www.red-hot.ne.jp/

<World Tour Information>
Kyary Pamyu Pamyu WORLD TOUR 2023 -POPPP-
May 15 – New York|Webster Hall
May 17 – Los Angeles|The Novo
May 19 – Chicago|Anime Central
June 2 – Barcelona|PRIMAVERA SOUND 2023 Parc del Forum
June 5 – Paris|Cabaret Sauvage
June 7 – London|London EartH Hall
June 9 – PRIMAVERA SOUND 2023 Ciudad del Rock

Special Tour Website
https://wt2023.kyary.asobisystem.com/

Kyary Pamyu Pamyu Performs Theme Song for RPG Dark Tales ~Mirror and Mad Princess~

The smartphone game Dark Tales ~Mirror and Mad Princess~ was officially released on April 11, and the popular singer and talent Kyary Pamyu Pamyu performed the theme song for the title.

The dark RPG tells a tale of the loss of childlike innocence and was pre-downloaded over 1 million times. The theme song, Magical Mirror, was written and composed by Yasutaka Nakata.

Fans of the genre won't want to miss out on this mysterious mobile title!

Kyary Pamyu Pamyu World Tour: Future Funk Guru Moe Shop to Perform at 3 U.S. Shows

Kyary Pamyu Pamyu will embark on her world tour POPPP in May, performing in seven cities around the world. Trackmaker and DJ Moe Shop, a leader in the world of Future Funk, will appear as the opening act for three U.S. tour dates.

Moe Shop's unique fusion of French house music and Japanese pop and club tunes has earned the artist over 26 million views per year on YouTube and over 31 million views per year on Spotify, making them one of the most popular electronic music artists around the globe. The artist has gone on record to say that they have been largely influenced by Yasutaka Nakata, Kyary Pamyu Pamyu's producer, and their addictive sound is making waves in both Japan and abroad.

To celebrate this incredible collaboration, a playlist of songs selected by Moe Shop is now available on Spotify. Be sure to give it a listen!

【Spotify】Kyary Pamyu Pamyu meets Moe Shop

ZEROTOKYO and ASOBISYSTEM Collaborate on ASOBIZA Party Event

ZEROTOKYO, an entertainment mecca known for heating up Tokyo nights, is teaming up with ASOBISYSTEM to create an exciting new party! ASOBIZA, named after the origin of Kabukicho, will be held on April 28.

The lineup includes music artists as well as charismatic figures at the top of their fields in fashion, beauty, and art. Transcending musical genres and generations, this night will embody ZEROTOKYO's concept of being a true "Entertainment Junction."

Additional performers may be announced in the future.

Kyary Pamyu Pamyu to Appear as a Regular on NHK Educational TV's 'Let's Play English Meets the World'

Kyary Pamyu Pamyu will appear as the Novice Wizard Kyary on NHK Educational TV's Let's Play English Meets the World. The series will premiere on April 4, 2023.

Yasutaka Nakata will produce the show's opening theme and a selection of music used throughout.

<Comment from Kyary Pamyu Pamyu>

"I'm so thrilled to be appearing on a show I've watched since I was a kid!
Even though I often perform overseas, I'm still a beginner in English. I hope I can learn together with everyone through this series!

Also, Yasutaka Nakata is providing the opening song and quite a few tracks throughout the show.

Some of the tracks you'll hear are very different than the standard Kyary songs, so I hope you'll enjoy them and sing along!"

Information

Let's Play English Meets the World (NHK Educational TV)
First Broadcast: April 4, 2023 (Airing Tuesdays at 8:35AM)

<About the Series>
People from all around the world travel to the Novice Witch Kyary's house to teach her tons of interesting things. As you listen and play along, you might also find yourself speaking English before you know it! The series will also be filled with games, cartoons, and plenty of singing and dancing, so you'll certainly want to tune in! Just what kind of fun awaits?

Kyary Pamyu Pamyu WORLD TOUR 2023 – POPPP –

May 15, 2023
New York, U.S. – Webster Hall
https://www.axs.com/events/471552/kyary-pamyu-pamyu-tickets?skin=websterhall

May 17, 2023
Los Angeles, U.S – The Novo
https://www.axs.com/artists/1262/kyary-pamyu-pamyu-tickets

June 2, 2023
Barcelona, Spain – PRIMAVERA SOUND 2023 Parc del Forum
https://www.primaverasound.com/

June 5, 2023
Paris, France – Cabaret Sauvage
https://www.seetickets.com/fr/d/event/kyary-pamyu-pamyu/cabaret-sauvage/8769451

June 7, 2023
London, England – London EartH Halll
https://www.gigsandtours.com/tour/kyary-pamyu-pamyu

June 9, 2023
Madrid, Spain – PRIMAVERA SOUND 2023 Ciudad del Rock
https://www.primaverasound.com/

More Details
https://wt2023.kyary.asobisystem.com/

Kyary Pamyu Pamyu to Embark on First World Tour in Five Years

The Kyary Pamyu Pamyu World Tour 2023, titled POPPP, will begin this May!

This will be the singer's first world tour in five years, as last year's planned international tour was canceled. Kyary will perform in six cities–New York, Los Angeles, Madrid, Barcelona, Paris, and London. The Spain shows will take place during the massive Primavera Sound music festival.

In 2022, Kyary Pamyu Pamyu performed as the final act on the Gobi Stage at Coachella, the world's largest music festival held in Indio, California. The artist received accolades from both the American audience and viewers from around the world. This year, Kyary is continuing to attract attention as the first Japanese solo artist to be featured in Global Spin, an original showcase of artists from around the world made by the Recording Academy in the U.S., the organizer of the Grammy Awards.

Information

Kyary Pamyu Pamyu WORLD TOUR 2023 – POPPP –

May 15, 2023
New York, U.S. – Webster Hall
https://www.axs.com/events/471552/kyary-pamyu-pamyu-tickets?skin=websterhall

May 17, 2023
Los Angeles, U.S – The Novo
https://www.axs.com/artists/1262/kyary-pamyu-pamyu-tickets

June 2, 2023
Barcelona, Spain – PRIMAVERA SOUND 2023 Parc del Forum
https://www.primaverasound.com/

June 5, 2023
Paris, France – Cabaret Sauvage
https://www.seetickets.com/fr/d/event/kyary-pamyu-pamyu/cabaret-sauvage/8769451

June 7, 2023
London, England – London EartH Halll
https://www.gigsandtours.com/tour/kyary-pamyu-pamyu

June 9, 2023
Madrid, Spain – PRIMAVERA SOUND 2023 Ciudad del Rock
https://www.primaverasound.com/

More Details
https://wt2023.kyary.asobisystem.com/

Tokyo Diary Map #1: Actor Ryo Ogata Recommends Relaxing Spots in Tokyo

The new Tokyo Diary Map series aims to introduce readers to awesome spots in Tokyo that they might want to visit! Each entry features locations recommended by a single artist or talent, and fans will get to not only discover new places to visit in Japan's capital, but also get to learn more about the thoughts and feelings of these unique individuals.

The first participant in the Tokyo Diary Map series is Atsushi Ogata, a multi-talented TV personality and actor. Last year, he appeared as a beauty-concious man on Nippon TV's DANCING SANMA PALACE, spurring a major buzz by revealing his cosmetic routine. He's also a notable actor, having appeared in the papercraft theater company's 7th performance Sekai ga Asa wo Shiroutomo (Though the World May Know Morning), telling the story of a man and a woman, a couple of friends, and a certain woman "until morning."

 

  

-Tell us about your favorite spot in Tokyo!

"Daikanyama T SITE TSUTAYA. I feel like I can really relax there. I love being surrounded by my favorite fashion magazines, and no matter what magazine you pick up, they're all so exciting and educational. That's what I like about bookstores–you can pick up something you're not usually interested in and learn something new. It's the best."

Daikanyama T SITE TSUTAYA
16-15 Sarugakucho, Shibuya-ku, Tokyo
https://store.tsite.jp/daikanyama/

– How do you like to spend your time at Daikanyama T SITE TSUTAYA?

"I pick up a new book, find a seat, and take my time reading. I like people-watching and checking out people's fashion too. Also, there's a nice café called ivy place nearby, where I can read while having a relaxing cup of coffee."

Ivy Place

東京都渋谷区猿楽町16-15

https://www.tysons.jp/ivyplace/

 

-You studied fashion design in the United States. How did that experience influence you? How do you want to make use of that experience going forward?

 "Learning about fashion at art school was very inspiring. It was also very interesting to see how people with different ethnic backgrounds dress and to see their individual personalities. For example, I saw high school students wearing backpacks instead of using school bags. I just loved seeing people's unique fashion. It made me realize something that I still believe in to this day–that there's  nothing more beautiful than wearing what you like in your own way. I'd actually like to create my own clothing brand in the future, so I hope to put my high school fashion design studies to good use."

–Which apparel stores do you frequent?

I always peek into Dover Street Ginza!

Dover Street Ginza
Ginza Komatsu West Building (6-9-5 Ginza, Chuo-ku, Tokyo)
https://ginza.doverstreetmarket.com

-What fashion styles are you interested in lately?

"I like a lot of different genres, but lately I've been into chic styling, like pairing shirts and sweaters. I dream of dressing like Thom Browne. I want to try to buy at least one piece from his collection.

-You post a lot of illustrations on your Instagram. Do you usually like to draw? When do you lke to create? 

"I bought an iPad to draw because I really wanted something to do something new during COVID. For me, when I plan time to draw something, it never goes well, so I tend to just draw when inspiration suddenly strikes. I have no particular style, I just draw whatever I want!"

-What inspires you as someone so expressive? What has piqued your interest lately?

"I get inspiration from a wide range of different people. It could be people walking on the street, people on the train…lately, I've been meeting the most inspiring and wonderful people. Listening to their stories is what inspires me the most. Fashion inspires me, humanity inspires me, people's auras inspire me."

 

-Finally, please give a message to those who are planning on coming to Japan!

"Japan is just wonderful. It's the best. The food, the people, the scenery, all of it is incredible. Once you visit, you'll definitely want to come back. Please come and enjoy!" (Laugh)

London-based Japanese Artist Rina Sawayama Covers Hikaru Utada's Legendary 'First Love' at Tokyo Concert

Born in Niigata and living in London, international singer-songwriter Rina Sawayama released her second album Hold The Girl on September 16, 2022. Her Japan-based Hold The Girl Tour saw successful shows in Nagoya, Osaka, and Tokyo, with Sawayama generating plenty of buzz. During the final show on the tour, the singer surprised the audience with a cover of Hikaru Utada's hit songFirst Love. The video of this incredible performance is now available to watch on YouTube!

First Love – Rina Sawayama (Hikaru Utada Cover, Tokyo Garden Theatre)

Prior to the Tokyo show, Sawayama took to Instagram, posting a comment for fans. "Since this is the biggest show I've ever done, I think I should cover a special Japanese track to commemorate the event," she said. The singer had previously asked fans to share the songs they'd most like to see performed.

"Without this artist and without this song, I probably wouldn't have become a musician or an artist. I heard this track when I was around six years old, and I remember dancing for my parents who were sitting on the sofa. This artist also celebrated her 40th birthday yesterday. This is my first cover, but I think it's the perfect way to commemorate this special event. Please enjoy," Sawayama concluded.

The audience responded to this surprise with a chorus of excitement, and this was surely an unforgettable night for many fans.

Rina is currently on the Hold The Girl Tour in Europe. At the end of March, she will make her Hollywood debut in the fourth John Wickmovie.

Hisashi Eguchi's Illustration Exhibition "Tokyo Girlfriend" Coming to Tokyo Midtown Hibiya, New Works to be Exhibited for the First Time

From March 14 until April 23, 2023, Tokyo Midtown Hibiya will hold Hisashi Eguchi's Tokyo Girlfriend illustration exhibition, set to show off the artist's unique perspectives on people and cityscapes. The exhibition will feature new illustrations of the titular girlfriend standing in the streets of Hibiya drawn especially for this exhibition, as well as various other girlfriends both large and small.

GING NANG BOYZ Kimi to Boku no Dai 3ji Taisen-teki Renai Kakumei CD Jacket (2005)

A LONG VACATION – Eiichi Ohtaki 40th Tribute Illustration (2021) ©2023 Eguchi Hisashi

Hisashi Eguchi, a manga artist and illustrator, continues to convey the charm of the city and its people by vividly depicting Tokyo and the many unique happenings within. As Tokyo Midtown Hibiya celebrates its 5th anniversary along with many other nearby businesses, the Tokyo Girlfriend exhibition of illustrations by Hisashi Eguchi is being held to celebrate.

The exhibition will feature a new painting of the mysterious girlfriend standing in the streets of Hibiya, newly created for the Tokyo Midtown Hibiya exhibition. A number of original pieces using Pantone overlay, Eguchi's favorite painting medium in the 80s and 90s, will also be on display for the first time.

During the exhibition period, guests can enjoy autograph sessions, live sketches in which Eguchi himself will draw a portrait of selected subject on the spot, and workshops where he will teach tips on how to be a better illustrator.

Don't miss your chance to meet one of the greatest illustrators of the modern era!

©2023 Eguchi Hisashi