New York's Shake Shack Opens Kyoto Branch With Exclusive Uji Matcha Shake
New York-based fast food chain Shake Shack® will open its first ever Kyoto branch in the Shijo Karasuma area on April 1, 2019.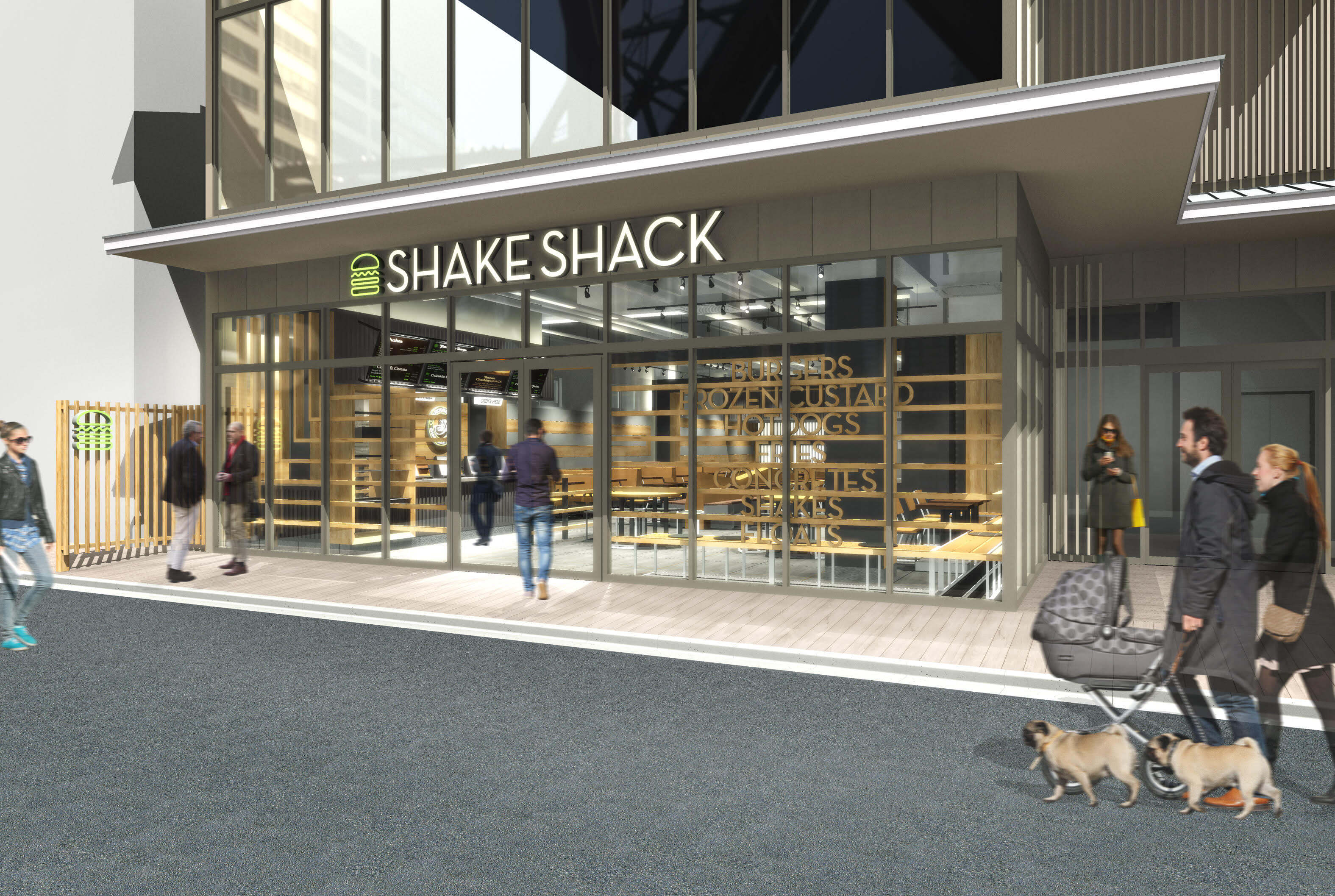 Shake Shack is a fast casual restaurant that offers affordable high quality food served with exceptional hospitality in a stylish space. It is known the world over with restaurants both in the US and overseas.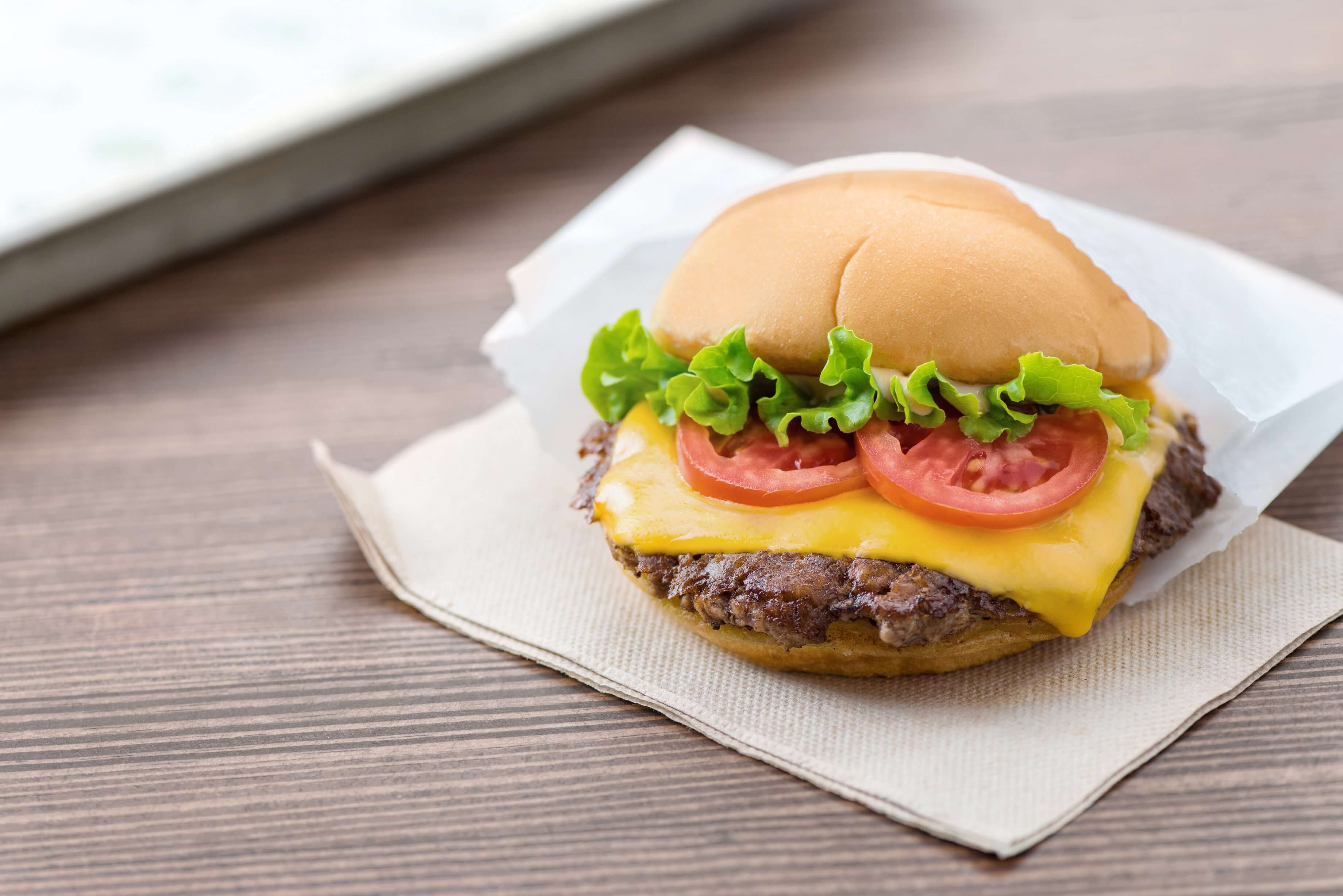 The menu includes hamburgers made with 100% Angus beef, hot dogs and fries as well as desserts like fresh custard made fresh every morning. The drink menu includes a selection of beers, wins and other beverages chosen specially to go with dishes.
Two exclusive menu items have been created just for the Kyoto branch: the Uji Matcha Shake made with high quality Uji matcha, and the Kyoto Cookie Cleat topped with crunchy Uji matcha cookies. The store will also sell original merchandise including the cute Kyoto T-Shirt, Kyoto Hand Towel, and more.
Uji Matcha Shake: ¥710 (Before Tax)
The Uji Matcha Shake is made in collaboration with Kyoto's famous and long-standing tea shop Itohkyuemon. This is Shake Shack's first ever collaborative shake with Japan. The Uji matcha used is grounded into a powder inside a large millstone over a long period of time. To fully maximise its flavour and fragrance, no other toppings are used on the shake. It is a simple blend of Shake Shack's fresh and creamy vanilla shake and Uji matcha. Each and every cup is made with time, love and dedication, producing a rich, traditional and high-quality matcha drink with its distinct green colour.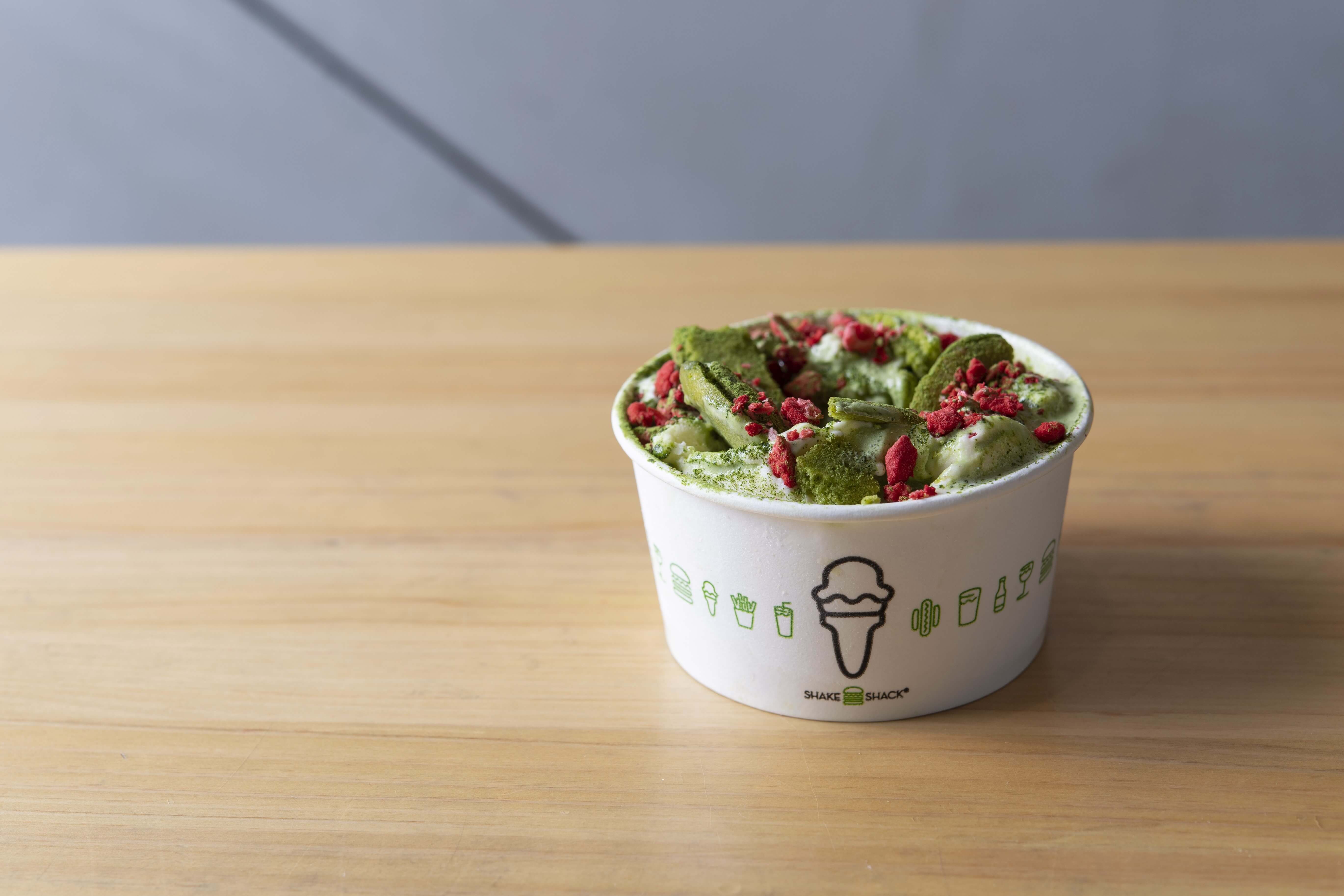 Kyoto Cookie Cleat: Small ¥490 (Before Tax) / Regular ¥660 (Before Tax)
Another collaboration―this time with Jouvencelle, a popular shop in Kyoto serving Western-style sweets made with Japanese ingredients. The Kyoto Cookie Cleat is made with Jouvencelle's popular chocolate cookies which when combined with the rich Shake Shack frozen vanilla custard create a sweet balance of flavours. The cookies also add a satisfying crunch to the custard. To bring out even deeper flavours an Uji matcha marshmallow sauce is drizzled on top and dried strawberries are mixed in.
If you love Shake Shack or love matcha then you won't want to miss out on these exclusive treats.
Information
Shake Shack Kyoto Shijo Karasuma
Address: 643 BINO Higashinotoin Floor 1F, Nakagyo Ward, Kyoto, Kyoto Prefecture (Japanese: 京都府京都市中京区東洞院通蛸薬師下ル元竹田町643BINO東洞院 1F)
Opening Hours: 11:00-22:00 (Last Orders 21:30)
TEL: 075-741-8681
Shake Shack Japan Website: http://www.shakeshack.jp/
RELATED ENTRIES
Japan Coronavirus: Studio Ghibli Museum, Sanrio Puroland & Other Facilities Close Temporarily

A number of facilities in Japan have announced temporary closures to help stop any possible spreading of the coronavirus. Please check the following closures if you're planning a trip to Japan in February or March. New information is rolling out all the time, so for the latest updates, please check the official websites for each establishment listed below.

Updated: February 28, 2020 1:00pm

Tokyo Disneyland® and Tokyo DisneySea® 

Closed: February 29 – March 15, 2020

The parks plan to reopen on March 16, 2020, however this will be decided following consultation with concerned administrative agencies and will be announced on their official website. If you have purchased tickets valid during the parks' closing dates, please refer to the links below.

 

Tokyo Disney Resort Official Website: https://www.tokyodisneyresort.jp/en/index.html

Tokyo Disney Resort Online Tickets and Reservations: https://reserve.tokyodisneyresort.jp/en/top/?language=en

Snoopy Museum

Closed: February 29 – March 13, 2020

Information on ticket refunds is provided on the museum's official website.

Snoopy Museum Official Website:https://snoopymuseum.tokyo/s/smt/page/english?ima=0000

Sony Music Roppongi Museum

Closed: February 29 – March 13, 2020

Information on ticket refunds will soon be provided on the museum's official website. The TYPE-MOON Fate / stay night-15 years of history Exhibition will be extended until April 19, 2020.

TYPE-MOON Fate / stay night-15 years of history Exhibition Official Website: https://type-moon-museum.com/

Sony Music Roppongi Museum Official Website: https://smrm.jp/

---

Sanrio Puroland

Closed: February 22, 2020 – March 12, 2020

The park is scheduled to reopen on March 13, 2020, but this is subject to change depending on the circumstances of the coronavirus and news published by the government.

▶Refunds

・Pre-booked Tickets

Tickets valid between the dates February 22, 2020 – March 12, 2020 will have their validity period extended to September 30, 2020.

・Original Passports

Passport tickets valid between the dates February 22, 2020 – September 29, 2020 will have their validity period extended to September 30, 2020.

・Pre-booked PUROPASS

Payments for PUROPASSES bought between the dates February 22, 2020 – March 10, 2020 will be cancelled.

・Anniversary Time

Payments for Anniversary Time tickets for the dates February 22, 2020 – March 10, 2020 will be cancelled. Those who paid with cash will be refunded via registered mail.

Official Website (English): https://en.puroland.jp/

Official Website (Japanese): https://www.puroland.jp/

Ghibli Museum

Closed: February 25, 2020 – March 17, 2020

▶Refunds

Refunds are applicable for tickets dated between January 22, 2020 – March 30, 2020.

Refunds will be paid in full between February 15, 2020 – March 31, 2020.

Official Website (English): http://www.ghibli-museum.jp/en/

Official Website (Japanese): http://www.ghibli-museum.jp/

Toei Animation Museum

Closed: February 26, 2020 – March 18, 2020

The museum's reopening is subject to consideration depending on the circumstances of the coronavirus. It will be announced via the museum's official Twitter page and website.

Official Website: https://museum.toei-anim.co.jp/

Asahi Beer Oyamazaki Villa Museum

Closed: February 22, 2020 until further notice

Official Website (English): https://www.asahibeer-oyamazaki.com/english/

Official Website (Japanese): https://www.asahibeer-oyamazaki.com/

 

Kyoto National Museum

Closed: February 22, 2020 until further notice

All events, the museum shop Benrido, and the museum cafe Maeda Coffee, have also closed temporarily.

Official Website (English): https://www.kyohaku.go.jp/eng/index.html

Official Website (Japanese): https://www.kyohaku.go.jp/jp/index.html

ARASHI EXHIBITION "JOURNEY"

Closed: February 22, 2020 – March 9, 2020

Location: Osaka Culturarium at Tempozan

Official Website: https://arashiexhibition.jp/

Sanrio Harmony Land

Closed: February 22, 2020 – March 12, 2020

Official Website (English): https://www.harmonyland.jp/english/harmony/harmony.html

Official Website (Japanese): https://www.harmonyland.jp/welcome.html

Numerous other sports and cultural events will also close for two weeks commencing February 26, 2020. If you're travelling to Japan in February and March, please check the websites of any places you plan to visit during your trip to see if they are open.

Flower Themed Projection Mapping Show to Take Place at Kyoto National Museum

A special projection mapping show directed by NAKED is set to take place at Kyoto National Museum from March 6, 2020 to March 15, 2020. This breathtaking light performance is entitled "Light & Food Ensemble 2020 ~Evening Flower Banquet Directed by NAKED~".

The special evening performance is part of the Kyoto Higashiyama Hanatourou 2020 event, which is centred around lanterns.


NAKED aims to bring new light on Kyoto's gorgeous evenings with an incredible display of music, lights and projection mapping at Kyoto National Museum's gardens. Lasting 10-15 minutes, projection mapping will spread cross the wall of the Meiji Kotokan Hallーan Important Cultural Property of Kyoto with a history spanning over 120 yearsーwith kaleidoscopic patterns including yuuzenzome, or "Yuzen silk printing," which is used on kimono displayed in the museum.

Meiji Koyokan Hall has been protected since the Meiji Period. Spectators will be able to witness a story unfold of beautiful flowers over the generations through music and lighting.

The entire garden will be lit up and bring life to many great spots for taking photos. This special event will allow visitors to experience the cool spring evening like never before. It will also see the first ever display in collaboration with Oniwa Ueji, which has a 250+ year history and is part of Higashiyama's culture.

There will also be food available to eat at the event full of the flavours of Kyoto. Enjoy ticking into dishes you won't be able to taste anywhere else.

Information

Light & Food Ensemble 2020 ~Evening Flower Banquet Directed by NAKED~

Location: Kyoto National Museum

Running: March 6, 2020 – March 15, 2020
Time: 18:00-20:30 (Last Entries 20:00)
*Open until 21:30 (Last Entries 21:00) on Fridays and Weekends
*Kyoto National Museum will close at 17:00 (Last Entries 16:30) on March 6, 7, 13, and 14
Official Website: http://ensemblekyoto.com/

Fermented Food Cafe 'Tsuke x Koji Haccomachi' to Open in Kyoto's Sanjo Area

Tsuke x Koji Haccomachi is a new cafe opening in the Sanjo area of Kyoto on February 22, 2020, that is centred entirely on fermented foods.

The name "Haccomachi" derives from the Japanese word Hakko (Hacco), meaning fermented, and Komachi (Comachi), meaning a beautiful woman. The cafe hopes for people to incorporate fermented foods into their livesーsomething which is rooted in Japanese food cultureーand live comfortably.

The cafe's logo showcases the making of kōjiーa type of mould used in the fermentation process of certain food products in Japan, like soybeans. The logo hope to pass down this long upheld tradition.

Hakko fermentation is a major part of Japan's food culture. Since ancient times, the sweetness and umami brought about by the enzymes in the fermentation process have served to accompany many foods in the country, such as miso, soy sauce, mirin, rice vinegar, and so onーall traditional condiments used in the Japanese kitchen that are still fundamental today.

The menu at Tsuke x Koji Haccomachi features a line-up of fermented foods made in Kyoto, including those from Kyoto-based soybean makers Fujiwara Shokuhin, Sawai Shoyu Honten which has produced the same high quality soy sauce for decades, sake brewery Kitagawa Honke which has been around since the Edo Period, and more.

A Small Look at the Menu

Lunch Menu

Haccomachi Special – Fermented Lunch Plate: ¥1,690

This lunch plate is an assortment of hors d'oeuvre made with fermented condiments, tandoori chicken that has been pickled to elevate the umami, marlin fish, soup, and more.

Dinner Menu

Spare Ribs On The Bone in Miso Yuan Yaki: ¥1,490

This hearty portion of spare ribs are marinated in a miso, mirin, and soy sauce mix. Taste the full umami flavour of the juicy meat.

Namerō Miso Salmon in Yoghurt Sauce: ¥770

The salmon is served namerō style, a type of tataki or pounding method, in miso. The yoghurt has both a refreshing and rich flavour.

Homemade Komekoji Rice Malt Sweet Sake Yoghurt: ¥470

The splitting of the sour yoghurt serves to elevate the sweetness of the sake. This is a drink that even those who don't like sweet sake are sure to enjoy.

Cafe Menu

Miso Pound Cake w/ Vanilla Ice Cream: ¥550

The miso pound cake is a collaboration with Japanese confectionery company Sarasa, which has 6 branches of cafes and shops in Kyoto. It's made using komekoji rice malt powder provided by an old-fashioned Japanese shop (菱六もやし). The umami of the miso is intensified, and the cake stays moist thanks to the powder. It's served with a dollop of refreshing vanilla ice cream.

Blackcurrant & Vanilla Sweet Sake Affogato: ¥550

A unique spin on the affogato dessert which has you pouring hot sweet sake over tangy and refreshing blackcurrant sherbet and rich vanilla ice cream. Enjoy the mix of the hot sake and the cool ice cream.

Discover the Japanese tradition of fermentation at Tsuke x Koji Haccomachi, opening February 22, 2020.

Information

Tsuke x Koji Haccomachi

Grand Opening: February 22, 2020
Address: 78-1 Masuyacho, Shitagaru Yanaginobamba Sanjo-dori, Nakagyo Ward, Kyoto,
Opening Hours: [Weekdays] 11:00-15:00 & 17:00-22:00 / [Weekends & Holidays] 11:00-22:00

Closed: Wednesdays
Official Website: https://haccomachi.jp/

ART LAB KYOTO: The New Shop Opening at Kyoto City Kyocera Museum of Art

ART LAB KYOTO is the new museum shop set to open at Kyocera Museum of Art on March 21, 2020 in line with the revamp currently undergoing at the museum, with design work being co-created by Japanese architects Jun Aoki and Tezzo Nishizawa.

Kyoto is known as a hub of Japanese culture, managing to maintain traditions while constantly evolving. ART LAB KYOTO will embody everything about this idea when it opens after the museum's revamp. The spacious shop will not only sell merchandise related to the exhibitions, but books and goods related to art from Kyoto both traditional and contemporary, items in collaboration with external artists, original and exclusive sweets, and more. ART LAB KYOTO will also host events promoting the diversity of art and culture in Kyoto.

Information

ART LAB KYOTO

Address: Kyoto City Kyocera Museum of Art Floor B1F (124 Okazaki Enshojicho, Sakyo Ward, Kyoto)

Grand Opening: March 21, 2020

Closures: Open every day until April 30, 2020 except March 23. The schedule commencing May will be posted at a later date on the official website.
Opening  Hours: 10:00-19:00

Official Website (English): https://kyotocity-kyocera.museum/en/

Experience a Cherry Blossom Burger in Kyoto's Famous Cherry Blossom Tourist Spot Arashiyama

This March, a restaurant in Arashiyama, Kyoto, that goes by the name CROSS Burger&Beer/Coffee, has announced it will release its new "Sakura Burger" (Cherry Blossom Burger) for the spring season.

CROSS Burger&Beer/Coffee is a restaurant known for its burgers made with pitch black buns – a result from combining the mixture with bamboo charcoal – which are served on afternoon tea stands. All of their patties are made with 100% domestic wagyu, specifically hiragyu from the town of Tanba in Kyoto. To ensure the meat maintains its high quality texture, it is minced together with shoulder and shank, which also creates great flavour.

The new cherry blossom burger uses a pink bun like that of the springtime flower. It has a chewy texture, and the surface is charred so that the outside is crispy and the inside soft. It also means that the meat juice permeates the bun better, and without making it go soggy. The patty is uses the same hiragyu meat, which is breaded and deep-fried to create what is known as menchi-katsu in Japanese. By doing this, it locks in the characteristic and unique flavour of the meat, as well its juice.

Drizzled over the patty is a homemade tartar sauce with Kyoto-style chopped vegetables pickled in salt as the base. The restaurant chops up the vegetables randomly to leave texture in the sauce, which has a refreshing taste thanks to them, creating a flavour you'll enjoy until the last bite. The burger is also stuffed with a sunny-side up egg and purple cabbage, the latter of which has a slightly bitter bite to it, resulting in an amalgamation of mouth-watering flavours.

Order together with a cocktail or soda float to create an Instagrammable photo.

If you're heading to Japan to visit Kyoto this cherry blossom season, head to Arashiyama to enjoy the sights and a delicious Sakura Burger.

Information

CROSS Burger&Beer/Coffee
Address: 48 Arashiyama Kamikaidōchō, Nishikyō Ward, Kyoto, Kyoto Prefecture

Opening Hours: Lunch 11:00-16:00 / Dinner 16:00-23:00

Official Website: https://cross.grandwest.kyoto/

Kyoto Brighton Hotel Offers 5 New Hotel Plans For Springtime, Cherry Blossom & Temple Experiences

Kyoto Brighton Hotel is now selling reservations for its new "Haru no Asobi Plan" (Springtime Fun Plan) which is taking place between March and May this year and offers guests the opportunity to enjoy Kyoto in the spring and its cherry blossoms.

Spring in Kyoto is the most popular season for tourists and travellers who flock from not only across Japan but from around the world. The Haru no Asobi Plan is made up of 5 exciting plans to see the ancient capital's breathtaking cherry blossoms, vibrant green maples, and other offerings.

"Asakatsu" – An early morning temple visit and stroll

Get away from the crowded streets and enjoy the rare opportunity to experience incredible early morning sights you don't normally get to see. Spend a quiet morning in a gorgeous environment in this plan. Several temples and gardens are in place for the experience: Kōdaiji Temple, Bishamon-do Temple, Taizō-in, Haradanien, and Tenryū-ji.

Kiyomizu-dera Temple special night viewing

One of the must-visit spots when travelling to Kyoto is Kiyomizu-dera, officially a World Heritage Site. This plan rents out the temple for you to experience it at nighttime. The main building is currently undergoing large-scale renovation to secure the roof as well as the inner construction of the temple. Seeing the temple is truly a sight to behold.

You are guaranteed a view of the famous "Stage of Kiyomizu," an enormous veranda attached to the main hall. The surrounding trees will be lit with enchanting lights, and you'll be able to gaze at the distant city nightscape. Experience Kyoto like never before as the warm lights illuminate the Niōmon (Deva Gate), 3-storey pagoda, and purified water which runs from the Otowa Waterfall.

Discover the world of Kyoto embroidery

The traditional practice of Kyounui, or Kyoto-style embroidery, has continued since the Heian Period and is even garnering attention overseas. It's a delicate and refined style of embroidery unique to Kyoto.

After your embroidery session which will take place in a Kyoto town house nearby the cherry blossom-filled Hirano Shrine, you'll look at kimono and yukata so beautiful they'll look like they should be in an art museum, before heading to eat together with the creator.

See the green maple trees of Hōgon-in on a private train

Board the private 1-2 carriage Randen train on the Keifuku Electric Railroad, which runs from Shijō-Ōmiya to Arashiyama. This cute retro train will take you Arashiyama where the green maples are breathtakingly beautiful.

You'll also get to stroll through the quaint gardens of Hōgon-in Temple, view artwork painted by Noriko Tamura, and more.

Sky Bus

Enjoy a panoramic view on a private ride of the Sky Bus, a double-decker bus which is gaining huge popularity right now. You will ride through the city of Kyoto and see the rows of pink cherry blossoms. In April, they will also do an evening tour of the cherry blossoms so you can see them at night, and in May they'll do a green maple tree tour.

Discover the beauty of Kyoto in this very special hotel plan at Kyoto Brighton Hotel.

Explore Kyoto With a Hot Pudding Latte From Kyo Yasaka Pudding

Kyo Yasaka Pudding is a shop with a new vision. Located in Kyoto's tourist hot spot of Higashiyama ward, it's home to a team of people who love and are well-versed when it comes to food. Their incredible purin, or Japanese custard puddings, are made carefully one by one to make people happy. These puddings are tried and tested: much trial and error was done to ensure the ingredients, flavours, technique, and appearance were perfect.

On January 24, they're set to release a new product to the menu: the Kyo Yasaka Hot Pudding Latte.

This hot beverage combines a pudding latte, made from incredible Kyoto milk, with super rich caramel cream. It's then topped with a mix of tempting decorations. The caramel and cream are of a high quality, with the caramel cream itself having a unique and irresistible bitter bite you won't find anywhere else.

This is the perfect accompaniment to a winter walk through Kyoto while sightseeing.

Information

Kyo Yasaka Hot Pudding Latte

Release Date: January 24, 2020

Price: ¥700 (Tax Included)

Kyo Yasaka Purin

Address: 87-4 Hoshinochō, Higashiyama Ward, Kyoto, Kyoto Prefecture

Official Website: https://www.kyo-yasaka-pudding.co.jp/

4 Matcha-tastic Desserts Selling at Convenience Stores in Japan

If you love delicious Japanese desserts and are keen to discover more, you've visited the right website. Today with the help of Instagrammer Yukko, we'll be looking at matcha desserts you can purchase from Japanese convenience stores. 

Matcha Purin Cake Sandwich: ¥324/ Family Mart

Matcha Purin Cake Sandwich: ¥324

This is a fluffy sandwich with a hearty filling of sweet matcha purin, matcha cream, whipped cream and red bean paste. The fluffy cake and light cream create a wonderful balance of textures and enjoy a moderate sweetness. This dessert is sure to leave your stomach fully satisfied.

Dorayaki Pancakes Stuffed with Matcha Cream: ¥300/ 7-Eleven


Dorayaki Pancakes Stuffed with Matcha Cream: ¥300


The delicious aroma of the matcha will entice you before you have even tried it. The refined, rich matcha flavour will spread throughout your mouth and melt beautifully. 

Uji Matcha and Shiratama White Dumpling Parfait:¥300/ 7-Eleven


Uji Matcha and Shiratama White Dumpling Parfait:¥300

This is a luxurious parfait containing Shiratama dango, warabi mochi, matcha whipped cream, dorayaki pancake pieces, plain whipped cream, matcha mousse and matcha starch cakes. Enjoy a variety of textures – perfect for the matchaholic!

Matcha & Sweet Red Beans & Whipped Cream Doyayaki: ¥140/ 7-Eleven

Matcha & Sweet Red Beans & Whipped Cream Doyayaki: ¥140

Sweet red bean paste, matcha sauce, whipped cream and chewy warabi mochi are stuffed between two matcha dorayaki. The matcha sauce is rich and plentiful, creating the perfect matcha-tastic treat.

 If you're on a matcha hunt, how about starting at the convenience store? There are just so many matcha desserts to discover. Mogu Mogu Yukko's Instagram is full of delicious desserts that you can buy from Japanese convenience stores and supermarkets. If you're looking for a sweet treat, make sure to check it out.

 Original Article Contents and Photos By: Mogu Mogu Yukko

*Convenience stores are always updating their products and therefore the desserts mentioned in this article may stop selling at any time. Please check the convenience store's social media or official website for the most up-to-date information. 

Bunjee Jump From the Top of Kyoto Tower With Their New VR Experience

Have you ever wondered what the thrill of bungee jumping would be like, but are too afraid of heights to even consider putting it on your bucket list? Have no fear, because Kyoto Tower is bringing a new VR bungee jumping experience to the top of the building which will be available to experience from February 1 for a limited time.

This VR experience was first brought to the tower in the fall of 2018, and this year it is making its grand return. After the event originally ended, there was huge demand for it to be held again.

Those brave enough to have a go at this VR bungee jump (or bungy, depending where you are from), will go above and beyond the 100 meter observation deck to the highest accessible point of Kyoto Towerーup 120.9 metersーwhich is normally closed off to the public, to the special VR deck which has been prepared.

The experience will offer you not only the thrill of jumping from Kyoto's tallest structure, but the chance to gaze upon a panoramic view of the beautiful city too.

Information

Kyoto Tower VR Bungy Jump

Running: February 1, 2020 – March 31, 2020

Time: 12:00-21:00 (Last Entries 20:45)

Location: Kyoto Tower Observation Deck – Floor 1F (the 11th floor of Kyoto Tower)

Price:

・VR Bungy Ticket: ¥800 (Tax Included)

・Observation Deck & Bungy Set Ticket (Tax Included): Adults: ¥1,400 (Individual Purchase: ¥1,600)/High School Students: ¥1,300 (Individual Purchase: ¥1,450)/Elementary & Junior High Students: ¥1,100 (Individual Purchase: ¥1,350)

*Ages 7+ only

*Set tickets are available to purchase on floor 1F of Kyoto Tower

*Run times subject to change

*Ticket charges applied for ages 7+; those aged below 7-years-old are not permitted to use the VR system

*An entry ticket to the Kyoto Tower observation deck is not necessary to experience the VR system

Official Website: https://vr-bungee.com/

CHAYA 1899 TOKYO To Open in February Serving Specially Made Tea

With a history of 120 years in managing a number of old hotels and restaurants, the Ryumeikan Group will open a new café that sells Japanese desserts, pastries, tea and coffee called CHAYA 1899 TOKYO. The new café is set to open on February 21, 2020 and will embrace the delicious flavours of matcha, hōjicha and Japanese black tea. 

The café will open on floor 1 of the boutique hotel Hotel 1899 Tokyo. The café interior is wood-themed with touches of black for a casual fusion of tradition and modernity. With a space of 120 square metres, the relaxing environment is spacious enough to seat 38.

The original restaurant opened for business in December 2018. Now, CHAYA 1899 TOKYO specialises in Japanese beverages and intends to live its days as the tea shop that customers can visit as they please for a break from everyday life.

One of the most appealing aspects of the new restaurant has to be the menu. There are 10 different drinks available. Each drink is carefully made with high-quality tea leaves that were carefully selected from all over Japan. The tea varieties include matcha, hōjicha, Japanese black tea made from Japanese tea leaves. 

Rich Matcha Latte: ¥600 (After Tax)

Each cup of tea is carefully made, one by one, by the café's Japanese tea specialist. The rich matcha tea is made using traditional tools such as a bamboo whisk. From this, soy milk or milk is added to make the rich matcha latte. From three to six grams, you can choose the strength of your tea by the gram to create a more personalised matcha latte. 

 Other drinks on the menu include the Hōjicha Latte and the brand new inventions the 'Matcha Soda and 'Japanese Black Tea Soda', which will tempt you their exquisite aromas. 

The café even has a counter especially for the tea making and pouring procedures. The water for each drink is boiled in a traditional kettle by the tea specialist, who carefully regulates the water temperature and controls the brewing time according to the tea leaf. 

Matcha Pan:  ¥600 (After Tax)

As expected, the café also sells delicious sweet treats full of matcha goodness to go with your tea. The fresh green Matcha Pan are full of matcha goodness. They are made from 100% Japanese wheat, Hokkaido butter and milk. The mixture is left to rise at a low temperature over a long period of time. Afterwards, matcha from Shizuoka is added to the mix and then baked into muffins. This original and rare bread was developed with Baba FLAT – a café which sells very popular pastries and coffee in Takadanobaba, Tokyo. 

Craving more matcha? Enjoy both matcha and hōjicha at the same time in the form of a healthy snack: the Omatcha Brownie. The brownies are made from gluten-free rice flour and enjoy a moist texture and rich flavour.

Uji matcha, a high-quality and rich matcha used in tea ceremonies, is also used to make rich matcha ice cream (Koicha Gelato) and matcha cakes called "Sakecha Cakes" which combine tea and Japanese sake or brandy with cakes. The varieties of cake include matcha and Japanese sake, hōjicha and Japanese sake and black tea and brandy.

If you're looking for a unique tea experience, look no further than CHAYA 1899 TOKYO.

Information

CHAYA 1899 TOKYO

Address: 6-4-1 Shinbashi, Minato City, Tokyo

Opening Hours: 11:30 – 21:00 (Last Orders: 20:30)

Opens: February 21, 2020

Official Website: https://1899.jp/hotels/tokyo/

Matcha Desserts in Sapporo You Just Have To Try

We've previously covered the best spots to try delicious matcha desserts in Kyoto. Now, with the help of expert dessert Instagrammer Kei, we are going to introduce you to some of the most delicious spots to try matcha desserts in Sapporo, Hokkaido.

If you want to discover more delicious cafés, desserts and drinks in Hokkaido, make sure to check out Kei's Instagram (@607keih).

 

KotoniSand, Nishi Ward

Macchan French Toast: ¥1200

 From dinners to desserts, this café serves up lots of meals based on their delicious thick-sliced bread. Bread flavours include plain, matcha and even coffee. You can order to go or enjoy the eat-in-limited menu. This fluffy french toast is soaked in matcha liqueur and is full of flavour even before trying it with the toppings. Take a bite of it with the red bean paste for a flavour adventure. A limited number of these are sold per day so if you want to try it, make sure to get there early. 

▼KotoniSand

Address: 1-1-1 Yamanote 5 Jō, Nishi-ku, Sapporo, Hokkaido

Opening Hours: 11:00-18:00
Closed: Tuesdays
Official Website: https://kotonisand.business.site

Ame no hi to yuki no hi, Minami Ward

Gelato Futatsu: ¥450

Located before Jozankei's onsen hotspot is a café called Ame no hi yuki no hi. It serves delicious pizzas and a variety of gelato flavours depending on the season. Their matcha ice cream is delicious. They even allow you to order two or three flavours at once so you can enjoy a mix and match of combinations. 

▼Ame no hi to yuki no hi

Address: 2-4-1, Jozankeionsennishi, Minami Ward, Sapporo, Hokkaido 

Opening Hours: 10:00-17:30
Closed: Thursdays
Official Website: https://www.amenohitoyukinohi.com

KANON pancakes, Shiroishi Ward

Matcha Tiramisu Pancake: ¥1500

This is a famous pancake shop in Kikusui. Tuck into a stack of fluffy pancakes inside the relaxing and soothing restaurant. The Matcha Tiramisu Pancakes are soaked with liqueur, creating a texture that is softer and moister than their standard pancakes. In addition to the matcha liqueur, the pancake is also dusted with matcha powder for a richer matcha flavour. Finally, they are drizzled with delicious brown sugar syrup and topped with walnuts.

▼KANON pancakes

Address: 5-5-18 Kikusui 3 Jo, Shiroishi Ward, Sapporo,

Opening Hours: 10:00-17:00 (Last Orders: 16:00)
No Regular Holidays
Official Website: https://kanon-pancakes.com

Any cafe, Kita Ward

Matcha Kintoki: ¥1350

This shop uses gluten-free ingredients in their food. This pancake dish is made using unpolished rice powder, three pieces of Turkish delight, red bean paste, rice flour dumplings, and cream made from Hokkaido-produced mascarpone and fresh cream. The cream is full of the bitter and delicious flavour of matcha, making the pancake sweet and very delicious. 

▼Any cafe

Address: 3-2-24 Kita 18 Jonishi, Kita Ward

Opening Hours: 11:00-18:30 (Last Orders: 18:00)
Closed: Tuesdays

Official Instagram: https://www.instagram.com/any_cafe_sapporo/

If you are looking for delicious matcha desserts in Sapporo, let this article help you decide where to go. When your food cravings kick in, make sure to visit Kei's Instagram which is full of the most delicious meals, drinks and desserts in Hokkaido. 

Original Article Contents and Photos by: Kei (@607keih )

Top Matcha Desserts in Kyoto Perfect for Your Next Instagram Post

 When you think of Kyoto, matcha immediately comes to mind. Today with the help of the Kansai region's expert dessert Instagrammer Tiara, we'll be introducing you to the top matcha dessert shops of the Kansai region. 

Kawatomo, Fushimi 

Matcha Ganache Cake

This matcha ganache cake looks just as good as it tastes. The beautiful smooth matcha coating is delicious and rich. The cake is best enjoyed with a cup of coffee and is the perfect sophisticated treat. 

▼Kawatomo

Address: 792 Nishishujakuchō, Fushimi Ward, Kyoto,

Opening Hours: 11:30-18:00

Closed: Mondays, Tuesdays and Wednesdays

Official Instagram: https://www.instagram.com/chika_ara/

Chasho Shimizu Ippoen Kyoto

A delicious spun sugar decoration rests on top of the melt-in-the-mouth matcha tiramisu parfait. The mascarpone and matcha ice cream is made completely from Hokkaido milk. The balance of flavours and moderate sweetness makes this parfait irresistible. 

▼Chasho Shimizu Ippoen 

Address: 665 Honkawaracho, Higashiyama Ward, Kyoto

Entry:11:00-16:00

Closed: Mondays*

*Open on National Holiday Mondays but closed the following day. Closed during the New Year Period.

Official Website: https://ippoen.co.jp

MATCHA REPUBLIC, Shimogyō Ward

Rock Salt Cheese Bubble Matcha Latte/ Bubble Matcha Latte

This unique drink belongs on Instagram. A cute ink bottle is filled with a mildly sweet matcha drink accented with a hint of salt. You've never tried anything quite like this before.

▼MATCHA REPUBLIC

Address: Floor 1, 721-1 Higashishiokojicho, Shimogyo Ward, Kyoto

Opening Hours: 9:00-21:00

Official Website: https://www.matcha-republic.com

JTRRD cafe KYOTO, Nakagyō 

Uji Matcha Smoothie (Kyoto-Limited)

Pink, red, orange, yellow, purple, green – this Uji matcha smoothie is a rainbow of colours. There are four different designs and you can choose from three varieties of fruit to decorate the inside of your cup. Each smoothie is made of fruit and vegetables, making this a healthy way to indulge in matcha. It is so beautiful you won't want to drink it.

If you're looking for a shop to satisfy your matcha cravings, you can't go wrong with Tiara's recommendations.

Tiara's Instagram never fails to keep us updated on the most delicious and beautiful desserts in the Kansai region so check it out.  

Article Contents and Photos by @happy_pinkrose_tiara