Yasutaka Nakata, EXILE MAKIDA & More to Perform at ASOBEACH!!! in Okinawa
The popular long-running outdoor music festival ASOBEACH!!! is heading to Okinawa this summer with two shows at Umisora Park in the capital city Naha on June 1 and 2. The festival is taking place as the finale of Okinawa E-motion which is a collection of events centred around food, music and art that will bring an early summer to locals and tourists in Okinawa.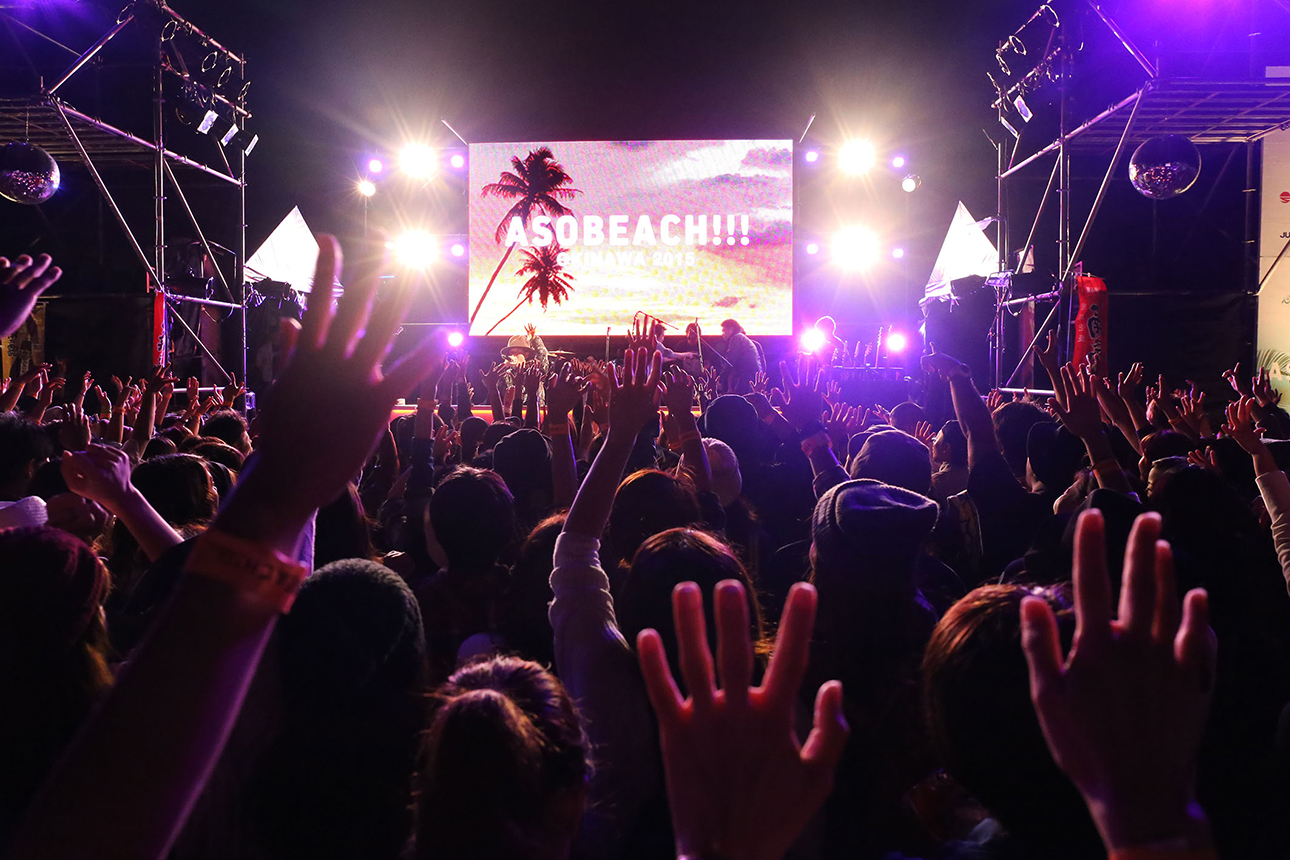 The line-up includes Japan's leading music producer and DJ Yasutaka Nakata, his main band CAPSULE, ☆Taku Takahashi (m-flo), EXILE MAKIDAI (PKCZ®), TeddyLoid, Yoshikazu Mera, DJ Ichiro Yatsui and more. Concertgoers can expect to enjoy a multitude of genres while feeling the cool sea breeze of Okinawa. Tickets are now on sale via Japanese ticket vendors.
Other events taking place as part of Okinawa E-motion include Magic Beach & Beach Bar Walk (May 18-19) which combines food with magic, the concert show KPP Camp (May 25) which is being produced by Kyary Pamyu Pamyu, Bar Walk Naha (May 25) which is bringing together famous Naha restaurants, and more. ASOBEACH!!! will be held at the same time as the popular food festival OKINAWA FOOD FLEA on June 1 and 2 so don't miss out.
Information
Okinawa E-motion「ASOBEACH!!!」
2019/6/1 @ OPEN 14:00 / START 15:00
2019/6/2 @ OPEN 14:00 / START 15:00
Venue: Umisora Park (3-3-1 Tsuji, Naha, Okinawa)
Day 1 Tickets
Advance: ¥3,000 (Tax Included)
Same-Day: ¥3,500 (Tax Included)
*No reserved seating
Day 2 Tickets
Advance: ¥5,000 (Tax Included)
*No reserved seating, no same-day tickets
Tickets via e+: https://eplus.jp/sf/word/0000132270
Line-Up
June 1 – Yasutaka Nakata, ☆Taku Takahashi (m-flo), TeddyLoid, Yoshikazu Mera (TeddyLoid Special Live Guest), and more
June 2 – Yasutaka Nakata, CAPSULE, EXILE MAKIDAI (PKCZ®), DJ Ichiro Yatsui, and more
*Prices are the same for adults and children. Preschoolers are granted free access.
*ID required to purchase alcohol.
Okinawa E-motion Official Website: https://www.okinawa-emotion.com/
RELATED ENTRIES
Yasutaka Nakata's Main Unit CAPSULE Set To Digitally Release All Albums

Music unit CAPSULE, which was formed by world-famous producer Yasutaka Nakata, is releasing all their albums on Apple Music and other worldwide music streaming services from July 10, 2020.

After debuting in 2001, Yasutaka Nakata has gone on to release 17 albums with CAPSULE and three albums in partnership with model Kate Sakai as the music unit COLTEMONIKHA. Nakata also produced albums for the soundtrack to the sensational drama Liar Game in which Shota Matsuda played the main role. All the above albums will also be released on subscription services.

This is just what fans across the world have been waiting for. As CAPSULE will be celebrating their 20th anniversary next year, make sure to check out their playlists.

Information

Release: July 10, 2020 from 12:00 AM

Available On: Apple Music, AWA, Spotify, Amazon Music, LINE Music (and more)

CAPSULE Official Website: http://www.capsule-official.com/

Universal Studios Japan's 'We are One' Summer Festival Begins This July

Universal Studios Japan (USJ) reopened on June 19, 2020 after temporary closure as a result of COVID-19. The park is now running with strict measures in place to prevent the spread of the novel coronavirus, including practicing the 2m social distancing rule, making it mandatory to wear face masks, and so on. The park has posted a full video demonstration of the rules on their official website.

That means summertime is set to shine on USJ once again this year. The new 'Universal Summer Parade: We are One' event will begin on July 23 as the first parade held by the park since its reopening. Guests will be able to enjoy a fun and exciting summer at USJ with all the necessary precautions in place to ensure their safety.

Many familiar faces will gather at USJ to celebrate summer with guests, including the Minions, Elmo, Snoopy, Hello Kitty, and more. Each of them will board colourful floats for the parade during the parade, which will open with the fittingly-titled "Opening Float" followed by a flurry of unique floats like the flashy "Latin Float," cute European-inspired "Europe Float," the mysterious "Indian Float," and the finale "America Float," amongst many others. There will be music to entertain guests for laughs, smiles, and fun energy while characters and entertainers ride the floats and serve summertime vibes.

The peak moment of the parade will be when confetti rains down on guests in huge quantities. Flags can also be bought for the parade for the first time in this year. Performers and the park characters will be able to entertain guests at a distance while still connecting with them through the fun performances. A special "social distance" performance created in cooperation with the Osaka Prefectural Board of Education will also be part of the parade. This year's parade plans to have guests dancing and smiling even more than previous years to lift some of that stress away and give them the fight and energy to continue into tomorrow.

Universal Summer Parade: We Are One

Put your hands into the air as the sun beats down and the floats arrive to a lively rhythm. 'We are One' is the catchphrase, so get your boogie on and explode with excitement together with the entertainers and park characters for a heated summer parade!

Running: July 23, 2020 – August 27, 2020

Location: Parade Route

Time: One per day from 11:00am (approx 40 mins) 

Buy yourself a parade flag for ¥500 and wave it around to the beat of the festival!

Cool yourself off with some summer merch

Get your hands on some merch for cooling off, including the must-have summer "Handy Fan," a "UV Poncho" which keeps you cool in the heat of the sun, a classic "Sensu" folding fan, and more.

Feel the Japanese festivities with the Universal Market

The Universal Market will give that Japanese 'matsuri' festival vibe. Enjoy some cool desserts, spicy food, and more.

Left: Super Hot! Turkey Leg ¥1,000 / Centre: Peach Jelly Soda: ¥650 / Right: Frappe Sundae ~Strawberry & Blue Hawaii~ ¥750

Since guest safety is the number one priority this summer, the park will not be holding its famous splash performance where guests are soaked with water by water shooters.

Additionally, the parade will also not stop in any of the usual designated places and will instead keep on moving, meaning the parade can be enjoyed from anywhere along the parade route. Guests will be able to keep plenty of distance from others as they watch the parade.

The park also released a statement on its 'enhanced sanitation in park operations' on its official website so you can find out more about what USJ is doing to tackle the COVID-19 spread.

If you're in Osaka this year, you can still enjoy summer at Universal Studios Japan with all the necessary precautions in place.

A Cafe With a View: Okinawa's New Seaside Cafe 'Hoshino Resorts Banta Cafe' Opens This July

Hoshino Resorts's new cafe Hoshino Resorts Banta Cafe will open in the village of Yomitan in Okinawa on July 1, 2020, offering a spectacular view.

The cafe is split into four distinct areas which overlook the the beach from atop a cliff. Customers are invited to take in the breathtaking scenery with a delicious dessert made from ingredients like mangoes, pineapple, and sugar—or a tasty meal.

An incredible beach cafe overlooking the sea

Banta Cafe runs along the western coast of Yomitan, a village in central Okinawa which is about an hour's drive from Naha Airport. The cafe gets its name from iyumibanta which in Okinawan dialect refers to the cliffs you climb to spot the shadows of fish in the water, and is also the name they give to enormous rocks. The cafe is located atop one of these iyumibanta, or cliffs, making Banta Cafe a fitting name. From the cliff, customers can enjoy a panoramic view of the horizon which stretches across infinity. According to Hoshino Resorts, Banta Cafe sits as the largest beach cafe in Japan, spanning 1600㎡.

4 Unique Areas to Pick From

Having four distinct areas to choose from means you can select where you want to go depending on your mood on the day. Let's take a look at each of them.

Rooftop Deck: A panoramic view welcomes you

Beyond the entrance is the Rooftop Deck which offers an unbroken view of the horizon. With the comfortable shadow cast by the eaves of the roof, and the sound of the rolling waves and wind, it feels like you're sitting on the deck of a boat.

Beach Terrace: Kick back and enjoy the sea breeze

The Beach Terrace is located along a footpath that leads from the top of the cliff down to the beach. This spacious area sits nice and close to the sea. The Okinawan Ryukyu-tatami flooring has cushions for you to sit on as well as cabanas, so you can sit and chat with people while enjoying the view of the ocean, offering the real Okinawan experience.

Rocky Terrace: Lose yourself in the green wild of nature

The Rocky Terrace is enveloped in plants and vegetation that has grown naturally—it's like a hideaway created by nature. The area has a wooden deck and rocking chairs for people to kick back and relax in, and there are tables with towering rocks that offer shade too.

Goro Goro Lounge: Lay down on a sofa and look out to the sea

The final area is the Goro Goro Lounge where an entire wall is made up of open windows. Here, you can relax and lay down nice and comfy on the sofas. There are long tables by the sofas too, perfect for pulling out a map or guidebook and planning the rest of your trip.

A true Okinawan cafe experience


Bubbly Jelly Soda

The cafe's "Bully Jelly Soda" is inspired from a traditional bubbly Okinawan tea called bukubuku cha. It's flavoured with lemongrass and mint and contains different jellies like mango and hibiscus.

Chulato

This gelato ice cream gets its name from the Okinawan word for delicious which is chura. Choose from a variety of classic Okinawan flavours like pineapple and guava and top your ice cream with purple yam and bitter melon chips, chinsuko, and more.

Food Menu


The food lineup is to die for, with tasty bites like pizza toast topped with bitter melon, pork and egg rice ball which is a soul food of Okinawa, hot dogs filled with juicy sausages, shrimp fritters served with mango sauce, fried chicken, and plenty of other finger food.

Witness the magnificent sunset during business hours


Banta Cafe is home to a gorgeous beach with coral. The sea is cobalt blue as far as the eyes can see, there are strangely shaped rocks worn by the waves, and in the evenings is an incredible view of the sunset which can be enjoyed with a cocktail in hand.

Hoshino Resorts Olu Grill


Banta Cafe will also have its own separate grilled food restaurant called Olu Grill. Olu is another Okinawan word which means "blue," in this case referring to the blue ocean. From fried steak served with an original sauce made from Okinawan awamori liquor and kurozu black vinegar to seafood and juicy burgers, there's plenty to fill you up.

Information

Hoshino Resorts Banta Cafe / Olu Grill
Grand Opening: July 1, 2020
Address: 560 Gima, Yomitan, Nakagami District, Okinawa Prefecture
Access: 60-minutes by car from Naha Airport / 90-minutes by limousine bus from Naha Airport

Hoshino Resorts Banta Cafe
Opening Hours: 10:00 until sunset
TEL: 098-921-6810
Official Website: https://banta-cafe.com/
*Breakfast service available from mid-July 2020. Serving hours will be 7:00-9:30

Hoshino ResortsOlu Grill
Opening Hours: [Dinner] 17:00-21:00 (Last Orders 20:30)
TEL: 098-921-6811
Official Website: https://banta-cafe.com/olu-grill/
*Reservations required. Lunch service available from mid-July 2020. Serving hours will be 11:00-15:00.

THIRD ishigakijima: Okinawa's New Island Hopping Hotel to Open in July

Due to concerns surrounding the novel coronavirus (COVID-19), Star Resort had to postpone the opening of THIRD ishigakijima, a new hotel in Okinawa originally scheduled to open in April 2020. However, it has been confirmed that the hotel's new grand opening date is July 31, 2020.

Ishigaki is an island in Okinawa which faces Ishigaki Port Ritoh Terminal, a port that connects Okinawa to remote islands like Taketomi Island and Iriomote Island. Many tourists and sightseers flock to Ishigaki to hop to all the different islands it connects to.

The new THIRD ishigakijima hotel is a perfect choices for groups of travellers, with its room that can accommodate over 3 guests. As well as hotel food, drinks and alcohol, THIRD ishigakijima also offers various activities to guests like shisha, fitness, and more. The hotel is all-inclusive, something which isn't offered that much on Ishigaki.

The hotel also benefits from a self check-in system accessed using a QR code. Rooms are also accessed using a facial recognition system, making THIRD ishigakijima a tech-savvy experience.

The hotel is adopting guidelines from the government on operating hotels during the novel coronavirus (COVID-19) pandemic to protect its staff, guests, and local islanders.

Information

THIRD ishigakijima
Address: 4-7 Misakicho, Ishigaki, Okinawa
Guest Rooms: 28 (21 Loft Rooms/3 Suite Rooms/3 Twin Rooms)
Facilities: Cafe & Lounge, Book Lounge, Rooftop, Fitness
No Car Park
Access: 30-minutes on foot from Ritoh Terminal / 30-minutes by car or bus from Painushima Ishigaki Airport

Official Website: https://hotelthird.com/

COVID-19: https://hotelthird.com/antivirus/

Kanucha Resort in Okinawa Announces Spring and Summer Activity Program for 2020

Located in the city of Nago in Okinawa lies Kanucha Resort, a hotel resort which boasts 2.6 million square meters of land. The resort has revealed its spring and summer program which invites guests to enjoy everything Okinawa has to offerーnot just its breathtaking oceans.

What is Kanucha Resort?

Kanucha Resort sits on the east coast of Nago on the northern part of the Okinawa mainland. It's surrounded by the vast rolling sea and mother nature, and also faces Oura Bay, which is known for its coral reefs, which includes blue coral. Guest rooms come in nine styles, all of which incorporate gorgeous wooden decor. The resort has a bounty of restaurants, its own golf course, the beach, and over 70 activities to choose from, all of which makes Kanucha Resort a little town of its own. In the past winter months just gone, it also celebrate the 20th anniversary of Okinawa's largest illumination event, Stardust Fantasia.

Buggy Ride Tours & Buggy Adventure Tours

Experience a different side of Okinawa away from the beaches with an off-road ride through Yanbaru no Mori Forest on a quad bike.


Running: All Year

Time: 9:00-17:00

Meeting Locations: Buggy Ride Tour @ Dokidoki Yambarunture / Buggy Adventure Tour @ Matayoshi Coffee Farm

Ages: 4 years and older

Coral Snorkeling Tour in Banana Boats

Witness the tropical fish swimming around you, and gaze upon the gorgeous coral reefs, as you explore the waters below when you climb off the banana boat.

Running: July 23, 2020 – August 31, 2020

Time: 60 minutes

Ages: 5 to 65 years

Mangrove Kayak Tour Along the Kesaji River

The Okinawan mainland is home to many mangroves. See them together with the expand of Yanbaru's nature with a kayak ride along the Kesaji River.

Running: All Year

Time: Subject to change each day depending on how busy it is – please enquire directly

Courses: 150 Minutes (5 years and older) / 90 Minutes (3 years and older)

Star Sommelier to Space Walk

Hear about the moon and space with talks from Hoshi no Somurie® ("Star Sommeliers") and use a telescope to observe the stars at the planetarium.

Running: Monday-Thursday

Time: 20:00-20:50

Meeting Point: Leisure Counter

Oura Mangrove Kayak

Enjoy a round trip kayak ride around the Oura Mangrove which has been designated as an Important Cultural Property of Nago.

 

Running: All Year Round

Time: Please enquire directly

Ages: 3 years old and above (*For guests only)

Meeting Point: Wansaka Oura Park

For more details on the activities available at Kanucha Resort, visit their website here.

Information

Kanucha Resort

Address: 156-2 AbuNago, Okinawa

TEL: 0980-55-8880

FAX: 0980-55-8693
Reservations: 0980-55-8484 (9:00-18:00)

Access: 1 and a half hours by car from Naha Airport

Official Website: https://www.kanucha.jp/en/

Okinawa's New Hot Spring Resort Lequ Okinawa Chatan Spa & Resort Opens

Lequ Okinawa Chatan Spa & Resort is the first hotel resort from Vessel Hotels. Operating on the concept of "Loving Yourself, Family, and the Town," the hotel opened in the town of Chatan in Nakagami, Okinawa on March 1, 2020.

Rooftop Infinity Pool & Cafe/Bar

Sat atop the hotel roof is a spa which houses an infinity pool that offers an unbroken view of Chatan as well as the picturesque sunset in the evenings. There's also a 3-meter high infinity pool, jacuzzis, and more, offering a luxurious space to relax.

Located to the side of the pool is a cafe and bar that serves a selection of original cocktails and fruity drinks as well as light food. When the sun sets and the evening settles, the pool lights are turned on, creating a relaxed atmosphere. Enjoy a cup of Japanese sake or one of the refreshing cocktails while staring down at nighttime Chatan.

Vessel Hotel's First Natural Hot Spring

Chatan Onsen hails as Vessel Hotel's first-ever natural onsen hot spring. The water is drawn from 1,400m underground, which provides relief and relaxation from a day of sightseeing and travelling. The hot spring has towering windows, and there's also a sauna for both men and women.

SPA SOLANI OKINAWA CHATAN – The Relaxation Salon

SPA SOLANI OKINAWA CHATAN is a "relaxation salon" which offers a Hawaiian-style spa experience using original products made using ingredients sourced in Okinawa. Oils are made with carefully-selected organic ingredients for that natural feeling. There are body treatments, messages, quick treatments, and more.

Filling Breakfasts at the Resort's Kitchen

Vessel Hotel has brought its "Happy Breakfast Project" to Lequ Okinawa Chatan Spa & Resort. Tuck into a variety of meals prepared with Okinawan ingredients, or try one of the household classic Okinawan breakfasts. Whatever you have, you are guaranteed the Okinawan experience to start your day off.

The restaurant's original souffle hamburger is made with a mix of Okinawan black cattle beef and Agu pork. The souffle is made in-house and prepared by the hotel guests' hands. Food is also served in Okinawan yamuchin porcelain.

Raise Your Own Sky Lantern at New Greenpia Tsunan in Niigata

New Greenpia Tsunan, a resort facility in Tsunan, Niigata, is holding an exciting sky lantern event every day until March 31, 2020.

 

The sky lantern event is held every winter at New Greenpia Tsunan, and has returned again for 2020. It began in 2012 as a means of showing respect for and praying for the revival of disaster-stricken areas, such as the areas affected by the 2011 Tohoku earthquake, the Nagano and Niigata earthquake, and so on. Every year, couples and families come together to put their prayers and wishes into the lanterns before letting them go into the night sky. The countless lanterns raised at once soar up high and light up the black cloak of the night like burning stars.

For 2020, the event will also sell lantern t-shirts, handkerchiefs, hand towels, cookies, and other themed items.

 

If you're travelling in or around Niigata in Japan this year, then don't miss New Greenpia Tsunan's very special winter event.

Information

Sky Lantern Event

Running: Everyday until March 31, 2020 (Except select days where the site is closed or booked)

Location: New Greenpia Tsunan (12300 Akinari, Tsunan, Nakauonuma-gun, Niigata)

Time: Weekdays – From 18:00 / Saturdays & Days Before Public Holiday – From 18:00 & 20:00 / March Onward – From 18:30

Booking: Bookings available until 17:00 on the day at New Greenpia Tsunan

Price: ¥1,500 (1 lantern)

Official Website: https://new-greenpia.com/

*In the case of stormy weather, the event will not proceed on that day

Kyary Pamyu Pamyu Announces New Song 'KAMAITACHI' at Her Concert With Yasutaka Nakata

Kyary Pamyu Pamyu and Yasutaka Nakata performed a two-man show entitled "Yasutaka Nakata x Kyary Pamyu Pamyu Presents SPECIAL DJ & LIVE TOUR 2020 YSTK×KPP Vol.02" at Toyosu PIT in Tokyo tonight on February 21, 2020.

The background music provided before the start of the show was music that was like from a car game. As excited fans waited with bated breath, the PlayStation startup sound rang throughout the room, at which point Kyary shouted "Time to dance!" and appeared on stage together with Nakata. They opened the show with Invader Invader -Extended Mix-.

Dancers joined the stage next for Minna no Uta -Extended Mix- and PON PON PON. The audience responded with great pleasure to Nakata and Kyary's high-speed and ingenious song mashup. It was non-stop jumping and dancing as the performers continued to roll out more bangers like Enka Natrium, Ninja Re Bang Bang, and Mi, the bass grabbing hold of the crowd's heart at every moment.

When Kyary and Nakata's set reached its middle portion, they went full hardcore club mode as they performed Level Up from Nakata's solo album Digital Native. Things got crazy when they mashed Kyary's Fashion Monster into a trap beat with Star Wars as a Star Wars-style opening reel ran across the LED monitors.

They continued with a string of internationally-known pop songs, like Kyary's Tsukema Tsukeru and Sokenbicha no Uta, as well as Harajuku Iyahoi. The ever-changing set kept the crowd on their feet with its mix of live music and club music.

Kyary and Nakata weren't anywhere near finished yet however. They returned to mashup mode with Kyary's Cherry Bon Bonーa track from her early days with a Eurobeat soundーand performed a cover of AIAIAI, which Nakata wrote for virtual YouTuber Kizuna AI, during which Kizuna AI appeared as a hidden character.

The internationally iconic SEGA logo sound then rolled across the venue before Nakata and Kyary performed a special version of Ichibanka which Nakata wrote for Japanese reggae band Shōnan no Kaze. The song is used as the main theme for the PS4® game Yakuza: Like a Dragon which will be released worldwide this year. Kyary provided some cute "Soiya Soiya!" chants during the song.

In the last spurt, they rolled out the hit tunes Kizunami and Mondai Girl before wrapping up with Oto no Kuni. Kyary pulled fans into her "Japamyu" world while Yasutaka Nakata smashed out some 8-bit video game beats.

But fans needed more, and the call for an encore didn't die down. Kyary came out and said excitedly, "Thank you for the encore! Who'd've thought I'd sing some Shōnan no Kaze?! " She also thank Nakata, before announcing the release of a new digital single entitled KAMAITACHI. Release details are TBA.

She also announced a mini 5-show tour to promote its release. The song's lyrics have a traditional Japanese-feel to them, and so the tour too will take place at kabuki theatres around Japan.

To wrap up the concert, Kyary and Nakata performed KPP's pop anthem Sai & Co -Extended Mix-.

Pre-sale tickets for Kyary's "KAMAITACHI TOUR 2020" will go live on her fan club, KPP CLUB, on February 22, 2020 at 10:00 A.M (JST). Check her official website for the latest information.

—

Original Text: Fukuryu (Music Concierge)

Photo: Aki Ishii

Translation: Joshua Kitosi-Isanga

<Spotify Playlist>

Yasutaka Nakata x Kyary Pamyu Pamyu Presents SPECIAL DJ & LIVE TOUR 2020 YSTK×KPP vol.02

https://open.spotify.com/user/fyq2sid87dfxdev40jq5hbw1k/playlist/5IbtBVwFtA433dFPojpHSt?si=ytPqMi1-SJm4I2p8Zh7nsA

Information

Kyary Pamyu Pamyu KAIMACHI TOUR 2020

2020/4/26 @ Yachiyo-za (Japanese: 八千代座), Kumamoto

2020/5/2 @ Kyōto Minami-za (Japanese: 京都四條南座), Kyoto

2020/5/6 @ Misono-za (Japanese: 御園座), Aichi

2020/5/9 @ Nagame Yokyujo (Japanese: ながめ余興場), Gunma

2020/5/23 @ Uchiko-za (Japanese: 内子座), Ehime

KPP CLUB Pre-Sale Tickets

Ticket Window: February 22, 2020 at 10:00 (JST) – February 26, 2020 at 23:59 (JST)

Price: All Reserved Seating – ¥9,500 (Before Tax) *Comes with zabuton floor cushion

*These details are for the Kumamoto, Gunma, and Ehime shows only. Kyoto and Aichi ticket details TBA at a later date (as of publishing this article).

Cautions

*Ticket tout resales are strictly forbidden

*All photography, sound recording and video recording is prohibited

*Select first floor seats and all second floor seats do not fall under the reservation status and so are designated in order of arrival

*Preschool children are not permitted entry

Kyary Pamyu Pamyu Official Website: http://kyary.asobisystem.com/

5 Must-Visit Beautiful and Romantic Lantern Festivals in Japan | 2020 Edition

The season for Japan's enchanting and romantic lantern events has finally arrived, and the line-up this year is diverse, from events where lanterns are the main attraction to lantern-lined festivals and Japanese matsuri festivals.

Hankyu Travel International compiled a list of these events , and we've pulled out some of the best ones for you.

Hanamaki Hoshi Meguri no Yoru | Iwate Prefecture

This year marks the third run of "Hanamaki Hoshi Meguri no Yoru," an event held during winter for guests staying at Hanamaki Onsen. The event is comprised of many elements, including fireworks, folk entertainment, and more. People will also write wishes and messages or draw pictures on their lanterns before sending them up into the winter night sky. Afterwards, they can enjoy a dip in the hot springs at Hanamaki Onsen to warm themselves up and unwind from the day.

Running: January 26, 2020/February 22, 2020/February 11, 2020/February 16, 2020/February 24, 2020

Location: Namari Ski Center
Address: Nakadaira-36-1 Namari, Hanamaki, Iwate

▼Hanamaki Hoshi Meguri no Yoru Tour
https://www.hankyu-travel.com/kokunai/keyword/%E3%81%AF%E3%81%AA%E3%81%BE%E3%81%8D%E6%98%9F%E3%82%81%E3%81%90%E3%82%8A%E3%81%AE%E5%A4%9C/?p_baitai=9599

China Lantern Festival | Chiba Prefecture

Tokyo German Village is hosting its second China Lantern Festival, inspired by the typical traditional festivals held in China during spring. A selection of 30 lantern installations of varying sizes made by the world's biggest lantern maker Lantern Group have been set up in the 50,000 square meter area. Pieces include lanterns over 10 meters long and high, lanterns floating on the water, moving lanterns, and more.

Running: November 23, 2019 – April 5, 2020

Location: Tokyo German Village

Address: 419 Nagayoshi, Sodegaura, Chiba

▼Tokyo German Village Tour
https://www.hankyu-travel.com/kokunai/keyword/%E6%9D%B1%E4%BA%AC%E3%83%89%E3%82%A4%E3%83%84%E6%9D%91/?p_baitai=9599

Tsunan Yuki Matsuri | Niigata Prefecture

Since 2012, the people of Tsunan in Niigata have raised sky lanterns into the sky to pray for the revival from the disaster that the Tohoku earthquake brought in 2011. It is a two-day festival, with the first day of the event taking place at night, and the second being the main day of the festival. The festival is so popular that tickets never fail to sell out quickly every year. It brings with it a host of events, from the lanterns to the snowboard straight jumping tournament, the hanging of snow lanterns, snowmobile rides, and more.

Running: March 14, 2020 (There will also be a lantern event the night before on March 13, 2020)

Location: New Greenpia Tsunan

Address: 12300 Akinari, Tsunan, Nakauonuma-gun, Niigata

▼Niigata Tsunan Sky Lantern Festival Tour
https://www.hankyu-travel.com/chubu-hokuriku/niigata/lantern/?p_baitai=9599

Nagasaki Lantern Festival | Nagasaki Prefecture

This festival was originally held during the Chinese New year by the people of Nagasaki Chinatown, but in 1994 it was given the name "Nagasaki Lantern Festival." To date, it has been attended by over 1 million people. This year, around 15,000 lanterns of varying sizes are set to light the streets. Taking place across several areas, some standout pieces include the peach-coloured lanterns at Nagasaki Chinatown, the ceiling lanterns at Hamanomachi Arcade, the water lanterns at Nagashimagawa Park, and more. On weekends, there are also parades, traditional Chinese performance, and other exciting events. And if you head to Nagasaki Confucian Shrine (also known as Koshi-byo), you can offer a love lantern to pray for happiness in your relationship.

Running: January 24, 2020 – February 9, 2020
Locations: Nagasaki Chinatown/Central Park/Tojin Yashiki/and elsewhere
Address: Various places throughout the city of Nagasaki

▼Nagasaki Lantern Festival

Hankyu Travel International Tour: Hankyu Travel International

Nagasaki Tourism Page: https://travel.at-nagasaki.jp/en/what-to-see/62/

Ryukyu Lantern Festival 2019-2020 | Okinawa Prefecture

Murasaki Mura Ryukyu Kingdom Theme Park is known for having originally been used as the set for several historical drama series, and was subsequently turned into a theme park after filming was finished. The Ryukyu Lantern Festival welcomes a variety of different lanterns, including Chinese lanterns, paper lanterns, various Asian lanterns, and more, each of which bring a completely different atmosphere depending on the area you are in. This year sees the welcome return of the annual lantern contest where 45 individual lantern pieces are exhibited. There are also different street performances every day on the Night Lantern Stage, as well as projection mapping displays, the Night Lantern Cafe, and more.

Running: December 1, 2019 – March 31, 2020

Location: Murasaki Mura Ryukyu Kingdom Theme Park

Address: 1020-1 Takashiho, Yomitan, Nakagami-gun, Okinawa

Murasaki Mura Official Website: https://murasakimura.com/

Be part of one of Japan's many beautiful lantern festivals this year and witness some seriously breathtaking night scenes.

Celebrate Tokyo Midtown's Cherry Blossoms at MIDTOWN BLOSSOM 2020 Event

MIDTOWN BLOSSOM 2020 is set to take place in Tokyo Midtown from March 20 to April 19 to celebrate and welcome the spring and the cherry blossoms.

This marks the 13th year of the event, which will take place both in Tokyo Midtown's garden area which is home to rows of gorgeous cherry trees, as well as around the building where they have sparkling wine, sweets, flower displays, and many other exciting things planned.

CHANDON Blossom Lounge

Enjoy a luxurious cherry blossom experience this year with a glass of premium Chandon sparkling wine available at the outdoor limited-time CHANDON Blossom Lounge. This vibrant sparkling rosé wine is the perfect accompaniment to your springtime banquet and to say "Cheers!" to this year's hanami flower-viewing in Japan.

There will also be food prepared by Nagase Mitsunao, head banquet chef at the 5-star Ritz-Carlton Tokyo Hotel, as well as incredibly decorative-looking sweets to adorn the able. There are two new types of seats available this year with Japanese twists to them, including seats in the roofed lounge where you can enjoy the cool spring weather in the evening.

Running: March 20, 2020 – April 19, 2020 (Closed in the case of stormy weather)

Time: 12:00-20:00 (Last Orders 19:30) *Extended to 21:00 (Last Orders 20:30) on Fridays, Saturdays and during cherry blossom full bloom

Location: Midtown Garden, Sakura-dori area

*Select seats require a reservation – full details to be released in mid-February

Spring Flower Display ~Flower Art Award pre~

 

Za Sogetsu is a performance unit specialising in ikebana, or flower arrangement. One of the most recognised groups in the industry, their work will displayed around various locations at Tokyo Midtown, including large-scale pieces as well as never-before-scene ones. One look at this breathtaking flower art will be enough to fill you with spring vibes.

Running: March 20, 2020 – April 19, 2020

Time: 9:30-24:00 (Galleria Floor 1F) / 11:00-21:00 (Galleria Floors 2F-3F)

Location: Galleria 1F's Tree Shower & various locations at Galleria 2F-3F

Nighttime Cherry Blossom Light-Up

The entire 200-meter length of cherry trees in Tokyo Midtown's garden area will be lit up with beautiful illuminations at night-a sight that never fails to drawn in countless people. Before the flowers are in full bloom, pink lights will be used to get people ready for the main show. When the cherry blossoms are at their height, white lights will be used every night.

Running: March 20, 2020 – April 19, 2020

Time: 17:00-23:00

Location: Midtown Garden, Sakura-dori area/In front of Garden Terrace

Tokyo Midtown has many other events planned for spring 2020, so don't miss out this year.

Information

MIDTOWN BLOSSOM 2020

Running: March 20, 2020 – April 19, 2020

Location: Tokyo Midtown (9-7-1 Akasaka, Minato Ward, Tokyo)

Official Website: https://www.tokyo-midtown.com

FLOWERS BY NAKED 2020: Details Revealed For Tokyo's Flower-Themed Art Event

FLOWERS BY NAKED is an annual flower-themed art event held by NAKED Inc., and the company has announced its next run: FLOWERS BY NAKED 2020 – Sakura – will take place from January 30 to March 1 next year at Nihonbashi Mitsui Hall in Tokyo, where visitors can enjoy flowers an a wholly new kind of interactive experience. Tickets went on sale on December 17, 2019, and this event will mark its 5th anniversary of taking place in Nihonbashi.

To date, FLOWERS BY NAKED has seen over 500,000 people attend the events, which have become a place for Instagrammable photos with over 660,000 posts made with the hashtag #flowersbynaked.

2020's theme is cherry blossoms, so to celebrate, NAKED has unveiled four key visuals for four gardens set for the event along descriptions. As visitors journey through the gardens, they will experience an immersive story melding the worlds of flowers and art.

■Prologue

"When a butterfly telling the spring dances in the snowy winter world, the page is turned and the world changes from winter to spring."

This is where the story begins: where winter flowers bloom. But as the pages of the big book are turned, the space is transformed into springtime as the snow melts.

■Dandelion Hill

"When you blow dandelion as if you were playing as a child, the fluff soars up to the sky with your old memories."

Watch as the scenery changes when you blow on the towering dandelions in this incredible interactive experience that combines real life with digital technology.

■Glowing Garden

"In a shimmering space that seems to be lost in a kaleidoscope by a mirror, the sun shines even more."

When you step into this radiant garden which is lit by the pouring sunlight, it will seem as if the entire world around you glows with the fiery light of our burning star.

■OUSAI Garden

"The fastest cherry blossom viewing space in Japan where you can enjoy the five senses, such as the blossoming cherry blossoms and the scent of spring."

The river seen at the beginning of the story leads to here, a holy cherry blossom garden watched over by an enormous pink cherry tree. There is plenty to interact with in this area for visitors to experience cherry blossoms with all five of their senses.

Advance tickets for this event are now on sale, so don't miss out.

Information

FLOWERS BY NAKED 2020 – Sakura –

Running: January 30, 2020 –  March 1, 2020

Opening Hours: 10:00-20:00 (Last entries 30 minutes before closing time)

*Opening hours subject to change

Location: Nihonbashi Mitsui Hall COREDO Muromachi Floors 1F + 5F (Entrance is on 4F)

Official Website (English/Japanese): https://flowers.naked.works/2020nihonbashi/

CAPSULE & Other Major Japanese Artists to Perform at ageHa's 2020 Countdown Party in Tokyo

ageHa is set to host one of Japan's biggest countdown parties again this year, falling on December 31, 2019 once more.

Headlining the ARENA is English DJ and producer Sigala. He released his debut single Easy Love in 2015 which shot to number one on the UK charts. Since then, he has continued to pump out club and festival bangers such as Sweet Lovin and Say You Do. Seven of his nine singles have gone platinum, proving that he is one of the main players in the scene right now.

Another headlining act for the show, this time from Japan, is CAPSULE, the music duo spearheaded by internationally-acclaimed Japanese DJ and record producer Yasutaka Nakata who is the official producer for two of the biggest names in Japanese music: Perfume and Kyari Pamyu Pamyu. CAPSULE plan to put on a special performance for the countdown party.

banvox is also making a return from last year's ageHa countdown concert, and CYBERJAPAN DANCERS are entering the fray for a special showcase.

In the WATER area of the venue, which is produced by WORLD CLASS and TCPT, France-based bass house duo Loge21, who have piled up t he releases since Confession, will perform in Japan for the very first time. DJ Remo-con will join the line-up as a guest too.

Over at the ISLAND area, the latest in cutting edge hip hop will take to the stage. Several DJs representing Tokyo will join rapper Jin Dogg, who is garnering attention right now, including HOKUTO, KEKKE, CHARI, and FUJI TRILL.

Finally, the BOX area will give rise to trance tunes, with performances from DJ KAYA, NORIO SP, FULLMOON RAVE, agefarre, and more.

But that's not all, because the famous Robot Restaurantーa major tourist attraction in Shinjukuーis making an unexpected collaboration with ageHa to put on their first ever show outside the restaurant.

A variety of other celebratory things are planned for the countdown party to chime in the new year, including servings of toshikoshi soba, omikuji fortunes, goshuin seals, and more. If you happen to be in Tokyo for the New Year, then don't miss out on this very special event.