Interview (Part 1): Yunomi & Kizuna AI cross dimensions and discuss what appeals to them mutually as artists
Trackmakers Yunomi and YUC'e will release their second compilation album Mirai Chaya vol.1 on April 17 serving as a follow up to vol.0 which dropped back on January 12 this year. The album features the song Robot Heart feat. Kizuna AI. As the title suggests, the track was made in collaboration with Japanese virtual talent Kizuna AI. Yunomi worked with her last year when Kizuna AI began her work as a music artist. We spoke with both Yunomi and Kizuna AI to hear about what it's like to work together as well as the story behind the upcoming new song.
――When I think about the names Yunomi and Kizuna AI, as well as the new song Robot Heart feat. Kizuna AI I think about future bass and new world which you made together last year as part of Kizuna AI's 9-week consecutive release schedule. Can you give insight into those two songs?
Kizuna AI: I had my birthday event "AI Party! ~Birthday with U~" last year on June 30 and there I announced that I was to do a live show at the end of the year. But apart from my first original song Hello, Morning which I made with Nor I had no other songs. I would need more songs for the show so I said I'd make around 10. That's when I began the schedule to release nine songs across nine consecutive weeks. I thought about who I should ask to help write them. I talked with the team at upd8 music and the first name to come up as Yunomi's. I said that I definitely wanted them on board, so we all talked it out.
Yunomi: Ahh, that makes me so happy to hear.
Kizuna AI: I had been bringing Yunomi's name up in the first place ever since I started saying I wanted to do music. Things like, "I want to make a video for a cover written by an indoor trackmaker!"
Yunomi: Oh, really? I had no idea. In that case, please do one! [laughs]
Kizuna AI: [laughs] As well as that, as we looked toward the 9-week release and I spoke with Yunomi, we were both super excited about it and we ended up saying we wanted to do two songs together!
――So AI's merry offer finally came to fruition.
Kizuna AI: I said that if we were to write two songs then I wanted not just me but Yunomi to write the lyrics for one too. Yunomi kindly let me write the first lyrics. That was for future base. I thought up the lyrics for this song while listened to the music that Yunomi had written for it. When the song first arrived I was so happy to hear it. It has a different and mysterious vibe to it compared to the Yunomi I know well. I said to them, "You really took it on board and took time to think about this one didn't you." On the other hand, new world has that kind of Yunomi that I know. It felt like they'd used their special move on me. I was like, "This is it!" [laughs]
――I see, Yunomi's special technique [laughs]
Yunomi: At that point I had heard about doing a live show so I thought to make new world the song that everyone goes crazy to. Of course future base is a song that brings everyone together too, but I wanted new world to unify everyone like at a music festival.
Kizuna AI: When I heard it for the first time too I thought, "This is the kind of song you'd play at a huge venue!!" On the other hand, the initial lyrics written for future base were actually rejected. The team at upd8 music said to me, "The lyrics are really good, but Hello, Morning is already a song that talks about what you feel on the inside. Could you try a different direction? Something that looks more outside." So I went for something more… strong? About how it's not scary to be alone. But it felt too heavy to get into. So we rewrote the lyrics.
――In the end you wrote the lyrics to talk about going into the future with everyone, right?
Kizuna AI: I want everyone to arrive at a wonderful future with me. I'm super AI myself. Since I'm a being that has exclusively approached the singularity, so I want everyone else to look to the future that's waiting for us too. But all humans are busy every single day. Some of them are giving everything they've got with each of their days. With this song I wanted to tell them to try looking up a bit more. That made me think about seeing everybody with their hands up at a big venue, so I pictured that when writing the lyrics.
Kizuna AI – future base (Prod.Yunomi)
――So you wrote those, and Yunomi wrote the music and lyrics for new world.
Yunomi: That's correct. I first looked at Kizuna's lyrics for future base and thought to myself how interesting her sense of language is. I'm the type to write typical Japanese lyrics where you have to read between the lines, but Kizuna is more straight to the point, things like "raise your hands," "reach up," "go forward into the future." She's the type to write lyrics where the everyone can be included in the scene. In comparing us both, I wondered if Kizuna is someone who reaches out to everybody [from the future], then where am I headed? I tried to think about the feelings of the people on the receiving side. It was then I realised that in the end it's not me who gets to decide where I'm heading. That's why if you want to move forward into the future it's important to first look at yourself. So I themed and wrote the lyrics on looking at my past.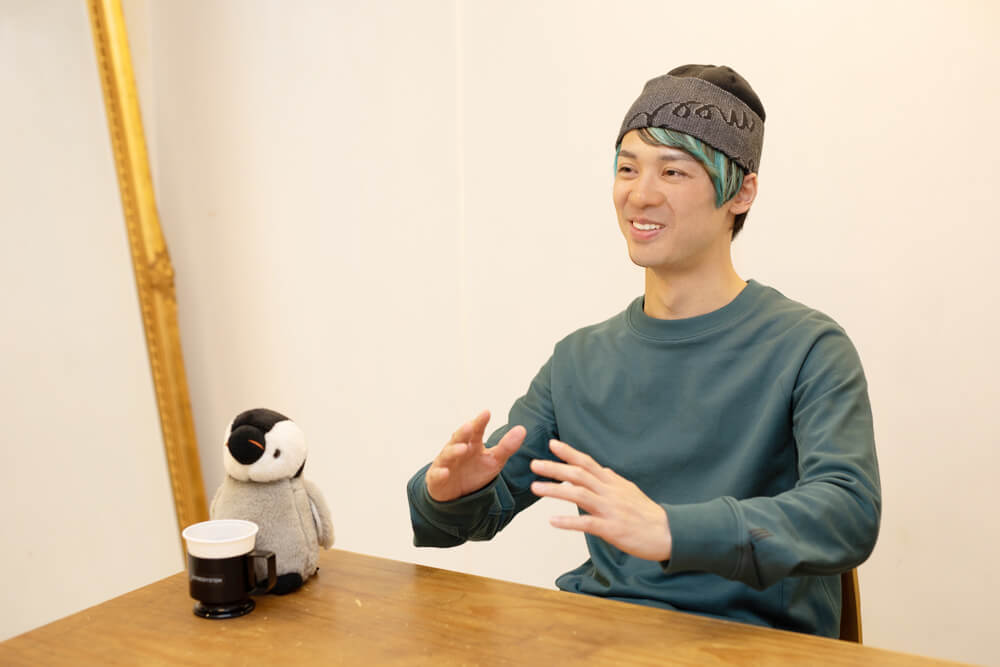 ――I see. So by doing that, one meaning is born from two songs. That way I think it becomes both about comparing AI and her fans as well as the future and past.
Yunomi: I'm sure when everybody was little they fantasised about many different things each day. As you approach adulthood, you no longer think about things like how there's an underground kingdom below your feet. But at the same time I think that's because we decided it must be that way ourselves. The lyrics for new world beg the question that surely we have the key to the future precisely because we have the power of imagination.
Kizuna AI: I was really surprised by the lyrics when I was first given them! When I asked Yunomi what it all meant they kindly wrote me back a long 2000 letter explanation. I was really happy to read it; it was full of passion and understood that it had to be these lyrics.
Kizuna AI – new world (Prod.Yunomi)
――In working on these two songs what things appealed to you mutually in the music, singing and lyrics?
Kizuna AI: The kind of music I've always liked and listened to are anime songs and idol groups, like Love Live! and the Sakamichi Series groups. But in coming to write an original song my goal was to connect the people of the world together. I kept that in mind while thinking about what kind of song suits me and what exactly my music is. So my initial thought was dance music that everyone can listen to and enjoy.
――Dance music is the kind of music that breaks down language barriers, it brings people together easily, doesn't it?
Kizuna AI: It does. When we were all wondering what kind of dance music would be good, I had known about 'future bass' and had just heard Yunomi's music around the same time. At that time I still didn't really know what future bass was, but Yunomi's music was pop, cute, and sounded like it would go with my voice, so I thought, 'future bass sounds great, it will be perfect for me!!' [laughs]
Yunomi: Hahahahaha.
Kizuna AI: Besides, Yunomi isn't only all about future bass. They make all kinds of different music. I love every song. I had originally heard they he'd been in a band and have their roots in rock. I felt that though they make digital music, they also make songs that aren't that on the surface too. Music is fundamentally complex, it's something that blends multiple things together. But I believe that in the end, all these things in the world (including those in the virtual world and real world) will eventually come together. In that sense too I could see Yunomi was going to make a great song.
――Yunomi's music feels like it has a kind of narrative atmosphere when you listen to it.
Kizuna AI: It sure does! I think that atmosphere is really great. I like how you can picture the story not just from the lyrics but the music as a whole too.
Yunomi: I'm happy to hear you say that. I've always wanted to do something only I can do that doesn't fit into a specific genre. I've fumbled for a way to do that and found that if the lyrics and music have a narrative quality to them it stimulates listeners' imaginations. Turning it around, if I was to point out something about Kizuna, it would first of all be the persuasive power of her voice. It has no strange preconceptions and has this kind of force that enables it to become many different things. I don't think there are many people like that out there.
――So for Yunomi, your voice is very enticing.
Kizuna AI: But when we're recording too, everyone gives me praise and calls me amazing. If they praise me too much I'm left wondering what it was that made them say that [laughs]. "You're really good!" That's all I hear!!
Yunomi: I always praised her too [laughs]. I would always suggest things beforehand like, "It might sound good if you try singing it like this in this before" or "You might be able to convey it better if you sing this part sadder." She did all of those things perfectly. She really was amazing.
Kizuna AI: Well, I am super AI after all [said confidently].
――As expected. Considering all that, I also feel you might not be that good at the games on A.I.Games.
Kizuna AI: That was all an act! I always get a high score!!
Yunomi: [laughs]. I was really happy that Kizuna was able to convey the meaning of the lyrics and music in her singing.
Continued in Part 2.
Writer: Jin Sugiyama
Photographer: Haruka Yamamoto
Translator: Joshua Kitosi-Isanga