Visit Ashikaga Flower Park for the Great Wisteria Festival to enjoy 350 Wisteria trees and 5000 Azalea in full bloom!
The Great Wisteria Festival 2019 will be held in Ashikaga Flower Park from Saturday 13th April.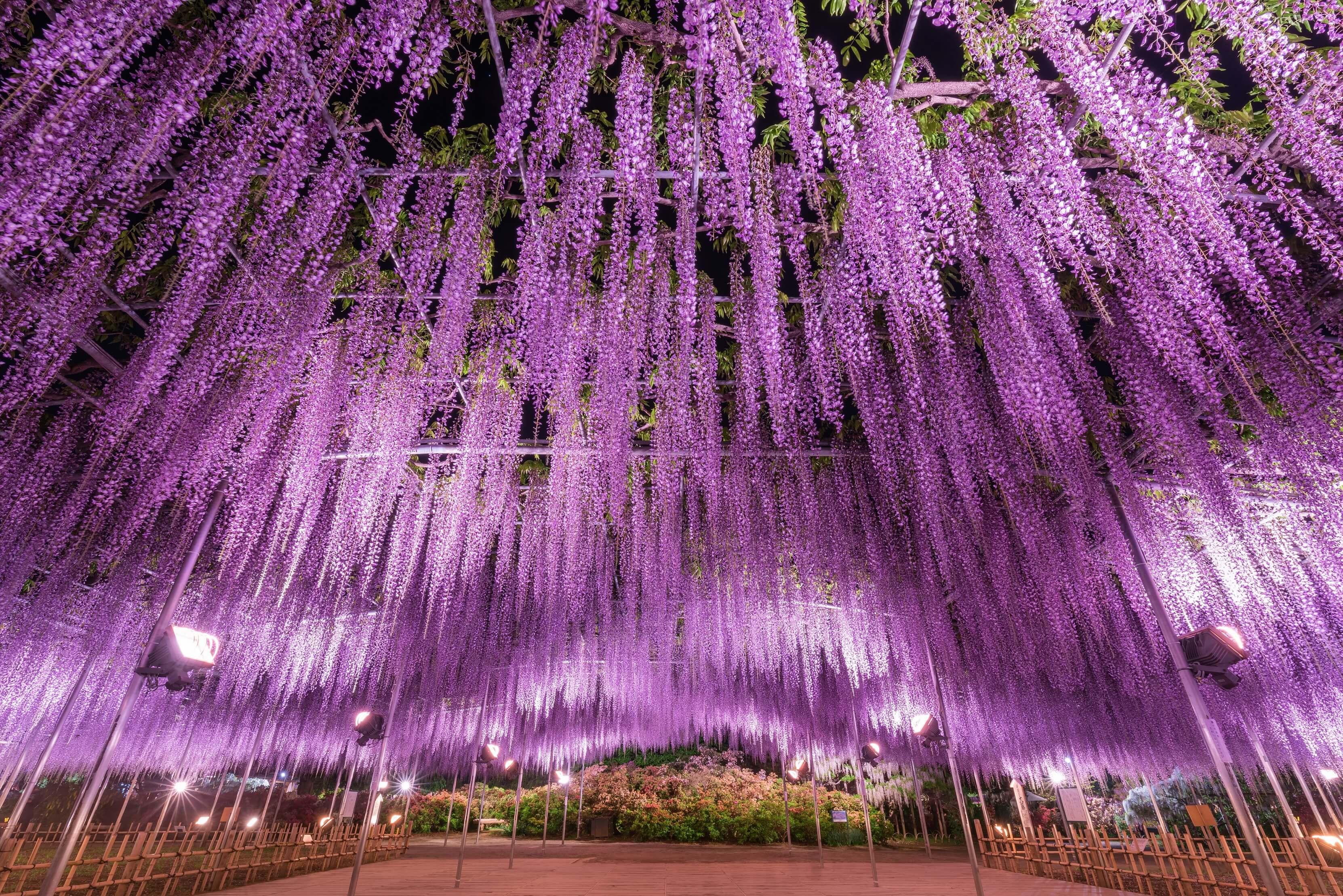 During the festival, the park will be in full bloom, featuring mainly wisteria. The wisteria will only be in bloom from a week before to a week after the festival, adding to the precious value of the festival. If you pay a visit, you can enjoy over 150-year-old wisteria trees spread over a 600-tatami trellis area, an 80 m-long white wisteria tunnel, a tunnel of Kibana wisteria, and even more wisteria trees in full bloom.
Various colours of wisteria bloom in order over the course of a month, from pale crimson, violet and white to yellow. CNN praised the park as a magical scenery of spreading light, and it was the only Japanese location to be voted as one of the "2014 top 10 world dream destinations".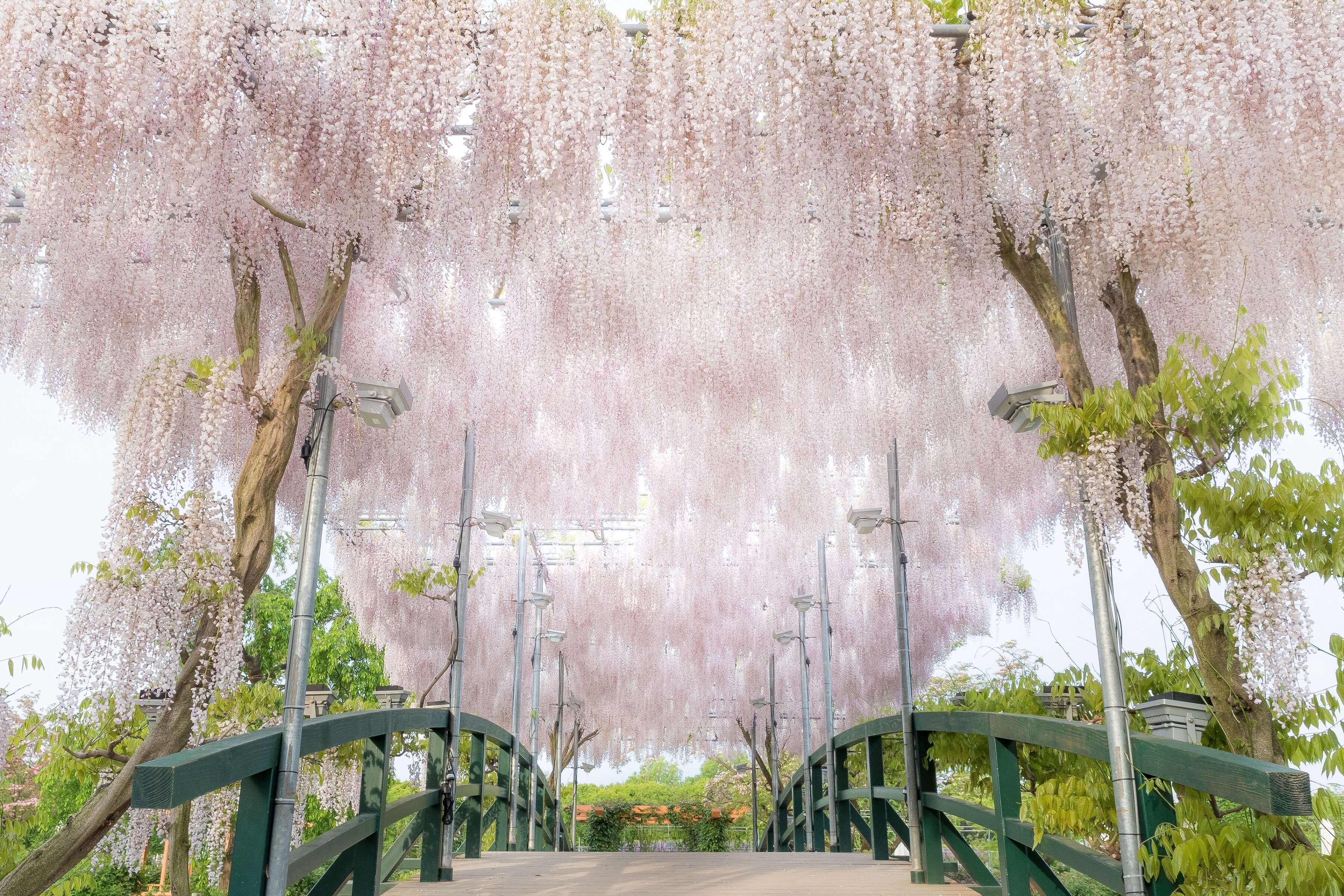 Dazzling pale crimson (cherry blossom-coloured) wisteria.
Best seen: mid ー end of April
Great wisteria (designated as a protected species of Tochigi prefecture)
Best seen: End of April ー early May
More than 5,000 Azalea plants
Best seen: mid-April ー early May
Azalea can be found all over the world. Including the species that are specially cultivated in parks, there are over 1,000 species. These flowers dazzle with vivid colours in the sunlight, which looks especially beautiful when they are in full bloom. Ashikaga Flower Park station opened in April 2018, meaning that you only have to walk for three minutes to reach the beautiful flowers.
During the holidays, bring your family and friends to the park and enjoy the dazzling flowers to your heart's content!
Information
The Great Wisteria Festival 2019
Running: Saturday 13th April ー Sunday 19th May 2019 (subject to change).
Opening hours: 07:00 ー 18:00
(During the illumination eventfrom 18th April ー 12th May, the park will be open until 21:00).
※ The illumination may start earlier or later depending on when the flowers bloom.
Access: 3-minute walk from Ashikaga Flower Park station  
Special website: https://www.ashikaga.co.jp/fujinohana_special2019/jp/
RELATED ENTRIES
From Wine to Hydrangeas Taste the Regional Shaved Ice Flavours of Japan at Hoshino Resorts KAI

Hoshino Resorts hot spring ryokan brand KAI is offering guests the opportunity to explore different regional shaved ice desserts that are served with delicious regional syrups and toppings. Shaved ice is a traditional summer dessert that was even mentioned in the famous work The Pillow Book, which was written by Sei Shonagon during her time as Empress Consort Teishi's court lady during the 990s and early 1000s of the Heian period.

The concept of KAI expresses both originality and the thirst for experimenting to make something new. The event offers a range of original flavours, embracing the Japanese tradition of eating flavoured shaved ice to battle the heat of summer. From wine-flavoured shaved ice in Nagano, to Hydrangea shaved ice at Hakone, this is the perfect opportunity to try a range of shaved ice desserts that are full of vibrant colours. These regional flavours are sure to spark your curiosity for discovery in that region. 

Wine Shaved Ice: Hoshino Resorts KAI Matsumoto (Asama Onsen, Nagano)

The cone-shaped region of Kikyogahara, which is located next to Matsumoto city, is well known for its wine production. This area produces around 50 different kinds of Kikyogahara wine. The flavoured syrup for this shaved ice comes from concord grape wine sourced from Kikyogahara. Each porcelain bowl for the dessert is handmade. Customers can enjoy the smooth, rounded feel of the grape pattern on the bowl as they dig into their dessert. As the alcohol is burned out of the dish, even those who do not like alcohol can enjoy this mature dessert. From the carefully prepared wine syrup to the handmade bowl, you will be able to feel all the hard work put into the making of these luxurious desserts. This is the perfect way to cool off after a hot day.

Hydrangea Shaved Ice: Hoshino Resorts KAI Hakone

Due to the altitude differences at Hakone, you can enjoy the beautiful hydrangeas for an even longer time than other areas of Japan. There is a Hydrangea train (Ajisai Densha) that runs up the mountains providing passengers with the beautiful view of blooming flowers, creating the perfect summer memories. Observing the large groups of flowers in full bloom fills you with such a refreshing feeling. Their beautiful colours are expressed in the colour of this hydrangea shaved ice.  

Strawberry Shaved Ice: Hoshino Resorts KAI Nikko (Chuzenji Onsen, Tochigi)

Tochigi prefecture has been Japan's no.1 producer of strawberries for 50 years straight. This shaved ice is served in a strawberry-shaped bowl and is served with sweet yet slightly sour strawberry syrup and a topping of bittersweet matcha sauce. Here, you can enjoy a cool evening up 1,300 metres high overlooking beautiful scenery from inside the establishment whose spectacular interior that boasts Tochigi's traditional art of Kanuma Kanoko craft. 

Tomato Flavoured Shaved Ice: Hoshino Resorts KAI Aso (Sonomoto, Oita)

As tomatoes thrive during the summer, this tomato shaved ice is the perfect way to cool down. This shaved ice is sweet and slightly sour and the vibrant red colour is enough to refresh you. Tomatoes are low in calories and contain an abundant range of healthy nutrients. They are also high in vitamin C which is good for your skin and is known for helping prevent illness. Tomatoes are also a good supply of vitamin E, which is good at slowing the effects of aging. Take a seat on the terrace and enjoy your shaved ice as a refreshing breeze rolls by. This is the perfect way to enjoy a cool summer with a healthy and delicious dessert. 

Neputa Shaved Ice: Hoshino Resorts KAI Tsugaru (Owani Onsen, Aomori)

The Neputa Shaved Ice represents the Hirosaki Neputa Festival that takes place in the summer at the old castle town of Hirosaki. To represent Tsugaru Vidro coloured glass, which is an important part of Tsugaru culture, red, blue and green coloured jelly pieces decorate the top of the shaved ice. These colours also represent the vibrant colours of Neputa festival. This Instagram-worthy dessert shows off the best of the fresh colours of Tsugaru. 

Information

Kai Regional Shaved Ice Desserts 2019

Running: July 13, 2019 – August 31, 2019

Entry: Free

Hoshino Resorts Kai Official Website: https://kai-ryokan.jp/

Colourful Harajuku Area to Open at Nasu Highland Park With KAWAII MONSTER CAFE Collab

During Japanese Golden Week the event "HARAJUKU COLORFUL STREET" will run at Nasu Highland Park from April 27 to May 6.

The event is produced by ASOBISYSTEM, a company based in Harajuku―Japan's hub for fashion, culture and trends. Nasu Highland Park will be decorated in all things Harajuku.

Photo: KAWAII MONSTER CAFE HARAJUKU (The food sold at the event will be different from that at the cafe)

The KAWAII MONSTER CAFE is a thriving Harajuku tourist spot popular for its eye-catching food, desserts and drinks. They will serve up a colourful and crazy pop menu at the event as well as much-enjoyed desserts and drinks from Harajuku.

Colorful Rebellion -WORLD TIME CLOCK-

Colorful Rebellion -WORLD TIME CLOCK- is an art piece created by Sebastian Masuda who is known for his work on Kyary Pamyu Pamyu's live performances. The clock is a former symbol of Harajuku with many photos having been taken in front of it by locals and tourists. It will be set up at the event in addition to lots of other bright and vivid photo spots.

Other activities will include workshops for parents and children, shopping booths with cute products and lots more. More information will be released on the park's website in the coming weeks.

Nasu Highland Park is the largest amusement park in Tochigi with around 40 attractions from thrilling roller coasters to a haunted castle as well as a fishing pond, BBQ area, zoo and more. Travel to the park this Golden Week with friends and family for a day of fun.

Information

HARAJUKU COLORFUL STREET

Running: April 27, 2019 – May 6, 2019

Location: Nasu Highland Park – King's Court Event Building

Time: TBA

Nasu Highland Park

Address: Otsu-3375 Takaku, Nasu, Nasu-gun, Tochigi

Opening Hours: [April 27] 9:30-20:00 / [April 28-May 5] 8:00-20:00 / [May 6] 8:00-18:00

Entry Price: Adults (Junior High School and older) ¥1,600 / Children (3-12 Years) ¥800

Entry + Fantasy Pass Set: Adults (Junior High School and older) ¥5,600 / Children (3-12 Years) ¥3,900

Website: https://www.nasuhai.co.jp/

4 Best Evening Illumination Spots in Tochigi Prefecture

Tochigi Prefecture boasts a long list of spots officially designated as "Night View Inheritances of Japan" where illumination events, shrine and temple light-ups, mini lanterns and more are set up.

This is a list of 4 must-visit locations with illuminations events running until March 2019.

Ashikaga Flower Park – "Garden of Illuminated Flowers)

Ashikaga Flower Park is one of Japan's three main illumination spots. Its popularity has earned it the No. 1 spot for illuminations for two years in a row. The newly-built Ashikaga Flower Park Station at the park's west gate makes it easier than ever to access.

The wintry trees are decorated with colourful lights, brightening the beautiful flowers at nighttime. There is also a recreation of the park's symbolic great wisteria tree made entirely out of lights down to the flowers. It sways with the wind making it look like a real tree.

Address: 607 Hasamacho, Ashikaga, Tochigi Prefecture

Running: October 27, 2018 – February 5, 2019

Closed: December 31, 2018

TEL: 0284-91-4939

Website: http://www.ashikaga.co.jp/

Ashikagaorihime Shrine at Orihime Park

Another one of Japan's officially registered Night View Inheritance sites. Orihime Park offers a gorgeous view of the town's nightscape. The park's Ashikagaorihime Shrine is lit up making for a magical atmopshere. The shrine itself is famous for its associations with marriage, making it a popular date spot.

Address: 3890-17 Tomoecho, Ashikaga, Tochigi Prefecture

Open: All Year Round

Shrine Illumination: 5:00pm-midnight

TEL: 0284-22-0313

Website: http://orihimejinjya.com/

26th Yunishikawaonsen Kamakurasai

Taking place at Yunishigawa Onsen, this event was designated as a Night View Inheritance site in 2009. It sees hundreds of candles lit up across the entire area that create a mysterious atmosphere. It's also chosen as "one of the must-see places before you die."

Address: 1042 Yunishigawa, Nikko, Tochigi Prefecture

Running: January 26, 2019 – March 3, 2019

Candle Lighting: 5:30pm-9:00pm

*Subject to cancellation depending on weather conditions.

Closed: Wednesdays & Thursdays

TEL: 0288-22-1525

Website: https://www.tochigiji.or.jp/event/1064/

Okunikko Yumoto Onsen Snow Festival 2019

This event began in a desire make use of the abundant snow and light up nighttime Okunikko. Ice sculptures created by hotel chefs from inside and outside the prefecture will be set up on January 31. In February, around 500 snow lights will be set up at the hot springs, and illuminations will glow against the snowy walls.

Address: Yumoto, Nikko, Tochigi Prefecture

Running: February 2, 2019 – February 10, 2019

Illumination Time: 5:00pm-9:00pm

TEL: 0288-62-2570

Website: http://www.nikkoyumoto.com/

Tochigi Prefecture is easily accessible from Tokyo, so if you're in Japan then take advantage of this season to go and see some enchanting nighttime scenery.

Ashikaga Flower Park Graced by 500 Varieties of Beautiful Roses

The winter illuminations of Ashikaga Flower Park create a buzz every year. They have placed first two years in a row for being wintertime illuminations people were glad to have gone to see.

Right now, 2,500 roses made up of 500 different varieties have bloomed to greet guests at the park.

The twenty rose screens on display are truly a beauty to behold.

Elegant rhododendrons and clematis flowers also flutter amongst the roses, creating a mesmerising rainbow world.

Discover the beauty of Japan's beautiful roses at Ashikaga Flower Park.

■Information

Ashikaga Flower Park

Address: 607 Hasamacho, Ashikaga, Tochigi Prefecture

Opening Hours: [May 14-20] 7am-6pm / [May 21-June 3] 9am-6pm

TEL: 0284-91-4939

Website: http://www.ashikaga.co.jp/index.html

Experience Hanami in Open-Air Hot Springs at Hoshino Resorts KAI Kinugawa

Kinugawa River in Tochigi Prefecture is about a 2-hour train or car journey from Tokyo. It's immensely popular as an onsen, or "hot spring" site, and is close to World Heritage Sites and places of scenic beauty. The KAI Kinugawa hot spring resort at Kinugawa Onsen is offering a limited-time "Yozakura Dining" plan from April 11th to April 20th. For one night, two people can enjoy a banquet while gazing at the cherry blossom trees in the evening. You can also experience "Hanami Roten" and admire the cherry blossoms in full bloom from the site's famous open air hot springs.

"Yozakura Dining" – admire the cherry blossoms with a springtime meal

Two people can enjoy their own private space to relish in spring dishes while viewing the evening cherry trees. The cherry blossoms cannot be seen from the regular eating spot, but in the special seats offered with "Yozakura Dining," you can look forward to soaking in the colours of evening-time cherry blossoms illuminated with dreamy lights while sat at a table co-ordinated with the colours of spring and set with Tochigi crockery like light-coloured Mashiko ware and traditional kurobane aizome, or "Kurobane indigo-dyed" tableware. Mealtime is different and each person will be tended to individually, so there's no need to worry about other people, allowing you to enjoy a relaxed time and atmosphere.

Time: 2 Slots – 17:30 / 19:30

Price: From ¥30,000 – Includes 1 overnight stay and 2 meals (Costs the price of one person for a room for 2 people. Service tax included.)

Reservations: 1 night for 2 people. 4 people on-site. You must book the plan 5 days in advance of the date you plan to stay.

https://booking.hoshinoresort.com/plans/JA/0000000121/0000000139

"Hanami Roten" – behold the cherry blossoms in full bloom

At Kinugawa Onsen, you can enjoy the picturesque scenery of Japan's four distinct seasons from the large public baths and open-air baths – from the fresh verdure in summer to the vibrant reds of autumn. The most fantastic experience of the year though is "Hanami Roten" in spring. The rows of cherry trees reflect along the surface of the water in the hot springs, granting a spectacle only observable in spring. As you raise your gaze upwards while submerged in the water, the fully bloomed cherry trees unfold before you. At night, the trees are lit up. The atmosphere changes whether you're in there during the day or at night, offering different experiences to be enjoyed.

Time: 15:00-01:00 / 05:00-11:00 (*illuminations are turned on from sunset until 1am)

Location: Public baths

Reservations: Not required

"Haru no Yuagari Drink" – smell the cherry blossoms

Upon emerging from a relaxing bathe, you will be served "Sakura Koucha," or black cherry blossom tea, offered exclusively in spring. Feel the call of spring while savouring the fresh taste of gentle cherry blossom fragrance.

Location: Place where you exit the bath

Price: Free

Reservations: Not required

Have yourself an unforgettable spring in Japan this year at Hoshino Resorts KAI Kinugawa.

■Information

KAI Kinugawa

Address: 308 Kinugawaonsentaki, Nikko-shi, Tochigi Prefecture

TEL: 0570-073-011

KAI Kinugawa Springtime Stays:

Japan's largest cycling resort "PLAYatre" will be opened in Ibaraki Prefecture

The station building of JR Tsuchiura Station "perch tsuchiura" will be renewed and changed into the Japan's largest experimental-based cycling resort, "Playatre."

This facility will be a base camp which will have showers, coin lockers, a rental cycle space, a cycle shop and a cycling café. They will all be opened at the starting point of "Tsukuba Kasumigaura Rinrin Road," a 180km long cycling course with various kinds of historical/cultural sources such as Kasumigaura's water area and Tsukuba Mountain's rich nature area.

It takes about 49 minutes on train from Tokyo (directly connected to the station) to get to PLAYatre and it is the entrance of the cycling course, "Tsukuba Kasumigaura Rinrin Road" which includes Kasumigaura are and Tsukuba Mountain. They will introduce an active resort life to their customers via the "bicycle" which is different from existing resort experiences. The facility will be Japan's largest cycling facility where visitors can bring their own bicycles and accommodation facilities will also be offered.

Under the theme of casting off from the existing shopping buildings, they are aiming to introduce a new station-facility model "Koto (experience) Shohigata (consumption) Ekibiru (station building) model based on two key words, "distributing information" and "offering experiences." The facility will not sell many products but will offer "experiences" to their customers.

They are planning to open new facilities subsequently such as a cycling hotel, restaurants, a food market gathering popular shops from around Ibaraki before opening day (2019, Autumn).

Let's tour around the resort while enjoying cycling.

■Information

PLAYatre TSUCHIURA/perch tsuchiura

Address: 300-0035, 1-30, Ariakecho, Tsuchiurashi, Ibaraki Prefecture

TEL:029-835-3000

The illumination event of Ashikaga Flower Park – "Hikari no Hana no Niwa" won the first place in Japan (second year in a row).

Ashikaga Flower Park in Ashikaga-shi was designated as on of the "Three Greatest Illuminations in Japan" and won the first place in the illumination branch ranking of "The 5th Illumination Award" for the second year in a row.

Ashikaga Flower Park has been holding its illumination event, "Hikari no Hana no Niwa ~Flower Fantasy 2017~" from the 21st of October 2017 (Sat.) and they will continue until the 4th of February 2018 (Sun.).


The park has received various designations such as, "One of the Three Greatest Illuminations in Japan," "Japan Night View Heritage," and "One of the Three Greatest Illuminations in the Kanto Area," and is gathering much attention recently.

Ashikaga Flower Park has divided their illumination event periods into three stages and they are offering illumination events which no other park can create.

More than 4 million light bulbs are installed inside the park (94,000 square meters).

The event counts 16 times this year and about 610 thousand visitors have visited this park. A fantastic and colorful world is created by their installing of "light flowers." This is something other parks cannot do, making this a suitable place to take photos to upload on your SNS!

Why not experience these three illumination events with different themes?

■Information

Ashikaga Flower Park

Address: 607, Hazamacho, Ashikagashi, Tochigi Prefecture

Events:

Theme 1

Hikari to Hana no Collaboration (Hikari to Amethyst Sage no Yugo) 20,21 to mid-November

Theme 2

Flower Park no Christmas (Christmas Fantasy) mid-November to 12,30

Theme 3

New Year Illumination (Hikari to Fuyubotan no Kyoen) 01,01 to 02,04

Light up time: 16:30 to 21:00 (Saturday, Sunday and holidays – until 21:30)

Fixed holiday:12,31 (Sun.)

The perfect souvenir from Nikkou! Pudding specialist shop Nikkoupurintei makes puddings with local ingredients!

On Friday 21st July 2017, pudding specialist shop Nikkoupurintei opened near Nikkou Toushou-gu's sacred "Shinkyo" bridge. This shop uses ingredients sourced from Nikko.

Lush with nature and rich with historical cultural heritage, Nikkou is blessed with numerous tourist attractions. Now, the pudding specialist Nikkoupurintei has opened near Nikkou Toushou-gu, Shinkyo.

The interior was once an old Japanese-style house. It has now been renovated, overflowing with a Taisho Roman theme. This cute, retro shop uses ingredients sourced from Nikko to make homemade puddings, original pudding soft cream, strawberry smoothies and much more. The shop also sells sweet treats made from strawberries sourced from Tochigi prefecture.

Nikkoupurintei uses milk from Nikkou Kirifuri Kogen Ozasa Bokujo and eggs sourced from Nikko to make melt-in-the-mouth pudding. The milk used comes from Brown Swiss cows, which is still rare in Japan. The rich and strong taste of this milk has a hint of sweetness, which is what makes the pudding taste so special.

With Nikkou Pudding as a base, the shop also sells a Japanese-style traditional dessert called "Mitarashi Pudding", served up with a special sauce that was made using fresh spring water from Nikkou. Other desserts include the "Otome Pudding", which is a strawberry jelly pudding made from tochiotome strawberries and strawberries sourced from Tochigi prefecture.

The shop also includes a café space, so check out this place as a tourist spot too!

■Information

Nikkoupurintei
Address : 1017 Banchi, Kamihatsuishimachi, Nikkou, Tochigi prefecture

Opening hours: 10:00 〜 16:00
TEL   : (0288)25-6186
URL   : http://nikko-pudding.jp/

Product name:Nikkou Pudding (Using milk sourced from Nikkou & eggs)
Price  :¥380

Product name:Otome Pudding (Pudding made with Tochigi stawberries)
Price  :¥420

Product name:Mitarashi Pudding (Using a special Nikkou sauce)
Price :¥380

Related article:"Nanaya – Shizuoka Mattcha Sweets Factory" will debut its summer mattcha cool-chocolate sweets items

Related article:The set menu of matcha soft served ice cream with a coffee costs only 500 yen! Omotesando "Maccha Cafe Maiko" opening campaign

【MOSHI MOSHI Pick-up spot】Enjoy the light-up of the flower garden 「 Ashikaga Flower Park "Flower Fantasy –the light of the flower garden-"」

The theme park which is filled with lots of flowers called "Ashikaga Flower Park" is going to hold this event called "Flower Fantasy -the light of the flower garden-" from Saturday Oct 22nd to Sunday February 5th in 2017. This was acknowledged as one of three Kanto area illumination events. They put up more than three hundred and fifty million light bulbs to light up the trees in winter, and you can enjoy the beautiful light of the flowers everywhere in this park.

One of the programs called "The miracle of huge Wisteria" is showing purple lights to look like wisteria flowers blooming one after another. The way it flutters in the breeze looks like real wisteria flowers. There are other great programs such as "The light of Roses" which uses five hundred roses, "The light of Wisteria," and "The light of Water lily" which is newly included in 2016. There are some fabulous time-limited programs such as "The fusion of the light and Amethyst sage" to mid-November, Christmas light-up called "Christmas Fantasy" from the end of November to the end of December, New year's light-up called "The competitive performance of the light and Paeonia suffruticosa in winter" from new year to February 5th .

This park will be open till 9:00PM on weekdays, and 9:30PM on weekends and holidays during this event.  Please enjoy the colorful light-up after it gets dark.

■Information

Event Schedule:October 22 nd(Sat)to February 5th(Sun)in 2017

Place:Ashikaga Flower Park

Admission:Night time fee from 3:30PM to 9:00PM (9:30 on weekends) cost 800yen for adult, 400yen for kids.

*Day time fee from 9:00AM to 3:00PM cost 400~700yen for adult, 200~400yen for kids.

Access:It's an 18 minute drive from Tohoku Expressway Sano-Fujioka interchange on route 50.

It's a 30 minute drive on shuttle bus from Tobu Railway Ashikaga-city station.

Call for inquires:https://www.ashikaga.co.jp/flowerfantasy_special2016/jp/

ーーー

■Related article:Meguro River will be dyed in sakura coloured illuminations this winter for this year's "Meguro River Minna no Illumination 2016″

■Related article:【MOSHI MOSHI Pick-up spot】Enjoy the nature in Okutama-machi and Hinohara-mura by using this transportation