Live the Disney Princess Dream With Tokyo Disneyland Hotel's Luxurious Afternoon Tea
If you've had the chance to visit Tokyo Disneyland or Tokyo DisneySea you will have tried the many delicious dishes and drinks on offer at its variety of restaurants. But did you ever know that Tokyo Disney Resort also offers afternoon tea?
Tokyo Disneyland Hotel serves the only afternoon tea set across the entire resort on occasion in line with certain events.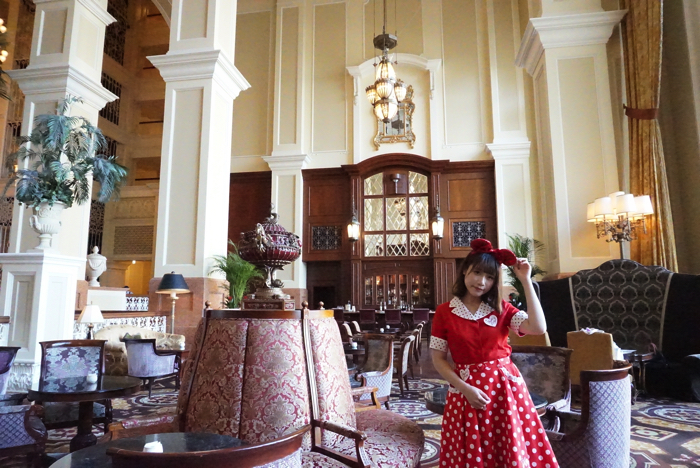 We had the pleasure of joining Disney mega fan Kanako as she went to visit the hotel to try this very special afternoon tea.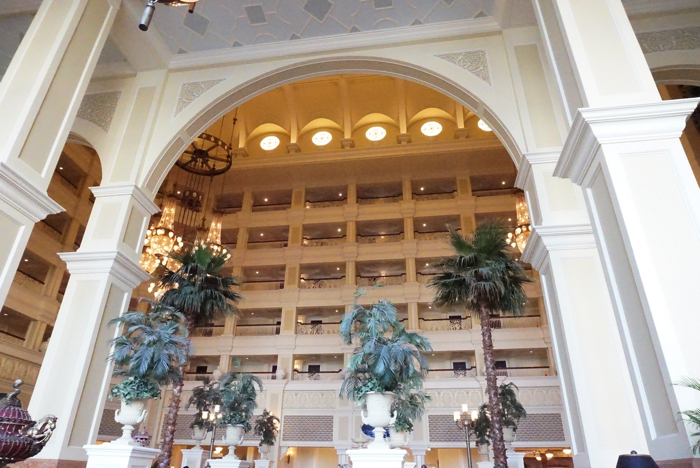 Tokyo Disneyland Hotel is the closest hotel to the entrance of Tokyo Disneyland. The first thing you will notice upon stepping inside is its use of Victorian decor. The ceiling also stands tall, opening the entire hotel up to give it a sense of space.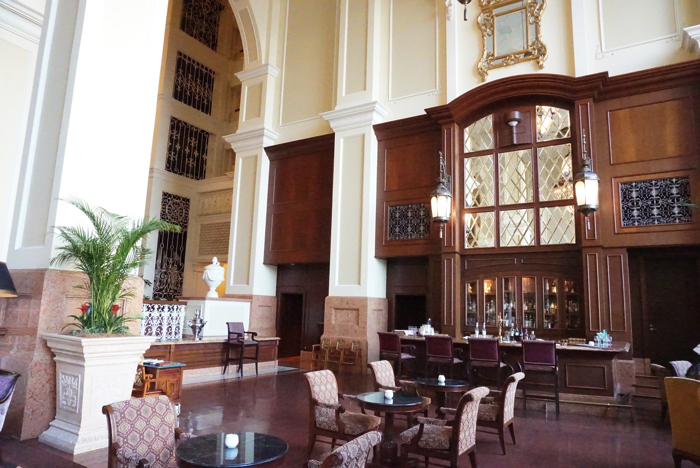 The afternoon tea is sold at the Dreamers Lounge in the lobby. In line with the Donald's Hot Jungle Summer event currently taking place at Tokyo Disneyland until September 1, the tea set is also "hot jungle summer" themed.
The first thing to note about the three-stack set is how refreshing and summery it looks – a perfect selection for the hot season. It comes with sandwiches, hors d'oeuvre, scones, desserts, and a choice of tea or coffee.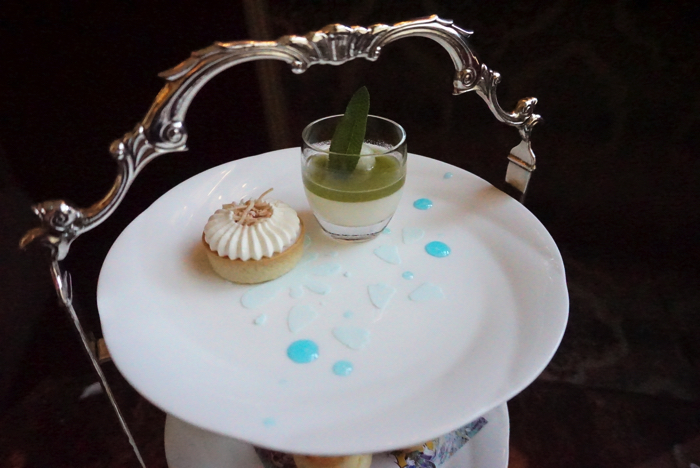 Kanako started with the very top plate. The plate itself is decorated with what is supposed to look like Donald's footprints and splashes of water.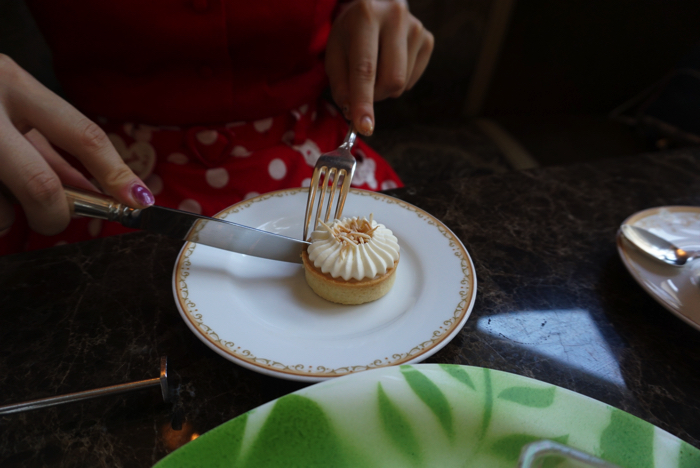 The dessert on the left is haupia, a traditional Hawaiian dessert made with macadamia paste and roasted coconuts. It's crunchy and has an incredible flavour.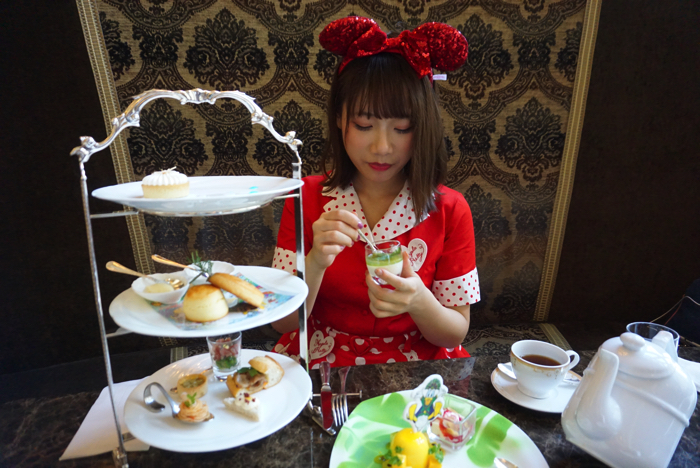 Sitting temptingly next to it is the panna cotta and melon coulis. It contains a single sage leaf which adds flavourful herb notes. The entire dessert itself has a satisfyingly refreshing taste which covers your taste buds with a single mouthful.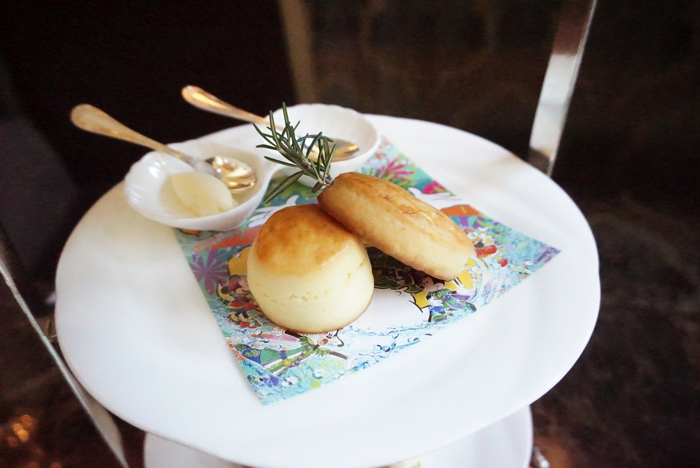 The middle plate features two types of scones: plain and pineapple. They come with separate servings of clotted cream and honey to lather the scones in. The latter scone is cute in that it's actually shaped like a pineapple. It's crunchy and delicious and goes exquisitely with the accompanying tea.
The tea menu has many options. Kanako went for the "Darjeeling Summer" from the premium tea selection. When you order from the premium menu your tea is prepared in a sleeping pot that is both cute and extravagant as you would expect with an afternoon tea set.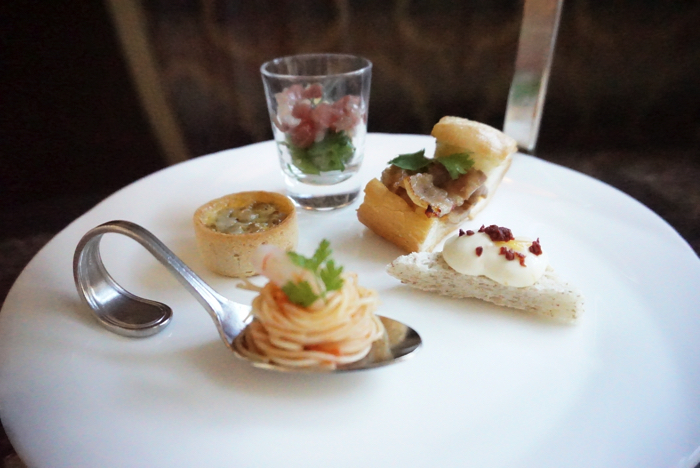 The bottom plate contains a bunch of different appetisers including tuna and okra tartar, mango and mascarpone canapé, tomato and fish capellini, keema curry quiche, and an ethnic pork sandwich.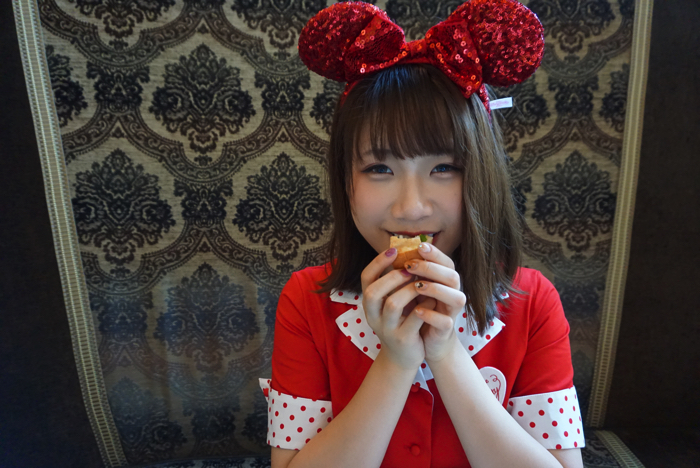 Kanako was very happy with her hors d'oeuvre, saying: "Everything is delicious, but I really like the combination of the pork and the slightly chewy bread for the pork sandwich!"
The chilled cone cream scoop was very refreshing and a perfect palate cleanser.
Finally, the cute hot jungle summer dessert plate which caught our attention from the very start. It comes with a tropical cream cheese and passion fruit mousse, white grape and shiikuwasha jelly, and Peach Melba which looks like flowing magma.
You might be surprised to find out that the jungle leaves on the plate aren't actually part of the plate's design but in fact green chocolate carefully sprayed on.
Even the Goofy, Mickey and event logo on the plate are delicately made from chocolate. Once you know that you'll definitely be reaching for the camera straight away!
The Peach Melba is a lovely combination of peach compote and vanilla ice cream topped with raspberry sauce and almonds. Its mix sweet and sour flavours remind one of summertime.
It's not everyday you see a cream cheese mousse, is it? The one that Donald is sat on. Kanako especially enjoyed its passion fruit scent and velvety texture. It's made even more delicious when eaten together with the jelly surrounding it.
So, which was your favourite, Kanako-chan?
"Everything tasted amazing, but my favourite was the haupia♡ It's moderately sweet, and I really liked the flavour of the coconut! Everything in the afternoon tea set is cute down to the tiniest details, so it's perfect for taking photos for social media. I definitely wanna go again!"
The Donald's Hot Jungle Summer themed afternoon tea set is being served from 11:30-17:00 until September 1, 2019. Places are limited so I recommend making a reservation in advance.
Enjoy your summer to the fullest with this tropical afternoon tea set!
©️Disney
Information
Donald's Hot Jungle Summer Afternoon Tea Set
Running: July 8, 2019 – September 1, 2019
Location: Dreamers Lounge, Tokyo Disney Hotel
Serving: 11:30-17:00
Price: ¥4,000
Reservations: https://reserve.tokyodisneyresort.jp/
*Customers and guests can make reservations for the afternoon tea set.
*If you are not staying as a guest at the Disney Hotel then please make your reservation on the Tokyo Disney Resort website.
*Please note that servings are limited each day.
RECOMMENDED ENTRIES
Soar All Over The World With DisneySea's Brand New Attraction Soaring: Fantastic Flight

Tokyo DisneySea will open their new attraction Soaring: Fantastic Flight on July 23. This ride is an immensely popular attraction at theme parks around the world. DisneySea has created a new adaptation of this ride, offering a brand new and original experience to visitors.

Model Saki Shibata from MOSHI MOSHI NIPPON Editorial Department headed to DisneySea with model Kanako for an exclusive opportunity to experience this attraction before it opens to the rest of the public!

Climb up the stairs next to the Mediterranean Harbor and the attraction will lie right before your eyes. 

Before you enter the building, you will notice that there are lots of photo spots outside. 

You will also spot Camellia Falco; a keen flyer who became the first woman to be accepted in the Society of Explorers and Adventurers in 1851.

The Museum of Fantastic Flight located in the Mediterranean Harbor is celebrating Camellia Falco's innovation in the field of aviation by holding a special commemorative exhibition dedicated to her and her research. 

The final room of the museum is a gallery filled with Camellia's outstanding achievements.

Finally, it was time to climb aboard the invention of Camellia and her colleagues; an aircraft called the Dream Flyer.

The Dream Flyer was a magnificent trip. We soared through the sky, through the nature and around famous places of the world.

We were propelled from one place to another, experiencing a range of new atmospheres and surroundings in so many ways. At each location, we felt the wind and temperature of each country on our skin and could even smell a mix of intriguing smells unique to each location. 

The final destination we arrived at was our most favourite… 

This DisneySea original attraction is overflowing with imagination. It was like flying through an imaginary world. You absolutely must check it out. 

Fantastic Flight Churros (Pineapple): ¥400

Fantastic Flight Drink (Lychee Bubble Tea): ¥450

To celebrate the opening of the new attraction, new Fantastic Flight-themed merchandise and foods have been released. Zambini Brothers' Ristorante is even selling pineapple flavoured churros and bubble tea. Just looking at the blue sky colour of these delicious treats will leave you feeling refreshed.

Postcard: ¥200 

Origami Notebook: ¥400

Socks (22 ー 25cm/ 25 ー 27cm): ¥700

Please check out the full goods range!

It has been quite a while since DisneySea has opened a new attraction, so the park is booming with excitement in anticipation for its grand opening to the public! Climb aboard the Soaring: Fantastic Flight ride and embark on a worldwide adventure! 

©Disney

Tokyo Disney Resort® To Release FASTPASS App

On July 23, 2019, Tokyo Disney Resort will launch a new Tokyo Disney Resort App for smartphones which allows you to obtain FASTPASS tickets for rides from any location in the park.

After entering the park, you can download your FASTPASS tickets using the app. This allows visitors to fully immerse themselves in the magical atmosphere of the park, giving them more time to enjoy the delicious food and discover the shops without having to rush to the other side of the park to get to the machines selling the FASTPASS tickets. 

You can use the app to get FASTPASS tickets at a total of 18 park attractions at the resort. This even includes tickets for the brand new DisneySea® attraction Soaring: Fantastic Flight, which will open on July 23, 2019. 

Downloading the Tokyo Disney Resort App is sure to save a lot of time and energy so you and your friends and family can focus on having a good time and discovering this enchanted world. 

©️Disney

Enjoy Pirate-Themed Food, Cocktails, Desserts And More at DisneySea This Summer

Tokyo DisneySea launched their special event called Disney Pirates Summer which will run until September 1. The event includes the launch of 16 colourful pirate-themed menus. 

We headed straight to Mediterranean restaurant Cafe Portofino to fill ourselves up on the delicious menu. Cafe Portofino is the nearest restaurant to the entrance of DisneySea. Once you find the Mediterranean Harbor, you will find it on the right. 

 Special set: ¥ 1,880 ① Potatoes and Roast Beef Salad ②Linguine topped with Olive and Caper Tomato Sauce and served with Battered Yellowfin Sole Fish ③ Lychee Pudding with Lemon Jelly topped with Mixed Fruit ④ A choice of Soft Drink ⑤ Pay an extra ¥310 for an alcoholic drink. 

I ordered the special set which is surprisingly big but definitely enough to satisfy the hungry pirates, who are always boasting about their enormous appetite. 

I started with the potato and roast beef salad, which was dressed in balsamic vinegar. The taste was so refreshing which is just what you want during the summer. The rosemary-flavoured potatoes were soft and a perfect match with the beetroot.   

The linguine was chewy and springy and the capers produced a mildly tangy flavour. I am not usually a big fan of olives, but these were very delicious. The battered fish was crispy and not oily, which is suitable for children and adults. 

Just looking at the lychee pudding with lemon jelly is enough to make you feel refreshed. It is packed with fruit and takes on the image of a pirate's treasure chest that is full of colourful rubies. This is the perfect way to clean your palate. 

Ordering the special set allows you to choose a soft drink. If you pay an extra ¥310, you can change this drink into an alcoholic drink. 

Sparkling Cocktail ( Rum and Mango Sherbet) On its own: ¥680

This cocktail takes on the image of a pile of pirate treasure. Mango sherbet sits on top of the cocktail like nuggets of precious gold. The base of the cocktail is rum and peach and the refreshing alcoholic flavour of the rum is moderately sweet, spreading instantaneously through your mouth on your first sip. The solid texture of the mango makes the cocktail even more enjoyable, so please mix it thoroughly before devouring. 

The bakery next to Cafe Portofino called Mamma Biscotti's Bakery is selling desserts which come with souvenirs that you can take home with you.

Mango Jelly and Orange Mousse with Souvenir Mug: ¥800

Jelly, mousse and meringue whip is layered in the mug. This refreshing dessert not only looks pretty, but is also made up of a range of fun textures for you to enjoy. 

You can take the souvenir mug back home with you. Its design features Mickey Mouse and friends dressed as pirates. 

Coffee Roll Cake with Souvenir Plate: ¥800

This is the perfect dessert for adults because it is slightly bitter. The layers of sponge, cream and bitter coffee makes for a range of delicious flavours. This plate's design also features Mickey Mouse, who has dressed up as a pirate for the event. This would be perfect to take home with you to remember your trip!

DisneySea is the perfect place to cool down this summer and create many wonderful memories, so please do pay a visit. 

©️Disney

Tokyo Disneyland's Hot Jungle Summer Event Offers Up Flames, Drenching Water & Delicious Food

Hi, everyone! It's Midori from MMN's editorial team.

Donald Duck is the star of Tokyo Disneyland right now with his Hot Jungle Summer festival that is running right now until September 1. It is packed full of events, limited time food and exclusive goodies all themed around summer.

The limited time food is taking on water and fire motifs with restaurants serving up both cool and refreshing looking items and hot summery items. I paid a visit to the festival together with Kanako so we could try out these seasonal meals and drinks.

Sparkling Drink (Blue Syrup) – ¥380

We headed over to Boiler Room Bites located inside Adventureland and tired out their blue coloured "sparkling drink." Blue syrup is added to the cup inside which chewy pieces of jelly bob up and down in the soda. Its appearance alone is enough to cool you down, it's really pretty!

They sell other sparkling drinks too, including a red coloured one with raspberry syrup and a yellow one with lemon syrup. It's cute and fun for you and your friends to get different coloured ones♡

For an extra ¥350 you can also get this huge yellow souvenir straw with Donald on the front. Simply kawaii♡

Cream Shaved Ice (Tropical Fruits) – ¥550 (Tax Included)

The tropical fruits flavour of Tokyo Disneyland's popular cream shaved ice is available for the festival only. It's a mix of shaved ice and soft serve ice cream.

It's sold at Troubadour Tavern in Fantasyland and comes with huge pieces of pineapple. It's not too sweet and is the perfect refreshment for the hot summer weather.

Special Set: ¥960 (Tax Included)

You can get this special set at the refreshment corner of World Bazaar. It comes with a bright red hot dog topped with cheese and a vegetable sauce packed full of veggies. The sauce is spicy and will whet your appetite!

It also comes with a drink and fries so you're sure to get your lunchtime fill.

Special Set: ¥1,080 (Tax Included)

Camp Woodchuck Kitchen in Westernland is popular for its turkey legs. This mouthwatering set comes with a tasty hamburger seasoned with curry sauce and topped with cheese. Even in the hot summer this one is a must-try. It also comes with fries and a drink.

The restaurant sells a whole load of other bites too like the onigiri burger, waffle sandwiches and more, all ideal for lunch. Sift through the menu and make your choice♡

Mango Milk Soft Serve Ice Cream w/ Raspberry Sauce – ¥400 (Tax Included)

If you want ice cream then you'll want to head to Squeezer's Tropical Juice Bar in Adventureland where they're selling mango and milk flavoured soft serve ice cream drizzled in raspberry sauce. The sweetness of the ice cream and sourness of the raspberry sauce go together really well. It's available for a limited time only so don't miss out!

That goes for everything else listed here, it's all limited-time-only, so if you're in Tokyo this summer then be sure to head on over ASAP!

©Disney

Tokyo Disney Resort at Night is a Must-Experience With Chill Shows & Events

Tokyo Disney Resort's® summer events have officially begun. There are plenty of exciting events to experience during the daytime this summer at Tokyo Disneyland and Tokyo DisneySea, but there are equally as many fun evening events too.

Let's take a closer look at what you can look forward to during summer nights this year at both parks and the Disney Ambassador Hotel.

Oh! Summer Banzai – Flames and water surround the Cinderella Castle

Oh! My Summer is the first stage show to be held at the Cinderella Castle in six years and will offer up a whole new kind of summer evening entertainment at Tokyo Disneyland. It will feature the impressive use of flames and drenching sprays of water to entertain the park guests.


A colourful jungle background will provide the setting for the show with Donald Duck as the main character who will be joined by Mickey, Minnie and other members of the Disney cast.

Together with the thundering music, thrilling dancing and refreshing water sprays, guests can look forward to a fiery show that in fact serves to cool them down from the summer heat.

If you're looking to cool down during the day then be sure to check out the Pirates of the Caribbean themed Pirates Summer Battle and Zootopia themed Judy and Nick's Jumpin' Splash events too to get sprayed with cold water.

Oh! Summer Banzai

Location: Castle Forecourt, Tokyo Disneyland

Performance Time: 20-minutes (Twice a day)

Event Page: https://www.tokyodisneyresort.jp/en/tdl/show/detail/938/

Barnacle Bill's – Chill out with beer and sausages at DisneySea

The blackcurrant beer cocktail and cheese-filled bone sausage set sold at Barnacle Bill's in American Waterfront is a must-try. The beer is super refreshing accompaniment for the hot weather and goes perfectly with the sausages.

 

Barnacle Bill's

Location: American Waterfront, Tokyo DisneySea

Running: July 8, 2019 – September 1, 2019

Official Webpage: https://www.tokyodisneyresort.jp/en/tds/restaurant/detail/430/

Empire Grill – A full course meal at Disney Ambassador Hotel

As part of the Tokyo Disneyland event Donald's Hot Jungle Summer, the Disney Ambassador Hotel is serving a special dinner course.

The course includes an assortment of ethnic flavours with beautiful plating. The sweetbreads doused in mango sauce have been made to look like Donald's feet.

For mains you can choose between quail farcie or beef loin. We ordered the latter. The meat is beautifully juicy and tender. It comes with feijoada on the side with chilli beans and vegetables. The crunchy tortillas are so delicious you'll want seconds.

The true standout from this gourmet course however is the dessert which is accompanied by Donald and Daisy Duck! It's a mix of white chocolate mousse topped with fruit and jelly. The hearts on the plate add that extra kawaii flavour to this special dish. It almost seems a waste to eat it… is what we said as we wolfed it down.

We also recommend the special Donald Hot Jungle Summer drink. Its tropical taste and colour makes it the perfect beverage for summer time.

If you order the drink you even get one of these exclusive coasters.

"Donald's Hot Jungle Summer" Empire Grill Dinner

Running: July 8, 2019 – September 1, 2019

Serving: [Dinner] Weekdays 17:30-21:00 / Weekends & Holidays 17:00-21:00 (*2 hours allotted)

Price: ¥10,000

"Donald's Hot Jungle Summer" Special Drink

Running: July 8, 2019 – September 1, 2019

Serving: [Lunch] 11:30-14:00 [Dinner] Weekdays 17:30-21:00 / Weekends & Holidays 17:00-21:00 (*2 hours allotted)

Price: ¥1,300

Official Website: http://www.disneyhotels.jp/en/dah/restaurant/index.html
RELATED ENTRIES
Colourful New Agar & Mango Jelly Drink Released at Kyo Yakasa Pudding in Kyoto

Kyo Yakasa Pudding opened its doors to the world back in April, and since then they have whipped up many different kinds of Japanese custard pudding, known as purin. Earlier this month they released their all new "Yasaka Cider," a jelly-like drink which became a hit on Japanese Instagram (search with #京八坂プリン).

The shop's most popular product since launching is the Kyo Yasaka Pudding―named just like the shop. It has a honey and lemon flavoured jelly which is full of agar and mango jelly balls, giving it a cute appearance and very refreshing flavour and completely new kind of texture.

Now, the shop has released its new Yasaka Cider. The word "Cider" in Japanese doesn't actually refer to the alcoholic drink, but instead is usually a carbonated mixture of lemon and/or lime.

Available this summer only, the Yasaka Cider is the perfect accompaniment for cooling yourself down while strolling the streets of Kyoto, filled with Kyo Yasaka Pudding jelly, agar balls, mango jelly balls, and an in-house made lemon slice and honey mix. The beverage is made fresh to order and comes in a cute bag which you can carry around easily with you.

There are lots of great photo opportunities for Instagram in the store too! If you're in or travelling to Kyoto this summer then be sure to stop.

Information

Kyo Yakasa Pudding

Address: 87-4 Hoshinocho, Higashiyama, Kyoto, Kyoto Prefecture

Opening Hours: 10:00-17:30

No Fixed Holidays

Website: http://www.kyo-yasaka-pudding.co.jp

Spooky Halloween Doughnuts Float Into Krispy Kreme Japan

Krispy Kreme Doughnuts Japan (KKDJ) is carving its jack-o-lanterns out early this year in time for Halloween as it reveals its new series of holiday-themed doughnuts titled "MONSTER HARVEST in Monster DINER."

This pumpkin, chestnut and apple flavoured selection will be available at most Krispy Kreme branches across Japan from September 11 to October 31.

Pumpkin Custard Jack

Price: ¥230

The jack-o-lantern is the centrepiece of Halloween, and now you can much on one in doughnut form! Its face is coated in dark chocolate and filled with a velvety pumpkin custard cream. It also contains some pumpkin seeds for a crunch.

Black Cat Chestnut

Price: ¥250

The black cat's dark chocolate covered face includes crunchy cracker ears, giant white chocolate button eyes, and caramel chocolate nose and whiskers. Inside it's filled with a rich chestnut cream made from domestic chestnuts. The bottom part of the face is also sprinkled with tasty poppy seeds.

Apple Caramel Monster

Price: ¥230

This cute apple monster is a new addition to the KKDJ Halloween range. It's made from a juicy, sweet and sour apple nappage made from the juice of apples grown in Aomori Prefecture. The single eyeball is made from a mix of white and dark chocolate and is what makes this doughnut so cute. The single pumpkin seed at the top completes the monster's apple disguise.

Halloween Sprinkle

Price: ¥190

Covered in rainbow sprinkles, this custard pudding (purin) flavoured doughnut is subtly sweet and satisfyingly crunchy.

Halloween Dozen (Box of 12)

Price: ¥2,000

If you're having a Halloween party with family or friends then this box of dozen doughnuts is the perfect treat, containing all of the above doughnuts as well as some of KKDJ's classic doughnuts. You save ¥440 by picking up this box.

Don't miss this year's seasonal delights from Krispy Kreme.

Information

MONSTER HARVEST in Monster DINER

Running: September 11, 2019 – October 31, 2019
Krispy Kreme Doughnuts Japan Website: https://krispykreme.jp/

4 Must-Try Kawaii Aesthetic Tapioca Drinks in Aichi Prefecture

Japan is a haven for bubble tea and tapioca-based beverages. Here on MOSHI MOSHI NIPPON we have covered many stores selling these tasty drinks in Harajuku―the town which started the tapioca boom in Japan―but today we will be heading southwest of Tokyo to Aichi Prefecture, located in central Honshu Island, to look at 4 must-drink tapioca drinks.

We are joined by meme whose Instagram page is packed full of drinks and desserts from cafes across Japan.

The Flower Table in Sakae

Located inside the MITSUKOSHI shopping complex in Nagoya's retail and entertainment district Sakae is The Flower Table. I absolutely recommend this store for those who aren't good with sweet drinks as you can choose between having sugar or no sugar.

Your taste buds are hit by the flavour of the milk tea on the first sip which has a bite to it. The tea leaves used by the shop in this drink are from Kusumi Tea, a Paris-based premium tea brand.

If you're someone who likes chai then this taste is sure to tempt your palate. Not only does the milk tea taste exquisite, the tapioca pearls are sweet and satisfyingly chewy too. And let's not forget to mention their adorable takeout cup designs!

▼The Flower Table

Address: MITSUKOSHI Nagoya Sakae Store Floor 3F, 3-5-1 Sakae, Naka Ward, Nagoya, Aichi Prefecture

Opening Hours: 10:00-19:30 (Food Last Orders 19:30)
*Food not served until 11am, only drinks between 10-11am
*Afternoon tea sets, parfaits and other teatime menu options served from 2pm

Official Website: https://theflowertable.owst.jp/en/

BON CAFÉ in Sakae

BON CAFÉ can also be found in Sakae. I had heard lots of praise about this place before my first visit so I was eager to get in there. I ordered two drinks: the mango cream cheese tea (with cream and tapioca pearls) and the brown sugar milk tea (with tapioca pearls). It's hard to tell by the photos but both drinks are packed with tapioca pearls aplenty.

I'd heard before that the mango cream cheese tea was like a "dessert that you can drink," and I can confirm that it's true. It's topped with fresh cream and pearls so it's just as satisfying as a mango parfait.

▼BON CAFÉ

Address: Apa Hotel Nagoya Nishiki Floor 2F, Nishiki 3-15-30, Naka Ward, Nagoya, Aichi Prefecture

Opening Hours: 11:00-23:00 (Last Orders 22:00)

No Fixed Holidays

Official Website: https://bon-cafe.jp/tapioca/

Peripatos in Kita-Okazaki

Drinks at Peripatos are takeout-only. Their bottle designs are cute and simple with just a kitty illustration on them. The three drinks in the photo are Very Berry, Tropical, and Hazelnut & Caramel Sauce with coffee jelly.

The tropical drink has pieces of fresh mango in it while the Very Berry has fresh strawberry and chewy strawberry flavoured tapioca pearls in it. My friend ordered the Hazelnut & Caramel one which has coffee flavoured jelly in it instead of tapioca pearls. You sip it while crushing the jelly.

The shop interior is really cute too!

▼Peripatos

Address: 4-4 Ida Nishimachi, Okazaki, Aichi Prefecture

Opening Hours: [Mon-Tues & Fri-Sat] 11:00-21:30 / [Thurs & Sun] 11:00-18:00

Closed: Wednesdays

Official Instagram Page: https://www.instagram.com/c.peripatos/

Watashi to Cafe in Kariya

At Watashi to Cafe I ordered the strawberry milk tapioca drink. The pearls in this drink are strawberry flavoured too, and there's a lot of them making is super tasty. The glasses they come in are cute too.

They also sell beautiful herbarium-like drinks. These don't have tapioca pearls in them but I recommend these too!

▼Watashi to Cafe

Address: 2-20 Minamisakuramachi, Kariya, Aichi Prefecture

Opening Hours: Lunch 11:00-15:00 / Dinner 15:00-Midnight

Closed: Tuesdays

Official Website: https://watashitocafe.gorp.jp/

Did you enjoy this list? meme has lots of other tempting recommendations of drinks and desserts on their Instagram page too, so if you're looking for something to try while in the Tokai region of Japan be sure to give them a follow.

Translation: Joshua Kitosi-Isanga

Try This Mino Traditional Culture and Tea Tasting Experience Hotel Plan in Gifu

The Mino region of Gifu is famous for its traditional pottery called Mino Ware, its Gifu lanterns, and much more. Recently, an empty building located in front of Minokamo station in Gifu prefecture was renovated by a company called IDENTITY, who transformed it into a community building called MINGLE. MINGLE is now home to the Japanese tea shop Minokamo Chapo. This tea shop proudly represents the culture of tea and pottery that still remains in the Mino region. In order to share this wonderful culture, they are now offering a new accommodation plan to provide guests with the chance to experience the world of Japanese tea and the rich culture of Mino.

You can also experience tasting and comparing different Japanese teas that are offered by Minokamo Chapo. During your stay, you will also encounter lots of Mino Ware, and be surrounded by a traditional Mino interior decorated with Mino washi paper.

1st floor: Café and Bar

You can order the Japanese tea tasting selection at the counter. This space is used as the Minokamo Chapo tea shop from 11 am to 4 pm on weekends and national holidays.

2nd floor: Rooms


The rooms are approximately 22m2. On top of this space, there is also a shower room and toilet in their own separate rooms.

3rd floor: Lounge

This is an area of free space for the guests. There are future plans to decorate this space with paintings and pottery according to the season.

The interior of the guest rooms are also packed with the wonders of the Mino region, so we are going to introduce you to a few of its special features. 

Upon entering your room, you will be greeted by the warm light of an Akari lantern. This is a kind of lantern which is recognized as a traditional craft of Gifu prefecture. This lantern design was created by famous artist Isasmu Noguchi, who named it Akari which means "light".

In the bathroom, you will spot a few stylish mugs which belong to the brand "3rd-ceramics".  

 The rooms are affixed with paper sliding doors (shoji) and bear beautiful Mino washi paper that is a traditional turquoise-blue colour. 

This is the perfect place to enjoy a traditional experience like no other. 

Information

Accommodation Plan:

MINGLE Address: 2689-14, Otemachi, Minokamo, Gifu

【Standard Prices】

ーGeneral Reservationsー

3 Guests ¥13,890(¥4,630 per guest)

2 Guests ¥11,260(¥5,630/ per guest)

ーReservations Made a month in advanceー

3 Guests ¥11,190(¥3,730/ per guest)

2 Guests ¥9,460(¥4,730/ per guest)

※ The fee for 1 guest is the same as that of 2 guests.

◆Reservation Website:

Booking.com (English also available): https://www.booking.com/hotel/jp/mingle-minokamo.ja.html

Instagram: https://www.instagram.com/minocamo_mingle/

Phone Number: 080-4210-7117 

MinoKamo Chapo: https://mchaho.com/

Tokyo Disney Resort Reveals Its Spooky Halloween Programme and Character Costumes

Get ready for some spooky fun as Tokyo Disney Resort® transforms for the 52-day-long horrifically exciting Disney Halloween from September 10 to October 31. Head to DisneySea to be captivated by the new harbor show Festival of Mystique, or get spooked out of your skin at the Spooky "Boo!" Parade at Disneyland. Today, we will be revealing the spooky looks of both parks.

Tokyo DisneySea Festival of Mystique Costumes

Working with the main theme of a medieval European halloween, inspiration has been taken from the living creatures and waves at the port town Porto Paradiso. 

Mickey Mouse's costume inspiration comes from the the bones and scaly body of a sea creature. He will also be seen wearing a broach decorated with beautiful jewels. 

Minnie Mouse's costume resembles that of a medieval princess. You will see her in a fancy hat that bears beautiful pearls. Her costume is covered in scales on the chest and on the back which really suits her.

Tokyo Disneyland's Spooky Boo! Parade Costumes

Disney friends have joined forces with a group of spooky spirits. You just can't miss out on this rare chance to see your favourite Disney characters disguised as ghosts and skeletons. The strange and unusual atmosphere is sure to send a chilling shiver down your spine. 

Mickey and Minnie will be completely refreshing their colourful look. Mickey's necktie and Minnie's skirt are very mysterious and particularly intriguing.  Please come check them out!

Enjoy the beautiful costumes and the fun range of events this Halloween at Tokyo Disney Resort.

©️Disney

Häagen-Dazs Releases Purple Sweet Potato Tartelette & Rich Pumpkin Ice Cream

Häagen-Dazs just released their new Purple Sweet Potato Tartelettes and Rich Pumpkin mini ice cream cups in Japan. They will be available for a limited time only.

Purple Sweet Potato Tartelette

Concealed inside a crispy coating laced with purple sweet potato powder is a rich custard ice cream seeping in a subtly sweet purple sweet potato sauce. A tried and tested treat for autumntime, these crispy ice cream sandwiches not only taste like the sweet purple root vegetable, but they also take on their vibrant colour too.

Through much trial and error, Häagen-Dazs have been able to create the perfect harmony of flavours between the sweet potato and ice cream. The custard ice cream brings the richness of the egg and lifts the notes of the sweet potato to even greater heavenly heights.

Rich Pumpkin Mini Cup Ice Cream

The new pumpkin ice cream is drizzled in a pumpkin sauce packed full of plump pumpkin perfection. And by cooking fresh pumpkin, the flavour is condensed and made even richer, filling your mouth with the gentle sweetness of pumpkin.

Both the ice cream and the sauce are made with Ebisu pumpkins from Hokkaido. And like the tartelettes, these mini ice cream cups retain that bright original flavour of the squash plant.

Taste the flavours of all with these two new delicious desserts from Häagen-Dazs.

Information

Häagen-Dazs Crispy Sandwich Murasaki Imo (Purple Sweet Potato) Tartelette (Limited Edition)

Release Date: August 20, 2019

Price: ¥319 (Tax Included)

Available: At supermarkets, convenience stores and department stores in Japan

Product Page: https://www.haagen-dazs.co.jp/murasaki_imo_tart/

Häagen-Dazs Mini Cup Rich Pumpkin (Limited Edition)

Release Date: August 20, 2019

Price: ¥319 (Tax Included)

Available: At supermarkets, convenience stores and department stores in Japan

Product Page: https://www.haagen-dazs.co.jp/rich_pumpkin/

7 Best Peach Desserts to Enjoy This Season in Hokkaido – MOSHI MOSHI NIPPON

Hokkaido is a popular tourist destination for Japanese people as well as foreigners. During the winter, it is the perfect place to go skiing and during the summer, you will not suffer under sweltering heat like the rest of Japan. Hokkaido not only flourishes with wonderful tourist locations and delicious gourmet seafood, but also beautiful and stylish cafés.

In this feature, we are joined by Instagrammer Kei whose page is centred around cafes in Sapporo, Hokkaido. They have provided us with photos of desserts made with peaches which can be enjoyed right now before summertime ends.

Initial Sapporo in Susukino

Parfait Pêche – ¥1,700

Sapporo cafe Initial was ahead of the parfait game before the boom in Japan. Right now they are selling two new parfaits: one made with melon and the other with peach. They are being served until the end of August.

The parfait is topped with sweet sliced peaches underneath which sits refreshing milk flavoured soft serve ice cream for a heavenly combination. The yogurt mousse elevates the sweetness of the peaches and goes well with the sprinkle of black pepper. There's even Parmesan cheese which tastes gorgeous with everything. No matter where you stick your spoon in this parfait your taste buds will be treated with delight.

▼Initial

Address: DRESS 2F, 5-Chome-36 Minami 3 Jonishi, Chuo Ward, Sapporo, Hokkaido
Opening Hours: [Weekdays] 17:00-Midnight / [Weekends & Public Holidays] 14:00-Midnight (Last Orders 23:30)
No Fixed Holidays
Access: 5-minutes on foot from Susukino Station and Ōdōri Station
Official Facebook Page: https://www.facebook.com/INITIAL.sapporo/

Gohanya Cafe Miyabi in Kita 24 Jo


Whole Peach & Royal Milk Tea – ¥1,380

The seasonal parfait at Gohanya Cafe Miyabi right now is the Whole Peach & Royal Milk Tea. It's served with an entire plump peach on top which is best enjoyed by cutting and eating bit by bit until it drops into the glass. The peaches they use are refreshing and really delicious♡

Tea is the main component of this parfait and that too was super refreshing. It also includes a framboise sorbet which add satisfying sour notes, and the cookies and other hidden treats add a multitude of tasty textures.

▼Gohanya Cafe Miyabi

Address: E-COUR24 1F, 3-Chome-1-1 Kita 24 Jonishi, Kita Ward, Sapporo, Hokkaido
Opening Hours: Lunch 11:00-15:00 / Cafe Time 15:00-17:30 / Dinner 17:30-21:00 (Last Orders 20:00)
Closed: Thursdays
Access: 150 meters from Kita-Nijūyo-Jō Station
Official Website: https://miyabi-sapporo.shopinfo.jp/

TSURU CAFE in Miyanomori


Flavour Soft Peach – ¥830

TSURU CAFE is a stylish and popular little cafe that is selling its new Flavour Soft Peach for a limited time. The syrup is this parfait is in fact made from red shiso leaf. Inside you will find a tower of peach compote, soft serve ice cream, meringue, and the syrup.

The milky ice cream is a a magical mix together with the peach compote. The crunchy meringue is simply melt-in-your-mouth too♡

The syrup has that distinct red shiso fragrance but it tastes sweet and so makes an amazing flavour. The shiso will no longer be served once sales of this dessert finish, so you'll want to get in there ASAP!

▼TSURU CAFE

Address: 5-Chome-2-8 Miyanomori 2 Jo, Chuo Ward, Sapporo, Hokkaido
Opening Hours: [Mon-Sat] 10:00-20:00 / [Sun & Holidays] 10:00-19:00
Closed: Wednesdays
Access: 500 meters from Nishi-Nijūhatchōme Station
Official Blog: http://tsurucafe.jugem.jp/

KAJITSU_CLUB in Tanukikoji Shopping Street


Peach & Hokkaido Soft Cream – ¥600

KAJITSU_CLUB is located in the Beats Eats are on the basement floor of PARCO. You can order the ice cream of this peachy parfait as vanilla, yogurt or mixed. I went with mixed.

The fresh peaches are so good! The soft serve ice cream is nice and sweet and there's also a sour yogurt flavour. The flavours might be simple but the quality is high.

▼KAJITSU_CLUB

Address: PARCO B2F, 3-Chome-3 Minami 1 Jonishi, Chuo Ward, Sapporo, Hokkaido
Opening Hours: 10:00-20:00
No Fixed Holidays
Access: Directly connected to the Ōdōri Station subway
Official Instagram: https://www.instagram.com/kajitsu_club/

SHIRAYUKI in Tanukikoji Shopping Street


Momomo – ¥600

Available this August only, SHIRAYUKI's new bottled drink is made of half frozen peach smoothie and half jelly and Hokkaido milk. This combination is match made in heaven! They come with a bag if you want to order for takeout too.

SHIRAYUKI

Address: Sapporo Aiseikan Bldg., 5-Chome Minami 1 Jonishi, Chuo Ward, Sapporo, Hokkaido
Opening Hours: 12:30-19:00
No Fixed Holidays
Access: 5-minutes on foot from Ōdōri Station
Official Instagram: https://www.instagram.com/shirayuki.hokkaido/

Pâtisserie LEEMO in Shinkotonicho

Whole Peach Parfait – ¥1,350 (*Only 20 available per day)

Pâtisserie LEEMO is known for its cute cakes and baked sweets, but right now they are selling this Whole Peach Parfait until the end of August.

You only need to feast your eyes on this dessert to know how refreshing the flavour is going to be. It even contains a jelly made from rosé wine, but the alcohol taste isn't strong so can be enjoyed by anyone.

Depending on the stock of the bakery's peaches sales of this dessert may end earlier. You can also make a reservation for one which I recommend, so don't miss out!

▼Pâtisserie LEEMO

Address: 6-Chome-2-21 Shinkotoni 2 Jo, Kita Ward, Sapporo, Hokkaido
Opening Hours: 10:00-19:00 (Parfait served at 12:00-18:00)
No Fixed Holidays
Access: Approximately 1km from Shinkawa Station
Official Website: http://patisserieleemo.jp/

Cake and bake HACHI CAFE in Hachiken


Whole Peach – ¥720

This luxurious-looking dessert is a whole peach filled with framboise jelly and custard making for an irresistible sour and sweet combination. The tart underneath is incredible too! Due to limited stock and the time it takes for the peaches to ripen there are days when the dessert isn't serve. You can check the cafe's official Instagram to find out if it's on the menu that day or not.

▼Cake and bake HACHI CAFE

Address: Hachiken 3 Johigashi, Nishi Ward, Sapporo, Hokkaido
Opening Hours: 11:00-17:00
Closed: Wednesdays & Thursdays
Access: 550m from Hachiken Station
Official Instagram: https://www.instagram.com/hachicafe8/

Did you enjoy this list? Make sure to wolf down all of the tempting peach desserts you can in Japan before summer ends.

Kei's Instagram page is a wealth of recommendations for meals and desserts in Hokkaido, so be sure to check out their page if you're planning to travel there.

Photo & Text: Kei (@607keih)

Translation: Joshua Kitosi-Isanga

Cute Halloween Sweets Spook Their Way Into Tokyo's The Capitol Hotel Tokyu

For this year's Halloween season, The Capitol Hotel Tokyu in Tokyo has announced that it will serve up its Halloween Sweets Selection again this year at the hotel's pastry boutique ORIGAMI located on floor B2F. The confectionery chefs have spun some spooky fun into this collection of 10 cute treats.

Frankenstein – ¥1,760 / Phantom – ¥1,760 / Cyclops – ¥1,760

The Phantom is a popular confection every year at the hotel, but this year he's had two new freaky friends carved out for him: Frankenstein's monster and a Cyclops. These white chocolate monsters are filled with chocolate-covered almonds, macadamia nuts and other hidden delights.

Witch Hat – ¥715

Dressed in a milk chocolate mousse is ganache and a rich and bitter crème brûlée made with bitter orange. It also contains a mandarin orange liqueur for deeper flavours. The mix of orange notes is refreshing on the palate.

Cross – ¥715

The orange and black Cross is a mousse cake made from pumpkin puree beneath which lies a cinnamon flavoured crème brûlée and coffee flavoured ganache. The bitter coffee elevates the exquisite sweetness of the pumpkin for a delicious combination.

Evil Eye – ¥715

Enter at your own risk with the grotesque-looking (but delicious tasting) Evil Eye mousse cake. It's made with fragrant biscuit and caramel as well as blonde chocolate from France and inside is a smooth pear jelly.

There are lots of other Halloween treats besides these coming to the hotel too, so if you're in Tokyo this October then be sure to stop by for a Happy Halloween.

*All listed prices include tax

New Hotel Renovation Hakone Yutowa in Gora Caters to Millennials and Families

Hakone Yutowa is a new hotel in the town of Gora, Hakone that opened on August 11, 2019. This hotel renovation is aimed at millennials (those in their 20s and earlier 30s) and families, offering various different rooms include your typical hotel-type as well as condos. There are also multiple shared public spaces full of fun and relaxation.

Part of the enjoyment at Hakone Yutowa is getting to walk around the site leisurely finding all the little things it has to offer, from the hot spring with its own hot spring source to a communal room so stylish you can't help reaching for your camera to snap photos. The hotel aims to offer guests "an experience in remote Hakone you can't get anywhere else" and it does so by presenting a new style of hotel accommodation.

Hakone Yutowa is about a five-minute stroll along a flat-level path from Gora Station, which is accessed via the Hakone Tozan Railway, meaning it can be accessed easily by those without a car. "Yutowa" is has a combination of meanings: the yu in Japanese means "hot water" which conjures up not only the hot springs but also a warm and welcome stay at the hotel. It is also word play with the word "you." The to means "and" in Japanese and wa is "circle" like a circle of friends. In other words, at Hokone Yutowa, you'll be spending a nice time together with someone special.

The hotel is split into three buildings: the East Wing, West Wing, and Condominium Wing. Each offers "a new style of travel accommodation."

New Style ①

Spa Lounge Nakaniwa and Lively Lounge are two public spaces in the hotel that anyone is free to use at their leisure. Nakaniwa is home to a footbath at the outdoor wooden deck which makes use of the hotel's natural spring source, as well as an open-air fire. Lively Lounge houses around 700 books which guests can pick from before finding a little spot to sit down and relax.

New Style ②

There are two types of rooms: Hotel and Condominium. The Condominium rooms are the first hotel rooms of their kind to be offered in the Gora area. These fancy rooms have their own hot spring bath with a beautiful view. The water in the bath flows directly from the hot spring source.

New Style ③

The all-inclusive plan includes breakfast and dinner as well as free drinks and free use of the communal spaces. Guests do not need to worry about any extra fees as everything is included. There are also other baths available in the hotel including one that makes use of colourful lights.

If you're looking for a hotel with freedom in Japan then take your family, friends or loved one to Hakone Yutowa.

STRAWBERRY MANIA: Harajuku's Cutest & Tastiest Strawberry Ice Cream | Food Review

Hey, readers. It's Midori again, from MMN's editorial team.

Summertime in Harajuku means the cafes and ice cream shops start serving up some seriously kawaii and tasty ice creams. It's always nice to grab a cone to enjoy while walking around shopping, but relaxing in a cafe to enjoy it is fun too♡

If the latter sounds like your kind of thing, then I've got a new recommendation for you. I visited STRAWBERRY MANIA recently, cafe located along Takeshita Street in Harajuku that specialises in strawberry desserts.

You'll find it right above the 7-Eleven on Takeshita Street. Look for the strawberries!

There's also a sign outside showing a few of the desserts. Go up the staircase right next to it and you'll come to the cafe entrance.

No matter where you turn while you're here, your eyes will be met with strawberries. It looks so cute♡

The shopfront showcase is shelved with lots of succulent strawberry treats. The chef whips up other desserts to order besides these too. Everything's almost too cute to eat!

For the strawberry soft serve ice cream you can pick between three flavours: milk, strawberry or mixed. I couldn't pick between them so I went for mixed.

The combination of the bright red strawberry ice cream and pure white milk ice cream makes for a beautiful colour contrast.

It's also topped with a huge fresh strawberry.

I took no time at all in taking a spoonful. The strawberry ice cream has a really rich flavour. It's sweet but has that sour kick too, like you're eating a real strawberry. The milk ice cream has a milder sweetness and a real milky taste, the kind you'd imagine if it was sold at a farm with cows.

Everything is packed snug into the cone right down to the bottom, making it a filling treat. It can be ordered for takeout if you like, and if you do that you can get your ice cream straight away so you don't have to wait for seats.

They serve other things besides soft serve too, like shaved ice and parfaits. There's so much to choose from, I think you'll be spoiled for choice! Be sure to visit if you're in Harajuku.

Disney Christmas 2019 at Tokyo Disneyland: Spend This Year's Holiday Season With That Special Someone♡

Tokyo Disney Resort has announced this year's Disney Christmas which will take place at Tokyo Disneyland® and Tokyo DisneySea® from November 8 to December 25. This is the Tokyo Disneyland® event line-up. For the Tokyo DisneySea® schedule, click here.

Disney Christmas Stories

Disney Christmas Stories celebrates the holiday season with a magical parade which will bring together the Disney cast members with their loved ones. The characters will dress in festive outfits and deliver to guests their own Christmas stories. Seven joyous Christmas stories will unfold before guests' eyes, from a merry family outing with Donald Duck, his beloved Daisy Duck and his three nephews Huey, Dewey, and Louie, to the star couple Mickey and Minnie Mouse.

The parade will seemingly stop all of a sudden which will be followed by ringing bells, signalling the start of a Christmas party. Snow will fall along the parade route, and the cast members will invite guests to join them in celebrating a heart-warming Christmas.

Christmas Decorations

An enormous 15-meter tall Christmas tree will tower over World Bazaar and illuminate the streets with its brilliant lights together with dazzling projections, combining with the festive music to create a romantic atmosphere.

The plaza in front of Cinderella's Castle will glimmer with Christmas adornments as well as Christmas presents, Winnie the Pooh decorations, and more. Each themed land across the park will also be embellished in Christmas colours, bringing a merry little Christmas to the park.

Special Christmas Merchandise

Glass Set – ¥2,200 (Tax Included)

Around 65 special Disney Christmas themed items are set to go on sale from November 1, from glasses to cushions and more, all of which can be used for Christmastime at home. Featuring designs of the Disney characters, each item is sure to bring an air of that nostalgia we all feel at Christmas.

Christmas Food & Drink


Also available from November 1 is a very special Christmas menu made up of 15 dishes and drinks. There's the seafood cream bread packed with melted cheese, a hot dog dressed in the colours of Christmas with its eye-catching red bun and white cheese, and more. There's also a dish inspired by the Disney film Beauty and the Beast who are set to appear in the parade.

Enjoy a very merry Christmas this year at Tokyo Disneyland.

Kaori's Easy Recipe: Learn to Make Steamed Minnie Mouse Cocoa Cakes

With just a small bit of ingenuity, turn everyday food into something cute using Kaori's easy recipe! With a few simple ideas, an ordinary recipe magically transforms into a cute dish.

Today, I will show you the perfect recipe for making chocolate Minnie Mouse cakes using the Mickey Mouse Tezukuri Okazu Maker kit which you can buy on Belle Maison.

1. Ingredients

About 3-4 prep bowls

1 large egg

40g sugar

Oil or 10g melted unsalted butter

15ml milk

50g weak flour (sifted)

10g cocoa

5g baking powder

2.

①Crack the egg into a mixing bowl, add the sugar and whisk well.

②Add a drizzle of oil or melted butter and milk and whisk again.

③Add the sifted flour and stir in gently with a rubber spatula.

3.

Oil the silicone cake moulds and spoon in your mix.

4.

Steam on a high heat for about 10 minutes.

5.

Now it's time to make Minnie's ribbon. I got this ribbon mould from Daiso. Place it onto some baking paper and outline the shape with a pen. Fill the outline with red-coloured chocolate and leave to set in the fridge. Once it has completely set, add the polkadots.

6.

Once the cake has finished steaming, stick her onto a lollipop stick so it the cake be eaten like a lollipop, and fix the ribbon onto the top of Minnie's head.

And she's finished! It looks cute when you put a Mickey and Minnie one together side by side. You can make a lot of cute recipes using the Okazu Maker, so get your hands on one and try making your own!

Kaori invites you into her world of character-themed food dishes in her recipe series. Be sure to check out her Instagram where she has uploaded many pictures of her character dishes!

©️Disney

Profile

Kaori Kubota (@kaopan27)
I live in Hokkaido and I love to make character themed foods, desserts and pastries♡

I want to see my family smile, so I enjoy putting in a bit of effort to make character foods and changing food into something cute♡

You can see more of my character foods and character bento boxes on my Instagram page→@kaopan27