Live the Disney Princess Dream With Tokyo Disneyland Hotel's Luxurious Afternoon Tea
If you've had the chance to visit Tokyo Disneyland or Tokyo DisneySea you will have tried the many delicious dishes and drinks on offer at its variety of restaurants. But did you ever know that Tokyo Disney Resort also offers afternoon tea?
Tokyo Disneyland Hotel serves the only afternoon tea set across the entire resort on occasion in line with certain events.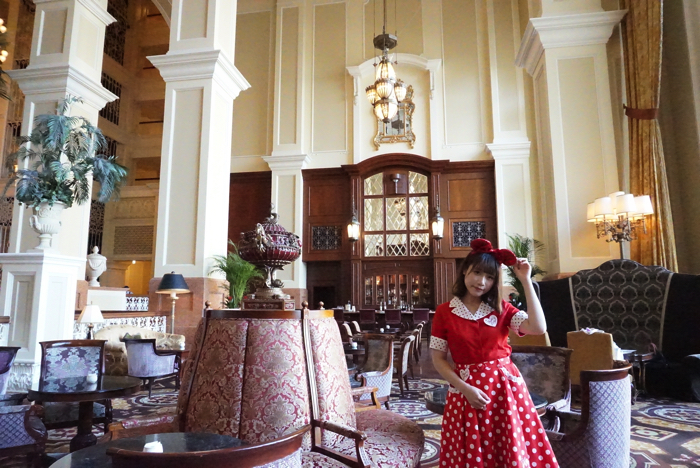 We had the pleasure of joining Disney mega fan Kanako as she went to visit the hotel to try this very special afternoon tea.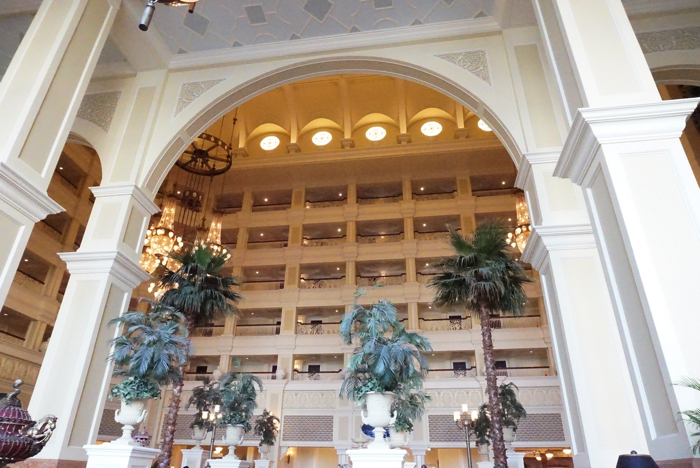 Tokyo Disneyland Hotel is the closest hotel to the entrance of Tokyo Disneyland. The first thing you will notice upon stepping inside is its use of Victorian decor. The ceiling also stands tall, opening the entire hotel up to give it a sense of space.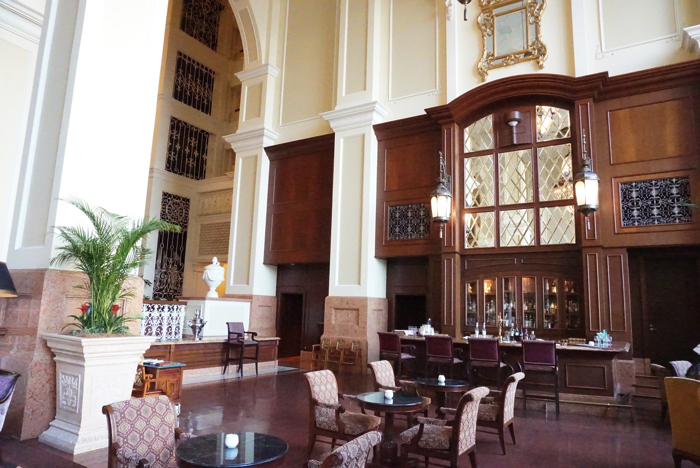 The afternoon tea is sold at the Dreamers Lounge in the lobby. In line with the Donald's Hot Jungle Summer event currently taking place at Tokyo Disneyland until September 1, the tea set is also "hot jungle summer" themed.
The first thing to note about the three-stack set is how refreshing and summery it looks – a perfect selection for the hot season. It comes with sandwiches, hors d'oeuvre, scones, desserts, and a choice of tea or coffee.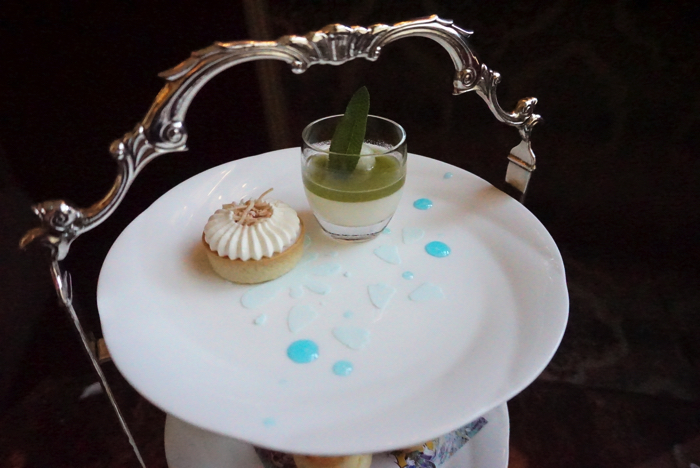 Kanako started with the very top plate. The plate itself is decorated with what is supposed to look like Donald's footprints and splashes of water.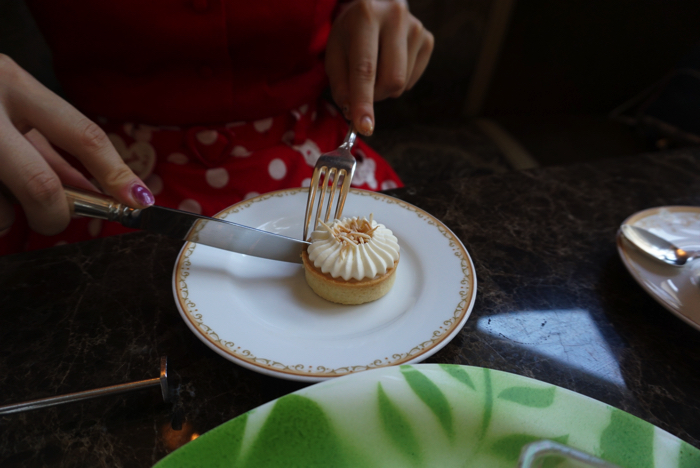 The dessert on the left is haupia, a traditional Hawaiian dessert made with macadamia paste and roasted coconuts. It's crunchy and has an incredible flavour.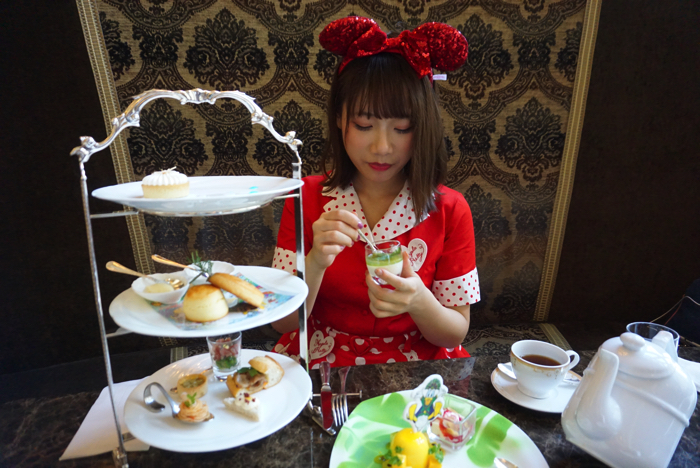 Sitting temptingly next to it is the panna cotta and melon coulis. It contains a single sage leaf which adds flavourful herb notes. The entire dessert itself has a satisfyingly refreshing taste which covers your taste buds with a single mouthful.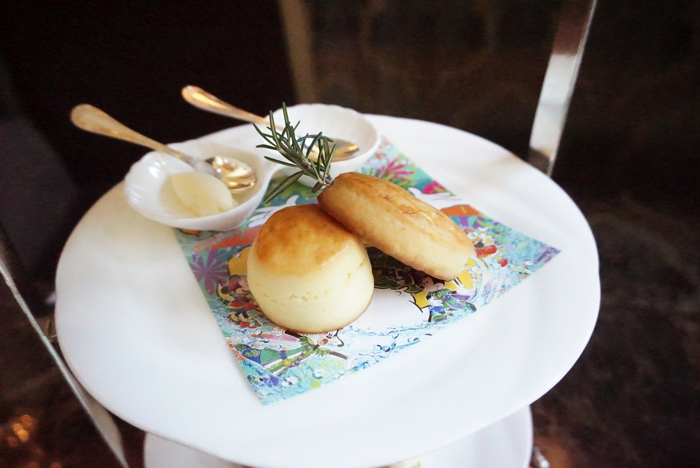 The middle plate features two types of scones: plain and pineapple. They come with separate servings of clotted cream and honey to lather the scones in. The latter scone is cute in that it's actually shaped like a pineapple. It's crunchy and delicious and goes exquisitely with the accompanying tea.
The tea menu has many options. Kanako went for the "Darjeeling Summer" from the premium tea selection. When you order from the premium menu your tea is prepared in a sleeping pot that is both cute and extravagant as you would expect with an afternoon tea set.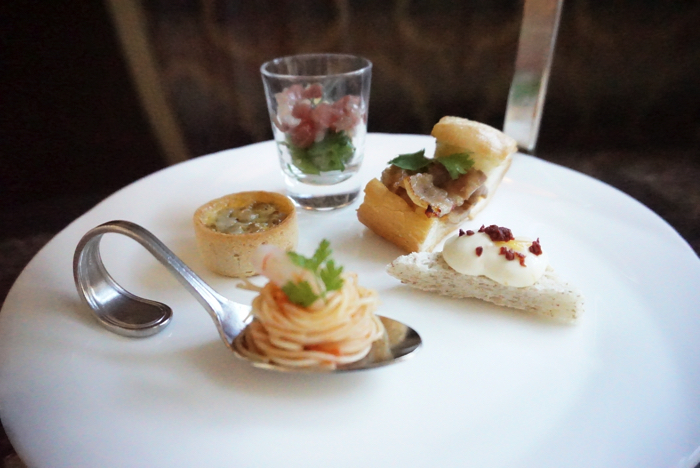 The bottom plate contains a bunch of different appetisers including tuna and okra tartar, mango and mascarpone canapé, tomato and fish capellini, keema curry quiche, and an ethnic pork sandwich.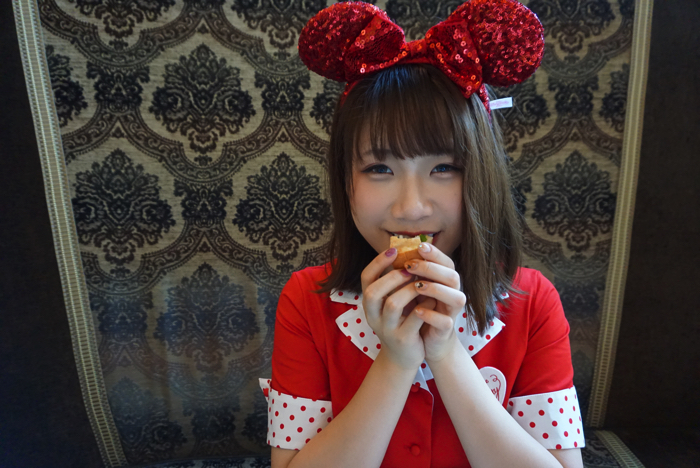 Kanako was very happy with her hors d'oeuvre, saying: "Everything is delicious, but I really like the combination of the pork and the slightly chewy bread for the pork sandwich!"
The chilled cone cream scoop was very refreshing and a perfect palate cleanser.
Finally, the cute hot jungle summer dessert plate which caught our attention from the very start. It comes with a tropical cream cheese and passion fruit mousse, white grape and shiikuwasha jelly, and Peach Melba which looks like flowing magma.
You might be surprised to find out that the jungle leaves on the plate aren't actually part of the plate's design but in fact green chocolate carefully sprayed on.
Even the Goofy, Mickey and event logo on the plate are delicately made from chocolate. Once you know that you'll definitely be reaching for the camera straight away!
The Peach Melba is a lovely combination of peach compote and vanilla ice cream topped with raspberry sauce and almonds. Its mix sweet and sour flavours remind one of summertime.
It's not everyday you see a cream cheese mousse, is it? The one that Donald is sat on. Kanako especially enjoyed its passion fruit scent and velvety texture. It's made even more delicious when eaten together with the jelly surrounding it.
So, which was your favourite, Kanako-chan?
"Everything tasted amazing, but my favourite was the haupia♡ It's moderately sweet, and I really liked the flavour of the coconut! Everything in the afternoon tea set is cute down to the tiniest details, so it's perfect for taking photos for social media. I definitely wanna go again!"
The Donald's Hot Jungle Summer themed afternoon tea set is being served from 11:30-17:00 until September 1, 2019. Places are limited so I recommend making a reservation in advance.
Enjoy your summer to the fullest with this tropical afternoon tea set!
©️Disney
Information
Donald's Hot Jungle Summer Afternoon Tea Set
Running: July 8, 2019 – September 1, 2019
Location: Dreamers Lounge, Tokyo Disney Hotel
Serving: 11:30-17:00
Price: ¥4,000
Reservations: https://reserve.tokyodisneyresort.jp/
*Customers and guests can make reservations for the afternoon tea set.
*If you are not staying as a guest at the Disney Hotel then please make your reservation on the Tokyo Disney Resort website.
*Please note that servings are limited each day.
RECOMMENDED ENTRIES
Soar All Over The World With DisneySea's Brand New Attraction Soaring: Fantastic Flight

Tokyo DisneySea will open their new attraction Soaring: Fantastic Flight on July 23. This ride is an immensely popular attraction at theme parks around the world. DisneySea has created a new adaptation of this ride, offering a brand new and original experience to visitors.

Model Saki Shibata from MOSHI MOSHI NIPPON Editorial Department headed to DisneySea with model Kanako for an exclusive opportunity to experience this attraction before it opens to the rest of the public!

Climb up the stairs next to the Mediterranean Harbor and the attraction will lie right before your eyes. 

Before you enter the building, you will notice that there are lots of photo spots outside. 

You will also spot Camellia Falco; a keen flyer who became the first woman to be accepted in the Society of Explorers and Adventurers in 1851.

The Museum of Fantastic Flight located in the Mediterranean Harbor is celebrating Camellia Falco's innovation in the field of aviation by holding a special commemorative exhibition dedicated to her and her research. 

The final room of the museum is a gallery filled with Camellia's outstanding achievements.

Finally, it was time to climb aboard the invention of Camellia and her colleagues; an aircraft called the Dream Flyer.

The Dream Flyer was a magnificent trip. We soared through the sky, through the nature and around famous places of the world.

We were propelled from one place to another, experiencing a range of new atmospheres and surroundings in so many ways. At each location, we felt the wind and temperature of each country on our skin and could even smell a mix of intriguing smells unique to each location. 

The final destination we arrived at was our most favourite… 

This DisneySea original attraction is overflowing with imagination. It was like flying through an imaginary world. You absolutely must check it out. 

Fantastic Flight Churros (Pineapple): ¥400

Fantastic Flight Drink (Lychee Bubble Tea): ¥450

To celebrate the opening of the new attraction, new Fantastic Flight-themed merchandise and foods have been released. Zambini Brothers' Ristorante is even selling pineapple flavoured churros and bubble tea. Just looking at the blue sky colour of these delicious treats will leave you feeling refreshed.

Postcard: ¥200 

Origami Notebook: ¥400

Socks (22 ー 25cm/ 25 ー 27cm): ¥700

Please check out the full goods range!

It has been quite a while since DisneySea has opened a new attraction, so the park is booming with excitement in anticipation for its grand opening to the public! Climb aboard the Soaring: Fantastic Flight ride and embark on a worldwide adventure! 

©Disney

Tokyo Disney Resort® To Release FASTPASS App

On July 23, 2019, Tokyo Disney Resort will launch a new Tokyo Disney Resort App for smartphones which allows you to obtain FASTPASS tickets for rides from any location in the park.

After entering the park, you can download your FASTPASS tickets using the app. This allows visitors to fully immerse themselves in the magical atmosphere of the park, giving them more time to enjoy the delicious food and discover the shops without having to rush to the other side of the park to get to the machines selling the FASTPASS tickets. 

You can use the app to get FASTPASS tickets at a total of 18 park attractions at the resort. This even includes tickets for the brand new DisneySea® attraction Soaring: Fantastic Flight, which will open on July 23, 2019. 

Downloading the Tokyo Disney Resort App is sure to save a lot of time and energy so you and your friends and family can focus on having a good time and discovering this enchanted world. 

©️Disney

Enjoy Pirate-Themed Food, Cocktails, Desserts And More at DisneySea This Summer

Tokyo DisneySea launched their special event called Disney Pirates Summer which will run until September 1. The event includes the launch of 16 colourful pirate-themed menus. 

We headed straight to Mediterranean restaurant Cafe Portofino to fill ourselves up on the delicious menu. Cafe Portofino is the nearest restaurant to the entrance of DisneySea. Once you find the Mediterranean Harbor, you will find it on the right. 

 Special set: ¥ 1,880 ① Potatoes and Roast Beef Salad ②Linguine topped with Olive and Caper Tomato Sauce and served with Battered Yellowfin Sole Fish ③ Lychee Pudding with Lemon Jelly topped with Mixed Fruit ④ A choice of Soft Drink ⑤ Pay an extra ¥310 for an alcoholic drink. 

I ordered the special set which is surprisingly big but definitely enough to satisfy the hungry pirates, who are always boasting about their enormous appetite. 

I started with the potato and roast beef salad, which was dressed in balsamic vinegar. The taste was so refreshing which is just what you want during the summer. The rosemary-flavoured potatoes were soft and a perfect match with the beetroot.   

The linguine was chewy and springy and the capers produced a mildly tangy flavour. I am not usually a big fan of olives, but these were very delicious. The battered fish was crispy and not oily, which is suitable for children and adults. 

Just looking at the lychee pudding with lemon jelly is enough to make you feel refreshed. It is packed with fruit and takes on the image of a pirate's treasure chest that is full of colourful rubies. This is the perfect way to clean your palate. 

Ordering the special set allows you to choose a soft drink. If you pay an extra ¥310, you can change this drink into an alcoholic drink. 

Sparkling Cocktail ( Rum and Mango Sherbet) On its own: ¥680

This cocktail takes on the image of a pile of pirate treasure. Mango sherbet sits on top of the cocktail like nuggets of precious gold. The base of the cocktail is rum and peach and the refreshing alcoholic flavour of the rum is moderately sweet, spreading instantaneously through your mouth on your first sip. The solid texture of the mango makes the cocktail even more enjoyable, so please mix it thoroughly before devouring. 

The bakery next to Cafe Portofino called Mamma Biscotti's Bakery is selling desserts which come with souvenirs that you can take home with you.

Mango Jelly and Orange Mousse with Souvenir Mug: ¥800

Jelly, mousse and meringue whip is layered in the mug. This refreshing dessert not only looks pretty, but is also made up of a range of fun textures for you to enjoy. 

You can take the souvenir mug back home with you. Its design features Mickey Mouse and friends dressed as pirates. 

Coffee Roll Cake with Souvenir Plate: ¥800

This is the perfect dessert for adults because it is slightly bitter. The layers of sponge, cream and bitter coffee makes for a range of delicious flavours. This plate's design also features Mickey Mouse, who has dressed up as a pirate for the event. This would be perfect to take home with you to remember your trip!

DisneySea is the perfect place to cool down this summer and create many wonderful memories, so please do pay a visit. 

©️Disney

Tokyo Disneyland's Hot Jungle Summer Event Offers Up Flames, Drenching Water & Delicious Food

Hi, everyone! It's Midori from MMN's editorial team.

Donald Duck is the star of Tokyo Disneyland right now with his Hot Jungle Summer festival that is running right now until September 1. It is packed full of events, limited time food and exclusive goodies all themed around summer.

The limited time food is taking on water and fire motifs with restaurants serving up both cool and refreshing looking items and hot summery items. I paid a visit to the festival together with Kanako so we could try out these seasonal meals and drinks.

Sparkling Drink (Blue Syrup) – ¥380

We headed over to Boiler Room Bites located inside Adventureland and tired out their blue coloured "sparkling drink." Blue syrup is added to the cup inside which chewy pieces of jelly bob up and down in the soda. Its appearance alone is enough to cool you down, it's really pretty!

They sell other sparkling drinks too, including a red coloured one with raspberry syrup and a yellow one with lemon syrup. It's cute and fun for you and your friends to get different coloured ones♡

For an extra ¥350 you can also get this huge yellow souvenir straw with Donald on the front. Simply kawaii♡

Cream Shaved Ice (Tropical Fruits) – ¥550 (Tax Included)

The tropical fruits flavour of Tokyo Disneyland's popular cream shaved ice is available for the festival only. It's a mix of shaved ice and soft serve ice cream.

It's sold at Troubadour Tavern in Fantasyland and comes with huge pieces of pineapple. It's not too sweet and is the perfect refreshment for the hot summer weather.

Special Set: ¥960 (Tax Included)

You can get this special set at the refreshment corner of World Bazaar. It comes with a bright red hot dog topped with cheese and a vegetable sauce packed full of veggies. The sauce is spicy and will whet your appetite!

It also comes with a drink and fries so you're sure to get your lunchtime fill.

Special Set: ¥1,080 (Tax Included)

Camp Woodchuck Kitchen in Westernland is popular for its turkey legs. This mouthwatering set comes with a tasty hamburger seasoned with curry sauce and topped with cheese. Even in the hot summer this one is a must-try. It also comes with fries and a drink.

The restaurant sells a whole load of other bites too like the onigiri burger, waffle sandwiches and more, all ideal for lunch. Sift through the menu and make your choice♡

Mango Milk Soft Serve Ice Cream w/ Raspberry Sauce – ¥400 (Tax Included)

If you want ice cream then you'll want to head to Squeezer's Tropical Juice Bar in Adventureland where they're selling mango and milk flavoured soft serve ice cream drizzled in raspberry sauce. The sweetness of the ice cream and sourness of the raspberry sauce go together really well. It's available for a limited time only so don't miss out!

That goes for everything else listed here, it's all limited-time-only, so if you're in Tokyo this summer then be sure to head on over ASAP!

©Disney

Tokyo Disney Resort at Night is a Must-Experience With Chill Shows & Events

Tokyo Disney Resort's® summer events have officially begun. There are plenty of exciting events to experience during the daytime this summer at Tokyo Disneyland and Tokyo DisneySea, but there are equally as many fun evening events too.

Let's take a closer look at what you can look forward to during summer nights this year at both parks and the Disney Ambassador Hotel.

Oh! Summer Banzai – Flames and water surround the Cinderella Castle

Oh! My Summer is the first stage show to be held at the Cinderella Castle in six years and will offer up a whole new kind of summer evening entertainment at Tokyo Disneyland. It will feature the impressive use of flames and drenching sprays of water to entertain the park guests.


A colourful jungle background will provide the setting for the show with Donald Duck as the main character who will be joined by Mickey, Minnie and other members of the Disney cast.

Together with the thundering music, thrilling dancing and refreshing water sprays, guests can look forward to a fiery show that in fact serves to cool them down from the summer heat.

If you're looking to cool down during the day then be sure to check out the Pirates of the Caribbean themed Pirates Summer Battle and Zootopia themed Judy and Nick's Jumpin' Splash events too to get sprayed with cold water.

Oh! Summer Banzai

Location: Castle Forecourt, Tokyo Disneyland

Performance Time: 20-minutes (Twice a day)

Event Page: https://www.tokyodisneyresort.jp/en/tdl/show/detail/938/

Barnacle Bill's – Chill out with beer and sausages at DisneySea

The blackcurrant beer cocktail and cheese-filled bone sausage set sold at Barnacle Bill's in American Waterfront is a must-try. The beer is super refreshing accompaniment for the hot weather and goes perfectly with the sausages.

 

Barnacle Bill's

Location: American Waterfront, Tokyo DisneySea

Running: July 8, 2019 – September 1, 2019

Official Webpage: https://www.tokyodisneyresort.jp/en/tds/restaurant/detail/430/

Empire Grill – A full course meal at Disney Ambassador Hotel

As part of the Tokyo Disneyland event Donald's Hot Jungle Summer, the Disney Ambassador Hotel is serving a special dinner course.

The course includes an assortment of ethnic flavours with beautiful plating. The sweetbreads doused in mango sauce have been made to look like Donald's feet.

For mains you can choose between quail farcie or beef loin. We ordered the latter. The meat is beautifully juicy and tender. It comes with feijoada on the side with chilli beans and vegetables. The crunchy tortillas are so delicious you'll want seconds.

The true standout from this gourmet course however is the dessert which is accompanied by Donald and Daisy Duck! It's a mix of white chocolate mousse topped with fruit and jelly. The hearts on the plate add that extra kawaii flavour to this special dish. It almost seems a waste to eat it… is what we said as we wolfed it down.

We also recommend the special Donald Hot Jungle Summer drink. Its tropical taste and colour makes it the perfect beverage for summer time.

If you order the drink you even get one of these exclusive coasters.

"Donald's Hot Jungle Summer" Empire Grill Dinner

Running: July 8, 2019 – September 1, 2019

Serving: [Dinner] Weekdays 17:30-21:00 / Weekends & Holidays 17:00-21:00 (*2 hours allotted)

Price: ¥10,000

"Donald's Hot Jungle Summer" Special Drink

Running: July 8, 2019 – September 1, 2019

Serving: [Lunch] 11:30-14:00 [Dinner] Weekdays 17:30-21:00 / Weekends & Holidays 17:00-21:00 (*2 hours allotted)

Price: ¥1,300

Official Website: http://www.disneyhotels.jp/en/dah/restaurant/index.html
RELATED ENTRIES
CHEESE CRAFT WORKS Now Serving Shaved Ice Made With Natural Ice, Fresh Fruit & Cheese

CHEESE CRAFT WORKS, a food company run by LIFEstyle that makes food using fresh cheese, is now holding a shaved ice fair until August 31, 2020.

CHEESE CRAFT WORKS specialises in over 20 varieties of cheese which it orders from both Japan and overseas, such as good quality fresh cheese from Hokkaido, which is then used to make a different food dishes.

For their shaved ice fair, the shaved ice is made using light and fluffy natural ice which is topped with sweet, sour and refreshing fruits and syrups as well as fresh cheese.

Shirokuma-kun: ¥980 (Before Tax)

Honey Lemon Shaved Ice: ¥1,080 (Before Tax)

Strawberry Mont Blanc Parfait Milk Shaved Ice: ¥1,080 (Before Tax)

Five different shaved ice flavours are being served, such as the Candied Strawberry Shirokuma-kun which is topped with candied strawberries and a foam made from milk and fresh cheese. The Honey Lemon is a combination of sweet honey and sour lemon, while the Mont Blanc has milk-soaked shaved ice topped with strawberries and cream to create a parfait-like shaved ice dessert.

Candied Strawberry Shirokuma-kun: ¥1,260

You can pick candied apple too.

Experience the unique combination of cheese and shaved ice at CHEESE CRAFT WORKS.

Information

Fresh Cheese Topped Natural Shaved Ice

Running: Now until August 31, 2020

CHEESE CRAFT WORKS Official Website: https://www.cheese-cw.jp/

New Open Fruit Sandwich Shop 'Fruits Panda by bekkaku' Opens at Kyoto Tower

Kyoto-based confectionery company Bijuu opened its new shop "Fruits Panda by bekkaku" inside Kyoto Tower on June 4, 2020.

 

Premium sandwiches made with high quality bread

Fruits Panda by bekkaku serves colourful and Instagrammable open sandwiches made from bread baked by Kyoto-based luxury bread company bekkaku which is topped with a variety of fresh fruits and one of the shop's rich creams. The in-house made creams, whether it be the caramel cream, condensed milk cream, or another, all bring out the delicious taste of both the fruit and bread.

Strawberry Panda (Strawberries/Red Bean Paste/Condensed Milk Cream): ¥350 (Tax Included)

Topped with fresh strawberries and sweet red bean paste, this open sandwich is served with a side of velvety condensed milk cream for a harmony of flavours.

Kiwi Panda (Kiwi/Honey Cream): ¥350 (Tax Included)

Sweet and sour kiwis coupled with sweet honey is a match made in heaven that creates a refreshing aftertaste.

Banana Panda (Banana/Chocolate Cream): ¥350 (Tax Included)

Subtly sweet fried bananas and rich chocolate cream are a classic combination which create a full-bodied aroma and delicious aftertaste.

The shop will also be selling bekku's "Tanabiki" bread, so if you visit the shop, use this opportunity to try out their luxurious loaves.

Fruits Panda by bekkaku plans to serve seasonal combinations too so customers can enjoy their open fruit sandwiches all year round.

Information

Fruits Panda by bekkaku

Location: Kyoto Tower (Floor 1F), 721-1 Higashishiokojicho, Shimogyo Ward, Kyoto, 600-8216

Instagram: @fruitspanda

McFlurry® Black Thunder Make its Delicious Return to McDonald's Japan

McDonald's Japan is collaborating with the hugely popular Japanese chocolate bar "Black Thunder" to release the "McFlurry® Black Thunder" at all McDonald's branches across Japan for a limited time from June 10, 2020.

The McFlurry® is known to every McDonald's customer. Made from delicious soft serve ice cream, it is mixed with various toppings and sauces and then blitzed at high speed to create a smooth, velvety dessert. The dessert has seen many collaborations with other products in Japan in the past, and it's been 2 years since it has been mixed with Black Thunder.

McFlurry® Black Thunder: ¥290 (Tax Included)

The McFlurry® Black Thunder sees the rich, velvety ice cream combined with crumbly Black Thunder so you get the crunch of the cocoa cookie and biscuit. It's also drizzled in a chocolate sauce that has been frozen for added crunchiness. You get the bitterness of the cocoa cookie and the sweetness of the chocolate come through.

The dessert will be served in a limited edition Black Thunder cup too. These are available while supplies last.

If you're in Japan, don't miss out on the delicious return of the McFlurry® Black Thunder.

Stunning Hydrangea Parfait Now Being Served at Itohkyuemon's Cafe in Kyoto

Kyoto-based tea company Itohkyuemon is now serving its gorgeous new "Hydrangea Parfait" at each of its cafes.

Hydrangea Parfait: ¥1,290 (Tax Included) / With Drink ¥1,690 (Tax Included)

In Kyoto's city of Uji, where Itohkyuemon's cafes are based, lies Mimuroto Temple which is famous for its hydrangeas. The temple bustles with tourists and sightseers during Japan's rainy season who flock to see the gorgeous gardens. During this season, wait times for the cafe can last up to three hours.

The Hydrangea Parfait is made with mashed sweet matcha hydrangea, hydrangea-coloured crushed jelly, tea leaf-shaped matcha cookies, blueberries, and more.

Itohkyuemon will also be serving a special "Hydrangea Chakai" tea set for ¥1,900 (tax included) which sees the parfait topped with warabimochi. You also get a drink of your choice.

Information

Hydrangea Parfait
Serving: From May 19, 2020 until stock sells out
Available: Itohkyuemon Uji Honten / Itohkyuemon JR Uji Station / Itohkyuemon Gion-Shijo

Official Website: https://www.itohkyuemon.co.jp/corporate/

Naruto Themed Hotel Room Opens at GRAND CHARIOT Hokutoshichisei 135° in Japan

GRAND CHARIOT Hokutoshichisei 135°, a hotel and glamping facility located in Awaji, Hyogo, opened its new Naruto-themed room on June 1, 2020.

The room, called "Hokage no Bessou" (Hokage's Villa), is renovated from one of the resort's buildings, and aims to plunge guests into the world of ninjas.

The room takes inspiration from the Hidden Leaf Village and its characters, with references to the series and recreated scenes littered throughout. It also offers exclusive amenities for guests to enjoy.

Guests who stay in the Naruto room will receive a free ticket to the popular "Naruto & Boruto Shinobi Zato" attraction at the anime theme park Nijigen no Mori on Awaji Island where the hotel is located.

ⒸMasashi Kishimoto Scott / Shuiehsa・TV Tokyo・Pierrot

Information

Naruto Collaboration Room "Hokage no Bessou"

Grand Opening: June 1, 2020

Time: Check In 15:00-18:30 / Check Out 11:00

Capacity: 5 people

Price: From ¥93,000 (Before Tax/Service Charge Charged Separately)

Official Website: https://awaji-grandchariot.com/

Kyoto Neko Neko: Cat Shaped Desserts and Pastries Served at Kyoto's New Bakery

ALL HEARTS COMPANY, a Japanese company that develops bakeries and patisseries across Japan, opened its new bakery and confectionery shop Kyoto Neko Neko in Shijo, Kyoto on June 1, 2020. There, they are serving cat-shaped pastries and desserts including Kyoto-exclusive products from their Neko Neko Bread brand and Neko Neko Cheesecake shop.

Kyoto Neko Neko Danish Bread: ¥1,200 (Before Tax)

This butter-loaded Danish pastry is folded into a braid shape and baked which keeps the pastry moist. It's topped with a sprinkling of sugar, leaving it glistening. It's recommended that you first try the pastry as it is—soft and moist. You can then try lighting toasting it which gives it a crispy texture and brings out the delicious aroma of the butter.

Products are packaged in a cute box making them a great gift idea.


Kyoto Neko Neko Cheesecake (On sale from mid-June 2020)

This cheesecake is made with Brie de Meaux cheese and is laced with black cocoa. The luxurious cheese combined with black soy beans and brown sugar syrup jelly makes for a marriage between Japanese and Western flavours. You get an extra layer of deliciousness too with a dusting of soy flour.

Kyoto Neko Neko Bread (Plain): ¥550 (Before Tax)

This Kyoto version of the Neko Neko Bread is still made without water, but rather than using only milk, Kyoto Neko Neko has added soy milk made using soy beans from a tofu shop in Kyoto, lending a smooth and rich flavour to the bread. And instead of mascarpone cheese, Kyoto Neko Neko uses soybean cream, and instead of dairy butter a soy cream butter.

Kyoto Neko Neko Bread (Houjicha): ¥680 (Before Tax)

Kyoto Neko Neko Bread (Matcha): ¥680 (Before Tax)

There's also a houjicha flavour made with houjicha tea and white chocolate, as well as a matcha flacvour combined with black soybean.

Information

Kyoto Neko Neko Shioji
Address: 578 Obiyamachi, Tachiuri Nakanocho, Shimogyo Ward, Kyoto
Grand Opening: June 1, 2020
Opening Hours: 10:30-18:00
No Fixed Holidays (Closed: New Year's Holidays)
TEL: 075-221-1001

Official Website: https://nekoshoku.jp/

Brown Sugar Syrup Dorayaki to be Sold at FamilyMart Convenience Stores in Japan

With shops and businesses temporarily closed as a result of lockdown measures in Japan, Japanese convenience store chain FamilyMart is currently collaborating with famous shops around Japan. They recently teamed up with famous matcha company Kanbayashi Shunsho Honten to stock some authentic matcha treats on its shelves.

For its 5th collaboration, FamilyMart is collaborating with Eitaro Sohonpo, a Japanese confectionery store that has been around since 1818, to bring the company's brown sugar syrup dorayaki to their own shelves from May 29, 2020. Since being released in December 2018, the dessert has been sold over 1 million times.

The dorayaki is made with Eitaro Sohonpo's brown sugar syrup and coarse sweet red bean paste. Each and every ingredient is chosen with care to create this luxurious dessert. The adzuki beans are soaked in a brown sugar syrup made from sugar from Okinawa Prefecture. It's also made with whole soybean soy sauce and a whipped cream that's made from a blend of fresh Hokkaido cream and 26% milk.

The dorayaki pastry is soaked in brown sugar syrup which when eaten with the whipped cream and coarse sweet bean paste makes it truly a dessert for the gods.

Information

Eitaro Sohonpo – Brown Sugar Syrup Dorayaki (Japanese Name: 黒みつしみうま生どら焼)
Price: ¥298 (Tax Included)
Release Date: May 29, 2020
Available: Japan (Except Okinawa)
FamilyMart Official Website: https://www.family.co.jp/

Beauty Connection Ginza's Fruits Salon Reveals Mango Menu Line-Up

Beauty Connection Ginza and its second floor fruit course cafe Fruits Salon have been closed since April 8, 2020 as a result of the novel coronavirus (COVID-19) outbreak. But that hasn't stopped Fruits Corner wanting to deliver its tasty treats to customers as it reveals its new mango themed menu which is set to run for the whole month of June. It will be taking online orders.

Following the pear, citrus fruits, and strawberry line-ups, the new mango course is made up of four different vitamin-packed and refreshing accompaniments, all made with fresh mangoes from Miyazaki Prefecture.


Mango Full Course: ¥4,400 (Tax Included)


1st. plate "Terrine"


2nd. plate "Airy Tart"

Each of the four plates, packed full of rich and sweet mangoes, offers refreshing taste to give you that early summertime vibe.


3rd. plate "Parfait"


4th. plate "Dried Fruits/Mignardises/After-Meal Drink)

The third plate is a gorgeous, eye-catching parfait centred on mango gelato and made up of delicious ingredients that all come together harmoniously. Mix everything together to create new flavours. The full course is 90 minutes, and beckons you to use all five of your senses to enjoy it.

Matcha and Fruit Shaved Ice & Other Desserts Arriving to Saryo FUKUCHA in Kyoto This Summer

Saryo FUKUCHA is a cafe that was opened by FUKUJUEN in Kyoto Station in April 2019. A new batch of seasonal summertime menu items are set to arrive this June, including shaved ice drizzled in Uji tea and fruit sauce, a refreshing Uji matcha soda made with fresh fruit and jelly, and floats. These items will be served from June 1 to September 30 with a takeout option available.

Summer Menu

Uji Matcha & Fruit Shaved Ice


Matcha Berry Shaved Ice: ¥950 / Strong Matcha Berry Shaved Ice: ¥1,100 / Houjicha Banana Shaved Ice: ¥950 (All Before Tax)

The "Matcha Berry" shaved ice is paired with rich Uji matcha ice cream and berry sauce. It's also topped with a wafer cake shaped like a flower and filled with white bean paste, rice flour dumplings, and fruit.

Uji Tea White Peach Soda / Uji Tea Lemon Soda: ¥650 Each (Before Tax)

Full-bodied kabusecha tea from Uji made into a soda with fresh fruit pieces and jelly for a refreshing combination. Pick from super refreshing lemon or subtly sweet white peach.

Uji Matcha Float / Houjicha Float: ¥700 Each (Before Tax)

These floats are made using the best tea leaves selected by FUKUJUEN which are used to make a rich and frothy tea latte. Added to that is a dollop of soft serve ice cream topped with red bean paste and dried wheat gluten. Choose between authentic Uji matcha or aromatic houjicha.

Takeout Menu

Strawberry Flower Wafer Cake / Chestnut Houjicha Wafer Cake: ¥350 Each (Before Tax) 

Fruit wafer cakes are a popular dessert at Saryo FUKUCHA, and for the first time ever they are making them available for takeout so customers can enjoy them at home too. Pick from the strawberry flower flavour made with white bean paste or the chestnut and houjicha with chocolate cream.

Cream Anmitsu (Matcha/Houjicha): ¥700 (Before Tax)

FUKUCHAs specially-made anmitsu, or syrup-covered anko bean jam, is the perfect way to cool down on a hot summer's day. It's mixed with Uji tea honey and topped with various toppings like milk agar-agar, black soybeans, rice flour dumplings, white peach, raspberry, and mizu manju.

Information

Saryo FUKUCHA
Address: 901 Higashi Shiokojicho, Karasumadori Shiokoji Sagaru,, Shimogyo-Ku Kyoto Station Bldg. 2F, Kyoto 600-8216 Kyoto Prefecture
Opening Hours: 8:30-21:00 (Last Orders 20:30)
*The cafe is currently running on reduced opening hours as of May 26, 2020. Hours are now 10:00-19:00 (Last Orders 18:30). Times are subject to change.
TEL: 075-744-0552

Official Website: https://fukucha-fukujuen.com/

Ginza's Legendary Strawberry Mille-Feuille Dessert Arrives to Japan's Kansai Region

VMG HOTELS & UNIQUE VENUES is now serving a certain strawberry mille-feuille at several locations across Japan's Kansai region. Available from May 26 to 31, t's a recreation of the legendary dessert "Napoleon Pie" from Ginza in Tokyo.

In 1966, Sony co-founder Akio Morita opened a restaurant called Maxim's de Paris with the idea in mind to create a place for adults to meet and socialise over food. Since opening, it has tickled the taste buds of customers with its authentic French cuisine and dazzled them with its deep crimson decor. The "Napoleon Pie" is an especially popular dessert that has gained a legendary status. The custard is laced with fragrant cointreau, and the thick pastry is stuffed with strawberries. The dessert gets its name from how it looks like Napoleon's hat.

This strawberry mille-feuille is now being sold at select locations in Kyoto and Hyogo for just six days. It's the first time for the dessert to be served in Kansai.
The dessert is available for takeout so customers can enjoy an at-home cafe experience.

Information

Kyoto: LE UN FUNATSURU Kyoto Kamogawa Resort (TEL: 075-351-8541)
Kobe: LE UN Kobe Geihinkan (TEL: 078-739-7600)

Pricing
Half Size (8cm x 11cm x 12cm): ¥3,240 (Tax Included)
Full Size (16cm x 11cm x 12cm): ¥6,480 (Tax Included)

Locations
Kyoto (FUNATSURU Kyoto Kamogawa Resort, 180 Minoyachō, Shimogyō, Kyoto) [Serving: May 26, 30, 31]
Hyogo (Kobe Kitano Ijinkan-Gai, 2-9-3 Kitanochō, Chūō Ward, Kobe, Hyogo) [Serving: May 27-29]

*Available for takeout at THE GRAND GINZA following the Kansai sales
*Delivery available in the city until June 20, 2020

3 New Limited-Edition Botanical Drinks to Arrive This Summer at BOTANIST Tokyo

BOTANIST Tokyo, the flagship shop of BOTANIST in Omotesando, has announced a new collection of limited-edition drinks will be served on the second floor BOTANIST Cafe from July 12, 2020. BOTANIST Tokyo is currently closed but it scheduled to reopen on June 1.

There are three new refreshing drinks to choose from, all of which can be ordered for takeout. From apple mint to grapefruit, each beverage us the perfect accompaniment for cooling you down in Japan this summer.

REFRESH MENU


Refresh Soda: ¥600 (Tax Included)

A combination of grapefruit jelly and fizzy soda water make this one of those drinks that you go "Ahh!" afterwards on a hot summer's day. There's also a hint of sweet green apple.

Botanical Melon Soda: ¥800 (Tax Included)

This is a smoothie which blends together two types of melon soda and adds melon jelly and a dollop of ice cream. It's like a dessert in a cup!

Banana & Avocado Refresh Smoothie: ¥720 (Tax Included)

Enjoy the sweetness of banana and sugar beet together with the smoothness texture of the avocado in this smoothie which has apple and mint mixed into it for that refreshing summertime kick.

The cafe's regular menu has also been revised to add three new desserts.

REGULAR MENU


Vegan Waffles w/Drink: ¥800 (Tax Included)

These vegan waffles are healthier for the body if you're looking for some guilt-free indulgence. It's topped with soy whipped cream, maple syrup, and fruits of your choice.

Lemon Cheesecake w/Drink: ¥1,000 (Tax Included)

A crunchy cookie base, a creamy cheese top, and a lemon to top it all off. The combination of the salty flavour with the sour hit is a match made in heaven.

Homemade Rich Pudding: ¥500 (Tax Included)

An in-house made purin, which is a type of Japanese custard pudding. It's a delightful mix of rich egg and subtly sweet soy whipped cream.

Customers who spend over ¥4,000 (tax included) on items in the Refresh Series will also be entered in for a chance to win a "Refresh Soda." The soda is available while supplies last.

Information

REFRESH MENU
Serving: June 1, 2020 – July 12, 2020

REGULAR MENU
Serving: From June 1, 2020

BOTANIST Tokyo
Address: 6-29-2 Jingumae, Shibuya, Tokyo (1st Floor – Shop / 2nd Floor – Cafe)
TEL: 1st Floor: 03-5766-3777 / 2nd Floor: 03-5766-3778
Opening Hours: 11:00-20:00
Official Website: https://shop.botanistofficial.com/

Tropical Flavoured Pikachu Puré Gummies Dropping This Summer

Japanese confectionery company Kanro has revealed its new limited-edition, tropical flavoured Pikachu gummies which it developed in collaboration with Pokémon for its Puré gummy range. They will be released in Japan on June 2, 2020.

The sweet and chewy tropical gummies are made with pineapple juice which is the main flavour, mango juice, and banana juice. They also added a soda flavour for that Pikachu thunderbolt kick (and to balance the flavours!)

They come in limited-edition Pikachu shapes

A packet of these gummies includes the classic heart-shaped Puré gummy sweets as well as Pikachu-shaped ones. There are also four packet designs all featuring original and exclusive Pikachu illustrations.

Additionally, for a limited time, the regular lemon, grape, and muscat grape Puré gummy packaging feature Pikachu's paw prints on the front and back. There are even hidden Pikachu-shaped gummies inside these regular packets.

Pikachu online promotion

The product is being promoted over on the official Puré Twitter page. Pikachu is set to take over the page this June with promotional videos.