New Fairy Tail Bags, Jewellery & Other Merchandise to be Released in Japan
Fairy Tail is an internationally beloved adventure/fantasy manga series written and illustrated by Hiro Mashima that has sold over 60 million copies worldwide.
Pre-orders for a new range of Fairy Tail merchandise by anime goods company AKROS opened today on numerous Japanese online websites including Isetan and the company's own website.  Let's take a look at some of the items on offer.
OUTDOOR PRODUCTS Collaboration
Fans can get their hands on a new range of new bags and pouches made in collaboration with OUTDOOR PRODUCTS. They feature designs inspired by the anime and manga's characters.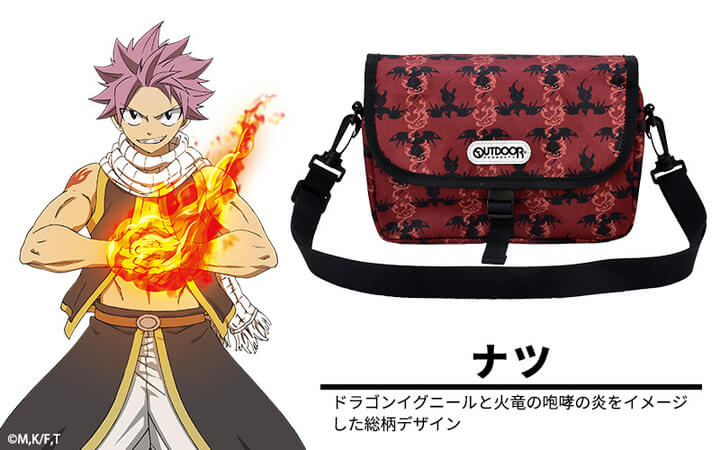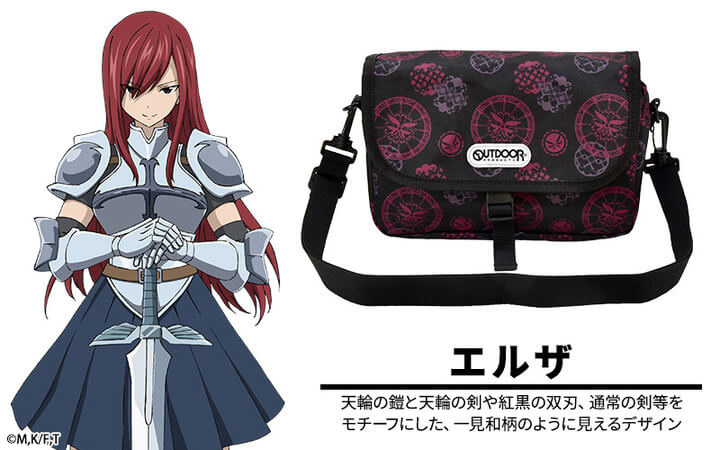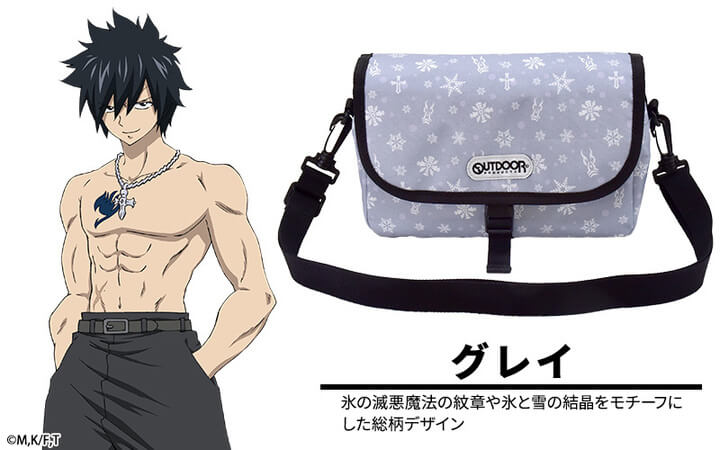 Flap Shoulder Bag – ¥6,930(Tax Included)
These flap shoulder bags are simple but compact at a size that's easy to use and not bulky. The main compartment is opened with a flap and zipper. Its A5 size is perfect for fitting in long purses or wallets and tablets. It comes in four designs: Natsu, Lucy, Erza, and Gray.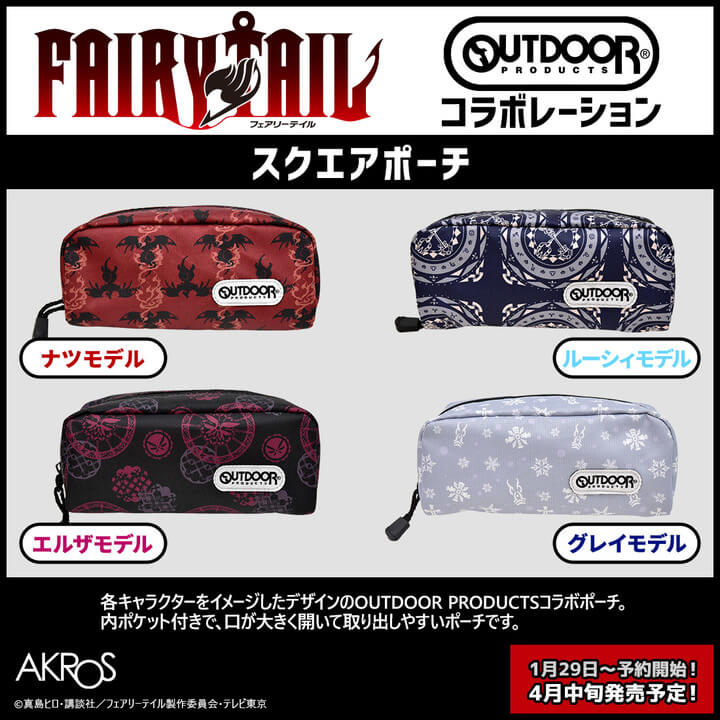 Pouch – ¥3,960 (Tax Included)
The square pouches have a large opening compartment, making it easy to take things out. They're a great use for using as a pencil case, cosmetic pouch, or even a travel pouch. They also come in four designs: Natsu, Lucy, Erza, and Gray.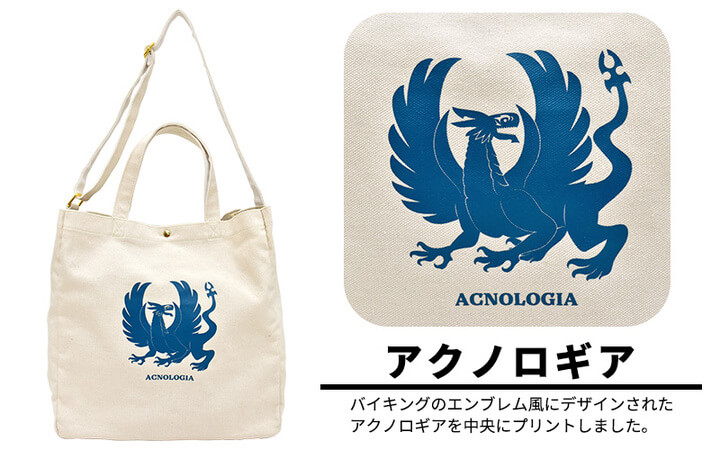 2 Way Canvas Tote Bag – ¥5,830 (Tax Included)
This tote bag is two way, so it can be worn over your shoulder or carried like a handbag. The main compartment is a slightly bigger A4 size, so you can fit your lunch box, water vessel or thermos, notebook, and so on. It comes in two designs: Acnologia and Zeref & Mavis.
NORTH ONE GLASS JEWELRY Collaboration
Made in collaboration with Hokkaido-based glass jewellery brand NORTH ONE GLASS JEWELRY, these sparkly and glittery necklaces are inspired by characters in the series, denoted with their own colours, and feature the guild marks.
Glass Jewellery – ¥3,850 (Tax Included)
The cord of the necklaces are made from cotton and can be adjusted from 40cm to 80cm. They are a unisex design and come in Natsu, Lucy, Erza, and Gray models.
Juvia Double-Sided Bread Cushion – ¥3,850 (Tax Included)
As seen in the anime series, this cushion is based on the bread that Juvia loves. The front side features Gray while the back has Juvia on it. The cushion is as soft and fluffy as the bread would be!
The line-up is a must for any fans of Fairy Tail out there.
©Hiro Mashima・Kodansha/Fairy Tail Production Committee・TV Tokyo
RELATED ENTRIES
Attack on Titan, Seven Deadly Sins, Fairy Tail & Other Anime T-Shirts Releasing at UNIQLO

UNIQLO's graphic t-shirt brand UT are celebrating the 60th anniversary of manga magazine Weekly Shonen Jump with a new t-shirt collection via their sub brand MANGA UT. The t-shirts will go on sale from August 12.

The collection covers six anime series serialised in the popular magazine including Hajime no Ippo, Fairy Tail, The Seven Deadly Sins, Attack on Titan, Negima! Magister Negi Magi, and Shōta no Sushi. Each t-shirt pays homage to its respective series, featuring iconic scenes that have stayed with fans, sound effects, and original designs that capture their worlds.

Hajime no Ippo

Hajime no Ippo is a boxing manga written and illustrated by George Morikawa. It follows Ippo Makunouchi, a shy high school student who suffers at the hands of bullies. He begins a career in boxing in search of the answer to the question "What is strength?" and battles his rivals and those around him to grow as an individual. The t-shirt design captures the lively energy seen in the characters and is surrounded by eye-catching SFX.

©George Morikawa/Kodansha

Fairy Tail

Fairy Tail is a fantasy adventure manga written and illustrated by Hiro Mashima. It follows the dragon slaying wizard Natsu and his tale of growth as part of the Fairy Tail guild. One of the t-shirts features four characters from the guild and the other is a large illustration of Acnologia, the main characters' strongest enemy.

©Hiro Mashima/Kodansha

The Seven Deadly Sins

The Seven Deadly Sins is a fantasy battle adventure series written and illustrated by Nakaba Suzuki. It follows the titular characters each of whom represent the seven deadly sins. There are several t-shirt designs including one featuring Meliodas looking up to the sky and another of him and his comrades out on a peaceful trip. There is even a hand drawn illustration of Hawk, a talking pig and Meliodas's pet, which was illustrated by Suzuki himself and UT's editors.

©Nakaba Suzuki/Kodansha

Attack on Titan

Attack on Titan is an dark fantasy adventure series written and illustrated by Hajime Isayama. The story is set in a world where humanity lives within giant walls which help protect them from towering man-eating Titans. The terrifying t-shirt design features one of the Titans that live inside the walls.

©Hajime Isayama/Kodansha

Negima! Magister Negi Magi

Negima! Magister Negi Magi is an fantasy adventure and harem series written and illustrated by Ken Akamatsu. It follows the story of Negi, a wizard who becomes an English teacher at Mahora Academy, where he helps his class of students overcome their problems. He is also in search of his father who is known as a hero in the world of wizardry. There are two t-shirts, one featuring the main heroine Asuna Kagurazaka, and another of some of the other students in the class.

©Ken Akamatsu/Kodansha

Shōta no Sushi

Shōta no Sushi is a food manga series written and illustrated by Daisuke Terasawa which follows the story of Sekiguchi Shota who works as an apprentice and aims to become a sushi chef. There are two t-shirt designs, one which features the manga's logo and a slice of sushi and the other with the logo and a whole sushi platter.

©Daisuke Terasawa/Kodansha

Show your support for your favourite Weekly Shonen Jump series by picking up one of these awesome t-shirts!

Miyuna Performs Fairy Tail's New Ending Theme Song

Japanese singer Miyuna, a popular artist in the independent music scene, has digitally release her new song Boku to Kimi no Lullaby which began being used as the new ending theme for the ongoing TV anime series Fairy Tail on April 14.

The song is a ballad that talks about holding onto sad memories while carrying on moving forward.

Two pieces of song cover art have been released, one with a illustrated by Miyuna herself with the moon in the back―available in Japan only―and the other with a Fairy Tail key visual which is available worldwide.

A lyric video was also posted on Miyuna's official YouTube channel. Check it out below.

©Hiro Mashima・Kodansha / Fairy Tail Production Committee・TV TOKYO Corporation

New Fairy Tail Opening Theme 'NO-LIMIT' to be Performed by Osaka Shunkashuto

Six-member pop-rock idol girl group Osaka Shunkashuto will perform the third opening theme for the final season of the TV anime series Fairy Tail set to begin airing in April.

Fairy Tail is a hugely successful manga series written and illustrated by Hiro Mashima that has sold over 60 million copies. The anime adaptation's new opening theme is entitled NO-LIMIT.

Talking about the new song, group member MAINA commented the following: '"I'm All Fired Up!" These words are indispensable Fairy Tail. When it was decided that we would perform the new opening theme, I was overjoyed and spoke those fired-up words myself! We all worked on the energy of the lyrics and melody together and have been able to pack those passionate feelings into this song! I'm all fired up! Be sure to give it a listen♪'

Anime Songs Debuting in January 2019: Part 3

Japanese anime is popular worldwide, and one part of the watching-experience that makes a series so memorable is its opening and ending themes.

This is part three of our list of bands and artists providing music for ongoing series and soon-to-air series.

Click here for part one.

Click here for part two.

amazarashi x Dororo

amazarashi's new song Sayonara Gokko will be used as the ending theme for the upcoming anime series Dororo which is set to begin airing on January 7.

Dororo is a manga series by Osamu Tezuka about a rōnin named Hyakkimaru whose father bartered away 48 of his body parts to 48 demons so he could obtain the power to rule the country. The story follows Hyakkimaru who now has fake body parts as he tries to defeat the 48 demons to retrieve his real parts. On the way he meets a young thief called Dororo.

Check out the song in the latest promotional video for the anime series below.

Full Details: https://www.moshimoshi-nippon.jp/153106

EMPiRE x FAIRY TAIL

Idol group EMPiRE released their first album THE EMPiRE STRiKES START!!  in April last year. The record made it to No. 7 on Oricon's Weekly Album Charts despite being released solely on cassette tape. Their upcoming first single Piasu will be released on February 27 and will be used as the new ending theme for the ongoing anime series Fairy Tail from January 13.

Full Details: https://www.moshimoshi-nippon.jp/152714

GARNiDELiA x Magical Girl Spec-Ops Asuka

GARNiDELiA's will perform the ending theme song for the TV anime series Magical Girl Spec-Ops Asuka which is set to begin airing on January 11, 2019. The original manga series is written by Makoto Fukami and illustrated by Seigo Tokiya and follows five magical girls who are sent to war as Magical Girl Special-Ops to defeat undead creatures that have resurfaced after three years of peace. For the latest updates on the anime adaptation be sure to check the official website.

Full Details: https://www.moshimoshi-nippon.jp/151889

BiSH x 3D Kanojo: Real Girl

BiSH's own Aina The End wrote the lyrics for their new song Futari Nara which will be used as the opening theme for the second season of 3D Kanojo: Real Girl. BiSH originally performed the ending theme song HiDE the BLUE for season one. The release date for Futari Nara has yet to be announced but you can hear it first when the anime airs in January 2019.

Full Details: https://www.moshimoshi-nippon.jp/151866

ASCA x Sword Art Online: Alicization

ASCA will perform the new opening theme for the ongoing anime series Sword Art Online: Alicization which will return on January 6. Titled RESISTER, the song is described as having aggressive and fast-paced guitar and strings backed by the singer's strong vocals. It will debut in the series on January 12 and be released on CD on February 27.

Full Details: https://www.moshimoshi-nippon.jp/151596

ReoNa x Sword Art Online: Alicization

ReoNA, who is known for providing the singing voice for the character Kanzaki Elza in the ongoing anime series Sword Art Online: Alicization, will perform the new ending theme for the episode airing on January 12. The song is titled forget-me-not and will be released as the singer's second single on February 6. This marks ReoNa's first theme song for the series. It is described as a fast-paced melancholic track which has a nostalgic sound and lyrics that encompass both ReoNA's artistry and the world of Alicization.

The new ending theme will also be released digitally on January 12, the same day as when it premieres in the anime.

Full Details: https://www.moshimoshi-nippon.jp/151580

EMPiRE's 1st Single to be Used as Fairy Tail's New Ending Theme

EMPiRE is an idol group formed and managed by WACK―the idol agency known for BiSH and BiS―and avex. Their first album THE EMPiRE STRiKES START!! made it to No. 7 on Oricon's Weekly Album Charts despite being released solely on cassette tape. The group released their mini album EMPiRE originals digitally in August and on CD in September which made it to No. 1 on the iTunes charts and No. 8 on Oricon.


The six members are about to see a surge in popularity once more with the release of their upcoming first single Piasu which will be used as the new ending theme for the ongoing hit anime series Fairy Tail.

■Member Comments
MAHO EMPiRE
I am thrilled to be involved with Fairy Tail which has been adored by many people for a long time. The story shows us to face difficulties head on alongside friends. It's something that overlaps somehow with [our own lives] and gives us courage. I believe this song continues the world of Fairy Tail, so I would be happy if people can listen to it with the story in mind.

MiDORiKO EMPiRE
Since I'm Fairy Tail's number one fan, I am greatly honoured to be involved with this ending theme! "Piasu," like Fairy Tail, is a song about facing forward and being strong to overcome difficulties. Please be sure to listen to it, even the full version too!

YUKA EMPiRE
"Piasu" is a song about endeavour, the value of friendship and looking forward. There are a lot of lyrics that overlap with the main character Natsu who feels strongly about his friends, so I really want people to pay attention to the lyrics!

YU-Ki EMPiRE
I watch the anime with my older sister and younger brother, so getting to hear our song play at the end is like a dream. I'm so happy! The song directly overlaps with the main character in marching forward. I would be happy if people enjoy the song along with the anime series.

MAYU EMPiRE
I'm not up to date with things like anime, but even so I am very used to hearing about Fairy Tail, so I was seriously shocked to hear we would be doing the ending theme. I'm so glad!! I believe our song "Piasu" will be the key to EMPiRE [becoming successful]. It feels supportive, like even if you can't do something yourself you can if you have everyone. Or "don't be scared, just go!" That's the kind of thing we're singing about. In getting to perform the ending theme it would be nice to connect with the people who love Fairy Tail.

MiKiNA EMPiRE
Even now I can't believe you can hear an EMPiRE song in this famous anime. I am overjoyed. The lyrics talk strongly about bonds and friendship. I hope together with this wonderful series they get through to people's hearts.

Piasu will be released on Febuary 27, 2019 but will hit the air in Fairy Tail on January 13.

Information

Piasu

Release Date: February 27, 2019

EMPiRE Official Website: empire-official.com

TV Anime "Fairy Tail" Final Series

2nd Ending Theme Song

Initial Broadcast: January 13, 2019