Baseball Themed Product Brand rebolld Launches in Japan
ICHIKO UNITEX CORPORATION launched a new brand by the name of 'rebolld' this month which will specialise in a range of hand-stitched miscellaneous products themed around baseball. The company name is a portmanteau of 'reborn,' 'ball,' and 'add value.'
For the brand's first collection of items, they are releasing a business card holder, binder, eco bag, daruma, and waving cat.
Business Card Holder | ¥7,500 (Tax Included) | Colours: Black, White
It has three pockets inside for storing away cards.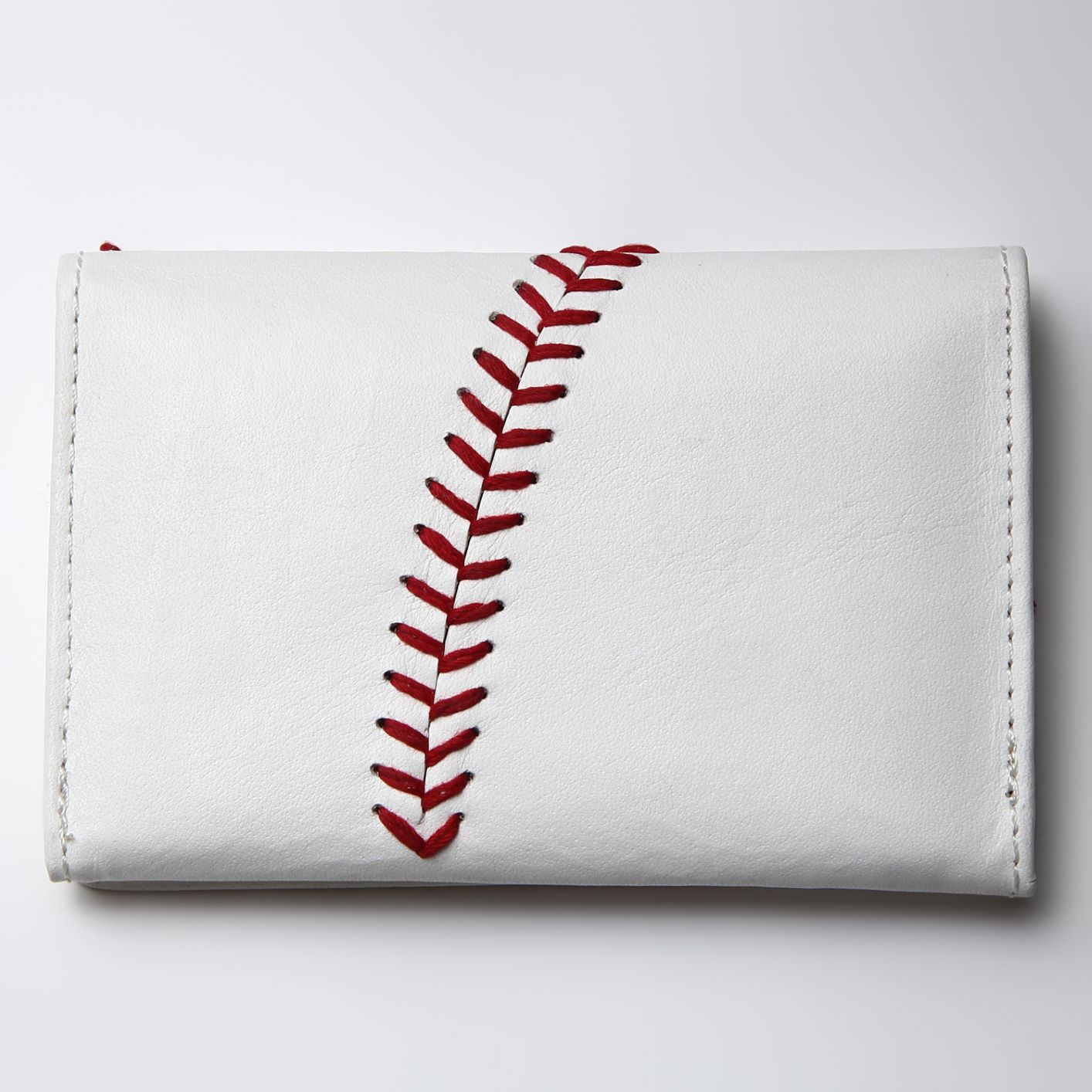 The holder features a hand-stitched design all the way to the back.
There's also a stylish black version.
RELATED ENTRIES
BTS, New Era, and MLB Collaboration Items Available at BAYFLOW

Lifestyle brand BAYFLOW has launched a triple collaboration collection! Stores nationwide are now selling items created by the popular South Korean idol group BTS, headwear and fashion brand New Era, and the MLB, the world's premier professional baseball league.

Dynamite 

Butter

Black Swan 

The designs in this collection incorporate the coloring and artwork found on the covers of the BTS singles Black Swan, Dynamite, and Butter, with the MLB logo. Fans can grab baseball caps, bucket hats, and t-shirts inspired by each song.

BAYFLOW began selling these new items in stores nationwide starting May 13, 2022. In addition, two New Era pop-up shops are open for a limited time at BAYFLOW Kichijoji and AEON Mall Kawaguchi!

Information

BTS x New Era x MLB
Release Date: May 13, 2022
Where to Buy: BAYFLOW stores nationwide
List of Stores: https://www.dot-st.com/m/bayflow/CSfMbStoreListPage.jsp

*Not available at the web store, ZOZOTOWN, or Rakuten.

New Era Pop-up Store
Locations: BAYFLOW Kichijoji, AEON Mall Kawaguchi

Dates:
At BAYFLOW Kichijoji until May 31
At AEON Mall Kawaguchi until June 6

Official Site: https://www.bayflow.jp/

Bokyaku Battery Collaboration Cafe Opens at Animate Cafe in Ikebukuro and Nagoya

Animate Cafe locations in Ikebukuro and Nagoya will hold a limited-time collaboration with the popular baseball anime and manga series Bokyaku Battery starting January 12, 2022! Guests can enjoy dishes inspired by characters from the show, and exclusive goods will be on sale at each venue. 

Menu

Cream Stew Plate

Hamburger Stew Plate

Kotesashi High School Love and Peach Parfait

Hyoga High School Japanese Sweets Plate 

Kaname Family Welcome Drink

Arrogant Sports Drink

Todo's Cozy Spinach Potage

Chihaya's Orange Tea

Todo's Black Sesame Seed Latte

Tsuchiya's Color-Changing Lemon Soda

Order Bonus – Coaster (10 varieties, random)

Original Merchandise

Snack in Drawstring Bag / Includes 1 Bonus Clear Card (11 varieties)

Mini Frame Pin (12 varieties)

Leather Keychain (11 varieties)

 Smartphone Ring (3 varieties)

Special Campaign

©みかわ絵子/集英社

Chiikawa & Hanshin Tigers Collaboration Goods on Sale at Shinsaibashi PARCO

A collaborative pop-up shop between the character Chiikawa and the Hanshin Tigers baseball team will open at Shinsaibashi PARCO for a limited time, from December 23, 2021 until January 5, 2022.

Goods

A5-size Sticker Sheet

Face Towel

Tote Bag

Pin & Acrylic Stand in Capsules (6 varieties)

Pin & Acrylic Stand in Capsules (6 varieties)

Baseball Cap

T-shirt

T-shirt

PARCO Online Store Limited Edition T-shirt

PARCO Online Store Limited Edition T-shirt

Restaurant Bonus Campaign

Holographic Sticker

Holographic Sticker

Holographic Sticker


Instagram Present Campaign: B2 Poster (Not for Sale)

Limited-Time Items

Happy Chiikawa Bag 2022 (Year of the Tiger)

Purchase Bonus: A5-size Clear Folder (Soba)

 

Illustrations featured in this collection were drawn by original Chiikawa creator nagano, and these items will only be available at the pop-up store and the PARCO Online Store.

Information

Chiikawa Pop-up Store

Running: December 23, 2021 – January 5, 2022
Hours: 10:00-21:00
※Closing at 18:00 on December 31, 2021

※Closed on January 1, 2022 

※Opening at 9:30 on January 2, 2022

※Closing at 18:00 on January 5, 2022
Address: Shinsaibashi PARCO B1F Pop Up Space (1-8-3 Shinsaibashisuji, Chuo-ku, Osaka)

Admission: Free

PARCO ONLINE STORE

Running Until January 2, 2022 at 21:00

Restaurant Bonus Campaign

Running: December 23, 2021 – January 5, 2022

Exchange Hours: 11:00-21:00
Where to Exchange: B2F Special Site
Location: Restaurants inside Shinsaibashi PARCO

      

Instagram Present Campaign

Application Period: December 23, 2021 – January 5, 2022 at 23:59

Items

Sales Period: January 2 – January 5, 2022

Mickey Mouse Professional Baseball Collection Available During Fall/Winter 2021

Are you a fan of Japanese professional baseball? 12 of these teams are teaming up with the globally beloved character Mickey Mouse for a new fall/winter collection, with preorders open now! This year's items include long-sleeve T-shirts, pullover hoodies, jackets, iPhone cases, and cushions, all featuring these sporty designs. You might not be able to stop yourself from ordering everything! Head over to the official website and take a peek. 

© Disney
NTRL
©YOMIURI GIANTS ©ヤクルト球団 ©YOKOHAMA DeNA BAYSTARS ©中日ドラゴンズ
©HANSHIN TIGERS ©HIROSHIMA TOYO CARP ©H.N.F. ©Rakuten Eagles ©SEIBU Lions
©CHIBA LOTTE MARINES ©ORIX Buffaloes ©SoftBankHAWKS

These Mother's Day Gifts by Kyoto Brands Offer Well-Deserved Relaxation Time

Japanese company Maruhisa has released a new collection of Mother's Day gift items which will make for perfect relaxation presents to well-deserving mothers, whether you live with them or have been unable to meet with them for a long time.

 

A collection of four items from Kyoto

The set includes three sweet treats from Kyoto as well as a premium face mask made by a Fushimi-based brewery.

The Set at a Glance

 

Strawberry Flower Chocolate Cookies (Contains 6)

These chocolate cookies are a staple Kyoto souvenir. They're made by buckwheat producer Marutamachi Kawamichiya and are shaped to look like cute flowers.

 

Matcha Strawberry Chocolate (3 Bags)

These matcha strawberry chocolates are made using authentic matcha from a tea shop in Kyoto. They're stuffed with whole freeze-dried strawberries which add a fruity tang.

Chocolate Senbei Rice Cracker Bouquets (Contains 5)

A tasty delight made by Sekiseika, a maker of Japanese senbei rice crackers that has been around since 1922. This perfect bouquet is made with chocolate cream and topped with crushed almonds.

Fushimi Bijin Premium Face Mask (Contains 1)

This face mask contains a range of plant-based ingredients such as junmaishu sake made without added alcohol or sugar and coconut water. The junmaishu is provided by Tsukinokatsura, one of the oldest Japanese breweries that was first established in 1675.

Have you bought your Mother's Day gift yet?

These Dessert Inspired Bath Items by Sweets Maison Look Good Enough to Eat

Sweets Maison has released a new collection of bath gift items perfect for those cold winter days.

Sweets Maison is known for its patisserie showcase of dessert and sweets-inspired items. This time, they have whipped up a new collection of bath items that look and smell like the real thing from macaron bath bombs to chocolate bath salts and more.

The Line-Up (Prices Include Tax)

 

Macaron Fizz Bath Gift – Left: Floral Mix / Right: Fruity Mix | ¥1,400

These bath bombs are made to look like macarons and come with two each of either the floral or fruity mix. Their sweet and gentle scents are perfect for indulging in for either yourself or someone special.

 

Spoon Chocolate Fizz & Cafe Tea Bath Salt Set – Left: Candy Mix / Fruity Mix | ¥1,000

Enjoy soaking in some sweet-smelling bath salts that are contained inside cute pastel-coloured coffee cups.

 

Cream Tart Fizz 3 Piece Set – Top: Sweet Mix / Bottom: Elegant Mix | ¥1,000

A collection of cute and romantic bath fizzes made to look like colourful cream tarts. The Sweet Mix includes cherry mousse, berry tart, and fruity chiffon fragrances while the elegant mix picks are vanilla soufflé, tea sparkle, and pear jasmine scented.

 

Treat your hardworking self or significant other to some well-deserved luxury bath time with Sweets Maison's new gift set collection.

Barbapapa x Maison de FLEUR Collaboration Includes Bags, Pencil Cases and More

Maison de FLEUR, a brand developed by Stripe International Inc., is teaming up with the popular children's book Barbapapa—which is celebrating its 50th anniversary this year—by releasing a special selection of collaborative items online at STRIPE CLUB on August 7 and at Maison de FLEUR stores in Japan on August 8.

Barbapapa is a children's picture book by Annette Tison and Talus Taylor which was released in 1970. The main characters of the book are the colourful Barbapapa family who are known for their ability to shapeshift.

The collaboration sees the Barbapapa family transform into three different Maison de FLEUR products which are inspired by "family love," a theme central to Barbapapa.

Frilly Handle Tote Bags | ¥4,290 (Before Tax)

Barbapapa, Barbamama, and Barbabelle have turned into tote bags with frilly handles – a popular product from Maison de FLEUR.

Pencil Cases | ¥3,590 (Before Tax)

This time, Barbapapa and Barbapapa are joined by the three sisters: Barbalala, Barbalib, and Barbabelle.

Barbapapa Multi-Use Case | ¥3,590 (Before Tax)バ

This case features illustrations taken from the picture book Barbapapa's Present of Santa Claus handing out presents tot he kids.

Information

Maison de FLEUR x Barbapapa Collaboration
Online Pre-Sale Date: August 7, 2020 at 20:00 (JST)
In-Store Release Date: August 8, 2020
Available: At Maison de FLEUR stores in Japan / Online at STRIPE CLUB

Official Website: https://www.maisondefleur.jp/

6 Mother's Day Gift Ideas From Japan | MOSHI MOSHI NIPPON

Mother's Day is set to fall on May 10 in numerous countries around the world, including Japan. A lot of people are unable to return home in the current climate, so we've compiled a list of perfect gifts to send mothers this year.

1: Japanese Candy Coloured Ink @ GINZA TSUTAYA BOOKS

This new collection of ink was made in collaboration with Kyoto-based stationery maker Tag Stationery. The array of colours are inspired by traditional Japanese wagashi confections from the Edo Period. They have a spring aesthetic to them and so are the perfect choice for writing a letter or card to your mother this Mother's Day.

GINZA TSUTAYA BOOKS "Edo Confection Ink"
Release Date: May 1, 2020
T-SITE SHOPPING: https://bit.ly/2K5BET5

2: SHIRO "Hand Freshener 80" Hand Mist

Japanese cosmetic brand SHIRO recently released its new "Hand Refreshing Series" of hand sanitisers that both clean and keep hands moisturised. Their new product Hand Refreshener 80 is a hand mist and comes in two fragrances: "Chakrasana," is an original blend of fresh orange, spicy cloves, and geraniums, and "Sabon" which has a fresh soapy smell.

Full Details: https://www.moshimoshi-nippon.jp/314729

SHIRO Hand Refreshing Series

Official Website: https://shiro-shiro.jp/

3:My Neighbor Totoro Mother's Day Gift Set by Donguri Kyowakoku

The My Neighbor Totoro corn gift set is a hugely popular item sold in Japan for Mother's Day and is now available again this year at Donguri Kyowakoku stores across Japan and on the Sora no Ue online shop. It's inspired by the corn that Mei picks for her hospitalised mother in the Studio Ghibli film My Neighbor Totoro. Wrapped inside is a lunch bag and handkerchief with illustrations of a lively Totoro and fresh vegetables.

Full Details: https://www.moshimoshi-nippon.jp/309219

Donguri Kyowakoku Branch List: http://benelic.com/donguri/list.php

Donguri Kyowakoku Sora no Ue Online Shop: http://www.donguri-sora.com

4: Ippukubox

For many of us, our time indoors has increased. The Ippukubox is a matcha making set which comes with everything you need to make authentic Japanese matcha at home. It comes with all the necessary gear for making matcha: a chawan cup, chasen tea whisk, chashaku teaspoon, and a natsume tea caddy for preserving your matcha. This is a great gift to treat your mother to so she can sit back and relax with a cup of hot matcha!

Full Details: https://www.moshimoshi-nippon.jp/316213

Ippukubox: https://o-takahashikogei.com

5: ORBIS RELEASE By Touch Series

The new RELEASE By Touch series by ORBIS is a line of hair care items, including a shampoo that cares for both the hair and scalp. A perfect gift for maximum relaxation at home during bath time.

Full Details: https://www.moshimoshi-nippon.jp/318125

RELEASE By Touch Series

Official Website: https://www.orbis.co.jp/

6: The Number One Gift: Home Cafe

Since we can't go out and enjoy ourselves at a cafe during these times, why not bring the cafe experience indoors? If you're living at home with your mother, then why not treat her to a homemade dessert or drink? Check out the recipes below if you need some inspiration.

Stay Home: 5 Simple and Kawaii Fruit Sandwiches to Try Making During the Lockdown

Stay Home: 6 Toast Arrangements to Bring the Cafe Experience to Your Home During the Lockdown

We pray for amazing Mother's Days for all mothers around the world on May 10, 2020.

Six Recommended Souvenirs You Can Buy At Tokyo Station

It is already summer! As people return to their families in the countryside or embark on a special trip with friends, Tokyo station is just a thriving hive of busy bees. That is why today we will be introducing you to a variety of general souvenirs that you can buy at Tokyo Station and take to your friends and family. 

Souvenirs for Visitors to Japan

Tokyo Station Hand Towel (SHARED TOKYO): ¥1,404 (after tax )    ※ GRANSTA-limited 

This hand towel is decorated with classic illustrations of Tokyo Station's reliefs and clematis flowers. The flowers portray the message: "happiness of travellers"

Furoshiki Patchin (SHARED TOKYO ) 1 set: ¥2,484 (after tax) 

This is a beautiful shaped piece of wood with four holes. When you wrap your bento lunch inside a cloth, this piece of wood comes in handy when tying the corners of the cloth together. In moments, you can turn a normal piece of cloth into a useful bag. When you are going on a trip and have lots of luggage, this will come in very handy. 

Character-themed Souvenirs

Suica Penguin O-mikuji Fortunes (TRAINIART TOKYO): ¥594 each (after tax)

Perhaps you are familiar with the Suica card, which is a form of rechargeable contactless card used to pay for train fares in Japan. For fans of the adorable Suica Penguin, which is the mascot of the card, this gift is a must. Peel off the sticker on the bottom and a red string will be revealed. Pull the string and your fortune will be revealed to you!

Unusual Souvenirs

Stained Glass-Style Bookmark (Neue ): ¥1,188 (after tax) 

How about a luxurious stained glass-style book mark? This would make the perfect gift for any bookworm. Just having this would make you excited to get reading.

Bullet Train Souvenirs 

TOKYO STATION SOCKS (Happy Socks): ¥972 (children )/¥ 1,620 (prices after tax ) ※GRANSTA-limited 

The pop-coloured socks are perfect for pumping energy through any child's feet! There are also socks for adults which come in more mature colours which are easier to colour coordinate. These socks are easy to put on and are a great way to add a touch of cuteness to your look. 

Electric Pen: E6 Series Super Komachi Shinkansen /Electric Car Pen E5 Hayabusa (Neue): ¥648 (after tax)

 Tip the pen and the bullet train will zip to Tokyo Marunouchi Station. There's no doubt that train fans and children would love to get this present. 

We hope this article helps you choose a souvenir on your next visit to Tokyo station.

Information

Tokyo Station City Official Website: