Japanese pop group AAA are teaming up with KFC Japan for a summer campaign. The "Manatsu no Triple Campaign" will see the group collaborate with KFC's popular cool and refreshing smoothie drink "Krushers". It began on July 13th and can be seen at KFCs around Japan selling Krushers as well as the official Krushers campaign website.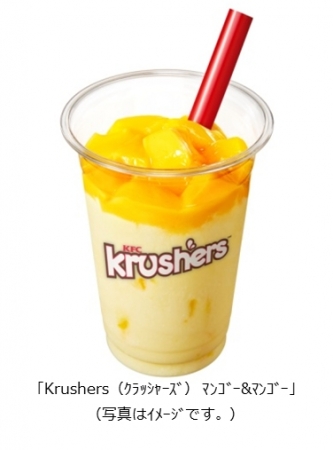 New flavours for "Krushers" in Japan are released in line with the changing seasons. There are 4 to choose from right now. The new "Mango & Mango" was released on June 22nd. There's also the limited edition seasonal flavour "Aloe & Muscat", as well as the standard "Cookie & Cream" and "Yoghurt & Berry".
To support the campaign, a TV commercial has been released featuring Misako Uno and Shuta Sueyoshi of AAA dancing the Krushers dance. They also did another dance video together with a stylish looking Colonel Sanders which you can check out over on the campaign site.
In other news, if you're a Krushers lover, then listen up. If you purchase yourself a Krushers between July 15th and September 30th you can receive a stamp on your stamp card. Once you get 3 stamps, your next Krushers will be absolutely free. There's also a ¥100 student discount. Just show your student card and get some money off.
Begin your summer with a refreshing Krushers in the summer campaign!
Related article:"New" AAA will release their new single "No Way Back" on the 5th of July.
Related article:Doutor combats the heat of summer using ingredients from within Japan! Melon Frozen + delicious drinks!