Wednesday Campanella's KOM_I Stars in First Movie Role as a Cat!
Wednesday Campanella's vivacious front-woman KOM_I isn't just active in music – she has also shown her talent across TV dramas too, including Tokyo Midnight Run (2016) and Wanitokagegisu (2017). But she's about to set the bar for herself once more, as she has just announced her first ever movie role.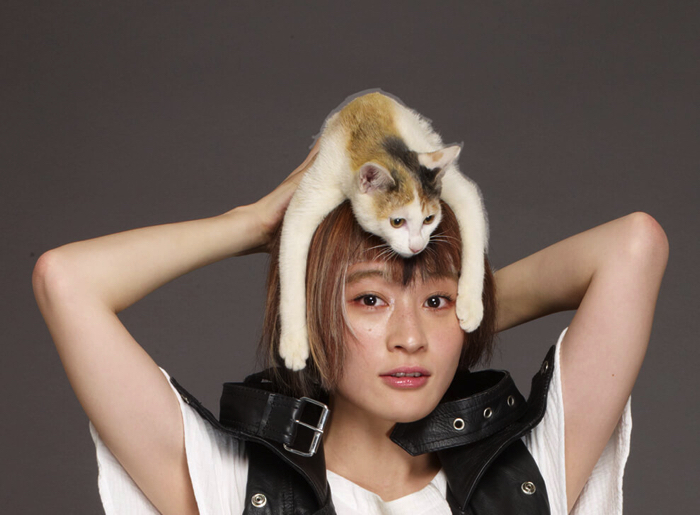 She will appear in Neko wa Daku Mono ("The Cat In His Arms") which is set to hits theaters on June 23rd including at Shinjuku Piccadilly and Kadokawa Cinema Yurakucho. The movie is also gaining attention for starring Erika Sawajiri in her first film role in six years since Helter Skelter (2012).
Neko wa Daku Mono is directed by Isshin Inudo, whose diverse work has spanned love dramas such as Josse, the Tiger and the Fish (2003) and House of Himiko (2005) to huge historical works likes The Floating Castle (2012).
The movie tells the heartwarming tale of 33-year-old Saori Oishi, a woman who gave up her dream of being an idol, and her relationship with a cat, the only being she feels she can open up to, and who somehow begins to act like her boyfriend.
KOM_I will play the role of Saori's (Erika Sawajiri) companion. She is a yellow cat and friends with Yoshio (Ryo Yoshizawa), the Russian Blue cat who believes he is Saori's boyfriend.
Talking about her appearing in the movie, KOM_I explained, "I'm thrilled to have participated in this movie and been able to grow from it. When I heard that it was a movie about cats, I thought I'd actually be playing with them, but instead it was that I'd be playing the role of one, so it was a pitfall that there wouldn't be any scenes actually playing with them." She also gave comments on the background of her role. "They can go anywhere; they don't belong to anyone. Cats are animals that come and go between humans and the outdoors. The yellow cat I play, for example, at one moment is owned by a human, and at another spends its time as a stray. It's the character I choose, one that goes with the flow."

The fantastic cast also includes Kazunobu Mineta, the vocalist and guitarist of rock band GING NANG BOYS, who plays the role of Gogh painter Tamotsu Goto who loves the yellow colour of Yoshio and has an interest in protagonist Saori.
Neko wa Daku Mono is unique at every angle, and will be released in Japanese theaters on June 23rd. Don't miss KOM_I in her very first film role as a cat.
◼︎Information
"Neko wa Daku Mono"
Release Date: June 23, 2018
Official Website:
nekodaku.jp
WEDNESDAY CAMPANELLA Official Homepage:
http://www.wed-camp.com/
©2018 "Neko wa Daku Mono" Production Team
RELATED ENTRIES
Wednesday Campanella Releases 'Kiiro no Uta' Music Video Directed by TOKI

Wednesday Campanella has just released their new music video for Kiiro no Uta ("Yellow Song").

The song is included on the group's EP Galapagos which was released in June last year. It is also the same song that frontwoman KOM_I sang as Kiiro in the film Neko wa Daku Mono which was released around the same time last year.

The new music video was directed by photography unit TOKI who shot the above-pictured image for the Galapagos EP. It was produced by Takayuki Moriya of film production company NION.

This marked TOKI's first time directing a video where they played with light and made it meld into the world of the song itself. See the video here.

TOKI released the following statement regarding the music video: "Moving towards a point. The space between the end and the beginning. The recollections of the person that you strongly recall as you're made to stand in that abyss. Though it feels as if your very existence is about to vanish, it is those memories alone that remain. Your spirit then begins to absorb into those memories. You are sent to a new life as you're wrapped in impervious tenderness. The colour you observe when you get there is yellow."

KOM_I also commented: "This is an important song. It's written based on the cats in the movie [Neko wa Dakumono] but I wanted it to be revived as a song for humans. The album it features on had already been released, and I was said that it had become a song of the past. So I had TOKI shoot a video for it. I feel yearning as well as safety and security in their work as a married couple."

She continues: "A year has passed since the album was released, but with TOKI shooting a video for it now, it still feels like now. Unearth the flower of eternity. Let it be spring, let it be summer."

WEDNESDAY CAMPANELLA Releases New EP 'YAKUSHIMA TREASURE'

WEDNESDAY CAMPANELLA released their new digital EP YAKUSHIMA TREASURE on April 3.

In addition to the new record, the group also released an 8-part documentary series entitled "Re:SET" on YouTube Originals. It was shot at Yakushima which inspired the EP's lead track Yaku no Jitsugetsubushi and shows the recording process of the track's music video. It features appearances from WEDNESDAY CAMPANELLA's KOM_I and Oorutaichi and the music video's director Sojiro Kamatani. The first two episodes are available to watch for free and include English subtitles.

EP 1 The Origin of KOM_I | Re:SET:

Episode one covers the origin of the group's vocalist and sole performer KOM_I including her childhood and turning points in her life. It also shows the arrival to Yakushima. In 7 episodes, fan can gain an insight into KOM_I's story with Yakushima which has been a pivotal influence in her life. The final episode is the music video for Yaku no Jitsugetsubushi.

Comment: KOM_I

"I played sumo with Yakushima while being watched over two aliens, Oorutaichi and Sojiro Kamatani. I originally wanted to simply name [the EP] 'YAKUSHIMA,' but right during production Oorutaichi's child was born. The Kanji [in their name] is different but you read it 'Takara' ['treasure'] which I thought was wonderful so I added 'TREASURE' into the title. It makes me thankful for being born, for being able to sing with celebratory feelings, for being able to experience life and death."

Comment: Oorutaichi

"She let her voice out in the vast natural environment of Yakushima. We recorded lots of sounds: rivers, the ocean, wind and rain. We added hints of conversations we had with people we met on the island. We created something that imagines being saved by KOM_I's singing and inspirational power where time is lost and you give yourself up to the island's nature which never ceases to bud and rot. I would be overjoyed if people can feel this new relationship with humans, nature and music."

Comment: Sojiro Kamatani

"You've come back with a real treasure, haven't ya!"

Japanese Music Artists Performing Overseas in 2019: Part 2

With March almost at an end, the number of Japanese artists announcing performances overseas continues to rise. This is a list of 7 Japanese artists performing outside Japan in the first half of 2019.

・TK from Ling Tosite Sigure

TK from Ling Tosite Sigure has received huge international attention for his collaborations with Tokyo Ghoul which have been enjoyed by countless non-Japanese fans on music streaming services. This includes unravel which was used as Tokyo Ghoul's first opening theme, and katharsis, the second opening theme for season two of Tokyo Ghoul:re. The singer is set to take his 'katharsis Tour' to Asia this April.

More Details: https://www.moshimoshi-nippon.jp/183546

◼︎Information

Tour 2019 in Asia

2019/4/5 @ CLAPPER STUDIO, Taipei

2019/4/7 @ Music Zone@E-Max, Hong Kong

2019/4/9 @ Modern Sky Lab, Shanghai

Enquiries: info@free-planet.net (Japanese/Chinese/English)

TK from Ling Tosite Sigure Official Website: http://tkofficial.jp/

・Kana Hanazawa

Kana Hanazawa is lauded for her immense work in voice acting. She is also hugely successful as an artist and singer.

Hanazawa is set to become the first Japanese female solo artist to perform at the Mercedes-Benz Arena in Shanghai on April 14, 2019. She boasts overwhelming popularity in China for her work in anime as well as her hit songs. Her Chinese fans' dreams are about to be realised as she performs for them a long-awaited show.

◼︎Information

KANA HANAZAWA Concert 2019 in SHANGHAI

Date: April 14, 2019

Venue: Mercedes-Benz Arena, Shanghai

Kana Hanazawa Official Website: http://www.hanazawakana-music.net/

・Radwimps

RADWIMPS dropped their recent album ANTI ANTI GENERATION in December last year and recently announced a live tour which includes their first ever solo stadium show. The band are also set to perform two dates at the 2019 Strawberry Music Festival in China.

◼︎Information

2019 Strawberry Music Festival

Radwimps Performance Dates:

2019/4/26 @ INTERNATIONAL INTANGIBLE CULTURAL HERITAGE PARK, Chengdu

2019/4/28 @ SHANGHAI COMMUNITY SPORTS CLUB, Shangai

RADWIMPS Official Website: https://radwimps.jp

・ONE OK ROCK

ONE OK ROCK has become one of the most popular Japanese rock bands overseas. They recently released their first album in nearly two years Eye of the Storm on February 13, 2019 and have announced a 10-date UK & European tour set to take place throughout May.

More Details: https://www.moshimoshi-nippon.jp/171983

◼︎Information

EYE OF THE STORM UK & EUROPEAN TOUR 2019

5/8 – Manchester, UK – O2 Ritz Manchester

5/10 – London, UK – The Roundhouse

5/12 – Tilburg, NL – 013 Poppodium

5/13 – Cologne, Germany – Carlswerk Victoria

5/14 – Berlin, Germany – Huxleys Neue Welt

5/15 – Warsaw, Poland – Hala Kolo

5/17 – Vienna, Austria – Gasometer

5/19 – Budapest, Hungary – Dürer Kert

5/20 – Prague, Czech Republic – Lucerna Velky Sal

5/22 – Munich, Germany – Tonhalle

5/23 – Milan, Italhy – Fabrique

5/24 – Zurich, Switzerland – X-TRA

5/26 – Boulogne-Billancourt, France – La Seine Musicale

ONE OK ROCK Official Website:http://www.oneokrock.com

・Aimer

Aimer recently announced that she will head to Asia in June on a 5-date tour entitled Aimer "soleil et pluie" Asia Tour. She previously performed in Asia last year alongside amazarashi, but this marks her first ever solo tour thhere. The theme of the tour is "sun and rain" which ties in with the concepts behind her forthcoming albums Sun Dance and Penny Rain.

 

More Details: https://www.moshimoshi-nippon.jp/185602

◼︎Information

Aimer "soleil et pluie" Asia Tour in Taipei

Date: June 8, 2019 (18:30 OPEN / 19:30 START)

Venue: Taipei International Convention Center (TICC)

Price: 3400 / 2800 / 2200 / 1800 TWD

*The date on which tickets will be released has yet to be announced.

Aimer "soleil et pluie" Asia Tour in Hong Kong

Date: June 14, 2019

Venue: MacPherson Stadium

Price: 980 / 780 HKD

*The date on which tickets will be released has yet to be announced.

Aimer "soleil et pluie" Asia Tour in Guangzhou

Date: June 16, 2019

Venue: Guangzhou Beilei Theatre

*The date on which tickets will be released has yet to be announced.

Aimer "soleil et pluie" Asia Tour in Shanghai

Date: June 22, 2019

Venue: National Convention & Exhibition Center (Shanghai)

*The date on which tickets will be released has yet to be announced.

Aimer "soleil et pluie" Asia Tour in Tokyo

Date: June 29, 2019 (17:00 OPEN / 18:00 START)

Venue: TOYKO DOME CITY HALL

Organisers: agehaspring, aspr

Support: Sony Music Labels Inc.

Price: ¥7,500 (Tax Included) + ¥500 drink fee

Ticket Release Date: May 25, 2019 (*2 tickets max per order)

Enquiries: DISK GARAGE (050-5533-0888)

Fan Club Pre-Sale Tickets for Tokyo Concert

Ticket Window: April 17, 2019 at 12:00 – April 24, 2019 at 23:59

Payment Window: April 26, 2019 at 18:00 – May 7, 2019 at 23:00

Tour Details (Japanese): http://www.aimer-web.jp/news/archive/?504960

・suchmos

Suchmos will release their 3rd studio album THE ANYMAL on March 27, 2019. The rock group are currently knee deep in their 2019 arena tour and are set to perform alongside HYUKOH in Seoul, South Korea in June. Tickets go on sale on April 2 at 12:00 (South Korea time).

 

・Wednesday Campanella

It has been announced that Wednesday Campanella will perform at the Second Sky Music Festival at Middle Harbor Shoreline Park in Oakland, California on June 15. This marks Wednesday Campanella's second time performing at a festival in the US following her appearance at Camp Flog Gnaw in October 2017.

More Details: https://www.moshimoshi-nippon.jp/184064

WEDNESDAY CAMPANELLA Announces New EP 'YAKUSHIMA TREASURE'

WEDNESDAY CAMPANELLA have revealed they will release a new digital EP entitled YAKUSHIMA TREASURE on April 3, 2019.

The EP will be released alongside a 7-part YouTube Originals documentary series entitled Re:SET which covers KOM_I's trip to Yakushima. It is there that she made several trips and stayed there, talking with locals and carrying out field recordings while creating the EP. This release was originally supposed to be a single song, but as she blended in with the nature and people of the island more and more ideas sprouted to mind, resulting in the release of a full EP. The entire record is produced by Oorutaichi, who has worked with WEDNESDAY CAMPANELLA before and who accompanied KOM_I on her trips.

Check out the trailer for the documentary below.

The trailer features the EP's lead track Yaku no Jitsugetsubushi as well as a sneak peek at its music video. The documentary will premiere on YouTube Originals on April 3, 2019 at 6:00pm (JST).

KOM_I will talk about the EP and documentary in an upcoming YouTube live stream on the day of release. She will be joined by Oorutaichi as well as the music video director Sojiro Kamatani, the CG creator, documentary producer and others. Find the link and details below.

KOM_I made the following brief comment regarding the upcoming releases: "I played sumo with Yakushima while being watched over two aliens, Sojiro Kamatani and Oorutaichi. Hakkeyoi, nokotta!"

*Hakkeyoi and nokotta are sumo terms.

Wednesday Campanella to Perform at Second Sky Music Festival in California

It has been announced that Wednesday Campanella will perform at the Second Sky Music Festival at Middle Harbor Shoreline Park in Oakland, California on June 15.

The first Second Sky Music Festival to ever be held, the event line-up is being chosen by American DJ Porter Robinson.

This marks Wednesday Campanella's second time performing at a festival in the US following her appearance at Camp Flog Gnaw in October 2017.

Japanese Music Artists Performing Overseas in 2019: Part 1

As we make headway into the new year, information on Japanese artists performing outside of Japan continues to roll out. This first article covers Japanese artists set to perform concerts overseas in the first half of 2019.

・Perfume

The global popularity of multi-platinum electro J-pop group Perfume is clear for all to see, with their latest album Future Pop released back in August charting in at No.1 in 20 countries across the world. And now, international fans in the US and Asia will be excited to hear that the trio are set to hit a city near them in March and April this year.

Full Details: https://www.moshimoshi-nippon.jp/138536

・SID

SID announced at their 15th anniversary tour Ichiban Suki na Basho 2018 that they are set to perform four dates in Asia.

Full Details: https://www.moshimoshi-nippon.jp/144270

 

・Kenshi Yonezu

Kenshi Yonezu took the charts by storm in 2018 breaking many records with a string of singles. While riding this wave of success, it has been announced that Yonezu will embark on his first ever arena tour which begins today on January 19. Two dates in Shanghai and Taipei have been added to the tour.

Full Details: https://www.moshimoshi-nippon.jp/158468

・Tokyo Ska Paradise Orchestra

Tokyo Ska Paradise Orchestra celebrate their 30th anniversary this year, and what better way to kick off it off than performing at Lollapalooza Chilie in March. Before they do however they will first perform at PA'L NORTE 2019, a 2-day music and art festival in Monterrey, Mexico. They are part of a line-up consisting of big names such as Arctic Monkeys, Kings of Leon and Santana.

Full Details: https://www.moshimoshi-nippon.jp/146658

・Taichi Mukai

Taichi Mukai is in the midst of his 2018-2019 "Pure Tour" to promote his newest album PURE. The artist is gaining much attention not just in Japan but across Asia too. Mukai is set to perform in Asia for the first time beginning on March 22.

Full Details: https://www.moshimoshi-nippon.jp/155274

・HYDE

HYDE started his solo music career up again last year and has various planned for 2019. He performed at L'Arc-en-Ciel's 2018 Christmas live show "L'ArChristmas" and will embark on an Asia tour in March.

・GARNiDELiA

GARNiDELiA released Kyoki Ranbu on September 26 this year, an album compiling every song from their internationally acclaimed online dance series including their hit song Gokuraku Jodo. The pop rock duo have announced that they will embark on their biggest Asia tour to date including shows in Hong Kong and Singapore.

Full Details: https://www.moshimoshi-nippon.jp/150236

・Wednesday Campanella

Wednesday Campanella is no stranger to performing solo concerts and at festivals outside Japan. The next place to be graced by KOM_I's incredible performance is Barcelona for the Primavera Sound music festival.

Full Details: https://www.moshimoshi-nippon.jp/150817

To all lovers of J-pop, J-rock and any kind of Japanese artist or band living outside Japan – if an artist is coming to a place near you, show your support and don't miss the opportunity to see them live.

Writer: Heir

Wednesday Campanella to Perform at Spain's Primavera Sound Music Festival in 2019

Wednesday Campanella have announced they will perform at the Primavera Sound music festival which will take place in Barcelona, Spain next year.

Primavera Sound began in 2001 and has gone on to become one of Spain's biggest music festivals. It will take place from May 30 to June 1 next year with Wednesday Campanella performing on May 30.

This will mark KOM_I's first ever performance in Spain and the first in Europe since appearing at OFF FESTIVAL 2018 back in August.

Wednesday Campanella recently released a song titled Ikiro. in collaboration with Yahyel. Details can be found here.

Wednesday Campanella Release New Song 'Ikiro.' in Collaboration With yahyel

Wednesday Campanella are currently knee-deep in the Asia leg of their 2018 Galapagos Tour, but that hasn't stopped them from releasing a new song today titled Ikiro. in collaboration with Japanese five-piece indie pop band yahyel.

Wednesday Campanella's frontwoman KOM_I met the vocalist of yahyel Shun Ikegai by chance at the end of last year where they discussed the possibility of making a song together. The song was first performed at this year's Summer Sonic Festival and it received rave reviews from fans.

The lyrics were written by Ikegai and KOM_I themselves and the song was composed by the two of them along with yahyel's Miru Shinoda and Wataru Sugimoto.

The single's CD cover is an infrared photograph taken by Japanese photographer Yusuke Yamatani featuring KOM_I and Ikegai at night on the streets of Shibuya. The use of infrared brings out the outer layer of the 'real Tokyo' that's hidden to the normal eye.

Concert Review: Wednesday Campanella Sets Off 2018 Asia Tour in Hong Kong

Wednesday Campanella's 10-date Asia tour finally began on October 12 to a sold-out venue at Music Zone @E-Max in Hong Kong.

As fans waited for the performance to begin many of them were gathered around the merchandise area to check out out the latest items from the group. Excitement seethed throughout the room.

The first song of the night was Kiiro no Uta during which vocalist KOM_I was bathed in warm and magical yellow lights produced by Hikari Asobi, a lighting team that has followed her on tour since Japan.

This was followed by Chupacabra which saw fans' nerves lifted to gradually begin dancing one by one. "You can do anything!" shouted KOM_I after which she moved onto Momotaro (Remix), evoking excited shrills through the venue.

Towards the second half of the set, an enormous pink cloth suddenly appeared overhead during Uran-chan, covering everyone in the room. KOM_I left the stage and entered the crowd. The pink cloth then took on the form of a dome and ladders were set up in the middle of everyone. KOM_I climbed up and sang Itoshii Monotachi e while overlooking fans.

Away went the cloth, and standing atop the ladders, KOM_I sang Ikkyu-san. Everybody came together to sing the hit track.

The last song of the night was Marco Polo (Remix). KOM_I descended the ladders and as if being swallowed whole passed the fans as she sang and left out the exit, concluding the set. Lots of fans chased after her and she continued to walk.

There are 8 dates left on the tour: 4 in China and 4 in Japan. Next on the list for KOM_I is Guangzhou.

Information

Galapagos Tour

2018/10/12 @Music Zone @E-Max, Hong Kong (Start – 20:30)

2018/10/13 @ Legacy TAIPEI, Taipei (Start – 19:00)

2018/10/17 @ MAO Livehouse, Guangzhou (Start – 20:30)

2018/10/19 @ Tango 3F, Beijing (Start – 20:30)

2018/10/20 @ ModernSky Lab, Shanghai (Start – 20:30)

2018/10/21 @MAO Livehouse, Hangzhou (Start – 14:00)

2018/11/7 @ STUDIO COAST, Tokyo (Start – 19:30)

2018/11/10 @ Sapporo Factory Hall, Hokkaido (Start – 18:00)

2018/11/30 @ Misono Universe, Osaka (Start – 19:00)

2018/12/8 @ Namura Hall, Okinawa (Start – 18:00)

Ticket details can be found on Wednesday Campanella's official website:

Galapagos EP

Released: June 27, 2018
Price: CD ¥2,500 (tax excluded) / Vinyl ¥3,500 (tax excluded)

Download/Stream Link: https://wedcamp.lnk.to/galapagosPR

Wednesday Campanella Official Website: http://www.wed-camp.com

Wednesday Campanella YouTube Channel: https://www.youtube.com/channel/UCt30iKDSksaJ0hbd363ETfA

Wednesday Campanella Releases Live Video Ahead of Asia Tour

Wednesday Campanella's much-anticipated 10-city Asia tour finally begins this week. In the run up to it, a compilation video has been released showcasing footage of KOM_I live at the Kawaguchiko Stellar Theater on June 30 and July 1.

Yuichiro Fujishiro―who has directed numerous videos for Wednesday Campanella―is responsible for directing and shooting footage shown in the video. It features four whole minutes across both days of the show from different angles where we see KOM_I singing and dancing in the water, lights and by fire.


The footage includes lots of songs from Wednesday Campanella's latest EP, Galapogos.

The Asia tour will begin on October 12 in Hong Kong and run until December, wrapping up in Okinawa. If Wednesday Campanella are coming to a place near you, book a ticket and see KOM_I's dazzling performance for yourself.

Information

Galapagos Tour

2018/10/12 @Music Zone @E-Max, Hong Kong (Start – 20:30)

2018/10/13 @ Legacy TAIPEI, Taipei (Start – 19:00)

2018/10/17 @ MAO Livehouse, Guangzhou (Start – 20:30)

2018/10/19 @ Tango 3F, Beijing (Start – 20:30)

2018/10/20 @ ModernSky Lab, Shanghai (Start – 20:30)

2018/10/21 @MAO Livehouse, Hangzhou (Start – 14:00)

2018/11/7 @ STUDIO COAST, Tokyo (Start – 19:30)

2018/11/10 @ Sapporo Factory Hall, Hokkaido (Start – 18:00)

2018/11/30 @ Misono Universe, Osaka (Start – 19:00)

2018/12/8 @ Namura Hall, Okinawa (Start – 18:00)

Ticket details can be found on Wednesday Campanella's official website:

Galapagos EP

Released: June 27, 2018
Price: CD ¥2,500 (tax excluded) / Vinyl ¥3,500 (tax excluded)

Wednesday Campanella YouTube Channel: https://www.youtube.com/channel/UCt30iKDSksaJ0hbd363ETfA

Wednesday Campanella Official Website: http://www.wed-camp.com

Wednesday Campanella Announces First China Solo Tour for October 2018

04.September.2018 | MUSIC

Japanese music group Wednesday Campanella, spearheaded by vivacious frontwoman KOM_I, has announced additional dates in China for their Galapagos Tour.

The 4 additional concerts come as KOM_I's first performances in China since the Strawberry Music Festival this year in Shanghai and Beijing in April and May respectively. The solo tour will take her to Guangzhou, Beijing, Shanghai and Hangzhou.

A nationwide tour in China is a big deal even for Wednesday Campanella, who has performed at many music festivals and played many times overseas. KOM_I even set up an account on Chinese social media platform Weibo and has already received a flood of messages of fans looking forward to her visit.

Wednesday Campanella's Galapagos Tour will take KOM_I on a ride of 10 performances in Asia, including Japan, from October 12.

Concert Review: Wednesday Campanella's Performance at OFF FESTIVAL 2018 is a Huge Success

Wednesday Campanella performed at this year's OFF FESTIVAL in Poland on August 4. The outdoor music festival has taken place in the city of Katowice since 2006. In 2017, UK news magazine The Guardian ranked it in their top 10 list of music festivals in Europe.

There was a sliver of rain on Saturday night. The evening turned late, and the crowd began to chant "Wednesday! Wednesday! in unison, during which the intro to Eisei began to play, signalling lead vocalist and sole performing member KOM_I to step onto the festival's Experimental Stage. She was greeted with huge cheers and a round of applause from the crowd, which rippled from the front row all the way outside the tent area. KOM_I got the crowd going even more as she straddled over the front of the stage for Momotaro (Remix) and Uran-chan.

During Matilda, the crowd lost sight of KOM_I, who reappeared on a smaller stage that had been prepared in the middle of the crowd. She sang Gogh with all she had surrounded by everyone before returning to the stage.

The singer went on to perform new songs including Minakata Kumagusu and Mizaru Kikazaru Iwazaru, as well as The Bamboo Princess during which KOM_I danced within the dazzling lights, her silhouette looking like a fairy. Once the song was over, the claps and cries didn't stop, and the crowd began stomping their feet.

"I've never seen such a wonderful audience! Thank you!" KOM_I commented. The Polish audience, who enjoy their music with everything they got, matched perfectly with the music of Wednesday Campanella.

Having performed in Asia, the US and now Europe, Wednesday Campanella is now being received in Europe little by little. We look forward to seeing how it all pans out.

■Information
Galapagos Tour

Wednesday 7th November 18:30/19:30 /STUDIO COAST (Shinkiba, Tokyo)

Saturday 10th November 17:00/18:00 (Factory Hall, Sapporo)

Friday 30th November 18:00/19:00 (Misono Universe, Osaka)

Saturday 8th December 17:00/18:00 (Namura Hall, Okinawa)

Wednesday Campanella Official Website: http://www.wed-camp.com/