With just a small bit of ingenuity, turn everyday food into something cute using Kaori's recipe series! With a few simple ideas, an ordinary recipe magically transforms into a cute dish.
1:
Ingredients
Strawberries (wash and hull the strawberries) – 250g
Fresh cream – 100g
Sugar – 30g
Lemon juice – one teaspoon
Powder gelatin – 5g
Water – 3 tablespoons
HELL KITTY 's silicon cut out
Chocolate (white, yellow, black)
Decorations:
Strawberries
Fresh cream
Your favorite fruit
2:  add water (3 tablespoons) to the gelatin (5g) and heat it in a microwave oven(15 to 20 seconds).
3:
①Put strawberries, sugar and lemon juice into a mixer and mix them well. Part of the sauce (80g) will be used as a topping sauce. Set this aside.
➁Put fresh cream and the gelatin/water into ① and mix them well.
4:
①Put the contents of 3 into a container and cool it in the refrigerator.
➁Decorate the topping sauce (3:①) on top of ①.
③Put sliced strawberries on top of ➁.
5:
Make HELLO KITTY's chocolate.
Pour red chocolate into the cut out (ribbon) and yellow chocolate in to the same cut out (nose).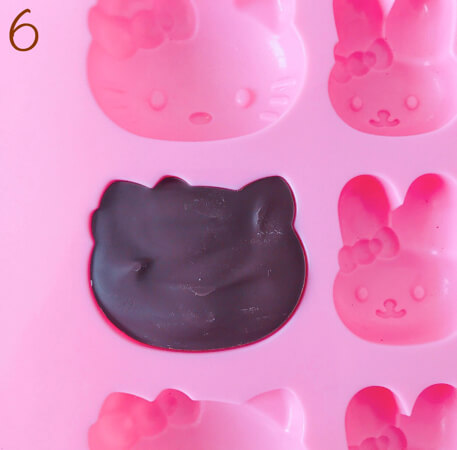 6:
After the chocolate hardens, pour white chocolate (bottom) and then regular chocolate (top) on top.
After all the chocolate get hard, draw the facial parts including eyes and whiskers using chocolate.
☆It is recommended that you make the chocolate a day earlier.
Place fresh cream, the fruit of your choice and KITTY Chan's chocolate on the top of your sweets item.
By using strawberries, you can enjoy the fresh sweet/sour flavor!
Kaori also invites you into her world of character-themed rice dishes in her recipe series! Please check out her Instagram where she has uploaded many pictures of her character dishes!
■Profile
Kaori Kubota (@kaopan27)
I live in Hokkaido and I love to make character-shaped meals, desserts and breads.
I enjoy making character foods because I want to see my family smiling,
My character foods and character bento boxes are introduced in my Instagram page→@kaopan27