Tsuboichi Seicha Honpo was first established 185 years ago as a tea wholesale store in Sakai, the birthplace of Sen no Rikyū, a historical figure considered to have had the most influence on the Japanese 'Way of Tea.'
The company have several locations dotted around Osaka, and they're set to add another to the list on October 17 when Saryou Tsuboichi Seicha Honpo opens at Namba SkyO.
The new shop will be split into three spaces: the café space, shop space and takeout space. The café space is based on the 'house in a mountain town area' concept advocated by Sen no Rikyū. Tea experts will make delicious cups of tea one by one in a relaxed environment which can be enjoyed with handmade sweets that elevate the flavour of the tea.
In the shop space you can get your hands on a range of Japanese teas carefully judged and selected by Tsuboichi's tea connoisseurs in addition to Japanese sweets made using high quality tea, a range of products perfect as gifts, and more. The takeout area is also the first ever at any of Tsuboichi's locations.
Shinise Honpo no Ocha Man (Matcha): ¥280 (Pre-Tax)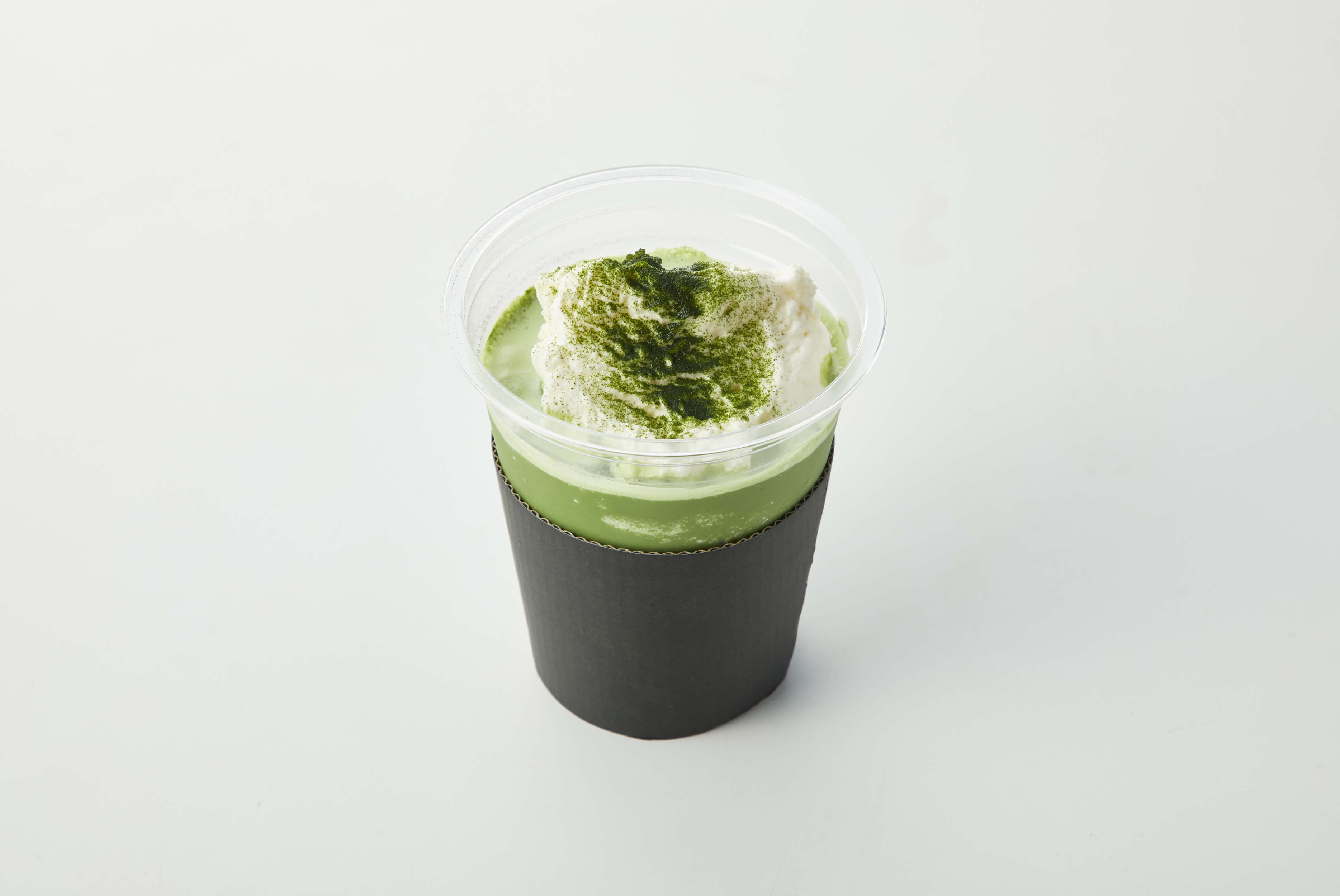 Matcha Smoothie (Rich): ¥280 (Pre-Tax)
For the takeout menu too, the beverages served are poured fresh after your order so you can get the full taste of Tsuboichi's tea. Drinks include sencha, matcha, a rich-flavoured matcha latte, houjicha latte and more. The shop's Ocha Man (Matcha) and the Matcha Smoothie and Houjicha Smoothe―both of which you can choose the richness of―are particular must-tries. All three are available at this new branch only.
There's also a workshop taking place for foreign tourists on the 5th floor of Namba SkyO where people can experience tradition and culture hands on. In line with this, the new Tsuboichi Seicha Honpo shop will sell an original tea and coffee blend for the first time. Around 10 types of single origin tea leaves can be picked from.
If you're looking to test of lots of different Japanese teas then look no further than Saryou Tsuboichi Seicha Honpo in Namba.
Information
Saryou Tsuboichi Seicha Honpo
Address: 5F Namba SkyO, 5-1-60 Namba, Chuo Ward, Osaka, Osaka Prefecture
Opening Hours:
Café 10:00-21:00 (Last Orders 20:30)
Takeout & Shop 10:00-22:00 (Last Orders 21:30)
Website: http://www.tsuboichi.co.jp/saryo/
RECOMMENDED ENTRIES
6 Autumn Drinks & Desserts Available in Japan This Year―Matcha, Sweet Potato & More

There is a Japanese phrase that says "fall is the best season for eating" (食欲の秋; shokuyoku no aki). When fall arrives in Japan with all of its beautiful red and yellow colours, so do all of the delicious drinks and desserts. We have compiled a list of 6 that we want to recommend to our readers.

 

"Tapioca Hōjicha Milk Tea" @ Chun Sui Tang (From September 26)

Taiwanese cafe Chun Sui Tang released their new original Japanese-style Tapioca Hōjicha Milk Tea on September 26. Hōjicha, a type of Japanese green tea that involves roasting the tea leaves in a specific way, is fused with tapioca milk tea. The new creation introduces a new way to enjoy flavours. As the tea leaves are sourced from Shizuoka, all the raw ingredients are free from additives and are 100% national produce. A master tea specialist carefully roasts the tea leaves using a far infrared roaster and continues the process until the stem is reached. At this point, the tea is turned into a fine powder and a wonderful aroma drifts through the air. The texture of the chewy tapioca combined with the mildly bitter Hōjicha milk and fluffy cream makes for a great combination. Enjoy a wonderful Japanese-style original tapioca drink which makes for a great dessert! Available this Autumn only!

 

Autumnal Japanese-Style Desserts @ Pie Holic (September 14 – October 31)

Pie Holic is a Japanese pie shop that specialises in making Californian style pies. They are now selling four new Japanese-style desserts this autumn only at their Roppongi and Yokohama branches. The list includes the crunchy Doraimo Pie on top of which sits a fluffy dorayaki topped with a light whipped cream and rich, naturally sweet purple sweet potato cream. There's also the Soybean Mochi Pie, a luxurious dessert filled with chewy warabimochi.

"Purple Sweet Potato McShake" @ McDonald's (September 26 – End of October)

McDonald's Japan is currently selling its recently-released Purple Sweet Potato McShake for a limited time only. The drink retains the characteristic and familiar creamy texture of the classic McShake but combines it with purple sweet potatoes and regular sweet potatoes to create the perfect beverage for the autumn season.

McDonald's Matcha Drink Series (September 12 – End of November)

McDonald's Japan is currently selling four matcha beverages at its McCafé by Barista chain for a limited period. The drinks include the Brown Sugar Syrup & Soybean Flour Matcha Frappe, Matcha Latte Frappe, Iced Matcha Latte and Matcha Latte. This year they have put in even more matcha powder sourced in Uji in each of the drinks to make the matcha flavour even richer!

"Strawberry Matcha Frappe" @ McDonald's (October 10 – Mid November)

This beverage is an addition the McDonald's matcha series above, this time opting for a more western-style flavour by adding strawberries. It's a luxurious combination of the full-bodied flavour of matcha together with sweet and sour strawberries. It includes both a strawberry paste made from whole strawberries and a strawberry whipped cream at the bottom. Sitting on top of these is a matcha latte frappe which uses slightly bitter Uji matcha from Kyoto and delicious milk farmed in Japan. Crowning the drink is more strawberry whipped cream and sprinkling of matcha powder.

"Crème Brûlée Doughnut" @ Mister Donut (September 28 – End of December)

Mister Donut in Japan is now selling three different types of crème brûlée doughnuts. As the name suggests, it's the popular crème brûlée turned into a doughnut. The doughnut is made with burnt cream, sprinkled with caramelised sugar and filled with custard cream before being scorched on top with a gas burner.

Make sure to try all the goodies available in Japan during autumn!

Café "Nintama Rantaro Chaya" to open in Tokyo and Osaka

Two limited-time-offer collaboration cafés named "Nintama Rantaro Chaya" (cafés using the motif of the popular TV animation with the same name) will be opened in Osaka and Tokyo. The Osaka café will be opened in "contact" located in Shinsaibashi starting from October 12th (Fri.) and the Tokyo café will be opened in "OMOTESANDO BOX CAFÉ & SPACE" located in Omotesando starting from Octorber 25th (Thurs.).

In the animation story, the principal of the ninja school all of a sudden declares, "To be a full-fledged ninja, you must be able to cook!" So, it is decided that the 3 students, Rintaro, Kirimaru and Shinbei must go to different tea houses for training. Rintaro is to go to a "healthy tea house," Kirimaru is to go to a "powerful tea house" and Shinbei is to go to a "modern tea house."

Seniors of these 3 students and some teachers decide that they will lend a helping hand in the training session, so they go along. Furthermore, the principal declares, "If your tea house does a booming business, I will give you a reward!" And so, a heated cooking competition unfolds.

All menu item prices are the before-tax price.

Green salad udon \1,590

Isaku and Kematome's collaborative "vegetable-rich" healthy salad udon. By pouring a seseme sauce on the udon the taste becomes even better.

Stamina rich bowl ~hitsumabushi-style~ \1,390

A high-powered rice bowl made by Choji, Koheita and Monjiro. By scooping a small serving of the rice bowl into a small bowl and pouring the broth over it, you can have a hitsumabushi-style dish.

Takeya and Kukuchi's collaborative tofu hamburg doria (casserole) \1,490

Kukuchi offers you a "modern-tasteing" tofu hamburg doria. The rice placed under the hamburg has a jazzy basil flavor. This comes with Takeya's fresh salad set.

Collaborative dish of a star and an idol. Which character is the most popular? \1,590

A star and an idol dance on the stage! Don't miss Takiya shamaru and Mikiemon's collaborative dream collaboration!

Denko-san's (Yamada teacher) ohagi parfait \1,090

Ms. Yamada, you put a whole ohagi on top of the parfait! Denko-san's powerful parfait.

Doi teacher's "paste" item? Mitarashi parfait \1,090

"Mr. Doi, can you eat paste products?" Actually, this is not a paste product! Here is a Japanese-style parfait with the motif of "oden."

Relaxing matcha latte ~with Rantaro's onigiri-shaped rice cookie   \890

Have a relaxing matcha latte with Rantaro's special onigiri-shaped rice cookie.

Enjoy the numerous other Nintama-style menu items of these 3 different tea houses.

You can also purchase original goods that can only be bought at these cafes. You can also purchase special post cards and egg-shaped key holders. Don't miss this chance to get your very own Nintama Rantaro goods.

Reservations are required and all persons who make reservations will receive 1 original sticker (3 types given out at random).

In addition, special lunch mats (4 types given out at random) will be given to all customers of the café and customers ordering a drink will receive special coasters (22 types given out at random).

All Rintama Rantaro fans, why not come and enjoy these collaborative cafes!

Information

Nintama Rantaro Chaya (Cafes)

Tokyo café

Location: OMOTESANDO BOX CAFE&SPACE

B1F Pine Under Flat, 5-13-2 Jingu-mae Shibuya-ku, Tokyo

Open: October 25th (Thurs.) ~ December 2nd (Sun.) 10:00~21:00

Osaka café

Location: contact 1-6-24 Kitahorie, Nishi-ku, Osaka

Open: October 12th (Fri.) ~ November 25th (Sun.) 11:00 ~ 21:20

Reservations: 650 (tax excluded)

Official website: https://nintama-cafe.jp/

© Amako Sobei / NHK・NEP

"Nanoan" Sake Bar Opens in Old Fashioned House in Tennoji, Osaka

A one-hundred year old residence from the Taisho Period in Osaka's Tennoji ward has been renovated and turned into a Japanese sake bar called Nanoan. This is the second store by Nanakura, which is located in the same area as the bar, Chausuyama.

The quiet residence is located in the middle of Tennoji about 2-minutes from the station. The neighbourhood of Tennoji has been undergoing development, and the house used to build Nanoan is said to be the last remaining residence from the Taisho Period.

Customers can look forward to enjoying meals made with exquisite ingredients as well as drinks in this historical, antique-looking building. It's located just 1-minute on foot from the first store, Nanakura. Located right by is Tennoji Park, and from the second floor, you can see Keitakuen Garden.

The bar can be used for many situations, like enjoy yourself at a 1-2 person counter while looking out to the garden, or you can rent the bar for an 80-person banquet.

For lunch, enjoy a farmer's meal for ¥1,000. It comes with side dishes stacked with plenty of homegrown vegetables and more.

Enjoy a great meal and some sake in a quaint residence of the past!

■Information

Nanoan – Sake Bar

Address: 2-23 Chausuyamachō, Tennōji-ku, Osaka

Opening Hours: Daytime 11:30-15:00 (Last Orders 14:00) / Evening 17:00-23:00 (Last Orders 22:00)

No Fixed Holidays.

TEL: 06-6770-5757

Website: http://www.nanoan.com/

Nanakura – Sake & Sansai

Address: 4-26 Chausuyamacho, Tennōji-ku, Osaka

Opening Hours: Evening 17:00-00:00 (Open from 15:00 on Sundays & Holidays)

No Fixed Holidays.

TEL: 06-6777-4373

Website: http://www.nana-kura.com/
RELATED ENTRIES
Ojamajo Doremi Cafe 2020 ~FRUITS PARLOR~ to Open in Tokyo, Osaka & Aichi

Japanese company LEGS has announced the opening of the limited-time Ojamajo Doremi Cafe 2020 ~FRUITS PARLOR~. The themed cafes will open in Tokyo on October 29, Osaka on October 30, and Aichi on October 23.

Ojamajo Doremi is an original magical girl created by Toei Animation that ran from February 1999 to January 2003. To celebrate the series's 20th anniversary last year, LEGS opened a different Ojamajo Doremi limited-time themed cafe in collaboration with Cafe&Kitchen which welcomed lots of magical girl fans.

This year once again welcomes Etoile et Griotte as the art director for the fruit parlor-inspired cafe.

Ojamajo Doremi Cafe 2020 ~FRUITS PARLOR~ celebrates the 20th anniversary of Ojamajo Doremi Sharp is the second series in the Ojamajo Doremi series. Fans will be able to get their hands on a range of exclusive magical merchandise as well as tuck into pastel coloured fruity food.

FOOD

Doremi's Cheese Steak Doria in Cherry Sauce | ¥1,699


Steak is Doremi-chan's favourite food, so it was a must-have on the menu. The cream cheese is coloured like Doremi, and there's a cute musical note topping too. It comes with a cute lunch mat that looks like Doremi's skirt.

Hazuki's Omurice in Porcino & Orange Cream Sauce | ¥1,399


The omelette is made to look like Hazuki's yellow skirt. Enjoy together with the delicious porcino sauce and orange combination.

Onpu's Waffles With Crepe & Mascarpone | ¥1,299

Blueberry sauce-drizzled and mascarpone-topped waffles served with a mashed potato skirt. The sweet and sour mix is to die for.

DESSERT

Aiko's Blueberry Float | ¥999

A fresh blueberry float inspired by Ai-chan. Mix everything together to create a different flavour.

Momoko's Lemon Cheesecake Parfait | ¥1,399

A fresh lemon cheesecake packed parfait with lots of enjoyable flavours and textures.

Rhythm Tap Tart | ¥1,300


Inspired by the Rhythm Taps seen in the series, the tart imagines Doremi's transformation scene in Ojamajo Doremi Sharp.

DRINK

Onpu Melody Drink (5 Flavours) | ¥1,099


A rainbow line-up of colourful Onpu drinks available for takeout.

Movie Theater Menu

Girls Meet Sushi | ¥1,299


Inspired by the meat sushi that Sora and the gang eat in the animated film Majo Minarai wo Sagashite. Comes with an original postcard.

Exclusive Merchandise

Acrylic Keyrings (6 Designs) – ¥600 Each

Letter Set (1 Design) – ¥1,200 | Folder Set (2 Designs) – ¥700

A selection of super kawaii cafe-original merchandise is available for fans to grab.

Bonus Items


Those who book a table in advance, order a drink, or spend more than ¥2,000 at the cafe will receive one of six possible A5 folders.

Become a magical girl like Doremi at the Ojamajo Doremi Cafe 2020.

©Toei Animation


Information

Ojamajo Doremi Cafe 2020
Tokyo Cafe
Running: October 29, 2020 – December 6, 2020
Location: SHIBUYA BOX cafe&space
Address: Shibuya LOFT 2F, 21-1 Udagawacho, Shibuya, Tokyo

Osaka Cafe
Running: October 30, 2020 – November 23, 2020
Location: Abeno Q's Mall 4F
Address: Abeno Contact, 1-6-1 Abenosuji, Abeno Ward, Osaka

Aichi Cafe
Running: October 23, 2020 – November 23, 2020
Location: NAGOYA BOX cafe&space
Address: LACHIC B1F, 3-6-1 Sakae, Naka-ku, Nagoya, Aichi

Hotel New Otani Tokyo, Osaka & Makuhari Now Serving Rich Chestnut Pancakes For Autumn

The Tokyo, Osaka, and Makuhari branches of Hotel New Otani are now serving seasonal autumn versions of their specially made pancakes at their coffee shop and all-dining restaurant SATSUKI until November 30, 2020

Fantastically fluffy pancakes

Hotel New Otani has been serving its special pancakes for the past 10 years which have become a favourite amongst guests.

The hotel's pastry chefs have whisked up a variety of flavours in line with the changing seasons this past decade using strictly-selected ingredients including strawberry, melon, mango, chestnut, and more.

A marriage of rich chestnut and fluffy pancake

Hotel New Otani Specially Made Chestnut Pancakes 2020 | ¥2,800 (Before Tax/Service Charge)


Chestnuts are the flavourful theme for autumn 2020's pancakes, made with strictly-selected chestnut astringent skin, sweet bean jelly, and topped with a chestnut macaron.
The pancakes are served with melt-in-the-mouth Italian ricotta. There are two different doughs, one made from coffee flour which has high nutritional value, and the hotel's original "White Cereal" which is a combination of millets and amaranth.
The pancakes are cooked on a low heat for about 5 minutes on each side so they rise to a fluffy 5cm thickness and become startlingly smooth.

Strawberries for winter

For this year's winter, the hotel will be serving strawberry pancakes.

Enjoy a selection of seasonal pancakes when staying at Hotel New Otani.

Information

Hotel New Otani Tokyo
Location: SATSUKI, Hotel New Otani Tokyo Main Lobby
Address: 4-1 Kioicho, Chiyoda-ku, Tokyo
Bookings/Enquiries: 03-5275-3177 (10:00-21:00)
Official Website: https://www.newotani.co.jp/tokyo/restaurant/satsuki/

Hotel New Otani Makuhari
Location: SATSUKI, Hotel New Otani Makuhari
Address: 2-120-3 Hibino, Mihama-ku, Chiba, Chiba Prefecture
Bookings/Enquiries: 043-299-1848 (07:00-21:00)
Official Website: https://www.newotani.co.jp/makuhari/restaurant/satsuki/

Hotel New Otani Osaka
Location: SATSUKI, Hotel New Otani Osaka
Address: 1-4-1 Shiromi, Chuo-ku, Osaka, Osaka Prefecture
Bookings/Enquiries: 06-6949-3234 (07:00-20:00)
Official Website: https://www.newotani.co.jp/osaka/restaurant/satsuki/

Grand Front Osaka Opens New Cafe PANCAKE&books bibliotheque

Grand Front Osaka opened its new cafe PANCAKE&books bibliotheque on September 11, 2020, serving a wide variety of fresh pancakes made with high quality ingredients.

Special Fruit Genmai Guilt-Free Pancakes | ¥1,500

These pancakes are made using gluten-free brown rice flour which creates a delicious fragrance and delightfully chewy texture to the pancakes. The pancakes are made even more chewier thanks to the incorporation of silken tofu, an ingredient which is also said to be good for dieting and the intestinal tract. The pancakes are topped with nuts and dried fruits, making them a very nutritional option.

Strawberry & Marshmallow Brûlée | ¥1,300

A hybrid pancake of two different desserts. It's loaded with fluffy caramelised custard sauce to create a brûlée-like appearance and texture and is topped with sliced strawberries and roasted marshmallows. The caramel sauce drizzled on top adds a sweet and slightly bitter edge, bringing everything together.

Whole Peach & Fromage Blanc Cream Pancake | ¥1,500

Served with a whole juicy peach, these pancakes are combined with refreshing fromage blanc. The peach adds an ambrosial sweetness that melts perfectly with the fluffy pancakes. Complete the pancakes with a drizzle of the accompanying mint anglaise sauce.

Kyoho Grape, Blackcurrant, & Mascarpone Cream Pancakes | ¥1,700

A special combination of seasonal fruits including Kyoho grapes and blackcurrants. The mascarpone cream adds sweetness and the blackcurrant sauce a sour kick. If you're wanting to taste autumn, then this one's for you.

Mont Blanc & Praline Cream Pancakes in Caramel Sauce | ¥1,400

These pancakes make you feel summer changing to autumn with its fat dollops of rum-infused chestnut cream and praline cream. The chestnut cream brings a rich sweetness to your taste buds and the caramel sauce an appetising bitterness.

Pancake Burger | ¥1,300

bibliotheque's incredible pancakes have also turned into hamburgers stuffed with a hand-rolled patty, melted cheddar cheese, sunny-side up egg, tomato, and lettuce.

Eggs Benedict Pancakes | ¥1,500

Pancakes towered with bacon, tomato, salad, and poached egg. The runny egg is a match made in heaven when combined with the homemade hollandaise sauce.

Salmon & Ricotta Cheese Pancakes | ¥1,500

Salad pancakes of smoked salmon, ricotta cheese, and poached egg. They are finished with rich Gruyère cheese.

Original Milkshake "Mixed Shake" | ¥700

A hybrid drink of authentic milkshake and Osaka's speciality "Mixed Juice" beverage, this shake contains sakura tamago egg from Awaji Island and premium grade milk from Hamanaka in Hokkaido. It's also made with vanilla cream and is topped with an apricot compote.

Information

PANCAKE&books bibliotheque
Grand Opening: September 11, 2020

Address: Grand Front Osaka Shops & Restaurants (South Bldg. 1F), 4-Ofukacho, Kita-ku, Osaka
TEL: 06-6359-1389
Opening Hours: 11:00-21:00

Official Website: http://www.bibliotheque.ne.jp/pancake/

5 Character Themed Cafés Running in September 2020 – MOSHI MOSHI NIPPON

Character cafés are an exciting experience in Japan which sees a café collaborate with well-known anime series, game series and various franchises by decorating the café interior with designs and illustrations based on them and meals and drinks inspired by them. Let's take a look at 5 must-visit cafés in September 2020.

KUROMI♡MY MELODY CAFE @ EGG&SPUMA, Shinjuku Lumine EST

Sanrio's beloved characters Kuromi and My Melody are taking over EGG&SPUMA in Shinjuku this summer with the new KUROMI♡MY MELODY CAFE which is open for a limited time from August 1, 2020 to October 31, 2020 and is split into two separate phases.

There is an adorable menu line-up including two-tiered afternoon tea set with lots of sweet treats, like waffles and ice cream, all topped with Kuromi and My Melody.

Full Details: https://www.moshimoshi-nippon.jp/340782

▼KUROMI♡MY MELODY CAFE

Location: EGG&SPUMA

Address: Shinjuku Lumine EST 8F, 3-38-1 Shinjuku, Shinjuku-ku, Tokyo

Running: August 1, 2020 – October 31, 2020

Opening Hours: 11:00-21:00 (Last Orders 20:00)

TEL: 03-6273-0255

Official Website: http://salt-group.jp/shop/egg-spuma/

© 1976,  2020 SANRIO CO., LTD. APPROVAL NO. L611679

PIXAR FEST @ OH MY CAFE, Harajuku Tokyu Plaza

OH MY CAFE, a chain of cafes in Japan, is holding a special Pixar-themed food event called 'PIXAR FEST' which is currently running in Tokyo and Osaka from August 28 and will open in Nagoya on September 4.

"Keep On Smiling" is the the concept of the event, which will serve up a whole range of different foods including a Lightning McQueen exclusive on September 5, a special drink inspired by Disney Pixar's Onward which released earlier this year, a collection of strawberry desserts centred on Lots-o'-Huggin' Bear to celebrate Toy Story's 25th anniversary, and more.

Full Details: https://www.moshimoshi-nippon.jp/351140

▼PIXAR FEST OH MY CAFE

Tokyo

OH MY CAFE TOKYO / August 28, 2020 – November 15, 2020
Address: Tokyu Plaza Omotesando Harajuku (Floor 3F), 4-30-3 Jingumae, Shibuya, Tokyo

Osaka

kawara CAFE&DINER Shinsaibashi / August 28, 2020 – November 17, 2020
Address: Shinsaibashi OPA (Floor 9F), 1-4-3 Nishishinsaibashi, Chuo Ward, Osaka, Osaka Prefecture

Nagoya

kawara CAFE&KITCHEN Nagoya PARCO / September 4, 2020 – November 24, 2020
Address: Nagoya PARCO South Building (Floor 5F), 3-29-1 Sakae, Naka Ward, Nagoya, Aichi Prefecture

Pixar Fest OH MY CAFE Official Website: https://pf2020.ohmycafe.jp/

©Disney/Pixar

Sanrio Character Collaboration Café @ POWDER ART CAFE HARAJUKU

POWDER ART CAFÉ HARAJUKU is collaborating with Sanrio until mid-January 2021.

At POWDER ART CAFE HARAJUKU, customers can draw their own designs on their orders, like latte art. They can also look forward to a super cute menu line-up inspired by the adorable character roster.

Full Details: https://www.moshimoshi-nippon.jp/338947

▼POWDER ART CAFE HARAJUKU

Address: IMON Bldg. B1F, 6-3-9 Jingumae, Shibuya, Tokyo

TEL: 03-6450-6037

Opening Hours: 11:00-21:00 (Last Orders 20:00)

Official Website: https://k-tanuma.com/company#04

© '76,'79,'89,'96,'01,'05,'20 SANRIO CO., LTD. APPROVAL NO.L611638

Miffy Café @ Tokyo Solamachi®

In commemoration of Miffy's 65th anniversary, the themed Miffy Café will open on the first floor of Tokyo Solamachi from September 11, 2020 for a limited time.

The menu will serve a healthy lineup of Netherlands cuisine—in line with the heritage of Miffy's Dutch creator Dick Bruna—and customers can get their hands on a selection of original Miffy merch.

Full Details: https://www.moshimoshi-nippon.jp/356067

▼Miffy Café

Address: TOKYO BOX cafe&space, Tokyo Solamachi 1F, 1-1-2 Oshiage, Sumida-ku, Tokyo

Running: September 11, 2020 – November 3, 2020

Reservation Fee: ¥500

Official Website:  https://miffy-skn-65.cafe.jp/

Illustrations Dick Bruna © copyright Mercis bv, 1953-2020  www.miffy.com

Hello Kitty Café @ Narita Airport

KADOKAWA opened a Hello Kitty themed cafe on the Narita Anime Deck—which is located on the Main Building second floor of Narita International Airport Terminal 2—earlier this year which will be open for limited time until October 2, 2020.

As well as themed food, drinks and merchandise, customers can take a Hello Kitty quiz, learn the history behind Hello Kitty, and more.

Full Details: https://www.moshimoshi-nippon.jp/336417

▼Narita Anime Deck – Hello Kitty Collaboration Cafe
Running: July 3, 2020 – October 2, 2020
Location: Narita Anime Deck Entertainment Cafe
Address: Narita International Airport Terminal 2 Main Building Floor 2F (1-1 Furugome, Narita, Chiba)
Opening Hours: 10:00-20:00 (Food Last Orders 19:30)

No Fixed Holidays

Narita Anime Deck Official Website: https://www.animedeck.jp/en/narita/

 

© 1976, 2020 SANRIO CO., LTD. APPROVAL NO. L611439

Did you enjoy this list? If you're in Japan for the end of summer and start of autumn, then be sure to visit all the character cafes you can.

Universal Studios Japan Announces Halloween 2020 Event

Halloween at Universal Studios Japan (USJ) is set to begin on September 18, 2020 when guests will see each area around the park transformed into Halloween mode with decorations, a spooky soundtrack, and more. Popular characters at USJ will also be dressed up in their Halloween outfits ready to greet guests.

The "Minion Monster Greeting" will be a must-see as the cheeky Minions make an appearance for some mischief. The popular annual "Universal Monsters Live: Rock and Roll Show" will also return and see familiar faces like Dracula, Beetlejuice, and other creepers perform song and dance. This year will also see a special show called "Monster de Dance" where monsters and performers will take to the street in masses and perform the 'rat-tat-tat' dance with guests. This dance originates from Sandaime J Soul Brothers from Exile Tribe's song and music video Rat-tat-tat, and this year will be performed in a special "social distancing" version.

EXILE NAOTO | Comment

"We are returning again to Universal Studios Japan this Halloween to perform Sandaime J Soul Brother's 'Rat-tat-tat' once more! This year, we've evolved the dance into the 'Social Distancing Rat-tat-tat' so that people can still enjoy the dance while keeping a distance from other people. It would make me happy to see people get involved!"

Kenjiro Yamashita | Comment

"I'm aware that due to the coronavirus pandemic, the number of places that people can have a good time have become few in number across the world. I'm thankful to the many people who joined in with our 'Rat-tat-tat' dance last Halloween. This year, we've powered up the dance and kept social distancing in mind so that everyone can feel safe, so please be sure to give it a go!"

At USJ, which is known as the 'holy ground for costumes and dress-up,' they are continuing to provide exciting entertainment for people during the new normal to ensure that anyone can participate and feel safe.

Halloween food and merchandise

The Minions, Sesame Street characters, and others will be dressed up in their Halloween best. There will also be a special Halloween art display of the Minions and Snoopy at the 42nd Street Greeting Gallery.

Egyptian God Anime Series To-totsuni Egypt Kami to be Narrated by Tomoya Nakamura

Some new information has finally arrived for Frontier Works's upcoming web anime series To-totsuni Egypt Kami.

Synopsis: To-totsuni Egypt Kami

Who would have thought that the Egyptian gods could be kawaii? Well, that's exactly what they've become in To-totsuni Egypt Kami, a series set in Ancient Egypt where the Egyptian deities, like Anubis, Thoth, Bastet, and Ra live laid-back and relaxed lives. The series is adapted from a popular line of character mascots of the same name.

Japanese actor Tomoya Nakamura has been confirmed as the narrator for the web anime series, whose warm and gentle voice will convey the chilled lives of the Egyptian pantheon of gods.

Tomoya Nakamura – Comment

"I think we'll see a domino effect with the number of people who will find themselves healed by these adorable and mysteries Egyptian gods. I hope you're sat back, relaxed, and looking forward to it."

To-totsuni Egypt Kami main voice cast

The full voice cast for To-totsuni Egypt Kami has finally been revealed, along with comments from the members. Here are some words from the main cast.

Hikaru Midorikawa – Comment

Medjed | Hikaru Midorikawa

"Everything about [Medjed] is riddled in mystery. His movements are bizarre , and nobody can predict what he's going to do next. And for his finishing move, he can… shoot a laser beam from his eyes? I think for an anime series, the movements of the gods make them that much more charming."

Nobunaga Shimazaki – Comment

Horus | Nobunaga Shimazaki

"Horus is a very powerful god with the head of a falcon. He's also a hard worker who works a busy part-time job day and night. He doesn't get along with Set who he fights with a lot. The world of 'To-totsuni Egypt Kami' is really pop and cute, but somewhat mysterious. It would delight be if you enjoyed it in a laid-back manner."

Hiroyuki Yoshino – Comment

 Set | Hiroyuki Yoshino

"The god of destruction. He doesn't get along with Horus and always tricks and harasses him. But his appearance makes you feel calm… I guess you'll have to look forward to the anime series to see!"

Kenjiro Tsuda – Comment

Ra | Kenjiro Tsuda

"Ra, the god of the sun. He's the father of everyone. He likes to sail a lot and bring back souvenirs for everyone, but there's something more to him… Sit back and look forward to it!"

*Comments translated from Japanese by MMN

Initial Broadcast: December 2020

The series will began airing online this December, including on YouTube. It is being directed by Katsuya Kikuchi (The Royal Tutor), with series composition by Yūichirō Higashide (Fate/Apocrypha; Fate/Grand Order – Absolute Demonic Front: Babylonia), and character designs and animation direction by Suzuna Okuyama (The Royal Tutor). Check out the promotional video below.

Themed cafe in collaboration with Animate Cafe Gratte

Gratte cookie design

Several branches of Animate Cafe Gratte in Japan are collaborating with To-totsuni Egypt Kami to serve themed food and drinks.

To-totsuni Egypt Kami x Gratte

Running: September 19, 2020 – November 8, 2020

Participating Branches: Animate Cafe Shibuya / Kichijoji PARCO / Sendai / Osaka Nipponbashi / Okuyama

©yuka/To-totsuni Egypt Kami Project

Information

To-totsuni Egypt Kami

Initial Broadcast: December 2020

Watch On: YouTube, GYAO!, Bandai Channel, FOD, ABEMA, d Anime Store, U-NEXT

Official Website: https://to-to2ni-anime.jp

McDonald's Japan Reveals Japanese Tea Infused Dessert Beverage Series

McDonald's Japan has announced the release of four limited-time drinks which will be sold at McCafé by Barista branches of McDonald's from September 2. The line-up includes the 'Houjicha Frappe Shiratama Kuromitsu Kinako,' 'Houjicha Frappe,' Matcha Frappe Shiratama Kuromitsu Kinako,' and 'Matcha Frappe.'

The beverage lineup is the perfect pink for an autumn-time dessert drink, each made with authentic flavours from Japan.

Houjicha Frappe Shiratama Kuromitsu Kinako | Regular ¥490, Large ¥530 (Tax Included)

Made using 100% Japanese houjicha powder and delicious milk, this houjicha frappe is topped with soy flour, sweet brown sugar syrup from Okinawa, chewy rice flour dumplings, and a squirt of whipped cream. This is the ultimate McDonald's Japanese dessert drink, laced with fragrant houjicha tea with a creamy texture.

Houjicha Frappe | Regular ¥450, Large ¥490 (Tax Included)

Houjicha frappe is used as the base for this one, and if inished with whipped cream and a dusting of houjicha powder. The subtly sweet houjicha and creaminess of the whipped cream is a deliciously perfect match.

Matcha Frappe Shiratama Kuromitsu Kinako | Regular ¥490, Large ¥530 (Tax Included)

Just like the houjicha variant, except this time it's a latte made with matcha and matcha powder from Uji, Kyoto. A truly all-star Japanese dessert drink.

Matcha Frappe | Regular ¥450, Large ¥490 (Tax Included)

The matcha frappe too is sprinkled with matcha powder from Uji, combined with full-bodied milk, and topped with whipped cream.

Hello Kitty, My Melody and Kuromi Themed Dessert Buffet Whipped Up at Hilton Osaka

Hilton Osaka has revealed a special dessert buffet called "Mysterious Sweets Forest ~Hello Kitty, My Melody & Kuromi's Collaboration Tea Party~" which will be served at the hotel's Folk Kitchen restaurant from September 18 to December 20 this year.


Themed on a mysterious magic forest, the dessert line-up is a tantalising buffet of 25 sweet treats made with chestnuts, sweet potatoes, apples, pear and other tasty bites. The buffet will also have several photo spots for people to take cute photos, including one with a giant Hello Kitty ribbon and one with My Melody and Kuromi.

Following the success of the "Summer Sweets Buffet Festival ~Hello Kitty & My Melody Collaboration Tea Party~" held at Hilton Osaka this summer which we also covered, the Sanrio characters return, this time with the cute and mischievous Kuromi joining the party.

Mochi Mochi Doughnuts Parfait

The "Mochi Mochi Doughnuts Parfait" is a sweet mix of Japanese gyuhi and raspberry jam topped with a doughnut that has a cute Hello Kitty chocolate on it.

Kuromi's Jet Black Heart Chocolate Mousse

Kuromi's chocolate mousse is made with fruity organic chocolate from Dominica and is topped with fruity chocolate crunch pieces for added texture.

Magic Pudding

The Magic Pudding is made using sweet potato and is served with a square-shaped chocolate that has different My Melody illustrations on it.

There's also the "White Candle Cake" which is made to look like a candle you would light at home, made from moist almond sponge and filled with berries and vanilla Bavarian cream. It's finished with a chocolate Hello Kitty ribbon.

Forest Mushroom Cinnamon Bavaria

The hotel's pastry chefs recommend the Forest Mushroom Cinnamon Bavaria. Their yellow colour and red dots will catch your eye, and one bite will have you hooked as sweet and sour redcurrant jelly and cinnamon Bavarian cream create a harmony of flavours on your taste buds.

Snow Covered Gateau Chocolate

This snow-covered chocolate cake is filled with various spices like cloves and ginger and a coating of snowy cream. This one's really giving those winter vibes.

Children of the Forest

The "Children of the Forest" which are actually lemon cakes dipped in chocolate. Other desserts include the "Vegan Chestnut Cream Cupcakes" which are generously topped with mont blanc cream, "Apple Pie" made luxuriously with apples, "Mysterious Forest Mousse" which combines sour yuzu citrus with bitter matcha, and lots of others.

There's also savoury options too like curry, mushroom soup, pumpkin and mushroom salad, and more.

Finally, Hilton Osaka's cafe and bar "MYPLACE" is also getting in on the tea party by serving up a special Hello Kitty, My Melody, and Kuromi afternoon tea, all served in a beautiful jewellery box.

Information

Mysterious Sweets Forest ~Hello Kitty, My Melody & Kuromi's Collaboration Tea Party~
Location: Hilton Osaka – Folk Kitchen (Floor 2F)

Running: September 18, 2020 – December 20, 2020 (Everyday except November 15)

Time: 15:00-16:30

Prices
[Weekdays] ¥3,950 per person / ¥1,950 for those ages 4-11 years
[Weekends/Holidays] ¥4,250 per person / ¥2,100 for those ages 4-11 years
*Comes with drink of choice from tea, coffee, hot chocolate, and others

*Listed prices do not include 10% consumption tax or service charge

Mysterious Sweets Forest ~Hello Kitty, My Melody & Kuromi's Afternoon Tea Set~

Location: MYPLACE (Hilton Osaka Floor 1F)
Running: September 18, 2020 – December 20, 2020
Time: From 12:00 until it sells out (limited quantity per day)

Price: ¥3,500 per person

*Comes with drink of choice from tea or coffee

*Listed prices do not include 10% consumption tax or service charge

Official Website: https://www.hiltonosaka.com/plans/restaurants/sweets/folkkitchen_2009

Moomin Exhibition THE ART AND THE STORY Now On Display at Osaka's ABENO HARUKAS Art Museum

Moomin Exhibition THE ART AND THE STORY is currently ongoing at ABENO HARUKAS Art Museum in Osaka until August 30, 2020. Around 500 pieces of art are being shown, celebrating the beloved characters of the Moomin series created by Finnish illustrator Tove Jansson (1914-2001). The exhibition will subsequently move to Sapporo, Kumamoto, and finally Shizuoka once the Osaka one closes up.

The exhibition's showcase features a specially selected collection from the Moomin Museum—the world's only museum centred on the Moomins with over 2,000 art pieces on display—illustrations and sketches from Moominvalley, and more. There's also ukiyo-e paintings alongside the Moomins, celebrating the 100 year friendship between Japan and Finland.

The Moomins are popular worldwide, especially in Japan, so if you're travelling there this year then be sure to visit the exhibition and find out where it's going next.

Information

Moomin Exhibition THE ART AND THE STORY
Running: Until August 30, 2020

Time: [Tue-Fri] 10:00-20:00 / [Sat-Mon] 10:00-18:00 *Last entries 30 mins before closing time

Location: ABENO HARUKAS Art Museum (ABENO HARUKAS 16F, 1-1-43 Abenosuji, Abeno-ku, Osaka)

ABENO HARUKAS Art Museum Official Website: https://www.aham.jp/
Moomin Exhibition Official Website: https://moomin-art.jp/

Pixar Animated Film Themed Food to be Served for 'PIXAR FEST' in Japan

OH MY CAFE, a chain of cafes in Japan, has announced a special Pixar-themed food event called 'PIXAR FEST' which will run in Tokyo and Osaka from August 28 and Nagoya from September 4.

"Keep On Smiling" is the the concept of the event, which will serve up a whole range of different foods including a Lightning McQueen exclusive on September 5, a special drink inspired by Disney Pixar's Onward which released earlier this year, a collection of strawberry desserts centred on Lots-o'-Huggin' Bear to celebrate Toy Story's 25th anniversary, and more. Let's take a closer look.

Food

Pixar Ball Bread: ¥790 / With Plate ¥1,690

Any fan of Pixar will be able to instantly recognise what this subtly sweet bread is inspired by. You can order it together with a special plate too.

Left: Ratatouille – Remy's 5 Star Restaurant Ratatouille | ¥1,190

Right: Monster's Inc. – Sully & Mike's Spaghetti Plate | ¥1,790

Ratatouille is a comfort food of southern France, and the one served for PIXAR FEST is of course inspired by the titular film. Sully and Mike also have their own pasta dish, combining a Sully cream cheese paste and Mike guacamole potato salad.

Left: Finding Nemo – Mr. Ray's Friendly Tortilla Sandwich | ¥1,590

Right: Toy Story 3 – Toy Box Cream Stew Loaf | ¥2,390

Mr. Ray's tortilla sandwich contains garlic chicken and egg salad, while everybody's favourite toys have sprung out of a whole bread loaf filled with chicken stew.

Drinks

Left: Pixar – Juicy Grape Squash | ¥590, With Coaster ¥1,490
Middle: Toy Story 3 – Straight Iced Tea | ¥490, With Tumbler ¥1,990

Right: The Incredibles – Jack-Jack's Chocolate Chip Cookie Smoothie | ¥990, With Coaster ¥1,590

The drink line-up includes a bubbly grape soda, an iced tea which you can order in a tumbler featuring the Sunnyside Daycare logo, and a cute cookie smoothie that comes in a baby bottle.

Lots-o'-Huggin' Bear's Strawberry Fair

Lots-o'-Huggin' Bear will have his own special menu items too. These are available for a limited time only from October 10 to November 24.

Left: Toy Story 3 – Lots-o's Strawberry Chicken Hamburger | ¥1,990

Right: Toy Story 3 – Lots-o'-s Strawberry Drink | ¥590

Pick from a cute and hearty chicken, vegetable, and strawberry burger and a pink-coloured strawberry beverage.

Lightning McQueen & Onward's Special Menu

Left: Cars – Lightning McQueen's Kachow Lightning Hamburger Sandwich | ¥1,890
Right: Onward – Ian & Barley's Pink Sunset Blue Mallow Tea | ¥1,090

The tire-shaped bread is fitting for Lightning McQueen's burger. The Onward drink is served with a side of lemon syrup which transforms the the colour of the drink into a gorgeous concoction. These items are available for a limited time only from August 28 to October 9.

Merchandise

The cafes will sell their own collection of PIXAR FEST merchandise in three different types: the "PIXAR FEST Series" which uses the cafe's main visual for its design, the "Vintage Series" which uses a cute purple, and the "Alien Mix" which has a pop design with the Little Green Men from Toy Story.

PIXAR FEST Series

Acrylic Key Rings (12 Designs) | A4 Folder | Lunch Mat (set of 4)

Vintage Series

Pin Badges (16 Designs) | Stickers (8 Designs)

Alien Series

Eco Bag | Bath Towel | Letter Set

Bonus Items

Face Mask Cases (12 Designs) | Stickers (12 Designs)

Customers who book a table in advance and order from the themed menu will receive one of 12 possible face mask cases. And for every ¥2,000 (tax included) they spend on the cafe-exclusive merchandise, they'll receive one of 12 possible stickers.

But that's not all. If you order from the Lots-o'-Huggin' Bear menu and spend over ¥1,000 (tax included) on cafe-exclusive merchandise, you'll receive two postcards of the fuzzy bear. These are available while supplies last.

Customers can also receive a limited-edition OH MY CAFE sticker if they order something from the menu, buy some merchandise, and post their thoughts about the cafe and their items on Twitter with the hashtags #キャンペーン #PIXAR FESTカフェで最高の思い出を作ろう #OHMYCAFE.

©Disney/Pixar

Information

PIXAR FEST OH MY CAFE

Tokyo

OH MY CAFE TOKYO / August 28, 2020 – November 15, 2020
Address: Tokyu Plaza Omotesando Harajuku (Floor 3F), 4-30-3 Jingumae, Shibuya, Tokyo

Osaka

kawara CAFE&DINER Shinsaibashi / August 28, 2020 – November 17, 2020
Address: Shinsaibashi OPA (Floor 9F), 1-4-3 Nishishinsaibashi, Chuo Ward, Osaka, Osaka Prefecture

Nagoya

kawara CAFE&KITCHEN Nagoya PARCO / September 4, 2020 – November 24, 2020
Address: Nagoya PARCO South Building (Floor 5F), 3-29-1 Sakae, Naka Ward, Nagoya, Aichi Prefecture

Pixar Fest OH MY CAFE Official Website: https://pf2020.ohmycafe.jp/

Osaka's New Movie Star Studio is a Dream Come True For TikTok and Instagram Users

Movie Star Studio is Japan's first video shooting studio service set to open at Universal City in Osaka on August 11, 2020.

Movie Star Studio is a dream come true for TikTok and Instagram Stories users where they can shoot a full body video and add animation, music, and other features. There are 12 booths in the studio which are fairly spacious and so can be used by groups too.

The studio offers something that a smartphone can't, and that's chroma key which lets people use a green screen to add another video behind the person.

There are currently seven different backgrounds people can choose from, each lasting 5 seconds: HEART, PINK, KIRA KIRA, SUMMER, HOLLYWOOD, DINOSAUR, and MAGIC (as of August 8, 2020).

The studio is coloured bright pink with walls plastered with various cute illustrations so it looks like a stylish cafe. Every spot in the studio calls for a photo opportunity. There's even a space with 25 seats for people to do their makeup.

Information

Movie Star Studio
Grand Opening: August 11, 2020
Address: Universal City Bldg. 3F, 6-2-82 Shimaya, Konohana-ku, Osaka
No Fixed Holidays
Opening Hours: 10:00-22:00
TEL: 06-6147-3770
Price: ¥500 per shoot (Tax Included)

*Rental costumes are free for the initial limited time opening period

Official Website: https://uc-movie-star-studio.jp

Snoopy Food Truck Rolls Up to EST Shopping Mall in Osaka

Tokyo's Snoopy themed café PEANUTS Café is now serving up food and drink in a food truck outside of the EST shopping mall in Umeda, Osaka for a limited time until August 16.

Lucy's Homemade Lemonade | ¥600 (Tax Included)


Cookies | ¥650 (Tax Included)

The line-up includes popular takeout options from PEANUTS Café which is originally based in Naka-Meguro, Tokyo. This is a chance for the people of Osaka to enjoy the Tokyo-based cafe's cute and tasty food.

[Presale] Key Rings (3 Designs)  | ¥1,100 Each (Tax Included)

The food truck will also have pre-sales of three new key rings not yet available at the PEANUTS Café. Customers can also buy the tote bag which is already sold at the café.

©2020 Peanuts Worldwide LLC

Information

「PEANUTS Cafe」フードトラック
開催期間:2020年8月7日(金)~8月16日(日)
営業時間:11:00-21:00(※日曜日のみ11:00-20:00)
場所:梅田「EST(エスト)」 エスト通り

Official site:http://www.peanutscafe.jp/