Best Tokyo Illuminations: December 2018 to February 2019
Every year during Japanese wintertime the streets are lit up with big, bright and beautiful illuminations. They are of course held all the way up to Christmas but can be enjoyed all the way into February. Here's our list of must-see Tokyo illuminations this year.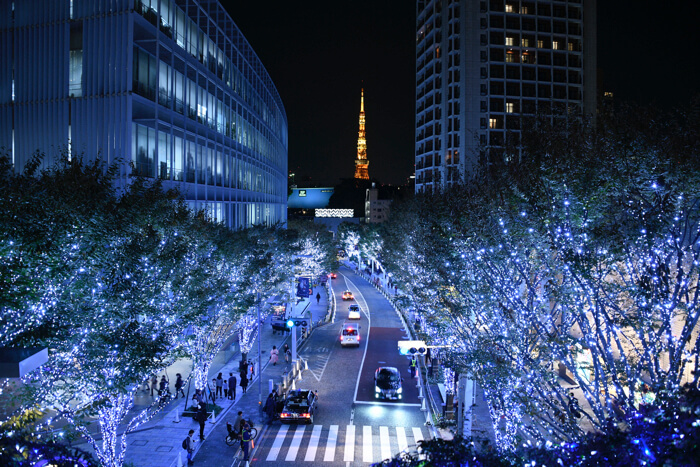 Keyakizaka Illuminations (Running until December 25)
Around 700,000 LED lights will decorate the trees of Keyakizaka street, bringing to light that charming feeling of Tokyo wintertime. This marks the 15th year of the street's illuminations, and this year's theme is "LIVE veil." Passersby will be greeted with the glow of crisp blue and snow white LED lights. The bridge located in the centre of Keyakizaka street will make for a great photo with Tokyo Tower in the background. These are the perfect illuminations to visit if you're sightseeing in Tokyo!
Full Details: https://www.moshimoshi-nippon.jp/128726
■Information
Roppongi Hills Christmas 2018
Location: Roppongi Hills (Roppongi Keyakizaka-dori, 66 Plaza, West Walk, Roppongi Hills Arena, Oyane Plaza, and elsewhere)
Website: http://www.roppongihills.com/
Marunouchi Bright Christmas 2018 (November 8 – December 25)
The Marunouchi area is currently hosing an event titled Marunouchi Bright Christmas 2018 in collaboration with famous Japanese singer Yuming who is celebrating her 46th anniversary this year since her debut. A Christmas tree called the "Knit Tree" made in collaboration with the singer is currently on display at the Marcube on the first floor of the Marunouchi building, the main vneue for this event. The tree is decorated with dazzling illuminations as Yuming's songs provide the soundtrack to the room.
■Information
Marunouchi Bright Christmas 2018
Running: November 8, 2018 – December 25, 2018
Locations: Marunouchi Building, Shin-Marunouchi Building, Nijubashi Square, Marunouchi Brick Square, Marunouchi Oazo, and elsewhere
Illumination Island Odaiba 2018 (November 16 – December 25)
Ten facilities in the Odaiba area including the shopping mall, hotels and transportation facilities are joining in with Illumination Island Odaiba 2018. Daiba Memorial Tree boasts as the biggest live tree in the city standing almost 20 meters high and 10 meters wide. The branches, which stretch an enormous 200 meters, are wrapped with 220,000 light, creating a captivating scene.
Megurogawa Minna no Illumi 2018 (November 9 – January 6)
Meguro River is famous for its cherry trees which line stretch 4km along the waters and bring beautiful cherry blossoms in spring. This winter, Megurogawa Minna no Illumi 2018 ('Meguro River: Illuminations for Everyone') is seeing the path along the river decorated with lights which will reflect off the water's surface. The Fuyu no Sakura® ('Winter Cherry Blossoms') flower viewing spot which was a huge hit last year has made an appearance again this year. People are enjoying the 'winter cherry blossoms'ーthe pink illuminationsーfrom the comfort of one of the three garden igloos which all have different interiors. Sitting in one of these means you don't have to worry about wind, rain or cold weather.
Full Details: https://www.moshimoshi-nippon.jp/137108
■Information
Megurogawa Minna no Illumi 2018
Locations: Meguro River / Gotanda Fureai Waterside Square (2-9 Higashi-Gotanda, Shinagawa, Tokyo)
Illumination Period: November 9, 2018 – January 6, 2019
Illumination Time: 17:00-22:00 (Will go ahead during rain)
*Closed during storms. Additionally, illumination time will begin at 17:30 on November 9 only.
Entry: Free
Access: 6-minutes on foot from Osaki Station and Gotanda Station via JR Lines
TEL: 03-5330-7675
Official Website: http://www.minna-no-illumi.com/
Shinjuku Minamilumi Illuminations (November 14 – February 14)
The Shinjuku Minamilumi illuminations have made their sixth return to the south exit of Shinjuku Station again this year. "Minamilumi" is a portmanteau of minami no illumination ('south illuminations') and minna de miru illumination ('illuminations to watch with everyone'). Each pedestrian area around the south exit is currently adorned with many different illuminations. Each location is within walking distance from the other, so you can spend a nice relaxing time strolling and seeing the different lights that will welcoming this year's winter.
Full Details: https://www.moshimoshi-nippon.jp/125425
■Information
Shinjuku Minamilumi Illuminations
Areas: Shinjuku Southern Terrace / Takashiyama Times Square / Shinjuku Maynds Tower / JR South Shinjuku Bldg. / JR Shinjuku Miraina Tower / Suica's Penguin Park
Closest Stations: Shinjuku Station (JR Line, Odakyu Line, Keio Line, Toei Shinjuku Line, Oedo Line) / Shinjuku-Sanchome Station (Fukutoshin Line)
Running: November 14, 2018 – January 14, 2019
Illumination Times: 5:00pm-12:00am
*4:30pm-12:00am in December.
*Illumination areas, content and details subject to change.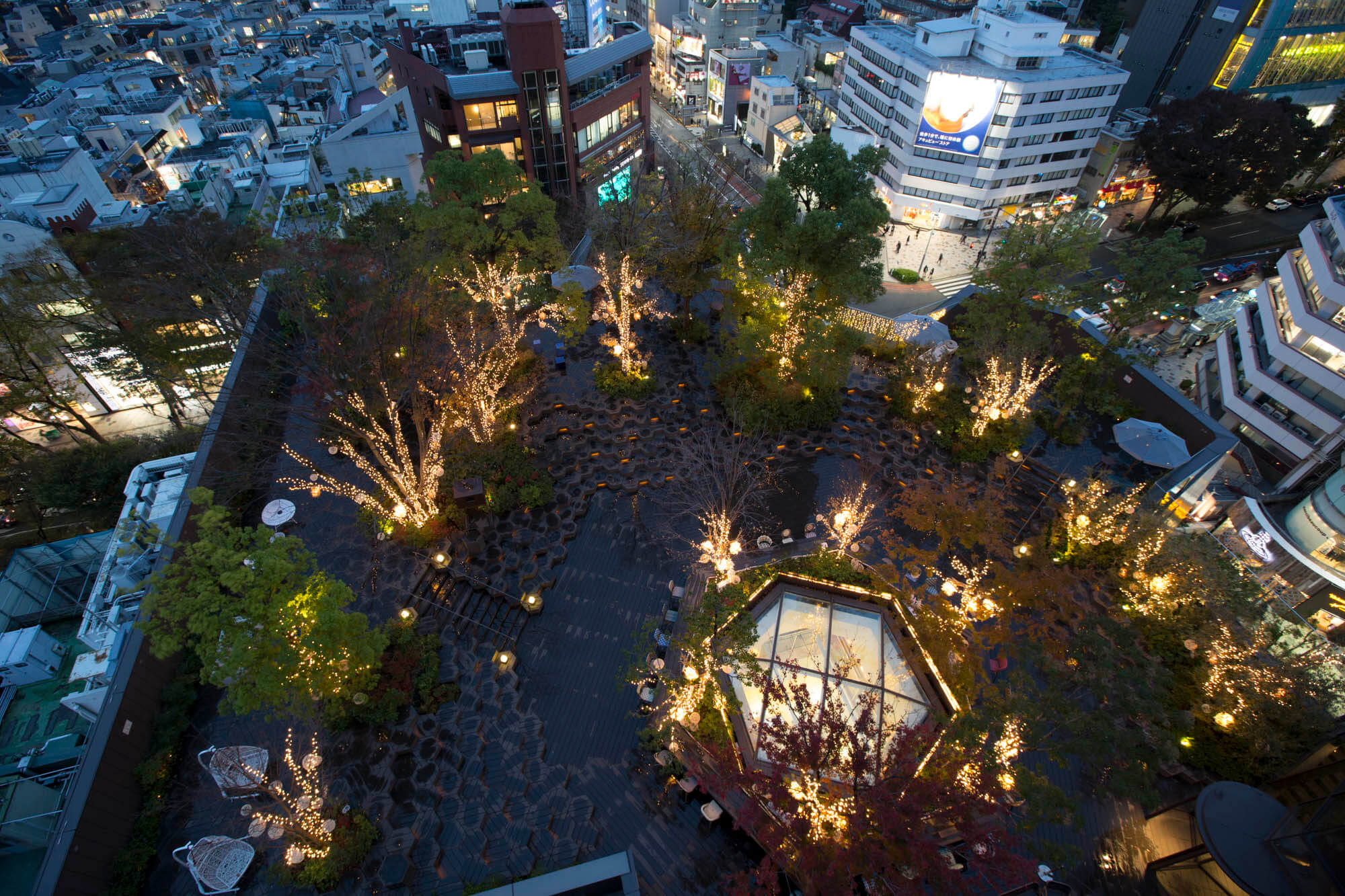 Omohara Beer Forest Illuminations (November 15 – February 28)
The Omohara Beer Forest―located on the sixth floor rooftop of Tokyu Plaza Omotesando Harajuku―is currently hosting an illumination event. The illuminations have brought a mix of natural light and gentle fairy lights to central Harajuku. 16,000 illuminations bask the surrounding space and trees with warm light. A space surrounded by trees will give rise to 16,000 illuminations with warm light. Opening hours have been extended to 11:00pm from the usual 9:00pm for the Christmas and New Year periods. A perfect place to stop by after work or shopping.
Full Details: https://www.moshimoshi-nippon.jp/135593
■Information
Omohara Illuminations
Running: November 15, 2018 – February 28, 2019
Location: Omohara Beer Forest (Tokyu Plaza Omotesando Harajuku 6F Rooftop, 4-30-3 Jingumae, Shibuya, Tokyo)
Time: 17:00-23:00 (Last Entries 22:30 – subject to changes during New Year's Holiday)
Website: https://omohara.tokyu-plaza.com/
Illuminations are a big part of Japan's winter culture, so take your friends and loved ones this year.
RECOMMENDED ENTRIES
Japan's Biggest Ferris Wheel Lights Up at Blue Grotto Illumination Event in Osaka

Blue Grotto Osaka is an illumination event now taking place until September 30 at Redhorse Osaka Wheel, Japan's tallest Ferris wheel which is located at LaLaport EXPOCITY in Suita, Osaka.

Blue Grotto is an illumination event that first appeared in Nakameguro in winter 2014. It made a return in winter 2016 in Shibuya and again in December 2017 which almost 2.7 million people turned up to. The event also made its Hokkaido debut in Sapporo this year in February. It has established itself as one of Japan's staple illumination events enjoyed by people from both Japan and those coming from overseas.

The first time to be held in Osaka, you can look forward to gazing at the entrancing blue lights as you are lifted up up 123 meters high in one of the carriages for a full 18-minute turn. While riding the wheel you can also choose from a selection of specially prepared pasta dishes.

The pasta is made in collaboration with Nisshin Foods under their Blue Grotto brand and is named Blue Grotto Bolognese.

You can also get your picture taken inside the BLUE CUBE photo spot. The interior is fitted with mirrors and magical blue lights that create an infinitely illuminated blue world.

If you head to the Redhorse Marumie Plaza on the second floor of the wheel entrance you can also check out some exclusive Blue Grotto merchandise.

If you're in Osaka this month then don't miss out this chance to enjoy gorgeous illuminations, an amazing view and some delicious pasta.

■Information

Blue Grotto OSAKA
Location: Redhorse Osaka Wheel (EXPOCITY, 2-1 Senribanpakukoen, Suita-shi, Osaka)
Time: 18:30-23:00 *Subject to changes
Running: September 11, 2018 – September 30, 2018
Website: https://aodo.jp/

Ferris Wheel Restaurant
Running: September 11, 2018 – September 30, 2018
Time: 18:30-23:00
Price: ¥1,000 (Tax Included)

*Includes Ferris wheel ticket and Blue Grotto Bolognese tasting for one person.

Redhorse Marumie Plaza (Redhorse Osaka Wheel 2F Entrance)
Running: September 11, 2018 – September 30, 2018
Time: 10:30-23:00

Tranquil Illuminations Using Traditional Crafts at Hoshino Resort Aomoriya

Hoshino Resort Aomoriya is a hotel where you can fully experience the culture of Aomori. From April 6th to May 31st, the residence will hold an event titled "Haru no Kirokaro Sanpo".

*kirokaro is a word in the Aomori dialect meaning 'to look around with curiosity' (kyoro kyoro in standard dialect

This year, 3 new flower arrangement displays are being introduced to the resort using traditional Aomori handicrafts. The displays are also designed for you to enjoy a peaceful stroll. "Wadasa no Kadou" will use the same technique used for the nebuta floats at Tohoku Sandai Matsuri to create the image of flowers from Japanese umbrellas. "Neputa no Kadou" is an arrangement that was created by artists from the Hirosaki Neputa Festival. "Akari no Kadou" will use traditional "Tsugaru Kanyama-yaki" pottery to create tranquil illuminations.

Once the chilly days of Aomori's springtime have passed, flowers will bloom at the end of April. To experience the spring even more, traditional Aomori crafts will be used where the flowers of nature bloom too. Japanese umbrellas creating the image of apple flowers will be set up, as well as hanging lanterns with flower patterns and designs, illuminating Aomoriya.

"Wadasa no Kadou"
Japanese umbrella arrangements will laid out with apple flowers using a technique called roubiki that is used when making nebuta floats. The lights will be transparent from the wax sections, highlighting the colours even more.

 


"Neputa no Kadou"
A design created by artists from the Hirosaki Neputa Festival will be set up and illuminate. To make it three-dimensional, these artisans' work will mix together ink and dazzling colours before being lit up.

"Akari no Kadou"

The hanging lanterns will be made of traditional "Tsugaru Kanayama-yaki," a type of pottery. The illuminations and patterns will be original designs related to Aomori, including the apple, nebuta, and yawatauma.

Experience peaceful illuminations and enjoy Aomori's traditional culture at Hoshino Resort Aomoriya.

◼︎Information

Haru no Kirokaro Sanpo

Running: April 6, 2018 – May 31, 2018

Price: Free

Time: 17:00-22:00

*Please note that in case of rain, some parts of the event will close.

Hoshino Resort Aomoriya

Address: 56 Furumagiyama, Misawa-shi, Aomori Prefecture (236 guest rooms)

Homepage: http://noresoreaomoriya.jp/

Hoshino Resorts: http://www.hoshinoresort.com/

"Frozen Planetarium" Urara Shiraito Illuminations to be held in Karuizawa

Shiraito Highland Way Inc. will hold an event titled Urara Shiraito Illuminations at car park 1 of the famous Karuizawa tourist spot Jōshin'etsu-kōgen National Park. The event, which is a recognised heritage site for Japan's nightscape, will run every Friday, Saturday and Sunday between February 2 and March 11, 2018.

Shiraito Highland Way is a toll road that first opened in 1963 and stretches across 10km. It's a forest path where one can see the true face of Karuizawa and is home to Shiraito Falls and Ryuugaeshi no Taki, two popular tourist spots. The event ties in with Shiraito Falls Illusion that will be held in Karuizawa in July and is a registered heritage sight for Japan's nighttime scenery. In Japan, it's rare for two locations to be recognised as heritage sights for the country's nightscape two years in a row. Because of this, Shiraito Highland Way is strengthening its image as a tourist destination for Japan's night view.

Urara Shiraito Illuminations will have installed a 5m tall and 50m wide screen where enchanting images of the sun, deep green forests, and glowing clouds will be projected against the dark nighttime sky. As well as being an event that can be enjoyed at night, it will also give you the opportunity to appreciate the beauty of nature in a new light and in a way you may not have noticed during the day.

The event will be held in car park 1 of Shiraito Highland Way, which is located in Jōshin'etsu-kōgen National Park. That means the light quantity, tones and production methods will be considered for the illuminations as based on the national park laws highlighted by the Ministry of the Environment.

As a gift to attendees, if you speak the words "Drive & Love" at the toll station, you will receive a disposable hand warmers completely free. On Saturday February 10th, you can also get hot drinks and hot towels, and sweets from Karuizawa Chocolate Factory will be given out to the first 200 people.

Plan a trip to the enchanting Urara Shiraito Illuminations to have yourself a truly extraordinary experience..

■Information

Urara Shiraito Illuminations

Location: Shiraito Highland Way Car Park 1

Running: Every Friday, Saturday & Sunday from February 2 – March 11, 2018

Time: 16:00-19:00 each day

Price: Free – you just need to pay the toll booth fee.
RELATED ENTRIES
Tokyo's Cat-Shaped Food Bakery Tokyo Neko Neko Announces New Branch in Tokyo Station

Tokyo Neko Neko will open a new branch at ecute Keiyo Street inside Tokyo Station on January 25, 2021.

The launch comes just 6 months after the bakery opened its store in Ginza, attracting customers from all over for its line-up of cat-shaped pastries. Both of these bakeries are the result of yet another branch, Kyoto Neko Neko, which opened in June last year as the first in the line of these cute locations.

Tokyo Station Exclusives: Neko Neko Jam Bread – Marmalade, Caramel, Strawberry, Blueberry

Tokyo Neko Neko Bread – Plain, Chocolate, Caramel Almond, Tsubu-an, Matcha, Soybean

As well as the classic Tokyo Neko Neko Bread—which is like a croissant being loaded with French butter, crunchy on the outside, and moist on the inside—the new Tokyo Station branch is also serving its own exclusive pastry treat: the Neko Neko Jam Bread, made with plenty of milk, and arriving in four irresistible flavours including marmalade, caramel, strawberry, and blueberry. And most important of all: everything is shaped like an adorable kitty.

If you're travelling through Tokyo Station then don't miss out on a trip to Tokyo Neko Neko, opening January 25.

Information

Tokyo Neko Neko (Tokyo Station branch)
Grand Opening: January 25, 2021

Shop Name: Tokyo Neko Neko ecute Keiyo Street

Location JR Tokyo Station inside the ticket gates of the Yaesu South Exit on Floor 1F

Address: 1-9-1 Marunouchi, Chiyoda, Tokyo, 〒100-0005

Opening Hours: 8:00-22:00 (until 21:30 on weekends and holidays)

No Fixed Holidays
TEL: 03-3217-5557
Official Website: https://nekoshoku.jp

Chihayafuru Anime Gets Escape Game at TOKYO MYSTERY CIRCUS

TOKYO MYSTERY CIRCUS, Japan's first and biggest puzzle-themed theme park, has announced the opening of a new escape game based on the popular manga anime series Chihayafuru which will begin at the site on March 4, 2021.

The immersive story-driven escape game has players take on the role of a member of the Fujiyama High School karuta club. While learning the essential points of competitive karuta from Chigaya Ayase and the gang, they must aim for victory to escape. No prior preparations are necessary – players can book their tickets and just turn up on the day.

This unique escape game takes place in a traditional tatami mat room and combines puzzle-solving skills with competitive karuta in which clues are written on the cards. Fans of the manga and anime series are sure to enjoy this immersive game.

Tickets will go on sale on January 23, 2021 at 12:00 (JST).

©末次由紀/講談社

Kingdom Anime Collaborates With Firsthand On Exclusive Merchandise

Creative and sustainable concept store Firsthand released a collection of items in collaboration on Wednesday (January 20) with the TV anime series Kingdom, which is set to begin airing its third season this April, and Japanese artist Kosuke Kawamura. The items are available to buy both online in Japan and at a pop-up store at OPEN STUDIO inside FREAK'S STORE Shibuya.

Firsthand is a Japanese brand centred on upcycling and sustainable production. Fans of the ongoing anime series can get their hands on a range of clothing items, phone cases, and more. If they head to OPEN STUDIO they'll also find an illustration exhibit, a photo spot, and more. The gallery is also selling posters signed by Kosuke Kawamura.

Will you be watching Season 3 of Kingdom this spring?

Information

Kingdom x Firsthand x Kosuke Kawamura Pop-Up Shop
Running: January 20, 2021 – January 25, 2021
Location: OPEN STUDIO, 1-31-1 Jinnan, Shibuya, Tokyo

Opening Hours: 10:00-20:00
TEL : 03-6415-7728

Where to buy the merchandise collection:
・OPEN STUDIO (Limited time January 20th-25th)
・Firsthand RAYARD MIYASHITA PARK (From January 26th)
・FREAK'S STORE ONLINE (From January 24th) @ http://www.freaksstore.com/
・ZOZOTOWN (From January 28th) @ https://zozo.jp/shop/freaksstore/

Event Details: https://firsthand.jp/news/3609/

FANCL Ginza Square Opens Onsen Hot Spring That You Can Walk Into Wearing Your Clothes

FANCL has brought the hot spring experience to its flagship site FANCL Ginza Square for a limited time with a variety of content that makes visitors feel like they've come to a Japanese onsen. The experience, named Tabi Suru Square Yu, is running until February 11, 2021.

Café au Lait / Fruit au Lait / Soy Milk Aojiru – ¥300 Each

Reiwa Honzen (FANCL Ginza Square Floor 9F)

Lunch Sana Winter Seafood Bento | ¥3,500

Winter Dinner Seafood Course | From ¥9,000

FANCL BROWN RICE MEALS (FANCL Ginza Square Floor B1F)

Hiroshima Oyster & Spinach Risotto Parmesan Cheese Galette Lunch Set | ¥1,850

Tomato Cream Pasta Lunch Set ¥1,850

Original Hand Towel

FANCL Ginza Square Onsen Essentials Set | ¥3,668

Breathing exercises at SUU-HAKU

At Tabi Suru Square Yu, visitors can enter a room that fully recreates the experience of being in a hot spring. The room is set at the same temperature, is filled with the same aromas, and is decorated in the same way. Visitors sit on one of the relaxation sheets to soak up the experience – effectively getting into a hot spring without having to change their clothes.

A variety of classic drinks and dishes sold at hot springs in Japan will also be sold, and visitors can get involved in the breathing exercises on offer.

Valentine's Dessert Sets Served Up at Harajuku's Tea Latte Shop CHAVATY

CHAVATY, a cafe in Harajuku that serves tea lattes made with high quality tea leaves, is getting ready for Valentine's Day early with the release of some tasty new desserts which they began serving up on Thursday (January 14).


Valentine's Set | ¥1,100 (Before Tax)


Valentine's Scone Set (6 Included) | ¥2,480 (Tax Included)


Raspberry Chocolate | ¥970 (Tax Included)

The Valentine's Set comes with a cute scone as well as fondant chocolate made with rich, high-grade chocolate from the French chocolate brand Cacao Barry. It also comes with a tea latte of your choice. There's also a scone set which comes with two each of three different scones for a total of six including the Berry & Cocoa Pink Chocolate, Orange & Chocolate Chip Double Chocolate, and Dried Fruits & Nuts White Chocolate. CHAVATY has also made their own seasonal homemade spread: the Raspberry Chocolate.

Information

CHAVATY Valentine's Set
Running: January 14, 2021 – February 14, 2021

Address: Minami-Harajuku Bldg. 1F, 4-6-9 Jingumae, Shibuya, Tokyo

Official Website: https://chavaty.shop-pro.jp/

YOKOHAMA AIR CABIN: Japan's First Permanent Inner-City Cable Car Opens in April

Japan is set to get its first ever permanent city cable car in Yokohama on April 22 called the YOKOHAMA AIR CABIN.

The YOKOHAMA AIR CABIN is a cable car system that will offer locals and tourists a chance to enjoy Yokohama from a new perspective whether during the hot summers or during the cool evenings when the city lights wake up.

The system will be connected directly to Sakuragichō Station and Shinko Pier for easy, quick access to enjoy Yokohama Minato Mirai from up high.

If you're planning a trip to Yokohama at some point, be sure to take a ride on YOKOHAMA AIR CABIN, officially opening on April 22, 2021.

Information

YOKOHAMA AIR CABIN
Opening: April 22, 2021
Operating Hours: 10:00-22:00
Duration: 5-minutes
Price: General ¥1,000 / Children ¥500

Hoshino Resorts BANTA CAFE Releases Video of Magical Beachside Illuminations

The incredible beachside Hoshino Resorts BANTA CAFE, which offers guests a breathtaking ocean view along the Okinawan coast, released a video on the official Hoshino Resorts YouTube page showcasing the cafe's ongoing illumination event, "Illumi Banta," which is running until February 28, 2021. Guests can enjoy some limited-time menu options and then take a romantic stroll along the beach with a warm lantern in hand.

Okinawa is known for its warm climate, rarely dipping below 15°C in the chilly season of winter. There are many celebratory days enjoyed every year around Christmas and New Years, and so BANTA CAFE decided to get in on the action with Illumi Banta, which has been running since December 1 last year—while following the necessary precautions against COVID-19 to ensure everyone stays safe. The spacious cafe is mostly outdoors so visitors can enjoy their time without worry.

A seat at the cafe in on a clear evening guarantees a front row seat to a beautiful orange sunset that sinks into the horizon. Normally, the cafe closes as sunset arrives, but for this event, opening hour have been extended into the night.

BANTA CAFE is located in the village of Yomitan where the beautiful ocean is surrounded by coral reef, enormous rocks, and a rich natural environment. It's a must-visit if travelling to Okinawa.

Information

Illumi Banta
Running: December 1, 2020 – February 28, 2021 (Except February 1st-5th)
Time: 18:00-22:00 (Last Orders 21:00)

BANTA CAFE
Address: 560 Gima, Yomitan, Nakagami District, Okinawa
TEL: 098-921-6810
Opening Hours: 10:00 to one hour after sunset (from 08:00 on weekends and holidays)
Official Website: https://banta-cafe.com/en/

Kyoto's Shinto Shrine Iwashimizu Hachimangu Announces Light-Up Event

Iwashimizu Hachimangu, a Shinto Shrine in Yawata, Kyoto, has announced that a 5-day light-up event will take place from February 10 to 14 at the site's main shrine which is listed as a national treasure of Japan.

Following government guidelines in response to COVID-19, the event will feature LED illuminations, glowing exhibits from craftsmen, lights made by locals from materials such as bamboo, and more, all in the hopes of creating a bit of evening-time sightseeing in the area. The event will also be streamed live online for those unable to attend where viewers can also enjoy watching ceremonial dance by shrine maidens.

Information

Iwashimizu Hachimangu Inori no Tomoshibi ~Wa no Kokoro~

Event Name in Japanese: 国宝・石清水八幡宮 祈りのともしび~和の心~
Running: February 10, 2021 – February 14, 2021
Light-Up Times: 17:00-20:00
Location: Iwashimizu Hachimangu (30 Takabo, Yawata, Kyoto)
Note: Face masks and COVID-19 Contact Confirming Applications required
Event Page: https://ochanokyoto.jp/event/detail.php?eid=569
Official Website: https://newnormaltourism.jp/

Go Strawberry Picking With Hello Kitty and Friends at Sanrio Puroland

Sanrio Puroland opened a special new event last Friday (January 8) called "Sweets Puro" which is themed on strawberry picking.

Characters greet guests in their strawberry-designed outfits

Guests participate in an augmented reality strawberry stamp rally

New character videos play at the illuminations

A strawberry-packed dessert menu

Limited-edition merch

Tables in the food court receive makeovers

Guests can look forward to seeing sparkly new pink-coloured illuminations, snapping sweet photos at the entrance photo spot, getting involved in the AR strawberry picking stamp rally using their smartphones, and more. They can also pay to spend one minute with the park characters who will be dressed in their strawberry outfits, and if they arrive 30 minutes before the first floor character food court opens, they can get the limited-offer morning breakfast "Strawberry Morning Bread Set." The park will even be serving up seasonal alcoholic drinks like the Sweets Puro Strawberry Peach Sour.

The first day of the event saw the characters come out to greet guests in their adorable strawberry and dessert themed costumes. This was followed by a new illumination show, Puro Sweets Party, which took place at Puro Village, and My Melody sang and danced to the music against the bright and beautiful lights. Guests enjoyed a selection of limited-time food like the Pompompurin's Croissant Doughnut Strawberry Sandwich and Hello Kitty's Sweet Strawberry Milk.

©1976, 2009 SANRIO CO., LTD. ©1975, 1976, 1990, 1996, 2001, 2004, 2005, 2010, 2017, 2021 SANRIO CO., LTD.

Information

Sanrio Puroland – "Sweet Puro"
Running: January 8, 2021 – March 9, 2021
Official Website: https://www.puroland.jp

7 Days of Strawberry Dessert Love at Isetan Shinjuku This January

Isetan Shinjuku has announced a special one-week event titled "7 Days of Loving Strawberries" which is centred around cute and delicious strawberry desserts and will run this month from January 13-19. Ten cafes and restaurants are participating with a sweet and succulent line-up including strawberry daifuku, strawberry shortcake, special parfaits and crepes, and more.

Strawberry Candle Pavlova @ mihopan popcake | Two for ¥972 (Tax Included) *Limited quantities

MIGAKI-ICHIGO Strawberry Parfait @ Ichibiko | ¥1,980 (Tax Included)

Strawberry Shake @ Ichigo-ya Sunsunen | ¥721 (Tax Included)

Crispy Strawberry Mille-Feuille Crepe @ Sorairo Crepe | ¥935 (Tax Included) *Limited quantities

Strawberry Shortcake Parfait @ Shiseido Parlour | ¥1,045 (Tax Included)

Strawberry Daifuku @ Berry UP! | ¥432 (Tax Included)

Ripe Strawberry Milk Pudding @ Kanjyuku Ichigo Kashi Kekyusho | ¥486

Whole Strawberry Sandwich @ Sajisakon | From ¥864 (Tax Included)

MIGAKI-ICHIGO Strawberry Daifuku @ Seigetsudo Hoten | ¥432 (Tax Included)

Information

7 Days of Loving Strawberries (Japanese Name: いちごに恋する七日間)
Running: January 13, 2021 – January 19, 2021
Location: Isetan Shinjuku Floor B1F
Official Website: https://mi-journey.jp/foodie/66251/

discord Yohji Yamamoto x HUNTER Pet Accessories Drop in Tokyo

discord Yohji Yamamoto, a luxury accessory brand spearheaded by Yohji Yamamoto, has launched a collaboration with German pet brand HUNTER to release a collection of dog collars, leads, and other accessories like bags and wallets.

HUNTER was established in 1980 and has gone on to mark its territory across the world as a provider of high quality pet goods, praised for for the design, functionality, and safety of its products.


Black Dog Collar & Lead

The dog collars are fitted with studs as part of the collaboration. Both the collar and lead feature the same colouring as discord Yohji Yamamoto's products, arriving in the brand's signature black as well as beige, the latter of which is often used for its bags and small leather products. They are also clipped with a signature charm which has a design symbolising the collaboration.

Beige Dog Collar & Lead

The accessories are made from elk leather which is soft and made extra durable with double layering. Having the collar and lead the same colours also adds a sophistication to the design when fitted on a dog.

The collection will be released at discord Yohji Yamamoto stores in GINZA SIX, Shibuya PARCO, and Isetain Shinjuku, as well online. More details can be found on the official website here.

discord Yohji Yamamoto Black / Beige Selection


Y BACKPACK Nylon Studs | ¥148,000


ORIGAMI Tote | ¥98,000


Triple Clutch | ¥58,000


Diagonal Bag | ¥45,000

Y SERIES Studs


Y BODYBAG Studs | ¥138,000


Y BACKPACK Studs | ¥158,000

Small Leather Goods

Card Mini Wallet | ¥17,000

Key Wallet | ¥20,000

Harajuku's BOTANIST Tokyo Reveals its Spring 2021 Menu

BOTANIST's flagship shop BOTANIST Tokyo is set to begin serving up its spring season menu for the new year at its second floor BOTANIST Cafe from January 8 to March 31.

Quinoa Teapot Salad & Potage (Vegan-Friendly) | ¥1,500 (Tax Included)

A sophisticated salad of quinoa, crunchy carrot and red onion, tomato, and more, all served in a cute teapot.

Salmon Salad & Waffles | ¥1,500 (Tax Included)

Naturally sweet vegan waffles with lime-drizzled vegetables and served with slightly salted salmon and cream cheese. Pour over the maple syrup to make the cream cheese even richer and enjoy a completely different flavour.

Cherry Blossom Jelly & Fromage Mousse (Vegan-Friendly) | ¥50 (Tax Included)

Refreshing cherry blossom flavoured jelly made with rich and velvety soy cream. The cherry blossom petal topping and sparkly appearance of the jelly makes this a luxurious looking dessert.

Cherry Blossom Chiffon Cake | ¥800 (Tax Included)

A fluffy cherry blossom chiffon cake dusted with cherry blossom powder. It's a sweet and subtly salty mix topped with fresh cream.

Left: Three Berry Smoothie, Right: Strawberry & Raspberry Sweet Sake Smoothie (Vegan-Friendly) | ¥850 Each (Before Tax)

The Three Berry Smoothie incorporates the chunky texture of strawberries, sweetness of blueberries, and tangy taste of raspberries, creating a rich but not overly-sweet beverage. The Strawberry & Raspberry Sweet Sake Smoothie is one to go for if you love amazake.

Strawberry Decoration Hot Chocolate (Collaboration Drink) | ¥800 (Tax Included)

This luxurious strawberry hot chocolate is made in collaboration with Dari K, a craft chocolate maker who uses high quality cacao beans from Indonesia.

Select items on the spring menu are available for takeout as well as via Uber Eats in Japan, perfect for enjoy an indoor hanami this year.

BOTANIST Tokyo's first floor shop will also release its spring series of products, such as the limited edition Botanical Spring Hair Perfume.

Information

BOTANIST Tokyo
Address: 6-29-2 Jingumae, Shibuya, Tokyo
TEL: Floor 1F Shop: 03-5766-3777 / Floor 2F Cafe: 03-5766-3778
Opening Hours: 11:00-19:30 (Currently operating on decreased hours)
Official Website: https://shop.botanistofficial.com/