Concert Review: Aimyon performs to a sold-out crowd at Zepp Tokyo on her biggest tour to date
Japanese singer-songwriter Aimyon wrapped up her tour AIMYON TOUR 2018 -HONEY LADY BABY- with a final performance at Zepp Tokyo on December 17. This tour marked the musician's biggest to date which saw her perform 11 sold-out concerts across 10 cities in Japan.
This final show saw a behemoth set-list of 21 songs including an encore that captivated the packed venue.
Aimyon stepped onto stage along with her fellow band members and was welcomed by fans with riotous cheers. With an acoustic guitar in hand, the show kicked off with Mangetsu no Yoru Nara. "The finale at Tokyo! Let's do this!" shouted Aimyon as she on to perform the popular Futari no Sekai with its light, country-like melody. Fans joined in with call-and-response during the song. This was followed by Jennifer for which Aimyon showcased her skill as a singer with her ringing vocals.
"Today is the last day. I want to end it giving my all to the very end."  Saying this, Aimyon went on to play ..chan which is a song she wrote for her dear friend who gave her the nickname "Aimyon."
She asked the crowd, "How's everyone doing?" as the up-tempo track RING DING began to play, and went all the way to the front of the stage in front of the crowd. This was followed by Konya no Mama, a song that gained much popularity as the theme song for a Japanese drama series. Rounds of applause rang through the venue for this one.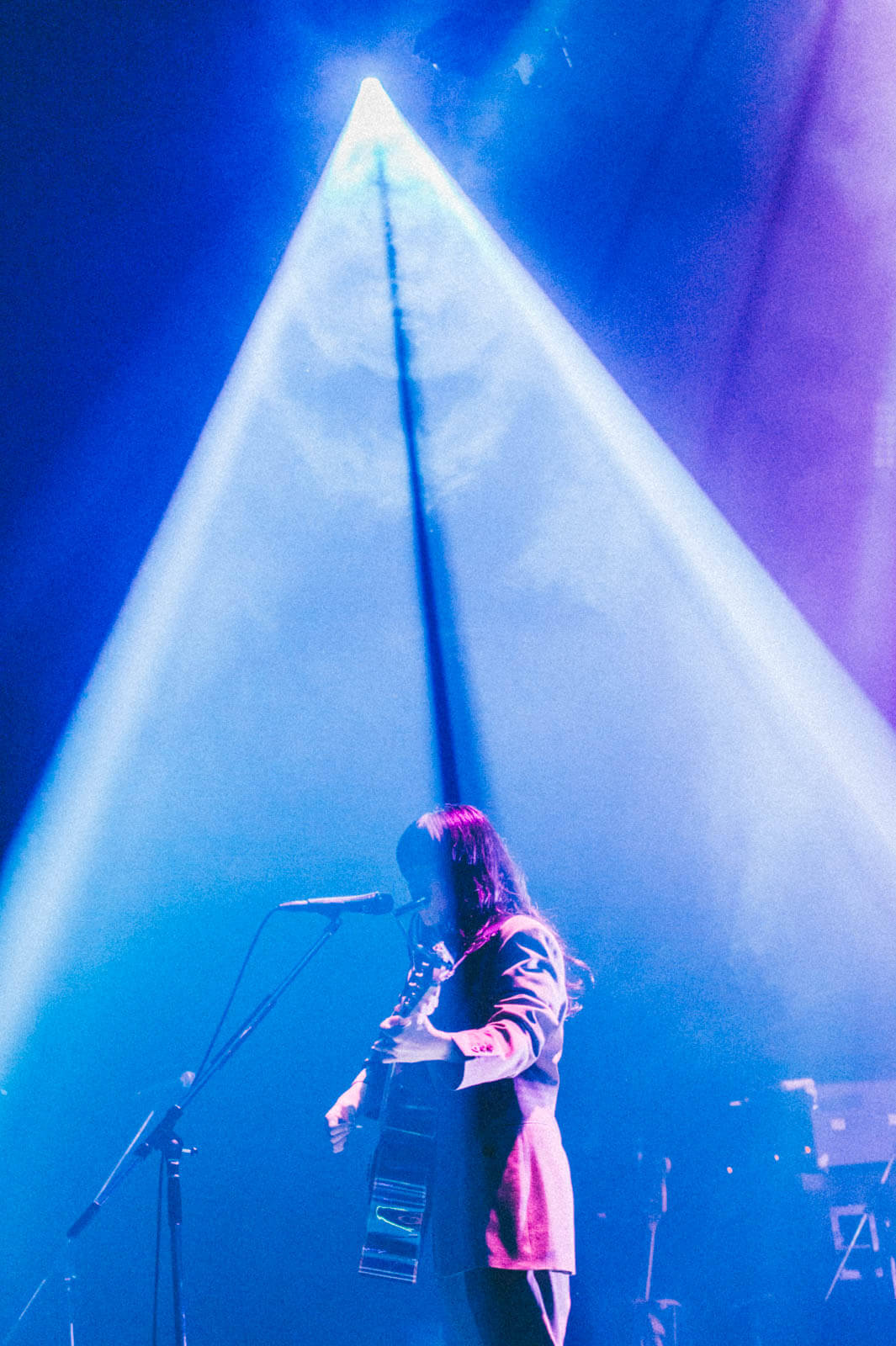 The band stepped off the stage, leaving Aimyon solitary on stage with just her voice and her acoustic guitar to perform Kaze no Sasayaki, showing the crowd her talent as a singer and a songwriter.
Afterwards she stopped to talk to the crowd about having visited the Tower of the Sun monument created by Tarō Okamoto. She had spoke in the past about wanting to sing underneath it and said to the crowd, "If it happens, please [all] get together there once more like this today." Aimyon pulled out a harmonica and began to talk-sing "tower of the sun" in a blues style.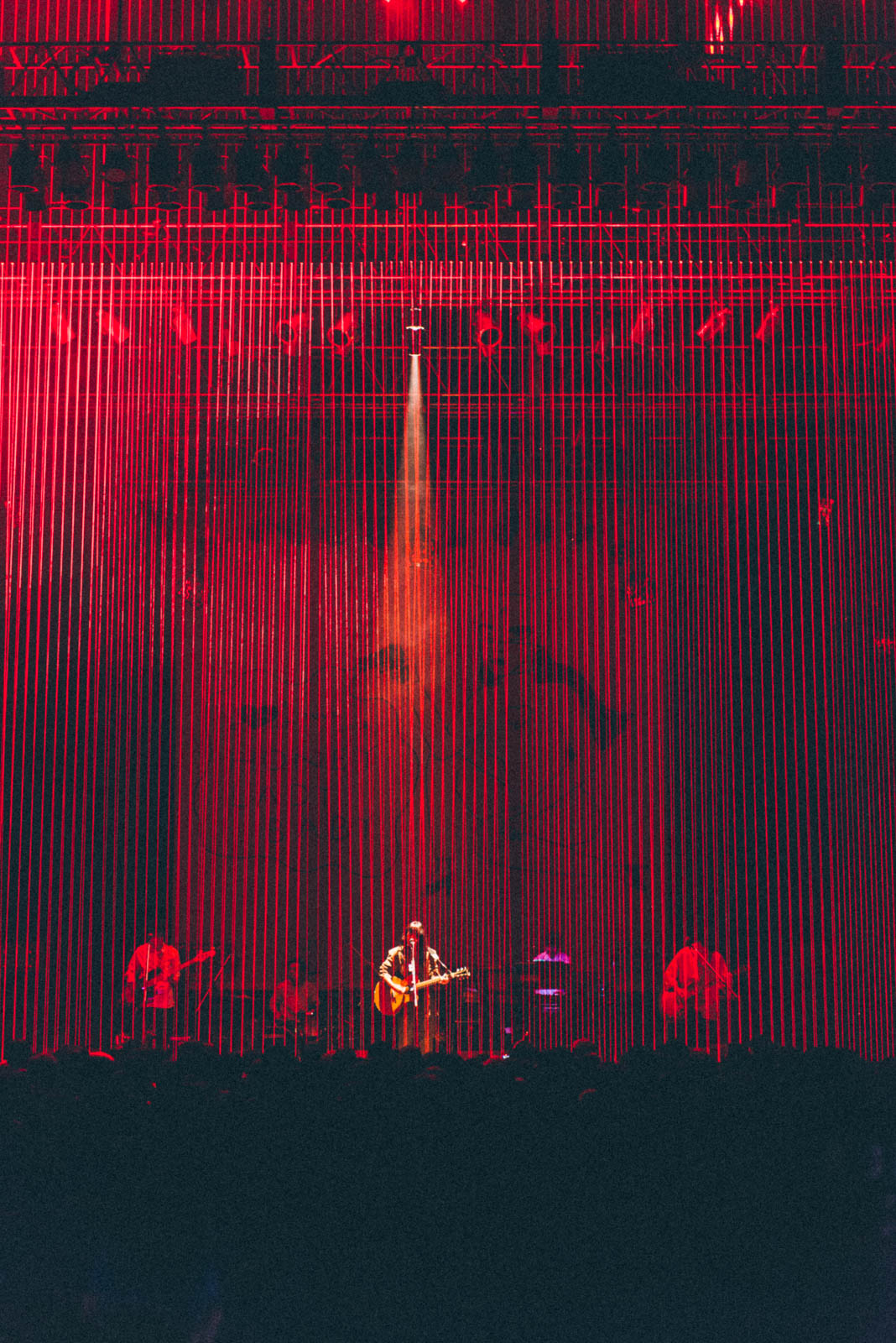 She then kicked it into one of her folky tunes―Kimi ga Inai Yoru o Koerareyashinai―a love song written from the perspective of a male. Following Seishun to Seishun to Seishun, which struck up with the sound of an organ, her band members returned to the stage with whom she looked back over the tour before holding a quiz, something she has done at each location across the tour.
Aimyon followed up with the at-home vibe number Anata no Tame ni before switching things up with the minor-tuned melody Matryoshka. Ikiteitan da yo na began with an impressive piano solo for which the mood was set by red lighting on stage coupled with Aimyon's serious face.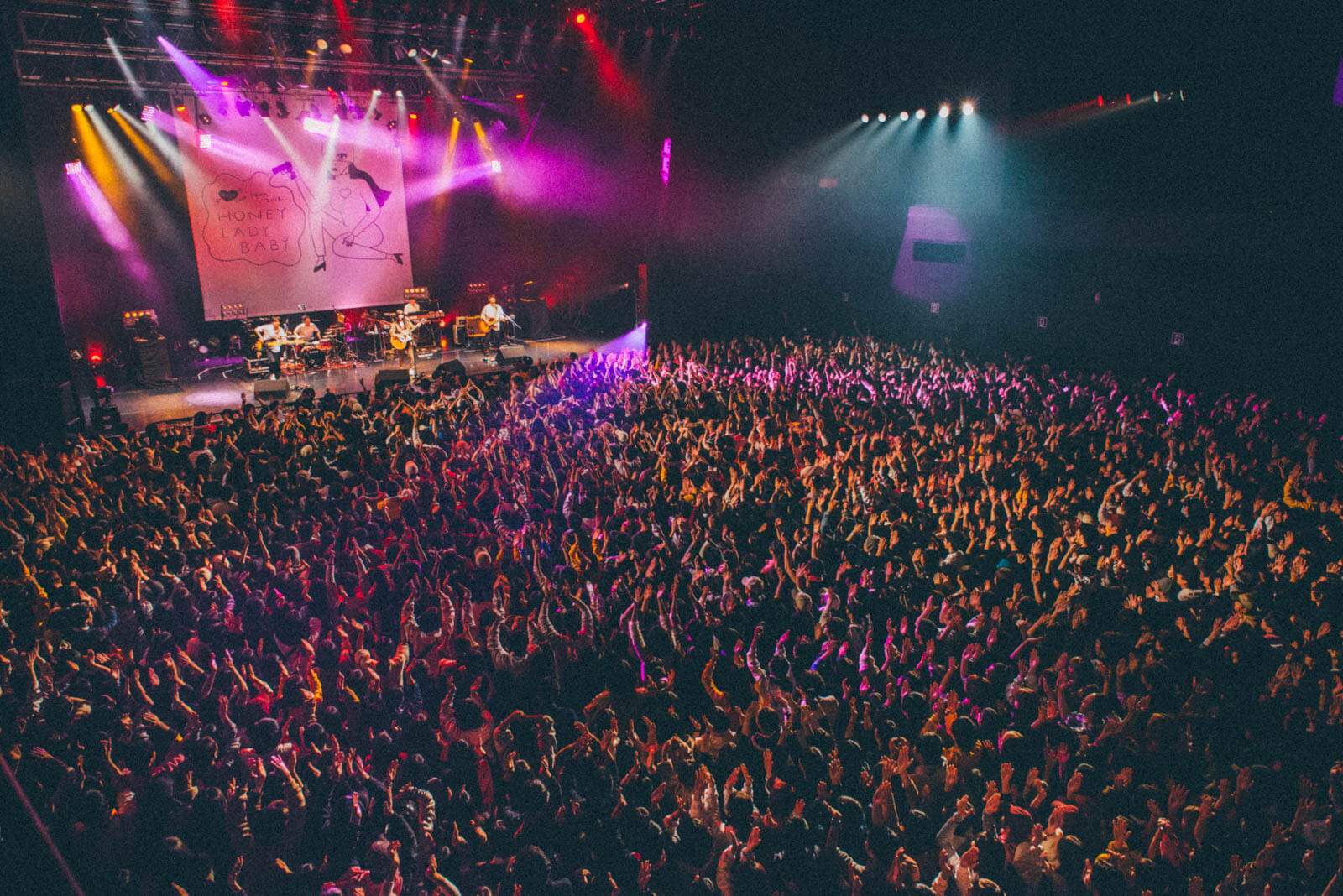 Aimyon then announced she was going to show a music video for a new song. Titled Yumeoi Bengal, this fast-paced punk track cut through the noise in the crowd. Fans were heated more than ever, and Aimyon grabbed a band mic and sang with everything she had.
"We're not taking any breaks, we're going to keep going!" she announced and led the crowd to the dance floor with Ai o Tsutaetai dato ka. Fans made their mark with singing along for Kimi wa Rock o Kikanai and gave a huge round of applause when the intro to Anata Kaibou Jun'aika ~Shi ne~ came on. Their fire surged even higher with the band joining in for the song. This diverse range of melodies is typical Aimyon.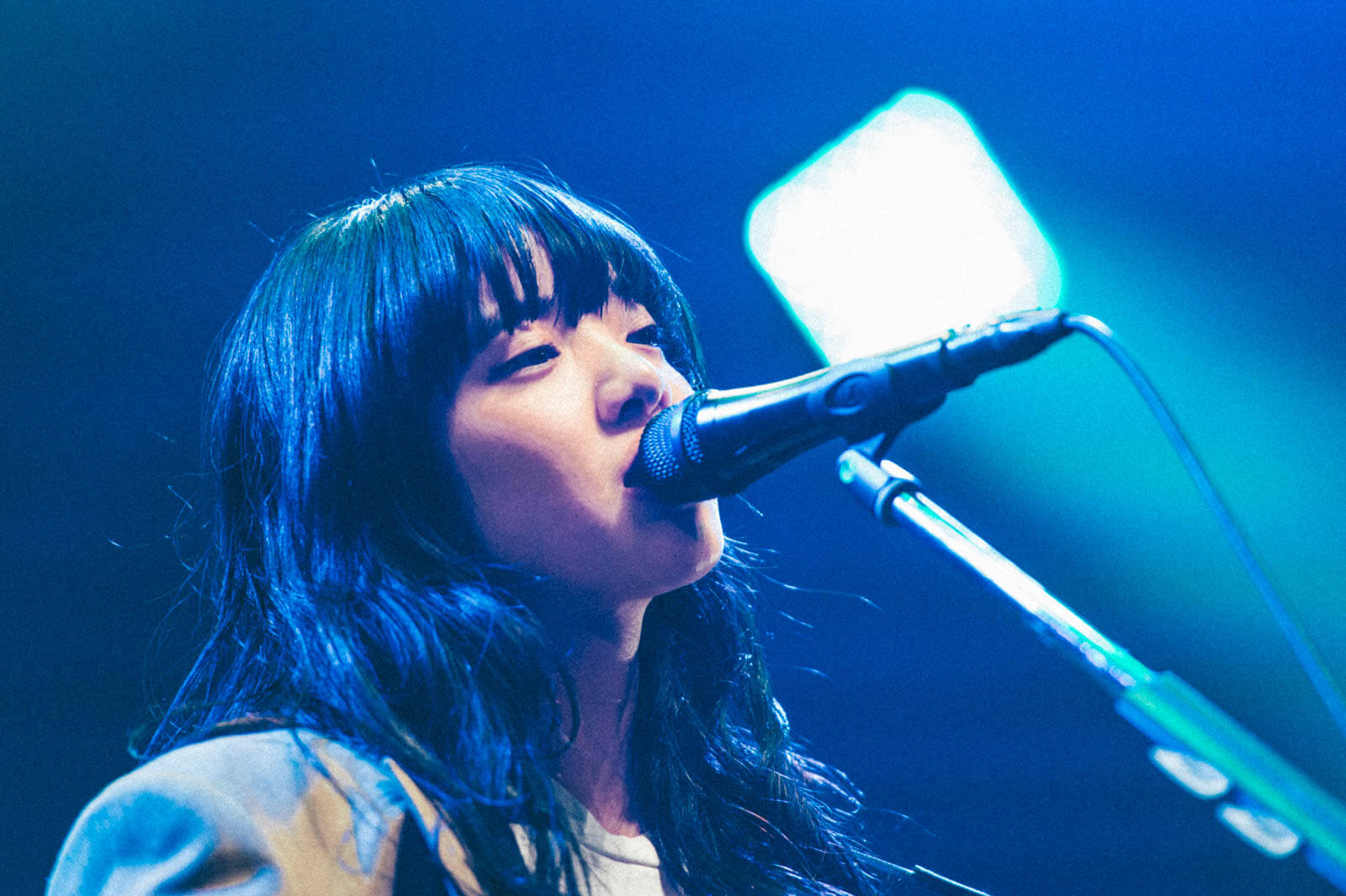 "If I go to see the Tower of the Sun and there are lots of familiar flowers blooming around there I think it would be fate. The marigold flower has carried a lot for me this year, so I'd like to close with that song." Aimyon said this and sang Marigold at the top of her voice before bringing the main set to an end.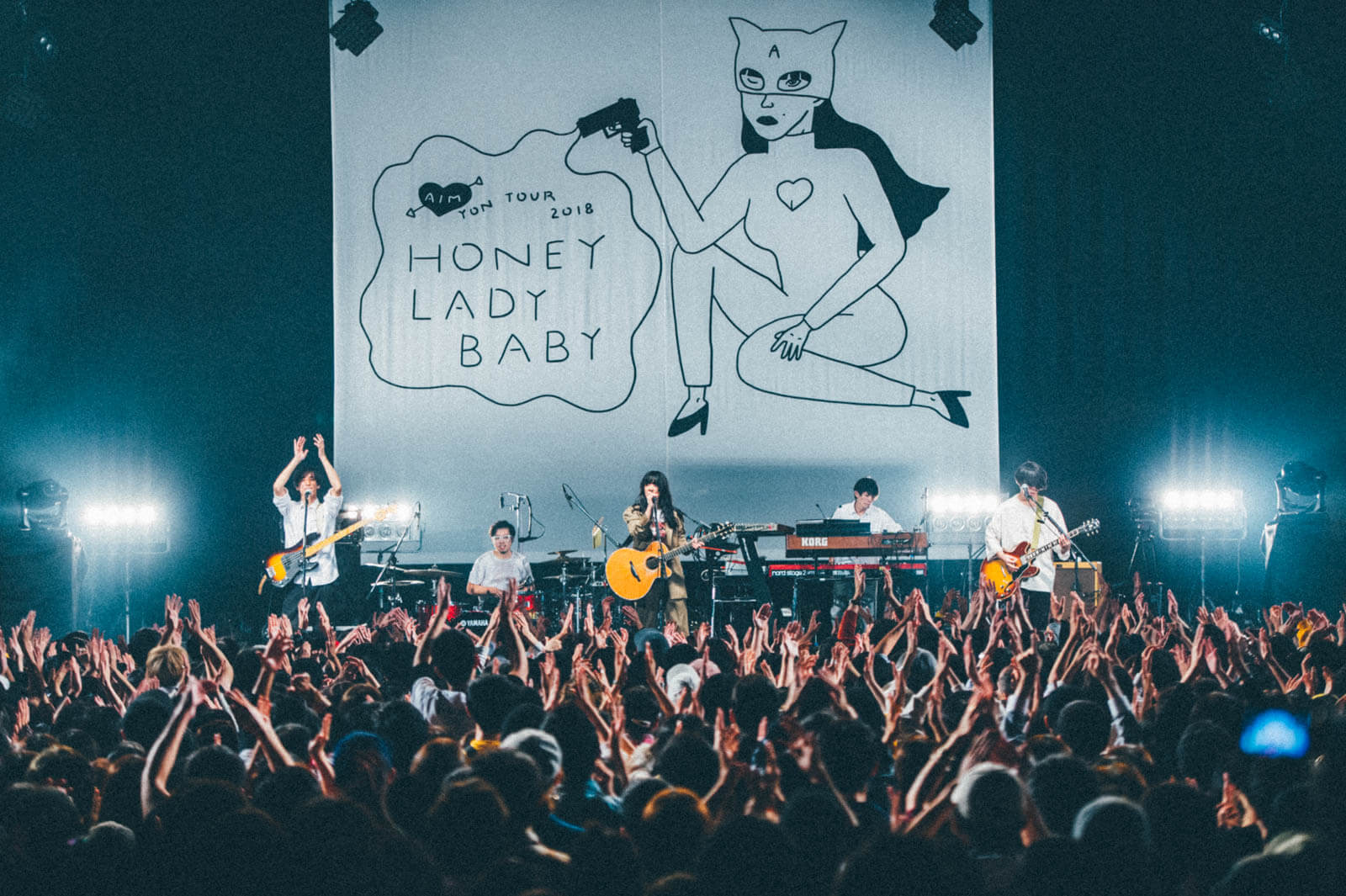 The crowd naturally began calling for an encore, and of course Aimyon came back for more. She performed a cover of Karada no Shin Kara Mada Moeteirunda which is the main theme song for the 2018 comedy movie LOUDER! Can't Hear What You're Singin', Wimp! sung by the character and street musician Fuuka who is played by Riho Yoshioka.
Aimyon's closing words, with a few tears, were, "I've had way too many things happen in 2018, so I want to show my gratitude to you all next year." She continued, "I can't sum up allthe things I want to say, but what I do want to say is that I love you all. I've realised that I cannot see despair in my music career. Thank you for meeting with me. This was a great night."
Upon expressing her thanks to fans, she closed the night with GOOD NIGHT BABY.
Before leaving, Aimyon, on stage by herself, said that she had an announcement to make. It was the announcement of a brand new album set for release on February 13 as well as her first ever solo performance at the famous Nippon Budokan on February 18 where she will perform on stage on her own. Aimyon showed her true feelings as she cried loudly towards the crowd. "I wanted my first Budokan [show] to be me playing to my own accompaniment, so I'm happy."
Text: 金子厚武
Photography: 永峰拓也
Information
Shunkanteki Sixth Sense
Release Date: February 13, 2019
Regular Edition: ¥3,024 [WPCL-12996]
Aimyon Online Store Edition: ¥6,524 (*Includes AIMYON TOUR 2018 -HONEY LADY BABY- photo book)
HMV/Loppi Edition: ¥6,524 (*Includes original t-shirt with M/L sizes)
AIMYON BUDOKAN -1995-
Date: February 18, 2019
Sogo Tokyo: 03(3405)9999 www.sogotokyo.com/
Aiymon Official Website: http://www.aimyong.net
RELATED ENTRIES
Aimyon's New Song 'Heart' Scheduled to Drop Ahead of Album Release

Massively popular J-pop star Aimyon is scheduled to drop her new single Heart on November 24, 2021. As a gift for more impatient fans, the song will be available to stream ahead of the CD's physical release, hitting a number of music platforms on October 20, 2021. 

In September, it was announced that the track would serve as the theme song for Konnintodoke ni Han wo Oshitadakedesuga (Only Just Married). The drama series will begin on October 19, 2021, and will star Nana Seino and Kentaro Sakaguchi in the lead roles.  

Along with this announcement, new artist photos have been released alongside the cover for the 12th single. A short video previewing the song is also available on YouTube, with art and video direction headed by Tondayashi Ran. 

Aimyon – Heart  [very short movie]

Starting October 9, those pre-saving or pre-adding Heart from the campaign page will be able to download an original image to use as a smartphone wallpaper!

Aimyon's 'Heart' Chosen as Theme Song for Drama Series 'Konnintodoke ni Han wo Oshitadakedesuga'

20.September.2021 | MUSIC

Singer-songwriter Aimyon will provide the theme song for the upcoming TBS Tuesday drama Konnintodoke ni Han wo Oshitadakedesuga (Only Just Married), premiering on TBS on October 19, 2021. 

The drama will follow the story of a couple married under false pretenses, and will star Nana Seino and Kentaro Sakaguchi in the lead roles. The theme song, Heart, will be released on November 24. 

 

Comment from Aimyon

I've never once had to rewrite lyrics over once I've written them, but for this song, I read them over and over, sang them, and rewrote them over again. 

I kept fine-tuning the words, trying to keep them from being too cute, or too clumsy. 

When you think about the shape of a heart, they're odd. Round on top, but pointed on the bottom. They can be soft, or they can be painful. I thought they were the perfect symbol for a strained relationship!

I'm really looking forward to hearing the music in this drama series. I'm also looking forward to working with the stars of the drama, and I hope that you enjoy Heart! ♡

 

Comment from Nana Seino

From the moment the intro began playing, I could feel my understanding of my character Akiha expanding. 

I want to thank Aimyon for providing us with such a wonderful song, and I can't wait to see how the drama series and Aimyon's song Heart blend together.

 

Comment from Kentaro Sakaguchi

This song perfectly encapsulates the frustrating and delicate relationship between Akiha and Momose. 

After filming the series little by little, I hope that my acting will be as gentle and incredible as this track. 

Aimyon Releases 'Seishun to Seishun to Seishun' Music Video

Aimyon posted a music video for her song Seishun to Seishun to Seishun on July 9. The track is originally taken from her 3rd single Kimi wa Rock o Kikanai which was released all the way back on August 2, 2017.

The song featured as a couple track on the single which dropped almost four years ago. It was made for a commercial for Kirin Beer's Tanrei Green Label. It has always been a popular song amongst fans who are sure to be delighted at this long-awaited video.

 

Aimyon – "Seishun to Seishun to Seishun"【OFFICIAL MUSIC VIDEO】

The video was directed by Pennacky who also worked on Aimyon's Choyo music video. It features Aimyon, the song's producer Sunday Kamide, and his band in a tiny diorama of a train and its journey.

Aimyon | Comment

"I told my staff a long time ago that I wanted to make a music video of this song one day, but there wasn't an opportunity and the days and months just began to build up. I never thought we'd pick up this song again in this way. My prayers were answered and we made a music video. We have that summer breeze and feeling of youthfulness on board. It's an exciting video, so I hope people enjoy it together with the song."

Pennacky (Director) | Comment

"It's an honour to be the director of this famous song by Aimyon. I hope people who know about the song already, as well as those who have yet to hear it, will enjoy it."

Japanese Music Artists Talk About Music They Listened to When They Were 14

TOKYO FM and 37 other Japan FM radio networks are set to air a special program on April 22 at 19:00 (JST) titled Life Time Audio~My First Music "14-Year-Old's Playlist."

TOKYO FM celebrated its 50th anniversary on April 26, 2021. In line with the milestone, the radio network launched a new brand promise: Life Time Audio, a radio special that promotes audio content that enrichens people's lives through music will weaving stories that connect with everyday people. It aims to be a place where people encounter musical experiences and audio content that gives people meaning as they broadcast each and every day their new show Life Time Audio~My First Music "14-Year-Old's Playlist" is inspired by a New York Times article published in 2018 titled The Songs That Bind which looks at how music heard when you are 14 years of age sets in stone your music preferences.

The live broadcast will be hosted by Daisuke Tooyama who worked as the principal of the Japanese radio show SCHOOL OF LOCK! for 10 years until 2020. Listeners can submit the music they listened to when they were 14-years-old either on the show's official website or on social media using the Japanese hashtag #14歳のプレイリスト ("14-Year-Old's Playlist") which will be discussed each episode. Guest artists will also talk about what music they were listening to back then. In the first episode, Masamune Kusano of Spitz talks with Aimyon. Aimyon has publicly stated that she has loved Spitz since elementary school. Masamune will talk Aimyon about other artists she listened to growing up, her music roots, and more. They will also talk about Spitz's latest single Murasaki no Yoru o Koete as well as Aimyon's new song Koi o Shiru Made wa which will be released on May 26 and is used as the main theme for the Japanese drama show Konto ga Hajimaru.

Official HIDE DANdism will also feature as guests on the show. The band formed while they were all in university. It is mentioned that members will talk about not having gone to school much, not getting along with people, their first live shows, and more. They will also talk about what music they want 14-year-olds to listen to.

Information

Life Time Audio~My First Music "14-Year-Old's Playlist."
Broadcast Date: April 22, 2021

Time: 19:00-21:00 (JST)

Where: TOKYO FM / 38 JFN Networks
Official Website: https://tfm.co.jp/fourteen

Japanese Music Artists Performing Overseas in 2019: Part 4

More and more announcements have been rolling out about Japanese artists set to perform overseas in the latter half of 2019. Let's take a look and see if one of them is coming to a city near you in Part 4.

・Aimyon

Singer-songwriter is set to take her enthralling set to Shanghai with a headline show. The music video for her hit song Marigold, taken from her album Shunkanteki Sixth Sense which released in February, was shot on the streets of Shanghai. Currently knee-deep in her Japan tour to promote her new album, this will mark Aimyon's second time performing overseas following up from a successful show in Taiwan. Her popularity is steadily surging across the globe, be sure to check out her music available on Spotify as well as her many music videos.

Related Article: Aimyon Releases Music Video Teaser & CD Cover For New Song 'Manatsu no Yoru no Nioi ga Suru'

▶︎AIMYON 2019 LIVE in SHANGHAI

Date: July 13, 2019

Venue: 世博中心—紅庁, Shanghai 2019

Japan Enquiries: http://www.accessbright.com/aimyon/

AIMYON Official Website: http://www.aimyong.net/

・OKAMOTO'S 

Celebrating 10 years since their debut, OKAMOTO'S are currently touring Japan nationwide in promotion of their new album BOY. The four-piece rock band performed what they called their "first and last" Nippon Budokan show on June 27 but are following that straight up with two concerts in Beijing and Shanghai. OKAMOTO'S are veterans when it comes to having performed overseas. They are the younger Japanese male act to play SXSW in Texas, US when they performed back in 2010. They also embarked on a 7-city US tour and have toured Australia, Hong Kong, Taiwan, Vietnam and other countries. Don't miss out!

Related Article: OKAMOTO'S New 'Dancing Boy' Music Video Features Lots Of Guest Artists

▶︎OKAMOTO'S "BOY" CHINA TOUR 2019
2019/7/19 @ Beijing MAO Live House, Beijing
2019/7/21 @ Shanghai MAO Live House, Shangai

Tickets: https://www.showstart.com/event/list?type=1&tag=22685

OKAMOTO'S Official Website: https://www.okamotos.net

【お知らせ】

MY FIRST STORY初の中国・上海でのワンマンライブが決定🇨🇳!

MY FIRST STORY TOUR 2019 IN SHANGHAI

7/27(土) 19:30開演予定
中国・上海市静安体育センター

公演詳細は後日発表!#myfirststory#マイファス pic.twitter.com/BqEzLdAgj9

— MY FIRST STORY (@MyFirstStory_of) 2019年6月6日

・MY FIRST STORY

Since debuting in 2012, Japanese rock band MY FIRST STORY have performed at some of Japan's biggest music festivals and have also collaborated with foreign musicians. Their lyrics are fluent English which have racked them up some real attention outside Japan. This will mark their first headline show in mainland China.

▶︎MY FIRST STORY TOUR 2019 IN SHANGHAI

2019/7/27 @ Jing'an Sports Center, Shanghai

MY FIRST STORY Official Website: http://www.myfirststory.net

・Yuzu

Yuzu's popularity trickles down all generations having performed the song Muscat for the anime series Crayon Shin-chan. The duo have their eyes set on two days at Legacy MAX in Taipei on September 28 and 29. The musicians performed at the 30th Golden Melody Awards, which is nicknamed the "Taiwanese Grammy Awards," on June 29 and hail as the only Japanese artists to do so.

Related Article: Yuzu Joined By Crayon Shin-chan On Stage to Sing New Song 'Muscat'

▶︎YUZU ASIA LIVE 2019 YUZUNOMI

2019/9/28 @ Legacy MAX, Taipei

2019/9/29 @ Legacy MAX, Taipei

Tickets: https://ticket.ibon.com.tw/Web/ActivityInfo/Details/36025

YUZU Official Website: http://yuzu-official.com

・MAN WITH A MISSION

MAN WITH A MISSION recently announced their US headline tour. They joined Jimmy Eat World and Stone Sour on tour back in fall 2017, but which is their first North American solo tour in five years. Full details can be found over on their official website.

Related Article: MAN WITH A MISSION To Embark on First North American Solo Tour in 5 Years

▶︎MAN WITH A MISSION presents Chasing the Horizon World Tour 2018/2019 -North American Tour-

2019/9/6 @ Great American Music Hall, San Francisco

2019/9/8 @ The Regent Theater, Los Angeles

2019/9/10 @ Canton Hall, Dallas

2019/9/16 @ Gramercy Theatre, New York

MAN WITH A MISSION Official Website: https://www.mwamjapan.info/

・BABYMETAL

BABYMETAL will released their new album METAL GALAXY this year on October 11 and follow it up with their GALAXY WORLD TOUR where they will hit up Europe, US and Russia. BABYMETAL's unmatched force continues to be felt across the globe.

Related Article: BABYMETAL Announce New Album 'METAL GALAXY' & World Tour

▶︎BABYMETAL GALAXY WORLD TOUR

*For full dates, please check the band's official website below.

BABYMETAL Official Website: http://www.babymetal.com

《TOUR》

\💫SKY-HI × SALU TOUR決定!/

🎙Say Goodbye to the System

9/4:東京 Zepp DiverCity

9/24:大阪 なんばHatch

9/25:名古屋 名古屋ダイアモンドホール

9/29:韓国/ソウル

10/1:香港

10/4:台湾/台北

✅詳細はSKY-HI公式HPへ
【https://t.co/AOcUrXeEGL】#SKY_HI #SALU #TOUR pic.twitter.com/E5h8Svngff

— SKY-HI情報 (@skyhi_hidaka12) 2019年7月1日

・SKY-HI

SKY-HI will release his second collaborative album with SALU entitled Say Hello to My Minions 2 on September 4 which will be promoted with the "Say Goodbye to the System" Asia tour. SKY-HI has performed in Los Angeles, New York, Paris, London, Shanghai, Taiwan and Hong Kong in the past. Be sure to keep up to date with his tour schedule via his official website.

 

▶︎Say Goodbye to the System -ASIA TOUR-

2019/9/29 @ Seoul (Venue TBA)

2019/10/1 @ Hong Kong (Venue TBA)

2019/10/4 @ Taipei (Venue TBA)

SKY-HI Official Website: https://avex.jp/skyhi/

If you love Japanese music and an artist you like is heading to a city near you, be sure to show them love and support by getting your hands on a ticket!

Aimyon Releases Music Video Teaser & CD Cover For New Song 'Manatsu no Yoru no Nioi ga Suru'

Singer-songwriter Aimyon has unveiled the CD cover for her upcoming 8th single Manatsu no Yoru no Nioi ga Suru which is set to drop on July 24.

The CD cover sees Aimyon in a park at nighttime just like in the teaser for the music video below. Both the cover and music videos were created by Tondabayashi Ran who has worked with Aimyon on multiple occasions.

The song was released for digital download early today on iTunes in the run up to the CD release.

Japanese singer-songwriter Aimyon has released the music video for her upcoming 7th single Haru no Hi which is set to drop on April 17, 2019. The video was directed by Tomokazu Yamada who also worked on the artist's previous music videos for Marigold and Konya Kono Mama.

Aimyon – "Haru no Hi" Official Music Video

The video was shot in the Izu Peninsula of Shizuoka Prefecture. It begins with Aimyon stood outdoors with a wind turbine behind her before heading indoors which dons a stylish interior with Aimyon by the window with the warm sunlight shining through. It also features Aimyon standing against the sunset of Daikon Island.

Also revealed is the above-pictured folder that comes coupled with the CD release of the upcoming single. Haru no Hi was also digitally released as a standalone track on April 3, 2019.

Aimyon made the following comment with regards to the video: "'There's mountains, valleys, wind, storms. I feel happiness here because I'm human.' This is something I unintentionally began to think while shooting the video. The definition of happiness differs from person to person, but I want to treasure those moments where I think to myself, 'Ahh, this is real happiness.' This is my third time working with director Yamada, and every time we are blessed by the weather. Thank you for showing me such a wonderful sunset. The number of things I treasure has increased once more. I pray that happiness―that burns like fire and blows like a tempest―continues to wait for me."

The video's director Tomokazu Yamada also commented: "We shot the video as if taking a trip to an imagined landscape, one where we see human romance unfold. The wind becomes strong, the rain falls, the weather clears up, and it becomes warm. Emotions that are difficult to put into words well up through Aimyon's singing. She leads us back to the original landscape as if returning to our ancestors."

Information

Haru no Hi

Release Date: April 17, 2019

Price: ¥1,000 (Before Tax)

*CD comes with an A5 size original Haru no Hi folder. These are limited in stock and will discontinue once all have been given out.

*Select stores are not stocking the folder. Please enquire directly with a store for more information.

Aimyon Official Website: http://www.aimyong.net/

Nana Komatsu & Mugi Kadowaki Kiss in New Trailer for 'Sayonara Kuchibiru'

Sayonara Kuchibiru ("Goodbye Lips") is an upcoming Japanese film starring co-leads Nana Komatsu and Mugi Kadowaki along with Ryo Narita. The musical movie is set to hit Japanese theatres on May 31, 2019.

The film is directed and written by Akihiko Shiota (Harmful Insect, Dororo) whose career has made his name known at several film festivals overseas.

The film features big names in the music industry including Japanese singer-songwriter Motohiro Hata who produced the film's main theme Sayonara Kuchibiru and Aimyon who composed and wrote the lyrics for the insert song Tachimachi Arashi.

See the new trailer below.

Reo (Nana Komatsu) and Haru (Mugi Kadowaki) form the popular guitar duo HaruReo. In the trailer, we the musicians suddenly decide they want to break up, and confide in their attendant Shima once more. During their nationwide tour, a love triangle begins to form, as Reo has feelings for Shima, but Shima has feelings for Haru.

The trailer also reveals a kiss scene between the two singers. A single cut showcasing the moment before the kiss was released officially.

The actresses themselves both sing and perform HaruReo's songs. This is the first time that Nana Komatsu has had to sing in her career. She and Kadowaki underwent months of training to sing and play the guitar as well as film the emotional live scene we see in the trailer.

Sayonara Kuchibiru is set to tackle the bonds we have between people and the importance of looking ahead. Don't miss the film coming this spring.

Information

Sayonara Kuchibiru

Release Date: May 31, 2019

Screening: TOHO Cinemas Hibiya and elsewhere across Japan

Official Website: https://gaga.ne.jp/kuchibiru/

© 2019 "Sayonara Kuchibiru" Production Committee

Concert Review: Aimyon's Memorising "1995" Acoustic Performance at the Nippon Budokan

Singer-songwriter Aimyon, who just released her latest album Shukanteki Sixth Sense on February 13, held her solo concert "AIMYON BUDOKAN -1995" at the Nippon Budokan on Monday.
Her first ever show at the enormous venue, Aimyon changed up the Budokan game by performing an intimate acoustic set of 18 tracks to a packed-out room of fans surrounding her 360°. Playing an acoustic concert at the Budokan was something the Nishinomiya-bred 23-year-old had long desired.

A simple spotlight beamed down onto the centre stage onto which Aimyon stepped donning a bright yellow outfit. She opened her set with her hit single Marigold, the music video in which the colour yellow is prominent throughout.

"This 360° spectacle is something you don't see everyday," she said looking around at the towering crowd.

She continued with her famous hit Ai wo Tsutaetai da toka followed by Wakattenai. "I don't really do this, but could I get a round of applause for trying something for the first time at my first Budokan concert?" Fans gave her well-deserved claps after which Aimyon went on to gracefully sing Mangetsu no Yoru Nara at the top of her voice.

Despite the venue being packed with 14,000 people, there was a real warm and at-home atmosphere just as Aimyon had comment during the show: "Don't you feel unexpectedly close?" This vibe is very typical of Aimyon.

She too was having fun as the stage rotated, giving her viewing access to all four sections of the venue. "I'm embarrassed," she said with a pure smile.

Rising from her chair, Aimyon continued to weave intimacy into the air with Kaze no Sasayaki and Koi o Shitara. It was almost as if the crowd were being beckoned into Aimyon's bedroom.

After she finished singing ○○chan which she wrote for her longtime friend―the friend who gave her the nickname "Aimyon"―Aimyon announced that she has been put in charge of performing the main theme song for the new Crayon Shin-chan film.

"I have been taught many things by the Tower of the Sun, Takuro Yoshida, Betsy & Chris, and Shin-chan. It's the first time I am singing about a family other than my own, but it's my personal ode to the Nohara household. This is my first time performing [the theme song]."

The name of the song is Haru no Hi and Aimyon sang it magnificently. She continued with Anata Kaibō Junkoiuta ~Shi ne~. She made an error during the song and had to repeat the part again. The crowd supported her as a domino round of applause snowballed through the arena. Aimyon too strummed her guitar with energy.

A 20-minute interval ensued after which Aimyon appeared once more with a different t-shirt on. The second half of the set began with Agorete Kitan da. When she sang the words "Konya kono mama" bubble-like lights shone onto the stage creating a magical scene.

Next was the country number Futari no Sekai and subsequently Douse Shinu Nara which she began with a capella.

Moving through the set list track by track Aimyon continued with GOOD NIGHT BABY while looking out over the spacious room. For Itsumademo she made a comment than ties in with the song's lyrics: "Gogh was valued highly after he died but I want to that for me while I'm still alive." This evoked huge cheers from the crowd.

The lyrics appeared on the monitors for Ikiteitan da yo ne during which the performance shifted to a dramatic tone as red lights beamed, resulting in a theatrical atmosphere.

"When I told my mum the news that I would be performing live at the Budokan, she was even more overjoyed than when it was announced I would perform at Kōhaku [Uta Gassen]. So I decided to put the year she brought me into this world in the title [of the tour]. 1995 is my origin, the origin of me as a singer-songwriter."

As Aimyon explained the origin of her tour title she performed her new song 1995. "I made this [song] specially for today." Fans joined in with singing the "lalalas" of the chorus before Aimyon wrapped up with the final song of the night, Kimi wa Rock o Kikanai, which brought the crowd together as one.

"Thank you for giving me the best seat in the house today!" she said, bringing her first-ever Budokan concert to its conclusion.

Aimyon will head on two more tours this year. AIMYON TOUR 2019 "Love Call" will begin in May where she will be joined by a supporting artist followed by her biggest ever solo arena tour dubbed AIMYON TOUR 2019 -SIXTH SENSE STORY- starting in October.

2019 is looking to be a huge year for Aimyon.

Photography: 鈴木友莉、永峰拓也

Information

AIMYON TOUR 2019 "Love Call"
*Supporting artist for each date TBA.
5/17 @ Zepp Sapporo, Sapporo (18:00/19:00)
5/24 @ Zepp Nagoya, Aichi (18:00/19:00)
5/25 @ Zepp Nagoya, Aichi (17:00/18:00)
5/31 @ Zepp Osaka BaySide, Osaka (18:00/19:00)
6/1 @ Zepp Osaka BaySide, Osaka (17:00/18:00)
6/9 @ Zepp Fukuoka, Fukuoka (17:00/18:00)
6/14 @ Zepp Tokyo, Tokyo (18:00/19:00)
6/15 @ Zepp Tokyo, Tokyo (17:00/18:00)
6/22 @ Sendai PIT, Sendai (17:00/18:00)
6/23 @ Sendai PIT, Sendai (17:00/18:00)

Tickets: ¥5,940 (Tax included, separate drink fee charged upon entry)

Age Restrictions: Pre-school children not permitted entry to any of the venues.

AIMYON TOUR 2019 -SIXTH SENSE STORY-
10/11 @ Misato City Cultural Hall, Saitama (18:00/18:30)
10/13 @ Sapporo Community Plaza Theater Hitaru, Hokkaido
10/17 @ Niigata Terrsa, Niigata (18:00/19:00)
10/18 @ Niigata Terrsa, Niigata (18:00/19:00)
10/23 @ ORIX THEATER, Osaka (18:00/19:00)
10/24 @ ORIX THEATER, Osaka (18:00/19:00)
10/26 @ Aichi Geijutsu Gekijo, Aichi (17:00/18:00)

10/27 @ Aichi Geijutsu Gekijo, Aichi (16:00/17:00)
11/2 @ Kumamoto City Civic Center Sears Home Dream Hall, Kumamoto (17:00/18:00)
11/3 @ Kagoshima Citizens' Culture Hall 1, Kagoshima (17:00/18:00)
11/7 @ Sendai Sunplaza Hall, Miyagi (18:00/19:00)
11/8 @ Sendai Sunplaza Hall, Miyagi (18:00/19:00)
11/14 @ Ueno Gakuen Hall, Hiroshima (18:00/19:00)
11/15 @ Ueno Gakuen Hall, Hiroshima (18:00/19:00)
11/17 @ Sunpalace, Fukuoka (17:00/18:00)
11/23 @ Matsuyama Minkaikan, Ehime (17:00/18:00)
11/24 @ Sunport Hall Takamatsu, Kagawa (17:00/18:00)
11/30 @ Honda no Mori Hall, Ishikawa (17:00/18:00)
12/14 @ Kobe World Memorial Hall, Hyogo (17:00/18:00)
12/15 @ Kobe World Memorial Hall, Hyogo (16:00/17:00)
12/17 @ Yokohama Arena, Kanagawa (18:00/19:00)
12/18 @ Yokohama Arena, Kanagawa (18:00/19:00)

Tickets
All Reserved Seating – ¥5,940 (Tax Included)
(*Kobe World Memorial Hall and Yokohama Arena concerts – ¥6,480)
Age Restrictions: Pre-school children not permitted entry to any of the venues.

Pre-sale: January 21, 2018 at 12:00 (JST) – February 4, 2019 at 23:00 (JST)

General Sale: August 17, 2019 at 10:00 (JST)

Shunkanteki Sixth Sense

Release Date: February 13, 2019

Regular Edition: ¥3,024 [WPCL-12996]

Aimyon Online Store Edition: ¥6,524 (*Includes AIMYON TOUR 2018 -HONEY LADY BABY- photo book)

HMV/Loppi Edition: ¥6,524 (*Includes original t-shirt with M/L sizes)

*First press copies include application ticket to Aimyon's October tour. Application Window: March 1, 2019 at 12:00 (JST) – March 31, 2019 at 23:00 (JST).

Aimyon Official Website: www.aimyong.net/

Aimyon Releases 'Yume Oi Bengal' Music Video Compiled of Tour Footage

Singer-songwriter Aimyon just dropped the music video for her song Yume Oi Bengal taken from her new album Shunkanteki Sixth Sense which hit shelves on February 13.

The music video was created from 85-hours of footage can taken from her nationwide Japan tour "AIMYON TOUR 2018 -HONEY LADY BABY." Shot in the style of a documentary, it features live performance shots as well as clips from backstage and times on the road during the tour. On the tour the staff kept the camera on her to obtain as much footage as possible.

The video was directed by up-and-coming director Kodai Kobayashi of film team "The 16." who also directed Aimyon's music video Mangetsu no Yoru Nara.


Aimyon gave the following comment in regards to the video: "It feels like I've locked my young self away. Inside the video. Everyone else is in there with me too. Nobody can escape, nobody can age and no one will die. Eternity of course doesn't really exist, but I'm happy that I've burned that once-in-a-lifetime moment of a tour on tape."

Director Kodai Kobayashi also commented: "Because we filmed her and went to places I didn't know, I saw a lot of young guys and girls experiencing a 'live' show. It was my first time. For both me and them it's a rite of passage that Aimyon gives an energetic performance, so I would be happy if people can feel that with this video too."

Aimyon to Perform Crayon Shin-chan: Honeymoon Hurricane ~The Lost Hiroshi~ Main Theme

It has been announced that singer-songwriter Aimyon will perform the main theme song for the anime film Crayon Shin-chan: Honeymoon Hurricane ~The Lost Hiroshi~ which is set to release on April 19, 2019.

Aimyon is a huge fan of Cragon Shin-chan. The song she has written for the latest film is titled Haru no Hi ("Spring Day"). It focuses on the love between Shin-chan's parents Hiroshi and Misae Nohara from their perspective and their honeymoon trip which they have never been on and which the film is based on.

The song will also be used as the new ending theme song for the Crayon Shin-chan anime series from February 8. Aimyon's 7th single to date, the CD will hit shelves on April 17, two days before the film's premiere.

Aimyon gave the following comments about the collaboration: "I have been given the opportunity to perform the main theme for Crayon Shin-chan: Honeymoon Hurricane ~The Lost Hiroshi~. I have loved the series since I was a child. I am so grateful to be able to say that. But at the same time I wondered to myself how I would be able to convey those loving memories, in my own way, in a song. When I heard that it was about 'family love' I thought I would write a song about the birth of the Nohara household. Crayon Shin-chan always taught me about the strength of family ties and happiness. Of course, that includes his bonds with everyone in the Kasukabe Defence Force too. There are of course times he stumbles too. The message the series gets across touches my heart. I am truly happy to be involved with this movie. Thank you for this lifetime treasure. I hope that the song Haru no Hi that I wrote reaches many places."

She continues: "This is a different film, but I watched [Crayon Shin-chan: Fierceness That Invites Storm!] The Adult Empire Strikes Back from 2001. That's where I first saw the Tower of the Sun by Tarō Okamoto. Crayon Shin-chan also introduced me to Takuro Yoshida, Betsy & Chris and others. It might not be the same, but I would be happy if I'm able to return the favour even a little."

Shin-chan also made a comment himself: "Cheers for making such a wonderful song for us. It makes me feel relaxed all the way to the centre of my butt. It was a really good song! Ahh, I want Aimyon to propose to me… Be sure you all listen to it!"

*Comments translated from Japanese.

Information

Haru no Hi

Release Date: April 17, 2019

First Press Limited Edition (Crayon Shin-chan Edition) ¥1,000 (Before Tax) [WPCL-13038]

Regular Edition: ¥1,000 (Before Tax) [WPCL-13037]

*Both editions come with different sleeve cases.

Aimyon Official Website: http://www.aimyong.net

Crayon Shin-chan: Honeymoon Hurricane ~The Lost Hiroshi~

Release Date: April 19, 2019

Official Website: http://www.shinchan-movie.com/

©Yoshito Usui / Futabasha・Shinei・TV Asahi・ADK 2019 ©U/F・S・A・A 2019

Aimyon Announces Arena Tour, Budokan Tickets Sell Out On Release Day

Singer-songwriter Aimyon will perform at the legendary Nippon Budokan venue on February 18 for the first time. Tickets went on sale January 19 and sold out the same day.

Aimyon has announced a tour titled AIMYON TOUR 2019 "Love Call" which is set to begin in May and where she will be joined by a supporting artist. She will perform 10 concerts in 6 locations in Japan. Ticket details and the supporting artist have yet to be announced.

The singer will follow this up with her biggest ever solo arena tour dubbed AIMYON TOUR 2019 -SIXTH SENSE STORY- which will start in October. Aimyon will embark on 22 concerts across 22 places in Japan. Pre-sale fan club tickets went at noon today in Japan (JST).

Aimyon performed at the 69th NHK Kōhaku Uta Gassen at the end of 2018 and will release her second album Shunkanteki Sixth Sense on February 13 this year. Copies of the new album will include a serial code that gives access to apply for early-bird tickets to her October tour.

As she continues to stir the industry and make it into Apple Music's Top 5, this year is looking to be another successful one for Aimyon.

Information

AIMYON TOUR 2019 "Love Call"
*Supporting artist for each date TBA.
5/17 @ Zepp Sapporo, Sapporo (18:00/19:00)
5/24 @ Zepp Nagoya, Aichi (18:00/19:00)
5/25 @ Zepp Nagoya, Aichi (17:00/18:00)
5/31 @ Zepp Osaka BaySide, Osaka (18:00/19:00)
6/1 @ Zepp Osaka BaySide, Osaka (17:00/18:00)
6/9 @ Zepp Fukuoka, Fukuoka (17:00/18:00)
6/14 @ Zepp Tokyo, Tokyo (18:00/19:00)
6/15 @ Zepp Tokyo, Tokyo (17:00/18:00)
6/22 @ Sendai PIT, Sendai (17:00/18:00)
6/23 @ Sendai PIT, Sendai (17:00/18:00)

Tickets: ¥5,940 (Tax included, separate drink fee charged upon entry)

Age Restrictions: Pre-school children not permitted entry to any of the venues.

AIMYON TOUR 2019 -SIXTH SENSE STORY-
10/11 @ Misato City Cultural Hall, Saitama (18:00/18:30)
10/13 @ Sapporo Community Plaza Theater Hitaru, Hokkaido
10/17 @ Niigata Terrsa, Niigata (18:00/19:00)
10/18 @ Niigata Terrsa, Niigata (18:00/19:00)
10/23 @ ORIX THEATER, Osaka (18:00/19:00)
10/24 @ ORIX THEATER, Osaka (18:00/19:00)
10/26 @ Aichi Geijutsu Gekijo, Aichi (17:00/18:00)

10/27 @ Aichi Geijutsu Gekijo, Aichi (16:00/17:00)
11/2 @ Kumamoto City Civic Center Sears Home Dream Hall, Kumamoto (17:00/18:00)
11/3 @ Kagoshima Citizens' Culture Hall 1, Kagoshima (17:00/18:00)
11/7 @ Sendai Sunplaza Hall, Miyagi (18:00/19:00)
11/8 @ Sendai Sunplaza Hall, Miyagi (18:00/19:00)
11/14 @ Ueno Gakuen Hall, Hiroshima (18:00/19:00)
11/15 @ Ueno Gakuen Hall, Hiroshima (18:00/19:00)
11/17 @ Sunpalace, Fukuoka (17:00/18:00)
11/23 @ Matsuyama Minkaikan, Ehime (17:00/18:00)
11/24 @ Sunport Hall Takamatsu, Kagawa (17:00/18:00)
11/30 @ Honda no Mori Hall, Ishikawa (17:00/18:00)
12/14 @ Kobe World Memorial Hall, Hyogo (17:00/18:00)
12/15 @ Kobe World Memorial Hall, Hyogo (16:00/17:00)
12/17 @ Yokohama Arena, Kanagawa (18:00/19:00)
12/18 @ Yokohama Arena, Kanagawa (18:00/19:00)

Tickets
All Reserved Seating – ¥5,940 (Tax Included)神戸ワールド記念ホール・横浜アリーナ公演
(*Kobe World Memorial Hall and Yokohama Arena concerts – ¥6,480)
Age Restrictions: Pre-school children not permitted entry to any of the venues.

Pre-sale: January 21, 2018 at 12:00 (JST) – February 4, 2019 at 23:00 (JST)

General Sale: August 17, 2019 at 10:00 (JST)

Shunkanteki Sixth Sense

Release Date: February 13, 2019

Regular Edition: ¥3,024 [WPCL-12996]

Aimyon Online Store Edition: ¥6,524 (*Includes AIMYON TOUR 2018 -HONEY LADY BABY- photo book)

HMV/Loppi Edition: ¥6,524 (*Includes original t-shirt with M/L sizes)

*First press copies include application ticket to Aimyon's October tour. Application Window: March 1, 2019 at 12:00 (JST) – March 31, 2019 at 23:00 (JST).

Aimyon Official Website: www.aimyong.net/