Cherry Blossom Art, Food & More at Hotel Gajoen Tokyo
Hotel Gajoen Tokyo celebrated its 90th anniversary in December last year, and for this year's hanami season, it has many cherry blossom themed food and events in the works all set to begin in March.
Hotel Gajoen Tokyo is located next to Meguro River, one of Japan's most famous cherry blossom sites. When the flowers are in bloom, a bunch of flowery themed events are set to take place around the hotel including the restaurant.
Sakura Cake: ¥550 (Before Tax) @ Patisserie Lien 1928 (Running: March 1 – April 30)
We begin with a delightful delectable made with a white chocolate casing and filled with strawberry biscuit, strawberry jam and cherry blossom cream. It's also laced with a little bit of Japanese sake jelly so when bitten into fills your mouth with a rich marriage of flavours.
Sakura Pancakes: ¥3,000 (Before Tax) @ Cafe&Bar Yuian (Running: March 18 – April 30)
To bring out the ultimate fluffiness, the pancakes are steamed on a seiro steaming basket before being topped with cherry blossom sweet bean jelly. It is served with salted kōji ice cream. When you open up the basket your nose is hit sumptuously with the fresh smell of butter.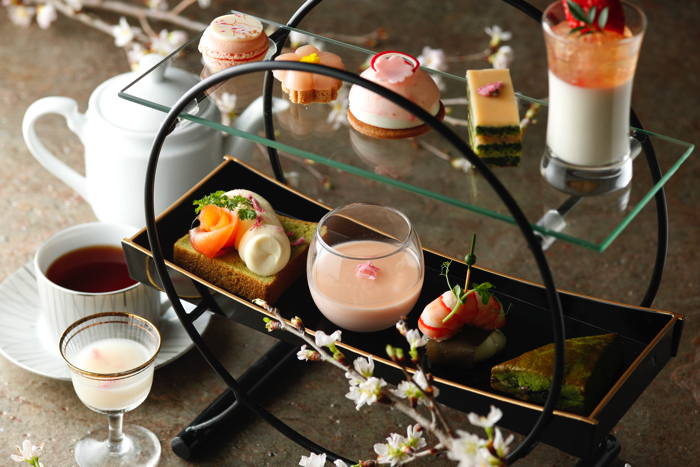 Sakura Afternoon Tea: ¥3,800 (Before Tax) @ KANADE TERRACE (Running: March 18 – April 14)
Indulge in a limited-time afternoon tea set brimming with beautiful cherry blossom inspired goodies.
Sakura Lunch Course: ¥5,000 (Before Tax) @ RISTORANTE "CANOVIANO" (Running: March 18 – April 30)
A springtime lunch course awaits made with lots of vegetables and a sauce that's simple yet serves to bring out the original flavour of the masu salmon.
Sakura Kaisekizen: ¥3,500 (Before Tax) @ Tofutei (Running: March 18 – Early April)
Enjoy a spring-inspired traditional Japanese kaisekizen―an elaborate dinner assortment―with its delicate flavours and combinations. Have your fill of food with ingredients that beckon springtime including vegetable appetisers, Kyoto-style grilled Japanese Spanish mackerel, and much more.
The hotel is also home to the Hyakudan Staircase, or '100 Step Staircase,' a registered Tangible Cultural Property of Tokyo. From March 28 to April 21 an exhibition of cherry blossom artwork will be on display including kabuki outfits with cherry blossom designs, ceramic art, paper crafts, bead art, patchwork quilts, flower arrangements, kusaki-zome natural dyeing, and more.
Secure a springtime trip in Japan this year at Hotel Gajoen Tokyo with a long line-up of exciting surprises.
Information
Haru・Sakura, Sayuka at Hyakudan Staircase
Location: Hotel Gajoen Tokyo (1-8-1 Shimomeguro, Meguro Ward, Tokyo)
Running:  March 28, 2019 – April 21, 2019
TEL: 03-5434-3140 (10:00-18:00)
Opening Hours
[Sunday-Thursday] 10:00-17:00 (Last Entries 16:30)
[Friday-Saturday] 10:00-20:00 (Last Entries 19:30)
Price
Event Same Day – ¥1,600
Event Advance – ¥1,300
Museum Advance – ¥1,100 (Until March 27, 2019 at 16:30)
University & High School Student – ¥1,200
Junior High & Elementary School Student – ¥600
*Student ID required. Free for preschoolers.
Hotel Gajoen Tokyo Official Website: https://www.hotelgajoen-tokyo.com/
RELATED ENTRIES
'Kyoto Yura Hotel M Gallery' New Halloween Menu Features Adorable Monster Motifs

The '1F Lounge & Bar 1867' at the Kyoto Yura Hotel M Gallery will be hosting a Halloween themed afternoon tea from October 1 2021, with tea sets and cocktails available. The premium hotel is owned by Accor, a Paris, France based group that owns over 5,000 hotels and resorts in 110 countries.

The Halloween-themed afternoon tea has been made by Jennie Chiu, a pastry chef who grew up in America, the home of Halloween. The afternoon tea features cute and playful monster motifs, including a witch-hat Mont Blanc, a Cassis and Chestnut Cake topped with a small ghost, and a spider-web topped Raspberry and Chocolate Mousse. For savory treats, Chef Nishimura Niki has prepared Foie Gras soaked in Salted Koji, plus two luxurious lobster dishes.

The creative Halloween cocktails were brainstormed by Yamazaki Sousei, who ranked in the Japan Top 10 category of bartending competition 'WORLD CLASS 2021.' The Halloween and apple pie inspired lineup was inspired by Scotland and the Celtic people, looking back to when Halloween was first celebrated. 

Enjoy some adult-only time in this retro-modern "family mansion" themed space. 

Information

Halloween Afternoon Tea Set

Availability: October 1 ~ October 31 2021

Location: Lounge & Bar 1867 

Serving Hours: 12:00 and 15:00 *Please reserve your table by 17:00 on the day prior to your arrival

Halloween Cocktails

Availability: October 1 ~ October 31 2021 

Price: ¥1,900
Location: Lounge & Bar 1867

Serving Hours/Opening Hours: 11:30 ~ 21:00 (L.O. 20:30) 

Official Site:  https://kyotoyurahotel-mgallery.com/ja

New 'Uramichi Oniisan' Collab Hotel Room Designed Using 'URA' and 'OMOTE' Motifs

Sunshine City Prince Hotel has revealed a new "Uramichi Oniisan" themed plan, available to reserve for a limited time between October 2 and December 31.

Hotel Staff Costume Illustration

 Pajama Costume Chibi Illustration


©Kuze Gaku・Ichijinsha / Uramichi Oniisan Production Comittee

Star Can Badge / Hotel Keychain / Mask Case (URA & OMOTE ) / Original Notepad / Hotel Key Card 

Cafe & Dining 'Chef's Palette' Original Drink with Bonus Coaster

'URA-Room' with Chibi Character Illustration

 

The 'Uramichi Oniisan' anime became a hit in Summer 2021, known for its cast of famous voice actors.

The new artwork produced for the hotel features the characters in hotel staff uniforms and pajamas, perfect for the hotel-themed collaboration. The 'OMOTE ROOM' is designed using the new illustrations, while the 'URA ROOM' uses the chibi characters. Each room features a sound clip from Uramichi Omoteda (CV: Kamiya Hiroshi). Original merchandise and drinks are available to guests, plus the famous "Bird Finding Game" is available to play in each room, making it a must-see for fans!

Dive into the 'Uramichi Oniisan' world with this new collaboration hotel room!

Shirahama Marriott in Wakayama to Offer Panda-Themed Getaway

Adventure World, a zoo and theme park in Shirahama, Wakayama prefecture, is teaming up with the Nanki-Shirahama Marriott Hotel to celebrate the first birthday of baby panda Fuhin. This room plan will only be available from November 1, 2021, until March 31, 2022, and will include a fully themed room, an original mini-photo book of the panda's growth to date, and plenty of other Fuhin amenities and goods!

Fuhin 1st Anniversary Room

Collaboration Burger 'Marriott Panda Burger' 

The Fuhin 1st Anniversary Room is a mixed Japanese-Western style room with an ocean view. The walls, blankets, and tatami are all covered in panda imagery, while portions of the room's lighting are made from bamboo as a part of Adventure World's quest to create more sustainable products. The special 'COCOAR' app will also allow guests to enjoy a moving photo frame featuring Guhin by holding their smartphone over the word 'Fuhin' on the wall. 

The limited-time Marriott Panda Burger uses the same recipe as the normal burger, but with a panda-shaped bun created along with Adventure World staff. How would you like to come and celebrate Fuhin's birthday beside the sea? 

Your Favorite Panda Instagram Campaign

By taking a picture of one of the seven giant pandas at Adventure World (Eimei, Rauhin, Ouhin, Touhin, Yuhin, Saihin, Fuuhin) and posting it to Instagram with the two campaign hashtags (#推しパンダマリオット and #InsertFavoritePandasNameHere), 20 winners will be selected to receive special Adventure World goods!

Information

Kaedehama 1st Anniversary Room Stay

Address: Nanki-Shirahama Marriott Hotel

Reservations Open October 6, 2021

Running: November 1, 2021 – March 31, 2022

Details: https://www.shirahama-marriott.com/special/panda/

Official Site: www.MarriottHotels.com

Marriott Panda Burger

Available Starting November 1, 2021

Price: ¥3,270

Where: Nanki-Shirahama Marriott Hotel Lounge

Your Favorite Panda Instagram Campaign

Running: November 1, 2021 – January 31, 2022

How to Enter: 

① Install the Instagram App.

② Follow Adventure World (@adventureworld_official) and Nanki Shirahama Marriott Hotel (@nankishirahamamarriott).

③ Post a picture of your favorite panda along with the hashtag MyFavoritePandaMarriott (#推しパンダマリオット) and the second hashtag including your favorite's name along with a picture of your favorite panda!

The winners will be announced on the official Nanki-Shirahama Marriott Hotel Instagram page in February 2022. 

Halloween Sweets Buffet Coming to Haneda Excel Hotel Tokyu for Two Days Only

Moshi Moshi Nippon has delivered news on tons of Halloween treats this holiday season, but can there ever really be enough? Haneda Excel Hotel Tokyo has announced a special two-day-only Halloween Sweets Buffet on October 30 and 31 at the location's Flyer's Table restaurant on the second floor. 

Pumpkin Cheese Tart

Ghost Mousse

Black Cream Puff

 

Guests can enjoy a variety of spooky treats all incorporating fall flavors like chestnut, pumpkin, sweet potato, pear, and apple. Offerings include the Pumpkin Cheese Tart, a mildly-sweet cheese tart made with sour cream, cottage cheese, and cream cheese, and topped with pumpkin cream; the Ghost Mousse, a chestnut mousse made to look like a ghoul; and the Black Cream Puff, made with black cocoa and a cassis cream filling. 

 

At the demonstration corner, guests can see the Sweet Potato Mont Blanc being made. Those wanting something besides sweets can enjoy a selection of sandwiches decorated in Halloween style!

The Prince Park Tower Tokyo Introduces New Romantic Christmas Plan

How would you like to enjoy a snowman-shaped Christmas cake and champagne while overlooking Tokyo Tower? The new Scoolove Christmas Accommodation Plan from the Prince Park Tower Tokyo is offering this incredibly festive experience from December 1 until December 26, 2021!

The TOKYO HONEY PROJECT, a product planning team made up exclusively of female hoteliers, has devised this romantic plan in the hopes of making Christmas magical and memorable again. During the COVID-19 pandemic, many couples haven't had the chance to spend any special time together, so what better time than the holiday season? 

The word 'Scoolove' is a combination of 'scoop' and love,' and while scooping up and enjoying this tasty snowman treat, the team hopes that couples will deepen their relationship and enjoy some much-needed quality time together. The head of the snowman is made from matcha ganache wrapped in kumquat cheesecake mousse, while the body is made of baked cheesecake accented with a raspberry jam. With these two competing flavors, every bite is sure to be interesting!

Junei Hotel Kyoto Adds New Plan Allowing Guests to Reserve Entire Property

The Junei Hotel Kyoto Imperial Palace West, a small luxury hotel located in the heart of Japan's ancient capital, has revealed a new plan allowing guests to rent out the entire premises. Imagine being in a hotel with only your closest family and friends!

The Junei Hotel Kyoto Imperial Palace West – Guest Room

The Junei Hotel Kyoto Imperial Palace West – Bathroom

The Junei Hotel Kyoto – Bamboo Suite

The Junei Hotel Kyoto – Bamboo Suite Bathroom

The Junei Hotel Kyoto – Standard Room

The Junei Hotel Kyoto – Standard Bathroom

The Junei Hotel Kyoto – Breakfast at Futago

The Junei Hotel Kyoto – Futago Restaurant Interior

The Junei Hotel Kyoto – Dinner at Futago

Arashiyama Yusaitei

Arashiyama Yusaitei

Kibune Riverbed

Hozucho River Boat Ride

The Junei Hotel Kyoto Rooftop View of Kiyomizu-dera Lights

The Junei Hotel Kyoto Rooftop Garden Moon Viewing

With two locations in Kyoto, guests will be able to enjoy the entirety of the hotel in complete privacy while still enjoying hotel hospitality. With between 8-11 rooms, this would be the perfect spot for a family gathering, wedding reception, graduation trip with friends, corporate meeting place, or even for overseas guests!

The Junei Hotel Kyoto Imperial Palace West opened in 2017 as a community-based luxury hotel with only eight rooms, with a single mission: bringing the beauty of Japan to the world. Beyond simply finding a place to sleep for the night, the hotel wants guests to experience something special and to provide an unforgettable experience. By partnering with local tourism associations, the Junei Hotel hopes to accurately convey the traditions and singular culture of the city of Kyoto. 

In March 2020, a second location opened. The Junei Hotel Kyoto is surrounded by bamboo, and in fact, the theme of the hotel itself is bamboo and the moon. Each of the guest rooms is decorated with traditional and local bamboo crafts, and every detail is pulled from the natural beauty of Higashiyama, Kyoto. 

The restaurant attached to the hotel, Futago, is the perfect place for adults to unwind and recharge. The kappo-style course menu features Kyoto vegetables and seasonal ingredients, blending the delicious with the nutritious. Chefs will cook each dish using a variety of methods, and guests will be amazed by how the flavor of the meat changes from course to course. The menu changes each month, so be sure to come back throughout the year!

Guests can also rent out Arashiyama Yusaitei, a gorgeous building deep in the forests of Kyoto perfect for wedding receptions, photoshoots, tea ceremonies, and more. The rooftop garden offers a stunning view of Kiyomizu-dera and is also perfect for moon viewing. Those wanting to get even closer to nature can enjoy a boat ride down the Hozucho river, and for those craving desserts, a Japanese sweets-making class is also available!

Who would you take with you on a private stay at the Junei Hotel Kyoto? 

2021 Halloween Sweets Collection Coming Soon to Cerulean Tower Tokyu Hotel

The pastry shop at Cerulean Tower Tokyu Hotel will start selling an absolutely gorgeous selection of Halloween sweets starting October 1, 2021. 

Purple Sweet Potato Mont-Blanc (S, pictured left and right): ¥630 (Tax Included) / (M, pictured center): ¥2,700 (Tax Included)

Chatnoir: ¥745 (Tax Included) 

Pumpkin Pudding: ¥626 (Tax Included) 





The sweets included in this year's lineup are meant to bring some joy to those who have struggled during the past year of lockdown, and those who might not be able to attend their favorite seasonal events this year. In this lineup of three beautifully decorated treats, guests can bring the spirit of Halloween home. Which of these would you want to add some spooky flair to your kitchen?

Luxury Inn ICHIJO with only Six Rooms Opens In Kami, Hyogo Prefecture

Accommodation and restaurant company Saika opened ICHIJO, a luxury inn with six rooms, on September 22 2021.

Restaurant Monomi Yuyama

ICHIJO Jigokumushi

ICHIJO Jigokumushi Matsuba Crab

Guest Room 'Miyabi (elegant)'

Guest Room 'Soso (graceful)'

Private Bath 'SANKEI (mountain view)'

Private Bath 'KAI (sea)'

Open Lounge 'ISARIBI'

Meditation Room 'MU'

Smoothie & Soup Shop 'mellow'

A buffet is available offering wonderfully fresh and seasonal seafood, Tajima beef, Yaka pork, and a selection of local vegetables. Saika have made the most of the inn's location in a town known for its fish, offering a delicious all-you-can-eat menu. In addition, local brand crabs such as Kasumi and Matsuba will be added to the butter throughout the autumn and winter seasons. You can also enjoy a bowl of Takikomi rice with seasonal soup stock, fresh sashimi, and even charcoal-grilled dried fish.

The ICHIJO Jigokumushi is a fascinating area where a large amount of steam can be seen rising from the ground. The area can be used as a lounge, workspace, and reading area outside of meal times. The hall is all-inclusive, meaning you can make the most of the variety of local sake, draft beer, soft drinks, and snacks at no additional charge. 

 

You can relax in the two private baths, which both boast water from the Kasumi hot springs. The 'KAI' bath has an infrared sauna installed, while the SANKEI features a mist sauna, allowing you to chill out while enjoying the fresh hot springs. 

The inn also provides a large communal bath with open air facilities through the Sadasuke sister inn, which is adjacent to ICHIJO.

If you're looking to heal both body and heart, why not try the meditation room?

Smoothie and soup shop 'mellow' will be opening at the same time as ICHIJO. Guests staying at the inn will be able to purchase food and drink from inside the store, while general customers can use the takeout window. The delicious fruit and vegetables used in the food were grown in the San'in region by Saika, who are experienced in agriculture production.

 

Relax your body and soul with the new ICHIJO inn!

Information

ICHIJO

Address: 636 Shimohama, Kami-ku, Kami-cho, Mikata, Hyogo, 669-6564

TEL: 0796-36-1010

Details & Reservations: https://ichi-jo.com/ 

Kyoto Brighton Hotel Offers New Morning Plan to Admire Autumn Leaves

The Kyoto Brighton Hotel is offering a special morning plan that will charter temples and shrines exclusively for hotel guests between November 17 and November 30 2021.

 

Hougon-in

Anrakuji

Kitano Tenmagu Shrine

        

Koudaiji

Shisendou

Taizouin

Touji

Even throughout Japan, Kyoto has one of the highest amounts of Autumn leaf viewing spots. This unique viewing plan allows guests to enjoy the vivid autumn leaves by charter, with special permission to visit each spot before it opens to the general public. With this plan, you can experience the wonders of Kyoto in Autumn while avoiding the crowds.

 

The "Morning Plan" proposed by the Kyoto Brighton Hote offers guests the chance to spend a peaceful time in the fresh, dignified early morning air while avoiding the crowds. This popular plan has been running for 20 years.

Not only is the viewing private, but you will also learn more about the area with guidance from the priests and staff. 

After returning to the hotel, you will be treated to a special "Kyoto Breakfast" which uses local ingredients arranged in both Japanese and Western styles. This breakfast will taste even better following the cleansing of body and mind in the crisp early morning air.

 

Why not take part in this purifying "Morning Activity" and immerse yourself amongst the Autumn leaves?

Information

Autumn Leaves Special Morning Activity Plan

Location: Kyoto Brighton Hotel

Duration: November 17 ~ November 30 2021

Official Site: https://kyoto.brightonhotels.co.jp/ 

Yokohama Bay Sheraton Hotel & Towers Offers Halloween Menu to Enjoy in Lounge and at Home

Yokohama Bay Sheraton Hotel & Towers have announced a Halloween themed menu using seasonal Autumn ingredients. The 'Sweets Parade~ Halloween~' buffet will be held on the second floor of the Seawind lounge on Thursdays and Fridays between October 7 and October 29. In addition, a Halloween version of the popular take-out 'Home de Afternoon Tea' will be available in their basement floor pastry shop Dorer for a limited time between October 1 and October 31.

Lounge 'Sea Window' Sweets Parade ~Halloween~

'Purple Potato Mont Blanc' with Okinawan purple potatoes.

'Shiro-An Yokan' with skulls (front) Mousse Chocolate Marron (back right)

Caramel Coffee (left) / Matcha Anmitsu (right)

'Orange and Strawberry Jelly' with vivid graduation coloring (center)

Pumpkin Tart (front) / Eyeball 'Vanilla Cassis'

Pastry Shop Dorer 'Home de Afternoon Tea ~Halloween~'


Smoked Salmon Salad

Chestnut Rice with Pumpkin


Pumpkin Soup

Assorted Fruits

Five variations of Ronnefeldt Tea / Alain Milliat Strawberry Jam

Lounge 'Sea Window' is back with another charming 'Sweets Parade ~Halloween~'  sweets menu. The menu boasts a lineup of photogenic Halloween sweets, including a glossy 'Purple Potato Mont Blanc' made using Okinawan purple potatoes, a peering eyeball 'Vanilla Cassis,' a pumpkin and almond cream 'Pumpkin Tart,' and a jack-o-lantern themed gradient 'Orange and Strawberry Jelly.' 

There is also a selection of luxurious light meals, each featuring seasonal ingredients, that will offer you a taste of the hotel, including  the pumpkin-filled 'Chestnut Rice' and 'Pumpkin Soup', and the 'Chestnut Danish.'

For the first time, pastry shop Dorer will be offering a 'Home de Afternoon Tea ~Halloween~' experience, allowing customers to enjoy Halloween sweets from the comfort of their own home. The cute box is filled with a variety of fun sweets and savory snacks such as a 'Purple Potato Mont Blanc,' 'Monster Macarons,' a skull-covered 'Fig Tart' and 'Shining Grape Petit Cream Puffs.' The afternoon tea set makes the perfect gift to any loved ones!

You can visit the lounge and experience a luxurious time at the adult-aimed sweets buffet, gazing through the atrium during the long Autumn evenings, or you can enjoy the colorful afternoon tea set from the comfort of your own living room! 

 

Why not experience a special Halloween in your preferred setting?

Hotel Gracery Taipei in Taiwan Offers the Japan Experience with New HANDS CONCEPT ROOM

Hotel Gracery Taipei, which can be found inside Taiwan's TOKYU HANDS Tailung, have opened the new 'HANDS CONCEPT ROOM' which offers the experience of visiting Japan without having to get on a plane.

'Take a Vacation to HANDS' Room

'Go Camping at HANDS' Room

Coupon

TOKYU HANDS Tailung have created two new concept rooms, the 'Take a Vacation to HANDS' room and the 'Go Camping at HANDS' room. While it is difficult to visit Japan at the moment, these rooms provide an authentic Japanese experience which allows guests to experience the culture and feel the charms of Japan.

 

The 'Take a Vacation to HANDS' room is based on Mount Fuji, Japanese railways, and vending machines, which are popular even in Taiwan. Popular tourist spots are also recreated using famous characters. 

The 'Go Camping at HANDS' room is inspired by glamping, which has become popular in Taiwan, using outdoor equipment to create a fun, indoor camping experience.

 

 

The guest-limited service also offers guests two 10% coupons, one that can be used while shopping at TOKYU HANDS Tailung and one that can be used for accommodation. During the campaign period, guests who spend over 5,000 Yuan at TOKYU HANDS Tailung will be entered into a lottery to win a one-night stay in the new themed rooms.

 

 Try Japanese-inspired indoor camping with the new 'HANDS CONCEPT ROOM!'

 

Information

Hotel Gracery Taipei 'HANDS CONCEPT ROOM'

Address: No. 89 Section 2, Zhongxiao East Road, Zhongzheng District, Taipei City, Taiwan

Official Site: https://gracery.com/taipei/ 

Hotel New Otani Announces Second PAUL & JOE Collaboration

Hotel New Otani Tokyo has collaborated with PAUL & JOE for the second time to offer a new accomodation plan, which will be available for one-night stays between December 1 2021 and January 4 2022.  The rooms will not be available between December 31 and January 2.

This collaboration room will allow you to surround yourself in the world of PAUL & JOE, a Parisian brand PAUL & JOE that is extremely popular with young women in their 20s and 30s. The initial collaboration was so popular that within just 10 days, all of the available dates within three months were sold out. This Christmas edition will only be available for one month, so be sure to book while you can.

The pink and ivory room features the brand's icon; Designer Sophie's beloved cats, Nunet and Gypsy. The decorations also feature Crisantemo flower motifs.

Not only is the wallpaper covered in PAUL & JOE motifs, but even the smaller pieces such as cushions, curling irons, and brushes are themed too. In addition, to celebrate the festive season, the room will include a special Christmas tree, allowing you to enjoy a special Christmas with somebody special, sharing a view of Tokyo Tower.

The second round of cosmetics is focused on the 2021 CHRISTMAS COLLECTION. The 'Lipstick Treatment' features adorable cats wearing Santa hats, while the 'Lipstick Limited' comes in a luxurious Christmas red – and also features cats in hats! Plus, the new 'Wrapping Hand Cream' will wrap your hands in a fresh moisturising texture. In addition, the best-selling 'Moisturizing Foundation Primer,' which was renewed on September 1, and the P&J skincare selection (oil, lotion, cleansing), each must-haves for the upcoming dry season, have been miniaturized into take-home samples in a limited edition pouch, especially for hotel customers.

Alongside the limited cosmetic samples, there will be matching pajamas and slippers available for purchase and take home, with a that will take you even deeper into the PAUL & JOE world. While these cat-and-floral print PJs are perfect for a girls-only gathering, a men's line has also been released due to popular demand, ideal for spending a romantic Christmas in matching pajamas.

 

 

Why not spend a wonderful Christmas in this PAUL & JOE room?

Information

PAUL & JOE Room ~Christmas~

Reservation Dates:

Friday & Saturday Rooms: September 14 2021~

Weekday & Sunday Rooms: Late October 2021

Room Duration: December 1 2021 ~ January 4 2022

※Unavailable between Dec. 31 and Jan. 21

Location: Hotel New Otani Tokyo

Reservations: https://www.newotani.co.jp/tokyo/stay/plan/paul-joeroom/  *Reservations can only be made online