Reviewing Harajuku's Newest Bubble Tea Shop CHA NUNG
Hello, everyone! MMN editor Midori here.
The battleground for bubble tea victory in Harajuku continues as new shops open one after the other. I paid a visit to the latest bubble tea shop to open in Harajuku. It's called CHA NUNG and is based in Taiwan with branches in America, Singapore and elsewhere too.
Located in the Omotesando part of Harajuku, this is the first CHA NUNG to open in Japan!
This is how the outside looks. The neon signs are super cute!
The inside walls and columns have tiles on them which gives the shop a refreshing atmosphere. Having such a simple design means guys and adults can enter without embarrassment too since a lot of bubble tea shops in Harajuku have designs catered toward young girls.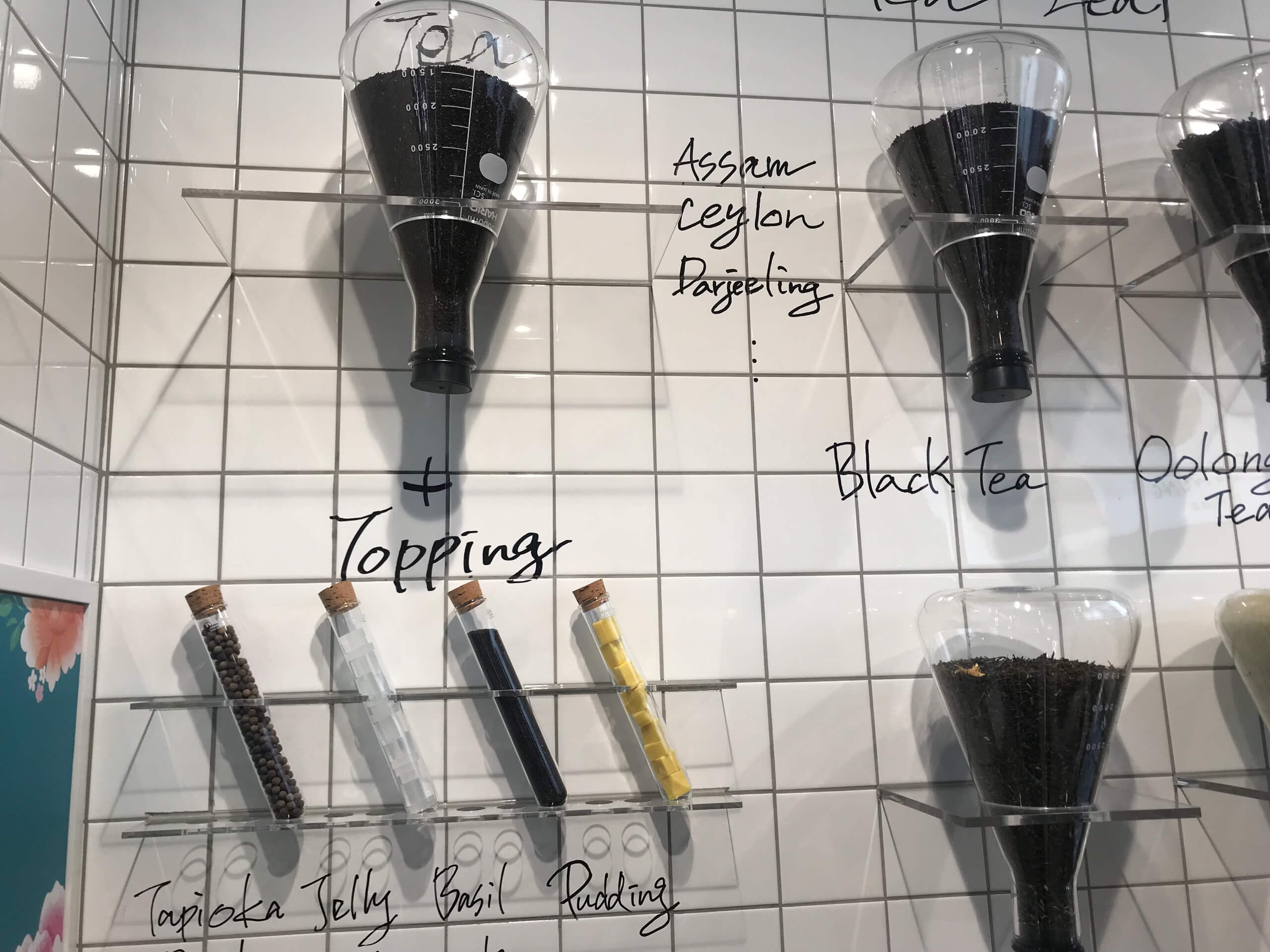 The decor and designs may be simple but there are plenty of Instagrammable opportunities!
The handy menu shows you the steps on how to order your drink. You can choose the sweetness of your drink, how much ice you want in there, and more. You can even have no sweetness in there at all, meaning they cater to everyone from those who don't think sweet things to the biggest sweet-tooths out there!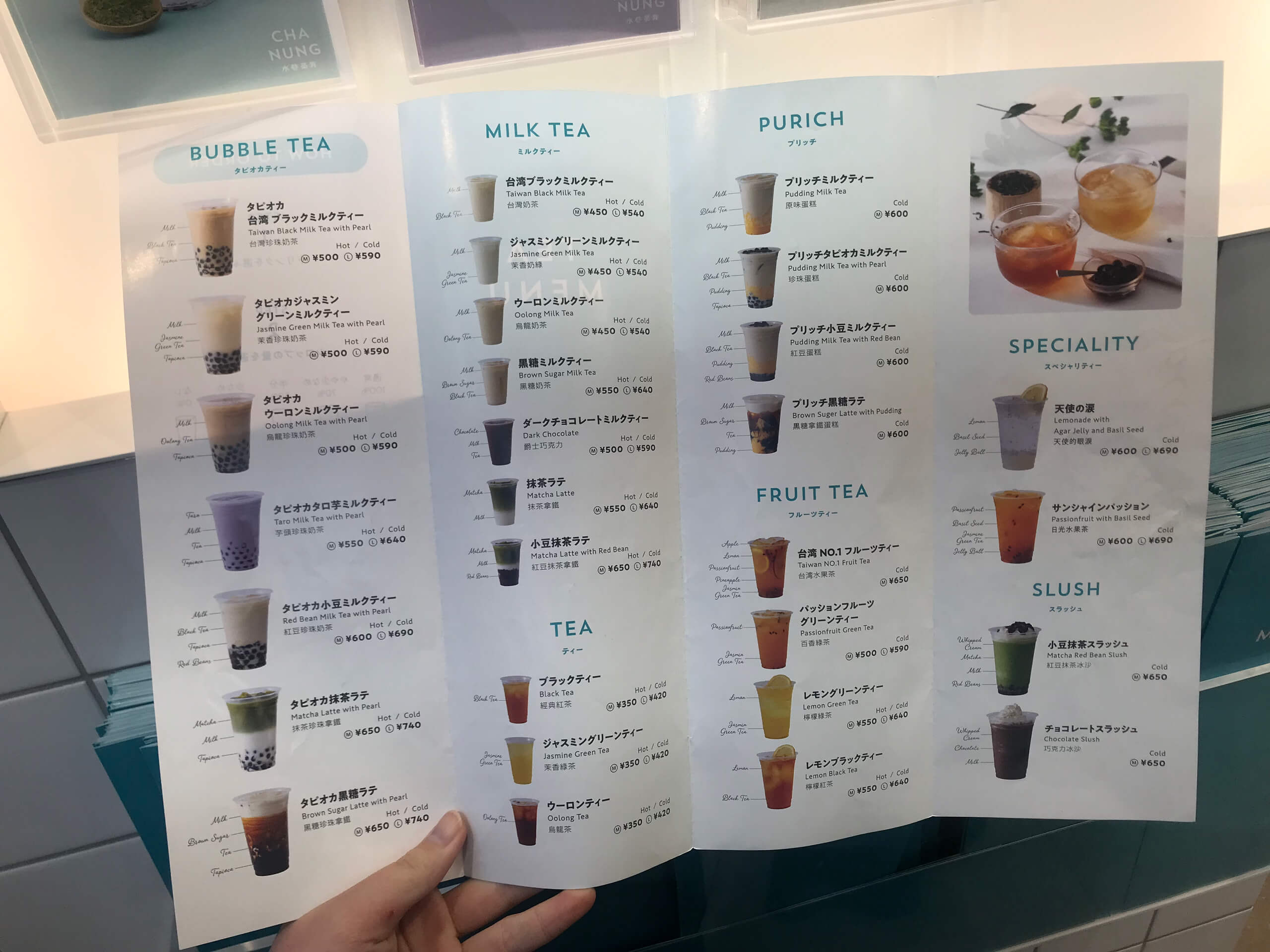 The menu is pretty big! Not only do they serve the standard milk tea but fruit teas too, something which I saw a lot of people ordering.
I went for the classic Taiwan Tapioca Black Milk Tea!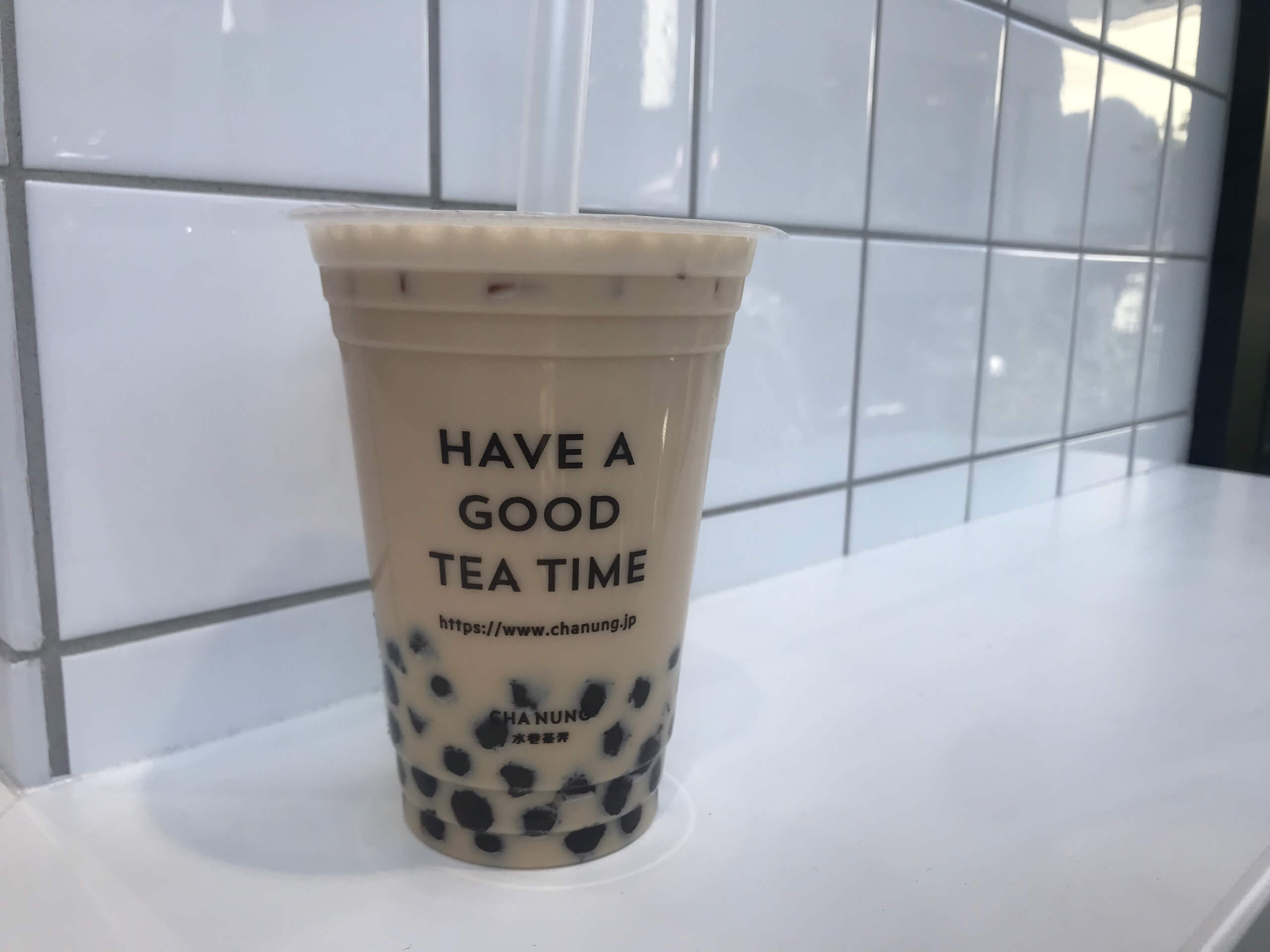 The first thing that struck me when I held my beverage in my hand was the amount of tapioca pearls inside! You could say they filled up about 1/3 of the cup.
At other shops you can pay extra to have more tapioca pearls in your drink, but this is more cost efficient as you get pretty much the same amount as that here anyway.
Let's taste!
It has a strong milky flavour but the taste of the tea really comes through. The tapioca pearls are about the same size as usual but are a soft "chewy" type. The ice is quite thin so by the time you've finished all the ice has already melted away. In any case, you get a lot of tapioca pearls so it's a very satisfying drink.
If you're feeling peckish or just love bubble tea then I recommend paying a visit to CHA NUNG!
Information
CHA NUNG Omotesando
Address: 3-20-10 Jingumae, Shibuya, Tokyo
Business Hours: 11:00‐20:00
No Fixed Holidays.
TEL: 03‐5413‐7766
Website: https://www.chanung.jp/
RECOMMENDED ENTRIES
7 Must-Visit Bubble Tea Shops in Harajuku

Hello, everybody! It's Midori from MMN's editorial team.

Harajuku is a bubble tea battleground! A new bubble tea shop opens every month, and all of them enjoy huge lines of customers. I've tried most of the bubble tea in Harajuku, and so I've compiled the perfect list for those of you who don't want to take a gamble and choose the wrong place, or those of you not planning to do a bubble tea crawl to taste test.

Gong cha – The standard bubble tea shop


Gong cha has multiple stores here and there, but the one in Harajuku is extremely busy on weekends, so much so that it wouldn't be an exaggeration to say that it's the one people line up for the most.

In spite of the many subtle customisations you can have with your drink, whether it's the ice and sweetness levels  or the toppings, the staff here are extremely skilled in what they do. This might explain the long lines of people.

You can't go wrong with this place, so I recommend it to newcomers of bubble tea.

■Information
Gong cha Harajuku Omotesando
Address: Harajuku Bell Pier 1F, 6-6-2 Jingumae, Shibuya, Tokyo
TEL: 03-6427-7543
Access: 3-minutes on foot from Exit 7 of Tokyo Metro Meiji-Jingumae Station
Seats: None
Business Hours:
[Mon-Thur] 11:00-21:30
[Fri] 11:00-22:00
[Wknds & Hols] 10:00-22:00

THE ALLEY – Where they have chic cups!

Chic cup server THE ALLEY is close to Gong cha. Its location can be difficult for people to explain, and yet this place too is bustling on weekends!

In addition to the standard bubble tea options, this shop also sells unique drinks, like its "Bonsai Tapioca." Personally, I prefer ordering this drink "mild hot" rather than the normal cool or hot. I've burnt myself drinking hot tapioca through a straw before, so mild hot is great for me.

The tapioca balls are relatively small so I think those people who've never had tapioca before will find it delicious. I recommend it on a chilly day!

Review: Trying the New Cheese Tea at The Alley in Omotesando

■Information The Alley

Address: 6-6-6 Jingumae, Shibuya, Tokyo

Opening Hours: 10:00-22:00

No Fixed Holidays.

TEL: 03-6712-5185

Website: 

http://www.the-alley.jp/

KOI Thé – For those of you who want to try something a little different


KOI Thé serves golden tapioca balls instead of black!

The shop has a simple interior design and enjoys more male and adult and adult customers compared to other places. When compared to Gong cha and THE ALLEY it may seem as if not many people line up for this one, but their flavours are great, and the small golden tapioca balls can be sipped smoothly.

I recommend going to KOI Thé if you're a little embarrassed about going into an overly 'kawaii' looking shop or if you don't want to line up for long.

Visiting Harajuku's Newest Tapioca Drink Store KOI Thé

■Information KOI Thé

Address: 4-27-1 Jingumae, Shibuya, Tokyo

Opening Hours: 10:00-21:00

No Fixed Holidays.

TEL: 03-6434-5753

Website: 

https://koithe.jp/

NONARA PEARL – Their pink kitty is so cute!


NONARA PEARL is located on the second floor of Laforet Harajuku. As of now this is the only branch, so if you're looking to try Harajuku-exclusive bubble tea then look no further. Since it's located indoors, you don't have to worry about the heat, cold or rain when lining up. It's nice to have a leisurely chat with friends when lining up.


The shop also has this big piece of wall art which is perfect for an Instagram steal. In any case, I recommend visiting if you want to drink some Harajuku-style cute bubble tea.

■Information
NONARA PEARL
Address: Laforet Harajuku 2F, 1-11-6 Jingumae, Shibuya, Tokyo
TEL: 03-6432-9627
Access:
1-minute (54m) on foot from Exit 5 of Meiji-Jingumae Station via the Tokyo Metro Chiyoda Line
4-minutes (310m) on foot from the Omotesando Exit of Harajuku Station via the JR Yamanote Line
9-minutes (700m) on foot from Exit A1 of Omotesando Station via the Tokyo Metro Ginza Line

FORTUNER tea box – A little-known good place where you can drink cheese tea!


FORTUNER tea box sells cheese tea topped with cheese foam that's like a bubbly cheese cake. Though their beverages are rich and delicious the shop is a little far from the station. But that means you don't have to line up to get your drink.

Their bubble tea is addictive, so I recommend it to anyone who has already tried regular bubble tea and those who don't want to stand in line.

Drink Tea in Style With FORTUNER tea-box's Cheese Tea Tapioca in Harajuku

The building it's in also has a shop that sells really cute bottled drinks. Check it out via the link below.

Anyone Can Become an Instagrammer With Drinks Sold at Harajuku's Popular 'cafe no.'

■Information FORTUNE tea-box

Address: 3-27-15 Jingumae, Shibuya, TokyoOpening Hours: 11:30am-11:00pm (No Fixed Holidays)

TEL: 03-5755-5708

Website: http://fortuner.co.jp/index.html

Si an ju – Seahorse tapioca!


Si an ju opened just recently, you'll know it by their seahorse logo!

Their brown sugar tapioca has a coral-like design as pictured above. The tapioca here is chewy and very filling. It's also conveniently close to Harajuku Station.

Their large-grained tapioca are freshly-made and you don't have to line up as much as Gong cha or THE ALLEY. I recommend this shop to those who want to try out the newest tapioca in Harajuku.

Food Review: Seahorse Bubble Tea at Sin an ju in Front of Harajuku Station

■Information Sin an ju

Address: 1-19-14 Jingumae, Shibuya, TokyoTEL: 03-5843-0229

Official Website: https://sin-an-ju.

Chakasho – Famous flavours on Takeshita Street


The last entry to this list is Chakasho which also just opened recently!

It being along Takeshita Street means you can also get some shopping in too. Their drinks may be less "Instagrammable" than other shops, but their tapioca are chewy and large-grained, and the drinks are rich but easy to drink, delicious, and very satisfying.

If you've made the effort to go to Harajuku and want some extraordinarily tasty tapioca then I recommend Chakasho. They have lots of staff working there so the lines move quickly.

Harajuku's New Bubble Tea Shop Chakasho―Review

Many shops are crowded on the weekends, some where you can be waiting over half an hour! But all of the drinks sold at these shops are tasty so you'll soon come to realise why the lines are so long. Since you've made the effort to visit Harajuku, why not try lining up at one of them?

The shops are very busy at noon on weekends so I recommend heading to a shop around opening time to avoid that.

I hope this article is helpful to both those making their bubble tea debut as well as local bubble tea masters!

Visiting Harajuku's Newest Tapioca Drink Store KOI Thé

Japan is going through an unprecedented tapioca boom right now, and Harajuku is no exception, with tapioca stores opening left, right and centre. With so many to choose from no matter which you go to on a weekend there will be a huge line. I visited KOI Thé, a new shop that just opened on November 25.

It's located right near the MOSHI MOSHI BOX Tourist Information Center where you'll find us.

Head through Takeshita Street from Harajuku Station and go down the path between New Balance and Murasaki Sports.

Follow straight down and you'll find KOI Thé on your left. Look for the big tapioca drink outside – you can't miss it!

It's quite spacious instead and has simple decor rather than being stylish. Guys can line up without worry too.

This is how the menu looks. You can adjust how much ice and sugar you want in your drink.

I went with the classic tapioca milk tea!

The tapioca balls here aren't black but in fact golden. The reason they are gold is because they don't use food colouring.

Tapioca that is transparent like this is cute too. The balls are comparatively smaller and are chewy and taste delicious!

I ordered the drink with the normal amount of sweetness and it tastes even more refreshing than at other stores. It's a simple tapioca drink made for adults.

If you're a little embarrassed at lining up at a tapioca shop then I recommend getting it from one for grown-ups in Omotesando!

Information

KOI Thé
Address: 4-27-1 Jingumae, Shibuya, Tokyo
Opening Hours: 10:00-21:00
No Fixed Holidays.
TEL: 03-6434-5753
Website: https://koithe.jp/

Food Review: Seahorse Bubble Tea at Sin an ju in Front of Harajuku Station

Hey, everyone. Midori here again from the MMN Editorial Team.

The bubble tea boom in Japan is still rife. Harajuku in particular has become a war zone with new bubble tea shops opening all the time. Si an ju is one of them and it has become popular for its delicious drink selection so I went to try it out myself!

Si an ju is located just in front of Harajuku Station. Bubble tea shops in Harajuku tend to open along Cat Street or in Ura-Harajuku. Surprisingly there was even one in front of the station so it's safe to say bubble tea life is making progress.

To get there, exit from Harajuku Station's Takeshita Exit, cross at the traffic lights. Turn left and you'll be able to see the outdoor shop sign.

Also beyond that is Cafe Yolum, a South Korean cafe.

Related Article: Cafe Yolum: The Popular & Pretty Pink South Korean Cafe in Harajuku

At the storefront is a huge and airy bubble tea monument. Now I'm getting excited!

There are several tables inside for customers to sit down, relax and enjoy their beverages, but not many.

The menu is fairly big and they even have options without tapioca balls. The Blue Lagoon drink sounds interesting, it has a mysterious colour.

On my visit thought I ordered the shop's recommended Brown Sugar Bubble Milk.

The sauce in the cup is a brown sugar sauce which together with the decorative seahorse makes it look like a coral reef. Very beautiful!

The sauce is collected at the bottom and sinking around the sides so be sure to give the drink a good mix before drinking. Compared to other bubble teas the tapioca look pretty big. They might be almost as big as the thickness of the straw.

Time to drink!

It's pretty sweet-tasting. It's sweet even for me who orders their bubble tea with the maximum sugar option. But it's not an overpowering sweetness – the brown sugar has a refreshing sweet flavour. The tapioca balls are large and so are filling

The brown sugar sauce will fall and mix into the drink as you sip so it's best to take a photo right away.

I visited the shop at the same time as they opened so I was able to buy my drink without waiting, but if you go on the weekend in the afternoon the lines can get pretty long, so it might be an idea to go earlier.

A lot of bubble tea shops open at 11:00am but Sin an ju opens at 10:00am so I recommend going there if you're in Harajuku early in the morning when no others are open!

I also highly recommend it for people who like chewy tapioca balls. Be sure to pay them a visit.

Information

Sin an ju

Address: 1-19-14 Jingumae, Shibuya, Tokyo

TEL: 03-5843-0229

Official Website: https://sin-an-ju.com/
RELATED ENTRIES
CoCo Fresh Tea & Juice Releases Valentine's Day Chocolate CoCo Dinosaur Beverages

Tastea Trustea Japan released two new beverages on Friday (February 5) for Valentine's Day at CoCo Fresh Tea & Juice in Japan: the CoCo Dinosaur and Tapioca CoCo Dinosaur.

CoCo Dinosaur ¥520 / Tapioca CoCo Dinosaur ¥580

The two teach beverages are made with a rich chocolate sauce and fresh milk. They are topped with chocolate and brown sugar syrup for a sweet combination of flavours and textures. An enjoyable beverage that is both refreshing and Instagram-worthy for Valentine's Day.

Information

CoCo Fresh Tea & Juice
Serving: February 5, 2021 – End of February 2021
Where: All 12 branches of CoCo Fresh Tea & Juice in Japan
CoCo Fresh Tea & Juice Japan Official Website: https://cocofreshtokyo.amebaownd.com/

My Melody and Kuromi Bubble Tea to be Served at Pearl Lady in Japan

Bubble tea chain Pearl Lady, which is celebrating its 17th anniversary this year, is teaming up with Sanrio for the second time to release two new drinks themed on the popular characters My Melody and Kuromi on October 16, 2020. My Melody and Kuromi are also celebrating their 45th and 15th anniversaries respectively.

Black Lemonade | Strawberry Milk Tea (w/ Novelty) – ¥500 Each (Tax Included)

The two beverages are Sweet Strawberry Milk Tea, which is inspired by the cute My Melody, and Black Lemonade, which is based on her rival Kuromi.

When ordering either of the drinks at Pearl Lady, customers will also get one of 6 possible badges as pictured above. One of the designs is a secret, so you'll need some luck if you want that one.

Sweet Potato Milk Bubble Tea Pours Into Chun Shui Tang For Autumn

Chun Shui Tang, a chain of Taiwanese bubble tea stores, is adding a new limited-time drink to the menus of all branches in Japan on September 16: the "Tapioca Sweet Potato Milk Tea."

Tapioca Sweet Potato Milk Tea | ¥650 (Before Tax)

The beverage is made with annouimo sweet potatoes grown on the island of Tanegashima in Kagoshima Prefecture. The potatoes are known for their high sugar content, adding a delicious natural sweetness to the tea. It's blended with a high grade sugar syrup and topped off with whipped cream and sweet potato chips to create a dessert drink.

Those who order the drink via the Smatapi (スマタピ) app from September 9 can get the drink early before its general release on September 16.

In Japan for the autumn season? Enjoy the tasty autumn flavour of sweet potato with the Tapioca Sweet Potato Milk Tea.

Information

Tapioca Sweet Potato Milk Tea

Release Date: September 16, 2020

*Mobile pre-sales available from September 9 to those who order using the Smatapi (スマタピ) app

Available: All Chun Shui Tang shops in Japan

Chun Shui Tang Japan Official Website: https://www.chunshuitang.jp/

Houjicha Milk Tea and Genmaicha Milk Tea Made With Japanese Tea Leaves Serving at Gong cha

Gong cha's limited-time "Houjicha Milk Tea" and "Genmaicha Milk Tea" beverages are popular each year, and they returned once again on June 17.

Japanese Tea

Gong cha's menu item "Japanese Tea" was released in 2018 exclusively for Japan, and is enjoyed every year during its annual limited-time run. Made using tea leaves from Japan, its authentic taste and aroma has people begging for more when the year's run is up.

2 Flavours This Year

Houjicha Milk Tea (Regular Size: ¥470) / Recommended Topping: Milk Foam (+¥70) | Serving: From June 17, 2020 for a limited time

The Houjicha Milk Tea is the iconic drink of Gong cha's "Japanese Tea" series. It's a blend the best high quality houjicha and kukicha tea leaves, both of which are grown in Shizuoka Prefecture. Roasting and using them together gives a sweet and deeply rich aroma. Add milk foam as a topping and you've got yourself a rich milk tea.

Genmaicha Milk Tea (Regular Size: ¥470) / Recommended Tapioca (+¥70) | Serving: From June 17, 2020 for a limited time

The Genmaicha Milk Tea is an original blend of Japanese genmai rice and tea leaves from Shizuoka Prefecture. This milk tea keeps the original delicious flavour of the tea and wafts a fragrant rice aroma.

Matcha Bubble Tea and Japanese-Style Milano Sandwich to be Released at Doutor Coffee Shop

Doutor Coffee Shop is getting with the Japanese spring vibes with the unveiling of its new Uji Matcha Milk Bubble Tea and Milano C Smoked Chicken & Soft Boiled Egg which will hit branches of the cafe up and down Japan on March 19, 2020.

Tapioca ~Uji Matcha Milk~ / From ¥417 (Before Tax)〜

This tasty bubble tea is made with slightly bitter Uji matcha and subtly sweet milk and is finished with a serving of chewy tapioca pearls.

Milano C Smoked Chicken & Soft Boiled Egg ~Miso Ginger Sauce~ / From ¥382 (Before Tax)〜

This Japanese-style Milano sandwich is made with chicken that has been smoked with cherry blossom chips, a soft-boiled egg, and red onions. It's drizzled with a miso ginger sauce which gives a sweet and spicy flavour to the sandwich.

Spring is right around the corner in Japan, so be sure to enjoy all the seasonal goodies that are to come!

Information

Tapioca ~Uji Matcha Milk~

Milano C Smoked Chicken & Soft Boiled Egg ~Miso Ginger Sauce~

Release Date: March 19, 2020

Official Website: https://www.doutor.co.jp/

Artist FUKI Collaborates with LINE MUSIC to Make Romantic Bubble Tea at Tai Parfait Cafe

LINE MUSIC-Bu is LINE MUSIC's research team that studies popular music trends among teen girls. LINE MUSIC-Bu teamed up with love song-writer FUKI, who is releasing one love per month for 12 months, in order to produce a new bubble tea drink and tapioca dessert especially for couples. The drink and dessert is being sold at Tai Parfait Cafe, Yokohama World Porters. FUKI will also perform at a free live gig at Yokohama World Porters on December 25, which is the last day of collaboration drink and tapioca dessert sales. 

The collaboration pair-tapi contains two different drinks in a twin split cup. One side of the cup is filled with cafe au lait and the other with a strawberry-flavoured drink. Both sides are stuffed with yummy tapioca pearls and are topped with a mountain of cream. This cute drink sees the perfect opportunity to get closer to your partner. 

The second collaboration treat is the Tai Parfait Tapi which is stuffed with strawberries and tapioca pearls. The adorable tai fish is made from sweet dough – and it has cute eyelashes too. The fish's enormously wide mouth can be seen chomping down on the delicious dessert. 

Enjoy a romantic bubble tea and make sure to check out FUKI's love song LOVE and CRY, which is based on a true story. The song is currently available on a number of digital music services. 

Teen girls full of love problems find FUKI'S songs highly relatable. As Yokohama World Porters will be lit up for Christmas, you just can't miss FUKI's performance on December 25.

Information

LOVE and CRY / FUKI

Digital Release: November 11, 2019

Link: https://jvcmusic.lnk.to/loveandcry

Tai Parfait Cafe

Selling Until: December 25, 2020

Location: Tai Parfait Cafe, Yokohama World Porters (Floor 5) 

Address:  2 Chome-2-1 Shinko, Naka Ward, Yokohama, Kanagawa 

Opening Hours: 11:00 ー 22:00

Christmas Free Live Gig

Event Name: FANTASTIC CHRISTMAS

Dates: November 8 ー December 25

FUKI's Performance Date: December 25

Times: 14:00 ー 14:30 and 16:00 ー 16:30 (Stage 2)

Location:Yokohama World Porters Kishamichi Promenade, 2nd Floor Stage 

Price: Free

Tokyo's Newest Bubble Tea Shop PEARL LADY CHA BAR Opens at Tokyo Station

Bubble tea chain PEARL LADY opened a new tea and tapioca beverage cafe called PEARL LADY CHA BAR at GRANSTA Marunouchi in Tokyo Station on October 17.

This year marks the 10th anniversary of CHA BAR, a Japanese tapioca drink chain that serves different types of tea from around the world. The chewy tapioca pearls added to the drinks are made in the company's own factory and delivered fresh everyday to stores.

They boast a large drink line-up for tea-lovers, such as their specially-made rich milk tea latte, rock salt cream cheese made with mascarpone, seasonal fruit beverages, and more. The menu offers new and original ways of enjoying tea.

If you're passing through Tokyo Station during your travels to the capital, be sure to pick up a drink from PEARL LADY CHA BAR.

Information

PEARL LADY CHA BAR GRANSTA Marunouchi

Address: JR East Tokyo Station Floor B1F (Outside Ticket Gates), 1-9-1 Marunouchi, Chiyoda Ward, Tokyo

Opening Hours: 10:00-22:00

Access: 1-minute on foot from the Marunouchi F central ticket gates at Tokyo Station

Official Website: http://www.pearllady.jp/chabar/

New Bubble Tea Shop Opens in Ochanomizu to Heal Fatigue and Improve Skin

Sugar Factory is the mastermind behind four trendy brands in Japan including the colourful candy floss shop TOTTI CANDY FACTORY, which is famous for its giant Harajuku rainbow cotton candy, and candy coated strawberry shop Strawberry Fetish. On September 26, they will be opening a bubble tea shop in Ochanomizu called Wu-Cha which is committed to serving only the best quality.

Wu-Cha uses large tapioca pearls sourced from Taiwan. From start to finish, the process of making these fresh tapioca pearls involves four hours of careful procedures. They are boiled and steamed carefully according to a strict schedule to create a springy texture. As the pearls are soaked evenly in syrup, each pearl is packed with deliciousness that will explode in your mouth with every bite. 

Okinawa Brown Sugar Milk Tea: ¥470

Matcha Milk Tea: ¥550

Extensive research went into creating recipes to use these tapioca pearls. Raw ingredients such as Okinawa brown sugar and Kyoto Uji matcha have been carefully sourced from their places of origin to maximize the flavours. A generous amount of all these special ingredients have been used to develop these delicious and authentic milk teas. 

Strawberry Milk: ¥550

Mango Yoghurt: ¥ 550

The Strawberry Milk and Mango Yoghurt are made with fresh fruit pieces and look just as refreshing as they taste.  

Beautiful Skin Tea: ¥450

Fatigue Recovery Tea: ¥450

There is a large variety of drinks to enjoy with a range of healing effects. Alongside the bubble tea series and the fruity tea series, there is also a herb tea series. 

Whether you are tired, unwell or just in need of a quick sugar boost, this bubble tea shop is the fairy godmother to all your problems. Every drink is packed with love and you absolutely must try it. 

Information

Wu-Cha (伍茶)
Address: 3-20-4, Ogawa-machi, Kanda, Chiyoda, Tokyo

Opening Hours: 11:00-21:00

No regular holidays

Warm Up With a Cup Of Hot Tapioca at Mister Donut

The beautiful warmth of summer is slowly fading away, ready to let in the cool autumn weather and subsequent winter. What better way to warm yourself up than with a nice hot cosy drink? Mister Donut is lovingly pouring two new seasonal hot tapioca drinks this autumn from September 20, including the Hot Milk Tea and the Hot Matcha Milk.

Mister Donut's "Hot Tapioca" beverages first hit back in the spring where they tantalised the taste buds of customers, with each sip becoming more delicious and addictive after the next. The Hot Milk Tea is a mix of royal milk tea made with uva tea leaves and tapioca while the Hot Matcha Milk combines matcha-flavoured tapioca with milk.


It seems that even after these hot drinks have been released, Mister Donut's regular Tapioca Milk Tea and Tapioca Matcha Milk beverages are still enjoying big sales. It's always nice to have a choice to order what you like depending on your mood.

Tapioca Hot Milk Tea: ¥496 (Tax Included)

Indulge in this black tea filled with chewy tapioca and steeped in rich uva tea leaves to create a full-bodied royal milk tea.

Tapioca Hot Matcha Milk: ¥496 (Tax Included)

For something a little more Japanese-tasting, enjoy a cup of hot milk mixed with tapioca matcha.

These drinks will be sold until mid-February 2020, so if you're in need of warming up this autumn and winter in Japan, head to Mister Donut.

Information

Hot Tapioca Drinks: Hot Milk Tea/Hot Matcha Milk

Running: September 20, 2019 – Mid February 2020 (Release dates may differ from branch to branch)

Mister Donut Japan Official Website: https://www.misterdonut.jp

Delicious and Instagrammable: 7 Bubble Tea Drinks Unique to Sapporo, Hokkaido

Bubble tea is a national sensation in Japan. Until now, MOSHI MOSHI NIPPON has been introducing quite a lot of bubble tea shops in Harajuku, however today, we are going to introduce you to some special bubble teas that you can only get in Sapporo, Hokkaido.

When it comes to cafés, desserts and drinks in Sapporo, you can always count on Instagrammer Kei to pick out the most unique and cute places.  Check out his Instagram (@607keih) which is home to a precious collection of mouthwatering and delicious pictures.

And with that let's get started:

Club China/Tanukikoji 

Almond Jelly Coconut Milk and Bubble Tea ¥600 (strawberry sauce topping: +¥50)

(Chinese almond jelly is sometimes made with apricot kernels.)


Club China is a Chinese restaurant where you can enjoy authentic Chinese food in a classy atmosphere. This rare bubble tea is the perfect way to discover authentic Chinese flavours. You can change the sweetness of your drink by adding gomme syrup, brown sugar sauce or strawberry sauce.

▶︎ Club China (クラブチャイナ)

Address: SYOKUSAN 35 Building 3rd Floor

3-chōme-5 Minami 3 Jōnishi, Chūō-ku, Sapporo, Hokkaido

Opening Hours

・Lunch: 11:00 ー 15:00(Last orders: 14:30)

・Tea 14:30 ー 17:00

・Dinner: 17:00 ー 22:00(Last orders: 21:00)

Closed: Wednesdays (Open on national holidays)

Website: http://www.clubchina.jp/index.html

Oukacha (Located inside Izakaya Chorotto)/Higashi Ward

Strawberry Milk Cream: ¥580

There is a famous Izakaya (Japanese-style pub) in the Higashi-ku area. However, during the daytime, it is sometimes taken over by a bubble tea shop called Oukacha. The drink to look out for is their homemade brown sugar syrup bubble tea, which you can order with topping of whipped cream. This is the way to treat anyone with a sweet tooth! 

▶︎ Oukacha (Located inside Izakaya Chorotto 桜華茶)

Address: 7-1-24, Kita 15 Johigashi, Higashi Ward, Sapporo, Hokkaido

As the opening and closing days/times are irregular, please check them on the shop's official Instagram or Twitter. 

o.cha.bar/Tanukikoji

Ritz Cream Cheese Churros: ¥550, Okinawa Brown Sugar Bubble Milk: ¥650

MESSE Building is a mall full of interesting restaurants including a Bikkuri Donkey. Head to the 5th floor to discover a Taiwanese and Korean restaurant called o.cha.bar. This is where you will come across the Okinawa Bubble Milk. This is a bubble tea which is topped with a generous serving of cream made using salt sourced from Okinawa. The tapioca is imported directly from Taiwan and has a very springy texture. Maximise your experience by dipping the churros in the cream cheese. 

▶︎ o.cha.bar(オチャバー)

Address: N.MESSE Building 5th floor, Minami 3-jo Nishi 3, Chuo-ku, Sapporo-shi, Hokkaido 

Opening Hours: 11:30 ー 21:00

Closed: No regular holidays 

Official Twitter: https://twitter.com/ochabar1

cafe & kitchen unique/Higashi Ward

Strawberry Milk: ¥480 , Matcha: ¥480, Served in a bottle: +¥80

cafe&kitchen unique is famous for their delicious fluffy pancakes that are made in a deep pot and topped with beautiful toppings. However, their bubble teas which are sold in cute bottles are also something you do not want to miss. The Strawberry Milk contains fruity pieces which perfectly compliment the milk. The Matcha Milk has a gentle sweet flavour that adults would love.  

▶︎ cafe&kitchen unique (cafe&kitchen ユニック)

Address: 3 Chome-2-6 Kita 10 Johigashi, Higashi Ward, Sapporo, Hokkaido 

Opening Hours

Lunch : 11:00 ー 14:00

Coffee Time: 14:00 ー 17:00

Dinner: 17:00 ー 22:00

Closed: The 1st and 3rd Thursday of every month. 

Official Website: https://cafekitchen-unique.com/

MY TAPIOCA KOUTA/Higashi Ward

Brown Sugar Bubble Tea Latte 

Ramen restaurant Ore no Ramen Kouta also runs the bubble tea shop MY TAPIOCA KOUTA, where it is possible to order just a bubble tea. The brown sugar adds a strong accent to the flavour. The tapioca pearls are large and although this is filling drink, it is also cheap which makes it a good deal. The shop is open late into the night which is perfect for those late night cravings. 

▶︎ MY TAPIOCA KOUTA

Address: 4-5-26, Honcho 1 jo, Higashi Ward, Sapporo

Opening Hours: 11:00 ー 23:30

Official Twitter: https://twitter.com/tapiocamy

Milk san Asabu Branch/Asabu

Strawberry Milk: ¥650, Brown Sugar Milk: ¥570, Tapioca Topping: ¥70 (served in a bottle) 

Milk san serves delicious drinks made using milk which is specially produced by dairy farmers, contributing to the delicious Hokkaido goodness of the drink. The small tapioca pearls and the rich milky flavour are the perfect combination. The brown sugar flavour is only available at the Asabu branch, so we recommend you try it. As these drinks are served in cute bottles, you just have to post a picture on Instagram. 

▶︎ Milk san Asabu

みるくsan麻生店

Address: Karumu Asabu 1st floor, 5-2-8, Kita 39 Jonishi, Kita Ward, Sapporo 

Opening Hours: 10:00 ー 19:30

Official Website: https://www.milk-san.com/

Iced Biscuit Shop SHONPY/Susukino

Chocolate Mint Frappé: ¥690, Strawberry Milk Bubble Tea with a Tapioca Float: ¥690 

One by one, this shop makes iced biscuits that are original down to their shape. SHONPY also delivers countrywide. The Strawberry Milk Bubble Tea comes with a tapioca float that is too cute to consume. It is filled with fruit such as strawberries and bananas that are a perfect match with the tapioca. The Chocolate Mint Frappé comes in a very cute bottle. This shop opened in Harajuku too.

▶︎SHONPY

Address: SUSUKINO LAFILER 2nd floor, 4 Chome, Minami 4 Jonishi, Chuo Ward, Sapporo, Hokkaido 

Opening Hours: 10:00 ー 21:00

No fixed holidays

Official Website: http://shon-py.jp/

So, how about it? If you ever find yourself in Hokkaido, Kei's recommended Hokkaido-limited bubble teas are bound to make your trip special. 

Kei's Instagram is full of delicious desserts and mouthwatering meals. When in doubt of where to eat out, Kei's Instagram is bound to save your day so please check it out.

 

Photos & Text: Kei(@607keih)

4 Must-Try Kawaii Bubble Teas & Desserts in Kyoto

Japan is a haven for bubble tea and tapioca-based beverages. Here on MOSHI MOSHI NIPPON we have covered many shops selling these tasty drinks in Harajuku―the town which started the tapioca boom in Japan―but today we will be heading to the ancient city of Kyoto.

We are joined by Kyoto café life tiara who posts photos of the best drinks and desserts they have tried around the Kansai region of Japan. They have provided us with photos of two must-try bubble teas and two must-try desserts in Kyoto.

ROCCA & FRIENDS PAPIER KYOTO in Shijo

ROCCA & FRIENDS PAPIER KYOTO is just a 5-minute walk from Shijo Station. The cafe is made from a traditional townhouse along an old-fashioned Kyoto-esque street.

It takes a little while for your drink to arrive placing your order, but that's because each beverage is carefully handmade from fresh. I ordered the mango smoothie soda and the strawberry smooth soda. Both are fruity and super refreshing and full of chewy tapioca pearls.

▼ROCCA & FRIENDS PAPIER KYOTO

Address: 735-2 Shinkamanzacho, Shimogyo Ward, Kyoto, Kyoto Prefecture

Opening Hours: 10:00-18:00

Closed: Mondays

Official Instagram Page: https://www.instagram.com/rocca.papier/

&Hana in Shijo

&Hana is located at the back of Kyoto Daimaru. The cheese rose tapioca milk tea I bought is a cute pink colour. It's a mix of rose which is good for skin and relaxation, sweet brown sugar tapioca, and sour cheese.

Draped at the back of the cafe are bunches of dried flowers which provide an Instagrammable background for your drinks.

▼&hana

Address: 619 Nishiuoyacho, Shimogyo Ward, Kyoto, Kyoto Prefecture

Opening Hours: Weekdays 11:00-22:00 / Weekends & Holidays 10:00-22:0

No Fixed Holidays

Official Instagram Page: https://www.instagram.com/and_hana_/

KISSHOKARYO KYOTO in Gion

This honey and tea parfait is special because they only serve 20 of them a day. Tapioca pearls go well not just in drinks but in desserts like this one too♡

The fluffy shaved ice is a perfect match with the homemade Earl Grey tea syrup. The rest of the parfait is made up of milk tea flavoured jelly, tapioca pearls, tea ganache, and other delightful surprises.

I enjoyed mine with lots of syrup and roasted soybean flour!

▼KISSHOKARYO KYOTO Gion Honten

Address: 306 Ishibashicho, Higashiyama Ward, Kyoto

Opening Hours: 10:00-19:00 (Last Orders 18:30)

No Fixed Holidays

Official Website: https://kisshokaryo.jp/

MASHOLA in Kawaramachi

MASHOLA is a South Korean-style cafe which of course sells tapioca pearl drinks, but also this delicious capo egg brulee tart as well. As soon as you put the order in their fire up the tarts fresh along with hot tapioca pearls for a heavenly melt-in-the-mouth experience.

They also sell bottled strawberry milk packed full of fresh strawberries, and for an extra ¥80 you can top if off with tapioca.

▼MASHOLA

Address: 406 Sakuranocho, Nakagyo Ward, Kyoto, Kyoto Prefecture

Opening Hours: 11:00-20:00

No Fixed Holidays

Official Website:  https://mashola.business.site/

Did you enjoy this list? Kyoto café life tiara has lots of other tempting recommendations of drinks and desserts on their Instagram page too, so if you're looking for something to try while in the Kansai region of Japan be sure to give them a follow.

Text & Photos: @happy_pinkrose_tiara

Translation: Joshua Kitosi-Isanga

Bubble Tea Gourmets THE ALLEY to Open Flagship Store in Shibuya's Dogenzaka District

Tea enthusiasts THE ALLEY are opening a flagship store in Dogenzaka, Shibuya on September 14, 2019.

THE ALLEY's main customers are women and office workers. It's custom for people to go out for a cup of coffee with friends and coworkers, but THE ALLEY hopes to bring that same idea of "grabbing a coffee" to tea with their drinks line-up. Located at the top of Dogenzaka, the new branch aims to make tea even easier to enjoy while embedding a culture of tea.

Enjoy a drink between shopping or work in one of their 73 comfy seats spread across two floors, or grab a takeaway cup to sip.

"THE ALLEY x thermo mug" 300ml Tumbler – ¥3,500 (Before Tax) / "THE ALLEY x thermo mug" 300ml Stainless Steel Bottle – ¥3,500 (Before Tax)

The cafe has also teamed up with thermo mug to create a seriously stylish tumbler and stainless steel bottle. Both are limited in availability, and if you do decide to grab one, you can get a coupon for one free drink of your voice. They are perfect for using at home, out or at the office.

THE ALLEY is known for its three tea bases: Assam, Royal No. 9, and Jasmine. But the new Dogenzaka branch will have two extra exclusives. The first is White Peach Oolong which originally appeared as a limited-time flavour and in the cafe's milk foam series. It's now a regular at the new cafe. The other is Tieguanyin, a premium oolong tea, whose sales ended in May this year. Due to high demand, they are bringing it back to THE ALLEY Dogenzaka and plan to put it on the menu of other branches in the future.

The cafe has also incorporated paper straws to help combat the use of single-use plastic straws. This includes their thick straws used for tapioca bubble tea drinks and ordinary thin straws for their regular teas.

THE ALLEY Dogenzaka marks the cafe's move from a tea stand into a full-fledged tea shop. If you're in Shibuya, be sure to pay them a visit when they open on September 14.

Information

THE ALLEY Dogenzaka

Grand Opening: September 14, 2019

Address: 1-19-11 Dogenzaka, Shibuya, Tokyo

Business Hours: 10:00-22:30

Official Website: http://www.the-alley.jp/