Kyary Pamyu Pamyu will release her new single KIMIGA IINE KURETARA on May 10. The song is used as the main theme song for the Japanese TV drama Mukai no Bazuru Kazoku. The pop track's music embodies the feeling you get when you get a 'like' on social media. The song is a positive and supportive message to the lost kids in today's social media age.
Another modern pop icon enjoying huge popularity is American singer-songwriter and actress Sabrina Carpenter. She is known for starring as Maya Hart in the Disney Channel series Girl Meets World. Her professional music career began in 2015 with the release of her debut album Eyes Wide Open. The singer recently came to Japan to perform at Ex Theater Roppongi on April 4 in support of her 2018 album Singular Act: I. We were able to bring both these pop icons together for a chat.
---
――You were already a fan of Kyary, weren't you, Sabrina?
Sabrina Carpenter: Yes, I'm a fan! Her nails look really cute today!
Kyary Pamyu Pamyu: Oh, thank you!
――How did you come to know about Kyary?
Sabrina:So, my sister was in the car with her boyfriend. He's actually a big fan. He put on PONPONPON, and I was like, "Oh my gosh, this is amazing!" I got into it and I sent him this video of me singing the song from top to bottom. Ever since then I've been a huge fan, I did a deep dive and listened to everything.
――You previously posted PONPONPON as your favourite song on your Instagram story.
Sabrina:Yeah, that was the last time I was here. It's been just under a year.
Kyary :Wow. That makes me really happy to hear.
――The theme of today's talk is "A Chat With US & Japanese Pop Icons." You're both active internationally in your careers. What have your experiences been like performing abroad?
Sabrina: I guess for me, I think abroad there's obviously a language barrier for us, and so I think the most powerful thing is to see how powerful the music translates, the melodies, and the way songs make you feel. It has such an impact on the crowds, and you know, also seeing people crying even though we're speaking different languages. I think that's probably been the most moving aspect of performing abroad. The crowds have been bigger on this [Japan] tour, and there's been a lot of new music that they've been singing along to. There's also been a lot of things they bring to the show, like the flags and the posters and signs. I think they just bring so much energy to every show. [But] whenever I finish a song, it'd be so quiet you could hear a pin drop, and that was something I had to get used to because usually we're very loud in America. But this time they were pretty loud.
Kyary:I've had the chance to tour various countries like America and China. Even though I don't expect them to be able to speak Japanese, everybody remembers all the Japanese lyrics [in my songs]. Obviously it's not a language they use often so there are some mistakes here and there, but that's what makes it so sweet.
Sabrina:That's me! That's me singing your songs! [laughs].
――So with music you are able to bring people together regardless of language or country. What's the most important think when it comes expressing yourselves?
Kyary:What's important for me is challenging myself to doing the things that I want to do. I'm a solo artist, and so I get support from my staff members to everything to life, but I always treasure thinking up and expressing concepts with each new song. And to do that I regularly write down the things that interest me, like when watching a film. I go to watch various different things.
Sabrina:I'm very similar in the way that I don't like to do the same thing twice, or three times. I feel like it's not stretching me as a person or as an artist, and it's also not stretching the fans. I think they deserve to grow just as much as we do. They're along for this ride. Obviously they look for some sort of guidance, some sort of love they get from the artist they look up to. I think it's also important for me to take those risks and challenges to inspire them to take risks and challenges too.
――What's something that has inspired you both recently?
Kyary:If we're talking recently… Tim Burton's "Dumbo."
Sabrina:Dumbo! I loved that too!!
Kyary:I've seen the original animated version, but Tim Burton has taken all the great things about it and put his unique spin on it. It turned out really wonderful. The CG in the facial expressions is superb too. It was a really charming fantasy [movie]. It made me tear up.
Sabrina:Aww, that's so cute! [laughs] [For me] probably the places I've been travelling. I will find so much inspiration within different places, different cultures. The kind of art and photography I see in the places I'm in.
――Have you been inspired by anything in Japan?
Sabrina:Harajuku! I went for my first the day before yesterday. I've been to Tokyo many times but I've never had a day off so I never got to explore.
Kyary:Which part of Harajuku did you go to?
Sabrina:The vintage shops in Ura-Harajuku. We also went to teamLab, that whole art museum.
Kyary:The teamLab exhibitions are so good, I've been too!
Sabrina:It was so beautiful.
――You mentioned Harajuku. Kyary knowns Harajuku inside and out. She might be able to recommend you some places to visit.
Kyary:Sabrina is someone who would look good in any outfit, so I want to see you try dressing up in Lolita clothes [laughs]. I think you will look really cute.
Sabrina:Yeah, I would love to! I honestly was looking for a lot of like 'kawaii' [stuff].
Kyary:I recommend the basement floor of Laforet Harajuku, they have things like Lolita and punk fashion. That might be a good spot for you.
Sabrina:Yeah! I wanna get some. You'll have to style me.
――Both of you are close to your fans through social media. When talking about things that inspire you in daily life and let you discover new things, has social media been a big influence?
Sabrina:I think for me it has forced me to think a little bit more about what [fans] would want to see in my daily life. Which I feel like normally I wouldn't be living through my phone; I'd be living through my eyes. But because I'm close with them I think that that has made me want to kind of be more interactive with them, show them parts of my days.
――So in a sense, it feels like you're working together with your fans?
Sabrina:Yeah, it really does. If they weren't at the shows we couldn't do the shows. No one would come, there'd be no show!
――How about you, Kyary?
Kyary:When I perform abroad I can see who has been tagged on social media at the shows so I can see everyone's thoughts and comments. Being able to see things like that so directly makes it a great tool. It often cheers me up seeing people write things about me or when they send me messages, so [social media] is also a motivator to work hard.
Sabrina:Usually with social media the experiences that you have sometimes are more negative than they are positive. But it also depends on how you're looking at it. I shouldn't say that because there's many positive experiences. I think the most positive things that I've been able to see on social media are honestly just the fact that there are so many people in the world that we don't know, and the majority of people use it to say really kind things to one another and support each other.
――Kyary's new song KIMIGA IINE KURETARA is about social media. How did you feel when you received the song from [your producer] Yasutaka Nakata?
Kyary:The song is the main theme for the TV drama Mukai no Bazuru Kazoku, and so it's a song that's based around that, but honestly the first time I heard it I really felt that it was relevant to today. We really live in an age right now where social media penetrates out everyday lives, and for that reason it felt very 2019.
――I really like how the song features sounds that remind you of the action of 'liking' something [on social media].
Kyary:Yeah, it has a 'Pyu!' kind of sound.
Sabrina:That's funny.
――What did you focus on when recording?
Kyary:I focused on how I sang the first verse. The pitch in the first verse of this song is low. I have a high voice, so that part was a little tough.
Sabrina:That's funny. I sound like a man.
――No, no, that's not true [laughs].
Sabrina:I'm the opposite of Kyary. I always have a tough time with the higher parts [laughs].
――What's something you both really strive to work on in what you do?
Sabrina:I think honestly like you step out of your comfort zone. It's the same as how we have to try new things to feel inspired. When you're creating a show or you're creating visuals for an album―that's when you get to let you personality come through.  Because it's all live, you know. They're paying to see a live show so I think it's important that they see a live show.
Kyary:My concept has always been to take the things that girls dream of and bring them to life in the real world. When I'm coming up with a theme, I sometimes have moments where I'm stuck for a good idea. But I'm not alone, I know it will all come together in the end because of all the people I have around me.
――Your recent outdoor solo concert at Izumo-taishi as part of your 2019 Oto no Kuni Live Tour was full of ideas that were very like you.
Kyary:In my performances I value that feeling of bringing to life a dream-like world while at the same time not wanting it to end. Like when you go to an amusement park and think, "I don't wanna go home yet." I want people to have that same kind of feeling.
Sabrina:It's something not many people get to do so you have to have fun with it.
――What draws you both to pop music?
Sabrina:I personally think it is one of the most difficult genres of music to make, and make it properly. Because it is something that has to connect with such a large diverse group of people. We're not just like catering to one person or one type of fan. I think pop music is 'popular music,' so it's the thing that regardless of what you're supposed to like you end up liking it, and so I think that's why it's really hard but it's also very rewarding. I've just always been a fan of it overall. And like I said for me it doesn't matter what language it's in, it's more just like the way the song makes you feel, the melodies of the song, what the song's about. I think that makes good pop music.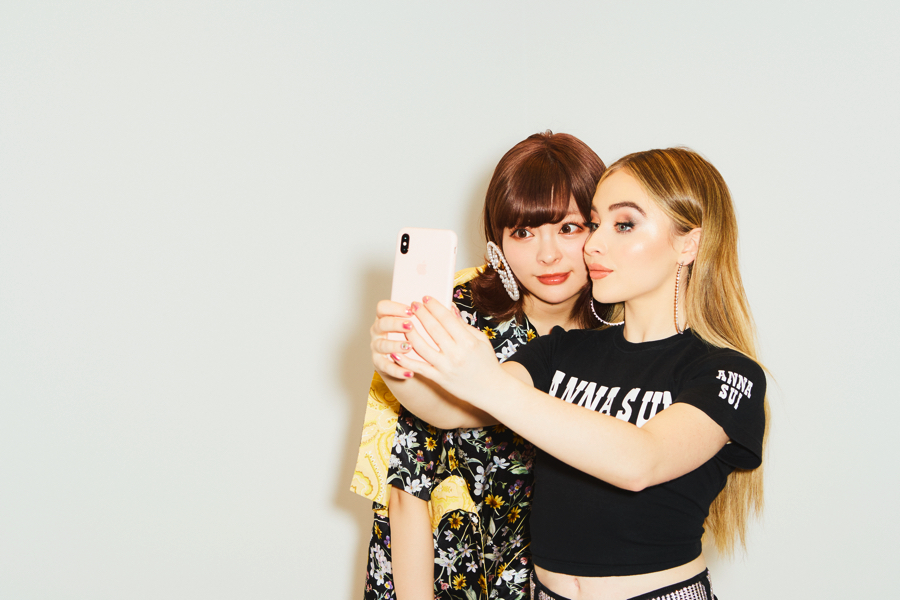 ――It's true that pop music can't be boiled down to a single definition. So could you say then that pop music can be anything?
Sabrina:It's 80,000 different genres [laughs].
Kyary: [Laughs]. In my case, people call my music pop music, but at the beginning it was more subcultural. It wasn't music that everybody liked. But more people came to hear about me around the time Tsukema Tsukeru [was released]. From there I was able to experience my music reaching out to various different people, which made me really feel that pop music doesn't have any rules.
Sabrina:It also just makes you feel good. There's a lot that makes us feel not great you know, in life, that I think it's one thing we all look to. I wanna come to [Kyary's] show.
Kyary:Please do! Where do you live in America?
Sabrina:I live in LA, but I'm originally from Pennsylvania.
Kyary:Ah, I'm performing at an event in LA [OTAQUEST LIVE] in July!
Sabrina:Amazing. I'll be there. We'll link up, I'll show you some cool spots. Shopping! Rodeo Drive.
Interview & Text: Jin Sugiyama
Photo:MURA
Translation: Joshua Kitosi-Isanga