Blind taste-winning Taiwanese Bubble Tea Jenjudan Opens In the Young and Trendy Shibuya
On June 14, popular Taiwanese bubble tea shop Jenjudan will open its first shop in Japan. The first shop will be located in the city that is known for capturing the hearts of Tokyo's young and trendy: Shibuya. More specifically, the shop will be located on the MAG 7 Food Floor (7th floor) of  MAGNET by SHIBUYA 109.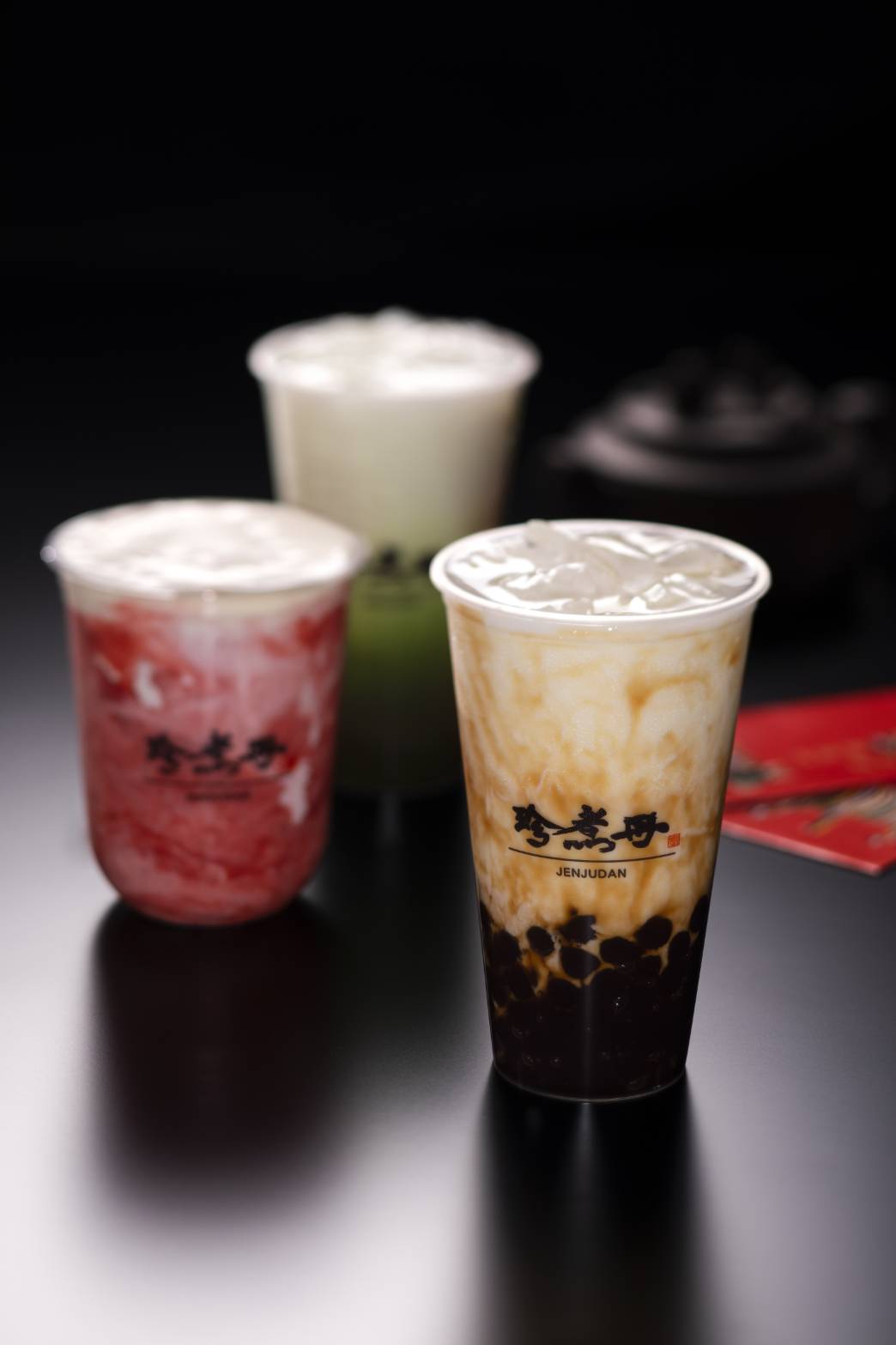 Jenjudan stands out for their skilled tea makers and carefully-selected ingredients that are used to make their high quality drinks. One of the main ingredients is 100% natural brown sugar, which is used to soak the tapioca pearls for full flavor. They also use rich Hokkaido milk. The best part is that all ingredients used here are natural and free from additives. Plenty of research went into harnessing the natural sweetness of the black sugar by determining the exact amount of time to soak the tapioca in the sugar syrup in order to extract its maximum flavour. Jenjudan managed to achieve flavourful tapioca where the flavour gradually spreads through your mouth when chewed. The softness and size of the tapioca were also carefully crafted after extensive research.
The first ever overseas branch has been set up in Singapore's famous tourist spot of Shilin Night Market. 
Jenjudan bubble tea was the winner in a blind tasting event conducted by Taiwanese lifestyle and current affairs popular smartphone app Mobile 01, so you absolutely must try it.
Photos: 宏勝商事株式会社
Information
Jenjudan Shibuya MAGNET109
Address: MAGNET by SHIBUYA109 7F (MAG7)
1 Chome-23-10 Jinnan, Shibuya City, Tokyo
Opening hours: 11:00 ー 23:00 (Closed Jan 1, closing days dependent on mall closing times)
TEL:03-6868-8477
Jenjudan Official Twitter: https://twitter.com/jx5p7ojqds0pk2y
RECOMMENDED ENTRIES
Reviewing Harajuku's Newest Bubble Tea Shop CHA NUNG

Hello, everyone! MMN editor Midori here.

The battleground for bubble tea victory in Harajuku continues as new shops open one after the other. I paid a visit to the latest bubble tea shop to open in Harajuku. It's called CHA NUNG and is based in Taiwan with branches in America, Singapore and elsewhere too.

Located in the Omotesando part of Harajuku, this is the first CHA NUNG to open in Japan!

This is how the outside looks. The neon signs are super cute!

The inside walls and columns have tiles on them which gives the shop a refreshing atmosphere. Having such a simple design means guys and adults can enter without embarrassment too since a lot of bubble tea shops in Harajuku have designs catered toward young girls.

The decor and designs may be simple but there are plenty of Instagrammable opportunities!

The handy menu shows you the steps on how to order your drink. You can choose the sweetness of your drink, how much ice you want in there, and more. You can even have no sweetness in there at all, meaning they cater to everyone from those who don't think sweet things to the biggest sweet-tooths out there!

The menu is pretty big! Not only do they serve the standard milk tea but fruit teas too, something which I saw a lot of people ordering.

I went for the classic Taiwan Tapioca Black Milk Tea!

The first thing that struck me when I held my beverage in my hand was the amount of tapioca pearls inside! You could say they filled up about 1/3 of the cup.

At other shops you can pay extra to have more tapioca pearls in your drink, but this is more cost efficient as you get pretty much the same amount as that here anyway.

Let's taste!

It has a strong milky flavour but the taste of the tea really comes through. The tapioca pearls are about the same size as usual but are a soft "chewy" type. The ice is quite thin so by the time you've finished all the ice has already melted away. In any case, you get a lot of tapioca pearls so it's a very satisfying drink.

If you're feeling peckish or just love bubble tea then I recommend paying a visit to CHA NUNG!

Information

CHA NUNG Omotesando
Address: 3-20-10 Jingumae, Shibuya, Tokyo
Business Hours: 11:00‐20:00
No Fixed Holidays.

TEL: 03‐5413‐7766

Website: https://www.chanung.jp/

7 Must-Visit Bubble Tea Shops in Harajuku

Hello, everybody! It's Midori from MMN's editorial team.

Harajuku is a bubble tea battleground! A new bubble tea shop opens every month, and all of them enjoy huge lines of customers. I've tried most of the bubble tea in Harajuku, and so I've compiled the perfect list for those of you who don't want to take a gamble and choose the wrong place, or those of you not planning to do a bubble tea crawl to taste test.

Gong cha – The standard bubble tea shop


Gong cha has multiple stores here and there, but the one in Harajuku is extremely busy on weekends, so much so that it wouldn't be an exaggeration to say that it's the one people line up for the most.

In spite of the many subtle customisations you can have with your drink, whether it's the ice and sweetness levels  or the toppings, the staff here are extremely skilled in what they do. This might explain the long lines of people.

You can't go wrong with this place, so I recommend it to newcomers of bubble tea.

■Information
Gong cha Harajuku Omotesando
Address: Harajuku Bell Pier 1F, 6-6-2 Jingumae, Shibuya, Tokyo
TEL: 03-6427-7543
Access: 3-minutes on foot from Exit 7 of Tokyo Metro Meiji-Jingumae Station
Seats: None
Business Hours:
[Mon-Thur] 11:00-21:30
[Fri] 11:00-22:00
[Wknds & Hols] 10:00-22:00

THE ALLEY – Where they have chic cups!

Chic cup server THE ALLEY is close to Gong cha. Its location can be difficult for people to explain, and yet this place too is bustling on weekends!

In addition to the standard bubble tea options, this shop also sells unique drinks, like its "Bonsai Tapioca." Personally, I prefer ordering this drink "mild hot" rather than the normal cool or hot. I've burnt myself drinking hot tapioca through a straw before, so mild hot is great for me.

The tapioca balls are relatively small so I think those people who've never had tapioca before will find it delicious. I recommend it on a chilly day!

Review: Trying the New Cheese Tea at The Alley in Omotesando

■Information The Alley

Address: 6-6-6 Jingumae, Shibuya, Tokyo

Opening Hours: 10:00-22:00

No Fixed Holidays.

TEL: 03-6712-5185

Website: 

http://www.the-alley.jp/

KOI Thé – For those of you who want to try something a little different


KOI Thé serves golden tapioca balls instead of black!

The shop has a simple interior design and enjoys more male and adult and adult customers compared to other places. When compared to Gong cha and THE ALLEY it may seem as if not many people line up for this one, but their flavours are great, and the small golden tapioca balls can be sipped smoothly.

I recommend going to KOI Thé if you're a little embarrassed about going into an overly 'kawaii' looking shop or if you don't want to line up for long.

Visiting Harajuku's Newest Tapioca Drink Store KOI Thé

■Information KOI Thé

Address: 4-27-1 Jingumae, Shibuya, Tokyo

Opening Hours: 10:00-21:00

No Fixed Holidays.

TEL: 03-6434-5753

Website: 

https://koithe.jp/

NONARA PEARL – Their pink kitty is so cute!


NONARA PEARL is located on the second floor of Laforet Harajuku. As of now this is the only branch, so if you're looking to try Harajuku-exclusive bubble tea then look no further. Since it's located indoors, you don't have to worry about the heat, cold or rain when lining up. It's nice to have a leisurely chat with friends when lining up.


The shop also has this big piece of wall art which is perfect for an Instagram steal. In any case, I recommend visiting if you want to drink some Harajuku-style cute bubble tea.

■Information
NONARA PEARL
Address: Laforet Harajuku 2F, 1-11-6 Jingumae, Shibuya, Tokyo
TEL: 03-6432-9627
Access:
1-minute (54m) on foot from Exit 5 of Meiji-Jingumae Station via the Tokyo Metro Chiyoda Line
4-minutes (310m) on foot from the Omotesando Exit of Harajuku Station via the JR Yamanote Line
9-minutes (700m) on foot from Exit A1 of Omotesando Station via the Tokyo Metro Ginza Line

FORTUNER tea box – A little-known good place where you can drink cheese tea!


FORTUNER tea box sells cheese tea topped with cheese foam that's like a bubbly cheese cake. Though their beverages are rich and delicious the shop is a little far from the station. But that means you don't have to line up to get your drink.

Their bubble tea is addictive, so I recommend it to anyone who has already tried regular bubble tea and those who don't want to stand in line.

Drink Tea in Style With FORTUNER tea-box's Cheese Tea Tapioca in Harajuku

The building it's in also has a shop that sells really cute bottled drinks. Check it out via the link below.

Anyone Can Become an Instagrammer With Drinks Sold at Harajuku's Popular 'cafe no.'

■Information FORTUNE tea-box

Address: 3-27-15 Jingumae, Shibuya, TokyoOpening Hours: 11:30am-11:00pm (No Fixed Holidays)

TEL: 03-5755-5708

Website: http://fortuner.co.jp/index.html

Si an ju – Seahorse tapioca!


Si an ju opened just recently, you'll know it by their seahorse logo!

Their brown sugar tapioca has a coral-like design as pictured above. The tapioca here is chewy and very filling. It's also conveniently close to Harajuku Station.

Their large-grained tapioca are freshly-made and you don't have to line up as much as Gong cha or THE ALLEY. I recommend this shop to those who want to try out the newest tapioca in Harajuku.

Food Review: Seahorse Bubble Tea at Sin an ju in Front of Harajuku Station

■Information Sin an ju

Address: 1-19-14 Jingumae, Shibuya, TokyoTEL: 03-5843-0229

Official Website: https://sin-an-ju.

Chakasho – Famous flavours on Takeshita Street


The last entry to this list is Chakasho which also just opened recently!

It being along Takeshita Street means you can also get some shopping in too. Their drinks may be less "Instagrammable" than other shops, but their tapioca are chewy and large-grained, and the drinks are rich but easy to drink, delicious, and very satisfying.

If you've made the effort to go to Harajuku and want some extraordinarily tasty tapioca then I recommend Chakasho. They have lots of staff working there so the lines move quickly.

Harajuku's New Bubble Tea Shop Chakasho―Review

Many shops are crowded on the weekends, some where you can be waiting over half an hour! But all of the drinks sold at these shops are tasty so you'll soon come to realise why the lines are so long. Since you've made the effort to visit Harajuku, why not try lining up at one of them?

The shops are very busy at noon on weekends so I recommend heading to a shop around opening time to avoid that.

I hope this article is helpful to both those making their bubble tea debut as well as local bubble tea masters!

Asakusa Bubble Tea Shop BOBA365 Reveals New Matcha Latte & Dorayaki

BOBA365, a bubble tea shop which just opened in Asakusa in November last year, has announced it is releasing a new drink and dessert on March 1, 2019.

Yaki Brûlée Matcha Latte – Regular Size ¥700 (Tax Included)

The new Yaki Brûlée Matcha Latte is an upgrade of BOBA365's most popular beverage, the Tapioca Matcha Latte Kiwami. It's a combination of bitter matcha from Shizuoka Prefecture and milk. It has just the right amount of sweetness to create an even deeper flavour than the store's original matcha latte. Matcha is said to be good for health and beauty, and so to make it even more delicious, BOBA365 has burnt the top of the drink like a crème brûlée. There are five layers of flavour to indulge in with just one sip.

Thick Dorayaki Matcha Kiwami: ¥480 (Tax Included)

The original Tapioca Matcha Latte Kiwami has also be turned into a delicious dorayaki dessert packed with a generous serving of cream laced with matcha from Shizuoka Prefecture.

BOBA365 has announced it will release more new items in the near future, but for now enjoy the Yaki Brûlée Matcha Latte and Thick Dorayaki Matcha Kiwami.

Information

BOBA365

Address: 2-5-9 Asakusa, Taito Ward, Tokyo

Business Hours: 11:00-21:00

No Fixed Holidays.

Access: 3-minutes on foot from Asakusa Station via TSUKUBA EXPRESS / 10-minutes on foot from Asakusa Station via all other lines

BOBA365 Official Website: https://peraichi.com/landing_pages/view/boba365

Pearl Lady Bubble Tea Collaborates With Sanrio Character Cast

To celebrate their 15th anniversary, Japanese bubble tea shop Pearl Lady is now collaborating with six characters Sanrio characters including Hello Kitty and Pompompurin.

Participating Stores (Above Drinks): Shinjuku Higashi-guchi / Ikebukuro / Harajuku / Shibuya / Machiya / Machida / Omiya / Nagoya Natsuta / Kokura / Nago / Haebar

Pearl Lady is credited as the creator of 'dessert bubble tea' drinks. Their menu has many options from classic milk tea to whipped cream tea, ice cream tea and more.

For this collaboration customers can enjoy drinks inspired by Hello Kitty, My Melody, and Pochacco.

Participating Stores (Above Drinks): SHINJUKU TOHO BLDG / Shinjuku PePe / Akabane / Kamata / Kasai / Shimokitazawa / Kichijoji / Musashi Murayama / Kawagoe / Yokohama Vivre / Kamiooka / Chiba / Funabashi / Nikke Colton Plaza / Shizuoka / Osaka Tsurumi / Kashihara / Kobe South

Sweets Pearl Lady is a sister brand of the shop and offers a rich menu with amazing ingredients. They also have a huge variety of tapioca options in four varieties of their milk teas. They will collaborate with Cinnamoroll, Pompompurin and Tuxedosam.

All six of these drinks come with a seal tag that can be used as a sticker. You can also get your hands on one of twelve possible pin badges.

Strawberry Latte Bubble Tea Arrives at Newly-Opened TP TEA in Ikebukuro

Tea shop TP TEA will open its third branch inside Ikebukuro's Tobu Department Store on March 20, 2019. The brand is opened by Chun Shui Tang, a Taiwanese bubble tea company.

Connected directly to Ikebukuro Station, its convenient access means plenty of people can enjoy the store's all-new Tapioca Strawberry Latte and Tapioca Strawberry Soft Serve Ice Cream. And to celebrate the new branch, the first 200 people to arrive on on each day between March 20-22 will receive a cherry blossom themed TP TEA original drink holder.

The Tapioca Strawberry Latte is a blend of carefully selected Jasmine tea and strawberry, milk foam, and chewy tapioca balls. The new ice cream too combines sweet strawberry and milk and bitter Jasmine tea for a mix of sweet and sour. It too is served with a generous amount of delicious tapioca balls.

TP TEA will sell over 50 drinks made with high quality teas and tapioca, such as their classic Tapioca Milk Tea, the Japan-only Tapioca Matcha Latte, and many more.

If you love tapioca then be sure to pay TP TEA a visit.

Information

TP TEA Ikebukuro Tobu Department Store

Address: Ikebukuro Tobu Department Store Floor B1F, 1-1-25 Nishi-Ikebukuro, Toshima Ward, Tokyo

Grand Opening: March 20, 2019

Business Hours: 10:00-21:00 (until 20:00 on Sundays and National Holidays)

Official Website: https://jp.tp-tea.com/

Food Review: Seahorse Bubble Tea at Sin an ju in Front of Harajuku Station

Hey, everyone. Midori here again from the MMN Editorial Team.

The bubble tea boom in Japan is still rife. Harajuku in particular has become a war zone with new bubble tea shops opening all the time. Si an ju is one of them and it has become popular for its delicious drink selection so I went to try it out myself!

Si an ju is located just in front of Harajuku Station. Bubble tea shops in Harajuku tend to open along Cat Street or in Ura-Harajuku. Surprisingly there was even one in front of the station so it's safe to say bubble tea life is making progress.

To get there, exit from Harajuku Station's Takeshita Exit, cross at the traffic lights. Turn left and you'll be able to see the outdoor shop sign.

Also beyond that is Cafe Yolum, a South Korean cafe.

Related Article: Cafe Yolum: The Popular & Pretty Pink South Korean Cafe in Harajuku

At the storefront is a huge and airy bubble tea monument. Now I'm getting excited!

There are several tables inside for customers to sit down, relax and enjoy their beverages, but not many.

The menu is fairly big and they even have options without tapioca balls. The Blue Lagoon drink sounds interesting, it has a mysterious colour.

On my visit thought I ordered the shop's recommended Brown Sugar Bubble Milk.

The sauce in the cup is a brown sugar sauce which together with the decorative seahorse makes it look like a coral reef. Very beautiful!

The sauce is collected at the bottom and sinking around the sides so be sure to give the drink a good mix before drinking. Compared to other bubble teas the tapioca look pretty big. They might be almost as big as the thickness of the straw.

Time to drink!

It's pretty sweet-tasting. It's sweet even for me who orders their bubble tea with the maximum sugar option. But it's not an overpowering sweetness – the brown sugar has a refreshing sweet flavour. The tapioca balls are large and so are filling

The brown sugar sauce will fall and mix into the drink as you sip so it's best to take a photo right away.

I visited the shop at the same time as they opened so I was able to buy my drink without waiting, but if you go on the weekend in the afternoon the lines can get pretty long, so it might be an idea to go earlier.

A lot of bubble tea shops open at 11:00am but Sin an ju opens at 10:00am so I recommend going there if you're in Harajuku early in the morning when no others are open!

I also highly recommend it for people who like chewy tapioca balls. Be sure to pay them a visit.

Information

Sin an ju

Address: 1-19-14 Jingumae, Shibuya, Tokyo

TEL: 03-5843-0229

Official Website: https://sin-an-ju.com/
RELATED ENTRIES
Disney Princesses Help You to Answer the Question 'What is Love?' at This Tokyo Event

As part of Disney's Ultimate Princess Celebration, a worldwide festival themed on courage and kindness that began in April, an event titled "What is Love? ~The Secret to Shining Bright Lies in the Princess World~" will take place at Shibuya Marui in Tokyo from June 23 to July 29 this year. It will subsequently move to JR Nagoya Takashimaya from August 4 to 23 and finally conclude next year in Shizuoka where it will run from January to March.

This event tries to answer the question "What is Love?" through a range of content that encourages the use of all five senses: visually, digitally, musically, through scent, and more.

 

What is Love? ~The Secret to Shining Bright Lies in the Princess World~

Visitors are guided by 12 Disney princesses who will take them on a journey of their 'love' in six different areas.

 

A Look at the Event

1. Introduction: 12 Shining Princesses

At the event, you will meet the 12 princesses and learn their story, what their personality is like, and more.

2. Opening Theater: Discover the Secrets to Shining Bright

Attend the theatre and watch the stories of the princesses with your own eyes.

3. 7 Keywords Unravelled From Their Stories

Seven keywords that appear in the princesses' stories will be explored, each of which are tied back to love. This will include exhibits of scenes from the Disney animated movies, an AR experience using smartphones, and more.

From Beauty and the Beast

Using their smartphones, visitors can hold up their phones and utilise AR technology to see various scenes from Beauty and the Beast in an area inspired by the library that Beast bestowed upon Belle.

From Tangled

In Tangled, the King and Queen release lots of sky lanterns on Rapunzel's birthday each year in hopes that she will see them and return. Let your own lanterns fly like in the movie and witness a beautiful spectacle.

4. Music and Fragrance: Clad in Radiance Unseen to the Eye

A unique experience combining music and fragrances inspired by the princesses, who radiate from love, will let visitors feel closer to them.

5. Glowing Lines: Words That Make the World Shine

At the Closing Theater, words and lines said by the princesses will be displayed, offering another way of enjoying their world that radiates from love.

6. Prologue: Your Own Unique Story Begins

Pick up a range of merchandise featuring designs of the exhibition's main visual, the seven key words, and more.

 

Services and Content Offered by Disney at the Exhibition

Disney+

Disney+ is a streaming service that brings together all Disney, Pixar, Marvel, Star Wars, and National Geographic content in one place, as well as exclusives. Those at the exhibition can watch the content offered by Disney+ at the Opening Theater.

 

Disney DX App

The Disney DX is an app exclusive to Japan that comes as a set with Disney+. It offers the chance to see cut scenes from movies, behind-the-scenes content, and more. The exhibition utilises this app through AR experiences, so if downloaded, you're sure to have an even more fun time.

A curated list of Disney Princess music is played at the exhibition. If you head to the shop, you can pick up movie soundtracks and other albums. Disney even created a playlist themed on the princesses that's now available on music streaming services.

Information

What is Love? ~The Secret to Shining Bright Lies in the Princess World~

Japanese Event Title: WHAT IS LOVE? ~輝くヒミツは、プリンセスの世界に。~

Running: June 23, 2021 – July 29, 2021

Where: Shibuya Marui (Floors 7F & 8F) *Reception is on floor 7F

Address: Shibuya Marui, 1-22-6 Jinnan, Shibuya-ku, Tokyo

Opening Hours: 11:00-20:00

Official Website: https://PrincessExhibition.jp

*Exhibition will subsequently move to JR Nagoya Takashimaya (August 4, 2021 – August 23, 2021) and Shizuoka (January 2022 – March 2022)w

Blue Lock Manga Series Announces Exhibition in Shibuya to Promote 14th Volume

In promotion of the 14th volume of Muneyuki Kaneshiro's manga series Blue Lock, an exhibition will take place at SpaceHACHIKAI inside Tower Records Shibuya in Tokyo from May 15 to June 6.

Buy merch and receive these items free

Character illustrated cards


Vinyl-style panels

This will be Blue Lock's first-ever exhibition since it began serialisation in 2018. It will feature displays of manga drafts, uncoloured illustrations, and more. There will also be a special spot for taking photos. A collection of exclusive merchandise will be available for fans to buy, as well as free bonus items when a purchase it made.

© 金城宗幸・ノ村優介/講談社

Peter Luger Steak House Opens First Japanese Branch at Ebisu Garden Place

Hailing originally from Brooklyn, the 130-year-old Peter Luger Steak House has announced the opening of its first-ever Japanese branch which will welcome customers at Ebisu Garden Place in Tokyo this September with its 3-storeys of red brick.

Peter Luger is credited with spreading the mouth-watering wonder of dry-aged beef steak to the world which has made the restaurant's name globally famous. The restaurant of course wields a Michelin Star and has been featured high on the Zagat Survey for over 30 years.

The secret behind Peter Luger's signature ingredient

The restaurant's beef fillet and New York strip are signature items on the menu, both of which are made from porterhouse steak. Their steak is also made from USDA Prime beef which is dry-aged by hand to intensify the flavour and aroma.

The porterhouse is placed directly onto the broiler and seasoned solely with salt. The steak is flipped only once during the broiling process. A knob of melted butter is added to a serving platter and the steak is sliced atop it. It's then placed back into the broiler for a few minutes depending on the doneness requested by the customer. It's this process that gives Peter Luger's steaks their deliciousness. 

 

Brooklyn red brick building and theatre decor

The Japanese branch takes inspiration from the Brooklyn restaurant with its red brick exterior.

The first floor is home to the bar where customers can enjoy food and cocktails. There's also a takeout shop with gifts and other items.

The second floor is the spacious dining space which is home to Peter Ruger's first-ever open kitchen. The third floor is another seating area with balcony-like seats so you can look out over the city.

There are seven private dining rooms of varying sizes for those looking a little more intimacy and privacy. The restaurant's lighting was also designed by a New York designer.

Information

Peter Luger Steak House Tokyo

Grand Opening: September 9, 2021

Address: 4-19-19 Ebisu, Shibuya, Tokyo

Bookings: From August 2021

Peter Luger Steak House Japan Official Website: https://peterluger.co.jp/

Coji-Coji's Jiro Becomes Legendary Japanese Mermaid Amabie at Harajuku Event

Nippon Animation began holding the Amabie Jiro Fair at KIDDYLAND Harajuku's Maruko & Coji-Coji Store on April 29, selling merchandise of the character Jiro from Momoko Sakura's manga series Coji-Coji.

Pre-sale merchandise

Free hand towel


Jiro has turned into Amabie once again this year, a legendary Japanese mermaid who is said to emerges from the sea and prophesise either an abundant harvest or an epidemic. People are instructed people to make copies of its likeness to defend against illness.

Fans who spend over ¥8,000 at the Maruko & Coji-Coji store will receive a free original hand towel as pictured above.

Enjoy a Healthy Junk Food Menu at Shibuya LOFT's New Cafe 2foods

Shibuya LOFT opened its new '2foods' cafe on April 15 which serves junk food healthily.

2foods uses absolutely no eggs or milk in their menu – everything is plant based and healthy, making it a haven for vegan foodies, especially in Japan where there aren't as many vegan places as other countries. What's better is that everything's reasonably priced too. There are around 60 menu items to choose from, like curry and soba as well as desserts, organic coffees and lattes, cold pressed juice, and more.

Artist's rendition of the cafe

Curry | ¥1,023 (Tax Included)

A hearty and spicy curry served with brown rice which is better for digestion.

Tantanmen Ramen | ¥968 (Tax Included) | Shibuya LOFT exclusive

A ramen soup with 100% gluten free rice flour noodles, soy milk, sesame seeds, peanuts, soy meat, and other healthy and natural ingredients.

Egg Doughnut Sandwich | ¥528 (Tax Included)

A vegan egg sandwich that doesn't use eggs but tastes just like them.

Gateau Chocolate | ¥528 (Tax Included)

A rich chocolate gateau made with brown rice powder and soy cream.

Information

2foods Shibuya LOFT

Opened: April 15, 2021

Address: Shibuya LOFT (Floor 2F), 21-1 Udagawacho, Shibuya, Tokyo
Opening Hours: 11:00-20:00 
TEL: 03-6416-4025 

Official Website: https://www.loft.co.jp/

Music-Eating Space Hamsters BLUE HAMHAM Get Pop-Up Store in Tokyo and Osaka

CHOCOLATE Inc. is set to open the BLUE HAMHAM POP UP STORE at Shibuya PARCO in Tokyo on May 14 May 28 and Shinsaibashi PARCO in Osaka on June 4  July 2. The pop-up shops are centred on Arimura Taishi's characters BLUE HAMHAM.

BLUE HAMHAM are four music-eating space hamster brothers from a planet called 'Proxima b.' Their animations on Twitter, TikTok, and other social media platforms have garnered over 300 million views worldwide. In 2020, they began collaborating with overseas artists. Their musical animations have garnered popularity across the globe.

At the pop-up shop, fans can get their hands on over 30 new BLUE HAMHAM items. This also marks the brothers' first pop-up shop in Osaka. From exclusives to free novelties, there's plenty to enjoy.

At the store, fans will also be greeted by four 1-meter tall BLUE HAMHAM statues, the only ones in the world. There will be a display showing their animations, a chance to learn about the characters, and more.

©CHOCOLATE Inc.

Information

BLUE HAMHAM POP UP STORE

Tokyo Store: Shibuya PARCO B1F GALLERY X

Address: 15-1 Udagawacho, Shibuya, Tokyo

Running: May 14, 2021 – May 30, 2021

Tokyo Store: Shibuya PARCO B1F GALLERY X

Address: 15-1 Udagawacho, Shibuya, Tokyo

Running: May 28, 2021 – June 14, 2021

Osaka Shinsaibashi PARCO 10F EVENT SPACE

Address: 1-8-3 Shinsaibashisuji, Chuo-ku, Osaka-shi, Osaka

Running: June 4, 2021 – June 21, 2021

Osaka Shinsaibashi PARCO 10F EVENT SPACE

Address: 1-8-3 Shinsaibashisuji, Chuo-ku, Osaka-shi, Osaka

Running: July 2, 2021 – July 18, 2021

Special Page: https://art.parco.jp/shinsaibashi/detail/?id=656

Sustainable Fashion Week Event to Take Place at Earth Day Tokyo 2021

Earth Day Tokyo 2021 is set to run from April 17 to April 25 both online and offline. Messages of eco-friendliness, organic products, sustainability, ethics, and inclusiveness will be at the core of various events held as part of the festival and it will bring together environmental NPOs, charities, and locals.

As part of this year's Earth Day Tokyo, sustainability and fashion are set to interweave with the SUSTAINABLE FASHION WEEK 2020+1 event which is running on April 24 and 25.

With less than nine years to go until the world must achieve the 17 Sustainable Development Goals (SDGs), Earth Day Tokyo believes individuals need to be doing more to change their lifestyles and the way they do certain things. Fashion is an area that enrichens people's lives—but it's also one that can call for environmental action by changing our consumption habits.


SUSTAINABLE FASHION WEEK 2020+1 will bring together various teams and organisations to hold booths and talk sessions online and offline where people can learn about these issues. It's a collaboration between Fashion Revolution Japan, the Japanese branch of the global Fashion Revolution campaign to reform the fashion industry by enabling a greater transparency in the fashion supply chain amongst other problems. Fashion Revolution Week takes place every year on April 24, the same date as the 2013 Dhaka garment factory collapse where 1,134 people died and more than 2,500 people were injured.

The main visual for SUSTAINABLE FASHION WEEK 2020+1 features Japanese singer and artist KOM_I who is best known as a member of the Japanese music group WEDNESDAY CAMPANELA. It was created by HYPE FREE WATER, an artist collective headed by KOM_I and art director Minori Murata. KOM_I will participate in a planned talk program at MIYASHITA PARK on April 24 and 25.


A Message From KOM_I

"HYPE FREE WATER will be taking part in Sustainable Fashion Week at Earth Day this year. Our organisation focuses on the future of water. We want to be able to wear something beautiful without having to make sacrifices like selling out the future or destroying the environment. I'm looking forward to new people getting involved with us as this discussion takes off."

Information

Earth Day Tokyo 2021

Running: April 17, 2021 – April 18, 2021

Earth Day Tokyo Official Website: https://www.earthday-tokyo.org

SUSTAINABLE FASHION WEEK 2020+1

Running: April 17, 2021 to April 25, 2021

Time: 11:30-18:00
Where: Shibuya Miyashita Park / RAYARD MIYASHITA PARK

Address: 1-26-5 Shibuya, Shibuya-ku, Tokyo

Fashion Revolution Japan: https://www.fashionrevolution.org/asia/japan/

Little Glee Monster and Other Japanese Artists Announced For Tokyu Musix Challenge

Tokyu Musix Challenge is set to take place at Bunkamura Orchard Hall this year on March 7 at 18:00.

2020 saw the cancellation of music events across the world, with Japan being no exception. Shibuya, Tokyo's hub of countless live music venues and halls, was particularly affected by the effects of the pandemic. But the energy and power that music artists hold is one they can offer to brighten up peoples' time during today's times. That's where Tokyu Musix Challenge comes in, a new kind of music festival that will bring together a multitude of genres, and where better for it to be held than the cultural melting pot that is Shibuya.

This year will be the first run of the festival, where a collaboration between classical music and contemporary pop music will clash at Bunkamura Orchard Hall. The Tokyo Philharmonic Orchestra, which is recognised as Japan's oldest symphony orchestra, will play alongside acts such as Little Glee Monster, Ai Higuchi, Win Morisaki, Meimi Tamura, Kayoko Yoshizawa, ROTH BART BARON, and more. And the line-up is set to grow as more performers will be announced in the lead up to the event.

Comments from the Artists

Little Glee Monster

"We are really looking forward to feeling the fresh breeze of our music colliding with the grand scale of an orchestra. We'll be sure to play our part so that we don't lose to the overwhelming performance of everyone in the Tokyo Philharmonic Orchestra, but also so that our music complements theirs. We hope that everyone can have a good time and feel good from the strength that music has."

Ai Higuchi

"In 2020, we may have all lived kind of complicit with so many options in front of us leading down different paths. A certain friend might have gone to a drinking party, another might not have seen their lover for a long time. What choices do we make? We become darker depending on our choices. In Shibuya, a city that continues to change, I will sing my unchanged songs."

Win Morisaki

"Over this past year, the respect I have for the position I'm in where I can express myself has really sunk in. I'm so happy I've been able to get involved with this challenge. And getting to sing with an orchestra, it's magnificent. I'm so excited about what's to come."

Meimi Tamura

"I can't contain my excitement at a genre collaboration between classic, which is the foundation of music, and pop which is strongly tied to Shibuya. I think I'm going to start feeling tense at getting to perform alongside everyone in the Tokyo Philharmonic Orchestra and singers of all different kinds of music. We don't have a lot of freedom today during the pandemic, but I will work my hardest so that I can deliver love through music from the city of Shibuya."

Kayoko Yoshizawa

"My chest roars and having the opportunity to perform along side Japan's oldest and longest-running Tokyo Philharmonic Orchestra at the legendary Orchard Hall. It's my first time experiencing singing with an orchestra, so I'm looking forward to seeing how the songs will be structured, and how my voice will sound, when we do it."

Harajuku's Pompompurin Maid Café to Open on April 14

Akihabara's premiere maid café chain "@home café" announced last month the opening of a permanent maid café themed on Sanrio's popular character Pompompurin. The café is set to open along Harajuku's famous Takeshita Street on April 14, 2021.

 © 2021 SANRIO CO., LTD.  APPROVAL NO. S620028

@home café has collaborated with many of Sanrio's popular characters in the past at its Akihabara-based café branches such as Hello Kitty, My Melody, Cinnamoroll, and of course Pompompurin, but this time the collaboration is flying out of Akiba and straight into the heart of Japanese pop culture: Harajuku.

This new Pompompurin Café is themed on Pompompurin throwing a party for everyone—that's you and your friends. It's a place for Purin to deliver happiness to all who visit in the form of cute and tasty food.

Of course, the @home café maids will also be present, and all wearing original maid uniforms coloured like Pompompurin.

A little look at some things on the menu

The Food

Soufflé Omurice | ¥1,450

Butter Chicken Curry | ¥1,300

The Desserts

Pompompurin Pudding | ¥700

Chocolate Banana Mountain Waffle | ¥1,200

The Drinks

Custard Pudding Latte | ¥850

Muffin's Caffe Mocha | ¥850

Take a commemorative photo

For just ¥550, you can take a chekki photo at the café. It comes with café-original stickers and paper. For an extra ¥300, you can take a photo with one of the maids.

Pompompurin Birthday Party

 

April 16 is Pompompurin's birthday, so on that day the café will have a special dessert prepared (which you can see below) along with novelties for customers, new decorations, and more.

Pompompurin's Birthday Dessert

Special Birthday Parfait | ¥1,700 | Serving: April 14, 2021 – April 30, 2021

Birthday Novelty

To commemorate Pompompurin's birthday and the opening of the café, all visitors will receive the pin below for free.

Pompompurin will visit the café

On the evening on April 16, Pompompurin will visit the cafe for his birthday to celebrate with everyone. Details and bookings can be found here in Japanese.

Information

Pompompurin Cafe x @home cafe

Grand Opening: April 14, 2021

Where: CUTE CUBE HARAJUKU Floor 3F, 1-7-1 Jingumae, Shibuya, Tokyo

Opening Hours: [Weekdays] 11:00-22:00 / [Weekends] 10:00-22:00

No Fixed Holidays

Pompompurin Cafe Official Website: https://pompompurincafe.com/

@home Official Website: http://www.cafe-athome.com/

Japanese Sensu Folding Fan brand BANANA to YELLOW Opens Pop-Up Shop in Shibuya

Japan's long-standing Kyoto-based sensu folding fan brand BANANA to YELLOW, which has been around since 1823, opened a pop-up shop at Shibuya PARCO in Tokyo on Friday, the store's first-ever pop-up shop outside Kyoto.

BANANA to YELLOW's goal is to make traditional Japanese sensu folding fans a fun and stylish experience for the modern day no matter the scene or season. The fans sold at the Shibuya pop-up shop will also include limited-edition designs.

Sensu

The line-up features some of the brand's signature fans which fuse traditional Kyoto-style folding fans with modern designs. Some of the fans are also printed by hand.

The fans can not only be used as they were originally intended—for manners, style, art, warding off evil, and so on—but also as a general accessory.

T-Shirts

The brand also has a collection simple and casual of t-shirts featuring a classic folding fan pocket as originally featured on Japanese kimono.

Bags

A hand two-way tote bag also equipped with a sensu pocket.

Eau de Toilette

Miyawaki Baisen-an's popular eau de toilette makes an appearance at the pop-up shop in four daily fragrances with a Japanese-style scent to them.

Guests

BANANA to YELLOW has collaborated with various artists to develop a range of fans. The first three guests include fashion designer Kunihiko Morinaga (Anrealage), artist Shinro Ohtake, and Mahito the People (Gezan).

Information

BANANA to YELLOW POP-UP STORE

Running: April 9, 2021 – April 22, 2021

Where: Shibuya PARCO's Floor 1F GATE Pop-Up Space

Address: 15-1 Udagawacho, Shibuya-ku, Tokyo

Official Website: https://shibuya.parco.jp/event/detail/?id=3285

Kyary Pamyu Pamyu's Fragrance Brand Nostalgia Syndrome Releases Lily & Jasmine Series

Nostalgia Syndrome opened pre-orders for its new Lily & Jasmine series of fragrances on March 31. The products will be released on April 22.

Nostalgia Syndrome is a fragrance brand produced by Kyary Pamyu Pamyu which launched last year. The new Lily & Jasmine series will be available to purchase online and will also be sold at two brand pop-up shops in Tokyo and Osaka. Those who spend over ¥10,000 online or at either of the stores (tax included) will receive a free Nostalgia Syndrome novelty – these are available in limited supply.

Online Store Novelty: Original Thermal Bottle

Pop-Up Store Novelty: Original Big Eco-Bag

Lily & Jasmine Series

Eau de Toilette | ¥8,250 (Tax Included)

Room & Fragrance Spray | ¥3,300 (Tax Included)

Aroma Diffuser | ¥7,150 (Tax Included)

Bath Salts | ¥3,410 (Tax Included)

Hand Soap | ¥3,520 (Tax Included)

Scented Candle | ¥8,140 (Tax Included)

Eau de Toilette Two-Set (9mL)

Kyary Pamyu Pamyu | Comment

"This is Nostalgia Syndrome's second fragrance release. After mixing together various ingredients, I was finally able to catch the right scent. The theme for this one is 'travel fragrance.' Because of COVID, our time spent outdoors has gone down dramatically, but smells tied to our memories make up part of us all. And smelling them brings back those memories. This is a blend of sweet, sophisticated lily and refreshing jasmine, so it's a really easy one to use that can be enjoyed by both guys and girls. We're also opening our first pop-up shop so please be sure to drop by to try out!"

Lily and jasmine are vibrant fragrances and perfect for the spring season. Order yours today!

Information

Nostalgia Syndrome Lily & Jasmine

Pre-Orders: March 31, 2021 (Shipping from April 22)

Release Date: April 22, 2021

Pop-Up Stores

・+SPBS (SHIBUYA SCRAMBLE SQUARE 2F)

Running: April 22, 2021 – May 26, 2021

Where: +SPBS, SHIBUYA SCRAMBLE SQUARE Floor 2F, 2-24-12 Shibuya, Shibuya-ku, Tokyo

Opening Hours: 11:00-21:00

・Shinsaibashi PARCO

Running: May 13, 2021 – May 20, 2021

Where: Shinsaibashi PARCO Floor B1F, 1-8-3 Shinsaibashisuji, Chuo-ku, Osaka-shi-, Osaka

Opening Hours: 10:00-20:00

Nostalgia Syndrome Official Website: https://www.nostalgia-syndrome.com/

sumika to Perform at IN THE FLIGHT's 5th Anniversary Event

IN THE FLIGHT inc. has announced that sumika will join the artist line-up for their 5th anniversary event that's taking place at Toyosu PIT in Tokyo on April 26 and 27.

IN THE FLIGHT inc. is a Japanese event organiser and music artist manager and producer that's also known for producing hotel koe tokyo. This year marks the company's 5th anniversary which it's celebrating with a two-day concert. April 26 will see sumika, GLIM SPANKY, SPiCYSOL, and sankara perform while April 26 will welcome Nulbarich, FIVE NEW OLD, Have A Nice Day!, and NAGAN SERVER to the stage. All of the artists are associated with IN THE FLIGHT. Tickets for the concert were released on March 24. Both shows will be held following social distancing and government guidelines.

A pre-event is also scheduled to take place at hotel koe tokyo in Shibuya on April 24 where RUNG HYANG, ASOBOiSM, sorange, Bule Vintage, and sankara will play.

Speaking about the event, Kenta Kataoka of sumika said, "Clothes are also a part of the music. This will be the birthday of a special someone who taught me that. Since setting out to establish the company, I have made many memories together with them, so I went to go all out with the celebrations. I'd like to say congratulations, and my follow-up to that I'll show you on stage."

Information

IN THE FLIGHT 5th Anniversary

Running: April 26, 2021 – April 27, 2021

Venue: Toyosu PIT

Times: Doors 17:30 / Start 18:30

Ticket Window: March 24, 2021 – April 4, 2021

Buy Here: https://eplus.jp/intheflight5th/

Pre-Shows

Venue: hotel koe tokyo

Date: April 24, 2021

Times: Doors 16:00

Tickets: ¥1,000 + one mandatory drink charge

Venue: TOKIO TOKYO

Date: April 24, 2021

Times: Doors 17:00 / Start 17:30 

Tickets: ¥3,500

Buy Here: https://eplus.jp/intheflight5th/acc/ 

IN THE FLIGHT inc. Official Website: https://intheflight.com/