4 Shaved Ice Desserts You Have to Line Up For in Kyoto This Summer
Kyoto, also known as the "old capital," is renowned for its historical architecture and richness in traditional Japanese culture, bring in tourists every year both Japanese and foreign. The city has an especially popular food culture, serving everything from traditional Japanese cuisine to twists of contemporary cuisine.
Today we take a look at 4 different shaved ice desserts you must try in Kyoto this summer all of which are equally worth lining up for.
Hatagoya Rihei – Espuma Matcha Shaved Ice
Kyoto is the home of Uji matcha, and its city of Joyo is home to Hatagoya Rihei, a Japanese confectionery shop which specialises in dorayaki, a traditional dessert in Japan which consists of two pancakes filled with sweet adzuki bean paste.
The absolute must-try contender on their menu is the Espuma Matcha Shaved Ice which is lavishly packed full of matcha. Available for a limited-time only, this shaved ice is made with espuma, which is Spanish for "foam." It's a mix of fluffy shaved ice and a rich matcha sauce which takes on a thick mousse-like texture. The ice and sauce melts the moment it hits your tongue, creating a new kind of texture that makes for light eating. It comes with a side of toppings including matcha honey, red bean paste, rice flour dumplings, and matcha jelly. The dessert can be enjoyed from start to finish as you mix and match all the different flavours to your taste.
▼Hatagoya Rihei
Address: Higashinokuchi-44-54 Terada, Joyo, Kyoto
Business Hours: 10:00-18:00
Closed: Tuesdays
Access: Joyo Station via JR Nara Line / Terada Station via Nara Line
Official Website: http://rihe.jp/
Senba Miyabi – Mix Juicy Shaved Ice
Senba Miyabi is another shop in Joyo which specialises in fruit sandwiches and confections. It is managed by the fruit shop Fruit Shop Senba which are known for their high quality fruit selection.
Their Mix Juicy Shaved Ice is drizzled in a cute pink sauce which is a juiced mix of strawberry, banana, kiwi, pineapple and other fresh fruits. The shaved ice is topped with even more assorted fruits for colour and flavour, and even more fruits are hidden inside. If you like sweet things, we recommend making the flavour even richer by topping with condensed milk or ice cream.
▼Senba Miyabi
Address: Fukurojiri-19-1 Terada, Joyo, Kyoto
Business Hours: 10:00-19:00
Closed: Mondays
Access: 420m from Joyo Station via JR Nara Line
Official Website: http://www.senba2018.com/
Amami no Ie Takegushi – Berry Berry Custard
Amami no Ie Takegushi is a cafe located in Kyoto Prefecture's city of Kizugawa where you can enjoy handmade Japanese confections and pastries as well as indulge in some great coffee.
Their bright-red Berry Berry Custard shaved ice is like powdered snow, topped with an strawberry and assorted berry sauce and velvety fresh cream. Hiding inside the ice is custard made with specially made condensed milk by Clover Farm in Kizugawa. It also contains condensed milk honey and frozen berries for a refreshing sweet and sour combination.
▼Amami no Ie Takegushi
Address: 2-6-9 Umemidai, Kizugawa, Kyoto
Business Hours: [Tues] 14:30-17:30 / [Wed-Fri] 11:00-17:30 / [Sat] 11:00-17:30
Closed: Mondays & Sundays
Access: 26-minutes on foot from Kizu Station via JR Kansai Main Line
Official Facebook Page: https://www.facebook.com/kyoto.kizugawa.kushitake
Gion Tokuya – Bancha Shaved Ice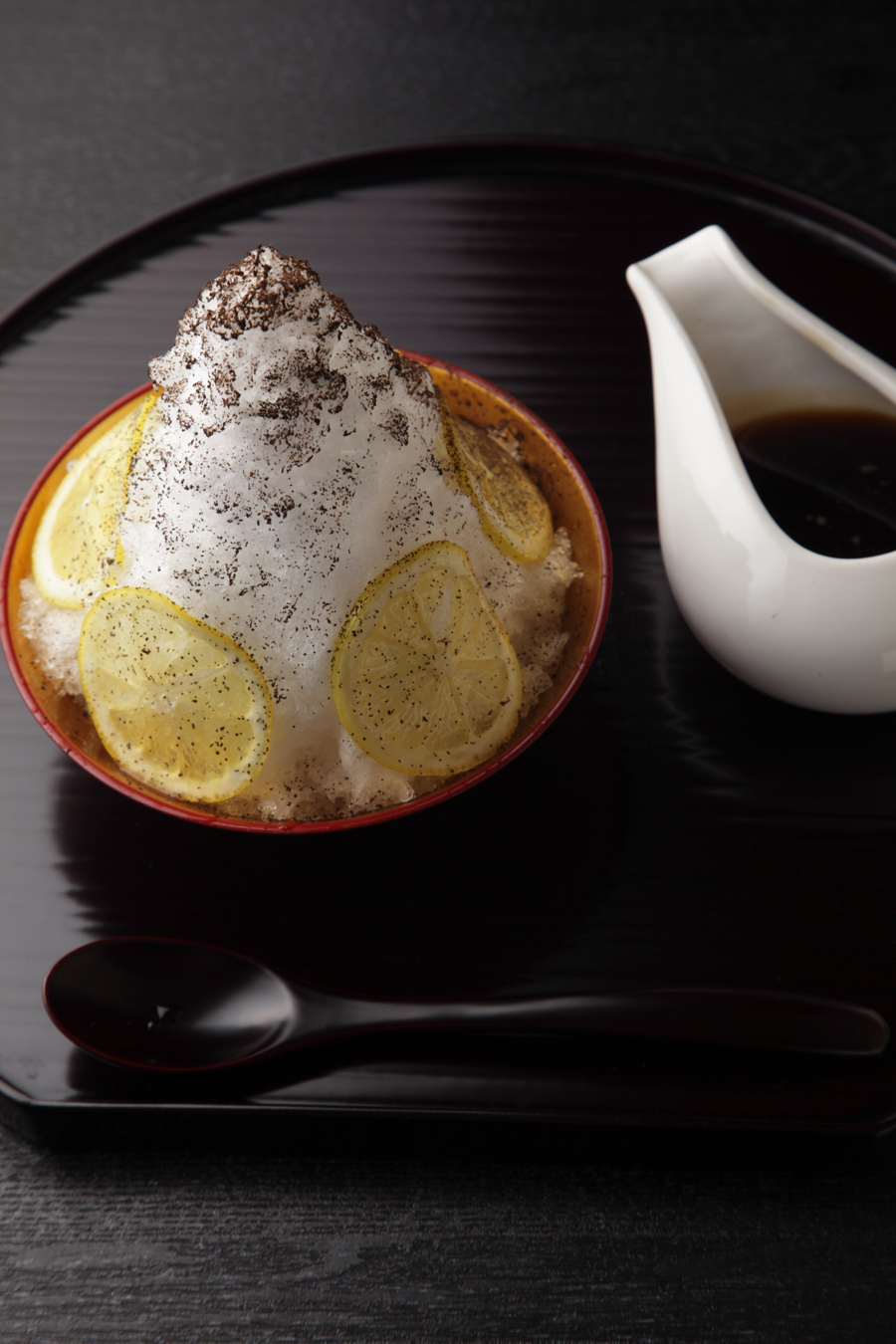 Gion Tokuya takes the utmost pride and care in its use of high quality ingredients. Their Bancha Shaved Ice is lined with fresh lemon slices and covered in a syrup made from bancha tea and sugar. The way you eat this shaved ice is to slowly drizzle the syrup over the dessert right before eating. A spoonful will cover your taste buds with fragrant Kyoto-style bancha tea and a gentle sweetness. Eating it together with the lemon slices makes it taste like lemon tea. If you're looking to enjoy something refreshing or to cool you down then we recommend this one!
▼Gion Tokuya
Address: 570-127 Gionmachi Minamigawa, Higashiyama Ward, Kyoto, Kyoto Prefectur
Business Hours: 12:00-18:00
No Fixed Holidays
Access:
6-minutes on foot from Gion-Shijō Station via the Keihan Main Line
8-minutes on foot from Kawaramachi Station via the Hankyu Kyoto Main Line
Official Website: http://gion-tokuya.jp/index.html
If you're visiting Kyoto for summer then what better way to cool yourself down than with some refreshing shaved ice? Be sure to try out one of these 4 cute and unique shaved ice desserts this summer.
Photos/Information: KYOTO SIDE
RECOMMENDED ENTRIES
From Wine to Hydrangeas Taste the Regional Shaved Ice Flavours of Japan at Hoshino Resorts KAI

Hoshino Resorts hot spring ryokan brand KAI is offering guests the opportunity to explore different regional shaved ice desserts that are served with delicious regional syrups and toppings. Shaved ice is a traditional summer dessert that was even mentioned in the famous work The Pillow Book, which was written by Sei Shonagon during her time as Empress Consort Teishi's court lady during the 990s and early 1000s of the Heian period.

The concept of KAI expresses both originality and the thirst for experimenting to make something new. The event offers a range of original flavours, embracing the Japanese tradition of eating flavoured shaved ice to battle the heat of summer. From wine-flavoured shaved ice in Nagano, to Hydrangea shaved ice at Hakone, this is the perfect opportunity to try a range of shaved ice desserts that are full of vibrant colours. These regional flavours are sure to spark your curiosity for discovery in that region. 

Wine Shaved Ice: Hoshino Resorts KAI Matsumoto (Asama Onsen, Nagano)

The cone-shaped region of Kikyogahara, which is located next to Matsumoto city, is well known for its wine production. This area produces around 50 different kinds of Kikyogahara wine. The flavoured syrup for this shaved ice comes from concord grape wine sourced from Kikyogahara. Each porcelain bowl for the dessert is handmade. Customers can enjoy the smooth, rounded feel of the grape pattern on the bowl as they dig into their dessert. As the alcohol is burned out of the dish, even those who do not like alcohol can enjoy this mature dessert. From the carefully prepared wine syrup to the handmade bowl, you will be able to feel all the hard work put into the making of these luxurious desserts. This is the perfect way to cool off after a hot day.

Hydrangea Shaved Ice: Hoshino Resorts KAI Hakone

Due to the altitude differences at Hakone, you can enjoy the beautiful hydrangeas for an even longer time than other areas of Japan. There is a Hydrangea train (Ajisai Densha) that runs up the mountains providing passengers with the beautiful view of blooming flowers, creating the perfect summer memories. Observing the large groups of flowers in full bloom fills you with such a refreshing feeling. Their beautiful colours are expressed in the colour of this hydrangea shaved ice.  

Strawberry Shaved Ice: Hoshino Resorts KAI Nikko (Chuzenji Onsen, Tochigi)

Tochigi prefecture has been Japan's no.1 producer of strawberries for 50 years straight. This shaved ice is served in a strawberry-shaped bowl and is served with sweet yet slightly sour strawberry syrup and a topping of bittersweet matcha sauce. Here, you can enjoy a cool evening up 1,300 metres high overlooking beautiful scenery from inside the establishment whose spectacular interior that boasts Tochigi's traditional art of Kanuma Kanoko craft. 

Tomato Flavoured Shaved Ice: Hoshino Resorts KAI Aso (Sonomoto, Oita)

As tomatoes thrive during the summer, this tomato shaved ice is the perfect way to cool down. This shaved ice is sweet and slightly sour and the vibrant red colour is enough to refresh you. Tomatoes are low in calories and contain an abundant range of healthy nutrients. They are also high in vitamin C which is good for your skin and is known for helping prevent illness. Tomatoes are also a good supply of vitamin E, which is good at slowing the effects of aging. Take a seat on the terrace and enjoy your shaved ice as a refreshing breeze rolls by. This is the perfect way to enjoy a cool summer with a healthy and delicious dessert. 

Neputa Shaved Ice: Hoshino Resorts KAI Tsugaru (Owani Onsen, Aomori)

The Neputa Shaved Ice represents the Hirosaki Neputa Festival that takes place in the summer at the old castle town of Hirosaki. To represent Tsugaru Vidro coloured glass, which is an important part of Tsugaru culture, red, blue and green coloured jelly pieces decorate the top of the shaved ice. These colours also represent the vibrant colours of Neputa festival. This Instagram-worthy dessert shows off the best of the fresh colours of Tsugaru. 

Information

Kai Regional Shaved Ice Desserts 2019

Running: July 13, 2019 – August 31, 2019

Entry: Free

Hoshino Resorts Kai Official Website: https://kai-ryokan.jp/

3 Kyoto Tourist Spots to Visit and Cool Down at This Summer

The bustling Kyoto Prefecture is located in the Kansai region of Japan, adored for its historical architecture and richness in traditional Japanese culture for which it brings in tourists every year both Japanese and foreign.

Summertime in Kyoto is renowned for being very hot. We've compiled a list of 3 must-visit locations where you can cool down during the summer heat―each of which have beautiful sights―and how to get to them.

Explore the Caverns of Shizushi Limestone Cave Park

The only limestone caves in Kyoto Prefecture, Shizushi Limestone Cave Park offers an exciting mix of outdoor activities from cave exploration to camping, bird watching and much more. The caves are a designated national monument of Kyoto Prefecture. Many fossils have been collected from the caves that date back to before the Permian period (which ended 252.2 million years ago) including fusulinida and crinoids. The temperature of the caves sits between 12℃-15℃ throughout the year making it a very popular spot for cooling off during times of hot weather.

▼Shizushi Limestone Cave Park
Address: Shizushi, Kyotamba, Funai District, Kyoto

Access: Board a JR bus from Sonobe Station (JR Sagano Line) bound for Enpuku (園福線) and get off at Hinokiyama (桧山). Change onto a Choei (町営) bus. Get off at the Shizushi Limestone Cave entrance (鐘乳洞口) and walk for 5 minutes.

Opening Hours: 9:00-17:00

Website: http://www.kyotamba.org/質志鐘乳洞公園/

Beach Swings and Sunsets at Yuhigaura

Yuhigaura sits on the coast of Kyoto's Tango area and is known for its iconic sunsets. Every year during summertime, giant swings made from driftwood and other materials are placed onto the beaches. Sitting on these during the evening sunset make for an incredibly picturesque scene.

And this year they're serving an original drink called the "Magic Hour" for a limited time.

▼Yuhigaura
Address, 390 Aminocho Hamazume, Kyotango, Kyoto Prefecture

Access: Board the Limited Express Hashidate (特急はしだて号) train at Kyoto Station and get off at Yūhigaura-Kitsu-onsen Station (夕日ヶ浦木津温泉)

Homepage: http://yuukan.com/news/17/?view_oft=0

Amanohashidate Sandbar Illuminations


Last year's illuminations at the Amanohashidate sandbar brought in over 30,000 people. The sandbar is one of Japan's three scenic views. The illumination event is held annually with this year's running from July 13 to September 1. The lights turn the sandbar into a truly magical spectacle.

A special bar is also open for the light-up where you can get drinks along with several other exciting events surrounding it.

▼Amanohashidate Light-Up
Address: Monju, Miyazu, Kyoto

Running: July 13, 2019 – September 1, 2019
Event Details:  https://www.facebook.com/amanohashidate.machiakari/

Stay cool this summer in Kyoto by hitting up one of these tourist hot spots!

Kyoto Sightseeing | 4 Desserts You Must Try While in Kyoto

Kyoto is renowned for its historical architecture and richness in traditional Japanese culture, but did you know it's also home to some extremely cute and delicious desserts? Their sweets and desserts are actually pretty popular, some of which contain motifs and little nods to the city.

Today, Instagrammer meme takes us on a tour in Kyoto to try out 4 popular desserts.

JEREMY&JEMIMAH

JEREMY&JEMIMAH is a shop selling cute and colourful cotton candy. Their staple Wata-Hako cotton candy comes in 10 different flavours! In the photo we have yuzu, rose and matcha flavours. Of the two branches of the store, there is one along Furukawacho Shopping Street where you order your cotton candy for takeout, and another in Yasaka that serves cotton candy on long sticks.

We picked up a few different ones since there are so many flavours and designs. It was fun lining them up to take a picture.

We took them home to eat and they stayed nice and fluffy the whole way back. The yuzu one tasted a little herbal, like it was healthy for you.

▼JEREMY&JEMIMAH (Furukawacho Shopping Street Branch)

Address: Furukawacho Shopping Street, 444-3 Hachikenchō, Higashiyama Ward, Kyoto

Opening Hours: 11:00-17:00

Official Website: http://www.jeremyjemimah.com/

ROCCA & FRIENDS TRUCK

At ROCCA & FRIENDS TRUCK, you can order these iced dessert matcha and houjicha lattes which are topped with yatsuhashi―a confection sold in Kyoto―shaped into various sights across the city including Kyoto Tower, Hōkanji Temple, Daimonji, a Torii gate, and more.

I ordered the matcha latte. The drink itself isn't sweet at all so you can enjoy the full original rich and bitter flavour of the matcha. The fresh cream however is quite sweet so you can mix it into the drink as much as you want to get your desired flavour.

There are lots of great spots in the area such as the Hōkanji Temple pagoda and Yasaka Shrine so  you can snap some great sightseeing photos♡

▼ROCCA & FRIENDS TRUCK

Address: 370 Yasaka Kamimachi, Higashiyama Ward, Kyoto, Kyoto Prefecture

Opening Hours: 9:00-18:00

Official Instagram: https://www.instagram.com/rocca.truck/

Jumondo

We also visited Jumondo which sells Kyoto-style dango, or "sweet dumplings." We shared three different orders amongst three people: Danraku (団楽) which comes as a set with a drink, Dandan (だんだん) which comes with matcha, and Zenzai to Aburi Kuri Kinton (ぜんざいと炙り栗きんとん).

Once you order, the dango are made fresh so are served hot and chewy. Each dumpling is on the small side so are nice and easy to eat.

The Danraku comes with five different dumplings including sweet soy glaze, mashed sweet bean paste, soy sauce and black sesame seed, fried, and white miso. The Dandan comes with three types of your choice and a wafer filled with mashed sweet bean paste. The Zenzai to Aburi Kuri Kinton with mashed sweet potatoes with sweetened chestnut dango. The final one comes with matcha which can be served hot or cold.

Everything was tasty but my personal favourite was the yuzu flavoured white miso dumpling.

The one that everybody raved about was the Zenzai which is a thick soup that the dango are placed into. These dumplings are bigger, not too sweet and light. The soup went really well with the dango, it was super tasty.

▼Jumondo

Address: 76 Tamamizuchō, Higashiyama Ward, Kyoto

TEL: 075-525-3733

Official Website: http://jumondo.jp/index.html

Kyo Yasaka Pudding

Yasaka is a particularly popular tourist spot in Kyoto, and that's where the cute purin shop Kyo Yasaka Pudding is located.

Purin is a type of custard purring sold in Japan. The first pudding we picked up was the store's recommended option named after the store itself, the Kyo Yasaka Pudding. It contains a transparent lemon and honey flavoured jelly inside which there are small and colourful agar agar balls and mango jelly balls.

It has an enjoyable texture and a refreshing sweetness that I've never experienced before with other purin. It's very tasty!

There are five flavours to choose from, the others being hard, smooth, matcha and black soy bean, and houjicha black soy bean. All are served in tiny cute jars. Not only do they look great, they taste amazing too. Each is made with ingredients sourced in Kyoto including the milk, Uji matcha, houjicha, and black soy beans.

They also sell soft serve ice cream topped with candy balls, very Kyoto-like! You can choose from vanilla, matcha, or a mix of both. I think it'll be really fun if you can snap a photo of your ice cream with one of Yasaka's stylish locations in the background! Speaking of which, there was a cute illustration on the wall of the store so we took our photo there.

Be sure to pay a visit to Kyo Yasaka Pudding to pick up your own pudding whether as a souvenir or for yourself.

▼Kyo Yasaka Pudding

Address: 87-4 Hoshinochō, Higashiyama Ward, Kyoto, Kyoto Prefecture

TEL: 075-533-8338

Official Website: https://kyo-yasaka-pudding.co.jp/

Kyoto is full of shops selling desserts and sweets perfect to walk around and munch on while you walk its ancient streets, or to take home as a souvenir. Enjoy all the tasty things you can during your visit to this beautiful city♡

—

Photos/Text: meme

Translation: Joshua Kitosi-Isanga

Luxurious Ganache and Mousse Shaved Ice Desserts You Must Try This Summer

Battle the summer heat with a luxurious icy experience at specialty chocolate shop Bonnel Café located in Jujo. For a limited time only, they will be selling cake-like kakigori (shaved ice desserts) that has everyone's mouths watering. Watch as they lay a long luscious strip of luxurious chocolate over your kakigori, or cover your dessert in fresh chocolate mousse right before your very eyes.  These desserts are only available from April 20 to the end of September.

Out of the four kakigori flavours for your ice, choose from the three standard flavours or treat yourself to the limited edition flavour. Next, pick from the selection of 18 toppings to enhance your kakigori. Unlike other kakigori shops, you can mix and match whatever you like, giving you the power to make your own original kakigori dessert.

Bitter Chocolate Cake: ¥800 + Ganache Strip: ¥300 (prices after tax)

Out of all the toppings, we recommend the ganache strip topping (Nama chocolate) which was incredibly popular last year. A single 25 cm-long strip of luxurious ganache stretches over your kakigori and gently melts in your mouth. If you love chocolate, you just won't be able to resist!

Bitter Chocolate Cake: ¥800 + Chocolate Mousse: ¥300  (after tax)

The chocolate mousse topping is new to this year. Watch your kakigori become shrouded by a thick cloak of fresh chocolate mousse before your very eyes. The moment you take a bite, you will discover the unique flavour and texture of the fresh chocolate mousse, which dissolves immediately on your tongue with a lingering luxurious and rich chocolatey flavour.

The chocolate used in this kakigori is 100% high-quality couverture chocolate. As a chocolate shop, Bonnel Café serves only the finest kakigori desserts. Customers not only take pictures, but also videos as their tongue-tantalizing desserts are carefully crafted before their very eyes.   

Come indulge all of your senses in a whole new kakigori experience!

Information

Bonnel Café Jujo

Address: 2-23-10 Kamijujo, Kita City, Tokyo

Opening hours: Mon ー Fri /11:00 ー 19:00(Last orders: 18:30)Weekends/ national holidays/11:00 ー 20:00(Last orders: 19:30)

Closed: Weds

TEL: 03-4296-7109

Official Instagram: https://www.instagram.com/bonnel_cafe/

Top 4 Shaved Ice Desserts You Must Try This Summer

Hi everyone, this is Midori from MMN's Editorial Department.

It's really feeling like summer right now in Japan and as it gets hotter, more and more places are starting to sell one of Japan's most beloved summer desserts; Kakigori (flavoured shaved ice, usually with delicious and luxurious toppings).

Today I'm going to tell you about new Kakigori flavours that are out this summer. ♪

Kori Yuki to Natsu (Ikejiri-Ohashi)

Last year, Kori Yuki to Natsu opened in Nishi-Ogikubo. This year, there's a fresh new shop in Ikejiri-Ohashi which is close to Shibuya. The ingredients used at Kori Yuki to Natsu are specially selected and the kakigori is carefully made. The shop in Nishi-Ogikubo is a great hit so there 's no doubt the new shop is going to be just as popular.

▼Kori Yuki to Natsu

Address: Crimson one5F, 2-16-26, Ohashi, Meguro, Tokyo

Open from: May 3rd 2019

Opening hours: 11 am ー 4:30 pm (last orders:)

No regular holidays

For more information on their opening hours, please check them out on Instagram: https://www.instagram.com/k_yuki_to_natsu/

 

Rich Shaved Ice (Hotel Gajoen Tokyo)

At Hotel Gajoen, you can enjoy a luxurious shaved ice dessert that is aimed at adults. Here, melons and pineapples are scooped out, transforming them into bowls which are then filled with fruit and shaved ice. These immensely aromatic desserts can also be enjoyed with champagne as part of a set meal. Melon and pineapple are the two available varieties of this shaved ice treat.

▼ Rich Shaved Ice

Available: Saturday 1st June ー Sunday 1st September

Purchase from: Hotel Gajoen Tokyo's Cafe & Bar Yuian

Orders accepted Weekdays 2:30 pm  – 9:30 pm (L.O)

Weekends/ national holidays: 3:00 pm – 5:00 (L.O)

Reservations (TEL ): 050-3188-7570 (General restaurant enquiries: 10:00 – 19:00)

※ Both dessert are in limited supply.

※※ Customers who spread the word about these desserts on social media will receive a cup of peppermint tea or oolong tea on the house.

Hotel Gajoen, Tokyo

Address: 1 Chome-8-1 Shimomeguro, Meguro City,

Official Website: https://www.hotelgajoen-tokyo.com/

Afternoon Tea Kakigori Parfait (Afternoon Tea: LOVE & TABLE)

Afternoon Tea: LOVE & TABLE serves fluffy ice coloured with fruit and syrup. Not only do some of the parfaits contain lemon and strawberries, but there are also parfaits that take on the appearance of red bean jam covered in syrup. They looks and tastes so refreshing. There are four different flavours to choose from so you absolutely must try one!

▼Kakigori Parfait

Please refer to the Official Website to check availability: https://www.afternoon-tea.net/

Adult-Oriented Shaved Ice (Omotesando Hills)

You can enjoy adult-oriented kakigori at 11 restaurants located in Omotesando Hills. At  Fratelli Paradiso located on the 3rd floor, you can enjoy a hearty serving of Italian-style kakigori with Granita. Frangelico hazelnut liqueur seeps into the bitter espresso granita for a very luxurious taste. Besides this, there are many other kakigori flavours that adults just cannot resist. Other toppings and flavours include tapioca pearls and espresso, too. These adult-oriented kakigori desserts are available for a limited time at Omotesando Hills only.

▼ Omotesando Hills

Address: 4-12-10 Jingumae, Shibuya, Tokyo

Official Website: https://www.omotesandohills.com/

So, how about it? Refresh yourself this summer with these delicious kakigori shaved ice desserts. ♪
RELATED ENTRIES
Tokyo's Craft Chocolate Shop nel Releases Cacao Kintoki Shaved Ice Desserts

nel craft chocolate tokyo, a craft chocolate shop located in Nihonbashihamacho, Tokyo, released two chocolate shaved ice desserts last Wednesday for the hot summer season. The desserts are also being sold at Saryo Tsukikage, a restaurant inside the hot spring ryokan Yuen Bettei Daita in Setagaya.


Left: Cacao Kintoki | Right: White Cacao Kintoki

Cacao kintoki is a type of shaved ice made with specially-selected cacao beans from Vietnam. It uses a 'bean to bar' method where the shaved ice is made from scratch, roasting the beans fresh to create the dessert.

The two new treats at nel use a chocolate base and add cacao pulp to the mix, adding a natural fruity flavour derived from the bean. Each is also served with a special cacao sauce for extra flavour. The white cacao version is made by combining with in-house white chocolate. It also comes with an Okinawan passion fruit and cacao pulp sauce, resulting in a sour kick and refreshing taste.

Saryo Tsukikage

The open-air baths at Yuen Bettei Daita

A special matcha version of this shaved ice can also be enjoyed while bathing in the open-air baths at Yuen Bettei Daita. It's made with nel's homemade white chocolate as well as dark chocolate, cacao pulp, and specially-selected yame matcha from Shimokita Chaen Ōyama, a cafe in Setagaya.

Tokyo's New Strawberry Dessert Shop ICHIBIKO Opens at Shibuya's Tokyu Food Show

ICHIBIKO is a new strawberry dessert-themed cafe that opened at Tokyu Food Show in Shibuya, Tokyo, on June 1. The shop's concept is centred on letting people enjoy strawberries all year round served in a variety of sweet and succulent ways.

Migaki-Ichigo Pudding | 3 Flavours

The Migaki-Ichigo Pudding is a Japanese-style custard pudding made with a layer of custard and strawberry jam. The jam, which contains fresh juicy pieces of strawberry left over, is made from a type of high quality strawberry called Migaki-Ichigo. These puddings are available in three flavours.

Migaki-Ichigo Pudding – Strawberry Custard | ¥432 (Tax Included)

Made with fresh cream and vanilla custard and combined with strawberry jam. Rich and full of fruity flavour.

Migaki-Ichigo Pudding – Condensed Strawberry Milk | ¥486 (Tax Included)

Layered with condensed milk instead of custard, lending a refreshing milky flavour to the sweet strawberry and giving a velvety texture.

Migaki-Ichigo Pudding – Strawberry Milk Yogurt | ¥432 (Tax Included)

Made with strawberry sauce-infused yogurt and Migaki-Ichigo jam giving a cool, refreshing flavour.

  

The new ICHIBIKO store also sells the brand's most popular beverage, ICHIBIKO Milk, as well as baked confections, and fresh Migaki-Ichigo strawberries sourced directly from farmers.

Information

ICHIBIKO Shibuya Tokyu Food Show

Grand Opening: June 1, 2021

Address: SHIBUYA MARK CITY East Mall Floor 1F, 1-12-1 Dogenzaka, Shibuya, Tokyo

Opening Hours: 11:00-20:00

Access: Connected directly to the Keio-Inokashira Line at Shibuya Station

TEL: 03-3477-4676

ICHIBIKO Official Website: https://ichibiko.jp/

Disney's Mickey & Friends Teams Up With Tokyo's Souvenir Sweet Tokyo Banana

Disney SWEETS COLLECTION by Tokyo Banana, a joint confectionery shop between GRAPESTONE and Tokyo Banana, released its new Mickey & Friends collection on Thursday.

Tokyo Banana Mickey & Friends Collection | ¥1,300 (Tax Included)

Mickey, Minnie, Donald, Daisy, Goofy, and Pluto join hands in a heart-warming new collection of Tokyo Banana, a cream-filled sponge cake and the official souvenir sweet of Tokyo's official souvenir sweet: Tokyo Banana.

 

Mickey & Friends arrive in all the colours of the rainbow

The colourful packaging features the Disney group of best friends including Mickey, who loves his friends, his girlfriend Minnie, the anger-prone Donald, stylish Daisy, silly Goofy, and trusty Pluto.

Six cute patterns decorate the sponge cakes

There are six super cute Mickey & Friends designs you could get in your Tokyo Banana, and each one is random. They are filled with chocolate banana-flavoured custard cream.

Collect all the postcards

All boxes of these treats come with two of eight possible postcard designs which you can use for sending to someone or even as room decoration.

 © Disney

These Disney Ceramic Teacups and Plates Are Traditional Kiyomizu Wares From Kyoto

Asahido is now selling a collection of Disney-inspired ceramics made using a traditional Japanese pottery technique known as Kiyomizu which originated in Kyoto.

Winnie the Pooh Hundred Acre Wood Teacup

This collection of teacups features hand drawn designs of Winnie the Pooh and his friends relaxing in their home of the Hundred Acre Wood. They are dyed indigo using a traditional dyeing technique known as gosu which makes the colour run deep into the design. There are cups to pick from, one big and one small and both with different designs. More details here (in Japanese).

Mickey & Minnie Traditional Dyed Pattern Mugs

These smiley teacups are made using the same dyeing technique and feature Mickey and Minnie made from collages of traditional Japanese patterns that have long been used in Kyoto.

Disney Princess Plates

Seven Disney Princesses have been feauted in this hand-painted Kiyomizu ware plate collection, all of which are lined with gorgeous colours including gold. They make for beautiful decorations for any Disney fan's room.

Mickey & Minnie Kiyomizu Dolls

"Rakuyaki" is the name of the hand-mouldered pottery technique used to crafts these Mickey and Minnie Mouse dolls, one which has been used since the Taisho Period. Compared to the other ceramics on this list, these dolls are baked at a lower temperature, giving the colours a softer look. Red and black are classic colour combinations used in this technique, so Mickey and Minnie were the perfect candidates. Only 100 of each will be sold.

The Promised Neverland x Hotel Keihan Room Plan Collaboration Begins

Hotel Keihan launched a new guest room plan in collaboration with the anime series The Promised Neverland at its Tokyo, Kyoto, Osaka, Nagoya, Sendai, and Sapporo branches on Tuesday. It also released a collection of exclusive merchandise which can be bought at each hotel's front desk.

Guest Rooms

Exclusive Merch Line-Up

Pins | ¥550 Each (Tax Included)

Key Rings | ¥550 Each (Tax Included)

Lobby display

The hotel plan was originally scheduled to take place for three months but has been extended by a further month to accommodate for travel restrictions as well as guest demand. New prices have also been introduced to make it more accessible to people. Fans of the anime series can get their hands on a range of items not available anywhere else too including pins, key rings, folders, and more.

The hotel room designs are inspired by both seasons of The Promised Neverland and come with life-size panels, wall decorations, and more, so fans can look forward to getting sucked into the world of the anime series.

(C)白井カイウ・出水ぽすか/集英社・約束のネバーランド製作委員会

Disney's The Little Mermaid Gets Cute Cupcake Release by Ginza Cozy Corner

Ginza Cozy Corner is releasing a new collection of cupcakes and confections at its stores on June 11 in collaboration with the Disney classic The Little Mermaid. The cupcakes feature designs that will be familiar to any fan of the animated film, from Ariel to Flounder, King Triton's Trident, and others that capture the wonderful underwater world of Atlantica.

Some of the Disney delights include the Mermaid Ariel Apple & Strawberry Whipped Cream Tart, Princess Ariel Raspberry Jam & Strawberry Mousse Cake, Ursula Blueberry Jam & Blueberry Whipped Cream Cocoa Tart, Eric's Cheese Mousse & Berry Jam Cake, and more.

The Little Mermaid Collection | Includes 9 | ¥2,700 (Tax Included)

The cakes come in a gorgeous box

Information

The Little Mermaid Collection

Running: June 11, 2021 – July 29, 2021

Order Start Dates

[In-Store] June 1, 2021 until all sell out

[Online] June 7, 2021 – July 24, 2021

Pick-Up Dates

June 12, 2021 – July 29, 2021 (Except June 18-20)

Ginza Cozy Corner Official Website: http://www.cozycorner.jp/

Michelin Star Restaurant and Sushi Bar in Kyoto Get Added to Hometown Tax Service

Furunavi, a Japanese website that offers the hometown tax service, has added two restaurants in Kyoto to its listings. Hometown tax allows taxpayers to donate to any municipality and receive tax cuts.

Due to COVID-19, the number of tourists and travellers in Kyoto has meant that major tourist sites and restaurants have seen a lack of visitors. In response to this, Furunavi is collaborating with Kyoto City using its 'Furunavi Gourment Point' scheme that lets people dine at restaurants and eateries in the city while enjoying tax deductions.

Kikunoi Roan and Sushi Rakumi are two restaurants that have been added to Furunavi's service.

Kyoto x Kikunoi Roan

Kikunoi Roan is a Michelin two-star restaurant located just a little down from Shijo-dori and Kiyamachi-dori by the business district of Takase River. When stepping through the noren entrance curtain of the concrete building, you're met with a quiet tranquility that makes you forget you're even in the big bustling city. The restaurant's counter seats are popular as you get to watch the chefs prepare the food before you. It's a compact space that brings customers close together. More details on Furunavi here.

Kyoto x Sushi Rakumi

Sushi Rakumi is a Michelin one-star sushi restaurant situated beside Shirakawa River. This counter-style sushi bar seats just eight people at a time. The chefs are skilled in many different forms of sushi making, all of which capture the delicious taste of Kyoto cuisine. The sushi toppings are all sourced from Kyoto, Toyosu, and Yaizu. Enjoy a unique selection of innovative sushi courses. More details on Furunavi here.

Information

Furunavi x Kyoto Restaurants

Kikunoi Roan

Address: 118 Saitocho Kiyamachidori 4-Jo Sagaru, Shimogyo-Ku, Kyoto 600-8012 Kyoto Prefecture

Sushi Rakumi

Address: 332-6 Miyoshichō, Higashiyama Ward, Kyoto, 605-0081

Furunavi Official Website: https://furunavi.jp/

gelato pique café Begins Serving Desserts Made With American Cherries

gelato pique café is now serving up a selection of three desserts topped with seasonal American cherries. The items are available on the menu until July 15.

American Cherry Crepe: Have In ¥980 / Takeout ¥970

American Cherry Soft Cream: Have In ¥580 / Takeout ¥570

American Cherry Soda: Have In ¥580 / Takeout ¥570 (Photo for illustrative purposes only – served in a takeout cup)

American Cherry Crepe & Soda Set: Have In ¥1,380 / Takeout ¥1,370

Plain Crepe & American Cherry Soda Set: Have In ¥980 / Takeout ¥970

The American Cherry Crepe is filled with sweet and velvety royal milk gelato and seasonal American cherries. The sweetness of the gelato, sour kick of the cherries, and rich chocolate ganache cream make for a tasty combination, complemented by the range of textures including the soft fruit and crunchy granola.

The American Cherry Soft Cream contains a cherry sauce made with fresh cherries – and the whole thing is topped off with a cute cherry.

The beautifully red American Cherry Soda is made completely out of sweet cherries. The cherry syrup adds a gorgeous gradation to the drink as well as a refreshing after taste. There are two ways to enjoy this special drink: as it is, which offers a feeling of refreshment, or mixing the milk-flavoured gelato in for sweetness and creaminess.

Information

AMERICAN CHERRY SPECIAL

Serving: May 25, 2021 – July 17, 2021

Where: gelato pique café (Participating Branches: Atre Ebisu, Lumine Ikebukuro, Mitsui Outlet Park Makuhari, Mitsui Outlet Park Kisarazu, Mitsui Outlet Park Jazz Dream Nagashima, Gotemba Premium Outlets, Mozo Wonder City, Namba Marui, Mitsui Outlet Park Hokuriku Oyabe, Kanazawa Forus, Tamagawa Takashimaya S.C)

*Tamagawa Takashimaya S.C is now serving the soft cream

*Opening hours subject to shortening depending on COVID-19

Official Website: https://pique-cafe.com/

Kyoto's Ace Hotel Celebrates 1 Year Anniversary With Special Hotel Plan

Ace Hotel Kyoto will commemorate its first anniversary on June 11, 2021. The hotel opened on the site of the historical former Kami Branch of the Kyoto Central Telephone Office which was completely renovated and refurbished. The hotel takes on an 'East Meets West' theme with elements of art and culture found throughout. As part of the celebration, the 98-year-old Samiro Yukino, a dyer and the man responsible for creating the hotel's logo, has made sign posters and will display 242 photos from his immense collection of 17,000 photographs he has taken over the years in 10 guest rooms as part of the special hotel plan.

Ace Hotel Kyoto Tatami Suite

Ace Hotel Kyoto Standard Twin

Samiro Yunoki

Ace Hotel displays works of art from artists from both Japan and abroad all around the building, from the hotel's iconic logo to dye work, paintings decorating the guest rooms, eye-catching tapestries, and more. Despite the pandemic which began last year, Ace Hotel has enjoyed many guests staying there. In celebrating of their first anniversary, they are releasing offering their 'We Are One' package for guests booking Suite rooms.

Ace Hotel ranked No. 9 in the 'Most Popular New Hotels' in TripAdvisor's 2021 Traveller's Choice Best of the Best Hotels. It was also the only Japanese hotel to rank in the list.

Information

Special Hotel Package – "We Are One"

Location: Ace Hotel Kyoto

Start Date: June 11, 2021

Guest Rooms: Exclusive to just 10 rooms

Booking/Details Here: https://www.acehotel.com/kyoto/

Cute Cat-Shaped Mango Cheesecake Arrives at Neko Neko Cheesecake

Neko Neko Cheesecake released its new seasonal 'Neko Neko W Cheesecake Mango' on Tuesday. Neko Neko Cheesecake is a sister brand of Neko Neko Shokupan by the same company, ALL HEARTS COMPANY, which serves cat-shaped bread.

Neko Neko W Cheesecake Mango | ¥2,430 (Tax Included)


The cute cheesecake is packed full of seasonal mango in the form of a mango and passion fruit sauce layered on top of the biscuit base. The cake is topped with fresh mango, lending a juicy and refreshing flavour to the sweet and tangy cake.

This tropical mango delight is one of many delicious cakes by Neko Neko Cheesecake. Be sure to check out our other coverages on the shop.

Enjoy a Japanese Summer Afternoon Tea Set From Home

InterContinental Tokyo Bay will begin selling its new fruit-loaded 'Summer Afternoon Tea Set' at its hotel restaurant The Shop N.Y.LOUNGE BOUTIQUE on June 1. Available until August 31, the afternoon tea set is one to be enjoyed at home.

Summer Afternoon Tea Set | ¥3,780 (Tax Included)

This marks the third Summer Afternoon Tea to be sold by the restaurant which began its takeout and delivery service for the set last summer. The line-up is packed with a range of seasonal summer fruits, including the Mango Coconut which is a coconut mousse topped with mango sauce along with fresh mango and passion fruit, the Peach Mousse which combines peach mousse with peach jelly, refreshing Lemon Macarons, the cream, mango, and passion fruit-filled Mango Passion Cream Puff, and more. An afternoon tea set isn't complete without scones either – this one has separate chocolate and raisin ones which go nicely with the pistachio whipped butter and raspberry jam.

On the savoury side of things are mini hamburgers with a pineapple and BBQ sauce, caprese salad with ham, peach, mozzarella, and more.

Petit Fours Set | ¥2,700 (Tax Included)

Treat yourself to an indulging afternoon tea at home this summer.

Koala's March Cookies x Police × Heroine Lovepatrina! Collaboration Launches

In promotion of the tokusatsu film Police x Heroine Lovepatrina! ~Challenge from a Phantom Thief! Let's Arrest with Love and a Pat!~, which was released in Japan on May 21, Japanese snack company Lotte released a special version of its popular Koala's March cookies on Friday.

Lovepatrina's March | ¥3,240 (10 Boxes)

Police x Heroine Lovepatrina! ~Challenge from a Phantom Thief! Let's Arrest with Love and a Pat!~

 

Police × Heroine Lovepatrina! is a Japanese tokusatsu TC drama series which first aired in July last year. Its fourth and latest entry is Girls × Heroine.

Lotte's collaboration launched in promotion of the new film which hit Japanese theatres on May 21.

Check out the cute packaging for the popular cookies!

© TOMY・OLM/劇場版ラブパトリーナ製作委員会