96 NIKUHOLIC: Eat Japanese Wagyu Beef at Tokyo's Hot New Restaurant
kuLoーa company that sets up unique restaurants and eateries in Tokyoーhas announced the grand opening of the first branch of a new restaurant called 96 NIKUHOLIC, which will open in Nishi-Azabu, Tokyo on November 20, 2019.
This highly exclusive restaurant is home to only two private rooms which must be reserved in advance. If you manage to get a reservation, you can look forward to tucking into a luxury gourmet meal made with exquisite Japanese wagyu beef and high-quality ingredients.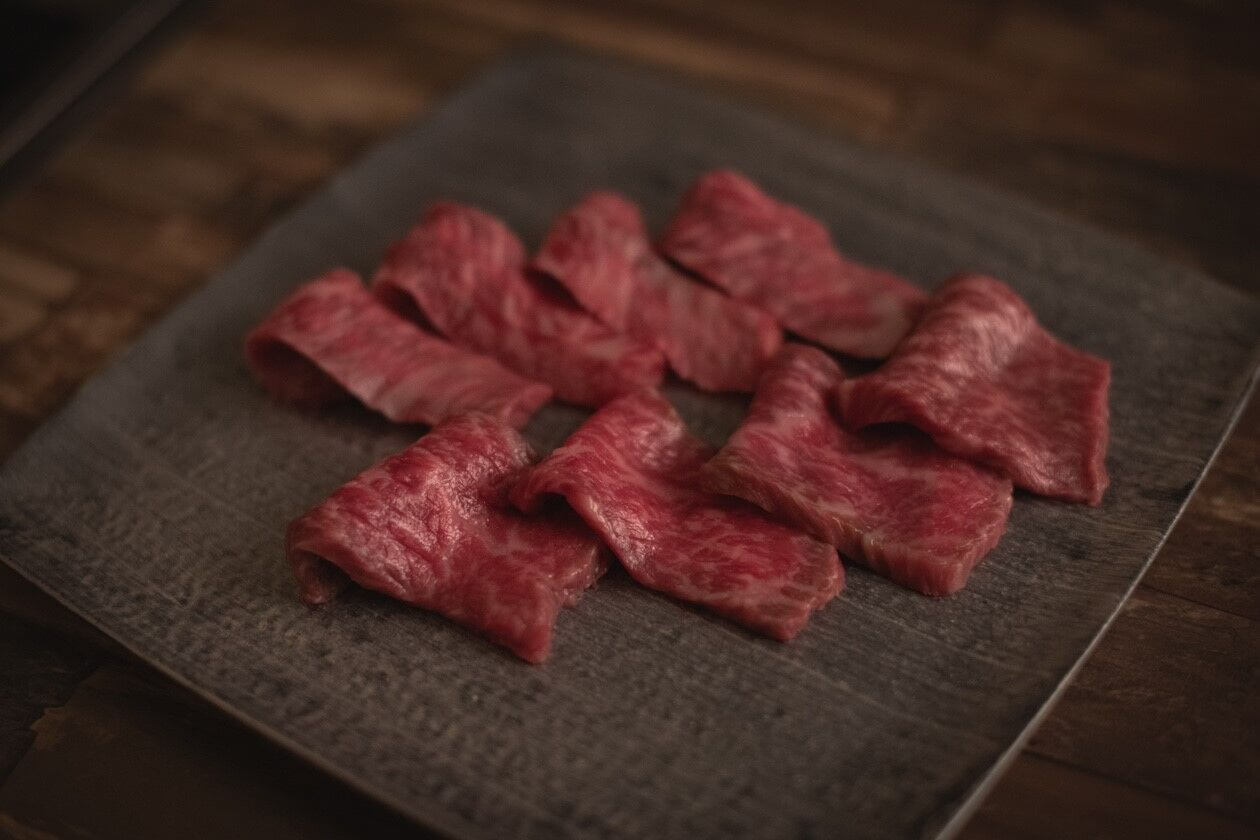 96 NIKUHOLIC is drawing a line under your commonplace restaurant that serves high-quality meat, doing away with ordinary decor and replacing it with two private rooms themed as 'hideouts.'
The domestic wagyu beef used is from the Japanese black cattle. The chefs scrutinise the beef parts and variety each day to join them with the best menu items to go with that day, so customers can rest assured they'll be eating the meat at its most delicious when they dine at the restaurant.
The restaurant's signature dish is the "Chateaubriand no Warayaki." Chateaubriand goes for tens of thousands of yen per kilo. The speciality of this dish is that the chateaubriand is cooked on straw, which intensifies the flavour of the meat and imbues it with the fragrance of the straw. The restaurant also serves courses, side items and more, most of which incorporate wagyu.
Discover the new little-known-good-place and hideout that is 96 NIKUHOLIC.
Information
96 NIKUHOLIC
Address: CUBE Nishiazabu 5F, 3-24-23, Nishiazabu, Minato Ward, Tokyo
Access: 9 minutes on foot from Roppongi Station via the Hibiya Line
Opening Hours: 17:00 to Last Orders
No Fixed Holidays
Tabelog Website: https://tabelog.com/tokyo/A1307/A130701/13240249/
RECOMMENDED ENTRIES
This Week's Breakfast: Warming Up With Asa Kayu at Asora no Chaya in Ise

One thing I do at least once a week without fail is treat myself out to some delicious food or dessert. I find it very important time well spent in order to live a happy, fulfilling life.

During a business trip to Ise, I decided to treat myself to some breakfast in the coastal city. I got up nice and early and went to pray at the Toyo' ukedaijingu of Ise Grand Shrine before making my way to Asora no Chaya to order some of their Asa Kayu ("Morning Porridge") to warm myself up since I was feeling a little cold.

Asora no Chaya is about an 8-minute walk from Ise Stationーwhich by the way is the closest station to the Toyo' ukedaijingu of Ise Grand Shrineーand just a minute's stroll from the inner shrine itself.

At the entrance they had "Asa Kayu" written on the door as pictured above. The cafe itself is located on the second floor.

The cafe has wood-based decor, and the windows are nice and big, letting lots of natural light seep in. From the window I could see Ise Grand Shrine which I prayed at just moments ago. It's a place where you can wind down and relax.

I ordered the "Mike no Asa Kayu Awabi" (in Japanese: 御饌の朝かゆ 鮑). I found out that the word mike is used to refer to precious, sacred food. Apparently, your good fortune will increase if you eat it after praying to the god of food at the Toyo' ukedaijingu.

Mike no Asa Kayu Awabi (御饌の朝かゆ 鮑) – ¥2,040 (Tax Included)

My meal arrived in a wooden box. When I opened it, I was happy to see that I not only received the porridge, but other small plates and bowls of food too.

I was charmed by how shiny the rice was in the sunlight. To eat the thin rice porridge, you add the awabi, pickled vegetables, kombu, bonito broth and other ingredients.

The rice porridge is easy to digest and warms you up to the coreーthe perfect way to relax on a cold day. The combination of the tender bonito and the smooth porridge is a match made in heaven. It's a very simple dish with no unnecessary additions. It has a gentle flavour that makes your mind and body just wind down and relax.

As well as the rice porridge, the meal comes with other healthy foods too like dried fish, soft boiled egg and vinegared ingredients. For dessert, you get zenzai which is a type of sweet soup. This is a very special breakfast you can only experience here at this cafe, coupled with a view of Ise Grand Shrine, all in the early morning.

Whenever I wake up early, it feels like I'll have a very different start to the day than usual, but spending my morning in Ise, praying at Ise Grand Shrine and eating kayu porridge at Asora no Chaya had me holding my head high.

This morning, it was the start of another new day, and I began it feeling dignified.

Today's Souvenir

Awabi Gohan no Moto – ¥1,300 (Tax Included)

I wanted to share the happiness between friends and family on this fine day where I got to eat a delicious breakfast. This Awabi Gohan no Moto is an easy way to enjoy awabi. You took it together with rice to make awabi rice. Being able to purchase awabi, which is a high quality ingredient, at this price is an absolute steal.

Writer: Sayuri Mizuno (MOSHI MOSHI NIPPON)


Translator: Joshua Kitosi-Isanga

Information

Asora no Chaya

Address: Ise Sekiya Honten Floor 2F, 13-7 Honmachi, Ise, Mie Prefecture

Closed: Wednesdays

Opening Hours: Asa Kayu 7:30-10:00 / Lunch 11:30-14:30 / Cafe 7:30-17:00 (Until 16:00 on weekdays)

Official Website: https://www.asoranochaya.com

10 Things You Can Do at the MOSHI MOSHI ROOMS Hotel in Harajuku | Foodie Edition

MOSHI MOSHI ROOMS is a hotel accommodation service run by MOSHI MOSHI NIPPON located in Harajuku and bookable via Airbnb. Our hotel isn't just popular for sleep, however: it has become a hot spot with stylish girls who get together and use it as a party space. 

Today we'll be looking at the different ways you can have fun when staying at our pink paradise room SAKURA. 

 

Girls' Night In Edition: https://www.moshimoshi-nippon.jp/262308

Birthday Party Edition: https://www.moshimoshi-nippon.jp/264752

【8】Extend your adventures to the rooftop 

The rooftop of MOSHI MOSHI ROOMS can be used freely by our guests. There are tables and chairs and even a hammock so make yourself comfortable. We particularly recommend spending a morning here. Enjoy bathing in the morning light on our spacious rooftop right below the clouds and make some good memories eating breakfast with your friends. 

*Please note that the rooftop is not accessible when booked.


MOSHI MOSHI ROOMS is located near a number of breakfast foodie favorites including Bread, Espresso & and whyte which have made their fame on Instagram. How about a baked good and a drink to enjoy on the rooftop with your friends?

【9】Barbeque it up on the rooftop with zero preparation


There is still more to your rooftop adventures. There is a barbeque course which you can enjoy without having to prepare anything at all. The barbeque course includes meat, fish, vegetables, dessert and even more luxurious dishes. The course even comes with a selection of drinks so you can spend less time preparing and more time enjoying.

This course is available to book for groups of six people or more. You can even invite your friends who are not staying at MOSHI MOSHI ROOMS so feel free to invite many people. Find out more about what's on the menu here. 

【10】Feast out with your foodie friends near MOSHI MOSHI ROOMS: Recommendations from locals

Where do the locals and people working in Harajuku choose to eat out? As our office is located in Harajuku, we have plenty of knowledge to share with you:

Just a five-minute walk from MOSHI MOSHI ROOMS lies the Okonomiyaki restaurant Sakura Tei. From the beautiful interior decoration and wonderful atmosphere to the delicious food, this restaurant should be on your food adventure list. As many foreigners eat here, the staff can even speak in multiple foreign languages. Make use of Sakura Tei's simple guide on how to make okonomiyaki and put your skills to the test. 

KAWAII MONSTER CAFE TOKYO is one of the landmarks of Harajuku. Welcome to the vivid world of bright pop colours where you will be staring in awe at everything from the decorations to the food and drinks. Some of the crazy meals to satisfy your kawaii cravings include rainbow pastas and cakes. Don't leave without getting your hands on some KAWAII MONSTER CAFE-limited merchandise! Your meal will also be interrupted by the Monster Girls who will put on an incredibly fun performance for you. 

Seaweed from the well-established shop Maruyama Nori and only the freshest and luxurious fish is used to make these temaki sushi. The seafood used in these temaki sushi rolls is of a quality that you won't find at a conveyor belt sushi restaurant so if you are looking for a new experience of sushi, make sure to stop by.

If your burger cravings get to you then cafe Hohokam is for you. The interior is spacious and there is even terrace seating, creating a refreshing atmosphere. From mozzarella to barbeque to cheese, the menu is full of different flavours and is filling enough to leave any foodie fully satisfied.

Harajuku is a kawaii ice cream shop hot spot. The shops serve up a range of toppings and will fill your cone with heaps of colours and fun flavours. A trip to an ice cream shop in Harajuku is an adventure in itself. When you're done with dinner and the sweet cravings kick in, let the kawaii ice cream shops of Harajuku be your saviour. 

MOSHI MOSHI ROOMS is located at the heart of Harajuku and is surrounded by great places to shop, eat, sightsee and much more. Enjoy a stay at MOSHI MOSHI ROOMS and embark on a wild Harajuku adventure.

Information

MOSHI MOSHI ROOMS

Address: 2-18-7 Jingumae, Shibuya Ward, Tokyo  

Access: 8-minute walk from Meiji-jingumae Station (Harajuku), Tokyo Metro
Website: https://rooms.moshimoshi-nippon.jp/

Hotel Chinzanso Tokyo to Hold Christmas Evening Party at Le Jardin Restaurant

Hotel Chinzanso Tokyo has announced that it will hold a special Christmastime "Evening Party" from December 20-25 at Le Jardin, the hotel's stylish cafe/restaurant that offers a gorgeous view of the hotel's quiet garden landscape.

The Evening Party will take place just a little later than afternoon tea time where customers can tuck into some succulent meat and fish. The hotel has held it for the past 14 years, and anyone that has experienced it will tell you that you'll want to go back after trying it once.

At the party, seasonal food is served on an extravagant 3-tier hors d'oeuvres stand together with champagne. You will never forget the taste of the chef's specially-prepared thick cut roast beef, as well as your own choice of dessert, tea, coffee and more.

The roast beef in particular is hugely popular, with repeat customers flocking to get a taste of its delicious flavour. It's seasoned with salt, fennel, rosemary and juniper berries, and garlic before being browned in the frying pan and subsequently cooked in an airtight pack together with a mirepoix made from carrots, onions, celery and other ingredients on a low heat at 63°C for 3 hours. This is the secret to the meat's popularity, resulting in soft and succulent heaven.

Menu items will be served in Christmas colours, including some made to look like Christmas trees, and there is also a meal plan that includes a present.

Enjoy a wonderful dinner time this Christmas in Tokyo at Hotel Chinzanso Tokyo.

Information

Christmas Evening Party

Running: December 20, 2019 – December 25, 2019

*Reservations required

*Musical performances to take place on December 20 and 21 (18:30-21:00)

Time: 18:00-22:00 (Last Orders 20:30)

Location: Le Jardin, Hotel Chinzaso Tokyo Floor 3F

Price: ¥4,600 (¥8,000 w/ present) (Tax & service charge not included)

Reservations/Enquiries: 03-3943-0920 (10:00-21:00)
RELATED ENTRIES
Okinawa: Summer BBQ Plan Opens at Southern Beach Hotel & Resort Okinawa With Swimming Pool

Southern Beach Hotel & Resort Okinawa has opened a new plan that includes an evening meal, BBQ, and accommodation at the beach hotel and resort.

Southern Beach Hotel & Resort Okinawa is in a favourable location—just a 20-minute drive from Naha Airport in the city of Itoman. It's a 3-minute drive from Roadside Station Itoman, the largest farmers and fish market in Okinawa, and within 10-minutes drive of the new 'iias' shopping complex that opened in June this year, DMM Kariyushi Aquarium, and Okinawa Outlet Mall Ashibinaa.

The hotel's impressive garden pool is 70 meters wide and is shaped in a unique way with five different levels of water spanning the entire length. Families flock to the pool in the summertime as the sun shines down and sparkles on the water.

The new plan includes access to the pool in the evenings right up to 9:00pm, allowing guests to cool down in the pool without having to worry about getting sunburned, as well as a delicious dinner to be enjoyed after fun in the pool.

The open air garden BBQ includes 90 minutes of all-you-can-eat meat, fish, and other delights to tuck into as the sea breeze caresses you.

Guests can also choose a buffet option instead which makes use of local Okinawan ingredients.

If you're in Japan this summer, and are looking for the beach resort experience, then hit up Southern Beach Hotel & Resort Okinawa.

Information

Southern Beach Hotel & Resort Okinawa – BBQ Plan

Running: August 15, 2020 – September 30, 2020

Includes: Dinner (BBQ or Buffet)

*Guess access to the pool is free

*Please choose your dinner time in advance

Official Website: https://www.southernbeach-okinawa.com/

Enjoy a Succulent Grilled Lamb Yakiniku Experience in Kabukicho, Shinjuku

On December 18, yakiniku restaurant LAMB ONE, which specialises in succulent matured lamb, opened in Kabukicho, Shinjuku. The restaurant provides the perfect opportunity for guests to grill their own light and healthy meal with friends and family. The high-quality meat is low in calories and high in protein. Each seat is at a counter and there are even single grill seats for the perfect dinner treat alone. 

The restaurant offers Japanese-style set meals which include meat, fried vegetables, rice, soup and kimchi . Some of the more basic set meals include the shio koji marinated lamb shoulder roast and the sesame miso lamb shoulder roast. For customers who are really looking for a luxury treat, there is a set that includes three different kinds of matured lamb and a set that includes Spring Lamb Chop Steak where you can enjoy both the shio koji and sesame miso marinades. You can swap your fried vegetables for caesar salad or your white rice for mixed grain rice. Just seeing this beautiful and balanced meal before your eyes will leave you feeling satisfied. After your meal, enjoy the small warabimochi dessert. 

When most people think of a yakiniku restaurant, the general impression is a large number of friends gathering together, merrily tucking in to meat and sides while the table fills with empty beer glasses. LAMB ONE, however, is the perfect place to enjoy a delicious Japanese-style meal in your own way without being disturbed by others. If you're travelling around Tokyo, this would be the perfect hearty dinner to finish your day. 

Eat & Drink in Harajuku at MOSHI MOSHI ROOMS' Rooftop BBQ

Since opening in Harajuku last year, MOSHI MOSHI NIPPON's ultra-kawaii hotel MOSHI MOSHI ROOMS has been the talk of the town. We are here to announce a new BBQ plan for guests which is held on the hotel rooftop and which you can attend empty-handed.

MOSHI MOSHI ROOMS is only an 8-minute walk from Harajuku Station. You'll know you've arrived when you spot our neon sign pictured above. It's on the roof of this building you can look forward to getting your teeth into a delicious BBQ and chugging down drinks.

The rooftop design takes on a pop appearance, mixing blue with yellow. This cute design alone is enough to get you excited for what's to come. And since there are no tall buildings around us, you get a great view of Harajuku from below.

The BBQ plan comes equipped with everything you need: a fire, plates, cups, ingredients, and alcohol. We have a great option of drinks, including beer, wine, whisky, and soft drinks. There's also a beer server so you can enjoy your beer nice and frosty. If we don't have a drink you'd like, you can bring your own too. There's a FamilyMart and other shops nearby, so head there to stock up.

BBQ Set – ¥6,000 Per Person (Before Tax) *Photo is a select portion example for 5 people

For grub, our lineup includes meat, fish, egetables, fried onigiri, and sweets. There's Japanese beef too, as well as Japanese chicken, pork, lamb, sausage, and more. We prepare the most delicious ingredients for the current season. There's a lot of different meats to choose from, so rest assured you won't go hungry.

All the food is seasoned for you, so you can drop it all on straight away and get straight to eating.

Make a toast with your drinks and tuck in! The wagyu beef is nice and plump once it comes off the fire. One bite of the soft meat will treat your taste buds to a luxurious sweetness and the meat's delightful juices.

The chicken is seasoned sweet and spicy. It has a crunchy exterior and soft inside. The lamb is seasoned well too and has that distinct deep flavour lamb has.

Our fish and vegetables are all in season too. The fish pictured above is salmon cooked in foil and seared skipback tuna. The salmon is seasoned with butter and soy sauce. All of the delicious flavour of the skipback tuna is intensified while prepared on the fire, and the inside is sumptuously tender. It's seasoned with citrus soy sauce.

This here is giant okra which I tried for the first time. Giant okra is in season right now too. It's a lot more elastic than your regular size okra and has a juiciness when you bite into it.

I was so full already… until dessert arrived! These is a dessert sweet potato roasted on the fire.

I topped it with vanilla ice cream and tea flavoured ice cream before sprinkling on cornflakes to finish.

The mix of the hot potato and cold ice cream is a match made in heaven inside your mouth. The roasted sweet potato has a subtle sweetness which mixes perfectly with the creamy ice cream. I originally thought I was full but there's always room for dessert.

There are parasols too in case it rains. You can even rent out tents from the hotel if you like.

If you're looking to stay in Harajuku, come and see us at MOSHI MOSHI ROOMS and enjoy a BBQ with a rooftop view of Harajuku.

Writer: Sayuri Mizuno (MOSHI MOSHI NIPPON)

Translator: Joshua Kitosi-Isanga

Information

MOSHI MOSHI ROOMS BBQ Plan

Address: 2-18-7 Jingumae, Shibuya, Tokyo

Price: From ¥6,000 Per Person (Reservations Available)

Set Ingredients:

・Meat: Wagyu beef and other meats in season

・Fish: In season fish

・Vegetables: In season vegetables

・Other: Fried Onigiri, Satsuma Sweet Potato Dessert

・Drinks: 1 Beer Server, White Wine, Red Wine, Whisky, Shochu, Tea, Water, Orange Juice, Cola (soft drinks are served in 2ltr bottles)

Set Equipment:

・Grill, BBQ, Tongs, Plates, Cutlery, Cups

Reservation/Enquiries: info@moshimoshi-nippon.jp

*Prepared ingredients will differ from season to season

SORAMIDO BBQ: A Premium BBQ Serving at Kasai Rinkai Park in Chiba

Kasai Rinkai Park in Chiba is set to open SORAMIDO BBQ April 16 where you can enjoy a higher grade BBQ with meat, seafood and more all made with fantastic ingredients on a top quality grill.

Kasai Rinkai Park is easily accessible from central Tokyo and looks out over Tokyo Bay and Umihotaru, an artificial island. The BBQ is situated at a wooden terrace deck which lets in the sea breeze and feels like a resort holiday. It can also be used for all kinds of parties.

Food will include top grade meat such as Angus beef, rib eye steaks, pork chops made from Iwanaka pork, vegetable skewers. Other treats include whole-fried broccoli, grilled al ajillo with jumbo mushrooms, tacos and more.

The grill used is by Weber. It's easy to use and rarely overcooks ingredients, keeping the fish and meat juicy and the vegetables sweet and delicious.

SORAMIDO BBQ: ¥6,000 (Before Tax) *3-hour allocation

There are three food plans on offer: the standard "SEASIDE VIEW," "SORAMIDO which comes with lobster, curry and more, and "PREMIUM" which comes with lobster, salmon and other items. Each BBQ course comes with all-you-can-drink soft drinks. You can upgrade to all-you-can-drink alcohol for an extra ¥1,500.

KID'S BBQ: ¥800 (Before Tax)

There's also a kid's option for families. Enjoy a comfortable yet luxurious BBQ surrounded by nature.

A BBQ will open at the Kinshachi Yokocho commercial establishment of Nagoya Castle on March 15 to bring Japanese hospitality to the people of the world.

Running until the end of September, visitors can look forward to dining in a beer garden where fresh seafood like oysters, caught in Japan, will be served alongside Kirin Ichiban beer. The BBQ will specialise in fresh shellfish shipped directly from Ise. Enjoy all-you-can-eat seafood such as bivalves of which they will have a good haul this year.

There will also be a kid's play zone making the BBQ a family-friendly option.

Information

Nagoya Castle Kinshachi Yokocho Seafood Beer & BBQ

Location: Kinshachi Yokocho (1-2-2 Sannomaru, Naka Ward, Nagoya, Aichi Prefecture)

Opening: March 15, 2019 at 17:00 (time subject to change)

Running: March 15, 2019 – Late September 2019

Time: Weekdays 17:00-22:00 / Weekends & Holidays 11:00-22:00

Closures: None (unless during bad weather or in an emergency)

TEL: 070-1666-6700

Amandan Blue Kamakura: The Restaurant Closest to Kamakura's Ocean

Amandan Blue Kamakura is a marriage facility directly facing the sea at Yuigahama beach in Kamakura. For summertime only, the facility will open for general entry with a BBQ and restaurant. The BBQ will run from June 1 to September 30 and the restaurant from July 1 to August 31.

At the BBQ is an outdoor deck with a pool with an ocean view so close you can almost touch it as you feel the sea breeze against your face. The restaurant will be located in the reception hall which is fitted with ceiling-high glass windows that look out to the great blue expanse.

The BBQ will take place on the third floor with the outdoor pool which is in fact an infinity pool, so you can almost feel one with the sea. A luxurious experience is offered to you like that of a sea resort. The grill and everything will already be set up for you, so you can conveniently arrive empty-handed on the day!

There are four slots throughout the day, each lasting a relaxing two hours. The daytime slots begin at 11:30 and 14:00, and at night it's 17:00 and 19:00. Each slot in the day is limited to four groups and the night slots are limited to two, allowing you to enjoy a positively private BBQ. Reservations are from 4+ people in the day and 6+ in the evening. The deck can also be reserved for 15+ people. It can accommodate for up to 60 people meaning it can be used for a small party too if you like.

For food, as well as the BBQ grill (beef, pork and fried vegetables), you can also get chicken pie, a specially made curry, fries, and desserts for a total of 12 items. There are 20 kinds of alcoholic drinks including beer, high ball, lemon sour, cocktails and non-alcoholic beer, and 5 soft drinks. Everything is all-you-can-drink.

They also serve food plans. In the evening, the chefs will stand at the grill and can cook your meat exquisitely to how you like it.

Arrive during the day for a BBQ with a glimmering blue ocean view or in the evening for one with the sea illuminated by the light of the moon.

■Information

Amandan Blue Kamakura

Address: 5-2-25 Zaimokuza, Kamakura, Kanagawa Prefecture

Closed Days: None (Except on weddings)

Access: 16-minutes on foot from Kamakura Station via JR Yokosuka Line and Enoshima Electric Railway / 9-minutes on foot from Wadazuka Station via Enoshima Electric Railway

TEL: 050-5213-0724

BBQ

Running: June 1, 2018―September 30, 2018

Slots: 11:30 / 14:00 / 17:00 / 19:00 (2 hours each)

Price: Day (11:30/14:00) – ¥5,000 / Evening (17:00/19:00) – ¥7,000 *There's also an upgrade plan at ¥9,000 in the evening

Reservations: Day – 4+ people / Evening – 6+ people

Groups: Day – 4 / Evening – 2

Restaurant

Running: July 1, 2018―August 31, 2018

Slots: 11:30 / 12:30 / 13:30 / 14:30 (90-minutes each)

Price: ¥5,000 (7 items + drink course), ¥3,500 (6 items + drink course), ¥2,500 (appetisers, one plate with 8 items)

Seats: 140

Reservations possible.

Enjoy a BBQ at Beer Garden on Rooftop in Roppongi

A beer garden serving authentic BBQ cuisine will open for a limited period of time from April 23 on top of Ark Hills South Tower where a luxurious rooftop garden sits.

Despite being in the middle of the big city, the garden has a freeing, spacious feeling with plenty of greenery and even sofa seats.

Food includes filling T-bone steak that uses carefully selected Iwanaka roasted pork shoulder, as well as a selection of seafood and vegetables.

In addition, downstairs in the same building, you can buy meat to take to the BBQ too. Choose your favourite ingredients and enjoy cooking it on the barbeque yourself. Of course, you can use it just for à la carte and drinks too.

The plan includes the 'Casual BBQ Course' (¥4,800 for 2+ people) where you can enjoy beef, pork and chicken; the 'Premium BBQ Course' (¥6,500 for 2+ people) that includes a T-bone steak, seafood and more; and the cook-it-yourself option (¥3,300). There's also drinks to be enjoyed with each course as well as all-you-can-drink wine.

Step away from the hustle and bustle of the busy city a little and enjoy a top-tier BBQ atop a lush rooftop garden.

■Information

ARK HILLS SOUTH TOWER ROOFTOP LOUNGE ~Roppongi BBQ Beer Garden~

Address: Ark Hills South Tower Sky Park, 1-4-5 Roppongi, Minato, Tokyo

*Please use the direct elevator on the path behind the B1F Ark Kitchen 'Etsubo' (笑壷)

Running: April 23, 2018 – September 30, 2018

Opening Hours: 17:00-23:00

*[April-June] Saturdays 12:00-23:00 / Sundays & Holidays 12:00-22:00

*[July-August] Saturdays 15:00-23:00 / Sundays & Holidays 15:00-22:00

*[September] Saturdays 12:00-23:00 / Sundays & Holidays 12:00-22:00

TEL: 03-5549-1550 (*Reception opens April 20)

No Fixed Holidays. (Except during bad weather.)

Homepage: http://arkhills.beergardens.jp/

Booking: https://www.tablecheck.com/shops/

Sushi represents Japanese food! 5 recommended sushi restaurants in Tokyo

Sushi is the probably the most famous Japanese food! Below are 5 sushi restaurants we highly recommend.

Roppongi "atelier Morimoto XEX"

"atelier Morimoto XEZ" is a combined restaurant produced by Masaharu Morimoto who works in foreign countries centering around the U.S. You can make an order until 3:00 AM and enjoy many kinds of dishes which are a mixture of Japanese style and Western style. "Edomaezushi" is the recommended dish. Why don't you enjoy the dishes created by this top chef who is loved by people all over the world?

Detailed information:http://www.moshimoshi-nippon.jp/58797

■Information

atelier Morimoto XEX

Address: Roppongi Building, 7-21-19, Roppongi, Minatoku, Tokyo

Holiday: New Year's Day

TEL:03-3479-0065

URL:http://www.xexgroup.jp/morimoto

※The counter with cast iron-pan can be used until 24:00 and the isolated room can be used by paying 20,000 yen.

Shinjuku "Sushizanmai"

"Sushizanmai" is a sushi chain restaurant. The price of one of the lunch menus "Maguroduke Donburi" is only 477 yen (tax not included)! Moreover, you can drink as much coffee as you like. The lunch menu noted previously is offered from 11:00 to 17:00 at Shinjuku Higashiguchi Store (only on weekdays.) The helping of rice can be chosen at will and the menu comes with miso soup. The menu is recommended for those of you who want to enjoy seafood at a low price!

Detailed information:http://www.moshimoshi-nippon.jp/34111

■Information

Sushizanmai Shinjuku Higashiguchi Store

Address: 3F Seno Building, 3rd street, 18-4, Shinjuku, Shinjukuku, Tokyo

Business hours: 24 hours, lunch time – 11:00 to 17:00

Holiday: no holiday

TEL:03-5357-7737

Shinjuku "Hokkaido Sushi Unimaru"

The branch store of "Hokkaido Unimaru" where you can enjoy sushi and dishes of sea urchin opened inside of "Odakyu Ace" at Shinjuku Station's West Exit. The set "Uni Tabekurabe" (1,800 yen) offers three kinds of sea urchins; Murasaki Uni, Bafun Uni and Ensui Uni. Accordingly, you can compare the taste of these different sea urchins. This set menu is highly recommended. You can choose either "Shiro Shari (white rice)" using rice vinegar or "Aka Shari (red rice) using red vinegar.

Detailed information:http://www.moshimoshi-nippon.jp/40869

■Information

 "Hokkaido Sushi Unimaru"

Address: 〒160-0023, West Exit Basement #1, Nishishinjuku, Shinjuku, Tokyo (Odakyu Ace North Department)

Business hours: 8:00 to 23:00

Holiday: no holiday

TEL:0362790148

>>next page

~Wild Beach~ Enjoy the best resort-filled rooftop bar and BBQ

Summer is almost here and it's time to enjoy the sun, the beach, and the food!

Who would have thought you can enjoy the resort like atmosphere in Shinjuku?

Well, Tokyo Sky Resort Wild Beach (Shinjuku) is the best place to visit when you are tired of the city and feel like relaxing.

Once the elevator door opens, you will enter a completely different zone. The area is filled with white sand, beach beds, and sofa seats, creating a tropical beach resort atmosphere.

The "Beach Café Area" offers a fashionable "French style barbecue" where you can enjoy various kinds of appetizers and drinks. At night the area is lit up with candles and lights, creating a romantic feeling.

At the private wood deck space, you can reserve the whole area and enjoy the recent trend in Japan, "glamping" (glamorous camping). There will be a glamping tent with tables, sofas, and a barbecue space to have a good time with friends and family.  There will also be a personal waitress that will be serving your food and drinks.

Try out the most popular drinks, Mango Sparkling and Peach Sparkling! They are very fruity and easy-drinking for anyone. Even the ice cubes are colored, which makes it very stylish and perfect for Instagram!

Continuing with Instagram, there are several cute photo spots inside the café. There are 3 different areas with wall art of an Angel's wing and there are also swings here that will bring back your childhood memories.

Not only can you come and BBQ with your friends on the weekend, but you can also show up after work on a weekday to refresh and have a nice relaxing time.

Reservation:

Beach Café Area with Parasol and Sofa ¥1000
Beach Café Area with Pergola Bed ¥2000
Wild BBQ ¥4500 (Kids under 10 ¥1500)
Wild BBQ for Girls Night Out ¥3900
Beach BBQ (¥5500) (Kids under 10 ¥2500)
Beach BBQ for Girls Night Out ¥4900
Luxury BBQ ¥7500 (Kids under 10 ¥3500)
Luxury BBQ for Girls Night Out ¥6900
Glamping BBQ ¥15,000 (Kids under 10 ¥5500)
Glamping BBQ for Girls Night Out ¥12,500
You can make any plan into all you can drink set with +¥1500
You must make a reservation if you are planning on going on Fridays or weekends and the reservation must be made a month prior.

There are also free café spaces where you do not need to make any reservations so feel free to come in any time!

The Tokyo Sky Resort Wild Beach (Shinjuku) will be opened until September 30th, 2017!

Writer:Jessica

■Information:

Location: Lumine EST rooftop

Address: 3-38-1, Shinjuku, Shinjuku-ku, Tokyo

Open Hours: 11:00am- 23:00pm

Phone: 070-3884-7290

Related article:Summer: The season of barbeques & beer gardens! Today we're recommending you rooftop terraces in Tokyo! (Part 8)

Related article:Feel like you're at a resort with couples' seats, swing seats and glamping at "Hankyu Top Beer Garden"