Stay Home: 6 Fun Character Dessert Recipes to Try During the Lockdown
Here at MOSHI MOSHI NIPPON, we post news and information about Japan in six languages. Our aim is to deliver a variety of content related to Japan for those who love and enjoy Japanese culture.
Right now, people across the globe are in self-isolation as a result of the coronavirus pandemic. The same goes for Japan too, so we've taken this opportunity to create a new series on the website to show how we're spending time at home here in Japan.
The future is yet uncertain, and we hope for normality to return for all of us soon. We created a new articles series called Stay Home with which we hope to take your mind off the situation, even for just a little bit, to help you feel calmer. It might give you some tips on what you can do while spending time at home.
We have picked 6 character recipes from our popular Kaori's Easy Recipe series where Kaori shows us how to turn delicious desserts into cute characters.
1: Disney Tsum Tsum Chocolate Covered Cookies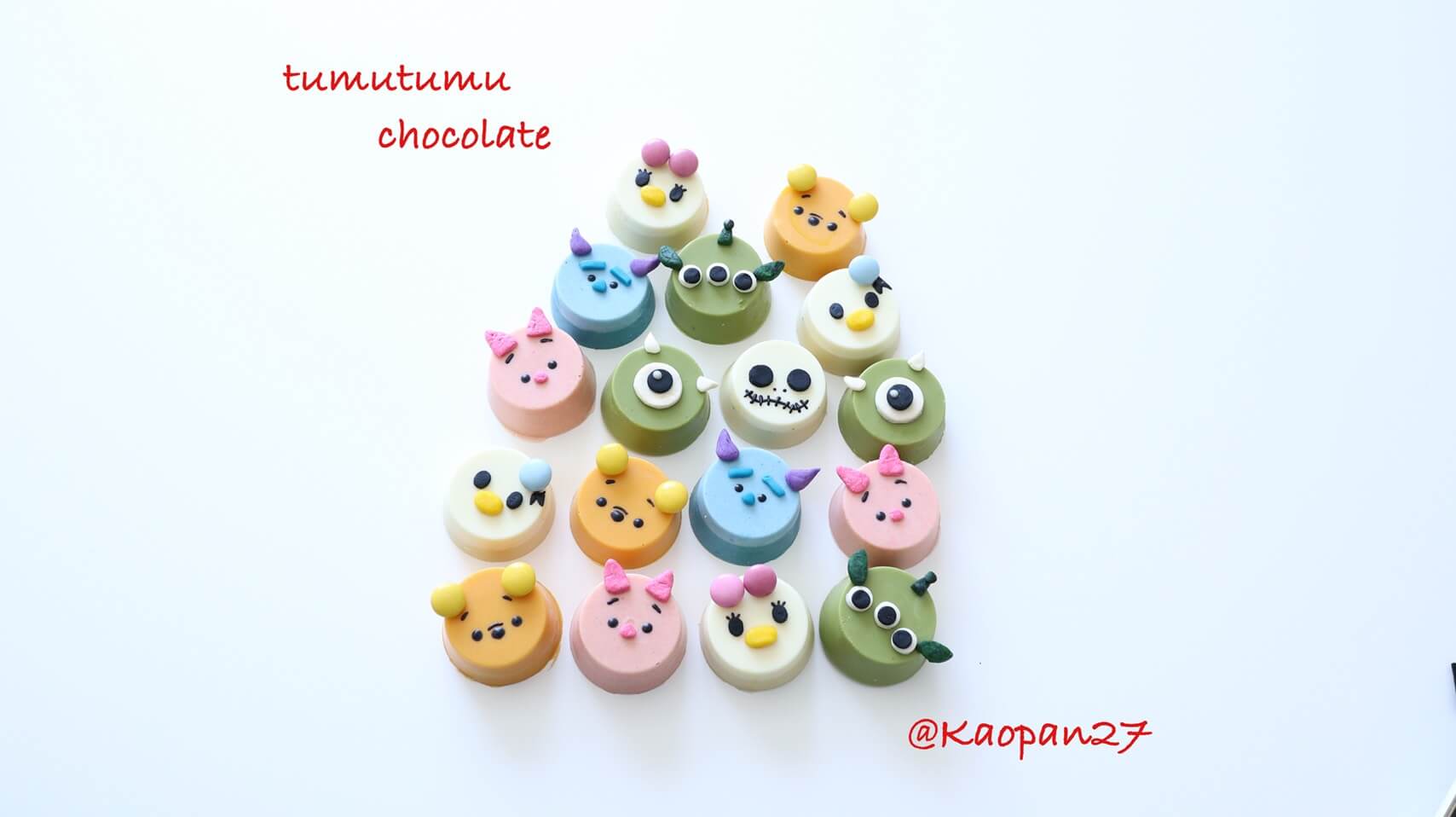 Ingredients:
・Silicone cupcake case (6cm size used for this recipe)・White chocolate・Matcha chocolate・Marble chocolate・Chocolate plastic (also called "modelling chocolate")・Chocolate pen・Oreo cookies・Pink, yellow, blue and green food colouring
This is a super simple recipe which requires you to melt chocolate, put it in a cupcake case, let is set, and decorateーthat's it! This is a fun one to do together with your kids.
Full Recipe: https://www.moshimoshi-nippon.jp/215213
2: Pompompurin Pumpkin Tarts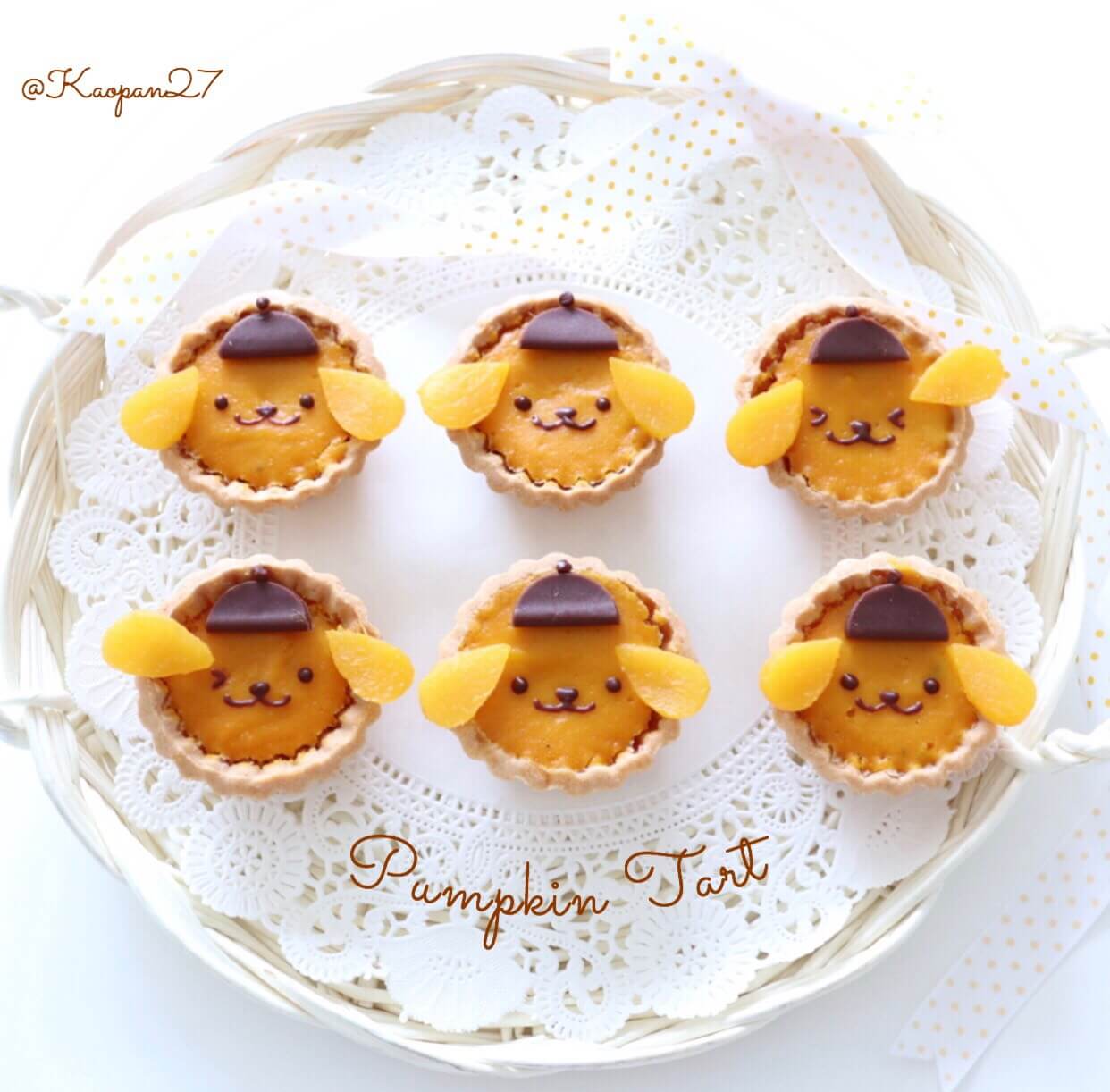 Ingredients:
・12 Tart shells・150g Pumpkin (deseeded, skin taken off and made soft)・50ml Fresh cream (In this recipe I used soy milk)・20-30g Sugar (Depending on the sweetness of the pumpkin)・1 Egg yolk (small egg)・Sliced Chocolate・Tinned yellow peach
Soften some pumpkin in the microwave and add sugar, fresh cream, and egg yolk. Place into some store-bought tart shells, draw on faces, and you have yourself some adorable Pompompurin tarts.
Full Recipe: https://www.moshimoshi-nippon.jp/107177
3: Korilakkuma Coffee Jelly Parfait
Ingredients:
・Coffee Jelly・Chocolate Pens・Milk・Ice Cream
A super simple parfait made using store-bought coffee jelly. There's a bit of technical work that goes into making Korilakkuma's face, but Kaori shows you how to do it nice and easy.
Full Recipe: https://www.moshimoshi-nippon.jp/118421
4: Hello Kitty Fruit Sandwich
Ingredients:
・Sliced bread・Strawberries・Fresh cream・Sliced cheddar cheese・Chocolate sheets・Cutter
You'll never want to slice your bread any other way after following this recipe. Hello Kitty is topped with freshly sliced strawberries, fresh cream, and other delights.
Full Recipe: https://www.moshimoshi-nippon.jp/38348
5: Totoro Black Sesame Seed Pudding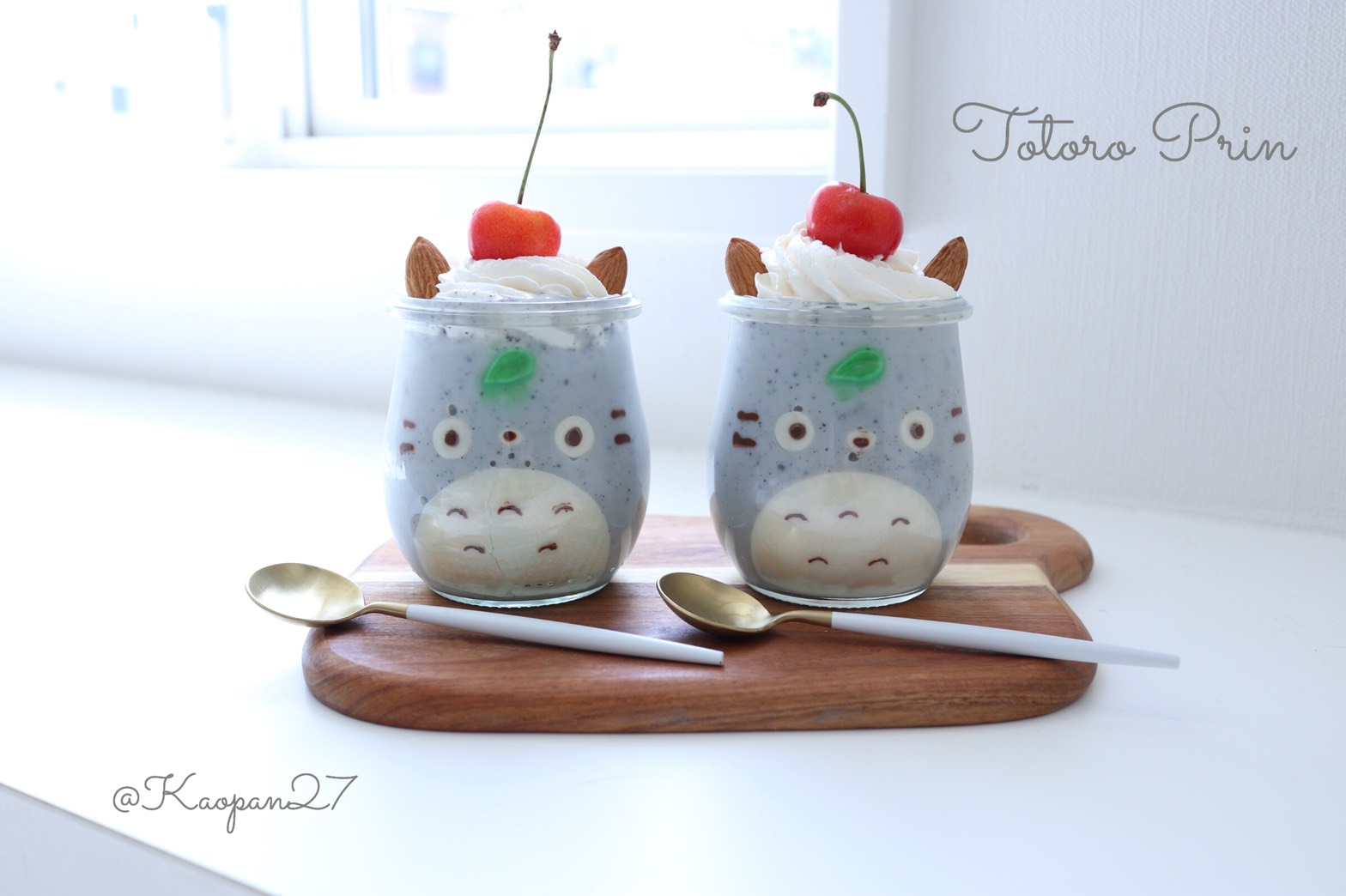 Ingredients
・Black Sesame Purin Mix (purchased from Daiso)・Milk・Pura Chocolate (Swiss chocolate also fine)・Transparent Jar (Weck jar used)・Almonds・Fresh Cream・Fruits of your choice
Totoro's features are made with little chocolates and chocolate pens. Those are added to turn the entire glass into a cute Totoro pudding dessert♡
Full Recipe: https://www.moshimoshi-nippon.jp/120542
6: Mickey & Minnie Mouse Cookie Cupcakes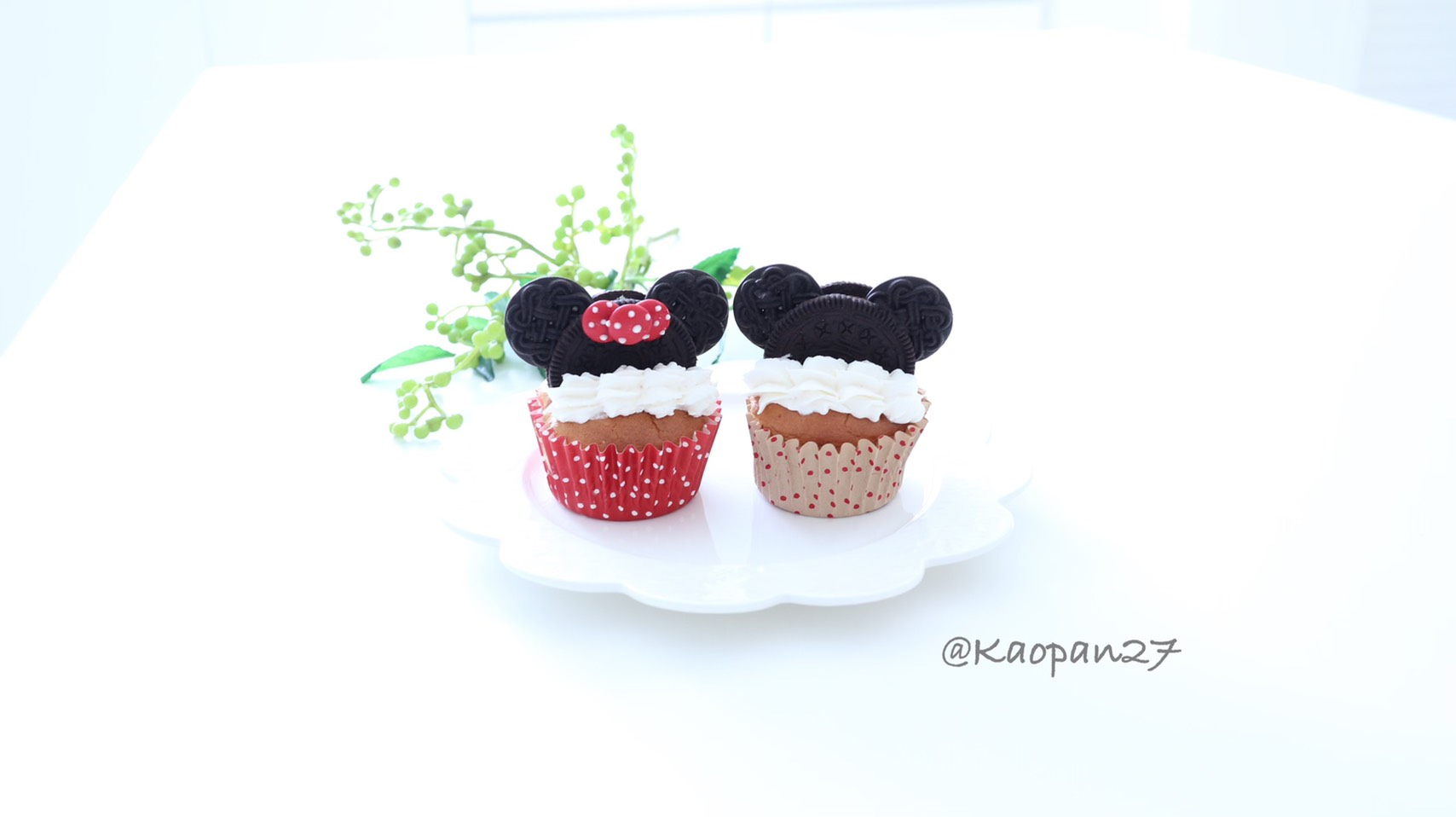 Ingredients (Makes 6 cupcakes measured 7cm):
・2 medium eggs (40g egg yolk/60g egg white)・60g granulated sugar・2tsp vegetable oil・1-2tsp lemon juice・45g weak flour
The recipe shows you how to make the actual cupcake, but store-bought ones work too. The Mickey and Minnie decorations are made from Oreos and marble chocolate.
Full Recipe: https://www.moshimoshi-nippon.jp/292614
Bring the cafe experience to your own home with one of Kaori's easy recipes. See more of her recipes here: Kaori's Easy Recipe
Kaori Kubota (@kaopan27)
I live in Hokkaido and I love to make character themed foods, desserts and pastries♡
I want to see my family smile, so I enjoy putting in a bit of effort to make character foods and changing food into something cute♡
You can see more of my character foods and character bento boxes on my Instagram page→@kaopan27
RELATED ENTRIES
A Sneak Peek at Sebastian Masuda's 'Yes, Kawaii Is Art' Exhibition at Kanda Myojin Shrine

The Godfather of Kawaii Sebastian Masuda will open his 'Yes, Kawaii Is Art' exhibition at the 1,300-year-old Kanda Myojin Shrine on December 4, 2021. A number of Masuda's representative works will be on display at the historical site, known as one of the most important shrines during the Edo period. 

Colorful Rebellion -Seventh Nightmare-

Kanda Myojin Shrine

 

Colorful Rebellion -Seventh Nightmare- has been shown in New York, Milan, and Amsterdam over the past few years, and will now make an appearance as part of this exhibition. Given the magnificence of the venue, the work will be presented in a unique way–in the basement of the shrine. In addition, a part of the research on Kawaii culture conducted in collaboration with Kyoto University of Arts Ultra Factory will be on display as well. Guests will be invited to ponder the nature of Kawaii, and what makes it so beloved by audiences worldwide.


 

Colorful Rebellion -WORLD TIME CLOCK-

Time After Time Capsule Art Project

Kawaii Archival Research

Near the entrance to the shrine, the Colorful Rebellion -WORLD TIME CLOCK will be on display. Clad in the cutest colors imaginable, it has become a symbol of Harajuku around the world. The Hello Kitty-shaped time capsule, which was on display for five months in New York City in 2015, will also be shown on the temple grounds. The participatory art project has made it to 12 cities around the world so far. 

Kawaii culture will blend with traditional Japanese culture during this exhibition, so keep an eye out for more details coming soon!

What is 'Yes, Kawaii Is Art?' 

Sebastian Masuda has been at the helm of the global Kawaii movement for decades. 

 In 2020, Masuda asked a number of questions to fans of Japanese pop culture around the world–what is Kawaii? Why does Kawaii cross borders, generations, and gender? This new exhibition tries to find an answer to those questions while bringing some joy and excitement to the local community. 

Information

Sebastian Masuda Exhibition 'Yes, Kawaii Is Art' at Kanda Myojin Shrine

Dates: December 4 – December 12, 2021

Hours: 12:00-18:00 (Last Entry at 17:30)

Address: Kanda Myojin Shrine (2-16-2 Sotokanda, Chiyoda-ku, Tokyo)

Admission: Free (¥500 for Colorful Rebellion -Seventh Nightmare-)

https://sebastianmasuda.com/works/tokyo/

For more details on the event, follow Sebastian Masuda's Twitter: 

Sebastian Masuda Kawaii Exhibition to be Held at 1,300-Year-Old Kanda Myojin Shrine

Sebastian Masuda, the Godfather of Kawaii, is bringing his 'Yes, Kawaii is Art' exhibition to Tokyo. If that isn't cool enough, the event will be held from December 4 until December 12, 2021, at the 1,300-year-old Kanda Myojin Shrine, known as one of the most important shrines during the Edo period. 

Kanda Myojin, the Tokyo Venue

Work at 'Yes, Kawaii is Art' Venue in Osaka

Related Event, 6%DOKIDOKI Fashion Show

Originally scheduled to arrive in Tokyo in September, the exhibition was postponed due to the state of the COVID-19 pandemic. Kanda Myojin is known as the site of the Kanda Festival, one of the three major Shinto festivals in Tokyo started by Tokugawa Ieyasu in 1600. The shrine is very close to Akihabara, and has become a place for technophiles to pray for their electronics!

Sebastian Masuda is known as the Godfather of Kawaii, and his colorful and crazy art is known around the world. In 2020, Masuda asked a number of questions to fans of Japanese pop culture around the world–what is Kawaii? Why does Kawaii cross borders, generations, and gender? This new exhibition tries to find an answer to those questions while bringing some joy and excitement to the local community. 

Osaka's City of Art Kitakagaya has hosted Masuda's exhibition since October 30, with his works spread out across three different venues. These will be open until November 30, 2021. 

Additionally, on November 13, a street fashion show by Masuda's popular Harajuku fashion brand 6%DOKIDOKI will be held at the third venue. The brand turns 26 this year. 

Information

Yes, Kawaii is Art

Tokyo Event

Sebastian Masuda's "Yes, Kawaii is Art" Exhibition at Kanda Myojin Shrine

Running: December 3 – December 12, 2021

Hours: 12:00-18:00

Address: Kanda Myojin Shrine (2-16-2 Sotokanda, Chiyoda-ku, Tokyo)

*Details to be announced at a later date.

Osaka Event

Exhibition Pricing

Venue 1: ¥500 (Weekdays) ¥1,000 (Weekends/Holidays) 

Both Venue 1 + Venue 2: ¥1,500 (Viewing) ¥2,000 (Experience) 

Venue 3: Free

Details: https://sebastianmasuda.com/works/osaka/

Access: Close to Kita-Kagaya Station on the Osaka Metro Yotsubashi Line, Exit 4

Map: https://www.google.com/maps/placelists/list/fGC5yMFnbboXkfjYxijLmbHIzgP88w

Venue 1: kagoo

Main Work: 'Colorful Rebellion -Seventh Nightmare-

Running: October 30 – November 21, 2021

Closed Mondays and Tuesdays, November 17

Hours: 12:00-18:00

Address: 5-4-19 Kita-Kagaya, Suminoe-ku, Osaka

Venue 2: Oto Building

Main Work: 'Fantastic Voyage, Prototype II' 

Running: November 5, 6, 7, 12, 13, 14

Hours: Shows at 13:00, 15:00, 17:00 *Only at 17:00 on November 14

Address: 5-5-1 Kita-Kagaya, Suminoe-ku, Osaka

Tickets: https://sebastianmasuda.peatix.com/

Venue 3: Chidori Bunka

Main Work: 'Colorful Rebellion -WORLD TIME CLOCK-

Running: November 12 – November 21, 2021

Closed on Mondays, Tuesdays, Wednesdays

Hours: 12:00-18:00

Address: 5-2-28 Kita-Kagaya, Suminoe-ku, Osaka

Related Event

6%DOKIDOKI Fashion Show 'Colorful Riot'

Date: November 14, 2021

Time: 15:00~

Address: Venue 1 (Free Admission)

Official Site: https://sebastianmasuda.com/

King of Kawaii Sebastian Masuda Opens Exhibition in Osaka

Artist Sebastian Masuda is a leading figure in Japan's culture of KAWAII. The creator of the popular Harajuku brand 6%DOKIDOKI, the creator has worked with Kyary Pamyu Pamyu and a number of other kawaii personalities in the past. Now, his exhibition titled 'Yes, Kawaii is Art' is coming to Osaka from October 30 to November 21, 2021. The event will take place in Kitakagaya, an art district located in an old factory area, with three distinct venues opening each week. Each will exhibit a different work. 

Fantastic Voyage Digest Video

Presale tickets for Fantastic Voyage, Prototype II, a performance taking place at the second venue, went on sale on October 21. The prototype was created as a device for 'imagining the isolated future,' and shows a transparent capsule traveling through space. The thirty-minute performance will surround viewers with sounds and images and is sure to dig deep into the psyche. 

An exclusive VIP plan will be available on October 30 and 31 and is reserved for only two groups per day. Those who can afford the ¥80,000 per person ticket price can enjoy a luxurious Halloween buffet at the Conrad Osaka hotel. Each scrumptious sweet was designed by Masuda himself, and VIP guests can also tour rooms where his works are displayed. Masuda will accompany visitors to directly explain his works, so the cost might be worth it!

Information

Yes, Kawaii Is Art 

Details: https://sebastianmasuda.com/works/osaka/

1st Showing – kagoo (General reception and ticket office)

Featuring 'Colorful Rebellion -Seventh Nightmare– and more 

Running: October 30 – November 21, 2021 (Closed Mondays and Tuesdays, and November 17)

Hours: 12:00-18:00

Address: 5-4-19 Kitakagaya, Suminoe-ku, Osaka

2nd Showing – Oto Building

Featuring 'Fantastic Voyage, Prototype II'

Open: November 5, 6, 7, 12, 13, 14 at 13:00, 15:00, and 17:00 (Only 17:00 on November 14)

Address: 5-5-1 Kitakagaya, Suminoe-ku, Osaka

Details: https://voyage-osaka2021.peatix.com/

3rd Showing: Chidori Bunka

Featuring 'Colorful Rebellion -WORLD TIME CLOCK– and more

Open: November 12 – 21, 2021 (Closed Monday, Tuesday, Wednesday) 

Hours: 12:00-18:00

Address: 5-2-28 Kitakagaya, Suminoe-ku, Osaka

6%DOKIDOKI Fashion Show 'Colorful Riot'

Date: November 14, 2021 from 15:00-16:00

Address: At 1st Showing location's Free Area

 "Yes, Kawaii is Art" VIP Plan

Yes, Kawaii is Art VIP Plan Including Conrad Osaka Halloween Buffet

Price: ¥80,000 per person (Tax Included, limited to two groups per day) 

Dates: October 30 & 31, 2021

Hours: 14:30-18:30

Private Art Tour Plan for Groups and Businesses

Price: ¥200,000 (Tax Included) 

Dates: November 6, 7, 10, 11, 12

Hours: Morning Group 10:00-12:00 / Evening Group 18:30-20:30

VIP Plan Details/ Reservations: https://forms.gle/BMjMHb9jr6RMZg1G7

Masuda Sebastian is Spreading KAWAII Culture with these Commemorative Events

Artist Masuda Sebastian, a leading figure in Japan's KAWAII culture, is celebrating his 30th year of activities this year. His works express KAWAII from a variety of perspectives, taking the world by storm and creating a new KAWAII culture with new values. His store 6%DOKIDOKI opened in Harajuku in 1995, and Masuda has since been working as an art director, spreading KAWAII culture throughout Japan and across the world. 

He has also been in charge of the art direction and costumes for Kyary Pamyu Pamyu's music videos since her debut in 2011, often featuring 6%DOKIDOKI pieces. The combination of art and music captured the imagination of fans across the globe, inviting them into their world of music.

 

 

To commemorate his anniversary, fans will be able to experience his artwork, both past and present, at a variety of special KAWAII events. 

Be sure to check out these unmissable events and exhibitions!

 

【SPOT】Masuda Sebastian and 6%DOKIDOKI 1995→2021

Duration: Until October 3 2021

 

Masuda Sebastian opened 6%DOKIDOKI in Harajuku back in 1995. To commemorate the 26th anniversary since it's opening, a limited pop up shop has opened in Shibuya PARCO to celebrate the brand's history. Here you can find posters featuring designs from the 90's alongside modern 6% products. 

 

Details: https://www.moshimoshi-nippon.jp/ja/498415

【SPOT】MORI ART MUSEUM – Masuda Sebastian Pop Up Store

Duration: Until October 17 2021

A pop up shop from Masuda Sebastian's art brand, Sebastian Masuda ART. The shop will stock the latest goods from the brand, alongside a selection of art pieces. The store will be opened in TOKYO CITY VIEW on the 52nd floor of the Roppongi Hills Mori Tower, which is also hosting the 'Sanrio Exhibition: 60 Years of Japanese Kawaii History,' where you can view Masuda Sebastian's 'Unforgettable Tower' art piece. 

Details: https://www.moshimoshi-nippon.jp/ja/499990 

 

【SPOT/FOOD】Masuda Sebastian x Conrad Osaka Second Collaboration

Duration: October 31 2021 

Masuda Sebastian has worked closely with Conrad Osaka's executive pastry chef Jimmy Boulay to create a limited-time Halloween sweets buffet. Why not treat yourself to a colorful sweets party this Autumn, packed full of seasonal ingredients?

Details: https://www.moshimoshi-nippon.jp/ja/492445 

【SPOT】Yes, Kawaii Is Art

Duration: November 12 ~ November 21 (closed Monday,  Tuesday, Wednesday) 

A Masuda Sebastian art exhibition hosted in Kitakagaya, Osaka's City of Art. Here you can experience his artwork while discovering the "KAWAII" that has influenced the world and sparked new ideas.

Details: https://www.moshimoshi-nippon.jp/503083

【BOOK】Masuda Sebastian's Artworks PAINT IT, COLORFUL

 Published in 2020, this is Masuda's first artbook. It compiles a variety of his works, including those from Kyary Pamyu Pamyu's PONPONPON and Fashion Monster music videos, the KAWAII MONSTER CAFE restaurant, and Sanrio Puroland's Miracle Gift Parade. Dive into Masuda Sebastian's world with this colorful book which showcases all his art from around the world. 

 Details: https://www.moshimoshi-nippon.jp/ja/345928 

 

【SPOT】Future Peace Nursery

Masuda Sebastian was the visual producer for this nursery which opened in Sendagaya in June 2019. The community contribution project was headed by childcare facility developer Edulead and ASOBISYSTEM, which fosters and spreads Japanese culture. Masuda's colorful design creates a bright and charming space, ideal for nurturing children's growth. 

Details: https://www.moshimoshi-nippon.jp/ja/223582 

TEXT:Natalie(MOSHI MOSHI NIPPON)

Masuda Sebastian Exhibition "Yes, Kawaii is Art' Held in Kitakagaya, Osaka's City of Art

Artist Masuda Sebastian will be holding the 'Yes, Kawaii is Art' exhibition in Osaka and Kyoto. The exhibition will be starting in Kitakagaya, Osaka's City of Art, held between October 30 and November 30.

 

The exhibition explores the current state of 'Kawaii,' a keyword which has influenced the world, along with a selection of Masuda Sebastian's works.

In 2020, Masuda started conversations with Kawaii communities across the globe to light up the world with vivid colors following the pandemic. What is Kawaii? Why does Kawaii surpass borders, generations, and gender, as the community moves onwards? This exhibition investigates the depths and new possibilities that Kawaii offers, through the works of Masuda Sebastian and his activities as an activist. 

 

Special Focus

Venue 1: Japan's First Colorful Room Exhibition


The first venue features a full-room installation titled 'Colorful Rebellion Seventh Nightmare.' 

The piece was first released in 2014 and was created as a self-portrait representing the seven deadly sins. Following its first exhibition in Chelsea, New York, it has since been exhibited in Florida's Young at Art Museum, Milano's Milano Salone, Amsterdam's Tropenmuseum, and Antwerp's Museum aan de Stroon. This will be the first exhibition of this work in Japan.

Second Venue: An Experience Based on the Artist's Memories

The second venue features the experience-type exhibit, 'Fantastic Voyage.' The piece, which was originally shown for just three days in Tokyo during February 2021, has been reworked and will be exhibited once more. The art reflects the current world, where everything is rapidly changing due to the Covid pandemic. 

A transparent capsule drifts through space, travelling through a world studded with snippets of sound and words. Both the guest experiencing this world and the person within the capsule are experiencing the same time together without exchanging words. It is the concept and prototype of "a device that imagines the future in an isolated world." The performance lasts for 30 minutes, reaching deep into the viewer's senses.

Venue Three: Harajuku's Famous World Time Clock is Revived in Two New Forms


The third venue features the famous 'Colorful Rebellion -WORLD TIME CLOCK-,' a piece which was beloved by the city of Harajuku since its unveiling in 2015, remembered by tourists from all over the world. The original 2015 world clock, which was displayed on the streets of Harajuku, has been reconstructed while retaining the original faded materials. The 2019 version, which was made based on the colors of the original world clock, will also be displayed. 

 

The Tokyo exhibition was expected to open in September 2021 but was postponed due to Covid-19. Details for the new exhibition dates will be announced in the future. 

 

"I want to see the future of Kawaii. That is why I cannot stop creating; that is what drives me." – Masuda Sebastian. 

Information

 "Yes, Kawaii is Art"

First Venue – kagoo: 5-4-18 Kitakagaya, Suminoe-ku, Osaka

Duration: October 30 ~ November 21 2021 (Closed Sunday and Tuesdays, closed on November 17.)

Opening Hours: 12:00 ~ 18:00

 

Second Venue: 5-5-1 Oto Building, Kitakagaya, Suminoe-ku, Osaka

Duration: November 5, 6, 7, 12, 13, and 14, 2021

Opening Hours: 13:00 ~ 14:00 / 15:00 ~ 16:00 / 17:00 ~ 18:00 (*Only open between 17:00 ~ 18:00 on November 14.)

 

Third Venue: 5-2-28 Sendori Bunka Hall, Kitakagaya, Suminoe-ku, Osaka

Duration: November 12 ~ November 21 (Closed on Monday, Tuesday, Wednesday)

Opening Hours: 12:00 ~ 18:00

Official Site: https://sebastianmasuda.com 

Godfather of Kawaii Sebastian Masuda Celebrates 30 Years in Showbiz with Pop-Up Shop at Roppongi Hills

Sebastian Masuda is a powerhouse of all things cute. From starting the popular Harajuku-based brand 6%DOKIDOKI in 1995 to creating the now-legendary music video for Kyary Pamyu Pamyu's PONPONPON, Masuda is now celebrating 30 years in the industry. An exhibition of the artist's works will be shown in an upcoming exhibition in both Tokyo and Osaka from Fall 2021 until 2022. Prior to that, a Sebastian Masuda pop-up shop is coming to Roppongi Hills and Shibuya PARCO starting this month!

From September 23 until October 17, the art goods brand Sebastian Masuda ART will hold a pop-up shop within the Mori Art Museum Shop on the third floor of Roppongi Hills West Walk. In addition to the latest art goods, including the brand-new 'Inner Voyage' series, a number of Masuda's colorful art pieces will be on display, with some being for sale. 

When visiting Roppongi Hills, don't forget to head up to the 52nd floor for the 60th Anniversary Sanrio Exhibition: The Beginning of Kawaii, running from September 17 until January 10, 2022. Sebastian Masuda's work 'Unforgettable Tower' will be on display when entering the event, while the Tokyo City View store will be selling some of the artist's products! Basically, both the 3rd and 52nd floors will be nothing but kawaii. 

Mori Art Museum Shop

Stickers: ¥550 – ¥2,860 (Tax Included)

 Inner Voyage T-Shirt: ¥7,480 (Tax Included)

Microcosmos -Tattoo Pink & Me-   

Sebastian Masuda & 6%DOKIDOKI 1995→2021

Mesh Top:  ¥10,450 (Tax Included)

Long Sleeve T-Shirt: ¥8,250 (Tax Included)

DOKI DOKI Earrings: ¥4,290 (Tax Included) / Logo Plate Necklace: ¥7,590 (Tax Included) / 6% Logo Pochette: ¥6,050 (Tax Included)

Charm Pouch – Kawaii Company: ¥2,860 (Tax Included) / Sebastian Masuda STUDIO COLOR PALETTE: ¥4,400 – ¥2,860 (Tax Included) Felissimo

The Sebastian Masuda & 6%DOKIDOKI 1995→2021 event will be held from September 17 to October 3 at Hobonichi CultureN, located inside Shibuya PARCO. Guests will be able to look back at the 26-year history of the 6%DOKIDOKI brand. 

2021, much like 2020, has lost a lot of it's brightness due to the ongoing pandemic. Why not surround yourself with some kawaii goods to raise your spirits? 

Information

Sebastian Masuda Pop Up Store

Running: September 23 – October 17, 2021

Address: Mori Art Museum Shop (Roppongi Hills West Walk 3F,  6-10-1, Roppongi, Minato-ku, Tokyo)

Details: https://art-view.roppongihills.com/jp/shop/

Sebastian Masuda & 6%DOKIDOKI 1995→2021

Running: September 17 – October 3, 2021

Address: Hobonichi CultureN (Shibuya PARCO 4F, 15-1 Udagawa-cho, Shibuya-ku, Tokyo)

Art Charity Auction Opens to Support the Fight Against COVID-19

Last year, the Pola Museum Annex in Tokyo hosted a charity auction to support the fight against the COVID-19 pandemic breaking out across the globe. As the world continues to feel the effects of the virus, the charity event is returning for a second year, and is set to be held from November 12 until December 5, 2021. The title for this year's art exhibition is 'Find Your Travel.' 

Lemon Tree – Yuka Kashihara. Acrylic and oil on canvas.  2020. 

POLA Dot or snowball ~Based on Tosa Mitsuyoshi's Colored Painting of Yugiri from The Tale of Genji~ – Tetsuya Noguchi. Acrylic. 2020. 

our whereabouts – Moe Nakamura. Camphor, bronze, oil. 2021. 

Philanthropy – Yuko Higuchi. Hemp paper, pen, watercolor. 2020. 

Baby Heel-less Shoes – Noritaka Tatehama. Cowhide, pigskin, dye, metal zipper, coated crystal glass. 2020. 

Last year's charity auction raised over ¥9,145,000 (about $83,000) for the Japanese Red Cross. As the COVID-19 pandemic continues around the globe, and as Japan remains locked down, this year's event hopes to raise even more useful funds to help medical professionals on the front lines. 

 

20 artists are participating in the exhibition, with each creating one work based on the theme of 'travel.' In addition to simply viewing these pieces at the exhibition, a silent auction will also be held online. With travel being severely restricted, these works of art seek to inspire and encourage visitors to imagine a better future, when the world is open once again. All proceeds will once again be donated to the Japanese Red Cross. 

 

 

Information

Find Your Travel Charity Auction

Running: November 12 – December 5, 2021

Hours: 11:00-19:00 (Last entry 18:30) / Admission Free

Address: Pola Museum Annex 3F (1-7-7 Ginza, Chuo-ku, Tokyo)

Official Site: http://www.po-holdings.co.jp/m-annex/

Kaori's Easy Recipe: Learn to Make Miffy Parfait Using Tofu!

With just a small bit of ingenuity, turn everyday food into something cute using Kaori's Easy Recipe! With a few simple ideas, an ordinary recipe magically transforms into a cute dish.

In this recipe, I'll show you how to make an adorable Miffy Parfait using tofu shiratama!

Tofu shiratama can be frozen without hardening, so it's great to use for cooking as well as making sweets.

Ingredients

250g refined rice flour

300g silken tofu

✩ This is about 1 bag of refined rice flour and 1 piece of silken tofu.

Canned fruit or fruit of your choice

①

Put the refined rice flour and silken tofu into a bowl and mix well.

⚠️ Do not drain the tofu!

Don't add water, just these two ingredients.

✩I knead all ingredients and then freeze it.

Feel free to freeze it as dough, or boil it first.

You can put them in Tupperware and store them in water in the refrigerator for a day or two. Don't worry, they won't harden!

②

Add the coloring.

Take a little bit of food coloring and add as you like.

Here, I'm adding the yellow that will be the center of the flower.

③

After mixing the dough, place it on parchment paper and put it in the freezer for about 30 minutes.

You can shape it before placing it in the freezer, but chilling it will make it easier to work with.

④

Cut out Miffy and her flowers.

Place the yellow-colored piece into the middle of the flower.

Roll the rest of the shiratama into balls.

⑤

Boil the shaped shiratama while on the baking sheet.

Boil the round shiratama as well. When they float to the top, place them in cool water.

⑥

Place the shaped shiratama on parchment paper or plastic wrap and let dry briefly before adding decoration.

⑦

Mix black cocoa with a little water, and using the mixture, draw Miffy's face.

⑧

Place the flowers and shiratama balls inside the glass, follow up with your favorite fruits!

(If using canned fruit, feel free to add the syrup as well!)

I hope you enjoy decorating this colorful dish!

Kaori Kubota(@kaopan27)

I live in Hokkaido and I love to make character themed foods, desserts and pastries♡

I want to see my family smile, so I enjoy putting in a bit of effort to make character foods and changing food into something cute♡

You can see more of my character foods and character bento boxes on my Instagram page → @kaopan72

Sanrio 60th Anniversary Event Reveals Collaboration Cafe Menu

One of the most popular franchises to come out of Japan is celebrating a massive milestone! The Sanrio Exhibition: 60 Years of Kawaii Culture in Japan will be held on the 52nd floor of the Roppongi Hills Mori Tower starting September 17. The event will feature over 800 unique character products, the largest number in Sanrio history, and will allow guests to experience the charm and wonder of one of the most well-known parts of Japan's 'kawaii' culture.

Special light effects have been added to the 'Godfather of Kawaii' Masuda Sebastian's unique entrance art, titled "Unforgettable Tower." Singer and actor Aoi Shouta acts as the audio guide for the exhibition.

Comment from Aoi Shouta / Audio Guide

"I'm excited to experience the history of Sanrio together with you as the audio guide for the exhibition. I'm also incredibly honored to be a part of this project, since I've been a fan of Sanrio for as long as I can remember. Please enjoy this time with your favorite characters!"

Comment from Sebastian Masuda / Designer of the "Unforgettable Tower" 

"Sanrio characters and goods exist in a far corner of everyone's memories. For a long time, this was specifically a Japanese feeling. Now, it's true of people all over the world. Memory is an odd thing. It can be fuzzy, and difficult to capture. However, sometimes the nostalgia and feelings remain, and I've captured this strange balance in the 'Unforgettable Tower.' The Sanrio exhibition is a journey to undertake along with your own memories. I invite you to let your thoughts wander as you gaze at this work of art, and pass through the entrance gate of the exhibition."

Collaboration Menu & Photo Spot

Left: My Melody Curry with Winter Vegetables and Pork Cutlet: ¥1,580 / Middle: Pochakko's Pumpkin Stew: ¥1,520 / Right: Hello Kitty's Whole Apple Waffle: ¥1,380

Left: Pochacco's Hot Strawberry Milk: ¥1,050 / Middle: Pom Pom Pudding in a Pudding Shake: ¥1,080 / Right: Cinnamoroll's Balloon Trip: ¥1,100

The restaurant and cafe THE SUN AND MOON is located on the same floor as the exhibition, so be sure to get these delicious treats when you visit!

Left: Halloween, September 17 – October 31 / Middle: Christmas, November 1 – December 20 / Right: Anniversary, December 27 – January 10

Seasonal afternoon tea will be available during each special event period.

Restaurant Photo Spot Image

*画像はイメージです
© 2021 SANRIO CO., LTD. APPROVAL NO. SP610376

The walls of this red retro restaurant are covered with images of popular characters, making it the perfect place to snap some commemorative photos. Each photo spot will change depending on the holiday season, so don't miss the Halloween, Christmas, and Anniversary backgrounds!

Original Merchandise

Left: Square Acrylic Keychain: ¥1,210 (4 designs) / Middle: Triple Acrylic Keychain: ¥1,210 (4 designs) / Right: Bag: ¥1,650 (4 designs)

Guests can grab over 100 original items, with both modern and vintage designs.

Kaori's Easy Recipe: Learn to Make Two-Layer Mizu Yokan

With just a small bit of ingenuity, turn everyday food into something cute using Kaori's Easy Recipe! With just a few simple ideas, an ordinary recipe magically transforms into a cute dish. 

Today, I'll teach you how to make two-layer Mizu Yokan, perfect for a hot summer day!

You don't even need an oven to make this sweet treat–just let it chill and harden! It's great as a summer vacation snack. 

Ingredients

This recipe makes 2 cups. 

For Mizu Yokan: 

120g fine-grained sweet bean paste

100cc water

Pinch of salt

1-2g Kanten powder

For Matcha Flavoring:

5g matcha

20g sugar

100cc water

1-2g Kanten powder

1

Place bean paste, water, salt, and Kanten powder into a pot and boil until dissolved. 

⚠The Kanten powder needs to be heated for a further 1-2 minutes after boiling to harden properly. After boiling, reduce heat to low. 

2

Pour mixture into container. 

After about 30 minutes at room temperature, the mixture will start to harden. Work on the matcha flavoring when it begins to harden. 

3

Place matcha, water, sugar, and Kanten powder in a pot and boil thoroughly. 

As you did with the Mizu Yokan, reduce heat to low and continue cooking through. 

4

When the mixture is heated through, gently pour it over the Mizu Yokan and refrigerate until ready to serve. 

This is delicious with a variety of toppings, from red bean paste and fresh cream to Shiratama dumplings and fresh fruit!

Kaori Kubota (@kaopan27)

I live in Hokkaido and I love to make character themed foods, desserts and pastries♡

I want to see my family smile, so I enjoy putting in a bit of effort to make character foods and changing food into something cute♡

You can see more of my character foods and character bento boxes on my Instagram page → @kaopan72

VTuber Group kawaii Holding Audition for Second-Generation Members

kawaii Productions, which premiered its first-generation of VTubers this April, is looking for new talent to join for the groups second-generation. Auditions are open until August 31, and the company is looking to hire five successful candidates. 

According to the official audition page, kawaii is looking for those who want to be a VTuber, have English language skills, and who love singing, games, and chatting. They also mention that it's a great way to gain popularity. 

Production kawaii is a newly launched VTuber production company aiming to spread the idea of 'kawaii' around the globe. 

Comment from kawaii management staff: 

"Production kawaii is now recruiting aspiring Vtubers who will work with both the management team and first-generation members to spread 'kawaii' around the world. Currently, we use YouTube as a platform to share Japanese 'kawaii' culture with English-speaking countries. If you want to use your talents and chase your dreams, now's your chance! Don't miss this chance to challenge yourself!'

 

Do you think you have what it takes to be a kawaii VTuber? 

 

60th Anniversary Sanrio Exhibition: The Beginning of Kawaii to Open at Roppongi Hills

From Hello Kitty to Pompompurin, Cinnamoroll, My Melody, and more – Sanrio's internationally adored cast of characters can be universally agreed to be representatives of Japan culture of 'kawaii.' In celebration of Sanrio's 60th anniversary, the company have announced an exhibition centred on the beginning of kawaii culture. The event will take place at TOKYO CITY VIEW from September 17, 2021 to January 10, 2022.

60th Anniversary Sanrio Exhibition: The Beginning of Kawaii recently finished up at the Matsuzakaya Art Gallery in Nagoya on June 12 and is set to move to Ōita Prefectural Art Museum where it will run from July 10 to September 5 before heading to TOKYO CITY VIEW. This exhibition will not only look back over Sanrio's 60-year history, but will also dive into how Japan's culture of 'kawaii' came about. Fans of Sanrio and Japan's kawaii can expect product and design showcases, in-depth explanations, and more.

Sebastian Masuda's iconic artwork is the centrepiece of the exhibition

Entrance exhibit in the daytime

At the entrance of the venue is the Unforgettable Tower, a symbolic art piece by Sebastian Masuda created exclusively for this exhibition which towers 6 meters tall. It's made up of countless plushies of Sanrio characters such as Hello Kitty.

Entrance exhibit in the evening


The kawaii installation stands gorgeously against the cityscape of Tokyo which makes for an Instagrammable photo in the evenings when the city is lit up. The piece, as its name suggests, hopes to create unforgettable memories. The exhibition is set to run through Halloween, Christmas, and New Year, so visitors are sure to make some memorable ones.


© 2021 SANRIO CO., LTD. APPROVAL NO. SP610376

Shouta Aoi's voice as the tour guide

Having lent his voice to other Sanrio events, including at Sanrio Puroland and in collaboration with the Little Twin Stars, the Japanese singer, actor, and voice actor Shouta Aoi has recorded announcements for the exhibition which will be played to guide people around the event.

A themed menu created for the Tokyo exhibition

From Left: Anniversary Afternoon Tea / Hello Kitty Daisuki Fried Apple Mille-Feuille / Cinnamoroll's Balloon Trip

© 2021 SANRIO CO., LTD. APPROVAL NO. SP610376

THE SUN & THE MOON, a cafe and restaurant fusion on the same floor of the exhibition, will serve up food, desserts, and non-alcoholic cocktails inspired by the Sanrio characters. Special seasonal afternoon tea sets will also be sold on Halloween, Christmas, and more too.

Dates
Restaurant: September 17, 2021 – January 10, 2022

Cafe: December 15, 2021 – January 10, 2021

*Closed December 21-26

The main exhibition

The exhibition will be split into six zones with 10 different themes. Over 800 products, documents, and materials related to Sanrio will be presented, many of which will shine a spotlight on some of their most famous characters out of their roster of 400, such as Hello Kitty and My Melody, and other characters that might not be known to those outside Japan such as best friends Patty & Jimmy. It's a chance to walk through the history of Sanrio and Japan's culture of kawaii.

© 2021 SANRIO CO., LTD. APPROVAL NO. SP610376

© 2021 SANRIO CO., LTD. APPROVAL NO. SP610376

© 2021 SANRIO CO., LTD. APPROVAL NO. SP610376

One of the six zones will look into secrets of Sanrio through the globally-beloved kawaii icon Hello Kitty. Another will display outfits such as the Hello Kitty dress worn by Lady Gaga.

Original merchandise

A small peek at just some of the items available

© 2021 SANRIO CO., LTD. APPROVAL NO. SP610376

Sanrio fans can also get their hands on a collection of merchandise with designs ranging from the exhibition's main visual to classic designs. There will be over 100 items to sift through.

Tickets for the exhibition will be available from August 1. A limited number of special tickets that include free merch will also be released.

© 2021 SANRIO CO., LTD. APPROVAL NO. SP610376

Information

60th Anniversary Sanrio Exhibition: The Beginning of Kawaii

Running: September 17, 2021 – January 10, 2022

Where: TOKYO CITY VIEW (Roppongi Hills Mori Tower Floor 52F)

Address: 6-10-1 Roppongi, Minato-ku, Toky0

Price: TBA

60th Anniversary Sanrio Exhibition: The Beginning of Kawaii Official Website: https://sanriocharactermuseum.com/