"Easter Day" is a festival that commemorates the resurrection of Jesus Christ. This year's Easter Day will be held on the 1st of April (Sun.). The custom of celebrating Easter is slowly becoming establishing in Japan.
In this article, I will introduce to you some colorful sweets items related to Easter Day.
"Lindt Gold Bunny" Lindt
The spring-like sweets item, "Lindt Gold Bunny" is a symbol of Easter Day produced by Lindt. This gold-colored bunny uses high quality milk chocolate and the history of this sweets item dates back to 1952. 6 sizes (1kg, 500g, 200g, 100g, 50g and 10g) are available and two flavors; "dark chocolate with a brown ribbon" and "white chocolate with a white ribbon" are available.
"HAPPY COLORFUL EASTER" Odakyu Hyakkaten Shinjuku Store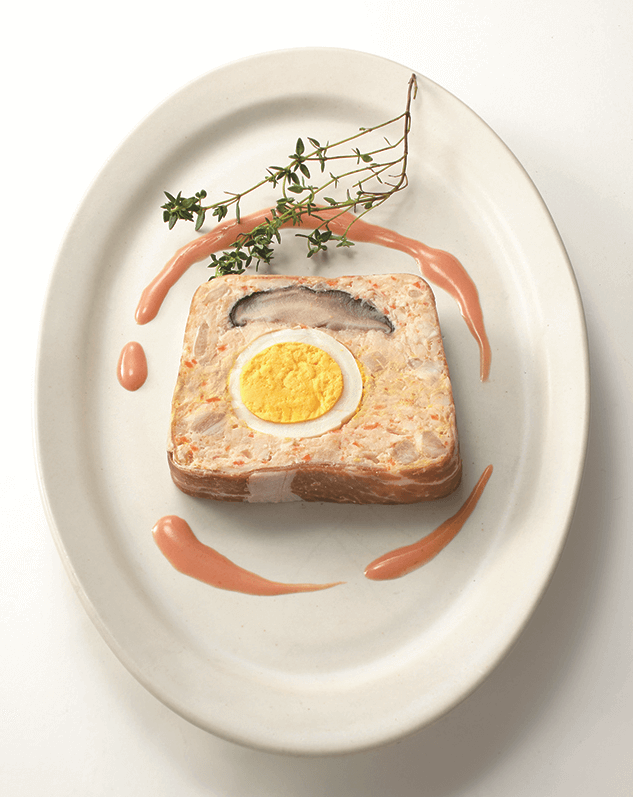 Odakyu Hyakkaten will hold the event titled, "HAPPY COLORFUL EASTER" from the 5th of April (Wed.) to the 16th (Sun.) in shopping areas inside their Shinjuku store. In addition to popular sweets items using the motif of rabbit, many food items which are suitable to be eaten at parties like meat loaf with "Torowaguro" boiled eggs and "Tonkatsu Maisen " fillet cutlet using eggs will be sold.
"Easter Campaign" Café Kaila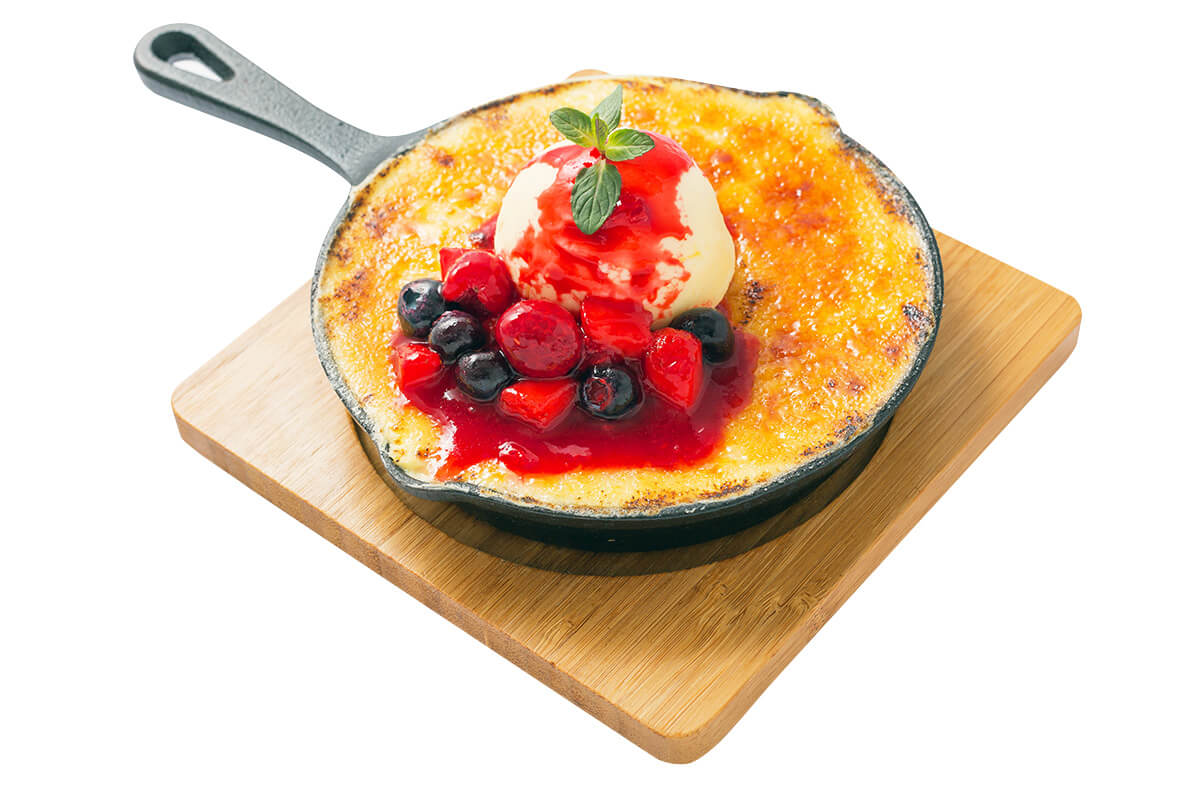 "Café Kaila" is now holding the event titled, "Easter Campign" at both their Omotesando Store and Maihama Store (until the 16th of April, 2017). They will sell limited-time-offer items using lots of eggs. One Easter-limited item will be discounted (50%) if you say, "Happy Easter" when making an order.
"The Capitol Easter 2018" at The Capitol Hotel Tokyu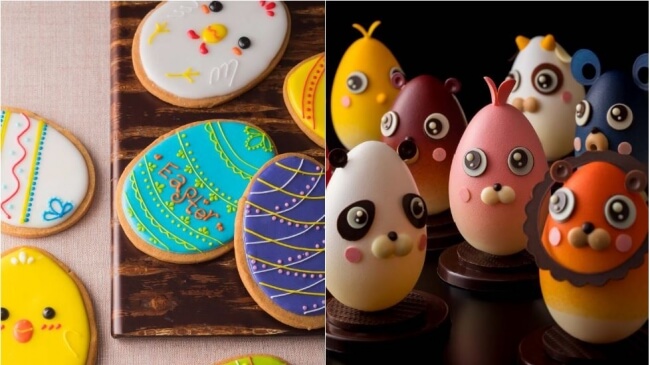 The Capitol Hotel Tokyu will sell two kinds of original sweets items under the event name of "The Capitol Easter" at the pastry boutique, "ORIGAMI" from the 15th of March 2018. The "Easter Egg Chocolate" series has 10 varieties of animal-patterns. Caramel-coated nuts can be found inside the egg-shaped white chocolate. "Easter Egg Cookie" uses powdered vanilla beans and fermented butter.
"Easter Egg Hunt Sundae" PEANUTS Café
This is a sundae using the motif of "SNOOPY offering Easter eggs to his friends." Marshmallows and edible flowers are place on top of whipped cream. The ingredients of this sweets item are banana, kiwi, "Tochiotome strawberries" (strawberry variety) ice cream, strawberry whip and strawberry ice cream. A truly delicious sundae!
 "Easter Cup" Ginza Cozy Corner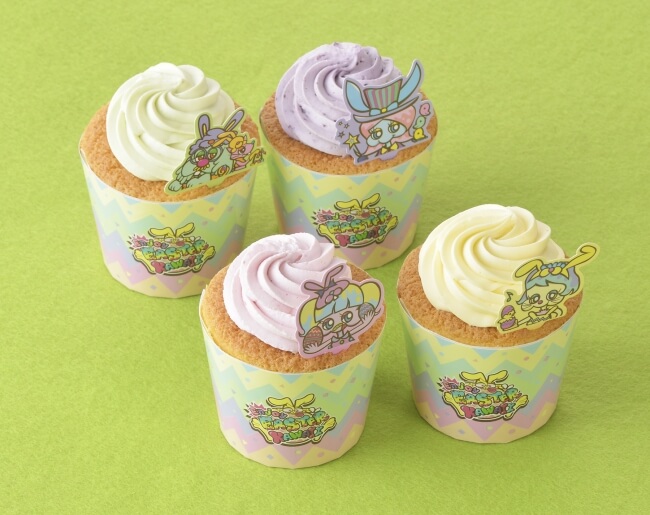 Ginza Cozy Corner will sell four kinds of "Easter" sweet items designed by Masuda Sebastian. These items will be sold at Ginza Cozy Corner from the 4th of March 2018 to the 1st of April. "Easter Cup" is a cupcake which uses rich-flavored cream and custard-flavored sponge cake. Four varieties (strawberry, banana, melon, blueberry) are available. The cupcakes with a unique-looking Easter pattern is cute and delicious at the same time!
"Easter Egg" Joel Robuchon
"Le Boutique du Joel Robuchon" and "Le Pain de Joel Robuchon" will sell 2 kinds of Easter eggs (quantity limited – 70). The two Easter eggs are made of white chocolate colored red and green and it has a white spring flower as a decoration. Crunchy colorful chocolate with various textures are placed inside the sweet items and white chocolate is used as the foundation. The white flower is made with sugar.
Let's have wonderful Easter Day with these cute sweet items!
RECOMMENDED ENTRIES
Cherry Blossom Inspired Food & Drink in Japan: Spring 2018 – Part Two

Spring can already be seen on our calendars, but it's sure still chilly, isn't it?

Today, we're taking another look at cute spring-inspired sweets which can't wait for the Hanami season.


Patisserie Kihachi
Patisserie Kihachi will sell all kinds of cherry blossom sweets at select branches in Japan starting February 28th for a limited period. Look forward to tucking into some kawaii springtime delights such as their "Mont Blanct Sakura" that has a faint smell of cherry blossoms, and the cherry blossom leaf inspired "Verrine Sakura."

Full Details: https://www.moshimoshi-nippon.jp/90609

Pie Face
Pie Face is a pie shop that originates from Australia. Stores in Japan are set to release two new items: the "Mochi Mochi Warabi Mochi" and "Funwari Sakura Latte." The former comes in the shop's signature pie face pie with a cherry blossom flavour, while the latte is topped with cherry blossom flakes, evoking the call of spring.

Full Details: https://www.moshimoshi-nippon.jp/88796

Starbucks Coffee
Starbucks chains in Japan are currently selling cherry blossom flavoured coffee and beverages as well their 'sakura season' tumblers and mugs that are popular every year. There are 3 drinks to look forward to sipping, all inspired by cherry blossoms: a latte, frappuchino and tea! The secret ingredient added to the drinks are sake lees, making them very elegant drinks indeed.

Full Details: https://www.moshimoshi-nippon.jp/90669

YOKU MOKU Aoyhama Honten BLUE BRICK LOUNGE
Yoku Moku's line-up features crème brûlée, a cake and a tea set that include cherry blossom and strawberry toppings to excite the mood of spring. These sweets are sure to tickle the fancy of girls.

Afternoon Tea
The theme of the new spring menu coming to Afternoon Tea is "Once Upon A Spring Day." Available from March 6th, the menu includes a range of sweets, drinks and merchandise, such as a cherry blossom parfait filled with rice flour dumplings and syrup-covered anko, and a Hanami inspired tea set."

Gin no Budo
Located in Ginza, Tokyo, Gin no Budo has a long history. Their longtime spring seller "Ooki na Sakura no Hanabira no Pai" will be available this year too. They are crunchy pies shaped like big cherry blossom leaves. They smell buttery and are coated with shiny pink sugar and sprinkled with shredded cherry blossom leaves. Enjoy their crunchy, fried texture.

Did you like this list? Get a taste of spring early with these cherry blossom inspired foods and drinks!

Introducing a new sweets item gaining popularity in Takeshita Street, Harajuku –"Rainbow Soft Cream!"

Hello, everyone! My name is Banako and I am a staff person of MOSHI MOSHI BOX Harajuku Tourist Information Center!

Have you heard of "Rainbow Soft Cream?" It is a sweets item sold in Harajuku that is gathering much attention on SNS nowadays. Harajuku is a place where many ice cream stores are located.

"LE SHINER" which sells this item is often featured in TV programs as a shop that is offering Instagrammable sweets items.

To get to the store, exit JR Yamanote Line – Harajuku Station / Takeshita Exit and walk straight down Takeshita Street. Then, make a right turn at the intersection where CROQUANTCHOU ZAKUZAKU is located. You can't miss it, and the pink-colored bear sitting outside the shop will be there to greet you.

Rainbow Soft Cream (810 yen – tax included)

This is their popular sweets item –"Rainbow Soft Cream." Rainbow colored fresh cream is placed around the pink-colored ice cream.

I love desserts, so I love this item. The look of this item and the store is so gorgeous and cute, so I took many photos.

 "LE SHINER" sells many popular items such as "Light Bulb Soda" and "Cheese Dog" in addition to "Rainbow Soft Cream."

Why not visit this shop when you visit Harajuku.

◼︎Information

LE SHINER

〒150-0001

Address: COXY 176 Building 1F, 1-7-10, Jingumae, Shibuyaku, Tokyo

Business hours: weekdays 11:00 to 18:00 / Saturday, Sunday and holiday 10:30 to 19:00

Access: 3 minutes on foot from JR Yamanote Line – Harajuku Station / Takeshita Entrance/Exit

4 minutes on foot from Tokyo Metro Chiyoda Line – Meiji Jingumae Station 5th Exit

TEL:070-1361-8686

■MOSHI MOSHI BOX Harajuku Tourist Information Center

MOSHI MOSHI BOX is a tourist information center located at the cross road of Takeshita Street, Meiji Street, and Harajuku Street. The staff there are experts on the Harajuku area. You can get the most up-to-date news of Harajuku from the site.

Services:

Service list

・free wi-fi

・free water

・free PC & charge

・baggage room

・gift shop

・currency exchange

Opening Hours: 10:00-18:00

Closed: The year-end and New Year holidays

Contact: 03-2225-6447

Twitter・Instagram @mmb_harajuku

Writer:Banako(MOSHI MOSHI BOX)  Twitter・Instagram(@banakooooo)

Ruki from MOSHI MOSHI NIPPON visits Pop Team Epic collaboration café at Sweets Paradise Harajuku

Japanese anime is a big hit all over the world. Lately, a new one has been climbing the rankings. Have you heard of Pop Team Epic?

Pop Team Epic (Poptepipic) is a digital manga series that uses punchy images and snappy phrases. It has become increasingly popular as a surreal visual gag manga. Now, it's not only turning into a big hit in Japan, but all over the world!

We heard that Harajuku's dessert café Sweets Paradise is opening a collaboration café with Pop Team Epic, and as big anime fans ourselves, we immediately set off with MOSHI MOSHI BOX staff member Ruki to check it out.

To get there, exit Harajuku station (JR Yamanote line) from Takeshita exit and walk straight. On your left, you will notice the shopping centre SoLaDo Takeshita Street (SoLaDo竹下通り) . You will find "Sweets Paradise on the 3rd floor.

To eat at Sweets Paradise, first you need to purchase a ticket from the machine at the entrance and then enter the café.

There are two courses available:

1 collaboration meal + drink + sweets banquet set ¥1950 (price including tax)

1 collaboration dessert + drink + sweets banquet set ¥2150 (price including tax)

You can also add foods and drinks from the Pop Team Epic collaboration menu to your chosen meal plan for ¥500. To do this, buy the appropriate ticket from the machine at the entrance.

There are Pop Team Epic decorations all around the café!

There is even a small set where you can destroy the Takeshobo publishing office, which comes up in the manga!

There are two types of seats inside the café: "anti-sama/ Takeshobo company employee seats" and the "believers' seats" . The "anti-sama" tables are decorated very simply. In contrast, the "believers'" tables are draped with beautiful table cloths and are near a large screen that is showing episodes from the Pop Team Epic anime.

Being slightly peckish, Ruki did not waste time in scooping up the menu. This dish is called "Aaaaah ichimen no Kusomidori Pasta" (Aaahh a plate of gross green pasta). The random words of countryside-raised Pop Team Epic character Popuko, has been made into a pasta dish.

Ruki: "Spinach, edamame and broccoli – this truly is a green dish! The basil sauce is very simple yet delicious! Is this the true taste of nature?!

This is the "Konna kao ni naru lemon Juice" (Lemon juice that makes you pull this face). Although a bold move, half the lemon is cut and placed as it is in the glass. Whatever the menu, the names of the foods are crazy! Just what you would expect from Pop Team Epic.

Riku's reaction to the sour drink was predicted by the name of the drink!

This is the "Haken Parfait" (Hegemony parfait) You can even order one that is the size of Ruki's head! This is one filling dessert! The word "覇権" (hegemony) is written on a macaron that sits on top of a pile of fruits and strawberry sherbet. At the foot of the parfait lies a wafer with a picture of a ladder on it.

The parfait is an original art piece that depicts a ladder which leads to the top of the parfait to have been toppled over. After looking up the word "覇権" and realizing its meaning, Ruki laughed a lot.

The last item Ruki ordered arrived. The Imi ga wakarimasu ka? Café latte. (Do you know what this means? Café latte) As you can imagine, it was quite difficult to say this name to the waiters and waitresses when ordering. There's a pie chart drawn on the latte, but 90% of it is filled in with the answer "no".

Ruki: It goes well with the desserts because it isn't sweet!

If you order from the collaboration menu, you will receive a novelty 2019 New Year's card… even though we have just started 2018…

Pop Team Epic goods are also selling at the cash register! The variety of goods stretched from stickers, keyrings and manga to toilet paper with scenes from the manga printed on it!

The café is only open until 13th March. Opening times vary depending on the café, so make sure you check the opening times before turning up. Don't miss out on your chance to eat at the Pop Team Epic collaboration café because the manga is becoming more and more popular!

Check out this link for more information:

https://www.moshimoshi-nippon.jp/89750

◼︎Information

Pop Team Epic café, Harajuku

(ポプテピピックカフェ 原宿)

Address:Sweets Paradise, 3rd floor SoLaDo Harajuku, SoLaDo Takeshita Street, 1-8-2, Jingumae, Shibuya, Tokyo

Café period:Friday 2nd February ~ Tuesday 13th March

Opening hours:Weekdays: 11:00 ~ 20:30

Weekends & national holidays: 10:30 ~ 21:00

Access:5-minute walk from Tokyo Metro Chiyoda line, Meiji-Jingumae, 5th exit

     5-minute walk from JR Yamanote line's Takeshita entrance

TEL:03-6661-8671

URL:http://www.sweets-paradise.jp/shop/kanto/solado-harajuku.html

6 Recommended Cafés for Pancakes in Harajuku—A Change From Crepes!

Hi, everyone. Ellie here from the MOSHI MOSHI BOX Harajuku Tourist Information Center.

Recently at the MOSHI MOSHI BOX we've had a lot of people, guys and girls, come in saying that they want to eat some tasty pancakes in Harajuku.

So today, I'm here to recommend some shops that sell pancakes around Harajuku.

Café Casa

"Café Casa" is a long-standing shop whose flavours have remained the same, serving to parents and children through the generations. Everything from the signboard to the illustrated menu and stained glass window created by the owner will leave you feeling cozy. The colour green envelops the café against other vivid colours. Due to customer demand the hot cakes sold there (¥750) have been a familiar item on the menu for almost 20 years. The contrast between the crunchy outside and fluffy inside is exquisite. They're different from your usual pancakes and have a nostalgic feel to them. Combine them with maple syrup and you've got yourself a truly delicious treat.

 Full Details: https://www.moshimoshi-nippon.jp/29317

gram

This stylish café can be found by walking from Harajuku Station down Takeshita Street for about 5-minutes. When you reach the end, turn right and look for the green signboard. The main food on the menu is pancakes, all of which are made with the best ingredients and made one-by-one after an order comes in. The most popular and recommended item on the menu is the fluffy "Premium Pancake" (¥950). The soft pancake wobbles as the waiter brings it over – it looks like it will collapse just by being placed on the table.  Eat this to experience the fluffiest and softest texture you have ever eaten.

Full Article: https://www.moshimoshi-nippon.jp/23455

Bills Tokyo Plaza Omotesando

Bills serve the world's most famous breakfast and were responsible for causing Japan's pancake boom. Located in Tokyo Plaza Omotesando Harajuku, the shop's Australian Ricotta Pancakes. Spread underneath the thick pancake are slices of fresh banana which you eat together with honey comb butter and maple syrup. The marriage between the salty ricotta cheese and sweet syrup is to die for.

Jinguen

"Jinguen" is a gallery café located in Ura-Harajuku. Recommended from their menu are their thick homemade hot cakes. The outside of the hot cake is crisp while the middle is silky smooth. Of course, they go really well with maple syrup. You can also add vanilla icing, whipped cream, and chocolate or strawberry sauce.

Working Holiday Connections – Harajuku Omotesando YM Square Branch

This café is just a one-minute walk from Meiji Jingu Station via Tokyo Metro on the second floor of YM Square. It has tall glass windows which open up the shop and give you a sense of space. Their original "Manly Pancakes" draw a line between standard pancakes and the recent emerging thick and fluffy pancakes to unveil an original and unique texture. The subtle flavour of the eggs make the pancakes melt-in-the-mouth and match perfectly with syrup and fresh cream.

Sunday Jam – Harajuku Branch

This place's specialty menu item is their Honolulu Pancakes. They're incredibly thick, with a crumbly outside and soft middle. These luxurious pancakes have a special flavour made for adults. They are drizzled with butter and fresh cream, and you can choose sausages or bacon to go with them. Eating them with your choice of honey or maple syrup is simply irresistible!

Did you like this list? Try and find your favourite pancakes while in Harajuku!

6 recommended "White Day" desserts!

This year's Valentine's Day has ended, and White Day is coming soon (March 14th)! Have you heard of "White Day" before?

White Day is a day when a man who has received gifts on Valentine's Day, pays back the girl he received the present from by giving white chocolate or some snacks to show his feeling of thankfulness. White Day was first celebrated in 1978 in Japan. It was started by the National Confectionery Industry Association as an "answer day" to Valentine's Day, Now however, this custom has spread to some East Asian countries such as China, Taiwan and Korea.

In this article, I will introduce to you some desserts which are suitable to be used as a present on White Day.

 "Zaku Zaku Blanc" Cream puff specialist shop CROQUANTCHOU ZAKUZAKU

The cream puff specialist shop, CROQUANTCHOU ZAKUZAKU have announced that they will release two new sweets items for Japan's two romantic seasons: the dark chocolate clad Zaku Zaku Noir for Valentine's Day and white chocolate Zaku Zaku Blanc for White Day. Zaku Zaku Blanc is the White Day dream, splashed with pure white chocolate. The white chocolate itself is sweetly rich and creamy and will dazzle your palate.

Detailed information:https://www.moshimoshi-nippon.jp/85146

■Information

Limited Edition Valentine's Day Product: "Zaku Zaku Noir" – Price: ¥290 each (tax incl.)

Release date: 2018/02/16 (Fri.) to 03/18 (Sun.)

Stores: Two branch stores (Harajuku and Higashi Ikebukuro) ※Kamata branch not participating

 "Sacoche" Yokohama Bay Hotel Tokyu

The new White Day gift, "Sacoche" is a cute chocolate, shaped like a hand bag using the motifs of polka dot and button. Colorful macarons (4 flavors – vanilla, chocolate, caramel, pistachio raspberry) are included inside the case made with chocolate! The standard dessert of White Day called "White Day Millle-Feuille o Phrase" is also recommended.

■Information

Hand bag-shaped White Day gift "Sacoche" (75 pieces limited)

Available period: 2018/03/05 (Mon.) to 03/14 (Wed) 11:00 to 19:00

Reservation can be made from 02/15 (Thurs.)
Please note that the quantity of the product is limited

Venue: 2F lounge "Somar House" Pastry Corner

Price: 3,000 yen (tax included)

White Day dessert "White Day Mille Feuille o Phrase"

Available period: 2018/03/05 (Mon.) to 03/14 (Wed.) 11:00 to 19:00

Venue: 2F lounge "Somar House" pastry corner

Price: take out – 3,600 yen / eat in – 3,960 yen (tax and service fee are included)

※Please note that the quantity of the product is limited.

Yokohama Bay Hotel Tokyu:https://ybht.co.jp

 "Ichigo no Truffle" Gin no Budo

The most popular White Day dessert of Gin no Budo "Ichigo (strawberry) no Truffle" was renewed. The product is a spring-limited product produced by Gin no Budo. The product is colored a strawberry pink and is known as one of the first photogenic desserts. The sweetness and sourness of this sweets item is superb!

■Information

Prices: 3 pieces – 561 yen (520 yen), 5 pieces – 864 yen (800 yen), 6 pieces – 1,080 yen (1,000 yen), 9 pieces – 1,620 yen (1,500 yen), 12 pieces – 2,160 yen (2,000 yen)

Available stores: Gin no Budo (Daimaru Tokyo Tokyo Store, Keio Shinjuku Store, Seibu Ikebukuro Store, Isetan Fuchu Store, Sogo Yokohama Store, Lazona Kawasaki Store, Hankyu Umeda Store, JR Nagoya Tatkashimaya Store), Ginza Budo no Ki/Budo no Ki &Kamakuraza Asagaya Store, Pagu to Mogu Odakyu Machida Store

The product might be available at some other stores related to Gin no Budo which are not noted above.

Official online shop:http://www.paqtomog.com

 "White Day Cookie Tsumeawase" Tokyo Milk Cheese Factory

The sweets item comes with two cookies, Salt & Camembert, using thick camembert cheese and grand salt and Honey & Gorgonzola Cookie using gorgonzola cheese and honey made of rosemary flowers. The product is suitable to be used as a gift for persons who love to drink alcohol. Let's get this product as soon as possible since the quantity is limited.

■Information

Available period: 2018/02/15 (Thurs.) ~

The product will no longer be available after stock runs out

Price: 1,000 yen (tax included)

Available stores: Haneda Airport 1st Terminal, Haneda Airport 2nd Terminal, Tokyo Station/Keiyo Street Store, Shibuya Tokyu Food Show Store, Lumine Shinjuku Store, Lumine Tachikawa Store, atre Kichijoji Store, Tokyo Soramachi Store, Lumine Ogikubo Store, EQUiA Kitasenju Store

 "PAPOTER PAPOTER" Ginza Cozy Corner

The "PAPOTER PAPOTER" series which was released this Valentine's Day will be renewed (White Day limited design). Cookies, madeleines and chocolates are included in the newly designed package using the motifs of cute animals. Message cards of animals' illustrations and messages will surely make everybody smile!

 "Berry White Chocolate Pancake" Sarabeth

This menu item is an original pancake of Sarabeth created under the keyword of "pure love." The product uses Sarabeth's special pancake dough including white chocolate so it has a sweet and kind scent and you can also enjoy the soft texture. The combination of the pancakes and custard cream/strawberry sauce is excellent. It might be a good idea to eat this sweets item with your boyfriend/girlfriend or friends.

■Information

 "Berry White Chocolate Pancake" 1,550 yen (tax included)

Available period/: 2018/02/16 (Fri.) to 03/14 (Wed.)

Available stores: Lumine Shinjuku Store / Shinagawa Store / Tokyo Store / Nagoya Store / Osaka Store

How did you like our White Day gift recommendations? Please refer to this article when you are not sure which sweets item to buy as a White Day gift.

6 Hidden Cafés in Harajuku Away from the Busy Streets

Hi, everyone! Ellie here, I work at the MOSHI MOSHI BOX Harajuku Tourist Information Center.

A question we've been getting a lot at the MOSHI MOSHI BOX recently is about cafés where you can sit down – ones with free spaces. Harajuku is particularly crowded on weekends and holidays, so you do need a little courage when heading to a café there, right?

So today, I'm going to show you some little-known good cafés in Harajuku!

Shuu – Harjauku Omotesando Branch


"Shuu" is a café just one minutes' walk from Harajuku Station. It has a really relaxed and retro atmosphere. The seats are roomy, and they even have lots of sofas, so you can spend a super chill time there. There's also spacious VIP seats which may be relief to some adults out there. As well as the regular set menu, the café also serves up seasonal menus, so be sure to check it out.  

cafe na.  

This small café can be found along Meiji-dori which neighbours the traffic lights at the exit of Takeshita Street. It's on the 3rd floor of a mixed residence building, so I reckon there's not a lot of people who know of this place. It has a retro-decorated interior. They're known for their omurice! The mild cheese and gentle flavour of the Japanese style dashi is to die for.

cafe masumiya

This café is about 3-minutes by foot from Harajuku Station towards the lanes. I recommend their handmade sandwiches which come absolutely stuffed with fresh vegetables and juicy chicken. The interior décor is wooden, giving it a calm vibe where you can spend a relaxing time. If you love bread, then this café will be irresistible for you.

Enseigne d'angle

Enseigne d'angle is a 5-minute walk from Harajuku Station via the Takeshita Exit. It's a coffee shop that stands still and quiet away from the hustle and bustle of Harajuku's crowded streets. They're famous for their "Kohaku Jouou" beverage and "Croque-monsieur." They serve up authentic coffee and meals in a relaxed, calm environment.

 

Full Details: https://www.moshimoshi-nippon.jp/55919

Café Morinoterasu

Just a 1-minute walk from JR Harajuku Station or Meiji-Jingumae Station lies the Meiji Shrine. Just before the first torii gate you will find Café Morinoterasu, a tranquil place enveloped in nature. You can feel the warmth of the trees inside the café. The counters and chairs were made from old, withering trees on the shrine grounds. I recommend the eclairs and croissants prepared every day, or the tofu milk gelato. Not many people know about this hidden gem yet.

Full Details: https://www.moshimoshi-nippon.jp/51035

sorama gallery+coffee

You'll know you've found "sorama gallery+coffee" once you see its red doors. To find it, leave the 5th exit of Meiji Jingumae Station and head past the nearby McDonalds and Senbikiya. If you then turn left just before the Ukiyo-e Ōta Memorial Museum of Art, you'll find it there. The cafè is small and compact with just a wooden bench for about 3 people to sit on as well as a number of individual stools. The sunlight pours through into the shop, and because of its wooden interior, you can stay nice and warm. It's so relaxing there that you won't even see the time fly by.

Full Details:https://www.moshimoshi-nippon.jp/32960

Did you enjoy this list? If you're out in Harajuku and need a breather from the crowds, then please be sure find one of these hidden cafés and take some time to relax. And if you're not sure how to get to any of these places, then pop into the MOSHI MOSHI BOX and we'll help.
RELATED ENTRIES
Kaori's Easy Recipe: Learn to Make Pompompurin Cheese Tarts

With just a small bit of ingenuity, turn everyday food into something cute using Kaori's Easy Recipe! With a few simple ideas, an ordinary recipe magically transforms into a cute dish.

In today's recipe, I'll be showing you how I made a batch of Pompompurin cheese tarts made using store-bought tart cups.

Ingredients (Makes 9-10)

9-10 store bought tart cups
200g cream cheese (brought to room temperature)
20-30g sugar
1 egg yolk
50ml fresh cream
8g potato starch (katakuriko)
Vanilla beans to taste (can be substituted for vanilla extract)
1 tbsp lemon juice

Step 1


Pour the following ingredients into a bowl in this order: cream cheese→sugar→egg yolk→vanilla beans→fresh cream→potato starch. Mix well. Make sure when you put the potato starch in last that you sprinkle it thinly.

Step 2
Bake the tart cups in an oven at 180℃ for 15-20 minutes. If you don't have store-bought cups, you can use small cocotte dishes.

Step 3

Leave to cool. Now you can start drawing the face.

For the hat I used sliced chocolate, for the ears sliced cheese, and for the facial features a chocolate pen.

Once you've drawn the face, it's time to tuck in!

Kaori invites you into her world of character-themed food dishes in her recipe series. Be sure to check out her Instagram where she has uploaded many pictures of her character dishes!

Kaori Kubota (@kaopan27)

I live in Hokkaido and I love to make character themed foods, desserts and pastries♡
I want to see my family smile, so I enjoy putting in a bit of effort to make character foods and changing food into something cute♡
You can see more of my character foods and character bento boxes on my Instagram page → @kaopan72

Tokyo's New Cat Shaped Cheesecake Shop 'Neko Neko Cheesecake' Opening in May 2020

ALL HEARTS COMPANY, a Japanese company that develops bakeries and patisseries across Japan, is launching an all-new cheesecake shop called Neko Neko Cheesecake which will open in Jiyugaoka, Tokyo on May 20, 2020. Serving cat-shaped cheesecakes, the shop will also take online orders.

Neko Neko Cheesecake is a sister brand of Neko Neko Kuu Pan from the same company which serves cat-shaped bread. Online deliveries will make for the perfect opportunity to bring that cafe experience to your own home.

Neko Neko Cheesecake – ¥1,800 (Before Tax) / Size: 11cm, 475g

The cake is made from the luxurious French brie cheese Brie de Meaux which is mixed with a homemade apricot jam to create rich, deep flavour. This means the cheesecake not only looks cute, but is the real deal too.

Their secret to bringing about amazing flavour and not just adorable looks can be broken down into four simple steps.

①They use the king of cheeses, Brie de Meaux.
②Although baked, the cheesecake is so soft it has a similar texture to a no-bake cheesecake.
③The sweet and sour homemade apricot jam elevates the overall flavour.
④The combination of mature cheese and the apricot jam changes the flavour to create a completely new kind of cheesecake.

The cheesecakes are boxed in box that has a simple yet chic design with two cats sat side by side.

The store will open on May 20, and online orders will launch on ALL HEARTS MALL on the same day.

Information

Neko Neko Cheesecake
Address: 1-16-14 Jiyugaoka, Meguro Ward, Tokyo 〒152-0035 (Connected to baguette rabbit's Jiyugaoka branch)
Opening Hours: 9:00-20:00
No Fixed Holidays (Except New Year's)
TEL: 03-6421-1208 (Line to baguette rabbit Jiyugaoka)
*Opening hours reduced due to COVID-19. Check the shop's official Twitter page below for updates.

Neko Neko Cheesecake Twitter: https://twitter.com/neko_cheese_
ALL HEARTS MALL Online Store: https://hbantique.official.ec/

Mister Donut Japan Launches Another New Matcha Doughnut Series

Mister Donut Japan is set to release yet another new limited line of matcha doughnuts in collaboration with Gion Tsujiri and Toshi Yoroizuka at all branches in Japan from May 15, 2020.

Last month, Mister Donut collaborated with Gion Tsujiri and Toshi Yoroizuka to release the "Matcha Itadaki Series." This time around, they're joining their sticky baking hands to bring the "Matcha Odoroki Series." The triple team's matcha creations are the fitting way to celebrate Mister Donut's 50th anniversary as Gion Tsujiri brings the best Uji matcha from Kyoto and Uji-born pastry chef Toshihiko Yoroizuka brings his creative ideas.

There are four treats in the line-up: the "Crisp Double Uji Matcha" and "Crisp Uji Match Chocolate" feature cookie and bagel dough bases, creating a crunchy and chewy mix, while the "Pon de Pie Uji Matcha" and "Pon de Pie Chocolate" feature Mister Donut's classic chewy Pon de Rings combined with a crunchy pie texture.

Crisp Double Uji Matcha – ¥230 (Before Tax)

A chewy and crunchy base laced with Uji matcha and topped with Uji matcha whipped cream and chocolate.

Crisp Uji Match Chocolate – ¥230 (Before Tax)

A chewy and crunchy base laced with Uji matcha and topped with Uji matcha chocolate and chocolate chips.

Pon de Pie Uji Matcha – ¥200 (Before Tax)

Enjoy both a chewy base and crunchy pie mix at the same time, topped with Uji matcha whipped cream.

Pon de Pie Chocolate – ¥200 (Before Tax)

Enjoy both a chewy base and crunchy pie mix at the same time, decorated with chocolate whipped cream.

The Matcha Odoroki Series sees the chefs' ideas shine through to create desserts that not only taste amazing but look gorgeous too, as well as taking into the account texture.

Information

Matcha Odoroki Series
Serving: May 15, 2020 until Early July 2020
Available: Most Mister Donut branches in Japan
Official Website: https://www.misterdonut.jp

Teeny Tiny Disney Cupcakes to be Baked Up by Ginza Cozy Corner in Japan

Ginza Cozy Corner is introducing nine new Disney "sports festival" themed cupcakes to cake shops through Japan on May 11, 2020.

Cute mini cupcakes with a sports theme

Nine cupcakes make up the collection which feature motifs from popular Mickey Mouse & Friends characters including Mickey, Minnie, Donald, Daisy, and Goofy. One look at the picture below is enough to have you thinking what a waste these nearly seem to eat because of how adorable they are.

Disney Sports Festival Cupcakes (Box of 9) – ¥2,500 / Available: May 11, 2020 – June 21, 2020

The designs take inspiration from different sports like tennis, rugby, skateboarding, and more. All nine come in a box so it's going to be difficult picking which one to start with!

Disney sports design box

Box Line-Up

Top Row From Left
Daisy Duck Rhythmic Gymnastics: Cheese Cream Roll Cake
Mickey & Friends Basketball: Chocolate & Vanilla Cream Roll Cake
Pluto Running: Chocolate Cream Cake

Middle Row From Left
Mickey & Friends Rugby: Sweet Adzuki Bean Paste Cream Matcha Cake
Mickey & Friends Cheerleader: Strawberry Cream Tart
Goofy Soccer: Orange & Chocolate Cream Tart

Bottom Row From Left
Minnie Mouse Tennis: Lemon Cream & Strawberry Cream Tart
Donald Duck Swimming: White Peach & Lychee Cream Shortcake
Mickey Mouse Skateboard: White Chocolate Cream & Raspberry Puree Tart

Hello Kitty Inspired Doughnuts Released by Floresta Nature Doughnuts

Healthy doughnut makers Floresta Nature Doughnuts released two doughnuts in collaboration with Hello Kitty on Tuesday which are available to purchase on their website and in-store at select branches.

 

The adorable Hello Kitty and her twin sister Mimmy arrive at Floresta for the very first time. Both doughnuts are great gifts to treat yourself to, for Mother's Day, or to send a friend you can't meet right now due to the lockdown.

 

Hello Kitty Doughnut Collaboration – ¥450 Each (Before Tax)

Both ring doughnuts are topped with freeze dried strawberries and seat the cute Hello Kitty and Mimmy.

Floresta is also selling sets of these doughnuts on their websiteーyou can get four in total, that's two each, in the set.

Select branches are selling these doughnuts, but due to emergency measures many branches are closed or now have reduced opening hours. If you're in Japan and thinking of visiting one of the stores, make sure to check the company's social media and take all necessary precautions when going out.

Information

Hello Kitty Doughnut Collaboration

Released: April 28, 2020

Floresta Online Store: https://floresta-ec.jp

*Available while supplies last

*Online orders are being prioritised

*You can select a delivery time once you have made your order

Rilakkuma Features On the Packaging For Papico Chocolate Ice Cream

Papico, a long-selling brand of ice creams in Japan known for their smooth texture, is teaming up with Rilakkuma to give 1,000 people a chance to win limited-edition Rilakkuma and Korilakkuma hand puppets. The campaign is set to run from April 20, 2020.

Papico is a popular brand of ice cream in Japan that comes in many flavours, such as Chocolate Coffee, which blends chocolate with cafe latte, and the sweet, sour and refreshing White Sour. They also sell numerous limited-edition flavours.

The collaboration designs include Rilakkuma for Coffee Chocolate and Korilakkuma for White Sour. They also come as hand puppets.


The campaign offers 1,000 random people a chance to win both puppets. It will run from April 20, 2020 to July 19, 2020. To sign up, purchase one of the ice creams and apply via the application page included on your receipt.

McDonald's Japan to Release Custard Pudding Flavoured McShake

McDonald's Japan is teaming up with Ezaki Glico to bring Glico's popular "Pucchi Purin" custard pudding dessert to McDonald's McShake®. The "Pucchin Purin McShake" will be released at all McDonald's branches around Japan for a limited time starting on April 13, 2020.

The collaboration comes at the right time as Glico has revamped its popular Pucchi Purin dessert.

The new Pucchin Purin McShake incorporates everything that's delicious about McShake, including its creamy texture and subtly sweet taste, and combines it with the milky Pucchi Purin pudding with all its caramel goodness, creating a drinkable dessert.




It also comes with some additional caramel sauce (available while supplies last) which only adds to the tempting sweetness of the drink. Add as much or as little as you like.



Pucchin Purin McShake is available in a small only, with cups featuring an original design. This is a must-try for fans of McShake and Japanese custard puddings, known as purin.

Mister Donut Japan to Launch New Matcha Doughnut Series

Mister Donut Japan is set to release a new limited line of matcha doughnuts in collaboration with Gion Tsujiri and Toshi Yoroizuka at all branches in Japan from April 10, 2020.

Following the success of Mister Donut's previous collaborations with the two companies, named "misdo meets Gion Tsujiri" and "misdo meets Toshi Yoroizuka" respectively, this new collaboration sees all three companies come together for the first time to co-develop the matcha doughnuts. The triple team's matcha creations are the fitting way to celebrate Mister Donut's 50th anniversary as Gion Tsujiri brings the best Uji matcha from Kyoto and Uji-born pastry chef Toshihiko Yoroizuka brings his skill set.

Pon de Ring Uji Matcha Chocolate Almond

The classic chewy Pon de Ring laced with Uji matcha and coated in chocolate. It's finished with a sprinkling of Uji matcha powder and crunchy almonds.

Pon de Ring Uji Matcha Milk Crunch

The matcha-ness is turned up with this Pon de Ring, which is not only mixed with Uji matcha, but coated with Uji matcha chocolate. It's served with a snowfall of milk crunch pieces., highlighting the velvety texture of the doughnut while adding crunch.

Pon de Ring Uji Matcha & Chocolate Cream

This doughnut is made into a sandwich, with Uji matcha whipped cream and chocolate cream. The Uji matcha chocolate adds a richness to the overall flavour.

Pon de Ring Uji Matcha Doughnuts

Running: April 10, 2020 – Early June 2020

Available: At most Mister Donut branches in Japan

Tiramisu Chocolate Whip

The dough of these tiramisu doughnuts are combined with cocoa. This one is filled with chocolate whipped cream, a tiramisu, and milk crunch pieces for an amalgamation of tasty flavours and textures.

Tiramisu Uji Matcha Whip

The chocolate whipped cream of the previous doughnut is replaced with Uji matcha whipped cream for this luxurious delight. The cream is also embedded with almonds.

Uji Matcha Chocolate Pie

The name speaks for itself: a lovely layered pie of Uji matcha chocolate and chocolate cream.

Tiramisu Doughnuts & Chocolate Pie

Running: April 10, 2020 – Early May 2020

Available: At most Mister Donut branches in Japan

These Breathtaking Doughnuts Will Turn Your Home Into an Authentic Cafe Experience

With most of us cooped up indoors, that desire to go and relax in a cafe with some coffee and cake just keeps on growing. "gmgm," a doughnut shop in Koenji, Tokyo that specialises in "flower doughnuts," is very aware of this, and so they opened an online shop on Saturday to allow for people to enjoy that authentic cafe experience from their own home.

gmgm, the flower doughnut shop

Nana Yui, an artist of dried flower art, opened gmgm in June 2019 as the sister store to HANABAR, a bar in Ikebukuro, Tokyo where drinks are served topped with beautiful dried flower art. At gmgm, the beautiful flower art combines harmoniously with the antique furniture and decor. It's a popular doughnut shop whose doughnuts are beautiful enough to be given as gifts.

Earl Grey x Rose: ¥500

Cream Cheese Strawberry x Safflower: ¥500

The doughnuts gmgm is offering to ship out on their website include their five regular doughnut flavours and some limited-time flavours, all of which are nothing short of cute works of art.

Customers who order on the shop by April 30 will also receive a free dried flower and a tea turns blue. Those who order more than 8 will receive that plus a pressed viola flower you can eat.

You can also make ice cubes with flowers in them and set your table like in the cafe's photos for a really luxurious tea time!

Information

gmgm

Address: 3-60-10 Koenjiminami, Suginami, Tokyo

Opening Hours: [Weekdays] 14:00-20:00 / [Weekends & Public Holidays] 12:00-20:00

Closed: Mondays
TEL: 03-6877-0537

Official Website: https://www.gmgm.info

Grab These Adorable and Delicious-Looking Kirby Figures at Japan's Game Centres

The second batch in a series of Kirby figurines, based on the Kirby's Dream Land game series, began rolling out at game centres across Japan on March 26, 2020. They are part of the "Palcolce collection," a line of palm-sized figures themed around desserts.

Three figures make up the second batch of the series, which includes Kirby standing atop a Star Block shortcake holding a bright-red strawberry, another of Waddle Dee climbing a cupcake on chocolate ladder, and Kirby flying through the sky on a cheesecake Warp Star.

A third batch is also planned drop in the near future.

Collect all three from arcades throughout Japan to create a truly kawaii Kirby scene!

©Nintendo / HAL Laboratory, Inc. KB19-3661

Information

Kirby – Paldolce collection vol.2

Release Date: Rolling out March 26, 2020

Figures: 3

Available: Amusement centres throughout Japan (*select branches not participating)

Official Website:  https://bpnavi.jp/s/toru/pc/prizes/81933

McDonald's Japan Releases Citron and Pistachio Flavoured Macarons at McCafé by Barista Branches

McCafé by Barista branches of McDonald's in Japan released two new flavours in their macaron series on Wednesdayーpistachio and citronーwhich will be served for a limited time until the end of August this year.

 
The pistachio and citron flavours join McCafé by Barista's colourful macaron series alongside vanilla, raspberry, and chocolate, which cost just ¥150 each.

The pistachio flavour is filled with a pistachio powder-dusted pistachio cream, giving the crunchy macaron a deliciously nutty flavour and fragrance.


The citron macaron is filled with a refreshing and sour lemon cream. Both of the new flavours are the perfect treat for the start of spring and going into the summer season. They're even better with one of McCafé by Barista's high quality coffees.



McCafé by Barista is also serving the "Special Macaron Set" for ¥500 which comes with any two macarons of your choice and a medium hot or iced latte.

Information

Macaron Pistachio / Macaron Citron

Serving: March 25, 2020 – Late August 2020 (subject to change)

Available: McCafé by Barista in Japan

McDonald's Japan Official Website: http://www.mcdonalds.co.jp/

Succulent Strawberry Drinks & Desserts Served Up at GELATO PIQUE CAFE

GELATO PIQUE CAFE branches in Japan began their "Strawberry Fair" on Wednesday serving up drinks and desserts made using seasonal strawberries.

What is GELATO PIQUE CAFE all about?
"Desserts for adults" is the concept at GELATO PIQUE CAFE, a cafe brand developed by GELATO PIQUE which specialises is comfy loungewear. The cafe, which has branches in Tokyo, Osaka, Nagoya, and elsewhere in Japan, serves comfort food and is interested in the health and happiness of its guests. Their menu is overflowing with ideas, with all options made using only the best selected ingredients.

The enticing line-up is nothing short of kawaii, and screams springtimeーfitting for the season as Japan celebrated Vernal Equinox Day yesterday, the first day of springーwith sweet and sour strawberries adorning their crepes, smoothies, gelatos, soft serve ice creams, and more.

Strawberry Mille Feuille Crepe – ¥830 (Before Tax)

Topped with a whole strawberry, this mille feuille-inspired seasonal crepe is made with an in-house crafted strawberry cream, mille feuille puff pastry, and vanilla gelato. The strawberries used are a mix, all grown in Kumamoto Prefecture, including yuubeni, koinozomi, koiminori, and others. Much love and care is put into growing strawberries in Kumamoto, making them sweet and delicious.

White Strawberry & Red Strawberry Gelato – ¥460 (Before Tax)

This two-coloured serving of gelato ice cream is made with sweet-smelling white strawberries and a brand of red strawberry from Fukuoka called amaou. No strawberry lover will be able to resist this pick.

Strawberry Smoothie – ¥590 (Before Tax)

Enjoy a cold strawberry smoothie made from seasonal strawbs, milk, and honey. Indulge in the refreshing sweetness of the strawberries, and enjoy the cute pink flavour of the beverage.

Strawberry Milk Soft Serve Ice Cream – ¥450 (Before Tax)

Or grab yourself a cone of soft serve ice cream to enjoy the combination of flavours: sweet and sour strawbs and sweet, creamy milk.You can also get a mix together with the light blue vanilla flavour.

Information

Strawberry Fair

Running: March 18, 2020 – May 31, 2020

Location: GELATO PIQUE CAFE (Participating Branches: atré EBISU, LUMINE Ikebukuro, Mitsui Outlet Park Makuhari, Mitsui Outlet Park Kisarazu, Mitsui Outlet Park Jazz Dream Nagashima, Gotemba Premium Outlets, Nagoya LACHIC, Mozo Wonder City, Namba Marui, Mitsui Outlet Park Hokuriku Oyabe)

Official Website: https://pique-cafe.com/

*Strawberry variety is subject to change depending on production conditions