Kaori's Easy Recipe: Learn to Make Hello Kitty Matcha Wreath Bread
With just a small bit of ingenuity, turn everyday food into something cute using Kaori's easy recipe! With a few simple ideas, an ordinary recipe magically transforms into a cute dish.
Today, I will show you how to make wreath-shaped bread that is perfect for Christmas♡
1. Ingredients
250g bread flour
2 tsp yeast
2 tbsp icing sugar
1/2 tsp salt
50g unsalted butter
1/2 tsp matcha powder
1 egg (approx. 52g)
100ml lukewarm water
2.
Add the bread flour into the centre of a bowl. Add the sugar, yeast and matcha powder onto one side of the bowl as shown in the picture below. Crack and egg and add the salt onto the other side. Pour the lukewarm water  over the yeast and mix everything with a wooden spoon. When everything is combined add the unsalted butter and knead with your hands. Roll into a ball and leave to ferment.
☆It will take take about 30 minutes at 40℃
☆If you own an electric mixer or home bakery it's perfectly fine to do everything up to now in a machine.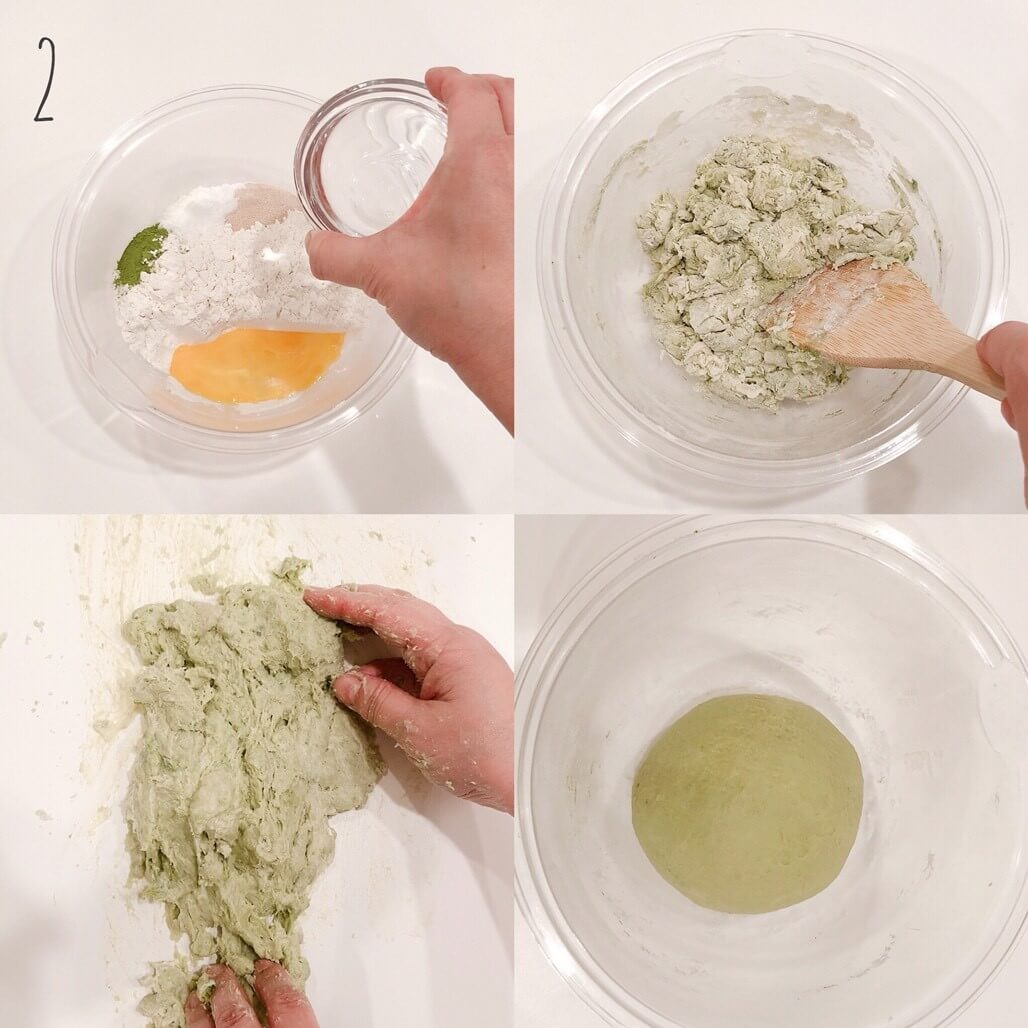 3.
Once the mix has risen, divide into three equal parts and leave again for about 15 minutes. Cover with cling film or a tea towel to ensure the mix doesn't become dry. Afterwards, gently roll into a spherical shape as shown in the photo.
4.
Roll the mix into a long shape that spans about 50-60cm. Line all three up on their sides and begin to braid. Once this is complete, tie them up into a wreath shape and leave to ferment again.
☆It will take take 20-25 minutes at 40℃
Once the second fermentation is complete, cook at 180℃ for 7 minutes, then lower the temperature to 150℃ and cook for a further 7 minutes. The timings may differ depending on your oven so be sure to make any necessary adjustments.
5.
Leave to fully cool and tie a ribbon around it.
Sprinkle with icing sugar, add some Christmas decorations like the mistletoe picks below and you're done. The Hello Kitty decorations are modelling chocolates.
Kaori invites you into her world of character-themed food dishes in her recipe series. Be sure to check out her Instagram where she has uploaded many pictures of her character dishes!
Information
■Profile
Kaori Kubota (@kaopan27)
I live in Hokkaido and I love to make character themed foods, desserts and pastries♡
I want to see my family smile, so I enjoy putting in a bit of effort to make character foods and changing food into something cute♡
You can see more of my character foods and character bento boxes on my Instagram page→@kaopan27
RECOMMENDED ENTRIES
Kaori's Easy Recipe: Learn How to Make "Pompompurin Steamed Cheese Bread"

With just a small bit of ingenuity, turn everyday food into something cute using Kaori's easy recipe! With a few simple ideas, an ordinary recipe magically transforms into a cute dish.

In this character recipe you will learn how to make a "Pompompurin Steamed  Cheese Bread" (labeled CHEESE STEAM UP BREAD).

Did you know that recently decorating a "steamed cheese bread" is the in thing to be doing right now? So, in this recipe I will explain about how to decorate a steamed cheese bread in a Christmas fashion.

1:Ingredients

1 steamed cheese bread

1 sheet of nori (dried seaweed)

Chocolate plastic

Red coloring powder

2:

Trace an illustration of your favorite character onto a baking sheet. I chose Pompompurin. Next, I thought it would be cute to indent the face and highlight the ears so I cut out these parts from the baking sheet.

3:

Next, place the face cutout onto the surface of the cheese bread and cut the bread in line with the cutout. Remove this part and set it aside. This part will be used to make the ears and hands. The surface below the removed part might be a bit uneven so using the back end of a chopstick make this area flat.

4:

Turn over the removed part and flatten this surface using the back end of a chopstick. Place the ear cutout onto the surface and cut the ears out. Using the remaining part cut out some round hands.

5:Color the plastic chocolate red and form the hat and boots. Using the white plastic chocolate, add the white parts. Using a puncher, cut out the eyes, nose and mouth from the laver seaweed.

Place all of these parts on the surface of the cheese bread, and voila, your "Pompompurin Steamed Cheese Bread" is complete.

Kaori invites you into her world of character-themed food dishes in her recipe series!

Please check out her Instagram where she has uploaded many pictures of her character dishes!

Information

Profile
Kaori Kubota (@kaopan27)
I live in Hokkaido and I love to make character themed foods, desserts and pastries♡

I want to see my family smile, so I enjoy putting in a bit of effort to make character foods and changing food into something cute♡

You can see more of my character foods and character bento boxes on my Instagram page→@kaopan27

Kaori's Easy Recipe:Learn How to Make "KITTY's Strawberry Milk Pudding"

With just a small bit of ingenuity, turn everyday food into something cute using Kaori

'

s easy recipe! With a few simple ideas, an ordinary recipe magically transforms into a cute dish.

In this character recipe you'll learn how to make a "KITTY's Strawberry Milk Pudding." The strawberry jelly layer and the milk pudding layer look like KITTY's costume!

1:Ingredients

Lemon juice – half a teaspoon

※Soak gelatin in one tablespoon of water

2:

①  

Put the strawberries into a blender and process them. Then, put the processed strawberries, sugar and honey into a pot. After the sugar melts, turn off the heat and add the gelatin and mix it well. Then, add the lemon juice.

②  

Put ① into a container and wait until it cools. Then, put this into a refrigerator.

③  

 Draw the face and ribbon using a chocolate pen. Lay the ingredients down so that you can draw the face and ribbon easily. The chocolate can be wiped off easily by using a kitchen paper. Put the ingredients into the reregister and cool it.

3:Put milk and sugar into a pot and heat them. After the sugar melts, add the soaked gelatin and cool it. Pour the ingredient into the container (2) and cool it putting it into a refrigerator. After it hardens, add raw cream and strawberries on top.

 Kaori also invites you into her world of character-themed rice dishes in her recipe series! Please check out her Instagram where she has uploaded many pictures of her character dishes!

Kaori's Easy Recipe: How to Make Winnie the Pooh Cheesecake

With just a small bit of ingenuity, turn everyday food into something cute using Kaori's easy recipe! With a few simple ideas, an ordinary recipe magically transforms into a cute dish.

I've received lots of comments from my followers asking if I have an easier recipe they can make without messing anything up. So today I'm showing you my simple Winnie the Pooh cheesecake recipe using items bought from Muji!

1: Ingredients/Equipment

・①Muji's baked cheesecake mix (above right) ②Muji's Thick-Sliced Baumkuchen (above left)

・Eggs, milk and unsalted butter needed for the baked cheesecake

・Cake mould (There was a paper mould inside the cheesecake mix box but I got myself 4 smaller ones)

・Round cutter for the ears

・Chocolate pen for the face

2. Put together all the necessary ingredients written on the back of the baked cheesecake mix box into a bowl. Mix together and cook.

3. Once your cakes are cooked, add the apricot jam that comes in the box as shown in the photograph and use the back of a spoon to spread it out. (Don't worry if there are cracks in the cakes when cooking. Once you put the jam on it'll look just like Pooh's face.)

Slice the brown outer part of your thick-sliced Baumkuchen and shape into ears with your cutter. (If you don't have a round cutter then scissors or any other cutters will work fine.)

Drawn on Pooh's facial features with your chocolate pen and you're done!

The jam makes the face viscous so it's nice and easy to draw the face on even for beginners. If you mess up, just wake a short while for the chocolate to harden and take it off. If that happens just smooth out the jam once more with the back of a spoon so there aren't any peaks and try again!

Kaori invites you into her world of character-themed food dishes in her recipe series. Be sure to check out her Instagram where she has uploaded many pictures of her character dishes!

Information

■Profile
Kaori Kubota (@kaopan27)
I live in Hokkaido and I love to make character themed foods, desserts and pastries♡

I want to see my family smile, so I enjoy putting in a bit of effort to make character foods and changing food into something cute♡

You can see more of my character foods and character bento boxes on my Instagram page→@kaopan27
RELATED ENTRIES
The Ultimate Chocolate and Confectionery Indulgence is Here With LIFE IS PÂTISSIER's White Day Gifts

Japanese chocolate and baked goods bakery LIFE IS PÂTISSIER is now selling a collection of luxurious treats for White Day, the sequel to Valentine's Day in Japan, via their online store until March 14.

 

 LIFE IS PÂTISSIER is a takeout chocolate bakery that specialises in chocolate and baked confections. Some of their signature items include their pound cake and chocolate bonbons. They also serve sable biscuits, madeleines, and much more. They are based in Jiyugaoka, a neighbourhood in Meguro, Tokyo, where they enjoy plenty of customers both local and tourists. Due to the pandemic, they are currently operating entirely online.

 

LIFE IS PÂTISSIER White Day Gifts 2021

Leaf Caramel | ¥1,800 (Before Tax)

Crunchy chocolate caramel bites drizzled in even more sweet, melty caramel.

Macarons | ¥2,300 (Before Tax)

A rainbow-coloured collection of raspberry, pistachio, caramel, lemon, and chocolate macarons.

 

Madeleines (Contains 6) | ¥2,800 (Before Tax)

Refreshing madeleines made with a mix of Japanese and Italian lemons. Refrigerating them gives the outer icing a delicious crunchy texture.

Strawberry Milk Crunch | ¥900

Smashed cookies and caramel combined with strawberry chocolate and milk chocolate.

Special Box | ¥4,500 (Before Tax)

A very special collection of raspberry chocolate treats coated in dark chocolate.

Flower Swag | ¥3,200

A fragrant flower swag composed of an assortment of fresh flowers. Perfect for decorating walls and doors and overtime become dried flowers.

White Day Cards

LIFE IS PÂTISSIER is also offering White Day cards which people can couple with their gifts.

Japanese Puré Gummy Candy Releases Promo Videos With Original Song Featuring Asaginyo

To promote the release of 20 new colourful packages of the popular Japanese gummy candy series Puré, Japanese sweets company Kanro released 20 videos on Tuesday (March 2) featuring popular YouTuber Asaginyo.

 

Asaginyo dresses up for a kaleidoscope of colourful Puré promos

The videos play to the tune of the famous Japanese 80's track Koi no Jumon wa Suki Tokimeki to Kiss with original lyrics written for Puré. On mic is Asaginyo, a YouTuber and video and music producer. The videos, which were directed by another popular YouTuber by the name of Bunkei, can be watched over on Puré's brand website.

And if you too want to learn the Tokimeki Puré Dance, head on over to Asaginyo's TikTok page.

Meiji Chocolate Announces the Results of its 2020 National Confectionery Elections

In 2018 and 2019, Japanese snack and confectionery brand Meiji held its own National Elections for its long-selling chocolate brands Kinoko no Yama and Takenoko no Sato. In 2019, Jun Matsumoto and Akihiro Miwa represented each of these chocolate snacks respectively by helming the Kinoko Party and Takenoko Party. People across Japan would listen to each side's case and vote for which party, and therefore which chocolate, they liked the most.

The 2020 elections however took a different approach, instead spreading a message of love across Japan rather than a heated debate on which snack is better. The votes opened on September 15 last year and ran for four months where data was collected for each of Japan's 47 prefectures to see where each snack was more popular in each part of the country.

The 2018 and 2019 elections saw an accumulative total of 26,518,982 votes submitted. People passionately made their cases for which snack they liked the most. For 2020, Meiji wanted to bring people together and cheer them up by holding a survey that was catered most towards understanding people's love for their snacks.

Chiba hails as the place in Japan where Kinoko and Takenoko are most popular

46 of Japan's prefectures saw more love poured for Takenoko in 2020. The remaining prefecture, Fukuoka, saw more love given to Kinoko.

The 2020 elections saw participation by 300,161 more people than previous years.

Illustrations drawn of Team Kinoko and Team Takenoko supporters

The survey ranked each prefecture by popularity, and special illustrations were drawn for four prefectures each where Kinoko and Takenoko were the most popular.

Survey Database

Meiji published the data breakdown which can be downloaded for free.

It contains a wealth of information related to what people voted for.

Have you tried either of these popular snacks? If you travel to Japan, be sure to pick them up at any convenience store near you.

Dean & DeLuca Releases Strawberry Desserts and Drinks For Spring 2021

The fresh juice season is back for spring at Dean & DeLuca cafes in Japan this year where they have a very special selection of drinks and desserts lined up for customers as well as an exclusive tumbler.

Creamy Italian maritozzi

Indulge in a tempting maritozzi this spring season which has a fluffy brioche bun stuffed loaded with fresh cream stuffed with sweet strawberries. This famous Italian delicacy is usually enjoyed in the morning but the addition of milky cream and tangy strawberries makes it a perfect dessert.

Every bite treats the taste buds to a combination of buttery brioche, melt-in-the-mouth cream, and a choice of either fresh cream and strawberries or fromage blanc and sweet and sour apricot jam.

Left: Maritozzi Strawberry ¥410 / Right: Maritozzi Apricot Jam & Fromage Blanc Cream ¥367

Serving: From March 1, 2021 while supplies last

Participating Market Branches: Shinagawa/Yurakucho/Shinjuku/Ebisu/Hiroo/Yaesu/atré Kawasaki/CIAL Tsurumi/Yokohama/Nagoya/Osaka

Participating Cafe Branches: All

A taste of spring with fresh strawberry juice

This year, Dean & DeLuca are serving up the "Strawberry & Fruit Tomato" smoothie which is made with freshly-picked whole strawberries and tomatoes. Tomatoes are generally seen as a summer vegetable, but the most delicious time to enjoy tomatoes grown in Japan is the spring season just like strawberries. The strawberries and tomatoes take on plenty of sugar content during the winter season which brings a rich sweetness best enjoyed right now.

 

The juice is prepared fresh for every order, with whole fruits put into a mixer and then served.

Left: Strawberry Juice ¥583 / Right: Strawberry & Fruit Tomato ¥605

Serving: From March 1, 2021 while supplies last

Participating Market Branches: Roppongi/Shinagawa/Yurakucho/Shinjuku/Ebisu/Hiroo/Yaesu/atré Kawasaki/CIAL Tsurumi/Yokohama/Nagoya/Osaka/AMU Plaza Hakata

Participating Cafe Branches: All

Spring-exclusive Strawberry Apple Pie

Japanese apple pie chain GRANNY SMITH APPLE PIE & COFFEE is also providing a seasonal strawberry and apple pie filled with in-house custard.

 

GRANNY SMITH APPLE PIE & COFFEE's Strawberry Apple | ¥648

 

Serving: March 2, 2021 – April 30, 2021

Participating Cafe Branches: All (Except Yurakucho LUMINE STREET)

Enjoy spring with a spring-coloured tumbler

Dean & DeLuca's popular tumblers return in seasonal colours and fitted with an airtight screw cap. They're available in "Tokyo Pink" and "Charcoal Grey" colours.

 

Tumblers: ¥3,080 Each

Released: From March 1, 2021

Participating Cafe Branches: All

*Cafe-exclusive, not available for purchase online

Hello Kitty Movie to be Directed by Jennifer Coyle and Leo Matsuda

Sanrio and Warner Bros. Japan have announced the release of the first-ever Hollywood adaptation Hello Kitty movie which will be directed by animation veterans Jennifer Coyle and Leo Matsuda. New Line Cinema and Flynn Picture Company are on board for the film which will be a hybrid fusion of live-action and animation. The film's title and release date have yet to be announced but it has been confirmed that it will be released worldwide.

Ⓒ 2021 SANRIO CO.,LTD.

Jennifer Coyle and Leo Matsuda are top-class artists and directors who bring their incredible history in and experience working with animation to the project. This marks their first collaboration, both of them beating many other directors to the job.

Jennifer Coyle

Coyle's early days are rooted in series such as King of the Hill where she was a storyboard artist. She worked as a producer for the HBO Max animated series Harley Quinn and has also directed episodes in the hit animated series Bob's Burgers, lent her penned her art for The Spectacular Spider-Man, and more.

Jennifer Coyle Photo by Andrew Marlin

Jennifer Coyle | Comment

"This is not only a rare chance to bring a beloved character to life, but also to spread the message of love, friendship and inclusivity that Hello Kitty stands for. The world so needs her brand of joy and happiness."

Leo Matsuda

Matsuda is a Brazilian director whose career began at Walt Disney Animation. He has worked on films such as Big Hero 6, Zootopia, Ralph Breaks the Internet and most recently Abominable for DreamWorks Animation. 

Leo Matsuda Photo by Peter Lefevre Photography

Leo Matsuda | Comment

"Growing up in Brazil with a Japanese family, I was surrounded by the whimsy of Hello Kitty and it served as a reminder that it's okay to be different. Along with Jen, FlynnPictureCo. and New Line, I am delighted by this incredible opportunity to work with one of the most universally beloved characters and expand their relatable Sanrio stories even further."

Japanese company JO, which operates seven restaurants serving Japanese-style food in Japan, launched its new anko red bean paste dessert brand Ankoto on February 28. The brand's first product to be released is the "Anko Cheesecake." All products will be released via their online store.

The launch of Ankoto

Ankoto launched after seeing many people in Japan calling for their desire to eat the same kinds of high quality anko sweet red bean paste desserts that they can in restaurants at home. The brand aims to bring many different sweet treats to its menu in collaboration with various other brands and satisfy customers' sweet-toothed needs.

Ankoto also hopes to create all-new desserts using anko, an ingredient loved by the Japanese for years.

High-quality anko used in all desserts

The bean paste is made by hand every day over a period of two hours by Ankoto's bakers. They use specially-selected beans grown in Tokachi, Hokkaido. No bad stuff is put in Ankoto's desserts, the naturally sweetness comes from the sugar beet used in the cooking process.

The First Release: Anko Cheesecake

Ankoto's first dessert to be released is the Anko Cheesecake, a popular mix of sweet red bean paste and cheese. This dessert was perfected after much trial and error over the course of half a year where over 100 iterations were tested. It's made using creamy, full-bodied Brie de Meaux, a cheese that's been called the king of cheeses. This cheesecake is gluten-free, using absolutely no wheat, and has a fresh sweetness brought about by the sugar beet. It's an addictive amalgamation of sweet and salty and contains no nasty additives.

Information

Ankoto Anko Cheesecake

Released: February 28, 2021

Price: ¥3,500 (Before Tax) + Shipping

Ankoto Online Shop: https://www.ankoto.jp

My Hero Academia Celebrates Japan's White Day With Cakes and Macarons

Japanese cake company Priroll is celebrating White Day in Japan, the 'sequel' to Valentine's Day, in collaboration with the popular TV anime series My Hero Academia with a collection of cakes and macarons.

There are seven sweet cakes to pick from which are baked with fruits such as peach and strawberry and finished with whipped cream or chocolate cream. There are also seven macaron sets which include chocolate, strawberry, pistachio, and orange flavours. These tasty treats are available from Priroll's official website while supplies last.

White Day Cakes – ¥4,500 (Before Tax) / White Day Macarons 6 Set – ¥2,200 (Before Tax)

White Day day takes place in Japan annually on March 14, one month after Valentine's Day, when people give reciprocal gifts to those who gifted them on Valentine's Day. What better way to show your appreciation for your fellow anime-lover than with some sweet My Hero Academia love?

©堀越耕平/集英社・僕のヒーローアカデミア製作委員会

2021 Sanrio Character Ranking Voting Begins in April

Sanrio has finally announced news about the 36th annual Sanrio Character Ranking. This year's award event, the 2021 Sanrio Character Ranking, will open initial votes on April 9 to May 24 when fans can vote for their favourite character from Sanrio's roster. As with previous years, the 2021 run will also welcome the "Collaboration Category" of the awards which will feature 27 character entries from those who have collaborated with other companies and businesses over the past year.

Ichigo Shimbun is a monthly magazine published by Sanrio. It not only includes information about the latest character merchandise, but is also the place where the Sanrio Character Ranking first began in 1986. From Sanrio's long list of over 450 characters, just 80 are entered into the awards each year. Cinnamoroll took first place for the 3rd year in a row at the 2020 Sanrio Character Ranking which we covered in detail, including the initial first round up of winners and second round up.

Normally, the results are announced in-person at a big event. This year's announcement gathering was originally scheduled for June 8, but was cancelled due to the COVID-19 pandemic. It will now be hosted online instead, and fans will also be able to vote using the new Sanrio members service Sanrio+.

This year's 80 entrants are now being rolled out over on the official Sanrio Character Awards Twitter page.

This Year's Award Theme: "The Witness of a New World – Your Support Will Change the Future"

Every Sanrio Character Awards has a theme, and this year's is, "The Witness of a New World – Your Support Will Change the Future." The "new world" refers to the future of Sanrio—which celebrated its 60th anniversary last year—that fans will bear witness to. The key visuals for the 2021 Sanrio Character Awards have the characters holding a magnifying glass with which they are peeking into that new world.

 

New Entrants Announce Everyday On the Official Twitter Page

The Sanrio Character Rankings' official Twitter page will post the key visuals and personal messages from all 80 entrants on its official Twitter page between February 26 to March 31. Leading this year's awards ceremony are the popular characters Kuromi, Badtz-Maru, and Hangyodon. Voting opened on February 25.

 

How to Cast Your Vote

Votes for the 2021 Sanrio Character Ranking can be cast online, at Sanrio shops, and for the first time, on the new Sanrio members service Sanrio+. Votes for the Collaboration Category however can only be placed online. Last year's vote was open to all fans worldwide. It is unconfirmed whether this year will be the same, but stay tuned as we follow the event.

Online Votes (Smartphone Only) *Cannot be cast on computers or tablets

Sanrio Shops

Sanrio Online Shop

Ichigo Shimbun (May 2021 Issue, on sale April 10 / June 2021 Issue, on sale May 10).

*Ichigo Shimbun voting open from April 10

Sanrio+ Members Smile Vote (Sanrio Shops/Online Votes)

Sanrio+ Members Ticket Vote (Online Votes) *More info TBA

Other Voting Methods (TBA)

 

Vote With Sanrio+

Sanrio+ allows members to exchange 100 Smiles (the currency on the Sanrio Shop) for two voting chips. Members can exchange a maximum of 1,000 smiles for 20 chips in one go. The chips are spent at the voting box on the Sanrio Shop. One chip counts for a total of three votes.

Additionally, when members first log in to Sanrio+ on the voting website, they can used 50 Smiles to cast one vote. Members can vote with a maximum of 500 smiles in one day. One Smile vote counts for a total of two votes.

Stay tuned for the latest news and updates on the 2021 Sanrio Character Ranking.

Information

2021 Sanrio Character Ranking

Running: April 9, 2021 – May 24, 2021 (From April 10 in Ichigo Shimbun)

First Round-Up Announcements: April 14, 2021 at Noon (JST)

Second Round-Up Announcements: May 13, 2021 at Noon (JST)

Winner Announcement: June 8, 2021 (Online event, details TBA)

News Page: https://www.sanrio.co.jp/news/mx-ranking2021-20210225/

Sanrio Releases Tea Gift Set in Collaboration With World Tea Brand LUPICIA

World tea brand LUPICIA launched its 7th collaboration with Sanrio on Thursday (February 25) featuring a range of tea gift sets. Every year, LUPICIA releases a wide variety of rea-related gift sets for White Day, the spring season, Mother's Day, and more.

Four Fruit Fruity Tea With Lidded Mug

Hello Kitty LUPICIA Mug & Flavoured Tea | ¥3,300 (Tax Included)

My Melody LUPICIA Mug & Flavoured Tea | ¥3,300 (Tax Included)

Cinnamoroll LUPICIA Mug & Flavoured Tea | ¥3,300 (Tax Included)

Kuromi LUPICIA Mug & Flavoured Tea | ¥3,300 (Tax Included)

This year adds the dearly beloved Kuromi to the new collaboration which features a variety of fresh and fruity teas together with a mug that comes with a lid to keep your tea hot.

Will you be having tea with Hello Kitty, My Melody, Cinnamoroll, or Kuromi?

(c)'21 SANRIO 著作(株)サンリオ

Aromatic Kamakura Raw Chocolate Brand to Open New Branch in Nagoya

MAISON CACAO, the company behind the aromatic raw chocolate brand of the same name, will open a store on floor B1F of JR Nagoya Takashimaya on March 3, 2021. It will be the brand's first permanent shop in Japan's Tokai region.

The company held a special Valentine's event from late January to Valentine's Day where MAISON CACAO made the second most sales. They also enjoyed other sold out products, and showcased some exclusive indulgences like the gold leaf-adorned "Aroma Raw Chocolate ARMOUR" and "Aroma Raw Chocolate STRAWBERRY" as well as the all-new "Cacao Butterland."

The Nagoya Line-Up

Aroma Raw Chocolate AMOUR | ¥6,000 (Before Tax)

Exclusive to this new Nagoya branch of MAISON CACAO, these "AMOUR" chocolates are all handmade using techniques that have been passed down through the company. The dark chocolates are wrapped in luxurious gold leaf and have a fruity, sweet, and bitter combination. One box contains a generous serving of 16.

Cacao Butterland | ¥2,000 (Before Tax)

MAISON CACAO uses cacao beans from Columbia to bake its menu. These gooey treats are made with cacao butter and chocolate caramel with a double layering of dark and white chocolate. A rich and filling serving of six comes in a box.

 

Aroma Raw Chocolate STRAWBERRY | ¥2,200 (Before Tax)

Also a Nagoya-exclusive, these strawberry variants are made with intensely sweet JApanese amaou strawberries white combine with the fragrance cacao butter and white chocolate for a refreshing taste. You get 16 in a single box.

But Wait, There's More…

Raw Chocolate Butter Cake | ¥3,500

A cake made with velvety chocolate butter cream packed with roasted nuts, raisins, and caramel chips.

Rich Raw Chocolate Tart STRAWBERRY | ¥2,000

Yet another exclusive to Nagoya, these crunchy tarts are lathered in amaou strawberry chocolate and filled with runny and fruity amaou strawberry cream. A box comes with three included.

Other Popular Goodies Available While Supplies Last

Aroma Raw Chocolate MAISON (Grape) | ¥2,400 (Before Tax)

Babka | ¥2100

Raw Gateau Chocolate | ¥2500 (Before Tax) 

Information

MAISON CACAO

Grand Opening: March 3, 2021

Location: JR Nagoya Takashimaya Floor B1F

Address: 1-1-4 Meieki, Nakamura-ku, Nagoya-shi, Aichi

Opening Hours: 10:00-20:00

MAISON CACAO Official Website: https://maisoncacao.com/

Uji Matcha Loaded Pancakes Get Served Up at Eggs 'n Things Japan This Spring

For the entire month of March this year, Eggs 'n Things Japan is serving up "Uji Matcha Tiramisu Pancakes" and "Egg Scramble House Sandwich" at all branches.

The Seasonal Menu


Uji Matcha Tiramisu Pancakes | Eat In ¥1,480, Takeout ¥1,080

 These rich tiramisu pancakes are made with a dough laced in delicious Uji matcha and topped with succulent strawberries.

*The takeout option doesn't come with whipped cream

Egg Scramble House Sandwich | Eat In & Takeout ¥1,380

 A classic BLT layered perfectly so every ingredient stands out for every bite.


A Refreshing, Fruity Springtime Drink


Tropical Fruit Mix | ¥650

 Customers can stay refreshed this spring with this tropical fruit mixed beverage of mango, pineapple, banana, and more.

Classy Japanese Shrimp Senbei Crackers Release From Keishindo in Almond, Cheese, and Chocolate Flavours

Japanese snack company Keishindo recently launched a new series of shrimp senbei rice crackers called "Ajiwau Wa" (The Taste of Japan). The snacks are deep in flavour, arriving in almond, cheese, and chocolate.

The Line-Up

Kongari Ebi Cheese (Contains 6) | ¥648 (Tax Included)

The shrimp crackers are topped with cheese and baked. The charred cheese brings out the flavour of the shrimp even more.

Ebi Almond (Contains 6) | ¥648 (Tax Included)

A rich and crunchy rice cracker made with in-house roasted almonds. With every bite comes more and more umami goodness.

Kutsurogi Yaki Chocolate (Contains 6) | ¥756 (Tax Included)

A harmony of sourness and sweetness delightfully adorns this chocolatey treat. The contrasting flavours results in a complex taste that could be called a completely new flavour.

Seasonal Kutsurogi Yaki Chocolate Strawberry | ¥756 (Tax Included)

Similar to the regular chocolate version but combined with sweet strawberry which gives the crackers a pink appearance.甘

Ajiwau Aji Assortment (Contains 9) | ¥1,080