Cherry blossoms are about to bloom! In this article, I will introduce to you some recommended "cherry blossom festivals."
Nagano Prefecture "Takatoo Sakura (cherry blossom) Matsuri (festival)"
"Takato Sakura Matsuri" is an annual spring festival held in Nagano Prefecture to which about 200 thousand tourists gather. Inashi Sightseeing Committee is now holding "SAKURA-genic Instagram Present Campaign" (until the 30th of April (Mon.)) where the participants can win prizes like lodging tickets and local food items by following the festival's official account or by sharing photos of cherry blossoms using your Instagram account. Takato Sakura Matsuri is held in Takato Joshi Park in Inahi, Nagano Prefecture from the 1st of April to the 30th of April every year. There are about 1,500 cherry trees planted inside the park and it is known as one of the 3 most famous cherry blossom-viewing spots in Japan.
Detailed information:https://www.moshimoshi-nippon.jp/94437
Tokyo Nihonbashi "Nihonbashi Sakura Festival"
 "Nihonbashi Sakura Festival Planning Committee" will hold an early cherry-blossom viewing event called "Nihonbashi Sakura Festival ~Aratani Deau, Nihonbashi, Yaesu, Kyobashi~" in the Nihonbashi area of Tokyo from the 16th of March 2018 (Fri.) to the 15th of April (Sun.). Nihonbashi has many beauty spots where cherry blossoms can be viewed such as Edozakura Street and Hamamachi Ryokudo. The event counts the 5th time this year and this year it will be held with the theme of "Artistic ni Tanoshimu Haru (enjoying spring in an artistic manner)." An artistic cherry-blossom viewing experience using the motifs of Edo Period's art paper cutouts, an eating binge program with the theme of cherry blossoms and some linkage art events like music festivals and exhibitions will be held.
Detailed information:https://www.moshimoshi-nippon.jp/88158
Tokyo Nihonbashi "Edo Sakura Matsuri"
Nihonbashi Mitsukoshi Main Store will hold "Edo Sakura Maturi" from the 21st of March (Wed. – holiday) to the 3rd of April (Tue.). Various kinds of items using the motifs of cherry blossoms will be sold in all floors including the food area in B1F in accordance of the blooming of cherry blossoms in Nihonbashi's famous spots such as "Edo Sakura Street" and "Nihonbashi Sakura Street." This is a cherry blossom festival where you can enjoy the atmosphere of the Edo Period.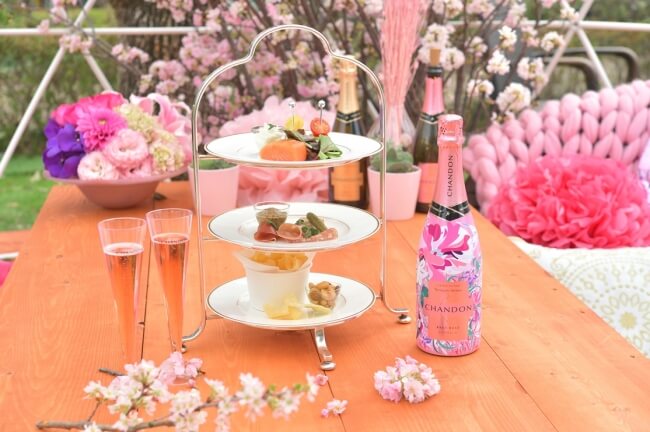 Tokyo Midtown "CHANDON Blossom Lounge"
Tokyo Midtown will open "CHANDON Blossom Lounge" where stylish food items as well as premium-quality sparkling wine produced in Australia named CHANDON will be offered. You can enjoy the spring season's special food while viewing the cherry blossom road of Tokyo Midtown and enjoy the mystical world of the limited-time-offer bottle of wine named, "CHANDON ROSÉ BY TOMOYUKI YONEZU 2018." Let's enjoy the sparkling wine and the view of cherry blossoms.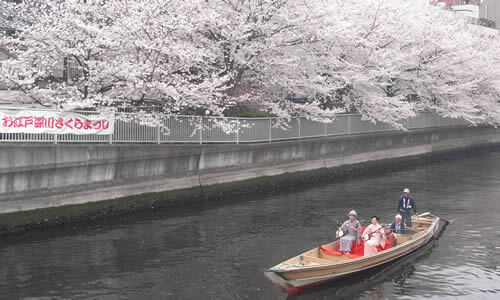 Tokyo/Kotoku "14th Oedo Fukagawa Sakura Matsuri"
"Oedo Fukagawa Matsuri" where you can view cherry blossoms while riding on a boat is known as the seasonal festival of Monzennakacho. About 270 Someiyoshino Cherry Blossoms planted along Oyoko River located to the south of Monzennakacho Station can be viewed from late March to early April. The cherry trees along Oyoko River arch out over the surface of the river making for a cherry blossom tunnel. You will surely feel like you have been transported back to the Edo Period by riding on a boat while viewing cherry blossoms at nighttime.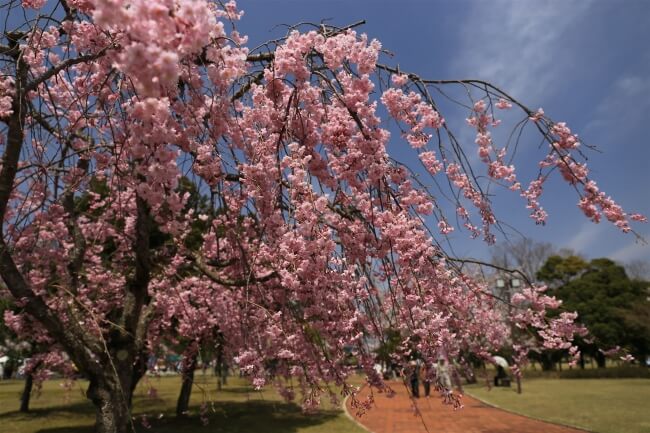 Fukui Prefecture "8th Echizen Togei Mura Shidare Zakura Matsuri"
Many kinds of stores selling potteries, wooden items, glass items, cloth sundries and accessories will be sold at "Echizen Togei Mura Shidare Zakura Matsuri" which will be held at Echizen Togei Village. Plus, 17 artisans who make potteries will gather at the venue and 34 workshops where you can create your own item will be available. Let's enjoy this "experience- based" festival inside the artistic park.
How did you like our cherry blossom festival recommendation? Why not visit one of the cherry blossom festivals introduced in this article and experience the highlight of Japan's spring season.