Top Picks for BBQs & Beer Gardens in the Kansai Region for 2018
The warm spring is rolling through and bringing us closer to the hot summer, and you know what that means in Japan? Barbeques and beer gardens!
In this article we take a look at some BBQ and beer garden events taking place in the Kansai region this year.
Top Picks for BBQs & Beer Gardens in the Kanto Region for 2018
"Kyoto Tower Beer Garden" – Kyoto
Kyoto Tower Beer Garden is located on the 10th floor rooftop of Kyoto Tower Hotel and recently underwent renovation. At the drink counter, people can make their own Instagram-worthy drinks, and a new chef's corner has also been built where you can watch the chef prepare food right in from of you.
There's close to 50 drinks to choose from, and a huge menu spanning cuisine from Japan, the West and China. They also have tents prepared in case of rain or if customers wish to stay out of the hot sun. The beer garden is in perfect view of the Kyoto Tower too, so why not make a trip?
"Daimaru Beer Garden Kyoto" – Kyoto
The beer garden as an amusement spot is a summer pastime that has continued for over 100 years and always bustles with happy faces. Daimaru Beer Garden Kyoto brought it back to life last year where it was held on a rooftop, and once again this year, it will be held on the roof of Daimaru Kyoto. It was a hit last year and will be bigger and better this year, returning as a 'traditional' style of BBQ. The buffet will also feature obanzai, which is a traditional type of Kyoto cuisine. It's also open during the day, so it's a perfect place to stop by during your Kyoto sightseeing.
Full Details: https://www.moshimoshi-nippon.jp/106189
"Riverside Beer Garden 2018: Matsuri BBQ" – Osaka
This BBQ festival is aimed at adults and takes place in a spacious private area. It is currently serving food and drinks themed on Hokkaido and will switch to Kyushu & Okinawa later in August. For the Hokkaido slot, they are offering 3 plans that includes food such as juicy beef and pork, ramen salad which originates in Hokkaido, buttered jacket potatoes from Hokkaido, and more.
For drinks, they recommend yubari king melon sour and haskap berry sour. For the Kyushu & Okinawa slot, look forward to tucking into some tartar chicken which is a famous food of Miyazaki, amongst a range of dishes and ingredients from both Kyushu and Okinawa. For drinks they are also serving sweet potato shochu, strong Okinawa liquor, mango sour and flat lemon sour.
"Beer 300" – Abeno Harukas Beer Garden – Osaka
Abeno Harukas is the tallest skyscraper in Japan. The beer garden on the Harukas 300 observation deck has been held three times, and this year will be the fourth. It has received praise for its tall view atop 300m, as well as its immensely satisfying menu. On this year's "BBQ Menu" you can tuck into thick-cut beef harami, roast pork shoulder, and spicy piri chicken (which goes perfect with beer), each of which can be matched with a variety of different ingredients. Drinks are self-service, so there's no obligation to wait around, so you can enjoy the beer garden to its fullest!
Full Details: https://www.moshimoshi-nippon.jp/100551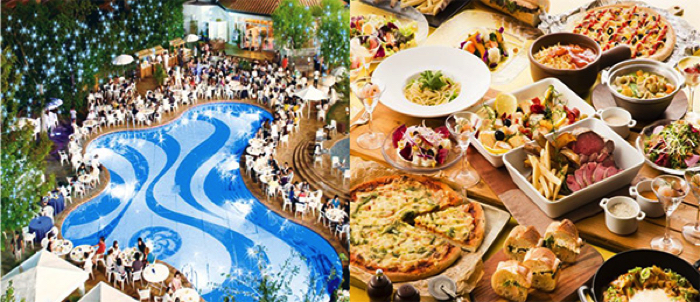 "Poolside Beer Garden" – Osaka
The Poolside Beer Garden will open at Senri Hankyu Hotel on June 1. This year, they're serving freshly made pizza and pasta which you can see made in front of you! The drink's menu is leveling up to 34 beverages, includes local Hokusetsu sake, and colourful cocktails that remind you for being a resort.
There'll even be performances like samba to enhance the resort atmosphere. Enjoy this cool, refreshing beer garden by the poolside!
"Sorairo Kitchen in Tenshiba: Terrace BBQ Beer Garden" – Osaka
'Sorairo Kitchen in Tenshiba' is a casual Italian restaurant where they have open a BBQ beer garden on the terrace, which looks out onto the lawn.
The roast beef shoulder, thick cut roast pork and organic vegetables with the BBQ can come with rotisserie chicken cooked on the terrace or an all-you-can-eat buffet!
Are you hungry yet? Make sure to try a Japanese BBQ and beer garden during your trip this summer and make some nice memories!
Top Picks for BBQs & Beer Gardens in the Kanto Region for 2018
RECOMMENDED ENTRIES
Top Picks for BBQs & Beer Gardens in the Kanto Region for 2018

The warm spring season is almost over, and summer is coming soon. BBQ parties and beer gardens are the two most exciting events of the hot summer season. In this article, I will introduce to you some recommended BBQ parties and beer gardens.

Top Picks for BBQs & Beer Gardens in the Kansai Region for 2018

Saitama Prefecture – Light & Music Beer Garden
The theme of the event is a "Japanese summer festival" (Natsumatsuri) and it will take place in a traditional Japanese-style beer garden. As you come through the bamboo lantern-lit entrance, you will be engulfed by soft lights in a wide, open green space.

Ordering the special offer Roast Beef Sushi (1 person 3 pieces) gives you the chance to see the expert chef put on a fiery flambe show. There's also a buffet with a mix of around 20 Japanese and Western foods such as skewered and grilled food, savory egg custard, sushi wrapped in fried tofu, juicy sausages and much more as well as a line-up of close to 15 drinks served free flow style including beer and Japanese cocktails.

Detailed information:https://www.moshimoshi-nippon.jp/102961

Tokyo- ARK HILLS SOUTH TOWER ROOFTOP LOUNGE ~ROPPONGI BBQ BEAR GARDEN~
A beer garden serving authentic BBQ cuisine was opened on top of Ark Hills South Tower where a luxurious rooftop garden sits. Despite being in the middle of the big city, the garden has a freeing, spacious feeling with plenty of greenery and even sofa seats. Food includes filling T-bone steak that uses carefully selected Iwanaka roasted pork shoulder, as well as a selection of seafood and vegetables. In addition, downstairs in the same building, you can buy meat to take to the BBQ too. Choose your favorite ingredients and enjoy cooking it on the barbeque yourself.

Detailed information:https://www.moshimoshi-nippon.jp/103521

Tokyo – LUGAR HA AMOR
LUGAR HA AMOR is a beer garden where you can enjoy an extraordinary space, foods, videos and music on the rooftop of MACHIDA MODI. The word LUGAR HA AMOR means "a place filled with love" in Portuguese. The space created under the key word of "luxury beer resort" has three kinds of comfortable sofas that are couple sofa, bed sofa and low table sofa. You can also enjoy the video show projected on the wall of the building and project a message to your precious person.

TOKYO – Hono no Bulgogi Densetsu β
The rooftop beer garden, Hono no Bulgogi Densetsu β was opened on the 16th floor of Tobu Hyakkaten Ikebukuro Honten. The theme of 2018's bear garden is "wellness." Healthy spinach and pea sprouts are added to the Bulgogi pot as well as vegetables. The spiciness of the bulgogi pot including eight kinds of vegetables, meat, bean starch vermicelli, kimchi, toppogi can be adjusted at your own will. They also offer beer/sour/whisky servers and a gin server!

Kanagawa Prefecture – Umi no Mieru Beer Garden Hama Beer!
Yokohama Grand Intercontinental Hotel opened their popular beer garden, Umi no Mieru Beer Garden Hama Beer! The terrace is very close to the ocean, so you can enjoy eating and drinking in the beer garden while feeling the breeze from the ocean.

The theme of the dishes this year is "American-style BBQ." Gorgeous meat dishes and American-style dishes using special spices and sauces which go well with beer, are offered. As a main dish, you can enjoy a big steak (100g.). Let's enjoy full-fledged hotel dishes at this beer garden♡

Kanagawa Prefecture – BAYSIDE BEER GARDEN 2018
Three kinds of BBQ beer gardens are offered at tables cook & LIVING HOUSE in Yokohama. The first BBQ is NEW YORK BBQ where you can enjoy juicy and thick smoked pork with a special BBQ sauce. You can also make your own customized burger at your own will! They are also offering many countries' BBQs including seafood BBQ and grilled steak! Fruits cocktails and plum wines are also available!

Top Picks for BBQs & Beer Gardens in the Kansai Region for 2018

Top 7 Places to Eat Curry in Harajuku Not Known by Many People

Did you know that there are lots of places to eat irresistibly delicious curry in Harajuku, but not that many people know about them yet? Now you can get in on the secret.

From standard Japanese-style curry to more unique flavours, here's our list.

YOGORO

This spinach-based chicken curry (¥900) is a reputable item on YOGORO's menu, made in a tetsunabe pot! There are two types to choose from: one with spicy tomato as the base and fresh cream, and a milder version made with spinach. You can pick from pork and chicken for the meat to enjoy an original combination. We also recommend it topped with the soft-boiled egg!

Minoringo

This Keema curry (¥900) looks just like a decorative cake. The top of the curry is flooded with cheese. Its rich flavour is simply irresistible! We also recommend the standard Keema curry without the cheese too♡

Curry Up
This curry house is produced by 'A Bathing Ape' founder NIGO. The beef & butter chicken curry (¥1,100) has a distinct mild yet rich taste to it. It's enjoyable to enjoy two different flavours in one as seen in the picture. You can also combine your own flavours to your liking.

SHANTi
If we're talking soup curry, then where else to go than SHANTi. The spice is on point and there's a hearty serving of vegetables. There's also many varieties of curry to choose from, so expect to be spoilt for choice. During lunchtime you can get a large serving of rice for free, and you're free to enjoy a second helping, so if you're a big eater, look no further.

BRITISH INDIAN CAFE 1930
You wouldn't think that this is a curry house, with its landmark stylish red wall. They serve Indian curry made the way the British do. Their popular butter chicken curry mixes together honey and fresh cream to give it its distinct sweet flavour. The faint spiciness and milk sweetness has made it a particularly popular dish with female customers. The softness of the tandoori chicken is great too. Being British-style, the curry goes well together with black tea.

HENDRIX
You could call the chefs at HENDRIX spice masters. They're extremely thorough and attentive with the timing of when they put their spices in the curry. A popular dish on their menu is their pork curry. It's cooked gradually with a large amount of spice and has a deep flavour that doesn't just simply scream 'hot.' They're also particular about their saffron rice which complements the curry. They use only koshihikari rice from the city of Inzai in Chiba Prefecture. The fact they're even particular about the rice means you can look forward to some truly layered flavours!

This keema curry restaurant is located on the corner of a secluded street. It originally used to open only as a night bar, but keema curry became the talk of the town for being delicious, so it came to be open during lunchtime too. The most popular item on their menu is undoubtedly their 'Cheese Keema Curry.' It offers a large serving of rice topped with keema curry and melty mozzarella cheese. Placed again on top of that is a perfectly round egg yolk, giving it a unique appearance. This exquisite dish is cooked thoroughly with carefully selected spices.

Full Details: https://www.moshimoshi-nippon.jp/38757/2

Drooling yet? You've absolutely got to try the exquisite curry hidden away in Harajuku. Tuck in during lunchtime or dinnertime!

Introducing AFURI—Harajuku's Michelin-Starred Ramen Restaurant

Hi, everyone. I'm Shiota, the Director of the MOSHI MOSHI BOX Harajuku Tourist Information Center.

Foreigners coming to Japan love ramen, as shown in our questionnaire where it ranked 2nd place. I'm sure there's a lot of you reading those who like it too.

Did you know, there's actually a famous ramen place in Harajuku listed by Michelin? Today, I'll introduce you to AFURI Harajuku, a ramen shop recognised worldwide.

It's easy to get to. Just take the JR Yamanote Line to Harajuku Station and it's a 3-minute walk from there. Head left out of Takeshita Exit and make a right when you come to Nescafe Harajuku. You'll be able to see it on your left.

The restaurant itself has a very stylish and modern exterior. You'll actually wonder whether it's really a ramen shop when you see it. It has a welcoming atmosphere even if you go by yourself. When we went, despite it being 3pm on a weekday, most of the seats were taken up. And half of the customers were non-Japanese! As expected of such a popular restaurant.

The smell of citrus hits your nose upon entering the restaurant, something you wouldn't expect in a place that sells ramen.

The inner section of the U-shaped counter is in fact an open kitchen, giving the whole restaurant a feeling of openness, and the background music that plays is calm. It feels like you're in a fancy café.

I ordered the Yuzu Salt Ramen (¥980).

The toppings are simple. It comes with juicy mizuna, a boiled egg, bamboo shoots, char siu chicken fillet, and refreshing yuzu skin. You can choose from a boiled char siu packed with the chicken's good flavour or a light and healthy chicken char siu.

The noodles are thin and a healthy mix of wholewheat flour from Hokkaido and rye. The soup is made with carefully selected ingredients such as roast chicken,  seafood and potherbs that have been carefully cooked in natural spring water from Mount Afuri. The flavour is both full-bodied and light and will have anybody who's tasted it addicted.

There's also a vegan ramen (¥1,350) option too made with seasonal vegetables for vegans, vegetarians and healthy eaters. It's made with freshly-harvested Kamakura vegetables. No animal products are used in the dish, whether that's in the noodles, soup or toppings. The salted soup goes perfectly with the vegetables. This option is also recommended for people who aren't good with thick ramen.

AFURI in Harajuku is celebrated not only by worldwide fans of ramen, but healthy eaters and vegetarians too. There's no doubt you'll become hooked once you give their food a try.

◼︎Information

AFURI Harajuku

Address: Grande Foresta 1F, 3-63-1 Sendagaya, Shibuya, Tokyo

Opening Hours: 10am-3am (following day)

No Fixed Holidays.

3-minutes on foot from Takeshita Exit for Harajuku Station

TEL: 03-6438-1910

Website: http://afuri.com/

■MOSHI MOSHI BOX Harajuku Tourist Information Center

MOSHI MOSHI BOX is a tourist information center located at the cross road of Takeshita Street, Meiji Street, and Harajuku Street. The staff there are experts on the Harajuku area. You can get the most up-to-date news of Harajuku from the site.

Services:

Service list

・free wi-fi

・free water

・free PC & charge

・baggage room

・gift shop

・currency exchange

Opening Hours: 10:00-18:00

Closed: The year-end and New Year holidays

Contact: 03-2225-6447

Travel Q&A: 10 Rules & On-the-House Services at Japanese Restaurants

Restaurants in Japan have a very different list of rules, on-the-house services and etiquette standards compared to other countries. If you enter a restaurant when in Japan without knowing some of these things you might make a mistake!

We've put together a list of 10 important points to learn before dining out in Japan.

 

1.Don't give tips

The fact that you don't need to give tips as restaurants in Japan can be bewildering to some foreign tourists. In Japan, there's normally no service charge, unless it's a high-end restaurant, in which case it's possible that a service charge will be added. If you force a tip on the staff, they will get told off by their superiors later, so keep that in mind.

2.Watch out for 'Otooshi'

Otooshi, also known as tsukidashi, are small appetizers served at bars and establishments that sell alcohol, particularly izakaya. They will be served event if you didn't order them, and you can be charged for them. There are numerous reasons they give for serving ootoshi, such as 'proof that we have taken your first order' and 'something to eat while you wait for the first food to come out.' Lots of tourists not accustomed to this practice have felt cheated.

3.Water is free

When you sit down at a restaurant in Japan, you'll be served water. Many tourists are surprised at the fact that cold water is served all year round the majority of the time in Japan. There are also establishments that serve free hot green tea instead of water.

4.The unexpected things are expensive (or cheap)

It's not rare for things like delivery pizza or Korean pork belly BBQ, which are extremely cheap and common foods in other countries, to be expensive in Japan. On the other hand, you can eat Japanese foods like sushi, tempura and ramen at a very cheap price.

5.You order alcohol first at an izakaya

It's not a set rule, but generally when you go to an izakaya, ordering a drink gives you plenty of time to read through the menu. Beer is often ordered before anything else. There's even a set phrase for it, toriaezu biiru ('[I'll have] beer for now'). Try saying it in Japanese when you're at an izakaya.

6.All-you-can services

Restaurants in Japan often have all-you-can-eat and all-you-can-drink services. If you pay a set price, you can eat or drink as much as you like. Many places offer this service, including, but not limited to, izakaya, yakiniku restaurants, and sushi bars. We recommend this to people who want to pay a little to get a lot!

7.Oshibori are free

Oshibori, or moistened towels, are given for free at Japanese restaurants. They are wet towels used to wipe your hands and face before a meal. Depending on the restaurant, you may be given a cold or hot towel. Staff at izakaya will also hand them to you. A lot of tourists praise this service as high quality.

8.Rules and menus are different at fast food restaurants

International restaurant chains like McDonald's and Subway are of course in Japan too. If you're a tourist bored of Japanese food, you'll probably want to eat something familiar like fast food. In those times, you'll be baffled by the differences between a fast food joint in your own country and in Japan. For example, in the case of McDonald's, the Japanese large-sized drinks are smaller than the medium-sized drinks in the US. There's also no self-service. Instead, the staff will pour the drink for you.

9.You cannot take food into restaurants (though there are exceptions)

One rule that puzzles a lot of people from Asia that come to Japan is the rule that states you cannot enter a place with food or drink. However, select establishments, such as food courts in large shopping malls, will permit you to do so. Be sure to do some research beforehand.

 

10.Take your shoes off on tatami

At izakaya and traditional Japanese restaurants, they implement customary Japanese style seating and tatami flooring. If you're dining at a place with tatami mats, you must take your shoes off before stepping on it. The table seats and tatami are split into different areas even if it's the same restaurant, so even if it's OK to wear your shoes at table seats, you'll need to take off your shoes when using tatami in most cases.

Did you learn something new? Sit alongside the locals when you come to Japan and enjoy some delicious Japanese cuisine!

If you have any questions you want answering about Japan, then please be sure to get in touch with us on the MOSHI MOSHI NIPPON Facebook page!

6 Best Spots to Visit in Odaiba: Gundam, Ramen, Shopping and More!

As well as being a hub for shopping, Odaiba is a popular sightseeing destination. It's seen as being a little far from central Tokyo, but you can in fact arrive there in about 20 minutes from Shibuya and Shinjuku.

Here are 6 locations in Odaiba that we recommend for foreign tourists. Be sure to take note if you're planning a trip there!

AQUA CiTY ODAIBA

This is Odaiba's huge shopping complex. There's a huge range of facilities to be found there, including a shrine, ramen, 4DX® and much more. One place you mustn't forget to visit is Odaiba's "Statue of Liberty" which has become a famous photo spot. It's relatively smaller compared to the one in New York and the replica in Paris, but you'll still see a lot of people snapping pictures.

◼︎Information

Address: 1-7-1 Daiba, Minato
Opening Hours: 11:00-23:00
Access: 1-minute on foot from Daiba Station via all lines / 6-minutes on foot from Tokyo Teleport Station via the Rinkai Line
TEL: 03-3599-4700

Website:www.aquacity.jp

Odaiba Tourist Information Center
At this information center you will find a realistic looking android by the name of Chihira Junko. She is 26-years-old, was born on June 1st and comes in at 165cm tall. This is the only place in the world with an android permanently set up at a tourist information center. She speaks Japanese, English and Chinese.

◼︎Information

Odaiba Tourist Information Center
Address: AQUA CiTY ODAIBA 3F, 1-7-1 Daiba, Minato
Opening Hours: 11:00-21:00
Access: 1-minute on foot from Daiba Station via all lines / 6-minutes on foot from Tokyo Teleport Station via the Rinkai Line
TEL: 03-3599-4700


Tokyo Ramen Kokugikan Mai
Ramen is a popular food in Japan as we discovered in our questionnaire held at the MOSHI MOSHI BOX on people's favourite Japanese food. Tokyo Ramen Kokugikan Mai is a collection of six famous ramen restaurants from around Japan that are popular both in Japan and overseas. They serve up an original menu that you can't taste anywhere else.

◼︎Information

Tokyo Ramen Kokugikan Mai
Address: AQUA CiTY ODAIBA 5F, 1-7-1 Daiba, Minato
Opening Hours: 11:00-23:00
Access: 1-minute on foot from Daiba Station via all lines / 6-minutes on foot from Tokyo Teleport Station via the Rinkai Line
TEL: 03-3599-4700

Hello Kitty Japan
This shop serves up a compelling collaboration between the Japanese style and Sanrio characters. It's lined with merchandise of popular characters from Hello Kitty to Gudetama and beyond. They also sell kawaii sweets inspired by the characters in the sweets corner of their eat-in section♡

◼︎Information

Hello Kitty Japan
Address: DiverCity Tokyo Plaza 2F, 1-1-10 Aomi, Koto, Tokyo
Opening Hours: 10:00-21:00
No Fixed Holidays.
Access: 5-minutes on foot from Daiba Station via Yurikamome / 3-minutes from Tokyo Teleport Station Exit B via the Rinkai Line
TEL: 03-3527-6118


Life-Sized Unicorn Gundam – THE GUNDAM BASE TOKYO
THE GUNDAM BASE TOKYO is an official Gunpla store aimed at Gunpla fans worldwide. You can enjoy Gunpla to the absolute max by buying, using, looking and learning. On the first floor there's also a gigantic life-sized Unicorn Gundam towering at 19.7m high. Its knees and shoulders move, and it even lights up. In the evening, the statue and screen at the back showcase scenes from the anime series.

◼︎Information

THE GUNDAM BASE TOKYO

Address: DiverCity Tokyo Plaza 7F, 1-1-10 Aomi, Koto, Tokyo

Opening Hours: 10:00-21:00

No Fixed Holidays.

Access: 9-minutes on foot from Tokyo Teleport Station via the Rinkai Line / 10-minutes on foot from Odaiba-Kaihinkōen Station via Yurikamome / 10-minutes on foot from Daiba Station via all lines

TEL: 03-6426-0780

Website:

https://www.gundam-base.net/



Madame Tussauds Tokyo
Madame Tussauds Tokyo is home to over 60 realistic life-sized statues of world famous stars and celebrities from Hollywood stars to musicians, historical figures, sportsmen – the list goes on. You can take a picture with the figures on show and you can also make a giant figure of your own hand.

◼︎Information

Madame Tussauds Tokyo
Address: DECKS Tokyo Beach Island Mall 3F, 1-6-1 Daiba, Minato, Tokyo
Opening Hours: 11:00-19:00
Access: 2-minutes on foot from Odaiba-Kaihinkōen Station via Yurikamome / 5-minutes on foot from Tokyo Teleport Station via the Rinkai Line
TEL: 03-3599-5231

Did you like our pick?

Odaiba has so many things for you to see in one day, so make sure to visit all its great spots!

Harajuku's artistic okonomiyaki restaurant: Reporting from Sakura Tei!

Hi! I'm Ellie from MOSHI MOSHI BOX Tourist Information Centre. At MOSHI MOSHI BOX, we get a lot of people asking us to recommend a place where they can eat authentic Japanese food in Harajuku. That's why I've decided to take a trip to "Sakura Tei". Sakura Tei is a restaurant not far from MOSHI MOSI BOX that serves a typical Japanese dish – onokomiyaki. Half of Sakura Tei's customers are tourists from outside of Japan, so I would really recommend this place to foreigners.

What exactly is okonomiyaki? Its basic form is a savoury pancake made from water, wheat flour, shredded cabbage and fried batter pieces. The name okonomiyaki means grilled (yaki) as you like it (onkonomi). Therefore, it can be customised with seafood or meat. The ingredients are mixed together and then grilled in a cast iron pan. This is one of the most popular dishes in Japan.

Look out for the artistic exterior and bamboo

Walk down Meiji-dori in the direction of Murasaki Sports (ムラサキスポーツ) . Meiji-dori is the street on which MOSHI MOSHI BOX is also located. Once you are at Murasaki Sports, walk down the street between Murasaki Sports and New Balance (NB) and then turn left at the Family Mart. You will immediately notice that the road splits off into two directions. From this point, take the thin pathway on your left. You will see a white building on your left called "DESIGN FESTA GALLERY". The restaurant Sakura Tei is on the left of this building. Look out for the vivid wall art and bamboo exterior – this is a sign you are in the right place. If you get lost and don't know the way, don't hesitate to ask us for help at MOSHI MOSHI BOX.

The interior is also photogenic! Each wall is painted with beautiful artwork. A new design is painted on the walls every half year, so you might see something different if you come back later in the year! Some paintings were offered by a solo exhibition artist from the "DESIGN FESTA GALLERY" next door. Other designs were even painted by the restaurant staff! The restaurant seats more than 200 people, making it perfect for even large parties.

Being hit by a wave of beauty, it was fun to take pictures of the interior even before having entered.

What caught my attention the most were the trees that are growing inside the restaurant. I was told that they were growing here before this place became a restaurant, and rather than cutting them down, the owner nurtured them, incorporating them into part of the restaurant. From this dynamic and unique idea, an atmosphere of freedom formed. You wouldn't even believe you are still in Harajuku. The atmosphere is so relaxing.

Order an original Okonomiyaki at Sakura Tei!

Besides okonomiyaki, the menu includes an abundant range of dishes such as monjayaki (similar to okonomiyaki), yakisoba (fried noodle dish) gyoza (dumplings) and teppanyaki (grilled food served on an iron plate). There is also an English menu available and many foreigners belong to the team of staff. They can speak many languages including English and Korean. You can order vegetarian and vegan food too so if you have any questions, feel free to talk to the staff!

I ordered Sakura Tei's most popular item off the menu – the "Sakura yaki" (¥1,400). All the prices on the menu are the prices including tax. Pork, squid, shrimp, matsutake mushrooms, welsh onions, pork belly slices and egg are the eight ingredients mixed into the batter of this okonomiyaki. Each table has a hot teppanyaki plate fitted into it so you can make your own okonomiyaki yourself.

It's ok even if you've never made one before! Easy instructions on how to make it are provided on each table.

I immediately took up the challenge of making one. First, you have to mix the ingredients with the batter with all your might – that's the key to making it so delicious. After mixing well, place the batter onto the grill plate and form it into a round shape. Then, place the pork belly slices on top and cook until golden brown (Approx. 6-8 minutes).

Once the underside is golden brown, it's time to flip it over! It's heavier than I thought… I wasn't sure if I could do it…

I drew up all my courage and went for it!!

I did it! Whenever customers flip their okonomiyaki particularly well, there is always a mini celebration. It's all about celebrating the process of making okonomiyaki and having fun here. A staff member even mentioned: "I love seeing the customers having fun while making okonomiyaki".

After flipping, cook for another 6 minutes.

When your okonomiyaki is cooked, place your egg on top (that you lightly cooked on the teppanyaki grill) and then add the original sauce and mayonnaise. Sprinkle on some katsuobushi (dried skipjack tuna flakes), some more mayonnaise and you are done!

I immediately took my first bite while it was still piping hot. Normally, okonomiyaki is slightly thinner than this one…but what about the flavour..?

…Super delicious!!! The batter is packed with ingredients that taste great with the seafood stock. The slightly sweet sauce makes it into a delicious specialty that can only be experienced at Sakura Tei! Normal okonomiyaki uses wheat flour that makes you full very quickly, however Sakura Tei's okonomiyaki is soft and thick – you will hungrily eat it all up! ♡

A fried parfait?! My first dessert experience here

After having okonomiyaki, you always want something sweet in your mouth! Skimming the menu, the one thing that caught my eye was the "ama-imonja yaki banayan" (¥550). Monjayaki uses wheat flour that is lightly mixed with water amongst a range of ingredients and then fried on the pan. It resembles okonomiyaki but is thicker. I quickly gobbled up the ama-imonja yaki.

It was easy to make! Just mix all the parfait ingredients together and then cook it. Just looking at this dessert made feel like an excited child. I had never tasted anything like this before!

It tasted a bit like a banana muffin and the caramelised golden-brown areas were sweet – I just couldn't stop! You should try making this one too!

There is one more thing I would like to recommend you to have after your meal. The homemade "Sakura Lemonade" (¥500 ). Their lemonade includes a Sakura-salted flavor that is popular among foreigners. The fresh flavor and taste of sakura brings back memories of spring. You can enjoy this drink at any time of year, so please check it out!

That was my first visit to Sakura Tei. It wasn't just the okonomiyaki, dessert and drink that I enjoyed, but also the way the restaurant makes the customers laugh and smile. If you're ever in Harajuku, make sure to check this place out!

Model & Writer Ellie

■Information

Sakura Tei (さくら亭)

Address:3-20-1, Jingumae, Shibuya, Tokyo

Opening hours:11:00 — 23:00 Lunch: 11:00 — 15:00

No regular closing days

TEL:03-3479-0039

■MOSHI MOSHI BOX Harajuku Tourist Information Center

MOSHI MOSHI BOX is a tourist information center located at the cross road of Takeshita Street, Meiji Street, and Harajuku Street. The staff there are experts on the Harajuku area. You can get the most up-to-date news of Harajuku from the site.

Services:

Service list

・free wi-fi

・free water

・free PC & charge

・baggage room

・gift shop

・currency exchange

Opening Hours: 10:00-18:00

Closed: The year-end and New Year holidays

Contact: 03-2225-6447

Twitter・Instagram @mmb_harajuku
RELATED ENTRIES
Final Fantasy Artist Yoshitaka Amano Holds Art Exhibition at Myoshin-ji in Kyoto

Yoshitaka Amano, known by international fans as the artist behind the legendary Final Fantasy video game series, is celebrating his 70th birthday with a unique art project from November 23 until December 8 at Myoshin-ji in Kyoto. 

On the first day of the event, the venue, decorated with autumn leaves, was crowded with visitors including foreign tourists, who marveled at the fantastic space filled harmoniously with gold and blue. The exhibition will be held at Myoshin-ji, the head temple of the associated branch of Rinzai Zen Buddhism. This collection of works was designed to question visitors' sensibilities and provide a new kind of art exhibition for fans to enjoy.

After the exhibition, the main art piece by Yoshitaka himself will be converted to 3DCG, and a Virtual Golden World will be developed in collaboration with the Yoshitaka Amano VR Museum. By integrating traditional and modern art methods, guests will be able to engage more deeply in the art by enjoying digital works, the metaverse, and NFTs.

Don't miss this curious exhibition!

Information

Golden World: Infinite Light by Yoshitaka Amano 

~GOLDEN VIEW OF THE WORLD~

Running: November 23 – December 8, 2022

Venue: Myoshin-ji

Hours: 9:00-12:00 / 13:00-16:00

Tickets on sale until 15:30 each day.

Official Site: https://www.myoshinji.or.jp/


Collaboration NFTs Highlight Drafts of Kyoto's Traditional Painted Silk

The NFT marketplace HINATA will start selling collaborative pieces on November 25, combining classical drafts of Kyoto printed silk images with modern art pieces by up-and-coming creators.

Kyoto Printed Silk Draft x Modern Ukiyo-e Artist Ono Tako

Draft (Left) and Spring Dreamland – Sunshine by Ono Tako

Ono Tako is a modern-day ukiyo-e artist who creates unique paintings combining Eastern and Western elements.

A beautiful woman stands in front of lush spring scenery in this gorgeous piece.

 

Although this is clearly an ukiyo-e piece, it has a more modern flare, expressing a more universal standard of beauty while also infusing traditional elements.

 

A total of six works will be available in two variations: the soft and warm Sun and the calm and tranquil Shade. 



Ono Tako: https://twitter.com/ono800

Kyoto Printed Silk Draft x Illustrator Omulettomato

Draft (Left) and Full Moon by Omulettomato

Omulettomato is an illustrator who is rapidly gaining popularity for their feminine portraits.

 

Three different drafts depicting beautiful Japanese nature have been combined and transformed into a modern lady with moe elements.


A total of eight works will be available in three variations: Daybreak, Sunrise, and Full Moon.


Omulettomato: http://omutoma.tumblr.com

Enjoy this curious collaboration and own a piece of classical and modern Japanese culture.

NAKED GARDEN ONE KYOTO to be Held at Ninna-ji, a World Heritage Site

From December 10 until December 18, 2022, creative company NAKED will hold NAKED GARDEN ONE KYOTO at Ninna-ji! The event is part of a larger next-generation art project being held around Kyoto until Christmas Day.

This exhibition marks the first metaverse-centered event at Ninna-ji, and guests will be able to enjoy a virtual fashion show in collaboration with Jotaro Saito, a kimono designer from Kyoto. Participants will begin by creating their own avatar by snapping a photo of their face. After that, they will be able to choose a kimono by Saito to use as clothing for their avatar before taking to the runway with other visitors from all around Japan.

NAKED's goal is to bring traditional Japanese kimono culture into the digital space, and the company believes that this is only the beginning. In the future, NAKED hopes to bring other artists into the metaverse as well.
 

NAKED Distanced Lanterns


NAKED Tsukubai

Five-Storied Pagoda Projection Mapping


DANDELION PROJECT

Virtual Fashion Show


Limited Edition Paper Goshuin

This year's event also includes the DANDELION PROJECT, popular with art fans around the world. Created by Ryotaro Muramatsu, the art project has appeared in a number of towns and cities around the world, inviting participants to create flowers and send them around the globe digitally as a hope for peace. Visitors can use their smartphones to send dandelion fluff digitally to other participants around the world, sharing a wish for world peace. 

This year, the participatory art piece was installed in the main temple. Why not visit this stunning exhibition in Kyoto this winter? 

Information

NAKED GARDEN ONE KYOTO Ninna-ji
Venue: Ninna-ji (Five-storied Pagoda, Main Temple)
Running: December 10 – December 18, 2022
*No admission on December 17 due to a private event.
Hours: 17:30-21:30 *Last entry at 21:00
Official Site: https://garden.naked.works/kyoto/

monopo Collaborates with Kyoto-Based Brand Shokuraku Asano to Share Traditional Japanese Textiles with the World

Global creative agency monopo is teaming up with Shokuraku Asano, a 100-year-old obi maker from Kyoto! The company is working to create a digital experience for interested viewers, sharing each artisan's personal story. Those who love Japanese culture are welcome to enjoy traditional Japanese crafts in an entirely new way!

Using a one-of-a-kind QR obi, a new storytelling method is showing off the hard work and love that goes into the company's textiles. A special website and video allow interested viewers to experience the process of making an obi digitally, simply by using their smartphone. Even those unable to visit Japan to see these obi in person can dive into the history of the area's textiles and become more acquainted with one part of Kyoto's manufacturing culture. 

Kyoto was the ancient capital of Japan. The city is known for its history and preservation of Japanese culture, and prior to the pandemic, the city was constantly filled with visitors from around the world anxious to learn more about the country's traditional culture. When the pandemic hit the world in 2020, it changed the city forever–tourists disappeared and the city became much quieter. Now that Japan has opened its borders, however, tourists are returning in droves.

While Shokuraku Asano upholds tradition, it also seeks to leave a mark on new generations by embracing new technology. This unique project is worth noting, so get your smartphone out and start learning!

We applaud monopo's attempt to share this incredible traditional Japanese craftsmanship with people around the world. 

Craft Beer Service Otomoni Releases Tsundere-themed IPA

Craft beer subscription service Otomoni opened orders for a new Tsundere-themed Hazy IPA on November 15, 2022. The beer has a sweetness level that changes on its temperature and was brewed as part of the 15th installment of the JAPANESE BEER ODYSSEY, which aims to share aspects of both traditional and modern Japanese culture through craft beer.

For better or worse, Japan's otaku culture is now a major part of the country's appeal to people around the world.

Japan's video game and anime market is now legendary around the globe, and millions flock to the country each year to become more immersed in its popular culture. Just look at the annual Comiket event–over 700,000 visitors attend each year!

 

To celebrate the upcoming Comiket, a new beer has been brewed that pays homage to modern otaku culture. The Tsundere Hazy IPA is perfect for otaku who love a little challenge when it comes to their love life.

Brewed with NOMCRAFT Brewing in Wakayama Prefecture, the Tsundere Hazy IPA features two distinct flavors, each coming out more strongly depending on the beer's temperature. 

 

When poured, the beer has a very tropical aroma, and when ice-cold, it's more refreshing and less sweet. 

 

As the temperature of the beer rises, the smell becomes more fruity and strong, with the smell of hibiscus certain to make your mouth water. Whether you like bitter or sweet, this may be the perfect beer for you. 

Would you try this tsundere-themed beer? 

Special Jujutsu Kaisen Exhibition Highlights Attractions and Products from Kyoto

From November 11 until December 8, a series of Kyoto-inspired Jujutsu Kaisen goods will be on sale outside the West Gate at JR Kyoto Station! Along with the merchandise, fans will also be able to snag local foods at the exhibition. 

Collaborative Packaging: Local Products from Kyoto

*The products shown are under development and may change slightly. 

Purchase Bonus: Limited Edition Kyoto Postcard

*The postcard's design will change during the first and second halves of the exhibition.

*Postcards from the Sendai venue will not be available.

*Postcards will only be available while supplies last.

Be sure to grab some of these Jujutsu Kaisen products packed with Kyoto charm!

©芥見下々/集英社・呪術廻戦製作委員会

Kyoto National Museum Decorated by NAKED and Kojima Shouten's Famous Lanterns for Special Event

From December 10 until December 25, the Light and Food Ensemble event will be held in the garden of the Kyoto National Museum.

A new projection mapping show featuring enormous flowers will be shown on the wall of the Meiji Kotokan Hall, unchanged since its opening in 1897. The history of Kyoto will take center stage, however–NAKED is only there to make it all the more impressive.

NAKED will also collaborate with Kojima Shouten for the first time, decorating the venue with the local company's famous lanterns.

At the venue, local shops from Kyoto will be selling sweets to guests. Come enjoy Kyoto in a whole new way during this exclusive winter event!

Information

Light and Food Ensemble

Running: December 10 – December 25, 2022

Hours: 18:00-21:30 (Last entry at 21:00)

Light and Food Ensemble ~Evening Flower Banquet Directed by NAKED~

Venue: Kyoto National Museum

Tickets / Official Site: https://ensemblekyoto.com/

Final Fantasy Artist Yoshitaka Amano Holds Art Exhibition at Myoshin-ji in Kyoto

Yoshitaka Amano, known by international fans as the artist behind the legendary Final Fantasy video game series, is celebrating his 70th birthday with a unique art project in Kyoto. 

The exhibition will be held at Myoshin-ji, the head temple of the associated branch of Rinzai Zen Buddhism. Stepping into the temple, guests will be met with colorful autumn leaves and a sea of gold and blue art pieces.


"I want people to enter this world of light and experience being part of it," Amano said. "Rather than art being something flat on a wall, I want to present something new and unique." This collection of works was designed to question visitors' sensibilities and provide a new kind of art exhibition for fans to enjoy.

The main art piece, newly painted by Amano himself, will be on display in the Dharma Hall, which was decorated by one of Kano Tan'yu's masterpieces. Tan'yu was an Edo-period painter. 

The three meter tall column features Amano's own interpretation of Hiten, part of Mount Meru, a part of Buddhism cosmology considered to be the centre of all the physical, metaphysical and spiritual universes. Four smaller pieces will be displayed on all four sides to create a three-dimensional mandala. 

Information

Golden World: Infinite Light by Yoshitaka Amano 

~GOLDEN VIEW OF THE WORLD~

Running: November 23 – December 8, 2022

Venue: Myoshin-ji (1 Hanazonomyoshinjicho, Ukyo-ku, Kyoto)

Hours: 9:00-12:00 / 13:00-16:00 *Tickets sold until 15:30

Admission: Adults ¥700 / Children ¥400

Details: https://goldenworld.jp/

Official Site: https://www.myoshinji.or.jp/

13th BT21 Cafe to Open in Tokyo, Yokohama, Nagoya, Osaka, and Sapporo

The 13th iteration of the BT21 Cafe will open at six venues in five cities around Japan. Fans in Tokyo, Yokohama, Nagoya, Osaka, and Sapporo will want to visit this exclusive event titled ~MAGICAL TIME~. The first cafe opens in Shibuya on November 3. In celebration of BT21's 5th anniversary, this special cafe is filled with joy and excitement and aims to give fans the best possible experience.

Cafe Menu

Magical Tea Time Set

Food Plate

Food Plate (7 varieties)

Dessert Plate

Dessert Plate (7 varieties)

Drinks

Magical Milk Tea

Black Tea

Iced Coffee / Hot Coffee

Original Goods

Acrylic Keychain (7 varieties, Random)

Acrylic Clip (7 varieties, Random)

Satin Sticker (7 varieties)

Clear Folder (2 varieties)

Handkerchief (7 varieties)

Tote Bag

Mug

Masking Tape / Balloon on a Stick

Dolomite Coaster (2 varieties) / Mirror (2 varieties)

[Online Store Exclusive] Acrylic Keychain (7 varieties, Random)

The cafe's new menu includes afternoon tea, perfect for warming the body and soul during the cold winter months. The colorful food items and desserts are sure to be a hit on social media, and fans will enjoy the Magical Milk Tea and other dishes inspired by the popular BT21 characters.

 

In addition to new merchandise and bonuses featuring newly-drawn art, a photo spot will welcome guests to the cafe and invite them to celebrate this five-year milestone. 


Why not take a break from everyday life to enjoy a magical time with these cute characters?

©BT21

Information

BT21 Cafe #13 ~MAGICAL TIME~

Venue/Dates


■Shibuya, Tokyo:

BOX cafe&space SHIBUYA109

Running: November 3 – December 10, 2022

Address: SHIBUYA109 B2F (2-29-1 Dogenzaka, Shibuya-ku, Tokyo)

■Oshiage, Tokyo:

BOX cafe&space Tokyo Solamachi

Running: January 13 – February 19, 2023

Address: Tokyo Skytree Town, Solamachi 1F (1-1-2 Oshiage, Sumida-ku, Tokyo)

■Yokohama, Kanagawa:

Collabo_Index Lumine Yokohama

Running: January 13 – February 5, 2023

Address: Lumine Yokohama 6F (2-16-1 Takashima, Nishi-ku, Yokohama, Kanagawa)

■Nagoya, Aichi:

BOX cafe&space Nagoya LACHIC #1

Running: December 2, 2022 – February 5, 2023

Address: LACHIC B1F (3-6-1 Sakae, Naka-ku, Nagoya, Aichi)

■Shinsaibashi, Osaka:

Shinsaibashi contact

Running: November 11 – December 18, 2022

Address: 1-6-24 Kitahorie, Nishi-ku, Osaka

■Sapporo, Hokkaido:

Cafe Interlude, Coach & Four Shinakawa

Running: November 3 – December 29, 2022

Address: 18-chome 3-jo, Kita-ku, Sapporo

Reservations: https://box-cafe.jp/



Online Shop

Open: November 3, 11:00 – December 4, 23:59
https://box-cafe.jp/online_store/

Grand Front Osaka to Hold Harry Potter Christmas Event

The Grand Front Osaka mall has announced an incredible Christmas celebration in collaboration with the magical world of Harry Potter! Fans will want to visit the massive shopping center between November 10 and December 25 to take part in the festivities.

Standard Decorations

Showtime Decorations

Harry Potter-Inspired Decorations

The highlight of the event is the 13-meter-tall Christmas Tree, which will be set up on the first floor of the mall's North Building. The tree will be decorated with Harry Potter-inspired ornaments like moving staircases and window frames, which will look as though they are floating in the air. At night, a light show will take place around the tree, complete with projections inspired by the four houses of Hogwarts. 

Decorated Ted E. Bear

Stamp Rally Card

House Flag Decorations

Tully's Coffee and Harry Potter Collaboration Goods and Menu

Special Harry Potter-themed decorations will be attached to many trees in the area around the nearby Umekita Plaza, and fans can also find a Harry Potter panel exhibition. An Instagram photo campaign will be held in which visitors can enter to win collab merch, so don't miss out!

Come make some magical memories at this Harry Potter event in Osaka this winter.

Information

Grand Wish Christmas 2022

Harry Potter: An Invitation to the Wizarding World of Christmas

Running: November 10 – December 25, 2022 *Excluding certain contents
Venue: Grand Front Osaka North & South Wings, Umekita Plaza, etc.
Details: https://www.grandfront-osaka.jp/xmas2022/ 

NAKED GARDEN ONE KYOTO Night Walk Project Invites Guests to Stroll Through the Tale of Genji

From November 11 until December 4, NAKED will hold the unique NAKED GARDEN ONE KYOTO event in Uji. The one-of-a-kind art project is being produced through a partnership with Kyoto City, Uji City, and Otsu City in Shiga Prefecture. Several events and art exhibitions will appear in the Kyoto area until December 25, 2022.

The project first began on September 15 at Kyoto City Hall, and it will move to Uji on November 11. NAKED's unique digital art will bring color to Uji, a place steeped in Japanese history and the heart of Japanese tea culture. The Asagiri Bridge, appearing in The Tale of Genji, will be illuminated, and the Zen temple Kosho-ji will be offering tea ceremonies and a digital teamaking experience for guests to enjoy. NAKED's popular Distance Lanterns will return, allowing visitors to explore Uji at night while properly socially distancing. 

At Kosho-ji, guests can enjoy the renewed DANDELION PROJECT. Created by Ryotaro Muramatsu, the art project has appeared in a number of towns and cities around the world, inviting participants to create flowers and send them around the globe digitally as a hope for peace. Visitors can use their smartphones to send dandelion fluff with their name on it to the metaverse version of Kosho-ji and beyond, eventually causing a digital flower to bloom. 

Why not come take a quiet walk through the streets of Uji, Kyoto? 

Works

Urasenke Tea Ceremony and Digital Teamaking Experience

『DANDELION PROJECT』by RYOTARO MURAMATSU / NAKED

NAKED Distance Lantern®︎

Asagiri Bridge and Kotosaka Interactive Illuminations

NAKED Tsukubai®︎

Chazuna's New Mobility C⁺walkT Experience

Chainsaw Man Tokyo Special Division 4 Event and Pop-Up Shop to Open in Tokyo

A story-based digital GPS rally inspired by Chainsaw Man will be held within Tokyo's subway system from November 1 until November 28. Fans of the anime series won't want to miss it!

Participants will be tasked with one vital mission: to find five senior devil hunters who are currently undercover at subway stations around the city.

Participants will download an app from the special website and follow the instructions within to find stamp locations at stations throughout Tokyo. When they reach the designated location, they'll find a special poster, and they'll just need to press a button in the app to earn a stamp. By collecting stamps in all six locations, fans will receive a unique key visual which can only be obtained through this event. 

Pop-Up Shop

During the event period, fans will also find a limited-time pop-up shop inside Ikebukuro Sunshine City. Original collaboration items will be on sale, and a game will be set up with winners able to walk away with unique prizes. From November 1 to November 20, admission to the shop will be by advance reservation only on a first-come, first-served basis to reduce crowding. Reservations can be made through the official website.

©藤本タツキ/集英社・MAPPA